In this article our guest writers, Illia and Nastia share their tips for visiting Anghor in Cambodia – while it's a one of those must-see sites with a huge amount to cover in a day or two, we find out whether the heat and high prices were worth it.
Angkor, a UNESCO heritage site, is considered to be a photo paradise. Unbelievable sun rises, ancient ruins and wild rainforest combine to make this place unbearably attractive for any photographer. Of course, we weren't that lucky: while we enjoyed ancient ruins, it was raining, cloudy and gloomy. The temperature was either extremely high (in the middle of the day) or extremely low (early in the morning), so it was pretty hard to choose what to wear. Nevertheless, we managed to take a few of pictures and now want to share them with you.
When you depart early in the morning from Siam Reap, the nearest Cambodian town, it is 6 o'clock in the morning and the only thing you can think about is how much you want to sleep. The wind blows through an open tuk-tuk and it's freezing cold. The price of the entrance tickets – $40! – quickly wakes you up and here you are, awaken and ready to explore ancient Hindu-Buddhist temple complex. Ancient? Hmm, not really. In fact the majority of temples were constructed in the 12th-15th centuries. However, if Lara Croft considered it to be old enough to die for its treasures, we can assume that it's old enough to pay $40 entrance fee.
The Angkorian period began in AD 802, when self-confident Khmer monarch Jayavarman II decided that he was a "god-king" and "universal monarch" and lasted until the late 14th century, when Ayutthaya conquered "god's territories". Khmers didn't like it and organized a rebellion which resulted not in freedom, but in migration of population to Longvek.
The complex includes so many temples that it is physically impossible to visit all of them. Scientists believe that some of them are still hidden in jungles and are impossible to reach both for tourists and explorers. Many temples are built on moors, so it's hard to understand how Khmers managed to access them at all. We took a traditional two-circle tour (small + big circles) and were completely satisfied with the amount of ruins we saw.
Interestingly enough, these ruins were never used for living or praying in them, but were rather considered to be home for gods, accessible only for priests. The great-grandchildren of the architects and constructors believed that the temples were erected by gods. In 1850 Angkor was found by a French priest, owing to whom it became a popular destination for European tourists and researchers.
Nowadays there are so many tourists in Angkor that sometimes it's impossible to take a picture. The situation is worsened by numerous local sellers, trying to persuade you to buy totally unnecessary stuff. In addition to the crowds of tourists there are lots of orphans hanging around in Angkor. At first, it looks strange, but in fact there is nothing surprising about that: there are several orphanages in the temples' neighborhood. Orphans either beg for food and water, or collect plastic bottles, thrown away by tourists, to sell them to recycling companies. Even though the life style of these children is miserable, they don't look unhappy: we saw lots of them playing in the jungles and riding the vines.
To cut a long story short, the visit to Angkor can be described as follows:
Day 1 – Wow! Ancient ruins!!! I must see ALL of them!
Day 2 – Hm, that is interesting collection of stones, I think it differs a little bit from the previous temple.
Day 3 – I am fed up with heat and rocks! I want ice-cream and rest.
That's why we conclude that two days are enough.
In general, visit to Angkor was unusual and quite inspiring experience we highly recommend to everyone visiting South East Asia.
Practical information for visiting Angkor
How to get there: from Cambodian town Siam Reap you can take a tuk-tuk ($7) per day or a bike ($4). Take into consideration that Angkor is pretty big; walking might take too much time.
Cost: $40 for three days
Where to stay: Only in Siam Reap – our budget (but totally fine) hotel cost $6 per night for double room.
Where to eat: Only in Siam Reap. When going to Angkor, take food with you, since it is quite expensive to eat there.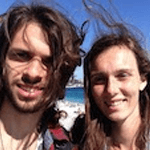 Many thanks for this article to Illia and Nastia who are passionate about each other, traveling around the world and sharing their experiences at crazzzytravel.com, a blog where you can find plenty of budget travel tips as well as practical information about numerous destinations. They have already been to 33 countries on 4 continents and ain't no stopping. Visit their Facebook or Google+ pages and follow them on Twitter.
For more things to see in Southeast Asia:
The highlights of Phnom Penh – Cambodia
Take your hobby on holiday – follow your interests in Vietnam
The Best Places to Snorkel in Thailand
Photo Credit: All photos by crazzzytravel.com
This article is originally published at Heatheronhertravels.com – Read the original article here
You'll also find our sister blog with tips on how to build a successful travel blog at My Blogging Journey
I like to imagine the 19 year old aspiring poet, Dylan Thomas arriving at Laugharne on the ferry, taking in the wide open skies of the Taf estuary, the small boats stranded in the marshy channels and the stark, stone towers of the ruined castle, and thinking "YES!, this is where I want to be."
He later wrote that it was the sort of place where people like him " just came, one day, for the day, and never left; got off the bus, and forgot to get on again." Laugharne in Camarthanshire is one of the places that Dylan Thomas is most connected to, living for the last 4 years of his life in The Boathouse overlooking the estuary which inspired him to write some of his greatest poetry.
Even if you know or care nothing about Dylan Thomas, Laugharne is an enchanting place to spend a day, as we did as part of our weekend following the Dylan Thomas Trail, in honour of the centenary of the Poet's birth.
Staying at Brown's Hotel – Dylan's favourite pub
We'd spent the Saturday in Swansea, discovering the city that Dylan knew as a young man and wrote about in Return Journey as well as visiting the Dylan Thomas Birthplace, before driving on to Laugharne to stay at Brown's Hotel. As we pulled up, the evening sun lit up the front of the Georgian pub, a favourite drinking haunt of Dylan that has now been renovated as a bar with boutique style guest rooms.
When he lived here, Dylan's routine was to sit in the window seat of Brown's in the morning, studying the papers, or dropping in to see his parents Jack and Florence who lived at The Pelican opposite, before going home to the Boathouse for lunch and working in the writing shed in the afternoon, usually returning in the evening with his wife Caitlin for a few more beers.
Our room was The Laques, named after a part of Laugharne that you can see from the bedroom window where Flemish weavers once settled. The style was very much boutique retro, with a stripy carpet, those chalky Farrow and Ball tones of beige on the walls and modern oak furniture with a 1950s air. The double bed had coverings and cushions in similarly muted shades of grey and purple and from the bed we could gaze at the photo-mural opposite – a soft-focus shot of the estuary with waving grasses in the foreground.
The room was small but thoughtfully kitted out with tea and coffee, bottled water, a few old books including a Dylan Thomas selected works and a bedside radio. The adjoining loo and bathroom featured those rectangular white tiles that were popular in the 1930s when a plumbed-in bathroom was a novelty, a bath with white waffle shower curtain and shower above and some delicious Warm Ginger toiletries. As the hotel isn't really a hotel but a bar with rooms and only does bar snacks, we stuck our noses into the Three Mariners pub next door, but the place looked packed and the music was Saturday-night-loud, so we ended up having dinner at Cafe Culture, a pleasant Italian down the road.
Brown's Hotel, King Street, Laugharne, Carmarthenshire. Tel: 01994 427 688 E-mail: info@browns-hotel.co.uk Rooms are £75-140 based on 2 people including breakfast. Heather and Guy stayed in The Lacques, a Classic King Room which costs £105/ night for weekend stays. Twitter @BrownsLaugharne | Facebook Page | YouTube
Evening light on the Taf estuary
I took advantage of the evening sunshine to go and explore, following signs along the lane towards The Boathouse, where Dylan Thomas lived with his family. From the lane above the house, now known as the Dylan Thomas Birthday Walk, I caught the beautiful views over the Taf estuary, where the water was gently rippling and glittering in the evening light. The tide was out with the sandbanks exposed at low tide and some wading seabirds picking their way gingerly through the shallows. It was this view that inspired Dylan to write his Poem in October about his walk from here to St John's Hill where the wood overlooks the town.
It was my thirtieth year to heaven Woke to my hearing from harbour and neighbour wood And the mussel pooled and the heron Priested shore The morning beckon With water praying and call of seagull and rook And the knock of sailing boats on the net webbed wall
You can follow the Dylan Thomas Birthday walk yourself, on the route Dylan described in his Poem in October, where there are benches and signs along the way so that you can read each line or verse at the place it was written. There's a Dylan Thomas Birthday Walk Website with all the information you need and an App of the Dylan Thomas Birthday Walk for iPhone and Android.
Dylan and Caitlin – in life and death
On Sunday morning we enjoyed a good cooked breakfast in the bar at Brown's Hotel, surrounded by memorabilia and mementos of Dylan Thomas and then walked up the main street towards St Martin's church. Through the main churchyard gate and over the little footbridge across the lane, we found the plain white cross of Dylan and Caitlin Thomas standing out among the grey gravestones.
In the church there is also a replica of the stone memorial in Poet's Corner, Westminster Abbey, with Dylan's lines from the poem Fernhill " Time held me green and dying, though I sang in my chains like the sea". Dylan Thomas died in 1953 aged only 39, while on a poetry reading tour in New York, of causes which have not been fully explained but were probably a combination of pneumonia, morphine overdose and heavy drinking, while Caitlin was also buried with him after her death in 1994. Dylan's father, Jack had died only the year before Dylan himself and Dylan wrote one of his most popular and moving poems Do not go gentle into that good night about his father's illness.
Do not go gentle into that good night, Old age should burn and rave at close of day; Rage, rage against the dying of the light.
It felt a little voyeuristic taking a picture of the gravestone, so we continued up the leafy lane beside the church, fringed by cow parsley and pink campion, taking a short cut to The Boathouse.
The Boathouse – my sea-shaken house
In 1938 Dylan and Caitlin visited their friends the writers Richard and Frances Hughes at Castle House in Laugharne and decided to find their own place nearby. The couple moved into a tiny fisherman's cottage and then into a grander house at SeaView where they lived until 1940 until the war years intervened and they moved to London. In 1949, The Boathouse which Dylan described as "my sea shaken house on a breakneck of rocks", was bought for Dylan by his friend and patron, Margaret Taylor and he lived there with Caitlin and the children until his death in 1953.
Walking down the steps to the whitewashed house, the views across the Taf estuary were striking, not only from all the rooms, but from the balcony running around the house and the terrace at the back where there was originally a landing stage for the coal boats. Under the roof was the main bedroom which is now an exhibition space with mementoes and information about Dylan's life, while through the small shop was a parlour furnished as it would have been by Dylan and Caitlin and kept for 'best' as was the custom. I spotted the desk that had belonged to Dylan's father and had come from his childhood home at 5 Cwmdonkin Park, since Geoff Haden had told me how he really wanted it back!
Downstairs where the family would have gathered was now a tea room but we were able to sit on the terrace in the sunshine with fabulous views over the estuary where I had a chat with artist in residence, Cheryl Beer, who was playing her ukelele and making up poems with some of the children visiting. Cheryl told me that she was one of 12 different artists who had been invited for a month to create a work related to Dylan Thomas – you can see some of the photos from her month in residence on her blog here. She had noticed the strips of paper in the writing shed like shopping lists of the words that he planned to use, and was asking people to write a line of poetry or prose on a strip of paper, which she could incorporate into one large digital work. Having read some of the passionate, tender and angry love letters between Dylan and Caitlin, she also was planning to write a song that told the story from Caitlin's point of view, "as a woman who was often being apologised to"
The Dylan Thomas writing shed
After visiting The Boathouse we walked back along the path to Dylan's writing shed which the staff kindly opened for me to take photos, although you can normally only peer through the window. Inside Dylan's writing desk was set out as if he had just left, with cigarette stubs, strips of words hanging up and that inspiring view right across the estuary. The first poem he wrote there was Over Sir John's Hill, in which he describes the birds stalking their prey and bringing death in the midst of this beauty.
Over Sir John's hill, The hawk on fire hangs still; In a hoisted cloud, at drop of dusk, he pulls to his claws And gallows, up the rays of his eyes the small birds of the bay
This is also where Dylan wrote his most famous play for voices, Under Milkwood, inspired in part by the people of Laugharne. Dylan described his work in a letter as "a play, an impression for voices, an entertainment out of the darkness, of the town I live in .. (so that) you come to know the town as an inhabitant of it.. utterly familiar with the places and the people." From the writing shed we dropped down a path to the level of the estuary where we walked back along the paved causeway with the marshland ahead of us until Laugharne castle came into view.
The Dylan Thomas Boathouse, Dylan's Walk, Laugharne, Carmarthenshire, SA33 4SD |Twitter @DTBoathouse | Facebook Page | Open daily 10am-5.30pm in summer, 10am-3.30 in winter Adults £4.20/ Children £2.00. There is a pop-up Dylan Thomas shed, a replica of the original which is on display in various festivals and places around Wales.
Laugharne castle, Brown as owls
The final stop on our day in Laugharne was the ruined castle which overlooks the marsh and the estuary, described by Dylan in his Poem in October.
Pale rain over the dwindling harbour And over the sea wet church the size of a snail With its horns through mist and the castle Brown as owls But all the gardens Of spring and summer were blooming in the tall tales Beyond the border and under the lark full cloud.
Laugharne Castle was built in the 13th century, probably on top of an earlier Norman castle and it came under siege in the English Civil War and was partly dismantled. When Dylan first came to Laugharne, the castle and its grounds were in the gardens of Castle House next door, owned by writers Richard and Frances Hughes. Dylan was allowed the use of the gazebo in the garden which overlooks the estuary and it was here that he wrote the short stories "Portrait of the artist as a Young Dog".
A nice touch is that there is a writing desk and old typewriter within the gazebo to recreate how it would have looked when Dylan wrote there. The castle is now open to the public, although it's really just a picturesque shell of the castle that the Welsh Lords used to dominate the estuary and port at Laugharne before it silted up. You can climb the tower for views over the estuary, and there's a Victorian Rose garden which is a pleasant place to sit on a summer afternoon.
Laugharne Castle is run by CADW and is open April-October 10am-5pm Adults £3.80
Whether you are a Dylan Thomas fan or not, Laugharne is an enchanting place to visit, for the views of the estuary, the walks up to St John's Hill, for the Brown as Owls castle, and of course for the fascinating Dylan Thomas connections. Follow where Dylan walked, drink where he drank and be inspired by the beauty of the place and the poetry. In a place like this we might all have a literary masterpiece in us.
For more information to help you connect with Dylan Thomas in Laugharne;
Visit Wales – the official website for everything to see and do in Wales – also on Twitter @VisitWales and Facebook
Visit Carmarthenshire – discover places to see and stay around Laugharne in South Wales
Dylan Thomas 100 – everything that's going on for the 2014 Dylan Thomas Centenary year
Brown's Hotel – Dylan's favourite pub where you can now drink and stay the night
The Dylan Thomas Boathouse – where Dylan lived from 1949-1953
Dylan Thomas Birthday Walk – take a walk inspired by Dylan Thomas' Poem in October
Laugharne Castle – where Dylan wrote in the gazebo owned by his friends the Hughes
My thanks to Visit Wales for arranging this weekend and allowing me to discover Dylan Thomas in Wales
Read my other articles about the Dylan Thomas Trail in Wales
An ugly, lovely town Part 1 – a Return Journey to Swansea with Dylan Thomas
An ugly, lovely town Part 2 – the Dylan Thomas Birthplace in Swansea
Follow Heather on her travels's board Welsh Wales on Pinterest.

This article by Heather Cowper is originally published at Heatheronhertravels.com – Read the original article here
You'll also find our sister blog with tips on how to build a successful travel blog at My Blogging Journey
Summer in Copenhagen is a time for the locals to come out and enjoy the short but sweet Scandinavian summer beside the water, whether it's the harbour, the beach or the Copenhagen lakes. Although I've been to Copenhagen a number of times with Guy, this time I wanted to show one of my favourite cities off to my kids, so I was on the look-out for those Scandi-cool things that would impress a hard to please teenager. Here is my guide to the cool things we enjoyed on our 4 day summer break in Copenhagen;
1. Rent an apartment and live like a local
Yes I know that 'live like a local' tag is overused by every apartment rental company, but hiring an apartment in the centre of Copenhagen through Airbnb really did give us a different perspective on the Danish way of life. Filled with books, quirky art and kids' toys our apartment felt like the owners had just popped out for the day – which in fact they more or less had. The family who lived here had temporarily re-located to their summer house further up the coast to make the most of the sunny summer days and being laid back Danes had left most of their belongings behind, trusting us to take good care of their home. Hiring an apartment meant that we could shop at the local supermarkets dotted around town and nod a Danish "Hej" to our neighbours as we parked our bikes in the internal courtyard and lugged our shopping up to the 2nd floor. The kids thought the apartment was super-cool, especially the table football which led to many fiercely contested world cup replays. This is the apartment we booked in case you're interested.
2. Hire bikes to get around town
On previous visits to Copenhagen we walked everywhere but with the family it made sense to hire bikes so we could get effortlessly around town. We hired ours just around the corner from our apartment (Gammelholm Cycler at 12 Holbergsgarde) and it cost 100 DKK (around £11/€14/ $18) per person per day with a bit of a discount as we were hiring for the whole family. Cycling around Copenhagen is easier and safer than in most other cities since there are separate cycle lanes everywhere and the car drivers are bike-aware and slow down to let you by.
You do still need to take care since local cyclists will whizz past you as you bimble along and at busy junctions we found it was safer to get off and cross at the pedestrian lights. In Copenhagen cyclists own the road and will get annoyed if you accidentally step into their path. They even take their kids in the Christiania style bikes that have a carriage on the front and have perfected the art of cycling nonchalently, talking on a mobile while wearing a flimsy dress and high heels. Did you know that you can also take your bike on the train in the special carriages that are marked with a bike symbol, which makes sense if you head out of Copenhagen on the coastal train to Helsingor, Klampenborg or any of the other interesting things to see along this route? My kids effortlessly got into the bike vibe and really enjoyed the freedom of the city.
3. Go swimming in the harbour
The harbour baths at Islands Brygge are justifiably popular as soon as the sun comes out and you do have to trust that the harbour water really is THAT clean (there is an oyster farm in the harbour after all!). There's a shallow kid's paddling pool, a longer pool for serious swimmers (spot those training for a triathlon) and a high jumping off point which my kids tested out multiple times. It's free, open to all and there are lifeguards on duty, but if it gets a bit too crowded, remember that there are plenty of other unofficial places that you can swim in the harbour in summer. Just look for a stretch of harbour wall where there's a ladder and not too many boats and you'll probably see a local already having a dip. Our favourite spot was the stretch of harbour near our apartment between Nyhaven and the harbour bridge near the Parliament building where there's a deck at the bridge end and plenty of benches and tables to sit out. Perfect if you want to bring your own beers and have an evening swim while the sun is setting. The Havnebadet Islands Brygge is open 7am-8pm 1 June-31 August.
4. Rides and more at Tivoli
Tivoli is a Copenhagen institution where you could take your granny or your teenagers and they'd all find something to enjoy (although probably not the same things). The gardens and fountains were beautiful, with roses blooming in the sunken garden and plenty of grassy areas where you can let the kids run around or sit on the grass. There are just enough rides to keep the adrenalin junkies entertained and although I braved The Demon loop the loop with the kids I enjoyed the old fashioned Alpine themed roller coaster much more. There are endless restaurants and food kiosks within Tivoli but I love that you can also bring in your own snacks or picnic and enjoy them in a shady area of grass under the trees.
We bought the PULS package bookable in advance for 329 DKK per person (£35/ €44/ $59) which gave us entrance to the park, a multi-ride pass and a snack and drink from one of the fast food vendors. As night falls the park takes on a more adult feel with glowing Chinese lanterns and people enjoying dinner with outdoor musical, pantomime or ballet performances in the different theatres. Best of all Tivoli has a high quality Danish feel and a lovely relaxed atmosphere that appeals to all ages. Tivoli Gardens are open April-end September and also at Halloween and Christmas. Entrance 99 DKK, Multiride ticket 199 DKK with other packages available.
5. A gourmet bite to eat at Torverhallerne
When I stayed nearby at the Ibsens Hotel a couple of years ago, the Torverhallerne market halls were under construction but now they are a buzzing place to stop and buy fresh food and deli-delicious lunch-time delicacies. The outdoor paved areas around the hall are full of fruit and veg stalls with benches and tables to sit down, while most of the food vendors inside also have some seating space. Guy and I tried a lunch of smorrebrod, the Danish open sandwich, served at the bar of Hallernes Smorrebrod on Royal Copenhagen plates. The kids eyed up the Thai food trailer outside but settled for sandwiches made with nutty Danish brown bread and we finished up with coffee at the legendary Coffee Collective and a strawberry tart from Laura's Bakery opposite. If you prefer to pick up a picnic there are stalls selling artizan bread and cheeses or deli stalls selling different salads and dips, then head for the nearby Botanic garden or the Kings Garden to stretch out on the grass. Torverhallerne is between Frederiksborgadde and Vendersgade close to Norreport Station and is open 10am-7pm most weekdays with slightly shorter hours at weekends.
6. A picnic in the Kings Garden
And spreaking of the Kings Garden or Kongens Have, this is where locals like to go in summertime to laze on the grass in the shade of the trees. In the centre there's a romantic formal garden while on one side of the moat from the Rosenborg Castle there's the rose garden which in summer blooms with scented roses and lavender, watched over by a statue of Queen Caroline Amalia. Ok, so the rose garden is more likely to delight your mother than your teenagers, but the Danish Crown Jewels in the Treasury of Rosenborg Slot are pretty impressive too. The Rosenborg Castle is also delightful if you enjoy a walk through Danish history but the Treasury really is packed with jewels and despite the soldiers on guard outside, it feels pretty laid back despite the considerable bling on display. The Kings Garden is free entry, the Rosenborg Castle and Treasury is open 10am-4pm (closes 5pm in summer) and costs 90 DKK to visit (children up to age 17 free)
7. A smoothie on the deck by the Copenhagen lakes
From the Kings Garden it's a short bike ride to the Copenhagen Lakes, the stretch of water that snakes through the centre of Copenhagen and borders the residential neighbourhoods of Norrebro and Frederiksberg. We met my new blogging friend and Copenhagen expert Alex Berger from VirtualWayfarer for a coffee at the floating deck of KaffeSalonen where you can drink a smoothie or coffee or hire a brightly coloured or swan shaped pedalo to get out on the water. Alex advised me that the lakes are not quite as clean as the harbour, so best not to swim, but it's a fabulous spot to relax overlooking the water. There are paths to walk or jog that run beside the lakes and benches to sit down and admire the view plus you could also try the Den Frankse Cafe or Cafe 22 as an alternative to KaffeSalonen.
8. Copenhagen Street Food on Paper Island
This new food venue on Paper island opened in April just along from the Royal Opera House in a large warehouse that's filled with street food stalls and trailers and a stretch of harbour front lined with deck chairs and benches to sit outside. It's a cool place to gather with friends on a sumer evening with DJ sounds, overlooking the harbour to catch the last rays of the sun with a beer in hand. The concept is to give small food vendors a place to do business, offering great food at reasonable prices, where you can get a snack from around 50 DKK. When we visited for a Friday night street-food-fest, we loved the atmosphere but I felt the food vision hadn't quite been realised, with some vendors seeming a bit overwhelmed by the popularity of the place.
The pulled pork wrap I tried was outstanding, but required a 25 minute wait once my name had been added to their list – not quite fast food! The pizza slice I had in the meantime was burnt on the bottom and couple of other stalls had closed early or run out of food, but my kids enjoyed their spicy chicken stew from the Cuban stall. If you adjust your foodie expectations and don't expect a gourmet experience just yet, Copenhagen Street Food gets a big tick as a cool place to chill with a bucket of beer overlooking the harbour. Copenhagen Street Food can be reached on the waterbus from Nyhaven to the Opera House and is open 12am-10pm for food and from 10am to late for coffee and drinks.
9. Modern art by the sea at Louisiana
Louisiana modern art museum is well worth the 30 minute train ride from central Copenhagen at any time of year but in summertime it offers the perfect day out for those who enjoy art in a natural setting overlooking the sea. The original seaside villa has been enlarged with purpose built galleries housing changing exhibitions of art and sculpture. When we were there, there was a colourful Emil Nolde exhibition plus a sureal collection of paintings by American artist Philip Guston as well as modern art by some of the big names such as Giacometti and Danish painter Asger Jorn.
The gallery is surrounded by lawns and trees dotted with sculptures by Henry Moore and others, overlooking the sea. The large cafe serves excellent smorresbrod, pretty cakes and a lunchtime or dinner buffet with tables inside and outside or you can just bring your picnic and find a grassy spot overlooking the sound. When you're done with the art, leave through the gate at the bottom of the hill and go for a swim off one of the jetties along the stretch of beach and shingle outside, my idea of a perfect artistic summer's day. Louisiana is also magical in the evening when it's open until 10pm Tuesday to Friday.
To get to Louisiana we took the coastal train from Norreport station in the direction of Helsingor and got off at Humlebaek station, then you can walk 15 mins or take a short bus ride down the road following the signs to get to Louisiana or alternatively take your bike on the train as we did with a 5 minute cycle at the other end.
10. Have a drink by the harbour as the sun goes down
The Copenhageners love to make the most of the short Scandinavian summer by spending as much of it outdoors as possible and we enjoyed warm summer evenings on our holiday just sitting by the harbour with a sundowner. Close to our apartment we found the deck of the Royal Danish Theatre at the end of Nyhaven had set up an outdoor summer cafe with a DJ to welcome the weekend. From here we could watch the lights come up in the Opera House opposite and the harbour buses going back and forth. Being delightfully democratic Denmark there are plenty of places like this along the harbour where you can just sit and enjoy a summer sunset, such as the deck by the 'Black Diamond' Royal Library or the Toldboden cafe near the Little Mermaid, but if you prefer you can bring your own wine or beers and find a place to sit along the harbour for the sunset.
More cool things to do in Copenhagen
Bike + Train = adventure in Copenhagen
Eat the neighbourhood in Norrebro
A celebration of mussels – our gastro-cruise in Copenhagen with Copenhagen cooking
Cool places to stay in Copenhagen
A cool boutique hotel in Copenhagen – The Andersen Hotel
Ibsens Hotel in Copenhagen – an affordable boutique hotel in Nansensgarde
Cosy up in Copenhagen at Avenue Hotel – video
Follow Heather on her travels's board Wonderful Copenhagen on Pinterest.
This article is originally published at Heatheronhertravels.com – Read the original article here
You'll also find our sister blog with tips on how to build a successful travel blog at My Blogging Journey