It's become a tradition for my friend Julia and I to spend a few days walking each year, and last September we were testing ourself in the Rosengarten range, part of the Dolomites of South Tyrol. I've already written about Day 1 in which we scaled the gentler slopes and Day 2 in which we scrambled over a high pass to walk through a rocky lunar landscape. Now you'll hear about Day 3 and 4 of our walk to the final mountain refuge along a grassy plateau and our precipitous descent to the valley again for a welcome return to the lovely Hotel Cyprianerhof, where we had started our walk.
We set off from Rifugio Bergamo
After breakfast at Rifugio Bergamo (also known as Grasleitenhütte) we were packed and ready to leave, just as the sun was creeping up to the terrace. We had very much enjoyed our stay at this wood panelled mountain lodge, which had been originally built as a base for mountaineers and was full of nostalgic books and old photographs. We took some departure photos with the owner Hans, a strongly built and bearded man of the mountains, who showed us photos of the festival he runs at the hut when everyone dresses up for that bygone era when the hut was built.
Descending the hill we looked back at the rifugio still in shade, perched in a cleft between two rockfaces. It was amazing to consider how it could be built in such a remote spot. All we could hear was the rushing of the mountain river that cascaded down behind the rifugio and looking up could see the white streaks of airplane jets making criss-cross patterns in the sky.
The sun warmed us as we skirted the mountain side on a balcony path, with views of the valleys ahead and pine forests below. The path descended to cross another mountain river where we hopped over boulders and then continued upwards on the other side of the gully.
A difficult climb to Rifugio Alpe di Tires
After crossing a few more pebble filled mountain streams the path became steeper and steeper, winding up through the rocky landscape. Now we were scrambling and climbing rather than hiking, with metal cables and ropes to help us in the most exposed places. With rocks sliding under my feet and no karabiner to clip me on safely, I must admit I was quite scared at this point. After my fall in Austria the year before, I knew how easy it would be to slip on the gravel surfaces, with a heavy rucksack to drag me down. I slowed down the pace and breathed deeply to calm myself, leaning into the rock and taking it one step at a time until we reached the top of the slope.
Thankfully, the path at the top of the slope was much easier, winding through a flower-filled meadow and we decided to take a detour to Rifugio Alpe di Tires which we could see up on our right. The beautiful modern refuge with its bright red roof, sat on a grassy plateau, on the saddle between two valleys with fantastic views in both directions. The terrace  and cafe were full of walkers and climbers and the stylish interior would not have been out of place as a hip city hangout. As grey clouds gathered, the 10 minute stop we'd planned turned into an hour, with a rain shower bringing mountain bikers and hikers running inside. Still it was no hardship to stay a little longer, sipping our raspberry lemonade.
Read about our our first day's hike – Hiking in the Dolomites – a tour of the Rosengarten

Read about our second day's hike – Over the pass in the Dolomites – hiking in South Tyrol
Leaving Rifugio Alpe di Tires
As blue skies re-appeared, we set off on the path that skirted the mountain, until Rifugio Alpe di Tires was just a tiny toy house in the distance, easy to spot because of the red roof. As the path climbed ever higher, I was worried that we might be in for a repeat of the vertical rock climb, but was reassured that the path must be quite manageable when we passed walkers accompanied by their dogs.
Now we were practically level with the tops of the grey rocky crags across the valley and reached a grassy plateau where blue flowers like larkspur were blooming in the meadow. The fence with a gate, told us that there must be cows up here, munching their way through the grass, surrounded by stunning mountain scenery.
The final walk to Rifugio Bolzano
Beside the path was a large cairn of rocks and from here we could see Rifugio Bolzano where we'd be spending the night. Although it seemed to be just a short walk across the grass plateau, we knew that distances in the mountain are not easily judged by the eye and that it would be nearly two hours before we arrived there.
After our climb, it was time for a break and a rest, so we shrugged off the rucksacks and took 20 minutes for a snack and a drink. I took the opportunity to take a few photos, while my friend Julia lay on the grass for some quiet time, contemplating the views.
Just as we left our rest spot, the sky darkened and the rain started to come down, turning the gravel path into sticky mud. With waterproofs on, we trudged along the path across the plateau, marked by a series of white cairns and nearly two hours later arrived drenched at Rifugio Bolzano.
Read about our our first day's hike – Hiking in the Dolomites – a tour of the Rosengarten

Read about our second day's hike – Over the pass in the Dolomites – hiking in South Tyrol
A cosy stay at Rifugio Bolzano
What a relief it was to take off our muddy boots and wet waterproofs, to hang up our poles and enter the cosy, wood panelled dining area. We found the place was already full of families, with children playing games and relaxing before dinner time. Rifugio Bolzano was built over 100 years ago and with 47 beds is one of the larger refuges in the area – we soon settled into our private room with wooden beds and threw open the window for a view of the mountain.
We were slightly taken aback to find that there were no showers at the refuge, only communal washrooms where we had to take our chance for a bit of privacy. Still the atmosphere was friendly and convivial as we settled in with a drink and then ordered a dinner of hearty mountain fare, with the filling kaiserschmarrn pancakes for desert.
By the morning, the showers had passed and the rain seemed to have washed the air clean, revealing sunny views of the jagged rocky teeth that make the distinctive landscape of the Dolomites.
Our final day hiking back to Cyprianerhof
From Rifugio Bolzano we walked gently downhill across green pasture dotted with white standing stones, feeling a little bit like Hansel and Gretel following the trail. At the end of the plateau we could see down into the valley, although it was difficult to identify on the map which of the villages might be below us. Somewhere behind the ridges before us lay the luxurious Hotel Cyprianerhof, which we were very much looking forward to reaching that evening.
From the plateau the path became a narrow ribbon, zig-zagging steeply downwards, taking us towards the valley. Despite going downhill, the descent was by no means easy and as we got closer to the tree line, there were more steep steps with tree roots and the gravel was slippery from rain showers. After a couple of hours we reached a cross where there was a lovely picnic table for us to take a break and eat some of our snacks. The worst of the descent was now over although we had our waterproofs on and off with frequent showers, and there was still a good 3 hours to walk before we would reach the hotel.
Read about our our first day's hike – Hiking in the Dolomites – a tour of the Rosengarten

Read about our second day's hike – Over the pass in the Dolomites – hiking in South Tyrol
A walk through the forest in South Tyrol
We now skirted along the side of the slope through forest, the smell of cow dung mixed with the scent of pine needles. The air was cool and damp in the shade of the forest canopy and moss gathered around the tree roots. Along the trail were a few wooden sculptures, carved from trees and logs that must have fallen there; an overhanging giant mushroom and a fierce eagle's head jutting into the path.
At times the path crossed tricking streams that had been channeled into wooden troughs where you could stop for a drink or fill up a water bottle. Through gaps between the trees we could look down into the valley and from down below the sound of Sunday church bells and a brass band practicing in the church wafted up to greet us. The gentle walk gave me time to absorb the details of the forest, the tiny pine cones crunching underfoot and the orange mushrooms the size of a coin set into the bright green clumps of moss.
The final descent to Cyprianerhof
Now we were on the downward slope, on a wide track that would take us down to St Cyprian in the green valley, with the distinctive jagged peaks of the Dolomites rising in the distance – the ones that we had climbed over just a few days before. We have a tradition on our hikes of taking a 'Before' and 'After' photo and so on arriving at Cyprianerhof, we grabbed a passing walker to take a picture of us –  tired but thrilled at the prospect of the luxury that awaited us. Take a look the picture below – I think you can guess which is the 'Before' and which the 'After' ?
After four days and three nights in the mountains, staying in simple accommodation with limited shower facilities, you can imagine what a treat it was to enter our room at Cyprianerhof. It was all as lovely as we remembered; the luxurious natural fabrics and cosy faux fur throw, the huge bathroom with polished stone sinks and the apple on the bed to remind us to stay healthy in the mountains.
A well deserved Aperitif after our walk
Soon the wild women of the mountain were transformed into chic and sleek creatures, with freshly washed hair and make-up, changed into the clean clothes that we had left at the hotel – what bliss! It was time for a well deserved aperitif at the drinks party offered for hotel guests on the lawn outside; a Hugo for me and an Aperol Spritz for Julia.
With the view of the peaks that we'd climbed on our first day, we toasted our success and endurance in scaling those rock-faces, climbing over the passes, and surviving the lack of showers with only hearty mountain dishes and the odd beer to sustain us. Now we deserved the delicious meal and elegant surroundings that awaited us at Cyprianerhof – we'd certainly earned it!
Read about our our first day's hike – Hiking in the Dolomites – a tour of the Rosengarten

Read about our second day's hike – Over the pass in the Dolomites – hiking in South Tyrol
Where we stayed in South Tyrol
To compare prices and book Hotels in South Tyrol on HotelsCombined.
Night 1 – Hotel Cyprianerhof
Website: Cyprianerhof.com A luxurious 4 star hotel in St Cyprian with extensive facilities for wellness and activity excursions. The hotel's philosophy is to offer guests the full experience of the Dolomites, allowing them to recharge and clear their minds through hiking in the mountains, combined with relaxation in the spa and sauna facilities.
In summer there is a programme of hiking as well as climbing and Via Ferrata, while in winter guests can try snow-shoe, ice climbing and cross-country ski. The hotel is affiliated to the Wanderhotels group of hiking hotels with hiking and snow-shoe excursions included as part of the half board package that includes breakfast, afternoon tea and evening meal. The food here was excellent using local and seasonal produce. Half board package including activities from €156 per person per night. You can check prices and book for all hotels in South Tyrol on HotelsCombined.
Night 2 – KolnerHütte / Rifugio Fronza alle Coronelle Website: Rifugiofronza.com
Cost: from €52 per person for half board (evening meal and breakfast)
The Refuge has both 2 bed rooms and dorm rooms, with 60 beds in total. Blankets are provided but you need to bring your own sheet sleeping bag. There is 1 hot shower which costs €3 to use. The Refuge can also be reached from St Cyprian by a bus to the foot of the Laurino chairlift, then take the chairlift up to KolnerHütte. Many people use the chairlift to reach KolnerHütte quickly and then walk the higher mountain routes from there.
Night 3 – Grasleitenhütte / Rifugio Bergamo Website: Grassleitenhuette.com
Cost: from €52 per person for half board (evening meal and breakfast)
We received a warm welcome at this family run Rifugio that was built in the last century as a base for wealthy mountain climbers and still has an authentic Tyrolian atmosphere with wood panelling, old pictures and maps. The Refuge has both 2 bed rooms and dorm rooms with duvets provided but you need to bring your own sheet sleeping bag. There are 2 hot showers which cost €3 to use. The refuge has a charming traditional feel and is family run with friendly owners and excellent cuisine and wine.
Night 4 – Schlernhaus / Rifugio Bolzano Website: Schlernhaus.it
Cost: from €39 per person for 2 bed room including breakfast. Meals can be ordered from the modestly priced menu and half board is available for groups of 8+ people.
The Refuge has both 2 bed rooms and dorm rooms, with 120 beds in total. Duvets are provided but you need to bring your own sheet sleeping bag. There are no showers, only a washroom. The refuge is large with a traditional wood pannelled dining room and panoramic views of the mountains as well as friendly staff. The Refuge seemed to be a favourite with families and several people had dogs with them.
Night 5 – Return to Hotel Cyprianerhof (see above)
Read about our our first day's hike – Hiking in the Dolomites – a tour of the Rosengarten

Read about our second day's hike – Over the pass in the Dolomites – hiking in South Tyrol
Getting to South Tyrol
South Tyrol is the north-east corner of Italy, bordering Austria to the north and Switzerland to the west. We flew to Venice Marco Polo Airport and hired a car to drive to the nearest village of St Cyprian, which took around 3 hours. Alternative airports would be Milan Bergamo (2 hrs 50 mins), Innsbruck (1 hr 50 mins), Verona (2 hrs), Venice Treviso (3 hrs). For those using public transport, trains and buses are available from most airports to Bozen/Bolzano and there is a bus (number 185) running from Bolzano to St Cyprian which stops ouside Hotel Cyprianerhof, running around once an hour (journey time 50 mins). The taxi from Bolzano to St Cyprian would take around 30 mins. To compare prices and book Hotels in South Tyrol check out HotelsCombined.
Speaking the language of South Tyrol
In South Tyrol both German and Italian are widely spoken, since the province was part of the Austro-Hungarian empire until 1948, then became part of Italy after WWI.  In the Dolomites we found that German was more commonly used although most locals will easily switch between Italian and German. English is less widely spoken although you will not have a problem in larger hotels and in mountain huts there is generally someone with a little English. Because of the dual languages all towns, villages and mountain huts have two names – both German and Italian. For simplicity in this article I may use just one of the names.
Plan your hiking routes in the Dolomites
A good resource for planning your hiking routes in the Dolomites is the Sentres.com website and the South Tyrol Tourism website also has plenty of information to plan your holiday in South Tyrol.
You will find timings for walking routes on the Sentres website. However, be aware that these are times for fit walkers without any stops for rests or photographs. In our experience we found that for each 2-3 hours of the 'official' time, we needed to add 30 mins to allow for being less fit and 30 mins for a drink stop in a refuge. So overall we would add 1-2 hours to the times given per day.
We used the Tappeiner 1:25.000 Map No 29 Schlern – Rosengarten – Sciliar – Catinaccio – Latemar – you can order it on Amazon and a similar map was for sale at Cyprianerhof for €9 and probably other places locally. We could not find an English guidebook to the routes we were walking but we found we could navigate fine with just a map as the paths were well marked.
Here are the routes and timings we took
Day 1 – Cyprianerhof to KolnerHütte
Official time: 4 hours
Actual time without stops: 4 hrs 30 mins
Actual time with stops: 6 hours
Our route was: Cyprianerhof – Nigerhütte 2 hrs / Nigerhütte – Messnerjoch hütte 1 hr / Messnerjoch hütte – KolnerHütte 1 hr 30 mins
Read about our Day 1 hike – Hiking in the Dolomites – a tour of the Rosengarten
Day 2 – KolnerHütte to Grasleitenhütte
Official time: 5 hrs 30 mins
Actual time without stops: 6 hrs
Actual time with stops: 7 hrs 30 mins
Our route was: KolnerHütte – top of Coronelle Pass 1 hr / top of Coronelle Pass – Rif. Vaiolet 1 hr 45 mins / Rif. Vaiolet – Grasleitenpasse 1 hr 30 mins / Grasleitenpasse – Grasseleitenhutte 1 hr 30 mins Warning: very steep climbing with cables over Coronelle Pass
Read about our Day 2 hike – Over the pass in the Dolomites – hiking in South Tyrol
Day 3 – Grasleitenhütte to Schlernhaus
Official time: 4 hrs
Actual time without stops: 5 hrs
Actual time with stops: 7 hrs 30 mins ( we made a 40 min detour to Rif. Alpe di Tires)
Our route was: Grasleitenhütte – Rif. Alpe di Tires 3 hrs 25 mins / Rif. Alpe di Tires to cairn at start of plateau 1 hr 20 mins / Cairn at start of plateau to Schlernhaus 1 hr 30 mins. Warning: very steep climbing with cables on final part of route 3 up to Rif. Alpe di Tires
Day 4 – Schlernhaus to Cyprianerhof
Official time: 4 hrs 30 mins
Actual time without stops: 6 hrs
Actual time with stops: 8 hrs
Our route was: Schlernhaus – Junction of route 3 & 7 1 hr 50 mins / Junction of route 3 & 7 – Turning to route 7B 1 hr / Turning to route 7B – Tschafonhutte 1 hr / Tschafonhutte – Cyprianerhof 2 hr
You've just finished reading about Day 3 & 4 of our hike
Thanks to the South Tyrol Tourism board who hosted my walking tour of the Dolomites.
Pin It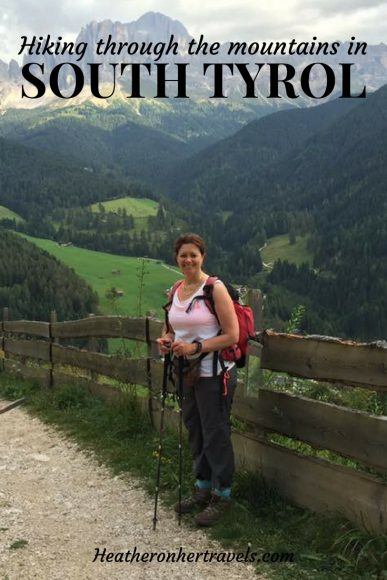 This article is originally published at Heatheronhertravels.com – Read the original article here
You'll also find our sister blog with tips on how to build a successful travel blog at My Blogging Journey
March 2, 2014 by Heather Cowper
Filed under Europe, Accommodation, Leisure, featured, Art and design, Copenhagen, Denmark, Eating and drinking, Hostels, Museums, Shopping, Sightseeing
I've been to Copenhagen not one, not two, but three times now. In the world of weekend breaks it's unusual for me to be drawn back to a place when there are so many new destinations vying for my attention. But Copenhagen is a city that really seems to have got under my skin. Maybe it's the fact that it's, well, so civilised. Not only is the city full of great design, historic charm, sparkling water and friendly people, but everything seems to work, everything is clean and everyone speaks English. If you can put up with the high prices (Wow! £7 for a beer?) then it's the lazy traveller's dream destination.
This time my excuse for a long weekend in Copenhagen with my husband, Guy, was Copenhagen Cooking that forms part of the Wondercool festival including a fashion week, jazz festival and design events as well as the largest food festival in Northern Europe. Of course, we know that festivals like these are really a way to attract visitors and add a little cultural buzz in freezing February when no-one would otherwise visit, but even so there are plenty of innovative events to keep your mind off the chill. So if you fancy a weekend break in Copenhagen, here's my diary of this trip (with more than a few photos to keep you in the picture);
Friday evening – checking in to the Andersen Hotel
Arriving in Copenhagen on Friday evening, we hop on the super-efficient train and 30 minutes later arrive at the Central station which is just 5 minute walk from the Andersen Boutique Hotel in Vesterbro where we're staying. The sex shops and Asian takeaways we pass aren't promising but then Vesterbro is Copenhagen's red light district as well as the trendy place for restaurants and nightlife. Entering the Andersen Hotel reception area is a relief from the grey evening outside with glowing pink lights, chess sets laid out at the bar tables and friendly faces at reception. This hotel was completely renovated a couple of years ago, using Designer's Guild furnishings, and we're pretty impressed with our Junior suite on the 4th floor, which has a 'Mermaid' colour scheme and a turquoise and white Philip Starck bathroom.
Dinner at Bio Mio in the Meat-packing district
Asking for restaurant recommendations at reception we head down the road to Bio Mio, an organic  all-day diner that's in the meat packing district where the meat processing still goes on but the trendy restaurants are also moving in. We find Bio Mio by the large neon Bosch signs and settle into the bar stools at the high wooden tables with a view of the chefs at work in the open kitchen that runs the length of the restaurant. We're feeling experimental on the drinks front so I have an elderflower cider and Guy has a dark Alt bier which looks like Guinness but is far more fruitilicious. We order from the specials board and I try the fish of the day which arrives piled high on a square of mashed potato, topped with a swirl of raw fennel (200 DKr) and Guy goes for the beef casserole (175 DKr) which he also enjoys. Outside the rain is drizzling but inside the atmosphere is cosy with soft jazz playing and candles in jars at the window.

Saturday Morning – Exploring Vesterbro
On Saturday morning we explore the area of Vesterbro around Andersen Hotel, a working class neighbourhood that has become trendy as students and arty professionals have moved in. It's also the red light district of Copenhagen with more than its fair share of massage parlours and sex shops selling fishnet underwear and fetish toys.
Veering away from Istedgade where much of this seems to be based, we pass the Mikkeller bar, known for its micro-brewed beer, past the graffiti covered heart sculpture and onto Vesterbrogarde where the shopping is far more mainstream.
We are on the look-out for the trendy designer clothes shops we've read about but it feels as if we're looking in the wrong place and then Guy gets diverted into a cycle shop where he enjoys a chat with the fellow enthusiast about the joys of cycling in Denmark and buys some cute bike lights. We come across the Museum of Copenhagen, where we look around for a bit, learning how immigration has affected Copenhagen, admire the colourful painted shooting targets on the stairs and discover the Danish philosopher Søren Kierkegaard in an exhibition that explores the theme of love.
Saturday afternoon – a gastro-cruise around the harbour
By lunchtime we are heading towards the harbour and the Royal Library, also known as the Black Diamond, where we have are booked on a gastro-cruise as part of the Copenhagen Cooking festival. As we're there in good time, I take myself up the upper floors where you can look down through the full height of the building and admire the canal opposite framed by the wall of glass.
At 1.00 we get a welcome talk and board the tour boat that takes us to six different restaurants around the harbour, where we try a different course in each. This gastro-cruise showcases one seasonal ingredient and this year it is the turn of the humble mussel, once the working man's food, to be elevated to new heights by inventive chefs. Our first course of canapes from Soren K in The Black Diamond is eaten on the boat, with an explanation from the chef as he serves us with the accompanying wine, while at other restaurants we get off the boat and are seated in the restaurants to try the different dishes.
While it's all about the mussels, each chef manages to come up with a unique interpretation of this ingredient; from the creamy soup at Restaurant Salt, to the chilli and coconut flavours from Southern India at Verandah, to the retro tartlet like granny would make at Lumskebugten, to the purple carrots and frothy soup served with sea buckthorn juice and snaps at Spisehuset 56. The cruise is over by 6pm when we arrive back at the Royal Library for a cup of coffee and a chocolate before walking back to the hotel, where we collapse to digest our gastronomic afternoon. Read the full account of our Copenhagen Cooking gastro-cruise here.
Sunday morning – art and culture in Copenhagen
While our Saturday had a foodie theme, our Sunday is an opportunity to explore the art and culture of Copenhagen and we start at Ny Carlsberg Glyptotek, just a 10 minute walk from the Andersen Hotel. This delightful museum houses the art and sculpture collection of the 19th century brewing magnate Carl Jacobsen and is perfect for a winter day, full of classical Greek and Roman sculpures as well as those turn of the century marble figures on allegorical themes by Danish sculptors.
We wander through the impressionist galleries upstairs, packed with Gauguins, Van Goghs and Cezannes and enjoy the Degas ballerina series including the petite bronze of the Little Ballarina similar to the one in Musee d'Oray in Paris. At the heart of the museum is a winter garden with glass roof and tropical foliage, overlooked by a cafe where we are tempted to stop, but it's a bit early for coffee so we just buy a few postcards before we move on.
Shopping on Stroget
Our walk takes us on down the length of pedestrian shopping streets that are collectively known as Stroget, towards the shopping heart of Copenhagen by the Stork Fountain where the "Big Three" of Copenhagen's designer shops are located. We'd enjoyed looking around here on our previous visit and now have an aspirational wander around the Georg Jensen flagship store, with covetable silver jewellery on the ground floor and homeware downstairs. I've been lucky enough to have a private tour of the Georg Jensen silver workshops where the heirloom pieces are made, but sadly the room where these are normally on display is closed. I also love the Royal Copenhagen store next door, where the instantly recognisable blue and white porcelain has been reinvented in many different designs and the gorgeous Flora cup and saucers are planted with spring bulbs. Although I'd love to bring back a souvenir, I decide that £40 is just too much for a coffee mug and we move on to the much more affordable Illums Bollighus which the perfect place to shop for Danish designs.
The Round Tower in the Latin quarter
Having got our fix of Danish design we turn left down Kobmargergade and into the Latin Quarter, where we walk to the Rundetaarn or Round Tower. Built in the 17th century by King Christian IV as an astronomical observatory, it's a surprisingly easy stroll to the top as there is a brick ramp that was designed for the easy transportation of astrological instruments.
From the viewing platform at the top we get a 360 degree view over the red rooftops of Copenhagen, but the kissing seat near the top is already taken by a family having their picnic so we can't stop for that romantic snuggle at the window. The other nice feature of the Round Tower is that half way up you find the doorway to the enormous space of the old library, which once housed 10,000 books but is now used as an art gallery and concert space.
Sunday afternoon – The fairytale castle of Rosenborg Slot
Another place on our list to see, which is conveniently close to the Round Tower, is the fairytale castle of Rosenborg Slot, set in the park known as Kongens Have or King's Garden. Before we look around the palace it's time for lunch and we stop at Orangeriet, a restaurant set, as the name suggests, in the old orangery of the palace. We love the light atmosphere, all pale Scandinavian painted wood and fragrant spring bulbs, where the lunchtime menu of Smorrebrod is surprisingly affordable by Copenhagen standards. Guy orders the smorrebrod of steak tartare with beetroot and horseradish which is red and succulent, while my choice is the chicken salad with mushrooms, apples and celery which is a creamy mixture with a colourful red and green vegetable garnish. We'd like to stay longer but the castle is closing at four so we hurry through the gardens, crossing the bridge over the moat and pass the soldiers guarding the treasury, trying not to look too suspicious.
The castle is full of richly decorated rooms with marble, gilt and ornate furnishings, each one set in the period of a different King of Denmark. On the ground floor is a case displaying the bloodstained shirt worn by King Christian IV during the naval battle of Kolberger Heide in 1644 where he was wounded by cannonball fire and lost an eye. The king himself ordered the shirt to be put on show and thereafter adopted the motif of a pelican tearing out its heart to feed its young, as a symbol of his sacrifice and had the bullet fragments made into earings for his mistress to wear.
Before the palace closes we just have time to see the Treasury in the basement, protected by a heavy steel door guarded by soldiers. Even so we are able to get surprisingly close to the cases containing all the precious crown jewels including the sets of glittering emeralds and the crowns themselves.
Coffee and cakes at Torverhallerne
We leave the palace at closing time and walk to the nearby Torverhallerne food halls, which leaves us salivating at all the stalls selling artizan foods. These two market halls were under construction on our previous visit two years ago, when we stayed at the nearby Ibsens Hotel, but now they are packed with interesting and delicious food finds, with raw fish, meat and vegetables in one hall, while the other seems to feature chocolates, deli counters and food to take away.
There are plenty of stalls selling food to refresh the weary sightseer like us, from Coffee Collective that we visited last time in Norrebro to the Granny's House cake stall where we perch at a small table and order some coffee and cakes served on pretty pastel china.
After our late afternoon coffee break we spot an appetising deli counter where we buy dips, olives and good Danish sourdough and rye bread from a bakery stall. We carry it all back to Andersen Hotel where we pass up the delights of the Meat Packing District for a night in watching TV, drinking wine and eating our picnic in our room, weary after our busy day's sightseeing.
Monday Morning – Exploring the harbour
On Monday, as our flight isn't until the evening, we take advantage of Andersen Hotel's Concept24 policy which means that we can keep our room for a full 24 hours and check out late in the day. Leaving our cases in our rooms, we head for the harbour to explore the area of Christianshaven across the bridge, where houseboats are moored along the canal.
We stop to look at the beautiful Church of Our Saviour with old wooden pews and chandeliers where an organist is practicing, before walking on to the 'free state' of Christiania.
This neighbourhood of Copenhagen was an old military barracks that was occupied by squatters in the 1970s who wanted to create a community life together, but became known as an area where soft drugs were freely available and the police would not go. The residents of Copenhagen have mixed views about Christiania and although drugs are no longer sold openly, we found that the area had a run down feel, with groups of men standing around stalls selling souvenirs and drug related paraphanalia. Perhaps the atmosphere is lighter in summer than on a cold February day and although the signs exhorted us to have have fun (but take no photos), we didn't feel like lingering long.
Just across the river it is a different world from the hippy, overgrown Christiania to the perfect, painted merchant houses and picturesque sailing ships of Nyhaven, that feature on all the postcards. In summer this must be a tourist trap worth avoiding, but on a sunny winter's day we enjoy our walk along the canal and skirt the harbour towards the palace of Amalienborg, residence of the Danish Royal Family.
Most people time their visit for midday when the royal guards march from Rosenborg slot and arrive at Amalienborg for the changing of the guards. The central square is surrounded by four palaces with an imposing statue of Frederick V in the middle looking towards the dome of the marble church.
Lunch back in Vesterbro
We head back through the Latin quarter to meet with Henrik from Wonderful Copenhagen who has promised to take us out for lunch. As we don't have too long before our flight we decide to stay close to the Andersen Hotel where we'll need to collect our bags and stop at the Claus Meyer deli on the border with Frederiksberg to try the smorrebrod and other light lunchtime dishes. I order the smoked salmon with beetroot and horseradish cream, which is one of the prettiest dishes I've ever seen, while Guy enjoys the hot Danish pate topped with bacon and an apple and parsley salad on the side. This deli is one of  three in Copenhagen, but Claus Meyer is well known as a food entrepreneur and has plenty of other gastronomic enterprises such as a couple of bakeries, The Standard jazz club and a part-ownership of Noma. This deli is definitely worth noting in your address book in you're a gourmet on a budget, serving delicious and  affordable dishes from breakfast through to early evening.
Close by we stop to have a coffee in the Central Hotel and Cafe, dubbed the "Smallest cafe in the world" with just a counter and a bench to sit on, while the "Smallest hotel in the world" upstairs is a single en suite room for couples who want to be truly alone. Both enterprises are owned by the owners of the retro cafe Granola, just around the corner, where breakfast is served for hotel guests and all good children are rewarded with a lollipop the way out.
There are a couple of other Copenhagen landmarks I want to squeeze in before we head for home, one of which is The Royal Hotel, now owned by Radisson Blu, which was designed by Danish architect and designer Arne Jacobsen in the 1960s, using many iconic designs like the Swan chairs in the lobby. Suite 606 is kept as an example of the original furniture and designs created by Arne Jacobson and we sneak up to the 20th floor to take a peek at the gourmet restaurant Alberto K, where every table has a view over the city.
The other place on my wish list is Nimb, a luxury boutique hotel with only 17 rooms that overlooks the Tivoli gardens. Even those who can't afford to stay there can experience the magic in summer, with an al fresco meal on the Brasserie terrace overlooking the gardens. Remembering that it's freezing February, however, we pop upstairs to the ballroom bar which is a special place to have a cocktail or drink, especially in winter with the fire lit at one end and the candles flickering around the room.
Sadly we've run out of time and head back to Andersen Hotel and wheel our bags to Central Station where we take the train for the airport and home. We've had a great time eating and sightseeing and are already planning our next trip back to Copenhagen, preferrably in warmer weather when the Copenhageners are out enjoying the parks and harbourside in the long, light days of the Scandinavian summer.
Visitor Information for Copenhagen
Our gastro-cruise was part of the Copenhagen Cooking festival, one of the biggest food festival in Northern Europe which takes place in August and February. Look out for the summer edition of the Copenhagen Cooking festival in August.
Heather and Guy stayed at the Andersen Hotel in Vesterbro, Copenhagen's Red Light District and trendy neighbourhood for restaurants and nightlife. Thanks to Andersen Hotel who provided a complimentary stay for our weekend visit.
Copenhagen Card – we used the Copenhagen Card during our stay for free public transport by bus, train and metro as well as free admission to 75 museums and attractions. We used the card to get free entry to many of the sights we visited on this and previous visits such as Ny Carlsberg Typtotek, Rosenborg Slot, The Museum of Copenhagen, The Harbour Cruise and Tivoli Gardens, as well as for getting around on the metro and train.
For more information about visiting Copenhagen, see the Visit Copenhagen official Tourism website. Thanks to Wonderful Copenhagen who sponsored our weekend visit to Copenhagen.
Heather Cowper shares her travel stories, videos and podcasts at Heatheronhertravels.com and you can also find her on Facebook and Twitter.
This article by Heather Cowper is originally published at Heatheronhertravels.com – Read the original article here
You'll also find our sister blog with tips on how to build a successful travel blog at My Blogging Journey
Let me take you along on our pre-Christmas weekend break in Paris with a round-up of everything that we enjoyed. We had winter blue skies and walked everywhere we could, enjoyed plenty of delicious food, met up with old friends and made new ones, tried to avoid the cliche sights and find some hidden corners. Here's my Paris diary;
Friday night flight from Bristol
We arrive late on Friday night, on the Air France flight from Bristol. From Charles de Gaule airport it's easy to take the RER mainline and connect on the Metro to Montparnasse, although it's around 10pm before we finally reach the hotel. It's dark and drizzly and the area around the hotel looks unremarkable, like many a city centre with restaurants closing and late night corner shops. We walk through the colourful modern lounge area of Hotel Pullman and check into our room on the 23rd floor ready for a good night's sleep, as the next day we have a tour of Marche d'Aligre planned.  Read my review of Hotel Pullman Paris Montparnasse here.
I hope you enjoy the video below of our Winter Weekend in Paris
If you can't see the video above of our Winter weekend in Paris, view it on my blog here and on YouTube here
Download the Hotel Pullman Paris Montparnasse Video
Subscribe to all my videos in I-tunes
If you enjoyed this video, check out the others in my Video archive
Saturday morning – a tour of Marche d'Aligre
Saturday morning and the grey of the night before seems to be lifting, as we enjoy a good breakfast in the stylish modern Restaurant Justin, with fruit, yoghurt and a miniature version of my favourite French breakfast pastry, the pain raisin. Of course, if I was a true Parisian it would just be a quick coffee, crust of baguette and a cigarette on the run. We catch the Metro to Ledru Rollin and are soon greeted by our guide David, from Viator who run various food tours of Paris. After a quick oriention of the Paris arondissments – everythings done by numbers here rather than names as we would in London, we stroll through the market admiring the most beautifully presented produce I've ever seen.
Not a speck of dirt anywhere and everything is fresh, shiny and arranged in neat and appetising piles. David explains that this is market is 300 years old and receives the pick of the Rungis wholesale vegetable market, yet because of the fast turnover, the prices here are very reasonable. We hear how Jerusalem artichokes that were a staple in WW2 have been redicovered by fashionable chefs, how round courgettes are grown to be stuffed into Farcis and how certain varieties of the humble potato are so highly prized that they can cost a small fortune.
Moving inside to the covered market we are practically drooling at the piles of cheese, the fresh meat and charcuterie and the fat fois gras which David explains should be covered in salt and spices to cure for a few days before being served at Christmas. We buy a pinch of saffron at the Tunisian grocer and some old fashioned sweets at the Grainetarie before admiring all the pretty glass and porcelain in the flea market.
Finally we move on to some of the food shops where we take a tasting plate of cheeses into the nearby wine shop to try with a glass of 2001 Medoc that the wine merchant has opened for his Christmas customers. We work our way through the creamy Rocamadour, earthy Saint Nectaire and finish with some blue Roquefort topped with a sliver of Pate de Coings or Quince cheese which is a delicious balance of fruity and salty.
David leaves us with a recommendation of of some of the market restaurants to try for lunch and we squeeze into a table at Le Chat Bossu where Guy enjoyes the rabbit stew Plat de Jour and I'm feeling adventurous so I try the Steak Tartare – raw chopped steak seasoned with capers, ketchup and tabasco according to the waitress. Read about our Gourmet Tour of Marche d'Aligre here
Saturday afternoon – exploring Bastille and a walk by the Seine
After lunch we have a few hours to fill before a rendezvous with an old friend on the Rive Gauche, and with the sun shining we decide to walk towards the Seine and enjoy soaking up the atmosphere of Paris. Our path takes us by chance up onto the Promenade plantée, a green pathway on an old viaduct high above the street level, which we walk along until the path runs out and we descend the steps to street level again.
Further along the road we reach Place de Bastille where there's a Christmas funfair underway just beside the July Column that was built to commemorate the revolution of July 1830. The busy road intersection and the family crowds around the funfair have broken the peaceful mood of the Promenade Plantee, and we decide to seek calm along the banks of the Canal Saint Martin that runs down to join the Seine.
We dip down from road level, to walk alongside the tow-path on a level with the houseboats that are moored here. It reminds me a bit of the Regents Canal in London as we weave under the canal bridges and then turn left to walk along the Seine along a narrow cobbled footpath. Down here it seems a world away from the busy streets of Paris and we can see Notre Dame in the distance on Ile de la Cité.
We have to pass several bridges, walking further than we'd like in the wrong direction before we finally find a place to cross the Seine and walk back in the opposite direction to enter the Jardin des Plantes.
It's set out in classical French style with long vistas looking down towards the Natural History Museum, although some of the beds are full of herbs and other botanical plants giving them a wild and romantic look which contrasts with the formal paths and parterres.
Down the fence to one side is an art exhibition with some oversized close-up photography of crystals and rocks and we can see in the next part of the garden the Menagerie. Guy is very taken with the Hotel des Abeilles – a Bee Hotel made of wood where the bumble bees and other insects can hibernate in winter, as Guy is in charge of the bees at his work. I'd like to go in the glass-houses which remind me of Kew Gardens but there's a charge, a queue and we don't really have enough time anyway.
We hurry on to our meeting with my old friend Pierre-Jean and his three lovely teenage boys – I used to stay with his family in Bordeaux when I was their age, and we have a happy hour or two over a beer remembering old times.
Saturday evening – dining with locals with Cookening
Back at Hotel Pullman Montparnasse we make a quick turn-around, before heading out again to have dinner near the hotel with our Cookening host, Adelia. We want to try out the concept of dining with locals which is catching on in many European cities and have booked through the Paris based Cookening website that connects dinner hosts and dinner guests. Luckily Adelia's apartment is within walking distance of our hotel and before long we are enjoying an eye-wateringly strong rum Caribbean punch and nibbling on some hot meat pastries.
It turns out that Adelia is originally from Guadaloupe and she cooks us a delicious French Creole meal of rich crab soup and chicken with beans and "Sauce Chien" followed by caramalised pineapple and mango ice cream. We spend a very pleasant evening chatting with Adelia and her daughter about life in the Caribbean where she is headed for Christmas, as well as French politics and the high level of taxation, which seems to be a topic of concern for every Parisian we meet. With all the rum punch and wine thank goodness it's just a short way back to the Hotel Pullman. Read about our Dining with Locals with Cookening
Sunday Morning – church and coffee at St Justin de la Pauvre
On Sunday morning we've arranged to meet our friends again for mass but we want to catch a bit more of the Sunday morning market scene so we get off the metro a couple of stops early at Rue Mouffetard where we've heard there's an excellent market. We walk down the street itself which is certainly full of wonderful food shops, but are disappointed to find that there doesn't seem to be a market there today.
Undeterred we walk up Rue Monge towards the Seine dodging the queue for fresh artizan bread that's forming outside Eric Kayser. Although this popular baker has other branches around the city, this is his original branch and all the breads are named after landmarks of the 5th aronissement where it's situated. There's time to drool outside the windows of Le Bon Bon au Palais, a cute sweet shop which was full of Japanese schoolgirls last time we passed by and has jars of colourful marshmallows in the window. Sadly we are there just before opening time and no time to wait.
We arrive within sight of Notre dame at the church of Saint Julien le Pauvre with a Christmas craft market in the square close by, and enjoy the music and service at this Catholic/Greek Melkite church with a beautiful gilded altar screen. Afterwards we pop across the cobbled street for coffee in the tiny Odette tea shop which is known for its choux pastries in a multitude of flavours, and from the miniature upstairs tea room we can pretend we are in our medieval garret looking towards Notre Dame on the other side of the River Seine.
Sunday afternoon – Place des Vosges and Maison Victor Hugo
Leaving our friends, we pass in front of Notre Dame Cathedral where the queue of tourists is snaking out the door and I instinctively zip up my bag against the pick-pockets and scam-merchants that frequent such tourist hot-spots. Nevertheless, we take a few photos of the carved stone facade that is sparkling white after a 10 year cleaning project, before walking on through the pretty garden of Jean XXIII and over the bridge onto Ile Saint Louis. The main road of rue Saint Louis-en-l'Ile is full of small, charming shops and galleries, including Galerie Kara, which sells jewellery, antiques and objets for the home from India, China and Asia and is owned by a friend, but as it's closed we walk over the bridge into the Marais. We've heard that this is the trendy area of Paris, and indeed the narrow streets are picturesque although we're surprised to find that the small shops are mainly filled with well-known high street brands.
The streets are crowded and full of tourists but they thin out as we arrive at Place des Vosges. We love the elegant 17th century architecture that surrounds the square which has a small park where locals are relaxing and children playing. Surrounding the square are arched arcades with art galleries and cafes and we walk around three sides of the square before we find what we've come to see; Maison Victor Hugo. The apartment at 6, Place des Vosges was lived in by Victor Hugo between 1832 and 1848 and is now a museum, run by the City of Paris. It is furnished in the same style as it would have been in Hugo's day, although it represents more of a commentary on his life than an exact replica of the way he left it, unlike his house on Guernsey which we visited when we were there.
We particularly enjoy the rooms that feature Hugo's own decoration, such as the Chinese room which was originally designed by Victor Hugo for the house on Guernsey of his mistress Juliette Drouet. The final room is the red bedroom which houses the original furnishings and decor of Victor Hugo's bedroom from another Paris apartment with his dark oak fourposter bed and tall desk where he could write standing up.
After our visit, we decide to make the most of the fine weather and walk back from Place des Vosges, crossing the Seine and walking back along past the booksellers on Quai Austerlitz who are starting to pack up for the day. We stop to buy a Bob Dylan poster as a gift for our teenage son and contine to Pont de l'Archevêché immediately opposite Notre Dame where lovers come to attach a padlock with their names and throw the key into the river.
The views of Notre Dame from the river as the evening sky turns pink are stunning, but by now we've run out of energy and take the metro back to our hotel. Read my article about Notre Dame here.
Sunday evening – dinner at Hotel Pullman
As many restaurants are closed on Sunday night, we decide to dine in the hotel at Cafe Atlantic. As an aperitif, I enjoy my Ciapirinha cocktail while Guy has a beer before we moved to the casual dining area for a light dinner.
I  order the Plat de jour with grilled fish in a creamy sauce while Guy chooses the Jarret de Veau braisse, a small steak with a mixture of braised Mediterranean vegetables, followed by a plate of cheese with green salad. And so to bed, to pack our bags ready for the flight home tomorrow.
Monday Morning – coffee with friends
On Monday morning we check out of Hotel Pullman and head back towards Notre Dame for coffee with a childhood friend, Fabienne (owner of Galerie Kara) whose family I frequently visited as a teenager in Bordeax. We chat over old times and catch up with family news before she accompanies us back to the Ile de la Cite train station to catch the RER train back to Paris Charles de Gaule for our Air France flight home.
All the Paris posts
Our hotel room with a view – Review of Hotel Pullman Paris Montparnasse with video
A Postcard from Notre Dame de Paris
The fresh taste of Paris – our tour of Marche d'Aligre with Viator
Dine with the locals in Paris (via Guadaloupe) – with Cookening
25 delicious food tips in Paris – from top bloggers and Paris locals
Visitor Information for your weekend in Paris
Flights: Heather and Guy flew with Air France from Bristol to Paris – thanks to Air France for providing Heather's flight. There are several flights per day with Air France to Paris Charles de Gaule Airport from London Heathrow and other regional airports.
Getting from the airport: The best value and quickest way to get from Charles de Gaule Airport (also known as Roissy) is to take the train directly from the airport station (a 10-15 min walk from the arrival gates). We bought a ticket at the machine (around €9.50 one way) in the station which covered our journey on the RER regional train to central Paris, with an easy change onto the Metro to take us to our hotel. The whole journey was around 1 hour from CDG Airport to Montparnasse. An alternative which might suit you if you are staying near Montparnasse is the Air France 'Les Cars' Airport Bus which drops you right opposite the Hotel Pullman Montparnasse where we were staying (around €16.10 one way). The Paris by Train website has useful information about getting to and from the airport by train and if you're combining business and pleasure you'll find this Business Travel Guide to Paris useful on the HeatherowExpress Blog.
Getting around: We found the metro to be an easy and convenient way to get around and all tickets are valid on metro and buses so you can keep your options open. We considered buying the Ticket Mobilis day passes but were glad we didn't in the end as we found that a 'Carnet' or book of 10 individual metro tickets (€13.30) lasted us both for the weekend, as we only took 1-2 Metro journeys each day and walked to many places as the weather was good. Information about Metro options here
Where to stay: We stayed at Hotel Pullman Montparnasse, a large, modern hotel opposite Gare Montparnasse which is very conveniently situated for transport links and an easy ride on the Metro to all the main sightseeing areas. The decor is vibrant and modern, with great views over the city from the upper floors, and we found the staff to be very friendly and helpful. Thanks to Hotel Pullman Montparnasse who hosted our 3 night stay in Paris.
This article by Heather Cowper is originally published at Heatheronhertravels.com – Read the original article here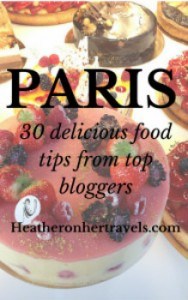 You'll also be subscribed to our free monthly newsletter for great travel resources, news and offers, but you can unsubscribe at any time and we'll never share your e-mail.
You'll also find our sister blog with tips on how to build a successful travel blog at My Blogging Journey