I like to imagine the 19 year old aspiring poet, Dylan Thomas arriving at Laugharne on the ferry, taking in the wide open skies of the Taf estuary, the small boats stranded in the marshy channels and the stark, stone towers of the ruined castle, and thinking "YES!, this is where I want to be."
He later wrote that it was the sort of place where people like him " just came, one day, for the day, and never left; got off the bus, and forgot to get on again." Laugharne in Camarthanshire is one of the places that Dylan Thomas is most connected to, living for the last 4 years of his life in The Boathouse overlooking the estuary which inspired him to write some of his greatest poetry.
Even if you know or care nothing about Dylan Thomas, Laugharne is an enchanting place to spend a day, as we did as part of our weekend following the Dylan Thomas Trail, in honour of the centenary of the Poet's birth.
Staying at Brown's Hotel – Dylan's favourite pub
We'd spent the Saturday in Swansea, discovering the city that Dylan knew as a young man and wrote about in Return Journey as well as visiting the Dylan Thomas Birthplace, before driving on to Laugharne to stay at Brown's Hotel. As we pulled up, the evening sun lit up the front of the Georgian pub, a favourite drinking haunt of Dylan that has now been renovated as a bar with boutique style guest rooms.
When he lived here, Dylan's routine was to sit in the window seat of Brown's in the morning, studying the papers, or dropping in to see his parents Jack and Florence who lived at The Pelican opposite, before going home to the Boathouse for lunch and working in the writing shed in the afternoon, usually returning in the evening with his wife Caitlin for a few more beers.
Our room was The Laques, named after a part of Laugharne that you can see from the bedroom window where Flemish weavers once settled. The style was very much boutique retro, with a stripy carpet, those chalky Farrow and Ball tones of beige on the walls and modern oak furniture with a 1950s air. The double bed had coverings and cushions in similarly muted shades of grey and purple and from the bed we could gaze at the photo-mural opposite – a soft-focus shot of the estuary with waving grasses in the foreground.
The room was small but thoughtfully kitted out with tea and coffee, bottled water, a few old books including a Dylan Thomas selected works and a bedside radio. The adjoining loo and bathroom featured those rectangular white tiles that were popular in the 1930s when a plumbed-in bathroom was a novelty, a bath with white waffle shower curtain and shower above and some delicious Warm Ginger toiletries. As the hotel isn't really a hotel but a bar with rooms and only does bar snacks, we stuck our noses into the Three Mariners pub next door, but the place looked packed and the music was Saturday-night-loud, so we ended up having dinner at Cafe Culture, a pleasant Italian down the road.
Brown's Hotel, King Street, Laugharne, Carmarthenshire. Tel: 01994 427 688 E-mail: info@browns-hotel.co.uk Rooms are £75-140 based on 2 people including breakfast. Heather and Guy stayed in The Lacques, a Classic King Room which costs £105/ night for weekend stays. Twitter @BrownsLaugharne | Facebook Page | YouTube
Evening light on the Taf estuary
I took advantage of the evening sunshine to go and explore, following signs along the lane towards The Boathouse, where Dylan Thomas lived with his family. From the lane above the house, now known as the Dylan Thomas Birthday Walk, I caught the beautiful views over the Taf estuary, where the water was gently rippling and glittering in the evening light. The tide was out with the sandbanks exposed at low tide and some wading seabirds picking their way gingerly through the shallows. It was this view that inspired Dylan to write his Poem in October about his walk from here to St John's Hill where the wood overlooks the town.
It was my thirtieth year to heaven Woke to my hearing from harbour and neighbour wood And the mussel pooled and the heron Priested shore The morning beckon With water praying and call of seagull and rook And the knock of sailing boats on the net webbed wall
You can follow the Dylan Thomas Birthday walk yourself, on the route Dylan described in his Poem in October, where there are benches and signs along the way so that you can read each line or verse at the place it was written. There's a Dylan Thomas Birthday Walk Website with all the information you need and an App of the Dylan Thomas Birthday Walk for iPhone and Android.
Dylan and Caitlin – in life and death
On Sunday morning we enjoyed a good cooked breakfast in the bar at Brown's Hotel, surrounded by memorabilia and mementos of Dylan Thomas and then walked up the main street towards St Martin's church. Through the main churchyard gate and over the little footbridge across the lane, we found the plain white cross of Dylan and Caitlin Thomas standing out among the grey gravestones.
In the church there is also a replica of the stone memorial in Poet's Corner, Westminster Abbey, with Dylan's lines from the poem Fernhill " Time held me green and dying, though I sang in my chains like the sea". Dylan Thomas died in 1953 aged only 39, while on a poetry reading tour in New York, of causes which have not been fully explained but were probably a combination of pneumonia, morphine overdose and heavy drinking, while Caitlin was also buried with him after her death in 1994. Dylan's father, Jack had died only the year before Dylan himself and Dylan wrote one of his most popular and moving poems Do not go gentle into that good night about his father's illness.
Do not go gentle into that good night, Old age should burn and rave at close of day; Rage, rage against the dying of the light.
It felt a little voyeuristic taking a picture of the gravestone, so we continued up the leafy lane beside the church, fringed by cow parsley and pink campion, taking a short cut to The Boathouse.
The Boathouse – my sea-shaken house
In 1938 Dylan and Caitlin visited their friends the writers Richard and Frances Hughes at Castle House in Laugharne and decided to find their own place nearby. The couple moved into a tiny fisherman's cottage and then into a grander house at SeaView where they lived until 1940 until the war years intervened and they moved to London. In 1949, The Boathouse which Dylan described as "my sea shaken house on a breakneck of rocks", was bought for Dylan by his friend and patron, Margaret Taylor and he lived there with Caitlin and the children until his death in 1953.
Walking down the steps to the whitewashed house, the views across the Taf estuary were striking, not only from all the rooms, but from the balcony running around the house and the terrace at the back where there was originally a landing stage for the coal boats. Under the roof was the main bedroom which is now an exhibition space with mementoes and information about Dylan's life, while through the small shop was a parlour furnished as it would have been by Dylan and Caitlin and kept for 'best' as was the custom. I spotted the desk that had belonged to Dylan's father and had come from his childhood home at 5 Cwmdonkin Park, since Geoff Haden had told me how he really wanted it back!
Downstairs where the family would have gathered was now a tea room but we were able to sit on the terrace in the sunshine with fabulous views over the estuary where I had a chat with artist in residence, Cheryl Beer, who was playing her ukelele and making up poems with some of the children visiting. Cheryl told me that she was one of 12 different artists who had been invited for a month to create a work related to Dylan Thomas – you can see some of the photos from her month in residence on her blog here. She had noticed the strips of paper in the writing shed like shopping lists of the words that he planned to use, and was asking people to write a line of poetry or prose on a strip of paper, which she could incorporate into one large digital work. Having read some of the passionate, tender and angry love letters between Dylan and Caitlin, she also was planning to write a song that told the story from Caitlin's point of view, "as a woman who was often being apologised to"
The Dylan Thomas writing shed
After visiting The Boathouse we walked back along the path to Dylan's writing shed which the staff kindly opened for me to take photos, although you can normally only peer through the window. Inside Dylan's writing desk was set out as if he had just left, with cigarette stubs, strips of words hanging up and that inspiring view right across the estuary. The first poem he wrote there was Over Sir John's Hill, in which he describes the birds stalking their prey and bringing death in the midst of this beauty.
Over Sir John's hill, The hawk on fire hangs still; In a hoisted cloud, at drop of dusk, he pulls to his claws And gallows, up the rays of his eyes the small birds of the bay
This is also where Dylan wrote his most famous play for voices, Under Milkwood, inspired in part by the people of Laugharne. Dylan described his work in a letter as "a play, an impression for voices, an entertainment out of the darkness, of the town I live in .. (so that) you come to know the town as an inhabitant of it.. utterly familiar with the places and the people." From the writing shed we dropped down a path to the level of the estuary where we walked back along the paved causeway with the marshland ahead of us until Laugharne castle came into view.
The Dylan Thomas Boathouse, Dylan's Walk, Laugharne, Carmarthenshire, SA33 4SD |Twitter @DTBoathouse | Facebook Page | Open daily 10am-5.30pm in summer, 10am-3.30 in winter Adults £4.20/ Children £2.00. There is a pop-up Dylan Thomas shed, a replica of the original which is on display in various festivals and places around Wales.
Laugharne castle, Brown as owls
The final stop on our day in Laugharne was the ruined castle which overlooks the marsh and the estuary, described by Dylan in his Poem in October.
Pale rain over the dwindling harbour And over the sea wet church the size of a snail With its horns through mist and the castle Brown as owls But all the gardens Of spring and summer were blooming in the tall tales Beyond the border and under the lark full cloud.
Laugharne Castle was built in the 13th century, probably on top of an earlier Norman castle and it came under siege in the English Civil War and was partly dismantled. When Dylan first came to Laugharne, the castle and its grounds were in the gardens of Castle House next door, owned by writers Richard and Frances Hughes. Dylan was allowed the use of the gazebo in the garden which overlooks the estuary and it was here that he wrote the short stories "Portrait of the artist as a Young Dog".
A nice touch is that there is a writing desk and old typewriter within the gazebo to recreate how it would have looked when Dylan wrote there. The castle is now open to the public, although it's really just a picturesque shell of the castle that the Welsh Lords used to dominate the estuary and port at Laugharne before it silted up. You can climb the tower for views over the estuary, and there's a Victorian Rose garden which is a pleasant place to sit on a summer afternoon.
Laugharne Castle is run by CADW and is open April-October 10am-5pm Adults £3.80
Whether you are a Dylan Thomas fan or not, Laugharne is an enchanting place to visit, for the views of the estuary, the walks up to St John's Hill, for the Brown as Owls castle, and of course for the fascinating Dylan Thomas connections. Follow where Dylan walked, drink where he drank and be inspired by the beauty of the place and the poetry. In a place like this we might all have a literary masterpiece in us.
For more information to help you connect with Dylan Thomas in Laugharne;
Visit Wales – the official website for everything to see and do in Wales – also on Twitter @VisitWales and Facebook
Visit Carmarthenshire – discover places to see and stay around Laugharne in South Wales
Dylan Thomas 100 – everything that's going on for the 2014 Dylan Thomas Centenary year
Brown's Hotel – Dylan's favourite pub where you can now drink and stay the night
The Dylan Thomas Boathouse – where Dylan lived from 1949-1953
Dylan Thomas Birthday Walk – take a walk inspired by Dylan Thomas' Poem in October
Laugharne Castle – where Dylan wrote in the gazebo owned by his friends the Hughes
My thanks to Visit Wales for arranging this weekend and allowing me to discover Dylan Thomas in Wales
Read my other articles about the Dylan Thomas Trail in Wales
An ugly, lovely town Part 1 – a Return Journey to Swansea with Dylan Thomas
An ugly, lovely town Part 2 – the Dylan Thomas Birthplace in Swansea
Follow Heather on her travels's board Welsh Wales on Pinterest.

This article by Heather Cowper is originally published at Heatheronhertravels.com – Read the original article here
You'll also find our sister blog with tips on how to build a successful travel blog at My Blogging Journey
Whether you fancy getting away to enjoy the summer sunshine or are planning a weekend break in the autumn once things have cooled down, I'm happy to announce my summer hotel-stay giveaway in partnership with HotelsCheap.org. I'm giving away a HotelsCheap.org voucher to one of my readers, worth $250 (or equivalent value of £145/€185) which you can use to book yourself a stay in a lovely hotel and treat yourself and that special someone to a relaxing summer break. The voucher can be redeemed for a hotel booking on the HotelsCheap.org website up until spring next year, so if you prefer you can wait until the autumn or even next spring to enjoy your hotel stay.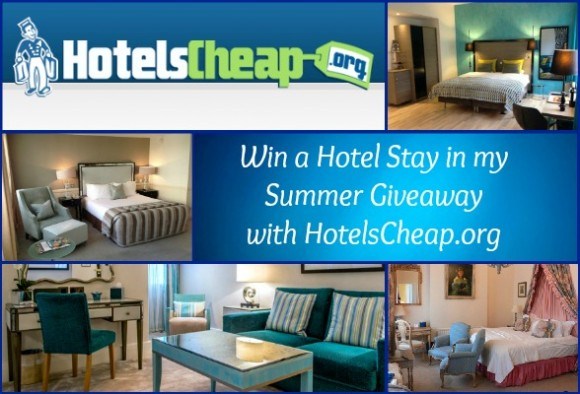 HotelsCheap.org is a hotel booking website that specialises in finding discount hotel rates for travellers worldwide and you can use the voucher to book a hotel stay in the UK, US and Canada, Europe and many other destinations worldwide. To inspire you in your choice of hotel getaway, I've come up with a few ideas, based on destinations and hotels I can personally recommend. If you'd like to enter this giveaway, please follow the details at the bottom of the article to find out how you can gain the maximum chances to win the HotelsCheap.org voucher.
A historic getaway in Winchester
Why go?
The best of England packed into an ancient market town, Winchester has a very walkable historic centre, plenty of green spaces, river walks, interesting artizan shops and great places to eat. If that's not enough, you have the beautiful Hampshire countryside on your doorstep, with walking and country houses to explore within a short drive of Winchester.
Where to stay?
The Winchester Hotel and Spa is a short walk from the historic centre and has rooms in August and September Saturday nights for £150 and under. Read my review of The Winchester Hotel and Spa
What to see?
Wander around the medieval market town and visit the famous cathedral where Jane Austen is buried – perhaps you'll find a farmer's market in full swing. Shop in the craft markets or artizan shops that line the narrow lanes, walk along the river to the city mill where you can see flour being ground as it has for centuries and perhaps spot some otters in the mill stream. The South Downs Way starts at Winchester so you may like a hike in the lovely Hampshire countryside or walk to the top of the town and visit the medieval Great Hall with King Arthur's round table.
Read more about Winchester here: 10 ways to spend a wonderful weekend in Winchester
A lively stay in San Antonio, Texas
Why go?
This town is one of the most historic in Texas, set on the San Antonio river, with some buzzing bars and restaurants along the Riverwalk making it a great choice for a relaxing getaway.
Where to Stay?
Hotel Valencia Riverwalk is an elegant boutique hotel on the Riverwalk and has Saturday night stays in August and September for under $200 although you may prefer to wait until the sweltering Texas heat and humidity reduces and take your hotel break in October or November. Read my review of Hotel Valencia Riverwalk
What to see?
Take a boat tour along the Riverwalk or stroll on foot as evening falls and the area buzzes with bars and restaurants. Of course you will want to visit the Alamo, a landmark in the struggle for Texan independence and perhaps drive out to some of the other historic Spanish missions in the area. You can hire bikes and cycle on the path beside the San Antonio river or shop for local crafts and artizan souvenirs in the La Villita Historic district.
Read more about our stay in San Antonio here: Texas Podcast Part 1, Houston, San Antonio and Picosa Ranch
A cool weekend in Copenhagen
Why go?
Haven of Scandi-cool, Denmark's capital has a compact centre that is easy to explore by bike or on foot and in summer you can take in the party atmosphere as locals enjoy the summer in the parks and around the harbour.
Where to Stay?
The Ibsens Hotel is a stylish hotel near the Copenhagen lakes that is furnished with quirky finds from neighbourhood shops and local artizan businesses and has Saturday night stays available in August and September for €130-180.  Read my review and video of Ibsens Hotel here
What to see?
A boat tour of the canals and harbour will help you get your bearings and locate some of the major Copenhagen landmarks, such as the Opera House, Royal Palace and the Little Mermaid statue. Stroll along Stroget where you'll find luxury Danish design stores and climb the medieval Round Tower, for views over the city. You'll want to enjoy the food scene too, with some of the best restaurants in the world where Michelin stars abound, but you can also find inexpensive snacks and deli-meals in the Torverhallerne food halls.
Read more about Copenhagen here: In photos: Our weekend stay in Copenhagen
A spa break in Budapest
Why go?
Hungary's capital has all the sophistication of Paris but with far more affordable prices and warm, friendly locals. There's so much to see whether you love sightseeing, relaxing in the numerous traditional and trendy cafes or visiting one of the thermal spas.
Where to Stay?
The Intercontinental Hotel is a 5 star hotel that's centrally located for sightseeing by the Chain Bridge with views of the Danube and there are dates in August and September available from €100 per night. Read my review and video of Intercontinental Hotel Budapest here
What to see?
Take the funicular up to the top of Castle Hill to visit the colourful Matyas church and take in the views from the Fisherman's Bastion over the Danube and Hungarian Parliament building. You'll want to visit one of the Hungarian spa baths such as the Gellert or Szechenyi complexes to enjoy a massage or a soak in the warm baths and perhaps afterwards have coffee and cake in an elegant cafe. The House of Terror is a compelling reminder of Hungary's communist past, while a visit to the Hungarian State Opera House for a concert or ballet is a must for culture lovers.
Read more about Budapest here: 48 hours in Budapest, top things to see on a weekend break
About HotelsCheap
HotelsCheap.org specialises in finding discount hotel rates for travellers worldwide operating in 75 countries for hotels, bed-and-breakfasts and holiday apartments. On HotelsCheap.org you can find anything from hostels and popular brand hotels to boutique hotels to luxury resorts, so getting the best hotel price doesn't mean compromising on where you stay. You can also find more tips, traveller interviews and accommodation guides on the HotelsCheap blog
Follow HotelsCheap.org on their social media channels for travel inspiration and tips for the places you'll want to visit; follow along on Twitter @hotelscheap, on Google+ and on Facebook
About the giveaway
I'm giving away a voucher to one of my readers worth $250 US (equivalent value £146 or €185) which can be redeemed on HotelsCheap.org any time before June 2015. The giveaway is open to all readers regardless of your location although the voucher will be redeemed in $US. The giveaway will run for 2 weeks and end on Monday 4 August 2014. To enter the giveaway all you have to do is;
Leave a comment below telling me how you'd like to spend your HotelsCheap voucher; which destination would you love to visit, who will you be going with, where would you like to stay?
You can also add 5 additional chances to win by doing any of the following through the Rafflecopter widget below;
Like the Heatheronhertravels Facebook page
Spread the word about the giveaway on Twitter, for example; I'd love to #win a summer hotel stay with @hotelscheap in the #giveaway at @heathercowper http://ow.ly/zmLnX
Follow Heather on her travels on Twitter @heathercowper
Follow the HotelsCheap Google+ page
Follow HotelsCheap on Twitter @hotelscheap
Entering this giveaway gives permission for you to be added to the e-mail lists of both Heatheronhertravels.com and our sponsor HotelsCheap.org, but you can unsubscribe at any time.
This article by Heather Cowper is originally published at Heatheronhertravels.com – Read the original article here
You'll also find our sister blog with tips on how to build a successful travel blog at My Blogging Journey
Some great contest sites:
Competitions Time
Competitions Today
UK Competitions and Prize Draws at UKwins
Free Online Competitions
ABC The Place to Win
OfferOasis.co.uk – Competitions and Freebies in the UK
In this article our intrepid guest author Rhys, climbs the unexpectedly steep Mount Kinabalu for a New Year's view from the top, meets the king of the swingers, gets eaten alive in the jungle and catches some squeaking catfish in Borneo.
When people think of Borneo they usually think sprawling rainforest and amazing wildlife, not the highest mountain in South East Asia. For some reason though Danielle, my partner, thought the latter and we booked to climb Mount Kinabalu for what should have been the romantic New Year's Eve to end them all. We also booked a little bit of the former as well with a three day camp at Uncle Tans wildlife camp.
Borneo, the largest island in Asia (and the third largest in the world), is divided up amongst three counties; Brunei and Malaysia to the North, Indonesia to the South. The country was actually once part of the British empire and you can see the British influence in the three pin plug sockets which were a welcome sight for us and our tangle of iPad, Camera and other assorted chargers and plugs.
We flew in it Kota Kinabalu to start our trip, Kota being the capital of the Northern region of Sabah where we spent all of our time. Although it's nothing to write home about, it's still worth a visit for a night on your way through to somewhere else. Check out the cool Sunday Market which closes down one of the main streets for the morning and also go to the Signal Hill Observatory from which you can look out over the whole city and various islands. The night market is a great choice for food, buying a whole fresh fish from a local fisherman and taking it to a food stall to have it cooked with various other delicacies is an experience in itself as well as a delicious meal.
Although information is scarce on this (even on the interwebs), minibuses depart regularly from the central bus station to Kota Kinabalu National Park, the home of Mount Kinabalu, for around $5 each way. Get there early though as once they're full they're gone; we were there for 8am and departed with the last minibus by 9am. The luxury buses are slightly more expensive and go from the main terminal a few km out of the town, most hotels will arrange tickets and the tuktuk there.
Mount Kinabalu, not just a walk in the park
Mount Kinabalu stands at just over 4000 meters but for some reason (mainly a lack of any real research) we thought it would be a nice gently sloping climb. As soon as we arrived at the national park to check in to our accommodation we saw what we were up against; gently sloping it was not.
There is a range of accommodation and tour operators with which to book, the secret however is that all accommodation in the national park is provided through Sutera Sanctuary lodges and you can contact them directly for the best rates. Prices range from RM100 to RM1000 per night at the bottom of the mountain, and RM350 to RM3600 per night at the top. We went for the basic packages as we were on a budget but we saw some of the nicer accommodation at the bottom and it certainly had the feel of a luxury resort about it.
Whilst the budget accommodation at the top of the mountain was extremely basic with bunk beds and no hot water (you only really stay for a few hours sleep though before the 2am start) the bottom was actually quite nice for the amount we paid. As part of the package, food is provided via a buffet dinner the evening before the climb, breakfast the morning before, a packed lunch for during the climb, a buffet dinner after day one climb, buffet snacks before day two climb, buffet breakfast after the climb and then another buffet lunch when you get down. Phew! Basically you get fed a lot and although the mountain top food is pretty average (you can see why when the only way to get food up there is on the back of mountain sherpas) the food at the bottom was fantastic with a range of curries and a decent breakfast including fresh cooked omelettes.
Day one starts by paying 80RM for a guide, 30RM climbing permit fee, 14RM insurance fee, 10RM certificate fee, 10RM trail fee to the gate and 10RM storage fee if you need to leave any bags at the bottom (it's 80RM if you need a porter to bring anything up to 10kg up with you so I'd suggest storing it and bringing a light backpack with a change if warm clothes and any other essentials). It can feel like you're paying for something every time you turn around, especially as you are shepherded to various windows throughout the process; to be fair most of these fees are pointed out at the time of booking but it's easy to forget such things when you have to book months in advance to secure a permit.
It's then time to spend the next five to eight hours walking up very steep steps, relentlessly, until you get to Laban Rata guest house for your lunch. It's pretty knackering, there's no two ways about it and it can be pretty miserable at times if it starts to rain as it did for the last two hours with us. I have to confess here that neither of us are mountain climbers in any way shape or form, we both keep fairly fit but we certainty weren't accustomed to the type of exercise and I think it would have been a lot easier had we done any form of specialist training beforehand. There are some quite spectacular views early on but after that it's a bit of a drudge to get to the mid way point for your food, sitting and eating said food looking out above the clouds is pretty special though. All though the advice for the mountain is that it's easily accessible and for all ages we actually found it quite hard going and there were tears from Danielle on a few occasions.
Second day brings the summit
Day two starts at 2am and although that sounds horrific it's actually pretty exciting being out there in the pitch black, with a head torch, heading for the summit and the first sunrise of the New Year. This second half of the climb is a lot steeper than the first in certain parts, lots of sections don't have steps and you have to scramble up some quite scary bits of slippy rock in pitch black with just a frayed piece of rope to help you out. It certainly tested our nerve and resolve, this was the highlight of Danielle's crying throughout the trip with there being more cries per hour than at any other time.
We eventually made it to the summit and a short period of elation gave way to the urgent need to get down as we felt unsafe in between a sheer twenty meter drop and a wall of people bustling to get past each other to have a photo next to the summit sign; it gets very busy in a very small space up there. It was even more treacherous on the way down as it had started to rain and there were certain sections where it seemed if you slipped you could be falling for a very long time. In the end we didn't see an amazingly romantic sunrise as it was too cloudy but being above the clouds is still pretty unbelievable viewing and we were both overjoyed with our effort and achievement when we arrived back at the park headquarters.
At the bottom of the mountain you can catch one of the regular luxury buses back to Kota Kinablu or on to Sandakan. You can also stay an extra night at Sutera Sanctuary or do like most people do and stay at the hot springs resort near by. We chose to get straight on the bus though and on to Sandakan for a wild life camp at Uncle Tans. Uncle Tans wildlife camp started out in 1986 when the man himself began taking tourists on wildlife tours around Sepilok and Sandakan. Move on twenty years and Uncle Tan is no longer around but the legend lives on with a large Bed and Breakfast/Operations centre, a wildlife camp and boats along the Lokan river in Kinabatangan.
Viewing the elusive orangutan
We stayed at the operations base the night before our trek, this isn't necessary but you do have to be there at 9:30am the next day so it's worth at least staying on the same road as Sandakan is up to an hour away. The accommodation at the operations base is basic and our room had no hot water, Danielle would certainly recommend trying one of the number of other more upmarket choices close by. The morning starts off with a visit to the Sepilok orang-utan rehabilitation centre, this isn't part of the camp and you have to pay the entrance fee of RM30 but the transfer from Uncle Tans is complimentary. The centre is a fantastic place, we were unfortunate to have two orangutans turn up for feeding who were camera shy and turned their backs on us for the entire hour but we heard from others at the camp they had seen up to twenty of them turn up and cause chaos jumping all over each other. It's not a zoo and the orangutans come from the near by jungle for a free nosh up so it can be hit and miss but I guess that's all part of the appeal.
Later in the morning we were off to camp, an hour by mini bus and then an hour on a boat headed down the river. For some reason the boats the camp use do not have roofs and after remarking to each other how amazing it was to be out on the river we quickly found ourselves in the middle of a biblical downpour. Although we both had decent waterproof jackets on I stupidly had my phone, passport and wallet in my non waterproof shorts pockets. Complete amateur. I'm happy to report both the wallet and passport are now doing fine but the phone didn't make it. RIP phone. Be warned.
The camp is very basic but we forgave that as we spent the next two days seeing orangutans, proboscis monkeys, long tailed macaques and a host of other animals in their natural habitat. We went on morning, afternoon and evening safaris across the two days by boat along the river and some trekking through the jungle, all were fantastic. The guides are extremely knowledgeable and can spot the smallest of monkeys from miles away whilst driving a long tail boat down the river at full speed with huge smiles on their faces, they are all really lovely guys as well.
The catfish weren't the only thing biting
There is a real family friendly atmosphere at the camp and there were lots of families with children when we were there. There is even a camp band to entertain throughout and after dinner consisting of a few of the guides and the cook. What lack in talent they make up for in volume though which did get slightly annoying later in to the night when we were trying to sleep for our 6am morning safari. Word to the wise, I am normally a magnet for mozzies, in fact I am utterly irresistible to them, like mosquito crunchy nut cornflakes; Uncle Tans mosquitos took it to the next level though. Yeah I don't know what the next level is either but it involved bites too numerous to mention. Luckily we had some good soothing cream but stupidly we had the worst mozzie repellant ever as it was the only thing available near the camp and the camp incredibly doesn't sell any….be prepared would be the motto of the day.
We also managed to squeeze in a bit of fishing which was a paid for extra but well worth it. Danielle cried when she caught cat fish after cat fish and they squeaked a terrible, sad sound when they were plucked from the water. Her sensitive side was no match for her competitive spirit though and she plucked a further eight out to my measly one, I didn't hear the end of that for days. We BBQ'd our fish for dinner and luckily Danielle let me have a few of hers so I didn't starve. The food in general was fantastic considering it was brought in by boat and prepared in the middle of the jungle. We had a number of different curries and vegetable dishes throughout our stay, all were delicious and we even received a free cooking lesson one evening from the camp cook.
Although there were times when we were extremely tired, uncomfortable, crying and wishing we weren't there throughout the trip, we both look back now with extremely fond memories. Whilst it isn't for the faint of heart, it's certainly not a hard core adventure holiday either and you can certainly up the luxury levels of certain parts of the trip if you so desire. I don't think we will be pursuing a career in mountain climbing after this but another New Years on a wildlife tour may just be a certainty.
Rhys is a 31 year old I.T. consultant from England who, after working in Sydney for four years, decided to pack it all in and set off with his girlfriend Danielle on the travelling adventure of their dreams. Destinations include Thai kickboxing camp, volunteering in Cambodia, Myanmar, Everest base camp, Burning Man festival and plenty of motorcycling adventures; they are currently blogging daily about their experiences on 365 Days Off Work.
For more outdoor adventures:
Bali, Indonesia: An Outdoor Adventure Tropical Paradise
Adventurous Canada with a Twist
Coastal beauty and adventure in New Zealand
This article is originally published at Heatheronhertravels.com – Read the original article here
You'll also find our sister blog with tips on how to build a successful travel blog at My Blogging Journey