A collection of 500 year old thatched cottages, set around a cobbled farmyard, Red Doors Farm in Devon has all the chocolate box charm that you'd wish for in a holiday cottage. However, we've learned from past experience that a centuries-old thatched cottage, picturesque though it may be, does not always mean warmth and comfort. Thank goodness the owners Gill and Adrian seem to have that cracked, with Byre Cottage where we stayed being kept at a cosy constant temperature by the biomass wood-pellet fired boiler.
Our stay was arranged through Premier Cottages who specialise in luxury holidays cottages and this one certainly lived up to expectations. Having arrived in darkness on a Friday night from Bristol, we wake up to glorious views of the Blackdown Hills and spot the red doors of all the cottages that seem to epitomise the cheerful spirit of the place.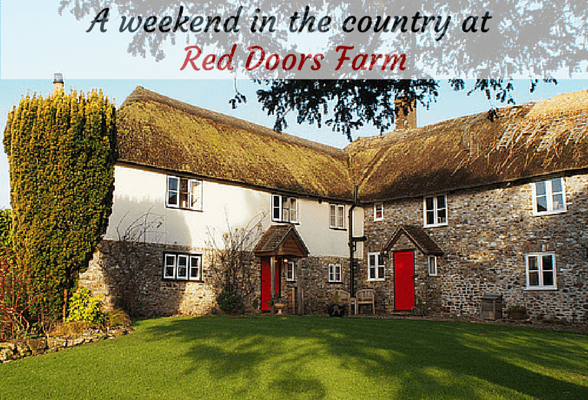 In the morning while the boys are cooking the bacon and eggs, Gill offers to show me around and tells me their story. She and Adrian gave up busy jobs in London to follow their dream of a calmer life in the country and took over the holiday cottage business of Red Doors Farm three years ago. "If we'd realised how much work it would be, we probably wouldn't have taken it on!" Gill told me, since they have gradually worked through all of the six cottages, renovating them one by one.
I hope you enjoy my video below of our weekend at Red Doors Farm
If you can't see the video above of our stay at Red Doors Farm, see it on my blog here or Youtube here and please do subscribe using the button above
Click here for direct download of video
Subscribe to all my videos in I-tunes
If you enjoyed this video, check out the others in my Video archive
Our cosy cottage at Red Doors Farm
Furnishings have been upgraded, bathrooms modernised and now all the cottages meet Visit England's exacting 5 star Gold Standard. Although Red Doors Farm is very popular with young families, it seems there's a cottage for everyone down on the farm. The Swallows Loft is a one bedroom apartment on two floors with stylish mezzanine kitchen, luxurious modern bathroom and a four poster bed with an "Out of Africa" look, which suits professional couples looking for a relaxing country break. Meanwhile Holly Cottage is popular with older couples, or couples with a baby, since it's all on one level with a terrace overlooking the croquet lawn, perfect to sit with your sundowner admiring the views of the Blackdown Hills.
We're staying in Byre which is a 3 bedroom cottage, sleeping 6 people in comfort, a spacious master bedroom for me and Guy and two twin bedrooms for my teenage son and two friends to spread out. No queues for the bathrooms either, since there's a family bathroom upstairs and a shower room downstairs. We really can't fault the cosy furnishings, well equipped farmhouse style kitchen and best of all the log burning stove in the sitting room. Since all men seem to love stoking up a real fire, and Guy is no exception, this is something we always love to see in a country cottage and we make the most of it with a fire in the evenings.
Feeding the goats at Red Doors Farm
Saturday morning is crisp but sunny with winter-blue skies and views over farmland to the valley beyond. Across the lawn is the swimming pool in a separate building for those (relatively) early morning swims which quickly become a favourite with our teenage boys. After breakfast and the swim we've arranged to meet Adrian and Gill for the 10.30 morning ritual of feeding the animals.
For younger guests the farm keeps guinea pigs and rabbits in the covered play area but our teenagers are more interested in the goats, Charlie and Dora. "These are the most spoiled goats in Devon", Gill tells me, since they have their own heated shed, decking walkways so their feet don't get wet on the grass and a climbing frame which comes into its own at feeding time.
Once Charlie and Dora have enjoyed their breakfast it's time for the Muscovy ducks to have theirs in the next field. The ducks all have names beginning with D; there's Dick, the alpha male of the group and Daisy, although we joke that Dyson might be a better name based on the speed at which they vacuum up the grain we hold out to feed them.
Hunting for ammonites at Lyme Regis
Feeding time over, we decide to make the most of the glorious winter sunshine and drive the 25 minutes to Lyme Regis, the heart of the Jurassic Coast. Last time I was here with my blogging friend Barbara Weibel who is a rock hound and fossil lover if ever there was one and am determined to show the boys the ammonite pavement that we visited together.
Lyme Regis is a holiday town that I am continually drawn back to, having just the right balance of Jane Austen charm and fish'n'chips holiday fun, as well as being one of the top places on the Jurassic coast to find fossils. From the harbour, locally known as The Cobb, we walk along the rocky beach, with cliffs looming above us. The cliff face reveals the layers of sedimentary rock that were built up in pre-historic times containing the fossils, especially ammonites for which the beach is famous. "Don't get to close" I call to the others, since there are frequent and dangerous rockfalls from the cliffs, especially after storms, revealing new fossils that have been trapped in the rock.
We clamber awkwardly over the boulders and squish through the black mud until we reach the ammonite pavement, a flat plate of rock where millions of years ago a shoal of ammonites settled on the bottom and were pressed down for eternity. Now at low tide you can see numerous little coils in the bare rock and spot them pressed into larger rocks along the beach. The local fossil hunters are to be seen tapping at the rocks with small hammers, splitting them open to reveal the ammonites trapped inside. As I walk, my eyes scan the pebbles that crunch under my feet and then suddenly I spot it, an ammonite on a smooth round pebble just lying there!
A walk on the Cobb at Lyme Regis
We walk back to The Cobb where a broad wall casts a protective arm around the harbour and the colourful fishing boats are lying on their sides at low tide. It's fun to walk along the broad top of The Cobb wall although the stone pavement slopes like a tipsy sailor towards the sea to catch out the unwary. It's a steep drop on both sides and our friend tells us that their dog once fell off and rolled down the wall but luckily survived with nothing broken.
The stormchasers might emulate Meryl Streep with swirling cloak in the film The French Lieutenant's woman, standing on the end of The Cobb looking out to sea, although it's not advisable or even allowed. Walking along to the end of the wall there are store houses for the fishing boats and we get the feel that this is still a thriving fishing community with plenty of notices advertising fishing trips and the blue and green nets piled up along the quayside. The notice above the door promises that 'The Gods do not subtract from the allotted span of mens lives the hours spent in fishing".
Back on the quay, we check out the local fishmonger's where I can't resist buying some fresh squid while the boys browse in the second hand bookshop next door. Later that evening I fry it up in butter to eat with some of the orange, pepper and chilli chutney that we found in our welcome pack, although the boys turn their noses up at it. Guy has already drunk the bottles of Otter Bitter and Norcott's Somerset cider without giving me a look-in but we all enjoy the local chocolate fudge and award winning ice cream that we bought from the freezer in the games room, made just across the valley. The fire is stoked up and the boys have a noisy monopoly game in progress, just as it should be.
A climb to Dumpdon Hill Fort
Sunday morning and we take a last chance to explore some of the countryside around Red Doors Farm. Armed with instruction found in the Games Room, we walk up the lane towards the Dumpdon Hill Fort, an iron age fort which takes us on a steep and muddy climb up from the road. From the flat area of the top we can survey the many shades of green making a patchwork quilt of fields, then we turn back towards the farm and with rosy cheeks and lungs full of fresh air ready for our drive back to Bristol.
What we liked about Red Doors Farm;
The high quality furnishings and amenities with attention to detail and everything you need on the farm (even ice cream and meals in the freezer!)

The cheerful and helpful approach of Gill and Adrian who live on site.

Feeding the goats and ducks was a fun experience, even for our teens!

Lovely to have an indoor swimming pool on site and we made full use of it.

The beautiful Devon countryside and short drive to the coast at Lyme Regis or Sidmouth.
What you need to know;
The setting is quite rural so you do need a car and we didn't find any shops within walking distance.
The free wifi is provided through a mobile in each cottage and you'll need to give your credit card details as a deposit.
Booking at Red Doors Farm

Red Doors Farm have six luxury holiday cottages which sleep between 2 and 8 people, in the Blackdown Hills of Devon, set in beautiful countryside and only 30 minutes drive from Lyme Regis and the Jurassic Coast. A week's stay in Byre Cottage at Red Doors Farm for up to six people starts from £775 and a short break starts from £540. Book Red Doors Farm through Premier Cottages here

Premier Cottages' collection features almost 1,000 four and five-star self-catering cottages across the UK. Properties range from small, romantic boltholes to large family-friendly country estates. The collection includes pet-friendly accommodation. It also offers the widest range of accessible properties in the UK and many properties have  onsite facilities like swimming pools, gyms, spas, indoor games rooms and children's play areas.

Follow Premier Cottages and Red Doors on their Social Media channels below;
Premier Cottages: Website | Twitter @premiercottages | Facebook | Google+ | Pinterest | YouTube
Red Door Farm: Website | Twitter @reddoorsfarm | Facebook
Heather and family stayed as a guest of Premier Cottages and Red Doors Farm in Byre Cottage.
This article is originally published at Heatheronhertravels.com – Read the original article here
Click to subscribe to our monthly newsletter, news and reader offers
You'll also find our sister blog with tips on how to build a successful travel blog at My Blogging Journey
August 4, 2014 by Heather Cowper
Filed under Accommodation, Art and design, Beaches and swimming, Copenhagen, Cycling, Denmark, Eating and drinking, Europe, featured, Gardens, Leisure, Self-catering
Summer in Copenhagen is a time for the locals to come out and enjoy the short but sweet Scandinavian summer beside the water, whether it's the harbour, the beach or the Copenhagen lakes. Although I've been to Copenhagen a number of times with Guy, this time I wanted to show one of my favourite cities off to my kids, so I was on the look-out for those Scandi-cool things that would impress a hard to please teenager. Here is my guide to the cool things we enjoyed on our 4 day summer break in Copenhagen;
1. Rent an apartment and live like a local
Yes I know that 'live like a local' tag is overused by every apartment rental company, but hiring an apartment in the centre of Copenhagen through Airbnb really did give us a different perspective on the Danish way of life. Filled with books, quirky art and kids' toys our apartment felt like the owners had just popped out for the day – which in fact they more or less had. The family who lived here had temporarily re-located to their summer house further up the coast to make the most of the sunny summer days and being laid back Danes had left most of their belongings behind, trusting us to take good care of their home. Hiring an apartment meant that we could shop at the local supermarkets dotted around town and nod a Danish "Hej" to our neighbours as we parked our bikes in the internal courtyard and lugged our shopping up to the 2nd floor. The kids thought the apartment was super-cool, especially the table football which led to many fiercely contested world cup replays. This is the apartment we booked in case you're interested.
2. Hire bikes to get around town
On previous visits to Copenhagen we walked everywhere but with the family it made sense to hire bikes so we could get effortlessly around town. We hired ours just around the corner from our apartment (Gammelholm Cycler at 12 Holbergsgarde) and it cost 100 DKK (around £11/€14/ $18) per person per day with a bit of a discount as we were hiring for the whole family. Cycling around Copenhagen is easier and safer than in most other cities since there are separate cycle lanes everywhere and the car drivers are bike-aware and slow down to let you by.
You do still need to take care since local cyclists will whizz past you as you bimble along and at busy junctions we found it was safer to get off and cross at the pedestrian lights. In Copenhagen cyclists own the road and will get annoyed if you accidentally step into their path. They even take their kids in the Christiania style bikes that have a carriage on the front and have perfected the art of cycling nonchalently, talking on a mobile while wearing a flimsy dress and high heels. Did you know that you can also take your bike on the train in the special carriages that are marked with a bike symbol, which makes sense if you head out of Copenhagen on the coastal train to Helsingor, Klampenborg or any of the other interesting things to see along this route? My kids effortlessly got into the bike vibe and really enjoyed the freedom of the city.
3. Go swimming in the harbour
The harbour baths at Islands Brygge are justifiably popular as soon as the sun comes out and you do have to trust that the harbour water really is THAT clean (there is an oyster farm in the harbour after all!). There's a shallow kid's paddling pool, a longer pool for serious swimmers (spot those training for a triathlon) and a high jumping off point which my kids tested out multiple times. It's free, open to all and there are lifeguards on duty, but if it gets a bit too crowded, remember that there are plenty of other unofficial places that you can swim in the harbour in summer. Just look for a stretch of harbour wall where there's a ladder and not too many boats and you'll probably see a local already having a dip. Our favourite spot was the stretch of harbour near our apartment between Nyhaven and the harbour bridge near the Parliament building where there's a deck at the bridge end and plenty of benches and tables to sit out. Perfect if you want to bring your own beers and have an evening swim while the sun is setting. The Havnebadet Islands Brygge is open 7am-8pm 1 June-31 August.
4. Rides and more at Tivoli
Tivoli is a Copenhagen institution where you could take your granny or your teenagers and they'd all find something to enjoy (although probably not the same things). The gardens and fountains were beautiful, with roses blooming in the sunken garden and plenty of grassy areas where you can let the kids run around or sit on the grass. There are just enough rides to keep the adrenalin junkies entertained and although I braved The Demon loop the loop with the kids I enjoyed the old fashioned Alpine themed roller coaster much more. There are endless restaurants and food kiosks within Tivoli but I love that you can also bring in your own snacks or picnic and enjoy them in a shady area of grass under the trees.
We bought the PULS package bookable in advance for 329 DKK per person (£35/ €44/ $59) which gave us entrance to the park, a multi-ride pass and a snack and drink from one of the fast food vendors. As night falls the park takes on a more adult feel with glowing Chinese lanterns and people enjoying dinner with outdoor musical, pantomime or ballet performances in the different theatres. Best of all Tivoli has a high quality Danish feel and a lovely relaxed atmosphere that appeals to all ages. Tivoli Gardens are open April-end September and also at Halloween and Christmas. Entrance 99 DKK, Multiride ticket 199 DKK with other packages available.
5. A gourmet bite to eat at Torverhallerne
When I stayed nearby at the Ibsens Hotel a couple of years ago, the Torverhallerne market halls were under construction but now they are a buzzing place to stop and buy fresh food and deli-delicious lunch-time delicacies. The outdoor paved areas around the hall are full of fruit and veg stalls with benches and tables to sit down, while most of the food vendors inside also have some seating space. Guy and I tried a lunch of smorrebrod, the Danish open sandwich, served at the bar of Hallernes Smorrebrod on Royal Copenhagen plates. The kids eyed up the Thai food trailer outside but settled for sandwiches made with nutty Danish brown bread and we finished up with coffee at the legendary Coffee Collective and a strawberry tart from Laura's Bakery opposite. If you prefer to pick up a picnic there are stalls selling artizan bread and cheeses or deli stalls selling different salads and dips, then head for the nearby Botanic garden or the Kings Garden to stretch out on the grass. Torverhallerne is between Frederiksborgadde and Vendersgade close to Norreport Station and is open 10am-7pm most weekdays with slightly shorter hours at weekends.
6. A picnic in the Kings Garden
And spreaking of the Kings Garden or Kongens Have, this is where locals like to go in summertime to laze on the grass in the shade of the trees. In the centre there's a romantic formal garden while on one side of the moat from the Rosenborg Castle there's the rose garden which in summer blooms with scented roses and lavender, watched over by a statue of Queen Caroline Amalia. Ok, so the rose garden is more likely to delight your mother than your teenagers, but the Danish Crown Jewels in the Treasury of Rosenborg Slot are pretty impressive too. The Rosenborg Castle is also delightful if you enjoy a walk through Danish history but the Treasury really is packed with jewels and despite the soldiers on guard outside, it feels pretty laid back despite the considerable bling on display. The Kings Garden is free entry, the Rosenborg Castle and Treasury is open 10am-4pm (closes 5pm in summer) and costs 90 DKK to visit (children up to age 17 free)
7. A smoothie on the deck by the Copenhagen lakes
From the Kings Garden it's a short bike ride to the Copenhagen Lakes, the stretch of water that snakes through the centre of Copenhagen and borders the residential neighbourhoods of Norrebro and Frederiksberg. We met my new blogging friend and Copenhagen expert Alex Berger from VirtualWayfarer for a coffee at the floating deck of KaffeSalonen where you can drink a smoothie or coffee or hire a brightly coloured or swan shaped pedalo to get out on the water. Alex advised me that the lakes are not quite as clean as the harbour, so best not to swim, but it's a fabulous spot to relax overlooking the water. There are paths to walk or jog that run beside the lakes and benches to sit down and admire the view plus you could also try the Den Frankse Cafe or Cafe 22 as an alternative to KaffeSalonen.
8. Copenhagen Street Food on Paper Island
This new food venue on Paper island opened in April just along from the Royal Opera House in a large warehouse that's filled with street food stalls and trailers and a stretch of harbour front lined with deck chairs and benches to sit outside. It's a cool place to gather with friends on a sumer evening with DJ sounds, overlooking the harbour to catch the last rays of the sun with a beer in hand. The concept is to give small food vendors a place to do business, offering great food at reasonable prices, where you can get a snack from around 50 DKK. When we visited for a Friday night street-food-fest, we loved the atmosphere but I felt the food vision hadn't quite been realised, with some vendors seeming a bit overwhelmed by the popularity of the place.
The pulled pork wrap I tried was outstanding, but required a 25 minute wait once my name had been added to their list – not quite fast food! The pizza slice I had in the meantime was burnt on the bottom and couple of other stalls had closed early or run out of food, but my kids enjoyed their spicy chicken stew from the Cuban stall. If you adjust your foodie expectations and don't expect a gourmet experience just yet, Copenhagen Street Food gets a big tick as a cool place to chill with a bucket of beer overlooking the harbour. Copenhagen Street Food can be reached on the waterbus from Nyhaven to the Opera House and is open 12am-10pm for food and from 10am to late for coffee and drinks.
9. Modern art by the sea at Louisiana
Louisiana modern art museum is well worth the 30 minute train ride from central Copenhagen at any time of year but in summertime it offers the perfect day out for those who enjoy art in a natural setting overlooking the sea. The original seaside villa has been enlarged with purpose built galleries housing changing exhibitions of art and sculpture. When we were there, there was a colourful Emil Nolde exhibition plus a sureal collection of paintings by American artist Philip Guston as well as modern art by some of the big names such as Giacometti and Danish painter Asger Jorn.
The gallery is surrounded by lawns and trees dotted with sculptures by Henry Moore and others, overlooking the sea. The large cafe serves excellent smorresbrod, pretty cakes and a lunchtime or dinner buffet with tables inside and outside or you can just bring your picnic and find a grassy spot overlooking the sound. When you're done with the art, leave through the gate at the bottom of the hill and go for a swim off one of the jetties along the stretch of beach and shingle outside, my idea of a perfect artistic summer's day. Louisiana is also magical in the evening when it's open until 10pm Tuesday to Friday.
To get to Louisiana we took the coastal train from Norreport station in the direction of Helsingor and got off at Humlebaek station, then you can walk 15 mins or take a short bus ride down the road following the signs to get to Louisiana or alternatively take your bike on the train as we did with a 5 minute cycle at the other end.
10. Have a drink by the harbour as the sun goes down
The Copenhageners love to make the most of the short Scandinavian summer by spending as much of it outdoors as possible and we enjoyed warm summer evenings on our holiday just sitting by the harbour with a sundowner. Close to our apartment we found the deck of the Royal Danish Theatre at the end of Nyhaven had set up an outdoor summer cafe with a DJ to welcome the weekend. From here we could watch the lights come up in the Opera House opposite and the harbour buses going back and forth. Being delightfully democratic Denmark there are plenty of places like this along the harbour where you can just sit and enjoy a summer sunset, such as the deck by the 'Black Diamond' Royal Library or the Toldboden cafe near the Little Mermaid, but if you prefer you can bring your own wine or beers and find a place to sit along the harbour for the sunset.
More cool things to do in Copenhagen
Bike + Train = adventure in Copenhagen
Eat the neighbourhood in Norrebro
A celebration of mussels – our gastro-cruise in Copenhagen with Copenhagen cooking
Cool places to stay in Copenhagen
A cool boutique hotel in Copenhagen – The Andersen Hotel
Ibsens Hotel in Copenhagen – an affordable boutique hotel in Nansensgarde
Cosy up in Copenhagen at Avenue Hotel – video
Follow Heather on her travels's board Wonderful Copenhagen on Pinterest.
This article is originally published at Heatheronhertravels.com – Read the original article here
You'll also find our sister blog with tips on how to build a successful travel blog at My Blogging Journey
July 29, 2014 by Guest Author
Filed under Accommodation, Eating and drinking, featured, Guest post, Leisure, Misc, Self-catering, Sightseeing, USA, World
In this article, our guest author Amanda Kusek shares her experience of visiting Disney World in Florida with her mother and shares her tips for having fun together as a parent and adult child without driving each other mad!
I am thrilled to say I've just returned from 7 days with my mother in Disney World, sharing a villa along with her best friend and boyfriend, and have come home unscathed. We certainly had moments of tension, but by reaching toward each other rather than pulling away, we had a fantastic time. If you're planning a similar trip, here are my tips from an adult child's point of view so you too can bask in familial bliss;
Let's Stay Together
Rather than staying in one of the many Disney World resorts, my mother and I opted for a villa at Liki Tiki Resort Village just twenty minutes from the park. We used my brother's timeshare, but you may book the resort online. If you use 3111 World Dr. as your GPS address, Liki Tiki to Disney is completed in a flash on back roads. You'll bypass main entrance traffic and slip easily into main parking via a back entrance. The villas truly do have one of the best locations outside of the parks.
I enjoyed staying away from the free-for-all that is Disney. With the villa, we were able to invite along two others, cook some of our meals, and laze by the pool just steps from our door. Not only was it significantly cheaper for all of us but having a joint space made me feel more at home. We had family style dinners, enjoyed wine, and played cards. It was a nice way to spend time together without hustling around the parks.
The Thin Line Between Doting & Nagging
My mother has explained to me on countless occasions that even though I am 26, she still feels an incredible urge to take care of me. She misses me and cooking dinner or picking up the bill makes her feel closer to me. While being doted on is something I can certainly enjoy, too much of a good thing can make me turn sour.
It's important to remember that your adult children make hundreds of decisions about their lives every day. For example, in Epcot my goal was to eat everything in sight. I wanted to, I needed to, and I was prepared to outdo myself. And yet, my mother took it upon herself to warn me about eating a bite of sushi before our lunch reservations. Food is important to our family and especially to my mother's nurturing, but in this case I was going to do what I wanted anyway, there was no need to mention it.
Admit When You're Tired
Guess what? I'm not as young as I was once was either! I now know what it feels like to be tired, to rise early and want to be in bed equally as early. My late nights are few and I spend more time getting up and going to work than out partying and sleeping in. If you tell me you are exhausted, we can re-do the plans and make new ones, or just head home to have a glass of wine. Chances are, I'm probably tired too. After we had a long day in Hollywood Studios, my team of middle-aged rock stars (I got 2 of the 3 on Aerosmith's Rock N' Roller Coaster) and I decided to call it quits and return to our villa for dinner. We canceled our dinner reservation and enjoyed a steak dinner and an early bedtime. It was just what the doctor ordered. We returned to Disney the next day totally refreshed instead of exhausted and cranky.
Some Things Are Still New To Me
My mother has been to Disney over 20 times in her lifetime. This was only my fourth go around. Though I have grown up, many of the parks rides and attractions feel new to me. While she may know Magic Kingdom like the back of her hand, I certainly do not, and she indulged my wonder with certain buildings, rides, and shows. I know that some of this may have bored her but she embraced it as though I was seeing it for the first time. She must have asked me, "Do you remember this?" countless times but whether the answer was yes or no, we still participated and enjoyed. Together we made Disney World, something that risks being "too perfect", exciting and suited to us. We just had to listen to one another.
I'd love to hear about what it is like to travel with an adult child and how I can be a better version of myself! Please share with Amanda in the comments below.

Many thanks to Amanda Kusek from TripGal for this article. You can read more of Amanda's work at http://trip-gal.com/author/amandakusek/ or cheapcourage.com. Follow her on Twitter at @akaymayday.
For more Fun travel:
What does Orlando offer other than Disney?
Our Top 5 Florida beaches
Our supercalifragilistic day at the Magical Kingdom of Disney
Photo Credit: All photos originally from Amanda Kusek
This article is originally published at Heatheronhertravels.com – Read the original article here
You'll also find our sister blog with tips on how to build a successful travel blog at My Blogging Journey