It seems a long time since I took that trip down the Amazon that inspired me to start Heather on her travels. Five years this month in fact. 900 articles, 100 videos, 28 podcasts and 12,000 photos (and that's just the ones on flickr) later I feel I can be proud of what my blog has become and where it has taken me.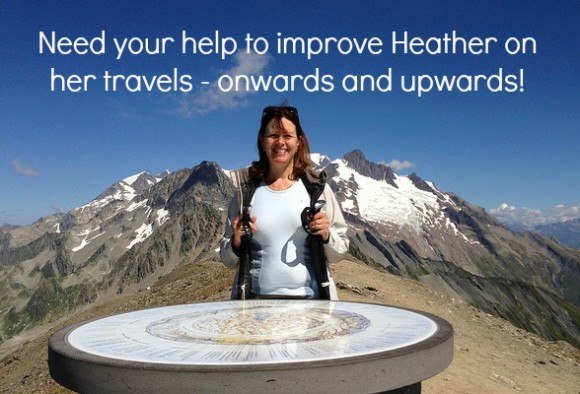 But I'd like 2014 to be even better and to do that I need your help. I need to understand a little bit more about who you, my readers are, how you travel, and where you hang out online. I want to be sure as I plan my travels in 2014 that I can bring you more of the kind of travel stories, videos and podcasts that you enjoy, and share them in the right way.
That's why I need your help to answer a short survey about your travel interests and the social media you use .
There are only 12 questions to complete and it will only take you around 5 minutes (I did it myself to check) To thank you for your time, if you choose to leave your e-mail address, you'll be entered in a draw for one of three £15/$20 Amazon vouchers (just in time to buy yourself an inspirational travel book to read over Christmas?) I'm doing the survey with a group of other bloggers in a similar niche so that we can all learn from the experience and the survey will be open until 15 December.
Best wishes Heather
This article by Heather Cowper is originally published at Heatheronhertravels.com - Read the original article here
I'm just back from Dublin where I was attending the TBEX Travel Bloggers' conference for a few days. Having got up early to hop on the Ryanair flight, my brain is still whirring a little, fuelled only by a packet of Guinness crisps for breakfast, so I'll get straight to the point and give you my reflections on the conference and of Dublin, which are;
That the Irish know how to throw a good party
The TBEX opening night party hosted by Failte Ireland (Failte means welcome in Gaeilge) at the Guinness Storehouse was stunning. Making my way past the stilt-walkers, flame throwers and music makers at the entrance, I wound my way up through the brick, glass and steel building, past all the brewery tour audio visuals, up all the escalators, wondering what a girl has to do to find a drink around here. On the top floor the party unfolded; I homed in on the oysters, downed a glass or two of black velvet and tested some artizan cheeses. Irish dancers dressed in black with serious faces, drummed their feet in complex patterns and the atmosphere was electric when local heros, Seo Linn gave up their gaelic version of Avvici's Wake me up, with choir, drummers and an Irish dancing trio. The night was a complete celebration of the best of Ireland and launched the conference off on a high. Here's the video that will have your foot tapping;
And my Vine as I made my way up through the Guinness Storehouse to finally find a pint of the black stuff;
That Jameson whiskey beats any Scotch and Bourbon you could mention
As a speaker I was lucky to be invited to a bonus tour of the Old Jameson distillery before the opening party, with fabulous cocktails like the Whiskey Sour which hit the spot. Naturally we got the whole story of how the whiskey is distilled and how the distillery cats got stuffed, although what stuck in my head was that the angels get their share as the amber liquid ages and evaporates in oak barrels. Lucky Angels. At the end we sat down to a whiskey tasting where the smooth, triple distilled Jameson was pitched against the Scotch and American whiskey and were left in no doubt which was our favourite.
That the Irish are super friendly and love a good story
I lost count of the number of times I was wished Céad míle fáilte, A Hundred Thousand Welcomes, with that delicious Irish lilt. The Dubliners love to stop and chat, share the craic over a pint of Guinness and they seem to have all the time in the world to find out what you're doing, where you're going and what you think of Dublin. On the Wild Wicklow tour, our guide Denis managed to drive the coach along narrow roads, avoiding Irish traffic jams ( a flock of sheep on the road) while throwing out a constant stream of entertaining stories. Did people really come to Bog Snorkel in the Wicklow mountains or find the monks' buried treasure under the turf or go skinny dipping at Sandy Cove (you go in a man and come out a woman)? Who knows, but I'm happy to believe any tale told to me by an Irishman.
That being a speaker can be stressful but it's worth it
I suppose that many speakers put themselves forward as I did, partly because they want to raise their profile and partly because they have some useful insights that they want to share. Although I was a speaker at the first European TBEX conference in Copenhagen, time had somewhat dimmed the memory of how much time it takes to prepare, write and practice a presentation, if it's not something you do every day. Not being one of those people who like to wing it, much of my spare time in the weeks before the conference went into my presentation and the accompanying article, on How to create quick and easy videos for your blog. Of course once I'd delivered the talk, I felt a glow of achievement and could relax and enjoy the rest of the conference.
That Networking is a goldmine
Conferences like TBEX are great for a number of things. You get to learn from people who have in depth knowledge in a specific aspect of blogging, but you could probably learn this from reading articles. You get to see a new place where the conference is being held during the pre and post-conference trips but you could always come back another time. In my view the golden opportunity at a conference like TBEX is the chance to network and find out what other bloggers are up to, what's working for them, what trends are developing in blogging and how you can be part of them. The thing that stuck out for me from these conversations was how quickly the travel blogging community is professionalising itself and how travel bloggers are now being paid by brands to participate in their marketing campaigns. The concept of the paid trip is one that I don't being remember being mentioned much at TBEX Girona, but was on everyone's lips at TBEX Dublin.
That I want to see more of Dublin and Ireland
I hadn't been to Dublin before, and now I'm wondering why, as it's only a 45 minute flight from Bristol. Perhaps I had in my mind that in Ireland it always rains. As our Wild Wicklow guide Denis said "If you can see the mountains, it's going to rain and if you can't see the mountains it's already raining". But who cares about a soft day when everyone you meet chats to you like an old friend and the music and the Guinness is flowing and the countryside has 40 shades of green. After TBEX I feel it's not If but When I'll come back to Dublin to explore it properly and I've been already been watching the video of the waves crashing along the Wild Atlantic Way and planning which route we'll take and whether it'll be by campervan, bike, kayak or all three.
The Wild Wicklow Mountains
The Doubletree by Hilton, Dublin
As a speaker my room in the hotel was covered for the 3 days of the conference and I booked an additional night on my own account. I found that the Doubletree Dublin was a great conference venue with plenty of space for our Doubletree sponsored coffee breaks with the signature warm Doubletree cookies. The meeting and presentation spaces were excellent as was the buffet lunch in the B bar. The hotel is currently undergoing a renovation programme which meant all the public areas were stylish and modern and I was fortunate to have a spacious room that had been completely renovated, although other bloggers were not quite so lucky and told me their pre-renovation rooms were looking tired and dated.
While I loved my room and the stylish pubic areas, I had a couple of reservations about the hotel, one of which was that the hotel wifi in my room (as opposed to the TBEX wifi which was fine) was grindingly slow, to the point that I could barely do any work except check a few e-mails. As our keynote speaker Chip Conley, founder of the boutique hotel group Joie de Vivre, said in his keynote, wifi is like the plumbing these days – if it doesn't work you're failing to meet the most basic expectations of your guests. I also found that the service in the hotel was friendly, in that warm Irish way, but not especially attentive or fast. It's lovely to delight your customers with a warm cookie, but get the basics right first. The video of my room is below.
The keynote speakers were outstanding
It was touching to hear Chip Conley, who's had so much business success, talk of the loneliness of being a new blogger. We all know that feeling that you're putting your heart and soul into writing something you care passionately about, only to experience the deafening silence of Zero comments. The trick is to have a mate like best-selling author Tim Ferris, who invites you to write a guest post that brings you hundreds of comments, to keep your spirits up.
Photographer John Minihan was in conversation with Alistair MacKenzie (move over Michael Parkinson) with a few of his black and white photos as prompts. I loved his story about how he got the famous photo of Lady Diana Spencer at the kindergarten where she worked with the light filtering through her skirt to show off her legs. Later, when she was being hounded by the photographers, he felt sorry for her and turned up at her flat with a bunch of flowers, which she opened the door to accept. There's a reason Bono can live just outside Dublin and still go to the pub without everyone asking for his autograph. The Irish (or John at least) feel there's a line that you just don't cross even if there's money in it.
Dan and Audrey from Uncornered Market told us about the time they were in Burma when the politics had killed the tourist trade and all the local businesses and the families behind them were suffering. It reminded me that tourism is the main livelihood for many small businesses and as bloggers we should put aside any sense of entitlement and do what we can to leave the world a better place.
And the other speakers I loved
I didn't get to see too many speakers on Thursday, as the time before and after my own talk was occupied with doing a dry run in front of my hotel room mirror and unwinding by chatting to some of the bloggers who came up to me afterwards. I was sorry to miss Gary Bembridge on how to Write your Blog Positioning statement, as I've found his articles on this topic really helpful in refining what my blog is about and who I am writing for ( a stylish women enjoying life in her fabulous 40s and 50s who is always up for a bit of adventure as she travels with friends and family – in case you hadn't guessed).
Then there was Ian Cleary from Razor Social who kept it lighthearted with leprechauns and Irish humour while educating us on 21 Powerful Social Media and Technology Tips. The message I took away from Ted Murphy of Izea from all the research and stats he produced was that brands in the US are prepared to pay good money to bloggers to access their audiences. Companies in the UK, however, are a few years behind and still think that bloggers are enthusiastic amateurs who are  jolly lucky if they're given a free flight or hotel stay. Katja Presnal was evangelical about Instagram, a niche that she has really made her own and she came up with beautiful presentation, although she was preaching to the converted as far as I'm concerned as I love Instagram – you can get Katja's free Instagram e-book on her Skimbaco Lifestyle blog.
So that's it folks, I can normally find a bit of constructive chriticism, but this time it was all good as far as I'm concerned. Top conference in TBEX, top destination in Dublin. I'll be back to both.
This article by Heather Cowper is originally published at Heatheronhertravels.com - Read the original article here
You'll also find our sister blog with tips on how to build a successful travel blog at My Blogging Journey
 Don't miss out – subscribe to Heather on her travels
Royalty and cruise ships seem to go together like champagne and smoked salmon, strawberries and cream or perhaps sunshine and showers that seem to represent the English weather in June. It was the Royal connection that brought me to Southampton this week, as I was invited to experience the naming ceremony of the new Royal Princess cruise ship by the Duchess of Cambridge. There's a long tradition of each cruise ship having a godmother to name her; Diana, Princess of Wales was godmother to the first Royal Princess ship and other Princess Cruises godmothers have included Audry Hepburn, Sophia Loren and Margaret Thatcher. Surely every ship needs to have an elegant and notable woman to act as her patron and bless her future voyages.
I arrived in Southampton with my husband Guy, and our exciting evening on board the Royal Princess started with tea and cakes as we relaxed in the Atrium at the centre of the ship, somewhat dazzled by all the glamour and glitz of our first cruise experience. The Atrium had all the Pzazz of a Hollywood musical with polished marble floors, sparkling chandeliers, columns of glass stars and two gilt and glass spiral staircases at one end for making a grand entrance.
We made ourselves at home in our Stateroom, which was tastefully decorated in neutral shades of green and tan with a modern white shower room and large wardrobe area for all the outfits we might need to look our best on longer voyages. There was even a proper balcony with an easy chair to sit outside, although the current view was of the Southampton dockside, so we had to close our eyes and imagine a sea of sparkling turquoise in the Mediterranean.
I hope that you enjoy my video tour of the Royal Princess below
If you can't see my video about of the Royal Princess, view it on my blog here or on Youtube here
Once we had changed into our evening finery, we descended to the Atrium to circulate with a glass of champagne in hand, before meeting our dining companions at our table for the gala dinner. There are a number of elegant restaurants on board and we were seated in Concerto, which like the others had a musical theme and we were seated in front of a large mural of a classical pianist playing with a backdrop of the spires and domes of Venice. The delicious gala dinner included a tian of crab and lobster followed by a pave of beef tenderloin and a smooth trilogy of chocolate for desert – take a look at what we ate in this little Vine video I made.
After dinner I found my friend Shannon Hurst Lane of Traveling Mamas who had flown all the way from the USA for the Royal Princess inaugural celebrations. As often happens with travel bloggers, we had become friends online and so it was a thrill to finally meet Shannon in person and chat about our blogging and non-blogging lives on opposite sides of the Atlantic. Shannon had gone for drop dead glamour and been dressed for the occasion by Louisiana based couturier, Harold Clarke in a foxy green and black lace gown which made me wonder why I'd left my tiara at home!
The gala entertainment continued around the Atrium as we were entertained by the gorgeous singer, Beverley Knight whose performance I had a bird's eye view of from the top of the spiral staircase, followed by the Beatle Maniacs who had Shannon and me bopping to Twist and Shout on the dance floor. Check out this video of the dancing and Shannon filming me, filming her, on our smartphones!
After breakfast, my husband Guy had to leave to get back to work, so Shannon and I headed down the gangway with the rest of the guests for the naming ceremony on the quayside. Pausing only for a quick photo in front of the stage to prove we were really there, we headed for the far end of the seating and managed to get seats close to the front opposite the champagne bottle, where we had a fantastic view of the stage where the royal party would sit. Excitement was building as the band of the Royal Marines Portsmouth marched up and down in front of us, followed by the pipers from the 1st Battalion Irish Guards looking very dashing in their kilts.
Finally we could see on the big screens that the Duchess of Cambridge had arrived and was being escorted from her car onto the stage. She looked really blooming with elegant high heels and a black and white Dalmatian spot coat which skimmed over her neat baby bump, as her first baby is due to arrive in only a month. Once the Duchess was seated, we were entertained by singer Natasha Bedingfield who performed her hit, Unwritten (watch my video here), followed by West End star, Kerry Ellis and then some earth harp music from the band Mass Ensemble.
The big moment had arrived as Kate stood up, walked up the few steps up to the podium, and said the words we had all come to hear; "I name this ship the Royal Princess, may God bless her and all who sail in her" (watch my video here). Then she was handed the scissors by Captain Tony Draper and cut the ribbon to release the champagne bottle which smashed with a satisfying explosion of glass and foam on the side of the ship. Kate looked rather pleased and relieved – I think I saw her mentally saying Phew! that the bottle had smashed first time.
As the Duchess of Cambridge left the stage for a tour of the Royal Princess, we and the other guests made our way back onto the ship for a light lunch, this time in the Symphony restaurant. Shannon and I both agreed that our blogs had taken us to the most amazing places and given us experiences like this that money just couldn't buy – we were both very lucky girls! After lunch we said goodbye and I took the opportunity for a proper look at the upper decks of the Royal Princess, which I hadn't yet had time to explore.
Unfortunately, the English weather was not being kind, so I had to ignore the grey clouds and imagine I was in the Caribbean, treating myself to a soft cone ice cream, cooling off in one of the pools with the palm trees swaying in the breeze or topping up my tan on the sun lounger. For extra peace and relaxation I took a quick tour of the adults only Sanctuary where for an extra charge you can have complete peace away from the crowds, hire a sunbed or cabana and have a picnic basket delivered to you – pure bliss!
Bearing in mind that these days, cruising is a family affair, I was very impressed by the different lounges and deck areas that were available for younger guests. The Princess Pelicans (age 3-7) has play areas and arts and crafts sessions;  Shockwaves for age 8-12 has a giant TV, games stations and area for pizza and ice cream parties, while I could imagine my teenagers having fun in Remix (age 13-17) hanging out in the outdoor lounge or mixing music like a professional DJ. The area looked so much like a hyper trendy cafe, that I felt quite jealous that I probably wouldn't be allowed in.
My final stop on the mini tour was the Seawalk, the new feature of the ship that everyone had been talking about; a glass bottomed walkway that extends out from the ship. As I looked down through the glass I could see the vehicles on the dockside below, but just imagine what it would be like if there were any whales or dolphins in the sea below. Check out my little Vine video of the Seawalk here.
Later that afternoon it was time to leave the Royal Princess, as it was due to sail on a mini cruise the following day to Guernsey. It had been a whirlwind visit, packed full of fun and excitement, with the extra thrill of seeing the Duchess of Cambridge name the ship. Thank you Princess Cruises for making me feel like a Princess for a day. Fortunately, Guy and I will be back for more fun in September when we take a mini cruise from Southampton to Rotterdam and Guernsey on the Crown Princess, and hope to experience some more Princess magic.
Thanks to Princess Cruises for inviting me to share the special gala evening and Royal Princess naming ceremony.
This article by Heather Cowper is originally published at Heatheronhertravels.com - Read the original article here.
You'll also find our sister blog with tips on how to build a successful travel blog at My Blogging Journey
 Don't miss out – subscribe to Heather on her travels