When I was invited to be featured in Woman and Home magazine, in an article on "Blogging for Fame and Fortune", my first thought was "OMG!!! Fame at last!" quickly followed by, "OMG! how will I lose a stone in 2 weeks?".
My initial chat with Nathalie, the features writer, to test the water was quickly followed up by a confirmation that yes, they would like to include me in their feature and would I be available next week for the shoot? We did a long telephone interview which was really just a nice chat covering such weighty questions as; How did you get into blogging? What tips do you have for others who want to start a blog? and What was the proudest moment in your blogging career?
A week or so after that initial call, during which I lived mainly on grilled chicken and salad, I was driving up the road to the house in West London where the photo shoot would take place, most of the spare tyre firmly in place. Ah, well at least Woman and Home is a magazine that makes a point of featuring normal women and their achievements, not just pencil thin celebrities, and I was hopeful that a bit of hair and make-up could work wonders.
I knocked on the door of a small cottage, which opened up into a huge sitting room that was open to the roof with wooden beams and huge skylights. With huge, squishy sofas scattered with pretty silk cushions, glass lamps and Moroccan silver trays, I could totally understand why they'd chosen this as their photography location. It looked like a love pad made for parties as well as a great location for a spring feature photo shoot.
I was to be featured along with two other bloggers in a feature about about "Blogging for Fame and Fortune". I've certainly had some fun in my 5 years writing my blog but as for the fame and fortune – well maybe some day! The other bloggers were Ren Behan, a food blogger at RenBehan.com and fashion and lifestyle blogger, Josephine Lalwan of Chic at any age, who was certainly looking very elegant with her chic grey bob and fuschia pink silk shirt. It seemed that we had been picked as being ladies of a certain age, as most of the people featured in the magazine seemed to be in their 40s and 50s.
Sharon, the picture editor greeted me and introduced me to the rest of the team, and I settled into the kitchen, now in use as a beauty parlour with Liz and Sarah-Jane at the ready to do my nails, hair and make-up. I sipped my coffee made by Jim, the photographic assistant, had my nails painted and my already clean hair was blow dried and left in curlers. After half an hour of make-up, with numerous shades of beige eye-shadow, my 'natural' look was ready for me to move on to wardrobe.
In 'wardrobe' which was actually a small room crammed with two rails of clothes and half a floor covered with shoes, I met Rachel the stylist and her assistant Amy.
My first job was to strip down and put on a nude Spanx roll-on to keep the spare tyre under control, which was slightly humiliating but certainly did the trick of creating a smooth sillhouette. "Don't worry" confided Rachel, seeing my doubtful look, "some of my red carpet clients have to wear 2 spanx on top of one another". Looking through the rails we tried on a few different outfits and settled on some tight Eileen Fisher white jeans with a coral orange vest and drapy cardigan from Rohen Chen both of which I loved, plus some very high gladiator style LK Bennet heels which left me tottering around although they looked very elegant.
Back into the living room which was now a photography studio, Angela the photographer had her big lights and tripod set up and I was positioned by the door surrounded by luggage, as if I was just about to leave for a glamorous weekend in Marrakech. Angela was full of fun and clicked away from behind her tripod, scattering plenty of encouraging comments around; "OK my gorgeous creature?" Click,  "Lovely!" Click, "Excellent!" Click, "Beautiful my darling!" Click. I shifted my weight slightly from one leg to the other, holding an ipad in one hand and a large leather holdall (which wouldn't have passed the Ryanair police) in the other. Every few clicks one of the team would rush forward to tweak my clothing, powder my nose or cover me in a cloud of hair spay.
The attention to detail showed by this crew was even more rigorous than my habit on blog trips of taking five of the same shot that drives my husband crazy. A hundred or so photos later, all slight variations on the theme, and we were done. I could breath again as I unpeeled the Spanx and slipped back into my own clothes. Now I got the chance to be the spectator as Josephine the fashion blogger was photographed looking very thin and elegant in an emerald green cocktail dress (a brand that's favoured by Nigella Lawson). This time the piles of clothes were arranged around her and she held a pair of high heels in her hand, the props of a fashion blogger obviously!
I was fascinated to see how the photos were instantly transferred to Angela's laptop and I could see them popping up as I sat behind her during the shoot. The man arrived at the door to deliver lunch – no waitrose sandwiches but slices of herby chicken, squares of quiche studded with goats cheese and a watercress and beetroot salad. Lovely!
Poor Ren, the food blogger was still standing around in curlers in her dressing gown, waiting for lunch to finish so that she could be photographed in the kitchen surrounded by cookery books. At that point I'd completed my part of the shoot so I said my goodbyes and headed back to Bristol to tell my family all my stories. Just another day in the life of a travel blogger masquerading as a fashion model. All great fun, but I won't be giving up the travel blogging (or the day job) just yet!
Look out for the April 2014 issue of Woman and Home at your newsagents now for the article on Blogging for Fame and Fortune or if you're not in the UK Read it here
Heather Cowper shares her travel stories, videos and podcasts at Heatheronhertravels.com and you can also find her on Facebook and Twitter.
This article by Heather Cowper is originally published at Heatheronhertravels.com – Read the original article here
You'll also find our sister blog with tips on how to build a successful travel blog at My Blogging Journey
It seems a long time since I took that trip down the Amazon that inspired me to start Heather on her travels. Five years this month in fact. 900 articles, 100 videos, 28 podcasts and 12,000 photos (and that's just the ones on flickr) later I feel I can be proud of what my blog has become and where it has taken me.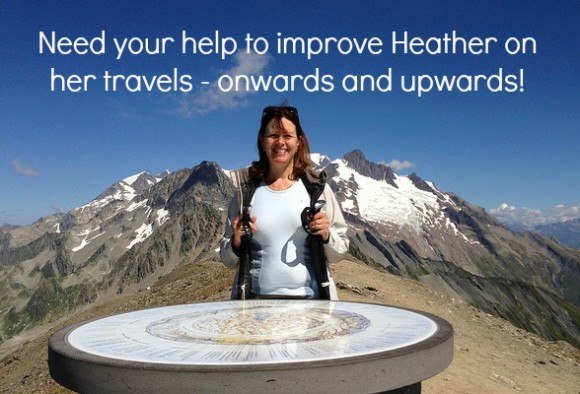 But I'd like 2014 to be even better and to do that I need your help. I need to understand a little bit more about who you, my readers are, how you travel, and where you hang out online. I want to be sure as I plan my travels in 2014 that I can bring you more of the kind of travel stories, videos and podcasts that you enjoy, and share them in the right way.
That's why I need your help to answer a short survey about your travel interests and the social media you use .
There are only 12 questions to complete and it will only take you around 5 minutes (I did it myself to check) To thank you for your time, if you choose to leave your e-mail address, you'll be entered in a draw for one of three £15/$20 Amazon vouchers (just in time to buy yourself an inspirational travel book to read over Christmas?) I'm doing the survey with a group of other bloggers in a similar niche so that we can all learn from the experience and the survey will be open until 15 December.
Best wishes Heather
This article by Heather Cowper is originally published at Heatheronhertravels.com – Read the original article here
I'm just back from Dublin where I was attending the TBEX Travel Bloggers' conference for a few days. Having got up early to hop on the Ryanair flight, my brain is still whirring a little, fuelled only by a packet of Guinness crisps for breakfast, so I'll get straight to the point and give you my reflections on the conference and of Dublin, which are;
That the Irish know how to throw a good party
The TBEX opening night party hosted by Failte Ireland (Failte means welcome in Gaeilge) at the Guinness Storehouse was stunning. Making my way past the stilt-walkers, flame throwers and music makers at the entrance, I wound my way up through the brick, glass and steel building, past all the brewery tour audio visuals, up all the escalators, wondering what a girl has to do to find a drink around here. On the top floor the party unfolded; I homed in on the oysters, downed a glass or two of black velvet and tested some artizan cheeses. Irish dancers dressed in black with serious faces, drummed their feet in complex patterns and the atmosphere was electric when local heros, Seo Linn gave up their gaelic version of Avvici's Wake me up, with choir, drummers and an Irish dancing trio. The night was a complete celebration of the best of Ireland and launched the conference off on a high. Here's the video that will have your foot tapping;
And my Vine as I made my way up through the Guinness Storehouse to finally find a pint of the black stuff;
That Jameson whiskey beats any Scotch and Bourbon you could mention
As a speaker I was lucky to be invited to a bonus tour of the Old Jameson distillery before the opening party, with fabulous cocktails like the Whiskey Sour which hit the spot. Naturally we got the whole story of how the whiskey is distilled and how the distillery cats got stuffed, although what stuck in my head was that the angels get their share as the amber liquid ages and evaporates in oak barrels. Lucky Angels. At the end we sat down to a whiskey tasting where the smooth, triple distilled Jameson was pitched against the Scotch and American whiskey and were left in no doubt which was our favourite.
That the Irish are super friendly and love a good story
I lost count of the number of times I was wished Céad míle fáilte, A Hundred Thousand Welcomes, with that delicious Irish lilt. The Dubliners love to stop and chat, share the craic over a pint of Guinness and they seem to have all the time in the world to find out what you're doing, where you're going and what you think of Dublin. On the Wild Wicklow tour, our guide Denis managed to drive the coach along narrow roads, avoiding Irish traffic jams ( a flock of sheep on the road) while throwing out a constant stream of entertaining stories. Did people really come to Bog Snorkel in the Wicklow mountains or find the monks' buried treasure under the turf or go skinny dipping at Sandy Cove (you go in a man and come out a woman)? Who knows, but I'm happy to believe any tale told to me by an Irishman.
That being a speaker can be stressful but it's worth it
I suppose that many speakers put themselves forward as I did, partly because they want to raise their profile and partly because they have some useful insights that they want to share. Although I was a speaker at the first European TBEX conference in Copenhagen, time had somewhat dimmed the memory of how much time it takes to prepare, write and practice a presentation, if it's not something you do every day. Not being one of those people who like to wing it, much of my spare time in the weeks before the conference went into my presentation and the accompanying article, on How to create quick and easy videos for your blog. Of course once I'd delivered the talk, I felt a glow of achievement and could relax and enjoy the rest of the conference.
That Networking is a goldmine
Conferences like TBEX are great for a number of things. You get to learn from people who have in depth knowledge in a specific aspect of blogging, but you could probably learn this from reading articles. You get to see a new place where the conference is being held during the pre and post-conference trips but you could always come back another time. In my view the golden opportunity at a conference like TBEX is the chance to network and find out what other bloggers are up to, what's working for them, what trends are developing in blogging and how you can be part of them. The thing that stuck out for me from these conversations was how quickly the travel blogging community is professionalising itself and how travel bloggers are now being paid by brands to participate in their marketing campaigns. The concept of the paid trip is one that I don't being remember being mentioned much at TBEX Girona, but was on everyone's lips at TBEX Dublin.
That I want to see more of Dublin and Ireland
I hadn't been to Dublin before, and now I'm wondering why, as it's only a 45 minute flight from Bristol. Perhaps I had in my mind that in Ireland it always rains. As our Wild Wicklow guide Denis said "If you can see the mountains, it's going to rain and if you can't see the mountains it's already raining". But who cares about a soft day when everyone you meet chats to you like an old friend and the music and the Guinness is flowing and the countryside has 40 shades of green. After TBEX I feel it's not If but When I'll come back to Dublin to explore it properly and I've been already been watching the video of the waves crashing along the Wild Atlantic Way and planning which route we'll take and whether it'll be by campervan, bike, kayak or all three.
The Wild Wicklow Mountains
The Doubletree by Hilton, Dublin
As a speaker my room in the hotel was covered for the 3 days of the conference and I booked an additional night on my own account. I found that the Doubletree Dublin was a great conference venue with plenty of space for our Doubletree sponsored coffee breaks with the signature warm Doubletree cookies. The meeting and presentation spaces were excellent as was the buffet lunch in the B bar. The hotel is currently undergoing a renovation programme which meant all the public areas were stylish and modern and I was fortunate to have a spacious room that had been completely renovated, although other bloggers were not quite so lucky and told me their pre-renovation rooms were looking tired and dated.
While I loved my room and the stylish pubic areas, I had a couple of reservations about the hotel, one of which was that the hotel wifi in my room (as opposed to the TBEX wifi which was fine) was grindingly slow, to the point that I could barely do any work except check a few e-mails. As our keynote speaker Chip Conley, founder of the boutique hotel group Joie de Vivre, said in his keynote, wifi is like the plumbing these days – if it doesn't work you're failing to meet the most basic expectations of your guests. I also found that the service in the hotel was friendly, in that warm Irish way, but not especially attentive or fast. It's lovely to delight your customers with a warm cookie, but get the basics right first. The video of my room is below.
The keynote speakers were outstanding
It was touching to hear Chip Conley, who's had so much business success, talk of the loneliness of being a new blogger. We all know that feeling that you're putting your heart and soul into writing something you care passionately about, only to experience the deafening silence of Zero comments. The trick is to have a mate like best-selling author Tim Ferris, who invites you to write a guest post that brings you hundreds of comments, to keep your spirits up.
Photographer John Minihan was in conversation with Alistair MacKenzie (move over Michael Parkinson) with a few of his black and white photos as prompts. I loved his story about how he got the famous photo of Lady Diana Spencer at the kindergarten where she worked with the light filtering through her skirt to show off her legs. Later, when she was being hounded by the photographers, he felt sorry for her and turned up at her flat with a bunch of flowers, which she opened the door to accept. There's a reason Bono can live just outside Dublin and still go to the pub without everyone asking for his autograph. The Irish (or John at least) feel there's a line that you just don't cross even if there's money in it.
Dan and Audrey from Uncornered Market told us about the time they were in Burma when the politics had killed the tourist trade and all the local businesses and the families behind them were suffering. It reminded me that tourism is the main livelihood for many small businesses and as bloggers we should put aside any sense of entitlement and do what we can to leave the world a better place.
And the other speakers I loved
I didn't get to see too many speakers on Thursday, as the time before and after my own talk was occupied with doing a dry run in front of my hotel room mirror and unwinding by chatting to some of the bloggers who came up to me afterwards. I was sorry to miss Gary Bembridge on how to Write your Blog Positioning statement, as I've found his articles on this topic really helpful in refining what my blog is about and who I am writing for ( a stylish women enjoying life in her fabulous 40s and 50s who is always up for a bit of adventure as she travels with friends and family – in case you hadn't guessed).
Then there was Ian Cleary from Razor Social who kept it lighthearted with leprechauns and Irish humour while educating us on 21 Powerful Social Media and Technology Tips. The message I took away from Ted Murphy of Izea from all the research and stats he produced was that brands in the US are prepared to pay good money to bloggers to access their audiences. Companies in the UK, however, are a few years behind and still think that bloggers are enthusiastic amateurs who are  jolly lucky if they're given a free flight or hotel stay. Katja Presnal was evangelical about Instagram, a niche that she has really made her own and she came up with beautiful presentation, although she was preaching to the converted as far as I'm concerned as I love Instagram – you can get Katja's free Instagram e-book on her Skimbaco Lifestyle blog.
So that's it folks, I can normally find a bit of constructive chriticism, but this time it was all good as far as I'm concerned. Top conference in TBEX, top destination in Dublin. I'll be back to both.
This article by Heather Cowper is originally published at Heatheronhertravels.com – Read the original article here
You'll also find our sister blog with tips on how to build a successful travel blog at My Blogging Journey
 Don't miss out – subscribe to Heather on her travels