The easyJet Holidays Inspiration Initiative was all about inspiring travel experiences and bloggers sharing their 'Who, What, Where and When' that inspired them to travel – and now the competition's over, it's time to announce the winner.
After writing about their own travel experiences each blogger nominated five more to take part so that the number of inspiring travel tales grew bigger and bigger. I was one of the judges of the competition along with Melvin from Traveldudes and Matt from Travel with a Mate and with so many fascinating entries it was truly a tough task to choose the winner.
However, there had to be one person to enjoy the prize of an 5 star, 7 night holiday for 2 with easyJet Holidays and that winner is …. (drumroll please)
Kat from Travel with Kat
You can read Kat's winning blog post here
"In 1927, at the age of 23, my grandmother boarded a boat to China, following the man she loved to Shanghai"
Well, I love a bit of romance and who couldn't be captivated by Kat's opening for her inspiring travel experiences? Kat goes on to describe how her grandmother's stories and carved Chinese furniture fascinated her and gave her a longing for far-off, exotic places. In India she soaked up the vivid colours and patterns of Kerala and her visits to Gambia have led her to found a choir to raise money for local Gambian schools. From a ferry trip to France alone with her sister aged 10 to a train ride through the mountains and gorges of Corsica, I thoroughly enjoyed reading about Kat's travel inspirations.
Here's a round up the other  brilliant entries courtesy of easyJet Holidays.
Beyond Blighty – Arianwen was inspired to volunteer at a school in Tanzania.
Kids Travel Cam – Kirstie's fond memories of a school trip to Amsterdam and enthusiastic son helped convince her to seek out any opportunity to enjoy the sun and the sea.
Emily Luxton – The RAF stories of Emily's grandfather brought out her adventurous side and she started it all off with a backpacking trip to Malaysia.
Mum's Gone to – A travelling Dad, a holiday romance in Tenerife and a Room with a View in Florence are travel inspirations for Trish
Emma's Travel Tales – A lifelong fascination with traveling abroad and experiencing different cultures led Emma to an extensive tour round Europe.
Suitcases & sippy cups – Jessica is inspired by the thrill of adventure and the support of her children and family.
Spanka Demus –  took inspiration from Ewan McGregor's and Charley Boorman's motorcycling excursions inevitably leading to a trip to Europe.
On the Luce – A passion for Thai culture and the label on a bottle of wine convinced Lucy to follow in the footsteps of her favourite travel bloggers.
The Lady in London –  was inspired by her free-spirit mother to take in the big cities of Europe – and has never looked back.
Nomads on the Road – Mike knew from an early age that he was destined to travel the world, taking his inspiration from every person he meets.
Ad-lib Traveller – An unusual combination of parents, Jamaica and Eddie Murphy prompted the Adlib Traveller to venture abroad.
Bluenosegirl  – won a trip to Brazil and then used a fascination with Russian culture to keep her desire for travelling strong.
Vicky Flipflop Travels – Books and blogs inspire Vicky to travel, and photos of destinations help even more.
Michael Palin's Fault – Like the title of the blog says: it's all Michael Palin's fault. The legendary comedy performer and travel documentary-maker serves as a primary inspiration.
Briana Palma – Both Briana's parents have a hand in inspired her to travel and studying abroad in Europe only added fuel to the travelling fire.
Wanderings and wonderings – Family played a big role in Ruth's travel desires, from impressive holidays with her parents to her brother's trip to Zambia.
Back packs and bunk beds – Neil served as his own inspiration with an excursion to South Africa.
The Travel Hack – A mother who worked in an airport and an inspirational Cambodian tour guide drives Monica's passion for travel.
Reclaiming my future – The thoughts of home and leaving it behind have inspired Toni to explore the best that the world's ocean has to offer.
Kids Travel 2 – Early excursions around Europe and Laurie Lee's novel 'As I walked Out One Midsummer Morning' inspired Julia's travels.
Backpackerbanter – This blog proves that a passion for surfing can be all you need to inspire you to see the best the world has to offer.
Mallory on Travel – The exploits of Sir David Attenborough and a longing for adventure inspires Mallory on Travel.
Backpacker Becki – Volunteering in Madagascar gave Becki all the inspiration she needs to enjoy other countries and cultures, and the people that live in them.
Life of an Expat Parent – Uninspired by the idea of a repetitive lifestyle, The Foreigner swapped Southwest Ohio for England in search of adventure.
The Travelbunny – The lyrics of her favourite childhood songs inspired Suzanne to start travelling, and the people she met on the way inspired her to keep going.
My Postcard From – The iconic architecture of Sydney and the flavour shock of Asian street food are big motivators for Paul's travel experience.
Mums do travel – Trips round Europe in a VW camper van as a child gave Gretta all the motivation she needed to keep on going.
Heels and Wheels – Travelling around Australia dispelled a lot of Bobbi's fears about visiting countries as a solo female.
Landlopers – Matt was fascinated by the idea of visiting foreign cultures from a very young age, but a friendly evening in Israel changed his view of travelling forever.
Jouljet – Learning that she had a Russian name inspired Tash to visit Russia.
Culture Addict/ History Nerd – Early holidays in Florida with her parents developed Nicole's love of travel, while Gary blames his in-laws.
The Travolution – Unexpected spontaneity and the European lifestyle are the difference-makers for Cristina.
Tales of a Brit abroad – Kate's adventurous grandparents and teenage holidays to Spain are the unlikely source of her desire to travel.
Andalucia Explorer – The rugged aesthetic of Cornwall and a father fascinated with sampling different cultures (and wines) serve as the inspiration for Rachel.
Walkingon Travels – Mexico and Moldova might not have much in common, but they both managed to inspire Keryn.
Restless Jo – The lure of Portugal, the vibrancy of different world cultures and even the documentaries of Michael Palin are just some of the things that keep Jo travelling.
Inspiring Travellers – Andrea's parents were a constant source of inspiration to her travelling; they took her to Europe, California and the British Virgin Islands.
Backpacker Illusions – Being robbed and left with virtually nothing on a baking desert road somewhere in the middle of Africa would be enough to put most people off travelling – but not Paz, it motivated him to do it even more.
Albany Kid – Family plays a big role in inspiring Sandra's travels; from her mother visiting Peru to her parents sending her on a courier mission to Colombia to see the realities of the world.
Bohemian Trails – Being given a fake passport as a child, Megan collected stamps managing to simultaneously quell her desire to visit new places and strength it too.
Mo Travels – Prince Charles takes the credit for Mo's youthful inspiration to travel, and trips to San Diego and Amsterdam have strengthened it even more.
Sparky Sees the world – A desire for adventure and curiosity for the world around her inspired Emma to travel; her experience with elephants made it worth it.
The World of Deej – Jealous of his grandfather's adventures to China and Singapore, Deej set out to have some amazing cultural experiences of his own.
Virtual Wayfarer – As a child Alex travelled around Europe with parents, but as he got older this Star Trek fan was inspired to seek out some 'final frontiers' of his own.
Don't call me Gringa – Having travelled all her life Emily as never been much in need of inspiration, but she still finds it everywhere she looks, from her parents to Croatia to her current life in Chile.
Travels of Adam – Travelling with his family was a great starting point for Adam, and then semesters abroad in Sydney and London pushed him ever further.
Cheryl Howard – Her father's life was a motivation to Cheryl, so much so that when he died she used it as a motivation to pursue her passion to travel.
Our Oyster – An unadventurous childhood translated into a passion for travelling for Jade, but now living in Australia inspires her every day.
Leave your daily hell – A sixth birthday present of a world map led to a childhood of daydreaming about different countries and cultures for Robert.
Gone with the Family – Family plays a big role in inspiring Lisa to travel – coming for a small community in Canada made her want to see the big world.
Caroline in the City – Adventures as varied as Thailand, Croatia and the Australian outback helped cultivate and shape Caroline's desire to travel.
Well done to all the entrants for their great articles – if I've left anyone out, please let me know and I'll add you to the list.
Photo Credits: All photos are from the articles mentioned above and are credited on the Photo
This article is originally published at Heatheronhertravels.com – Read more travel articles at Travel Blog Home
You'll also find our sister blog with tips on how to build a successful travel blog at My Blogging Journey
Don't miss out – subscribe to Heather on her travels
Tag – I'm it! My blogging friend Barbara over at Hole in the Donut just passed on the challenge of a little rummage in the treasure chest (or should it be dusty attic?) that is my travel blog at Heatheronhertravels. For your delectation and delight I have come up with a few of my older posts that are noteworthy in one way or another. So without too much navel gazing I spent, oh about 5 seconds and came up with some of these past posts. Do let me know what you think!
Your most Beautiful post
In this category I nominate;
A Turtle spotting Boat trip on Zante – in Greece
Of course, like my children, I like to think that all my posts are beautiful in one way or another – with the amount of time I take shooting many colourful photos to bring my posts alive and crafting the words to try and be both inspirational and informative I hope you'd think so too.
But there's something about the natural beauty of Greece (if you ignore the souvenir shops, the dusty broken pavements) that holds a special place in my heart. My sister lives on the Greek island of Zakynthos and so we get the chance to visit her every year there, normally in May when the flowers are still fresh on the hillside or in October when the cyclamen are flowering in the olive groves and the scent of woodsmoke from the olive prunings is in the air.
This Greek Turtle post and video bring back for me the gorgeous turquoise sea, the hot sun, and the pleasures of jumping off the boat and swimming into a sea cave to cool off. And if you're lucky you might just see a turtle.
A Turtle spotting Boat trip on Zante – in Greece
Your most popular post
After I'd been blogging a while I started to gather a ton on information about how to do things better, especially after I moved the blog from its old home at Blogger to the current WordPress installation. I decided to share all that knowledge I gained along the way in a new area called My Blogging Journey and was surprised at how popular some of the articles became. Clearly there were other people tearing their hair out trying to work out how to set up their featured content gallery or changing their header and finding my articles helpful.
One of that series of articles that has been particularly popular has been;
How to set up and optimise your Youtube Channel
Because I wanted to continue to share the things that I'd learned but didn't want to dilute the Travel inspiration articles, I decided to move all the "How To" articles to a new home of their own and now you'll find them over at my new website
Feel free to  go on over and take a look – you might find a useful article or two to help you improve your own travel blog.
Your most controversial post
To be absolutely honest I don't really court controversy here at Heather on her travels. You'll never find an article here on how to have sex in a hostel or the top 10 places not to visit. I prefer to see the positive in each situation and look at travel as a pleasure rather than a challenge. But occasionally an article has provoked an unexpectedly adverse reaction, such as the one where the owners of a restaurant I'd reviewed took issue with what I'd written. If you read through the comments you'll see what I mean. It made me stop and wonder at the reach of our blogging opinions and how we have a responsibility to try and be fair and balanced in what we write that might impact the businesses and reputations of others.
A lacklustre lunch at Pepe's Byblos Fishing Club – in Lebanon
Another example of unexpected controversy coming to me was the article I wrote in a fit of frustration after having a poor experience with a car hire company. Although I felt my article was balanced in tone, it seemed to open up a succession of similar unhappy tales from other customers who had experienced poor service – again read the comments to see what I mean.
Beware of hidden charges at Hertz Car Hire
Your most helpful post
In this category I nominate;
Don't throw paper in the toilet in Greece
Much as I love visiting Greece, it's always something of a relief to come home and be able to throw paper down the toilet again. This little article I wrote was prompted by the humorous signs I saw in the bathrooms of numerous bars in Greece whose owners clearly don't enjoy having to unblock the toilet. If you're visiting Greece I hope you'll find it helpful!
A post whose success suprised you
A friend of ours from Bristol has decamped to enjoy his semi-retirement in Chiang Mai and I used his photos and stories to write this article about one of the many elephant sanctuaries in Thailand that are now a major tourist attraction.
Elephant Encounters at Chiang Mai in Thailand
Subsequently it's become a very popular article on the blog that people are finding by searching for the term 'Elephants' – there must be something about these animals that attracts people.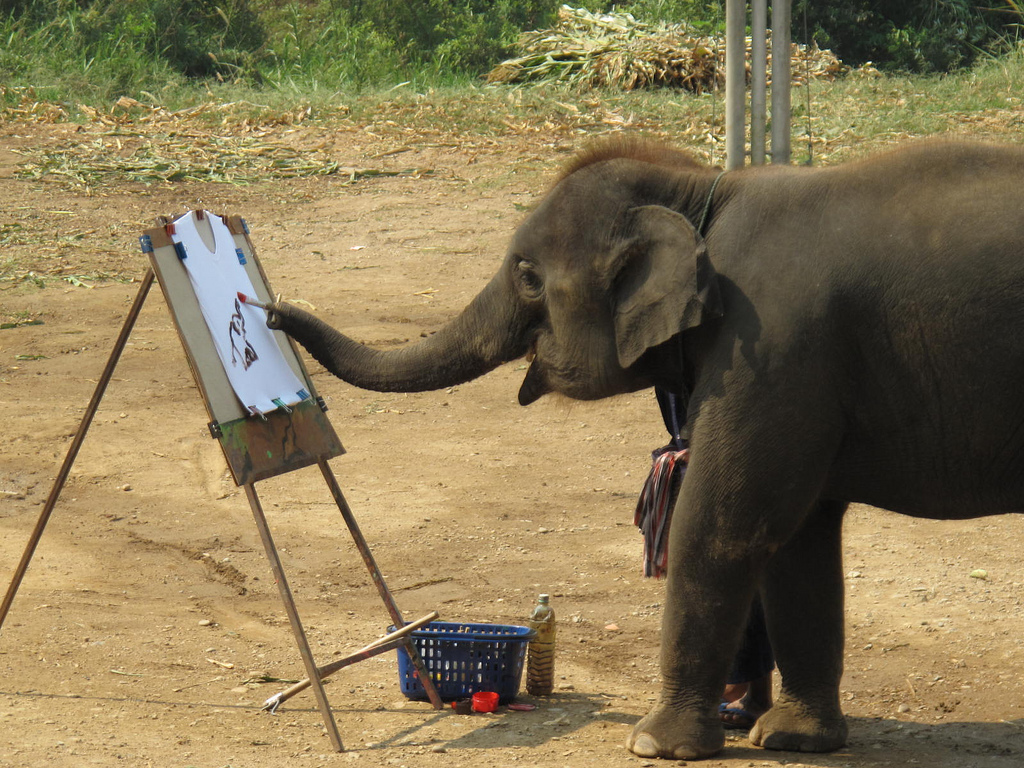 A post you feel didn't get the attention it deserved
I don't really put too much store by whether an article is popular or not – I tend to write for my own pleasure as much as yours and put out there whatever catches my attention. So it was tough for me to think of anything in this category. However, I'd like to nominate;
This was my very first post back in December 2007 and I think it that it could deserve another airing, if only to see how far I've come in over 3 years of blogging.
The post that you are most proud of
It would be hard to single any one post out as I try to make all my articles as good as they can be, but I do enjoy making and listening to my Travel Podcasts. Although there are a handful of excellent travel podcasters out there, podcasting doesn't seem to be a media that has been fully exploited in the travel niche. I'm proud that I have built up the expertise to make podcasts about the places I've travelled that I hope will inspire you and give a real flavour of the place with music, interviews and soundscenes. For my most recent example of a travel podcast, I hope you enjoy the sounds of Salzburg and Wolfgangsee;
16 Podcast – Salzburg and Wolfgangsee in Austria
If you enjoy listening to my travel podcasts you can download the audio files from my blog or Subscribe through iTunes
And now that I've cleared out that dusty attic, all that remains is for me to nominate a few more bloggers to share their 7 links with you – I nominate;
Sunee sees the world
Mother of all trips
Travel Rat
The 7 links idea was started by Tripbase – you can find more information here
This article is originally published at Heatheronhertravels.com – Read more travel articles at Travel Blog Home
You'll also find our sister blog with tips on how to build a successful travel blog at My Blogging Journey
Don't miss out – subscribe to Heather on her travels
I try to do a regular round-up of places my articles have been published around the web, but I must confess that my concentration has lapsed a bit recently – I guess I've been so busy doing the writing that I just didn't quite get round to telling you about them all. Shame on me! So here's a rather longer than usual round-up of where else you can find Heather on her Travels in November through to February.
Hotel Reviews
If you got the feeling that I was staying in some fabulous hotels recently – the type of places that I'd normally only aspire to before booking something more budget friendly for the family, then you'd be right.
I was invited to do a hotel review of the luxury boutique hotel Heritage Av Liberdade in Lisbon, a mixture of Modern-luxe design and Heritage – read my review of Heritage Av Liberdade for Mr and Mrs Smith Hotels here and my guest post on Platefuls of Portugal: Lisbon's tasty treats here.
I also took my teenage daughter for a night at the gorgeous Mandarin Oriental, Hyde Park in London where we were treated like princesses and enjoyed every minute of living in luxury – read my review for Kiwi Collection of the Mandarin Oriental, Hyde Park here.
Blog Mentions
I was thrilled in January to find that Lastminute.com mentioned me as one of their top 50 blogs about good stuff – in fact I was number 4 on their list – and what great company I'm keeping!
And that came on top of my nomination around the same time as best European blog in the 2010 Bloggies which brought me loads of extra readers and I hope some of you have stayed to hear more of my travel tales.
Thanks to Louise Brown who featured me as Site of the day at Travelblogsites.com, the blog about the best travel blogs around.  I also appeared in the Top 100 list which is published regularly on the site and am in the top 40 worldwide on the latest count. Although rankings aren't everything, the list is a useful way to find some other great travel blogs out there to enjoy.
Although it's a while ago now, thanks to Liz at Travelogged for including my Cedars of Lebanon post and video in her Blog Carnival along with some other great stuff worth reading.
And also to Mary Jo for her mention of my review of Fawsley hall among her travel favourites in this post.
And to Mindaugas at Abroadening who featured my travel photo from Lebanon in his post about photos that encapsulate enspiring moments in travel – mine was the free cakes I was offered outside the mosque in the souk at Sidon in Lebanon.
Europe a la Carte
As usual I've been posting weekly on a Thursday over at Europe a la Carte where you'll find heaps of great Europe travel tips and ideas on things to do and see around Europe.
A boat trip to the Islands off Brittany in France – exploring some the islands that you can visit close the Vannes and the gulf of Morhiban where I visited a friend in July last year.
Visiting the sights of Belem in Lisbon, Portugal – A neighbourhood of Lisbon that has more than it's fair share of great things to see and is worth a day on it's own.
London attractions: Things to do in Hyde Park – When I visited London for a weekend recently I stayed at the wonderful Mandarin Oriental Hyde Park and realised that there were some great things to do in Hyde Park nearby – can't wait to explore more as the weather warms up.
Explore the history of Zakynthos in Greece – Some interesting sights that will give you a taste for the historic past of Zakynthos, and an antedote to the package holiday image of the island.
Climbing St Peter's church tower in Munich – It was certainly chilly as we climbed this tower to peer down at the Christmas markets below, but there are towers like this in many European cities to give you a different perspective on a city.
Stay in a bunkhouse in Wales and enjoy the great outdoors – A way of travelling that's half way between B & B and camping, and great for those who enjoy the great outdoors but like to sleep with a roof over their head.
Visit the Pergamon Museum in Berlin – One of the must-see museums of Berlin with practically entire ancient buildings transported into the museum and a good audio-tour.
The Christmas lights of Lisbon and a Happy New Year – in which I advocate trying some Southern European destinations for a Christmas or New Year break – you can see the Christmas lights and still catch a bit of sun if you're lucky!
Will Easyjet fly to Zakynthos in 2010? – And I was right, as soon after this article was published, Easyjet did announce they would start flights to Zakynthos.
Visit the Christmas Markets in Munich – Taking you through the different Christmas markets we visited in Munich just before Christmas including some that aren't the obvious choice for the tourist.
The Painted Hall and Chapel at Greenwich, London – One of the beautifully painted historic buildings in Greenwich and it's free.
A winter break at the Christmas Market in Bath – trying out the Christmas markets closer to home in anticipation of our visit to see the German version in Munich, as well as some other things to see in Bath that you may enjoy on a winter break.
Chill out at Kunsthaus Tacheles in Berlin – It's grungy, it's street-art, it's hip and it's the authentic side of Berlin, but not the place to take your granny for tea.
The murals of Orgosolo in Sardinia – The wonderful murals that you'll find in the village of Orgosolo in the heart of mountainous Sardinia, formerly better known for it's bandits.
Free things to see on London's South Bank – a walk along the South Bank where you'll find many great things to see and most of them free.
Battlefield Tours for Remembrance Sunday – Battlefield Tours you might like to make if you're interested in military history or have an old soldier in the family.
Silent nights for Christmas at the Dennis Severs House in London – One of my most favourite atmospheric places in London to step back in time and see how a prosporous weaving family lived in the 17th century – best seen by candle-light.
A treat for the family at l'Oceanographic sea world in Valencia – A treat for the families, as my kids loved seeing the dolphin show at the Oceanarium in Valencia.
Well – what a relief to get all that off my chest! I hope it won't be quite so long before the next round up of what I've been up to elsewhere on the web.
Read more travel articles at Travel Blog Home
Don't miss out – subscribe to Heather on her travels