In this second article about making travel podcasts I'll explain the equipment you may need for recording your audio podcast and the free software you'll need to edit it. You can read Article 1 in this series – Why you need podcasts on your blog here. There are a few different ways that you can record audio, although I'm using some more than others.
1. Recording into a portable audio recorder – ideal if you're recording while you travel.
2. Recording direct onto your laptop – ideal when you're at home or in a hotel.
3. Recording an interview using Skype – for recording telephone calls.
I mostly use a portable audio recorder and sometimes record onto my laptop, so I'll be able to give you most advice about these.
1. Recording with a Portable Audio Recorder
I record using a portable H2 Zoom handy recorder – it costs around £155. I can't pretend I did any research on this, instead I asked Chris Christensen from the Amateur Traveler podcast what he recommended and this was it.  I've used it a lot and been really pleased with it.
Things I like about the H2 Zoom handy recorder;
It's relatively small an easy to fit in a pocket
It records onto a normal memory card like the one I use in my camera, so I can switch them around
It runs off normal AA batteries that you can buy anywhere, or alternatively you can plug it into the mains.
It gives a pretty good sound quality
Things I don't like so much about the  H2 Zoom handy recorder;
Sometimes, when I'm trying to decord discreetly, for instance in a restaurant, I wish it was even smaller.
The batteries seem to run out pretty quickly, especially when I forget to turn it off in between recording. Those days, I wish it had a rechargeable battery pack.
Tips for using the H2 Zoom handy recorder or a similar device;
Always use the sponge wind sleeve when recording for better sound quality and to avoid 'popping' noises.
Always record on high gain (you'll find the switch on the side) – it's easier to edit down the volume later than throw away a recording because you can't hear it properly.
Always do a short test recording before you start and play it back to check it worked. For instance, when the memory card is full you may think you're recording but end up with nothing.
Carry some small earphones to play back recordings (I haven't discovered a way to do play back without earphones).
When recording in settings with high background noise e.g. restaurants, don't be shy, hold the recorder close to your mouth, or you'll be drowned out.
To record in settings with high background noise e.g. restaurants more discreetly, you could experiment with a small plug-in microphone that you can hold to your mouth while leaving the recorder on your lap.
Once you've completed your recording, you can easily transfer the audio files to your computer from the memory card in the same way as you would with photos. I tend to do a quick edit at this stage and delete any useless clips as the audio files can start to eat into your computer memory.
2. Recording onto your computer through a microphone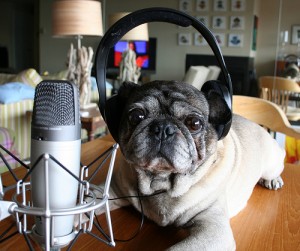 This is fine if you're at home or in a hotel room but there are some things to consider;
Think about the background noise when you record and choose a room that isn't too echoey.
You'll need a computer that's not too old, or it probably won't have a high enough specification to record good quality audio or store it easily.
If you don't have much memory on your computer, you may want to buy a portable hard drive for extra storage space.
Next you'll need to consider what microphone to use, if you want your recording to sound professional. Personally, I'd start with something moderately priced and invest in something better once you've done a few podcasts and think you're going to continue. You can consider the following options;
No additional microphone – just use the built in microphone on your laptop. I've used this option in the past and it will get you by, but the audio can sound hollow and echoey.
Small clip-on microphone – this is a cheap option (mine cost around £10 or £15) and it will produce slightly better quality audio than just your built in laptop microphone, but it may also pick up the sound of your computer motor or fan.
Headset microphone – you may have one of these already is you use Skype for internet phone calls, and the advantage of this kind of microphone is that it will be positioned close to your mouth, even if you move around.
Inexpensive desktop USB microphone – the advantage of a USB microphone is that it won't pick up the noise from your computer fan price aprox £10-20
Mid-price USB microphone – a mid price microphone that I've heard recommended by Gideon Shalwick is the Blue Microphones Snowball microphone price aprox £80
High End microphone – for a higher price broadcast quality microphone you could try the Rode Podcast microphone, price aprox £135
Once you have your computer and microphone ready, you'll need to make your recording using a programme called Audacity – I'll give you more details in a moment.
3. Recording onto your computer using Skype
I have to admit that I haven't tried this method of recording myself, but I expect to very soon. This will enable you to record interviews with people on the other side of the world., as long as you both have a reasonable internet connection.
If you don't already have Skype on your computer then go to the Skype website and download it to your computer. The person you're interviewing will also need to have Skype downloaded on their computer. Once you've both got Skype installed, you can make contact with your interviewee by searching for them as a contact or just ask them for their Skpe user name. You'll also need;
A headset microphone to plug into your computer
A good internet connection
A quiet place where you can record your interview uninterupted
In order to record your Skype conversation you'll need some additional Pamela Software. You can download this directly via Skype by going to Tools/ Extras/ Get Extras/Get Pamela MP3 Recording software. Click on the Pamela icon and the software should start downloading automatically.
When you're ready to record, you call the other person, then click on the Pamela icon at the bottom right of your screen which will bring up the recording task bar. Once you've started and stopped the recording, an MP3 file will be created that you can save to your computer. Don't forget to make sure you have the other person's permission to record the call. As I say, I haven't tried this yet myself, so if I don't get the instructions quite right, please forgive me.
Chris Christensen has recorded a couple of videos on Youtube on how he creates the Amateur Traveler podcast shows, recorded using Skype, although he uses CallRecorder software to record his podcasts. I'll be writing further articles on the practicalities of recording, constructing and editing your podcast, but if you want to jump right in, these videos will give you a headstart.
Part 1 – Making of the Amateur Traveler
Part 2 – Making of the Amateur Traveler
4. Audacity Free Audio Editing software
To record direct onto your computer or to edit MP3 files you've already recorded, you'll need to download some recording software onto your computer. The most widely used programme for this is Audacity, which is both FREE and has an excellent reputation. Audacity is the software you'll use for editing your audio files, and there are versions available for both Windows, MAC and Linux. Click on the download link on the home page and you will normally be taken to a second page with the appropriate links for your type of computer e.g. PC or MAC. There are two things you need to download here;
The Audacity software itself
I'm on windows and the steps I took to download are as follows, although these might be slightly different for MAC or if the Audacity web page changes over time
Click the installer link for the version you would like to download (currently the recommended version currently Audacity 1.2.6 installer) and the download should start automatically.
Once this download is complete, then also click on the link for the LAME MP3 encoder which will allow Audacity to export MP3 audio files. Follow the instructions and click on the subsequent links that are appropriate for your type of computer finaly download the version that is for windows.
When you've completed both downloads, go to where you saved the Audacity Software on your computer, click to open and complete the installation.
In another post I'll take you through the basics of editing in Audacity, but if you're feeling brave just open Audacity and start experimenting using the instructions in the Help to get you going.
Photo credit: Zoomar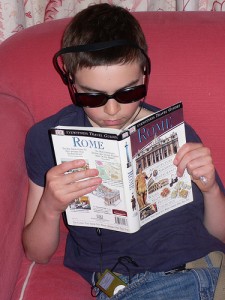 I've recently been adding some audio podcasts to my blog and I thought it was time to share with you why you should consider adding audio to your blog too – it's not as difficult as you think!
I love listening to travel podcasts myself and I often listen to them through my MP3 player, as I walk to work every day or when I'm driving around town. I also love photos and videos, but there are times when you may be doing something where you can't view things visually (you might need to keep you eyes on the road for example!) but when you could be listening to a podcast. People take in information in different ways, and some may prefer to do so through audio than video too.
There are also times when travelling where it's possible to record audio, but more difficult to record video. There may be times when you want to create some atmosphere through the sounds of a bustling souk, you may be in low light conditions where your video would be poor quality, or you may simply want to be a little more discreet, for instance in a church.
By adding your podcasts to I-tunes and other specialist podcast directories, you'll also be creating many additional routes for listeners to be directed to your blog, and consequently your traffic should increase over time. By adding audio, as well as great articles, photos and videos to your blog, you will stand out in a crowded blgsphere, as someone who is consistantly delivering great content to your blog readers and subscribers. You may also reach a new audience of subscribers, who particularly enjoy podcasts and poscasting – I know from experience that once you get into podcasts you start to consume them in great quantity and become a loyal listener when you find good ones.
I hope that by now you're convinced that it's a great idea to incorporate podcast and audio into your travel or other blog, but perhaps you're now thinking – how do I get started? Don't worry, not long ago I was feeling technically challenged in this area, but now I've got a few podcasts under my belt, I'm planning to write a few articles over the coming weeks which explain the practical steps you can take to get audio on your blog.
Do let me know if this is something you'd find useful and if there are any particular areas you'd like to get to grips with. In the mean time, here are some Travel podcasts that I enjoy and listen to regularly as well as my own – please let me know if there are some others out there I should be listening to.
Latest podcasts at Heather on her travels
05 An autumn weekend in Lisbon
04 Visiting the Munich Christmas Markets
03 Ecuador and the Amazon Rainforest
02 My Istria Travel Diary
01 Family Travel with Hospitality Club
Other Travel podcasts I enjoy
The Amateur Traveler
The Indie Travel Podcast
Betty in the sky with a suitcase
Travel with Rick Steves
This Week in Travel
Independent travel podcasts to Barcelona, Athens, Dublin and Nice
Rough Guide podcasts
Podcasts about the business of blogging
Read more travel articles at Travel Blog Home
Don't miss out – subscribe to Heather on her travels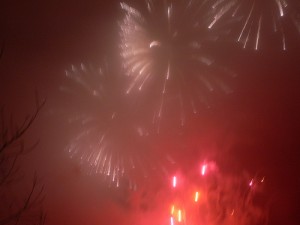 I'm not a great believer in New Year Resolutions. When you want to make a change in any area of your life, why wait until New Year to do it? In life as in blogging, it's a constant process of trial and error, evaluation and adjustment. However, I do find that holiday season is a good time for reflection and recharging the batteries, giving me renewed enthusism to tackle the next set of goals and challenges.
So in that spirit, I've been reviewing achievements and setting goals, both long term and short term for my blogging activities at Heatheronhertravels.com.
Where was Heather on her travels a year ago?
This time last year, I wrote a similar post in which I reflected on the previous year of blogging. I'd just entered my second year of blogging and was finding the blog both a pleasure and a pain, as I found a creative outlet that I was passionate about, but at the expense of time spent with friends and family. I had decided to move the blog from it's previous home at Blogger to a self-hosted WordPress platform at Heatheronhertravels.com and had started a new blog section called 'My Blogging Journey' to document the things I learned. I was setting the foundations of making my blog a more professional and commercial enterprise. I'd also had a fantastic year travelling to interesting places in the UK, Valencia, Rome, Sardinia and Greece- you can read my post about my travelling year in 2008 here.
What has Heather on her travels achieved in 2009?
Before you set goals for the future, it's always good to take stock and remind yourself of all you've already achieved and give yourself a pat on the back for all your hard work. So here's my pat on the back to myself.
Regular posting throughout the year – When you understand that since January 2009 I have been working full-time in a demanding Project Management role, and have a husband and three teenage children to keep happy, I think it's pretty respectable that in 2009 I wrote no less than 178 posts, that's 15 a month or 3-4 a week. Of course it's not just about quantity but quality – but I'll have to let you be the judge of that. In addition, throughout 2009, I wrote a regular weekly post at Europe a la Carte and also a number of Guest posts for other travel blogs.
Multi-media blogging – 2009 was the year when I really got to grips with Video and Podcasting. I believe that the Bloggers who stand out in an ever-crowded blogsphere will be those that add use multi-media to add extra value to their posts. I now integrate videos into my destination blog posts and you can see the 12 videos I produced this year on my Youtube channel or by viewing posts in my Video category. I've also started recording Podcasts and now have 5 in my podcast series, which you can subscribe to on I-tunes or listen to on my blog through my Podcast Category, where you can also find slideshows and show-notes to accompany the podcasts. There'll be more video and podcasting to come in 2010, so if you enjoy these mediums, be sure to subscribe to on I-tunes or Youtube channel .
Training and ongoing improvement – In July I started an online training course at Become a Blogger – you can read about my reasons for this in my post on Why I have decided to become a Blogger.  In the course, I've filled in a lot of gaps in my technical know-how, learned how to create videos and podcasts and become a lot more savvy about SEO and traffic generation techniques. I can't say that all this has yet resulted in any marked increase in traffic, but I feel confident that I'm laying solid foundations for future growth. Many of the articles I'm writing in the 'My Blogging Journey' Category, reflect the knowledge I've gained on this course and want to share with you.
Traffic Growth – When I moved to my new WordPress self-hosted blog in December 2009 I had to build up the traffic again from scratch, at least in terms of Search Engine traffic, and in the past year I've built my traffic from 0 to nearly 6000 unique visitors a month (I'm using Sitemeter to measure, your own blog's stats may show inflated traffic). Some of you may have much higher traffic than this, but I've found that there's no magic bullet for growing traffic, it's a hard slog all the way. As things have levelled out in the last few months, the challenge is now to build a bigger readership in 2010 and hope that some of the good SEO practices I've started in the last few months will also start to bear fruit.
Press trips – I was really pleased that on two occasions in 2009 I was invited on sponsored trips, which enabled me to travel at someone elses's expense while having fun and producing some great material for the blog. In August my family and I were invited by the Istrian Tourism Board on a 4 day break to Istria, as part of their social and on-line media awareness campaign – you can read all my travel articles about Istria here. In November I was invited to review a hotel in Lisbon for Mr & Mrs Smith over a 2 day break – you can read my review of Hotel Heritage Av Liberdade here, and all my travel articles about Lisbon here. I'm hoping that more sponsored trips will come my way in 2010 to offset the costs of travel and enable me to visit some more special places around the world – of course, I'll always disclose to you when a trip or anything else has been given to me free.
Social Media Promotion – Towards the end of this year, I've started to use Twitter and Stumble Upon more actively for building relationships with my audience and promoting the blog. I must admit that I just don't have the time to exploit these fully, but I've made a start that I hope to build on in 2010.
Disappointments at Heather on her travels in 2009
Looking back on these achievements makes me feel I can't be too self-critical, but nevertheless there were some mental targets I set in 2009 that I haven't yet achieved. As I work on a contract basis, there's always the possibility that a contract will end and I may have a few months free in which to develop the blog. The reality has been that I have been in full time work since January 2009, which has been great for the bank balance, but means that it may take longer to reach my blogging goals.
Making some money – despite a year of hard work and growth, my outgoings still well exceed any small income I may receive from the blog. Although I did get a couple of sponsored trips as some reward for the many hours I put in, there were many other trips I did at my own expense. OK, I love to travel and would be doing so regardless of my blog, but it's starting to be an expensive hobby if you're spending your holidays photographing, taking notes, shooting video, recording podcasts and talking to locals rather than just relaxing.
Time with my family – although blogging and travelling is currently my major hobby outside my working and family life, it has sometimes become too all-consuming and absorbing, at the expense of time with my family. Complaints are being voiced in my household and this year I will need to find a better balance between blogging and family life! Or else!
Blogging Goals for 2010 at Heather on her travels
I'm wary of setting too many unrealistic goals, which depend on how long I continue in full-time work, but obviously there are some practical steps I need to continue the development and success at Heather on her travels in 2010.
Get some help on my blog – If I continue to work full time, then it's unrealistic to keep up the pace without some help. The areas I feel particularly challenged are in the technical development and troubleshooting problems that involve coding and the inner workings of the blog. I could  also do with someone to take some weight off me on more routine tasks such as uploading photos, general SEO activities, leaving me free to create great content, articles, videos and podcasts. I'm currently looking at how I can outsource some of these activities in a cost effective way, perhaps to parts of the world where salaries are more affordable – If any of you have experience in this area, I'd love to fear about it.
Make some money – Hand in hand with getting some help, is creating more revenue to pay for this support, as well as to develop the earning potential of the blog long-term. I have recently created several new pages including an advertising page to support this goal and I'll also be looking at other possible revenue streams such as selling information products. At the least, I'd like the blog to be self-supporting financially while I'm working full-time on my other job, and in the long term, I'd like to develop an income which may eventually enable the blog to become my full-time job.
Grow my traffic and readership – Although I've done well to grow my traffic from zero over the last year, recent months have seen traffic fairly stable, so in 2010 I need to really work at building both my subscribers, regular readers and my search engine traffic. I know I'm generally doing all the right things, but I may just need to do them in a more targeted or strategic way, to see the traffic trends moving steadily upwards in 2010.
So there I've set out my stall and aims for 2010 – I'd love to hear what your experience has been in 2009 and what your plans and goals are for 2010. If you have any great resources or links to share which will help me on my Blogging Journey, do leave them in the comments. Here's to all our blogging success in 2010.
Other blogging articles you may enjoy
Reflections on a year of blogging
My travelling year in 2008
Why I've decided to become a Blogger
Read more travel articles at Travel Blog Home
Don't miss out – subscribe to Heather on her travels