When my Maxwell Scott leather backpack arrived in the post, the smell of the leather transported me instantly to Italy, the home of the true leather artisan. Although Maxwell Scott is a British Company, they work in Tuscany with some of the best craftsmen to produce a range of handbags, briefcases and wallets that have a timeless style. These are bags that your friends will admire as the leather mellows to become an old friend. If, like me, you have a daughter with an eye for the good things in life, you may just find her 'borrowing' your Maxwell Scott bag and never giving back. Read on to find out how you can get a special 10% reader discount on this and other items in the Maxwell Scott range.
Since we were off to Venice, I had the opportunity to see how my Sparano leather backpack fared when out sightseeing in the most fashionable surroundings. I like to dress up a little when I travel so I needed a bag that would be elegant enough to compete with all those effortlessly stylish Italian women. But practicality came into it too, since as a blogger I travel with my camera and a fair bit of other gear, and need to have my hands free for photography.
Check out my video below with my Sparano leather backpack in Venice
If you can't see the video above of my Maxwell Scott leather backpack, see it on my blog here or Youtube here and please do subscribe using the button above
Click here for direct download of video
Subscribe to all my videos in I-tunes
If you enjoyed this video, check out the others in my Video archive
I chose the Sparano because the size was just big enough to carry everything I needed but still quite neat and compact, although there's a smaller Popolo backpack if you only need to carry a phone and your designer sunglasses. My daughter also had her eye on my bag and soon we were sharing it during our sightseeing excursions around Venice. If you are also tempted, check out my 10% reader discount .
Here's what Sophie-Anne had to say about 'our' Sparano Leather Backpack;
"The best thing about this bag is the fit as it sits comfortably on your back with no awkward gap between the bag and your spine and the straps do not dig in – areas where other bags have failed. It is clear that this is a high quality product shown by the beautiful leather, lining and overall design. Invaluable when travelling, this bag can go from airport, to day, to night, to activities, to strolling around town. The classic style also makes it easy to pair with any outfit a fashion concious individual might have in mind."
Since Venice is such a tourist hotspot you do need to keep an eye on your valuables, and I liked the fact that there was a neat outside pocket, but also a secure zipped inside packet to tuck away your purse and phone. The bag took me all around town with room for my guidebook, camera, a bottle of water and a few other blogger necessities.
Maxwell Scott is based in York and sells the bags exclusively through their online store. Their understated but stylish designs are crafted in their factory in Tuscany using the finest hides, zips and fittings and the bags have a 25 year guarantee. Orders over £100 have free delivery in the UK but don't worry, they also ship worldwide.
10% Reader Discount (limited time only!)
I've teamed up with Maxwell Scott Bags to offer a 10% reader discount on all their bags and other items. Just click on this special link; http://bit.ly/handbag10 that will take you to the Maxwell Scott Website and the 10% discount will be automatically applied when you add any items to your basket. The reader discount is for a limited time only until 16 August 2015.
About the Maxwell Scott Sparano leather backpack
The Sparano leather backpack costs £202 and may be ordered from the Maxwell Scott Bags website here. It features a draw string opening, a large polyamide interior with a rear zipped pocket and a small external zipped compartment and adjustable shoulder straps. The bag comes in 3 colours of vegetable tanned, full grain Italian leather; Night Black, Classic Tan and Dark Chocolate. We also loved the smaller Popolo backpack which is ideal if you are looking for a neater bag to carry just the essentials and don't have to consider space for cameras like me. Click here for my 10% reader discount before 16 August 2015.
If you are visiting Venice….
We highly recommend Walks of Italy who offer a number of different tours in  Venice and other parts of Italy, which are ideal if you are only visiting for a short time. You'll have an expert local guide to show you around and can often skip the queues at key sites. We took the 2 hour Venice Boat Tour which took us down the Grand Canal and many of the smaller canals with views of the key sites of Venice including a visit to the island of San Giorgio Maggiore where we climbed the bell tower with amazing views of Venice. Read my review of the tour here.
Looking for somewhere to stay in Venice?
For our 3 day stay in Venice I rented an apartment with Go with Oh and was able to use the €250 voucher that I won with Passports with Purpose blogger fundraiser. We chose this apartment in the San Marco district since it was so well located for all the main sites.
Thanks to Murissa from The Wonderful Traveller who hosted this prize contributed by Go with Oh and and for her tips on what to see in Venice. Passports with Purpose is a really worthwhile organisation which supports a different cause each year and you can win some really fabulous prizes so it's definitely participating.
Pin It!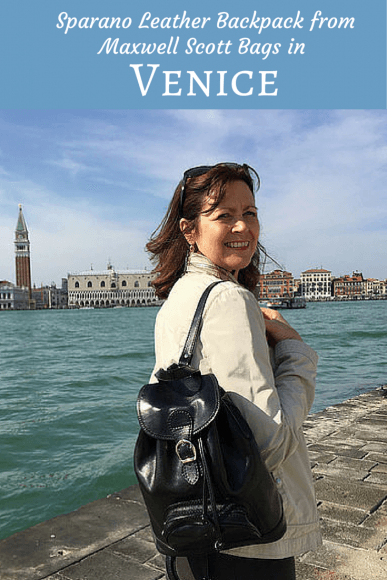 This article is originally published at Heatheronhertravels.com – Read the original article here
You'll also find our sister blog with tips on how to build a successful travel blog at My Blogging Journey
If Knomo were your best friend, she'd be one of those cool, stylish people who lives life to the full – always on the move, trying out the latest gadgets, working on some interesting, creative project or other. Perhaps she'd be a photographer, designer or even a blogger, moving effortlessly from an informal business meeting to drinks with friends. Knomo is a girl who doesn't really care about logos and labels, she just loves things that are beautifully designed and work for her lifestyle. Understated elegance is her trademark, she's the sort of girl that always looks polished and put together, even though you can't quite place what brand she's wearing. Perhaps Knomo is a girl just like you or me, or perhaps with the perfect piece of luggage we can live her lifestyle too.
Of course I'm just having a bit of fun imagining the Knomo lifestyle, since Knomo is not a real person but a purveyor of luxury luggage, handbags and other finery that might just work in your lifestyle. If you're looking for a classy bag with room for your tablet, laptop and mobile, that won't shout "technology geek", look no further. Or perhaps a case for that iPhone 6 that's already on your Christmas list? Or even the perfect soft leather messenger bag that will keep the man in your life organised and looking good (Knomo's not just for girls you know).
I made a short video below so you can see how I got on with my Knomo Bolsover case on my cruise
If you can't see the video above, view it on my blog here or on YouTube here and please do subscribe using the button above
Download the Video of my Knomo Bolsover case
Subscribe to all my videos in I-tunes
If you enjoyed this video, check out the others in my Video archive
To test out whether Knomo could cope with my aspirations for effortless style as well as accommodating all the technology that goes with a blogger's lifestyle, I took the Bolsover trolley bag along as hand luggage on my MSC Mediterrranean Cruise. On the flight out to Barcelona to meet the ship we had one suitcase between us as well as a small carry-on case which was the perfect scenario for my Bolsover. In Placa Catalunya we stopped for a photo opportunity, enjoying the sunshine and the life in the square that is Barcelona's beating heart.
Isn't she pretty?
I must say that this gorgeous bag made me feel quite the jet setting girl about town. The luxurious red carry-on is piped in leather-effect trim and covered with a soft waterproof fabric that's quilted in a diamond pattern. I love that rich, red colour, the shade of tomato ketchup or should I say a glass of good claret? It feels luxurious, elegant and expensive (but of course no more than I deserve!) There's a sturdy metal telescopic handle that allows you to pull the case along easily in the aiport but slots down and zips away neatly when you want to use the bag as a weekender to drop into the back of the car, as well as a tactile but robust carrying handle at the top of the bag. I'm instantly impressed by the amount of shiny chrome zips and endless pockets – a girl can never have too many pockets in my opinion.
Lets take a look inside
Zipping open the main compartment of the case reveals four little side pockets to tuck way your underwear, jewellery or other small items with some straps to keep everything firmly in place. In the lid are two more larger pockets to pack your shoes and a half depth zip pocket to keep a book or kindle. Already I've counted seven pockets but that's before I discover the extra zipped compartment that becomes your office storage area built into the lid.
You can tuck a 17 inch laptop in here, with some more sleeves and pockets for all those pens, chargers and other odds and ends, with a zip pocket for your tablet. That's another six pockets and there's more! On the outside lid there's another full width zip pocket where I'd put a magazine to read on the flight and a cute little zip pocket set into the leather trim that's the perfect size for your mobile. Two more pockets, what more could I ask for ?
Perhaps a way of finding my Knomo case again if I ever lose it? They've thought of that too. Inside the top compartment you'll find a unique ID which you can register on the Knomo website. Now if you and your case are ever parted and it's found by some honest citizen, Knomo will return your bag to you free of charge.
Who is the Bolsover case ideal for?
With all these compartments and zipped sections, this case is ideal for the elegant business traveller who's away for a few days, or a leisure traveller like myself who always travels with a laptop and other techological paraphernalia. I have to find space in my luggage for a laptop, mini-ipad that I use for novels and online travel guides, a video camera, normal camera and all the associated batteries, cables and chargers (that's where all those pockets come in handy). The Bolsover is a great weekend bag for those who like to pack in an organised way with a place for everything. This really is a case that you could hand to the porter at the smartest luxury hotel with pride and pretend that it's packed with your designer wardrobe (Silly me! Who's pretending? I know you only buy the best!)
What's not to like?
If there is anything to watch out for with the Bolsover I'd say that if you are a truly minimalist and lightweight traveller, this may not be the case for you. The height of the case is slightly shorter than the maximum allowance for most airlines, which could be a waste of potential extra packing space if you are trying to maximise your allowance without paying for checked luggage. At nearly 3.4kg the case isn't the lightest around and if you are packing all your technology it will end up being on the heavy side and an effort to get into the overhead locker on the plane, not to mention being a bit too heavy for those airlines that have a carry-on bag weight allowance.
Here's what I love
I love the way that the Knomo bags are all so stylish and elegant, yet they are also perfectly designed to fit your tablet, mobile, laptop of any other technology that you need to take with you for business or leisure. It may look like an elegant clutch but there's room for your mobile, keys, credit cards and notebook. It may look like a sporty cross body bag for the girl on the go but you can still find room for your tablet and camera. I like the fact that you can keep all these things with you without revealing to the world that there's an expensive laptop or camera inside. Smart but not shouty.
Check out the other items I love that match my Bolsover case
The Vital Statistics
Heather tried the Bolsover carry-on wheeled trolley in scarlet from Knomo. The bag has a zipped compartment that fits a 17 inch laptop at the front of the bag and is made with a quilted nylon exterior and leather style trim. The bag measures 45cm H x 29cm D x 19.5cm D and weighs 3.42kg. The Bolsover wheeled trolley costs £249 and can be ordered from the Knomo Website. Other matching items in the Fitzrovia Collection include the Maple cross-body bag £79, The Huntley weekend bag £149 and the Great Portland Shoulder Tote £119.
Thanks to Knomo who provided Heather with her Bolsover carry-on for this review.
This article by Heather Cowper is originally published at Heatheronhertravels.com – Read the original article here
You'll also find our sister blog with tips on how to build a successful travel blog at My Blogging Journey
Decisions, decisions. It's all part of the fun of the holiday deciding what to pack, but planning for a cruise requires a little more planning, since you can't just pop into the nearest trendy boutique for anything you forget. For my recent MSC Mediterranean cruise, I knew I'd need clothes for sightseeing, an outfit or two for dinner and perhaps something more dressy for formal nights with a chance to play at being glamourpuss.
Then I might be relaxing on the sun-deck, trying out the spa or making time to visit the gym to work off all that delicious food. And of course I do like to travel light, who wants to be lugging heavy cases around?
So here are my 6 top tips for what to pack on your Mediterannean Cruise, based on my experiences with MSC Cruises and some advice from my blogger friends too.
Tip 1 – Check the weather forecast
The Mediterranean in late May should be the perfect temperature for sightseeing and I was hoping for warm sunny days with cooler evenings. However, living in England where the weather is so changeable I've learned never to take sunshine for granted. So the week before our cruise I checked the weather forecast for the coming week in the destinations we would be visiting.
My mobile has a handy weather app for the 7 day outlook and I also used another website Weather2Travel.com to check the typical temperature and rainfall for that month. I learned that the weather was likely to be in the 22-25 degree celcius range, cooling down at night, so not blistering heat and I'd definitely need a jumper in the evenings. In the end we had sunny days for most of the week although there were a few showers as we arrived back in Barcelona, so I was glad I'd packed my rain jacket.
Blogger Tips

Danielle Fear of Cruise Miss says; " A light jacket during the spring time is also a must! The Mediterranean is warm but evenings can still get a little chilly and you want to be prepared just in case a sharp shower is forecast. Remember to also take a light cardigan or scarf with you when ashore "

Gary Bembridge from Tips for Travellers says; "Even on warm itineraries in season in the Caribbean and Mediterranean, it can get chilly at night on deck or in the mornings on excursions. Plan to wear layers that you can easily peel off and always include a layer to cope with downpours even if a small folding umbrella or lightweight rain poncho."
Tip 2 – Consider the activities you'll be doing
I thought about the things we'd be doing on our MSC Cruise and decided that my wardrobe need to cover four different types of activitiy; clothes for sightseeing, relaxing on board around the pool, dressing up for dinner and a couple of outfits for formal nights. As we'd be visiting a different destination every day and as we like to be pretty active, I packed comfortable but smart city trainers and my new Flopz flip flops for time on board.
My sightseeing wardrobe consisted of pretty t-shirts and cut-off trousers, but I also packed some vest tops like the orange linen Eileen Fisher top I'm wearing in the photo below for time around the pool.  For the evening I packed a couple more dressy tops and my white jeans that would mix and match with my daytime wardrobe. For a formal night I decided to forego the ballgown as I knew that things are quite relaxed on MSC cruises but instead packed a lovely sparkly top from Eileen Fisher as well as my silky Joseph Ribkoff evening cover-up that would make a simple outlook look a lot more glamourous.
Blogger Tips

Danielle Fear of Cruise Miss says; "I can't do a Mediterranean cruise without a pair of pretty flip-flops. They are ideal for both ashore and onboard and if I forgot to pack them I would go into meltdown. One thing I would highly recommend for your Mediterranean adventure is a comfortable pair of shoes or sandals. There is so much to see and do and trust me, you won't want to miss any of it."
Tip 3 – Pack versatile clothes that work with each other
One of the secrets of packing light, I've learned, is to limit your wardrobe to just one colour scheme per trip. This works well for long weekends where you want to travel with just a small bag, although for the week's cruise I allowed myself a couple of different colour schemes. For most sightseeings days I stuck to shades of beige, cream and soft pink, while for evenings and days on board I teamed orange tops with white or black trousers. The same black trousers could double for evening wear when teamed with a more dressy top. Take a look at the photos below to see how I stuck to one colour scheme so that I could mix and match different tops with the same pair of trousers.
Blogger Tips

Donna Hull from My Itchy Travel Feet says; "When packing for a cruise, I ask myself, "Can this item be worn at least twice?" If I answer no to the question, then that particular clothing item goes back in the closet. And when I say twice, I don't mean repeating the same outfit. Using separates, I mix and match clothing items to create many outfits from a small selection of clothing. It's challenging but fun."

Emma Gray from Emma on Board says; "My biggest tip for Mediterranean cruising is to keep it simple. Pack dresses you can wear for dinner and then again during the day sightseeing. Stick to one colour tone and you'll be able to mix and match all your accessories, bags and shoes to make outfits look and feel completely different."
Tip 4 – Respect the local culture
I find you have a better travel experience if you are sensitive to the culture of the places you visit. I wince when I see ladies wearing shorts and vest tops in a Muslim country, shame on you! As I enjoy sightseeing there's a good chance I'll end up looking around a beautiful old church, where even in Europe it's considered respectful to cover your shoulders and knees. As we planned to visit Tunis on our MSC Cruise, I made sure to pack a top that was appropriate for the more conservative dress in a Muslim society. My Eileen Fisher orange linen top was cool and elegant, yet covered me in all the right places. Elbow length sleeves, no cleavage, no shoulders or knees on show and you will avoid getting attention of the wrong kind.
Blogger Tips

Danielle Fear of Cruise Miss says; "Ladies, always pack a pair of ¾ casual trousers and should you wish to enter any religious sites then you do need to ensure your shoulders and knees are covered. "

Sarah Lee from Live Share Travel says; "A pashmina is a fantastic accessory, which you can use throughout your cruise – to cover shoulders for formal dinners, maintain discreet dress if you should visit a religious site, or to protect against those sea breezes "
Tip 5 – Dressing up is fun, but check the dress code first
On cruises I've learned that different cruise lines have quite different approaches to formal nights. Of course we Brits love to make an occasion of dressing up, with glamourous gowns and Black Tie for the men, while some of our American and Aussie friends would happily go to dinner in shorts. The MSC Cruises dress code is geared for the European dress sense which is elegant but possibly not as formal as some of the Cruise lines that have a lot of UK guests.
My tip is to check the formal dress guidelines on the cruise company website or with your cruise agent, so you know where you need to be in the glamour stakes. Sometimes the websites don't make it completely clear, in which case head for the discussion boards on sites like Cruise Critic where you'll generally find some useful guidance. Based on this, Guy decided not to pack his dinner jacket since our suitcase space was limited, but to go for a blazer and smart trousers that he could wear every evening. His decision proved to be sound, since I saw very few tuxedos being worn on board, even on the gala evenings where the norm was a smart suit and tie. Rather than pack my cocktail dress I went for my Eileen Fisher sparkly top for the gala evenings and my Joseph Ribkoff evening cover-up on other evenings when I wanted to dress up.
Blogger Tips

Gary Bembridge from Tips for Travellers says; "Every cruise line has their own approach to what people should wear on board – as well as the extent they enforce them. For example, Cunard have a strict dress code around "formal" and "informal" nights and men will be expected to wear black tie and jackets and ladies cocktail dresses and smart separates on those respective nights. However, lines like Disney can allow shorts to be worn on some cruises at dinner time. "

Ana Silva from Mrs O around the world says; " Pack cocktail dresses to add a bit of old-school glamour to your cruising experience. Pick some that travel well. No need for crazy heels – simple flats will do and will get you in a Med state of mind. "

Emma and Keri from Ladies What say; "Getting glammed up for the formal dinner nights on our MSC Cruise was great fun and a fantastic part of the cruising experience. The dress code ranged from casual to cocktail and the newsletter delivered to our cabin gave us all the info for that evening. So pack yourself a posh frock – ideally one that doesn't crease too much – and enjoy."

Liz Jarvis from The Mum Blog says; " The Swarovski-studded staircases on board set the tone – MSC is a very glamorous, very Italian cruise line. In the evening, guests dress up for dinner and do that European thing of promenading, so I would definitely take a few gorgeous dresses."
Tip 6 – Travel crease free
On some cruise ships I've been on there were laundry rooms for guests to wash, dry and iron their clothes so I was surprised to find that there was not even a facility to iron creased clothes on board MSC Splendida (except of course the laundry service which you have to pay for).
However, it didn't really matter as I had employed my top tip for packing crease free, which is to roll rather than fold your clothes, pack them tightly into the case, then shake them out and hang them up immediately you get on board. Obviously it also helps if you select clothes from your wardrobe which are made of crease resistant fabrics, like my lovely Joseph Ribkoff evening cover-up below which I reckon I could have screwed up in my case and it would still have come out looking elegant and crease-free.
Blogger Tip

Zoe Dawes from The Quirky Traveller says; "I have a full length black dress in Jersey with short sleeves which is my absolute favourite for cruises. I dress it up with pretty necklace or colourful scarf and high heels or casual with flat pumps. It rolls up and never creases."
Thanks to Eileen Fisher, Flopz and Joseph Ribkoff for providing me with some lovely things to wear on my cruise and of course to MSC Cruises who we travelled with in style on MSC Splendida.
Other articles in my Mediterranean Cruise series
Join me on a week's Mediterranean cruise with MSC cruises
All aboard at Barcelona – Day 1 of my MSC Mediterranean Cruise
Bonjour Marseille – Day 2 of my MSC Mediterranean Cruise
Palazzo and Gelato in Genoa – Day 3 of my MSC Mediterranean Cruise
Naples and an excursion to Pompeii – Day 4 of my MSC Mediterranean Cruise
Messina and an excursion to Taormina – Day 5 of my MSC Mediterranean Cruise
Tunis and Carthage – Day 6 of my MSC Mediterranean Cruise
A day at sea and back to Barcelona – Day 7 of my MSC Mediterranean Cruise
Thanks to MSC cruises who hosted Guy and Heather's Mediterranean cruise. Heather and Guy travelled on MSC Splendida from Barcelona on a 1 week cruise calling at Genoa, Marseille, Naples, Messina, Tunis. Prices for a similar cruise start at around £700 per person. For more information, visit the MSC Cruises website or follow them on Twitter @MSC_Cruises_UK or on the MSC Facebook page.
This article by Heather Cowper is originally published at Heatheronhertravels.com – Read the original article here
You'll also find our sister blog with tips on how to build a successful travel blog at My Blogging Journey