Southampton is your gateway to the best food of the South of England; the chalk streams and vineyards of Hampshire, salads from the Isle of Wight and the artisan food producers of the New Forest. Here are some places to eat fresh and local in Southampton and the foods to look out for, especially if you're visiting on a cruise. You may also like to read my article on Top 10 things to do in Southampton.
1 Mettricks: for coffee and brunch
Mettricks is a locally owned café, close to the cruise terminal, that's on a mission to bring great coffee to Southampton. The decor is homely, with scrubbed pine tables and mismatched chairs and they work with many local suppliers for the best quality meat and bakery products.
If you're on the hunt for free wifi, this is the place to settle down for an egg and crispy bacon sandwich or tea-time treat of home-made cake and coffee. We especially like the original cafe at 117 High Street, which stays open in the evening for cocktails, wine and real ales with light bites and bar snacks until 10pm.
Mettricks: Branches at 117 High Street, 2 East Bargate and opening soon at 1 Guildhall Place.
2 The Pig in the Wall: a stylish place to try local produce
The Pig in the Wall is a boutique hotel, set into the old city walls of Southampton, with a deli bar serving light dishes, homemade flatbreads and cakes from mid-morning to 10pm. As the name suggests, they specialize in charcuterie, with a fine selection of 'piggy bits' such as pork crackling and apple sauce or Honey Mustard Chipolatas. The decor is shabby chic with exposed brickwork, easy leather chairs and a touch of the potting shed. All the produce is all locally sourced with New Forest pork, Hampshire cheeses and Isle of Wight tomatoes on the menu. Their sister hotel, The Pig at Brockenhurst, is well known locally as a foodie stop and well worth the 30 min taxi ride, but best to book in advance.
The Pig in the Wall, West Esplanade, Southampton.
3 The Dancing Man: for real ale and pies
This micro-brewery, bar and restaurant is housed in The Wool House, an atmospheric medieval stone building that once stored wool on Southampton's quayside. Behind the bar is the micro-brewery where around 20 different beers are brewed in rotation with seven on tap at any one time.
Look out for the Pilgrim's pale Ale and The Last Waltz, named after the song playing on the Titanic as it went down, as well as guest beers from other local breweries. The menu is deliciously British, with pies a specialty (served with buttery mash and greens) and a popular Sunday roast.
The Dancing Man, Town Quay, Southampton
4 The Grand Café: for an elegant afternoon tea
Around Southampton and the historic towns you may visit on your cruise excursions, you'll find plenty of tea-rooms serving tea and cakes. If you want to take the oh-so-English ritual of afternoon tea up a notch, head for The Grand Café, originally the historic South Western Hotel, used by first class passengers on the Titanic. Afternoon tea is served from 2.30-5pm (book in advance) and you'll be served at a table with an array of delicate sandwiches, scones with cream and jam and a selection of cakes. It's a meal in itself, so you'd better miss out lunch to do it justice. If you're visiting Beaulieu, another elegant afternoon tea stop is the luxurious Montagu Arms, for tea in the lounge or courtyard garden.
The Grand Café, Southwestern House, SO14 AHS, Afternoon tea £17.50
5 Oxford Street: Southampton's Restaurant Quarter
If you want to find a selection of great restaurants all in one place, head for Southampton's lively restaurant quarter in Oxford Street, just a 10 minute walk from the cruise terminal. At weekends and in the evening, the pedestrianized street has a buzzy atmosphere and you'll also find good value lunch menus from many of the restaurants. We especially like the lively Oxford Brasserie serving a cosmopolitan menu using local produce, Olive Tree offering classic French bistro food, and the White Star Tavern, specializing in modern British cooking using local Hampshire produce.
Head for: Oxford Street, Southampton, SO14 3DA
You may also like to read my article on Top 10 things to do in Southampton for cruise visitors.
6 The Duke of Wellington: a traditional pub in the Old Town
If you're looking for a cosy, traditional pub for some real ales and hearty home cooked food, try the Duke of Wellington, opposite The Tudor House in the heart of the Old Town. The timbered building dates back to the 13th century and has been a public house since 1494 when this was just a stone's throw from the bustling town quay. They serve a wide selection of draught and real ales and on the menu you'll find pub favorites such as fish and chips, steak and ploughman's with ham or cheese, as well as options from the specials board and sandwiches at lunchtime. This is a good choice if you want to dip into traditional English pub culture.
The Duke of Wellington, 36 Bugle Street, Southampton
While you're exploring Southampton and other parts of Hampshire and the New Forest, look out for the following local specialties.
7 Vineyards that produce Hampshire's answer to Champagne
The chalk soil that characterizes much of Hampshire is ideal for wine growing and close to Southampton you'll find some of England's best-known wineries. The still and sparkling white and rosé wines feature on many restaurant menus, especially such as those made by Nyetimber and Hambledon that aim to rival the best champagne. Near Southampton you can visit the Three Choirs vineyard at Wickham (30 min taxi ride) where they have regular tours, daily tastings in the shop and you can also have lunch in their elegant restaurant.
8 Watercress: the crop of Hampshire's rivers
One of the seasonal foods that Hampshire is renowned for is the peppery, green watercress, and a Watercress festival is held in the market town of Alresford every May. The watercress grows in beds that span the Itchen and Meon valleys, thriving in the clear water flowing over chalk beds. There's even a steam train that runs from Alresford past the watercress farms, known as The Watercress Line, that was used in the 19th century to transport watercress to the markets in London. The watercress is available all year round, but look out for it on restaurant menus in the spring and summer when it's at it's best.
9 Isle of Wight tomatoes
With a mild climate and hours of sunshine, the Isle of Wight is known for its fresh produce such as asparagus, cherries, apricots and especially tomatoes. The island is just a short ferry ride from Southampton and can be visited in a day, but look out for the tomatoes and other produce on restaurant menus in Southampton. The glass houses and tomato growers like The Tomato Stall sell the sweet and flavorsome tomatoes through supermarkets, local delis and farm shops.
10 Ice Cream from the New Forest
Well you wouldn't be on holiday, if you didn't have an ice cream, would you? The local New Forest ice cream produced at Lymington is widely available in shops and cafés around Southampton. A few other artisan ice cream producers are worth looking out for while visiting attractions near Southampton; there's a delicious selection at Sundae's Child, who have an ice cream parlour in Romsey, and at Beaulieu chocolate studio in Beaulieu village.
You may also like to read my article on Top 10 things to do in Southampton for cruise visitors.
More information to plan your visit to Southampton
More information for visitors is available from the Discover Southampton Website and the Visit Hampshire website.
Note: I originally wrote this article for a cruise website but it was never published so I am republishing it here, hoping that it will give some useful tips and advice for cruise visitors to Southampton.
Pin It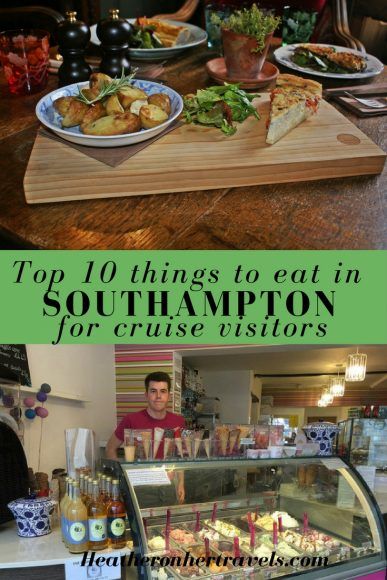 This article is originally published at Heatheronhertravels.com – Read the original article here
February 1, 2017 by Heather Cowper
Filed under United Kingdom, Leisure, featured, Art and design, Cruise, Museums, Shopping, Sightseeing, South of England, Walking
Southampton is one of those cities on England's South Coast that's easy to overlook. Heavily bombed in the war, it's not the most picturesque of places, but as one of Europe's major cruise ports, millions of cruise visitors pass through every year. Dig a little deeper and you'll discover that Southampton offers museums and cultural attractions as well as an interesting old town with medieval walls and houses.
The port is gateway to the beautiful Hampshire countryside and the New Forest with many places of interest that can easily be visited in a day. So if you are visiting Southampton on a cruise, here are some of the things I'd recommend you visit in and around the city. You may also like to read my article on Top 10 places and things to eat in Southampton.
1 Walk Southampton's old city walls
Just a short distance from the port you can walk the medieval city walls of Southampton that encircle the old town and were built to preserve the town from attack from the sea. You can still see the arcades that formed the entrance to warehouses where wine barrels were stored and walk along the top of the walls that would have overlooked the beach, a fashionable spot for sea bathing in the 18th century. At weekends there are guided tours of the wall starting at Bargate or pick up a self-guided walk leaflet from The Tudor House.
2 Step back in time at The Tudor House
In the old quarter of Southampton, a short walk from the cruise port is the recently restored Tudor House, dating back to the 15th century. An audio guide takes you through the rooms to uncover the history of Southampton over the centuries.
There's a pretty Tudor knot garden, views over the city walls, a kitchen laid out with food that the Tudors would have enjoyed and a glass-sided cafe overlooking the garden. For another dive into the history of Southampton, visit the nearby Merchant's House that is furnished and preserved, as it would have been in the Middle Ages.
Getting there: Walking 10 min from cruise terminal. Adults £4.75 Children £3.75, Family ticket £13.50
3 Shop till you drop
If you enjoy shopping for international brands you'll find them all in one place in the West Quay shopping mall in the center of Southampton. The major stores are John Lewis and Marks and Spencer with a wide range of fashion, lifestyle and technology stores as well as plenty of cafes and restaurants. If you're looking for designer names at bargain prices you'll find them in at Gunwharf Quays outlet shopping center near Portsmouth Harbour, which can be reached by train from Southampton, close to the other attractions of Portsmouth.
4 Nautical connections at SeaCity Museum
The SeaCity Museum explores Southampton's connection with the sea over the centuries, with travellers from all over the world passing through the port. In 1912 the Titanic set sail from Southampton with most of its crew coming from the city. A poignant street map on the floor marks each person lost with a red dot, over 500 people from the city alone.
There are many interactive exhibits such as the Disaster room where the 1930s enquiry into the Titanic's loss is replayed. An exhibition of Port Out Southampton Home (until June 2017) evokes the romance of the golden age of cruising from the 1920s to the 1950s.
Getting there: Walking 20 mins, Taxi 10 mins from the cruise terminal. Free shuttle bus from the terminal to SeaCity museum running 1 per hour. Adults £8.50 Family £25 Open daily 10am-5pm
5 The Southampton City Art Gallery
Next to the SeaCity museum is the Southampton City Art Gallery in the light and airy space above the public library. Under the high arched ceiling of the main gallery you'll find everything from contemporary and twentieth century art to old masters and impressionists such as Monet.
The side galleries hold regularly changing exhibitions and look out for the wood panelled gallery with a series of Pre-Raphaelite paintings by Sir Edward Burne-Jones showing the Perseus story from classical mythology.
Getting there: Walking 20 mins, Taxi 10 mins from the cruise terminal. Free shuttle bus from the terminal to SeaCity museum running 1 per hour. Free entrance although a donation is appreciated. Closed Sundays.
Read my article on Top 10 places and things to eat in Southampton for cruise visitors
6 Beaulieu Motor Museum, Palace House and Abbey
Put together a national motor museum, 13th century Cistercian abbey and stately home of the Montagu family set beside a lake, and you have the ingredients for a fun packed day out for all ages and interests. The Beaulieu motor museum is the big draw, housing over 250 vehicles from motoring history but the house is also beautiful with a lived in feel and interesting displays in the Victorian kitchens.
Wander through the orchards and gardens, or get around on the high-level monorail or the open top vintage bus. If you have time, drive 10 minutes further to Buckler's Hard, an 18th century village where ships for Nelson's navy were built.
Getting There from Southampton: Taxi 30 mins, or Beaulieu can be booked as a cruise excursion. Entrance Adults £24, children age 5-17 £12, family ticket £64 with discounts if you book in advance.
7 The Historic Dockyard at Portsmouth
At Portsmouth Historic Dockyard you can visit some of Britain's most historic ships including Lord Nelson's flagship HMS Victory and the Tudor warship Mary Rose. Around the waterfront are plenty of pubs and cafes for a bite to eat. The harbor scene is dominated by the 170 metre tall Emirates Spinnaker Tower, for views over the harbor from the skywalk and cafe in the clouds. A short walk away is the designer shopping outlet at Gunwharf Quays and one stop further on the train you'll find the trendy area of Southsea with boutique stores and independent eateries.
Getting There from Southampton: taxi 30 mins, train 1 hr with 2 per hour.
8 A taste of rural Hampshire in Romsey
For a flavour of rural Hampshire life visit the pretty market town of Romsey, gateway to the Test valley. Behind the tourist office is the medieval King John's House which brings to life 750 years of history in Romsey, with a pretty garden and tea shop. Nearby is the imposing medieval Romsey Abbey containing beautiful religious art and treasures. You can join the long distance walking path, the Test Way following the River Test, past nature reserves and Broadlands, the home of the late Lord Mountbatten. Finish your day with an ice cream at Sundae's Child or a traditional afternoon tea in one of the many cafes.
Getting There from Southampton: Bus 30 mins, 2 per hour. Taxi 25 mins. Train 30 mins, 2-3 per hour.
9 England's ancient capital of Winchester
Once King Alfred's capital, the small cathedral city of Winchester is a quintessentially English place to visit. At its heart is the ancient Winchester cathedral where Jane Austen is buried and farmer's markets are held at weekends. Stroll along the river to see a working water mill at Winchester City Mill and the ruins of Winchester Palace, home of the Bishops of Winchester. Further up the hill is the Great Hall with a replica of King Arthur's round table and the 18th century Peninsula Barracks with several military museums. With plenty of pubs and cafes, Winchester is a great day out for all ages.
Getting There from Southampton: Taxi 30 mins, Bus 1 hour with 2-3 per hour. Train 20 mins with 2-3 per hr.
10 Salisbury and Stonehenge
Stonehenge is one of the best-known pre-historic monuments in Europe, featuring in many a selfie moment. The stone circle is a masterpiece of Neolithic engineering built from stones transported long distances using only simple tools, yet no-one knows for sure why it was built. Start at the new visitor center with exhibitions and Neolithic style houses, and then walk around the stone circle (but not inside it). Your visit is easily combined with a visit to the cathedral city of Salisbury, with elegant houses inside the cathedral close such as Arundells, the home of British Prime Minister, Edward Heath. Read about my visit to Stonehenge.
Getting There from Southampton: Train Southampton to Salisbury 30 mins, 2-3 times an hour, then bus from Salisbury station to Stonehenge 30 mins, 2 per hour. Salisbury and Stonehenge are typically offered together as a cruise excursion.
You may also like to read my article on Top 10 places and things to eat in Southampton for cruise visitors
Guide Prices if you want to arrange your own cruise excursions
Taxis are available at the Southampton cruise port terminal and prices are agreed with each driver but typically a 2-3 hour return trip to attractions within 30 mins drive is £80-100. Train fares for a return ticket to places mentioned are from £5-12 return depending on distance and time of day. Bus tickets are generally a little cheaper than train but may take longer.
More information to plan your visit to Southampton
More information for visitors is available from the Discover Southampton Website and the Visit Hampshire website.
Note: I originally wrote this article for a cruise website but it was never published and has since closed so I am republishing it here, hoping that it will give some useful tips and advice for cruise visitors to Southampton.
More locations in the South of England:
A Weekend in Eastbourne – with cliff walks & fresh air
A summer day cycling in Dorset on the Jurassic Coast
Sunrise at Stonehenge – inside the stone circle
Pin It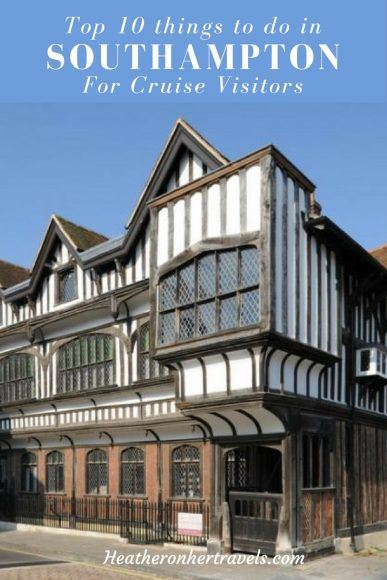 This article is originally published at Heatheronhertravels.com – Read the original article here
I'm not really sure why I hadn't visited Vienna before. Perhaps I'd heard it was expensive and imagined it to be a little stuffy, full of gilt-chaired cafés with tourists eating Sacher Torte. Of course that is one side of Vienna, but on my Danube Cruise with Avalon Waterways I also found a city that is vibrant and youthful, with a sense of fun and style. Suffice it to say that I fell in love with Vienna and can't wait to return and see more – here are some of the reasons why;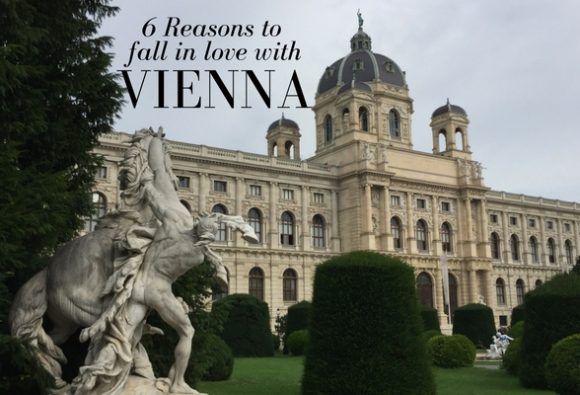 1. Mingle with the locals at the Naschmarkt
Our Avalon Waterways river cruise programme allowed an extra day to explore Vienna before the main cruise started, which is an approach I highly recommend if you have the time. Read more about our Avalon cruise here. There were a range of different tours on offer, with everything from jogging and cycling, to a gentle walk around the main sites. I took Avalon's early morning walking tour, designed to experience the city waking up, while also including some of the key historic and cultural landmarks.
Our first stop was the Naschmarkt, an outdoor market that's popular with locals but less known for tourists. We started in the flea market which is only there on Saturday mornings, and since it starts at 6.30am you need to be there early with the dealers to get the best bargains. Half of the stalls are reserved for the general public, with restrictions on how often you can have a stall – so there's a mix of genuine antiques and the bric a brac from local attics.
Necklaces were laid alongside floral bone china, vintage clothes and shoes mixed with household ornaments. While some stalls looked as if they were run by seasoned dealers, other vendors didn't even have a table, only a cloth on the ground spread out with odds and ends for sale.
As we walked further, the flea market turned into a fruit and veg market with a crates of fresh produce; shiny fresh peppers, aubergines and cucumbers as well as cartons of strawberries, figs and exotic fruit. As you'd expect, everything was fresher than fresh since the turnover if fast and competition high for the best quality.
Soon the open stalls of fresh produce merged into covered kiosks selling deli produce. We found a multicultural mix of flavours, with glistening Mediterranean olives, Turkish stuffed peppers, honey drenched baklava, mounds of hummus and bags of colourful spices. This would be the ideal place to buy your picnic lunch and there are also plenty of bars and restaurants to stop for a coffee or lunchtime dish. The market opens around 6am so it is a great place for earlybirds or those looking for breakfast after a night on the town. Most stalls are closed by around 6pm although some restaurants and food stalls may stay open into the evening. Nearest metro is Karlsplatz or Kettenbrückengasse Station.
2. Dip into Vienna's wealth of art and culture
Our walking tour meandered through the Museum Quarter, a pedestrianised area that's packed with different museums and galleries. In the huge open courtyard, colourful modern benches were scattered, just designed to encourage you to hang out with a beer and a few friends. Here there's something for all kinds of art lovers, from the family museum with a green grass trampoline outside, to the Leopald museum, housing the collection of Viennese Art Nouveau including works by Egon Schiele. You'll spot the former Imperial stables from the horses above the door, but the large halls are now used for concerts and dance productions.
We walked on to the plaza where the Kunsthistorisches (Museum of Fine Arts) and the Naturhistorisches (Natural History Museum) face each other like mirror images with a statue of Empress Maria Theresa between them. They were built at the end of the 19th century to house the collections of the Hapsburg rulers, and what a collection it is!
We spent an hour or so looking around the opulent marbled halls and galleries of the  Kunsthistorisches, marvelling at the sheer amount of gold and precious artworks on display. The building itself was designed to impress with walls of coloured marble and ornate stucco ceilings, gilded and ornamented with frescoes. Each golden chalice, silver table ornament or intricately carved ivory figurine was a masterpiece that had a classical reference or story to tell.
One of the museum's best known pieces is the golden saliera or salt cellar by Benvenuto Cellini with the figures of Venus and Neptune, an allegory of the Hapsburg empire spanning vaste areas of land and sea. In 2003 the saliera was stolen from the museum and held to ransom, but in an ending worthy of a Michael Caine movie was discovered a few years later buried in a forest.
Vienna is so packed with museums and galleries that the cultural delights can be a little overwhelming, so I'd suggest you choose just one or two that take your fancy and dip into them, for a taste of the riches of Austria's past and present.
Kunsthistorisches Museum is on the Ringstrasse – nearest metro – Volkstheater station
3. Enjoy Vienna's coffee culture
Once you've dipped into Vienna's cultural scene I'm sure you'll be ready to relax with a cup of coffee in one of Vienna's famous coffee houses. The obvious choices are those havens of old world elegance such as Café Demel or Café Sacher. At both you can taste the famous chocolate torte, layered with apricot jam, in elegant surroundings. I passed by Café Demel on our walk and popped into the gift shop which is full of delicious chocolate souvenirs, including your own torte to take home.
For a more modern take on the Vienna coffee shop we stopped at Café Dreschsler close to the Naschtmarkt which is a great breakfast stop and traditionally attracted those who were on their way home after a night out clubbing. Now it still has the Viennese style of marble tables and red leather banquettes, but with a pared down contemporary look after its remodelling by Conran & Partners.
Dreschsler Cafe, Linke Wienzeile 22, Girardigasse 1, A-1060 Vienna
4. Learn to cook like an Austrian
Of course you'll have to try to famous Wienerschnitzel while in Vienna, but there's also a contemporary flavour to be discovered in local restaurants like Wrenkh, who have a cookery school right next to their restaurant. The dynamic young chefs Leo and Karl Wrenkh focus on dishes that have a simplicity, based on the finest ingredients and healthy cuisine with lots of vegetarian options as well as meat and fish.
Under the expert eye of Leo Wrenkh, we prepared plump prawns, marinaded thin slices of raw beef with a herb dressing, tossed pumpkins in the pan and stirred the mushroom risotto tirelessly. Finally (and quite a few glasses of wine later) we sat down to lunch to enjoy the fruits of our labour, sharing the different plates that we'd created. The Wrenkh brothers have been working with Avalon Cruises on their 'Eat Local' Programme to create vegetarian dishes that will be served on board as part of the daily menu. Look out for the cookery class as an option on your Avalon cruise excursion or if visiting Vienna you can check it out on the Wrenkh website.
I popped next door after our cookery class to see their restaurant and was impressed by the menu, with different size plates, ideal for sharing with friends. Blowing away my preconceptions of Vienna being expensive, the prices were affordable and there are plenty of vegetable based dishes such as Styrian salad with pumpkinseed oil, quinoa and roasted smoked tofu or grated crispy potatoes with roast vegetables and cream-cheese dip. You'll find them at; Wrenkh, Bauernmarkt 10, 1010 Vienna – 11am to 11pm, closed Sundays
Another taste of more traditional Viennese cuisine was the bread -making class we tried as part of the Avalon cruise. I've been to a few cookery classes and this was especially enjoyable because we could really get stuck into the mixing and kneading of the dough – a most therapeutic experience. Our enthusiastic baker Nabiel left us with no time for slacking as we patted, pinched and plaited the dough into authentic Viennese rolls. Rolling the Salz Stangerl (salt stick) was the easy one and by the end we'd also mastered the complex knot of the Mohn Flesserl covered with poppy seeds and the classic windmill folds of the Kaisersemmel.
Our freshly baked rolls were proudly taken back to the ship for all our fellow guests to admire and eat at dinner. You can book this as an additional excursion on your Avalon cruise or if visiting Vienna check out the Andante website. They have a regular class every Tuesday to learn how to cook the Austrian classic dishes (yes there's Wienerschnitzel!) as well as one off cookery events.
5. In Vienna you're surrounded by music
You won't be long in Vienna before you become aware that it's also the musical capital of Austria – so many of the great musical composers lived and worked here. Hayden, Vivaldi, Beethoven, Mozart and of course Strauss are just a few whose lives you can trace and music you can hear played in Vienna. Around Vienna's tourist landmarks you'll find young men in frock coats offering you tickets for the numerous concerts being held regularly in the city.
The whole experience of the Vienna concert with the greatest classical hits has potential to become a little cheesy, yet the concert we attended at the lovely Eschenbach Palace was a most delightful evening. The standard of musicianship from the Vienna Supreme Orchestra was extremely high and the favourite tunes were punctuated by moments of dramatic and comic opera that had us all laughing, as well as some charming pieces of ballet. The concert was just the right length and we all returned to the ship with a smile on our face, humming Strauss's Blue Danube Walz.
I must admit that before visiting the House of Music I had my doubts at how successful a museum devoted to music could be – it seemed to be a contradiction of the senses. However the experience changed my perception, with interactive elements that would appeal to all ages, and a great choice for families. I ran up the stairs which like the keys of a piano played a scale as well as conducted my own orchestra, which spookily slowed down when I did.
Having watched the film of the Vienna Philharmonic at their New Year's concert I'm even more determined than ever to secure one of the sought after tickets. There was also plenty of information in each of the rooms devoted to a different composer as well as audio experiences, so you can go away knowing a little more about the men behind the music you hear in Vienna. Haus der Musik,  Seilerstätte 30, A-1010 Vienna
6. Fall in love with the horses at the Spanish Riding school
Those gorgeous white Lippizaner stallions are what everyone comes to the Spanish Riding School for, but if you want to see them in action, it's wise to book your tickets in advance. The special performances are the most sought after tickets, but you can also see the morning practice sessions or take a guided tour of the Winter Riding School where the performances take place, and afterwards see the horses in the stables. For all of these tours there is a rule of NO photos of the horses, which is a bit disappointing as they are so gorgeous, but on the other hand I could imagine they would end up feeling like film stars being hounded by the paparazzi.
In our behind the scenes tour, we learned that each horse works for only one rider, although each rider may train 6-8 horses at a time. There are only 24 riders in the school at present and it's an arduous process of apprenticeship which starts around the age of 16 and can take up to 14 years to become a fully trained rider. The Lippizanner stallions are mainly white, since the breeding has strengthened this charactaristic but they are born dark and then turn white after around 10 years. However, there is the odd horse that stays dark and they are considered as lucky charms for the riding school.
When we looked around the tack room I realised how specially these horses are treated, with performance saddles costing €15,000 that are made-to-measure for each horse. The stallions also have the right to 7 weeks holiday a year and when they retire at around the age of 24 they are looked after by the riding school and never sold. When we walked through the stables, it was very special to see all the horses close up although were not allowed to touch or photograph them – they really are gorgeous creatures. Like top athletes or models these are horses in their prime who like to show off and be the centre of attention – after all they are selected for their lively temperament so that performing comes naturally to them.
Spanish Riding School – check out the options for tours and performances well before your visit to Vienna to ensure you can see the performance that you want.
After a couple of days exploring Vienna I really felt that I'd just scratched the surface of what there is to see here. But in my short time I managed to get a taste not only of the well-known tourist highlights, but the authentic and modern style of Vienna. Now I've established that there's more to Vienna than Sacher Torte and Wienerschnitzel, I can't wait to go back and uncover more of what this gorgeous city has to offer.
Read more about our Avalon Cruise
7 reasons to take a river cruise with Avalon Waterways
Getting active in Austria's Wachau Valley – on our Avalon cruise
Read more about holidays in Austria
Hiking in Austria – the views from Seefelder Spitze
Mayday at the White Horse Inn on Lake Wolfgang
Where to stay in Vienna
If you need an elegant hotel to stay in Vienna, perhaps for an extra day or two at the beginning or end of your cruise, I recommend the Intercontinental Hotel Vienna.
My room at Intercontinental Vienna was arranged through Avalon Cruises for the night before our cruise officially started, enabling me to see something of Vienna. If you're looking for classic elegance that fits the image of old world Vienna, the Intercontinental Vienna will suit you perfectly.
I especially loved the lobby with coffee shop and bar area fringed by sparkling crystal and chandeliers which had a feeling of elegant luxury. Book your stay at Intercontinental Vienna as an add-on to your Avalon river cruise or if you are travelling independently check for the best prices and book through HotelsCombined.
Information to plan your cruise
The Avalon Waterways 9 day 'Active Discovery on the Danube' cruise from Linz to Budapest (and reverse itinerary) is priced from £2483 per person to include a selection of activities (based on 16 October 2017 departure). Cruise highlights include Linz, Grein, Durnstein, Krems, Vienna, Bratislava, Visegard and Budapest. Discover more on the Avalon Waterways website.
If you require a hotel in Austria at the start or end of your cruise check out HotelsCombined where you can compare the best prices and book from a range of hotel sites. If you require any airport parking services, I recommend APH Airport Parking and Hotels, a leading UK provider of airport parking, hotels and airport lounges.
For more information to plan a holiday in Austria, visit the Austria Tourism website and for information about Vienna the Vienna Tourism website
Thanks to Avalon Waterways who hosted Heather for a 4 day taste of the Danube cruise from Austria to Linz.
Some of the links above may be affiliate links, enabling me to earn a small commission at no extra cost to you.
Pin It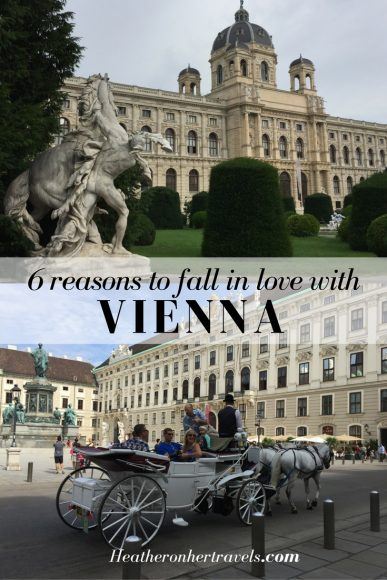 This article is originally published at Heatheronhertravels.com – Read the original article here