These days anyone who owns a smartphone has the ability to make videos to share with family and friends when they travel. The days are over when you needed to buy an expensive camera to make a professional looking video.
I was recently invited by MSC Cruises to have a tour of their ship MSC Splendida and speak at an event for their cruise agents on how to make quick and easy videos that they could show to clients considering booking a cruise. The same tips apply to anyone taking a cruise who wants to make short videos when they travel, so I thought I would share them with you.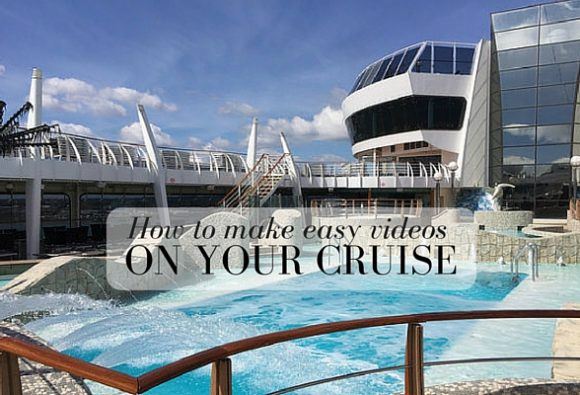 This wasn't the first time that I'd been on board MSC Splendida, as a couple of years ago I took a lovely week's Mediterannean cruise from Barcelona, visiting ports like Marseilles, Genoa, Naples and Messina. The ship holds over 3000 guests, with plenty to do and a lively atmosphere that's well suited to groups of friends, families and guests of all ages.
As a cruise line MSC Cruises has a very cosmopolitan feel, although of course the mix of nationalities will vary depending on the destinations you're visiting. On our Mediterranean cruise it was a range of French, Italian, Spanish, English and Irish, with all the entertainment tailored for this international crowd and the staff switching languages with impressive ease. Read my review of what to expect on an MSC Cruise.
Because I was going to be teaching a session about how to make videos on your cruise, I visited the ship before the conference day to make sure I could shoot some good video footage that I could use to demonstrate some of the techniques. The ship was just as glamourous and colourful as I remembered it, with staterooms in rich jewel shades of emerald and gold and iridescent mosaics in the large indoor pool area.
In order to show some different possibilities for making a short video of your stateroom I made this video, demonstrating the different styles you can try. My videos were shot and edited entirely on my iPhone in order to show how this can give you excellent results.
If you can't see the video above you can download directly here or see it on my blog here or Youtube here and please do subscribe using the button above
Using your smartphone, you can walk around the room to make a video to post on social media, or shoot a few different clips of the room to edit together, or even use still photographs by adding a bit of movement using the 'Ken Burns' effect. Almost all the social media channels such as Twitter, Instagram and Facebook also allow you to post short videos from your smartphone and you can use an app like Vine to make short videos to share with family and friends.
On this occasion I was also able to see the Yacht Club area which is the 'ship within a ship' that offers a more exclusive experience, with separate dining room and pool area as well a personalised butler service. The Yacht Club staterooms were elegant and luxurious with an outdoor pool and relaxation area which would be a haven on sea days when we found the main pool areas were very busy.
So back to my talk about how to make short videos for your cruise. My talk was aimed at cruise agents who need to make videos to show their clients what MSC Cruises can offer. However, the same principles would apply if you are a cruise guest and want to make a short video to show your friends and family or post on social media. Here's another little video that I made to illustrate my tips to help you improve the quality of your videos.
If you can't see the video above you can download directly here or see it on my blog here or Youtube here and please do subscribe using the button above
The do's and don'ts of making a short video
The rule of thirds – a well known principle of composition in photography. It means that if you were to create a grid across your shot dividing it into 9 squares, you should place people or horizon lines on the grid lines and a major item within the shot on an intersection of the lines, to give the most pleasing composition.
Consider the audio – In noisy areas of the ship such as a swimming pool, restaurant or windy deck, you should be very aware of background noise. You may consider using a small microphone if you are speaking in the shot to cut out some of the background noise.
Keep your camera steady – a shaky shot will make your video look unprofessional. You can use a small tripod such as a gorilla pod or just take care to brace yourself and keep very still when taking a video shot.
Use pan and zoom in moderation – make any pan or zoom shots smooth and use them in moderation, perhaps one shot in three, or you will make the viewer feel seasick.
Instead look for movement in the frame – find shots where you keep the camera still but film shots that already have some movement, such as a glass of wine being poured, or a person walking down a staircase.
Mix up different shots – such as a placement shot (that shows where you are, perhaps with a sign or logo), long shot, medium shot, closeup.
Some tips on timing and video length
The first 5 seconds are the most important – this is where you need to capture the viewer's attention with a personal introduction or indication of what's to come, so that they won't click away.
50% of your audience are gone after 60 seconds – attention spans are getting shorter and shorter so make sure your key points are made in the first minute of the video.
Video shot length 1-3 seconds – I will typically edit each shot to around 1 second, perhaps up to 3 seconds if a pan or zoom is involved. This will mean that your video ends up being quite concise and snappy.
Optimum video length 1-2 minutes, maximum 3 minutes – if you keep each shot length short you will normally end up with a video of this length. If you are going over 2-3 minutes, consider whether it would be better to break up the video, for instance make one video on your cabin, another about the food and another about each port of call.
Rules are made to be broken – having said all of the above there may be good creative reasons why you need to break these rules, so feel free to experiment and have fun.
A few tips on branding
In my slides you'll see some examples of ways you can make sure the viewer remembers your company or blog name. You can add a link to your website in the text overlay or clickable links within the video on YouTube, as well as in the video description. It's also good to give the viewer a 'call to action' telling them what you want them to do next, perhaps to subscribe to your channel or watch your next video.
What equipment do you need?
If you haven't made any short videos before, you may be concerned that you need special or expensive camera equipment. However, these days the quality of video that you can make with your smartphone can be very good, so I recommend starting there and then investing in more advanced equipment if you feel the need later.
You may also consider a few optional extras such as a small microphone to plug into your phone or camera, a selfie stick, or gorillapod that can be used easily in many different situations.
There are plenty of video editing apps that you can download onto your mobile. I use iMovie but depending on your mobile brand there are other options that are either free or just cost a few pounds – check my presentation below for some more options.
I hope that my videos, tips and presentation below have given you a few ideas if you'd like to try making a video on your next cruise, either to share with family and friends or to use for your blog or business. Thanks to MSC Cruises for inviting me on board to speak at their conference.
For more information, visit the MSC Cruises website or follow them on Twitter @MSC_Cruises_UK or on the MSC Facebook page
Check out the slides from my presentation for more information
If you can't see the slide show above, view it on Slideshare here.
Read about the places we visited on our last Mediterranean cruise with MSC Cruises
Join me on a week's Mediterranean cruise with MSC cruises
All aboard at Barcelona – Day 1 of my MSC Mediterranean Cruise
Bonjour Marseille – Day 2 of my MSC Mediterranean Cruise
Palazzo and Gelato in Genoa – Day 3 of my MSC Mediterranean Cruise
Naples and an excursion to Pompeii – Day 4 of my MSC Mediterranean Cruise
Messina and an excursion to Taormina – Day 5 of my MSC Mediterranean Cruise
Tunis and Carthage – Day 6 of my MSC Mediterranean Cruise
A day at sea and back to Barcelona – Day 7 of my MSC Mediterranean Cruise
What to wear on your Mediterranean cruise – my 6 top tips
Pin It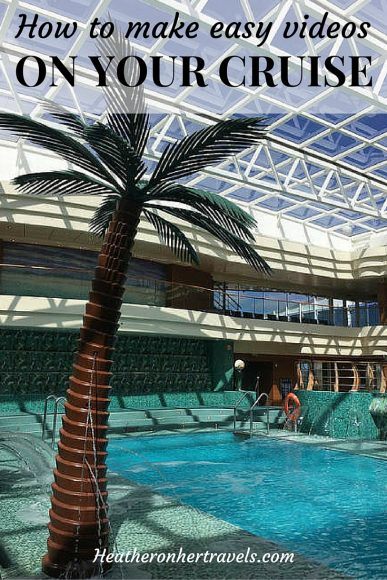 This article is originally published at Heatheronhertravels.com – Read the original article here
If Knomo were your best friend, she'd be one of those cool, stylish people who lives life to the full – always on the move, trying out the latest gadgets, working on some interesting, creative project or other. Perhaps she'd be a photographer, designer or even a blogger, moving effortlessly from an informal business meeting to drinks with friends. Knomo is a girl who doesn't really care about logos and labels, she just loves things that are beautifully designed and work for her lifestyle. Understated elegance is her trademark, she's the sort of girl that always looks polished and put together, even though you can't quite place what brand she's wearing. Perhaps Knomo is a girl just like you or me, or perhaps with the perfect piece of luggage we can live her lifestyle too.
Of course I'm just having a bit of fun imagining the Knomo lifestyle, since Knomo is not a real person but a purveyor of luxury luggage, handbags and other finery that might just work in your lifestyle. If you're looking for a classy bag with room for your tablet, laptop and mobile, that won't shout "technology geek", look no further. Or perhaps a case for that iPhone 6 that's already on your Christmas list? Or even the perfect soft leather messenger bag that will keep the man in your life organised and looking good (Knomo's not just for girls you know).
I made a short video below so you can see how I got on with my Knomo Bolsover case on my cruise
If you can't see the video above, view it on my blog here or on YouTube here and please do subscribe using the button above
Download the Video of my Knomo Bolsover case
Subscribe to all my videos in I-tunes
If you enjoyed this video, check out the others in my Video archive
To test out whether Knomo could cope with my aspirations for effortless style as well as accommodating all the technology that goes with a blogger's lifestyle, I took the Bolsover trolley bag along as hand luggage on my MSC Mediterrranean Cruise. On the flight out to Barcelona to meet the ship we had one suitcase between us as well as a small carry-on case which was the perfect scenario for my Bolsover. In Placa Catalunya we stopped for a photo opportunity, enjoying the sunshine and the life in the square that is Barcelona's beating heart.
Isn't she pretty?
I must say that this gorgeous bag made me feel quite the jet setting girl about town. The luxurious red carry-on is piped in leather-effect trim and covered with a soft waterproof fabric that's quilted in a diamond pattern. I love that rich, red colour, the shade of tomato ketchup or should I say a glass of good claret? It feels luxurious, elegant and expensive (but of course no more than I deserve!) There's a sturdy metal telescopic handle that allows you to pull the case along easily in the aiport but slots down and zips away neatly when you want to use the bag as a weekender to drop into the back of the car, as well as a tactile but robust carrying handle at the top of the bag. I'm instantly impressed by the amount of shiny chrome zips and endless pockets – a girl can never have too many pockets in my opinion.
Lets take a look inside
Zipping open the main compartment of the case reveals four little side pockets to tuck way your underwear, jewellery or other small items with some straps to keep everything firmly in place. In the lid are two more larger pockets to pack your shoes and a half depth zip pocket to keep a book or kindle. Already I've counted seven pockets but that's before I discover the extra zipped compartment that becomes your office storage area built into the lid.
You can tuck a 17 inch laptop in here, with some more sleeves and pockets for all those pens, chargers and other odds and ends, with a zip pocket for your tablet. That's another six pockets and there's more! On the outside lid there's another full width zip pocket where I'd put a magazine to read on the flight and a cute little zip pocket set into the leather trim that's the perfect size for your mobile. Two more pockets, what more could I ask for ?
Perhaps a way of finding my Knomo case again if I ever lose it? They've thought of that too. Inside the top compartment you'll find a unique ID which you can register on the Knomo website. Now if you and your case are ever parted and it's found by some honest citizen, Knomo will return your bag to you free of charge.
Who is the Bolsover case ideal for?
With all these compartments and zipped sections, this case is ideal for the elegant business traveller who's away for a few days, or a leisure traveller like myself who always travels with a laptop and other techological paraphernalia. I have to find space in my luggage for a laptop, mini-ipad that I use for novels and online travel guides, a video camera, normal camera and all the associated batteries, cables and chargers (that's where all those pockets come in handy). The Bolsover is a great weekend bag for those who like to pack in an organised way with a place for everything. This really is a case that you could hand to the porter at the smartest luxury hotel with pride and pretend that it's packed with your designer wardrobe (Silly me! Who's pretending? I know you only buy the best!)
What's not to like?
If there is anything to watch out for with the Bolsover I'd say that if you are a truly minimalist and lightweight traveller, this may not be the case for you. The height of the case is slightly shorter than the maximum allowance for most airlines, which could be a waste of potential extra packing space if you are trying to maximise your allowance without paying for checked luggage. At nearly 3.4kg the case isn't the lightest around and if you are packing all your technology it will end up being on the heavy side and an effort to get into the overhead locker on the plane, not to mention being a bit too heavy for those airlines that have a carry-on bag weight allowance.
Here's what I love
I love the way that the Knomo bags are all so stylish and elegant, yet they are also perfectly designed to fit your tablet, mobile, laptop of any other technology that you need to take with you for business or leisure. It may look like an elegant clutch but there's room for your mobile, keys, credit cards and notebook. It may look like a sporty cross body bag for the girl on the go but you can still find room for your tablet and camera. I like the fact that you can keep all these things with you without revealing to the world that there's an expensive laptop or camera inside. Smart but not shouty.
Check out the other items I love that match my Bolsover case
The Vital Statistics
Heather tried the Bolsover carry-on wheeled trolley in scarlet from Knomo. The bag has a zipped compartment that fits a 17 inch laptop at the front of the bag and is made with a quilted nylon exterior and leather style trim. The bag measures 45cm H x 29cm D x 19.5cm D and weighs 3.42kg. The Bolsover wheeled trolley costs £249 and can be ordered from the Knomo Website. Other matching items in the Fitzrovia Collection include the Maple cross-body bag £79, The Huntley weekend bag £149 and the Great Portland Shoulder Tote £119.
Thanks to Knomo who provided Heather with her Bolsover carry-on for this review.
This article by Heather Cowper is originally published at Heatheronhertravels.com – Read the original article here
You'll also find our sister blog with tips on how to build a successful travel blog at My Blogging Journey
I'm relatively new to cruising so my week's cruise in the Mediterranean with MSC Cruises was a very enjoyable way of learning what cruising's all about and how to get the most from this kind of holiday. I've realised that, just as there is a style of hotel or resort to suit each person's taste and budget, every cruise line and cruise ship brings a different flavour, so it's important to research carefully before you book your cruise. We had a wonderful week with MSC Cruises and if you're thinking of booking or have already booked on MSC Splendida, here's what you need to know to get the most from your cruise;
About MSC Splendida – big is beautiful
First the vital statistics. There's no getting away from the fact that MSC Splendida is a big ship, with over 1600 staterooms and room for 3247 guests – or more if you happen to be travelling in the holiday season when there will be plenty of children to swell the numbers on board. She's a relatively new ship too, built in 2009 and one of the four "Fantasia" class of ship in the MSC fleet which incorporate the most modern designs.
We found that MSC Splendida was a beautiful and glamourous ship and everything on board was extremely well maintained. A big ship has pros and cons – it means that there's lots of choice of things to do and many different bars and restaurants to spread out, but you do need to be aware that the most popular areas such as the pool decks will become very busy especially on sea days.
I hope you enjoy the video below – my tour of MSC Splendida with MSC Cruises
If you can't see the video above, view it on my blog here or on YouTube here and please do subscribe using the button above
Download the Video Tour of MSC Splendida
Subscribe to all my videos in I-tunes
If you enjoyed this video, check out the others in my Video archive
Who are the other guests on an MSC Mediterranean Cruise?
One of the key differences with MSC Cruises is that this is very much an Italian run cruise line, attracting a large proportion of European guests on the Mediterranean routes. Since passengers can board at different ports such as Barcelona, Marseille and Genoa, the majority of guests on our cruise were from Italy, Spain and France, with a few from China and Japan and a minority of English and Irish. This was never a problem from a language point of view since all announcements were made in 5 languages, including English and we were left in admiration at the multilingual skills of the crew.
The European flavour also extends to the way things are done on board, for instance the dress code is less formal, charging for bottled water seems strange for the British but is acceptable for European guests, and the service is friendly and efficient but less effusive than you might find on a North American ship.
The broad mix of European nationalities also meant that the entertainment could not rely on the language – so no comedy acts but more song and dance shows with a broad appeal. If you want a very British ship this may not be the cruise for you but if you are travelling as a family group or with friends then the cosmopolitan mix of guests will probably suit you.
MSC Cruises is also doing a great job in attracting a younger audience to the cruise market and on our cruise there were plenty of families, couples and groups of friends from 30+. This cruise certainly dispelled any preconception that cruises are only for the retired and the age range was similar to that you might find in a large resort hotel.
Dining options on MSC Splendida
There were two formal dining restaurants on board MSC Splendida, where you can eat breakfast, lunch and dinner as part of your inclusive cruise package. We were assigned to the Villa Verde restaurant on Deck 6 which was at the back of the ship, giving some nice sea views which we enjoyed at breakfast and we shared a table at dinner with a Norwegian and German couples who luckily spoke some English. The La Reggia restaurant was a two-level restaurant on deck 5 and 6 in the middle of the ship and we ate there for lunch on the sea day. The menus were the same in both restaurants and were excellent quality 3 or 4 course menus serving a mixture of European and Mediterranean dishes, with a few different choices of appetisers, soups, pasta, meat or fish dishes and deserts. Most guests were assigned a set dining time of 7pm or 9.30pm although in La Reggia there was also a flexible dining time option which you needed to opt for before your cruise.
For informal buffet-style dining, there were the adjoining Pago Pago and Bora Bora buffet restaurants on Deck 14 which merged into the pool area, with some seating outside. At main meal times there buffet restaurants were very busy and so we preferred to eat in the formal restaurants most of the time, although we would often dip into the buffet for a snack or a cake on our return from a shore excursion. The variety of food in the buffet restaurants depended on the time of day with a wide selection at meal times and at other times plenty of fresh pizza, sandwiches, fruit and cakes on offer.
We also took the opportunity to eat in the Santa Fe Tex-Mex Speciality Restaurant on Deck 7 which served exceptional steaks as well as other Tex-Mex specialities and brilliant Margaritas. There was an additional charge, depending on what you chose, just like a normal restaurant, rather than a fixed cover charge as I've found in other speciality cruise restaurants. Interestingly the restaurant seemed to be not very busy which could be that the guests were not looking to pay extra for dining on this cruise.
Overall the food on board MSC Splendida had a very Mediterranean feel with plenty of pizza and pasta and was high quality in taste and presentation. However, the speciality dining options were more limited than some other cruise lines so I would say that if you are looking for a gourmet experience on board, with a focus on trendy or more unusual food experiences, this may not be the ship for you.
Our Balcony Stateroom
We loved our balcony stateroom on deck 13 (room 140) which had a modern, Italian feel in the decor and a coffee and gold colour scheme. There was a seating area with sofa which could become a third bed and desk next to the windows, a fridge with mini bar and a flat screen TV. The bathroom had plenty of space with a moulded vanity unit and mirror above and a powerful shower with a curtain and some shampoo and soap in large refillable containers. Our balcony had room for 2 lounger chairs and the small table by the sofa could be used for drinks. The stateroom was a lovely place to relax before dinner or on the sea day when other areas of the ship were quite crowded, and we sometimes would pop up to deck 15 to get a coffee or cake and enjoy it in our room.
What additional charges will I need to budget for?
As with all cruise lines there are some things that are included in the price of your cruise on MSC Splendida and other things that you will need to budget for. My impression is that MSC Cruises pitch their cruises at a competitive entry price but that you may then need to budget for extras that some other cruise lines would include in the price, such as bottled water and bus transfers. Here's what you need to budget for;
As on most cruise lines gratuities are something extra you need to budget for and are not really optional. On MSC a service charge of  7 euros per person per day is added automatically to your bill, so there is no need to tip individual members of staff unless you have received exceptional service. An additional 15% service charge is also added to speciality restaurant, bar and spa charges.
If you wish to take excursions, the prices are published on the MSC website and range from around €50 for a city tour to €80 for a longer all day tour.
If you decide not to take the ship's excursion but to explore on your own you may need to pay for the coach transfer to and from the port which may be some distance away. The price for the MSC bus service was typically €8-15 per person return. Another option is to take a taxi (likely to be a similar price to the cruise bus) or take public transport which requires some advance research.
On MSC many people purchase a drinks package in advance which is likely to save you a lot of money, even if you are a moderate drinker and gives you the peace of mind of knowing that your drinks are at a flat rate. For our 7 day cruise on MSC Splendida the Cheers Adult drinks package was €115.50 per person allowing table wines, beer and soft drinks at lunch and dinner as well as soft drinks and coffee from the bar while the Alegrissimo package for €161 per person allowed the same type of drinks including drinks from the bar on a 24 hour basis.
If you wish to try out the speciality restaurants on board (the main one on MSC Splendida being the Tex Mex Santa Fe restaurant) there will be an additional charge depending on what you choose from the menu – from memory a steak meal was around €20 supplement.
If you enjoy spa, hair, nail or beauty treatments as part of your cruise obviously you would need to budget for these and there are plenty of different packages and special offers that you can check out when on board.
Wifi is another extra and tends to be both expensive and slow (since it has to come via satellite) so it's probably better to forget about catching up on your e-mails and use the time to relax.
So if you are a moderate drinker and take a couple of excursions during the cruise, you should budget €250-300 per person on top of the price of the cruise, more if you want to enjoy spa treatments, speciality dining and a wider range of drinks.
What's there to do on board?
In my experience so far, you'll never be short of things to do on a cruise, but will leave wishing there were more than 24 hours in a day to take advantage of everything on offer. For us one of the attractions of this cruise was being able to visit a different destination on each day of the cruise, which left us with limited time to try out all the entertainments on board. We did however very much enjoy the evening show each night, with two separate performances designed to fit in before or after your dinner sitting. The shows were mainly song and dance routines that would appeal to a wide audience with some juggling, balancing or acrobatic elements incorporated. Over the course of the cruise the evening shows transported us with different themes to Paris, Ancient Greece, Italy, the land of the Aztecs, as well as a Luciano Pavarotti tribute show one evening.
Of course one of the most popular parts of the ship is the pool deck and MSC Splendida had much to offer with an outdoor Aqua Park including jacuzzis and fountains as well as the pool. The second indoor L'Equatore pool area was ideal for younger children and families and had a retractable roof but was covered during our cruise. At the back of the ship was the smaller Playa del Sol Zen area, although the "Zen'" could be a bit misleading as this area was just as busy as the others. The Aqua Park was full of families and groups enjoying themselves with music, karaoke and dance classes taking place at one end, so great if you like a buzz of activities but not if you are looking for peace and quiet on your cruise. You would need to lay out your orange towel early to be sure of a sunbed in any of the pool areas although you could retreat to the Top 18 solarium area for an additional charge.
During the day and into the evening there was a wide range of entertainment including dance lessons, bingo, quiz events, sports tournaments, culinary demonstrations and Karaoke. We did attend a destination talk on our first day but this was mainly to provide information on the excursions on offer and one thing I did miss was any insights about the ports of call that we were about to visit. We found that the activities on board MSC Splendida were mainly about entertainment rather than education or culture, perhaps due to the issues of operating in multiple languages. So if you are a culture vulture or are looking for education from your cruise, you may have to create your own, but if you like plenty of lighthearted entertainment, there's lots on offer.
Fitness and spa on MSC Splendida
Because we were so busy on this cruise visiting all the interesting ports of call, we didn't make much use of the fitness facilities on board. However, Guy did use the gym a couple of times and on our sea day I had the treat of a lovely facial and Balinese massage. The spa has a large seating area with healthy snacks and drinks to order at the bar and a shop area selling sportswear and beauty products. I had a lovely relaxing facial and on a separate occasion indulged in a Balinese massage with scented aromas and soft music leaving me with my skin soft and glowing and in a soporific mood. It's worth checking for special offers and packages if you are someone who enjoys a relaxing spa experience as part of your cruise.
What do I need to wear on board MSC Splendida?
Cruise ship dress codes can vary widely between different cruise lines and ships and also depend on the route and itinerary. Most people will pack comfortable clothes and shoes for sightseeing on shore excursions, something casual for relaxing around the pool on sea days and a few smart outfits to dressing up in the evening. However, the thing that concerns most guests who are new to cruising is what they need to pack for formal nights on board.
I was also unsure whether I should be packing my long evening gowns and whether Guy needed his dinner jacket/tuxedo as would be the norm on some more traditional and British cruise lines. However a bit of advance research told me that most guests on an MSC Cruises around the Mediterranean adopt a more European style of dress, since there are so many Italians, Spanish and French on board.
On our cruise noticed that there were not so many ladies on gala evenings were wearing long dresses, but they tended to adopt a more 'cocktail' style of glamour and that the men were wearing a wide range of different jackets but very few went for the "black tie" or tuxedo. In the end my sparkly Eileen Fisher sequin top and my versatile black Joseph Ribkoff evening cover-up were perfect for the two gala evenings on board and on other evenings I dressed as you would when going to any nice restaurant, while Guy wore a blazer and open neck shirt.
Did I say there were two gala evenings on our week's cruise? This was because the Mediterranean route we sailed on MSC Splendida calls at many different ports on a circular route and so guests are able to start their cruise at different points such as Barcelona, Marseille and Genoa. Two different gala evenings gave everyone the opportunity to experience a formal night wherever they boarded. On other nights there were different party themes that included "Carnival Party", "Flower Glory – a trip to the 60's, 70's and 80's" and "White party" but I never saw anyone but the crew dress to these themes, since most guests would not know about them before they came on board.
On the sea day, dress around the ship was much more informal, such as you'd wear around the pool or for a day at the beach. You can read more about what I packed for my Mediterranean cruise in my article – What to wear on your Mediterranean Cruise – my 6 top tips
Who is this cruise suited for?
As I said at the beginning, there's a cruise for every taste, so who is a Mediterranean cruise on MSC Splendida best for? In my opinion
You will enjoy this cruise and ship if…
You enjoy visiting a lot of different destinations in one cruise
You are looking for a lively atmosphere, lots of entertainment and plenty to do on board
You enjoy a cosmopolitan European atmosphere on board
You want a cruise with a youthful feel which is ideal for families with young children, groups of friends, multi-generational groups and those from their 30s upwards.
But this may not be the cruise for you if…
You are looking for peace and quiet on your cruise
You want a cruise that offers a gourmet experience or wide range of speciality dining options
You enjoy a lot of cultural and educational activities
You want to mix with passengers from an older age range
You are looking to mix with mainly British or North American passengers on a ship that is mainly English speaking
Other articles in my Mediterranean Cruise series
Join me on a week's Mediterranean cruise with MSC cruises
All aboard at Barcelona – Day 1 of my MSC Mediterranean Cruise
Bonjour Marseille – Day 2 of my MSC Mediterranean Cruise
Palazzo and Gelato in Genoa – Day 3 of my MSC Mediterranean Cruise
Naples and an excursion to Pompeii – Day 4 of my MSC Mediterranean Cruise
Messina and an excursion to Taormina – Day 5 of my MSC Mediterranean Cruise
Tunis and Carthage – Day 6 of my MSC Mediterranean Cruise
A day at sea and back to Barcelona – Day 7 of my MSC Mediterranean Cruise
What to wear on your Mediterranean cruise – my 6 top tips
Thanks to MSC cruises who hosted Guy and Heather's Mediterranean cruise. Heather and Guy travelled on MSC Splendida from Barcelona on a 1 week cruise calling at Genoa, Marseille, Naples, Messina, Tunis. Prices for a similar cruise start at around £700 per person. For more information, visit the MSC Cruises website or follow them on Twitter @MSC_Cruises_UK or on the MSC Facebook page.
This article by Heather Cowper is originally published at Heatheronhertravels.com – Read the original article here
You'll also find our sister blog with tips on how to build a successful travel blog at My Blogging Journey