March 21, 2015 by Heather Cowper
Filed under Austria, Copenhagen, Denmark, Eating and drinking, Europe, featured, Germany, Gothenburg, Greece, Leisure, Salzburg, Sweden, Zakynthos
Are you a coffee lover like me? It's the aroma of freshly ground coffee beans that hits your nose first and then you take a sip of hot, sweet coffee. Ahhh, the day starts to feel better already. But perhaps for you it's a tiny cup of strong, black expresso, ending the meal perfectly like a full stop at the end of a sentence. Or a frothy cappuccino to eat with a sweet pastry for breakfast like they do in Spain.
However you like it, a great cup of coffee is full of ritual as you watch a skilled barista operate those shiny machines that woosh and hiss, or the buzzy atmosphere of your favourite coffee shop where you meet your friends for a late morning weekend brunch or an afternoon coffee and cake.
Now I'm dreaming about all the coffees I've enjoyed on my travels, each coffee experience giving me a doorway into the culture of the place I visited. For more coffee inspiration, take a look at this Coffee infographic that will take you around the world in 31 coffees, but in the meantime let me share with you some of my favourite coffees around the world.
1. Copenhagen – the best coffee in the world?
If ever there was a place where they know how to elevate coffee to an art form it is Copenhagen and Coffee Collective sits among the best of the best.
I visited their original coffee shop in Nørrebro a few years ago, a tiny place with just a few wooden tables outside and a stool inside to perch while your coffee is being expertly made. Their coffee beans are sold all around Copenhagen and they operate on a Direct Trade model, working with farmers in Brazil, Guatamala, Kenya and Panama to pay the best prices for the best quality coffee. If you visit this place you'll probably be buying your coffee to take away (perhaps picking up a pastry from the Claus Meyer bakery across the road) but if you want to sit and enjoy your coffee in a foodie atmosphere, head for their stand in the Torvehallerne food market halls.
Torvehallerne is one of my favourite places in Copenhagen, where you can get a fabulous but reasonably priced lunch or sip your coffee with a cake just like your Danish grandmother might have baked. The third branch of Coffee Collective is in Frederiksberg, where the beans are roasted and they do monthly tours and coffee tastings where you can learn how to make a perfect coffee. Definitely a place of pilgrimage for the coffee connoisseur.
Read More: Eat the Neighbourhood in Norrebro, Copenhagen
2. Coffee time is Fika time in Sweden
If you've visited Sweden I'm sure you'll have come across the tradition of 'fika', or having a coffee break with friends. This is the occasion to settle down in a cosy cafe where the counters are laden with buns and pastries to relax over a good cup of coffee and a chat. When I visited Gothenburg I discovered that the picturesque old neighbourhood of Haga was the perfect fika spot, since its cobbled streets are lined with cafes, restaurants and artizan shops.
Cafe Husaren on the corner of the main street of Hada Nygatan is reputed to be the original source of the enormous cinamon buns which are a speciality of Gothenburg, although we squeezed into the pretty, traditional Cafe Kringlan with the gold bagel hanging outside. The local's choice for fika in Gothenburg seems to be Da Matteo and they have several shops including the largest in Magasingaten where they bake the bread and pastries on the premises, so you get the aroma of freshly baked bread thrown in with your coffee.
Read More: Favourite coffee spots in Gothenburg for your coffee fix
3. Salzburg – for coffee and cakes
Perhaps you've gathered by now that I have something of a sweet tooth, so heaven for me is a great cup of coffee served in the afternoon with a slice of the local cake. Of course Austria makes a speciality of this Kaffee und Kuchen ritual and where better than Salzburg, the glorious homeland of Mozart and the Sound of Music to enjoy it?
When it comes to cake to accompany your afternoon coffee, you'll likely be wavering between the Apfelstrudel (soft bites of apple wrapped in crisp layers of pastry) and the Sacher Torte (rich, dense chocolate cake laced with apricot jam). The traditional choice would probably be to head for Hotel Sacher which overlooks the river but we enjoyed our kaffee und kuchen on the rooftop terrace of the Hotel Stein with a fabulous view of the fortress, which is highly recommended in good weather. 
Read more: Bratwurst and Sacher Torte – or what we ate in Salzburg
4. A chilled frappe on the beach in Greece
Coffee can be a cool drink in more ways than one, as I discovered on my annual trips to Greece to visit my sister who lives on the Greek Island of Zakynthos. Traditionally the Greeks drink their coffee like the Turks, strong and sweet in a tiny cup together with those ultra-sweet pastries that drip with syrup. This is what you'd serve to friends who come visiting in the afternoon.
But the trendy thing to drink in summer is a chilled Frappé – where an expresso is poured over ice with creamy milk to make a coffee that's sipped through a straw from a long glass. When you're lying on your sunbed or sitting in a trendy Greek beach bar, be sure to order a "Freddo" coffee, which comes in different Italian styles such as a Freddo cappuccino, Freddo Expresso or a Freddoccino (iced mocha coffee with chocolate). 
Read More: Sunday morning Greek coffee and Glika in Zakynthos
5. Ruddesheimer coffee in Germany – coffee with a creamy kick
If you fancy your coffee with something a little stronger, we found the perfect alternative coffee on our Rhine River Cruise stop at the pretty town of Rudesheim. Wandering down the cobbled street of the Drosselgasse with its wine shops and taverns we stopped at Rudesheimer Schloss to try the local speciality of Rudesheimer coffee.
This coffee spiked with brandy is the German equivalent of Irish Coffee and started in the 1920s when the Alspach brandy company invented a brandy chocolate so that ladies could enjoy a secret tipple, at a time when it was considered unseemly for women to drink in public. One good thing lead to another and in the 1950s the Rudesheimer coffee was born, a warming mixture of sweet coffee with a good helping of Asbach brandy, topped with sweet, whipped vanilla cream and sprinkled with grated chocolate. These days the Rudesheimer coffee is served in all the local coffee shops and you can bring back small bottles of the Alspach brandy if you want to try it at home.
Read More: How to make a Rudesheimer coffee – video
6. A hot chocolate alternative to coffee in Gothenburg
If you're not a coffee drinker, you'll be pleased to know that in Gothenburg we found an excellent alternative at Cafe Kanold that specialises in velvety hot chocolate. Staying cosy from the chilly wind and weather, we sat on the cushioned banquette with pretty floral cushions and enjoyed a warming hot chocolate – served with chili flakes on top for an extra kick.
While there is also a counter of hand-made Kanold chocolates in the cafe, you'll want to visit the main Kanold chocolate shop close by on Södra Larmgatan at the end of Viktoriapassagen. It's a cross between an old fashioned candy store and a boutique chocolatier where you can buy the Kanold speciality, a soft chocolate truffle centre topped with sea salt, which has now become known as the "Gothenburg Truffle". Of course if you insist of coffee at Cafe Kanold, I'm sure they serve that too!
Read More: Chocolate with sea salt – a taste of West Sweden
Check out this Coffee Infographic
If you want to fuel your coffee fascination even more, take a look at this Coffee infographic from  Cheapflights that will take you around the world in 31 coffees. Here are a few cool coffee facts that I discovered;
In Italy you only drink milky coffee in the morning and NEVER after a meal – the cappuccino in the afternoon is only for tourists!
Breakfast in Spain normally consists of a cup of coffee with a sweet pastry or churros
In Senegal coffee is served with cloves and guinea pepper
In 2001 Brazil issued a coffee scented postage stamp
Seatle has 10 times more coffee store per head than the rest of the USA
Now, please excuse me as I'm off to find the perfect coffee to have with my weekend brunch in Bristol
Pin It
This article is originally published at Heatheronhertravels.com – Read the original article here
This article is written in association with Cheapflights
You'll also find our sister blog with tips on how to build a successful travel blog at My Blogging Journey
February 23, 2015 by Guest Author
Filed under Accommodation, Balearics, Eating and drinking, Europe, featured, Guest post, Leisure, Misc, Nature, Shopping, Sightseeing, Spa & Pampering, Spain
Ibiza attracts hundreds of thousands of visitors over the summer months, flocking to the island to enjoy the glorious weather and party scene. However, the island also has much to offer during the quieter, off season times. With mild temperatures and a peaceful, down tempo pace, discover a different side to Ibiza this spring.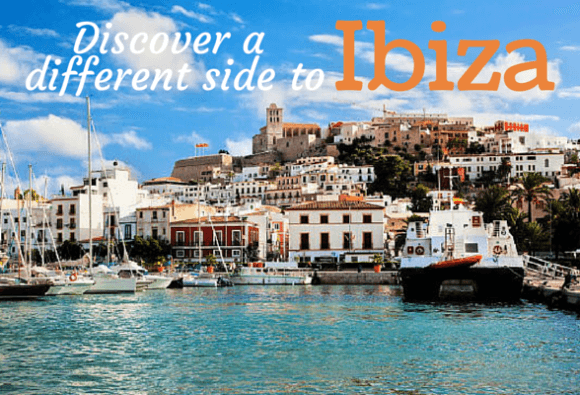 Explore to coastline of Ibiza
Ibiza has a rugged and fascinating coastline, which lends itself perfectly to hiking and walking. There are many companies who offer guided walks around the island during the winter months, when the climate is perfect for long, adventurous walks. If you have the stamina, why not head to the highest point on the island, Sa Talaia to marvel at the breathtaking views of the mystical rock Es Vedra.
Or perhaps enjoy a less challenging walk along the beautiful beach of Ses Salines, a natural wildlife park which is home to, over 200 different species of birds and is a recognised UNESCO World Heritage site. You can choose to discover the island by yourself, or join one of the guided walks. See www.walkingibiza.com for some insider tips and an itinerary of their weekly walking tours.
Wine and Dine on Ibiza
If you are a dedicated foodie then never fear, Ibiza still has plenty to offer the discerning diner in the off season. Many bars and restaurants are open all year round, albeit some of them just at the weekends, and many offer great value deals for winter visitors. For a delightful beachside meal – head to the shores of Cala Jondal where you will find the eternally popular Yemanja restaurant, open all year round, and serving some of the best freshly caught fish to be found on the island. The gambas ajillo (garlic prawns) have to be tasted to be believed. Another favourite is the organic cafe La Paloma. Hidden away in an orange grove in the sleepy village of San Lorenzo, the menu offers an unusual combination of Italian and Israeli influences, with many of the ingredients coming directly from their own gardens. We recommend the houmous cordero (spiced minced lamb with houmous) which is served with freshly baked foccacia bread, simply delicious.
Shop at the flea markets on Ibiza
It's a great time to indulge in some retail therapy here in Ibiza, especially in the New Year when many shops offer great rebajas (post Christmas sales). Ibiza Town has a great selection of stores which stay open all year round, and the tree lined streets are literally bursting with great value deals to be discovered by an intrepid shopper. Or why not head to one of the markets which run all year round, check out Las Dalias in San Carlos every Saturday for some hippy style clothes and jewellery, or head further north to the Cala Llenya second hand market which attracts hundreds of people each and every Sunday, who head there to grab a bargain and enjoy the live music in the outdoor bar area.
Pamper Yourself on Ibiza
If you are seeking some R&R and a little 'me' time, then low season Ibiza has lots to offer. With Both Atzaro and Can Curreu rural hotels remain open all year round, so head to their spas for some great winter deals on massages, beauty treatments and yoga classes. A perfect time to spoil yourself in the beautiful surroundings of the Ibiza countryside. And why not, you are most definitely worth it!
If you're searching for a place to stay in Ibiza, take a look at Ibiza Summer Villas, who offer a complete portfolio of villa rentals to suit all tastes and budgets. Rent an entire villa for yourself, your family, and your friends. Each villa exudes Mediterranean luxury living at its finest, and some boast up to 17 rooms. Ibiza Summer Villas has almost 100 gorgeous villas to choose from, with special promotions going on year-round. The Ibiza Summer Villa staff know Ibiza intimately, and can give you the best hints and tips about everything island-related.
Pin It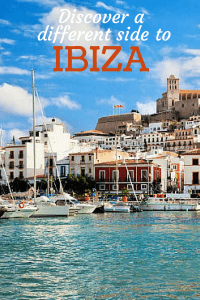 For more island delights:
Tapping into the real Ibiza
Carnivals, jazz and nightlife – the sounds of St Lucia
Swimming, surfing, snorkeling – best beaches of the Dominican republic
This article is originally published at Heatheronhertravels.com – Read the original article here
You'll also find our sister blog with tips on how to build a successful travel blog at My Blogging Journey
January 26, 2015 by Heather Cowper
Filed under Devon and Cornwall, Europe, featured, Giveaways, Italy, Leisure, Mallorca, South Tyrol, Spain, United Kingdom, Wales, Walking
January is traditionally the month when we make resolutions that involve health and fitness – you know the ones. "This year I'll lose that extra 5 kg that crept on over the last few years" or "This year I'll train for a marathon to shake off the couch-potato that I've become". The trouble is that such dramatic resolutions rarely last more than a few weeks while it's the small actions that we take each and every day that have a lasting impact on health and fitness.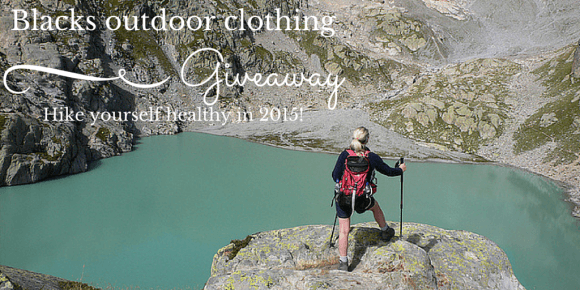 Hiking for health in 2015
While I'm always trying to shake off those extra pounds I find it more effective to incorporate walking and hiking into my everyday life, rather than make resolutions to go to the gym that I don't have time to keep. I walk 30+ minutes to and from work, enjoy walks in the country when I'm away for the weekend with the family and incorporate walking and hiking into my holidays too. A major trek like the Tour de Mont Blanc can sometimes be just the challenge you need sometimes but equally a walk along Canal Saint Martin and the Promenade Plantee helped me see a side of Paris that was a little off the tourist trail.
I'm giving away a £200 Blacks voucher
To help you to include walking and hiking into your daily life and your travels, I've teamed up with Blacks, the outdoor clothing store, with a giveaway of a £200 voucher that can be spent on the outdoor clothing or equipment from the Blacks website. Check out the interview the Blacks did with me on their blog here. You'll find information about how to enter the Blacks £200 voucher giveaway at the end of this article.
The clothing you need for hiking
To give you some ideas, here's my pick from the Blacks range of some things that I'd love to have in my wardrobe for walking and hiking. Cosy down jackets are great for everyday walking, whether it's a walk in the country or a walk to work, while fleeces and t-shirts made of the latest technical fabrics will keep you at just the right temperature while wicking away moisture. For hiking, I recommend trousers made of quick-dry fabric, especially those where the leg zips off to make shorts or capris.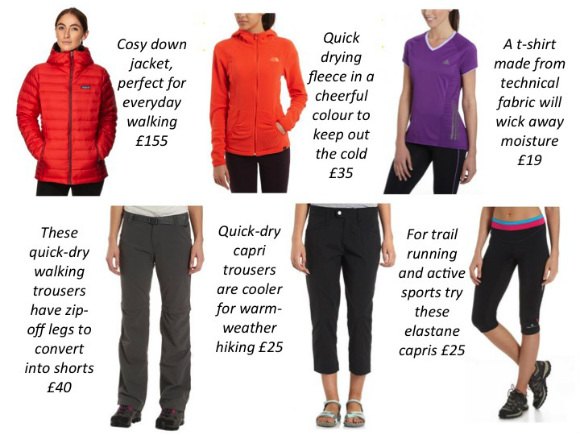 The links for the items featured here are for your convenience but since many items are in the sale these may soon be replaced by other new season items: Patagonia woman's down hooded jacket in red £155 (sale) | The North Face Masonic Polartex Fleece Hoody in orange£35 (sale) | Adidas superNova Tee in purple £19 | Berghaus lowscale zip-off walking trousers in grey £40 (sale) |Royal Robbins discovery Capri trousers in black £25 (sale) | Ronhill Aspiration contour capris £34
The boots you need for hiking
For footwear there's no substitute for a comfortable pair of walking boots with proper support for those long-distance trails such as the Tour de Mont Blanc, but if you are doing some warm weather hiking as I did in Mallorca last September you may prefer one of the hybrid walking shoes that are cut lower on the ankle and are cooler to wear. For active trail running or more sporty use you might consider some of the trail shoes that have well supported soles with lightweight upper. On all types of walking boot or shoe, look out for those that have breatheable but waterproof uppers such as those made of Gore-tex. Read my tips on how to choose the perfect pair of walking boots.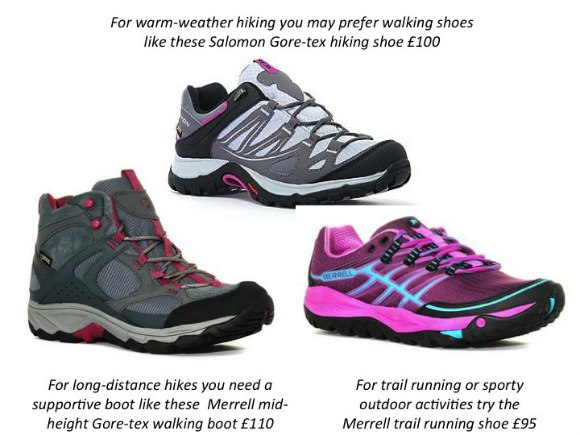 Walking boots and shoes are not something I would recommend buying online unless you have first tried them in-store, since you may need to try on many different brands and styles to find the most comfortable for your feet but you will find these styles or similar in the Blacks stores: Merrell Daria mid GORE-TEX Boot £110 | Salomon Ellipse Gre-tex hiking shoe £100 | Merrell All-out Rush Trail Running Shoe
Of course the choice on how to spend your £200 Black's voucher is yours, but I hope that you'll be inspired to do some walking and hiking in 2015 on your travels. All the styles featured are available on the Blacks website at the time of publication although many are in the sale and other new season items will be available soon. Now to give you a bit of inspiration to get hiking in 2015, here are some ideas from the treks that I've done in the past few years;
The Tour de Mont Blanc
This circular trail around the Mont Blanc Massif takes you through France, Switzerland and Italy over 170km and is normally completed over 12 days. Be prepared for arduous ascents and descents of up to 2600M, long 8 hour days walking and staying in mountain refuges that can be quite basic. You will be rewarded, however with stunning Alpine views and an amazing sense of achievement. This is an arduous trek but one which can be broken up into more manageable chucks – I walked it with a friend in stages over 4 years, or you can look for a company like Macs Adventure that offer a cut down version. Read about my walk on the Tour de Mont Blanc here.
The Dry Stone route in Mallorca
Although better known as a beach holiday destination, the island of Mallorca has some outstanding walking and I was there in September walking the Dry Stone Route along the western coast of the island. From the artist's village at Deia we walked within sight of the sea and at the coastal resort of Soller started our climb into the Tramuntana mountains, following the old pilgrim's trail to the monastery of Lluc and on to Pollenca on the northern coast. Combined with some time in Palma this is an ideal trail for those who are looking for moderate walking with some cultural interest. Read about my walk on the dry stone route in Mallorca here.
Walking the Pembrokeshire coastal path in Wales
Last spring I walked a section of the Pembrokeshire Coastal path in Wales with Macs Adventure ending up at St David's, the UK's smallest city. This part of the Welsh coast is rugged and wild with stunning clifftop views and hidden coves that you can only reach from the coastal path. If you can plan your visit from May to July I'd recommend the walks on Skomer Island during the Puffin nesting season when you can get very close to these colourful sea-birds as they hatch their chicks in burrows. Read about my walk on the Pembrokeshire coastal path here.
Walking and climbing in the Dolomites
Last September, I visited South Tyrol in Italy and was thrilled to climb my first Via Ferrata. These climbing routes (literally iron routes) have fixed cables that you are clipped to making it easy for anyone with the right equipment to climb them, although if you are a beginner I'd recommend hiring a guide. This part of the Dolomites is ideal for walking and hiking with many day hikes and long-distance trails and you'll be pleased to know that this northern corner of Italy is also known for its gastronomy with no less than 19 Michelin star restaurants and numerous vineyards where you can taste the local wines! Read about climbing my First Via Ferrata here.
Blacks recently featured a Q & A with me on their blog about how I started blogging and some of my favourite travel and hiking destinations. Read the interview here.
How to Enter the Giveaway
To enter the Giveaway for a £200 Blacks voucher please use the Rafflecopter widget below;
Enter by taking a look at the Blacks website and then leave a comment below this post to tell me which items you would choose from their range to use when hiking or walking.
You can gain additional chances to win via the Rafflecopter Widget;
Terms and Conditions
This giveaway is a prize draw/sweepstake
The prize is a £200 voucher that may be used to purchase goods such as outdoor clothing and equipment from the Blacks online store.
The giveaway is open to all readers in any location
The winner will be chosen at random
The giveaway runs for 2 weeks and ends on Monday 9th February 2015 at midnight
The winner will be notified by e-mail within 7 days of the draw ending and must confirm their acceptance of the prize by e-mail within 3 days or the prize will be allocated to another winner.
The giveaway is restricted to one entry per individual.
Any duplicate or automated entries will disqualify the entrant from this giveaway.
Entering this giveaway gives permission for you to be added to the e-mail list of Heatheronhertravels.com and Blacks.co.uk but we will never spam you and you can unsubscribe at any time.
You'll also find our sister blog with tips on how to build a successful travel blog at My Blogging Journey
Some great competition websites:
UK Wins
Win Free Stuff
Offer Oasis