As a travel blogger I'm lucky to live close to Bristol Airport, my gateway to countless interesting destinations in Europe and around the world. Flying from my local airport means I can stretch my precious holiday time with long weekends away, knowing that I can fly back into Bristol airport and half an hour later be walking through my own front door.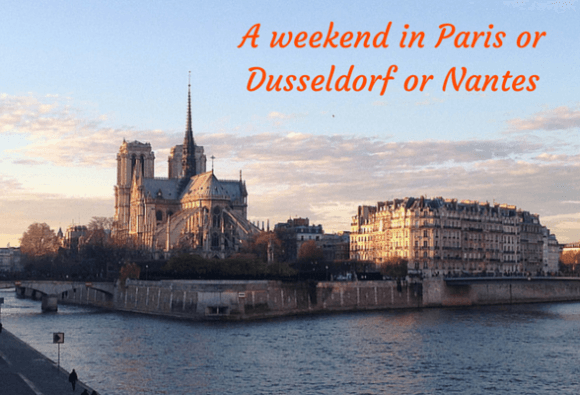 Paris like a local
Paris is a city that's on so many peoples' wish list, but even if you've done the Louvre and the Eiffel tower I highly recommend going back again to discover some alternative things to do in Paris that are a world away from the tourist sights. Here are some ideas from my last trip;
Marche d'Aligre – Last time I was in Paris for a pre-Christmas break we tried to go for a more local experience, taking a walking tour through Marche d'Aligre in the 12th arrondissement. You actually get three market in one; a fruit and vegetable market, an indoor market selling meat, cheeses and deli produce and a flea market where you can buy anything from vintage shoes to delicate antique wine glasses.
Dining with locals – We also tried out a dining with locals experience and had a very entertaining evening with Adelia who cooked us a delicious French Creole meal and regailed us with stories of her family in Guadaloupe. Read about it here.
Stroll along Canal St Martin – I can recommend a stroll along Canal St Martin, lined with houseboats and a walk along the Promenade Plantee, a garden above the street that is Paris's answer to New York's Highline.
Maison Victor Hugo – we loved our walk around the trendy Marais which ended at the elegant Place des Vosges and a visit to Maison Victor Hugo where the famous writer of The hunchback of Notre Dame and Les Miserables lived in his later years. Read about it here.
Fly with BMI Regional to Paris
Fly from Bristol to Paris six days a week, twice a day on Monday to Friday and once a day on Sunday. For more information read the BMI Regional destination guide to Paris and check out the Paris Tourism website.
Düsseldorf on the banks of the Rhine
Düsseldorf in Germany is a modern, cosmopolitan city set on the River Rhine and has plenty to offer for a weekend break. Here are some of the things that you might enjoy for a weekend break in Düsseldorf;
Take a walk – along the Rhine embankment promenade that connects the traditional Altstadt or Old Town with the Medienhafen which showcases high tech modern buildings by leading architects. With many bars and cafés lining the route, you can stop for a coffee to relax and watch the comings and goings on the river.
Take the boat tour – during the summer you can take a boat ride along the river Rhine, taking in the city sites with English commentary, costing €10 per person.
Drink in the atmosphere of the Alstadt – the Old Town is one of the best places to try Düsseldorf's world famous beer at one of the local breweries, but if beer's not your thing, there are plenty of places to eat, from homely pubs to world-class dining.
Artistic adventures – Alstadt is also where most of the cultural venues are found, including the Museum Kunstpalast housing contemporary art and glass collections and the NRW-Forum with a fusion of popular art, culture and design.
Fly with BMI Regional to Dusseldorf
Fly from Bristol to Düsseldorf six times a week, with one flight a day, Sunday to Friday. For more information read the BMI Regional destination guide to Düsseldorf and check out the Düsseldorf Tourism website.
Nantes – gateway to the Loire
Nantes is located on the west coast of France on the Loire River and while many pass through to visit the rest of the Loire region, it worth a weekend visit. Here are some things to do on your weekend break in Nantes;
Château des Ducs de Bretagne – with all the turrets and courtyards you'd wish for, this was the residence of the Dukes of Brittany during the 13th to 16th centuries and includes the Nantes History Museum which traces the history of the city – Website here
Ride the Great Elephant – this enormous mechanised elephant will take you for a walk and is part of Les Machines de l'Isle artistic project to create a fantasty world of mechanical objects set in a large open space on the banks of the Loire. Website here
Visit the Jardin des Plantes – established in the 18th century as a home for the exotic plants being brought by ship to Nantes from all over the world, this botanic garden is especially known for the collections of magnolias and camelias and the 100 year old heated greenhouses. Website here.
Take the hop-on-hop-off bus tour – from Easter to September, the bus stops at 12 locations; including the Cathedral, Botanical Garden and 50 Otages with commentary in English.
Fly with BMI Regional to Nantes
The Bristol-Nantes flight runs through the summer from 4 July to 12 September, twice a week on Saturday and Tuesday, making it ideal for a long weekend hop across the channel. For more information read the BMI Regional destination guide to Nantes and check out the Nantes Tourism website.
If you live close to Bristol Airport, it's also worth checking out the BMI Regional flights to Aberdeen, Frankfurt, Hamburg, Munich and Milan. I'm looking forward to flying with BMI Regional to Munich in August for a walking holiday in the Austrian Tyrol. To book flights, visit the BMI Regional Website.
Pin It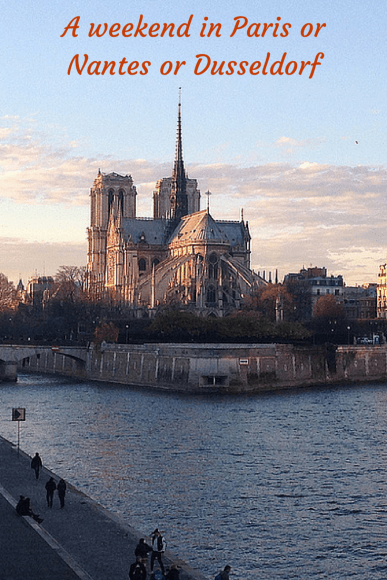 Photo Credits: All Paris photos by Heatheronhertravels.com, Düsseldorf Medienhafen by Wojtek Gurak, Great elephant in Nantes by Mister_Jack, Chateau des Duces de Bretagne by Jean-Pierre Dalbera
This article is brought to you in partnership with BMI Regional who have provided me with flights for some of my travels.
This article is originally published at Heatheronhertravels.com – Read the original article here
You'll also find our sister blog with tips on how to build a successful travel blog at My Blogging Journey
May 6, 2015 by Heather Cowper
Filed under Art and design, Beaches and swimming, Costa Brava, Eating and drinking, Europe, featured, Gardens, Leisure, Sightseeing, Spain
Lloret de Mar on the Spanish Costa Brava is a holiday resort that holds a certain memory for many UK travellers. "That's where I went for my first holiday abroad!" exclaimed my mother, now in her 70s, who visited on a coach tour in the early 1960s when she was a young nurse and Lloret was a pretty fishing village. In more recent years Lloret has gained a reputation as the place for a cheap holiday in the sun and while my son and his girlfriend had both been there on sports tours, neither of them seemed to spend any time playing sport! It seemed that everyone knew of Lloret de Mar, but perhaps for all the wrong reasons.
Towns like Lloret de Mar and Tossa de Mar expanded quickly in the tourist boom of the 1960s when many of the elegant mansions that lined the sea front were demolished to make way for multi-storey apartment blocks. This was a town that in the 19th century prospered from the wealth of those who left to seek their fortune in Cuba and returned as Los Americanos – the ones who had made it big in the Americas.
The Museu del Mar
Curious to discover more about the old Lloret de Mar, I visited the Museu del Mar on the seafront, one of the few remaining old houses on the seafront that was built by one such Americanos who had made his fortune in Cuba, which now tells the story of Lloret de Mar. The rooms of the museum were beautifully decorated with painted panels in green, red and yellow and coloured floor tiles from Valencia laid in intricate patterns.
Our guide Joaquim showed us around the museum and explained how the 'Cabotage' trade up and down the Spanish coast had expanded after 1778 when direct trade across the Atlantic was allowed from Lloret de Mar. The beaches that are now enjoyed by sunbathers and families were used at that time as shipyards to build the ships that would cross the Atlantic to bring back rum, sugar, coffee and tobacco.
In the 19th century many people from Lloret emigrated to the Spanish colony of Cuba, often at the age of only 13 or 14, to join relatives who would give them their first job. They set up small bodegas or import export businesses and those that made their fortune would return to Lloret de Mar to build fine houses in the town and marry local girls. The term Americano or Indiano was given to a rich man who had made his money abroad, but if any returned without making money it was joked that they had 'lost their suitcase in the straits of Gibraltar'.
The Daiquiri Cocktail – the drink of Lloret de Mar
Another tradition that originates with the Cuban connection is the Daiquiri cocktail which is now considered the cocktail of Lloret de Mar. The drink was invented by Constanti Ribalaigua who emigrated to Cuba from Lloret in 1914 and opened the Floredita bar in Havana. The bar became the fashionable place to drink, with the stars of the day such as Gary Cooper, Ava Gardner and Ernest Hemingway coming to drink their daiquiri. When you're in Lloret you can pick up a tapas and daquiri guide to all the bars in town where the cocktail is served or view it online here and I enjoyed my daiquiri cocktail at a special demonstration by Lloret's most famous cocktail maker, Manuel Casademont of Bar Hula Hula.
Around the historic centre of Lloret de Mar
My exploration of the old Lloret de Mar continued as I wandered along the sandy promenade of Passeig Jacint Verdaguer that was being used for a petanque tournament, reaching the neo-classical town hall. In the square set behind the promenade was the 16th century parish church of Sant Roma, its fortress-like stone tower in contrast to the colourful modernist style of the side chapel beside it, built in 1916 with decorative turrets and domes.
Continuing my walk along the promenade I climbed up to Dona Marinera or Seafarer's wife sculpture, which represents all those women who looked out to sea for their menfolk, the fishermen or those who had gone overseas to make their fortune. If you are at one of the summer festivals in Costa Brava you may catch a performance of the Havaneros, the mechancolic songs named after the capital of Cuba and sung by those who were missing their loved ones across the ocean.
From this viewpoint I could look across the bay towards the small d'en Plaja castle built in 1935 as a neo-gothic folly and now one of the most photographed landmarks of the town. Turning away from the apartment blocks of the main beach I skirted the headland to discover a rocky coastline with turquoise water, much more the 'wild' Costa Brava coastline I'd been hoping for.
The Santa Clotilde Gardens
I had planned to continue along some cliff path but here the path ran out, so I used the map on my phone to guide me for a 20 minute walk through residential areas, until I reached the gardens of Santa Clotilde. This was truly a different side of Lloret de Mar, a tranquil green haven with terraces and sea vistas,  interspersed with statues, pools and fountains. The gardens were commissioned in 1919 by the Marquis de Roviralta, named after his wife Clotilde, and his family still use the house overlooking the sea as a holiday home although the gardens are now maintained by the town council.
The garden was made in the Italian renaissance style with formal hedges and shrubs, punctuated by the tall columns of cyprus reaching for the sky. All the steps were fringed with ivy and beautiful sculptures graced the steps and terraces, with bronze mermaid statues created by sculptress Maria Ilimona Benet. From the top of the garden we walked through the pergola dripping with wisteria and down the pathways until we were overlooking the beach below, which can be accessed from a path near the entrance to the garden.
I noticed that there are other gardens in the area such as the Pinya de Rosa Botanical Gardens and the Marimurta botanical gardens which can be reached on a garden route of bus, tourist train and the boat that runs between Blanes and Lloret de Mar. Take the bus from outside the Lloret town hall and buy a combination ticket that covers both the transport and the garden entrance. The Lloret card which you can buy in town also allows free entrance to the Santa Clotilde Gardens as well as several other museums including the Museu del Mar.
On my walk through Lloret I felt I'd discovered a different side to the town, the connections with Cuba that have shaped the town and the beautiful wild coastline. Personally I'd avoid the bright lights of the nightclubs and take the time to explore beyond the obvious, and of course drink a daiquiri or two to remember the 'Americanos' who brought their fortunes back to Lloret.
Where to stay in Lloret de Mar
While in Loret de Mar I stayed at the Evenia Olympic Palace Hotel where the TBEX travel blogger's conference was being held. The hotel is part of a large resort complex comprising 4 hotel buildings with large pool areas and had excellent conference facilities. Although I typically prefer smaller boutique hotels, I was pleasantly surprised by my spacious and well furnished room with a modern bathroom and seating area.
The hotel is set in a residential area, around 20 minutes walk from the seafront and the food we ate as part of the conference was excellent. The other guests were mainly French families, and I would recommend this hotel for families looking for a good value sunshine break in Lloret de Mar. The rate for rooms in May and June starts from around £60 per night.
For boutique luxury – Hotel Sant Pere del Bosc
I also visited the gorgeous Hotel Sant Pere del Bosc which is set in the hills above Lloret de Mar for drinks and dinner as part of the conference, although I did not stay there. The hotel was originally a monastery but was bought in the early 1900s by Nicolau Font, a wealthy local businessman who had made his fortune in Cuba. When he returned to settle in Lloret de Mar, he added the chapel, tower and the house which was opened as a restaurant and boutique hotel in 2000.
We were treated to the amazing specialities of the hotel including smoky grilled mussels and creamy potato soup topped with smoked caviar, which were created on a special 'gastro-grill' that we were shown in the hotel kitchens. Each of the individually designed hotel rooms is themed after a notable woman and I especially liked the Diane Fossey room which had antique leather furnishings with an 'out of Africa feel' together with an amazing sink shaped from a piece of polished wood. The hotel is set above the town in an area of protected woodland so you'll either need a car to get up the gravel road or take a taxi and then stay put for a few days enjoying the peace and natural beauty. This is just the kind of hotel I'd love to relax with my husband for a romantic getaway.
Visitor Information for Lloret de Mar and the region
For more information on things to see in and around Lloret de Mar, visit the Lloret de Mar website  | Twitter | Facebook | Instagram
For information on the Costa Brava coastal region around Lloret de Mar visit the Costa Brava website | Twitter | Facebook | Instagram
For information on the wider Catalunya region including the Pyrenees visit the Catalunya website | Twitter | Facebook | Instagram
This article is originally published at Heatheronhertravels.com – Read the original article here
I visited Lloret de Mar as part of the TBEX blogger conference and some of the experiences described were provided by the tourism board as part of the conference.
You'll also find our sister blog with tips on how to build a successful travel blog at My Blogging Journey
March 21, 2015 by Heather Cowper
Filed under Austria, Copenhagen, Denmark, Eating and drinking, Europe, featured, Germany, Gothenburg, Greece, Leisure, Salzburg, Sweden, Zakynthos
Are you a coffee lover like me? It's the aroma of freshly ground coffee beans that hits your nose first and then you take a sip of hot, sweet coffee. Ahhh, the day starts to feel better already. But perhaps for you it's a tiny cup of strong, black expresso, ending the meal perfectly like a full stop at the end of a sentence. Or a frothy cappuccino to eat with a sweet pastry for breakfast like they do in Spain.
However you like it, a great cup of coffee is full of ritual as you watch a skilled barista operate those shiny machines that woosh and hiss, or the buzzy atmosphere of your favourite coffee shop where you meet your friends for a late morning weekend brunch or an afternoon coffee and cake.
Now I'm dreaming about all the coffees I've enjoyed on my travels, each coffee experience giving me a doorway into the culture of the place I visited. For more coffee inspiration, take a look at this Coffee infographic that will take you around the world in 31 coffees, but in the meantime let me share with you some of my favourite coffees around the world.
1. Copenhagen – the best coffee in the world?
If ever there was a place where they know how to elevate coffee to an art form it is Copenhagen and Coffee Collective sits among the best of the best.
I visited their original coffee shop in Nørrebro a few years ago, a tiny place with just a few wooden tables outside and a stool inside to perch while your coffee is being expertly made. Their coffee beans are sold all around Copenhagen and they operate on a Direct Trade model, working with farmers in Brazil, Guatamala, Kenya and Panama to pay the best prices for the best quality coffee. If you visit this place you'll probably be buying your coffee to take away (perhaps picking up a pastry from the Claus Meyer bakery across the road) but if you want to sit and enjoy your coffee in a foodie atmosphere, head for their stand in the Torvehallerne food market halls.
Torvehallerne is one of my favourite places in Copenhagen, where you can get a fabulous but reasonably priced lunch or sip your coffee with a cake just like your Danish grandmother might have baked. The third branch of Coffee Collective is in Frederiksberg, where the beans are roasted and they do monthly tours and coffee tastings where you can learn how to make a perfect coffee. Definitely a place of pilgrimage for the coffee connoisseur.
Read More: Eat the Neighbourhood in Norrebro, Copenhagen
2. Coffee time is Fika time in Sweden
If you've visited Sweden I'm sure you'll have come across the tradition of 'fika', or having a coffee break with friends. This is the occasion to settle down in a cosy cafe where the counters are laden with buns and pastries to relax over a good cup of coffee and a chat. When I visited Gothenburg I discovered that the picturesque old neighbourhood of Haga was the perfect fika spot, since its cobbled streets are lined with cafes, restaurants and artizan shops.
Cafe Husaren on the corner of the main street of Hada Nygatan is reputed to be the original source of the enormous cinamon buns which are a speciality of Gothenburg, although we squeezed into the pretty, traditional Cafe Kringlan with the gold bagel hanging outside. The local's choice for fika in Gothenburg seems to be Da Matteo and they have several shops including the largest in Magasingaten where they bake the bread and pastries on the premises, so you get the aroma of freshly baked bread thrown in with your coffee.
Read More: Favourite coffee spots in Gothenburg for your coffee fix
3. Salzburg – for coffee and cakes
Perhaps you've gathered by now that I have something of a sweet tooth, so heaven for me is a great cup of coffee served in the afternoon with a slice of the local cake. Of course Austria makes a speciality of this Kaffee und Kuchen ritual and where better than Salzburg, the glorious homeland of Mozart and the Sound of Music to enjoy it?
When it comes to cake to accompany your afternoon coffee, you'll likely be wavering between the Apfelstrudel (soft bites of apple wrapped in crisp layers of pastry) and the Sacher Torte (rich, dense chocolate cake laced with apricot jam). The traditional choice would probably be to head for Hotel Sacher which overlooks the river but we enjoyed our kaffee und kuchen on the rooftop terrace of the Hotel Stein with a fabulous view of the fortress, which is highly recommended in good weather. 
Read more: Bratwurst and Sacher Torte – or what we ate in Salzburg
4. A chilled frappe on the beach in Greece
Coffee can be a cool drink in more ways than one, as I discovered on my annual trips to Greece to visit my sister who lives on the Greek Island of Zakynthos. Traditionally the Greeks drink their coffee like the Turks, strong and sweet in a tiny cup together with those ultra-sweet pastries that drip with syrup. This is what you'd serve to friends who come visiting in the afternoon.
But the trendy thing to drink in summer is a chilled Frappé – where an expresso is poured over ice with creamy milk to make a coffee that's sipped through a straw from a long glass. When you're lying on your sunbed or sitting in a trendy Greek beach bar, be sure to order a "Freddo" coffee, which comes in different Italian styles such as a Freddo cappuccino, Freddo Expresso or a Freddoccino (iced mocha coffee with chocolate). 
Read More: Sunday morning Greek coffee and Glika in Zakynthos
5. Ruddesheimer coffee in Germany – coffee with a creamy kick
If you fancy your coffee with something a little stronger, we found the perfect alternative coffee on our Rhine River Cruise stop at the pretty town of Rudesheim. Wandering down the cobbled street of the Drosselgasse with its wine shops and taverns we stopped at Rudesheimer Schloss to try the local speciality of Rudesheimer coffee.
This coffee spiked with brandy is the German equivalent of Irish Coffee and started in the 1920s when the Alspach brandy company invented a brandy chocolate so that ladies could enjoy a secret tipple, at a time when it was considered unseemly for women to drink in public. One good thing lead to another and in the 1950s the Rudesheimer coffee was born, a warming mixture of sweet coffee with a good helping of Asbach brandy, topped with sweet, whipped vanilla cream and sprinkled with grated chocolate. These days the Rudesheimer coffee is served in all the local coffee shops and you can bring back small bottles of the Alspach brandy if you want to try it at home.
Read More: How to make a Rudesheimer coffee – video
6. A hot chocolate alternative to coffee in Gothenburg
If you're not a coffee drinker, you'll be pleased to know that in Gothenburg we found an excellent alternative at Cafe Kanold that specialises in velvety hot chocolate. Staying cosy from the chilly wind and weather, we sat on the cushioned banquette with pretty floral cushions and enjoyed a warming hot chocolate – served with chili flakes on top for an extra kick.
While there is also a counter of hand-made Kanold chocolates in the cafe, you'll want to visit the main Kanold chocolate shop close by on Södra Larmgatan at the end of Viktoriapassagen. It's a cross between an old fashioned candy store and a boutique chocolatier where you can buy the Kanold speciality, a soft chocolate truffle centre topped with sea salt, which has now become known as the "Gothenburg Truffle". Of course if you insist of coffee at Cafe Kanold, I'm sure they serve that too!
Read More: Chocolate with sea salt – a taste of West Sweden
Check out this Coffee Infographic
If you want to fuel your coffee fascination even more, take a look at this Coffee infographic from  Cheapflights that will take you around the world in 31 coffees. Here are a few cool coffee facts that I discovered;
In Italy you only drink milky coffee in the morning and NEVER after a meal – the cappuccino in the afternoon is only for tourists!
Breakfast in Spain normally consists of a cup of coffee with a sweet pastry or churros
In Senegal coffee is served with cloves and guinea pepper
In 2001 Brazil issued a coffee scented postage stamp
Seatle has 10 times more coffee store per head than the rest of the USA
Now, please excuse me as I'm off to find the perfect coffee to have with my weekend brunch in Bristol
Pin It
This article is originally published at Heatheronhertravels.com – Read the original article here
This article is written in association with Cheapflights
You'll also find our sister blog with tips on how to build a successful travel blog at My Blogging Journey