"It's a bit like Bristol really, you're either clinging on by your fingertips or looking out to a bright future!" Well, perhaps Banky's Bristol mural, The Well Hung Lover, is a metaphor for life in the city, as suggested by our street art guide Tina Altwegg of Where the Wall street art tours. Apparently Bristolians approach them all the time during their tours, and this was just one interpretation of the Banksy piece, given to them by a passer by on a previous tour. Our street art tour started and ended with a Banksy, but as we discovered there's a lot more to the Bristol street art scene than the city's most famous and mysteriously anonymous street artist.
As we walked down the steps to view the Banksy mural from below, Tina fed us annecdotes about the art and artists we were passing. This Banksy was created at a time when Bristol City Council was whitewashing street art as fast as it could be created, but since it was painted in a very visible but inaccessible position, on the side of a building owned by a friend of Banksy, no-one could touch it. That didn't stop it being targetted by taggers launching blue paintball splodges which have only partially been removed. Perhaps the theme of betrayal was inpired by the bust-up Banksy had with his manager, or perhaps it's a reference to the sexual health clinic that once occupied this building.
A little further we came across one of my favourite pieces of the tour by JPS – two cute children doing The Big Deal. The artist from Weston Super Mare uses stencils in a way that is reminiscent and even inspired by Banksy. The Queens Shilling, an LGBT nightclub it's next to, liked it so much that they asked him to create another piece just around the corner.
This Spartacus mural by JPS is a tribute to the actor Andy Whitfield who was in the TV series but died of cancer. Apparently it's a favourite photo spot for hen parties – can't think why!
We moved across the centre to the Radisson Hotel Blu Hotel, not the most obvious location for street art – but here was a piece by Cheo that recreates the local Aardman characters of Wallace and Gromit as cool dudes from the hood. The first mural was created when the Shaun the sheep statues were scattered around Bristol but it became such a talking point that the hotel asked Cheo back to create its partner.
In Corn Street Tina pointed out the The Hatter Cafe who had commissioned a piece by Nick Walker using his familiar character in a bowler hat which we spotted again later along Nelson Street. There are an increasing number of businesses around Bristol that tap into the talent of Bristol street artists – you can stay in a room at the Mercure Holland House inspired by Bristol Street art or sip your cocktail on the Urban Roof Terrace of the Marriott City Hotel.
Turning off Corn Street through Leonard's Lane was a revelation, with the murals visible at the entrance of this dark passage only hinting at the menagerie of creatures and stencil, mosaic and 3D pieces to be found by those venturing down the alley. Take a look at my photo album for a taste of some of them.
We emerged blinking into the daylight from the passage, at the old old city walls with the spire of St John in the wall above us and the unicorns and lions from the city's coat of arms decorating the old stone archway – for unicorn chasers there's also one inside the church.
Now we were on Nelson Street, one of the key street art areas of Bristol. Most of the uninspiring concrete buildings were painted with huge murals as part of the See No Evil Street Art Festival in 2011 and 2012. Look up to find the Madonna-like piece by El Mac based on his girlfriend and baby, using a shading technique created by chilling down the aerosol paints in a bucket of ice. Next to it Nick Walker's bowler hatted man is painting the town red. A little further up the road, the wolf by Aryz and stick figure by the artist of the same name Stik brighted up the most unremarkable towerblocks. Nelson Street is now under development with a large building site, so some of the smaller pieces from the festival have been lost, but it's still well worth visiting for the larger murals that remain. The festival was a predecessor of the Upfest festival that now takes place in South Bristol, hosting 300 street artists and 30,000 visitors last July.
As Tina tells us the story behind each piece, I sense a theme emerging. Some of the artists like Stik and JPS had been depressed or homeless and found a way forward through street-art. Others have been honing their artistic talent in Bristol for many years, since John Nation, now a tour guide for Where the Wall, started a street art project at the Barton Hill Youth Club. Artists like Nick Walker and Cheo started painting there before Banksy and, as Rob Dean, the founder of Where the Wall explained, if they have now found success, it's not before time.
"The artists are now getting recognition for what they are doing rather than lurking in the shadows, which is fantastic – the people who have been doing it for 20 years need to become household names. It's not so much commercialism as the recognition that they deserve for the hours they have put in."
The Street Art tours are becoming increasingly popular with school groups, both in Bristol and from abroad and Tina runs the tours in French and German when required. Sometimes the tour is combined with a creative spray session at the end, so that the kids can give it a try for themselves. Art teachers find that it's a great way of getting teenagers excited by the medium – perhaps inspiring the next generation of street artists.
We move on towards Broadmead past the old police station, now a youth centre and gallery with all sorts of artistic stuff going on. As Tina  points out, there's an irony in the place where they took arrested  graffiti artists now being a hub of creativity. On the grimy stonework there's some 'Clean' or reverse graffiti by Moose, created with sturdy stencils and a jet wash.
Heading through the underpass of the Bearpit, we see panels where artists can create murals in an ever changing gallery. This is the starting point for Stokes Croft, the road leading from the city centre which is seemingly one long street-art gallery. Businesses along here regularly commission work from the top street artists, like the Man in the Moon piece by Cheba that we see on the wall of the Full Moon pub and backpacker's hostel. Tagging and spray-can graffiti is common, but the more respected artists or commissioned pieces stay free of it for a little longer.
We meander through the back alleys parallel to Stokes Croft, as Tina points out some of the more unusual pieces like a paste up piece at kerb level. It's literally a painting pasted to a wall so it might stay anything from 1 day to 6 months before it's torn off.  At the top of Stokes Croft is the Carriage Works, an old shell of a building where the panels between the arches are a popular canvas for street artists.
Bristol is so well known for street art that many of the top international artists come here to create a piece over a weekend, to make sure they have Bristol on their creative CV. However, even the best pieces may only last a few days before they are painted over by someone else –  only remembered on Facebook or Instagram.
Now our tour is nearly at an end as we meet up with Where the Wall founder, Rob Dean who tells us of his plans for the future. The company has recently started a Banksy tour which is proving a hit, even though there are only a few pieces by the artist remaining throughout Bristol. It complements the main street art tour we've just done and is an opportunity to give visitors a bit more context about the history of the city. Rob tells us, "I see the street art tours as a great way to go straight into the middle of the creative contemporary culture of Bristol, without having to spend days finding it, or missing it completely."
The tour company also tries to help local street artists get more benefit from their work, by ensuring it is correctly attributed and that their intellectual property rights are not trampled upon. Last year Where the Wall worked with a calendar company on a project that saw a number of local artists being paid to create murals in the Cabots Circus Shopping Centre, which were then photographed for a Bristol street art calendar.
We discover that our guide Tina Altwegg is also an illustrator and artist, as she shows us her Dancing Polar Bear mural in the underground cycle park of Hamilton House, where she has her artist's studio. She tells us how she wanted to imagine the polar bears dancing and having fun as a counterpoint to all the depressing news about climate change.
After a coffee in The Canteen, we check out a couple more pieces on the walls of the neighbouring buildings. The break-dancing Jesus is an iconic mural that's become well known in Bristol and was created by artist Cosmo Sarson following a competition to decide who would paint this very visible space on Stokes Croft. It was inspired by a news story the artist had seen about Pope John Paul II inviting a group of Polish break dancers to perform for him in the Vatican.
On the opposite wall we finish as we started with a Banksy, one of his earliest surviving pieces in Bristol – The Mild Mild West. This one was created in 1999 before the artist moved into a more detailed style using stencils and stopped signing his work. Because it's a simple black and white piece, painted by hand, it's been easy to touch up every time someone tries to tag it or send a few paintballs in its direction. Since the mural was painted there have been protests and riots in this part of Bristol so it seems to always have a relevancy in the theme. We Bristolians may be cuddly and easy going but there's an undercurrent of anti-establishment feeling here too.
Take the Where the Wall tour and as Rob says, even if you're here for just a day, you'll get straight to the heart of contemporary culture in Bristol and enjoy some great street art from Banksy and many, many more.
Where the Wall Street Art Tours cost £9.20 and there are 3 tours – The Bristol Street Art Tours, The Banksy and Harbourside walking tour and the Bedminster Street Art Tour.

Website – Wherethewall.com Twitter – @Wherethewall | Facebook | Instagram | YouTube
Thanks to Where the Wall for providing me with a free tour as part of a Bristol Bloggers and Influencers Event.
More Art in Bristol
Inspired by Bristol Artists at the Affordable Art Fair
Stokes Croft – a hidden gem of Street-Art Cool in Bristol
Is Bristol the Street-art capital of the World?
What the other bloggers said
Travel to Recovery – Bristol Street Art Tour
New Mum Online – The Street Art Where the Wall Tour and Colour that Inspired Aeron
Natacha the Franglais – And if we talked about Street Art
Looking for somewhere to stay in Bristol?
Here are some of the Hotels in Bristol that we recommend, which are close to the neighbourhoods that have street-art.
Budget Accommodation in Bristol: YHA
In the harbourside area, the YHA is in an old waterfront grain warehouse with 133 beds in a range of dorm and private rooms, some of which are en suite.
Boutique Guest House in Bristol: Brooks Guest House
Tucked away in a courtyard in the heart of the old city, with 23 stylish and compact bedrooms and retro rocket caravans on the roof which you can stay in.
Luxury Hotel in Bristol: Hotel du Vin
Set in an 18th century sugar warehouse with exposed brickwork and 40 loft style bedrooms, leather sofas in the sugar bar and a French Bistro style restaurant.
Pin It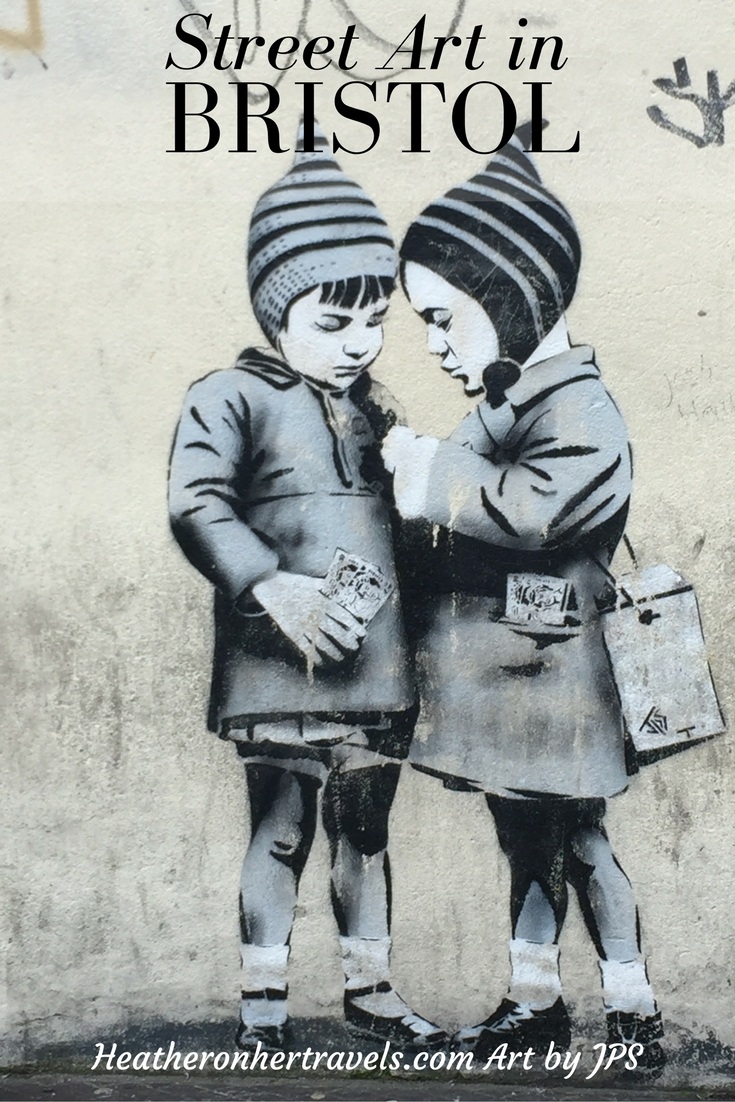 This article is originally published at Heatheronhertravels.com – Read the original article here
You'll also find our sister blog with tips on how to build a successful travel blog at My Blogging Journey
Our first day of hiking in the Dolomites had been relatively easy, as we scaled the gentler slopes of the Rosengarten range in South Tyrol.  But Day 2 proved a lot more challenging, as we scrambled over the Coronelle pass and slithered down the treacherous scree slopes on the other side. Pushing on through a surreal lunar landscape, we finally arrived at our next mountain hut and enjoyed a well earned beer on the terrace, as the evening sun turned the mountains pink. Read about our first day's hike – Hiking in the Dolomites – a tour of the Rosengarten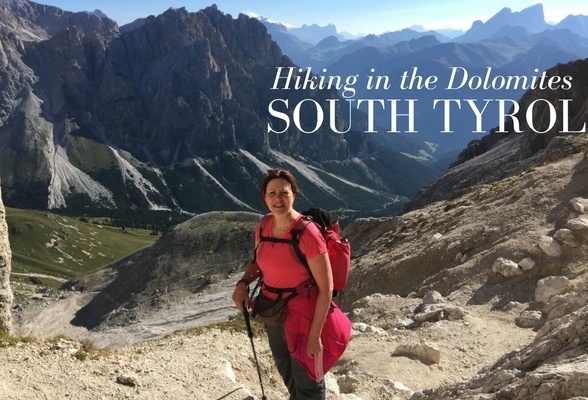 Our day begins at KolnerHütte
Our first night at KolnerHütte had been convivial, with a hearty supper in the cozy dining room, surrounded by Tyrolean decoration and red checked tablecloths. A plate of pasta followed by gammon and potatoes, then tirimasu was washed down with beer, before we retired early to our bunks in the 8 bedroom dorm. I can't say it was the best night's sleep ever – not being accustomed to sleeping so close to 6 middle aged Belgian men, who heartily wished each other good night, like a chorus from The Waltons.
Yet here we were in the early morning with our rucksacks packed and poles at the ready. From the terrace of the Rifugio, I watched the grey silhouettes of mountain ranges, layer upon layer, with the pink glow of sunrise at their back. The air was cold as the sun gradually lit up the valleys below, a dense blanket of forest parting to reveal patches of lighter green with a sprinkling of houses.
We climb over the Coronnelle Pass
I have to admit that I was nervous about the next section of the route. In order to avoid a two hour detour around the Rosengarten range, we had chosen the shorter but steeper route over the Coronnelle Pass. Immediately above the hut was a 20 metre section where we had to climb hand over foot, using the metal cables and footholds fixed in the rock. It reminded me of my very first Via Ferrata on a previous visit to South Tyrol, only this time we had no helmet, no harness and no karabiners to secure us against a missed footing or a tumble down the mountain.
After the initial section the path got marginally more secure, winding upwards through a rocky landscape, but I could see no way over the massif. Ahead appeared to be only a vertical rock face, which I prayed we wouldn't need to climb. A turn in the path revealed a break through to the top, the way secured by wooden logs and more metal cables and toe holds. An hour of climbing and we suddenly emerged at the top of the pass with a whole vista of valleys and peaks spread in a panorama before us.
Resting a while on the seat, we had an eagle's eye view of our next stopping point at Rifugio Vaiolet. Although it looked almost close enough to touch, it was another hour and a half of narrow paths and slippery shale before we reached the Rifugio and installed ourslves on the sunny terrace for a cool lemon soda.
Into a rocky lunar landscape
From our viewpoint on the terrace, we could see what looked like a line of ants – people coming up from the valley where there must have been a point to be dropped off by bus or cable car. As we continued our hike above the refuge, the path broadened and we walked up through a craggy lunar landscape that was grey and barren with only the smallest patches of grass. The rocky peaks all around us had a pink hue which would turn even more rosy when lit by the setting sun. Their name of the Rosengarten comes from the rose garden owned according to legend, by King Laurin, king of the dwarfs who ruled over this kingdom of quartz.
Lunch at Grasleitenpasse
Now I was wondering again which direction we would follow, as all I could see was a narrow trail high up above us leading towards another pass on our right. On the rock above we saw a flag and  turned the path to see the refuge of Grasleitenpasse hanging on the side of the mountain below it. We gratefully shrugged off our rucksacks, to settle on the wooden benches for lunch, although the air was cool at this altitude as we sat in the shade of the mountain.
Despite the remote location, the food was excellent here and I ordered a hearty bowl of vegetable soup while my friend Julia enjoyed the cheesy polenta with ham and rocket salad. A helicopter circled overhead and then flew into the next valley, so that I wondered whether they had been sent to rescue someone. Some of the more remote refuges in the Dolomites can only be reached by walking or by helicopter for supplies and emergencies.
From the Rifugio, the path continued downhill into a bowl in the mountains filled with rock and not a leaf or blade of grass to be seen. The scree was very slippery and we had to go carefully to avoid dislodging rocks into the path of walkers coming up the slope. Down the side of the mountains were rivers of scree left by rockfalls and jagged peaks above the moraine where a glacier must have passed through many millions of years ago.
Arriving at Grasleitenhütte / Rifugio Bergamo
From the bowl in the mountains we came to an opening where we could just glimpse the green valley ahead of us. The path wound along the side of the mountain with a stream rushing between the grey rocks coloured by patches of sulphur yellow lichen. Before long we could spot our next refuge below us,  a large yellow building set at the head of the valley with a few cute goats grazing below it.
We received a friendly welcome as we arrived at Rifugio Bergamo, which in the last century had served as a base for gentleman mountaineers. The dining room was very atmospheric, with wooden panelling and old climbing photographs, and we had a cute room of our own (sheer luxury!) with wooden beds and check duvets. Before supper we sat on the terrace basking in the last of the evening sun, with a beer among the boxes of bright red geraniums, and a glimpse of the valley where we would be heading the next day.
In my next article I'll be writing about our walk to the next hut along a grassy plateau and our precipitous descent to the valley again for a welcome return to the lovely Hotel Cyprianerhof. If you are considering hiking in the Dolomites and have any questions please do leave them in the comments for me to answer.
Read about our previous day's hike – Hiking in the Dolomites – a tour of the Rosengarten
Where we stayed in South Tyrol
To compare prices and book Hotels in South Tyrol check out my hotels booking page powered by HotelsCombined
Night 1 – Hotel Cyprianerhof
Website: Cyprianerhof.com A luxurious 4 star hotel in St Cyprian with extensive facilities for wellness and activity excursions. The hotel's philosophy is to offer guests the full experience of the Dolomites, allowing them to recharge and clear their minds through hiking in the mountains, combined with relaxation in the spa and sauna facilities.
In summer there is a programme of hiking as well as climbing and Via Ferrata, while in winter guests can try snow-shoe, ice climbing and cross-country ski. The hotel is affiliated to the Wanderhotels group of hiking hotels with hiking and snow-shoe excursions included as part of the half board package that includes breakfast, afternoon tea and evening meal. The food here was excellent using local and seasonal produce. Half board package including activities from €156 per person per night
Night 2 – KolnerHütte / Rifugio Fronza alle Coronelle Website: Rifugiofronza.com
Cost: from €52 per person for half board (evening meal and breakfast)
The Refuge has both 2 bed rooms and dorm rooms, with 60 beds in total. Blankets are provided but you need to bring your own sheet sleeping bag. There is 1 hot shower which costs €3 to use. The Refuge can also be reached from St Cyprian by a bus to the foot of the Laurino chairlift, then take the chairlift up to KolnerHütte. Many people use the chairlift to reach KolnerHütte quickly and then walk the higher mountain routes from there.
Night 3 – Grasleitenhütte / Rifugio Bergamo Website: Grassleitenhuette.com
Cost: from €52 per person for half board (evening meal and breakfast)
We received a warm welcome at this family run Rifugio that was built in the last century as a base for wealthy mountain climbers and still has an authentic Tyrolian atmosphere with wood panelling, old pictures and maps. The Refuge has both 2 bed rooms and dorm rooms with duvets provided but you need to bring your own sheet sleeping bag. There are 2 hot showers which cost €3 to use. The refuge has a charming traditional feel and is family run with friendly owners and excellent cuisine and wine.
Night 4 – Schlernhaus / Rifugio Bolzano Website: Schlernhaus.it
Cost: from €39 per person for 2 bed room including breakfast. Meals can be ordered from the modestly priced menu and half board is available for groups of 8+ people.
The Refuge has both 2 bed rooms and dorm rooms, with 120 beds in total. Duvets are provided but you need to bring your own sheet sleeping bag. There are no showers, only a washroom. The refuge is large with a traditional wood pannelled dining room and panoramic views of the mountains as well as friendly staff. The Refuge seemed to be a favourite with families and several people had dogs with them.
Night 5 – Return to Hotel Cyprianerhof (see above)
Read about our previous day's hike – Hiking in the Dolomites – a tour of the Rosengarten
Getting to South Tyrol
South Tyrol is the north-east corner of Italy, bordering Austria to the north and Switzerland to the west. We flew to Venice Marco Polo Airport and hired a car to drive to the nearest village of St Cyprian, which took around 3 hours. Alternative airports would be Milan Bergamo (2 hrs 50 mins), Innsbruck (1 hr 50 mins), Verona (2 hrs), Venice Treviso (3 hrs). For those using public transport, trains and buses are available from most airports to Bozen/Bolzano and there is a bus (number 185) running from Bolzano to St Cyprian which stops ouside Hotel Cyprianerhof, running around once an hour (journey time 50 mins). The taxi from Bolzano to St Cyprian would take around 30 mins. To compare prices and book Hotels in South Tyrol check out my hotels booking page powered by HotelsCombined
What language are we speaking?
In South Tyrol both German and Italian are widely spoken, since the province was part of the Austro-Hungarian empire until 1948, then became part of Italy after WWI.  In the Dolomites we found that German was more commonly used although most locals will easily switch between Italian and German. English is less widely spoken although you will not have a problem in larger hotels and in mountain huts there is generally someone with a little English. Because of the dual languages all towns, villages and mountain huts have two names – both German and Italian. For simplicity in this article I may use just one of the names.
Plan your hiking routes
A good resource for planning your hiking routes in the Dolomites is the Sentres.com website and the South Tyrol Tourism website also has plenty of information to plan your holiday in South Tyrol.
You will find timings for walking routes on the Sentres website. However, be aware that these are times for fit walkers without any stops for rests or photographs. In our experience we found that for each 2-3 hours of the 'official' time, we needed to add 30 mins to allow for being less fit and 30 mins for a drink stop in a refuge. So overall we would add 1-2 hours to the times given per day.
We used the Tappeiner 1:25.000 Map No 29 Schlern – Rosengarten – Sciliar – Catinaccio – Latemar – you can order it on Amazon and a similar map was for sale at Cyprianerhof for €9 and probably other places locally. We could not find an English guidebook to the routes we were walking but we found we could navigate fine with just a map as the paths were well marked.
Here are the routes and timings we took
Day 1 – Cyprianerhof to KolnerHütte
Official time: 4 hours
Actual time without stops: 4 hrs 30 mins
Actual time with stops: 6 hours
Our route was: Cyprianerhof – Nigerhütte 2 hrs / Nigerhütte – Messnerjoch hütte 1 hr / Messnerjoch hütte – KolnerHütte 1 hr 30 mins
Read about our Day 1 hike – Hiking in the Dolomites – a tour of the Rosengarten
Day 2 – KolnerHütte to Grasleitenhütte
Official time: 5 hrs 30 mins
Actual time without stops: 6 hrs
Actual time with stops: 7 hrs 30 mins
Our route was: KolnerHütte – top of Coronelle Pass 1 hr / top of Coronelle Pass – Rif. Vaiolet 1 hr 45 mins / Rif. Vaiolet – Grasleitenpasse 1 hr 30 mins / Grasleitenpasse – Grasseleitenhutte 1 hr 30 mins Warning: very steep climbing with cables over Coronelle Pass
Day 3 – Grasleitenhütte to Schlernhaus
Official time: 4 hrs
Actual time without stops: 5 hrs
Actual time with stops: 7 hrs 30 mins ( we made a 40 min detour to Rif. Alpe di Tires)
Our route was: Grasleitenhütte – Rif. Alpe di Tires 3 hrs 25 mins / Rif. Alpe di Tires to cairn at start of plateau 1 hr 20 mins / Cairn at start of plateau to Schlernhaus 1 hr 30 mins. Warning: very steep climbing with cables on final part of route 3 up to Rif. Alpe di Tires
Day 4 – Schlernhaus to Cyprianerhof
Official time: 4 hrs 30 mins
Actual time without stops: 6 hrs
Actual time with stops: 8 hrs
Our route was: Schlernhaus – Junction of route 3 & 7 1 hr 50 mins / Junction of route 3 & 7 – Turning to route 7B 1 hr / Turning to route 7B – Tschafonhutte 1 hr / Tschafonhutte – Cyprianerhof 2 hr
Thanks to the South Tyrol Tourism board who hosted my walking tour of the Dolomites.
Pin It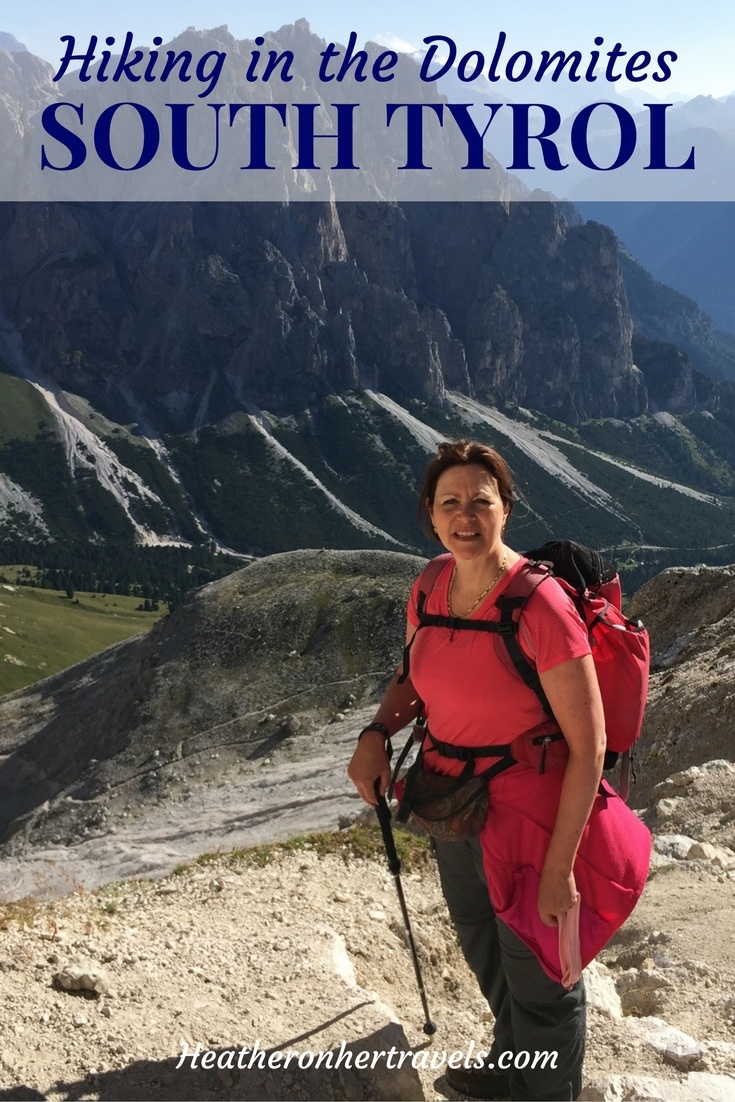 This article is originally published at Heatheronhertravels.com – Read the original article here
You'll also find our sister blog with tips on how to build a successful travel blog at My Blogging Journey
As I cycled past beautifully tended rows of vines and fruit trees heavy with plums in Austria's Wachau Valley, I was struck by how activities such as hiking, cycling and canoeing can give you a whole new perspective when on a river cruise. These days many guests enjoy staying active on their holiday, not only for health, but perhaps because you can give yourself permission to try all that delicious food and wine from the region! On my recent Avalon Danube cruise I was able to enjoy one of Austria's prettiest regions while trying out a more active approach to sightseeing.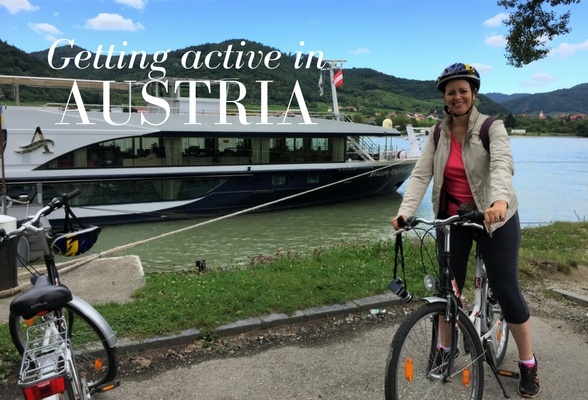 Canoeing in the Wachau Valley
One of our cruise stops was at Durnstein, a town made rich by the tolls of medieval merchants passing through and best known for the castle where Richard the Lionheart was held to ransom for a winter in 1192. Along the river, vineyards clothe the hillside, and the orchards of apricots are used to make the apricot jam, liquer and schnapps that you'll see on sale in the shops.
From Durnstein I tried one of Avalon's Active Discovery canoe excursions, with our group being taken up river to a spot where our canoes and guide awaited us. With canoes set two abreast and a board between them, this was canoeing the easy way, since the arrangement made a pretty unsinkable raft. I did notice that a couple of Canadian guests, who were natural born canoeists, took the option of individual kayaks instead, perhaps finding the rafts a little tame.
Under the watchful eye of our guide on a paddle board, we paddled our canoes down the Danube. We were passing through the classic romantic landscape, beloved by artists, with castles poised on rocky outcrops overlooking the river and vineyards clothing the hillside in neat rows. Every local we met had told us proudly, "You must try our wine" and on such steep slopes, tended by hand, the wine has to be high quality to justify the work involved.
Since our two canoes took six people, I sat on the middle board and designated myself group photographer, so I'm afraid I didn't do too much paddling! Even if we hadn't paddled at all, I feel sure that we would have drifted back to the ship eventually.
When the canoeing became too relaxed, we would veer towards the bank and have to paddle frantically to get back on track. The guides seemed to know when a river boat was likely to come up the river and guided us to one side of the river to keep out of their way.
Every so often we would have a friendly bit of competition with the other group, as if we were doing a leisurely Dragon Boat race. Mostly though, we chatted, took lots of photos and watched the scenery drift by.
We stopped for a while on the bank opposite Durnstein to look back at the town and see a ship passing by, then it was time to paddle a little further downstream beyond the ship. Arriving at a shallow inlet at the side of the river, we brought the canoes in and jumped ashore, then walked along the river path to reach the Avalon Visionary again.
Cycling down the Danube
After our morning canoe trip we had the chance to try another active excursion, this time a three hour cycle ride along the river to Melk, with a stop for a picnic lunch. On the quayside by the ship, our bikes awaited us and we set off with a guide at both front and back to ensure that no-one got lost.
The road took us along the river, then curved a little higher on the northern bank through pretty villages, where we could admire the houses and wine terraces set on the hillside. I found myself most often at the back, because I wanted to take lots of photos of the scenery. At least that's what I told myself as I watched guests who were older but a lot fitter than me whizz by!
The scenery was impossibly pretty and I could understand why the Wachau Valley has been designated a UNESCO World Heritage Site for its cultural landscape. Our guide pointed out the sculpture on the hillside that imitated the so called Venus of Willendorf, a small female figure dating back to prehistoric times, that's said to be a fertility symbol and is now in the museum in Vienna.
Further along we cycled along the broad path beside the river, past the ferry stations and could see the river defences, that protect the riverside towns and villages in case of flood. For lunch we stopped at Susi's Donaustueberl, a cafe overlooking the river, where we ate our packed lunch provided by the ship. While we were there, the Avalon Visionary passed by and we ran down to the shore waving frantically, although I'm not sure that the guests on board knew who those crazy people were on the bank!
After lunch the scenery became less picturesque, the path flatter and after an hour Melk Abbey came into sight set high above the river. I was glad to get back on board the Avalon Visionary, somewhat sweaty after the three hour cycle ride, for a quick change before visiting Melk Abbey which was a short walk away from the ship.
Visiting Melk Abbey in Austria
Melk Abbey is one of the treasures of this part of Austria, dating back to the 11th century when the ruling Babenberg Dynasty gave their fortress to the Benedictine order to found a monastery. There is so much to see here that to do it justice you need at least half a day, to enjoy the abbey and the pretty town that sits in its shadow.
By the early 18th century the monastery church was falling into disrepair and plans were made to rebuild it in the ornate baroque style that we see today. The abbot however had even more ambitious plans, proposing the rebuilding of the entire abbey which was done between 1700 and 1740, to create the baroque masterpiece we see today. Our guided tour took us through the main areas of the abbey, starting with the rooms bathed in coloured light that house some of the abbey's treasures; golden chalices, holy relics and vestments used in the church, to tell the story of the Abbey's history.
The display rooms led us into the magnificent Marble Hall with a ceiling fresco depicting Hercules and Athena, the gods of strength and wisdom, representing the rulers of Austria. In the centre of the room is a metal grill, which is the best spot to look up at the ceiling and see it in the correct perspective. Although the ceiling looks domed, this is due to the trompe l'oeil effect of the fresco, since it is actually almost flat.
From the Marble Hall we walked across the rooftop balcony with views over the town of Melk to the river below, and into the monastery library. Unfortunately photos were not allowed in the library, but the ceilings and gilding were quite magnificent, with an ornate spiral staircase leading up to more of the twelve library rooms, housing books that date back to the 9th century.
The final part of the visit took us through the monastery church that was decorated in similarly ornate baroque style, with more gilding and ceiling frescos to dazzle us. After all this over-the-top magnificence it was a relaxing change to visit the monastery gardens where the tea room was housed in a beautiful classical pavilion. My favourite spot was the peaceful herb garden with medicinal plants and flowers and a view over the abbey buildings and courtyards. More information on the Melk Abbey Website.
It had been a day of contrasts, a peaceful start as we drifted down the river by canoe, a 3 hour cycle ride to get us moving and the cultural highlight of Melk Abbey to stimulate our senses. Perhaps most guests wouldn't try to pack in quite as much into one day (I haven't even mentioned the evening wine tasting!) but I love to have a healthy balance of activities for the body and mind when on holiday. If you think the combination of activity and relaxation sounds right up your street, check out the Avalon Active Discovery options on your next river cruise.
Read about more River cruise experiences
7 reasons to take a river cruise with Avalon Waterways
All aboard the Amadeus Princess – what to expect on your river cruise
Tasting the wines of Burgundy on a Uniworld Cruise
Information to plan your cruise
The Avalon Waterways 9 day 'Active Discovery on the Danube' cruise from Linz to Budapest (and reverse itinerary) is priced from £2483 per person to include a selection of activities (based on 16 October 2017 departure). Cruise highlights include Linz, Grein, Durnstein, Krems, Vienna, Bratislava, Visegard and Budapest. Discover more on the Avalon Waterways website.
If you require a hotel in Austria at the start or end of your cruise check out HotelsCombined to compare prices. If you require any airport parking services, I recommend APH Airport Parking and Hotels, a leading UK provider of airport parking, hotels and airport lounges.
For more information to plan a holiday in Austria, visit the Austria Tourism website
If you'd like to try canoeing or paddle boarding in the Wachau Valley as an independent traveller check out Kanu Wachau who provide canoe excursions.
Thanks to Avalon Waterways who hosted Heather for a 4 day taste of the Danube cruise from Austria to Linz.
Note: Some of the links above are affiliate links, enabling me to earn a small commission at no extra cost to you.
Pin It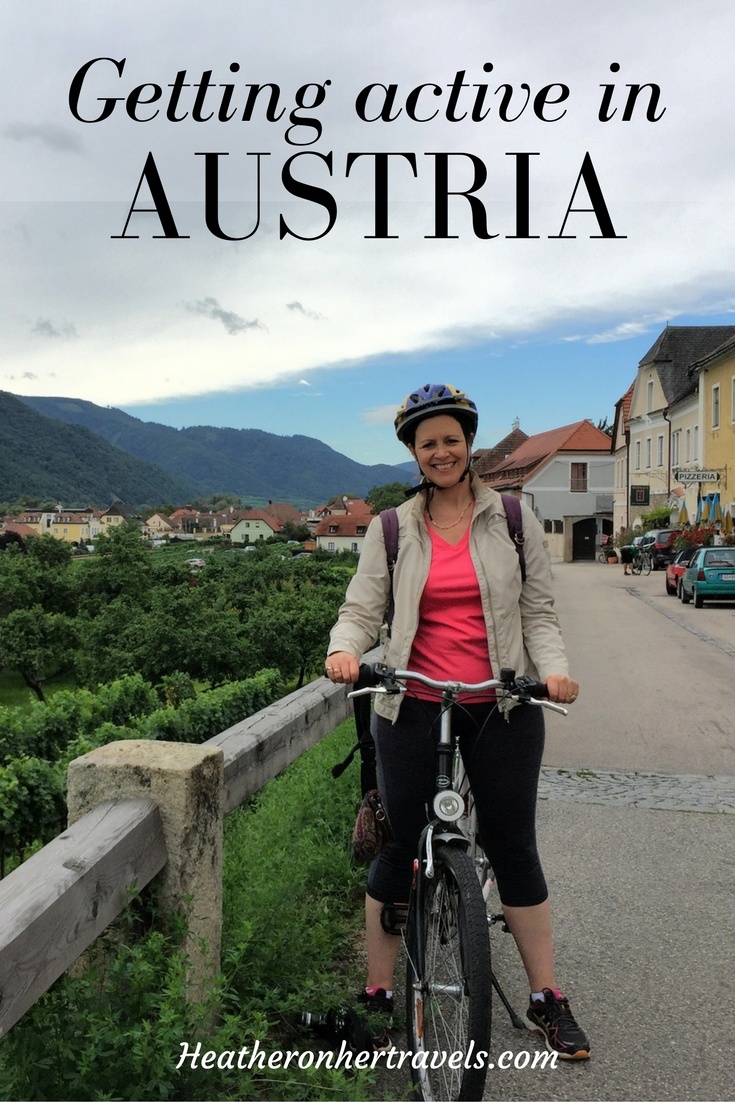 This article is originally published at Heatheronhertravels.com – Read the original article here