It was a perfect day for walking in Menorca, one of those late May days when the sun is warm, the sea sparkling but the temperature in the comfortable early 20s. Although we'd had showers the day before, the skies had cleared with puffs of cloud and the sea seemed to be lit up an intense turquoise. Spring and autumn is the perfect time for walking on Menorca, when the weather is generally warm, before the heat of summer descends and everyone just heads for the beach.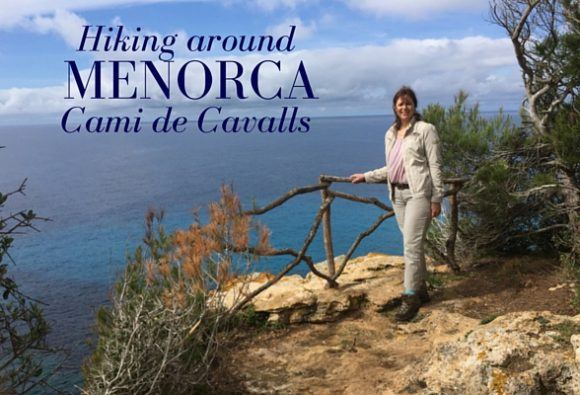 Our walk for the day would take us along the Cami de Cavalls, an ancient walking path and bridle way that encircles the whole island of Menorca. The importance of this path was recognised by the island's rulers in the Middle Ages so that horses could move around for defence and goods could be easily transported. The trail gets its name from the Catalan word Cavall which means horse – it's literally a path for horses.
Our walk for the day started at Cala Galdana, one of Menorca's most popular resorts where we were staying at Hotel Artiem Audax, a lovely, stylish 4* hotel overlooking the marina. The resort on Menorca's south coast is an excellent place to base yourself for a walking holiday, with immediate access to the coastal path as well as a number of bars and restaurants to enjoy in the evenings.
We climbed up from the little marina onto the coastal path, almost immediately giving us the kind of views that you expect to see on postcards. Our path took us up onto the rocky cliffs, where wind-twisted pines framed the view of the the turquoise sea glittering below and the cliffs of the headland beyond.
Before long the route veered off away from the sea on a broad, flat stony path with scrub and trees of pine, olive and oak dotted around us. On one side, the path was bordered by a dry stone wall. Scattered in the grass were miniature pink gladioli and wild orchids, which would have been in full bloom in March and April but were just starting to dry out as summer approached.
The whole of the southern coast of the island is now owned by the Menorca government, to ensure that it is preserved from development. However, the land on either side of the path is owned by individual farmers who graze animals there to ensure that the trees and shrubs do not become too dense.
As I walked, I breathed in the scent of pine needles crushed underfoot and noticed the splash of pink flowers on the cistus and the vibrant green clumps of pine seedlings, pushing up beside the rocks covered with yellow lichen.
From the broad path, there were other paths that took us to viewpoints on the cliff where only the twisted olive wood fences protected us from a sheer drop down to the sea below. A white speedboat passed below us and I imagined myself to be the girl at the wheel, wind in my hair, speeding to one of the secluded coves along this coast.
We reached a boardwalk which took us down to Macarella beach, with broad wooden steps leading down through the pine trees. The beach is a very popular one, although due to all the ravines that run down to the coast, it can't be easily reached by car, which is one of its charms for walkers. The normal bridle path continued alongside although it was so steep that I wouldn't have fancied riding a horse down it.
Although the Cami de Cavalls encircles the whole island, there are some sections that are better for walkers, others that are more flat and open for horse-riding. Many farms have stables near the trail and offer horse-riding which my friend Zoe tried while we were doing the walk – read her article about horse-riding on the Cami de Cavalls.
Macarella beach is broad and sandy, with some shady pine trees offering shade at the back and sides of the beach. This would be a lovely place to spend an afternoon with the family and despite having no public road access, there was a large cafe at the back of the beach serving drinks and meals.
While some of our group stopped to relax at the cafe, I decided to walk a little further round the headland to the smaller Macarelletta beach (the name means little Macarella). Set into the cliff face beside the steep path were some caves, probably used in the past as an ancient burial site by Menorca's Talayotic culture.
The walk around to Macarelleta was idyllic, the sea coloured intense turquoise with patches of deep blue. The path led down through the dunes and over the rocks with a few sunbathing spots on the rocky ledges. As I came down, I realised that this is a nudist beach although in May most people seemed to be keeping their swimsuits on, still I had to be a bit careful where to point my camera.
At the back of the beach were sand dunes and a covering of pine trees, with a rattan fence to protect the dunes. Once again this idyllic spot is only accessible by walking, with the nearest car park being at Cala en Turqueta, which is the next beach if you continue along the coastal path.
As for us, it was time to return by the same route, clambering up the path through the dunes and around the headland to Macarella, then along the broad path back to Cala Galdana. It's an easy and popular walk, and all the nicer because the lack of car access means the beaches are natural and unspoiled. In the spring and summer I'd walk on to Cala en Turqueta and perhaps some of the pretty beaches and coves beyond, while in the heat of summer it would be perfect to stop at Cala Macarella under the shade of a pine and laze the afternoon away.
Where to stay in Menorca
I stayed in Hotel Artiem Audax in Cala Galdana overlooking the marina, which was right opposite the start of the coastal walk I've described. The hotel is Adults Only with bright, modern decor and delicious food with breakfast and dinner served buffet style. The hotel is part of the Artiem Hotel group which has many excellent hotels around the island including the Hotel Artiem Capri in Mahon where I also enjoyed staying.
Hotel Artiem Audax, Urbanización Serpentona, 07750 Cala Galdana, Menorca
Compare prices and book hotels in Menorca on my Hotels Booking page powered by Hotels Combined.
Have you done any walking in Menorca? What was your favourite part of the Cami de Cavalls?
More articles about Menorca
How to spend a perfect day in Mahon, Menorca
Where and what to eat and drink in Menorca (Travel with Kat)
Traditionally Menorca (Mallory on Travel)
Visitor Information for Menorca
To plan your holiday in Menorca visit the Menorca Tourism website or follow them on social media: Twitter @TurismMenorca | Facebook | Instagram
For holidays in other parts of Spain you can find more information at www.Spain.info or follow them on social media: Twitter @Spain_inUK | Facebook | Instagram
If you need a guide to show you the sites of Mahon and Menorca, I can highly recommend Luis Amella of Menorca Guides
Thanks to Menorca Tourism for hosting my stay in Menorca, in a project in partnership with Spain Tourism, Menorca Tourism and Travelator Media
Pin It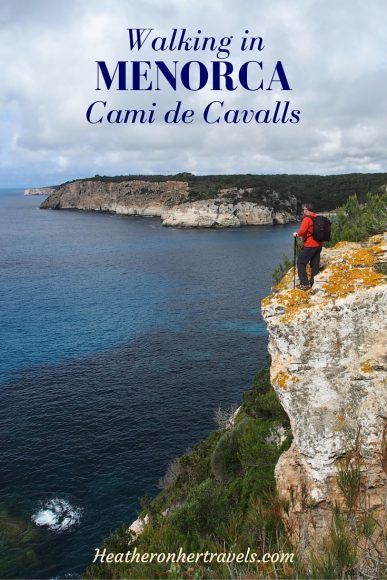 This article is originally published at Heatheronhertravels.com – Read the original article here
At the RHS Hampton Court Flower show this week, destinations from Charleston to Galicia, Normandy to Peru, came alive in the gardens from around the world. Each was inspired by the plants and landscapes that make these little corners of a country unique and special. The show is on for a few more days, so do go along to see these and many other beautiful gardens to find some inspiration for your next holiday.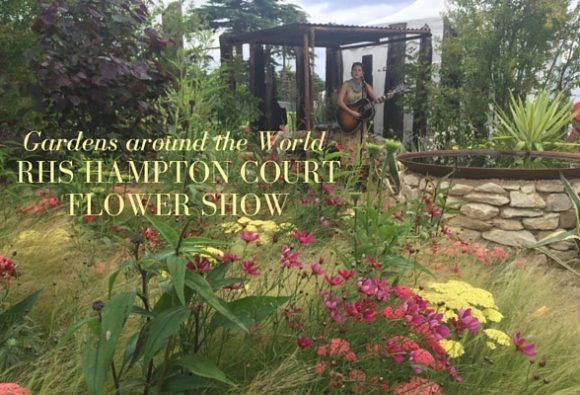 As I was visiting on the 4th July, celebrations were in full swing at the three USA gardens from Oregon, Charleston and Austin.
Landscapes of Austin
At the Austin garden, the strumming of singer songwriter Carson McHone took me straight back to our holiday in Texas a few years ago, remembering all the street performers playing in the bars and by the food trailers in Austin. The stone walling, beaten earth paths and and rusting metal bowl filled with water were just as I remembered, even in the smart hotel where we stayed on our trip to Texas.
I loved the soft swathes of grass that looked as if they were rustling in the breeze, mixed with the dusty reds and yellows of Echinacea and other wild flowers. The spiky Agave were there too, to remind us that Texas is tequila country and they mix a mean margarita in Austin.
Mountains and Vineyards of Oregon
In the Oregon garden it was all about the mountain landscape with rocky outcrops and mountain streams backed by pine forests (or as much of a forest as you can realistically transport and plant at a garden show). There were a few vines too to show that they are a wine growing region and at the front a naturalistic planting of daisies and grasses looking as if they might be growing in the border of some farmer's field. To represent the many cycling routes around the state, the edge of the borders were decorated with bicycle wheels.
Hidden gardens of Charleston
Quite different to the naturalistic feel of the other USA gardens was the Charleston garden, which exhuded elegance and old world charm. Box hedges surrounded the manicured lawn with wrought iron benches to linger a while. The pink and white planting gave a romantic feel mixed with a few more tropical shrubs. It was just the sort of place you'd like to take iced tea with your grandmother and hear her reminisce about her days as a southern belle.
 The Inca Garden with inspiration from Machu Picchu
The Inca civilisation of Peru that created awe-inspiring structures like Machu Picchu was the inspiration for a tropical garden sponsored by British Airways and Journey Latin America. From the outside we were met by a wall of native foliage with banana plants and sculptural leaves, but as we walked further into the garden, the carefully crafted dry stone terraces like those at Machu Picchu were revealed.
Water trickled down from the grassy terraces into pools that could be used for irrigation, with gardens of maize, potato and quinoa standing in well kept rows. The planting was spiky and exotic with variegated red and green planting mixed in with the yellow and orange astromeria. Perhaps if the explorer Hiram Bingham had been able to step back in time, this is what he would have seen of Machu Picchu when the Incas were at their full power, rather than the deserted remains of a lost civilisation that we think of today.
The Normandy 1066 Medieval Garden
To celebrate the 950th anniversary of the Battle of Hastings, the 'Le Clos d'Hastings' garden took on a medieval theme that reflected the garden plants and countryside from both sides of the channel in Normandy and the area around Hastings. The garden was divided diagonally into two parts with a woven hazel fence, the ends of the branches sprouting in places.
On one side of the fence was a field of crops waiting to be harvested; flax and wheat speckled with red popies and daisies. On the other side of the fence were garden plants in shades of white and purple, a rich mixture evoking the Bayeux tapestry. At the back of the plot, a green hedge was planted with saplings to represent the farming landscape of Normandy while at the front a couple of Norman soldiers were standing guard, quite happy to pose for photos!
From Galicia in Northern Spain – the Route of the Camelia garden
One of my favourites among the world gardens was the Route of the Camellia garden, sponsored by Turismo de Galicia. I visited northern Spain a few years ago on a family summer holiday and well remember the mixture of brilliant sunshine and showers that we had – there's a good reason why it's called 'Green Spain'!
The garden celebrates the pilgrim's route of  Santiago de Compostela, which I'd love to hike some day, with the pilgrim's symbol of scallop shells scattered on the path. Overhanging the romantic shrine to the Virgin Mary was a Camellia tree, frequently found in this part of Spain. Since the camellia flowers in the spring, designer Rose McMonigall had used pink coloured shells to represent the camelia petals that might drop onto the pilgrim's path.
RHS Garden Holidays
If you're a garden enthusiast, take a look at the RHS Garden Holidays, which are organised by the Royal Horticultural Society, offering tours of the world's great gardens, accompanied by horticultural experts.
RHS Hampton Court Flower Show
The RHS Hampton Court Palace Flower Show takes place 5-10 July 2016 – visit the RHS website  for more information on this and all the other RHS flower shows.
Pin It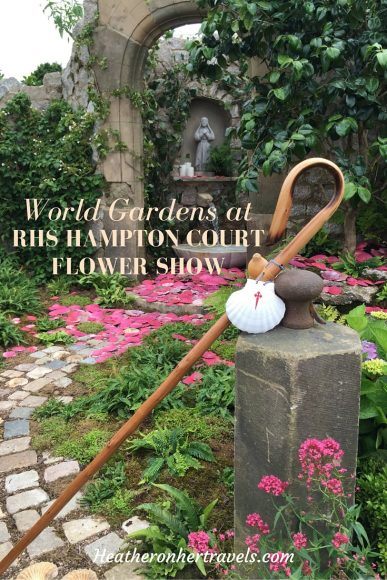 Thanks to RHS Hampton Court Flower Show who provided me with free entry to the show.
This article is originally published at Heatheronhertravels.com – Read the original article here
These days anyone who owns a smartphone has the ability to make videos to share with family and friends when they travel. The days are over when you needed to buy an expensive camera to make a professional looking video.
I was recently invited by MSC Cruises to have a tour of their ship MSC Splendida and speak at an event for their cruise agents on how to make quick and easy videos that they could show to clients considering booking a cruise. The same tips apply to anyone taking a cruise who wants to make short videos when they travel, so I thought I would share them with you.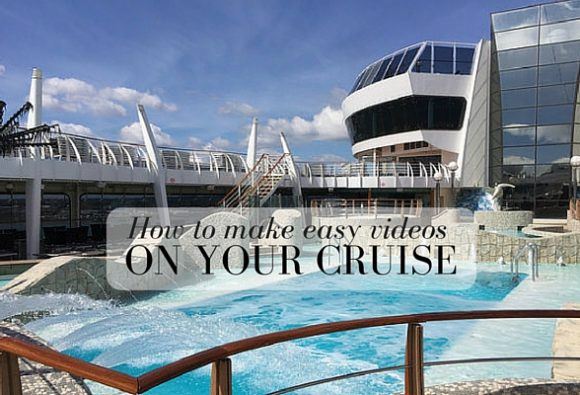 This wasn't the first time that I'd been on board MSC Splendida, as a couple of years ago I took a lovely week's Mediterannean cruise from Barcelona, visiting ports like Marseilles, Genoa, Naples and Messina. The ship holds over 3000 guests, with plenty to do and a lively atmosphere that's well suited to groups of friends, families and guests of all ages.
As a cruise line MSC Cruises has a very cosmopolitan feel, although of course the mix of nationalities will vary depending on the destinations you're visiting. On our Mediterranean cruise it was a range of French, Italian, Spanish, English and Irish, with all the entertainment tailored for this international crowd and the staff switching languages with impressive ease. Read my review of what to expect on an MSC Cruise.
Because I was going to be teaching a session about how to make videos on your cruise, I visited the ship before the conference day to make sure I could shoot some good video footage that I could use to demonstrate some of the techniques. The ship was just as glamourous and colourful as I remembered it, with staterooms in rich jewel shades of emerald and gold and iridescent mosaics in the large indoor pool area.
In order to show some different possibilities for making a short video of your stateroom I made this video, demonstrating the different styles you can try. My videos were shot and edited entirely on my iPhone in order to show how this can give you excellent results.
If you can't see the video above you can download directly here or see it on my blog here or Youtube here and please do subscribe using the button above
Using your smartphone, you can walk around the room to make a video to post on social media, or shoot a few different clips of the room to edit together, or even use still photographs by adding a bit of movement using the 'Ken Burns' effect. Almost all the social media channels such as Twitter, Instagram and Facebook also allow you to post short videos from your smartphone and you can use an app like Vine to make short videos to share with family and friends.
On this occasion I was also able to see the Yacht Club area which is the 'ship within a ship' that offers a more exclusive experience, with separate dining room and pool area as well a personalised butler service. The Yacht Club staterooms were elegant and luxurious with an outdoor pool and relaxation area which would be a haven on sea days when we found the main pool areas were very busy.
So back to my talk about how to make short videos for your cruise. My talk was aimed at cruise agents who need to make videos to show their clients what MSC Cruises can offer. However, the same principles would apply if you are a cruise guest and want to make a short video to show your friends and family or post on social media. Here's another little video that I made to illustrate my tips to help you improve the quality of your videos.
If you can't see the video above you can download directly here or see it on my blog here or Youtube here and please do subscribe using the button above
The do's and don'ts of making a short video
The rule of thirds – a well known principle of composition in photography. It means that if you were to create a grid across your shot dividing it into 9 squares, you should place people or horizon lines on the grid lines and a major item within the shot on an intersection of the lines, to give the most pleasing composition.
Consider the audio – In noisy areas of the ship such as a swimming pool, restaurant or windy deck, you should be very aware of background noise. You may consider using a small microphone if you are speaking in the shot to cut out some of the background noise.
Keep your camera steady – a shaky shot will make your video look unprofessional. You can use a small tripod such as a gorilla pod or just take care to brace yourself and keep very still when taking a video shot.
Use pan and zoom in moderation – make any pan or zoom shots smooth and use them in moderation, perhaps one shot in three, or you will make the viewer feel seasick.
Instead look for movement in the frame – find shots where you keep the camera still but film shots that already have some movement, such as a glass of wine being poured, or a person walking down a staircase.
Mix up different shots – such as a placement shot (that shows where you are, perhaps with a sign or logo), long shot, medium shot, closeup.
Some tips on timing and video length
The first 5 seconds are the most important – this is where you need to capture the viewer's attention with a personal introduction or indication of what's to come, so that they won't click away.
50% of your audience are gone after 60 seconds – attention spans are getting shorter and shorter so make sure your key points are made in the first minute of the video.
Video shot length 1-3 seconds – I will typically edit each shot to around 1 second, perhaps up to 3 seconds if a pan or zoom is involved. This will mean that your video ends up being quite concise and snappy.
Optimum video length 1-2 minutes, maximum 3 minutes – if you keep each shot length short you will normally end up with a video of this length. If you are going over 2-3 minutes, consider whether it would be better to break up the video, for instance make one video on your cabin, another about the food and another about each port of call.
Rules are made to be broken – having said all of the above there may be good creative reasons why you need to break these rules, so feel free to experiment and have fun.
A few tips on branding
In my slides you'll see some examples of ways you can make sure the viewer remembers your company or blog name. You can add a link to your website in the text overlay or clickable links within the video on YouTube, as well as in the video description. It's also good to give the viewer a 'call to action' telling them what you want them to do next, perhaps to subscribe to your channel or watch your next video.
What equipment do you need?
If you haven't made any short videos before, you may be concerned that you need special or expensive camera equipment. However, these days the quality of video that you can make with your smartphone can be very good, so I recommend starting there and then investing in more advanced equipment if you feel the need later.
You may also consider a few optional extras such as a small microphone to plug into your phone or camera, a selfie stick, or gorillapod that can be used easily in many different situations.
There are plenty of video editing apps that you can download onto your mobile. I use iMovie but depending on your mobile brand there are other options that are either free or just cost a few pounds – check my presentation below for some more options.
I hope that my videos, tips and presentation below have given you a few ideas if you'd like to try making a video on your next cruise, either to share with family and friends or to use for your blog or business. Thanks to MSC Cruises for inviting me on board to speak at their conference.
For more information, visit the MSC Cruises website or follow them on Twitter @MSC_Cruises_UK or on the MSC Facebook page
Check out the slides from my presentation for more information
If you can't see the slide show above, view it on Slideshare here.
Read about the places we visited on our last Mediterranean cruise with MSC Cruises
Join me on a week's Mediterranean cruise with MSC cruises
All aboard at Barcelona – Day 1 of my MSC Mediterranean Cruise
Bonjour Marseille – Day 2 of my MSC Mediterranean Cruise
Palazzo and Gelato in Genoa – Day 3 of my MSC Mediterranean Cruise
Naples and an excursion to Pompeii – Day 4 of my MSC Mediterranean Cruise
Messina and an excursion to Taormina – Day 5 of my MSC Mediterranean Cruise
Tunis and Carthage – Day 6 of my MSC Mediterranean Cruise
A day at sea and back to Barcelona – Day 7 of my MSC Mediterranean Cruise
What to wear on your Mediterranean cruise – my 6 top tips
Pin It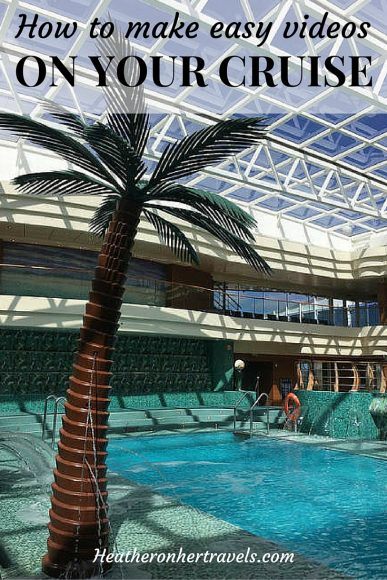 This article is originally published at Heatheronhertravels.com – Read the original article here