There's been a lot of talk about Hygge recently, the Danish word for those feel-good moments when you are snuggled up in front of the fire with a glass of mulled wine, or meeting friends in a café with candles flickering. If you're considering a cosy weekend getaway to feel the warmth of good food and friendship, there's no better place than Copenhagen. Read on to discover how you could win a weekend break in Copenhagen and get that Hygge feeling.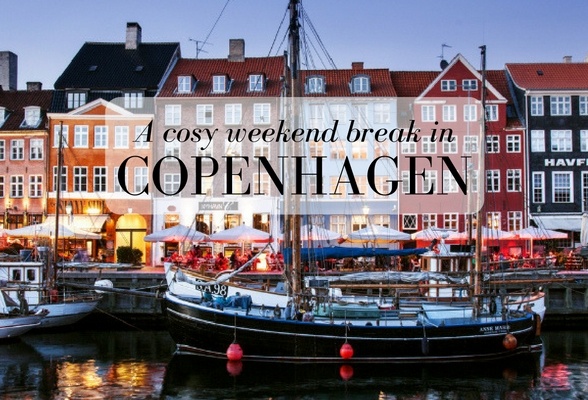 Hygge – getting cosy in Copenhagen
When it's cold and dark outside, you might like to curl up and read the bestselling book by Meik Wiking, The Little Book of Hygge, which is published by Penguin Books. It celebrates the small pleasures of life, from savouring a cinnamon bun fresh from the oven to having a relaxing meal with friends. In case you wonder Hygge is pronounced Huuu – dger with the soft dg of fudge.
To celebrate the Danish art of Hygge, Best Served Scandinavia have joined with Penguin Books and Visit Denmark to run a competition – you could win a weekend break for two in Copenhagen by answering a simple question about Hygge. The prize includes flights and two nights at the beautiful Hotel Kong Arthur in the heart of the city, enjoying a 72-hour Copenhagen Card for free public transport and admission to dozens of attractions.
You can find out more about the competition here
Winter break ideas for Copenhagen
I've been to Copenhagen a few times in both summer and winter and there are plenty of fun things to do on a winter break to get that cosy Hygge feeling. Here are just a few of my recommendations;
Stop for a bite to eat at Torvehallerne
The two Torvehallerne market halls are a buzzing place to stop and buy fresh food and lunch-time dishes. Most of the food vendors inside have some seating space and you can try everything from smorrebrod, the Danish open sandwich, to Sushi, to Paleo dishes as well as cakes and coffee from the legendary Coffee Collective. There's also plenty of fresh and deli produce if the weather is warm enough for a picnic, with outdoor seating around the glass sided halls. I always love to stock up on the moreish chocolate Lakrids or licorice balls.
See the crown jewels at Rosenborg Slot
Visit Rosenborg Castle, set in the Kongens Have or Kings Garden, a popular spot for locals to go for a walk with a romantic formal garden and moat. The castle was built in the 17th century as the summer palace of King Christian IV and later became the home of the Royal collections. The rooms are a delightful walk through Danish history and the treasury in the vaults below the castle house the impressive Crown Jewels, including crowns and gorgeous jewellery that are still worn by the Danish royal family on state occasions today.
Read more about how you could win a weekend in Copenhagen with Best Served Scandinavia
The Winter garden at Ny Carlsberg Glyptotek
The art museum of Ny Carlsberg Glyptotek is a favourite place to visit at any time of year. Built to house the art collection of brewing magnate, Carl Jacobsen, you can wander through the spacious halls full of white marble statues from Danish neo-classical sculptors. I love the impressionist galleries with works from Renoir, Van Gough and Monet including the Degas "Little Ballerina" sculpture. At the centre of the building is a winter garden with glass roof and greenery with a cafe at one side that is a lovely place for lunch. The museum is free on Tuesdays or with a Copenhagen Card.
Where to stay in Copenhagen
For a cosy place to stay for your winter break in Copenhagen, the Hotel Kong Arthur fits the bill perfectly. The hotel is set at the end of a cobbled courtyard, close to the Copenhagen lakes, in a historic building that was once an apprentice's residence. If you are lucky enough to win the competition from Best Served Scandinavia, this is where you could be staying in Copenhagen for two nights.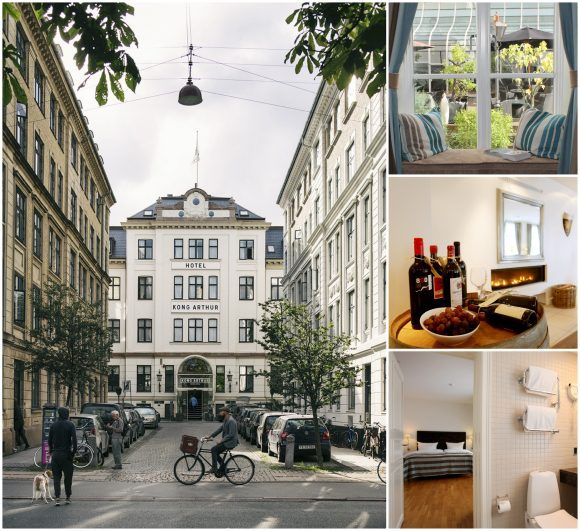 As you step inside you'll find a fire burning in winter, comfy sofas, cushions to sit in the window seat with a stack of books on the shelves. The 155 rooms are all different, but all have a sense of luxury combined with modern style. Here, the atmosphere is welcoming but informal and there's even a Cosy Hour between 5 and 6pm when guests are served a little something in the lobby.
Win a trip to Copenhagen
If you'd love to spend a weekend break in Copenhagen, enter the competition from Best Served Scandinavia, Visit Denmark and Penguin Books. The prize includes airfares, a 2 night stay at Hotel Kong Arthur and a 72 Hour Copenhagen Card for 2 people which can be taken in the next year, subject to availability.
The competition is open to UK Residents who are over 18 and closes at midnight on 31 December 2016 after which the winner will be drawn at random. All you'll need to do is answer a simple question to say which Scandinavian country the concept of Hygge is most closely associated with – that's an easy one!
Find out more about the competition here
About Best Served Scandinavia
Best Served Scandinavia is an independent, tailor-made tour operator specialising in holidays to Scandinavia. Their travel consultants have walked the cobbled streets of Copenhagen and personally stayed in the hotels they recommend, enjoyed wintry excursions and plotted their own paths on self-drive and independent tours.
To give you an idea of the holidays you could book in Denmark and Copenhagen, visit the Best Served Scandinavia site. You could find yourself on a tailor made break to Copenhagen, visiting the castles and charming towns of Jutland while staying in luxury boutique hotels, or following Denmark's Viking trail on a self-drive holiday.
Enter the competition for a weekend break in Copenhagen with Best Served Scandinavia
For more information
You'll find plenty of ideas on things to do in winter in Copenhagen on the Wonderful Copenhagen website
For more things to do in Denmark check out the Visit Denmark Website
More things to do in Copenhagen
How to have a perfect weekend break in Copenhagen
A romantic weekend in Copenhagen
10 summertime cool things to do in Copenhagen
This article is brought to you in partnership with Best Served Scandinavia
Photos by Best Served Scandinavia except where noted by Heatheronhertravels.com
Pin It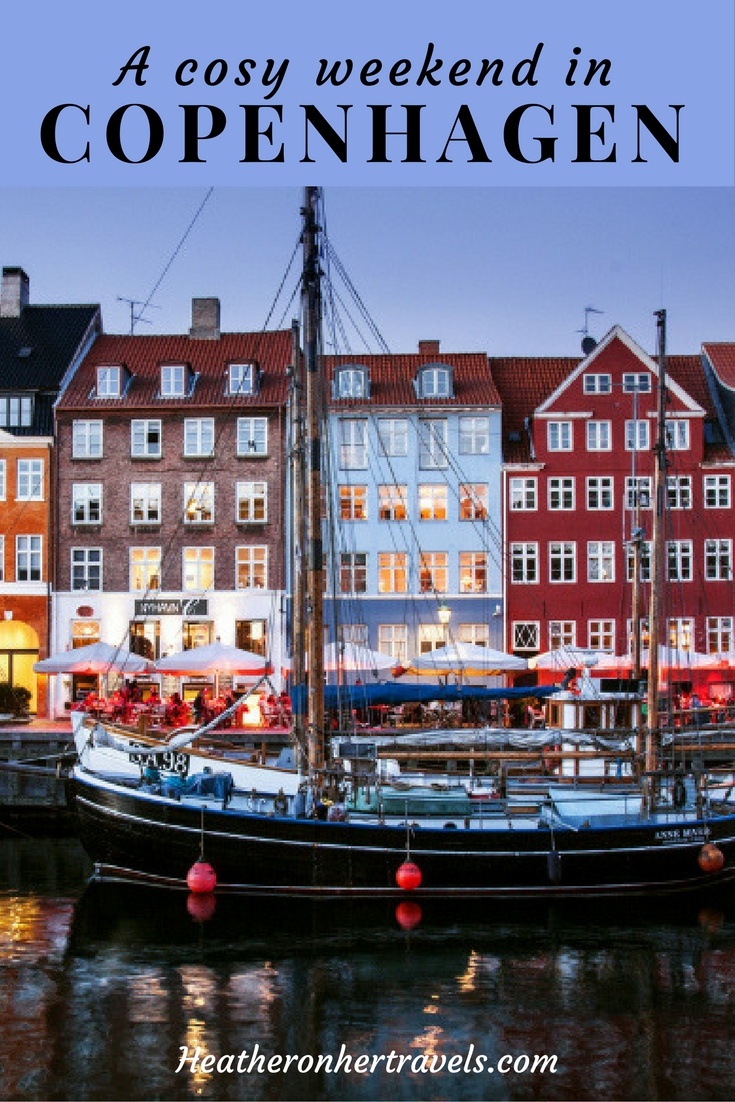 This article is originally published at Heatheronhertravels.com – Read the original article here
January 4, 2016 by Heather Cowper
Filed under Europe, Accommodation, Leisure, video, featured, Art and design, Copenhagen, Denmark, Hotels, Spa & Pampering
Set between the ocean and the forest, Kurhotel Skodsborg just north of Copenhagen is one of the leading luxury spa hotels in Denmark and an easy 30 minute train ride from the city or the airport. Although close to the vibrant centre of Copenhagen, the hotel is seductively relaxing, with views of the ocean from the rooftop terraces and a private jetty where guests can swim all year round. With a fabulous spa and state of the art fitness and wellness facilities, this could be the perfect hotel if you are planning a spa break this year. Read on for my review of Kurhotel Skodsborg;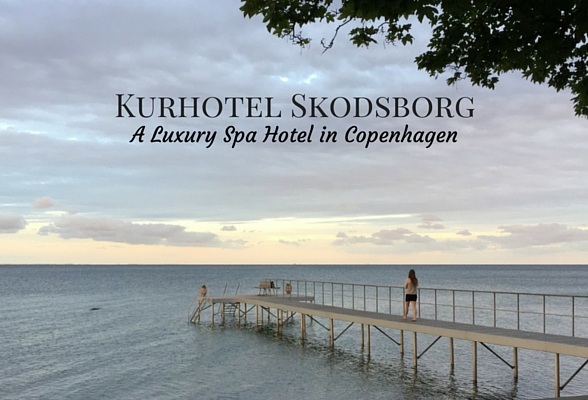 Kurhotel Skodsborg and the royal connection
In the 19th century, King Frederick VII of Denmark bought a country estate just outside Copenhagen and had a large villa built in what is now the grounds of the hotel. Since the king's wife, Countess Danner was a divorcée and had risen from humble beginnings, their marriage was not popular in Danish society and so they preferred to spend time together at Skodsborg, away from the glare of the Danish court.
Villa Rex, as it is now known, was built in 1857, set in lovely gardens and was used by the king to entertain and to hold meetings with his ministers during the summer months. The villa has been restored to its original appearance based on drawings of the period and is now used for special dinners and parties at the hotel. When we visited it was beautifully set out with pink roses for an engagement lunch.
I hope you enjoy my video below about Kurhotel Skodsborg in Copenhagen
If you can't see the video above about Kurhotel Skodsburg in Copenhagen, see it on my blog here or Youtube here and please do subscribe using the button above
Click here for direct download of video
Subscribe to all my videos in I-tunes
Because of its lovely setting, the hotel is popular with Copenhageners for parties and celebration events and there were three christenings and a birthday party going on the weekend we were there. There's also a cookery school in Villa Rex, where Thomas Rode, a Michelin-starred chef, TV personality and fitness trainer runs cookery demonstrations with lunch in the Villa, combining delicious, healthy food with lifestyle advice.
Check out my hotels booking page for this and other small luxury hotels in Copenhagen
Dr Carl Ottosen and the Skodsborg Sanitorium
In 1898 the hotel was founded as the Skodsborg Sanitorium by Dr Carl Ottosen who had studied health and physiotherapy in the USA. His belief in a healthy lifestyle for the prevention and treatment of illness was extremely modern for the time and the sanitorium was built around his principles of light, air, water, nutrition, exercise and rest. Read my article about finding a healthy holiday in Copenhagen.
" Man has more endurance when work is interchanged with rest" wrote Dr Carl Ottosen and at that time before antibiotics, rest and recuperation after illness were essential. Sea bathing was considered extremely healthy and many Badehoteller or bathing hotels were established along the Danish coast. Kurhotel Skodsborg also combines spa and wellness, with a health centre offering professional medical help for rehabilitation, convalescence and physiotherapy, with an acupuncturist, reflexologist, podiatrist and chiropracter available for consultation.
Inspired by Dr Carl Ottosen a different fresh juice drink is available each day in The Lobby, made from fruit and vegetables pressed by a slow juicing method to retain the vitamins and minerals in each glass. We enjoyed the performance-boosting combination of cucumber, celery, pear and apple while on other days you may be offered the anti-inflamatory beetroot, apple, watercress, lemon and ginger, created by top Copenhagen cocktail maker Gromit Eduardson to be delicious as well as healthy.
Where will you stay?
Last summer I stayed with my daughter at Kurhotel Skodsborg in a lovely room with a balcony looking towards the sea. The theme of understated luxury extended to the bedroom which had been recently renovated in a design scheme that is being rolled out throughout the hotel in 2016. The soft green décor reflected the royal forest of Dyrehaven behind the hotel with green-grey walls, a luxurious deep carpet and velvet curtains. I loved being able to see the occasional white sail drift across my view on Øresund, the stretch of sea that divides Denmark and Sweden.
The bathroom was also luxurious, with a huge black sink, powerful walk in shower and plenty of delicious natural Karmameju toiletries in big bottles to avoid waste. In the wardrobe we found our towelling robes for the spa as well as a stylish rubber basket to carry all our things. When we visited in June many of the rooms still had the old style decor from a few years ago, but all are due to be redecorated in 2016, so it is worth checking when you book which style you will be getting.
Check out my hotels booking page for this and other boutique hotels in Copenhagen
Spa and fitness at Kurhotel Skodsborg
The spa is one of the highlights of a stay at Kurhotel Skodsborg, which is perfect for those looking for a relaxing spa weekend by the sea with easy access to Copenhagen.  The hotel spa fills one wing overlooking the courtyard and was built in 2012 to create a light, airy oasis of calm with sixteen different water experiences, as well as specialist wellness and beauty treatments.
The Danish artist, Malene Bach was commissioned to create subtle and delicate ornamentation around the spa. Look out for the handblown coloured glass panels set into the roof of the spa, geometric tile patterns inspired by a Moroccan hammam and the washed out stencils in a Japanese fish scale pattern on the walls. At the bottom of the pool the turquoise tiles have a pixel-like pattern to enhance the feeling of moving water, while in other places iridescent mother of pearl effects are used.
With my daughter Sophie-Anne I wafted around the different pools and water experiences, our favourites being the tiled loungers in the small pool overlooking the main spa and the four season water experience with jets of hot and cold water and waterfalls to stand under, accompanied by the tweeting of spring birds and the thunderclaps of autumn. There's even a snow dispenser so you can recreate that authentic Scandinavian experience of running out of the sauna to roll on the fresh snow!
Be sure to book for the Sauna Gus, an aromatic group spa session managed by a "Gus Master" who gradually raises the temperature of the sauna to an almost unbearable heat, while telling you stories or jokes to take your mind off the heat. There are three spells in the sauna broken up by a break to cool down and shower, and after the final one you get the chance to run outside to the sea and jump off the jetty for an invigorating dip. For those who are a little squeamish about going naked in the German and Austrian spas, you'll be pleased to hear that the Danes keep their swimwear on in the sauna! After your spa, we laid out in the relaxation areas, with a view of the outdoor Jacuzzi.
For those who like to keep up a daily fitness routine, the hotel has a state of the art gym and is an accredited CrossFit centre, with fitness sessions being held in the gym, rooftop terrace or even by the sea or in the deerpark adjoining the hotel. While we were there we attended one of the morning fitness classes which ended up with us all running to the jetty and jumping in for a swim at the end of the class. Once the water has reached 16 degrees, usually by June, swimming and paddle-boarding classes are also on offer in the sea.
Relaxing around the hotel
The gardens around the hotel are beautifully kept and the white rose bushes that lined the drive were wafting their perfume when we visited in June. There is a little summerhouse with a classical statue, a wild meadow area under the tree, pots of purple pansies along the paths and everywhere were wicker easy chairs to sit and relax. Across the coast road that runs outside the hotel are holiday homes and the hotel's private jetty, and on a clear day you can see across to Sweden. The atmosphere is elegantly restful and many Copenhageners use the hotel for a relaxing spa weekend break away from the city.
Check out my hotels booking page for this and other luxury spa breaks in Copenhagen
Dining at Kurhotel Skodsborg – the delicious choice is the healthy choice
As you might imagine, with such an emphasis on health and wellbeing, the aim is to make the food both delicious and healthy. The chefs, who have experience from Michelin star kitchens, have created a menu of light, seasonal dishes, based on New Nordic principles of using the best local ingredients in mouth-watering combinations.
On one evening I dined in the light and airy second floor restaurant with a view towards the sea with attentive and charming service. I chose a dish free-range pork with morels, green asparagus and cabbage sprouts  followed by a desert of rhubarb compote with bright green sorrel granitée and white chocolate crumble, all delicious. (Main dishes 250 DKK, Deserts 120 DKK)
Breakfast is also served in the restaurant with plenty of healthy choices such as rye and wholegrain bread, salmon, scrambled eggs, meusli, yoghurts and fruit compotes. (Breakfast is 250 DKK if not included with your room). The restaurant adjoins the roof terrace where you can sit on the white wicker sofas with a coffee and a view of the sea, shaded by a sail, almost believing you could be in Santorini.
For informal dining, cocktails and snacks throughout the day, we loved The Lobby on the ground floor of the hotel with soft grey velvet sofas, marble tables and candles flickering in cut-glass holders – so restful and elegant. This is the heart of the hotel where guests can read, chat with friends or have a coffee outside in the courtyard when the weather is fine.
In The Lobby we tried the Tea with Georg, a healthy Nordic twist on afternoon tea, served on fine china from Georg Jensen, the Danish jewellery and lifestyle brand. Instead of scones and clotted cream, there was nutty paleo bread with thick slices of smoked salmon and creamy soft cheese, raw nutty cookie balls crumbly shortbread and dark chocolate cakes. We drank the fennel tea, a favourite with the Danes who love any licorice flavours. It was an unusual high tea that lived up to the hotel's food philosophy of "the delicious choice is the healthy choice". (Tea with Georg 130 DKK)
On Sunday the main restaurant was closed, so we ate in The Lobby where I tried "The Meal", a healthy dish of the day and Sophie-Anne ordered her favourite Caesar's Salad. A selection of snacks and bistro style dishes are served in the Lobby throughout the day. (The Meal 175 DKK)
New Nordic cocktails
In the elegant bar at Kurhotel Skodsbourg, we couldn't resist trying some of the New Nordic Cocktails created by leading Copenhagen bartender, Gromit Eduardsen, creator of the award-winning Copenhagen cocktail. Sophie-Anne's choice was the Clover Club, a feminine, frothy combination of Tanqueray gin, lemon juice and raspberry syrup while I tried the hotel's classic New Nordic Whiskey Sour, the Nordic twist being the Frederiksdal cherry wine that is used to finish the cocktail. Read more about New Nordic Cocktails in Copenhagen with the recipes of the ones we tried.
Who will enjoy staying at Kurhotel Skodsborg?
Kurhotel Skodsborg is very popular with Copenhageners who come to use the fitness and spa facilities and use the hotel as their weekend escape from the city. The hotel also plays host to conferences and business guests in the week and there are often parties and celebration events at the weekend. The hotel will suit couples and groups of friends looking for relaxing spa breaks close to Copenhagen. Older children are welcomed but it's not really a family hotel.
The hotel would be ideal to stay for a couple of days once you've done your sightseeing from a hotel in the centre of Copenhagen – check out the similar style Avenue Hotel. It is also very well connected by train so that you can easily base yourself here and take the train into Copenhagen or head north to Helsingor to see the Hamlet castle. Being a luxury spa hotel the guests were mainly a 50+ crowd but I also noticed quite a few 30-something couples who love the spa and fitness facilities and use the hotel for weekend breaks. Checkout the Kurhotel Skodsborg spa weekend packages as well as their day packages if you are staying in Copenhagen and fancy a relaxing spa day to treat yourself and break up the sightseeing.
Are you a traveller who enjoys a bit of pampering and relaxation when you travel? Do let me know in the comments if Kurhotel Skodsborg sound like your kind of place.
Stay at Kurhotel Skodsborg
Kurhotel Skodsborg is situated just north of Copenhagen in the North Sealand region, with easy access to the city and airport by road or by train – you can be in the city within 30 minutes. There are 85 rooms and suites as well as meeting rooms and conference facilities, extensive spa and fitness facilities, a private jetty for ocean swimming, a rooftop terrace with sundeck and restaurant and lobby bar serving healthy Nordic cuisine and cocktails. Rooms at Kurhotel Skodsborg start from 1900 DKK (£180/€250/$280) per night for 2 people bed and breakfast with use of spa. Check the best prices for Kurhotel Skodsborg and other Copenhagen hotels on my Hotel Booking Page
What can I see nearby?
If you're staying at Kurhotel Skodsborg there are many things to do nearby that are easily accessible by car or on the train that runs along the coast. It's worth mentioning that bikes are available to hire at the hotel and you can take them on the train, making it easy to get around. We recommend;
The Karen Blixen House: The home of Karen Blixen, the Danish author of Out of Africa, now open to the public and furnished as when she lived there. Take the train to Rungsted and then the house is a 30 minute walk or 15 minute cycle ride from the station. Read my article: Out of Africa and other Danish Stories
Louisiana Modern Art Museum: A seaside villa that has been enlarged to house a fabulous collection of modern art and sculptures in the gardens. There's a large cafe with outdoor terrace or you can bring your picnic and sit on the grass overlooking the sea and even go for a swim from the shingle beach. The museum is open late on summer evenings too. Take the train to Humlebaek station, then walk 15 mins or take a short bus ride down the road following the signs to get to Louisiana. Read my article here.
Dyrehaven: Although the main entrance to Dyrehaven or the Deer Park is closest to Klampenbourg station, the park extends right up to Skodsborg and can be accessed behind the hotel for jogging, walking and cycling. There's an amusement park in the centre of Dyrehaven at Bakken and you can also take a horse and carriage ride around the park.
Helsingør and Kronborg castle: Take the train north to Helsingør to see Kronborg castle, the one that Shakespeare made famous when he wrote about Elinore in Hamlet. You'll find a picturesque old town and harbour, where ferries run across the Sound to Sweden, should you fancy a day trip. Check out the state of the art Danish Maritime Museum while you're there.
Finn Juhl House: I wanted to see this but ran out of time, but if you enjoy art and design this is the former home of Finn Juhl, one of the leaders of Scandinavian design, which he built and furnished in the 1940s. The house is next to the Ordrupgaard Modern Art museum designed by Zaha Hadid and a joint ticket will get you in to both. The nearest station is Klampenborg or Charlottenlund but the museum is a little way from the station so you may want to take a taxi or cycle. More details here.
How to get to Kurhotel Skodsborg
For more information about things to do in and around Copenhagen, check out the Visit Copenhagen website as well as the Visit Denmark website for other parts of Denmark.
Heather and Sophie-Anne flew with Scandinavian Airlines from London Heathrow to Copenhagen. SAS fly several times a day to and from London to Copenhagen giving you a choice of times to make the most of your time in Copenhagen. On arrival take the train direct to Kurhotel Skodsborg on the coastal line stopping at Skodsborg and the hotel is a 5 minute walk from the station (turn right as you come out of the station).
Heather and Sophie-Anne used the Copenhagen Card which covers free public transport around Copenhagen as well as free or reduced price entry to many of the attractions in and around Copenhagen.
More things to do in Copenhagen
Light, Air, Water – finding a healthy holiday in Copenhagen – healthy tips for rest and relaxation on your spa break by the sea in Copenhagen.
In Photos – our weekend break in Copenhagen – Our winter weekend in Copenhagen, staying in hip Vesterbro, taking a gastro-cruise around the harbour and seeing the Danish crown jewels.
Like Mother Like Daughter – What we loved on our trip to Copenhagen – Sophie-Anne suggests some things to do in Copenhagen that mothers and daughters will both enjoy.
Thanks to Kurhotel Skodsborg who hosted Heather and Sophie-Anne for their stay at the hotel and Scandinavian Airlines who provided Heather's flight.
Pin It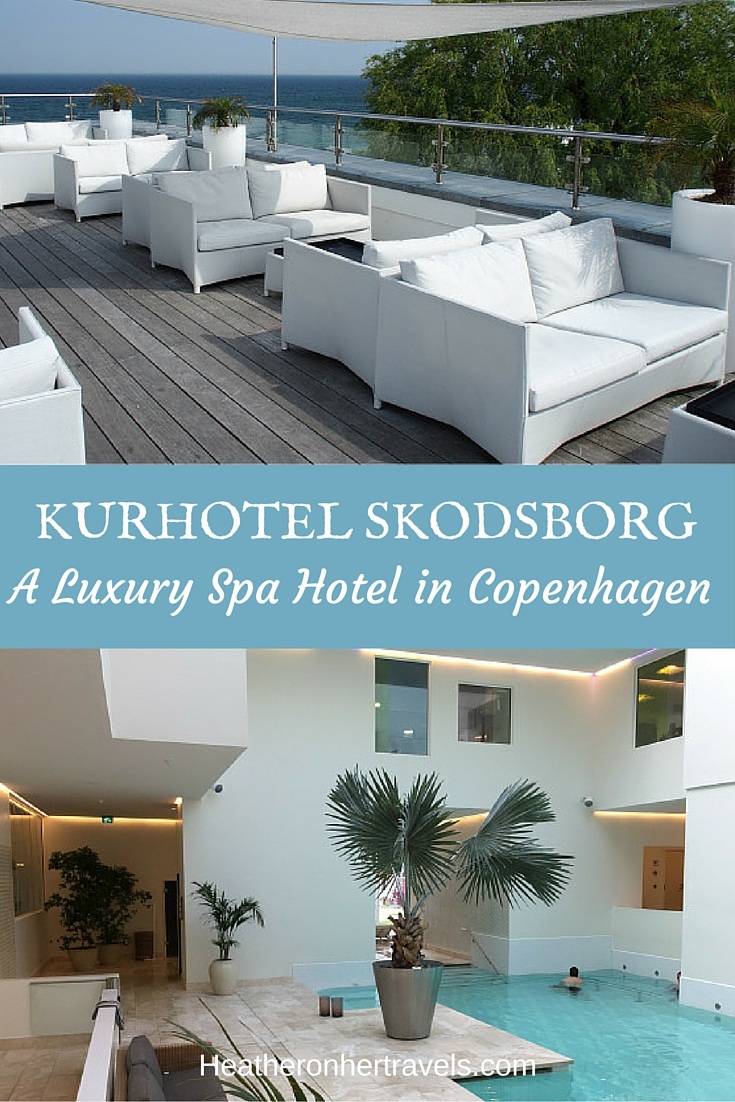 This article is originally published at Heatheronhertravels.com – Read the original article here
You'll also find our sister blog with tips on how to build a successful travel blog at My Blogging Journey
December 28, 2015 by Heather Cowper
Filed under United Kingdom, Europe, World, Leisure, featured, Art and design, Brittany, Copenhagen, Costa Brava, Cruise, Denmark, Devon and Cornwall, Eating and drinking, France, Germany, Greece, Greece & Turkey Cruise, India, Italy, Luxembourg, Museums, Sightseeing, Spain, Venice, Walking, Zakynthos
We're in that lull between the feasting and celebration of Christmas and the fresh starts and new plans of New Year. It's the quiet time when we can reflect and review the year that's gone, the time to reminisce and consider what the year brought us: the adventures and challenges, the excitement of visiting new places, the holiday times we enjoyed with loved ones. Here's a look back to the travels I enjoyed in 2015.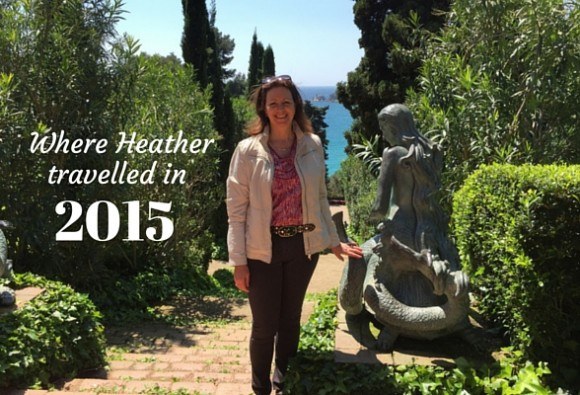 January – A cottage stay and fossil hunting in Devon and Dorset
We started the year with a weekend at Red Doors Farm in Devon through Premier Cottages, a collection of 500 year old thatched cottages, set around a cobbled farmyard. My teenage son and friends made good use of the indoor swimming pool and proved that you're never too old to feed the goats and chickens. We climbed up to the hill fort near the farm and enjoyed a bracing walk along the beach at Lyme Regis where we spotted fossils on the ammonite pavement that was revealed at low tide.
Read More: Fossil hunting and a weekend in the country at Red Doors Farm, Devon – video
February – A charity visit to India
In February I flew with Jet Airways to India for a week that was off the tourist map, although I spent a little time exploring Bangalore at the beginning and end of the trip. My purpose was to visit a local charity that I support in Andhra Pradesh and see some of the projects that we had funded. Together with one of the charity trustees I was treated to Bollywood style dances in all the local schools, had endless cups of teas with the nuns who ran them, cut the ribbon on a new water purification plant and presented a womens' tailoring class with their new sewing machines. It was a week that made me realise more than ever that when you give to those in need, you come away much richer from the experience.
Read More: 13 stories from my charity visit to India – going off the tourist trail
March – A weekend by the sea in St Mawes, Cornwall
We spent a weekend with friends at the magical Dreamcatchers house from St Mawes Retreats with a view over the Fal estuary in Cornwall. From the bedrooms we could see the tankers passing St Anthony's lighthouse and the St Mawes ferry heading for Falmouth. We'd stayed at another St Mawes Retreats house before (read my review of Stargazers here) so we knew that we could expect gorgeous Designers Guild fabrics and luxurious furnishings, with sea views to die for. This time we wandered around the harbour and took the St Mawes ferry across the estuary for a Cornish pasty and ale pub lunch in the quaint streets of Falmouth.
Read More: Sea views and springtime in St Mawes – our weekend in Cornwall
April – Venice with the family
I was lucky enought to win an apartment stay with Go with Oh through the Passports with Purpose fundraiser and decided to use it for a few days in Venice with my family. Although we visited a few tourist highlights like the Doge's Palace, we found that the neighbourhoods away from St Mark's square were much more enjoyable to wander around. We loved the modern art at the Peggy Guggenheim and saw Venice from the water on our boat tour with Walks of Italy when we climbed up the campenile of San Georgio Maggiore for views across the lagoon to San Marco. The only disappointment was the food, but hopefully you'll do better than me with my tips on How to not eat badly in Venice.
Read More: Join me on our Venice boat tour – with Walks of Italy
April – A weekend in Wiltshire and a sunrise visit to Stonehenge
I stayed at Sarum College inside the close of Salisbury Cathedral for the Social Travel Britain conference and part of the weekend included a walking tour of the cathedral, a private viewing of Magna Carta and a visit to Edward Heath's old residence of Arundells. The highlight, though, was a sunrise visit to Stonehenge during which we were allowed to walk within the stone circle. This access is only allowed on special guided tours and most tourists can't get up close to the stones, so it made the experience much more magical.
Read More: Sunrise at Stonehenge – inside the stone circle
May –  Lloret de Mar in Costa Brava, Spain
Lloret de Mar is one of those coastal resorts on the Costa Brava coast of Spain that was built up in the 1960s as one of the first places to welcome mass tourism from the UK. I was there as a speaker at the TBEX conference but took some time out to explore the town and discover its history. While the Lloret de Mar of recent years has gained a reputation for 20-somethings looking for nightlife and older couples seeking a retirement in the sun, I enjoyed walking around the older squares and along the rocky coast path on the edge of town.
In the Museu del Mar, I discovered the connections to Cuba where many locals sailed to make their fortunes, returning to build the grand mansions on the seafront. I tasted the Daiquiri cocktails, another import from Cuba and now the favoured drink of Lloret de Mar, and I loved the restful Santa Clothilde gardens, planted in Italian Renaissance style, overlooking the sea.
Read More: Lloret de Mar – sun, sea and so much more…
June – A weekend in Copenhagen with my daughter
I've visited Copenhagen many times and in June I returned with my daughter for the opening of  the Absalon Hotel which had been newly renovated in Designers Guild furnishings. I was able to interview Tricia Guild, Creative Director of Designers Guild who was there to open the hotel, as well as trying out new restaurants and cocktails with my daughter. We also spent a couple of nights up the coast at the gorgeous spa hotel, Kurhotel Skodsborg where we wafted around the pools and jumped off the jetty to cool off after our sauna.
Read More: Like mother, like daughter – what we loved on our trip to Copenhagen
June – Alpine Sports Week in Wilder Kaiser, Austria
I love being in the mountains in summer so I jumped at the chance when I was invited to try out some of the outdoor activities on offer during Alpine Sports Week in the Wilder Kaiser region of Austria. During this week different mountain sports are on offer, from high rope walking to canyoning, mountain-biking to Via Ferrata and all for the knockdown price of €99 for 5 days of activities with expert guides. It was the perfect opportunity to try something different, since I'm a keen hiker but was able to test myself with the mountain-biking and high wire climbing in the Hornpark tree forest.
Read More: Heather goes e-mountain-biking in Wilder Kaiser, Austria – video
July – A week with the family in Zakynthos, Greece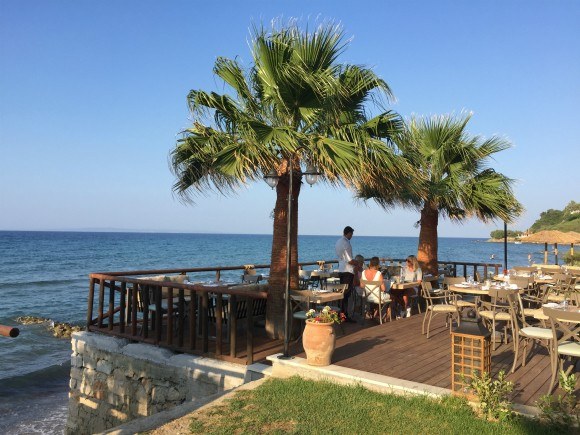 In July we made our annual visit to Zakynthos in Greece to visit my sister who runs two hotels there with her husband. We spent the week visiting different beaches, swimming, eating, sunbathing and catching up on family news. This summer my niece had returned to the island after training with a leading hotel group and had decided to get involved in the family business, opening a new Mediterranean restaurant in an idyllic setting by the sea. Anadalis, as it is called, is named after the old estate on which the hotel is built which once belonged to an aristocratic family with a house just a little way up the shore, but you'll have to read to article to find out why the locals thought the old ruined mansion was haunted. If you visit Zakynthos I highly recommend that you book a table for dinner as the sun goes down over the bay.
Read More: Anadalis – a Mediterranean restaurant by the sea in Zakynthos, Greece
August – Our Azamara Greek Island Cruise
Later in August we were back to the Greek islands again for a cruise with Azamara Club Cruises which took us from Athens to Santorini, Mykonos, Patmos, Kusadasi and finally to Istanbul where we ended our cruise. We absolutely loved the luxurious small ship cruise experience with Azamara Club Cruises where the spotlight is firmly on the destinations you visit, creating unique experiences like our magical evening concert among the ancient ruins of Ephesus as the sun went down.
Read More: Windy Mykonos – Day 2 of our Azamara Greek Island Cruise
September – A walking holiday in Austria with Headwater Holidays
September saw me back in Austria for a few days walking with Headwater Holidays who specialise in relaxing walking and cycling holidays. I was accompanied by my friend Julia for our annual walking trip which has become our tradition since we walked the Tour de Mont Blanc together. On the first day on the high slopes of the Gaistal valley I fell down a slope and hurt my ankle but using the Headwater walking guides we chose the less strenuous walks on subsequent days and enjoyed the rest of the holiday. We watched a rifleman's parade in Seefeld and walked along a Mental Power trail, walked through the wild Leutasch Gorge and round the lakes above the picturesque town of Mittenwald with its painted houses. Each day brought different mountain scenery and things to see, confirming my love of the mountains in summer.
Read More: Hiking in Austria – the views from the cross at Seefelder Spitze
September – A gourmet visit to Luxembourg
In September we spent a few days in Luxembourg, a city and tiny country that's full of surprises. While Luxembourg is known as a centre for international business, we found a charming and easily walkable city with great food, museums and a fascinating history, making it an ideal weekend break location. We also spent some time touring the Moselle wine region where the Moselle river forms the border with Germany, with many wineries to taste the delicious white wines the sparkling Cremant which was my favourite.
Read More: A gourmet walking tour of Luxembourg old town
November – The Christmas Markets of Heidelberg, Germany
At the end of November we spent a few day in Heidelberg, Germany to see the Christmas Markets and generally get into the festive spirit. We'd visited Heidelberg previously on a day trip from our Rhine River Cruise and were pleased that we could have more time to explore this picturesque and romantic town at our leisure. We took the river boat down to the Neurberg Abbey Christmas Market, climbed up to the castle, learned the history of the ancient university and student fraternities and ate plenty of hearty German food, delicious cakes and chocolates as well as drinking quite a few mugs of hot Glühwein.
Read More: A Food Lover's Guide to Heidelberg, Germany
December – A weekend in Le Havre, France
My final trip of this year was a hop over the channel to le Havre with Brittany Ferries to discover what this channel port would offer for a weekend break. Most Brits drive through Le Havre on their way to their holidays in France but I discovered that there are many fascinating things to see here that make it worth stopping to visit the city and surrounding area. The city was reconstructed after heavy bombing in WW2 and the architecture of the new town (now a UNESCO World Heritage site) represents the modern designs of the 1950s. We visited a 1950s show flat which would have been allocated to those who lost their own houses in the bombing, as well as a gorgeous 18th century ship owner's mansion. Another highlight was the MUMA modern art museum, a light and airy glass building with the largest collection of Impressionist paintings outside Paris, since painters such as Monet loved this part of the Normandy coast. I'll be writing about my weekend in Le Havre very soon so stay tuned.
Reviewing the year was a fun way to remind myself of all the fun I had on my travels in 2015. There's much more to come in 2016 and I wish you Happy Travels for the year to come.
Please note that many of the trips were hosted by the companies mentioned and you can find more details in the articles from each trip.
Pin It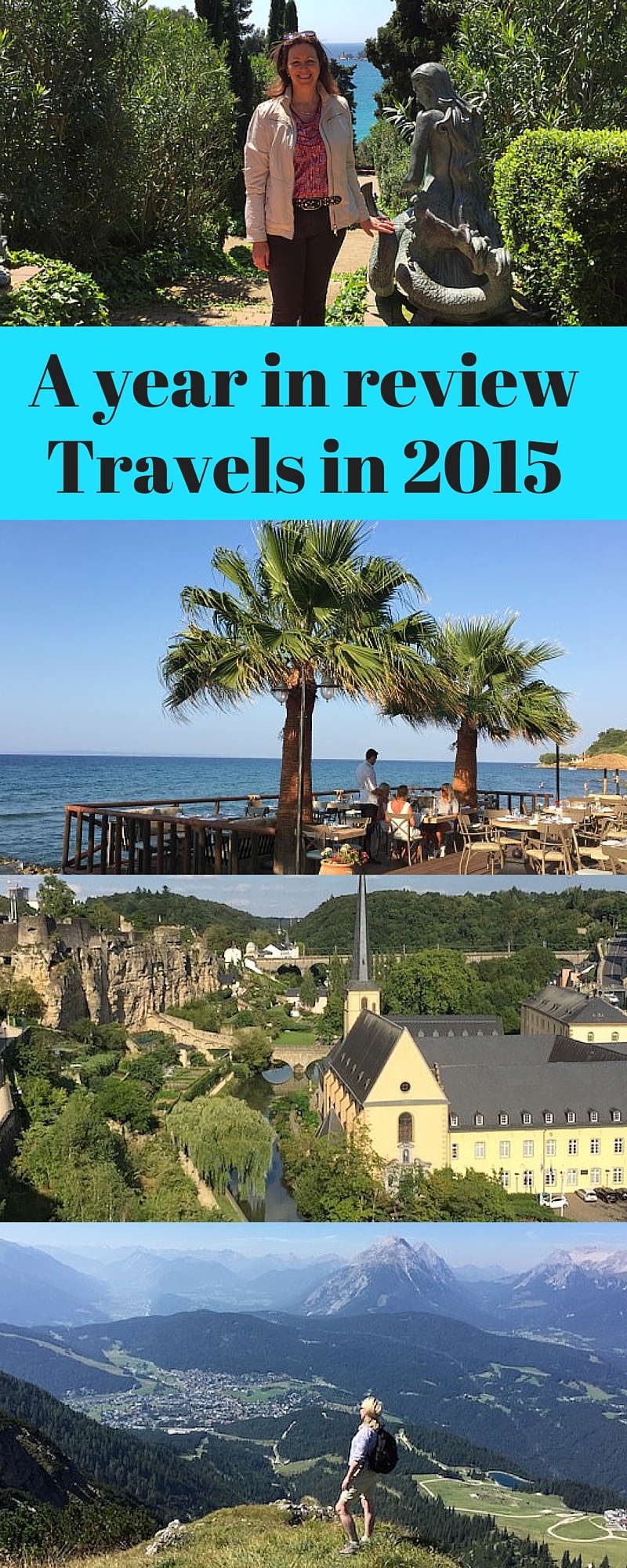 This article by Heather Cowper is originally published at Heatheronhertravels.com – Read the original article here
You'll also find our sister blog with tips on how to build a successful travel blog at My Blogging Journey