My first introduction to ski-ing was in my twenties when I spent a season as an au-pair in the French Alps. I remember being taken up the mountain as a complete novice only to tumble my way down the slopes through fresh powder on what felt like a black run but was probably only blue. Since then we've had quite a few happy family ski holidays and my kids have grown up as keen skiers and snowboarders, while I've been happy to potter down the easier runs, stopping now and then for a chocolat chaud.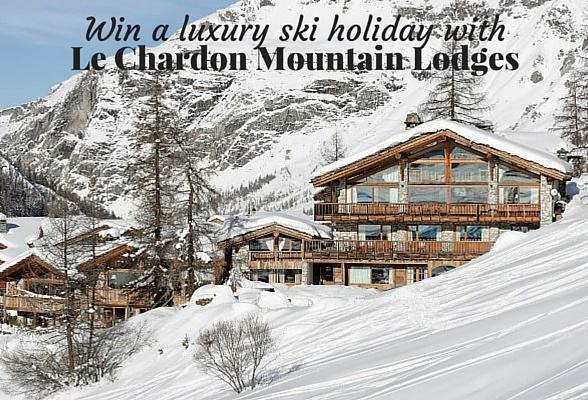 I think the luxurious Le Chardon Ski Chalets in Val d'Isere would suit me down to the ground, providing a comfortable and stylish bolthole to retreat to, leaving the rest of the family to get on with the serious business of ski-ing. The five luxury catered ski chalets sleep between 10 and 20 people, offering a ski-in, ski-out location and access to the 300km of pistes of Val d'Isere and the neighbouring resort of Tignes. If you fancy a luxurious ski break you could win a chalet holiday for two in the Le Chardon competition which you can enter here – more details of that in a moment. But first let's take a closer look at what your ski holiday could look like this year….
Why Val d'Isere?
Here are just a few of the reasons to choose Val d'Isere for your skiing holiday this year;
At an altitude of 1850 metres it has one of the longest winter ski seasons in Europe, from the end of November to the first week of May.
The Espace Killy ski area, comprising Val d'Isere and neighbouring Tignes offers 300km of marked pistes with something for everyone, from the complete beginner to the advanced skier.
The resort is easy to access from Geneva Airport with multiple flights from the UK each day.
If you have members of your group who are less committed ski-ers (hands up here) there's plenty to keep them happy from husky sleigh rides, ice skating and cross-country ski, to swimming and spa at the Centre Aquasportif.
If you already mentally enjoying your 7 night luxury ski holiday at Le Chardon Mountain Lodges, head over to the competition page now to enter. Meanwhile, here are a few more reasons to choose Le Chardon for your ski holiday;
Why Le Chardon Mountain Lodges?
Each of the five mountain lodges is individually styled with luxury touches like marble en suite bathrooms, crisp bedlinen, gorgeous textiles, natural wood and stone and of course a cozy fire burning.
You'll be pampered by a team of professional staff in each chalet including a chef, chalet manager, chalet hosts, in-resort concierge and chauffeur service.
Le Chardon is a family-run business offering personal service and extra flexibility for any special guest requirements.
Your stay will be a gastronomic experience, using local produce like the cheese from the cows that graze in front of the chalets, including cooked breakfast and afternoon tea, champagne and canapés, 3 course gourmet evening meal, with an open bar of wines, beers and spirits.
The chalets are in a ski-in, ski-out location on the side of the Solaise mountain offering access to the whole Espace-Killy ski area of Val d'Isere and Tignes.
The chalets offer hot tubs, sauna and treatment rooms where beauty and spa treatments can be arranged.
So unless you need any more convincing, head over to enter the competition on the link below.
Enter to win a 5 star chalet holiday with Le Chardon
In order to enter to win this luxury chalet holiday you'll need to watch the video below and answer a simple question on the competition page.
You can enter the competition here and the full terms and conditions are here but you could win a luxury chalet holiday that includes;
Transfers from Geneva Airport to Le Chardon Mountain Lodges
7 nights luxury lodge accommodation for two (sharing a room)
6 nights catered chalet board (coffee/tea in bed, cooked & continental breakfast, afternoon tea, gourmet five course evening meal and open bar including champagne, house wine, beers and spirits)
Pre-arrival and in-resort concierge
Dedicated chalet team and in-resort chauffeur service to 2am
1 week ski hire for two from Oxygene
Note: you need to cover your own flight to Geneva and any ski lessons your require.
Dates of accommodation can be chosen from: 24th Jan – 31st Jan '16, 31st Jan – 7th Feb '16, 7th Feb – 14th Feb '16 and 20th Mar – 27th Mar '16.
Entries close on 31st October 2015 at midnight and the winner will be announced by the 6th November 2015.
Best of luck!
For more information or to book your luxury ski holiday with Le Chardon Mountain Lodges head over to their Website or follow them on social media: Twitter @lechardon | Facebook | Google+ | YouTube| LinkedIn | Pinterest |
Pin It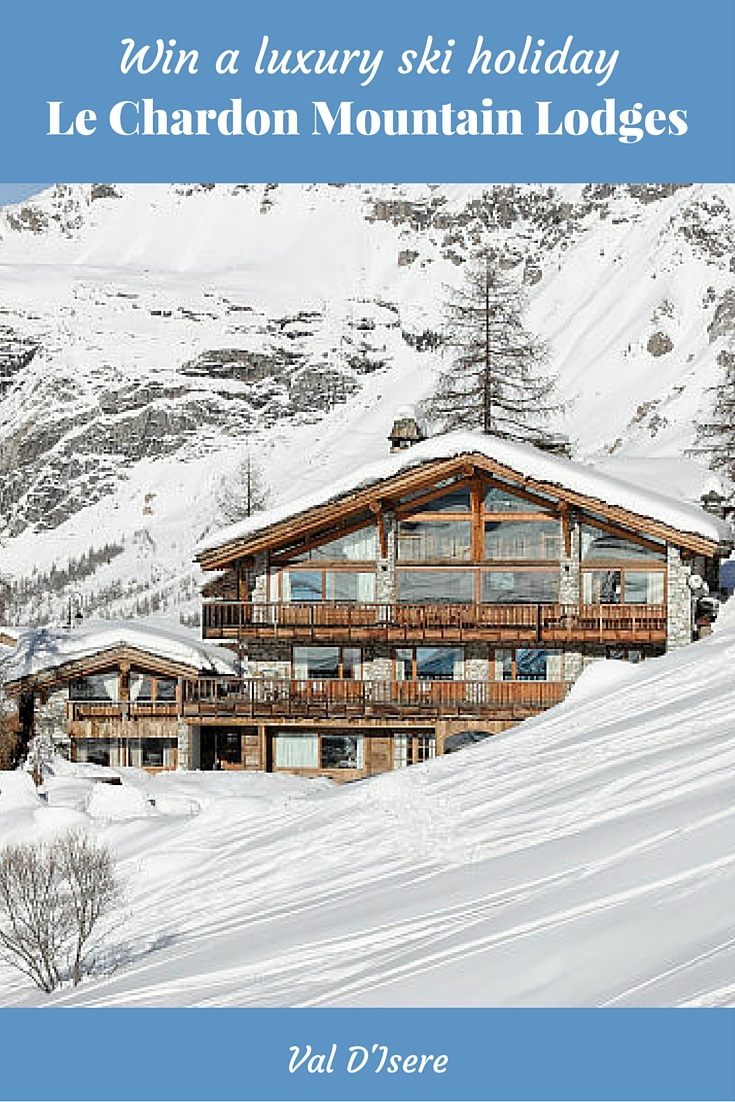 This article is originally published at Heatheronhertravels.com. This article is brought to you in partnership with Le Chardon Mountain Lodges and I was sponsored to help promote the competition. Read the original article here
You'll also find our sister blog with tips on how to build a successful travel blog at My Blogging Journey
As a travel blogger I'm lucky to live close to Bristol Airport, my gateway to countless interesting destinations in Europe and around the world. Flying from my local airport means I can stretch my precious holiday time with long weekends away, knowing that I can fly back into Bristol airport and half an hour later be walking through my own front door.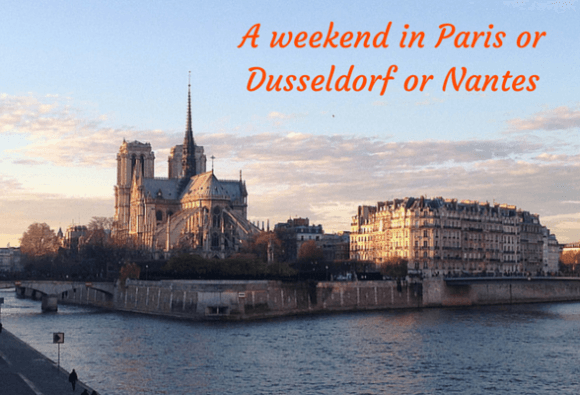 Paris like a local
Paris is a city that's on so many peoples' wish list, but even if you've done the Louvre and the Eiffel tower I highly recommend going back again to discover some alternative things to do in Paris that are a world away from the tourist sights. Here are some ideas from my last trip;
Marche d'Aligre – Last time I was in Paris for a pre-Christmas break we tried to go for a more local experience, taking a walking tour through Marche d'Aligre in the 12th arrondissement. You actually get three market in one; a fruit and vegetable market, an indoor market selling meat, cheeses and deli produce and a flea market where you can buy anything from vintage shoes to delicate antique wine glasses.
Dining with locals – We also tried out a dining with locals experience and had a very entertaining evening with Adelia who cooked us a delicious French Creole meal and regailed us with stories of her family in Guadaloupe. Read about it here.
Stroll along Canal St Martin – I can recommend a stroll along Canal St Martin, lined with houseboats and a walk along the Promenade Plantee, a garden above the street that is Paris's answer to New York's Highline.
Maison Victor Hugo – we loved our walk around the trendy Marais which ended at the elegant Place des Vosges and a visit to Maison Victor Hugo where the famous writer of The hunchback of Notre Dame and Les Miserables lived in his later years. Read about it here.
Fly with BMI Regional to Paris
Fly from Bristol to Paris six days a week, twice a day on Monday to Friday and once a day on Sunday. For more information read the BMI Regional destination guide to Paris and check out the Paris Tourism website.
Düsseldorf on the banks of the Rhine
Düsseldorf in Germany is a modern, cosmopolitan city set on the River Rhine and has plenty to offer for a weekend break. Here are some of the things that you might enjoy for a weekend break in Düsseldorf;
Take a walk – along the Rhine embankment promenade that connects the traditional Altstadt or Old Town with the Medienhafen which showcases high tech modern buildings by leading architects. With many bars and cafés lining the route, you can stop for a coffee to relax and watch the comings and goings on the river.
Take the boat tour – during the summer you can take a boat ride along the river Rhine, taking in the city sites with English commentary, costing €10 per person.
Drink in the atmosphere of the Alstadt – the Old Town is one of the best places to try Düsseldorf's world famous beer at one of the local breweries, but if beer's not your thing, there are plenty of places to eat, from homely pubs to world-class dining.
Artistic adventures – Alstadt is also where most of the cultural venues are found, including the Museum Kunstpalast housing contemporary art and glass collections and the NRW-Forum with a fusion of popular art, culture and design.
Fly with BMI Regional to Dusseldorf
Fly from Bristol to Düsseldorf six times a week, with one flight a day, Sunday to Friday. For more information read the BMI Regional destination guide to Düsseldorf and check out the Düsseldorf Tourism website.
Nantes – gateway to the Loire
Nantes is located on the west coast of France on the Loire River and while many pass through to visit the rest of the Loire region, it worth a weekend visit. Here are some things to do on your weekend break in Nantes;
Château des Ducs de Bretagne – with all the turrets and courtyards you'd wish for, this was the residence of the Dukes of Brittany during the 13th to 16th centuries and includes the Nantes History Museum which traces the history of the city – Website here
Ride the Great Elephant – this enormous mechanised elephant will take you for a walk and is part of Les Machines de l'Isle artistic project to create a fantasty world of mechanical objects set in a large open space on the banks of the Loire. Website here
Visit the Jardin des Plantes – established in the 18th century as a home for the exotic plants being brought by ship to Nantes from all over the world, this botanic garden is especially known for the collections of magnolias and camelias and the 100 year old heated greenhouses. Website here.
Take the hop-on-hop-off bus tour – from Easter to September, the bus stops at 12 locations; including the Cathedral, Botanical Garden and 50 Otages with commentary in English.
Fly with BMI Regional to Nantes
The Bristol-Nantes flight runs through the summer from 4 July to 12 September, twice a week on Saturday and Tuesday, making it ideal for a long weekend hop across the channel. For more information read the BMI Regional destination guide to Nantes and check out the Nantes Tourism website.
If you live close to Bristol Airport, it's also worth checking out the BMI Regional flights to Aberdeen, Frankfurt, Hamburg, Munich and Milan. I'm looking forward to flying with BMI Regional to Munich in August for a walking holiday in the Austrian Tyrol. To book flights, visit the BMI Regional Website.
Pin It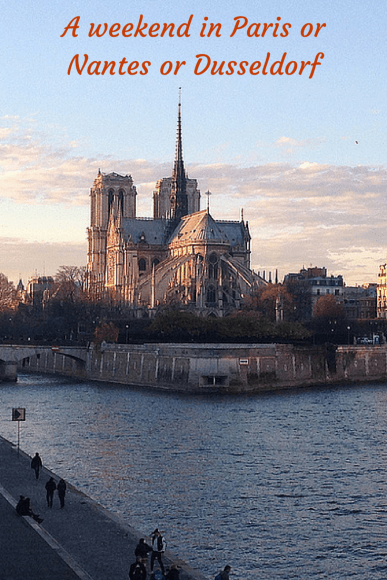 Photo Credits: All Paris photos by Heatheronhertravels.com, Düsseldorf Medienhafen by Wojtek Gurak, Great elephant in Nantes by Mister_Jack, Chateau des Duces de Bretagne by Jean-Pierre Dalbera
This article is brought to you in partnership with BMI Regional who have provided me with flights for some of my travels.
This article is originally published at Heatheronhertravels.com – Read the original article here
You'll also find our sister blog with tips on how to build a successful travel blog at My Blogging Journey
If you have holidayed in Europe then the likelihood is that you've visited the Mediterranean Coast. Stretching from the south coast of Spain to sun soaked Cyprus, the Mediterranean coastline encompasses some of the most beautiful parts of Europe. But if you only explore it one beach at a time can you really say you've seen it in its full glory? With dazzling stretches of shoreline road and cliff top views, why not take to four wheels and explore one of these fantastic routes:
Cassis to La Ciotat, France
At just 12 miles long, this short but sweet jaunt hugs the shoreline of the southern French Coast. Navigate your way between two of the region's most unspoilt seaside towns Cassis and La Ciotat and negotiate the high altitude Route des Crêtes over Cap Canaille. Cap Canaille is one of the tallest maritime cliffs in Europe and the views from the top are truly spectacular.
Cassis itself is perhaps one of France's best kept secrets. Charming, quaint, and picture perfect, it has maintained the appeal of a coastal fishing village whilst succumbing the laid back lifestyle of its Rivera counterparts (minus the crowds). Cassis is full of character so be sure to take a leisurely stroll through the old streets that offer a quintessentially 'South of France' experience.
Whilst it may be tempting to fill your camera's memory card with pictures of Cassis remember to save some space for the drive! Les Route des Crêtes offers panoramic views over some of the most superb scenery in Provence. Whilst the route is only 12 miles long, the roads are steep and winding. They can be narrow in some places, so adopt the laid back Riviera attitude and take your time. The slower pace will give you more opportunity to enjoy the beautiful views of the coast, the mountains and the countryside in between!
Hiking trails lead off the road at a number of viewpoints. Why not break up the drive with a short stroll? Stretch your legs and get a closer look at some of the unusual rock formations that make the landscape so striking. Your vantage point up high on Cap Canaille also gives you a chance to experience a different perspective of the coastline and the hidden seaside gems of Cassis and La Ciotat. Rather than seeing things from ground level, your bird's eye view puts this stunning section of coastline in perspective geographically. It's an opportunity to experience the area as a whole, in all its natural glory.
But the beauty doesn't stop there! La Ciotat is a truly authentic French town, having so far managed to side step the influence of tourism. Home to an array of unique boutiques and a lively market on Sunday mornings it is the perfect place to pick up a souvenir or two to complement your bursting holiday photo album. Like Cassis the centre is made up of winding streets and shady squares dotted with relaxed cafes and delicious restuarants. Finally, enjoy a day on the beach at L'Ile Verte. Take the ferry from the port and make the short 10 minute crossing to this picture perfect spot. Pack a picnic and admire the breath-taking shoreline from the beach or explore the island and uncover the range of fantastic viewpoints.
Otranto to Santa Maria di Leuca, Italy
The region of Puglia makes up the heel of Italy's boot. The landscape is characterised by rugged hills dotted with whitewashed buildings and crystal clear waters lapping against the sun scorched coastline. The drive itself meanders between the seaside towns of Otranto and Santa Maria di Leuca along a road that has been dubbed the 'Little Amalfi Coast'. With its jagged coastline and secret beaches this stretch of the Puglia region is perfect for exploring by car and without doubt one of the most beautiful drives in Europe.
Otranto is a harbour town and is as gorgeous as it is historic. Before you embark on your scenic drive along the coast be sure to visit its unusual Cathedral. It is well known for the monumental mosaic which covers the entire floor of the Cathedral and dates back to the 12th century. Despite being hundreds of years old the mosaic has stood the test of time and the mythical illustrations which depict man's struggle between good and evil can still be clearly deciphered.
If you get the chance take an evening stroll around Otranto. The town's architecture is particularly impressive at night, especially the castle. Locate the turrets and walls open to the public and make your way to the top for breath taking views of the city. You will likely find yourself struggling to leave this picturesque town. Rest assured there are even better things to come. The drive runs past mile after mile of spectacular ocean views and is one of the most underrated attractions of the area.
The cliffs, grottos, ancients fishing villages and hidden beaches along the way are numerous, offering plenty of opportunity to take breaks, hike, picnic and swim. Don't miss the 'Grotta Zinzulusa' which is famous for its stalagmites and stalactites. Be sure to take the guided tour of this ocean-side cave and hear the fascinating story of the cave's discovery as you swim in the warm clear waters. As the midday heat beats down on the dramatic limestone cliffs of Puglia's coastline, stop for a picnic beneath the shade of the abundant olive groves.
As you approach Gagliano del Capo you'll come across a sea inlet spanned by an impressive bridge. Here you have two choices: descend the stone steps to access the water for a leisurely swim, or join the daring divers as they scale the cliffs and jump from heights of up to 50ft! Whichever you decide, the inlet is an idyllic place to cool off in the afternoon sun.
Leuca is framed by the Regional National Park of the Costa Otranto. Before you reach the town, stop and enjoy the view of the wild flower and shrub covered slopes as they cascade down the rocky hillsides. Round of your scenic tour of the Puglian coastline and climb the headland to the lighthouse. Here you will be greeted by a staggering vista where the Adriatic and Ionian Seas meet. As you relax in the Marina with a gelato or sit down to dinner at one of the delicious restaurants in the old town and reflect on the highlights of the drive, you wouldn't be mistaken for thinking you had found your own piece of paradise.
This article is brought to you by Economy Car Hire – the largest independent car hire broker in the UK.
Photo Credits: Port of Cassis by Vincent Brassine, Cap Canaille by Anse de l'Arene, Otranto harbour by Paolo Margari , Grotta Zinzulusa by Giordano Merenda, Sant'Andrea by Vittori Ferrari
Other Mediterranean Delights
Bonjour Marseille – Day 2 of my MSC Mediterranean Cruise
Palazzo and Gelato in Genoa – Day 3 of my MSC Mediterranean Cruise
Dreaming about the Italian Islands of Sardinia and Sicily
This article is originally published at Heatheronhertravels.com – Read the original article here
You'll also find our sister blog with tips on how to build a successful travel blog at My Blogging Journey