We visited the Burgundy region of France as part of our Uniworld river cruise and despite the rain, I was excited to see row upon row of vines, as we were driven through some of the most famous wine villages in the Saone-et-Loire region of France.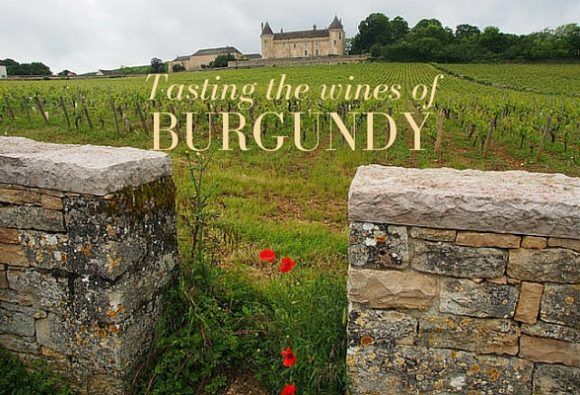 First stop was the ancient fortified chateau in the village of Rully dating back to the 12th century with 32 hectares of vineyards, one third of which are Premiers Crus. Not only were we going to taste these fabulous wines but also to have lunch and a guided tour of the château with the owner.
The château and the vineyards are owned by the Comte de Ternay, whose family has lived here continuously for 22 generations. That period of time means that this family has been in this château and most probably producing great wine since the 12th century.
The Château is located on the side of a hill, facing the plain leading to the River Saône. The square keep was built during the 12th century with a dry ditch around the château to reinforce the defence. Later the fortress became a manor house and in the 18th century the outbuildings, the great and lower courtyards were created.
We learned that this ditch was later filled in because the Count's grandfather fell in it one night and decided that it's time had come. History does not record why he fell in it but I'd like to think it had something to do with (too much) wine! There is now a very tasteful dining room and a wine tasting cellar full of ancient barrels some of which have been converted to tables.
The Comte de Ternay, met us from our Uniworld luxury coach, an affable chap looking slightly frazzled. He explained that this was due to the obvious presence of three small boys who he refered to affectionately as his monsters. It was lovely to see that the same family has more children and that they do not see their château as a museum but a family home with a business attached. We felt lucky to be here knowing that this was a special place with no pretension whatsoever.
The Count started his introduction with a quote from Benjamin Franklin.
"Wine is sure proof that God loves us and wants us to be happy."
However I prefer the Galileo's words that my father often quotes before he enjoys a glass.
"Wine is sunlight, held together by water."
The region of Burgundy produces some of the most regal Grand Cru and Premier Cru wines in the world, with 100 different appelations and more than 3,000 individual producers. The Château de Rully vineyards are one of only 120 in the entire region of Burgundy which are owned by an individual. Around 80% of the wines made here are from the Chardonnay  grape vines which enjoy the limestone terroir and south-east exposure.
We were invited to a dimly lit cellar underneath the 12th century keep. It was full of ancient barrels some of which had been turned into tables and with the wine we were served some delicious cheese puffs called gougères. We tried the Premier cru 1er Cru Clos de la Bressande Monopol, the Clos being a low wall surrounding the vineyard which helps the grapes ripen by protecting them from the wind. The Count told us that the Chardonnay grapes are picked by hand and not by machine and then they are sorted again on tables, so that only the finest grapes are used in making the wines.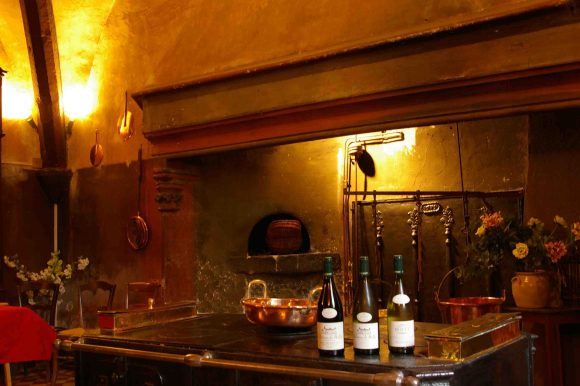 The wine had a floral nose with aromas of honey and orange blossom and an elegant oakiness. The Count told us that he loves drinking it with cold cuts of meat, fish or white meats and sauces and that it was particularly good with goat's cheese. It really tastes like sunshine in a glass.
We then tasted the Appellation Village Rully Les Saint-Jacques Ouest which was a lower classification called a regional appellation. It was good too but there really was a difference and the Premier Cru was the one for me. It was delightful to be drinking such beautifully made wine while chatting to a man whose whole life is dedicated to the estate outside his sitting room window.
After the tasting we moved back to the former stable block where a delicious lunch awaited us. Unsurprisingly we were served the local speciality, a classic Boeuf Bourguignon made with the château's own red wine. This was accompanied by a potato gratin with a crispy topping of local cheese. For pudding there was an equally classic and simple apple tart. It really doesn't get much better than this.
After lunch the Compte gave us a personal tour of the Chateau. There were some beautiful objects within the part of the house, but most interesting was that the Compte's family have lived there since the 12th century and throughout that long time they have been producing and clearly enjoying the delicious wines. It was a remarkable day out that allowed us to connect with what it means to be part of the Burgundy wine region.
The visit to Chateau Rully was offered as an optional excursion as part of our Uniworld Cruise. The Chateau is also open for visits by appointment in July and August. For more information visit the Chateau Rully website.
This guest article is by Guy Cowper, who enjoys accompanying Heather on her blogging trips, especially where wine tasting is involved!
Travelling with Titan Travel and Uniworld Cruises
You can book your Uniworld Cruise through Titan Travel who specialise in escorted holidays and cruises. When you book through Titan Travel you enjoy their VIP Home Departure Service which is included in your holiday, to transfer from your home to your departure airport in one of Titan's own vehicles.
Uniworld offer boutique river cruising on the rivers of Europe as well as other worldwide destinations. Like their sister company, Red Carnation Hotel Collection, the Uniworld ships feature luxurious furnishings and artworks with outstanding, personalised service.
Heather and Guy travelled on Uniworld's Burgundy and Provence River Cruise through Titan Travel, on an 8 day cruise from Lyon to Avignon, from £2049 per person. As with all Uniworld cruises, the holiday is all-inclusive and covers meals and drinks on board, daily excursions, gratuities and airport transfers.
Thanks to Titan Travel and Uniworld for hosting our cruise.
Pin It
This article is originally published at Heatheronhertravels.com – Read the original article here
July 5, 2016 by Heather Cowper
Filed under Europe, featured, France, Galicia, Gardens, Leisure, Northern France, Peru, South America, Spain, Texas, USA, World
At the RHS Hampton Court Flower show this week, destinations from Charleston to Galicia, Normandy to Peru, came alive in the gardens from around the world. Each was inspired by the plants and landscapes that make these little corners of a country unique and special. The show is on for a few more days, so do go along to see these and many other beautiful gardens to find some inspiration for your next holiday.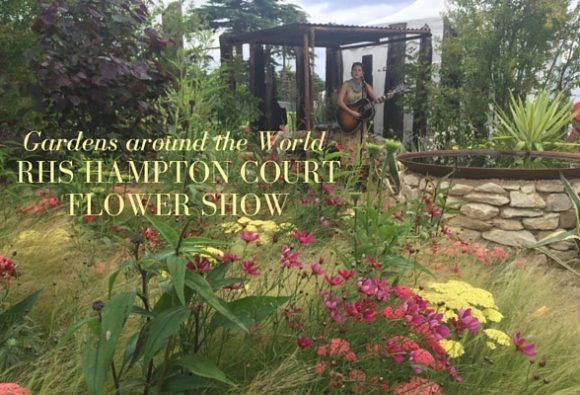 As I was visiting on the 4th July, celebrations were in full swing at the three USA gardens from Oregon, Charleston and Austin.
Landscapes of Austin
At the Austin garden, the strumming of singer songwriter Carson McHone took me straight back to our holiday in Texas a few years ago, remembering all the street performers playing in the bars and by the food trailers in Austin. The stone walling, beaten earth paths and and rusting metal bowl filled with water were just as I remembered, even in the smart hotel where we stayed on our trip to Texas.
I loved the soft swathes of grass that looked as if they were rustling in the breeze, mixed with the dusty reds and yellows of Echinacea and other wild flowers. The spiky Agave were there too, to remind us that Texas is tequila country and they mix a mean margarita in Austin.
Mountains and Vineyards of Oregon
In the Oregon garden it was all about the mountain landscape with rocky outcrops and mountain streams backed by pine forests (or as much of a forest as you can realistically transport and plant at a garden show). There were a few vines too to show that they are a wine growing region and at the front a naturalistic planting of daisies and grasses looking as if they might be growing in the border of some farmer's field. To represent the many cycling routes around the state, the edge of the borders were decorated with bicycle wheels.
Hidden gardens of Charleston
Quite different to the naturalistic feel of the other USA gardens was the Charleston garden, which exhuded elegance and old world charm. Box hedges surrounded the manicured lawn with wrought iron benches to linger a while. The pink and white planting gave a romantic feel mixed with a few more tropical shrubs. It was just the sort of place you'd like to take iced tea with your grandmother and hear her reminisce about her days as a southern belle.
 The Inca Garden with inspiration from Machu Picchu
The Inca civilisation of Peru that created awe-inspiring structures like Machu Picchu was the inspiration for a tropical garden sponsored by British Airways and Journey Latin America. From the outside we were met by a wall of native foliage with banana plants and sculptural leaves, but as we walked further into the garden, the carefully crafted dry stone terraces like those at Machu Picchu were revealed.
Water trickled down from the grassy terraces into pools that could be used for irrigation, with gardens of maize, potato and quinoa standing in well kept rows. The planting was spiky and exotic with variegated red and green planting mixed in with the yellow and orange astromeria. Perhaps if the explorer Hiram Bingham had been able to step back in time, this is what he would have seen of Machu Picchu when the Incas were at their full power, rather than the deserted remains of a lost civilisation that we think of today.
The Normandy 1066 Medieval Garden
To celebrate the 950th anniversary of the Battle of Hastings, the 'Le Clos d'Hastings' garden took on a medieval theme that reflected the garden plants and countryside from both sides of the channel in Normandy and the area around Hastings. The garden was divided diagonally into two parts with a woven hazel fence, the ends of the branches sprouting in places.
On one side of the fence was a field of crops waiting to be harvested; flax and wheat speckled with red popies and daisies. On the other side of the fence were garden plants in shades of white and purple, a rich mixture evoking the Bayeux tapestry. At the back of the plot, a green hedge was planted with saplings to represent the farming landscape of Normandy while at the front a couple of Norman soldiers were standing guard, quite happy to pose for photos!
From Galicia in Northern Spain – the Route of the Camelia garden
One of my favourites among the world gardens was the Route of the Camellia garden, sponsored by Turismo de Galicia. I visited northern Spain a few years ago on a family summer holiday and well remember the mixture of brilliant sunshine and showers that we had – there's a good reason why it's called 'Green Spain'!
The garden celebrates the pilgrim's route of  Santiago de Compostela, which I'd love to hike some day, with the pilgrim's symbol of scallop shells scattered on the path. Overhanging the romantic shrine to the Virgin Mary was a Camellia tree, frequently found in this part of Spain. Since the camellia flowers in the spring, designer Rose McMonigall had used pink coloured shells to represent the camelia petals that might drop onto the pilgrim's path.
RHS Garden Holidays
If you're a garden enthusiast, take a look at the RHS Garden Holidays, which are organised by the Royal Horticultural Society, offering tours of the world's great gardens, accompanied by horticultural experts.
RHS Hampton Court Flower Show
The RHS Hampton Court Palace Flower Show takes place 5-10 July 2016 – visit the RHS website  for more information on this and all the other RHS flower shows.
Pin It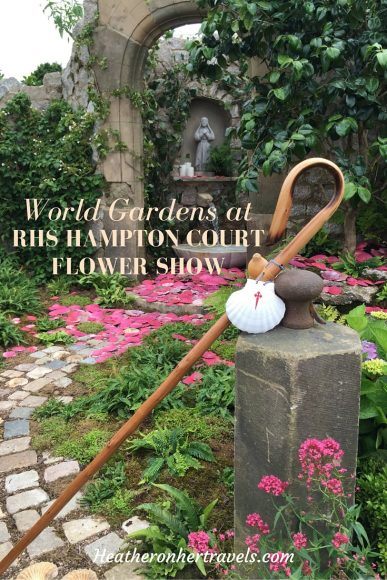 Thanks to RHS Hampton Court Flower Show who provided me with free entry to the show.
This article is originally published at Heatheronhertravels.com – Read the original article here
From Lyon, the gastronomic capital of France, to the Mediterannean flavours of Provence, our river cruise with Uniworld and Titan Travel took us through some of the best wine growing and food tasting regions of France. We found world class Burgundy wines, tasted both gourmet and authentically home cooked dishes and brought home a few sweet treats and piquant souvenirs. We enjoyed fabulous food on board the SS Catherine too, reflecting the local flavours of the Rhone valley we were passing through. Here are some of the culinary highlights of our Burgundy and Provence Uniworld Cruise that will make you want to discover this part of France for yourself.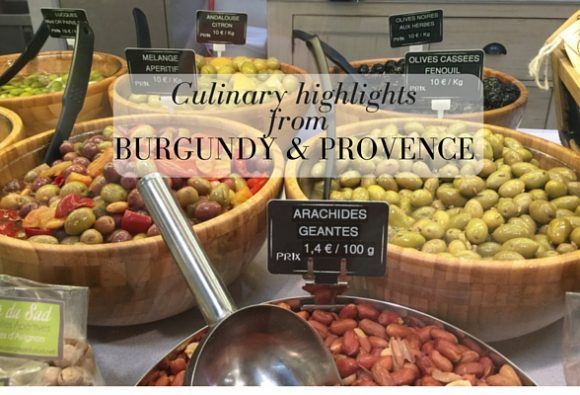 The elegant taste of Lyon at Institut Paul Bocuse
Paul Bocuse is the godfather of gastronomy in Lyon, the much revered local chef, who at the age of 90 has maintained 3 Michelin stars at his luxury restaurant for the last 50 years. One of the special Uniworld excursions took us to the Institut Paul Bocuse, the school of cookery founded by the chef, who also runs a hotel and several other restaurants around the city. Here we were treated to a demonstration of some classic Lyonaise dishes, expertly created before us by top chef, Philippe Jousse.
Under Philippe's culinary direction, we were encouraged to have a go at stirring, whisking and poaching the perfect egg for the Salade Lyonnaise. Of course we got away without having to do any of the washing up! At the end of the demonstration, we sat down to a delicious meal, although we could barely take any credit for it, of pike quenelles with crayfish sauce and a soft meringue set in vanilla custard topped with a delicate nest of spun sugar. It was a delightful introduction to the gourmet traditions of Lyon.
The best quality produce at Les Halles de Lyon Paul Bocuse
In the modern part of the city we wandered around Les Halles de Lyon Paul Bocuse, the food market named after the chef that is packed full of delicious speciality produce. We drooled over everything from cheeses to oysters, chocolates to fois gras macarons (yes really!) and in various corners found small restaurants serving the produce of the market. As our Uniworld guide explained, this market sells only the very best of everything and it's the sort of place you go shopping when you are hoping to impress your mother-in-law who is coming to dinner.
Authentic home cooking at a Bouchon Lyonnais
For cuisine in Lyon that's less Michelin star and more salt of the earth, look out for the homely restaurants known as Bouchon Lyonnais in the old quarter of Lyon. You'll recognise these restaurants by the sign with the puppet Gnafron, who is a well known comic character in Lyon, similar to the Punch and Judy puppets that we might see at the seaside.
The restaurants serve typical Lyonnaise cooking, specialising in meaty dishes, where andouillette sausages and offal feature heavily. You'll recognise them by the old fashioned feel with mismatched wooden chairs, red check table cloths, and dusty old pictures on the wall.
Wine tasting at a Burgundy Chateau – Chateau de Rully
A wine tasting in a a local vineyard is certainly part of the Burgundy experience and at Chateau de Rully we were guided through a tasting by the Compte de Ternay whose family had run this vineyard for 22 generations. In the cool cellar we were able to compare two of the Chateau de Rully white chardonnays, the Appellation Village and Premier Cru wines. No surprise that the Premier Cru with aromas of honey and orange blossom came out top.
The final tasting of red wine was left to try at our lunch in one of the converted chateau outbuildings where we dined on the classic local dish, a hearty boeuf bourgignon made with the chateau's own red wine. Although the meal was simple home-cooked fare, we really enjoyed being invited into the Count's home and hearing the stories of his family who have lived here and worked these vineyards for centuries. You can visit Chateau de Rully on open days in July and August – more details on their website.
A Wine tasting class at Chapoutier in Tain Hermitage
For a more structured wine tasting experience we stopped at M.Chapoutier in Tain-Hermitage, one of the leading wine producers responsible for great wines such as Chateauneuf du Pape and Crozes Hermitage. They allow informal tastings in the wine shop but we had the full experience upstairs in one of their classrooms. Interesting that the Syrah which is a typical grape of the region was quite different to the wines we normally buy from Australia and we found it light and acidic. I'm afraid it was not our favourite although the fresh whites, made from the Viognier grape, slipped down nicely! Visit the Chapoutier website for more information.
The delicious food on our Uniworld cruise
One of the delights of the food on our Uniworld river cruise was the local flavours that were incorporated into our daily menus, in the Regional Highlights section, such as roasted chicken with morel mushroom sauce or roast rack of lamb with a crust of herbs, garlic and olives from Provence. The wines were beautifully matched too, from the regions of Burgundy that we were passing through and each evening our sommelier would talk us through the food and wine pairings before dinner. On prominent display was also the cookery book by Uniworld owner Mrs Bea Tollman, who had collected her favourite recipes from a lifetime as a hotelier and some of these featured on each day's menu.
All the dishes were beautifully cooked and presented, with a daily Vegetarian menu and a low calorie 'Traveling Lite' selection, providing something for all tastes. A real treat was the afternoon tea laid out in the Van Gough salon where we inevitably made a beeline for the delicious macarons, which were impossible to resist.
Sweet treats to bring home – Les Anis de Flavigny
Although I try not to weigh myself down with too many purchases when I travel, I do enjoy scouting out local food specialities to bring home as souvenirs. In Beaune we spotted the delightful Anis de Flavigny. These locally made sweets are packed in pretty little tins with a vintage feel, like something your French grandmother might pull out of her apron pocket to give you as a child. They are made with a tiny seed of anis at the centre which is covered with a hard candy coating in ten different flavours such as violet, lemon and rose. We bought a few tins in Beaune, but they didn't last long once we got back home. You can read more about them on the Anis de Flavigny website.
The piquant Moutarde de Beaune
You'll have heard of Dijon mustard, but look out for the traditional Burgundy mustards made by Edmond Fallot. The company are reintroducing the production of mustard seeds to Burgundy, since most are now imported from abroad, to make a completely Burgundian product. We bought a jar of their Moutard de Beune which is made with wine rather than vinegar and had a smooth but piquant flavour. You can visit their museum and factory in Beaune for a tasting and find out more on the Fallot website.
An aperitif made of Creme de Cassis
You'll see many varieties of Creme de Cassis on sale in Burgundy as well as other fruit flavoured syrups and liqeurs. The Creme de Cassis is made from blackcurrants soaked in alcohol and often drunk as an aperitif; a Kir mixed with sparkling white wine or Kir Royale with champagne. Just like wine, the liqueur has a regional designation so you may see the labels marked with Creme de Cassis de Dijon or Cassis de Bourgogne which is made with the local Burgundy variety of blackcurrants. We enjoyed a glass of Kir on board SS Catherine as an aperitif before dinner on one of the special dining evenings that showcased the local cuisine.
Chocoholic's delight – the Valrhona Cité du Chocolat
On our Uniworld cruise we stopped at Tournon-sur-Rhone and Tain-l'Hermitage, both historic wine towns on opposite sides of the Rhone. The final stop of our walking tour was the Valrhona Cité du Chocolat where they have a discovery centre and extensive gift shop. The best part of the visit was tasting the many different samples laid out in bowls around the shop so you could try the different flavours before buying. Valrhona was a chocoholic's dream, with counters of chocolate truffles, bars of single variety chocolate as well as chocolate for drinking and cooking. Needless to say almost everyone came out with a bag full of chocolate to take home. Find out more on the Valrhona website.
The rosé wines of Provence
As our Uniworld river cruise took us further south the white chardonnays of Burgundy gave way to the light and easy-drinking rosé wines that are the summer drink of choice in Provence. We were offered them first as an aperitif together with local pâté and charcuterie at the end of our walking tour of Viviers in the rose filled garden of our guide who lived in one of the old town houses.
Soon I started to see the rosé wines everywhere, as if to mark the start of summer.  Apparently the majority of the wines produced in this south-east corner of France are rosé, with plenty of sunshine and the mistral wind blowing in from the north to dry the vines and clear the air. The rosé colour is created when the red grapes are pressed and the skins left in contact with the juice for just a few hours, allowing the pale pink colour to develop.
The Olives of Provence
Another typical produce of Provence are the lovely plump olives that we found in so many varieties in Les Halles, the food market of Avignon. Of course there were other things there too;  fresh fish on ice, beautifully polished tomatoes, pink radishes, asparagus and frisée salads, the ready prepared traiteur dishes to buy and take home and macarons flavoured with kiwi or framboise. But the olives were the star, in red and green glistening piles, studded with red peppers or golden onions, stuffed with anchovies and pimentos.
Another olive based speciality that you'll find everywhere in Provence is tapenade, a paste made of finely chopped olives, both green and black. The olives are pulverised in a pestle and mortar, sometimes combined with anchovies or capers and served on rounds of baguette as a canapé with your glass of rosé. The tapenade is served in restaurants and bars, but you'll also find jars that you can buy to eat at home, for a reminder of the sunshine of the Mediterranean and Provence.
Our river journey with Uniworld and Titan Travel ended at Avignon but there were so many delicious things to eat and drink that we could happily have continued our exploration of the food of Southern France. I hope I've whetted your appetite for many more delicious food discoveries on your travels.
Have you visited Burgundy and Provence or the South of France and what were your culinary highlights?
More from our Burgundy and Provence Cruise
10 things to expect on a river cruise with Uniworld
Titan Travel Blog: Burgundy and France Cruise with Heatheronhertravels
Travelling with Titan Travel and Uniworld Cruises
Uniworld offer boutique river cruising on the rivers of Europe as well as other worldwide destinations. Like their sister company, Red Carnation Hotel Collection, the Uniworld ships feature luxurious furnishings and artworks with outstanding, personalised service.
You can book your Uniworld Cruise through Titan Travel who specialise in escorted holidays and cruises. When you book through Titan Travel you enjoy their VIP Home Departure Service which is included in your holiday, to transfer from your home to your departure airport in one of Titan's own vehicles.
Heather and Guy travelled on Uniworld's Burgundy and Provence River Cruise through Titan Travel, on an 8 day cruise from Lyon to Avignon, from £2049 per person. As with all Uniworld cruises, the holiday is all-inclusive and covers meals and drinks on board, daily excursions, gratuities and airport transfers.
Thanks to Titan Travel and Uniworld for hosting our cruise.
Pin It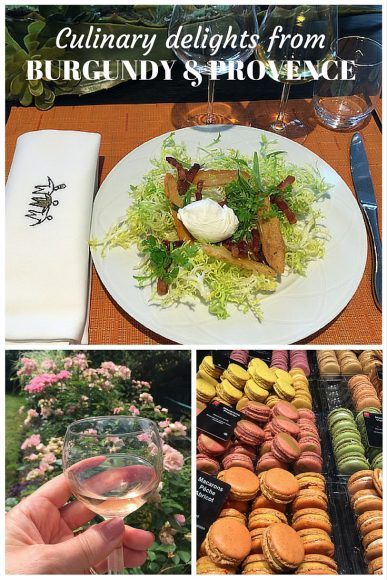 This article is originally published at Heatheronhertravels.com – Read the original article here