October 23, 2015 by Heather Cowper
Filed under Austria, CoolTravelGear, Europe, featured, Leisure, Misc, Nature, Tirol, Tour de Mont Blanc, Walking
We'd done the whole Tour de Mont Blanc together, sharing the views from the high mountain passes, sheltering from the odd summer shower. We'd walked the dry stone route in Mallorca although admittedly most of the time was spent at the bottom of my rucksack. But now, after years of hiking adventures together, my waterproof jacket was looking a bit tired.  All good things come to an end and as my old jacket headed off with my daughter on her travels, it was time to find a new lightweight rain jacket for my next hiking trip to Austria.
With all outdoor clothing, I like to have a good look around a specialist store like my local Ellis Brigham in Bristol, where I can try on plenty of different styles and pick the brains of the knowledgeable staff. Over the years I've learned there are a few things to consider when choosing the best waterproof jacket for your hiking holiday. When you're caught up the mountain in a downpour, you'll be glad you took the time to make the right choice so here are a few things to consider;
How does the jacket fit?
Call me vain but I do appreciate a jacket that fits well, for both comfort and good looks. It's worth trying on a few different womens waterproof jackets in the store as different companies may fit you better than others and since I'm no longer a stick insect I'm always looking for a flattering fit. If you anticipate the extremes of heat and cold that you get when hiking at altitude, you'll want to allow room to layer t-shirts and fleece under your jacket. On the other hand a jacket that is oversized or flaps around is not a great look. I also like a jacket that is not too short and falls around my hips, so I won't be revealing any flesh when I bend over to lace up my boots. I've noticed that the better quality (and therefore more expensive) jackets may offer a more tapered fit that is more flattering.
Those little design features
Look out for additional features in your jacket that might be worth paying a little more for. For example most quality hiking jackets will have zips under the arms that you can open for ventilation, if you get a hot and sweaty, without having to take off the jacket. You may also notice a breast or sleeve pocket which could be useful for storing small items such as your phone, tissues or lipsalve. The hoods on a more expensive jacket may have extra features like a visor or adjustable elastic drawstrings to keep the rain from dripping onto your face. Other useful features to look out for are a hood that zips away into the collar and 2 way zips that open from the bottom and the top.
How light is your jacket?
Depending on the time of year that you plan to do most of your walking, you should consider the best weight for your waterproof jacket. My annual hiking trips with my friend Julia have mostly been in August and September when the weather is sunny and warm. This means that my jacket needs to pack up small, since most of the time it stays in my rucksack, only coming out on chilly mornings, at higher altitudes or during the occasional shower. I know I can always layer my lightweight waterproof jacket with a long sleeved t-shirt or fleece for extra warmth if the weather closes in.
If you are hiking in Europe in the spring and autumn however, you'll probably be wearing your jacket most of the time, at least at the beginning and end of the day, until the sunshine and walking warms you up. In this case I might look for a jacket that has a bit more substance, or perhaps one that has a removable lining for extra versatility.
The waterproof fabric
The fabric that's used in your jacket is a big factor in the price you pay and depending on your hiking requirement you may need a higher technical performance. At the entry level you often find cheaper waterproof fabrics that are combined with a mesh lining. These jackets are perfectly waterproof but they may not be as breathable as the higher priced technical fabrics. The inside layer may feel clammy against the skin once you get walking and work up a sweat, so these are better for situations where you'll be wearing another layer under the jacket.
As you move up the price scale you'll see branded fabrics, the best known of which is GORE-TEX. These fabrics offer much greater breathability, so you don't get that clammy, sweaty feeling as you heat up or cool down. The standard GORE-TEX jackets are durable, waterproof and windproof for everyday wear. They also offer an Active range designed for higher intensity sport offering a lighter fabric with greater breathability, and a Pro range which is more durable for skiers and mountaineers. Some manufacturers have their own proprietary breathable, waterproof fabrics that do a similar job to GORE-TEX – there's a useful guide on the Ellis Brigham website. Because there are a wide range of different options in terms of weight and breathability, and the technical performance comes at a price, it's worth calling on the expertise of the shop staff to explain these options to you.
My choice of waterproof jacket
So what did I choose? After trying on plenty of different jackets I settled on the Patagonia Torrentshell from Ellis Brigham which cost £109. Surprise Surprise it's practically the same as my old jacket!
Although I tried on a lot of brightly coloured jackets I concluded that neutral white would work with more of my wardrobe and so I'd be able to wear the jacket around Bristol as well as on my hiking trips. I was also impressed by the Ellis Brigham Service, since they were able to order a few different jackets from their catalogue so that I could try them in my local store at no extra charge.
My new waterproof jacket is very light and packs up small. Although it's not the most expensive of the range in terms of fabric, it was perfect for my walking holiday in Austria where I wore it occasionally on the cool mornings or when we got to a highpoint like Seefelder Spitz which was cooler and a little windy.
Have fun choosing your waterproof jacket and even more fun on your next hiking trip!
Thanks to Ellis Brigham who provided me with my Patagonia Torrentshell Jacket for the purposes of this article. Heather travelled to Austria with Headwater Holidays – you can read about her adventures here.
Day 1 – A high mountain walk (and a tumble) in the Gaistal Valley of Austria
Day 2 – Hiking in Austria – the views from the cross at Seefleder Spitze
Day 3 – Hiking in Austria – a Rifleman's Parade and Mental Power Walk at Seefeld
More hiking gear info:
What equipment do you need for hiking in Europe?
How my Leki Micro Vario walking poles saved my legs on the Tour de Mont Blanc
How to choose the perfect hiking boots for the Tour de Mont Blanc (and other mountain trails)
You'll also be subscribed to our free monthly newsletter for great travel resources, news and offers, but you can unsubscribe at any time and we'll never share your e-mail.
Pin It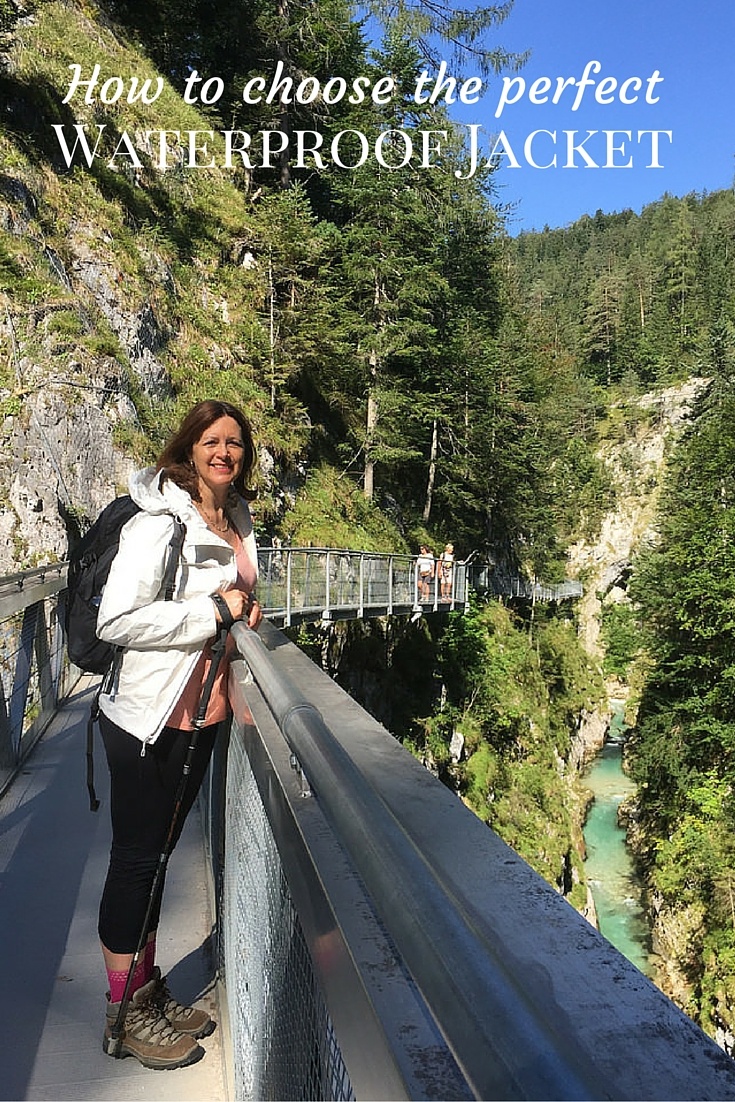 This article is originally published at Heatheronhertravels.com – Read the original article here
You'll also find our sister blog with tips on how to build a successful travel blog at My Blogging Journey
My first introduction to ski-ing was in my twenties when I spent a season as an au-pair in the French Alps. I remember being taken up the mountain as a complete novice only to tumble my way down the slopes through fresh powder on what felt like a black run but was probably only blue. Since then we've had quite a few happy family ski holidays and my kids have grown up as keen skiers and snowboarders, while I've been happy to potter down the easier runs, stopping now and then for a chocolat chaud.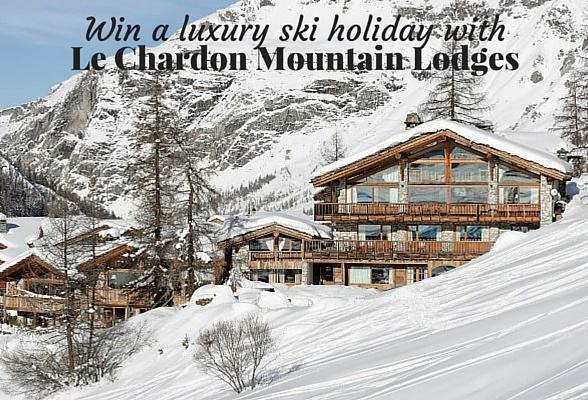 I think the luxurious Le Chardon Ski Chalets in Val d'Isere would suit me down to the ground, providing a comfortable and stylish bolthole to retreat to, leaving the rest of the family to get on with the serious business of ski-ing. The five luxury catered ski chalets sleep between 10 and 20 people, offering a ski-in, ski-out location and access to the 300km of pistes of Val d'Isere and the neighbouring resort of Tignes. If you fancy a luxurious ski break you could win a chalet holiday for two in the Le Chardon competition which you can enter here – more details of that in a moment. But first let's take a closer look at what your ski holiday could look like this year….
Why Val d'Isere?
Here are just a few of the reasons to choose Val d'Isere for your skiing holiday this year;
At an altitude of 1850 metres it has one of the longest winter ski seasons in Europe, from the end of November to the first week of May.
The Espace Killy ski area, comprising Val d'Isere and neighbouring Tignes offers 300km of marked pistes with something for everyone, from the complete beginner to the advanced skier.
The resort is easy to access from Geneva Airport with multiple flights from the UK each day.
If you have members of your group who are less committed ski-ers (hands up here) there's plenty to keep them happy from husky sleigh rides, ice skating and cross-country ski, to swimming and spa at the Centre Aquasportif.
If you already mentally enjoying your 7 night luxury ski holiday at Le Chardon Mountain Lodges, head over to the competition page now to enter. Meanwhile, here are a few more reasons to choose Le Chardon for your ski holiday;
Why Le Chardon Mountain Lodges?
Each of the five mountain lodges is individually styled with luxury touches like marble en suite bathrooms, crisp bedlinen, gorgeous textiles, natural wood and stone and of course a cozy fire burning.
You'll be pampered by a team of professional staff in each chalet including a chef, chalet manager, chalet hosts, in-resort concierge and chauffeur service.
Le Chardon is a family-run business offering personal service and extra flexibility for any special guest requirements.
Your stay will be a gastronomic experience, using local produce like the cheese from the cows that graze in front of the chalets, including cooked breakfast and afternoon tea, champagne and canapés, 3 course gourmet evening meal, with an open bar of wines, beers and spirits.
The chalets are in a ski-in, ski-out location on the side of the Solaise mountain offering access to the whole Espace-Killy ski area of Val d'Isere and Tignes.
The chalets offer hot tubs, sauna and treatment rooms where beauty and spa treatments can be arranged.
So unless you need any more convincing, head over to enter the competition on the link below.
Enter to win a 5 star chalet holiday with Le Chardon
In order to enter to win this luxury chalet holiday you'll need to watch the video below and answer a simple question on the competition page.
You can enter the competition here and the full terms and conditions are here but you could win a luxury chalet holiday that includes;
Transfers from Geneva Airport to Le Chardon Mountain Lodges
7 nights luxury lodge accommodation for two (sharing a room)
6 nights catered chalet board (coffee/tea in bed, cooked & continental breakfast, afternoon tea, gourmet five course evening meal and open bar including champagne, house wine, beers and spirits)
Pre-arrival and in-resort concierge
Dedicated chalet team and in-resort chauffeur service to 2am
1 week ski hire for two from Oxygene
Note: you need to cover your own flight to Geneva and any ski lessons your require.
Dates of accommodation can be chosen from: 24th Jan – 31st Jan '16, 31st Jan – 7th Feb '16, 7th Feb – 14th Feb '16 and 20th Mar – 27th Mar '16.
Entries close on 31st October 2015 at midnight and the winner will be announced by the 6th November 2015.
Best of luck!
For more information or to book your luxury ski holiday with Le Chardon Mountain Lodges head over to their Website or follow them on social media: Twitter @lechardon | Facebook | Google+ | YouTube| LinkedIn | Pinterest |
Pin It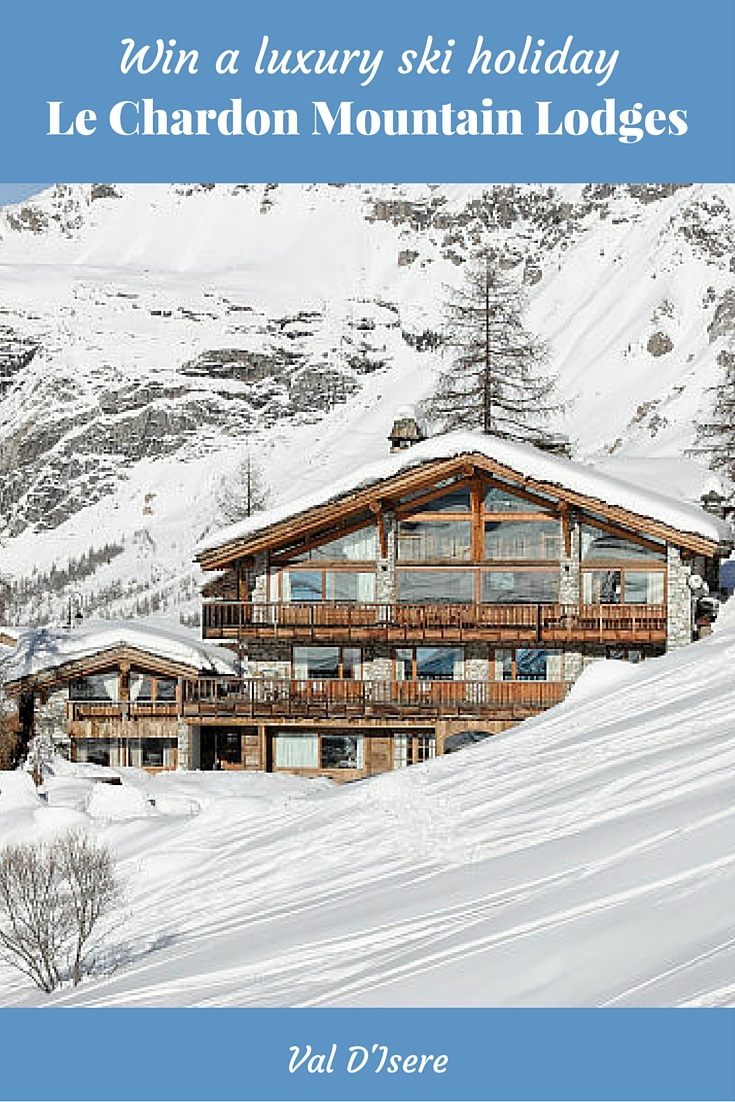 This article is originally published at Heatheronhertravels.com. This article is brought to you in partnership with Le Chardon Mountain Lodges and I was sponsored to help promote the competition. Read the original article here
You'll also find our sister blog with tips on how to build a successful travel blog at My Blogging Journey
As a travel blogger I'm lucky to live close to Bristol Airport, my gateway to countless interesting destinations in Europe and around the world. Flying from my local airport means I can stretch my precious holiday time with long weekends away, knowing that I can fly back into Bristol airport and half an hour later be walking through my own front door.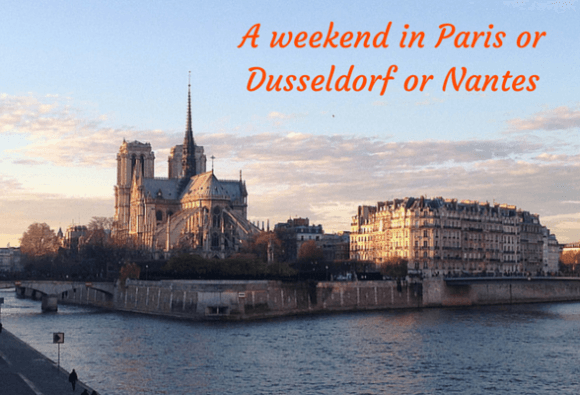 Paris like a local
Paris is a city that's on so many peoples' wish list, but even if you've done the Louvre and the Eiffel tower I highly recommend going back again to discover some alternative things to do in Paris that are a world away from the tourist sights. Here are some ideas from my last trip;
Marche d'Aligre – Last time I was in Paris for a pre-Christmas break we tried to go for a more local experience, taking a walking tour through Marche d'Aligre in the 12th arrondissement. You actually get three market in one; a fruit and vegetable market, an indoor market selling meat, cheeses and deli produce and a flea market where you can buy anything from vintage shoes to delicate antique wine glasses.
Dining with locals – We also tried out a dining with locals experience and had a very entertaining evening with Adelia who cooked us a delicious French Creole meal and regailed us with stories of her family in Guadaloupe. Read about it here.
Stroll along Canal St Martin – I can recommend a stroll along Canal St Martin, lined with houseboats and a walk along the Promenade Plantee, a garden above the street that is Paris's answer to New York's Highline.
Maison Victor Hugo – we loved our walk around the trendy Marais which ended at the elegant Place des Vosges and a visit to Maison Victor Hugo where the famous writer of The hunchback of Notre Dame and Les Miserables lived in his later years. Read about it here.
Fly with BMI Regional to Paris
Fly from Bristol to Paris six days a week, twice a day on Monday to Friday and once a day on Sunday. For more information read the BMI Regional destination guide to Paris and check out the Paris Tourism website.
Düsseldorf on the banks of the Rhine
Düsseldorf in Germany is a modern, cosmopolitan city set on the River Rhine and has plenty to offer for a weekend break. Here are some of the things that you might enjoy for a weekend break in Düsseldorf;
Take a walk – along the Rhine embankment promenade that connects the traditional Altstadt or Old Town with the Medienhafen which showcases high tech modern buildings by leading architects. With many bars and cafés lining the route, you can stop for a coffee to relax and watch the comings and goings on the river.
Take the boat tour – during the summer you can take a boat ride along the river Rhine, taking in the city sites with English commentary, costing €10 per person.
Drink in the atmosphere of the Alstadt – the Old Town is one of the best places to try Düsseldorf's world famous beer at one of the local breweries, but if beer's not your thing, there are plenty of places to eat, from homely pubs to world-class dining.
Artistic adventures – Alstadt is also where most of the cultural venues are found, including the Museum Kunstpalast housing contemporary art and glass collections and the NRW-Forum with a fusion of popular art, culture and design.
Fly with BMI Regional to Dusseldorf
Fly from Bristol to Düsseldorf six times a week, with one flight a day, Sunday to Friday. For more information read the BMI Regional destination guide to Düsseldorf and check out the Düsseldorf Tourism website.
Nantes – gateway to the Loire
Nantes is located on the west coast of France on the Loire River and while many pass through to visit the rest of the Loire region, it worth a weekend visit. Here are some things to do on your weekend break in Nantes;
Château des Ducs de Bretagne – with all the turrets and courtyards you'd wish for, this was the residence of the Dukes of Brittany during the 13th to 16th centuries and includes the Nantes History Museum which traces the history of the city – Website here
Ride the Great Elephant – this enormous mechanised elephant will take you for a walk and is part of Les Machines de l'Isle artistic project to create a fantasty world of mechanical objects set in a large open space on the banks of the Loire. Website here
Visit the Jardin des Plantes – established in the 18th century as a home for the exotic plants being brought by ship to Nantes from all over the world, this botanic garden is especially known for the collections of magnolias and camelias and the 100 year old heated greenhouses. Website here.
Take the hop-on-hop-off bus tour – from Easter to September, the bus stops at 12 locations; including the Cathedral, Botanical Garden and 50 Otages with commentary in English.
Fly with BMI Regional to Nantes
The Bristol-Nantes flight runs through the summer from 4 July to 12 September, twice a week on Saturday and Tuesday, making it ideal for a long weekend hop across the channel. For more information read the BMI Regional destination guide to Nantes and check out the Nantes Tourism website.
If you live close to Bristol Airport, it's also worth checking out the BMI Regional flights to Aberdeen, Frankfurt, Hamburg, Munich and Milan. I'm looking forward to flying with BMI Regional to Munich in August for a walking holiday in the Austrian Tyrol. To book flights, visit the BMI Regional Website.
Pin It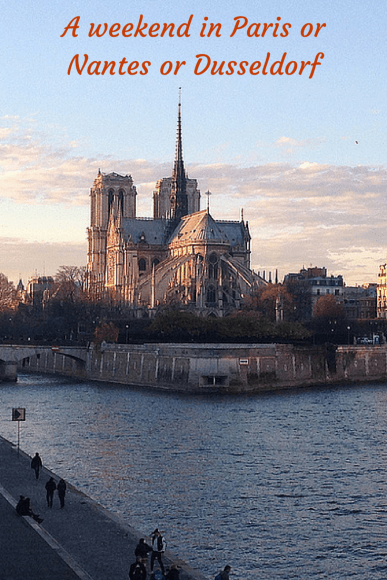 Photo Credits: All Paris photos by Heatheronhertravels.com, Düsseldorf Medienhafen by Wojtek Gurak, Great elephant in Nantes by Mister_Jack, Chateau des Duces de Bretagne by Jean-Pierre Dalbera
This article is brought to you in partnership with BMI Regional who have provided me with flights for some of my travels.
This article is originally published at Heatheronhertravels.com – Read the original article here
You'll also find our sister blog with tips on how to build a successful travel blog at My Blogging Journey