Summer is finally here and that Parisian holiday you've been thinking about for the past couple of months is just around the corner. But why not extend your travels to explore a bit more of northern France, by hiring a car? To whet your appetite, here are some ideas for a road trip through northern France, starting in Paris and taking in some enjoyable stops in Normandy and Brittany.
Ready Set Paris
When you find yourself in the City of Light, Capital of Fashion and the most romantic city in the world, it's quite easy to get lost in all its beauty and things to see. So, if you want a chance to experience the most important landmarks, I suggest booking three days for your stay in Paris.
On your first day you'll probably want to see the major sites; the Eiffel Tower, Arc de Triomphe and, if you have enough time left, the Notre-Dame Cathedral. On your second day why not explore on foot with a walking tour – either a classic one or something that will show you a different side of Paris, such as the Catacombs of Paris tour, then end the day with a show at Lido on the Champs Elysées or the Moulin Rouge in Montmartre. On your final day you might like to visit Disneyland Resort Paris or if that's not your thing, enjoy some fabulous shopping can be that small treatment for your soul.
If you're getting around Paris by public transport, you could look at the Navigo Découverte weekly passes which might save you some money depending on how many times a day you plan on using the Metro. The Navigo is €5 and you need a photo ID for the card plus €19.80 for unlimited travel in Zones 1 & 2.
Next Stop Nantes
Paris was amazing and you can't wait to get to your next destination, so now it's time to pick up your hire car. It's better to book your car starting with the day you leave for Nantes rather than leave it in front of the hotel while you explore Paris. By going through a broker rather than a specific company, you may be able to save money, as brokers check around 40 different suppliers for the best deals. For example a Paris car rental with Holiday Autos.co.uk can save you some serious cash as you can get vouchers and offers all year round.
After three days in Paris, it's time to head for Nantes, which will take around 4 hours via the A11, depending on traffic of course.  Two days should be enough to see something of Nantes, but avoid planning your trip with time in Nantes on a Sunday or Monday, because most things will be closed.
If you want to explore five centuries of medieval history then the Castle of the Dukes of Brittany is the place to visit. The entry price of €5 for museum and exhibition gives you access to the ramparts, the moat and the yard, then walk around the old historic centre and stop at the Les Machines de l'île. This artistic project is a mixture of Jules Verne's worlds, the mechanical universe of Leonardo da Vinci and the industrial history of Nantes, on the site of the former shipyards and is not to be missed.
Your second day can be filled with a cruise along the Erdre River with "Les Bateaux Nantais", and a walk on Ile de Versaille in the middle of the city exploring the Japanese garden and the Talensac market nearby.
On to Rennes
Next on your driving holiday through France is Rennes which you will reach in around an hour and a half via the  N137 from Nantes. A one day stop here will get you ready for sunbathing in Deauville and we'd suggest that you take the guided tour (except Tuesdays and Thursdays), of the Parlement de Bretagne from the tourist office. Next, visit the museums and exhibitions centres in the centre of town and if you are there on a Saturday, be sure to check out the food markets. Your taste buds will thank you for that one.
For the more active there are also bikes available to hire under Le Velo Star scheme in Rennes at €1 for 24h and €5 for a week. Each time you borrow a bike the first 30 minutes are free – that's one way to work off the pastries at breakfast. If cycling isn't your cup of tea, go for long walks in the gardens of Rennes; Thabor gardens, Tanneurs park and Saint-Martin meadows, Beauregard park or Bréquigny park.
Sunny Deauville
Continue your summer holiday with a stop at the beach and in two and a half hours drive from Rennes you will reach Deauville, with fabulous beaches and the names of movie stars on the beach huts.There's plenty more to explore in the area, so visit Honfleur with its Saturday market, and the hinterland of the Calvados – dotted with farms and cottages throughout the countryside. You'll find some natural cheeses, calvados and Foie gras, straight from the farm here. A short walk from Deauville is Trouville and the two towns are separated by a lovely bridge which is well worth the walk. If Deauville is posh and polished, Trouville still has the small fisherman's village feel and is cheaper to eat out.
The trip shouldn't break the bank, if you plan ahead and get a cheap car rental at HolidayAutos.co.uk, giving you a driving holiday in France that will make your heart smile and the memories last a lifetime.
This article was brought to you by Holiday Autos, where you can compare prices and book your car hire all in one place.
More adventures in France
Roadmap to the Riviera – a drive from Nice to Monte Carlo
The Canadian War Memorial at Vimy Ridge, France
Gone fishing for crabs on Isle de Houat in Brittany
Photo Credits: Eiffel tower by John Vosburgh, Les Machines de l'isle by Mister_Jack, Rennes by Herve Corcia, Deauville Beach huts by Guillaume Paumier

This article is originally published at Heatheronhertravels.com – Read the original article here.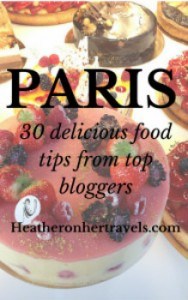 You'll also be subscribed to our free monthly newsletter for great travel resources, news and offers, but you can unsubscribe at any time and we'll never share your e-mail.
You'll also find our sister blog with tips on how to build a successful travel blog at My Blogging Journey
April 28, 2013 by Guest Author
Filed under Brittany, Europe, featured, France, Guest post, Leisure, Misc, Museums, Nature, Photography, Sightseeing
The walled port city of St. Malo, in the north-west of France, is a popular destination for ferry trippers who prefer to go further afield than Calais or Dunkirk. Its location in Brittany, which borders the English Channel to the north, the Celtic Sea and the Atlantic Ocean to the west, makes it an ideal place to get to by ferry.
The great thing about arriving by ferry is that you have the luxury of your own transport right from the start. Although it is possible to hire a car, many hire car companies don't allow you to take their cars on to the ferries, so do check beforehand.
Booking a ferry is simple and can be done online. However, ferry ticket prices can fluctuate depending on the time of year and availability. Generally though, prices are cheaper when booking in advance, whether directly with ferry company or through one of the comparison websites.
Historical Fort National
Once you have loaded your car up with all of the holiday gear you need, you can recuperate on your crossing to the ancient city of St. Malo. Arriving at the wonderful old port as travellers have done over hundreds of years, it is easy to see why St. Malo is still popular today. As an important coastal town many of the tourist attractions are based around its pirate history and the sea. The popular Fort National was constructed in 1689 on the orders of King Louis XIV to protect the port of St. Malo. Though it may not have the most in facilities, it definitely has wow factor. You will enjoy the guided tours, but the best feature is its location and the far reaching views that you can enjoy from its ramparts across the bay and the old town.
Rich maritime history
The castle of Saint-Malo, east of the town, was built by the Dukes of Brittany and later sold to the king of France. It has since been restored, damaged, restored and further damaged right up until the liberation of St. Malo during WWII. There are plenty of displays to see including maritime artifacts, but the best part of the visit for many is the view from the tower.
St. Malo is also famous for being the location of the world's first tidal power station. This attracts around 200,000 visitors each year who are interested in viewing the lock in the west end of a dam which allows the passage of 16,000 vessels between the English Channel and the Rance.
Saint-Malo Cathedral
Another wonderful place to go in St. Malo is the Catholic cathedral of Saint-Vincent-de-Saragosse de Saint-Malo. The cathedral is a national monument of France and formerly the seat of the Bishop of Saint-Malo. Many visitors point out that is not dissimilar to Notre Dame in Paris. The best time to visit is early in the day when the light streams through the lovely stained glass window and the whole building does tend to become a little dark later in the day.
St. Malo can be a great place to visit if you are on a short trip to France, but it is also somewhere that you can leave behind as you move on to other interesting areas of Brittany, a region that enjoys sunny weather warmed by the Gulf Stream and the occasional windy season, enjoyed by wind surfers from around the world. For more information about St. Malo we suggest you visit the Official St. MaloTourist Office.
This article is brought to you by Ferryonline.co.uk who specialise in offering tickets at low prices for all the popular ferry routes in Europe.
Photo credits: Rempart, St Malo by Pline, St Malo Cathedral by graham chandler, other photos by Ferryonline.
More tales from Brittany
Living on holiday all year round in Brittany
Gone fishing for crabs on the Ile de Houat
How to prepare a crab à la Française
This article by is originally published at Heatheronhertravels.com – Read more travel articles at Travel Blog Home
You'll also find our sister blog with tips on how to build a successful travel blog at My Blogging Journey
 Don't miss out – subscribe to Heather on her travels
Imagine if every day you woke up and this was the view from your bedroom window. Imagine if you came downstairs and sat eating your breakfast looking out at the boats bobbing on the water. And on sunny days, you walked through the garden gate in the hedge in your swimsuit and dived off the jetty in front of your house. Well, this is the view that my French friend, Isabelle has from her front terrace and this is her life.
On dull days in the city like today, my mind wanders to places like Conleau near Vannes where my friend lives. She told me once that living in this house was like being on holiday every day. I love being beside the sea and the feeling of space and calm that it brings and I have to admit I'm not a little envious.
This is the view back towards the house from the early morning ferry we took when we went Fishing for Crabs on Isle de Houat, when I went to visit last summer. Sigh….. I wish it would be summer again, and that I lived on holiday all year round – don't you?
This is posted as part of Photo Friday hosted at Delicious Baby – head over and see all the other photo Fridays too.
Compare prices and book hotels in Vannes through Hotels Combined
More stories from Brittany
Gone fishing for crabs on the Ile de Houat in Brittany, France
How to prepare a crab à la Française
A postcard from Conleau near Vannes in Brittany
Read more travel articles at Travel Blog Home
Don't miss out – subscribe to Heather on her travels