October 23, 2015 by Heather Cowper
Filed under Europe, Leisure, Misc, featured, Austria, CoolTravelGear, Nature, Tirol, Tour de Mont Blanc, Walking
We'd done the whole Tour de Mont Blanc together, sharing the views from the high mountain passes, sheltering from the odd summer shower. We'd walked the dry stone route in Mallorca although admittedly most of the time was spent at the bottom of my rucksack. But now, after years of hiking adventures together, my waterproof jacket was looking a bit tired.  All good things come to an end and as my old jacket headed off with my daughter on her travels, it was time to find a new lightweight rain jacket for my next hiking trip to Austria.
With all outdoor clothing, I like to have a good look around a specialist store like my local Ellis Brigham in Bristol, where I can try on plenty of different styles and pick the brains of the knowledgeable staff. Over the years I've learned there are a few things to consider when choosing the best waterproof jacket for your hiking holiday. When you're caught up the mountain in a downpour, you'll be glad you took the time to make the right choice so here are a few things to consider;
How does the jacket fit?
Call me vain but I do appreciate a jacket that fits well, for both comfort and good looks. It's worth trying on a few different womens waterproof jackets in the store as different companies may fit you better than others and since I'm no longer a stick insect I'm always looking for a flattering fit. If you anticipate the extremes of heat and cold that you get when hiking at altitude, you'll want to allow room to layer t-shirts and fleece under your jacket. On the other hand a jacket that is oversized or flaps around is not a great look. I also like a jacket that is not too short and falls around my hips, so I won't be revealing any flesh when I bend over to lace up my boots. I've noticed that the better quality (and therefore more expensive) jackets may offer a more tapered fit that is more flattering.
Those little design features
Look out for additional features in your jacket that might be worth paying a little more for. For example most quality hiking jackets will have zips under the arms that you can open for ventilation, if you get a hot and sweaty, without having to take off the jacket. You may also notice a breast or sleeve pocket which could be useful for storing small items such as your phone, tissues or lipsalve. The hoods on a more expensive jacket may have extra features like a visor or adjustable elastic drawstrings to keep the rain from dripping onto your face. Other useful features to look out for are a hood that zips away into the collar and 2 way zips that open from the bottom and the top.
How light is your jacket?
Depending on the time of year that you plan to do most of your walking, you should consider the best weight for your waterproof jacket. My annual hiking trips with my friend Julia have mostly been in August and September when the weather is sunny and warm. This means that my jacket needs to pack up small, since most of the time it stays in my rucksack, only coming out on chilly mornings, at higher altitudes or during the occasional shower. I know I can always layer my lightweight waterproof jacket with a long sleeved t-shirt or fleece for extra warmth if the weather closes in.
If you are hiking in Europe in the spring and autumn however, you'll probably be wearing your jacket most of the time, at least at the beginning and end of the day, until the sunshine and walking warms you up. In this case I might look for a jacket that has a bit more substance, or perhaps one that has a removable lining for extra versatility.
The waterproof fabric
The fabric that's used in your jacket is a big factor in the price you pay and depending on your hiking requirement you may need a higher technical performance. At the entry level you often find cheaper waterproof fabrics that are combined with a mesh lining. These jackets are perfectly waterproof but they may not be as breathable as the higher priced technical fabrics. The inside layer may feel clammy against the skin once you get walking and work up a sweat, so these are better for situations where you'll be wearing another layer under the jacket.
As you move up the price scale you'll see branded fabrics, the best known of which is GORE-TEX. These fabrics offer much greater breathability, so you don't get that clammy, sweaty feeling as you heat up or cool down. The standard GORE-TEX jackets are durable, waterproof and windproof for everyday wear. They also offer an Active range designed for higher intensity sport offering a lighter fabric with greater breathability, and a Pro range which is more durable for skiers and mountaineers. Some manufacturers have their own proprietary breathable, waterproof fabrics that do a similar job to GORE-TEX – there's a useful guide on the Ellis Brigham website. Because there are a wide range of different options in terms of weight and breathability, and the technical performance comes at a price, it's worth calling on the expertise of the shop staff to explain these options to you.
My choice of waterproof jacket
So what did I choose? After trying on plenty of different jackets I settled on the Patagonia Torrentshell from Ellis Brigham which cost £109. Surprise Surprise it's practically the same as my old jacket!
Although I tried on a lot of brightly coloured jackets I concluded that neutral white would work with more of my wardrobe and so I'd be able to wear the jacket around Bristol as well as on my hiking trips. I was also impressed by the Ellis Brigham Service, since they were able to order a few different jackets from their catalogue so that I could try them in my local store at no extra charge.
My new waterproof jacket is very light and packs up small. Although it's not the most expensive of the range in terms of fabric, it was perfect for my walking holiday in Austria where I wore it occasionally on the cool mornings or when we got to a highpoint like Seefelder Spitz which was cooler and a little windy.
Have fun choosing your waterproof jacket and even more fun on your next hiking trip!
Thanks to Ellis Brigham who provided me with my Patagonia Torrentshell Jacket for the purposes of this article. Heather travelled to Austria with Headwater Holidays – you can read about her adventures here.
Day 1 – A high mountain walk (and a tumble) in the Gaistal Valley of Austria
Day 2 – Hiking in Austria – the views from the cross at Seefleder Spitze
Day 3 – Hiking in Austria – a Rifleman's Parade and Mental Power Walk at Seefeld
Day 4 – Hiking in Austria – the wild Leutasch Gorge and picturesque Mittenwald
More hiking gear info:
10 Things to Pack for a Walking Holiday
What equipment do you need for hiking in Europe?
How my Leki Micro Vario walking poles saved my legs on the Tour de Mont Blanc
How to choose the perfect hiking boots for the Tour de Mont Blanc (and other mountain trails)
Some of the links in this article are affiliate links enabling me to earn a small commission at no extra cost to you – thanks for your support
You'll also be subscribed to our free monthly newsletter for great travel resources, news and offers, but you can unsubscribe at any time and we'll never share your e-mail.
Pin It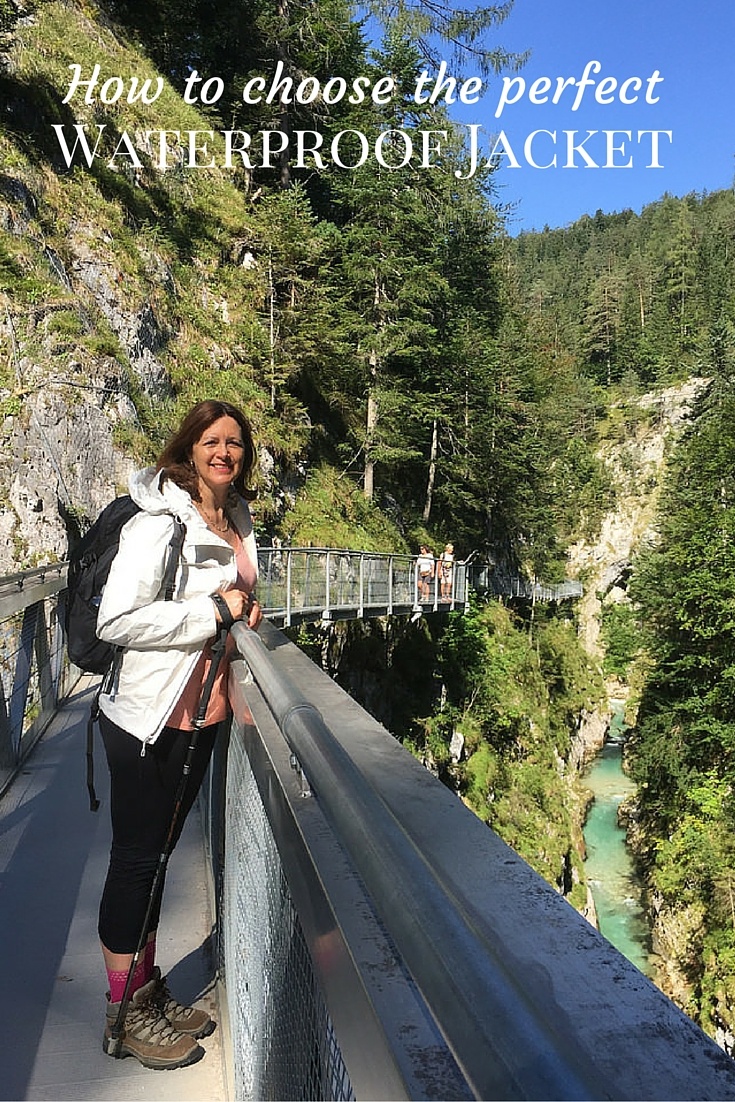 This article is originally published at Heatheronhertravels.com – Read the original article here
You'll also find our sister blog with tips on how to build a successful travel blog at My Blogging Journey
September 21, 2013 by Heather Cowper
Filed under Europe, Accommodation, Leisure, featured, France, Hostels, Italy, Nature, Tour de Mont Blanc, Tour de Mont Blanc, Walking
The second half of my walk on the Tour de Mont Blanc earlier this September took me and my friend Julia over high mountain passes, with panoramic views of the peaks and valleys surrounding us, as well as the emotional highs we felt on finally completing this demanding high mountain trail which we have walked in stages over the last four years. Read about the highs and lows of the the final three days of this year's trek as we walked from Chapieux to our journey's end at Les Houches in the Chamonix valley. (You may like to also read about Day 1 and 2 of this year's trek )
Day 3 – Chapieux to Refuge de Balme
Having passed a pleasant evening in the Vallee des Glaciers at Auberge de la Nova in Chapieux, we climbed up behind the refuge on a grassy path, over the bridge by a small hydro-electric station and up the mountain side. The path wound steadily upwards, getting more rocky towards the top, with occasional glimpses of Refuge de la Croix du Bonhomme on the crest, an hour before we actually reached it. Finally, after 3 hours of steady walking we reached the refuge, which was set on an intersection of many different paths. The large refuge was built of wood and glass but there was no sign of them selling refreshments, so we rested a while before walking up the to Col de la Croix du Bonhomme and took the detour up to Tete Nord de Fours for the most amazing panoramic views.
I hope you enjoy the Qwiki video below about our Tour de Mont Blanc walk from Chapieux to Les Houches
If you can't see the Qwiki video below, view it on my blog here or View on Qwiki
The walk now took as back down to Col de la Croix du Bonhomme and then wound along a grassy hillside to Col du Bonhomme, where we started to get views down the Val Montjoie towards Contamines. The descent to Refuge de la Balme took us down over a bed of glacial morraine with views of Lac Jovet hanging above the valley, then through a marshy meadow where cows were grazing and finally down a difficult shale path to Refuge de la Balme at the head of the valley.
Highlights of Day 3
We really enjoyed the late afternoon sunshine and our dinner at Auberge de la Nova, which included a home-made vegetable soup (in the refuges it is often packet soup), a tender beef stew and a custard tart with berries.
Tete Nord de Fours at over 2750M had been recommended to us by a French couple in Chapieux and although I was all for pressing on, I'm so glad that Julia insisted we take the 1 hr detour to climb up there, first to the saddle of Col de Fours and then to the viewing point of Tete Nord de Fours. The final part of the path followed a line of cairns over an outcrop of red rock, walking over patches of snow in places and up the ridge to the viewing point where there was a table with names of all the surrounding peaks. Before us was Mont Blanc itself and on both sides, we could look right down to the valleys as well as to the route we'd climbed up. This was where we stopped for a late picnic lunch, feeling on top of the world, at one with the mountains.
I hope you enjoy the panorama video of Tete Nord de Fours below
If you can't see the Panorama video above of Tete Nord de Fours, view it on my blog here  or View on Youtube here
The view from Col du Bonhomme was also stunning as we were now at the head of the Val Montjoie, looking down towards Contamines in the distance, with views of the glacial Lac Jouet. There was a viewing table, a small shelter and this was a flat area where many walkers stopped for a rest. It was great to know that from here it would be all downhill.
Lowlights of Day 3
As we got closer to Refuge Col de Balme, the path turned into hard shale that was steep and slippery, making it difficult to keep your footing. While we had thought of retracing our steps back up to see Lac Jovet the next day, after this path we decided not to bother as we couldn't face the hour's hard climb.
At Plan de Dames, in the meadow above Refuge de la Balme we passed a large rock cairn, which the guidebook said was where an Englishwoman had perished in a storm. I felt a bit sad, wondering who this lady was and how she had come to be lost in the storm.
Day 4 Refuge de la Balme to Contamines
We enjoyed our stay at the Refuge de la Balme, a collection of old converted dairy buildings, which was run by a group of exceptionally friendly and efficient young men. They were working hard to keep the place spick and span and had almost finished their chores by the time we left around 9am with the sun creeping over the mountain peak behind us while the Refuge was still in shadow. It was an easy walk down the valley, with the odd chalet now appearing in the meadows and forest on either side of the path. After 40 minutes we reached the pretty Refuge Nant Borrant where we stopped for morning coffee, before continuing our leisurely stroll down to the chapel at Notre Dame de la Gorge, where we stopped for a while to look around. By now we were getting close to Contamines and passing day walkers who had come up to see the chapel as well as the nearby boating lake with pedalos and a cafe. The surroundings were becoming more suburban with holiday apartments and proper roads and by early afternoon we reached the village of Contamines itself, with plenty of bars and restaurants. After checking into Hotel le Christiana we sat on the terrace of one of the cafes in the sunshine for a late lunch of Salade Nicoise for me (in honour of my recent girl's weekend in Nice) and spent the rest of the afternoon relaxing.
Highlights of Day 4
We enjoyed our relaxing morning coffee in the sunny garden of Refuge Nant Borrant, which was covered with colourful window boxes with an array of orange, yellow and green deckchairs, just inviting us to take the weight off our feet. We felt pretty smug as we watched the walkers heading up the hill, in the opposite direction, knowing that they would certainly have a gruelling 6 hour climb before they reached the top and arrive exhausted at Refuge Croix de Bonhomme.
The chapel at Notre Dame de la Gorge is a place of pilgrimage, built on the site of 13th century hermitage and was beautiful inside with plenty of colour and charming carved wooden statues at the side altars. We also enjoyed looking at the boards from the photo exhibition within the grounds of the chapel, with stunning mountain photography.
It was good to be back in the relative luxury of a proper hotel at Hotel le Christiania, after the bunk rooms and outside shower blocks of the mountain refuges, and we enjoyed our traditional Savoyard meal of Tartiflette, with plenty of cream and cheese that evening.
Lowlights of Day 4
We were a little sad to be leaving the grandeur of the high mountain passes, especially as we reached the suburbs of Contamines. The pedalos on the boating lake and slides of the leisure park felt a little fake after the wild beauty of the mountains and we felt rather superior to the day walkers, who were taking a much easier trek than the one we had just done.
Day 5 Contamines to Les Houches
Our final day took us mainly through meadows and attractive alpine hamlets with pretty gardens and window boxes, then climbing through forest higher and higher, occasionally dipping down to cross a fast rushing glacial stream. There are two routes to Contamines and we had decided to take the low road, while the high route would have taken us steeply up under the Bionnassay Glacier, which we had in sight for much of the walk. At the village of Bionnassay we stopped for lunch at the Auberge de Bionnassay, before continuing up through forest to Col de Voza, a high point from which we could look down on the Chamonix Valley. This is a stop for the Tramway that comes up from St Gervais-les-bains, bringing many mountain-bikers, who were gathering for their cycle back down to the valley. After a stop in the cafe we made the final descent for a couple of hours on the winding piste track, under the cable cars to Les Houches where we had started our trek 3 years before. We'd finally finished the Tour de Mont Blanc!
Highlights of Day 5
We had a very pleasant lunch, sitting on the grassy outdoor terrace of Auberge de Bionnassay, with a view of the Bionnassay glacier hanging on the opposite side of the valley. We were surrounded by tables of locals and shared the Plat de Jour followed by the traditional Tarte aux mytilles. We really enjoyed the atmosphere of the Auberge with an enclosure of rabbits hopping around under the shade of a tree laden with yellow plums.
By afternoon we were sitting in the cafe garden at Col de Voza watching a large group of mountainbikers who were gathering for their cycle down the mountain back to Chamonix. There was a train stop for the mountain tramway that comes up from St Gervais-les-bains with a fascinating exhibition of old photos and information about the history of the railway.
Despite the fact that the final couple of days had been less demanding, we felt elated and gave each other a big hug, when we finally reached Hotel Slalom in Les Houches, the place that we had left from 3 years earlier. It was a great sense of achievement, knowing that we had completed the Tour de Mont Blanc. We collared a couple of passing walkers to take a final "End of Walk" photo to complete the series.
Lowlights of Day 5
As we walked up to Col de Voza our tranquility was disturbed by the buzz of chainsaws in the forest and our path was blocked by a big lorry hoisting tree trunks into the back of the truck. They showed no signs of stopping, so we had to clamber up a grassy bank to get past – no respect for intrepid walkers like us!
The path down to Les Houches was along a gravel road of the ski piste which was slippery and very difficult to walk on, and occasionally we were nearly run over by mountain bikers whizzing past, although luckily they mainly kept to their own path. It was not the most attractive descent to end our walk.
You'll also be subscribed to our free monthly newsletter for great travel resources, news and offers, but you can unsubscribe at any time and we'll never share your e-mail.
Resources for walking the Tour de Mont Blanc
On this part of the Tour de Mont Blanc we stopped at the following hotels and mountain refuges;
 In Chapieux we stayed at Auberge de la Nova, a friendly inn at the end of the Vallee des Glaciers at 1550m with private and dorm rooms and a large restaurant and garden. We paid €43 per person per night for half board (dinner and breakfast) in a 12 person dorm. You can book by e-mail [email protected] or Telephone +33 479 89 07 15 or via the TMB website.
Our next night was at Refuge de la Balme, a friendly refuge made up of several different buildings of an old dairy farm, with the dorms, bathroom block and dining room all being in separate adjoining buildings. We shared a private room with bunk beds and paid €45 per person for half board (dinner and breakfast). You can book by e-mail [email protected] Telephone +33 04 50 47 03 54 or via the TMB website.
In Contamines we stayed at Hotel le Christiania, a family run hotel with an outdoor swimming pool where we stayed in an en suite twin room and paid €69 per person half board (dinner and breakfast). There are many different bars and restaurants in Contamines, but we did not see any other hotels. The dinner was enjoyable but there are other eating out options in the village if you want to keep costs down. I tried to book the hotel directly though their website contact form but got no response so I had to book by telephone.
In Les Houches we stayed at Hotel Slalom, a very pleasant boutique hotel that is right at the bottom of the TMB path, and ideal for walkers who want a bit more comfort and style. We paid €89 per en suite room plus €10 per person for breakfast. The hotel has a bar, but no restaurant although there are some good restaurant options within a few minutes walk. Read my review of Hotel Slalom.
My waterproof North Face jacket and walking trousers and Leki Micro Vario walking poles were provided by outdoor clothing specialist, Ellis Brigham who have a wide range of mountain clothing and walking gear you might need for a trek in the mountains, which are available both through their website and UK stores. Connect with them on Twitter @ellis_brigham, on their Facebook page and YouTube Channel
My Berghaus Explorer Light Gore-Tex walking boots were provided by Blacks, with online and high street stores in the UK, specialising in Outdoor Clothing for walking, hiking and trail-running as well as camping and travel gear. Connect with them on Twitter @blacks_online, and on their Facebook page, Google+ and YouTube channel
We used the Cicerone Tour of Mont Blanc guide by Kev Reynolds – we found it to be an excellent guide for both the clockwise and anti-clockwise route with detailed route guide, maps, accommodation information and points of interest along the route.
This article by Heather Cowper is originally published at Heatheronhertravels.com – Read the original article here
You'll also find our sister blog with tips on how to build a successful travel blog at My Blogging Journey
 Don't miss out – subscribe to Heather on her travels
September 18, 2013 by Heather Cowper
Filed under Europe, Leisure, video, Misc, featured, CoolTravelGear, France, Italy, Switzerland, Tour de Mont Blanc, Tour de Mont Blanc, Travel products, Walking
When my friend Julia and I started walking the Tour de Mont Blanc three years ago, we weren't convinced that we needed walking poles at all. We'd done plenty of walks around Britain without them and couldn't really see the point. In fact I remember that Julia had to hire one pole from the local ski hire shop in Les Houches, while I had one and borrowed another from Hotel Slalom, which I managed to break before the end of the trip.
Three years on and we are both totally convinced that walking poles are essential on a mountain hike that is as arduous as the Tour de Mont Blanc. In the second year of our walk Julia suffered from altitude sickness and we had to cut short one of our days walking because of it, so she really regretted only having one pole to support her on that trip. Last year I had some inexpensive telescopic poles, but they managed to get wedged together, so that I couldn't pack them down small, and they had to go. This year I was convinced that I needed some quality walking poles that would stay the course and see me a through a few mountain treks in years to come, so I checked out what my local Ellis Brigham store in Bristol had to offer. My eye was caught by a pair of Leki Micro Vario carbon poles which admittedly weren't cheap at around £145 but which had the great advantage of packing down much smaller than anything else I'd seen.
Why do you need walking poles?
Perhaps you're planning a long mountain trek like the Tour de Mont Blanc and are undecided on whether you need walking poles, so let me tell explain why they are essential. Firstly, if you are walking for up to 10 hours a day, carrying a backpack that is 10kg or more, your legs deserve all the support you can give them. The poles spread the load on your knees, legs and ankles through your whole body, so you'll be less exhausted at the end of the day and with less risk of twists and sprains. Secondly, the walking poles help you balance on uneven ground and sleep slopes, when your rucksack makes you top heavy, or you're picking your way across a slippery stream.
Trudge up the mountain for 3 hours or more as we did regularly on the Tour de Mont Blanc and the poles will help propel you up the hill, steadying you on the climb. I remember that when I went Nordic Walking on Dartmoor, it was described as "like walking in 4 wheel drive", which is just the traction you want on an uneven mountain trail. You might think that once you're over that mountain crest, the walk downhill will be a breeze in comparison, but in fact that can be just as tough, if not more so on your knees. The path may be quite slippery with shale or mud and there could be stones or boulders along the way, so you are just as much in need to poles to support your legs on the downhill run.
Why I chose the Leki Micro Vario walking poles
When I looked around the range of walking poles in Ellis Brigham, I knew that Leki were one of the leading manufacturers of high quality walking poles, so I shouldn't have any of the mishaps with breaking or locking poles as I'd experienced in previous years. I decided to try the Leki Micro Vario poles because they have a unique design and fold up into sections for storage, making them some of the smallest and lightest poles I'd seen. We were travelling to Geneva on cabin baggage only, keeping our packs as small as possible, so this was a big bonus, as my poles could easily fit easily into the side pocket of my rucksack. The fold-up design also meant that I could pack up my poles and store them in my  room in the mountain refuges, rather than leaving them in the communal boot area. Although I'd met the most friendly people on the mountain, I did have a mysterious experience one year when I discovered a piece of my pole had gone missing, so I was a little wary.
How to assemble your Leki Micro Vario Poles
You may think that it would be completely obvious how to assemble a pair of walking poles, but I found that my Leki micro vario poles had a locking button that was hidden when the poles were broken down, and I puzzled for quite a while to work it out, so I've made the video below to show you how.
First fit the two lower sections that are joined by cord together
Next extend the third section until a small metal button clicks into place to secure the whole pole firmly
Extend the fourth upper section until you have it at the correct height, marked by the rings on the pole, then push the locking lever down against the pole to secure
Finally adjust the wrist straps by pulling the top strap upwards to flip up the locking mechanism, adjust the strap length from the underneath and then flip the locking mechanism back down to secure.
I hope you find the video below useful, about how to assemble your Leki Micro Vario Walking Poles
If you can't see the video above about the Leki Micro Vario walking poles, watch it on my blog here or on Youtube here and you can subscribe using the button above.
Subscribe to all my videos in I-tunes
If you enjoyed this video, check out the others in my Video archive
Another great feature of these poles is the grip handle which was extremely comfortable with an egg shaped top that fitted into the palm of your hand and an equally comfortable shaped grip with soft wrist supports.
Who are these poles good for?
I should mention that at around £145 the Leki Micro Vario poles are at the expensive end of the range of poles stocked by Ellis Brigham. There are plenty of options for poles from Leki and other manufacturers, but none that pack so small and light. If you are not a regular hiker and plan to do the Tour de Mont Blanc or a similar mountain trek as a one-off, then I would probably buy some walking poles at the cheaper end of the range. However, for frequent walkers and those who like to travel light, the Leki Micro Vario poles are an excellent investment, the sort of kit that is always a pleasure to use. These poles are also great for those who combine hiking with climbing and need poles that will pack away easily into a rucksack pocket when they need their hands free. Whatever your budget,do make sure that you have walking poles of some sort on the Tour de Mont Blanc as it's an arduous trek and you really do need them.
The Leki Micro Vario poles are made from carbon for minimum weight with maximum strength. They pack down to around 38cm and extend from 110cm to 130 cm in height. The poles feature the Leki Aergon grip which allows a range of gripping options, with a wrist strap adjustment that is easy to use, even when wearing gloves. The speedlock, external locking mechanism allows the height of the poles to be adjusted easily and securely. The poles also have replaceable metal tips in case one gets caught or breaks. These poles retail at around £145 for the pair, but other walking poles are on sale from £50 per pair.  Thanks to Ellis Brigham who gave me a pair of Leki Micro Vario Carbon Poles to try for this review and specialise in all kinds of Mountain clothing and equipment.
You'll also be subscribed to our free monthly newsletter for great travel resources, news and offers, but you can unsubscribe at any time and we'll never share your e-mail.
More great gear for the Tour de Mont Blanc
How to choose the perfect hiking boots for the Tour de Mont Blanc
The mountain clothing you'll need for treking on the Tour de Mont Blanc – video
What I packed for my mini Tour de Mont Blanc – video
This article by Heather Cowper is originally published at Heatheronhertravels.com – Read the original article here
You'll also find our sister blog with tips on how to build a successful travel blog at My Blogging Journey
 Don't miss out – subscribe to Heather on her travels