December 29, 2012 by Heather Cowper
Filed under Devon and Cornwall, Europe, featured, Gothenburg, Greece, Guernsey, Namibia, Spain, Sweden, Switzerland, Texas, Tour de Mont Blanc, Tour de Mont Blanc, United Kingdom, USA, Wales, World, Zakynthos
At this time of year it's nice to reminisce a little and let the pleasant memories of the year wash over us to create that rosy seasonal glow. Then we can all brace ourselves mentally to look forward to new plans, new places, things we want to do more of, things we want to do differently. I'll be sharing my plans for Spring 2013 very soon, but in the meantime, here are some of my travel memories from the last year, which perhaps will provide some travel inspiration for your plans in 2013.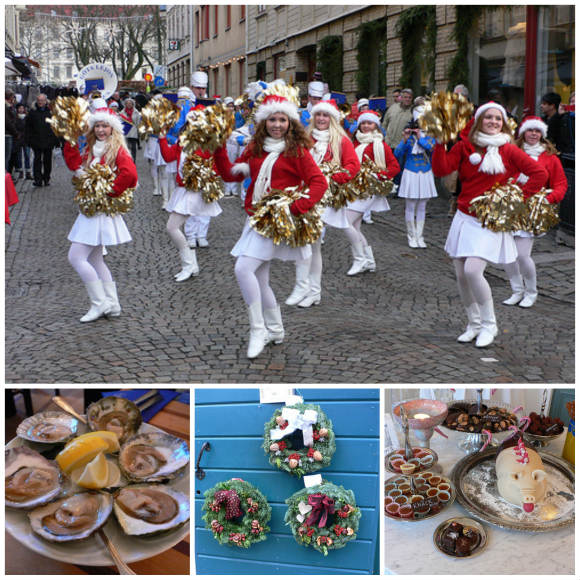 December 2011 – Gothenburg, West Sweden for a pre-Christmas break with my husband
I'm cheating a bit here when I include our trip to Gothenburg from the end of 2011, but then it's my blog, so I'm allowed a little cheating and we did have a great time despite the snowy and windy weather.
Why Gothenburg? I've always liked Scandinavia; so clean, so together and everyone speaks perfect English, and I wanted a pre-Christmas gettaway with my husband when we could eat great food and get into a Christmas mood, with just the two of us.
Happy memories? Fantastic seafood and a chat with the oyster-opening champion Johan Malm at Restaurant Gabriel, our memorable Michelin star tasting menu at Basement with head chef Camilla Parkner, sheltering in Cafe Kanold from the wind over a cup of hot chocolate with chilli, the Christmas market on the cobbled streets of Haga with the music of the marching band, the workman's graffiti in the back of the statue of Mother Svea just outside our window at Hotel Elite Plaza, the millions of sparkling Christmas lights at Liseberg.
Where did we stay? The beautiful, 5 star Hotel Elite Plaza, once the headquarters of the Swedish Fire and Life Insurance company and full of grand marble staircases and chandeliers.
Want to read more?
Our Winter Break in Gothenburg, Sweden – Podcast
8 Swedish Foods to try in Gothenburg, Sweden – Video
Exploring the Christmas Markets of Gothenburg

February – a winter weekend on the Gower in South Wales
Why the Gower? My son is at university at Swansea nearby and I wanted to get the whole family together, including my parents, to spend some time together near the sea.
Happy Memories? Long, blustery walks along the cliffs, the wide open beaches of Langland and Caswell, sitting with the papers and a cappuccino at Langland Bay Brasserie watching the rain beat on the windows, pretty painted beach huts and exotic spiky palms on Langland beach, watching the surfers bobbing in the water from the clifftop.
Where did we stay? Maryland, a spacious 4 bedroom holiday home which we booked through Gower Cottages, perfect for extended family gatherings and only a few minutes walk from the cliff path.
Want to read more?
Our winter weekend on the Gower in Wales – Langland and Caswell – Video

April – Texas, USA for a family road trip
Why Texas? My husband had visited Texas on a military exchange a few years before and kept raving about it, plus we wanted to find somewhere we could enjoy as a family with good weather at Easter and flights that were not too expensive.
Happy Memories? Experiencing a Blast-off at Space Center Houston, the finger-licking BBQ at Black's in Lockhart, cycling along Mission Reach to the Spanish Missions in San Antonio, an afternoon wobble shooting at Picosa Ranch (I actually shot something!), tubing down the river at Gruene followed by Bluebell ice cream at the old fashioned drug store, tequila tasting at the Cibolo Moon at the JW Marriott San Antonio Hill Country, eating trailer food, trying on cowboy boots and shopping for vintage in SoCo, Austin.
Where did we stay? The comfortable Park Inn Houston North, conveniently close to the airport, The Mediterranean style Hotel Valencia Riverwalk in San Antonio with views over the Riverwalk, The luxurious JW Marriott San Antonio Hill Country Resort complete with its own waterpark, our Holiday Rental in the Barton Hills area of Austin booked through HomeAway and the gorgeous boutique style Hotel Sorella in the vibrant City Centre neighbourhood of West Houston
Want to read more?
Our Texas Road Trip Part 1 – Podcast – Houston, San Antonio, Picosa Ranch
The best of Texas – finger-licking BBQ and a slice of pie
Picosa Ranch – a luxury Ranch with a slice of Texas history – video

May – a girl's weekend in Winchester
Why Winchester? I wanted a weekend gettaway with my sister and Winchester was easy for both of us to get to, as well as having loads of things to see and do in the city and the beautiful Hampshire countryside nearby for some walking on the South Downs Way.
Happy Memories? The Anthony Gormley statue standing ankle-deep in water in the crypt of the Cathedral, seeing the small wooden table in the house at Chawton where Jane Austen wrote her greatest novels, eating lardy cakes bought from the farmer's market with a view of the sulphur yellow fields on the South Downs Way, watching the mesmerising water wheel grinding the grain into flour at the Winchester City Mill, spotting the artistic bollards outside The Old Vine where we had a delicious supper.
Where did we stay? The Winchester Hotel, a stylish, modern hotel that is an easy walk from all the historic sights.
Want to read more?
10 ways to spend a wonderful weekend in Winchester – video
Yellow fields with lacy edges – walking the South Downs Way near Winchester
On the trail of Jane Austen in Winchester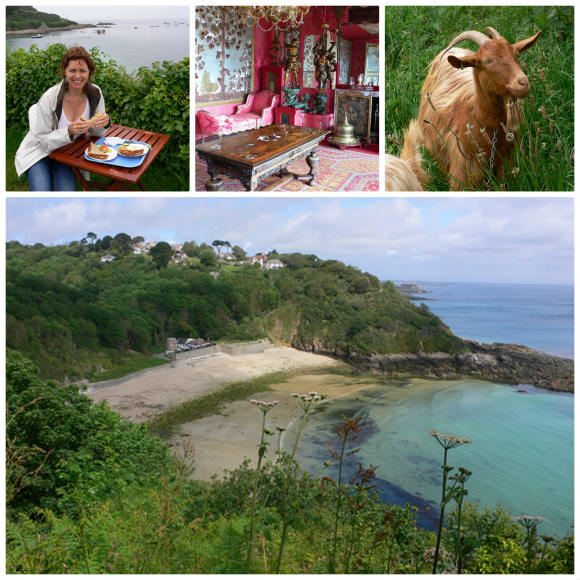 June – Guernsey and Sark in the Channel Islands
Why Guernsey? It's just a short flight from Bristol and has a fascinating history as well as a beautiful coastline, plus we were all intrigued at the thought of visiting Isle of Sark where there are no cars
Happy Memories? Walking along the coast from Fermain Bay to Jerbourg point through the pine trees, the exotic treasure trove of Hauteville House, home of Victor Hugo, eating crab sandwiches from a beach kiosk with a view of the sea, cycling around the island of Sark and eating fresh lobster in the garden of the Sablonnerie Hotel, hearing the stories of the German Occupation from Guernsey tour guide, Gill Girard.
Where did we stay? Self catering Albany apartments in St Peter Port that are perfect for a family holiday and the St Pierre Park Hotel with lovely gardens and golf course
Want to read more?
Guernsey, the German Occupation and Potato Peel Pie
Our spring break on Guernsey and Sark – Podcast
10 delicious foods to try on Guerney - video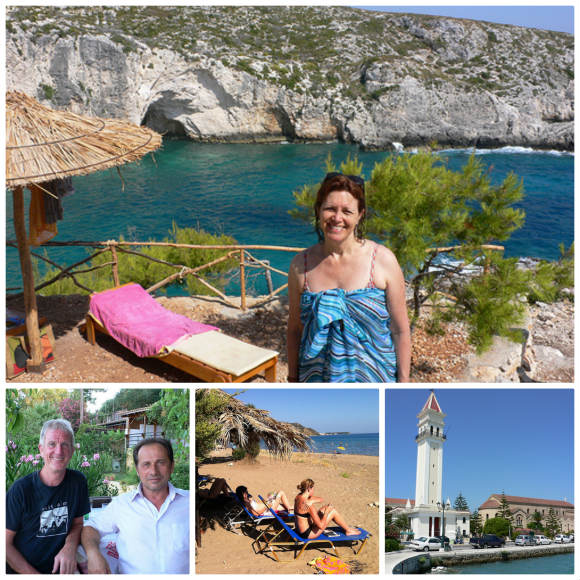 July – Zakynthos, Greece for a family holiday
Why Zakynthos? My sister lives on the island where she runs two hotels with her Greek husband, Denis so we like to visit her every year and explore some new corners of the island.
Happy Memories? Discovering Porto Limnionas, a rocky cove in the north of the island with turquoise water and a great taverna, sitting with a drink on the terrace of Harbour House restaurant at Agios Sostis with new friend Derek Linley hearing stories from his years coming to the island, our boat trip from Agios Sostis to spot the Caretta Caretta turtles in Laganas bay and swim in the sea caves at Keri, the Greek dancing night at Windmill Hotel which never fails to entertain us.
Where did we stay? My sister's hotel, the Windmill Studios in Argassi with a view over the sea from the geranium filled terrace. She also runs the Windmill Bay Hotel just down the road.
Want to read more?
10 gorgeous beaches and places to swim on Zakynthos
Get in your car and drive! the bits of Zakynthos that you won't see from your sunbed
Swimming the turquiose Blue at Porto Limnionas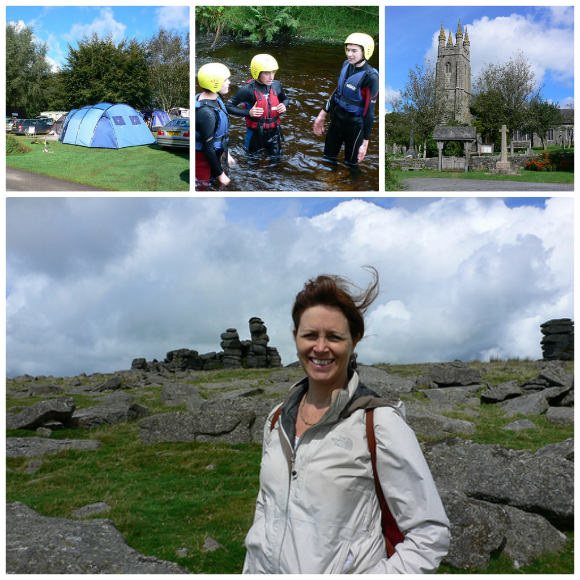 August – an adventurous weekend on Dartmoor with the teenagers
Why Dartmoor? My husband knows the moor well from his army days and we all love the wild scenery and endless opportunities for outdoor adventure that kept my teenage son and his friends busy
Happy Memories? Having lunch at the Okehampton station buffet imagining that I was Celia Johnson in the film Brief Encounter, watching my son and his friends splash around in the river on their gorge scrambling adventure, our walk on the moor with friends above Peter Tavy followed by a hearty lunch at the Peter Tavy Inn, climbing up to the Great Staple Tor and finding a letterbox to stamp our hands, the blissfully warmth of the heat cabin at Woodovis Park and a swim with the family in the pool.
Where did we stay? Woodovis Park in a comfortable mobile home. It's an immaculate, 5 star, family run camping and caravan site which is a great base to enjoy all that Dartmoor has to offer.
Want to read more?
Wild and Wet adventures on Dartmoor – staying at Woodovis Park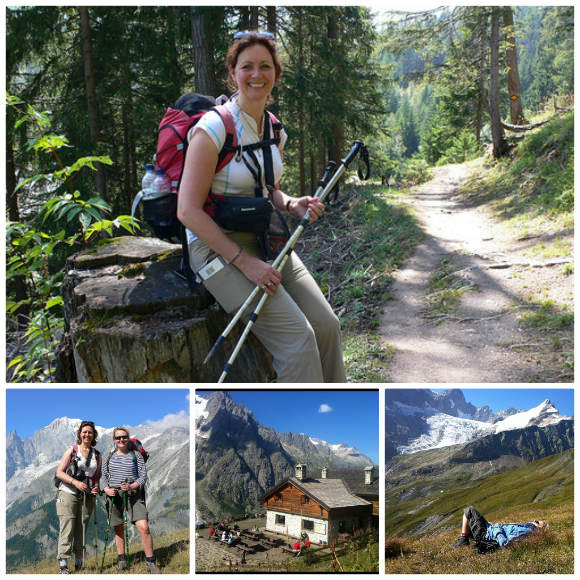 September – walking on the Tour de Mont Blanc in Switzerland and Italy
Why the Tour de Mont Blanc? I've been walking the TMB which is a long-distance mountain trail, in stages with my friend Julia and this was our third year on the trail. We both love the wild mountain scenery, the feeling of escaping our busy lives and the physical challenge of the walk.
Happy Memories? Watching the scenery change on the train journey from Geneva alongside Lake Lausanne and on the St Bernard Express, feeling on top of the world on the Grand Col Ferret at the border between Switzerland and Italy, staying at the fantastic Rifugio Walter Bonnati, undoubtedly the nicest refuge we've stayed in so far, having a picnic on the mountain overlooking Courmayeur and surveying the route we had just walked, the excitement at the start of the Tour des Geants in Courmayeur.
Where did we stay? A number of small hotels and mountain refuges; Gite Bon Abri in Champex Lac, Hotel Col de Fenetre  in Ferret, Rifugio Elena, Rifugio Walter Bonatti , Hotel Bouton d'Or in Courmayeur
Want to read more?
The Tour de Mont Blanc Diaries Day 1 – Champex Lac to Ferret and a walk in the woods
The Tour de Mont Blanc Diaries Day 2 – Ferret to Rifugio Elena and over the pass into Italy

September – Girona, Spain for TBEX
Why Girona? I attended the TBEX Travel Bloggers' Conference being held in Girona where it was great to meet some of my  blogging friends in person and hear the speakers on different aspects of blogging.
Happy Memories? Staying in an apartment with Barbara Weibel, Isabel Romano and Laurel Robbins and just a floor down from Janice Waugh, Simon Falvo and Sarah and Terry Lee made for some great late night chats and bonding, eating pretty Pinxchos in a side street cafe with new blogging friends, wandering along the river with the tall pastel houses and criss-crossing bridges, the historic food by El Celler de Can Roca at the TBEX opening night party, the day out at Vall de Nuria in the Pyrenees after the conference
Where did we stay? A comfortable apartment in the old town of Girona booked through Wimdu
Want to read more?
Staying in the heart of Old Town Girona with Wimdu – video
A Sunday Stroll in the Pyrenees – Vall de Nuria
Case study – Costa Brava Marketing campaign – podcast interview with Jaume Marin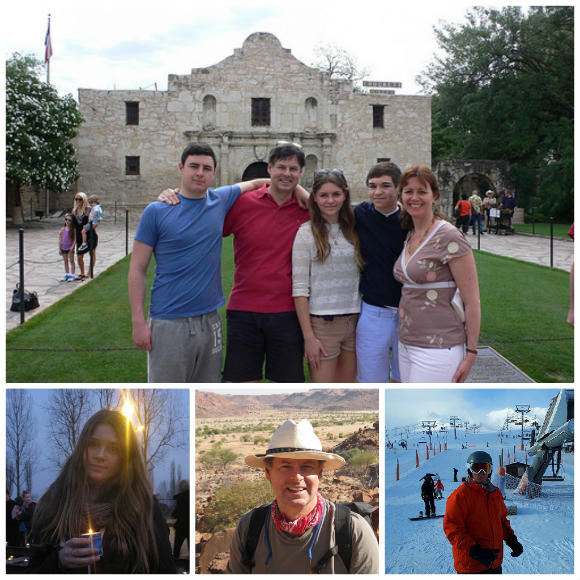 And what about the family?
Of course for many of these trips I was with various members of my family, but they also did some travelling on their own that they wrote about for me on the blog;
My husband Guy spent much of August on a school trip in Namibia looking after a large group of teenage girls, where they did some community work in a local school, went trekking and had close encounters with the desert elephants and other African wildlife.
Read more about Guy's Namibia Trip
Not that old zebra crossing joke again!
An encounter with the desert elephants of Namibia
My oldest son, William had a fun snowboarding trip in Andorra with a group of friends from university, which was spent mostly snowboarding, drinking and doing what students do on holiday. Read William's article on Snowboarding in Pas de la Casa – a student's guide
My daughter, Sophie-Anne wrote about her moving visit to Auschwitz with the Lessons from Auschwitz educational programme, designed to ensure that young people understand what happened and don't let history repeat itself in the future. Read Sophie-Anne's article on What every schoolgirl should know about Auschwitz – video
I hope you enjoyed my travels in 2012 and that you may feel inspired to visit some of these places yourself. I'll be sharing my exciting travel plans for the spring of 2013 with you very soon.
This article by Heather Cowper is originally published at Heatheronhertravels.com - Read more travel articles at Travel Blog Home
You'll also find our sister blog with tips on how to build a successful travel blog at My Blogging Journey
 Don't miss out – subscribe to Heather on her travels
December 9, 2012 by Heather Cowper
Filed under Accommodation, Europe, featured, France, Hostels, Italy, Leisure, Nature, Switzerland, Tour de Mont Blanc, Tour de Mont Blanc, Walking
The first day of our walk on the Tour de Mont Blanc had taken us through Alpine meadows and pretty hamlets, but we hoped that today would take us up into wilder terrain and over the high mountain pass into Italy. Over breakfast at Hotel Col de Fenetre, we chatted to a group of four American ladies who were doing a self guided tour on the Tour de Mont Blanc. Their walk was part of a pre-arranged holiday package and we secretly congratulated ourselves that we had arranged it all ourselves and spared the expense. The hamlet of Ferret was shrouded in mist but Madame at the hotel assured us that it would would clear and that it was forecast fine weather for the rest of the week. "Don't worry" she said, "Il fait beau en haut" – the weather's fine higher up.
As we prepared to leave the hotel, a couple were outside, saddling up their mule to carry their bags. I stopped for a chat about Quartz the mule and had my photo taken with him, rather wishing that he could be carrying my bags too. I just had time to take a look at the small chapel near the hotel; the motif above the door said "Quiconque aime Marie ne lui refuera pas un Ave Maria en passant devant cette Chapelle"  - "Whoever loves Mary, will not refuse her an Ave Maria as they pass before this chapel". We retraced our steps back to the river that we crossed the day before, then made a few false starts before we picked up the TMB trail again and were confident we were on the right track.
We climbed a muddy path, gaining height and just as we had been assured the mist cleared and the sun came out. After an hour of steady walking, we could spot the toytown houses of the hamlet of Ferret below us. We were now high enough to get a clear view down the valley with the stony river and the road snaking along the bottom of the valley, ending just beyond Ferret with tracks to a few isolated farmsteads. From the valley bottom, the sounds of civilisation drifted upwards, the rushing of the river and the cars driving along the road. The distant sound of cowbells alerted us to the herd of cows in the valley, moving in a single file along the road, like a line of black ants trailing along a silver path. "It doesn't look like we've come very far" said Julia.
A little higher at the concrete hut at the combe of Les Creuses we paused for some photos with a fantastic view down the valley. Although we were high above the valley and well away from the road, the phone signal was good and i one of those wierd "Miles from anywhere" moments, my friend Julia took the opportunity to ring and book her hotel in Edinburgh for a business trip on her return.
Next the walk took us to the Refuge at La Peule, at 2071M,  a long low building marked with a couple of yurts at one end. With the Swiss flag flying from a pole, I thought this might mark the border into Italy, but later realised that this was much further along the walk. The terrace in front of the Refuge that was probably once a cowshed, was full of pretty tubs of geraniums and flowers planted in walking boots. Walkers were sitting under shady umbrellas eating raclette or other variations of toasted cheese and we also unloaded our rucksacks and sat down at this welcome stop for a glass of apple juice "Pomme de Maison". After our refreshment, we continued up the path above the Refuge and sat on the hillside to eat the lunch of bread, cheese and salami that we had in our rucksacks, with a steady stream of walkers passing by.
Here the scenery was more wild, with scrub dotted with pretty yellow and purple wildflowers and star flowers that I thought might be edelwiess but turned out to just be thistles! The path now took us on a steady climb up towards the highest point of our trek, the Grand Col Ferret at 2537M. On the opposite side of the valley, the mountains were becomming more jagged, their grey rock faces covered with shale and lower down with rivulets of snow.
I had been walking in shorts and a vest in brilliant sunshine and wondered why the walkers coming down from the Col were dressed as if for ski-ing with jackets zipped and hoods up. Now the temperature started to drop noticeably and I also put on my fleece and jacket, passing pockets of snow just below the Col that hadn't melted through the summer. The Grand Col Ferret marks the border between Switzerland and Italy, and the streams from these slopes feed the River Po that flows into the Adriatic on the Italian side and the Rhine on the Swiss side.
Reaching the trig point on the summit of the Grand Col Ferret, I walked along the ridge, now well wrapped up as the wind was biting and cold. Kestrels circled above on the upstream and the two glaciers of Pre de Bar and Triolot hung before us, feeling close enough to touch. A few paces below the summit it was more sheltered and I found Julia laid down in the sunshine to meditate on the glorious scenery, while I showed my appreciation of the landscape by taking a few more photos.
Further down near the trig point, I was intrigued by the sight of a man taking photos of a large orange inflateable plastic elephant, so I went down to investigate. He was explaining to crowd of interested walkers, that it was part of an artistic Hannibal project where the elephant travels to various different mountains and beauty spots around Europe to be photographed. You can find out more about Thomas Falk and his Hannibal project at tfkunstkonzept.wordpress.com. After having had my photo taken with the orange elephant, I took a few of Thomas and his little dog for his album.
On the Italian side of the Col we could see Rifugio Elena in the valley below us, although experience told us that while it looked just a stone's throw away, it would take another hour or two to walk down to the refuge. The path down the mountain was braided and in places rope mesh had been placed over the muddy tracks to prevent erosion.
Finally in the late afternoon we reached the terrace of Rifugio Elena and immediately realised that we were in Italy switching our Bonjours to Buongiornos and our Mercis to Pregos and Grazies.
We were shown to our en suite twin room at the end of the corridor, which although simply furnished, felt like luxury after a long and sweaty walk. We had a beer and by 7 o'clock were sitting down to dinner with two jolly Dutch couples who recounted to us, in perfect English, their tales of walking through deep snow on other parts of the Tour de Mont Blanc. The Italian refuges have a reputation for serving better food than the French ones and here the menu had turned Italian with a plate of pasta to start, followed by pork and a small slice of polenta and ratatouille. Desert was a big bowl of green apples followed by slices of jam tart.
By 9pm we realised that it was time for bed when the lady from the refuge started stacking the stools up on our table, and once she had started hoovering around us we took the hint and turned in for the evening. We needed to be ready for an early start the next morning when we would continue to Refuge Bonnati. Stay tuned for the next installment of my Tour de Mont Blanc diary.
To be continued ……
More tales from the Tour de Mont Blanc
The Tour de Mont Blanc Diaries Day 1 – Champex Lac to Ferret and a walk in the woods
The Mountain clothing you'll need for treking the Tour de Mont Blanc
A tale of Two Refuges – on the Tour de Mont Blanc
Resources for walking the Tour de Mont Blanc
At Ferret, Switerland we stayed at Hotel Col de Fenetre. The twin room with en suite bathroom cost 95 CHF per person including dinner and breakfast. The hotel does not have a website but reservations can be made by e-mailing bertrandmurisier@bluewin.ch Tel. 027 783 1188
We walked to Rifugio Elena in Italy where we had a twin room with en suite bathroom which cost €57.50 per person including dinner and breakfast. The Refuge has room for 130 people in both dormitory accommodation and private en suite twin rooms. There is an e-mail address given on the website but we did not get any response to our e-mail reservation request. We learned later that there is no e-mail at the Refuge itself, so they do not monitor e-mail, therefore you will need to telephone them for a reservation either before your trip or ask one of the previous refuges to do so for you once you arrive on the TMB. Staff at Rifugio Elena speak Italian, French and some English. Tel (+39) 0165844688
For women's mountain clothing I used mountain sports specialist, Ellis Brigham who have a wide range of waterproof jackets, trousers and other walking gear you might need for a trek on the mountains, which are available both through their website and UK stores.
We used the Cicerone Tour of Mont Blanc guide by Kev Reynolds - we found it to be an excellent guide for both the clockwise and anti-clockwise route with detailed route guide, maps, accommodation information and points of interest along the route.
This article is originally published at Heatheronhertravels.com - Read more travel articles at Travel Blog Home
You'll also find our sister blog with tips on how to build a successful travel blog at My Blogging Journey
 Don't miss out – subscribe to Heather on her travels
October 26, 2012 by Heather Cowper
Filed under Accommodation, Europe, France, Hostels, Italy, Leisure, Nature, Switzerland, Tour de Mont Blanc, Tour de Mont Blanc, Walking
Our train from Geneva airport skirted around Lake Lausanne heading for Martigny on a journey that would take us back to Champex Lac, where we had ended our Tour de Mont Blanc walk last year. There' s a bit of history here, as my friend Julia and I had decided to hike this Alpine trail in stages of a few days at a time and we were back for a third year of what will probably be a four year journey for us both. An elderly man in the seat across the aisle beckoned to me confidentially and spoke first in German, then in English when I looked blank. "What are the three fastest ways to spread news? he asked, looking pleased at his riddle. The answer ; "Telegram, Telephone, Tell a woman". Not quite knowing what to make of the joke, I smiled politely and gazed out of the window, as the medieval castle at Montreux sped by. Lake Lausaune was so big that we could only just make out the far shore and a haze hung over the water in the warm sunshine.
The journey from Martigny
At Martigny we changed to the local line on the cheerful, red St Bernard Express with the dog on the side that was once used to rescue people in the mountains, although nowadays the helicopter is more in demand. A quick change at Sembrancher which I almost missed, in my desire to take just one more photo, and our train journey ended at Orsieres where we picked up our bus connection to take us up the winding hairpin bends to Champex Lac. The bus was full of primary school children heading home, who were creating a riot all around us, until a stern French aunty told them to pipe down. A long day of travel and we were back where we ended last year, pulling off our boots and putting on our Crocs at the Gite Bon Abri. Not much had changed in the year we'd been away; we had the same 6 bed bunk room to ourselves with red flanellette sheets and duvets and the same supper that started with an aperitif of sweet wine and some home-made cheese straws. The mules were grazing outside, ready for the next day when they might be carrying someone's baggage up the mountain. The forecast was good and we were all set fair for our few days walking on the Tour de Mont Blanc.
Setting off from Champex Lac
Our first day was planned to be our longest, although the terrain was gentle with not too many steep climbs in altitude. Julia had experienced serious problems with accute mountain sickness (AMS) during our walk the year before, and she had prepared herself to avoid it this year with a large water pouch which she could sip through a tube and some medication (Diamox). Our little joke was that she'd told all her friends that she was on Viagra, as I'd heard somewhere that they are in the same family of drugs and both work by increasing the blood supply!
As we came down the hill at 8.30 towards the lake, all the shops were shut but the fishermen were lined up along the bank. Being conscious of the etiquette of the Tour de Mont Blanc, I must have said about ten Bonjours as I passed them one by one along the path by the lake. I even spotted a few of those naughty children who were causing a riot in the bus out fishing with their dads. We nearly got lost before we had even started, but a little way down the road we picked up the yellow and black diamond TMB signs, and turned into the woods. The walk was cool and shady and the carved wooden sculptures that we'd spotted outside Gite Bon Abri and also on the lake continued with a menagerie of carved wooden animals and other sculptures along the route.
The Sentier des Champignons
A forest sign told us that we were on the "Sentier des Champignons" but although we saw a wooden mushroom sculpture, it was too early for the autumn crop of real champignons. At a bend in the path, the clanging of cow bells warned us that there was a dairy farm in the building below the path, but thankfully no cows blocking the way as we had experienced last year. As the forest cleared, we walked down to the road at the village of Issert, which was full of pretty old houses and took some photos on the bridge that crossed the rushing mountain river. The path skirted along the open meadow and through the small hamlet of Les Arlaches where workmen were repairing the attractive old wooden barns and the houses were in various states of repair. Through gaps in the houses we could glimpse some fertile vegetable patches with orange home grown pumpkins and a large cross marked the end of the village.
A walk through the Alpine meadow
The path continued through an Alpine meadow and next we reached the somewhat larger village of Praz de Fort where we crossed the river again and stopped to have an early lunch on a fallen log overlooking the river, keeping a safe distance from a row of multicoloured bee hives. It was only 11.30 and although we had been walking three hours, the map showed us that we had only walked around a third of our walk for the day, so we couldn't afford to linger too long. We nearly got lost again among the outskirts of the village where a lot of new houses seemed to have been built and then passed through the forest along a causeway created by moraine left by the retreating Glacier de Saleina, with the light dappling through the pines.
A view of the glaciers at La Fouly
An hour or so later, we approached La Fouly, a larger village that looked as if it saw a lot of visitors in both summer and winter, judging by the numerous cafes, equipment shops and information centre. Had we been looking for a more lively location for our night's stop this would probably have been it. The village has wonderful views of the hanging glaciers and we settled gratefully into the sunny outdoor terrace of the Auberge des Glacier for a reviving Orangina, surrounded by lean climbing types with wraparound sunglasses. The cafe was full of colour, with orange striped deck chairs set on green astroturf, electric blue sun umbrellas and window boxes full of pink geraniums framing the glacier in the bowl of the mountains.
Eventually we prised ourselves from our deck chairs and mustered the energy to walk the final hour up the valley to Ferret, the last village before the road ran out. We had booked a room at Hotel Col de Fenetre, the only place in town, where we were thrilled by our en suite twin room, a real step up from some of the dorms where we had slept in previous years. The day ended with a cold beer, a meal of pork in mustard sauce, finished by a slice of ice-cream that had a red Swiss flag embedded in it – what a novelty. Today had been long but easy terrain through Alpine meadows and pretty villages. Tomorrow, we would get away from the road and up into the real mountains.
To be continued…..
More Tour de Mont Blanc adventures from last year
Walking on the Tour de Mont Blanc – Podcast
My Tour de Mont Blanc diary Day 2 – Col de Balme to Champex
My second year on the Tour de Mont Blanc – video diary 2011
Resources for the Tour de Mont Blanc
We took the train from the station at Geneva Airport buying a combined ticket that covered all the changes and the integrated bus service to Champex Lac. The route was via Martigny where we changed to the St Bernard Express to Orsieres with a brief change at Sembrancher. At Orsieres we waited half an hour for the bus to Champex Lac. The whole journey took around 3 hrs 30 mins and cost 59 CHF one way.
On the first night we stayed at Gite Bon Abri at Champex-de'en-Haut, which we highly recommend, with private rooms and dorm rooms. The cost was around CHFR 76 per person including dinner and breakfast in a 6 bed dorm room and the Gite may be booked in advance by e-mail. The second night we stayed at Hotel Col de Fenetre at Ferret. The twin room with en suite bathroom cost 95 CHF per person including dinner and breakfast. The hotel does not have a website but reservations can be made by e-mailing bertrandmurisier@bluewin.ch Tel. 027 783 1188
For mountain clothing I recommend mountain sports specialist, Ellis Brigham who have a wide range of waterproof jackets, trousers and other walking gear you might need for a trek on the mountains, which are available both through their website and UK stores.
We used the Cicerone Tour of Mont Blanc guide by Kev Reynolds - we found it to be an excellent guide for both the clockwise and anti-clockwise route with detailed route guide, maps, accommodation information and points of interest along the route.
This article by Heather Cowper is originally published at Heatheronhertravels.com – Read more travel articles at Travel Blog Home
You'll also find our sister blog with tips on how to build a successful travel blog at My Blogging Journey
Don't miss out – subscribe to Heather on her travels