January 1, 2017 by Heather Cowper
Filed under United Kingdom, Europe, World, featured, Aruba, Austria, Balearics, Bavaria, Bristol and Bath, Caribbean, France, Germany, Ireland, Italy, Spain, St Kitts, Tirol, Wales
As we start a new year I'm enjoying the memories of last year's travels, like flicking through a photo album in my head. I visited new places, returned to old favourites and had a great mix of travels with family, friends and the occasional solo trip. This year is wide open to new travel possibilities, but before we move on let's take a moment to revisit some of the places I travelled in 2016.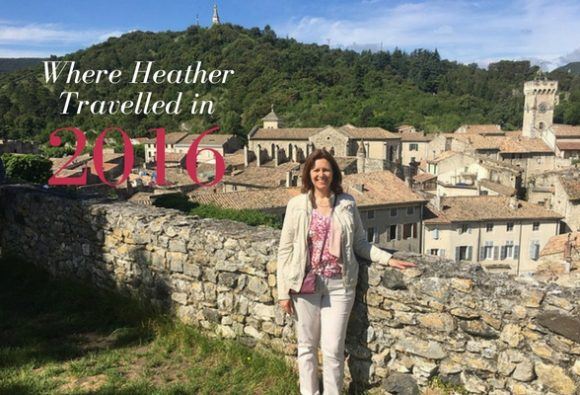 February – a weekend of culture in the Lake District
My weekend in the Lake District brought back memories of family holidays as a child, when we stayed in an old stone cottage in the Easter holidays. This time I was there with my blogging friends and Travelator Media colleagues, Zoe and Kathryn, to enjoy a cottage stay with the Good Life Cottage Company. Despite the rain we had a great time discovering the cultural side of the Lakes, at Blackwell Arts and Crafts House, Beatrix Potter's Hilltop Farm and Wordworth's Dove Cottage, getting out for a blustery walk on Elterwater when the rain finally stopped.
Read More: A weekend of culture in the Lake District (or what to do if it rains)
February – a spring break in Athens
Later in February I visited Athens with my parents and sister who lives in Greece, gathering for the weekend at the classic and elegant Electra Palace Hotel. The warm and sunny weather gave us the opportunity to visit the Acropolis without the scorching heat and crowds that descend on Athens in summer. We loved the fresh spring days, wandering around all the ancient sites and relaxing in a pavement cafes of Plaka to watch the world go by.
Read More: Visiting the Acropolis in Athens: here's what you need to know
March – A Caribbean adventure in St Kitts
March took me to St Kitts, my first ever taste of the Caribbean, where I explored this island that is one half of the island federation of St Kitts and Nevis. I found a laid back and slightly scruffy charm, with lush fields that once grew sugar cane, plantation house hotels and a growing list of stylish new bars and hotels. I tried lobster on the beach and rum cocktails at Salt Plage, learned about the local medicinal plants on a rainforest walk and saw the batik being made at Romney Manor. The visit gave me a desire to visit more Caribbean islands, which despite being small in size are surprisingly diverse, each with its own character.
Read More: A stylish traveller's guide to St Kitts
March – Cliff walks on the Gower in Wales
I've visited the Gower Peninsula in South Wales a few times now, since my son was at university there and in March we made a return visit to the lovely Promenade View in Mumbles. With husband Guy, my son and his friends we explored the coastal paths and gorgeous beaches of the Gower, breezing along the cliff paths of Pennard Cliffs and Three Cliffs Bay. We even clambered along the peninsula of Worms Head, just making it back before the tide turned and covered the jagged rocks with the sea again.
Read More: The Gower in Wales – find your perfect coastal walk and place to stay
April – A farmhouse stay in Costa Brava
After Easter it was off to Costa Brava, for a family break in a large and luxurious farmhouse (read my review) through Charming Villas. The fields around the house were bright yellow with rapeseed and from the bedrooms we had views over the olive trees to the snow capped Pyrenees in the distance. We spent a day in Girona, with pretty pastel houses lining the river, visited the Salvador Dali museum at Figueres and had a tapas lunch in the sunshine at Cadaques, before walking over the headland to Dali's fishermens cottages in Port Lligat.
Read More: A driving tour of Costa Brava
April – Northern Ireland's Causeway Coast
On Northern Ireland's scenic Causeway Coast I found windswept golden beaches, ruined castles and of course what most visitors come to see, the Giant's Causeway. Along with the stunning landscape of the Causeway, I braved the Carrick-A-Rede rope bridge and visited the photogenic Mussenden Temple perched on the cliff-top, staying at the fabulous Bushmills Inn where a welcoming peat fire always burns. I also dipped into the thriving artizan food culture, with fabulous seafood and outstanding quality meat, all served up in huge portions with a healthy dollop of friendly Irish charm.
Read More: 10 fab foodie stops on Northern Ireland's Causeway Coast
May – Visiting laid back Menorca
May took me to Menorca, the smallest and calmest of the Balearic islands, a place that doesn't like to boast too much about its charms, but is full of history, fashion and great food. I spent a day exploring Mahón, the elegant capital of the island, walked to unspoiled beaches along the Cami de Cavalls and  visited some of the island's fascinating Talayotic monuments. Menorca has all the ingredients for a delightful break with mellow old buildings in Cuitadella, stylish shopping and lazy seafood lunches by the port.
Read More: How to spend a perfect day in Mahon, Menorca
June – A Uniworld Cruise through Burgundy and Provence
With husband Guy I took a Uniworld river cruise with Titan Travel through the South of France, from Lyon in the heart of Burgundy, to the medieval walled city of Avignon in Provence. The week flew by with rich insights into local culture and history, as we uncovered the secret passages of Lyon, visited the Papal Palace at Avignon and dipped into the world of Van Gough at Arles. Along the way there were plenty of opportunities to discover the delicious food and wine of Burgundy in vineyards, cookery classes and on board Uniworld's extremely luxurious SS Catherine.
Read More: 10 things to expect on a river cruise with Uniworld
July – A road trip across Canada by RV
As a child our family were great campers, and in July I rediscovered the great outdoors in a road trip driving a motorhome (or RV as it's known in Canada) from Toronto to Montreal. With husband Guy, I mastered how to navigate and park up our home-on-wheels and enjoyed a range of outdoor activities like cycling, hiking and kayaking in Canada's National Parks. We also found that with a bit of planning it's perfectly possible to visit Canada's vibrant cities on an RV road trip. InToronto, Ottawa and Montreal we dipped into cultural highlights from totem poles to street art and new tastes from Poutine to Maple beer.
Read More: How to drive an RV from Toronto to Montreal (Our top tips)
August – Cycling in Dorset
With the end of the summer in sight I went cycling with my daughter in Dorset, one of England's prettiest counties. We set off from Dorchester, stopping for tea in Moreton and lunch overlooking Lulworth cove, passing Lulworth castle before finishing our ride in Wareham. We loved the quiet lanes, rolling countryside and sea views, not to mention all those impossibly picturesque thatched cottages, reminding me just how pretty England can be.
Read More: Cycling in Dorset on the Jurassic Coast
August – An active river cruise on the Danube
In August I took a short cruise with Avalon, starting with the cultural jewel of Vienna and passing through Austria's scenic Wachau Valley until we reached Melk Abbey and disembarked at Linz. In Vienna we learned how to bake bread Austrian style, enjoyed the coffee culture and got to know the famous Lippizanner stallions in the Spanish Riding School. I also had the chance to try out many of the active excursions on offer, cycling past orchards heavy with plums and canoing down river with views of well kept vines in neat rows along the hillside.
Read More: Getting active in Austria's Wachau Valley
Summer in Bristol
This year I've tried to enjoy more of my home town of Bristol, especially in the summer when there are so many festivals and things going on. I've discovered so much more of what's on my own doorstep with levels of creativity and cool that had previously passed me by. In 2017 I hope to connect even more with all the fabulous things going on in Bristol so if you are thinking of paying a visit do let me know and I'll be happy to give you some recommendations.
Read More: 10 Cool things to do on Bristol's Harbourside
September – Hiking in the Dolomites South Tyrol
Every year my friend Julia and I set off for a mountain hiking holiday, and this year we chose the South Tyrol in Northern Italy for our girl's own adventure. Setting off from the luxurious Hotel Cyprianerhof, we made a circular route around the Rosengarten or Catinaccio range, staying in the mountain huts of the Dolomites. The trip gave us the challenge of climbing over high mountain passes and huts with limited facilities (what no shower?) but rewarded us with amazing views and a sense of achievement when we returned to Cyrianerhof for a well earned aperitif admiring the peaks we had climbed over.
Read More: Hiking in the Dolomite – a tour of the Rosengarten in South Tyrol
October – a sunshine break in Aruba
October took me for some much needed sunshine to Aruba in the Dutch Antilles. I found a warm welcome at Amsterdam Manor Resort, indeed everywhere on Aruba which describes itself as "One Happy Island".  I found an island of contrasts – on one side a well developed tourist strip with white sand beaches, on the other a wild northern shore with waves breaking onto the jagged rocks and little in the way of development. There's a sophisticated and cosmopolitan food scene and I loved the street art murals in San Nicholas, showing an unexpected side of the Caribbean.
Read More: My 10 favourite things about Aruba
November – 48 Hours in Florence
With the summer over and Christmas in sight, I nipped off to Florence for a weekend break with Citalia, to get a quick fix of culture and good food. Of course I saw the best known sights, like the Duomo and the David but also took some time to soak up the atmosphere and charm of this ancient city set in the heart of Tuscany. I loved the bustle and great food in the Mercado Centrale where I found a local tripe festival in full swing, dipped into the Salvador Ferragamo shoe museum and wandered through the Boboli gardens behind the Pitti Palace with views over the teracotta roofs of Florence.
Read More: How to spend a perfect weekend in Florence
December – Finding the Christmas spirit in Coburg, Germany
My final trip of 2016 took me to Coburg in Germany, where early in December we caught the first weekend of the Christmas Markets to soak up some seasonal spirit. This pretty town, with medieval buildings clustered around the town square, was also the birthplace of Prince Albert, consort of Queen Victoria who visited Coburg several times. As well as enjoying the mulled wine and Coburger Bratwurst cooked over a smoky wood fire, we visited the elegant palaces of Ehrenberg, Rosenhau and the Veste fortress overlooking the town where Martin Luther stayed and worked for a few months.
Read More: Christmas in Coburg – Discovering th seasonal magic in Coburg
What's next for 2017?
At the moment the New Year is wide open for travel plans with just a few things pencilled in and lots of possibilities. So far I'll be off to:
Dublin in January – my son has just started university at Trinity College, Dublin so I hope to pay him a visit with my parents. You can read about our last trip – 10 fun things we did on a weekend in Dublin
Seefeld, Austria in February – as a travel blogger I often come across places on blog trips that I want to return to with the family and Seefeld was one of them. I was there in September 2015 on a walking holiday and fell in love with the pretty resort of Seefeld which is also a popular winter-snow destination. I'll be returning there in February to try out some of the outdoor snow activities like cross-country ski, snow-shoe and winter hiking with my husband and friends. I'll be trying to have a proper holiday (believe it or not blog trips do involve quite a lot of work!) but I'll still be posting some photos on my social media channels.
Otherwise I have on my wish list to see more of the Caribbean, Canada and generally explore some new destinations further afield as well as enjoying all the great stuff in Bristol where I live.
Whatever your plans for 2017, I hope that health, peace and happiness follow you, wherever you travel this year.
Pin It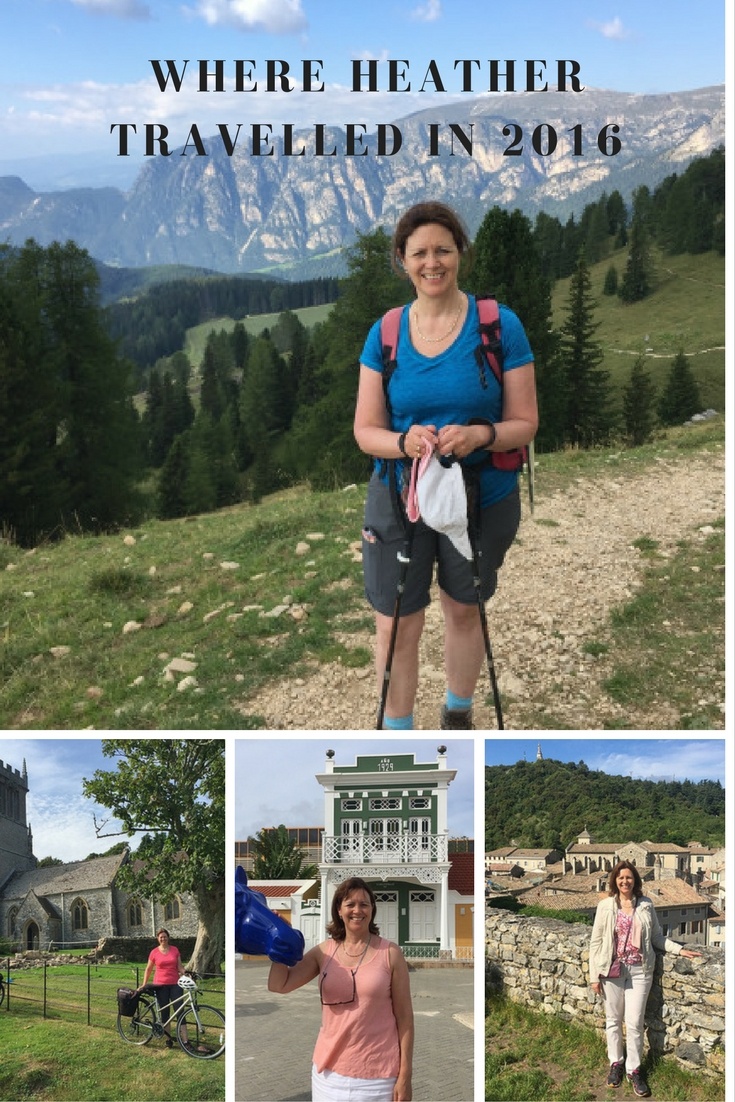 This article is originally published at Heatheronhertravels.com – Read the original article here
December 31, 2010 by Heather Cowper
Filed under United Kingdom, Europe, Leisure, video, Bavaria, Budapest, Copenhagen, Costa del Sol, Denmark, France, Germany, Greece, Hungary, Lake Balaton, Northern France, Paris, Spain, Tour de Mont Blanc, Zakynthos
As one year ends and another begins, I review my travelling year at Heather on her travels and highlight the places I've visited and things I've enjoyed. What's on my New Year list? Seeing some more of Scandanavia, back to visit my sister on Zakynthos, some explorations of northern Egypt with a friend who's in Alexandria (avoiding pyramids at all costs), hunting out more hidden corners of England and any other interesting opportunities that come my way. Here's what I enjoyed in 2010;
January brings a stay at the Mandarin Oriental and tea at Kensington Palace
January and February are the dreary months weatherwise in England but there's still plenty to enjoy in London, where many museums and galleries are free and indoor attractions come into their own. I was brought up in London often popping back to visit my parents, and I spent a delightful weekend with my daughter at the Mandarin Oriental Hotel, Hyde Park, where we were treated like princesses, ate Princess Diana's favourite crab cakes and went shopping at Top Shop on Oxford street, that favourite of teenagers. A little later in the month and I was back in London to meet a friend, when we spent the day at Kensington Palace, admiring Princess Diana's frocks, encountering a former palace resident, the Countess of Marlbrough and treating ourselves to afternoon tea at the Orangery.
Read the articles
To Kensington Palace and tea at the Orangery
A suite for a princess at the Mandarin Oriental – video
Affordable Luxuries at the Mandarin Oriental
Weekend at the Mandarin Oriental – podcast
February – and we're nearly snowed in at our Welsh country cottage in the Brecon Beacons
In a contrast to city life we got a breath of fresh air in February in the half term holidays when we found a cosy Welsh cottage in the Brecon Beacons. My thoughts of spring sunshine and daffodils were lost in a fall of snow that almost threatened to maroon us half way up the mountain, even though the fields around Crickhowell at the bottom of the valley were still grassy green. The children loved our snowy break with walks along the quarry tracks on the slopes above our cottage, making snow angels and sliding in the snow down the steep hillside.
Read the article
A snowy break at Laswern Fawr holiday in the Brecon Beacons, Wales
March – and we take a creative break in Manchester
You may think that Manchester is all about nightlife, football and shopping, but I discovered Manchester's arty side on a weekend break hosted by Creative Tourist, staying at the stylish, modern MacDonald Hotel, Manchester. We observed Manchester's industrial past proudly on display and buzzed around on the new Metrolink that took us out to Salford Quay to seek out the pictures of LS Lowry, Manchester's favourite son and the moving Don McCullin Images of War exhibition at the Imperial War museum just opposite. We completed our whistlestop exploration of Manchester's museum scene with a close up of the Mona Lisa, naked as you've never seen her before (well without her varnish anyway). Before we left we just managed to fit in a Sunday morning stroll around the Northern Quarter, all vintage and street-art. I'm looking forward to being back in Manchester in March for Travel Bloggers Unite.
Read the articles
Up close with the Mona Lisa at MOSI in Manchester
Getting to know LS Lowry at The Lowry in Manchester
Shaped by war – Don McCullin at the Imperial War Museum in Manchester
April when we stay at a Cotswold Country Inn and take a dip in the Roman Baths
A weekend break in the country drew us out of Bristol again with a promise of picture perfect pale stone Cotswold loveliness. The Kings Head Inn at Bledington, proved charmingly English, set on a village green complete with babbling brook and quacking ducks, with views over the fields from our bedroom window. We tramped across the muddy fields to Stow on the Wold for tea, but returned in time to have supper by the open fire in the bar. Later that month I was in Bath, showing my daughter's French exchange friend all the tourist sites, including some I'd never seen such as the Roman Baths which are a must see for any visitor. Sometimes you have to be a tourist in your own back yard.
Read the articles
Cotswold country charm at the Kings Head Inn at Bledington – Video
Fancy a dip at the Roman Baths at Bath?
May – and we seek the sun on the Greek island of Zakynthos
In May I finally got the sunshine I was longing for in our annual visit to my sister who runs the Windmill Studios Hotel and Windmill Bay Hotel in Argassi with her Greek husband Denis. We'd seen plenty of things over the 20 years we've been going but still managed to find a few we hadn't tried yet, like the a visit to the Monastery of St Denis, the island's patron saint, with a quick stop to photograph the famous Smuggler's cove at Navagio. We also loved the day we spent on a boat trip around Laganas bay, known for it's loggerhead turtles. We didn't spot any turtles this time but we had a great time jumping off the boat and swimming in sea caves in the refreshing turquoise water.
Read the articles
Visiting St Denis Monastery on Zakynthos – in Greece
13 Zante – my Greek island holiday – podcast
A turtle spotting boat trip on Zante – in Greece
June and we're going underground into Churchill's London war-rooms
I was back in London with my son to visit my parents and we spent an afternoon visiting the Churchill war rooms, near Horseguard's Parade. It was a facinating glimpse of the war operations conducted here by Churchill in his secret underground bunker, with offices and sleeping quarters for Churchill and large numbers of his war staff, and war maps and telephones still laid out, as well as a museum devoted to Churchill's life. This is a London attraction that deserves to be better known, especially for those interested in history, and could be combined with a visit to nearby Buckingham Palace, St James Park and Horseguards Parade.
Read the article
Into Churchill's underground bunker – Churchill war rooms in London
July – we make a pilgrimage to Altötting and see the passion play at Oberammergau
July was a special month as we took a trip to Bavaria in Southern Germany, to see the famous Passion play at Oberammergau. The Passion Play only takes place every 10 years and has been performed by the residents of the Bavarian Town since 1632, when they made a vow to perform a passion play if the village was spared the plague that was then ravaging Germany. The play is performed in a modern auditorium, with an extremely professional production of choral singing telling the dramatic story of the passion, death and resurrection of Christ. Afterwards we were also able to wander around the town itself to see the painted houses and wood carvings against the backdrop of stunning Alpine scenery. We also stayed for a couple of days in the pilgrimage town of Altötting, where we saw the small shrine of the Black Madonna in the town square, as well as the many other beautiful churches in the town, and hired bikes to seek out the badesee or local swimming lake.
Read the articles
12 Oberammergau Passion Play and Altötting in Bavaria – Podcast
A pilgrimage to see the Black Madonna at Altötting in Germany
Painted houses and wood carving at Oberammergau – in Bavaria, Germany
July in Malaga – seafood on the beach on the Costa del Sol
Later in July I flew to the south of Spain to stay with a friend at Benelmadena near Malaga on the Costa Del Sol. This is a region of Spain that's full of British expats and beloved of the English package holiday makers as well as many Spanish families on holiday, and as a consequence the coastline has been highly developed in recent years. We spent our time eating seafood in the many beach restaurants known as Chiringuitos and escaped for a day into the hills behind Marbella to visit the pretty village of Ojén, one of the many Pueblos Blancos or white hill villages that you can visit in Andalucia.
Read the articles
A visit to Ojén – the Pueblos Blancos of Andalucia
Gaudi glitz at the Puerto Marina – Benalmadena, Spain
Seafood on the beach at the Chiringuito in Spain
August – and we head for Hungary for a family holiday in Budapest and Lake Balaton
For our family holiday we headed for Hungary, spending a couple of days in Budapest before driving to Lake Balaton, a large freshwater lake that's a very popular holiday destination for Hungarians and Germans. In Budapest we drove out to Memento park to see enormous statues that had been preserved from Budapest's communist era, climbed up to the Fisherman's bastion and went for a swim on Margaret Island. On the Southern shores of Lake Balaton, we based ourself at the friendly Hullam Hostel in Révfülöp and visited the castle at Sigliget, the palace at Keszthely and floated among the water lilies in the thermal lake at Heviz, as well as taking a ferry trip across the lake to the busier resorts on the southern shore.
Read the articles
Thermal springs and rubber rings at Hévíz – in Hungary
The Festetics Palace and the marzipan museum at Keszthely – in Hungary
Memento park – Icons of Budapest's communist past
September – far a walking break in the French Alps  on the Tour de Mont Blanc
As the summer holidays finished I took an early September break with my friend Julia to walk in the mountains above Chamonix on the Tour de Mont Blanc Trail. This long distance circular path normally takes 12 days to walk through the mountains of Switzerland, France and Italy around the Mont Blanc mountain range, but we did a cut down mini-version in 3 days. We hiked up above the Chamonix valley, staying in basic mountain huts, with amazing views of Mont Blanc on the opposite side of the valley, visiting the glacial Lac Blanc and the ice cave in the Mer de glace at Montenvers. We enjoyed the experience so much that we're already planning to go back in 2011 to walk another section of the Tour de Mont Blanc trail.
Read the articles
Inside the glacier – at the Mer de Glace above Chamonix
Video diary – walking the Tour de Mont Blanc path above Chamonix
Day 3 on the Tour de Mont Blanc – Flégère to Lac Blanc
October – family fun in northern France, near Paris
At October half term we took a family break in Northern France with Eurocamp, staying at La Croix du Vieux Pont parc at Berny Riviere. We stayed in a mobile home on this parc that has plenty to keep families busy with an indoor swimming pool, boating and fishing on the lake, cycling and a bar and restaurant on site. We used the parc as a base from which to explore northern France, with a day trip to Paris for the obligitory climb up the Eiffel Tower, a visit to Disneyland Paris and time to explore some of the First World War battlefields such as the Canadian Memorial at Vimy Ridge that mark this region of France.
Read the articles
Our supercalifragilistic day at the Magical kingdom of Disneyland Paris
The Eiffel Tower – Icon of Paris or tourist trap?
Visiting the Canadian War memorial at Vimy Ridge, France
November and I link up with other travel bloggers at TBEX in Copenhagen
In November I was off to Copenhagen to attend the Travel Blog Exchange or TBEX conference in Copenhagen staying in the cosy Avenue Hotel. The conference was held in the amazing Wallmans Cirkus, an old circus building that now hosts a dinner and caberet show in the evening but was used for the conference activities in the day. I was a speaker at the event on Using images effectively for your blog, and enjoyed other highlights such as the  SEO skit, listening to other speakers, special events such as the tour of the Georg Jensen Silver Workshops and eating in some great restaurants. I didn't spend as much time as I'd like seeing Copenhagen itself, so I'm hoping to get back again some time in 2011 to explore the city more thoroughly.
Read the articles
Burning the midnight oil – my TBEX Copenhagen diary
TBEX Copenhagen – what were the highlights for you?
Cosy up in Copenhagen at Avenue Hotel
December – it's Christmas!
I took a breather from travelling in December and spent the time getting into the Christmas spirit, buying presents, hanging the Christmas decorations from around the world, and generally preparing for our typically British festivities with turkey and all the trimmings. I hope you also had a very happy Christmas and here's looking forward to more exciting travels for us all in 2011.
Read the articles
Join me for a traditional English Christmas dinner
A terribly British Christmas
A very Happy Christmas from Heather on her travels
This article is originally published at Heatheronhertravels.com – Read more travel articles at Travel Blog Home
You'll also find our sister blog with tips on how to build a successful travel blog at My Blogging Journey
Don't miss out – subscribe to Heather on her travels
In Podcast 12 in my travel podcast series, I talk about visiting the Oberammergau Passion Play in Bavaria, Germany and also visiting the pilgrimage town of Altötting that's known for the shrine of the Black Madonna where many miracles are believed to have taken place. You'll hear about  our walk around Altötting with many stories and anecdotes about the religious sites there and our afternoon cycling to the swimming lake or badesee. I'll tell you about the painted houses of Oberammergau and wood carvings, with useful information for attending the Passion Play and my impressions of the play performance with background music from the Passion Play.
Podcast: Play in new window | Download
To subscribe to all my podcasts in ITunes click here
If you enjoyed this podcast, check out all my other Travel Podcasts in my Podcast Archive
We started our short visit to Bavaria in the town of Altötting, where we had a tour of the town with a local guide who really brought the place to life with his many stories and anecdotes.
Altötting is best known as a pilgrimage town for the Shrine of the Black Madonna situated in the Chapel of Mercy on the main town square. The dark interior of the shrine and small dark statue of the Madonna and child are richly embellished with silver ornaments and the caskets containing the hearts of the Kings of Bavaria, as well as solid silver statues in front of the altar which have a story behind them.
On our tour around Altötting we visited the church of Phillip and Jacob with the famous Tod von Eding clock with a statue of the grim reaper and the church of the patron saint of the town, St Conrad, and the water fountain outside his church where the water is thought to be holy as it flows over a relic of the saint's finger bone.
We heard about the visit of Pope John Paul II in 1980 and how he came to plant the linden tree outside the church.
We also hired bikes at the local bike shop in Altötting and cycled along the path beside the River Inn as far as the badesee or swimming lake near Passau.
The passion play at Oberammergau dates back to 1632 when plague was sweeping through Germany and the villagers made a vow that if they were spared, they would perform a passion play every 10 years.
The play is a community effort and to participate, all the actors and musicians must be either born in the village or have lived for 20 years in the village.
We found that everything was very well organised in the village for visitors and you buy a package of play ticket, meals and accommodation, with free shuttle buses to take you around the area.
We found that the town of Oberammergau itself is an attractive place to visit, and even in the years when the play is not being held is well worth a visit, with painted houses and is also known for it's wood carving.
The play is performed in a large theatre which seats 4500 people and is open at one end with a view of the hills behind and although the audience are under cover, the cast and stage are open to the elements.
I was impressed by the crowd scenes with around 200 cast members on stage at a time, including young children and animals, making a striking scene.
The play starts with Jesus' entrance into Jerusalem on a donkey and continues with scenes from his life which were broken up by orchestral and choral music and with 'living tableaux' scenes from the old testament.
The first half of the play lasts for 2.5 hours starting at 2.30pm in the afternoon with a break of 3 hours for dinner before the start of the second half.
The second half was more dramatic than the first with the trial of Jesus and his walk with the cross, culminating with the crucifixion scene. The darkness falling also added to the atmosphere and again the crowd scenes especially during the trial of Jesus really made you a sense of what it would have been like to be there.
The play ends with the scene of Mary Magdalene in the garden discovering the cloth that Jesus' body was wrapped in and Jesus comes forward and shows himself with the candles and torches really adding to the atmosphere.
If you want to see the passion play, this year's season will end in October 2010 and the next performance will be in 2020, as the play is only held every 10 years, so your best opportunity would be to check with specialist tour operators, whether they have any spaces left on organised tours.
If you enjoyed this travel podcast please check out my other podcasts in my Travel Podcast Archive
Visitor Resources for Altötting
While in Altötting we stayed in Hotel Zur Post, a pleasant and traditional family run hotel right on the main square.
Visit the Altötting official tourism website
Visit the Jerusalem Panorama in Altötting website
Information on the walking and cycling tours around Altötting
Visitor Resources for Oberammergau
Visit the Official Oberammergau Passion Play Passionsspiele website
Visit the Oberammergau official tourism website
We took our tour to Oberammergau with Pax Travel who organise holidays to many other pilgrimage destinations.
Looking for a hotel in Oberammergau? Compare prices and book at Hotels Combined
Photo Credits: Passionplay photos are copyright of the Oberammergau Passionplay website and photo of theatre interior by Heather Cowper
More articles about Oberammergau and Altötting
A pilgrimage to see the Black Madonna at Altötting in Germany
Tips for seeing the Oberammergau Passion Play
Painted houses and wood carving at Oberammergau – in Bavaria, Germany
This article is originally published at Heatheronhertravels.com – Read more travel articles at Travel Blog Home
Don't miss out – subscribe to Heather on her travels