Think Munich and most European's will quote their favourite beer (or rather bier) of the moment. This fun city – Germany's largest – is renowned the world over for its hops-ridden hospitality over two and a half weeks every year. Indeed even on touchdown at Munich Airport you'll find a year-round beer garden courtesy of Lufthansa (just in case, for a second you landed on Deutsch soil and forgot).
But of course there's so, so, so much more to Munich than Oktoberfest. For a start there are the museums.
Museums in Munich
The new Zentrum Neue Technologien at The Deutsches Museum will appeal to nano and bio-tech lovers everywhere. There are fabulous flying bombs in the aviation room for a start. And for those who like to be more in control of their exhibits, the latest in touch screen demos.
Kids will love the Children's World with more than 1001 toys and activities to keep them amused for more than their customary half an hour while transportation fans – especially flying buffs – will practically drool at the sight of the first-ever engine plane produced by the Wright brothers no less.
Art and entertainment
Fancy some light entertainment? And we mean light. The acrobats and trapeze artists at the Variete-Theater on Maximilianstrasse use their surrounds as a vertical playground. It's breathtaking, funny, fascinating and two hours 30 minutes well spent.
The artistic creations of 20th and 21st century masters such as Damien Hirst and Andy Warhol can be found in Munich's Kunstareal.
Fairytale Castles and more
Stay in a real life fairytale castle with glittering spires and pretty turrets and which, thrillingly, once belonging to German Royalty. Indeed one of King Ludwig II's castles – Neuschwanstein – was actually used to model the Disney version of Sleeping Beauty's palace. There are more than 20,000 castles in Germany, most more than a century old.
For auto enthusiasts
For thrills galore head out onto the motorway or Autobahn. Yes, really. Reason is there's NO SPEEDLIMIT. This seems strange for the European's and American's amongst us. But believe it, it's true. You can go speeds of up to 300mph (and most BMW's can) without fear of a flashing blue light descending on you.
While we're on the subject of cars, BMW Welt (translates as 'BMW World') is quite simply stunning – for the design of the building alone, never mind the breathtaking exhibits. The massive 800 kilowatt solar roof panel on the huge hall gives the space a bit of an indoors/outdoors surreal experience. There's all the latest in motor technology displayed within touching distance (indeed for most of them you can touch – even if furtively). Basically it's a glimpse into automobile perfection.
Of course you have to have money to be able to afford a BMW and Munich is indeed a city of affluence. The envious may even say smugness. But a lot of that is attributed to its football team – the world-class Bayern Munich. I don't follow football and even I've heard of this modern-day Super Team which ruled world football in the mid-1970s after winning the European Cup three times in succession, thanks to former player and footballing legend Franz Beckenbauer.
Glockenspiels and Churches
Almost Grimms fairytale like is the Glockenspiel belonging to the Marienplatz in the Bavarian capital's New Town Hall. Between March and October the little figures on this huge clock dance their way around their two storey clock theatre three times a day and are well worth a visit.
The catholic Asamkirche – or St John Nepomuk Church – is second only in elaborate architecture (Baroque) to Rome's Sistine Chapel, no less. No tourist is ever disappointed paying a visit to this spectacle of gilt, exquisite painting and opulence.
And then there's the beer…
Ok, we can't talk about Munich without mentioning beer at some point. One all-year-round attraction (and indeed there are many local regulars) is the Hofbrauhaus. This gorgeous, historical hostelry has been in existence from as far back as 1644!
It provides traditional German entertainment in the finest sense. At the Hofbrauhaus you can sip your beer, enjoying live music, while seated at a table which has played host to brewery visitors for more than a century. Not only that but you're encouraged to carve your initials on the table!
The actual brewery and beer itself was founded by Wilhelm V Duke of Bavaria who didn't like the stuff on offer at the time. Today's brewery has a locked glass cabinet on display where locals store their own individual beer glasses (or Stein's) ready to be used on their next visit.
This post is courtesy of Holiday Inn Meetings. Find the perfect conference rooms (Konferenzräume) in Munich with Holiday Inn Meetings – we've thought of every little thing.
More fun in Munich
The latest dirndl fashions in Munich
Visiting the Munich Christmas Markets – podcast
Empty splendour in the Residenz palace in Munich
Photo credits:  Deutsches Museum by Alf Igel, Neuschwanstin Castle by mwacker69, BMW Welt by To Uncertainty And Beyond, New Town Hall by Mr G's Travels, Macabre at Asamkirche by theqspeaks, and Hofbrauhaus by cmozz
This article is originally published at Heatheronhertravels.com – Read more travel articles at Travel Blog Home
You'll also find our sister blog with tips on how to build a successful travel blog at My Blogging Journey
Don't miss out – subscribe to Heather on her travels
On my visit to Munich just before Christmas I used the pocket sized Eyewitness Top 10 guide to Munich as my guidebook of choice.
I often take short breaks in Europe of just a weekend in one city and I've found the Eyewitness Top 10 travel guidebook series from Dorling Kindersley ideal in highlighting the best things to see on a short trip, while still giving some depth on a wide range of sites that might interest visitors.
You may have read my review of the Eyewitness Top 10 guide to Lisbon, and at the risk of repeating myself, I do enjoy the Dorling Kindersley coffee-table style of publishing, with loads of colourful photos and maps throughout the book.
Top 10 guide to everything
The guide is organised along the theme of Top 10 everything, and although this might normally make for shallow reading, there's plenty of useful detail, and when you're short of time it's quite refreshing to be able to focus immediately on the key things to see. Personally I would still use any guidebook as a starting point and then seek out a few local recommendations or just wander around and see where the fancy takes you. But I hate to miss anything major just because I turned left rather than right on my wanderings.
There's also a handy fold-out map in the back that also covers the transport system, although I find I'm increasingly that I have to squint to read the small print on guidebook maps. My Mother jokes that as every year goes by the books are publishing in smaller and smaller font – they must think that all travellers are twenty-something backbackers with eyes that aren't yet worn out by too much blogging!
Top 10 things to see in Munich
On our visit to Munich we managed to see several of the Top 10 city sites that were recommended, such as the Residenz Palace, former home of the Kings of Bavaria and the area around Marienplatz, the town square at the heart of the old part of the city. Another recommendation was the Oktoberfest, one of the most famous folk and beer festivals in Germany, but we weren't there in October so we visited another enjoyable festival, the Tollwood Winter festival that is held on the same showground for some ethnic food, Furzangenbowle mulled wine and crafty Christmas shopping. Other recommendations in the guide would come into their own in the summertime, such as the Starnberger See lake and the castles close to Munich.
More information on Munich
The later sections of the Eyewitness Top 10 guide to Munich cover different areas of interest such as the best Markets, Festivals, children's attractions and even Gay and Lesbian hang-outs. Then there are sections that cover each neighbourhood with a map, cafe and restaurant recommendations and extra things to see in each neighbourhood. If I had more time, I'd love to follow the recommendations of how to spend a day wandering in each neighbourhood, with recommended coffee and lunch stops and things of architectural interest. At the back of the guide there are sections with on getting around, planning tips and all the boring but useful information you might need to refer to like shop opening and restaurant hours.
Who this guide's good for
Although there are sections on hotels and other accommodation, I'd say that this is not the best guide for someone who needs to find the cheapest hostel in a hurry – it's more for those who have planned the practicalities in advance and want to spend their time sightseeing and enjoying what the ciy has to offer. I was a little disappointed to find that there was very little information on the Christmas markets of Munich that we'd come to see, although we found more than enough to enjoy just by walking around the central area. I was also pleased to find that the information on which S-bahn or tram to use to get to key sites was a bit more comprehensive than I found in the Lisbon guide, although the one time we tried to use the tram information, a local at the tram stop told us that it was incorrect, and directed us to the S-bahn instead.
Guide Book Giveaway
I should tell you that Dorling Kindersley kindly gave me a free copy of the guidebook for the purposes of this review, but I've either paid my own money or borrowed others guides in the Top 10 Series before and found them excellent, which is why I'm happy to recommend them to you. In fact, when I was in Berlin, our group had a choice of three well known guidebooks between us and this was the one we inevitably took with us, because it is such a convenient size to carry. I have noticed that although in the UK the Eyewitness Top 10 guides are priced at a moderate £7.99, when you buy them on Amazon.com they seem to be a lot more expensive.
Even more reason then to take this opportunity to enter for my giveaway sponsored by Dorling Kindersley of a copy of the Top 10 travel guide of your choice for one of my readers. To be entered for this draw, just leave me a comment telling me which guide you would like and your reasons for visiting that city. I'll draw one of the names at random in a couple of weeks and the Eyewitness Top 10 Guide of your choice will be on it's way to one of my readers.
To check out which of the guides might take your fancy, go to the Dorling Kindersley Eyewitness Top 10 page and start dreaming of where you might go next, from London, Venice and Rome to Las Vegas, San Francisco and Toronto to Bankok, Singapore and Hong Kong I think I counted almost 50 destinations to choose from.
Many thanks to those who read the article and commented and to Dorling Kindersley to who donated a copy of their Eyewitness Top 10 guide.
Other Munich stories to enjoy
Visiting the Christmas Markets in Munich – Podcast
Location and Value at Hotel Falkenturm in Munich
Bavarian Pork Knuckle at Haxnbauer in Munich
Read more travel articles at Travel Blog Home
Don't miss out – subscribe to Heather on her travels
January 8, 2010 by Heather Cowper
Filed under Europe, World, Berlin, Croatia, France, Germany, Greece, Istria, Lebanon, Lisbon, Munich, Portugal, Zakynthos
2010 is well and truly here, and with snow on the ground in Bristol, I've been reliving the memories of some of the sunnier places I visited last year – here's the round up the places I travelled and enjoyed in 2009.
By the way, if you enjoy my blog, please do nominate me for best travel blog at the Bloggies before 12 January 2010.
Berlin for a girly break in April
April saw me on a 4 day break to Berlin in Germany with my teenage daughter and her friends. We were blessed with sunny spring weather and loved our stay at the fabulous budget boutique Circus Hotel, where the girls had their own apartment and the Mums were banished to their room at the other side of the courtyard. We saw the sights on foot, bus, s-bahn and rickshaw and generally soaked up the arty and trendy vibe of Berlin, an ideal city to please the most picky teenager. For more Berlin stories read;
Checkpint Charlie and other Berlin Wall stories
Blue Glass reflections at the Kaiser Wilhelm Memorial Church
Our 36 Hours in Berlin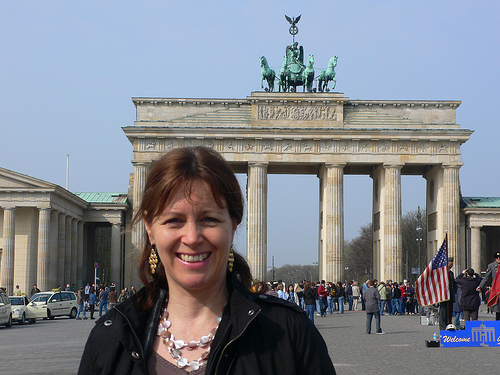 Val Cenis, France for a family ski-break in April
Hardly had we returned from Berlin when we were off again to join the boys on a family ski-ing break in Val Cenis in France, not too far from the Italian border. This was a last minute bargain break at the end of the ski season, in which we squeezed ourselves into a modest self-catering apartment. My kids are mad-keen snowboarders, while I'm a rather more sedate skier who likes to break up a few easy runs with long chocolat chaud stops in between. Meanwhile my children whizz past me showing no fear, only pausing to blague the price of an expensive plate of pommes frites or a crepe. For tales from Val Cenis read;
The Good Friday service in the ski resort of Val Cenis in France
Keeping my ski helmet on in Val Cenis, France
Savoyard food specialities to enjoy from the French Alps
Lebanon for a girl's road trip
My week in Lebanon, touring the country with a friend who works there was a real highlight. I didn't know what to expect of Lebanon but was blown away by the variety and accessibility of what was on offer for those who want a taste of the Arab World at it's most cosmopolitan and sophisticated. We didn't spend too long in the glitzy building site that is Beirut, but got out of the capital to walk the mountain trails, eat mezze in the souks of Sidon, see some amazing archaeological and historic sites and taste our way through some world class wines. For stories from Lebanon read;
St Anthony's Monastery of Qozhaya in Lebanon – video
The Cedars of Lebanon – Tannourine Cedars Reserve – Video
Mezze Memories in Lebanon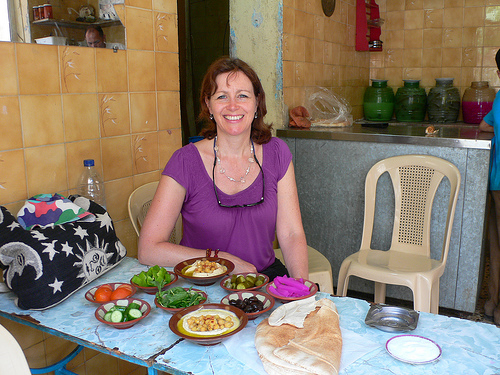 Zakynthos in July for our family beach holiday
July took us back to the Greek island of Zakynthos, where my sister lives with her Greek husband Denis and juggles family life with running two hotels. Although we've been going for the last 20 years, there are always surprises when you get away from the main resorts and we enjoyed meeting some locals, like Yannis Vardakastanis who founded the Earth Sea and Sky Wildlife centre at the beautiful Gerakas Turtle beach, Timotheos and Christina-Maria the stylish wine-makers at Oenpoli winery, and our photographer friend and bar owner, Rob Wallace and his wife Ritsa at Freddie's Beach Bar at Tsilivi. I hope I've convinced you that there's more to this island than its package holiday image might suggest. For tales from Zakynthos read;
How to make delicious Greek stuffed tomatoes
How to find a real Greek Taverna on Zakynthos
My top three beaches on Zakynthos
Istria, Croatia for a family resort break
In August I took a 4 day break with my family as a guest of the Istrian Tourism board, who invited a number of bloggers to this beautiful province of northern Croatia. The kids were smitten with our modern resort hotel Laguna Molindrio with it's two pools and view of the sea and we swam and cycled through the pine woods that fringe the shore. There was plenty to interest the culture lover in me in the old Venetian ports of Porec and Rovinj nearby as well as fresh seafood, local truffles and the picturesque hill towns that reminded me of Tuscany. For more Istrian travel stories read;
Visiting the hill towns of Grozjnan and Motovan in Istria
My Istria Travel diary – podcast and slide show
Cycling by the sea in Istria
Brittany in August to go fishing for crabs
Another short break took me with my daughter to visit an old friend in Vannes in Brittany, in an effort to improve both our language skills. My friend lives in a beautiful spot overlooking the marina at Conleau on the Gulf of Morhiban and we took a day trip to the island of Houat where we swam, sunbathed and had fun fishing for crabs. Unfortunately our catch was rather insignificant, so we had to pay a visit to the fishmonger on the way home to get some more respectable specimens to eat for dinner. For a few fishing tales from Brittany read;
How to prepare a crab a la Francaise in Brittany – video
Gone fishing for crabs on Ile de Houat in Brittany
A postcard from Conleau near Vannes in Brittany
Lisbon in November for a romantic weekend a deux
At the end of November, I visited Lisbon for a 3 day weekend break with my husband, leaving the kids behind. We loved our welcoming boutique hotel which was ideally placed for sightseeing and wandering the back streets. We visited the Monastery of Jeronimus and the Castelo de Sao Jorge, getting around on the modern metro, old fashioned trams and elevador funiculars that climb hills of the city, saving the legs of the weary traveller. We ate our way through as many local specialities as we could including the port, salt cod and seafood and the custard tarts Pasteis de Nata that are the sweet symbol of Lisbon. For more Lisbon stories read;
An autumn weekend in Lisbon – Podcast
An authentic Portuguese meal at Casa do Alentejo in Lisbon
A rainy day at the monastery of Jeronimus
Munich in December with my parents to see the Christmas markets
To round off the year I took a 3 day weekend break with my parents to visit the Christmas markets and get into the holiday spirit. I loved the feeling of Christmas in the air, especially in the atmospheric market we found in the courtyard of the Residenz with local choirs and Alpine horns playing, the smell of gingerbread, sizzling sausages and mulled wine and the dusting of snow on the rooftops. I loved the cosy feel of sitting in a condotorei, having our kafee and kuchen, but I did feel the cold when the temperature dropped below freezing. For more Munich stories read;
Visiting the Munich Christmas Markets – podcast
Empty splendour at the Resindenz in Munich
Bavarian pork knuckle at Haxnbauer in Munich
So that was 2009 and where will 2010 take me? The only thing booked is a visit to the Passion play at Oberammergau in July, which happens only every 10 years, so it's really a once in a lifetime thing. Other than that the plans are fluid for the spring – I'm waiting to see where the cheap flights, friends around the world and any other offers may tempt me. What are your travel plans for 2010 – I'd love to hear them. And if they bring you to Bristol in 2010, I'd love to show you my city.
Read more travel articles at Travel Blog Home
Don't miss out – subscribe to Heather on her travels