At this time of year it's nice to reminisce a little and let the pleasant memories of the year wash over us to create that rosy seasonal glow. Then we can all brace ourselves mentally to look forward to new plans, new places, things we want to do more of, things we want to do differently. I'll be sharing my plans for Spring 2013 very soon, but in the meantime, here are some of my travel memories from the last year, which perhaps will provide some travel inspiration for your plans in 2013.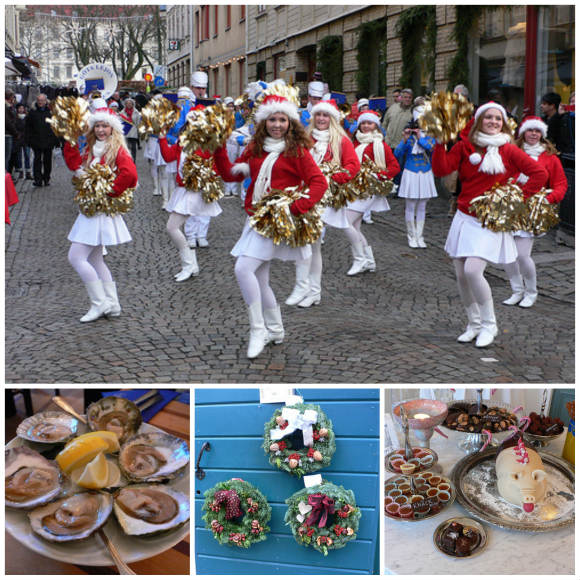 December 2011 – Gothenburg, West Sweden for a pre-Christmas break with my husband
I'm cheating a bit here when I include our trip to Gothenburg from the end of 2011, but then it's my blog, so I'm allowed a little cheating and we did have a great time despite the snowy and windy weather.
Why Gothenburg? I've always liked Scandinavia; so clean, so together and everyone speaks perfect English, and I wanted a pre-Christmas gettaway with my husband when we could eat great food and get into a Christmas mood, with just the two of us.
Happy memories? Fantastic seafood and a chat with the oyster-opening champion Johan Malm at Restaurant Gabriel, our memorable Michelin star tasting menu at Basement with head chef Camilla Parkner, sheltering in Cafe Kanold from the wind over a cup of hot chocolate with chilli, the Christmas market on the cobbled streets of Haga with the music of the marching band, the workman's graffiti in the back of the statue of Mother Svea just outside our window at Hotel Elite Plaza, the millions of sparkling Christmas lights at Liseberg.
Where did we stay? The beautiful, 5 star Hotel Elite Plaza, once the headquarters of the Swedish Fire and Life Insurance company and full of grand marble staircases and chandeliers.
Want to read more?
Our Winter Break in Gothenburg, Sweden – Podcast
8 Swedish Foods to try in Gothenburg, Sweden – Video
Exploring the Christmas Markets of Gothenburg

February – a winter weekend on the Gower in South Wales
Why the Gower? My son is at university at Swansea nearby and I wanted to get the whole family together, including my parents, to spend some time together near the sea.
Happy Memories? Long, blustery walks along the cliffs, the wide open beaches of Langland and Caswell, sitting with the papers and a cappuccino at Langland Bay Brasserie watching the rain beat on the windows, pretty painted beach huts and exotic spiky palms on Langland beach, watching the surfers bobbing in the water from the clifftop.
Where did we stay? Maryland, a spacious 4 bedroom holiday home which we booked through Gower Cottages, perfect for extended family gatherings and only a few minutes walk from the cliff path.
Want to read more?
Our winter weekend on the Gower in Wales – Langland and Caswell – Video

April – Texas, USA for a family road trip
Why Texas? My husband had visited Texas on a military exchange a few years before and kept raving about it, plus we wanted to find somewhere we could enjoy as a family with good weather at Easter and flights that were not too expensive.
Happy Memories? Experiencing a Blast-off at Space Center Houston, the finger-licking BBQ at Black's in Lockhart, cycling along Mission Reach to the Spanish Missions in San Antonio, an afternoon wobble shooting at Picosa Ranch (I actually shot something!), tubing down the river at Gruene followed by Bluebell ice cream at the old fashioned drug store, tequila tasting at the Cibolo Moon at the JW Marriott San Antonio Hill Country, eating trailer food, trying on cowboy boots and shopping for vintage in SoCo, Austin.
Where did we stay? The comfortable Park Inn Houston North, conveniently close to the airport, The Mediterranean style Hotel Valencia Riverwalk in San Antonio with views over the Riverwalk, The luxurious JW Marriott San Antonio Hill Country Resort complete with its own waterpark, our Holiday Rental in the Barton Hills area of Austin booked through HomeAway and the gorgeous boutique style Hotel Sorella in the vibrant City Centre neighbourhood of West Houston
Want to read more?
Our Texas Road Trip Part 1 – Podcast – Houston, San Antonio, Picosa Ranch
The best of Texas – finger-licking BBQ and a slice of pie
Picosa Ranch – a luxury Ranch with a slice of Texas history – video

May – a girl's weekend in Winchester
Why Winchester? I wanted a weekend gettaway with my sister and Winchester was easy for both of us to get to, as well as having loads of things to see and do in the city and the beautiful Hampshire countryside nearby for some walking on the South Downs Way.
Happy Memories? The Anthony Gormley statue standing ankle-deep in water in the crypt of the Cathedral, seeing the small wooden table in the house at Chawton where Jane Austen wrote her greatest novels, eating lardy cakes bought from the farmer's market with a view of the sulphur yellow fields on the South Downs Way, watching the mesmerising water wheel grinding the grain into flour at the Winchester City Mill, spotting the artistic bollards outside The Old Vine where we had a delicious supper.
Where did we stay? The Winchester Hotel, a stylish, modern hotel that is an easy walk from all the historic sights.
Want to read more?
10 ways to spend a wonderful weekend in Winchester – video
Yellow fields with lacy edges – walking the South Downs Way near Winchester
On the trail of Jane Austen in Winchester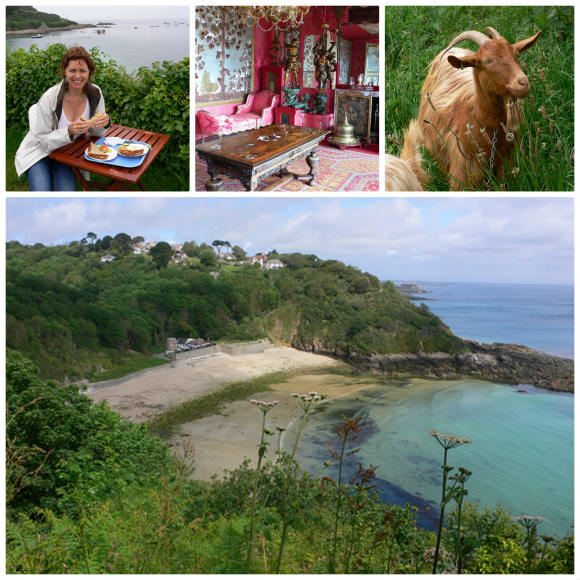 June – Guernsey and Sark in the Channel Islands
Why Guernsey? It's just a short flight from Bristol and has a fascinating history as well as a beautiful coastline, plus we were all intrigued at the thought of visiting Isle of Sark where there are no cars
Happy Memories? Walking along the coast from Fermain Bay to Jerbourg point through the pine trees, the exotic treasure trove of Hauteville House, home of Victor Hugo, eating crab sandwiches from a beach kiosk with a view of the sea, cycling around the island of Sark and eating fresh lobster in the garden of the Sablonnerie Hotel, hearing the stories of the German Occupation from Guernsey tour guide, Gill Girard.
Where did we stay? Self catering Albany apartments in St Peter Port that are perfect for a family holiday and the St Pierre Park Hotel with lovely gardens and golf course
Want to read more?
Guernsey, the German Occupation and Potato Peel Pie
Our spring break on Guernsey and Sark – Podcast
10 delicious foods to try on Guerney - video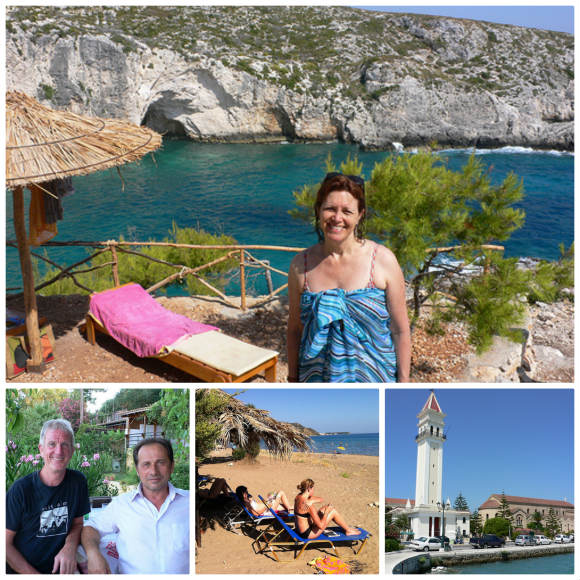 July – Zakynthos, Greece for a family holiday
Why Zakynthos? My sister lives on the island where she runs two hotels with her Greek husband, Denis so we like to visit her every year and explore some new corners of the island.
Happy Memories? Discovering Porto Limnionas, a rocky cove in the north of the island with turquoise water and a great taverna, sitting with a drink on the terrace of Harbour House restaurant at Agios Sostis with new friend Derek Linley hearing stories from his years coming to the island, our boat trip from Agios Sostis to spot the Caretta Caretta turtles in Laganas bay and swim in the sea caves at Keri, the Greek dancing night at Windmill Hotel which never fails to entertain us.
Where did we stay? My sister's hotel, the Windmill Studios in Argassi with a view over the sea from the geranium filled terrace. She also runs the Windmill Bay Hotel just down the road.
Want to read more?
10 gorgeous beaches and places to swim on Zakynthos
Get in your car and drive! the bits of Zakynthos that you won't see from your sunbed
Swimming the turquiose Blue at Porto Limnionas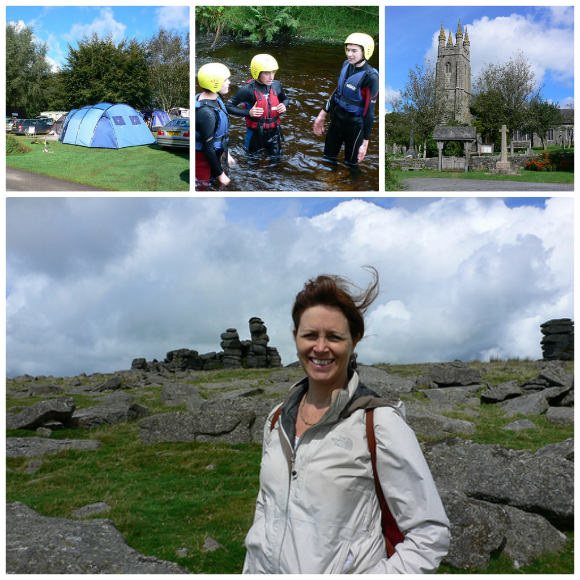 August – an adventurous weekend on Dartmoor with the teenagers
Why Dartmoor? My husband knows the moor well from his army days and we all love the wild scenery and endless opportunities for outdoor adventure that kept my teenage son and his friends busy
Happy Memories? Having lunch at the Okehampton station buffet imagining that I was Celia Johnson in the film Brief Encounter, watching my son and his friends splash around in the river on their gorge scrambling adventure, our walk on the moor with friends above Peter Tavy followed by a hearty lunch at the Peter Tavy Inn, climbing up to the Great Staple Tor and finding a letterbox to stamp our hands, the blissfully warmth of the heat cabin at Woodovis Park and a swim with the family in the pool.
Where did we stay? Woodovis Park in a comfortable mobile home. It's an immaculate, 5 star, family run camping and caravan site which is a great base to enjoy all that Dartmoor has to offer.
Want to read more?
Wild and Wet adventures on Dartmoor – staying at Woodovis Park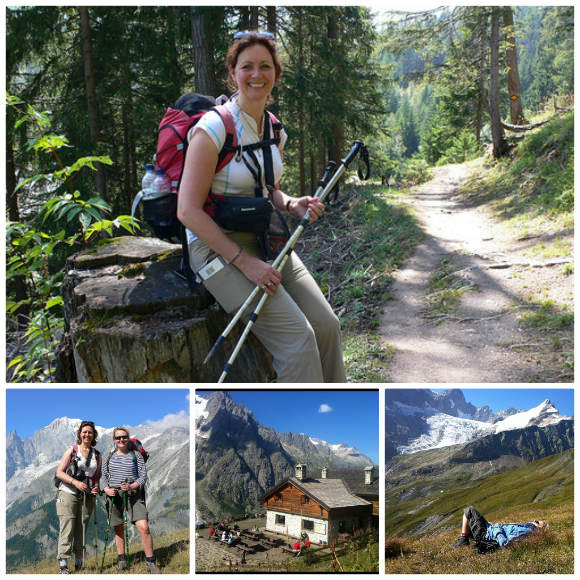 September – walking on the Tour de Mont Blanc in Switzerland and Italy
Why the Tour de Mont Blanc? I've been walking the TMB which is a long-distance mountain trail, in stages with my friend Julia and this was our third year on the trail. We both love the wild mountain scenery, the feeling of escaping our busy lives and the physical challenge of the walk.
Happy Memories? Watching the scenery change on the train journey from Geneva alongside Lake Lausanne and on the St Bernard Express, feeling on top of the world on the Grand Col Ferret at the border between Switzerland and Italy, staying at the fantastic Rifugio Walter Bonnati, undoubtedly the nicest refuge we've stayed in so far, having a picnic on the mountain overlooking Courmayeur and surveying the route we had just walked, the excitement at the start of the Tour des Geants in Courmayeur.
Where did we stay? A number of small hotels and mountain refuges; Gite Bon Abri in Champex Lac, Hotel Col de Fenetre  in Ferret, Rifugio Elena, Rifugio Walter Bonatti , Hotel Bouton d'Or in Courmayeur
Want to read more?
The Tour de Mont Blanc Diaries Day 1 – Champex Lac to Ferret and a walk in the woods
The Tour de Mont Blanc Diaries Day 2 – Ferret to Rifugio Elena and over the pass into Italy

September – Girona, Spain for TBEX
Why Girona? I attended the TBEX Travel Bloggers' Conference being held in Girona where it was great to meet some of my  blogging friends in person and hear the speakers on different aspects of blogging.
Happy Memories? Staying in an apartment with Barbara Weibel, Isabel Romano and Laurel Robbins and just a floor down from Janice Waugh, Simon Falvo and Sarah and Terry Lee made for some great late night chats and bonding, eating pretty Pinxchos in a side street cafe with new blogging friends, wandering along the river with the tall pastel houses and criss-crossing bridges, the historic food by El Celler de Can Roca at the TBEX opening night party, the day out at Vall de Nuria in the Pyrenees after the conference
Where did we stay? A comfortable apartment in the old town of Girona booked through Wimdu
Want to read more?
Staying in the heart of Old Town Girona with Wimdu – video
A Sunday Stroll in the Pyrenees – Vall de Nuria
Case study – Costa Brava Marketing campaign – podcast interview with Jaume Marin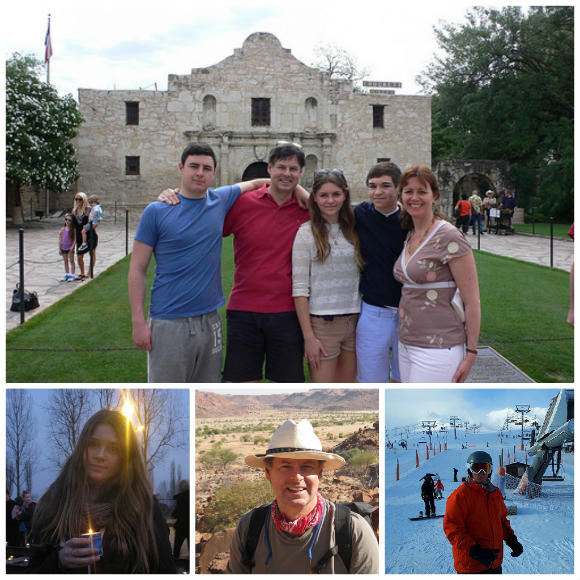 And what about the family?
Of course for many of these trips I was with various members of my family, but they also did some travelling on their own that they wrote about for me on the blog;
My husband Guy spent much of August on a school trip in Namibia looking after a large group of teenage girls, where they did some community work in a local school, went trekking and had close encounters with the desert elephants and other African wildlife.
Read more about Guy's Namibia Trip
Not that old zebra crossing joke again!
An encounter with the desert elephants of Namibia
My oldest son, William had a fun snowboarding trip in Andorra with a group of friends from university, which was spent mostly snowboarding, drinking and doing what students do on holiday. Read William's article on Snowboarding in Pas de la Casa – a student's guide
My daughter, Sophie-Anne wrote about her moving visit to Auschwitz with the Lessons from Auschwitz educational programme, designed to ensure that young people understand what happened and don't let history repeat itself in the future. Read Sophie-Anne's article on What every schoolgirl should know about Auschwitz – video
I hope you enjoyed my travels in 2012 and that you may feel inspired to visit some of these places yourself. I'll be sharing my exciting travel plans for the spring of 2013 with you very soon.
This article by Heather Cowper is originally published at Heatheronhertravels.com - Read more travel articles at Travel Blog Home
You'll also find our sister blog with tips on how to build a successful travel blog at My Blogging Journey
 Don't miss out – subscribe to Heather on her travels
Despite the popularity of its gorgeous beaches, the Greek island of Zakynthos has plenty more to offer when you're ready to peel yourself off the sunlounger. Hiring a car is likely to be a good option if you want to explore the island, as public buses only run a few times a day and the cost of taxis can add up. Here are a few of the places I'd recommend around Zante that you can easily reach by car if you fancy a half day exploring more of what the island can offer.
See the sights of Zante town
If you arrive on the island by ferry from the mainland, Zante Town will probably be your starting point, or if you are based in one of the beach resorts it's worth taking a look around the island's capital. The shops are normally open in the morning, close after lunch and then re-open in the late afternoon and evening.  During shop opening hours parking is at a premium but the atmosphere is more lively. If you prefer things a little quieter then visit Zante Town when the shops are closed.
The harbour frontage is full of interest and the road is busy with a constant stream of tooting cars and motorbikes as the locals go about their business. At one end of town, close to St Mark's Square, is the long pier where the cruise ships dock. I'd recommend walking right to the end of this pier to admire the yachts from all over the world, from beautiful wooden boats to the glitzy gin palaces chartered by some wealthy Russian businessman. You'll probably see a lone fisherman at the end and there's a pleasant small taverna where you can get a good lunch.
From this end of town you can walk right along the harbour front and see the fishing boats with their yellow nets, moored up in the morning selling their catch direct from the boat. At the other end of town is the church of St Denis, richly decorated with frescos and golden icons. St Denis is the patron saint of the island and in a small chapel to the fight of the altar is his silver tomb which is opened twice a day in summer to reveal his mummified body and allow pilgrims to kiss his feet. Beside the church there's also an ecclesiastical museum full of beautifully embroidered robes, painted icons and figured silverware from monasteries around the island.
Back at St Mark's square, you'll find plenty of cafes waiting to invite you in, as this is prime tourist spot but I prefer to walk down the main street and find the smaller cafes in the side streets where the locals go for a hot cheese pies or a selection of glika, the honey drenched sweet pasties that the Greeks serve with tiny cups of strong, sweet Greek coffee. In the side streets you'll find several shops that make and sell the traditional nougat of sesame seeds, almonds and honey as well as other local sweets, wines and olive oil. The museum in St Mark's square is also worth a look if you'd like to see beautiful religious art and icons that were saved from the terrible earthquake of 1953.
Take your car and drive up to Bohali, the cliff that's set above the town overlooking the harbour where you can sit on the terrace in one of the cafes with a frappe to admire the view or visit the Venetian fort on the hill top.
Zante town is a good alternative location to the airport to pick up your hire car if you've booked through a car hire comparison search engine like Carrentals.co.uk, who provided our hire car.
Wine tasting and pottery at Machairado
From Zante town you can drive out on the road to Machairado and within 15 minutes (if you don't get lost or miss the turning) you'll find a couple of other interesting places to visit;
When I'm on Zakynthos I aways stop in at the Oenolpi winery run by Timotheos and Christina-Maria, who have started a boutique winery that you can see from the road. Their wines mix local grape varieties and mainstream varieties such as Cabernet Sauvignon, and the estate also includes olive trees and Korinthian grapes for raisins. They are happy to show visitors the modern winery and they also have wine for tasting in the front reception area, although if you're a serious wine coinesseur you may want to ring ahead to be sure they'll be there.
I can recommend the delicious Augostoustiatis Liastos wine, with concentrated sugars and alcohol made with the  local Augostoustiatis grapes which are harvested and then laid outside on a cloth to be 'burnt' in the sun, giving it the Liastos name, ideal to be drunk at the end of a meal with coffee or desert.
A little way down the road there's the Sigouros Pottery Workshop where painted pottery is made that's also sold in their shop on the main street in Zante town. I've been collecting the Sigouros pottery over the years and I love the soft colours and abstract motifs inspired by the natural beauty of Zakynthos, with blue fish, green olives, lemons and pommegranates, that grow everywhere on the island.
In July I spent a blissful week on the Greek island of Zakynthos, soaking up the sun and seeking out the best spots for swimming and sunbathing. With my teenage daughter and several of her friends coming along, I had some willing companions to test out the sunloungers and find the best places to perfect your tan or cool off with a dip in the sea. Here are our favourite beaches and swimming places on Zante, both favourites from previous visits and new discoveries from this trip.
Zante town swimming
Most visitors to Zakynthos are based in one of the resorts around the island but if you happen to have a day in Zante town and want a quiet swimming place and lunch in a taverna, I found a charming little spot on the edge of town. From St Mark's square and the long pier where all the yachts are moored, walk out of town along the seafront for 10 minutes, past the tennis courts and the children's playground and you'll find where the locals go for a swim. This miniature harbour is ideal for all ages and there is a grassy area and sunbeds adjoining the traditional taverna called Astepia where you can get drinks and meals.
Boat trip swimming
Keri caves
It's popular to take a boat trip for either a full day day or a half day around the south coast of Zakynthos. Last year we did the long version on a full day turtle-spotting boat trip starting at Porto Roma which normally costs €40-50 per person, but this year we took a shorter 3 hour trip which cost around €25 per person, starting at the small harbour at Agios Sostis. The boat trips will typically take you into Laganas bay where you'll hope to see a loggerhead turtle, although they are getting increasingly rare, and then you'll skirt around headland past the limestone cliffs and sea caves near Keri. There are some sea arches and caves that the boats will take you through to admire the intensely turquoise water that looks like glass and then the boats normally drop anchor and let you swim for a while. This is the perfect place to jump in and cool off after feeling the salty spray on your skin and the wind in your hair.
Marathonisi or Turtle Island
On your boat trip out through Laganas bay, you'll pass the turtle shaped island of Marathonisi and after swimming in the Keri caves you'll probably stop here for a swim too. You shouldn't swim on the wide sandy beach where the turtles nest as this area is protected, but on the other side there's a sea cave and small strip of sand where the boats will drop you for a while. There's even an ice cream boat that is moored up and will sell you cold drinks and you can swim through into the sea cave through a small opening by the beach. It's a really pretty spot although somewhat crowded when a few boats are moored up all at once. When deciding on your boat trip make sure that you book a smaller boat with some shade or a catamaran, not one of the larger boats that are too big to get anywhere near the beach. You can also rent small boats that you can drive yoursef to explore the shore line from Agios Sostis, Keri or Laganas.
Navagio or Smuggler's cove
Navagio or Smuggler's Cove is the beach that makes it onto the cover of practically every book or postcard from Zante. The beach is only accessible by boat and is a stopping off point for every boat trip around the north of the island. I haven't personally taken the trip that lands you on this beach but I have looked down on the beach from the viewing platform on the cliffs above where you can take the iconic postcard shot. The beach has a rusty old wreck half buried in the sand of a ship that went aground in the 1980s, while supposedly smuggling cigarettes. The presence of the wreck there seems to add to the photogenic appeal and make this one of the most photographed beaches in Greece.
Swimming from the rocks
Porto Limnionas
The western side of Zakynthos is dry and rocky and you can drive your car through traditional mountain villages through scrub and low pine trees until you come down again the other side and spot the cliffs and sea before you. Porto Limnionas is not an obvious place to find and yet when you get there you'll probably find the car park full with Greeks and Italians who love this kind of rocky sea swimming. There's a narrow inlet of water with limestone cliffs, where the sea is intense turquoise, broken up by patches of darker blue, where seaweed clothes the bottom. Sunbeds are laid out on the terraces overlooking the inlet with shade provided by rush-covered sunshades and the odd pine bush bent down against the wind. Concrete paths and steps have been laid out to take you down to the sea and you can jump into the clear water, although it's not quite as easy to hoist yourself out if there's any swell. There's a taverna where you can have a lovely lunch in the shade and they'll bring you drinks down to your sunlounger. Porto Limnionas was my favourite swimming place from this year's trip to Zante.
Turtle nesting beaches
Gerakas Beach
Gerakas beach is located on the south-east corner of the island and is particularly attractive because of its annual visitors, the loggerhead or Caretta Caretta turtles that nest here. Because of the turtle nesting sites, the beach has been protected from development and no building is allowed above it which means that it has an undeveloped aspect compared to many of the other beaches on Zante. Sun loungers are kept close to the sea and well away from the turtle nests which are marked and sometimes roped off. There is a parking area at the top of the cliff path down to the beach and a couple of nice bars and tavernas nearby where we've had pleasant lunches in the shade. Be sure to visit the Turtle information centre at Gerakas, run by Earth Sea and Sky organisation, dedicated to preserving wildlife in the Ionian Islands, which was started by Yannis Vardakastanis who has won several conservation awards for his work to preserve the turtles that nest on this beach where he grew up.
Dafni beach
We enjoyed an afternoon at Dafni beach on my most recent holiday to Zante and I'd say this one is a beautiful beach to spend some time on. You do need a hire car to get here and the steep and winding dirt road down to the beach can be daunting and personally I'd avoid riding a motorbike down there because of the gritty and potholed roads. Although the access is difficult, once you're down you can park and settle into a sun lounger in front of one of the beach bars – some don't charge for the sunbeds so long as you buy drinks and snacks at the bar. The beach is another turtle nesting site and the sun loungers are kept well back from the sea to protect the turtle nests, so there's a long expanse of warm sand to enjoy. The water is shallow and great for swimming which makes this an ideal beach for children, providing you don't mind the drive down.
Sand and more
Porta Zoro
This is a smaller beach with easy road access near Vassilikos and in past years we've been there we enjoyed the unspoilt aspect of the beach. However on the last visit we did find that the beach was so covered with sun lounger that you could barely walk by which I found rather annoying. There were two beach bars when I was there last, one a more traditional taverna, the other a rather trendy beach bar that seemed to have taken over the far end of the beach. The thing I particularly enjoy about Porto Zoro is the large rocks at one end that are great for swimming and snorkeling.
Vassilikos beach
You can get on to Vassilikos beach from several different turn-offs from the main coast road, each with signs pointing you to different named beaches, such as Ionian beach or  Banana beach where there are watersports. In fact it's one long beach and you can park in one place then walk along to a different spot. We parked near the attractive stone built taverna and walked along to the rather trendy beach bar where we settled on sun loungers and bought some drinks. The sand is lovely here and the sea shallow although I don't think this beach is as interesting as some of the others for swimming as the outlook is straight out to sea. If you want watersports head to the far end at Banana Beach where you can hire jetskis or do paragliding or be dragged through the water on an inflatable.
Agios Sostis Port
This is a pleasant family beach with shallow water, sunbeds and pedalos on one side of Laganas bay. It's not to be confused with the excessive nightlife and busy strip around the bay at Laganas – Agios Sostis Port is a much more traditional place with family run apartments, beach bars and restaurants such as the Sabbia Beach bar and Harbour House restaurant right on the beach. There are two parts to Agios Sostis and we enjoyed stopping at the Agios Sostis Liminaki or port which has a small beach to one side and a marina on the other from where many of the boat trips go.
There are plenty more beautiful beaches on Zakynthos to the northern end of the island around Tsilivi and Alykes, but as I am normally visiting my sister in Argassi, I suppose we've tended to stick to the southern part of the island. However, don't take my word for it and get in your car or catch the bus to explore a different beach or swimming place for every day of your holiday.
This post was brought to you by Getcover.ie Backpacker insurance for low cost Backpacker insurance. To enjoy your holiday in the sun without worry check out Holiday Insurance from Getcover.ie
More things to enjoy on Zakynthos
Why Agios Sostis is perfect for a relaxing holiday in the sun
Swimming the turquoise Blue at Porto Limnionas on Zakynthos
A turtle spotting boat trip on Zante in Greece
This article is originally published at Heatheronhertravels.com – Read more travel articles at Travel Blog Home
You'll also find our sister blog with tips on how to build a successful travel blog at My Blogging Journey
Don't miss out – subscribe to Heather on her travels