If you are holidaying on the Greek island of Zakynthos, be sure to visit the new restaurant Anadalis in Argasi that adjoins Windmill Bay Hotel on the coast road.  The setting by the sea could not be more magical since the tables are set under palm trees with the waves lapping below the restaurant, making a romantic evening setting and a place to enjoy good times with friends and family.
The restaurant was opened this season by my niece Sophia, who has returned to the island after a few years working for a leading hotel group. She's one of a new generation of entrepreneurs that are returning to the island and bringing fresh style to the businesses started by their parents on Zakynthos.
Why the name Anadalis?
The land on which the restaurant and hotel stand was purchased by Sophia's great grandfather, but it originally belonged to the Anadalis Estate, which was owned by the aristocratic Domeneginis family. A little up the road is a small church and square tower overlooking the sea, all that remains of the family's Anadalis mansion which in its 19th century heyday, hosted the leaders of Zakynthian society, including the famous Zakynthian poet Solomos.
Over the years, the mansion was damaged in earthquakes, but always rebuilt. However, during the 1821 Greek war of independence from the Turks, the mansion became a secret meeting place for political groups and was left in ruins to discourage unwanted visitors. In order to keep prying eyes away, a story was put about that the old mansion was haunted and it became known locally as the 'Devil's Mansion'. When Sophia opened the restaurant, she remembered the stories her grandmother had told her about the old ruined mansion and decided to call the restaurant Anadalis after it.
In Anadalis, Sophia has created a restaurant that offers the flavours of the Mediterranean while using local Greek and Zakynthian ingredients. She told me," When we worked on the menu, I wanted to make sure that there was a uniquely Greek touch in every dish, and many of the ingredients are only found here on Zakynthos".
The best of local flavours
The bruschetta uses fresh tomatoes topped with a local smoked pork called apaki, and the sea bass is garnished with kritama, a green vegetable a little like samphire, that grows on the rocks near the sea. The Zakynthian graviera cheese is used in the rolled pork tenderloin with sundried tomatoes and spearmint, while the Greek salad incorporates a local goat's cheese katiki domokou instead of feta.
The seafood dishes are especially popular and the sea bass is caught locally by the fishing boats you'll see moored up in the mornings along the harbour wall in Zante town. The Mediterranean influence comes through in the pasta dishes such as Linguine Anadalis with prawns, calamari and mussels in an ouzo sauce.
Chocolate soup and ancient Greek Baklava
Deserts are equally delicious, with one of the most popular being the chocolate soup with crispy biscuits and orange ice cream and I enjoyed the creamy pan cotta served with pomegranate syrup. The baklava here is made with pistachios instead of the more usual walnuts, and flavoured with krokos, a Greek herb similar to saffron. Although most people think of this as a Turkish desert, in fact it was popular with the Ancient Greeks who served crisp fried bread drenched in honey and sprinkled with nuts. Many of the deserts are served with Kaimaki ice cream, a typically Greek flavouring that is based on the mastic plant that is also used to make liqueur.
A chef who has worked in the top Greek restaurants
Sophie recruited an experienced chef de cuisine in Kristy Karageorgou, who although still in her 20s, brings ten years of experience of working in top Greek restaurants. Kristy worked in the 6 Keys restaurant in Pelion which has a 'Toques d'or", the Greek equivalent of Michelin star and also worked under top Greek chef, Yannis Baxevanis at his restaurant Giorti in Athens. Krista loves using fresh herbs and will be found at the beginning of the evening clipping herbs and flowers such as lavender from the borders beside the restaurant to use in the evening's dishes.
Cocktails and wines with a Greek twist
We enjoyed a cocktail before our meal from the list which also incorporates local herbs and Greek flavours. The Violet cocktail includes gin, violet liqueur and lemon as well as the Greek mastic flavour and basil from the herb garden, while the Elderflower fizz with gin, elderflower syrup and lemon makes a refreshing drink for a summer evening.
The small wine list is also carefully chosen to include wines from Zakynthos and other prize winning Greek wines. The aygoustiatis is a grape variety that is unique to the island, making a fruity, aromatic red from the Grampsa winery on Zakynthos. We also tried a delicious, prize winning Gerovasilioy Chardonnay from the Epanomi region in Central Greece.
The sun sets over Anadalis
As guests start to arrive in the restaurant the sun casts a golden glow over Anadalis and the sea breeze rustles the leaves of the palm trees. Just below the casual bleached wood tables and painted wood sofas, the sea is lapping gently over the shingle and narrow strip of sand where guests swim during the day.
As you order a cocktail or glass of wine the sky turns to pink as the rosy ball of the sun sets over Zante town. The candles flicker on the table and lanterns are lit around the restaurant as the lights of the town match their twinkle across the bay.
It's a magical setting for for dinner with family or friends and there's a large grassy area adjoining the restaurant where children can play happily while parents relax over a glass of wine. In the height of the summer, the air is warm but at the beginning and end of the season the tables are brought under the awning and sides lowered as the evening cools.
Be sure to reserve your table at Anadalis, already it's proving very popular and getting great Tripadvisor reviews. Starters €4-6, Main course €8-14, Pasta €7-11, Deserts €4-4.80. Ring Windmill Bay Hotel to make a reservation. You'll find Anadalis adjoining Windmill Bay Hotel (it has a separate entrance and parking area) on the coast road on the edge of Argasi resort, on the Greek island of Zakynthos.
More things to enjoy in Zakynthos
Welcome to Windmill Bay Hotel on Zakynthos – video
Shipwrecked on Navagio – the most photographed beach on Zante
Three days, three beaches on Zante
Pin It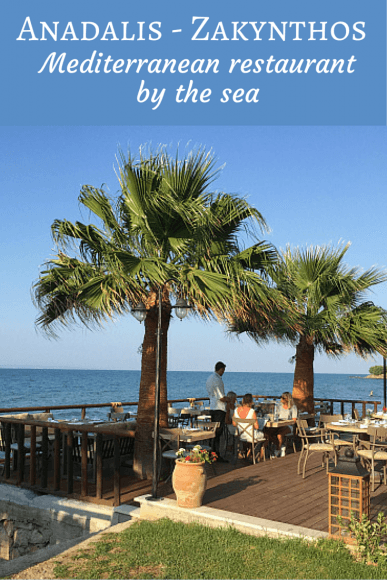 This article is originally published at Heatheronhertravels.com – Read the original article here
You'll also find our sister blog with tips on how to build a successful travel blog at My Blogging Journey
March 21, 2015 by Heather Cowper
Filed under Austria, Copenhagen, Denmark, Eating and drinking, Europe, featured, Germany, Gothenburg, Greece, Leisure, Salzburg, Sweden, Zakynthos
Are you a coffee lover like me? It's the aroma of freshly ground coffee beans that hits your nose first and then you take a sip of hot, sweet coffee. Ahhh, the day starts to feel better already. But perhaps for you it's a tiny cup of strong, black expresso, ending the meal perfectly like a full stop at the end of a sentence. Or a frothy cappuccino to eat with a sweet pastry for breakfast like they do in Spain.
However you like it, a great cup of coffee is full of ritual as you watch a skilled barista operate those shiny machines that woosh and hiss, or the buzzy atmosphere of your favourite coffee shop where you meet your friends for a late morning weekend brunch or an afternoon coffee and cake.
Now I'm dreaming about all the coffees I've enjoyed on my travels, each coffee experience giving me a doorway into the culture of the place I visited. For more coffee inspiration, take a look at this Coffee infographic that will take you around the world in 31 coffees, but in the meantime let me share with you some of my favourite coffees around the world.
1. Copenhagen – the best coffee in the world?
If ever there was a place where they know how to elevate coffee to an art form it is Copenhagen and Coffee Collective sits among the best of the best.
I visited their original coffee shop in Nørrebro a few years ago, a tiny place with just a few wooden tables outside and a stool inside to perch while your coffee is being expertly made. Their coffee beans are sold all around Copenhagen and they operate on a Direct Trade model, working with farmers in Brazil, Guatamala, Kenya and Panama to pay the best prices for the best quality coffee. If you visit this place you'll probably be buying your coffee to take away (perhaps picking up a pastry from the Claus Meyer bakery across the road) but if you want to sit and enjoy your coffee in a foodie atmosphere, head for their stand in the Torvehallerne food market halls.
Torvehallerne is one of my favourite places in Copenhagen, where you can get a fabulous but reasonably priced lunch or sip your coffee with a cake just like your Danish grandmother might have baked. The third branch of Coffee Collective is in Frederiksberg, where the beans are roasted and they do monthly tours and coffee tastings where you can learn how to make a perfect coffee. Definitely a place of pilgrimage for the coffee connoisseur.
Read More: Eat the Neighbourhood in Norrebro, Copenhagen
2. Coffee time is Fika time in Sweden
If you've visited Sweden I'm sure you'll have come across the tradition of 'fika', or having a coffee break with friends. This is the occasion to settle down in a cosy cafe where the counters are laden with buns and pastries to relax over a good cup of coffee and a chat. When I visited Gothenburg I discovered that the picturesque old neighbourhood of Haga was the perfect fika spot, since its cobbled streets are lined with cafes, restaurants and artizan shops.
Cafe Husaren on the corner of the main street of Hada Nygatan is reputed to be the original source of the enormous cinamon buns which are a speciality of Gothenburg, although we squeezed into the pretty, traditional Cafe Kringlan with the gold bagel hanging outside. The local's choice for fika in Gothenburg seems to be Da Matteo and they have several shops including the largest in Magasingaten where they bake the bread and pastries on the premises, so you get the aroma of freshly baked bread thrown in with your coffee.
Read More: Favourite coffee spots in Gothenburg for your coffee fix
3. Salzburg – for coffee and cakes
Perhaps you've gathered by now that I have something of a sweet tooth, so heaven for me is a great cup of coffee served in the afternoon with a slice of the local cake. Of course Austria makes a speciality of this Kaffee und Kuchen ritual and where better than Salzburg, the glorious homeland of Mozart and the Sound of Music to enjoy it?
When it comes to cake to accompany your afternoon coffee, you'll likely be wavering between the Apfelstrudel (soft bites of apple wrapped in crisp layers of pastry) and the Sacher Torte (rich, dense chocolate cake laced with apricot jam). The traditional choice would probably be to head for Hotel Sacher which overlooks the river but we enjoyed our kaffee und kuchen on the rooftop terrace of the Hotel Stein with a fabulous view of the fortress, which is highly recommended in good weather. 
Read more: Bratwurst and Sacher Torte – or what we ate in Salzburg
4. A chilled frappe on the beach in Greece
Coffee can be a cool drink in more ways than one, as I discovered on my annual trips to Greece to visit my sister who lives on the Greek Island of Zakynthos. Traditionally the Greeks drink their coffee like the Turks, strong and sweet in a tiny cup together with those ultra-sweet pastries that drip with syrup. This is what you'd serve to friends who come visiting in the afternoon.
But the trendy thing to drink in summer is a chilled Frappé – where an expresso is poured over ice with creamy milk to make a coffee that's sipped through a straw from a long glass. When you're lying on your sunbed or sitting in a trendy Greek beach bar, be sure to order a "Freddo" coffee, which comes in different Italian styles such as a Freddo cappuccino, Freddo Expresso or a Freddoccino (iced mocha coffee with chocolate). 
Read More: Sunday morning Greek coffee and Glika in Zakynthos
5. Ruddesheimer coffee in Germany – coffee with a creamy kick
If you fancy your coffee with something a little stronger, we found the perfect alternative coffee on our Rhine River Cruise stop at the pretty town of Rudesheim. Wandering down the cobbled street of the Drosselgasse with its wine shops and taverns we stopped at Rudesheimer Schloss to try the local speciality of Rudesheimer coffee.
This coffee spiked with brandy is the German equivalent of Irish Coffee and started in the 1920s when the Alspach brandy company invented a brandy chocolate so that ladies could enjoy a secret tipple, at a time when it was considered unseemly for women to drink in public. One good thing lead to another and in the 1950s the Rudesheimer coffee was born, a warming mixture of sweet coffee with a good helping of Asbach brandy, topped with sweet, whipped vanilla cream and sprinkled with grated chocolate. These days the Rudesheimer coffee is served in all the local coffee shops and you can bring back small bottles of the Alspach brandy if you want to try it at home.
Read More: How to make a Rudesheimer coffee – video
6. A hot chocolate alternative to coffee in Gothenburg
If you're not a coffee drinker, you'll be pleased to know that in Gothenburg we found an excellent alternative at Cafe Kanold that specialises in velvety hot chocolate. Staying cosy from the chilly wind and weather, we sat on the cushioned banquette with pretty floral cushions and enjoyed a warming hot chocolate – served with chili flakes on top for an extra kick.
While there is also a counter of hand-made Kanold chocolates in the cafe, you'll want to visit the main Kanold chocolate shop close by on Södra Larmgatan at the end of Viktoriapassagen. It's a cross between an old fashioned candy store and a boutique chocolatier where you can buy the Kanold speciality, a soft chocolate truffle centre topped with sea salt, which has now become known as the "Gothenburg Truffle". Of course if you insist of coffee at Cafe Kanold, I'm sure they serve that too!
Read More: Chocolate with sea salt – a taste of West Sweden
Check out this Coffee Infographic
If you want to fuel your coffee fascination even more, take a look at this Coffee infographic from  Cheapflights that will take you around the world in 31 coffees. Here are a few cool coffee facts that I discovered;
In Italy you only drink milky coffee in the morning and NEVER after a meal – the cappuccino in the afternoon is only for tourists!
Breakfast in Spain normally consists of a cup of coffee with a sweet pastry or churros
In Senegal coffee is served with cloves and guinea pepper
In 2001 Brazil issued a coffee scented postage stamp
Seatle has 10 times more coffee store per head than the rest of the USA
Now, please excuse me as I'm off to find the perfect coffee to have with my weekend brunch in Bristol
Pin It
This article is originally published at Heatheronhertravels.com – Read the original article here
This article is written in association with Cheapflights
You'll also find our sister blog with tips on how to build a successful travel blog at My Blogging Journey
December 29, 2014 by Heather Cowper
Filed under Copenhagen, Denmark, Dublin, Europe, featured, Greece, Ireland, Italy, Leisure, Mallorca, South Tyrol, Spain, United Kingdom, Zakynthos
As we see out the old year and bring in the new, there's something of a tradition in blogging circles to review the places you visited, share photos from the year just gone and generally reminisce about those days of sunshine and happy memories – doesn't everything seem more rosy in retrospect?
Looking back over my travelling year, I'm amazed at how many places in the UK and Europe I managed to fit in, considering that I have a full-time job and family (although only one of my little birds left in the nest). Perhaps that's why my preferred travel style is the short break, to pack in the maximum fun from a limited amount of holiday. My most regular travel companion is my husband Guy who by his own admission is as expert in 'loafing' as I am at scribbling, photographing, video-ing, although he regularly gets roped in as assistant cameraman and videographer. Whenever I get the chance, I also love travelling with friends and family, especially when the (nearly-grown-up) kids do us the honour of coming along.
So here is a taste of my travelling year in 2014 in anticipation of many more happy travels in 2015.
January: Still recovering from Paris in December
January was something of a catch-up month, so I'm cheating a little bit here by including the pre-Christmas trip to Paris from December 2013. We found that Paris at Christmas is surprisingly un-Christmassy as the French are pretty low key about their celebrations and decorations. On this trip we stayed clear of the regular tourist traps (although we couldn't quite escape Notre Dame) and enjoyed exploring the more local haunts, with a gourmet walking tour of Marche D'Aligre, a local dining experience with a Frenche Creole flavour and a walk along the pretty Canal Saint Martin in Bastille.
Read More: Our winter weekend in Paris, the food, the sights, the video
February: A winter break in Copenhagen for the Wondercool festival
In February we were back in Copenhagen, a favourite of mine, to see what the city has to offer in winter and check out the Copenhagen Cooking festival. The gastronomic highlight was a gastro-cruise around the harbour during which we stopped at no less than six of the top restaurants in Copenhagen, each of which had prepared a different dish of mussels. I hadn't quite realised that the focus would be entirely on one ingredient so was quite thankful that both Guy and I love seafood! We stayed at the fabulous and colourful Anderson boutique hotel and managed to combine more gourmet food tasting at the Torverhallerne food market with culture at Ny Carlsberg Glyptotek and Rosenborg Slot.
Read More: In Photos: Our weekend break in Copenhagen
March:  Heather is featured in Woman and Home Magazine
Although this is not actually a place I travelled but I have to mention how thrilled I was at being featured in Woman and Home magazine, with two other bloggers in a feature about "Blogging for fame and fortune". I had such a fun day at the photography shoot, being made up and dressed up in impossibly high heels with tons of make-up, and a suitcase that would never have made it past the Ryanair police. All great fantasy and left me floating on air when friends kept telling me they had seen me in the magazine.
Read More: Blogging for fame and fortune? Heather is featured in Woman and Home magazine
March: A weekend in Marrakech in search of Josephine Baker
March took me off to Marrakech to get my fix of spring sunshine and we stayed in the magical Riad Star which was once the home of French cabaret artist and superstar of the 1920s, Josephine Baker. The Riad has been beautifully renovated in a Jazz Age theme, with a relaxing roof terrace, inner courtyard where we enjoyed breakfast and even had its own dressing up box. We spent the weekend trying to not get too lost in the Souk, perfecting our haggling skills, and visiting a fair number of beautifully decorated mosques, palaces and gardens. Of course there was the obligatory snake charmer photo opportunity in Jemaa el Fnaa.
Read More: Marrakech – on shopping, sightseeing and (not) getting lost in the souk
 April: A spring break in North Devon
April is when spring is truly upon us with the daffodils and primroses blooming in North Devon. We spent a weekend with friends in the lush, green wilds of the Devon countryside at Penhaven Country Cottages, booked through Premier Cottages. There was plenty of pub grub, coastal walks and a visit to Clovelly, the picturesque cliffside village that is now a major tourist attraction and could easily play a starring role in any costume drama about smugglers and pirates.
Read More: Primroses and daffodils – a spring break in North Devon with Premier Cottages
May: Walking the Pembrokeshire coastal path and the puffins on Skomer island
In May we went walking in Wales along the Pembrokeshire coastal path with Macs Adventure on a taster version of their Best of Pembrokeshire itinerary. We had chosen the perfect time of year to visit Skomer island, a short boat ride off the coast, since it was the beginning of the Puffin breeding season and we were able to get really close to the cute looking Puffins as they arrived back at their burrows. Our walk along the Pembrokeshire coastal path continued from Broadhaven, past the lovely harbour at Solva, ending at St David's where we had a look around the famous cathedral, art galleries and craftshops in the "Smallest City in Great Britain", which is really an overgrown village.
Read More: A long day's walk on the Pembrokeshire coastal path – Broadhaven to St David's
May: A Mediterranean Cruise with MSC Cruises
Later in May we were off again on a Mediterranean cruise with MSC Cruises. We embarked at Barcelona and had a fun week as the ship cruised around the Med visiting Marseille, Genoa, Naples, Messina and Tunis, before returning to Barcelona. The ship was very glamorous with a lively atmosphere and plenty of families on board, and at each port we visited I wished we could have stayed just a little longer!
Read More: Cruising the Mediterranean on MSC Splendida? Here's what you need to know
June: Discovering Dylan Thomas in Swansea and Laugharne
One of my favourite UK trips this year was to South Wales to discover more about the poet, Dylan Thomas in his centenary year. Swansea, where Dylan grew up, is not the prettiest of cities but provided a fascinating gateway to his childhood and early years. We followed his life through the dramatised walk we took around the streets from the Dylan Thomas Centre and our visit to the Dylan Thomas Birthplace at 5 Cwmdonkin Drive. Our Dylan Thomas discovery continued at Laugharne in Carmarthenshire, where we stayed at Dylan's favourite drinking haunt of Brown's Hotel and visited The Boat House where he lived and worked, overlooking the beautiful Taf estuary. With views like these who wouldn't be inspired?
Read More: An ugly, lovely town Part 1 – a Return Journey to Swansea with Dylan Thomas
June: Walking the beaches of the Gower in South Wales
In June, I was back in Wales with another cottage stay at the fabulous luxury cottage, Promenade View in Mumbles through Home from Home Cottages. The cottage was perfectly situated on the promenade of this traditional holiday resort which is also the gateway to the fabulous beaches of the Gower Peninsula. We took full advantage, with a long walk from our front door along the coastal path, past the fabulous beaches of Bracelet Bay, Langland, Caswell, along the clifftop to Pennard, where we caught the bus back to Mumbles. The next day we had a morning in the sand-dunes and flat beach of Llangenith, a favourite beach for surfers which left us feeling refreshed and miles from our busy life in Bristol.
Read More: Walking the beaches of the Gower and our luxury Mumbles Cottage
July: Back to Copenhagen for a family holiday
Two visits to the same place in one year must mean that I really like a place and we took the family back to Copenhagen in late July for a family break, staying in a large apartment near the harbour side. The weather was hot and sunny and we cycled everywhere, swam in the harbour, ate great street-food and took ferries across the harbour. Like Copenhageners of all ages, we enjoyed a day at Tivoli, although after the adrenalin rush of the roller-coaster with my kids I was happy to sit and admire the rose garden from a shady spot on the lawn.
Read More: 10 summertime cool things we did in Copenhagen (and you could too)
August: Zakynthos Greece for a beach holiday with my daughter
Since my sister lives on the Greek island of Zakynthos, I try to visit her each year and in August I was there with my 19 year old daughter and English niece. Since my Greek niece was also there with four of her friends, I got to hang out with the beach-babes in the most trendy beach bars, check out all the unspoiled beaches and generally live the life of a 19 year old on holiday. When not sipping on my chilled frappe coffee or swimming in the clear water to cool off, I was able to observe Greek beach style and etiquette which I wrote about in the article below.
Read More: Six things the English girls get So wrong on the beach in Greece!
September: A foodie adventure in South Tyrol, Italy
September took me to South Tyrol in Italy, an area that is close to the Austrian and Swiss borders with stunning mountain scenery in the Dolomites. I spent a few days there, combining outdoor activities with gastronomic pleasures, cycling around Lake Kaltern on the South Tyrol wine road, visiting some of the local designers and the climbing a Via Ferrata. These 'iron routes' are rock climbing routes of varying difficulty where you are secured to a cable that snakes up the rock-face, enabling relative novices like me to reach the top (although best with a guide) in a scary but exhilarating experience.
Read More: Climbing my very first Via Ferrata in South Tyrol
 September: Hiking the Dry Stone route in Mallorca
Later in September I was off for another walking holiday with my friend Julia, to Mallorca. Having completed the Tour de Mont Blanc together in previous years, we fancied something that combined views of the sea with mountainous walking and decided to walk a section of the Dry Stone Route, a long-distance path that skirts the west coast of Mallorca into the Tramuntana mountain range. We passed through several of the coastal resorts of Mallorca but my favourite time was walking the higher rocky sections of the Traamuntana from Soller to Lluc monastery.
Read More: Hiking the Dry Stone route in Mallorca from Deia to Lluc monastery
October: Athens for TBEX Blogger's Conference
In October I was in Athens, a city I haven't really explored, despite visiting the Greek islands every year to see my sister. The city has been through a tough time with the recent ecenomic crisis but we found a new spirit of optimism and purpose as the worst seems to be over. The city was hosting the TBEX blogger's conference and as part of this I spent a day in Athens on a gastronomic walking tour as well as a visit to the Parthenon. I was pleasantly surprised the warmth and spirit of Athens and it's one place I'd love to get back to see more of in 2015.
Read More: Athens is on the menu for 2015 – a taste of Greece at TBEX
November: A weekend at the Moorland Garden Hotel in Devon
In November I was back down to Devon for a weekend on the edge of Dartmoor at the Moorland Garden Hotel. This is a part of the world that I have visited quite a few times and we visited the market town of Tavistock, on the edge of the moor and visited The Garden House and National Trust property of Buckland Abbey nearby. There were all too many opportunities to try those yummy Devon cream teas.
Read More: Our weekend break at the Moorland Garden Hotel in Devon
December: A pre-Christmas weekend in Dublin
To bring the year to a close I spent a weekend in Dublin with my husband and 17 year old son in early December. The purpose of our trip was the Trinity College open day, since my son is looking at university choices for next year, but we managed to pack in an awful lot else, with shopping on Grafton Street, the Little Museum of Dublin and plenty of great meals, not to mention the odd pint of Guinness.
Read More: 10 things to do on a Christmas weekend in Dublin
So the year comes to a close but I know there will be plenty more travel adventures in 2015. In January I will be back down to Devon to stay in another lovely cottage that's close to the Jurassic coast, as well as a visit to India at the end of the month to visit the charity project that I support in Andhra Pradesh. I hope that you'll join me through the blog on these and other trips and follow my photos on social media too.
Wishing you many happy travel adventures of your own in 2015.
You'll also find our sister blog with tips on how to build a successful travel blog at My Blogging Journey