January 26, 2015 by Heather Cowper
Filed under Devon and Cornwall, Europe, featured, Giveaways, Italy, Leisure, Mallorca, South Tyrol, Spain, United Kingdom, Wales, Walking
January is traditionally the month when we make resolutions that involve health and fitness – you know the ones. "This year I'll lose that extra 5 kg that crept on over the last few years" or "This year I'll train for a marathon to shake off the couch-potato that I've become". The trouble is that such dramatic resolutions rarely last more than a few weeks while it's the small actions that we take each and every day that have a lasting impact on health and fitness.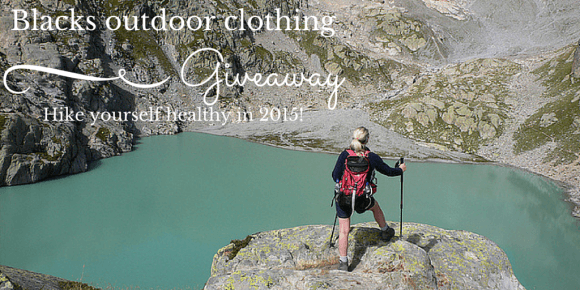 Hiking for health in 2015
While I'm always trying to shake off those extra pounds I find it more effective to incorporate walking and hiking into my everyday life, rather than make resolutions to go to the gym that I don't have time to keep. I walk 30+ minutes to and from work, enjoy walks in the country when I'm away for the weekend with the family and incorporate walking and hiking into my holidays too. A major trek like the Tour de Mont Blanc can sometimes be just the challenge you need sometimes but equally a walk along Canal Saint Martin and the Promenade Plantee helped me see a side of Paris that was a little off the tourist trail.
I'm giving away a £200 Blacks voucher
To help you to include walking and hiking into your daily life and your travels, I've teamed up with Blacks, the outdoor clothing store, with a giveaway of a £200 voucher that can be spent on the outdoor clothing or equipment from the Blacks website. Check out the interview the Blacks did with me on their blog here. You'll find information about how to enter the Blacks £200 voucher giveaway at the end of this article.
The clothing you need for hiking
To give you some ideas, here's my pick from the Blacks range of some things that I'd love to have in my wardrobe for walking and hiking. Cosy down jackets are great for everyday walking, whether it's a walk in the country or a walk to work, while fleeces and t-shirts made of the latest technical fabrics will keep you at just the right temperature while wicking away moisture. For hiking, I recommend trousers made of quick-dry fabric, especially those where the leg zips off to make shorts or capris.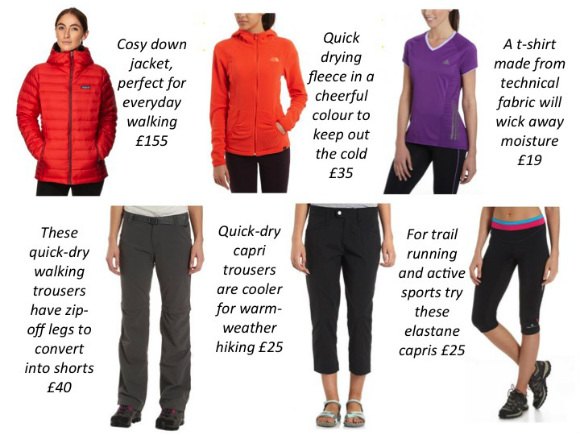 The links for the items featured here are for your convenience but since many items are in the sale these may soon be replaced by other new season items: Patagonia woman's down hooded jacket in red £155 (sale) | The North Face Masonic Polartex Fleece Hoody in orange£35 (sale) | Adidas superNova Tee in purple £19 | Berghaus lowscale zip-off walking trousers in grey £40 (sale) |Royal Robbins discovery Capri trousers in black £25 (sale) | Ronhill Aspiration contour capris £34
The boots you need for hiking
For footwear there's no substitute for a comfortable pair of walking boots with proper support for those long-distance trails such as the Tour de Mont Blanc, but if you are doing some warm weather hiking as I did in Mallorca last September you may prefer one of the hybrid walking shoes that are cut lower on the ankle and are cooler to wear. For active trail running or more sporty use you might consider some of the trail shoes that have well supported soles with lightweight upper. On all types of walking boot or shoe, look out for those that have breatheable but waterproof uppers such as those made of Gore-tex. Read my tips on how to choose the perfect pair of walking boots.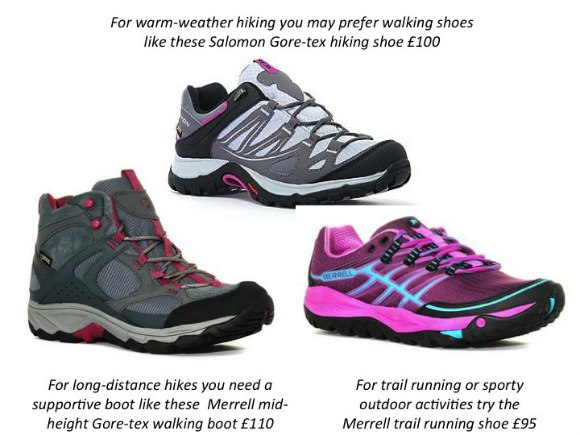 Walking boots and shoes are not something I would recommend buying online unless you have first tried them in-store, since you may need to try on many different brands and styles to find the most comfortable for your feet but you will find these styles or similar in the Blacks stores: Merrell Daria mid GORE-TEX Boot £110 | Salomon Ellipse Gre-tex hiking shoe £100 | Merrell All-out Rush Trail Running Shoe
Of course the choice on how to spend your £200 Black's voucher is yours, but I hope that you'll be inspired to do some walking and hiking in 2015 on your travels. All the styles featured are available on the Blacks website at the time of publication although many are in the sale and other new season items will be available soon. Now to give you a bit of inspiration to get hiking in 2015, here are some ideas from the treks that I've done in the past few years;
The Tour de Mont Blanc
This circular trail around the Mont Blanc Massif takes you through France, Switzerland and Italy over 170km and is normally completed over 12 days. Be prepared for arduous ascents and descents of up to 2600M, long 8 hour days walking and staying in mountain refuges that can be quite basic. You will be rewarded, however with stunning Alpine views and an amazing sense of achievement. This is an arduous trek but one which can be broken up into more manageable chucks – I walked it with a friend in stages over 4 years, or you can look for a company like Macs Adventure that offer a cut down version. Read about my walk on the Tour de Mont Blanc here.
The Dry Stone route in Mallorca
Although better known as a beach holiday destination, the island of Mallorca has some outstanding walking and I was there in September walking the Dry Stone Route along the western coast of the island. From the artist's village at Deia we walked within sight of the sea and at the coastal resort of Soller started our climb into the Tramuntana mountains, following the old pilgrim's trail to the monastery of Lluc and on to Pollenca on the northern coast. Combined with some time in Palma this is an ideal trail for those who are looking for moderate walking with some cultural interest. Read about my walk on the dry stone route in Mallorca here.
Walking the Pembrokeshire coastal path in Wales
Last spring I walked a section of the Pembrokeshire Coastal path in Wales with Macs Adventure ending up at St David's, the UK's smallest city. This part of the Welsh coast is rugged and wild with stunning clifftop views and hidden coves that you can only reach from the coastal path. If you can plan your visit from May to July I'd recommend the walks on Skomer Island during the Puffin nesting season when you can get very close to these colourful sea-birds as they hatch their chicks in burrows. Read about my walk on the Pembrokeshire coastal path here.
Walking and climbing in the Dolomites
Last September, I visited South Tyrol in Italy and was thrilled to climb my first Via Ferrata. These climbing routes (literally iron routes) have fixed cables that you are clipped to making it easy for anyone with the right equipment to climb them, although if you are a beginner I'd recommend hiring a guide. This part of the Dolomites is ideal for walking and hiking with many day hikes and long-distance trails and you'll be pleased to know that this northern corner of Italy is also known for its gastronomy with no less than 19 Michelin star restaurants and numerous vineyards where you can taste the local wines! Read about climbing my First Via Ferrata here.
Blacks recently featured a Q & A with me on their blog about how I started blogging and some of my favourite travel and hiking destinations. Read the interview here.
How to Enter the Giveaway
To enter the Giveaway for a £200 Blacks voucher please use the Rafflecopter widget below;
Enter by taking a look at the Blacks website and then leave a comment below this post to tell me which items you would choose from their range to use when hiking or walking.
You can gain additional chances to win via the Rafflecopter Widget;
Terms and Conditions
This giveaway is a prize draw/sweepstake
The prize is a £200 voucher that may be used to purchase goods such as outdoor clothing and equipment from the Blacks online store.
The giveaway is open to all readers in any location
The winner will be chosen at random
The giveaway runs for 2 weeks and ends on Monday 9th February 2015 at midnight
The winner will be notified by e-mail within 7 days of the draw ending and must confirm their acceptance of the prize by e-mail within 3 days or the prize will be allocated to another winner.
The giveaway is restricted to one entry per individual.
Any duplicate or automated entries will disqualify the entrant from this giveaway.
Entering this giveaway gives permission for you to be added to the e-mail list of Heatheronhertravels.com and Blacks.co.uk but we will never spam you and you can unsubscribe at any time.
You'll also find our sister blog with tips on how to build a successful travel blog at My Blogging Journey
Some great competition websites:
UK Wins
Win Free Stuff
Offer Oasis
January 6, 2015 by Guest Author
Filed under Art and design, Eating and drinking, Europe, featured, Guest post, Italy, Leisure, Misc, Museums, Shopping, Sightseeing, Walking
Milan, Italy's second city, is a complex paradox, the capital of Italian commerce, industry, finance and fashion (its design and fashion shows are actually big business trade fairs) yet for the cognoscenti it offers easily discovered cultural and epicurean treasures.
Perhaps this constant eye toward commerce is what makes the city, as a tourist destination, a little understated, a little too northern European with high-rise towers and banks that outnumber the churches. Yet when you walk the city's streets, immersing yourself into a culture that is firmly rooted in fashion, art, opera and delicate aperitivos eaten al fresco atop cobbled streets, you come to realise that Milan is much more than the sum of its sometimes shallow parts.
The city hosts a little bit of something for every type of person – not just world-class shopping but a well-wired and vibrant cultural scene too. The undeniably creative atmosphere is a pleasure to explore and when you do, you'll note that Milan has more history than the shiny skyscrapers, grimy backstreets and freshly manicured nails of its denizens tend to remember.
Fashion in the Rectangle of Gold
If it's fashion that you want then point your Louboutin's towards the Quadrilatero d'Oro – otherwise known as the Rectangle of Gold, to explore everything from Dior to Versace and all the usual suspects all within easy walking distance of each other. Be sure to take a well-heeled walk around the Gallerie Vittorio Emanuele II, which amongst other things is one of the oldest shopping malls in the world – with Prada's flagship store now celebrating its 101st year there. Bargain hunters should take a look around the area for the outlets that stock floors of past seasons bargains. However if your tastes are slightly more avant garde then take a walk to Via P. Paoli 1, where you'll find the Antonioli concept store – a unique space where you can shop contemporary designers such as Ann Demeulemeester, Rick Owens and Yohji Yamamoto in a beautifully designed store.
The shows in spring and summer are, to many, the highlight of the fashion calendar, with starlets from all corners of the world, heading to the Palazzo Reale or the Palazzo Serbelloni, to get a first look at the designs of the elites of Italian fashion such as Dolce & Gabbana, Marni and Moschino. If you don't have an invite to a show then there are still plenty of opportunities to strut your stuff – whether outside the venues (prepare for the street-style paparazzi) or in one of the city's trendy bars.
Culture in Milan
To some it's surprising that this sometimes-grey city is where Leonardo da Vinci found the perfect setting to exercise his brilliance. You could spend days here retracing his footsteps – from the Sforza Castle with his painted Mulberry tree frescoes, to the various exhibits of both his work in art and science in the city's museums. Best known is the breathtaking Last Supper fresco, which hides on a refectory wall behind the antique façade of the UNESCO listed Santa Maria delle Grazie church.
Aesthetes should dedicate time to the astounding gothic beauty of the Duomo. Its size is staggering, a construct which took 5 years to complete – it is the largest cathedral in Italy. Inside the looming façade, the numerous works of art and icons on offer create a brooding atmosphere – the most striking of which is the statue of Saint Bartholomew Flayed, by Marco d'Agrate.
The saint stands, muscle and tissue exposed, holding a book, his flayed skin thrown over his shoulder like a robe. Those with a love of opera should make reservations to the Teatro Alla Scala, though any one with even a passing interest in the arts and architecture should make an effort to see the impressive stage, which first raised its curtains in 1778. Art lovers shouldn't miss Tiepolo's frescoes at the Palazzo Clerici or the works of art concealed within the Pinacoteca di Brera.
Milanese Cuisine
It goes without saying that Italy is well known for its food – but Milan often, rather unfairly, slips under the radar. Let's make it simple. When in Milan – sate your hunger with local cheeses, butters and milks – note that rice is more popular than pasta in many circles, it does absorb the creams and cheeses that bit better – and try local greats like gorgonzola, polenta topped with mushrooms and of course the famous Panettone cake – originally from Milan and generally reserved for Christmas in these parts.
Now let's set the scene: Milan, 6pm, the bars and restaurants of the city are filled with locals and tourists alike for Aperitivo hour. Where do you go? For the classic experience I'd suggest the haute bars around the Piazzo Duomo, especially Zucca in the Galleria, which is where the likes of Giuseppe Verdi and Arturo Toscanini would dine after performances at La Scala next door – the historical ambience, and the view of the Duomo completes the authenticity. For those in need of a slightly more stylish setting then try Brera district, or, for something a little more elaborate, try the Navigli district, where the da Vinci designed canals wind along the narrow streets. Try one of the houseboats docked in the canals, where Aperitivo is often accompanied by live music.
But what is Aperitivo you ask? Aperitivo is a well-established northern Italian culinary tradition, and Milan (from the 1920's anyway) is the capital of it. It's about drinks and food. A harmony of flavours propelled to sainthood, through offers of after work relaxation and the pleasure of conversation paired with great, though simple food. Try a spritz or a Negroni sbagliato (a delicious mix of prosecco, red vermouth and Aperol instead of gin) paired with a smorgasbord of olives, nuts, bruschetta, cheeses and other stuzzichini (finger food).
Drinks cost anywhere from 7 to 15 euros and come with either a table mix of the above or, in some cases, all you can eat buffets – perhaps the last thing you would expect, when all around you, the Milanese strut in precision heels, pristinely turned out with perfectly pinched waistlines.
Take a few days to experience what the city has to offer – stay away, if you can, from the bustling Milano Centrale Station area, and instead stick to the Piazzas where you can sit in the company of history and simply watch the (Milanese) world go by, sipping your espresso, nibbling on a biscotti and absorbing the very special magic of Milan.
About the author: David Jacobs is a travel writer and editor of Euro Travel Magazine – an online publication which focuses on the whole of Europe, from the mysterious Orkneys to the wine dark seas of the Aegean.
Photo Credits: Shopping in Milan – Mike and Annabel Beales on Flickr, Castello Sforzesco, Milan – Mike and Annabel Beales on Flickr, Rooftop of Milan cathedral – Stefan Karpiniec, Saint Bartholomew – Antonio Trogu, Milan at night – Alex LA, Milan station – Richard Evea
For more tips on travel in Italy:
Törggellen time in South Tyrol – a feast of autumn
Naples and an excursion to Pompeii
Bandits and Murals at Orgosolo in Sardinia
This article by is originally published at Heatheronhertravels.com – Read the original article here
You'll also find our sister blog with tips on how to build a successful travel blog at My Blogging Journey
The modern glass cube of the Museion in Bolzano sits confidently facing the river, two pedestrian bridges snaking away from it, a contrast to the nondescript apartment buildings on either side. I visited the Museion when I was in South Tyrol in September, curious to see what a modern art museum was doing in this traditional Italian town in the Alps.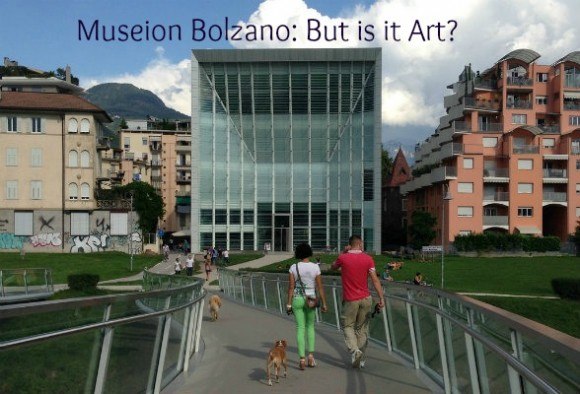 The Museion Museum of Modern Art reminded me very much of the Arnolfini centre for contemporary arts that sits beside the harbour in Bristol where I live. It's a place that specialises in those conceptual art exhibitions that you go and see out of curiosity, to have a good laugh at the latest outlandish concept that is on show in the name of art.
Last time I was at the Anolfini, a whole gallery was flooded with a few inches of water, with slabs of what looked like tree trunks for you to cross the room. Then there was the performance of silent dancing, when the audience and performers wore headphones and the dancers shuffled and twisted their way around the room, seemingly in silence if you didn't have the benefit of the headphones. But is it Art? Perhaps, but not as we know it!
At Museion, I met up with Sarah Greenwood, the English born Head of Marketing who told me how the Museion had caused quite a bit of local controversy when it was built in 2008 by Berlin architects KSV. "Couldn't a local architect have been found?" asked the locals, and "how will this modern building fit with the older, more traditional buildings of Bolzano?".
In a town that was once part of Austria, now part of Italy, it's always a challenge to integrate the two cultures, so the two curving bridges across the river were built at the same time, to link the older German influenced part of town with the newer, Italian neighbourhood on the other side of the river.
Sarah told me how the Museion aims to be a catalyst for change, which is sometimes hard work in a conservative area and so the space is designed for locals to come in and get to know the Museion. The ground floor "Passage'" is an open space with light flowing from the glass fronts on each side of the building. It is designed to create a community and exhibition space where local groups can meet with courses, events and exhibitions being held here. On Thursday evenings, the facade that faces the river shows video art projections with the sound coming from speakers built into the benches outside, so that you can come with a picnic or glass of wine to enjoy the show.
If, like me, you are appreciative but not especially knowledgeable about the art world, you might need to understand the distinction between Contemporary Art – the work of living artists from the 1950s onwards, and Modern Art – the work of artists from 1900 to the 1950s.
If visiting Museion, you might also need to suspend any belief that Art is designed to be beautiful, to please the eye, to deliver a sigh of pleasure. In contrast, the Contemporary Art that Museion presents is conceptual in nature. That is to say that it aims to express what the artist feels or perceives and to provoke in you, the audience, some kind of emotion; happiness, curiosity, even disgust.
All of which means that it may challenge your concept of what Art is or should be. Understandable then, that the locals sometimes wonder if their tax-payer's money is being well spent. But as Sarah told me, "Sometimes the people of Bolzano don't realise that they can come here to see the top contemporary artists in the world who have shown in The Tate Modern in London or MoMA in New York".
On the first floor of Museion when I visited was an exhibition of minimalist art "When now is minimal", featuring pieces from the Goetz collection in Berlin, put together by an individual art collector, Mrs Ingvild Goetz. The idea of minimalist art is that it does not evoke anything but itself – what you see is what you see.
One of the most extreme examples of this was by Chinese artist Ai Weiwei; "Tea cube" was a brown pressed cube, a couple of feet square made of pressed tea.  Mmm, while I like a nice cup of tea, I'm not quite sure about that as a piece of art.
Since the artist has been targeted by the Chinese government for his political views, I did have some affinity with the more attractive art-work named "Coloured", a row of coloured vases on a shelf. To the untrained eye, these may look like brightly painted pots on a shelf. In fact they are Ming vases which have been painted with layers of coloured emulsion paint. You see, it's all about what's going on inside and outside, what's being covered up.
In a room on its own was the piece by Martin Boyce; "We are resistant, we dry out in the sun (our dreams merge and hang in the air like chlorine vapours)". The artificial setting of neon palm trees or perhaps sun umbrellas with coloured sun loungers was as far from the natural beauty of a holiday postcard as you could get. Ahh, but when did art have to be pretty?
Looking a bit like an optical illusion was the painting by Chinese artist,  Wang Guangle which mounted on a white wall looked like a dark corridor or hole in the ground, depending on your point of view. I learned that the shaded effect is created by building up layers of paint over time, inspired by the tradition in the artist's home town of Fujian of building up layers of laquer each year on your own coffin. Was it coincidence that the resulting painting reminded me of looking into my own grave or perhaps into my future?
Another favourite conceptual artist in the collection is Rosemary Trockel, something of an artistic feminist, her work making a comment on woman's place in society or in the art-world itself. A giant red knitted panel 3 metres square, mounted on the wall was called "Old Friend", but the piece de resistance was a white square with black circles, which on closer inspection turned out to be the artist's interpretation of an electric hot-plate. Is the art-world sexist? Why can't the everyday objects from womenkind's experience be art too?
Upstairs the whole floor was dedicated to an exhibition of Tatiana Trouvé, a French/ Italian artist whose exhibition was entitled I Tempi Doppi exploring the theme of parallel worlds and Deja Vu. The major installation filling half of the open space was called 350 points towards infinity, with metal plumb lines strung at angles from the ceiling to the floor, like bullets frozen in flight. On looking closely, you realise that in an Alice-in-wonderland un-reality, the plum-lines hover mysteriously a couple of inches from the floor, the effect created by magnets hidden under a false floor.
Other works included a twist of metal wire, with light bulbs at either end, going from dark to light. Is good and bad, light and dark just two ends of the same reality?
Then there were those suitcases, just like the ordinary plastic suitcases that our parents used. Only these suitcases are cast from bronze and coloured to look like ordinary plastic suitcases. A cord attaches the suitcases to the ceiling where a number of luggage tags hang, 100 tags for 100 years perhaps? There's only one tag on the suitcase though and it says; The Passing Past 2014, and it lists some everyday objects. A pencil, swimsuit, cushion, mattresses, brushes.
In the corner nearby is a pile of cardboard wrappings, folded up ready for recycling with some cloths that were used to wrap the artworks in transportation. But this is another artwork called "Refolding", cast in bronze and representing the packaging that gets thrown away after an art exhibition. While I found beauty in the shooting shafts of the 350 points to infinity, I felt that Tatiana was pushing her luck here. As Dolly Parton said, "It costs a lot of money to look this cheap".
I'll finish our tour of Museion with a piece that did make me smile and bring out my inner child. A low, red rectangle sculpture on the floor turned out to be a pile of posters – shareable art from Felix Gonzalez-Torres that you are invited to take away. They even provide elastic bands so that you can roll up your poster and take it home. I can imagine that visiting school children are thrilled with the idea of taking a real piece of art home from their local art museum, their parents perhaps less so at having a big red rectangle to put on their living room wall!
If you visit the Museion, you'll find different artwork and exhibitions from the ones I saw last September, but no doubt as beautiful, extreme and thought provoking as these. Suspend your ideas of what art may be and embrace the experience with an open mind. This is art that will make you laugh, make you puzzled, make you wonder whether it was worth the cost, but that's the whole point after all.
If you go: Museion, Via Dante 6, 39100 Bolzano / Bozen, Italy. Open daily except Monday 10am-6pm, and 10am-10pm on Thursdays. Check the website to confirm opening times and times of any guided tours. Admission: Adults €7, children free. I highly recommend that you converse with the knowledgeable staff to discover more about the artworks, just so you understand more about the story behind them. Follow on Social Media: Twitter @MuseionBZ | Facebook |  YouTube | Pinterest |
Information, articles and resources for South Tyrol
For more information to plan your own visit, find accommodation and discover all the things to do in South Tyrol, visit the South Tyrol Tourism website and watch videos about the region on their YouTube channel. For updates on things to do in South Tyrol follow the South Tyrol Twitter, Facebook, Google+ and Instagram pages
My thanks to the South Tyrol Tourism Board for their support in this trip in collaboration with Travelator Media
This article by Heather Cowper is originally published at Heatheronhertravels.com – Read the original article here
You'll also find our sister blog with tips on how to build a successful travel blog at My Blogging Journey