I remember the first time I went cycling with Headwater Holidays on my honeymoon. Basking in the September sunshine, we cycled through unspoiled rural France, meandering through gently rolling countryside, past farmyards and quiet villages.
We enjoyed it so much that the following year we booked again with Headwater Holidays, but this time chose the Jura, a rather more mountainous part of France. My memories of that holiday are of me at the bottom of the hill and Guy disappearing over the crest with barely a care for me, puffing and panting behind him. If only I'd known about e-bikes then, things might have been so different!
Fast forward 20 years to my trip to the South Tyrol in Italy and I found myself cycling through the vineyards that surround Lake Kaltern. This time I was offered a choice between a normal bike and an e-bike and although I'm pretty fit, I decided to try the e-bike. Perhaps it was the sight of my super-fit, lycra-clad guide, that made me think that perhaps I'd need a little extra pedal power to keep up.
To the untrained eye there was really little difference between the e-bike and any other. Only the small electric motor attached to the frame was the giveaway. However, I soon realised is that using an e-bike is not the same as a motor bike – the bike does not move on it's own and you still have to pedal. The controls are like an additional gear lever on the handle bars and when you're feeling the strain, you just click it on to give you some extra oomph on the hilly bits. Read about Cycling with wine and apples in South Tyrol
If you are reasonably fit like me, perhaps you think it would be cheating to hire an e-bike rather than sweat away up those hills? The leading walking and cycling company, Headwater Holidays recently surveyed its customers and found that 67% of those who responded had a positive experience with e-bikes. Among the reasons given were that they allowed different experience levels of cyclists to stay together, you could travel further and they were great for tackling steep hills.
That last issue of the steep hills was certainly a factor when I tried out e-bikes last year on a trip to Austria where I got the chance to do some mountain-biking in the Tyrol. Normally I wouldn't be first in the queue for mountain-biking, associating it with fit young men being splattered with mud and every chance of flying off over the handle bars.
On this occasion, however it was a much more pleasant experience, since I was able to put my e-bike on the side of the lift to the top of the mountain and then we gradually cycled down, stopping half way for a lunch with glorious mountain views.
You might think that being downhill all the way, I wouldn't have needed to use the electric motor at all, but in fact there were several places where we were going uphill and it was a relief to be able to click the lever and suddenly find that everything got a lot easier. As one enthusiastic Headwater Holidays customers said  "The way the e-bike sailed up the inclines was really quite amazing". Read about Heather goes e-mountain biking in Austria
If you'd like to try out an e-bike on your next cycling trip, check out the cycling holidays that Headwater Holidays offer with e-bikes. They are a great option if you;
Are less fit than you'd like but still enjoy cycling
Want to keep up with your partner who's fitter than you
Are cycling in a group of mixed abilities
Are debating whether you'll cope with steep hills and mountainous regions
Are more interested in enjoying the view than getting sweaty
Want to get some exercise but also have the option of taking it a bit easier if you need to
On most of Headwater's cycling holidays you can book an e-bike as an option – take a look at;
Hilltop Villages of Provence – the e-bike will make light work of cycling up to those medieval hilltop villages and you'll be rewarded with spectacular views across the Luberon.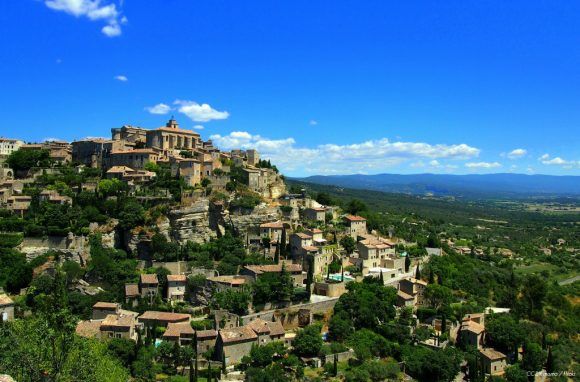 Classic Burgundy Cycling – You'll be pleased you chose an e-bike if you stop at any vineyards to taste the famous Burgundy wines and feel less inclined to pedal hard afterwards.
Coves and Harbours of Northern Spain – There are traditional fishing ports, farming hamlets but also the rugged Picos de Europa to explore.
Dorset and the Jurassic Coast – Lazy days visiting sheltered bays, with an e-bike to help you on those rolling hills.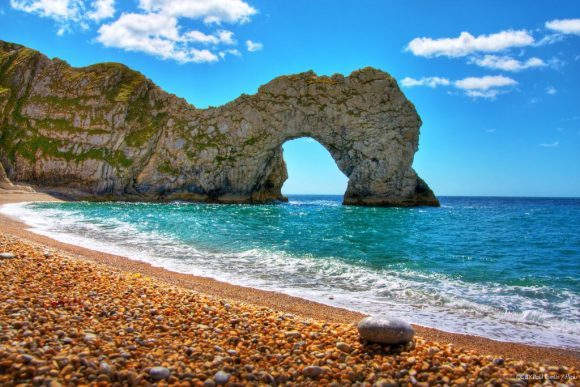 So when you're planning your next cycling holiday, do check out the options for cycling with e-bikes that Headwater Holidays can offer.
Check out my recent article for Headwater Holidays about 10 things to pack on your walking holiday
More articles from walking with Headwater Holidays in Austria
Hiking in Austria – the wild Leutasch Gorge and picturesque Mittenwald
Hiking in Austria – a Rifleman's Parade and Mental Power Walk at Seefeld
A high mountain walk (and a tumble) in the Gaistal Valley, Austria
Hiking in Austria – the views from the cross at Seefelder Spitze
Pin It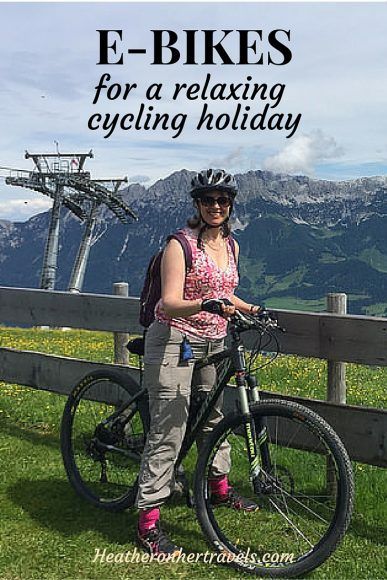 This article was brought to you in partnership with Headwater Holidays.
Dorset and the Jurassic coast photo credit: CC BY Paul Tomlin / flickr
This article is originally published at Heatheronhertravels.com – Read the original article here
In this article, our guest author, Cole Mayer shares his trip to Italy, in which he discovers the challenges of Italian driving as well as the charms of visiting places that are a little off the tourist trail.
I had travelled around the world as a child. Europe was no stranger to me. But when it came time to honeymoon in Italy in 2014, I was at a bit of a loss as my parents had always arranged everything. My wife had also travelled the world and had been to Italy before, so she suggested that, along with going to some of the major tourist attractions for my benefit, we should look for out of the way attractions and hotels.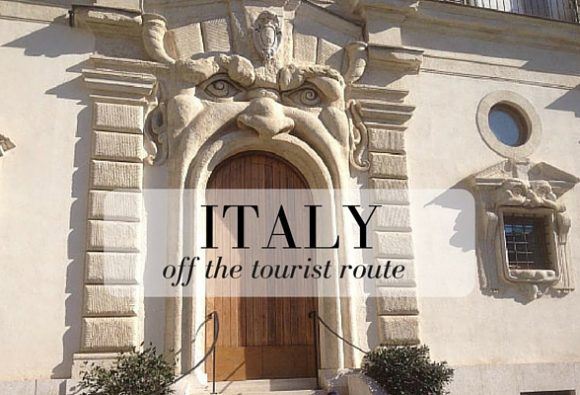 The hunt began. I scoured guidebooks. My eyes all but bled from researching on the internet. But finally, I put an itinerary together. We only booked the first and last hotels, flying by the seat of our pants for the majority of the trip.
Driving out of Milan
Upon landing in Milan, we picked up our rental car. During the hour-long drive out into the hillsides of Italy, I discovered that Italian drivers are strong believers of the "speed limits are suggestions" philosophy. Based on how fast I was going, I calculated one driver easily going 120 mph. The joke's on them – they missed some beautiful scenery.
Olimpia, nestled near the top of a hill in San Salvatore Monferrato, was a welcome sight to a weary traveler. The Bed and Breakfast Olimpia where we stayed was the very definition of charming and rustic, with a spectacular view over the valley.
The owners suggested that we drive about 10 minutes into town for lunch, which sounded fantastic to both of us. Something must have been lost in translation, though, as the quaint town had all but closed for the day. When we walked into a restaurant, they shooed us out. Frustrated and hungry, we returned to the B&B.
Lunch and dinner that night consisted of crackers and gummy worms. Thankfully, they provided an amazing breakfast of cheese, meat and pastries the next morning. We headed back to Milan proper, staying at the Hotel Silver. The hotel itself was beautiful, with a motel-style layout but four-star interiors.
The main problem with the hotel was the location. It was a hidden gem, but located off a large, busy street. They provided a shuttle into the city proper, a godsend for getting in and out of the hotel. Our first stop was the Duomo, the third-largest church in the world.
I highly recommend simply walking around Milan, even just around the Duomo. The architecture is hundreds of years old, but looks new. You can't swing a spaghetti noodle without hitting a church or religious building. Because most visitors will stick with the Duomo, they tend to be quiet affairs, allowing contemplation of the artifacts held within ancient walls.
A little more obscure, however, is the Museo della Scienza e della Tecnologia "Leonardo da Vinci." Dedicated in part to the famed Renaissance man, the museum features models based on da Vinci's sketches, from war machines to farming tools.
The museum itself is easily worth a half day's tour. They fit multiple, full-sized boats inside the water transportation exhibit. Much like the smaller churches, because it is not a major tourist destination, it was fairly quiet when we were there, a nice change from the bustle of the city.
The next city we visited was Bologna. We stayed in what was clearly meant to be a business hotel, the Hotel Cosmopolitan. It was a few miles outside the city, but after visiting the supermarket to buy provisions, we realized my wife's iPad was still at Hotel Silver, and they would not send it to us.
Not deterred, we headed out and wandered around the city on foot, eventually meeting with a crowd of college students who had just been released from class. Following the students, we found a hole-in-the-wall gelato place near Via Santo Stefano where all the locals went for an afternoon snack.
That night, we dined at Ristorante Garganelli. It was expensive, but worth it – especially for our honeymoon.
After a two-hour drive back to Milan to retrieve the iPad, we started the journey to Rome. I can't suggest not driving enough. Our nerves were shot to pieces, as we had picked Halloween night to drive into Rome. Apparently, Romans love the holiday and the streets were packed, even at 10 p.m. The streets are highly confusing at night. Next time, we'll fly in.
Eventually, we made it to Hotel Maison Althea. The one-way alley it is on looked disreputable at first glance, but the penthouse hotel was top-notch. It helped that the owner delivered breakfast every morning, after asking you what breakfast foods we liked. It was also only a few minutes' walk to a major subway and train station.
We drove our rental car to the airport, turned it in early, and took a train back to that station. From there, we went to the Coliseum. We spent a week in Rome – half of our honeymoon. The Spanish Steps, crowded with people, were a sight to see – especially with the view from the top.
What I really wanted to see, though, was the "Monster Door." Created by the two artist brothers living in the building, they simply wanted their doorway to stand out. Though it can be seen in just a few moments, and is a stone's throw away from the Steps, there was only the couple you see in the photo, and us.
As we had planned only our first and last hotels, we moved from Maison Althea to Villa Magnolia Relais, an oasis in an otherwise cold apartment district. We made our last tourist stop with a private tour of the Vatican's attractions and took another trip to a grocery store.
That was the end of our Italian honeymoon, though we almost missed the flight back to the States – but that's a story for another time. The moral of the trip, though, is not to confine yourself. We rented a car and went where we felt like going. We walked around. We saw the big tourist attractions, but weren't limited to them. We stayed in hotels that, for being off the proverbial paved path, were exquisite. I doubt I could travel any other way again.
Thanks for this guest article to Cole Mayer, a former professional journalist covering crime, court and fire stories. Cole is now a freelance writer of too many topics to list.
Other things to see and do in Italy
How not to eat badly in Venice
Join me on our Venice boat tour – with Walks of Italy
But is it Art? at the Museion in Bolzano, South Tyrol
Pin It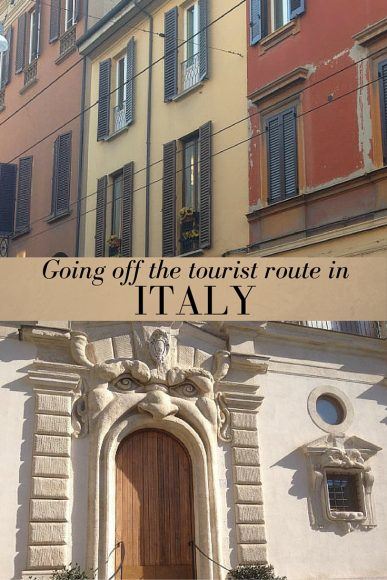 All photos by Cole Mayer
This article is originally published at Heatheronhertravels.com – Read the original article here
December 28, 2015 by Heather Cowper
Filed under Art and design, Brittany, Copenhagen, Costa Brava, Cruise, Denmark, Devon and Cornwall, Eating and drinking, Europe, featured, France, Germany, Greece, Greece & Turkey Cruise, India, Italy, Leisure, Luxembourg, Museums, Sightseeing, Spain, United Kingdom, Venice, Walking, World, Zakynthos
We're in that lull between the feasting and celebration of Christmas and the fresh starts and new plans of New Year. It's the quiet time when we can reflect and review the year that's gone, the time to reminisce and consider what the year brought us: the adventures and challenges, the excitement of visiting new places, the holiday times we enjoyed with loved ones. Here's a look back to the travels I enjoyed in 2015.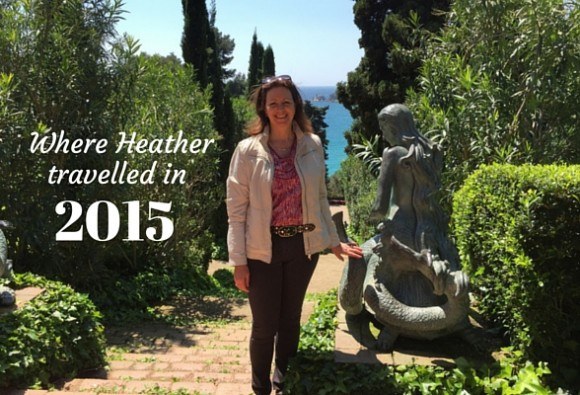 January – A cottage stay and fossil hunting in Devon and Dorset
We started the year with a weekend at Red Doors Farm in Devon through Premier Cottages, a collection of 500 year old thatched cottages, set around a cobbled farmyard. My teenage son and friends made good use of the indoor swimming pool and proved that you're never too old to feed the goats and chickens. We climbed up to the hill fort near the farm and enjoyed a bracing walk along the beach at Lyme Regis where we spotted fossils on the ammonite pavement that was revealed at low tide.
Read More: Fossil hunting and a weekend in the country at Red Doors Farm, Devon – video
February – A charity visit to India
In February I flew with Jet Airways to India for a week that was off the tourist map, although I spent a little time exploring Bangalore at the beginning and end of the trip. My purpose was to visit a local charity that I support in Andhra Pradesh and see some of the projects that we had funded. Together with one of the charity trustees I was treated to Bollywood style dances in all the local schools, had endless cups of teas with the nuns who ran them, cut the ribbon on a new water purification plant and presented a womens' tailoring class with their new sewing machines. It was a week that made me realise more than ever that when you give to those in need, you come away much richer from the experience.
Read More: 13 stories from my charity visit to India – going off the tourist trail
March – A weekend by the sea in St Mawes, Cornwall
We spent a weekend with friends at the magical Dreamcatchers house from St Mawes Retreats with a view over the Fal estuary in Cornwall. From the bedrooms we could see the tankers passing St Anthony's lighthouse and the St Mawes ferry heading for Falmouth. We'd stayed at another St Mawes Retreats house before (read my review of Stargazers here) so we knew that we could expect gorgeous Designers Guild fabrics and luxurious furnishings, with sea views to die for. This time we wandered around the harbour and took the St Mawes ferry across the estuary for a Cornish pasty and ale pub lunch in the quaint streets of Falmouth.
Read More: Sea views and springtime in St Mawes – our weekend in Cornwall
April – Venice with the family
I was lucky enought to win an apartment stay with Go with Oh through the Passports with Purpose fundraiser and decided to use it for a few days in Venice with my family. Although we visited a few tourist highlights like the Doge's Palace, we found that the neighbourhoods away from St Mark's square were much more enjoyable to wander around. We loved the modern art at the Peggy Guggenheim and saw Venice from the water on our boat tour with Walks of Italy when we climbed up the campenile of San Georgio Maggiore for views across the lagoon to San Marco. The only disappointment was the food, but hopefully you'll do better than me with my tips on How to not eat badly in Venice.
Read More: Join me on our Venice boat tour – with Walks of Italy
April – A weekend in Wiltshire and a sunrise visit to Stonehenge
I stayed at Sarum College inside the close of Salisbury Cathedral for the Social Travel Britain conference and part of the weekend included a walking tour of the cathedral, a private viewing of Magna Carta and a visit to Edward Heath's old residence of Arundells. The highlight, though, was a sunrise visit to Stonehenge during which we were allowed to walk within the stone circle. This access is only allowed on special guided tours and most tourists can't get up close to the stones, so it made the experience much more magical.
Read More: Sunrise at Stonehenge – inside the stone circle
May –  Lloret de Mar in Costa Brava, Spain
Lloret de Mar is one of those coastal resorts on the Costa Brava coast of Spain that was built up in the 1960s as one of the first places to welcome mass tourism from the UK. I was there as a speaker at the TBEX conference but took some time out to explore the town and discover its history. While the Lloret de Mar of recent years has gained a reputation for 20-somethings looking for nightlife and older couples seeking a retirement in the sun, I enjoyed walking around the older squares and along the rocky coast path on the edge of town.
In the Museu del Mar, I discovered the connections to Cuba where many locals sailed to make their fortunes, returning to build the grand mansions on the seafront. I tasted the Daiquiri cocktails, another import from Cuba and now the favoured drink of Lloret de Mar, and I loved the restful Santa Clothilde gardens, planted in Italian Renaissance style, overlooking the sea.
Read More: Lloret de Mar – sun, sea and so much more…
June – A weekend in Copenhagen with my daughter
I've visited Copenhagen many times and in June I returned with my daughter for the opening of  the Absalon Hotel which had been newly renovated in Designers Guild furnishings. I was able to interview Tricia Guild, Creative Director of Designers Guild who was there to open the hotel, as well as trying out new restaurants and cocktails with my daughter. We also spent a couple of nights up the coast at the gorgeous spa hotel, Kurhotel Skodsborg where we wafted around the pools and jumped off the jetty to cool off after our sauna.
Read More: Like mother, like daughter – what we loved on our trip to Copenhagen
June – Alpine Sports Week in Wilder Kaiser, Austria
I love being in the mountains in summer so I jumped at the chance when I was invited to try out some of the outdoor activities on offer during Alpine Sports Week in the Wilder Kaiser region of Austria. During this week different mountain sports are on offer, from high rope walking to canyoning, mountain-biking to Via Ferrata and all for the knockdown price of €99 for 5 days of activities with expert guides. It was the perfect opportunity to try something different, since I'm a keen hiker but was able to test myself with the mountain-biking and high wire climbing in the Hornpark tree forest.
Read More: Heather goes e-mountain-biking in Wilder Kaiser, Austria – video
July – A week with the family in Zakynthos, Greece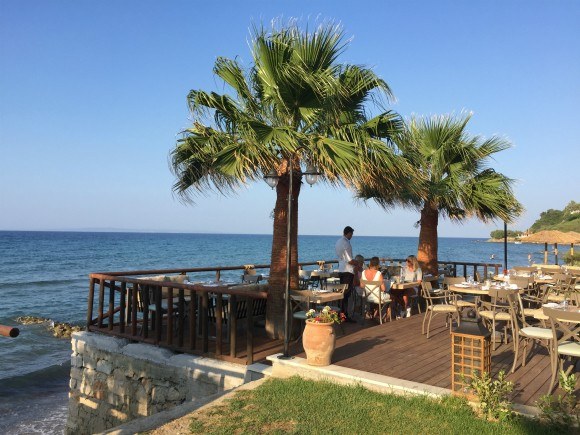 In July we made our annual visit to Zakynthos in Greece to visit my sister who runs two hotels there with her husband. We spent the week visiting different beaches, swimming, eating, sunbathing and catching up on family news. This summer my niece had returned to the island after training with a leading hotel group and had decided to get involved in the family business, opening a new Mediterranean restaurant in an idyllic setting by the sea. Anadalis, as it is called, is named after the old estate on which the hotel is built which once belonged to an aristocratic family with a house just a little way up the shore, but you'll have to read to article to find out why the locals thought the old ruined mansion was haunted. If you visit Zakynthos I highly recommend that you book a table for dinner as the sun goes down over the bay.
Read More: Anadalis – a Mediterranean restaurant by the sea in Zakynthos, Greece
August – Our Azamara Greek Island Cruise
Later in August we were back to the Greek islands again for a cruise with Azamara Club Cruises which took us from Athens to Santorini, Mykonos, Patmos, Kusadasi and finally to Istanbul where we ended our cruise. We absolutely loved the luxurious small ship cruise experience with Azamara Club Cruises where the spotlight is firmly on the destinations you visit, creating unique experiences like our magical evening concert among the ancient ruins of Ephesus as the sun went down.
Read More: Windy Mykonos – Day 2 of our Azamara Greek Island Cruise
September – A walking holiday in Austria with Headwater Holidays
September saw me back in Austria for a few days walking with Headwater Holidays who specialise in relaxing walking and cycling holidays. I was accompanied by my friend Julia for our annual walking trip which has become our tradition since we walked the Tour de Mont Blanc together. On the first day on the high slopes of the Gaistal valley I fell down a slope and hurt my ankle but using the Headwater walking guides we chose the less strenuous walks on subsequent days and enjoyed the rest of the holiday. We watched a rifleman's parade in Seefeld and walked along a Mental Power trail, walked through the wild Leutasch Gorge and round the lakes above the picturesque town of Mittenwald with its painted houses. Each day brought different mountain scenery and things to see, confirming my love of the mountains in summer.
Read More: Hiking in Austria – the views from the cross at Seefelder Spitze
September – A gourmet visit to Luxembourg
In September we spent a few days in Luxembourg, a city and tiny country that's full of surprises. While Luxembourg is known as a centre for international business, we found a charming and easily walkable city with great food, museums and a fascinating history, making it an ideal weekend break location. We also spent some time touring the Moselle wine region where the Moselle river forms the border with Germany, with many wineries to taste the delicious white wines the sparkling Cremant which was my favourite.
Read More: A gourmet walking tour of Luxembourg old town
November – The Christmas Markets of Heidelberg, Germany
At the end of November we spent a few day in Heidelberg, Germany to see the Christmas Markets and generally get into the festive spirit. We'd visited Heidelberg previously on a day trip from our Rhine River Cruise and were pleased that we could have more time to explore this picturesque and romantic town at our leisure. We took the river boat down to the Neurberg Abbey Christmas Market, climbed up to the castle, learned the history of the ancient university and student fraternities and ate plenty of hearty German food, delicious cakes and chocolates as well as drinking quite a few mugs of hot Glühwein.
Read More: A Food Lover's Guide to Heidelberg, Germany
December – A weekend in Le Havre, France
My final trip of this year was a hop over the channel to le Havre with Brittany Ferries to discover what this channel port would offer for a weekend break. Most Brits drive through Le Havre on their way to their holidays in France but I discovered that there are many fascinating things to see here that make it worth stopping to visit the city and surrounding area. The city was reconstructed after heavy bombing in WW2 and the architecture of the new town (now a UNESCO World Heritage site) represents the modern designs of the 1950s. We visited a 1950s show flat which would have been allocated to those who lost their own houses in the bombing, as well as a gorgeous 18th century ship owner's mansion. Another highlight was the MUMA modern art museum, a light and airy glass building with the largest collection of Impressionist paintings outside Paris, since painters such as Monet loved this part of the Normandy coast. I'll be writing about my weekend in Le Havre very soon so stay tuned.
Reviewing the year was a fun way to remind myself of all the fun I had on my travels in 2015. There's much more to come in 2016 and I wish you Happy Travels for the year to come.
Please note that many of the trips were hosted by the companies mentioned and you can find more details in the articles from each trip.
Pin It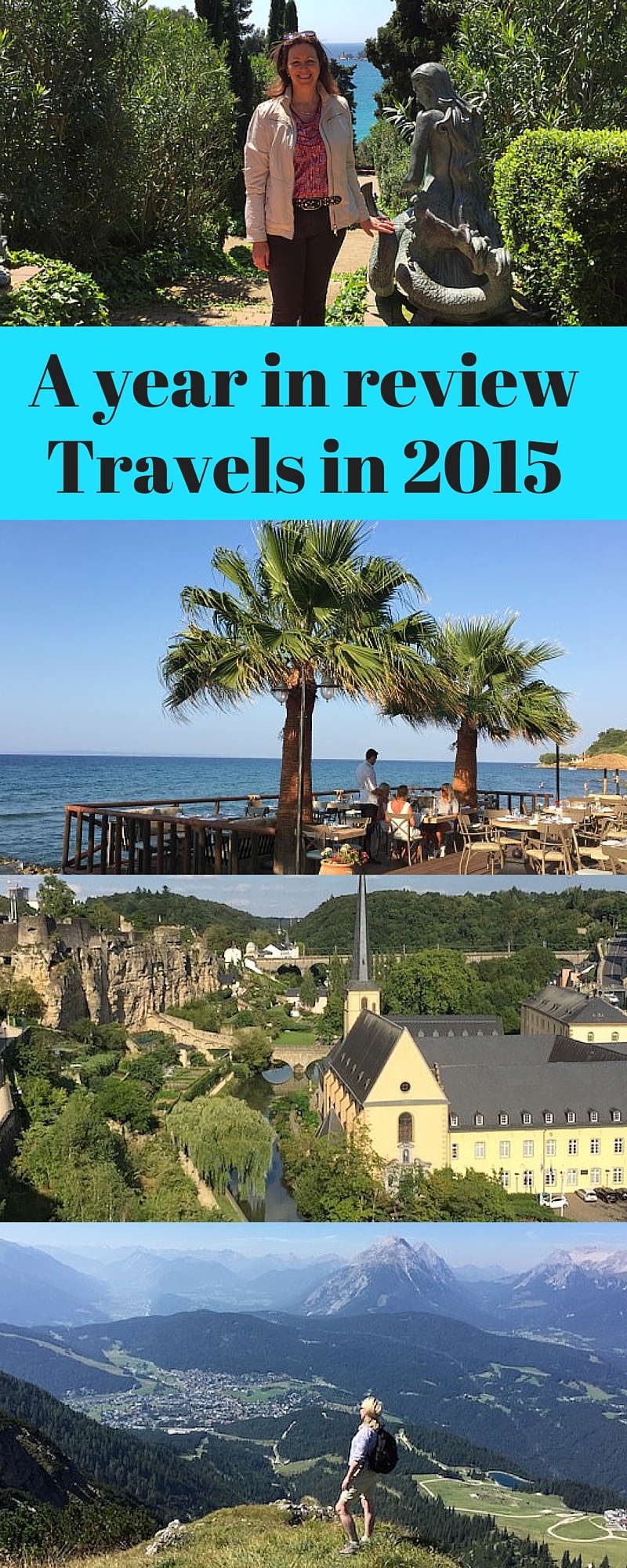 This article by Heather Cowper is originally published at Heatheronhertravels.com – Read the original article here
You'll also find our sister blog with tips on how to build a successful travel blog at My Blogging Journey