In this article, our guest author, Cole Mayer shares his trip to Italy, in which he discovers the challenges of Italian driving as well as the charms of visiting places that are a little off the tourist trail.
I had travelled around the world as a child. Europe was no stranger to me. But when it came time to honeymoon in Italy in 2014, I was at a bit of a loss as my parents had always arranged everything. My wife had also travelled the world and had been to Italy before, so she suggested that, along with going to some of the major tourist attractions for my benefit, we should look for out of the way attractions and hotels.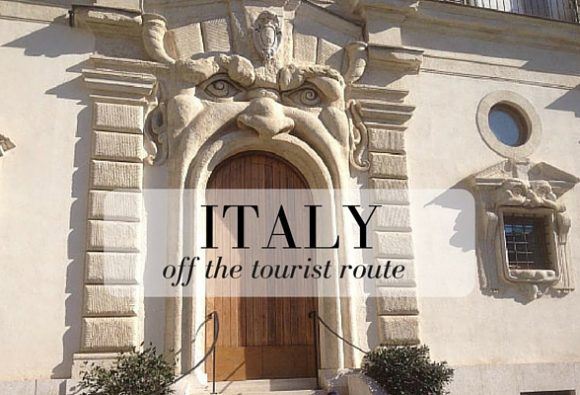 The hunt began. I scoured guidebooks. My eyes all but bled from researching on the internet. But finally, I put an itinerary together. We only booked the first and last hotels, flying by the seat of our pants for the majority of the trip.
Driving out of Milan
Upon landing in Milan, we picked up our rental car. During the hour-long drive out into the hillsides of Italy, I discovered that Italian drivers are strong believers of the "speed limits are suggestions" philosophy. Based on how fast I was going, I calculated one driver easily going 120 mph. The joke's on them – they missed some beautiful scenery.
Olimpia, nestled near the top of a hill in San Salvatore Monferrato, was a welcome sight to a weary traveler. The Bed and Breakfast Olimpia where we stayed was the very definition of charming and rustic, with a spectacular view over the valley.
The owners suggested that we drive about 10 minutes into town for lunch, which sounded fantastic to both of us. Something must have been lost in translation, though, as the quaint town had all but closed for the day. When we walked into a restaurant, they shooed us out. Frustrated and hungry, we returned to the B&B.
Lunch and dinner that night consisted of crackers and gummy worms. Thankfully, they provided an amazing breakfast of cheese, meat and pastries the next morning. We headed back to Milan proper, staying at the Hotel Silver. The hotel itself was beautiful, with a motel-style layout but four-star interiors.
The main problem with the hotel was the location. It was a hidden gem, but located off a large, busy street. They provided a shuttle into the city proper, a godsend for getting in and out of the hotel. Our first stop was the Duomo, the third-largest church in the world.
I highly recommend simply walking around Milan, even just around the Duomo. The architecture is hundreds of years old, but looks new. You can't swing a spaghetti noodle without hitting a church or religious building. Because most visitors will stick with the Duomo, they tend to be quiet affairs, allowing contemplation of the artifacts held within ancient walls.
A little more obscure, however, is the Museo della Scienza e della Tecnologia "Leonardo da Vinci." Dedicated in part to the famed Renaissance man, the museum features models based on da Vinci's sketches, from war machines to farming tools.
The museum itself is easily worth a half day's tour. They fit multiple, full-sized boats inside the water transportation exhibit. Much like the smaller churches, because it is not a major tourist destination, it was fairly quiet when we were there, a nice change from the bustle of the city.
The next city we visited was Bologna. We stayed in what was clearly meant to be a business hotel, the Hotel Cosmopolitan. It was a few miles outside the city, but after visiting the supermarket to buy provisions, we realized my wife's iPad was still at Hotel Silver, and they would not send it to us.
Not deterred, we headed out and wandered around the city on foot, eventually meeting with a crowd of college students who had just been released from class. Following the students, we found a hole-in-the-wall gelato place near Via Santo Stefano where all the locals went for an afternoon snack.
That night, we dined at Ristorante Garganelli. It was expensive, but worth it – especially for our honeymoon.
After a two-hour drive back to Milan to retrieve the iPad, we started the journey to Rome. I can't suggest not driving enough. Our nerves were shot to pieces, as we had picked Halloween night to drive into Rome. Apparently, Romans love the holiday and the streets were packed, even at 10 p.m. The streets are highly confusing at night. Next time, we'll fly in.
Eventually, we made it to Hotel Maison Althea. The one-way alley it is on looked disreputable at first glance, but the penthouse hotel was top-notch. It helped that the owner delivered breakfast every morning, after asking you what breakfast foods we liked. It was also only a few minutes' walk to a major subway and train station.
We drove our rental car to the airport, turned it in early, and took a train back to that station. From there, we went to the Coliseum. We spent a week in Rome – half of our honeymoon. The Spanish Steps, crowded with people, were a sight to see – especially with the view from the top.
What I really wanted to see, though, was the "Monster Door." Created by the two artist brothers living in the building, they simply wanted their doorway to stand out. Though it can be seen in just a few moments, and is a stone's throw away from the Steps, there was only the couple you see in the photo, and us.
As we had planned only our first and last hotels, we moved from Maison Althea to Villa Magnolia Relais, an oasis in an otherwise cold apartment district. We made our last tourist stop with a private tour of the Vatican's attractions and took another trip to a grocery store.
That was the end of our Italian honeymoon, though we almost missed the flight back to the States – but that's a story for another time. The moral of the trip, though, is not to confine yourself. We rented a car and went where we felt like going. We walked around. We saw the big tourist attractions, but weren't limited to them. We stayed in hotels that, for being off the proverbial paved path, were exquisite. I doubt I could travel any other way again.
Thanks for this guest article to Cole Mayer, a former professional journalist covering crime, court and fire stories. Cole is now a freelance writer of too many topics to list.
Other things to see and do in Italy
How not to eat badly in Venice
Join me on our Venice boat tour – with Walks of Italy
But is it Art? at the Museion in Bolzano, South Tyrol
Pin It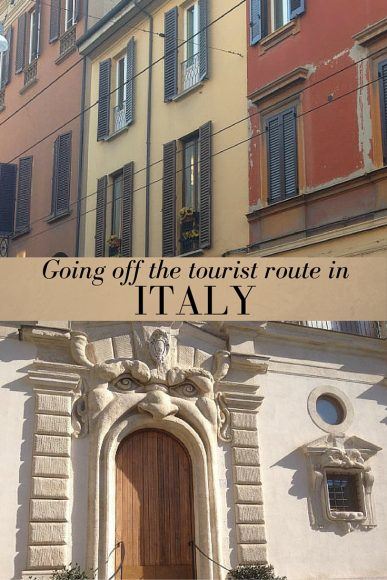 All photos by Cole Mayer
This article is originally published at Heatheronhertravels.com – Read the original article here
In this article our guest writer Angelina Van Kemenade shares with us some of the places in Rome that her kids love to visit from a vintage chocolate factory to gladiator training at the Colisseum.
Rome is definitely one of my family's favorite holiday destinations, offering a wide selection of sightseeing spots and activities that are surely captivating to both adults and kids.
Spending a holiday with the whole family is one of our favorite bonding activities. Just like me and my husband Patrick, our kids love Rome, not only because of the famous Gladiator movie and the Hercules cartoon television show but also because of the unique splendor and the joy that the city offers. With this article I am going to share with you some of the highlights of Rome that I considered among my kids' favorites. I am pretty sure that your kids and even you as parents will love these marvelous places in Rome.
Said Vintage Chocolate Factory
Because my kids are huge fans of chocolate, they love touring one of the most famous old chocolate factories in the world. Most people, regardless of their age and gender, love chocolate, so I am quite sure that both you and your kids will enjoy visiting the Said Vintage Chocolate Factory. This very interesting place in Rome was founded by Aldo De Mauro around 1923 and was once one of the factories in Rome that produced high quality and world-class chocolate.
The factory's popularity boomed until it was damaged by extensive bombing during the Second World War. These days, Said Vintage Chocolate Factory no longer functions like a typical factory, but rather an impressive chocolate museum. The museum still houses the vintage machinery used in producing chocolate in the past, some of which is still magnificently functioning. Even though the company has ceased its normal chocolate production operation, you can still buy an authentic chocolate recipe or savor that scrumptious old-fashioned chocolate taste from the gift shop at the old factory. Watch the video here.
Rainbow Magic Land
The Rainbow Magic Land is one of the most loved family theme parks in Rome, covering an area of about 16 thousand square meters. What we like most about this theme park is that it is very accessible and can easily be reached from Rome through taking the train and then the shuttle bus. It is located in Valmontone just about 49 kilometers away from the historic center of Rome.
We have visited Rainbow Magic Land more than once but we still feel excited at the thought of visiting the theme park again. With the 35 main attractions and the 10 various shows that the park offers, you will surely look forward for another wonderful experience at the Rainbow Magic Land. Among the most popular shows at the park are stunt shows, the interactive Bombo show, aquatic ballet, various theatre performances and the Winx fairies show. The colorful and ever spectacular firework display also adds to the reasons we love visiting this family centered theme park.
 Giardino Zoologico di Roma
The Giardino Zoologico di Roma, also popularly known for the title Bioparco, is one among the kid-pleaser zoological gardens that you can find in Rome. The animals are trained to interact and be used to humans and are provided with a particular space in the garden where they are given the freedom to live and to move around. More to that, Bioparco also provides a safe shelter for various kinds of endangered species and also a nonviolent home for animals that were once victims of abuse and trafficking.
The Gladiator School and the Colosseum
What is a holiday trip to Rome with kids without a visit to the famous landmark of the Colosseum, known as the most gigantic ancient structure that was ever built during the Roman Empire era. This amphitheater was capable of accommodating up to 50,000 spectators at a time during ancient times. It was a famous site for entertainment and political gatherings in Rome and was also once used as the stage for gladiator fights.
Speaking of gladiator fights, my kids love participating in a simulation gladiator activity and because of this, we do not skip visiting the Gladiator School every time we come to visit. In the Gladiator School, both adults and kids are given the opportunity to play as a real gladiator and activity usually commences with one to two hours of basic training. In the training participants are taught about the basic and pro swordsmanship and fighting techniques that the ancient gladiators had to learn. After the short training is over, there is an activity where participants are given the chance to fight as a real gladiator, to wear an authentic Roman fighter suit and to use a blunted sword.

Many thanks for this article to Angelina Van Kemenade, a 29 year old mother of two, and the owner of romesightseeing.net, a website that shares ideas and valuable information about the famous sightseeing sites and main attractions in Rome. Angelina loves to travel together with her husband Patrick and their kids to their favorite holiday destinations of Rome and Paris.
For more things to see in Rome:
The Rome of childhood memories
The Pantheon – in Rome
Street entertainment in Piazza Navona – in Rome
Photos by Angelina except Said Chocolate Factory by Nancy White, Rainbow Magic Land by Wikimedia Commons, helping out with the animals by Bioparco.it
This article by is originally published at Heatheronhertravels.com – Read the original article here
You'll also find our sister blog with tips on how to build a successful travel blog at My Blogging Journey
April 18, 2014 by Heather Cowper
Filed under United Kingdom, Europe, Leisure, featured, Dublin, France, Ireland, Italy, Lisbon, Midlands, Paris, Portugal, Rome, Sightseeing
When spring arrives with sunshine and daffodils, it always puts me in the mood for planning my next getaway, a mini-break to throw off the chill of winter and tide me over until the summer holidays. If you're in the mood for a weekend away in Europe or the UK, take a look at the fun web app from SuperBreak to fuel your holiday inspiration. Whether you're planning a relaxing half term break with the family, a weekend of eating and entertainment with your friends, or a cultural city-break with your partner, here are some of the destinations that you might want to consider;
If you're a couple looking for a weekend of food, drink and entertainment you might look at….
Dublin
What Superbreak have to say; Just a quick jump across the water and you can enjoy traditional Bars, comedy clubs, delicious local food and the ever-so-friendly Irish welcome! Guinness at the ready!
What I enjoyed about Dublin;
Here's what I wrote about Dublin: The best of TBEX, the best of Dublin
But if you and your partner are looking for a weekend of culture in Europe, why not try…
Rome
What Superbreak have to say; With a wealth of history, culture and plenty of Italian charisma, you can't help but feel the love on a weekend break in Rome with someone special.
What I enjoyed about Rome;
Here's one of my stories about Rome: The view from the dome of St Peter's in Rome
If you are a couple who fancy a weekend of culture in the UK take a look at …
Stratford-upon-Avon
What Superbreak have to say; Discover the quaint city of Stratford upon Avon on a romantic weekend break. Step back in time in this historic city and see the spots where Shakespeare's most famous plays were created.
What I love to do in Stratford-upon-Avon;
Here's what I wrote about Stratford-upon-Avon: The Tower and other Transformations at the Royal Shakespeare Theatre in Stratford-upon-Avon
But if you are a group who'd like a weekend of culture in Europe why not try …
Paris
What Superbreak have to say; With history, landmarks and iconic French architecture around every corner, Paris offers everything a group would need for a cultural break. Don't forget your camera!
What I enjoyed about Paris;
Here's what I wrote about Paris: Our winter weekend in Paris, the food, the sights, the video
And if and your friends are looking for a weekend of culture in Europe, why not try…
Lisbon
What Superbreak have to say; A weekend break in Lisbon, Portugal's capital offers an eclectic mix of fascinating Portuguese history and contemporary art and culture.
What I loved about Lisbon;
Here's one of my stories about Lisbon: An autumn weekend in Lisbon – Podcast
There are plenty more inspirational short break destinations to discover with the SuperBreak app so why not give it a try and see where your inspiration leads you.
About the Superbreak Holiday Inspirator:  To celebrate their 30th anniversary, Yorkshire based holiday company  Superbreak.com have created a fun app to help you choose the perfect UK or European city break based on who you're travelling with and what you enjoy. Check out the Superbreak Holiday Inspirator Webapp or follow the coversation on the Superbreak Facebook Page or on Twitter @Superbreak using hashtag #SuperBreakinspo
This article is brought to you in partnership with Superbreak.com
Photo Credits: Dublin at night by LenDog64 Other photos by Heatheronhertravels.com
This article by Heather Cowper is originally published at Heatheronhertravels.com – Read the original article here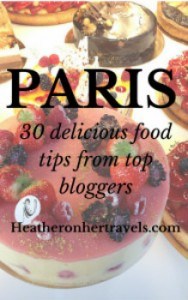 You'll also be subscribed to our free monthly newsletter for great travel resources, news and offers, but you can unsubscribe at any time and we'll never share your e-mail.
You'll also find our sister blog with tips on how to build a successful travel blog at My Blogging Journey