November 12, 2016 by Heather Cowper
Filed under Europe, Accommodation, Leisure, featured, Beaches and swimming, Camping, Cycling, Italy, Nature, Venice
Among all the available destinations in Italy, Venice is the queen of holidays in Northern Italy. Everybody knows Venice: the intricate and fascinating maze of streets and canals, the beautiful Grand Canal, the ancient palaces… But who knows about Venice Lido?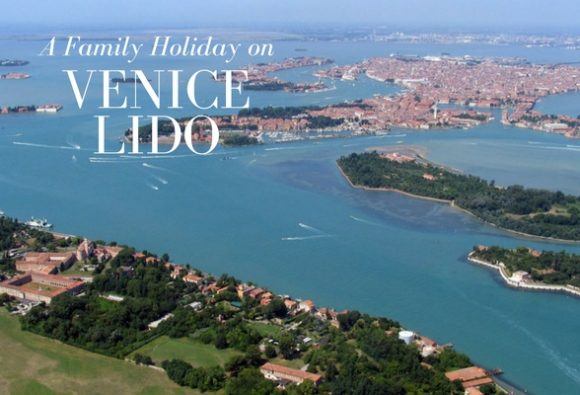 The Venice Lido (Lido di Venezia) is the beach of Venice: a 7-mile long island in the lagoon of Venice, a famous place which, from the late 19th century, became the favourite destination for the luxurious holidays in the lagoon of wealthy families, thanks to the majestic hotels facing the beach that characterize the promenade of the island. You may remember Thomas Mann's famous novel Death in Venice, which takes place in one of the historic hotels of the Lido. The drama and allure of those nostalgic locations still echoes in the minds of who have loved this authentic masterpiece of the twentieth century.
A family friendly place to stay
Nowadays Venice Lido is still an enchanting place, yet family friendly to all those who want to spend a holiday in Italy with the whole family. Of course, one of the major assets of this island is its connection to the main city of Venice. An efficient local service of ferry boat between Venice Lido and Venice main city is available daytime and at night for you to move freely and set out to discover all the interesting sites of the city. If you want to save some money, take advantage of the transport tourist cards, which allow you to move around the city at convenient rates.
Days on the beaches of Venice Lido
Moving back to Lido, this is a lovely seaside resort to spend relaxing beach holidays with the whole family. Worth discovering are the areas of "Alberoni" and "San Nicolò". These beaches, located at the two end parts of the Lido, offer amazing landscapes and a great place to bathe and relax. Alberoni is an oasis of raw beauty, characterized by sandy dunes that overlook the sea. This wild beach is perfect if you want to escape from the rush of modern seaside resorts and experience the contact with authentic nature. Within a few minutes walk from Alberoni, it is possible to see also the Murazzi, the impressive stone dam built in order to protect the banks of the lagoon from the sea erosion. Here you can enjoy a relaxing walk and admire original sculptures made of poor materials like wood, branches, old clothes and fishing instruments, which make the view of this place even more enjoyable and interesting.
Bike rides from Venice Lido
And if you like bike rides, Venice Lido is the perfect place! From here starts an itinerary that leads you to the islands of Pellestrina and to the coastal town of Chioggia, by means of a water transport service among the islands.
The island offers also a whole variety of typical bars and restaurants where you can taste the local cuisine or sip a glass of wine. You can even find a special sandwich shop…on a bus! A typical double decker bus transformed in a kiosk where you can try a whole lot of different and tasty sandwiches!
The Venice Film Festival in Venice Lido
If you visit Venice Lido at the beginning of September, don't forget about the Venice Film Festival! The famous Venice International Film Festival is the oldest film festival in the world. Founded in 1932, the festival takes places every year at the beginning of September, and it is recognized worldwide as a symbol of culture for the quality of its jury and for the films competing for the Golden Lion. If you are cinema enthusiasts, you cannot miss it! Just remember to book your holiday in Venice Lido in due time, because during the days of the festival, the Lido becomes the centre of the world!
Where to stay in Venice Lido
You will be wondering where to stay in Venice Lido. A nice solution for a fun family holiday is provided by Camping San Nicolò. This camping site provides 5,000 square meters of lush gardens, a haven of peace where you can stay with the whole family and take advantage of a wonderful location at convenient rates. With its strategic location, Camping San Nicolò is the perfect place to both explore the Lido and reach Venice City Centre. The campsite provides all the services for a comfortable stay: hot and cold showers, playground for the children, washing machine, internal parking, caravan and tent rental, and much more.
How to reach Camping San Nicolò
The campsite is easy to reach: from the train station of Venice Santa Lucia you can take the city water bus heading to the Lido. From the last stop, you can then take the bus of the island, which will bring you to the camping in a couple of minutes. And if you come by car to Venice, from the Tronchetto terminal you will find the car ferry departure to the Lido.
Photo Credits: Photos by Camping San Nicolò except: Beaches in the Lido by Michael Dawes, Murazzi on Venice Lido by Antonio Fassina , Cafe bus by Gordon Baxter
This article was brought to you in partnership with Camping San Nicolò on Venice Lido
Pin It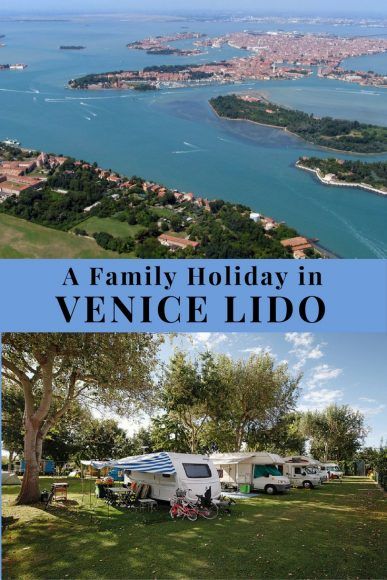 This article is originally published at Heatheronhertravels.com – Read the original article here
December 28, 2015 by Heather Cowper
Filed under United Kingdom, Europe, World, Leisure, featured, Art and design, Brittany, Copenhagen, Costa Brava, Cruise, Denmark, Devon and Cornwall, Eating and drinking, France, Germany, Greece, Greece & Turkey Cruise, India, Italy, Luxembourg, Museums, Sightseeing, Spain, Venice, Walking, Zakynthos
We're in that lull between the feasting and celebration of Christmas and the fresh starts and new plans of New Year. It's the quiet time when we can reflect and review the year that's gone, the time to reminisce and consider what the year brought us: the adventures and challenges, the excitement of visiting new places, the holiday times we enjoyed with loved ones. Here's a look back to the travels I enjoyed in 2015.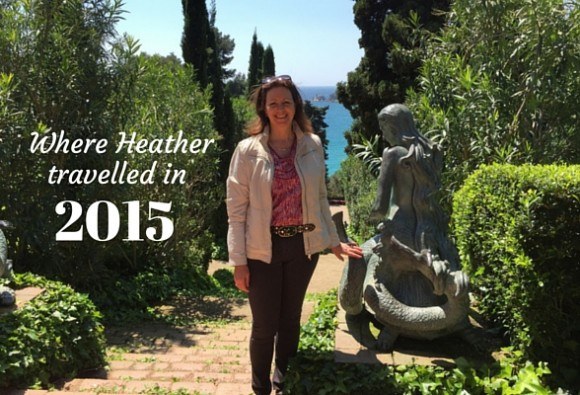 January – A cottage stay and fossil hunting in Devon and Dorset
We started the year with a weekend at Red Doors Farm in Devon through Premier Cottages, a collection of 500 year old thatched cottages, set around a cobbled farmyard. My teenage son and friends made good use of the indoor swimming pool and proved that you're never too old to feed the goats and chickens. We climbed up to the hill fort near the farm and enjoyed a bracing walk along the beach at Lyme Regis where we spotted fossils on the ammonite pavement that was revealed at low tide.
Read More: Fossil hunting and a weekend in the country at Red Doors Farm, Devon – video
February – A charity visit to India
In February I flew with Jet Airways to India for a week that was off the tourist map, although I spent a little time exploring Bangalore at the beginning and end of the trip. My purpose was to visit a local charity that I support in Andhra Pradesh and see some of the projects that we had funded. Together with one of the charity trustees I was treated to Bollywood style dances in all the local schools, had endless cups of teas with the nuns who ran them, cut the ribbon on a new water purification plant and presented a womens' tailoring class with their new sewing machines. It was a week that made me realise more than ever that when you give to those in need, you come away much richer from the experience.
Read More: 13 stories from my charity visit to India – going off the tourist trail
March – A weekend by the sea in St Mawes, Cornwall
We spent a weekend with friends at the magical Dreamcatchers house from St Mawes Retreats with a view over the Fal estuary in Cornwall. From the bedrooms we could see the tankers passing St Anthony's lighthouse and the St Mawes ferry heading for Falmouth. We'd stayed at another St Mawes Retreats house before (read my review of Stargazers here) so we knew that we could expect gorgeous Designers Guild fabrics and luxurious furnishings, with sea views to die for. This time we wandered around the harbour and took the St Mawes ferry across the estuary for a Cornish pasty and ale pub lunch in the quaint streets of Falmouth.
Read More: Sea views and springtime in St Mawes – our weekend in Cornwall
April – Venice with the family
I was lucky enought to win an apartment stay with Go with Oh through the Passports with Purpose fundraiser and decided to use it for a few days in Venice with my family. Although we visited a few tourist highlights like the Doge's Palace, we found that the neighbourhoods away from St Mark's square were much more enjoyable to wander around. We loved the modern art at the Peggy Guggenheim and saw Venice from the water on our boat tour with Walks of Italy when we climbed up the campenile of San Georgio Maggiore for views across the lagoon to San Marco. The only disappointment was the food, but hopefully you'll do better than me with my tips on How to not eat badly in Venice.
Read More: Join me on our Venice boat tour – with Walks of Italy
April – A weekend in Wiltshire and a sunrise visit to Stonehenge
I stayed at Sarum College inside the close of Salisbury Cathedral for the Social Travel Britain conference and part of the weekend included a walking tour of the cathedral, a private viewing of Magna Carta and a visit to Edward Heath's old residence of Arundells. The highlight, though, was a sunrise visit to Stonehenge during which we were allowed to walk within the stone circle. This access is only allowed on special guided tours and most tourists can't get up close to the stones, so it made the experience much more magical.
Read More: Sunrise at Stonehenge – inside the stone circle
May –  Lloret de Mar in Costa Brava, Spain
Lloret de Mar is one of those coastal resorts on the Costa Brava coast of Spain that was built up in the 1960s as one of the first places to welcome mass tourism from the UK. I was there as a speaker at the TBEX conference but took some time out to explore the town and discover its history. While the Lloret de Mar of recent years has gained a reputation for 20-somethings looking for nightlife and older couples seeking a retirement in the sun, I enjoyed walking around the older squares and along the rocky coast path on the edge of town.
In the Museu del Mar, I discovered the connections to Cuba where many locals sailed to make their fortunes, returning to build the grand mansions on the seafront. I tasted the Daiquiri cocktails, another import from Cuba and now the favoured drink of Lloret de Mar, and I loved the restful Santa Clothilde gardens, planted in Italian Renaissance style, overlooking the sea.
Read More: Lloret de Mar – sun, sea and so much more…
June – A weekend in Copenhagen with my daughter
I've visited Copenhagen many times and in June I returned with my daughter for the opening of  the Absalon Hotel which had been newly renovated in Designers Guild furnishings. I was able to interview Tricia Guild, Creative Director of Designers Guild who was there to open the hotel, as well as trying out new restaurants and cocktails with my daughter. We also spent a couple of nights up the coast at the gorgeous spa hotel, Kurhotel Skodsborg where we wafted around the pools and jumped off the jetty to cool off after our sauna.
Read More: Like mother, like daughter – what we loved on our trip to Copenhagen
June – Alpine Sports Week in Wilder Kaiser, Austria
I love being in the mountains in summer so I jumped at the chance when I was invited to try out some of the outdoor activities on offer during Alpine Sports Week in the Wilder Kaiser region of Austria. During this week different mountain sports are on offer, from high rope walking to canyoning, mountain-biking to Via Ferrata and all for the knockdown price of €99 for 5 days of activities with expert guides. It was the perfect opportunity to try something different, since I'm a keen hiker but was able to test myself with the mountain-biking and high wire climbing in the Hornpark tree forest.
Read More: Heather goes e-mountain-biking in Wilder Kaiser, Austria – video
July – A week with the family in Zakynthos, Greece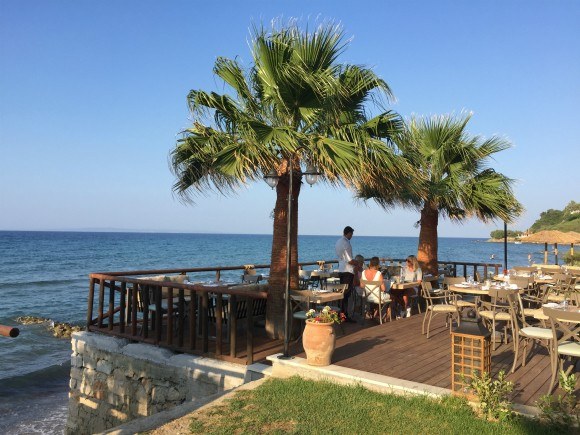 In July we made our annual visit to Zakynthos in Greece to visit my sister who runs two hotels there with her husband. We spent the week visiting different beaches, swimming, eating, sunbathing and catching up on family news. This summer my niece had returned to the island after training with a leading hotel group and had decided to get involved in the family business, opening a new Mediterranean restaurant in an idyllic setting by the sea. Anadalis, as it is called, is named after the old estate on which the hotel is built which once belonged to an aristocratic family with a house just a little way up the shore, but you'll have to read to article to find out why the locals thought the old ruined mansion was haunted. If you visit Zakynthos I highly recommend that you book a table for dinner as the sun goes down over the bay.
Read More: Anadalis – a Mediterranean restaurant by the sea in Zakynthos, Greece
August – Our Azamara Greek Island Cruise
Later in August we were back to the Greek islands again for a cruise with Azamara Club Cruises which took us from Athens to Santorini, Mykonos, Patmos, Kusadasi and finally to Istanbul where we ended our cruise. We absolutely loved the luxurious small ship cruise experience with Azamara Club Cruises where the spotlight is firmly on the destinations you visit, creating unique experiences like our magical evening concert among the ancient ruins of Ephesus as the sun went down.
Read More: Windy Mykonos – Day 2 of our Azamara Greek Island Cruise
September – A walking holiday in Austria with Headwater Holidays
September saw me back in Austria for a few days walking with Headwater Holidays who specialise in relaxing walking and cycling holidays. I was accompanied by my friend Julia for our annual walking trip which has become our tradition since we walked the Tour de Mont Blanc together. On the first day on the high slopes of the Gaistal valley I fell down a slope and hurt my ankle but using the Headwater walking guides we chose the less strenuous walks on subsequent days and enjoyed the rest of the holiday. We watched a rifleman's parade in Seefeld and walked along a Mental Power trail, walked through the wild Leutasch Gorge and round the lakes above the picturesque town of Mittenwald with its painted houses. Each day brought different mountain scenery and things to see, confirming my love of the mountains in summer.
Read More: Hiking in Austria – the views from the cross at Seefelder Spitze
September – A gourmet visit to Luxembourg
In September we spent a few days in Luxembourg, a city and tiny country that's full of surprises. While Luxembourg is known as a centre for international business, we found a charming and easily walkable city with great food, museums and a fascinating history, making it an ideal weekend break location. We also spent some time touring the Moselle wine region where the Moselle river forms the border with Germany, with many wineries to taste the delicious white wines the sparkling Cremant which was my favourite.
Read More: A gourmet walking tour of Luxembourg old town
November – The Christmas Markets of Heidelberg, Germany
At the end of November we spent a few day in Heidelberg, Germany to see the Christmas Markets and generally get into the festive spirit. We'd visited Heidelberg previously on a day trip from our Rhine River Cruise and were pleased that we could have more time to explore this picturesque and romantic town at our leisure. We took the river boat down to the Neurberg Abbey Christmas Market, climbed up to the castle, learned the history of the ancient university and student fraternities and ate plenty of hearty German food, delicious cakes and chocolates as well as drinking quite a few mugs of hot Glühwein.
Read More: A Food Lover's Guide to Heidelberg, Germany
December – A weekend in Le Havre, France
My final trip of this year was a hop over the channel to le Havre with Brittany Ferries to discover what this channel port would offer for a weekend break. Most Brits drive through Le Havre on their way to their holidays in France but I discovered that there are many fascinating things to see here that make it worth stopping to visit the city and surrounding area. The city was reconstructed after heavy bombing in WW2 and the architecture of the new town (now a UNESCO World Heritage site) represents the modern designs of the 1950s. We visited a 1950s show flat which would have been allocated to those who lost their own houses in the bombing, as well as a gorgeous 18th century ship owner's mansion. Another highlight was the MUMA modern art museum, a light and airy glass building with the largest collection of Impressionist paintings outside Paris, since painters such as Monet loved this part of the Normandy coast. I'll be writing about my weekend in Le Havre very soon so stay tuned.
Reviewing the year was a fun way to remind myself of all the fun I had on my travels in 2015. There's much more to come in 2016 and I wish you Happy Travels for the year to come.
Please note that many of the trips were hosted by the companies mentioned and you can find more details in the articles from each trip.
Pin It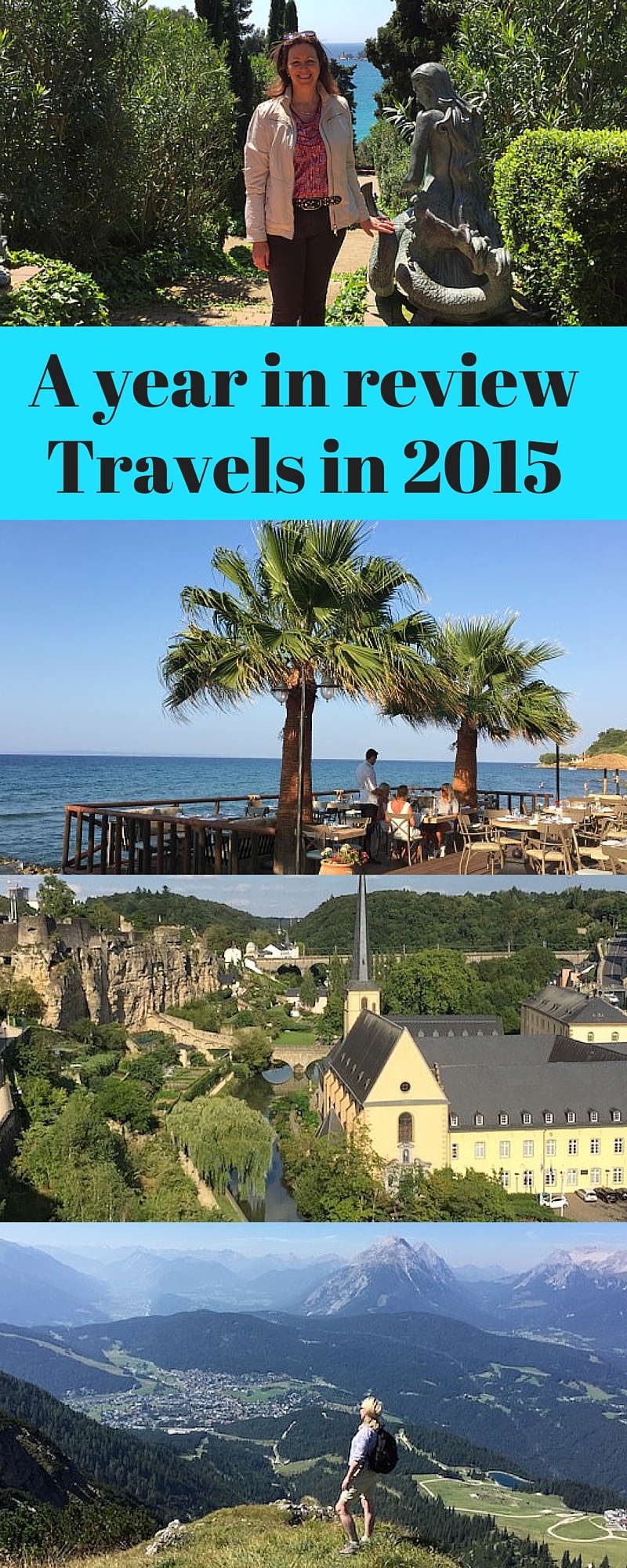 This article by Heather Cowper is originally published at Heatheronhertravels.com – Read the original article here
You'll also find our sister blog with tips on how to build a successful travel blog at My Blogging Journey
August 26, 2015 by Heather Cowper
Filed under Europe, Leisure, featured, Art and design, Eating and drinking, Italy, Museums, Sightseeing, Venice, Walking
There's a saying that if you eat badly in Italy you must be in Venice. Being something of a foodie myself, on my long weekend in Venice, I was determined to search out the best of Venetian food. I'm afraid to report, however, that my food experiences ranged from the average to the mediocre. Since Venice is such a tourist hotspot, and so many of the visitors are there for such a short time, it is all too easy for many businesses not to try too hard. Still with a little research and planning I think that you can find the best that Venice has to offer, so here are my tips to ensure that you don't eat too badly in Venice.
Get well away from San Marco
The San Marco district and especially the area around St Mark's Square is the tourist hub of Venice and is always packed with visitors. Many come for the day from a cruise ship or coach tour and just have time for the tick list sights of the Doge's palace, San Marco Cathedral, climb the campenile and then a quick gondola tour or foray to the Rialto Bridge. I'm not saying it's not possible to find a good restaurant in this area, but you are just as likely to stumble into one with a multi-lingual menu designed to service tourists only.
Better to venture into the less touristy districts such as Cannaregio, Arsenale or Dorsoduro where you will find more authentic wine bars and restaurants. The area around the Rialto market is good and has a number of good bacari (wine bars) plus it's a feast for the eyes. Arrive in the morning when the fish is on sale to see the market in full flow; by lunchtime the market is winding down and stalls are packing up, although the fruit and veg stalls will be there for a little longer.
What to eat in Venice
If you're not sure what to order we found that it was difficult to go wrong with a seafood pasta or pizza. It's not terribly adventurous but tends to be the least expensive things on the menu if you're on a budget. Local specialities to look out for are linguine alle vongole, the hot antipasti of mussels and clams and a risotto with black squid ink. The meat dishes that we eat at home such as lasagne and ravioli we found were disappointing.
If you are offered fresh fish, it may be priced by weight and you should take care to establish the cost in advance or you may find yourself landed with an unexpectedly large bill. This is a bit of a scam in the San Marco tourist restaurants where a big show is made of a whole fish cooked in salt which you discover later has a hefty price tag.
Other things to check are the cover charge which may add a few euros per person and a service charge which may be added on to the bill. Of course if you'd like to have that coffee at Florian in St Mark's Square while listening to the musicians, you should do so knowing that it has a tourist price tag (the prices are clearly shown on the menu outside). Venice is a great place to try local Italian wines by the glass in a side-street wine bar and in the early evening you can join the locals in a bright orange Aperol Spritz, a Bellini or a glass of Prosecco.
Eat standing up
A custom that takes us Brits by surprise, but is quite the done thing, is to stand up or perch on a bar stool while having a drink and a snack with friends. Don't be put off in the wine bars if there are only a few small tables and you have to rest your drink on a shelf along the wall. This is where you can order cicchetti, or small bar snacks which range from miniature sandwiches to dishes of salad and cold seafood. The ideas is to order a glass of wine and point at whatever dish looks tempting, then stay for another or move on to the next bar.
The stand up principle also applies to gelateria. Look for those that are artizan, which indicates the gelato is made on the premises, where you will often find a few small tables or stool to sit inside. The same stand-up approach can also apply at the Pasticceria where you can grab a coffee at the bar with a sweet pastry or cake. Generally eating or drinking standing up means that the price is cheaper since table service is not required.
Eat Venice food app
Before I visited Venice I downloaded the Eat Venice app onto my phone in the hope that I could find some more authentic places to eat. The app is by Elizabeth Minchelli whose blog about Italian food is also a great source of information about eating in Venice. I loved reading about all the great places to eat on this app but found that once we were there we invariably couldn't find them or were too hungry to hunt around.
It's certainly worth using the app to find out good food places in your neighbourhood, but don't get too worried if you don't find them, it's better to use your eyes to judge whether a place looks authentic. If it's busy, packed, full of Italians chatting with their friends, then it's worth waiting for a table.
Self catering in Venice
While there are plenty of apartments in Venice and indeed we stayed in one of them, although it seems to be a bit sad to always be eating in when you are in the midst of a living postcard. There are a few supermarkets in Venice but not really the convenience stores that you find in other cities. The culture is to eat out in a bar or restaurant and picnics are discouraged, in fact there seems to be a rule that they are not allowed. Still an apartment does mean you have the flexibility to make yourself the breakfast or lunch that you want, while perhaps eating out in the evening.
Food Tours in Venice
Another great way to get the feel of the local food culture is to take a food tour like the Rialto Market and Cicchetti wine bar tour with Walks of Italy. This tour takes you around the Rialto fish market and into the artizan food shops with a stop at three different local bars to taste the cicchetti as well as restaurant recommendations from the local guide. I wish that we had been able to take this tour as I feel sure that our food experience in Venice would have been improved had we been armed with some insider knowledge.
Pin It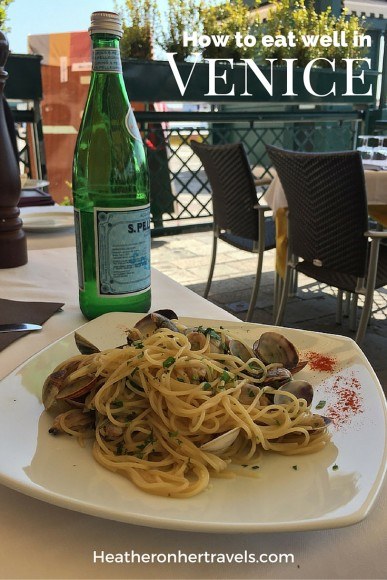 Some more Venice recommendations
The Go with Oh apartment we stayed in was one that I won through Murissa's blog at The Wanderful Traveller in the Passports with Purpose fundraiser. Murissa knows Venice well and kindly made me some recommendations of where to eat in Venice;
Hilton Molino Stucky Venice
If you don't mind your kids drinking a bit of prossecco and toasting to what an amazing city you've all traveled to then head up to the top of this hotel. There is a bar that has a picturesque pool and overlooks the entire city of Venice. Take the Zattere water bus stop over to Stucky.
Osteria Enoteca ai Artisti
You'll find this recommendation in your Eat Venice app. Delicious and not too pricey food in a quaint location not far from where we stayed. http://www.enotecaartisti.com
Al Mercà (Rialto market area)
One of my favourite cicchetti bars – cheap and amazing sandwiches (the prosciutto is my favourite!), delicious prossecco, and a view of the hustle of the market/canal. Standing room only.
All'Arco (Rialto market area)
Family run cicchetti bar where you can eat local foods for very cheap. Cicchetti are Venetian snacks for cheap and have been served for hundreds of years. I personally love the deep fried mozzarella with fresh sardines but stuffed zucchinni flowers are divine as well. Good for lunch – mostly standing room only when you visit cicchetti bars.
Do Spade (Rialto Market area)
Where Casanova frequented in the mid 1700s. Delicious cicchetti, wine and beer. Locals and tourists alike. Just go up to the counter order and find a spot. Not far from the Rialto Bridge/Market.
Book a tour of Venice
We highly recommend Walks of Italy who offer a number of different tours in  Venice and other parts of Italy, which are ideal if you are only visiting for a short time. You'll have an expert local guide to show you around and can often skip the queues at key sites. We took the 2 hour Venice Boat Tour which took us down the Grand Canal and many of the smaller canals with views of the key sites of Venice including a visit to the island of San Giorgio Maggiore where we climbed the bell tower with amazing views of Venice. Read my review of the Walks of Italy Boat Tour here.
Where to stay in Venice
For our 3 day stay in Venice I rented an apartment with Go with Oh and was able to use the €250 voucher that I won with Passports with Purpose blogger fundraiser. We chose this apartment in the San Marco district since it was so well located for all the main sites.
Thanks to Murissa from The Wonderful Traveller who hosted this prize contributed by Go with Oh and and for her tips on what to see in Venice. Passports with Purpose is a really worthwhile organisation which supports a different cause each year and you can win some really fabulous prizes so it's definitely participating.
This article is originally published at Heatheronhertravels.com – Read the original article here
You'll also find our sister blog with tips on how to build a successful travel blog at My Blogging Journey