Join us on a Mediterranean cruise taking in seven wonderful destinations – Barcelona, Genoa, Malaga, Cadiz, Lisbon, Gibraltar and Alicante. Each city has much to offer, but if you'd like to explore some lesser known corners, as well as some well known highlights, here are some ideas for the places you might visit.
Barcelona
Barcelona is Spain's second largest city and the capital of the Catalonia region. One of its most famous landmarks is Antoni Gaudi's unfinished church of the Sagrada Familia, which has been under construction since 1882, with a planned completion date of 2026.
To get  away from the tourist-orientated areas of the city, explore the district of Raval, whose maze of streets offer fashionable and unique shops.
Genoa
Genoa is an historical Italian city and the birthplace of Christopher Columbus, the explorer who discovered the Americas. The home where he was allegedly born is in an area known as the Piazza De Ferrari, where the Teatro Carlo Felice Opera and Palace of the Doges is also located.
To search out a tasty treat, explore Recco to the east of Genoa, the birthplace of cheese focaccia, where cheap and delicious focaccia bread is served on the seafront.
Malaga
Malaga is in the Spanish region of Andalusia and enjoys a subtropical climate. It is one of the oldest cities in the world and is surrounded by mountains to the north, the harbour to the south and two rivers, the Guadalmedina and the Gualdhorce.
For a view over the city try the Alcazaba, a Moorish fortress that enjoys wonderful views of the Plaza de Toros and the port. Perfect for lazy afternoons when other attractions may be closed.
Cadiz
Cadiz is a seaport to the south of Spain and has been the main homeport of the Spanish navy since the 18th century. Commonly known as Casco Antiguo (Old City), it is many narrow streets, which connect a number of stunning plazas.
For a break from city sightseeing seek out the Donana National Park to the north of the province, the largest Natural Park in Spain and home to a range of wildlife.
Lisbon
Lisbon is the capital of Portugal and the most populated city in the country. The most popular area for shopping, entertainment and nightlife is Bairro Alto, where Portugal's national song Fado, can still be enjoyed. The monument Cristo Rei overlooks the whole city and resembles the Corcovado monument in Rio de Janeiro.
Off the beaten track , you'll find Museu Calouste Gulbenkian, home to an esteemed art collection and surrounded by serene and beautiful gardens.
Gibraltar
Gibraltar lies at the entrance to the Mediterranean and is an overseas British controlled territory at the end of the Iberian peninsular. Its famous landmark is the Rock of Gibraltar with its upper area covered by a nature reserve, which is home to over 200 Barbary Macaques, the only wild monkeys found in Europe.
For a different perspective, the World War II Seige and St Michaels Cave's are popular with tourists, but enquire at the Rock Hotel about ways to see more of the tunnels.
Alicante
Alicante is an historic Mediterranean port that is overlooked by the Castle of Santa Barbara, which sits on Mount Benacantil. The Explanada de Esparia is a tree-lined promenade where concerts often take place and the El Palmeral Park is a great place to relax by the lakes, enjoy a picnic or take a stroll.
To escape the bustle, the Old City has some stunning architecture, 'Spanish colonial' style buildings and streets that are generally quiet.
My thanks for this article to www.Travel247.ie, an Irish owned tour operator that specialises in Mediterranean Cruises and package holidays globally.
Photo Credits: Sagrada Familia in Barcelona by Maradentro, Alcazaba in Malaga by Manuelfloresv, Museu Calouste Gulbenkian by Sheilaellen, St Michael's cave, Gibraltar by Mouseshadows
This article is originally published at Heatheronhertravels.com – Read more travel articles at Travel Blog Home
You'll also find our sister blog with tips on how to build a successful travel blog at My Blogging Journey
Don't miss out – subscribe to Heather on her travels
December 12, 2010 by Heather Cowper
Filed under Caribbean, Europe, India, Leisure, Lisbon, Misc, Northern Ireland, Passports with Purpose, Portugal, St Lucia, Travel products, United Kingdom, World, World Issues
I'm a supporter of Passports with Purpose, the Travel Blogger's annual fundraiser and I've just made my personal choices from the fabulous array of prizes, in the nick of time. The chance to win prizes closes tomorrow although you can continue to donate to help build the village in India through this year's chosen charity, Friends of LAFTI. Here's what I've personally put my bids in for – if you read this in time, head over quick to Passports with Purpose before tomorrow and put in yours.
The prizes I'm hoping to win are;
Apple iPad 16 GB Wi-Fi + 3G
from Andy Murdock at seekingb.blogspot.com
Why?
Well, any shiny new Apple toy is obviously extremely desirable and I also think it's good sport of Andy to give up the prize that he won in a competition for this good cause. Also the Winnie the Pooh ebook must be a big bonus although removing the Tie me Kangaroo down sport MP3 is a bit hasty – not everyone is bored with kangaroos and I'm sure it would give my kids endless amusement. If I win this I'll probably take it on shorter trips when I need to have internet access rather than taking the laptop.
8 GB iPod Nano
from Anil Polat at Foxnomad.com
Why?
Again the shiny new Apple toy rule applies and as a lover of podcasts this little baby will be just the thing for listening to all my faves such as Amateur Traveler, This week in travel, Betty in the sky and Raising Miro. If you happen to win it instead of me, do download some of my Heather on her travels podcasts to enjoy, such as my latest interview with Beth Whitman about Papua New Guinea.
3G Wi-Fi Amazon Kindle
from Lisa and Tim Bergren at theworldiscalling.com
Why?
If I don't get the ipad then I'll settle for a Kindle to play with. If my husband is really nice to me and doesn't nag me about the  amount of time I spend on my laptop, he might even find it in his Christmas stocking.Or perhaps I'll be that girl in the deckchair relaxing on the beach with a Kindle in my hand one of these days that I give up the blogging.
$100 gift card to spend on a Mr & Mrs Smith Hotels
from Mr & Mrs Smith blog
Why?
Because I love staying in Mr & Mrs Smith hotels and have even been known to write the odd review or guest post for them myself. I know that any boutique hotel that they recommend will be just the sort of stylish, welcoming place that you always hope to find and that I'll always get the best available price at the time if I book through them. If you don't believe me, read what I said about these lovelies in their portfolio; The cosy Avenue Hotel in Copenhagen, the country house chic of Fawsley Hall in Northamptonshire or the modern luxe of Avenue Liberdade in Lisbon.
$800 to spend on a HomeAway Holiday Rental property
from HomeAway and Lara Dunston at Grantourismo
Why?
Because I love the flexibility of this prize, to book a holiday stay anywhere I like to enjoy with my family, and I love the idea of finding a home from home somewhere where I can soak up the local colour and feel part of the neighbourhood. I met up with  Lara and Terry at the start of their year long Grantourismo project to travel the world, staying in HomeAway properties and writing about their experiences and you can listen to my podcast interview with Lara Dunston here.
Three Night Stay at Luxury Hotel Tiara Park Atlantic Lisbon
from Matt Long at Landlopers.com
Why?
Because I fell in love with Lisbon when I visited with my husband in November 2009 and the 2 days we spent there just weren't enough. I can jump on a plane from Bristol and be settling into the rather sleek Tiara Park Atlantic that is part of Kiwi collection, another hotel site that I trust to find me impeccably luxurious hotels such as the Mandarin Oriental, Hyde Park in London that I reviewed for them.
A Four-Night City and Country Getaway in Ireland
from Corey Taratuta at Irishfireside.com
Why?
Because I've only once been to Ireland and I remember the unspoilt countryside and windswept charm and because we have friends there that are overdue a visit and because I can easily get there from Bristol courtesy of the charming Mr O'Leary, a man who does not lack the gift of the gab.
A 3 night luxury spa break for two at LeSPORT hotel in St Lucia though the Explorateur
from Jool Stone of Trainsonthebrain.com
Why?
Because my parents have been spending their last few Januaries in St Lucia and love the island, and as I've never been to the Caribbean the island is firmly on my wish list. As I find the grey days of January and February rather dreary, I could do with a bit of sunshine with my husband
If none of these tempt you, get over to Passports with Passport in the next 24 hrs and see what other goodies are on offer – if you're too late, there's always next year….
Read more Indian stories
Exploring the 'Abode of snow' in the Indian Himalayas
Friday photo – my Indian sponsor child
This article is originally published at Heatheronhertravels.com – Read more travel articles at Travel Blog Home
You'll also find our sister blog with tips on how to build a successful travel blog at My Blogging Journey
Don't miss out – subscribe to Heather on her travels
In November last year, I visited Lisbon for the second time, staying at the gorgeous Hotel Heritage Av Liberdade. The first time was as a child on one of my family trips around Europe, but there was no such luxury on that occasion as we we camped every summer on a modest budget.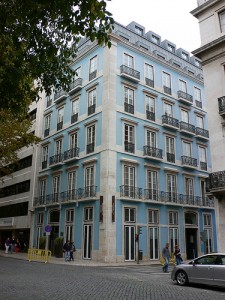 My mother reminds me that we all had our photos taken in front of what must be the most recognisable sculpture in Portugal at the Padrão dos Descobrimentos or Monument to the Discoveries at Belem and I'm sure that we must have tasted at least one of those delicious Pasteis de Nata custard tarts. I'm pleased that my children occasionally get a taste of staying in a nice hotel, combined with the odd camping trip, apartment or hostels to give them a broad experience of travel in all its forms.
I'll tell you up front that I was there at the invitation of Mr & Mrs Smith to write a review for their boutique hotel site – but this is one hotel that it was pure pleasure to write about. My first impressions were coloured by the fact that in late autumn, the Christmas lights were up and we were in a festive mood – and so that washed out turquoise frontage just made me think of those distinctive Tiffany gift boxes with some delectable piece of jewellery inside. Indeed a similar building along the road had Christmas lights in the shape of ribbons wrapped around it!
As we entered the front door, we stepped down from street level in to a warm and welcoming space, decorated in spicy colours of cinamon and saffron into a stylish, modern scene but one with a nod to the old traditions of Lisbon with the blue and white Azulejo tiles on the wall. The tables and flooring were in dark wood with an Eastern feel as if inspired by the travels of the great Portuguese explorers like Vasco da Gama who established trade routes to Mozambique and Kerala. Just inside the door was an old herbalist's counter, taken from a shop down the backstreets of Lisbon, now with tins of loose speciality teas from which you could make your choice to brew up something delicious and fragrant.
The hotel is full of interesting individual touches – the lift that's paved with the same black and white stone mosaic that you find on the boulevard outside, the huge photo-realistic Narnia-esque picture in the lobby with bright blue turrets and waterfalls, and the complimentary glass of port you're offered on arrival. The hotel's large downstairs bar area is perfect for lounging around although there's no restaurant, which you may find no hardship, as Lisbon is packed with interesting choices to eat. In the backstreets just down the road, we enjoyed our first evening at the Casa do Alentejo with hearty traditional cooking surrounded by more blue and white tiles and up in Chiado I'll recommend the beer and seafood at Cervejaria Trinidade on the site of the oldest brewery in Lisbon.
And so we took the lift up to our 5th floor room, reading the snippets of poetry about Lisbon and along the dimly lit corridor to our room on the corner of the hotel looking over the teracotta rooftops with a distant view of the Castelo de Sao Jorge on the hill. The room was modern with luxurious caramel tones of silks and velvets, a leather chaise longue and mirrored wardrobes. The bathroom was traditional in style incorporating more of the Portuguese painted tiles as well plenty of fluffy monogrammed towels. It was a lovely room (No 54 if you must know) from which to soak up the charm of old Lisbon, watch the elevador furnicular slowly chug up the steep hill and be woken by the church bells from the dome behind the hotel.
We spent our Saturday in Lisbon taking in the major sites, jumping on and off trams, admiring the carved stonework in the Monasterio de Jeronimus and having afternoon tea Portuguese style below the Castelo de Sao Jorge with our new Hospitality club friends, Sergio and Marco. The hotel is perfectly placed for sightseeing in the flat downtown area from which you can stroll either down through elegant squares to the waterfront or up the steep hills to the Castelo or to the trendy Chiado district and the nightlife of the Bairro Alto with narrow streets packed with bars and restaurants. On Sunday morning, wanting to enjoy everything the hotel could possibly offer (for review purposes of course) we took a dip in the small pool in the basement, overlooked by a mural of Sepia bathing beauties from the 1920s, then lounged around on the day beds.
I'd recommend the Hotel Heritage Av Liberdade for it's warm and welcoming atmosphere, extremely friendly staff and stylish interiors with an appreciation of the charm and heritage of Lisbon reworked for modern tastes. It's perfect for a short but relaxing break in Lisbon, and ideally located to venture out and enjoy the best of the city. Rooms are from €185-€325.
I received a complimentary stay at Hotel Heritage Liberdade, Lisbon, in order to write a review for Mr & Mrs Smith Hotels – read my review here.
Lisbon Resources
Other Lisbon articles to enjoy
Getting around in Lisbon
An autumn weekend in Lisbon – podcast
An authentic Portuguese meal at Casa do Alentejo in Lisbon

Read more travel articles at Travel Blog Home
Don't miss out – subscribe to Heather on her travels