May 12, 2016 by Heather Cowper
Filed under Europe, Accommodation, Leisure, video, featured, Costa Brava, Eating and drinking, Gardens, Self-catering, Spain
"I could lie here and look at those mountains for hours" said Guy, as he sank into the easy chair in the corner of our bedroom. From Mas Gorral, our villa in Costa Brava, we could look over the countryside to the Pyrenees, the rising sun lighting up the teracotta rooftiles and the mellow stone of the farmhouses in the distance. The small town of Pontos lay below us, with birds chirping and a view of the pine forest where we never did manage to go for a walk. These are the memories that you bring back from a holiday and turn over in your mind when it's raining in Bristol!
We were staying at Mas Gorral through Charming Villas Catalonia, a company that specialises in luxury villas that are full of character, in the Costa Brava region of Catalunya. Richard and Sara who run the company are based nearby in Besalu and give the villas a personal touch, helping you choose the villa that suits your needs and are on hand to sort out any issues that arise.
I hope you enjoy the video below about Mas Gorral with Charming Villas Catalonia
If you can't see the video above about our villa in Catalonia see it on my blog here or Youtube here and please do subscribe using the button above
Click here for direct download of video
Subscribe to all my videos in I-tunes
Rustic Chic in our Costa Brava Villa
Our five bedroom villa, Mas Gorral was an old rambling farmhouse that easily accommodated our party of nine, made up of our family as well as Guy's sister and family. I enjoyed imagining the history of this place, how rooms had been added to over the years, to suit the needs and ambitions of various owners. With everything built of local stone, bound together by ochre mortar, teracotta roof tiles and green creepers clothing the walls, it was difficult to tell what was original and what was modern.
Inside the theme was rustic chic, with mottled plaster walls left natural in places, in others painted creams and yellows. Exposed beams held up the ceiling with stone sinks in the kitchen and three bathrooms. Every room was huge, with imposing antique armoires and chests of drawers to match the scale of the house.
Quirky artwork and furnishings
From the eclectic furnishings I imagined that the owners had travelled far and wide; a black Chinese laquer cupboard, a carved Asian wooden chest and a large leather topped desk that wouldn't be out of place in an English gentleman's library. The quirky feel continued in the bold, colourful artworks – verging on the surreal, and inspired perhaps by Salvador Dali who was born just down the road in Figueres.
On the landing a larger-than-life lady in an aviator's helmet, surrounded by startled cherubs; is she kissing one of them or trying eat it? The long legs of a woman diving into a hat were propped near the kitchen and in the dining room we are greeted by the back of a reclining woman with ripples of creamy flesh.
A bracing swim in the pool
On the green lawn below the house, our swimming pool overlooked the valley and the forest. Being from England we are determined to make the most of every ray of sunshine and the girls were dressed as if for the hottest of August days in skimpy tops, loose flowing skirts and strappy sandals. They lay on the sunloungers ignoring the tramontana wind but after a while were forced to retreat to a more sheltered spot on the upper terrace.
We gathered around the pool daring each other to go in. A toe dipped in the water told us it was not going to be warm, it was April after all!  My son took a plunge and dive bombed in, splashing everyone else. Then the girls followed, surfacing from the cold water, eyes wide with the shock. A brisk couple of lengths and they ran back inside for a hot shower!
Lunch on the sunny terrace
In the entrance hall hung a row of straw hats, waiting to be borrowed for a snooze in the sun or a walk around the garden. Although it was only April, the sun shone for us and we took full advantage of the warmth for lunches al fresco on the sheltered terrace. Feeling the sun on your back in the springtime when there's still blossom on the fruit trees and wildflowers in the fields is one of the pleasures of being in Costa Brava.
After a day of walking the town walls in Girona, a seaside jaunt to Cadaques or a Dali inspired visit to Figueres we'd return to Mas Gorral to loll around on the white cotton sofas in the barn-like sitting room. Our hire car from Auto Europe was despatched to the local supermarket to return with mountains of food and all the cousins decided what we would eat and cooked it together.
Time for dinner at the long table
Later books would be cleared from the long wooden table where the girls had been working on university assignments and the table was laid for dinner. During the day we'd tried the local specialities; dreamy ice cream from Rocambolesc in Girona, seafood tapas and local wine at Enoteca MF in Cadaques. But in the evening we'd fall back on our home-cooked favourites, chicken kebabs barbecued on the terrace or mountains of meatballs and pasta.
On our last evening, however we took inspiration from the staff at Enoteca MF in Cadaques who we saw peeling a huge pile of red shrimps which were pulverised to make a shrimp carpaccio. In our version it was seafood linguine but the cousins pitched in to peel all the prawns from the supermarket.
Wine and cards in front of the fire
After a candle-lit dinner around the huge table, the fire was lit to take away the evening chill and we sat around playing cards and drinking local wine. The house became a backdrop for family conversations, catching up on news, planning bright futures. The card games were fircely contested, but at the end it's not about the winning or losing but about the time we spend together. With our children flying the nest to carve their own paths in the world, these memories of time spent together become ever more precious.
All too soon it was time to leave our lovely villa at Mas Gorral. The views over the garden are still there, the teracotta roofs of Pontas below the house and the snow capped Pyrenees in the distance, waiting for the next guest.
As we reluctantly handed back the keys to Richard and drove to the airport past fields of yellow rapeseed scattered with poppies, the sun on the terrace was still warm in our memory. We'd had a chance to catch up, to cook together and splash in the pool. We'd recharged and soaked up the sunshine and made some memories to take home. Isn't that what holidays are all about?
Have you any favourite holidays memories of spending time with your family? I'd love to hear them in the comments.
More memories from Costa Brava
A driving tour of Costa Brava – Girona, Figueres and the Dali triangle
Lloret de Mar – sun, sea and so much more…
Val de Nuria – a Sunday stroll in the Pyrenees
Plan your stay in Costa Brava
Thanks to Charming Villas Catalonia for providing our villa Mas Gorral near Figueres. Charming Villas specialise in luxury and character villas in Catalonia from rustic villas in the countryside to modern coastal villas. They have over 80 villas to choose from and as Richard and Sara who run the company are based locally they are able to help with planning your holiday and on hand to sort out any issues.
Mas Gorral has 5 double bedrooms, 3 bathrooms, plenty of living space, a terrace, large garden and swimming pool. You can rent Mas Gorral through Charming Villas with rental rates starting in May at €2500 per week, rising to €3750 per week in high season. As Mas Gorral is in a rural location, we recommend that you hire a car to get around.
Book Mas Gorral through Charming Villas and follow them on Instagram | Facebook | Twitter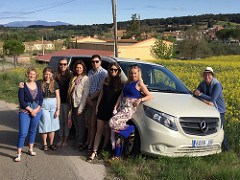 Thanks to Auto Europe for providing our hire car for exploring Costa Brava. Auto Europe work with 20,000 car rental locations in 180 countries in Europe, Asia, Africa, Australia, as well as North and South America.
For more information to plan your holiday in Costa Brava, visit the Costa Brava Tourism Website and the Catalunya Tourism Website.
Pin It
This article is originally published at Heatheronhertravels.com – Read the original article here
April 15, 2016 by Heather Cowper
Filed under Europe, Leisure, video, featured, Art and design, Costa Brava, Museums, Nature, Sightseeing, Spain
Ah, Costa Brava – fresh green wheat fields, yellow rapeseed edged with poppies and views over the olive trees to the snow capped Pyrenees in the distance. These are the memories that we brought home from our recent short break, staying in a rustic luxury villa with our hire car to explore a new place each day.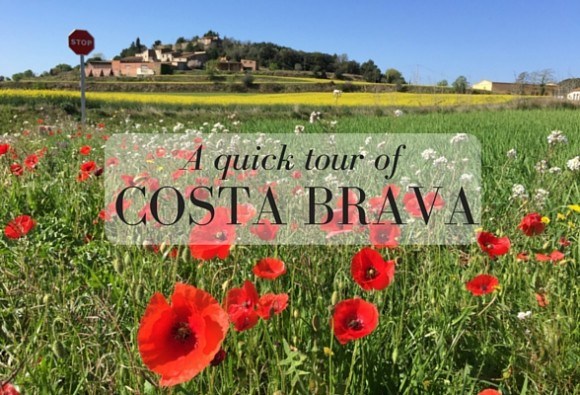 Visiting pretty, painted Girona
Our first day was spent in Girona, the regional capital of Costa Brava. I'd visited a couple of times before and was looking forward to showing it to the family. (Read about my last visit to Lloret de Mar) Girona has a similar feel to its big sister Barcelona, but without the crowds of tourists and dare I say a more authentic Catalan flavour (we don't talk about Spain here). There's modern shopping if you want it, but I prefer to just wander around the old streets that surround the cathedral, stopping here and there for some people-watching on a café terrace. If you want the postcard shot of Girona, cross the bridge and walk along for a view of the coloured houses that overlook the river.
Lunch on the terrace at Konig
Our lunchtime spot was Konig (Carrer dels Calderers, 16), a well placed café below the Basilica de Sant Feliu with a large terrace overlooking the river where we could bask in the sunshine. They serve good quality local dishes, salads and pasta – nothing too gourmet, but tasty and not too expensive if you are feeding a large group of hungry offspring.
Is this the best gelato in the world?
For desert we fancied an ice cream so I led the troops across the river (admiring pretty painted houses), through the Plaça de la Independència and down the small street to find Rocambolesc (Carrer de Santa Clara, 50). Of course, I knew the gelato would be great, since it is run by the Roca brothers of El Celler de Can Roca fame, a.k.a The best restaurant in the world if you believe these highly prized lists.
The six flavours of ice cream change with the season and come out of the machine in a piped swirl, Mr Whippy style. If you think that six choices may not be enough, even if they include coconut and violet, just look at the endless selection of toppings! The lady who served us reeled off her topping recommendations in just the same way as they recite the dishes when they serve you in Michelin star restaurants. I knew then that we were on to a good thing.
Pastries that ooze with cream at Casa Moner
Right across the street we were tempted into Casa Moner (Carrer de Santa Clara, 45), a local bakery chain that serves artizan breads and pastries. I bought one of their Xuixo signature pastries, a rolly-polly doughnut filled with custard cream, the kind that oozes out the sides and drips down your chin when you take a bite. Beyond the narrow shopfront there was a sizeable cafe area at the back where you could sit to enjoy all the cakes, but sadly that would have to wait for another day.
A trendy cycle cafe at Fabrica
Crossing over the red metal lattice of the Eiffel bridge (made by Gustave Eiffel a few years before he even thought of that tower in Paris) we headed back into the old town, having spotted on the map the old walls that encircle half of Girona. We hoped to find some steps to get up onto the path that leads along the top, but it took a coffee stop at the trendy cycle café, La Fábrica (Carrer de la Llebre, 3) to get directions to the start of the wall.
Walking the walls of Girona
Once up at the top, the path was an easy walk giving us views over the rooftops. We could effortlessly peep into windows below us and snoop on gardens and terraces. The path ran from one end of the old town to the other, with towers along the way where you could climb up for even more expansive views. We walked around 30 minutes to get from one end of the wall to the other and ended up behind the cathedral so I popped in to have a look around.
Majestic Girona Catheral
The cathedral was majestic and tranquil, with towering stone pillars and stained glass lit up by the sun. Photographs were not allowed inside and although many people had their mobile phones out I decided to respect that. Instead I'll give you a shot of the cathedral cloister which I visited on my way out.
Staying at Mas Gorral with Charming Villas
I think it's time to tell you something about our villa which was kindly provided by Charming Villas Catalonia. Set in the countryside a short drive from Figures, we were blown away by Mas Gorral. It's an old farmhouse that has obviously been added to over the years although all in such authentic style that it's difficult to tell what is centuries old and what is new.
The villa was set on the hillside so we had views over the countryside towards the snow capped Pyrenees and over the nearby village of Pontos, all terracotta roofs and narrow streets that you could just about get a car through.
Inside we had 5 spacious bedrooms with 3 bathrooms between us and a huge dining room and living room that featured natural stonework, colourful walls and antique furnishings. Local painted pottery mixed with Asian pieces, perhaps inspired by the owner's travels. With quirky artworks, well kept gardens and a (bracingly fresh) pool this was the perfect place for our two families to share.
Book Mas Gorral through Charming Villas and follow them on Instagram | Facebook | Twitter
The Dali Theatre-Museum at Figueres
When in Costa Brava there's no escaping that giant of 20th Century art, Salvador Dalí who was born just down the road from our villa at Figures. As we drove the hire car into town and circled to find parking I have to admit that Figueres looked unremarkable. We walked towards the red towers topped with white eggs of the museum and luckily got inside just before waves of French school children began to arrive.
The museum was created over 10 years in the old municipal theatre and was Dali's personal project.  He called in his artworks from all over the world and added art installations specially for the museum.
Entering the first couryard that would have been the theatre auditorium we found the Rainy Cadillac topped with a huge breasted and bellied goddess figure. Gold statues like Oscar awards looked down from the walls and a fishing boat was stranded at the top of a column of Michelin tyres – I saw those again at Dali's house in Port Lligat. On the stage was another artwork the size of a cinema screen and in the niche to one side a nude figure of Dali's wife Gala with her back turned – except when you cross your eyes or look at it through your camera you realise that it's a portrait of Abraham Lincoln.
The whole museum was packed full of artworks with that feeling of 'it's not quite what it seems'. I did buy the guidebook but didn't read it until afterwards so it was an enjoyable game to just wander through the rooms, absorbing the impression without overthinking the meaning. At the end of the day it seems to be a projection of Dali's rich subconsciousness and dreamworld.
Once you have left the main museum, there is the jewellery collection which is included in the same entrance ticket, full of most gorgeous bling. I coveted the ruby lips with pearl teeth and the red ruby heart brooch that has a mechanism inside so it literally beats.
Gala's Castle at Pubol
After the Dali museum we decided there wasn't an awful lot more to see in Figueres so we drove back to the villa where the rest of the crew decided to have a relaxing afternoon. Guy and I (OK it was mainly me) wanted a bit more of the Dali fix and so we drove south towards Girona to visit the Castle at Púbol that Dali gave to his wife Gala. It really was a beautiful drive on country roads with little traffic and only the occasional mishap when we inadvertantly drove through one of those old villages where the houses close in and the lanes became so narrow that you worry for your wing mirrors.
This fortified country house or castel was a gift that Dali had promised Gala years before, a place that she could come on her own and relax, where even her husband would have to request written permission to visit her (or so the story goes). Once the museum at Figures was nearly complete the couple were able to start work on the renovations for their new project which was designed to suit Gala's taste with some of Dali's surreal art such as the cupboard painted with radiators to disguise the real radiators.
The decoration here was luxurious but the overall effect simpler than the house we would see the next day at Port Lligat where the same amount of furniture was squashed into half the space. This was much more Gala's retreat where she would come for a few weeks at a time to relax away from all the showmanshop that surrounded her husband.
Gala was an clearly an elegant woman, her hair swept back into a girlish style, which was pinned with a large black velvet bow. Since I used to work in fashion, I loved looking at Gala's dresses on display upstairs from the 50s and 60s, purchased from designers such as Pierre Cardin and Elsa Schiaparelli. Her dresses show her loved colour, luxurious fabrics and the subtle sparkle of lurex.
Driving tips for Costa Brava with Auto Europe
If you are staying in a villa as we were and want to see something of Costa Brava, you really need a hire car and ours was kindly provided by Auto Europe. The pickup and drop off at Girona airport was painless and we found that the roads easy to navigate, with much less traffic than we are used to in the overcrowded UK. It really made the driving a pleasure to pass fields full of wildflowers and yellow rapeseed edged with poppies. Of course in the high summer by the coast it might get a bit crazy, but away from the coast I suspect that even in high season these country roads are an easy drive.
The only thing I would advise with a hire car is to avoid the centre of older towns and village centres that were not really made for cars. In Girona or Cadaques, we found that when you get close to the centre it's best to park in the first public car park you see and walk into the old centre. Beware also of the small country villages which normally have a route that goes around them as well as a road that goes through them. The streets can be incredibly narrow, as we found out accidentally on a couple of occasions, so drive around if you can. You can check out my driving tips for Costa Brava in the video below.
The wild Costa Brava at Cadaques
Our final day was blessed with glorious sunshine at Cadaques, an old fishing town that's now quite a tourist hotspot on the wild and rocky Cap de Creus. You drive on a winding road that snakes up through the unspoiled natural park, and brings you down the other side to Cadaques.
Parking the hire car in the first main car park we saw as we came into town was the right decision as there was little space to pass in the smaller roads close to the beach. We walked around the seafront away from the busiest terrace restaurants and cafes and found a smaller place that had been recommended to me called Enoteca MF. It's the wine bar and tapas restaurant that's run by the same family that has a vineyard and winery set above Cadaques called Sa Perafita which you pass on the way into town.
They serve fabulous tapas with the seafood being especially fresh and delicious. We tried a bit of everything including a bottle or two of their Cava and a glass of the local Vermouth which is the fashionable drink of the moment in Catalunya. There was the pan tomat rubbed with tomato and garlic, a plate of local cheeses, red tuna sashimi and a salmon tartare topped with guacamole. We were impressed to see the staff peeling a huge bowl of pink shrimps which were then pulverised to make a shrimp carpaccio. It was enough to melt the heart of the most avid opponent of raw fish.
After lunch we walked up the lane beside the wine bar and in 10 minutes were overlooking the next bay at Port Lligat, a small fishing bay where Dali spent most of the time with his wife Gala. The house was created by knocking together a number of fishing huts and then extending them over the years. Because the individual rooms are so small you need to book timed tickets in advance (in April we were able to get them the day before).
Although there were not many large scale artworks here, Dali's vision was felt everywhere although the dried yellow 'everlasting' flowers were in almost every room, a favourite of Gala's. Dali's art studio was one of the largest spaces with light flooding in and an easel that could be moved up and down so that Dali could always paint sitting down on his chair.
We moved from room to room, up a few steps each time since the different cottages were on different levels and emerged on a lovely terrace, with whitewashed stonework, pots of flowering plants and olive trees providing shade. The surprise was that they'd cleverly fitted in a swimming pool on the terrace with a round section and narrow channel for swimming up and down.
Since not all of our group had visited the Dali house, we joined the rest enjoying a drink at the Es Raco d'en Dani Xiringuito at the other end of the beach – another offshoot of the Sa Perafita winery. There was plenty of seafood on the menu and although we stuck to the beers and coffee the waft of grilled octopus was mouthwatering.
Rather reluctantly we walked back over the headland to Cadaques and wandered around the artisan market where we bought olive bread and pastries from the Cas Mona stand that we had seen in Girona.
What a fabulous break we'd had but the next day it was time to return to Girona airport for our flight home. Still we managed a quick trip to the Sunday market at nearby Bascara to buy some salad and rotisserie chicken for lunch on the terrace.
As we basked in the warm sun I think we were all trying to soak it up and take a little piece of Costa Brava sunshine home with us.
Have you been to Costa Brava or Catalunya and if so, what did you enjoy?
Read more about Costa Brava
Lloret de Mar – sun, sea and so much more…
Val de Nuria – a Sunday stroll in the Pyrenees
Staying in the heart of old town Girona
Visitor Information for Costa Brava
Thanks to Charming Villas Catalonia for providing our villa Mas Gorral near Figueres. Charming Villas specialise in luxury and character villas in Catalonia from rustic villas in the countryside to modern coastal villas. They have over 80 villas to choose from and as Richard and his wife who run the company are based locally they are able to help with planning your holiday and on hand to sort out any issues.
Thanks to Auto Europe for providing our hire car for exploring Costa Brava. Auto Europe work with 20,000 car rental locations in 180 countries in Europe, Asia, Africa, Australia, as well as North and South America.
For more information to plan your holiday in Costa Brava, visit the Costa Brava Tourism Website and the Catalunya Tourism Website.
Pin It
This article is originally published at Heatheronhertravels.com – Read the original article here
December 28, 2015 by Heather Cowper
Filed under United Kingdom, Europe, World, Leisure, featured, Art and design, Brittany, Copenhagen, Costa Brava, Cruise, Denmark, Devon and Cornwall, Eating and drinking, France, Germany, Greece, Greece & Turkey Cruise, India, Italy, Luxembourg, Museums, Sightseeing, Spain, Venice, Walking, Zakynthos
We're in that lull between the feasting and celebration of Christmas and the fresh starts and new plans of New Year. It's the quiet time when we can reflect and review the year that's gone, the time to reminisce and consider what the year brought us: the adventures and challenges, the excitement of visiting new places, the holiday times we enjoyed with loved ones. Here's a look back to the travels I enjoyed in 2015.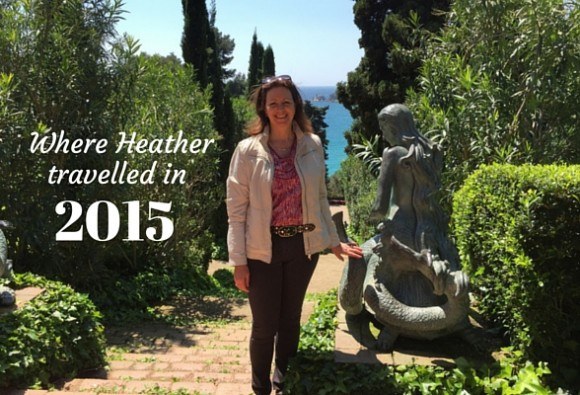 January – A cottage stay and fossil hunting in Devon and Dorset
We started the year with a weekend at Red Doors Farm in Devon through Premier Cottages, a collection of 500 year old thatched cottages, set around a cobbled farmyard. My teenage son and friends made good use of the indoor swimming pool and proved that you're never too old to feed the goats and chickens. We climbed up to the hill fort near the farm and enjoyed a bracing walk along the beach at Lyme Regis where we spotted fossils on the ammonite pavement that was revealed at low tide.
Read More: Fossil hunting and a weekend in the country at Red Doors Farm, Devon – video
February – A charity visit to India
In February I flew with Jet Airways to India for a week that was off the tourist map, although I spent a little time exploring Bangalore at the beginning and end of the trip. My purpose was to visit a local charity that I support in Andhra Pradesh and see some of the projects that we had funded. Together with one of the charity trustees I was treated to Bollywood style dances in all the local schools, had endless cups of teas with the nuns who ran them, cut the ribbon on a new water purification plant and presented a womens' tailoring class with their new sewing machines. It was a week that made me realise more than ever that when you give to those in need, you come away much richer from the experience.
Read More: 13 stories from my charity visit to India – going off the tourist trail
March – A weekend by the sea in St Mawes, Cornwall
We spent a weekend with friends at the magical Dreamcatchers house from St Mawes Retreats with a view over the Fal estuary in Cornwall. From the bedrooms we could see the tankers passing St Anthony's lighthouse and the St Mawes ferry heading for Falmouth. We'd stayed at another St Mawes Retreats house before (read my review of Stargazers here) so we knew that we could expect gorgeous Designers Guild fabrics and luxurious furnishings, with sea views to die for. This time we wandered around the harbour and took the St Mawes ferry across the estuary for a Cornish pasty and ale pub lunch in the quaint streets of Falmouth.
Read More: Sea views and springtime in St Mawes – our weekend in Cornwall
April – Venice with the family
I was lucky enought to win an apartment stay with Go with Oh through the Passports with Purpose fundraiser and decided to use it for a few days in Venice with my family. Although we visited a few tourist highlights like the Doge's Palace, we found that the neighbourhoods away from St Mark's square were much more enjoyable to wander around. We loved the modern art at the Peggy Guggenheim and saw Venice from the water on our boat tour with Walks of Italy when we climbed up the campenile of San Georgio Maggiore for views across the lagoon to San Marco. The only disappointment was the food, but hopefully you'll do better than me with my tips on How to not eat badly in Venice.
Read More: Join me on our Venice boat tour – with Walks of Italy
April – A weekend in Wiltshire and a sunrise visit to Stonehenge
I stayed at Sarum College inside the close of Salisbury Cathedral for the Social Travel Britain conference and part of the weekend included a walking tour of the cathedral, a private viewing of Magna Carta and a visit to Edward Heath's old residence of Arundells. The highlight, though, was a sunrise visit to Stonehenge during which we were allowed to walk within the stone circle. This access is only allowed on special guided tours and most tourists can't get up close to the stones, so it made the experience much more magical.
Read More: Sunrise at Stonehenge – inside the stone circle
May –  Lloret de Mar in Costa Brava, Spain
Lloret de Mar is one of those coastal resorts on the Costa Brava coast of Spain that was built up in the 1960s as one of the first places to welcome mass tourism from the UK. I was there as a speaker at the TBEX conference but took some time out to explore the town and discover its history. While the Lloret de Mar of recent years has gained a reputation for 20-somethings looking for nightlife and older couples seeking a retirement in the sun, I enjoyed walking around the older squares and along the rocky coast path on the edge of town.
In the Museu del Mar, I discovered the connections to Cuba where many locals sailed to make their fortunes, returning to build the grand mansions on the seafront. I tasted the Daiquiri cocktails, another import from Cuba and now the favoured drink of Lloret de Mar, and I loved the restful Santa Clothilde gardens, planted in Italian Renaissance style, overlooking the sea.
Read More: Lloret de Mar – sun, sea and so much more…
June – A weekend in Copenhagen with my daughter
I've visited Copenhagen many times and in June I returned with my daughter for the opening of  the Absalon Hotel which had been newly renovated in Designers Guild furnishings. I was able to interview Tricia Guild, Creative Director of Designers Guild who was there to open the hotel, as well as trying out new restaurants and cocktails with my daughter. We also spent a couple of nights up the coast at the gorgeous spa hotel, Kurhotel Skodsborg where we wafted around the pools and jumped off the jetty to cool off after our sauna.
Read More: Like mother, like daughter – what we loved on our trip to Copenhagen
June – Alpine Sports Week in Wilder Kaiser, Austria
I love being in the mountains in summer so I jumped at the chance when I was invited to try out some of the outdoor activities on offer during Alpine Sports Week in the Wilder Kaiser region of Austria. During this week different mountain sports are on offer, from high rope walking to canyoning, mountain-biking to Via Ferrata and all for the knockdown price of €99 for 5 days of activities with expert guides. It was the perfect opportunity to try something different, since I'm a keen hiker but was able to test myself with the mountain-biking and high wire climbing in the Hornpark tree forest.
Read More: Heather goes e-mountain-biking in Wilder Kaiser, Austria – video
July – A week with the family in Zakynthos, Greece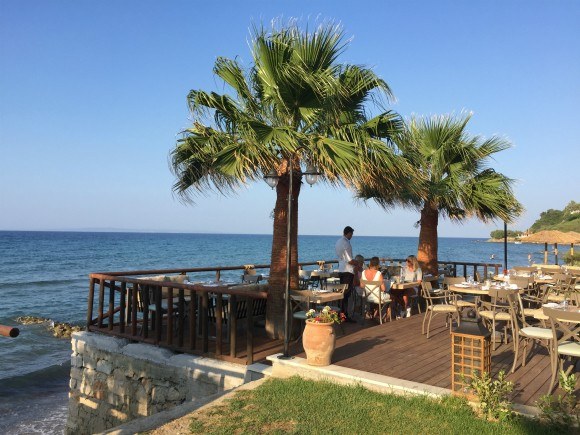 In July we made our annual visit to Zakynthos in Greece to visit my sister who runs two hotels there with her husband. We spent the week visiting different beaches, swimming, eating, sunbathing and catching up on family news. This summer my niece had returned to the island after training with a leading hotel group and had decided to get involved in the family business, opening a new Mediterranean restaurant in an idyllic setting by the sea. Anadalis, as it is called, is named after the old estate on which the hotel is built which once belonged to an aristocratic family with a house just a little way up the shore, but you'll have to read to article to find out why the locals thought the old ruined mansion was haunted. If you visit Zakynthos I highly recommend that you book a table for dinner as the sun goes down over the bay.
Read More: Anadalis – a Mediterranean restaurant by the sea in Zakynthos, Greece
August – Our Azamara Greek Island Cruise
Later in August we were back to the Greek islands again for a cruise with Azamara Club Cruises which took us from Athens to Santorini, Mykonos, Patmos, Kusadasi and finally to Istanbul where we ended our cruise. We absolutely loved the luxurious small ship cruise experience with Azamara Club Cruises where the spotlight is firmly on the destinations you visit, creating unique experiences like our magical evening concert among the ancient ruins of Ephesus as the sun went down.
Read More: Windy Mykonos – Day 2 of our Azamara Greek Island Cruise
September – A walking holiday in Austria with Headwater Holidays
September saw me back in Austria for a few days walking with Headwater Holidays who specialise in relaxing walking and cycling holidays. I was accompanied by my friend Julia for our annual walking trip which has become our tradition since we walked the Tour de Mont Blanc together. On the first day on the high slopes of the Gaistal valley I fell down a slope and hurt my ankle but using the Headwater walking guides we chose the less strenuous walks on subsequent days and enjoyed the rest of the holiday. We watched a rifleman's parade in Seefeld and walked along a Mental Power trail, walked through the wild Leutasch Gorge and round the lakes above the picturesque town of Mittenwald with its painted houses. Each day brought different mountain scenery and things to see, confirming my love of the mountains in summer.
Read More: Hiking in Austria – the views from the cross at Seefelder Spitze
September – A gourmet visit to Luxembourg
In September we spent a few days in Luxembourg, a city and tiny country that's full of surprises. While Luxembourg is known as a centre for international business, we found a charming and easily walkable city with great food, museums and a fascinating history, making it an ideal weekend break location. We also spent some time touring the Moselle wine region where the Moselle river forms the border with Germany, with many wineries to taste the delicious white wines the sparkling Cremant which was my favourite.
Read More: A gourmet walking tour of Luxembourg old town
November – The Christmas Markets of Heidelberg, Germany
At the end of November we spent a few day in Heidelberg, Germany to see the Christmas Markets and generally get into the festive spirit. We'd visited Heidelberg previously on a day trip from our Rhine River Cruise and were pleased that we could have more time to explore this picturesque and romantic town at our leisure. We took the river boat down to the Neurberg Abbey Christmas Market, climbed up to the castle, learned the history of the ancient university and student fraternities and ate plenty of hearty German food, delicious cakes and chocolates as well as drinking quite a few mugs of hot Glühwein.
Read More: A Food Lover's Guide to Heidelberg, Germany
December – A weekend in Le Havre, France
My final trip of this year was a hop over the channel to le Havre with Brittany Ferries to discover what this channel port would offer for a weekend break. Most Brits drive through Le Havre on their way to their holidays in France but I discovered that there are many fascinating things to see here that make it worth stopping to visit the city and surrounding area. The city was reconstructed after heavy bombing in WW2 and the architecture of the new town (now a UNESCO World Heritage site) represents the modern designs of the 1950s. We visited a 1950s show flat which would have been allocated to those who lost their own houses in the bombing, as well as a gorgeous 18th century ship owner's mansion. Another highlight was the MUMA modern art museum, a light and airy glass building with the largest collection of Impressionist paintings outside Paris, since painters such as Monet loved this part of the Normandy coast. I'll be writing about my weekend in Le Havre very soon so stay tuned.
Reviewing the year was a fun way to remind myself of all the fun I had on my travels in 2015. There's much more to come in 2016 and I wish you Happy Travels for the year to come.
Please note that many of the trips were hosted by the companies mentioned and you can find more details in the articles from each trip.
Pin It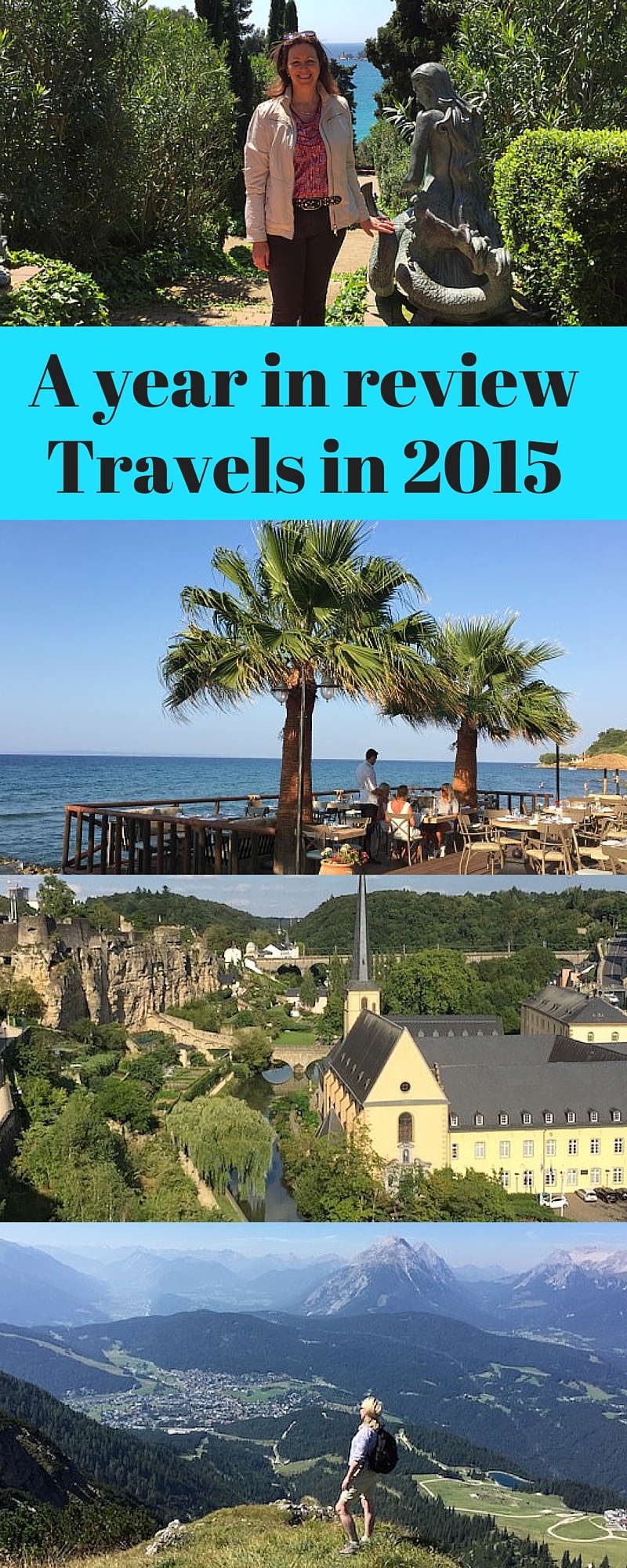 This article by Heather Cowper is originally published at Heatheronhertravels.com – Read the original article here
You'll also find our sister blog with tips on how to build a successful travel blog at My Blogging Journey