February 1, 2016 by Heather Cowper
Filed under Europe, Leisure, video, featured, Cruise, Eating and drinking, Greece, Greece & Turkey Cruise, Sightseeing, Turkey
Are you someone that loves to travel, exploring new destinations, discovering the local food and culture but doing so in luxury and style? Perhaps you thought that cruising was not for you: too many people, too many restrictions, not enough time to explore what you want to see?
While I'm relatively new to cruising I've realised that there's definitely not "one size fits all". Just as you might choose to stay in a boutique hotel or a luxury resort, a homely bed and breakfast or a local's apartment, there is a cruise ship option to suit your travel style. If you are looking for small ship luxury and more time in the destinations you visit, as well as a chance to quiz Captain Johannes about that time he stopped the ship to go fishing, then Azamara Club Cruises could be the cruise line for you. Read on and watch my video for what to expect from an Azamara Club Cruise: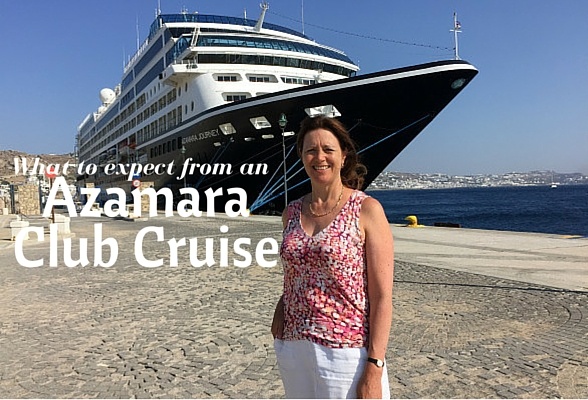 I hope you enjoy my video below – a ship's tour of Azamara Journey
If you can't see the video above about a tour of Azamara Journey see it on my blog here or Youtube here and please do subscribe using the button above
Click here for direct download of video
Subscribe to all my videos in I-tunes
Small Ship Cruising
When Guy and I sailed with Azamara Club Cruises last summer on their 7 night Greek Isles and Turkey cruise from Athens to Istanbul, I really felt the difference between travelling on a smaller ship with less than 700 guests, compared to the larger ships that take 3000+ passengers. While Azamara Club Cruises benefits from being part of the larger Royal Caribbean Cruise group, this niche luxury cruise line has just two ships. We sailed on Azamara Journey but Azamara Quest is practically identical and both have a capacity of 686 guests.
So how does being small affect for your cruise experience? It means that the atmosphere on board is friendly and intimate and it's very easy to make new friends. While there is everything on board you'd find on any cruise ship it's on a smaller scale; one swimming pool instead of three, for instance. More importantly it means that the ship has more flexibility to visit ports that some of the larger ships couldn't get into or to adapt the itinerary if bad weather is forecast.
You'll find that captain and senior crew are very visible around the ship, mingling with guests in the evening, and they have a lot more freedom to adapt the needs of the moment. If you bump into the charming Captain Johannes, be sure to ask him about the time he stopped to ship off the coast of Norway for a spot of fishing!
On Azamara Journey we were able to visit the Greek Island of Patmos which has a sleepy feel of the old Greece that Guy loved when he went island hopping as a student. Smaller ships also allow you to sail right into the heart of a city, within an easy walk of all you want to see, rather than have to be transported from the newer port where the larger ships will dock.
It's all about the destination
Azamara Club Cruises is much more about the places you visit rather than spending your days on board, a concept they call "Destination Immersion". Many of the excursions or "Land Discoveries" take you to places that are not normally open to the public or offer unusual, insider experiences that give you special insights to the local culture.
One of my favourites was the day we spent learning about Turkish cuisine and culture in a country house near Kusadasi. The house had been beautifully designed as a showcase for local crafts and artisans with Turkish rugs, carved marble fireplaces and Suzani cut-work throws on the bed. In the family's kitchen, we learned how to make Turkish dishes like stuffed peppers and sat under the shady pergola rolling vine leaves to make Dolma. We were shown how a Turkish woman would tie her headscarf depending on the region of Turkey she came from and how to wash your rice many times so that every grain of your pilaf would be separate.
The meal ended with tiny cups of strong Turkish coffee and when we'd finished the cups were upturned so that the ladies could have their fortunes told from the pattern of the coffee grounds, the art of fortune telling being passed from mother to daughter. It was a lovely and relaxing insight into Turkish culture and cuisine and of course all the ladies came away with a headscarf and recipe book to bring home. Read about our day of Turkish culture here.
Contemporary elegance
I'd describe the style of Azamara Journey, when we sailed last summer, as elegant, luxurious and classic. But if you're planning to cruise from spring 2016 you'll find a new contemporary look on board as both ships will go into dry dock to be refitted and come out "Re-imagined". The natural elements of earth, air, water and fire have inspired a paler, more muted colour scheme, using creams and earthy tones throughout the ship.
Already last summer we could see some of this new contemporary look being introduced in the sun loungers and deck furniture in some parts of the ship, while in staterooms the darker wood and furnishings will be replaced this spring by light, fresh tones while retaining the luxurious feel.
Other innovations will be part of the refurbishment, with new spa suites being created that not only have a sea view from the bathroom but allow special access to the spa amenities included in the price of these staterooms. There will also be new investment in technology since most guests these days travel with tablets and smartphones, so a new wifi system on board will provide faster internet connections and there will be interactive tabletops in public areas for social media surfing.
Fabulous food
We found the food on board Azamara to be excellent and unlike many cruise lines, the wines, beers, soft drinks and speciality coffees are included in the price of your cruise holiday. The small ship experience doesn't mean you miss out on choice and you can eat with full waiter service in the Discoveries Restaurant, or choose from the buffet selection while still receiving waiter service for drinks in the Pool Grill and Windows Café.
On larger cruise ships the buffet restaurant can feel like a seething mass of humanity, but on board Azamara Journey we found an altogether more elegant experience. Our favourite place to dine was in the outdoor seating area of the Windows Café at the back of the ship where it felt as if we were sitting in a seaside restaurant with a view of the waves.
There are two excellent speciality restaurants on board, for an additional charge of $25 per person per meal: Aqualina which specialises in contemporary Italian cuisine and Prime C which has a country club feel, serving excellent steak and meat dishes. We dined at Aqualina one evening and had the most delicious meal featuring light, fresh dishes and plenty of seafood.
Informal lifestyle
Guests who are new to cruising are often concerned about what they need to pack for their cruise. While there are shops on board, it's not as if you can easily pop out to find the outfit you need, nor do you want to spend your holiday worrying about whether you'll be caught out by a black tie dress code.
You can rest easy when you sail with Azamara Club Cruises since the dress code is elegant but informal. Most guests dressed up in the evening as you would if you were going to a smart restaurant, but it was more about a pretty dress and jewellery or a crisp shirt and jacket for gentlemen than about anything more formal. You won't need a tuxedo or a long sparkly dress on board and of course there is a free self-service laundry so you can travel light if you like, knowing that your outfits can multi-task, especially on longer voyages. The only thing you should remember to pack is something white – more of that later.
Arrive early, sail late
You may not realise this but it costs a lot for a ship to be in port; like being in a very expensive car park with the clock ticking. That's why on some cruises you'll find that you'll have to be back on the ship by mid-afternoon having rushed around trying to see everything. Not so when you sail with Azamara Club Cruises.
In most of the destinations you visit you'll have time for an unhurried look around the port of call and just when all the other cruise ship guests are heading back to the ship you can enjoy a relaxing afternoon with less crowds. There's plenty of time to see the sunset and have a leisurely dinner onshore at the places the locals like to eat once most cruise ships have sailed.
Arriving early also means that if you're an early bird you can enjoy the views from the ship and disembark to make the most of the day. Our magical moments on our Greece and Turkey cruise were seeing the sunrise from the caldera of Santorini with the mist rising off the shore, or sailing through the Golden Horn as we arrived in Istanbul past the Topkapi palace and the Blue Mosque. Read about our stop in Istanbul here.
A lot more's included
One of the big things to consider when choosing your cruise is what's included and what's not included in the cost of your holiday. Many cruises have a lower entry price but you'll also need to budget for drinks, gratuities, self service laundry and shuttle buses. All of these can add hundreds if not thousands of pounds to your bill, but they are included in the price you pay for your Azamara Club Cruise. I must say that I found it a lot more relaxing to know that I didn't have to think about the cost of that cappuccino or debate whether it was worth paying for the shuttle bus or taking public transport.
Another thing that is included in the price is an AzAmazing Evening on every cruise; a unique evening experience that you probably couldn't recreate yourself. While Azamara Club Cruises are priced in line with the luxurious small ship experience they offer, once you take into account everything that's included the overall cost may compare favourably with other cruise lines that appear to be cheaper but can't offer such a unique experience.
Enjoy your evenings onshore
A big benefit of later sailing times is that you can enjoy evenings onshore, dining in a local restaurant or having a drink as the sun goes down. Azamara make this very easy through their Cruise Global, Eat local programme where they introduce you to restaurants that are recommended for their authentic local dishes, or are included in a lunchtime stop in the land discovery that you book.
We had a delicious meze lunch on Patmos after looking around the sights of Chora, in a restaurant with a gorgeous sea view. Read about our stop in Patmos here.  On Santorini we dined on fava bean puree, Greek salad and roast lamb at Kalisti taverna in Prygos, which allowed us to see a different part of the island away from the crowds and heat of Oia.
Look out for Nights and Cool Places experiences that you can book, allowing you access to interesting places after dark, perhaps an art gallery or after hours museum visit, where you have a unique insider access.
A White Night party
One event that was not especially well publicised is the White Night Party that is the closest that the Azamara gets to a formal night; you just need to remember to pack some white clothes to wear. Depending on the weather, tables are set out on deck with a buffet selection and the Azamara singers and dancers perform a show to entertain you.
Our White Night Party was held in Patmos and the view of the sun setting over the island was magical as we sat on deck enjoying the warm night air. Captain Johannes thoughtfully delayed the sailing time until after dinner had finished, so that we would not be disturbed by any motion of the sea, although it was a pretty calm night.
An AzAmazing Evening
While the White Night Party was great fun, our AzAmazing evening at Ephesus was a truly magical event. On every cruise, Azamara offers a unique evening event that would be difficult to recreate on your own, and even better it's included in your cruise. For our AzAmazing evening, we took the short coach journey from Kusadasi to Ephesus where cocktails and wine had been set out just as the sun was setting.
While we didn't get the opportunity to walk through the entire site, we could stroll among the ancient pillars and see the sun setting behind the sillhouette of the Library of Celcus, built in 117 AD. After a glass of wine, we took our seats on the stone seats of the Odean amphitheatre where cushions had been thoughtfully provided.
As dusk fell, the Camera Izmir Orchestra entertained us with pieces by Bach and Mozart, a guest harpist performing Handel's harp concerto, and a rousing Hungarian Dance with gypsy violins that got an enthusiastic round of applause. Read about our evening at Ephesus here. Other AzAmazing evenings have included opera in Venice and an orchestral concert in Liverpool cathedral, but since the ship's itineraries change each year it will always be something unique and special.
By now you probably have a feel for whether this is the kind of cruise you'd enjoy and we certainly loved every moment of our Azamara Club Cruise. If you love to travel but are not sure if cruising is for you, I'd highly recommend Azamara for a first cruise since the experience is so personal and not at all overshelming in the way some of the bigger ships can be. It's also perfect for solo travellers and couples since it's easy to make friends on board. If you like to travel in style and luxury but still feel a connection to the places and cultures you visit be sure to look at Azamara Club Cruises for your cruise this year.
Have you sailed with Azamara Club Cruises? If so, do let me know in the comments how you found it and what you enjoyed.
Read More about our Azamara Greece Island Cruise
Sailing into Santorini – Day 1 of our Azamara Greek Island Cruise
Windy Mykonos – Day 2 of our Azamara Greek Island Cruise
Charming Patmos – day 3 of our Azamara Greek Island Cruise
Kusadasi and Ephesus – day 4 of our Azamara Greek Island Cruise
Istanbul – day 6 of our Azamara Greek Island Cruise
Pin It
About Azamara Club Cruises
Azamara Club Cruises is a small luxury cruise line with two ships; Azamara Journey that Heather and Guy sailed on and Azamara Quest, each with a capacity of 686 guests. The smaller ship size means you often visit destinations that larger ships can't get into and the ships can dock in more central locations. The emphasis is on destination immersion; enjoying the destination to the full, arriving early and sailing late so that guests can enjoy nights and cool places ashore, with insider access programmes and a unique AzAmazing evening included in each cruise. No itinerary is the repeated and each year the ships visit different destinations around the world. Azamara is part of Royal Caribbean Cruise group. Visit the Azamara Club Cruises website more information about a Mediterranean luxury cruise like the one Heather and Guy enjoyed.
You can also connect with Azamara Club Cruises on Social Media via:
Azamara blog | Twitter | Facebook | Instagram | Google+ | Pinterest | YouTube | Flickr
Joining your Azamara Club Cruise
Heather and Guy flew from London Heathrow to Athens and back from Istanbul using British Airways, although obviously each cruise is different in the best way to get there.
Heather used the Meet and Greet Parking Service booked through Airport Parking and Hotels (APH) who offer airport parking at a range of airports across the UK as well as travel extras such as airport lounge booking and airport hotel stays.
Both flights and transfers from the airport to your cruise ship can be arranged through Azamara Club Cruises.
Thanks to Azamara Club Cruises who hosted Heather and Guy for their 7 day Greek Island Cruise and to Airport Parking and Hotels (APH) who provided their airport parking at Heathrow.
This article is originally published at Heatheronhertravels.com – Read the original article here
You'll also find our sister blog with tips on how to build a successful travel blog at My Blogging Journey
There's something special about the dishes you eat on holiday in the Mediterranean. Perhaps it's the warmth of good times with friends and family. Perhaps it's that you're tasting food that's locally grown and bursting with flavour. Somehow you can taste the sunshine in every mouthful.
Leafing through the colourful photos and recipes in The Traveller's Table cookery book brought back happy memories of the meals I've eaten in Greece and Turkey. I even tried out a few of the recipes for Sunday lunch at home which you can see below. If your mouth is watering by the end, you can take a look at the recipes in the e-book here.
About the Traveller's Table
The Traveller's Table recipe book was created by globetrotting couple, Chris and Carolyn Caldicott who ran the World Food Café in Covent Garden and now share their love of food through cookery books, writing and photography. Together with Simpson Travel, who offer luxurious handpicked villas, apartments and hotels in Corsica, Greece, Mallorca and Turkey, they have created a collection of simple, authentic and delicious recipes that are soaked in Mediterranean sunshine. Read on as I recreate some of the recipes from the book to enjoy at home and put you in the mood for planning your next holiday. Don't forget I have 5 copies to give away at the end of the article.
Shaved fennel salad with clementines and capers
This refreshing salad of shaved fennel, oranges and capers is in the Corsica section of the book and although I haven't been to Corsica it looked so pretty that I couldn't resist. The fennel and oranges are freshly available at this time of year yet the vibrant colours make you feel that summer is already here. The salad makes a great first course to eat before the lamb or as an accompaniment to some cold meats and cheeses.
Ingredients 2 medium fennel bulbs | 3 clementines peeled and sliced or 2 large oranges | 2 spring onions thinly sliced | 2 tsp capers | Mint leaves
Dressing 3 tbsp extra virgin olive oil | Juice of half a small lemon | a few sprigs of thyme, stripping the leaves from the stalks | Salt and freshly ground pepper
To make
Trim the top and bottom of the fennel and cut in half lengthways, then slice very finely using a mandolin.
Arrange the fennel with the slices of clementine or oranges, sprinkling with capers, mint and spring onions.
Mix the dressing ingredients and pour over the salad leaving in the fridge for the flavours to combine.
My Tip – the trick is to shave the fennel as finely as possible using the mandolin (taking care not to shave your fingers in the process)
Plan your holiday in Corsica The French influence brings a chic influence to the island to contrast with the rocky mountain wilderness. You can find a number of elegant villas on Corsica, from traditional stone to contemporary architecture at Simpson Travel here.
Kleftico inspired Barbecued lamb
This dish is inspired by a Greek classic and reminds me of the lamb kleftico that my sister serves in her restaurant in Greece. The recipe is said to have been created by bandits hiding in the hills who would slowly cook lamb in a pit in the ground so that there would be no smoke from the fire to betray their location. The herbs for the marinade and wild horta greens that are served with this dish would be easily found on any Greek hillside. These days the dish is slowly cooked in a closed earthenware pot with a rich tomato sauce and the typically Ottoman influence of the addition of cinnamon.
Most Greeks would have a veg patch with tomatoes and greens growing at the back on their house, although I used fresh spinach leaves which are more readily available in the UK. The slow cooked lamb is something I've often seen my sister's Greek mother in law put in the oven, although the Greek version does not stint on the olive oil. Why would you when you have a cellar full of oil pressed from your own trees? Read my article on how to make delicious Greek stuffed tomatoes
This dish uses the same kleftico fresh herbs and spices for a version that's quick and easy to make, pop in the fridge to marinade and then cook on a summer barbecue or in the oven for Sunday lunch. The Greeks tend to eat their main meal at lunchtime and this would be served even in summer, followed by a nice long siesta!
Ingredients 6 thick lamb chops or cutlets (1 or 2 per person)
For the marinade 3 tbsp olive oil | juice and zest of 1 lemon | 3 crushed garlic cloves | 2 tbsp red wine | 1 tbsp chopped rosemary | 1 tsp dried or fresh thyme | 1 tsp cinnamon | 3 torn bayleaves
To Make
Put the lamb chops in a shallow dish, mix the marinade ingredients and pour over, leaving overnight in the fridge.
The next day, cook the chops over a barbecue or in the oven and serve with lightly cooked spring greens such as horta or spinach with grilled tomatoes halves.
The potato and courgette Boureki recipe below works well to accompany the lamb.
My Tip – Don't overcook the lamb chops or they will dry out – keep basting with the marinade so they stay juicy.
This is the view of Zakynthos from the house of my sister's Greek aunt who often invites us for lovely long lunches with lots of delicious Greek dishes. Read about some of the other Greek dishes we've enjoyed here.
Plan your holiday in Greece – You can take your pick from cottages on the beach or cliff-top views. Simpson Travel offer villas and apartments on Cofu, Crete, Ithaca, Kefalonia, Lefkada, Zakynthos and more – plan your Greek villa holiday here.
Cretan Courgette and Potato Boureki
This dish was ideal to accompany the lamb, using potatoes and courgettes that would be in every Greek vegetable patch together with local cheese that you might be storing in your cellar covered in olive oil to preserve it. I could eat that crispy cheese topping all day!
Ingredients 4 medium size waxy potatoes peeled and thinly sliced | 4 medium courgettes thinly sliced | 150 g ricotta cheese and 150 g crumbled feta cheese (or if in Greece use mizithra or anthotyros cheese) | 350ml whole milk | Dried mint, salt, fresh ground black pepper | 125g graviera or gruyere cheese grated
To Make
Arrange the slices of potato and courgettes in layers in an oven proof dish, sprinkling the mint, salt and pepper as well as small pieces of crumbled feta cheese between each layer.
Once you have filled the dish, mix the ricotta cheese with the milk and pour over the potatoes and courgettes
Sprinkle the grated graviere or gruyere over the top of the dish
Bake in a preheated oven at 190C or gas mark 5 for 35-45 minutes until the potato and courgettes are soft and the cheese makes a brown crusty topping.
Baked red peppers stuffed with jewelled pilaf
When I was in Turkey on a cruise last summer, we spent the day at a beautiful Turkish country house where we learned to cook some traditional dishes like these stuffed peppers. The memories of eating the lunch that we'd made under a shady pergola, followed by tiny cups of strong Turkish coffee still makes me smile, so I decided to cook these baked red peppers stuffed with a spiced pilaf rice. Read about my day cooking Turkish style here.
Ingredients 1.5 mugs of long-grain rice | 2 tbsp olive oil plus 2 tbsp butter | 1 medium onion diced | 4 cloves garlic finely chopped| 2 tbsp pine nuts | 2 tbsp pistachios chopped | 1 tsp cinnamon | 1 tsp cumin | 1 tsp ground allspice | ½ tsp ground pepper | 1 tsp dried oregano |1 tsp dried mint | 2 tbsp raisins |2 tbsp dried apricots chopped
To make
Rinse the rise in cold water and drain. Heat the butter and oil in a pan then gently saute the onion, garlic, pine nuts, pistachios until golden. Add the spices and herbs, then the rice and stir all together.
Add 1.5 mugs cold water , the raisins and apricots and simmer until the rice is cooked and the water absorbed.
Cut the tops off the peppers and remove the seeds and core, fill with the pilaf rice mixture and replace the tops.
Sit the peppers in a shallow dish and add a cup of boiling water around the base, some olive oil and honey or pekmez (pomegranate molasses)
Cook in the oven for 35-40 minutes on a medium heat or in a covered pan on the top of the stove.
Serve with olives and crumbled feta cheese.
The peppers are delicious, with sweet flavours of dried fruit and spices that hark back to Ottoman times. This would make a great dish to serve vegetarian guests with cheese and olives.
Plan your holiday in Turkey – East meets West in Turkey with turquoise seas and an unspoiled coastline. Simpson Travel offers luxurious family villas in Akyaka, the Bozburun Peninsula, Dalyan, Fethiye, Kalkan and Kas. Find your Turkish holiday with Simpson Travel.
If you enjoyed a taste of the Mediterranean from The Traveller's Table you can download the digital version of the book here.
Which of the recipes would you cook? Do you have happy memories of great food in the Mediterranean? Do let me know in the comments.
About Simpson Travel
This article was brought to you in partnership with Simpson Travel who offer a unique collection of villas, apartments and hotels in Corsica, Greece, Mallorca and Turkey. The destinations were chosen for the richness of the experiences they offer, from a mountain hike, a boat trip around the coast to an exploration of history and heritage. Check out the Simpson Travel website or follow them on Social Media: Twitter| Facebook | Pinterest |Google+
Pin It
The Giveaway
This giveaway is now closed but look out for other giveaways I'll be running soon.
This article is originally published at Heatheronhertravels.com – Read the original article here
October 13, 2015 by Guest Author
Filed under Europe, Leisure, Misc, featured, Beaches and swimming, Eating and drinking, Guest post, Nature, Sightseeing, Turkey, Walking
In this guest article teenage traveller, Reka Kaponay shares her excitement at a walk in the Saklikent Gorge, Turkey, wading through icy water and taking a mud bath, before the day ends with a traditional Turkish meal. Reka writes;
As I lay in my bed, it took a few seconds before I realised again in sheer excitement, I'M IN TURKEY! Today we were heading out to what is arguably one the most beautiful natural wonders of this region, Saklikent Gorge, a 300 meter deep canyon that is close to Fethiye, forged through the power of the water's elemental force, cutting its way through sheer rock over thousands of years.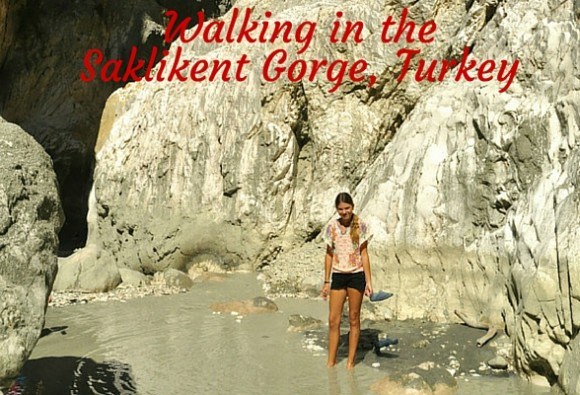 A bus ride to the Saklikent Gorge
Given that it was late September and no longer high tourist season, the bus ride was filled with a couple of explorers like ourselves, but mainly with locals who were making the trip home to rural villages that lay in-between the canyon and the touristy Fethiye.
After an hour and a half, we finally descended into a deep ravine which signalled our arrival. As we got our bearings, we realised that we would be wading through water and mud over rocky terrain and would need to leave our shoes behind.  A row of stalls lined the entrance to the gorge, hiring plastic wading shoes to all the visitors.
I looked up to see a towering ravine of ancient rock formations in front of me. It was as if I was at the entrance to a medieval fortress that would only allow me entrance if I knew its secret password. The view was entrancing and at the same time awe inspiring, knowing that the simple flow of water had sculpted this natural beauty. I stood on the suspension bridge looking deeply into the rapid flow of the river below me.
As we entered the park, we were swamped by tour guides trying to sell us their services for similarly ridiculous mark ups to that of the cab drivers of Marmaris. We ended up bringing helmets as a small precaution, but five minutes later we were taking them off and even leaving them behind to pick them up on our return journey, rather than lug them around for the rest of the walk. First, however, we had to enter the canyon and before us was a raging torrent of water about 20 meters across, that we would have to wade through to get to the entrance of the gorge.
An icy-cold plunge!
Pants rolled up and newly acquired wading shoes on, we plunged feet first in the water. I lost my breath when my feet made contact with the element. Pain shot up my legs and my toes felt like they had contracted frost-bite in a few simple seconds. My whole foot had turned numb. I shot out of the water, fast as a hare, shrieking like a hyena. I'm sure it was a sight to see. Lalika and Dad seemed to bear it better, as they were the first to begin heading through the fast flowing waters.
Soon it was up to their knees, but battling their way through they were the first of our family to make it across. During this time I was contemplating if I really wanted to go through with this. The look on Mum's face showed me that there was no alternative and with a renewed collective determination, Mum took my hand and we began making our way through the ice cold water to the sound of Lalika's cheers.
I nearly slipped at one point but thankfully I recovered in time and Mum and I emerged from the water half dry and very happy. The ice crystal water had somehow instantly rejuvenated my curiosity and I was keen to see what mysteries lay beyond the curves of the deep ravine in front of me.
Wading through the clay
I began to wade through the softest flowing grey clay that had deposited itself over thousands of years between this magnificent Moorish pink gorge towering over me. I was surprised that the locals hadn't already made a beauty industry out of this, mining this natural resource, when I remembered that thankfully, it was a protected national asset, located behind the confines of a national park.
That didn't stop Dad and Lalika from making a mud pack, as the two of them smoothed the liquid clay all over their faces, arms and legs. The mud also made great war paint and Lalika and I had a really fun time applying it before role playing a fierce battle of the clans.
The canyon snaked its way in curves and arcs in what seemed like a never ending array of rocky colours of beauty. After about 45 minutes of walking, we came to a fork in the canyon. To the right you could make your way through waist deep mud and continue on. The other choice to the left was neck deep fast flowing river. These were the only two options to continue on.
We decided that this was our sign to turn back, but in truth you can continue up through the canyon for another 15 kms as it is 18 kms long. On the way back, we faced a small crisis when my brother lost one of his croc slippers in the muddy stream and we had to drop to our knees in the murky river feeling with our hands as to where it could be.
It took us a couple of minutes, with some airing of our frustration at his carelessness, but we finally found it. We stopped just before crossing back across the freezing river to take a moment to marvel at our current location. We managed to cross the river once again with no trouble and we emerged with frozen feet but joyful smiles.
Learning about local Turkish cuisine
Changing back into our shoes, the wolves in our stomachs reminded us that it was time to eat! Walking through a canyon for an hour and a half and half bathing in cold water, really works up an appetite! We wandered beyond the closest and obviously touristy oriented restaurants lining the river walk. We decided to walk a kilometre up the dusty road, away from the park in the direction of some local stalls and we were duly rewarded for our efforts.
We found a smaller traditional restaurant that was built over a natural spring that flowed right through the middle of it. There were no chairs to sit on. Instead you reclined on comfy colourful Turkish motif cushions, while you ate on a small luxurious raft floating on the water. This is where we learnt our third and I feel most useful Turkish expression – Gözleme.
Gözleme is a pancake-like unleavened bread, baked freshly on an open grill convex metal hotplate, and filled with all sorts of wonderful fillings like Feta cheese and spinach, or chives and potatoes, or any other combinations of meats and Turkish spices. Of course back in Australia we were already familiar with Gözleme, but not in the manner that this Turkish grandmother, dressed in her regional traditional costume, was working this convex hotplate, heated by traditional wood fire.
Her hand movements were so skillful, that it was almost as if she was conducting a symphonic orchestra to its crescendo, rather than making a pancake. It was mesmerising and almost as good to watch as it was to eat. The Gözleme was not the only fare on the menu of the day. As those that don't eat meat, we had a generous selection of figs, potato salad, roasted eggplant, beetroot, tomato and cucumber salad, french fries and of course more Gözleme to choose from… All of this was to the setting of this beautiful oasis of natural spring water and the surrounding granite mountains that embraced us.
It was extremely relaxing, so much so, that we all took a small traditional Turkish nap on our water raft bed. For me, this combined experience of the natural wonders and our lunch, were all the reasons why I need to recommend that if you are ever in this part of the country, then Saklikent Gorge is an experience not to be missed. Take a day away from the beach and you will be rewarded with a traditional Turkish experience.
Our ride back to Fethiye was hot and uncomfortable and the bus was packed to the brim with people from the villages returning to their jobs in the touristy Mecca that is Fethiye. I ignored this however, along with the heat, and dreamt of Gözleme and rocky gorges, as I dozed in and out of consciousness on the bumpy ride home.
Author Bio: Many thanks for this article to Reka Kaponay, a teenage life schooler traveling the world who blogs at Dreamtime Traveler
For more Turkish adventures:
Visiting Kusadasi and Ephesus on our Azamara Cruise
Istanbul the golden – final stop on our Azamara Cruise
The Delights of Dalyan: Family Fun in Turkey
Pin It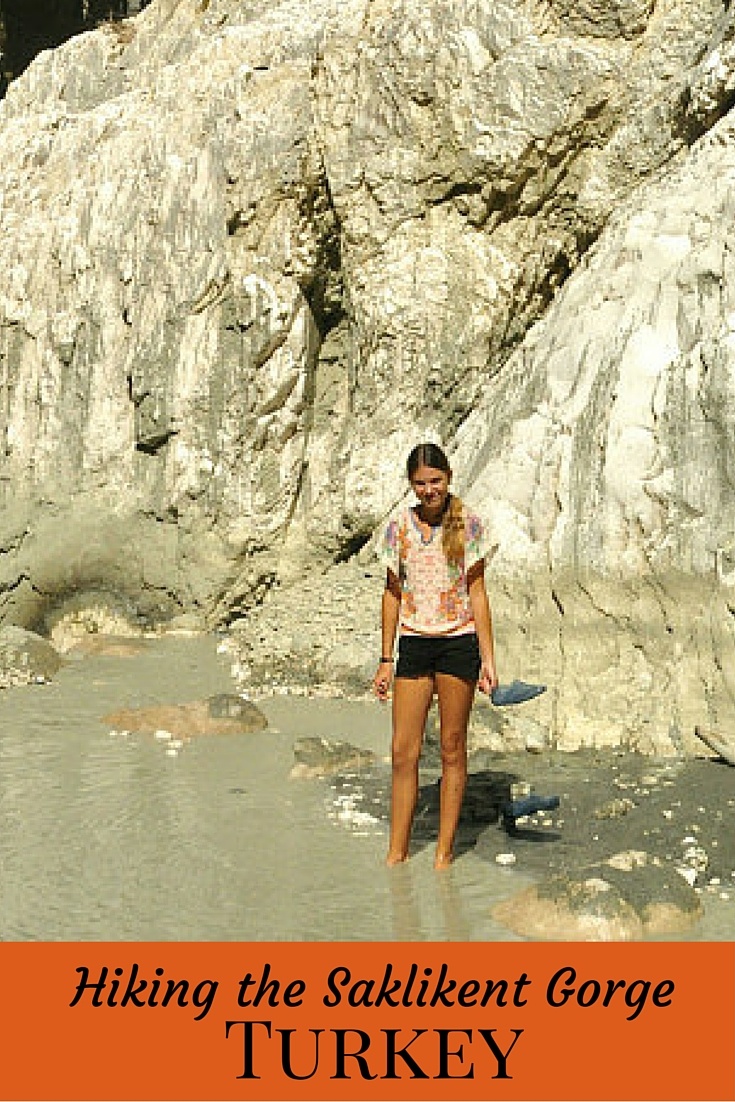 This article is originally published at Heatheronhertravels.com – Read the original article here
You'll also find our sister blog with tips on how to build a successful travel blog at My Blogging Journey