When my Maxwell Scott leather backpack arrived in the post, the smell of the leather transported me instantly to Italy, the home of the true leather artisan. Although Maxwell Scott is a British Company, they work in Tuscany with some of the best craftsmen to produce a range of handbags, briefcases and wallets that have a timeless style. These are bags that your friends will admire as the leather mellows to become an old friend. If, like me, you have a daughter with an eye for the good things in life, you may just find her 'borrowing' your Maxwell Scott bag and never giving back. Read on to find out how you can get a special 10% reader discount on this and other items in the Maxwell Scott range.
Since we were off to Venice, I had the opportunity to see how my Sparano leather backpack fared when out sightseeing in the most fashionable surroundings. I like to dress up a little when I travel so I needed a bag that would be elegant enough to compete with all those effortlessly stylish Italian women. But practicality came into it too, since as a blogger I travel with my camera and a fair bit of other gear, and need to have my hands free for photography.
Check out my video below with my Sparano leather backpack in Venice
If you can't see the video above of my Maxwell Scott leather backpack, see it on my blog here or Youtube here and please do subscribe using the button above
Click here for direct download of video
Subscribe to all my videos in I-tunes
If you enjoyed this video, check out the others in my Video archive
I chose the Sparano because the size was just big enough to carry everything I needed but still quite neat and compact, although there's a smaller Popolo backpack if you only need to carry a phone and your designer sunglasses. My daughter also had her eye on my bag and soon we were sharing it during our sightseeing excursions around Venice. If you are also tempted, check out my 10% reader discount .
Here's what Sophie-Anne had to say about 'our' Sparano Leather Backpack;
"The best thing about this bag is the fit as it sits comfortably on your back with no awkward gap between the bag and your spine and the straps do not dig in – areas where other bags have failed. It is clear that this is a high quality product shown by the beautiful leather, lining and overall design. Invaluable when travelling, this bag can go from airport, to day, to night, to activities, to strolling around town. The classic style also makes it easy to pair with any outfit a fashion concious individual might have in mind."
Since Venice is such a tourist hotspot you do need to keep an eye on your valuables, and I liked the fact that there was a neat outside pocket, but also a secure zipped inside packet to tuck away your purse and phone. The bag took me all around town with room for my guidebook, camera, a bottle of water and a few other blogger necessities.
Maxwell Scott is based in York and sells the bags exclusively through their online store. Their understated but stylish designs are crafted in their factory in Tuscany using the finest hides, zips and fittings and the bags have a 25 year guarantee. Orders over £100 have free delivery in the UK but don't worry, they also ship worldwide.
10% Reader Discount (limited time only!)
I've teamed up with Maxwell Scott Bags to offer a 10% reader discount on all their bags and other items. Just click on this special link; http://bit.ly/handbag10 that will take you to the Maxwell Scott Website and the 10% discount will be automatically applied when you add any items to your basket. The reader discount is for a limited time only until 16 August 2015.
About the Maxwell Scott Sparano leather backpack
The Sparano leather backpack costs £202 and may be ordered from the Maxwell Scott Bags website here. It features a draw string opening, a large polyamide interior with a rear zipped pocket and a small external zipped compartment and adjustable shoulder straps. The bag comes in 3 colours of vegetable tanned, full grain Italian leather; Night Black, Classic Tan and Dark Chocolate. We also loved the smaller Popolo backpack which is ideal if you are looking for a neater bag to carry just the essentials and don't have to consider space for cameras like me. Click here for my 10% reader discount before 16 August 2015.
If you are visiting Venice….
We highly recommend Walks of Italy who offer a number of different tours in  Venice and other parts of Italy, which are ideal if you are only visiting for a short time. You'll have an expert local guide to show you around and can often skip the queues at key sites. We took the 2 hour Venice Boat Tour which took us down the Grand Canal and many of the smaller canals with views of the key sites of Venice including a visit to the island of San Giorgio Maggiore where we climbed the bell tower with amazing views of Venice. Read my review of the tour here.
Looking for somewhere to stay in Venice?
For our 3 day stay in Venice I rented an apartment with Go with Oh and was able to use the €250 voucher that I won with Passports with Purpose blogger fundraiser. We chose this apartment in the San Marco district since it was so well located for all the main sites.
Thanks to Murissa from The Wonderful Traveller who hosted this prize contributed by Go with Oh and and for her tips on what to see in Venice. Passports with Purpose is a really worthwhile organisation which supports a different cause each year and you can win some really fabulous prizes so it's definitely participating.
Pin It!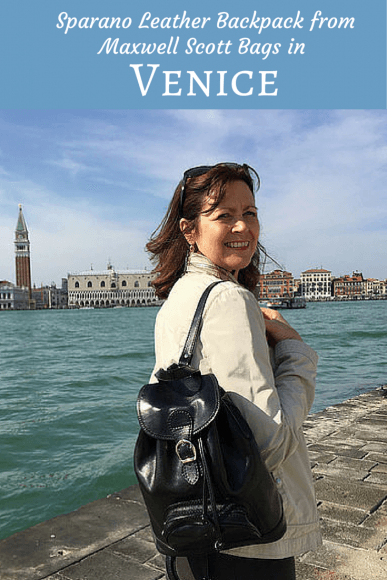 This article is originally published at Heatheronhertravels.com – Read the original article here
You'll also find our sister blog with tips on how to build a successful travel blog at My Blogging Journey
Our guest author, Dana Sibilsky takes a hike in the beautiful woods of British Columbia that proves more dangerous than she anticipated when she finds signs of bear activity along the trail.
In 2013, my husband and I made the mutual decision to spice up our lives together and really venture out to see what the world has to offer. With this decision, we agreed to travel at least twice a year; one place within the first half of the year (January-June) and another place within the second half of the year (June-December).
In our journey to explore the world together, we have visited nearly all of the United States and only half of Canada. The world is big and we aren't even halfway through yet! If you were to ask what is the most beautiful place we've been to, it would without a doubt be British Columbia, Canada. If you have ever seen pictures, no photo nor video does this incredible place justice because you simply must be there to FEEL the atmosphere.
Beautiful British Columbia
The air seems cleaner, fresher and easier to breathe with a certain natural "crispness" to it that my husband and I have not found anywhere else in our travels. The water seems to be more pure, more fresh with the same crispness that makes you say to yourself, "This is the way it's meant to be. What have we done to our world in other places?"
Through our travel in British Columbia, we hiked until we came to our destination at the well-known and popular Three Valley Gap Hotel. Oh my, if you could just see the scenery of nature that surrounds this place. There's a saying that we kept hearing while visiting that went something like, "Out here, you are normally no further than 20 feet from a bear at all times." I'm not sure how true it is or if they were just trying to scare us knowing we weren't locals from around the area.
The wildlife is just as spectacular as the surrounding scenery. My husband and I (but honestly mostly my husband) wanted a closer look at the the wildlife. "What is the point of coming 2000 miles out here if we are just going to sit in a hotel?" he questioned. "Let's venture out to see what we can never see at home." With that said, we got a nature tour guide and began to explore the surrounding wooded area at least 3 miles away from the comfort of our hotel. At first, walking through the thickness of the brush and woods was intimidating. What if we saw a bear? What if we ran into a pack of wolves or coyotes? I remembered hearing stories from our friends in Toronto and Mississauga about coyotes running freely through the city in 2010. The more we tracked through the woods, the more comfortable I became until the tour guide stopped us in our tracks.
The look on our guide's face was the look of fear and nervousness he was trying his best to hide for our sake. "Is everything ok?" I asked him, touching his arm gently in concern. "You look like there is a problem." With a shaky hand he was trying to control, he pointed to the tree in front of us roughly 10 feet away and said, "Bear."
Bear sighting
My eyes widened as my head quickly snapped to the general direction he was pointing. The tree had claw and teeth marks on it and was missing chunks of bark. Bears do this to mark territory and possession of their favorite trees. These marks usually are present on other trees given by the same bear in a trail. This helps the bear find its way back to wherever it came from.
I was stone cold in fear and to tell you anything different would be a complete lie! I couldn't move. The thought that I could possibly be standing in or near a bear's nest shut down all of my motor mechanics such as my ability to walk and open my fear-clenched fists into open palms.
In the distance, I could hear my husband calling me. "Dana!" I heard him say. I wanted to look at him, but the fear was overpowering me. I heard him shout in a louder, projecting voice. This time, my head jerked toward him as the guide and I let out a harsh "SHHHH!" toward him simultaneously. "Are you out of your mind?!" said the guide, "We are in the danger zone of a bear's or group of bears' territory! Keep quiet!" he instructed my husband. "We need to go. Now!" the guide said. We didn't hesitate! The tour guide, my husband and myself double-timed it to the hotel as quickly, quietly and safely as we could.
Make lasting memories
Fast forward 2 years later. Isn't it interesting that the worst moments in our lives at that particular time turn out to be the most memorable? The moments we believe are the downfall of our day, the ones we say we could do without at the moment they are happening are the very same moments that become the memories we wouldn't change for anything. The moments we look back on months or years later and can't help but to laugh and smile to ourselves. Being in a dangerous position having trespassed through bear territory was one of those moments.
If you haven't visited the British Columbia side of Canada, what are you waiting for? It is, without a shadow of a doubt the most beautiful, refreshing and enlightening adventure you could ever take no matter if you're alone or with those you love. Just a word of advice: Don't go exploring without an experienced nature tour guide!
Author bio: Many thanks for this article to Dana Sibilsky, a stay-at-home mother of three prides and joys. When she isn't giving her family their needed attention, she enjoys traveling and blogging her art on her sites.
Visit the #explorecanada official Canada Tourism Website for more information on things to do in British Columbia and Vancouver Island as well as their social media channels on Instagram | Facebook | Twitter
Pin it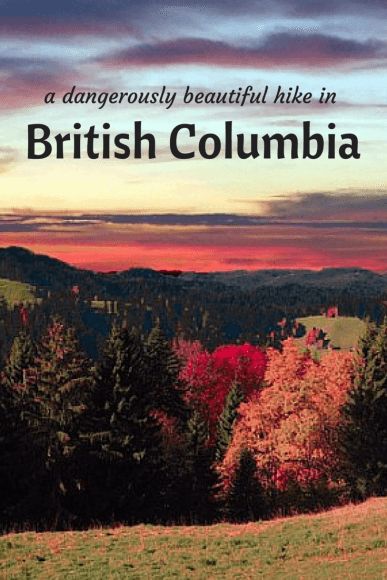 For more Canadian adventures:
Where to Watch Wildlife in British Columbia, Canada
Vancouver Island – A Nature Lover's Paradise
How to Enjoy a Great Day in Victoria, BC
Photo credit: Dana Sibilsky
This article is originally published at Heatheronhertravels.com – Read the original article here
You'll also find our sister blog with tips on how to build a successful travel blog at My Blogging Journey
July 22, 2015 by Sophie-Anne Cowper
Filed under Art and design, Beaches and swimming, Copenhagen, Denmark, Eating and drinking, Europe, featured, Leisure, Museums, Shopping, Sightseeing
On my recent visit to Copenhagen, I enjoyed the company of my daughter, Sophie-Anne, who shares her tips for things that mums and daughters can enjoy together in Copenhagen.
Unless you are travelling alone, there will always be a difference of opinion on what to do and see. One art lover's Picasso museum is another girl's prison, so it can be hard to find a balance. This is certainly true of different ages, and although I am probably going to end up as my mother at the end of my road to adulthood, for the time being we have varying opinions on a day well spent.
Last summer my whole family went to Copenhagen and the trip was a great success, with every family member enjoying the Danish capital. This summer my mum and I returned for a girl's only trip leaving the boys at home to the British rain. Just like last summer it was easy to find things to do that we would both enjoy as there are so many cool trendy neighbourhoods of Copenhagen. Here are some of the things in Copenhagen that we both enjoyed;
Tivoli Gardens
Tivoli amusement park is beautiful and not tacky! Repeat, not tacky – a rarity in the world of amusement parks! Like most Danish things, it is tasteful and quirky (it has the most adorable little houses for the ducks on the lake). However, it still earns its title as an amusement park and has all the theme park rides to amuse those who dare to try them out. Last year my brothers and I dared to go on all the biggest rides while my dad and mum lounged about admiring the beautiful gardens. You can also go to Tivoli in the evening when it is all lit up or watch ballet on the Pantomime Theatre stage.
Sculpture at Ny Carlsberg Glyptotek
I loved the sculpture museum at Ny Carlsberg Glyptotek, perhaps for more sentimental reasons than my mother. My grandmother bought me children's books based around famous art pieces, and one in particular 'The little ballerina' was my favourite. It was based on Degas' little ballerina statue and his ballet paintings. Like most little girls I was enchanted with the whole ballet world so adored the book and was madly in love with Degas' ballerinas and the little ballerina statue. I finally managed to see the statue at Ny Carlsberg Glyptotek, which was a real treat for me, and of course all of Degas' other beautiful paintings. There are lots of statues that are amazing, and also paintings upstairs showing a range of artists such as Gaugin and Picasso. There is also a lovely café in the museum for a culture break.
Shopping on Strøget
Now what would a girl's holiday be without shopping? The Danish girls are all so stylish that it would be a crime (in my very female eyes) not to visit the shopping street of Strøget. Illums Bolighus is my favourite, a beautiful department store which most people can find a section to nestle themselves into. Also handy that it is located next to the Royal Copenhagen store, so I can let my mother wander off to look at the teacups, saucers, plates and then catch up with her for the 5 minute china tour as opposed to a 45 minutes tour. Georg Jensen is also a must see with beautiful silverware and jewellery – I've got my eye on the daisy bracelet and my mum on the grape ring.
Swim in the harbour
If you are visiting in summer I urge you to go and swim in the harbour at Islands Brygge, where you can mill around the locals on the grass enjoying the sun. Part of the harbour is enclosed for the public to swim, with lifeguards, a children's pool and a diving area next to a grassy area which creates a lovely ambiance and relaxing vibe in the middle of the busy city. And best of all it's free to go! It would be easy to take a picnic on your bike and sit on the grass and let the day roll past slowly.
Cocktails in Copenhagen
Both my mum and I love cocktails, which is also true of all the other girls among my cousins and aunts. I love sitting in a beautifully decorated bar with my mum sharing a few exquisite cocktails. We visited Lidkoeb, which was a gorgeous cocktail bar with well picked furnishings. I asked for the most popular cocktail, which the friendly bartender informed me was usually anything with ginger in as the Danes love it – a perfect fit for a fellow ginger lover. My mother had the Kolonihaven with geranium gin, cloudy apple and cucumber juice which was also delicious.
We were also lucky to visit the very V.I.P whisky bar at the top with table service only and the finest whiskies from around the world. In Copenhagen there is plenty of choice for a nice evening drink around Copenhagen, such as sitting on the Nyhaven canal, heading to the meat packing district in Vesterbro or crossing on the ferry to Paper Island where Copenhagen Street Food has all varieties of street food served from trailers.
Eating out in Copenhagen
Any student will tell you that one of the biggest perks of travelling with a parent is a bill being paid for. This means you can have a real drink and not just tap water, and you have full range of the money choices instead of just the ones under £10.
In Copenhagen my mum and I ate in the amazing uFormel restaurant which is new Nordic cooking, very modern but out of the student budget. The restaurant menu has a range of small plates, with the idea that you order a few, and they come out in order like a 3 course meal. I had the ceviche – a trip down memory lane from my South America trip and a plate of the most amazing tender lamb! Both were delicious and strayed into adventurous eating, which was perfect for me as I hate going to a restaurant only to find the menu comprises of things I could cook at home myself. (Read the review of uFormal from Alex Berger who joined us for dinner)
In complete contrast we also visited the Urban House in Vesterbro which has a hot dog bar, with lush hot dogs smothered in various delicious toppings. Although my mum tends to find such places by herself these days, it can be a delight when the kids introduce those above them in the family tree to the new modern crazes or places they otherwise wouldn't visit.
More things to do in Copenhagen
Which Copenhagen district to choose for a City Break – a guide to the city's neighbourhoods and best places to stay, from up and coming Vesterbro to classy Frederiksberg
Light, Air, Water – finding a healthy holiday in Copenhagen – healthy tips for rest and relaxation on your spa break by the sea in Copenhagen
10 summertime cool things to do in Copenhagen – rent an apartment to live like a local and enjoy the summer in Copenhagen
Visiting Copenhagen
For more information about things to do in and around Copenhagen, check out the Visit Copenhagen website as well as the Visit Denmark website for other parts of Denmark.
Heather and Sophie-Anne flew with Scandinavian Airlines from London Heathrow to Copenhagen. SAS fly several times a day to and from London to Copenhagen giving you a choice of times to make the most of your time in Copenhagen. On arrival take the train direct to the centre of Copenhagen.
Heather and Sophie-Anne used the Copenhagen Card which covers free public transport around Copenhagen as well as free or reduced price entry to many of the attractions in and around Copenhagen.
Pin It
Thanks to Wonderful Copenhagen and Visit Denmark who provided some of the experiences mentioned and to SAS who provided Heather's flight. This article was brought to you in partnership with Wimdu.
This article is originally published at Heatheronhertravels.com – Read the original article here
You'll also find our sister blog with tips on how to build a successful travel blog at My Blogging Journey