In this guest article, former pastry chef Andrea Duty takes us on a mouthwatering tour of the best deserts and sweet stuff in London – heaven for sugar addicts!
The torrid reputation of English food is infamous. Time and time again, foodie travelers pass on the UK's bland traditions in favor of Vietnamese spice or French indulgence. And while it's true that the culinary scene in London had an exceedingly long awkward phase, it's since grown into a modern, dynamic contender as one of the best food cities in the world. I could talk for pages about the various curry houses, chippers, chaat shops and pubs throughout the city, but as a former pastry chef, I feel it my duty to bring you all things sugar, from the traditional to the internationally influenced. Thus, my list of absolute favorite desserts in London. Nothing bland about it.
Kouign Amann
Renowned Parisian chef Philippe Conticini brings the signature bell jars display cases and geometric packaging of La Pâtisserie des Rêves to Marylebone, filling them with manicured renditions of French classics and updated British favorites. His kouign amann – a baton of caramelized croissant dough – negates the need for a trip to Paris on the Eurostar while his carrot cake has forever ruined me to my homemade version.
Merveilleux
Hot on Conticini's heels is Frédéric Vaucamps, the master of meringues whose Aux Merveilleux de Fred just debuted South Kensington. His dainty "cakes" of crisped egg white, whipped cream and assorted toppings look like the dense cake balls du jour but wow with a cloud-like consistency. Flavors such as speculoos, praline and coffee compete as top sellers…and for space in my stomach.
Sticky Toffee Pudding
All those who visit me in London are treated to a Sunday roast at The Spaniards Inn, a 16th century pub reportedly frequented by the likes of Dickens and Keats. My guests may think the aim here is to show them a bit of British history or give them a little culture, but my real motive is a slice of sticky toffee pudding. The version at The Spaniards is wickedly rich and is pushed over the edge with a dollop of clotted cream. Nab a seat by the fireplace and it's pure heaven.
Bakewell Tart
Take a buttery tart shell, schmear it with jam, top with dense almond cake and you've got a classic Bakewell Tart. There are as many variations of this dessert as there are bakers in England, but my favorite slice so far is at Le Comptoir Gourmand. It may be commercially made, but it's so rich and homey that I swear someone's grandma must be running that kitchen.
Pistachio/Ricotta & Sour Cherry Gelato
I recently spent two weeks in Italy where I consumed as much gelato as is humanly possible, but BUT (and I feel sacrilege even saying this) none of it was as good as the scoops at Gelupo. Here the flavors are spot on: fresh, not too rich, and not too sweet. They are just…perfect. Plus, there's a dessert case full of frozen cupcakes, chocolate-dipped cones and a rotation of seasonal treats. Even when we are in the depths of winter, you can bet on finding me here.
Andrea Duty is a former pastry chef from Austin, Texas living in London, England. She eats her way through other countries in attempt to discover cultural insight from cake and historical relevance through cookies…or something like that. You can follow her travels at This New View.
More London dining experiences:
Fine dining favourites at the top London Hotels
Five of the best kept secret eateries in London
An artistic lunch at the V & A – in London
This article is originally published at Heatheronhertravels.com – Read the original article here
You'll also find our sister blog with tips on how to build a successful travel blog at My Blogging Journey
The beautiful region of South Tyrol in Italy ticks lots of boxes; picturesque Alpine farmsteads, clear as crystal mountain air, stunning views of the Dolomites – but fashion? When I visited South Tyrol in September I met with two different fashion companies run by energetic young entrepreneurs who were taking inspiration from both the natural environment of South Tyrol and also the modern spirit of Italian design. With the fashion capital of Milan only a couple of hours away these companies can enjoy a lifestyle surrounded by nature while tapping into the best fashion design and production facilities in the world. Read on to find out how fashion and design is thriving in South Tyrol and to enter my South Tyrol Designer Giveaway of WAMS Socks and Re-bello T-shirts – just in time for Christmas!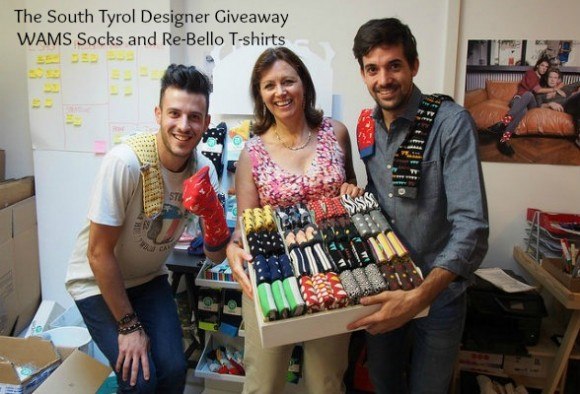 Where Are My Socks? Italian Designer Socks from South Tyrol
My first stop on the South Tyrol Designer trail was to meet Robert Larcher and Daniel Kaneider, founders of WAMS?! Socks in their office just outside Bolzano. I call it an office but in true start-up fashion, they have crammed their showroom, warehouse, design hub and working space into a basement room of Robert's apartment. I instantly felt the fun, fashion vibe with washing lines of latest sock designs strung over their desks and promotional leaflets from their latest collaborations covering the tables.
The two entrepreneurs met when studying economics in Innsbruck and decided they wanted to start a fashion business – fashion seems to be in the blood of every Italian male! They felt there was a gap in the market for colourful designer socks that were top quality but moderately priced and started work with a freelance designer to create the first collection. The tongue-in-cheek name of WAMS or "Where are my socks?" came about because the pair were always losing their socks in the wash so they wanted something bright and easy to spot. Now the range is constantly changing and there are often special editions such as the collection they made to match a Re-bello t-shirt line or the special snowflake sock they made for Snowdays, Europe's biggest winter sport event for students.
The socks are made of top quality combed cotton in a factory near Verona and the company is proud to be selling a 100% 'Made in Italy' product. The local production means they can respond to fashion trends and work with other South Tyrol designers on special projects. Daniel told me "If someone asks me for a special design, I can call up the factory and in an hour I can be in Verona to discuss it with them". The socks are stocked in over 50 stores around Italy and are also available to buy online through the WAMS website.
All the designs are unisex and in two lengths since Italian businessmen prefer to wear longer socks that don't show any ankle, while those looking for fun and fashion will go for the ankle length. The socks retail at €12 for the ankle length and €16 for the longer length with a €48 gift box containing 4 socks that is very popular at Christmas. Robert and Daniel kindly gave me 4 pairs of socks in their most popular designs to give away in one of the gift sets – see below for more information on my South Tyrol Designer Giveaway.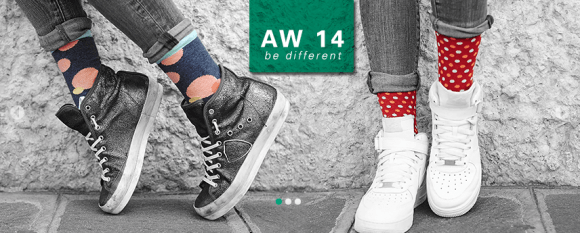 Follow WAMS?! socks on their website where you can order their socks,  ankle length socks €12, knee length socks €18, gift box with 4 socks €48, free shipping within Europe for orders over $40 otherwise shipping within Europe is €5.  Follow their social media channels Facebook | Instagram | Pinterest | Twitter
Read on to the bottom of the article for details of our WAMS Socks giveaway
Re-Bello – Sustainable Street style from South Tyrol, Italy
My next stop on the South Tyrol Designer trail was at the Re-Bello warehouse on the outskirts of Bolzano, where I met founder and CEO Daniel Tocca. After completing a degree in economics Daniel went on to complete a Master's in Entrepreneurship in Rotterdam and realised that this was the path he wanted to take in business. After a false start working for a year in a multi-national corporation he gave up his job and in 2010 returned to his home town of Bolzano, where he joined with two friends to work on the concept for their new start-up venture.
They wanted to work in the fashion sector which is well developed in northern Italy, as Daniel put it " Already when Italians are 13 or 4 they have an eye for beauty and fashion, it is in our blood like football." Their vision was to develop a fashion brand that was based on sustainability, since this was a growing movement in Italy and Europe in areas like organic food, but was not well represented in the fashion sector. They started to source and develop sustainable yarns and fabrics, using bamboo and eucalptus as well as organic cotton and up-cycled wool, and to develop a plan to build the business. Daniel told me "Sustainability is not only in the clothes, in the materials, in the hang tags and everything we use, but also in the philosophy of how we should develop our company for long-term growth".
At the start Daniel worked with a freelance designer to develop the fashion concept of Re-Bello – a beautiful rebel who wants to change things but in a beautiful way. Each range follows the season's trends but draws inspiration from street-style, punk and rock and is inspired by the 23-35 year old fashions, although all ages may be attracted to the stylish designs and sustainability concept. The t-shirts designs are where the company started and Daniel showed me a banner made up of all their best-selling t-shirt prints, many of which become signature prints that transfer from one season to the next.
The fabrics used are top quality, with a silky finish and the unusual yarns are a key part of the sustainability approach. Bamboo grows in the wild and when cut it will quickly grow back at 15-20 cm a day, while Eucalyptus (sold under the Tencel brand) is also a semi-wild plant and so does not require intensive cultivation methods or large amounts of water. Organic cotton is also used as well up-cycled wool, taken from the offcuts from woollen garment manufacture which is re-cycled to make a new yarn for the Re-Bello knitwear. The company uses natural dyes, avoids garment finishes that use any harmful chemicals and their production methods are certified under recognised standards such as the Global Organic Textile Standard (GOTS) and OEKO-TEX Standard 100.
Despite all the work that goes into the sustainability of the Re-Bello fashion ranges, Daniel told me "I want to attract the customer who doesn't necessarily know about our sustainability philosophy, who buys because of the style, they love the materials and how they feel. Then they go home and wear it and they understand the sustainability message and feel good about that." The natural beauty of South Tyrol is a big inspiration for the sustainability approach of Re-Bello and a reason why they are based in Bolzano rather than the fashion hub of Milan. Daniel told me "When you come here the first thing you see is that nature is everywhere, even if you are in the centre of Bolzano you look up to see the mountains around you. The nature and sustainability of South Tyrol is what will keep Rebello here."
Read on to the bottom of the article for details of the Re-Bello T-shirts I'm giving away
Follow Re-Bello on their website where you can see more of their Autumn range and discover how their sustainable approach makes a difference. In the Re-bello online shop you can order some of the best-selling t-shirts, knitwear and jeans for both men and women with T-shirts from €39.90, knitwear from €69.90 and jeans from €99.90. Follow them on their social media channels Facebook | Twitter | Instagram | Youtube |
The South Tyrol Designer Giveaway – WAMS?! Socks and Re-Bello T-shirts
I'm really pleased to be giving away to my readers some of the WAMS Socks and Re-Bello T-shirts that were kindly given to me when I visited the designers in South Tyrol. Lucky you – just as you're starting to look for Christmas gift ideas! I'm giving away a gift box of 4 pairs of WAMS designer socks and 3 Re-Bello T-shirts. You can keep them for yourself or gift them to that sister/ brother/ mother/ daughter/ son/ boyfriend/ wife/ special person in your life.
From WAMS Socks – I'm giving away 4 pairs of Socks in a gift set worth €48 which you can see in the photos below. There are 3 pairs of short and 1 pair of long length, 2 pairs in size 36-40, 2 pairs in size 41-46.
From Re-Bello – I'm giving away 3 T-shirts in designs and sizes listed below to 3 different winners;
Left: Batwing Tunic T-shirt Rose of Sharon made of Eucapliptus (Tencel) in size Large worth €39.90 – See it online here
Centre: Kimono T-shirt White + Dark Gull Grey made of Bamboo in size Large worth €48.90 – see it online here
Right: Batwing Tunic T-shirt Dark Gull Grey made of Eucaliptus (Tencel) in size Medium worth €39.90 – See it online here
How to Enter
To enter the South Tyrol Designer Giveaway please use the Rafflecopter widget (you can enter for both the socks and the T-shirts);
If you'd like to win the WAMS Socks, enter by taking a look at the WAMS Socks website and then leave a comment below this post to tell me which is your favourite sock design from their range.
If you'd like to win one of the Re-Bello T-shirts, enter by taking a look at the Re-bello Autumn 2014 look book for women or men or their online shop and then leave a comment below this post to tell us which is your favourite look or item from the Re-bello autumn range. In your comment, please also let us know which of the three t-shirts you'd like to win.
You can gain additional chances to win via the Rafflecopter Widget;
Terms and Conditions
This giveaway is a prize draw/sweepstake
The prizes are a. 4 pairs of WAMs socks in a gift box b. Re-bello batwing T-shirt Rose of Sharon size L c. Re-bello Kimono white/grey stripe T-shirt size L d. Re-bello Batwing dark Grey t-shirt size M
Unfortunately no substitutes for design/ size/ colour are available since the items were given to me in South Tyrol and will be shipped my me from the UK to the winners
The giveaway is open to all readers in any location
The 4 winners will be chosen at random
The giveaway ends on Monday 24 November at midnight
The winners will be notified by e-mail within 7 days of the draw ending and must confirm their acceptance of the prize by e-mail within 3 days or the prize will be allocated to another winner.
The prize will normally be posted to the winners within 14 days of them accepting the prize and may be posted by the cheapest method, so this will determine when it will arrive.
The giveaway is restricted to one entry per individual although each individual may leave a comment for both the socks and the t-shirts
Any duplicate or automated entries will disqualify the entrant from this giveaway
Entering this giveaway gives permission for you to be added to the e-mail list of Heatheronhertravels.com but we will never spam you and you can unsubscribe at any time.
More things to see in South Tyrol
Cycling with wine and apples – on the South Tyrol wine road
Climbing my first Via Ferratta in South Tyrol
Traditional South Tyrol food and wine with a gastronomic twist
Messner Mountain Musem – before the time of man
Information, articles and resources for South Tyrol
For more information to plan your own visit, find accommodation and discover all the things to do in South Tyrol, visit the South Tyrol Tourism website and watch videos about the region on their YouTube channel. For updates on things to do in South Tyrol follow the South Tyrol Twitter, Facebook, Google+ and Instagram pages
My thanks to South Tyrol Marketing for supporting my visit to South Tyrol in collaboration with Travelator Media
This article by Heather Cowper is originally published at Heatheronhertravels.com – Read the original article here
You'll also find our sister blog with tips on how to build a successful travel blog at My Blogging Journey
Some great competition websites:
Competitions Today
Win Free Stuff
CompetitionsList
ABC Win
In this article, our guest author, Astrid Ruffhead takes us on a drive along the west coast of Sardinia from the bustling capital Cagliari to the coastal resort of Alghero taking in the candle festival of Sassari.
Located on the southern coast of Sardinia, Cagliari has throughout history been a leading trading seaport in heart of the Mediterranean. The oldest part of this bustling capital is the Castello, perched like a crown on top of the hill in the town centre. Park the car outside the city walls and enter the city via the Porta Christina. Immediately to your left you find the former Arsenal, now housing the city's most important museums; those of Archaeology, Oriental Art and the Municipal Art Gallery.
The grid-like layout of the city makes it easy to find your way around. Walk along the Via Martini and you will soon be standing outside the Town Hall. Inside is the helpful tourist office and on the first floor are the Sala Della Rappresentanza and Sala del Consiglio Comunale. On their walls hang numerous paintings of important events in Sardinian history. To me, it gave a visual aid to Sardinia and its relationship with mainland Italy, but what struck me most, being a paranoid and security-anxious Londoner, was the openness of the place, no security checks or guards anywhere.
The same street leads you down to the impressive Romanesque façade of the Cathedral on Piazza Palazzo, built by the Pisans in the 12th century. Dedicated to Santa Maria, this place of worship is extensively decorated in different types of marble in the Baroque style. I was there on a Sunday and the cathedral was packed full, so many locals and visitors chose to sit on the steps outside to listen to the ceremony and music in the glorious sunshine.
Antiques is one of my passions in life and I had months in advance planned to be in Cagliari on the second Sunday of the month so that I could fully indulge myself at the antique market on Piazza Carlo Alberto, an event which every website had assured me takes place every second Sunday of the month – the day I was there. Nobody though, had added the words 'except for August'…Oh well, time for lunch instead. I found this lovely trattoria serving wonderful seafood in one of the many narrow alleyways within the Castello.
The coast road to Oristano
From Cagliari we took the motorway towards Oristano. From there on, the coastal road is one I will always remember, simply breathtakingly beautiful. Sandy beaches or rocky outlets are embraced by the clearest waters I have seen for a long time, colours ranging from dark ink and celestial blues to a soft shimmering turquoise. As cliffs get higher and the roads getting narrower, to my great surprise, long legged pink flamingos can be seen around the salt plains that are now vast nature reserves.
Continuing north, we made a stop at the pretty little town of Bosa on the river Temo. Here is a good market on a Wednesday morning selling fruit, cheese bread, a very good place for sampling delicious local produce. Get here early as market and everything else for that matter, closes at lunchtime. Boat trips are available on the river in the evenings and along the river you see the old tannery buildings from the turn of the last century.
Arriving at Alghero
Closer to Alghero, the landscape changes again, becoming more fertile with many wine producing fields, including Sardinia's favourite grape, the Vernaccia. Alghero has been a popular resort since the 1960s thanks to its long sandy beach but in the countryside south of Alghero you find may manifestations of the Nuraghi people, who lived on this island in the 10th-12th century BC.
Via Garibladi runs along the seafront and marina and its many bars and restaurants are filled with trendy people watchers. As always, I head for the oldest parts of town where I notice that this place has a very Spanish influence. Street names can be both in Italian and Catalan, going back to a time when the city was captured by the Aragonese. The San Francesco cloister from the 14th century is a reminder of this era and during summer months it becomes an atmospheric open air concert venue. In Via Calberto, you find many craftsmen selling local coral jewellery, much admired for its deep red colour.
As picturesque as Alghero is, particularly in the evening, it is the scenery outside the town that attracts me most. Do not miss the Capo Caccia peninsula. It appears like a huge sculpture before you, as you travel north of the city. In the air you might be lucky to see one of the few surviving Sardinian Griffon vultures or the more common peregrine falcons, who have masses of white cliffs to choose from as nesting grounds. But keep your eyes on the ground, particularly if you decide to take the 654 steps down the Escala Cabriol, (the goat's steps) to Neptune's Cave filled with remarkable stalactites and stalagmites. The only let-down is that you have to take all the steps back up again… It is easy to get out to Capo Caccia on a hop on – hop off sightseeing bus. The trip takes 2 hours and is the best value ever had for 18 Euros.
Sassari and the Giant Candles
Sassari is the second most important city in Sardinia. Municipal buildings in the Neo Classical style surround the large Piazza Italia. In its centre is a huge statue of Victor Emanuel ll (Vittorio Emanuele Maria Alberto Eugenio Ferdinando Tommaso) not only the first king of a united Italy, but also gives his name to the long main shopping street, Corso Vittorio Emanuel, which winds its way through the old town. My main reason for visiting Sassari though, was the annual festival of the Candelieri. This is an incredible day to be there, as from around lunchtime you can hear music and singing in the street, getting louder by the hour, as the Candelieri start practicing for the evening.
The event has its roots in the 13th century when the city was under Pisan domination and there was a tradition of offering a candle to the Madonna on the eve of the Assumption. In the 17th century and after numerous plagues had hit the town it took the form of religious thanks from the town guilds.
To this day nine guilds including blacksmiths, farmworkers, carpenters, tailors, greengrocers etc. parade through the city, each carrying a huge wooden column with coloured ribbons on top, representing a candle stick. It takes 8-10 men to carry this 100 kilo candle, at the same time walking, singing and dancing in a procession through the city. Everybody joins in with this fantastic celebration which ends in the evening when wooden candles are ceremoniously placed at the church of Santa Maria.
My thanks for this guest post to Astrid Ruffhead who after growing up in Sweden, arrived in London in the late 1970s, first working for the Swedish Tourist Board and later for VisitDenmark. She has also owned her own PR company, The Travel Gallery PR and a second passion is hotels. She lives in North London and is today working as a freelance travel and antiques blogger/dealer. Contact Astrid at: elegantforever2010@gmail.com or elegantforever2010.blogspot.com
More things to see in Sardinia
Bandits and Murals at Orgosolo in Sardinia
Swimming in river pools – near Gola Gorruppu in Sardinia
Sea caves and a boat trip – in Sardinia
This article is originally published at Heatheronhertravels.com – Read the original article here
You'll also find our sister blog with tips on how to build a successful travel blog at My Blogging Journey