November 24, 2014 by Heather Cowper
Filed under Accommodation, Devon and Cornwall, Eating and drinking, featured, Gardens, Hotels, Leisure, Nature, United Kingdom, video
What a night for a drive down to Devon! With rain pelting down on the windscreen and leaves blowing across the road, any thoughts we had of stopping at a country pub on the way were abandoned in the hope of just arriving safely at the Moorland Garden Hotel.
We've arrived at the Moorland Garden Hotel!
Just north of Plymouth we turned off the main road and down a secluded drive to reach the gates of the hotel, a long two-storey building with all the bedrooms overlooking the lawned gardens. Parking the car and running inside to escape the downpour, we were soothed by the warm welcome at reception and the sounds of music and celebration coming from the room at the other end of the corridor. This being rural Devon, the Young Farmers' annual dinner dance was in full swing with lads in DJs and lasses in full-on evening glamour and tottering heels, wandering in and out of the bar, not a wellie or barbour jacket to be seen.
I hope you enjoy my video below of the Moorland Garden Hotel
If you can't see the video above of the Moorland Garden Hotel, see it on my blog here or Youtube here and please do subscribe using the button above
Click here for direct download of video
Subscribe to all my videos in I-tunes
If you enjoyed this video, check out the others in my Video archive
Harking back to the hotel's glamourous heyday
The hotel was built in the 1930s, originally named the Moorland Links Hotel because of the nearby golf club and enjoyed a glamourous reputation in its heyday, attracting celebrities such as David Niven and Rex Harrison. With a large ballroom complete with sprung dance floor and resident orchestra, guests flocked to attend tea dances and balls, while in the 1940s the hotel was popular with army and naval officers stationed at nearby Plymouth. In 2011 the hotel was bought by the current owners Brian and Sonia Meaden who have gradually put the hotel through a complete refurbishment of the 44 bedrooms and public areas. While the swimming pool and tennis courts of the 1930s are no longer there, the hotel has taken on a new character as a welcoming place for guests wanting to combine the wild walks of Dartmoor with the Waterfront attractions of the Ocean City of Plymouth. To celebrate its 80th anniversary this year, the hotel has been drawing on its heritage, with a 1940s themed tea dance, Agatha Christie inspired afternoon teas and summer picnics in the wildflower meadow that adjoins the gardens.
Relaxing the Dartmoor Bar and Lounge
Having left the cases in our bedroom (more about that later) we settled into the comfortable Dartmoor lounge for a warming bowl of haddock and sweetcorn chowder and chilli Exe river mussels from the bar menu. The decor was cosy and traditional with some modern touches and looked as if it had benefited from the recent refurbishment with an inviting air of fresh paint and new carpets. We settled into the oversized patchwork armchairs by the fireplace, which would be a favourite spot in winter when the fire is lit, admiring the striped tapestry, brocade and velvet fabrics with gilt mirrors and glowing red glass lamps. The walls were covered with artistic photos of Dartmoor, reminding us of the wild landscapes, granite tors and mossy covered river boulders that we had explored on previous visits to Devon. In one corner was a desk covered with useful information leaflets of local attractions and on the shelves were games and jigsaws to while away an autumn evening.
The adjoining Dartmoor bar had been similarly refurbished with plenty of comfortable seating areas, leather sofas and velvet banquettes by the wall. The wild landscapes of nearby Dartmoor were referenced in the black and white photos of moorland miniature ponies and twisted oaks, with metal stag heads on the wall and stag motifs on the cushions. Guy was keen to try a pint of the Dartmoor Best ale although we discovered from the barman that it actually comes from St Austell in Cornwall.
Settling into the Lily of the Valley Suite
After recovering from our windswept Friday night drive, we were able to enjoy our spacious Lily of the Valley Suite on the first floor, where home-made biscuits had been laid out for us. All the rooms in the hotel have been individually redecorated with the help of West Country designer Nadine Judd, drawing on a garden theme to bring the natural beauty of the moor into the hotel. Like all the bedrooms, ours overlooked the garden and so when we awoke we had delightful views over the lawns and down to the Tamar valley beyond.
I had a peep in a few of the other bedrooms and found the decorative style was colourful and modern, often using patterned feature walls, bright floral prints and striking pieces of furniture. Our Lily of the Valley suite took up the fresh floral theme, with leaf green walls, pretty cream linen curtains with a delicate floral sprig and a feature wall covered with hand-printed lily of the valley paper on a dark background. We sat eating our warm biscuits on the green crushed velvet sofa with pastel floral cushions and flicked through the books and magazines that had been thoughtfully left under the glass of the coffee table. The overall effect was very pleasing although there was the odd item that seemed more high street than high end – a metal garden chair at the desk and a strange IKEA style metal shelf on the wall beside the bed. The en suite bathroom was clean and fresh with pale grey tiles and a shower above the bath although I suspect that this was one of the few remaining bathrooms in the hotel that was due for refurbishment, since I saw other rooms with more modern bathrooms.
Elegant Dining in the Wildflower Restaurant
On Saturday night we planned to eat in the Wildflower restaurant, having heard great things about the restaurant which won a Gold in the 2013 West Country Taste of the West awards and was named Best Restaurant in the South West. The Head Chef, Bruce Cole has been at the hotel for 18 months now and has created new menus that feature locally sourced and seasonal produce from nearby farms and food producers. After dinner we had a chance to chat with Bruce and he told us "When I arrived much of the food came from the freezer and the menu changed twice a year. Now everything is freshly made including the bread and pastries, we use the best local produce and we change the menu every 4 to 6 weeks with the seasons"
The Wildflower restaurant has large French windows that overlook the gardens which open in summer leading out onto the terrace. There is an elegant silver and turquoise theme with patterned turquoise velvet chairs, silver leaf wall decorations and a striking private dining area with silver and turquoise floral wallpaper and silver mirrors. I'd love to visit the restaurant in summer to enjoy a cream tea overlooking the gardens or to be there in September when the hotel hosts the Delicious Drake's trail that ends on those lawns.
We had invited a friend who lives in Plymouth to join us for dinner and we were all wow'ed by the dishes which were beautifully presented and above all delicious. I started with a crab mille feille, a soft crab pate piled into a tower with crispy biscuits and a  piquant mango garnish. To follow I ordered the sliced breast of duck which was well cooked with a ring of crispy fat, served with vegetables and a prune puree that gave a fruity piquancy. My desert was a perfectly creamy crème brullee with a crisp caramel topping and ball of lemon sorbet in a brandy snap basket. Guy tried a board of delicious West Country cheeses and our friend had the Langage Farm lemon and lime sorbet on a creamy jelly with pretty edible pansies. I thought that the three course dinner which included coffee was incredible value at £28.95 considering the elegant surroundings, friendly and attentive service and of course the delicious food.
The next morning we were back at our window table for breakfast to enjoy the garden views in daylight and of course I had to have the English cooked breakfast while Guy ordered a kipper from the breakfast menu. There was the usual range of hot toast with jam and marmalade, croissants, fruit and yoghurts, a choice of packet cereals, although the selection was fairly limited and I thought the breakfast didn't quite live up to the magnificence of the dinner the previous evening.
You can get married here too!
After the Young Farmers' party on Friday night I noticed that the ballroom was being laid out for a wedding on Saturday and went to have a nose around while the staff were setting out the tables. The large Crystal room at the far end of the hotel is on two levels, the first of which was being set out with chairs for the marriage ceremony while the ballroom area was arranged with tables for the dinner-dance that followed. The room lived up to its name, with sparkling chandeliers and mirrors, and would be the perfect setting for a summer wedding when guests can walk out onto the lawn. In the gardens I spotted the wrought iron rose arbour which was designed and made by local blacksmith Matt Dingle and is popular for wedding photos or even for the wedding ceremony itself. Although the wedding reception was in full swing on the Saturday night when we were dining in the Wildflower restaurant, I was impressed that the staff managed to keep everything running very smoothly, accommodating both groups of guests, although I probably wouldn't want to be sleeping in the bedrooms immediately above the ballroom when a major event like this is being held in the hotel.
The morning market at Tavistock
On Saturday morning we ventured out from the Moorland Garden Hotel to explore the nearby market town of Tavistock, which sits on the western edge of Dartmoor. The town became prosperous in the Middle Ages from the wool trade and was one of the "Stannary Towns" around Dartmoor that controlled the local tin mining that took place on the moor.
In front of the impressive stone Guildhall we chatted to the owner of the fruit and veg stall and wandered through the covered craft market. Through an archway we found the Pannier Market, a historic covered market that was given its charter 900 years ago and houses an eclectic mix of different stalls that change daily, with antiques, crafts and daily necessities. On the Saturday it seemed to be a bustling general market of everything you could hope to find in a Devon town, from birdseed to fishing bait, tweed hats to moleskin trousers and country fudge to old books and antique costume jewellery.
Around the courtyard that enclosed the Pannier market there were a number of small specialist shops, including de la Torre's selling a huge variety of olives and Mediterranean foods like houmous, olive oils and jars of condiments. Right next door was the Country Cheese shop where the staff were only too happy to let us try a sliver of this or that before we decided which of the many West Country cheeses to buy, deliberating between the delightfully named Miss Muffett, Tilly Whim and other Devon specialities.
The Garden House at Buckland Monachorum
On the way back from Tavistock that afternoon we stopped in at The Garden House, a privately owned gardens in a secluded Devon valley, set around a Georgian vicarage. The garden was bought in the 1940s by Lionel and Katharine Fortescue who moved to live in the vicarage and started planting the 10 acres of garden which was further developed in the 1960s by head gardener Keith Wiley who introduced the naturalistic landscapes of the cottage garden, wildflower meadow and Acer glade.
Walking past the house where I made a mental note of the tea-room, we started our tour of the garden at the small lake where the water lilies and sculptural gunnera made a picturesque setting with the half submerged blue rowing boat that was moored to the bank, but not going anywhere. Most beautiful at the end of summer was the walled garden where the long herbaceous borders were filled with hostas turning to yellow and decaying brown, with fraying silver thistles and the bright spots of dahlias blazing pink and pumpkin orange. In the middle of the walled garden was a small stone thatched cottage, perhaps the gardner's cottage making a backdrop for the dusty pink hydrangeas and pink penstomen.
At the furthest end of the garden we enjoyed the rhododendron walk which was now full of autumn colour with golden maples and acers lighting up the dark rhododendron foliage. The path led us gradually up hill through the Acer glade beside a small stream trickling over shale which had been cut into the grassy bank. Having completed the circuit of the garden we hurried back to the tea-room in the house before it closed, to have a Devon Cream tea and a slice of home-made fruit cake. Please note the Garden House is now closed for the winter and will re-open again in March.
Buckland Abbey, home of Sir Frances Drake and a Rembrandt self-portrait
On Sunday before we headed for home, we drove the short distance to Buckland Abbey, a medieval abbey which later became home to the Elizabethan sailor, Sir Francis Drake and is now run by the National Trust. We spent a few hours here, enjoying the great barn, medieval house, the Rembrandt exhibition and had lunch at the cafe before driving back to Bristol, although it would be very easy to stay a whole day here if the weather was fine.
The Cistercian Abbey was founded here in the 13th century, but after Henry VIII dissolved the monasteries, the abbey was sold to Sir Richard Grenville who demolished some of the monastic buildings and converted it to a family home. In 1582 Sir Francis Drake bought the property with the proceeds of his bucaneering raids on the Spanish fleet in the Americas and it remained in the hands of his heirs until earlier this century. This year Buckland was in the news due the Rembrandt Portrait which came to Buckland Abbey in 2010 and after a 2 year investigation by art experts has now been confirmed as a genuine painting by the master himself. We enjoyed looking around the special Rembrandt exhibition within the house showing the portrait and details of all the ways they had confirmed it was genuine, as well as other museum exhibits such as Drake's Drum which accompanied him on his voyages and is said to sound when England is in danger.
There are no shortage of things to see in this part of Devon and another time we might enjoy a walk up to one of the Tors on the moor or drive into Plymouth where the waterfront is being developed with new restaurants and museums. If you're looking for a comfortable and welcoming hotel with an excellent restaurant to use as a base for exploring the area I'd certainly recommend the Moorland Garden Hotel and would love to come back in summer to enjoy the gardens and sit out on the terrace, perhaps enjoying a Devon cream tea.
The Moorland Garden Hotel, Yelverton, Devon. Rooms for a weekend stay range from £100-125 based on B & B for 2 people sharing or £125-155 for a suite. Check the hotel website for information on special breaks such as 3 nights for the price of 2, Sunday night stays or breaks that include dinner and afternoon tea. Dogs are welcome in the hotel and can stay in certain rooms. My tip would be to check whether there is a wedding or function taking place in the hotel when you book and if so request a room at the opposite end of the hotel where you won't be disturbed.
This article is originally published at Heatheronhertravels.com – Read the original article here
You'll also find our sister blog with tips on how to build a successful travel blog at My Blogging Journey
In this guest article, former pastry chef Andrea Duty takes us on a mouthwatering tour of the best deserts and sweet stuff in London – heaven for sugar addicts!
The torrid reputation of English food is infamous. Time and time again, foodie travelers pass on the UK's bland traditions in favor of Vietnamese spice or French indulgence. And while it's true that the culinary scene in London had an exceedingly long awkward phase, it's since grown into a modern, dynamic contender as one of the best food cities in the world. I could talk for pages about the various curry houses, chippers, chaat shops and pubs throughout the city, but as a former pastry chef, I feel it my duty to bring you all things sugar, from the traditional to the internationally influenced. Thus, my list of absolute favorite desserts in London. Nothing bland about it.
Kouign Amann
Renowned Parisian chef Philippe Conticini brings the signature bell jars display cases and geometric packaging of La Pâtisserie des Rêves to Marylebone, filling them with manicured renditions of French classics and updated British favorites. His kouign amann – a baton of caramelized croissant dough – negates the need for a trip to Paris on the Eurostar while his carrot cake has forever ruined me to my homemade version.
Merveilleux
Hot on Conticini's heels is Frédéric Vaucamps, the master of meringues whose Aux Merveilleux de Fred just debuted South Kensington. His dainty "cakes" of crisped egg white, whipped cream and assorted toppings look like the dense cake balls du jour but wow with a cloud-like consistency. Flavors such as speculoos, praline and coffee compete as top sellers…and for space in my stomach.
Sticky Toffee Pudding
All those who visit me in London are treated to a Sunday roast at The Spaniards Inn, a 16th century pub reportedly frequented by the likes of Dickens and Keats. My guests may think the aim here is to show them a bit of British history or give them a little culture, but my real motive is a slice of sticky toffee pudding. The version at The Spaniards is wickedly rich and is pushed over the edge with a dollop of clotted cream. Nab a seat by the fireplace and it's pure heaven.
Bakewell Tart
Take a buttery tart shell, schmear it with jam, top with dense almond cake and you've got a classic Bakewell Tart. There are as many variations of this dessert as there are bakers in England, but my favorite slice so far is at Le Comptoir Gourmand. It may be commercially made, but it's so rich and homey that I swear someone's grandma must be running that kitchen.
Pistachio/Ricotta & Sour Cherry Gelato
I recently spent two weeks in Italy where I consumed as much gelato as is humanly possible, but BUT (and I feel sacrilege even saying this) none of it was as good as the scoops at Gelupo. Here the flavors are spot on: fresh, not too rich, and not too sweet. They are just…perfect. Plus, there's a dessert case full of frozen cupcakes, chocolate-dipped cones and a rotation of seasonal treats. Even when we are in the depths of winter, you can bet on finding me here.
Andrea Duty is a former pastry chef from Austin, Texas living in London, England. She eats her way through other countries in attempt to discover cultural insight from cake and historical relevance through cookies…or something like that. You can follow her travels at This New View.
More London dining experiences:
Fine dining favourites at the top London Hotels
Five of the best kept secret eateries in London
An artistic lunch at the V & A – in London
This article is originally published at Heatheronhertravels.com – Read the original article here
You'll also find our sister blog with tips on how to build a successful travel blog at My Blogging Journey
The beautiful region of South Tyrol in Italy ticks lots of boxes; picturesque Alpine farmsteads, clear as crystal mountain air, stunning views of the Dolomites – but fashion? When I visited South Tyrol in September I met with two different fashion companies run by energetic young entrepreneurs who were taking inspiration from both the natural environment of South Tyrol and also the modern spirit of Italian design. With the fashion capital of Milan only a couple of hours away these companies can enjoy a lifestyle surrounded by nature while tapping into the best fashion design and production facilities in the world. Read on to find out how fashion and design is thriving in South Tyrol and to enter my South Tyrol Designer Giveaway of WAMS Socks and Re-bello T-shirts – just in time for Christmas!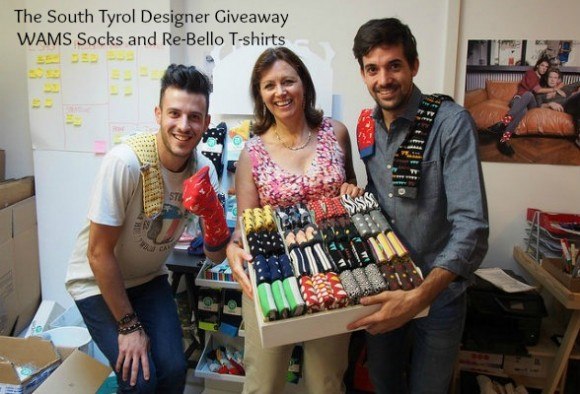 Where Are My Socks? Italian Designer Socks from South Tyrol
My first stop on the South Tyrol Designer trail was to meet Robert Larcher and Daniel Kaneider, founders of WAMS?! Socks in their office just outside Bolzano. I call it an office but in true start-up fashion, they have crammed their showroom, warehouse, design hub and working space into a basement room of Robert's apartment. I instantly felt the fun, fashion vibe with washing lines of latest sock designs strung over their desks and promotional leaflets from their latest collaborations covering the tables.
The two entrepreneurs met when studying economics in Innsbruck and decided they wanted to start a fashion business – fashion seems to be in the blood of every Italian male! They felt there was a gap in the market for colourful designer socks that were top quality but moderately priced and started work with a freelance designer to create the first collection. The tongue-in-cheek name of WAMS or "Where are my socks?" came about because the pair were always losing their socks in the wash so they wanted something bright and easy to spot. Now the range is constantly changing and there are often special editions such as the collection they made to match a Re-bello t-shirt line or the special snowflake sock they made for Snowdays, Europe's biggest winter sport event for students.
The socks are made of top quality combed cotton in a factory near Verona and the company is proud to be selling a 100% 'Made in Italy' product. The local production means they can respond to fashion trends and work with other South Tyrol designers on special projects. Daniel told me "If someone asks me for a special design, I can call up the factory and in an hour I can be in Verona to discuss it with them". The socks are stocked in over 50 stores around Italy and are also available to buy online through the WAMS website.
All the designs are unisex and in two lengths since Italian businessmen prefer to wear longer socks that don't show any ankle, while those looking for fun and fashion will go for the ankle length. The socks retail at €12 for the ankle length and €16 for the longer length with a €48 gift box containing 4 socks that is very popular at Christmas. Robert and Daniel kindly gave me 4 pairs of socks in their most popular designs to give away in one of the gift sets – see below for more information on my South Tyrol Designer Giveaway.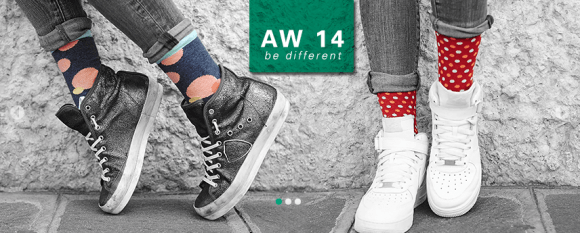 Follow WAMS?! socks on their website where you can order their socks,  ankle length socks €12, knee length socks €18, gift box with 4 socks €48, free shipping within Europe for orders over $40 otherwise shipping within Europe is €5.  Follow their social media channels Facebook | Instagram | Pinterest | Twitter
Read on to the bottom of the article for details of our WAMS Socks giveaway
Re-Bello – Sustainable Street style from South Tyrol, Italy
My next stop on the South Tyrol Designer trail was at the Re-Bello warehouse on the outskirts of Bolzano, where I met founder and CEO Daniel Tocca. After completing a degree in economics Daniel went on to complete a Master's in Entrepreneurship in Rotterdam and realised that this was the path he wanted to take in business. After a false start working for a year in a multi-national corporation he gave up his job and in 2010 returned to his home town of Bolzano, where he joined with two friends to work on the concept for their new start-up venture.
They wanted to work in the fashion sector which is well developed in northern Italy, as Daniel put it " Already when Italians are 13 or 4 they have an eye for beauty and fashion, it is in our blood like football." Their vision was to develop a fashion brand that was based on sustainability, since this was a growing movement in Italy and Europe in areas like organic food, but was not well represented in the fashion sector. They started to source and develop sustainable yarns and fabrics, using bamboo and eucalptus as well as organic cotton and up-cycled wool, and to develop a plan to build the business. Daniel told me "Sustainability is not only in the clothes, in the materials, in the hang tags and everything we use, but also in the philosophy of how we should develop our company for long-term growth".
At the start Daniel worked with a freelance designer to develop the fashion concept of Re-Bello – a beautiful rebel who wants to change things but in a beautiful way. Each range follows the season's trends but draws inspiration from street-style, punk and rock and is inspired by the 23-35 year old fashions, although all ages may be attracted to the stylish designs and sustainability concept. The t-shirts designs are where the company started and Daniel showed me a banner made up of all their best-selling t-shirt prints, many of which become signature prints that transfer from one season to the next.
The fabrics used are top quality, with a silky finish and the unusual yarns are a key part of the sustainability approach. Bamboo grows in the wild and when cut it will quickly grow back at 15-20 cm a day, while Eucalyptus (sold under the Tencel brand) is also a semi-wild plant and so does not require intensive cultivation methods or large amounts of water. Organic cotton is also used as well up-cycled wool, taken from the offcuts from woollen garment manufacture which is re-cycled to make a new yarn for the Re-Bello knitwear. The company uses natural dyes, avoids garment finishes that use any harmful chemicals and their production methods are certified under recognised standards such as the Global Organic Textile Standard (GOTS) and OEKO-TEX Standard 100.
Despite all the work that goes into the sustainability of the Re-Bello fashion ranges, Daniel told me "I want to attract the customer who doesn't necessarily know about our sustainability philosophy, who buys because of the style, they love the materials and how they feel. Then they go home and wear it and they understand the sustainability message and feel good about that." The natural beauty of South Tyrol is a big inspiration for the sustainability approach of Re-Bello and a reason why they are based in Bolzano rather than the fashion hub of Milan. Daniel told me "When you come here the first thing you see is that nature is everywhere, even if you are in the centre of Bolzano you look up to see the mountains around you. The nature and sustainability of South Tyrol is what will keep Rebello here."
Read on to the bottom of the article for details of the Re-Bello T-shirts I'm giving away
Follow Re-Bello on their website where you can see more of their Autumn range and discover how their sustainable approach makes a difference. In the Re-bello online shop you can order some of the best-selling t-shirts, knitwear and jeans for both men and women with T-shirts from €39.90, knitwear from €69.90 and jeans from €99.90. Follow them on their social media channels Facebook | Twitter | Instagram | Youtube |
The South Tyrol Designer Giveaway – WAMS?! Socks and Re-Bello T-shirts
I'm really pleased to be giving away to my readers some of the WAMS Socks and Re-Bello T-shirts that were kindly given to me when I visited the designers in South Tyrol. Lucky you – just as you're starting to look for Christmas gift ideas! I'm giving away a gift box of 4 pairs of WAMS designer socks and 3 Re-Bello T-shirts. You can keep them for yourself or gift them to that sister/ brother/ mother/ daughter/ son/ boyfriend/ wife/ special person in your life.
From WAMS Socks – I'm giving away 4 pairs of Socks in a gift set worth €48 which you can see in the photos below. There are 3 pairs of short and 1 pair of long length, 2 pairs in size 36-40, 2 pairs in size 41-46.
From Re-Bello – I'm giving away 3 T-shirts in designs and sizes listed below to 3 different winners;
Left: Batwing Tunic T-shirt Rose of Sharon made of Eucapliptus (Tencel) in size Large worth €39.90 – See it online here
Centre: Kimono T-shirt White + Dark Gull Grey made of Bamboo in size Large worth €48.90 – see it online here
Right: Batwing Tunic T-shirt Dark Gull Grey made of Eucaliptus (Tencel) in size Medium worth €39.90 – See it online here
How to Enter
To enter the South Tyrol Designer Giveaway please use the Rafflecopter widget (you can enter for both the socks and the T-shirts);
If you'd like to win the WAMS Socks, enter by taking a look at the WAMS Socks website and then leave a comment below this post to tell me which is your favourite sock design from their range.
If you'd like to win one of the Re-Bello T-shirts, enter by taking a look at the Re-bello Autumn 2014 look book for women or men or their online shop and then leave a comment below this post to tell us which is your favourite look or item from the Re-bello autumn range. In your comment, please also let us know which of the three t-shirts you'd like to win.
You can gain additional chances to win via the Rafflecopter Widget;
Terms and Conditions
This giveaway is a prize draw/sweepstake
The prizes are a. 4 pairs of WAMs socks in a gift box b. Re-bello batwing T-shirt Rose of Sharon size L c. Re-bello Kimono white/grey stripe T-shirt size L d. Re-bello Batwing dark Grey t-shirt size M
Unfortunately no substitutes for design/ size/ colour are available since the items were given to me in South Tyrol and will be shipped my me from the UK to the winners
The giveaway is open to all readers in any location
The 4 winners will be chosen at random
The giveaway ends on Monday 24 November at midnight
The winners will be notified by e-mail within 7 days of the draw ending and must confirm their acceptance of the prize by e-mail within 3 days or the prize will be allocated to another winner.
The prize will normally be posted to the winners within 14 days of them accepting the prize and may be posted by the cheapest method, so this will determine when it will arrive.
The giveaway is restricted to one entry per individual although each individual may leave a comment for both the socks and the t-shirts
Any duplicate or automated entries will disqualify the entrant from this giveaway
Entering this giveaway gives permission for you to be added to the e-mail list of Heatheronhertravels.com but we will never spam you and you can unsubscribe at any time.
More things to see in South Tyrol
Cycling with wine and apples – on the South Tyrol wine road
Climbing my first Via Ferratta in South Tyrol
Traditional South Tyrol food and wine with a gastronomic twist
Messner Mountain Musem – before the time of man
Information, articles and resources for South Tyrol
For more information to plan your own visit, find accommodation and discover all the things to do in South Tyrol, visit the South Tyrol Tourism website and watch videos about the region on their YouTube channel. For updates on things to do in South Tyrol follow the South Tyrol Twitter, Facebook, Google+ and Instagram pages
My thanks to South Tyrol Marketing for supporting my visit to South Tyrol in collaboration with Travelator Media
This article by Heather Cowper is originally published at Heatheronhertravels.com – Read the original article here
You'll also find our sister blog with tips on how to build a successful travel blog at My Blogging Journey
Some great competition websites:
Competitions Today
Win Free Stuff
CompetitionsList
ABC Win