If you've been enjoying the recent ITV documentary "The Cruise Ship" filmed on board Royal Princess, you'll have already met Cruise Director Sam Hawker-Thomas who was featured in Episode 2. In this interview with Sam we find out what being a Cruise Director for Princess Cruises involves, what it was like being filmed for the TV series and her favourite destinations to visit around the world. as well as her tips for getting the most from your cruise.
So Sam, how did you come to be working in the cruise industry?
I was 22 and working on the makeup counter at Debenhams and one of my friends there had worked for Princess Cruises before. I'd always wanted to travel and she kept telling me "You should work on a cruise ship", so I decided to apply. I thought I would have 6 months away and then come back to work, but 13 years later, I'm still here.
I did two contracts working in the boutiques, then I switched over to the entertainment department and worked my way up through the ranks, getting my first role as Cruise Director in 2010. The company usually decides where to send you or you can make a request for which ship you'd like to work, but I've usually left it to fate. However I do remember, when the company announced that they were launching a new ship, Royal Princess, I did ring my boss in Los Angeles and told him "I want to be on that ship." As my grandpa always told me, "if you don't ask, you don't get!"
And what does the job of Cruise Director on Royal Princess involve?
On board I oversea the whole entertainment department and have 5 managers who work for me; the Youth Activities Manager, Music Manager, Production Manager, Performance Manager and Deputy Cruise director. We look after everything relating to the entertainment on board, from the music to the lighting, to the ambiance of all of the shows.
As well as the planning and scheduling of activities and events, I also take part in a lot of the shows. One unique feature on board Royal Princess and her sister ship Regal Princess is that we have a TV studio, Princess Live, where we film a daily show telling the passengers what's going on around the ship. Our production shows are specially created for Princess Cruises and the dancers and performers spend 4 weeks rehearsing in our studio in Los Angeles before coming on board.
We also like to be creative in coming up with different events, shows and activities, like the "Hollywould you?" show that you saw Deputy Cruise Director Dan come up with in Episode 2. On longer cruises like the transatlantic crossing, there are many more days at sea and that gives us plenty of opportunity to come up with new events.
A big part of my day is also walking around the ship and meeting the guests, to ensure they are having a nice time. I'll be there to meet and greet at the shows and am available at the end of the show if guests have any questions. I try to walk around the lounges while activities are taking place, to see how well received they are and what the passengers are enjoying. A big part of my job is being the face of the ship, being seen by the passengers here, there and everywhere. There's nothing I like better than when people say "Are there three of you on board?" because they've seen me all around the ship.
For passengers a cruise can be a glamorous experience but what's life like behind the scenes for the crew?
For the crew it's like any job in that you have your hours and you work hard. The crew take pride in what they do and they want to give a great service. Princess are very good to work for because they understand that not only are we working on board but it's also our home, so there are plenty of facilites available for the crew. We have a crew library, gym, internet, recreation facilities and there's the position of a crew welfare coordinator to organize activities and events for the 1350 crew. All the staff facilities are on Deck 5 where we have Plaza Court, the crew's buffet style restaurant.
Some crew will be very active in their downtime, others will just want a rest and recharge their batteries. If we are in a port of call I definitely like to get off the ship and have an adventure and a wander, but now I'm on board with my husband we try to spend time off together when our schedules allow. On sea days things are very busy for the crew but on shore days the managers will ensure that each crew member has some time off to go on shore if they wish and there are organised shore excursions as well.
So what are the highlights of your job and are there any bits you don't enjoy?
The highlight of my entire time with Princess has been the Royal Princess naming ceremony. I was on board the ship for 6 weeks before her launch as part of the crew getting the ship ready in the Monfalcone shipyard and it was a great experience to see the ship develop from a shell through to her launch.
I was also involved in the preparation for the Duchess of Cambridge's visit for the naming ceremony, making sure that everything was ready for her presentation on board, right down to the background music and making sure the microphones were working. I was invited to come shore-side to watch the ceremony, then afterwards we went back on board and the Duchess came into the piazza, and all the crew gave her a big cheer as she came in. She met some of the crew in the piazza, and was given a tour around the ship and then then we had a reception for her in Club 6.
On a day to day level, I love it that no two days are the same, so even if you're doing the same run, the guests change, the crew changes, so there's always a lot of variety. I absolutely love seeing passengers when they come back and remember us, when people come up and they want to have their photo taken with you because they want to remember you. It's so rewarding when the guests are having a great time or they've enjoyed all the shows and you feel that you're adding to the passenger's holiday experience.
One thing that I don't enjoy is when there are big storms and the seas are rough. When I first started I used to get quite sea sick but luckily I've got my sea legs now. Depending on the shows we have planned, if we have a rocky night we might need to reschedule and change things around, for instance if there's a juggling act. You always need to have backup plans, as if mother nature's not on your side and a potential port day turns into a sea day, you have to be ready to keep everyone entertained.
What was it like being part of the ITV documentary "The Cruise Ship"?
It was really fun experience. Although I'm used to filming a TV show every day on board Royal Princess, it was a bit strange at first to have the camera there all the time. The crew filmed with us every day for 6 weeks, at meetings, backstage, at lunch and when I was getting ready to do a show. Whatever we were doing they captured it, but after a while I just forgot the film crew were there.
We let the passengers know that we had a film crew on board and what we were doing it for. There was huge excitement from the crew and the passengers and a lot of the passengers contacted the desks to ask "how do we get involved?".
For me it was fun to take the camera behind the scenes. There's cruise director Sam who's out on the front line but then I want you to see behind the scenes because I pretty much am that bubbly, crazy person all the time, it's not just a face for when I go on stage.
When I saw the episode I was fine about seeing myself as I'm used to seeing myself when we play back the shows we film on board. It was quite a unique experience to watch the show with all my family as I'm home on vacation at present, so when I saw it on the telly I thought, "Oh my goodness, it's a real show!"
What are the favourite destinations that you've visited on a cruise and why?
That's a tough question because there are so many gorgeous destinations. I love all the ports in Italy, because there's so much on offer, from the culture to the food to the places to visit. Venice is a very special place to visit on a cruise, especially the sail in or the sail away which is so beautiful. Whether you want to be romantic or fashionable or fun, Venice has it all.
I'm also a sunshine girl so I love the Caribbean. Tortola in the British Virgin Islands is a favourite place, with little hideaway beaches and deserted islands. You can find a beach with hardly any people and it really feels like paradise.
Aruba was one of the first places I visited when I first started working on a cruise ship and holds a fond place in my heart. I had such a great time when I visited, I think it was the combination of the crew that I was with and the day that we had, it was one of my first memories that has stuck with me. The beaches on Aruba are beautiful but the downtown area is also lovely with nice shops and restaurants. I've been to all of the Caribbean islands but Aruba is one that I'd go back to tomorrow.
How do you manage to combine family life with your job on board Royal Princess?
My husband Denis is the Hotel Controller on board Royal Princess and also appears in the ITV show, The Cruise Ship. I'd almost given up on love, but when I met Denis when we were both working on Ruby Princess I knew he was the one! We met in the January and got married in the April, only 4 months after we met.
Since we got married we've managed to be on Royal Princess together and in between our contracts we try to get some real life time together with no pagers or alarm clocks. I'll go back on Royal Princess in October but we don't have confirmation of Denis' schedule yet. Sometimes the uncertainty of where we'll be working next can be unerving, but if we're apart we make sure we speak to each other every day and we'll always make it work.
In between contracts I also like to spend time with my friends and family and to see my god-daughter. Working on the cruise you sometimes miss out on those family occasions like birthdays or Christmas. That's the lifestyle that we choose, but I really make up for it when I come home. I love London, so from my home in South Wales I'll try and go down, to catch the shows and do a bit of shopping. When I'm not working I also like to travel and when Denis comes home in September we'll be off on holiday so you'll probably find me in nice beach resort, cocktail in hand.
Do you have any tips for newbie cruisers?
I'd advise guests to get involved, have a lot of fun and not be shy, because at the end of the cruise you'll probably never see those people again! When you first get on board, adventure around and explore the ship, it's great fun getting lost. I would definitely read the ship's daily programme and mark the things that interest you, because there's so much going on and you don't want to miss out on anything.
Or of course you could just sit on the deck and do nothing, a cruise is a great opportunity for you to tailor your holiday to do as much or as little as you like. If you love visiting new destinations, do a little research before you come and don't be afraid to ask the crew for tips. They have a lot of knowledge about the ports of call and are always happy to share their experience with you and to give you advice on where to go and what to do.
More articles about Royal Princess
Being Princess for a day – the naming of the Royal Princess by the Duchess of Cambridge
My video tour of Royal Princess Cruise Ship on YouTube
Royal Princess to star in new TV series, The Cruise Ship
The remaining episode of The Cruise Ship is airing in the UK on ITV Friday 1st August or watch the episodes on catch-up. You can follow Sam Hawker Thomas on her Twitter accounts @Sammyeyelash and @TCSSam and follow the social media conversation hashtag #TheCruiseShip. For more information about sailing on Royal Princess, visit the Princess Cruises Website.
This article by Heather Cowper is originally published at Heatheronhertravels.com - Read the original article here
You'll also find our sister blog with tips on how to build a successful travel blog at My Blogging Journey
Whether you fancy getting away to enjoy the summer sunshine or are planning a weekend break in the autumn once things have cooled down, I'm happy to announce my summer hotel-stay giveaway in partnership with HotelsCheap.org. I'm giving away a HotelsCheap.org voucher to one of my readers, worth $250 (or equivalent value of £145/€185) which you can use to book yourself a stay in a lovely hotel and treat yourself and that special someone to a relaxing summer break. The voucher can be redeemed for a hotel booking on the HotelsCheap.org website up until spring next year, so if you prefer you can wait until the autumn or even next spring to enjoy your hotel stay.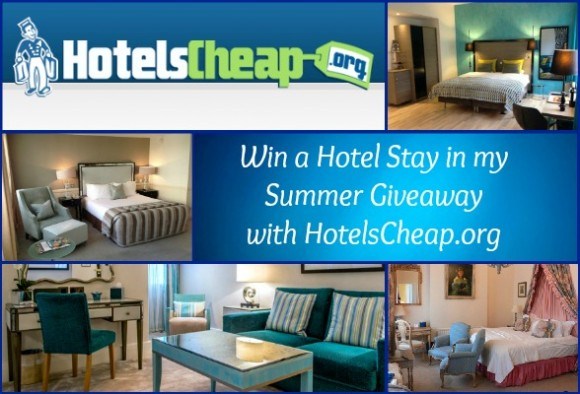 HotelsCheap.org is a hotel booking website that specialises in finding discount hotel rates for travellers worldwide and you can use the voucher to book a hotel stay in the UK, US and Canada, Europe and many other destinations worldwide. To inspire you in your choice of hotel getaway, I've come up with a few ideas, based on destinations and hotels I can personally recommend. If you'd like to enter this giveaway, please follow the details at the bottom of the article to find out how you can gain the maximum chances to win the HotelsCheap.org voucher.
A historic getaway in Winchester
Why go?
The best of England packed into an ancient market town, Winchester has a very walkable historic centre, plenty of green spaces, river walks, interesting artizan shops and great places to eat. If that's not enough, you have the beautiful Hampshire countryside on your doorstep, with walking and country houses to explore within a short drive of Winchester.
Where to stay?
The Winchester Hotel and Spa is a short walk from the historic centre and has rooms in August and September Saturday nights for £150 and under. Read my review of The Winchester Hotel and Spa
What to see?
Wander around the medieval market town and visit the famous cathedral where Jane Austen is buried – perhaps you'll find a farmer's market in full swing. Shop in the craft markets or artizan shops that line the narrow lanes, walk along the river to the city mill where you can see flour being ground as it has for centuries and perhaps spot some otters in the mill stream. The South Downs Way starts at Winchester so you may like a hike in the lovely Hampshire countryside or walk to the top of the town and visit the medieval Great Hall with King Arthur's round table.
Read more about Winchester here: 10 ways to spend a wonderful weekend in Winchester
A lively stay in San Antonio, Texas
Why go?
This town is one of the most historic in Texas, set on the San Antonio river, with some buzzing bars and restaurants along the Riverwalk making it a great choice for a relaxing getaway.
Where to Stay?
Hotel Valencia Riverwalk is an elegant boutique hotel on the Riverwalk and has Saturday night stays in August and September for under $200 although you may prefer to wait until the sweltering Texas heat and humidity reduces and take your hotel break in October or November. Read my review of Hotel Valencia Riverwalk
What to see?
Take a boat tour along the Riverwalk or stroll on foot as evening falls and the area buzzes with bars and restaurants. Of course you will want to visit the Alamo, a landmark in the struggle for Texan independence and perhaps drive out to some of the other historic Spanish missions in the area. You can hire bikes and cycle on the path beside the San Antonio river or shop for local crafts and artizan souvenirs in the La Villita Historic district.
Read more about our stay in San Antonio here: Texas Podcast Part 1, Houston, San Antonio and Picosa Ranch
A cool weekend in Copenhagen
Why go?
Haven of Scandi-cool, Denmark's capital has a compact centre that is easy to explore by bike or on foot and in summer you can take in the party atmosphere as locals enjoy the summer in the parks and around the harbour.
Where to Stay?
The Ibsens Hotel is a stylish hotel near the Copenhagen lakes that is furnished with quirky finds from neighbourhood shops and local artizan businesses and has Saturday night stays available in August and September for €130-180.  Read my review and video of Ibsens Hotel here
What to see?
A boat tour of the canals and harbour will help you get your bearings and locate some of the major Copenhagen landmarks, such as the Opera House, Royal Palace and the Little Mermaid statue. Stroll along Stroget where you'll find luxury Danish design stores and climb the medieval Round Tower, for views over the city. You'll want to enjoy the food scene too, with some of the best restaurants in the world where Michelin stars abound, but you can also find inexpensive snacks and deli-meals in the Torverhallerne food halls.
Read more about Copenhagen here: In photos: Our weekend stay in Copenhagen
A spa break in Budapest
Why go?
Hungary's capital has all the sophistication of Paris but with far more affordable prices and warm, friendly locals. There's so much to see whether you love sightseeing, relaxing in the numerous traditional and trendy cafes or visiting one of the thermal spas.
Where to Stay?
The Intercontinental Hotel is a 5 star hotel that's centrally located for sightseeing by the Chain Bridge with views of the Danube and there are dates in August and September available from €100 per night. Read my review and video of Intercontinental Hotel Budapest here
What to see?
Take the funicular up to the top of Castle Hill to visit the colourful Matyas church and take in the views from the Fisherman's Bastion over the Danube and Hungarian Parliament building. You'll want to visit one of the Hungarian spa baths such as the Gellert or Szechenyi complexes to enjoy a massage or a soak in the warm baths and perhaps afterwards have coffee and cake in an elegant cafe. The House of Terror is a compelling reminder of Hungary's communist past, while a visit to the Hungarian State Opera House for a concert or ballet is a must for culture lovers.
Read more about Budapest here: 48 hours in Budapest, top things to see on a weekend break
About HotelsCheap
HotelsCheap.org specialises in finding discount hotel rates for travellers worldwide operating in 75 countries for hotels, bed-and-breakfasts and holiday apartments. On HotelsCheap.org you can find anything from hostels and popular brand hotels to boutique hotels to luxury resorts, so getting the best hotel price doesn't mean compromising on where you stay. You can also find more tips, traveller interviews and accommodation guides on the HotelsCheap blog
Follow HotelsCheap.org on their social media channels for travel inspiration and tips for the places you'll want to visit; follow along on Twitter @hotelscheap, on Google+ and on Facebook
About the giveaway
I'm giving away a voucher to one of my readers worth $250 US (equivalent value £146 or €185) which can be redeemed on HotelsCheap.org any time before June 2015. The giveaway is open to all readers regardless of your location although the voucher will be redeemed in $US. The giveaway will run for 2 weeks and end on Monday 4 August 2014. To enter the giveaway all you have to do is;
Leave a comment below telling me how you'd like to spend your HotelsCheap voucher; which destination would you love to visit, who will you be going with, where would you like to stay?
You can also add 5 additional chances to win by doing any of the following through the Rafflecopter widget below;
Like the Heatheronhertravels Facebook page
Spread the word about the giveaway on Twitter, for example; I'd love to #win a summer hotel stay with @hotelscheap in the #giveaway at @heathercowper http://ow.ly/zmLnX
Follow Heather on her travels on Twitter @heathercowper
Follow the HotelsCheap Google+ page
Follow HotelsCheap on Twitter @hotelscheap
Entering this giveaway gives permission for you to be added to the e-mail lists of both Heatheronhertravels.com and our sponsor HotelsCheap.org, but you can unsubscribe at any time.
This article by Heather Cowper is originally published at Heatheronhertravels.com - Read the original article here
You'll also find our sister blog with tips on how to build a successful travel blog at My Blogging Journey
Some great contest sites:
Competitions Time
Competitions Today
UK Competitions and Prize Draws at UKwins
Free Online Competitions
ABC The Place to Win
OfferOasis.co.uk – Competitions and Freebies in the UK
July 15, 2014 by Guest Author
Filed under Austria, Cycling, Eating and drinking, Europe, featured, Gardens, Guest post, Leisure, Misc, Nature, Sightseeing, Ski and Snowboard, Walking
In this article, guest author Claire Palmer shares with us her family's favourite holiday choice of Filzmoos, Austria, the perfect destination for summer walking or winter skiing, your choice for a gentle or full-on family activity holiday!
The traditional mountain village of Filzmoos has been a much-loved destination for my family in both winter and summer since we first discovered it when my 19 year old son was a 19 month old! Building and development is strictly controlled so it has retained its alpine chocolate-box charm with no high-rise buildings to mar the breath-taking views of the Bischofsmutze (Bishop's Mitre) peak and the Dachstein glacier range. There is no shortage of things to keep our two teenage boys occupied and the village has kept pace with their requirements as they have grown.
Uncrowded slopes meet the needs of any ski enthusiast
The whole family learnt to ski (snowboard in my younger son's case) in Filzmoos, including my father who learnt at the ripe old age of 74 and still holidays with us 19 years later, an inspiration to us all! All the instructors in the excellent ski schools speak very good English. Filzmoos is only known to one UK tour operator which means the slopes are uncrowded and the lift queues short, even in the school holidays. We love that the gentle nursery slopes are right in the middle of the village and the more challenging runs finish in the middle of the village so, if some of us have been on the "red" runs and others opted for a leisurely cruise on the wide, well-groomed "blue" pistes, we can all easily meet up in one of the many restaurants and cafes for a warming hot chocolate (Gluhwein for me, please).
Speaking of restaurants, the typical Austrian mountain food is delicious and filling. My sons never tire of the local specialty dessert – Germknodel – a yeast dumpling filled with plum jam and served with vanilla custard. When they were younger it was a whole meal in itself, now it follows a huge Tiroler Grostl, a sizzling cast iron pan of diced potatoes, bacon and eggs fried with herbs.
Activities abound in any season
At Christmas our "must-do" outing is a sleigh ride up to the Oberhofalm and Unterhofalm for the "Advent Idyll" walk around the frozen lake featuring fire pits, candle-lit decorative scenes and huts selling spiced Gluhwein. Watch out for the trick-playing Perchten, horned beasts from folklore dating back to pagan times.
On Christmas Eve Father Christmas arrives in the village square by sleigh and he and his angel-helpers give out sweets and sparklers to the children. Gluhwein is, as always, on offer for the adults!
Our favourite summer outing is also up to the Oberhofalm and Unterhofalm inns but this time by hiring electric-assisted mountain bikes to ride through the woods, arriving in time for lunch outside on the terrace under the sun umbrellas, gazing at eagles circling in the bright blue sky and the majestic snow-capped peak of the Bischofsmutze, now so much closer.
On the way up our refreshment stop is a trough with a spout that gushes pure mountain spring water straight from the ground at an amazing 5 degrees C. Bliss! These electric bikes are amazing machines! The fittest in the party can pedal just as on a normal bike and I can choose how much assistance to have from the battery power, enabling me to go up slopes I could only dream about otherwise!
Discover local flora and fauna
Once up at the mountain inns there are numerous marked walking paths across the high alpine pastures and around the small lake. In fact Filzmoos has 200km of marked walking trails and I love to see the wild mountain flowers in spring and summer. I've found gentian, carlina and many others that I can't identify but no edelweiss yet, sadly.
Another favourite walk of ours is the Marmot trail where we take the Wanderbus high up into the mountains where one can see marmots (although the only ones we've seen so far are on postcards!) then walk back down to the village, admiring the incredible alpine scenery and views at every turn.
Plenty to do for the adventure seeker
For something a little more adrenalin-fuelling for our teenagers, we take the Wanderbus to the neighbouring village of Ramsau where there is a summer toboggan run. Riding the toboggan down on spiralling metal rails that loop out on stilts over the valley is certainly exhilarating, as is going up the mountain on the chairlift and hiring a mountain scooter to ride back down. A completely new experience for all of us! Ramsau also has a bathing lake, archery, hang-gliding or a long cable car ride up to the Dachstein glacier for skiing or to visit the ice caves. A walk out on the Dachstein Sky Walk, a platform overhanging the valley 250 metres straight below, gives a spectacular panorama but I prefer to look out not down!
Despite only having 1,450 inhabitants, Filzmoos village has everything we have ever needed and so we relish not having to use a car and therefore not having to worry about how much of the refreshing "golden nectar" we have drunk!
As well as indoor and outdoor swimming pools, a bowling alley and tennis court, there is a well-stocked supermarket, butcher and delicatessen, a wonderful bakery with coffee shop, pharmacy, doctor's surgery, indoor and outdoor swimming pools, bowling alley and, most importantly, numerous restaurants and cafes serving scrumptious coffee and specialty cakes such as Viennese Sachertorte or apple strudel and cream. After 18 years of holidaying there we have still not run out of things to do and there are many excursions we have still not taken.
Two years ago we realised our dream of buying a one-bedroomed apartment in the village, within five minutes walk of ski slopes and restaurants. This sleeps up to 5 and is available for hire. Please email Claire Palmer at myskiapartment@gmail.com for more information.

Author Bio: Many thanks for this article to Claire Palmer, who has loved to travel ever since she was a child touring Europe by caravan for the summer (her parents were teachers) and spending part of her childhood in New Zealand. Since having her own children she has travelled extensively as a family both in Europe and back to New Zealand. She loves Austria and, since realising a long-held dream of buying a property there, is taking German lessons in preparation for spending much more time there when her sons have left school.
For more Austrian adventures:
May Day at The White Horse Inn on Lake Wolfgang, Austria
Lost in the Hohensalzburg Fortress in Salzburg
Riding the steam train – on the Schafburgbahn at St Wolfgang
This article  is originally published at Heatheronhertravels.com - Read the original article here
You'll also find our sister blog with tips on how to build a successful travel blog at My Blogging Journey