In this article our guest author, A J Walton shares his love of British Columbia in Canada and the best places to watch wildlife such as seals, whales, eagles and grizzly bears.
British Columbia has some of the most exciting and diverse wildlife habitats in all of North America. As a child of the Canadian prairies, I fondly remember yearly summer trips to BC, where hiking & camping became familiar friends. Nothing has changed as an adult adventure seeker. In fact, I still consider British Columbia my top outdoor travel destination in the world.
In BC, with its sprawling forests, expansive coastline and mountainous peaks, you can expect to see all kinds of animals even just driving along in your car. For adventurous travelers who are ready to get a bit more up close and personal, these 7 wildlife watch tours will open your eyes to a world of natural beauty and the wonders of the animal kingdom.
Whale watching from Stevenson
This unique whale watching tour gives you a stunning view of the BC coastline. It's the perfect way to watch the world's largest creatures at home in their natural habitat. The tour meets in the historic fishing town of Stevenson, just South of Vancouver. From there, expert guides take you on a day trip in their 40-foot cruising vessel through the Gulf Islands in search of orca whales, sea lions, aquatic birds and much, much more. Tours from Stevenson Seabreeze Adventures are available from April 1st through October 31st.
Nature Discovery Tours from Whistler
Offering a range of private and semi-private land rover excursions, Whistler Discovery Tours lets you experience the beauty of the Coastal Mountain Range like never before. With so many natural wonders to choose from, it'll be difficult to pick just one. They offer morning and evening bear watch tours that let you get up close and personal to these gentle creatures. You can also take a ride through a 450-acre ancient rainforest, where you'll see massive century-old trees and a host of indigenous wildlife. Any tour you choose, you're bound to see stunning wildlife and rarely seen views in some of the most remote places on Earth. Tours from Whistler Discovery Tours start on May 1st and run until November 15th.
Wildlife spotting along the Fraser River
Perfect for a summertime adventure, Fraser River Safari is the ultimate tour of wildlife on the river. Starting in the town of Mission and ending in Harrison Mills, they take you on a wild ride up the Fraser River to see diverse animal life, scenic riverbeds and breathtaking views. You'll board a cozy "Safari Craft" that's perfect for those shallow waters, delicate natural habitats and close range glimpses at bears, bald eagles, seals, and the great white sturgeon. It's ideal for couples, a small group of friends or adventurous families. You're free to book a personal tour with Fraser River Safari any time during the year, but the busy season starts in July and runs until November.
See bears in their natural habitat
Based in Fraser Valley, you're free to rent ATVs or hop on a guided tour as you explore the vast Coastal Mountain Range of BC. With its remote location and rugged terrain, Bear Country Tours gives you unprecedented access to the deep reaches of this wildlife reserve. You can take a two-hour tour or gear up for a multi-day excursion. They specialize in tracking down black bears, grizzlies, and bear cubs in their natural habitat. Don't worry; these guides are safety experts. Plus, every tour comes with their famous BBQ lunch. Bear Country Tours are available year round. This is an experience that lasts a lifetime.
Explore the sea life around Nanaimo
If you love to scuba dive, then you're in for a real treat. Sea Dragon Charters lets you explore the magnificent sea life in either Howe Sound or Nanaimo, just outside of Vancouver. You can kayak with the seals, go snorkeling with the fish, or sightsee from the boat. Experts take guests to stunning views of the coastline where you're bound to see octopus, king crabs, wolf eels, and dozens of species of fish. If you choose to go kayaking, the seals love to introduce themselves by playing with the guests. Get off the boat and discover a world of wildlife up close and personal.
Whale Watching from Victoria
Departing from Victoria or Vancouver, this whale watching tour puts an educational twist on your big sea adventure. Guests get to board a mighty passenger vessel as it sets sail through the Gulf Islands, usually pointing out numerous orcas, humpbacks, and sea lions along the way. They refer to their cruises as floating classrooms with some of the finest wildlife tour guides on board. Every trip with Prince of Whales Whale Watching comes with valuable information that will only enhance your experience and knowledge of these spectacular creatures.
See Grizzly Bears in Knight Inlet
Cruising through the Knight Inlet in Northern BC, Tide Rip Grizzly Tours gives you an intimate look at the local wildlife throughout the many uninhabited islands, inlets, reefs, and rocky shorelines. You'll see plenty of grizzly bears as they feast on salmon jumping upstream, plus dolphins, seals, and bald eagles. As one of the few sightseeing tours in the region, this is a rare experience that's not to be missed. The action heats up in June, but Tide Rip Grizzly Tours are available from April to October.
Visit the #explorecanada official Canada Tourism Website for more information on things to do in British Columbia and Vancouver Island as well as their social media channels on Instagram | Facebook | Twitter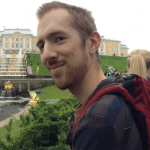 Author Bio: Thanks for this article to AJ Walton – a world traveller focused on traveling, learning languages and entrepreneurship.
More Canadian adventures:
Vancouver Island – Nature Lover's Paradise
How to Enjoy a Great Day in Victoria, BC
5 Reasons to Put Canada on Your Bucket List
Pin It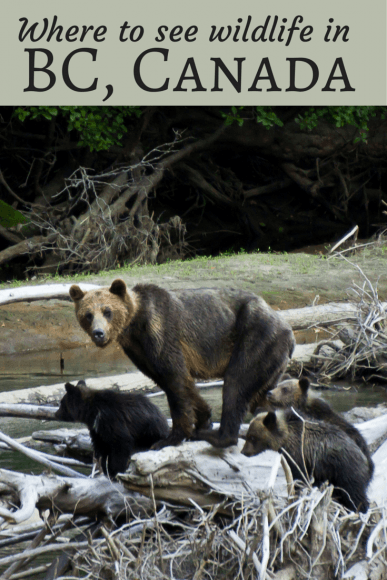 Photo Credits: Sea Lions by Richard Gould , Rainbow Lake Hiking Trail by Iwona_Kellie , Fraser River by John Bromley , Grizzly bears by Stephen Mattucci, Whale Watching by Natalie Tsang , Grizzly bear and cubs by Stephen Mattucci
This article is originally published at Heatheronhertravels.com – Read the original article here
You'll also find our sister blog with tips on how to build a successful travel blog at My Blogging Journey
The crowds of St Mark's square swirled around us as we waited at the Lion of Venice column for our Venice boat tour to begin. What a fabulous spot for people watching; the brightly clothed Chinese with every inch of skin hidden from the sunshine, the couples with their selfie sticks and the children chasing pigeons. Close to us was the line for the Doge's palace, a little further the queue for the Campanile, while on the far side of the square, tour groups were being herded towards the entrance of St Mark's Basilica.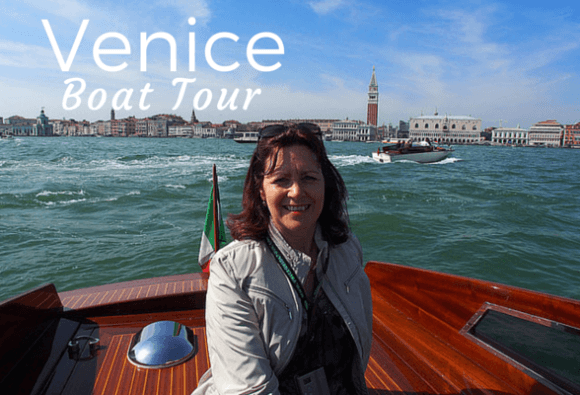 Thank goodness that our guide Jennifer soon led us away from the noise and crowds towards the water taxi, and we were off to see Venice by boat on our Walks of Italy tour. Our small group comprised a couple from San Diago, Sandy from Australia as well as the four of our family and in moments we were following the Hotel Cipriani launch across the lagoon towards the island of San Georgio Maggiore.
Ten minutes later and we stepped onto the landing stage in front of the pure white facade of Chiesa San Georgio, designed by the architect Palladio at a certain angle so that it would glow in the afternoon sun. This is the spot where every bride and bridegroom will come after their wedding, to have their photo taken with the view of St Mark's square in the distance across the lagoon. There is no-where to stay on the island but it's not much of a hardship posting for the handful of monks who still live in the Benedictine monastery.
Jennifer led us through the chuch and to the lift which took six people at a time up to the top of the campanile with 360 degree views over the lagoon – the cost of €6 was included in our Walks of Italy Venice boat tour. From here we could look down into the monastery gardens, towards the outer islands and clearly see the channels of the lagoon that are under heated discussion in Venice. The big debate is whether to reduce the number and size of the cruise ships going through the channel in front of St Mark's square, since this would mean dredging deeper channels in other parts of the lagoon which could cause just as much environmental damage.
Once we were back on the boat, our guide Jennifer fed us a steady stream of stories about Venice – a mixture of celebrity, history and money just as Venice has always been. Soon we could point out the house owned by Elton John on the nearby island of Giudecca and the church where Verdi was the choir master.
Skirting around the Arselale district we rounded the far side of the lagoon with a view of San Michele, the graveyard island. It was Napoleon who ordered all the graves to be moved to this island since it was becoming insanitary in Venice and it is still used as the burial place today.
Beyond San Michele is the island of Murano known for the glass blowing – the glass industry was moved there due to the risk of fire and to keep the closely guarded secrets of the art of glassmaking. The Venetians were the first to perfect the making of coloured glass through the addition of gold, mercury and copper and of making mirrored glass to replace the polished metal looking glasses.
Check out the dog we saw standing at the prow of the boat alongside us as we passed the island – typical of Venetians going about their business by boat!
Next our Venice boat ride took us through the pretty backwaters of the Cannaregio district, with much more of a local feel, where the tide of cruise ship guests rarely reaches. This is the neighbourhood I'd choose to stay if I ever go back to Venice, in some crumbing but atmospheric house with a balcony overlooking a small side canal.
We passed the famous church of Madonna dell'Orto that we had already visited on our wanderings, with the huge paintings by Tintoretto who had a studio nearby. Jennifer pointed out the more mundane necessities of daily life in Venice; the hospital with yellow ambulance boats moored outside and the sports centre close to the station where the train tracks end. You'll know you're nearby if you see a large H for hospital on a bridge to warn you to keep the noise down.
There are only a couple of places that the famous gondolas of Venice are made and we passed one of them on our boat tour. Check out the Alpine looking buildings made of wood, since the first boatmakers came from the Tirol, north of Venice.
As we entered the Grand Canal, we heard more stories of life in Venice, and learned how there were originally far fewer streets, which since they were likely to be muddy and smelly, were only used by servants. The main house entrance was always on the canal side and everyone who was anyone would go about their business by gondola. The bridges and pavements alongside the canals were only built later and if you see a street called Calle Terre it means the canal that was once there has been filled in and paved over.
Now the celebrity stories were coming thick and fast as we passed the Gritti Palace hotel where Gwyneth Paltrow celebrated her birthday, the Mayor's office in the Cavelli Palace, where George and Amal Clooney had their civil marriage ceremony and the ultra-luxe Hotel Aman Canal Grande where they held their wedding party.
A little further on and Jennifer pointed out the house that Angelina Jolie rented when she was in Venice to film The Tourist, as well as the building in the Rialto market where Jonnie Depp is chased along the terrace in the same film. Right next door to Angela's house is the Palazzo where Lord Byron lived for a few years in the early 1800s and since he had a club foot, liked to exercise by swimming in the Grand Canal behind his own private gondola.
You'll also pass the building that featured in the James Bond movie, Casino Royale, where the magic of cinema makes it look as if the whole front of the building collapses into the canal.
Beyond the celebrity gossip, our tour of Venice helped us to understand how wealthy Venetians lived in the past, since all the Palazzos, whatever their outward style, share the same internal arrangements. While the ground floor was for coming and going by gondola, the first noble floor was where the wealthy family would live and entertain, the second and third floor housed their bedrooms while the servant's rooms and kitchen were on the top floor allowing easier evacuation if a fire broke out.
Since all the waste went into the canal, the ladies would go go up to the roof terrace to get away from the smells of the canal in the hot summer months. If you look up at the roofs of many of the buildings, you can still spot these terraces, where they would go to create the Venetian ideal of beauty, a fair complexion with strawberry blonde hair.
What you may not realise is that to achieve the look they would sit in the sun with their face shaded and their hair spread out across the wide brims of special hats to bleach it with horse urine. Lovely! Look at the picture below and you can spot one of these roof terraces on the right.
There are only a few bridges that cross the Grand Canal and the oldest is the Rialto bridge, set on the narrowest part of the Grand Canal. While the Rialto is a single arch stone bridge, it replaced older wooden bridges of the same design, always with shops above so that the rent would pay for the upkeep of the bridge.
Before other bridges were built, the Rialto was considered the heart of the financial and commercial district. In Shakespeare's The Merchant of Venice, Shylock says, " Ha' what now on the Rialto? " since this is where you would come to hear all the news and gossip. Until 1860 it was the only bridge across the Grand Canal and at other places you would cross on a gondola. You can still find these gondola stations in a few places on the Grand Canal and take a short gondola ride without the €100 bill.
The next bridge we passed was the Accademia bridge, constructed of wood in the 1930s as a temporary solution, although since people like it, it keeps being restored. A little beyond the Accademia bridge was the Peggy Guggenheim Collection, the low building of the unfinished Palazzo housing a fabulous modern art collection that we had visited the day before – highly recommended!
Now our two hour boat tour of Venice was nearly over and we reached the Old Customs House with the dome, on top of which the golden goddess Fortuna stands, holding a sail. She acts as a weather vane, twirling around in the wind and as Jennifer told us, "who needs a weather app when you can have a weather goddess?"
We reached the landing stage at San Marco again, and sadly our Venice boat tour was over. I've not even had time to tell you why the chimneys look like upside down cones, how Venice showed the world how to make money out of gambling and where you find the gas station to fill up your boat.
If you want to feel a touch of that George & Amal glamour on your private water taxi while soaking up the stories and atmosphere of Venice, I guess you'll just have to take the tour!
More information about our boat tour of Venice
We took our Venice boat tour with Walks of Italy who offer a number of different tours of Venice and other parts of Italy. Other tours on offer that looked interesting were a Venice Food Tour with a visit to the Rialto market including cicchetti and wine tasting, a Welcome to Venice Walking Tour with a gondola ride and a Venice in a day tour with St Mark's Basilica, the Doge's Palace and a Gondola Ride. You can see all the different Walks of Italy Venice Tours here.
Our Venice Boat Tour took 2 hours and cost €98 per person which included;
A 2 hour private motorboat ride
A small group (9 or less) with an expert guide
Headsets so we could listen to the guide
Entrance tickets to the bell tower of San Giorgio Maggiore
Thanks to Walks of Italy who provided a complimentary tour for Heather and her family
Pin It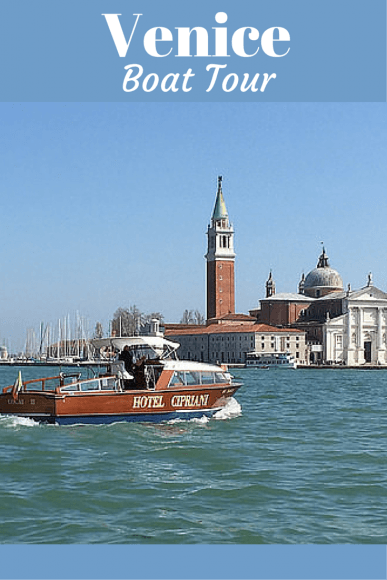 Where to stay in Venice
For our 3 day stay in Venice I rented an apartment with Go with Oh and was able to use the voucher that I won with Passports with Purpose blogger fundraiser. We chose this apartment in the San Marco district since it was so well located for all the main sites.
Thanks to Murissa from The Wonderful Traveller who hosted this prize contributed by Go with Oh and and for her tips on what to see in Venice. Passports with Purpose is a really worthwhile organisation which supports a different cause each year and you can win some really fabulous prizes so it's definitely worth participating.
This article is originally published at Heatheronhertravels.com – Read the original article here
You'll also find our sister blog with tips on how to build a successful travel blog at My Blogging Journey
To celebrate the spring weather and my recent trip to Venice I have a very special giveaway to share with you in partnership with online clothing retailer, Zalando. If you've got a holiday planned in the next month or two, you won't need any excuse to look at a few new items for your spring/summer wardrobe and I can provide just the inspiration you might need from my Venice weekend. Read on to find out how you can win a £200 Zalando voucher to spend on clothing for your next holiday.
Inspired by the blue gondolas and the lagoon in Venice
Inspired by the blue of the lagoon and the gondolas moored on the edge of St Mark's square, I've chosen some pieces that will keep you stylish but cosy in the breezes on the lagoon as you take a water taxi to explore the backwaters of Venice. Clambering in an out of a boat is not the place to wear your tottering heels, so for that gondola ride, choose jeans and flats and take your fashion cue from the navy striped t-shirts of the gondoliers.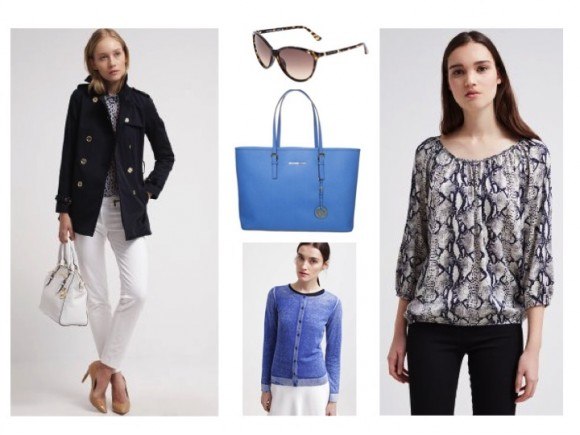 Michael Kors Navy trench coat £250, Michael Kors Camila Tortoiseshell sunglasses £90, Michael Kors Jet-set travel tote bag £250, Boss orange Isabelle blue cardigan £150, Repeat blouse £160. Find them all in the Premium section of the Zalando website.
Inspired by the mellow teracotta palazzos on the Grand Canal at sunset
One of our favourite places to visit in Venice is the Peggy Guggenheim collection in the Dorsoduro district, with a beautiful sculpture garden and a long, elegant building filled with all the greatest modern artists. There is a wonderful terrace from where I took this photo where you can sit and watch the traffic on the Grand Canal, with waterbuses, taxis and gondolas all passing by.
I love the washed out ochre and teracotta shades of the palazzos that line the Grand Canal, colours that you will see along all the side canals too. In the evening you'll want to find the small wine bars where the locals go for an Aperol spritz, glass of prosecco and a few cicchetti to nibble, followed by dinner in a quiet square well away from San Marco and all the tourists. I've chosen some dresses that will be perfect for your evening inspired by those sunset colours of the aperitivo and the teracotta facades and rooftiles.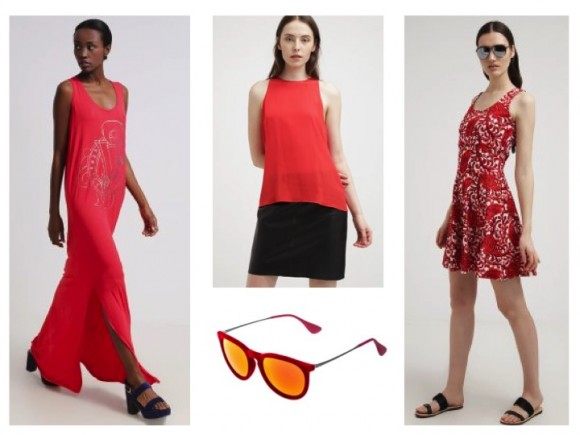 Versace jeans maxi dress in rosso £145, 2nd Day Vega silk sleeveless top £100, Michael Kors Kathumar summer dress in grenadine £160, Rayban Erika sunnies in red/silver £95 – available on the Zalando website
Inspired by the white facade of San Georgio Maggiore
If you want an alternative view of Venice, take the short water taxi ride from St Mark's square to the church of San Giorgio Maggiore where you can climb the campanile without the long queues you'll find in St Mark's square. This is where every bride and groom who marry in Venice come to have their wedding photos taken with the familiar view of the lagoon and San Marco in the background.
The church of San Giorgio Maggiore was carefully positioned so that its facade is lit by the evening sun, glowing white across the lagoon. Inspired by the white frontage of the church I've chosen some pieces that will be elegant for sightseeing and take you through to evening for a stroll and a drink as the sun sets.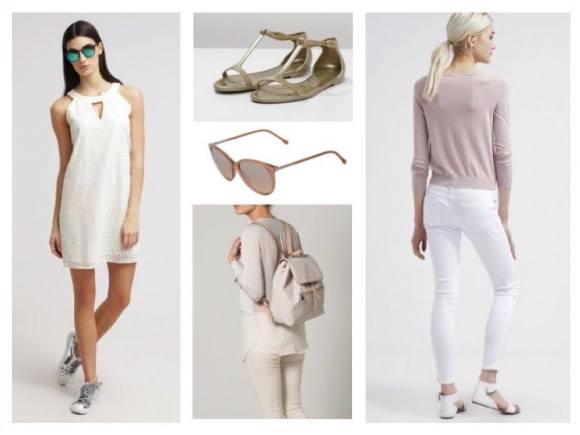 Boss Orange Coolettee white mesh dress £150, Kartell SOK gold sandals £60, Burberry nude/black sunnies £135, DKNY Heritage rucksack £195, True Religion Halle Slim fit white jeans £170 – available on the Zalando website
If you'd like to win a £200 voucher to spend on your new spring wardrobe from Zalando here's what you need to do;
Leave a comment below this article telling me what item from the Zalando website you'd love to buy if you win the £200 voucher and where you'll be wearing it
For additional chances to win you can use the Rafflecopter widget below to;
Tweet about the giveaway (you can do this once a day)
Follow me on Instagram
Follow me on Twitter
Follow Zalando on Twitter
Follow Zalando on Instagram
Please note that unfortunately this giveaway is only open to readers who can meet the delivery restrictions of the Zalando.co.uk website – orders with a UK card and delivered to a UK address – please see T & C below for more details.
Planning a trip to Venice?
I can recommend staying in an apartment which gives you more space and flexibility for your money – we found ours through Go with Oh using the voucher that I won in the Passports with Purpose fundraiser that was hosted by Murissa at The Wonderful Traveler. I can also highly recommend taking a tour with Walks of Italy – we took their boat tour of Venice which included a visit to San Georgio Maggiore.
Terms and Conditions
This giveaway is a prize draw/sweepstake
The prize is a £200 voucher that may be spent at Zalando.co.uk
The giveaway is open to UK readers who can place an order through Zalando.co.uk which requires a UK billing and delivery address and a credit card or PayPal account linked to a UK bank account. Additionally the order must be placed from a UK IP address
The winner will be chosen at random
The giveaway runs for 2 weeks and ends on Monday 15th June 2015 at midnight
The winner will be notified by e-mail within 7 days of the draw ending and must confirm their acceptance of the prize by e-mail within 3 days or the prize will be allocated to another winner.
The giveaway is restricted to one entry per individual and any duplicate or automated entries will disqualify the entrant from this giveaway.
Entering this giveaway gives permission for you to be added to the e-mail list of Heatheronhertravels.com and Zalando.co.uk but we will never spam you and you can unsubscribe at any time.

Minimum spend of £100

Voucher code is one time use only and can be redeemed on step 2 of 3 of the secure payment process.

If under £200 is spent the remaining amount will not be left on the Zalando account.

For UK shop only.

Valid until

December 2, 2015.

Brands and items not included: BOSS, BOSS Green, CK Calvin Klein, Calviin Klein, G-Star, Gianvito Rossi, Giuseppi Zanotti, HUGO, Lauren Ralph Lauren, MCM, MICHAEL Michael Kors, Michael Kors, Polo Ralph Lauren, RLX Golf, Ralph Lauren Childrenswear, Tommy Hilfiger, UGG Australia, Vilebrequin.
This article is originally published at Heatheronhertravels.com – Read the original article here
You'll also find our sister blog with tips on how to build a successful travel blog at My Blogging Journey
Some great competition websites:
Prize Finder
Competitions Time
UK Competitions and Prize Draws at UKwins
Win Free Stuff – UK Competitions
Loquax – Home of the Lucky Duck
Competitions List
ABC The Place to Win
Offer Oasis