Walking through the door of our luxury holiday house of Stargazers in St Mawes, I felt the Wow! factor as if I'd been given a rather expensive but delightful present. Wow! St Mawes certainly had more than its fair share of Cornish charm, with the pubs overlooking the sea, pretty cottages climbing up the hillside and the lighthouse twinkling across the estuary at St Anthony's Head. Wow! From the front door we were drawn straight towards the huge expanse of  windows with stunning views across the bay. Wow! Every one of the four bedrooms felt like walking into a luxury hotel suite, each with its own bathroom and gorgeous, colourful furnishing.
Stargazers in one of five luxury holiday homes available to rent through St Mawes Retreats and it didn't take long for us to settle into the good life. After a tiring week at work in Bristol, we told ourselves, this was no more than we deserved! In the Master Bedroom, the huge bed even swallowed up my six foot husband and was piled with silk cushions in lime, crimson and fuschia overblown roses on a crisp white cotton pique duvet. In front of the window were two leather recliners separated by a coffee table of glass on a base of tangled driftwood, the perfect place to relax with a cup of coffee and take in the view.
I hope you enjoy the video below from our stay at Stargazers with St Mawes Retreats and feel free to subscibe to my YouTube channel below
If you can't see the video above, view it on my blog here or on YouTube here
Download the Stargazers by St Mawes Retreats Video
Subscribe to all my videos in I-tunes
If you enjoyed this video, check out the others in my Video archive
Love was in the air as we snuggled into the bed to watch a George Clooney movie on the flat screen TV on the wall – well at least it was spelled out in big wooden letters L-O-V-E on the cream painted chest of drawers. Even the recliner cushions with motifs like "You rock my boat" , "Love is all you need", and "Sail away with me" were guaranteed to make those of us who've been married 25 years giggle like teenagers again.
We had a bathtime soak in deep, oval bath, liberally doused with the Cath Collins orange flower bath oil, while contemplating the sparkly border tiles, his and hers sinks and huge walk in shower. I fell asleep with the St Anthony's Head lighthouse winking at us across the bay and woke up with the sky tinged a little pink with just enough blue to make a pair of sailor's trousers. The passing St Mawes ferry on its way to Falmouth looked like a blue painted toy boat and was followed in hot pursuit by a Cornish rowing skiff out for training. And all this before I'd even got out of bed!
It didn't feel quite right with just me and Guy rattling around in a house that demanded to be shared, to be filled with friends, with chatter and good food. But on Saturday morning, our friends joined us with their teenage daughters and the house started to feel alive, as we all shared the pleasure of our luxurious holiday house.
Our friends chose the pink bedroom with a deep magenta velvet headboard, pretty crystal bedside lights and curtains covered with oversized pink and purple peonies. The bedroom faced the back of the house looking out on a little gravelled space with a bank planted with shrubs and its own modern bathroom with brown and white stone tiles and sparkly lighting around the mirror.
The girls loved their teenage pad upstairs, under the eves with four beds which was decorated with purple crushed velvet, spangly curtains and silver sequin cushions on the bed. They were thrilled to have their own TV, bathroom across the landing and  a little balcony where they could look out on the sea view. The best bit, however, was that they had their own floor to get away from the grownups and make as much noise as they liked.
While we ladies were feeling that we'd stepped into the pages of a glossy magazine, the husbands were more interested in the number of flat screen TVs around the house. Guy even went around and counted them; there were seven in all, one for each bedroom, two in the sitting area and one in the kitchen. For someone who barely watches TV, I found the amount of electronic gadgetry slightly baffling. We lost count of the number of guns to control it all and mysterious voices wafted from the kitchen ceiling until we worked out how to switch off the radio.
Even more exciting for the menfolk was the wood-burning stove in the centre of the living room, which demanded to be stoked up, although fortunately no manly displays of wood-chopping were required. Once Guy had worked out that there were three recliners built into the large bank of leather sofas, it seemed unlikely that I would be able to prize him away from the weekend papers, the TV or that stove.
As if one huge living room was not enough, there was a second sitting area beyond, with cream covered sofas and so many cushions on the sofa that there was barely room to sit down, although of course the teenagers didn't stand on ceremony and threw them all on the floor to make themselves comfortable. All around the house were lovely art-works, my favourite being all the driftwood sculptures and the ink drawings of boxing hares, although I wasn't too bothered by the strange, sculptural metal discs.
All the living areas looked out onto the beautifully landscaped garden, with shrubs, grasses and spiky plants. There were paved areas where you could sit on wicker loungers and soak up the sun, with paths among the foliage where children might play hide in seek. Just below the house, although out of sight was Hotel Tresanton, a luxury hotel that I definitely want to visit for afternoon tea or lunch on the terrace when I come back to St Mawes in summer.
By late morning I was concerned that I'd never prize the crew out of the house, so I rallied everyone for the walk down into St Mawes. Even though it was 5 minutes down the road, we had to stop for a good look around the Waterside Gallery with beautiful Cornish glass and a wooden seagull sculture that bobbed up and down from the ceiling. We skirted the row of pretty cottages, while the girls ducked down onto the beach and kicked around in the pebbles and seaweed.
At the harbour we checked the times of the ferry, in case we fancied a trip across to Falmouth later and as it was nearing lunchtime bought ourselves a hot, peppery Cornish Pasty from the little bakery shop. Along the sea wall, we attracted the attentions of the seagulls who perched hopefully nearby, thinking that they might get a few forgotten crusts. We peered into the window of the St Mawes skiff club, set in what was once the village garage with vintage petrol pumps outside. Where the cars were worked on, we could see the large Cornish rowing boats that are used these days for sport and racing in local competitions.
We could have easily settled into one of the many pubs and cafes along the sea front but I was keen to see the pretty church at St Just in Roseland, which was one of the suggestions in the helpful guide left by St Mawes Retreats. We retraced our steps past St Mawes Castle, built as a coastal fortification by Henry VIII with the matching Pendennis Castle on the other side of the estuary above Falmouth. We traced the coastal path across fields that became increasingly muddy, and as the girls were becoming tired our friends turned back while we continued until we reached the creek and traditional boatyard with the church of St Just beyond.
This 13th century church has the most picturesque setting and is set in tropical gardens backed by palm trees with an ancient well bubbling into the creek. We walked back up the path that was lined by carved granite tablets carved with verses from the bible and at the car park unexpectedly found our friends who had fetched the car and driven back to save us from a muddy walk home.
Although there seemed to be endless eating-out opportunities in St Mawes, we decided that we really did need to test out the enormous kitchen back at Stargazers, although it felt like you needed a text book just to work out how to use the microwave. The granite covered island was a sociable space to gather with a glass of wine while you were cooking up a storm and the dining room table felt large enough to feed the 5000, or at least 12 of them. The next day we found two potatoes that had gone missing from our meal, and joked that the oven was so big you could lose your dinner in it!
On Sunday morning we emerged sleepy from each of the luxurious bedrooms and gathered around the kitchen work stations for our our frothy hot coffee, croissants, eggs and bacon. Once again, it was touch and go whether we would get out to explore anything else, as Guy was busy perfecting the Sunday morning art of doing nothing (which he's very good at).
However, that winking lighthouse across the bay was calling us, so we decided to take a look at St Anthony's Lighthouse. In summer ferries can take you across the water from St Mawes but we drove around the bay and left our car in the National Trust car park (£2 honesty box). All around were old military fortification and we walked down through the pine trees, to the white lighthouse which is as complete a version of a lighthouse as you could find. It was even used as the setting for the childrens' TV show, Fraggle Rock which I had never heard of, but the girls told me all about the puppets living in the caves.
We could get as far as the gate to the lighthouse which has a cottage that you can rent, and watched the birds on the rocks and even saw some seals bobbing in the water. A few kayakers paddled up to the rocks to spot for seals, and snippets of their conversation with mentions of "Fraggle Rock" drifted up to us. Turning back up the path we walked until we reached the sandy beach that we had spotted from the lighthouse and scrambled down beside the stream, over the slippery, barnacle encrusted rocks to get to the sand. I love walking on beaches in low season with that feeling of freedom that you get in Cornwall in winter, the freshness and wide open skies.
Returning back to Stargazers it was time to pack up our things and leave the house for the next lucky people to come and enjoy the fabulous views and sea air. The sign in the hall says "Relax, it doesn't get any better than this!' and how right it was.
We all agreed that Stargazers was a wonderful place to stay at any time of year, and even if you never get out of the house (which is tempting) there's always something happening out there on the water. St Mawes Retreats have done a fabulous job in creating the perfect luxury holiday home that you'll want to come back to time after time. I'd come back again just for the breathtaking view, to sit in the garden and watch the boats go by and breathe in the magic of Cornwall and St Mawes.
Stargazers in St Mawes is available to rent through St Mawes Retreats and sleeps 10 people in 4 bedrooms. It is one of 5 luxury holiday homes offered by the company, sleeping between 4 and 12 people, all of which are beautifully furnished in contemporary style with all the luxury and attention to detail you could wish for. Four of the properties are in St Mawes with one in Fowey. Short breaks at Stargazers start at £650 for 4 people or £995 for 10 people. For more details and bookings do check the St Mawes Retreats Website.
Our thanks to St Mawes Retreats for hosting our weekend stay at Stargazers.
This article by Heather Cowper is originally published at Heatheronhertravels.com - Read the original article here
You'll also find our sister blog with tips on how to build a successful travel blog at My Blogging Journey
It seems a long time since I took that trip down the Amazon that inspired me to start Heather on her travels. Five years this month in fact. 900 articles, 100 videos, 28 podcasts and 12,000 photos (and that's just the ones on flickr) later I feel I can be proud of what my blog has become and where it has taken me.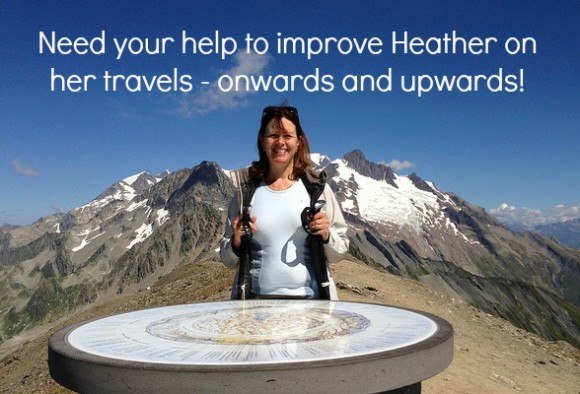 But I'd like 2014 to be even better and to do that I need your help. I need to understand a little bit more about who you, my readers are, how you travel, and where you hang out online. I want to be sure as I plan my travels in 2014 that I can bring you more of the kind of travel stories, videos and podcasts that you enjoy, and share them in the right way.
That's why I need your help to answer a short survey about your travel interests and the social media you use .
There are only 12 questions to complete and it will only take you around 5 minutes (I did it myself to check) To thank you for your time, if you choose to leave your e-mail address, you'll be entered in a draw for one of three £15/$20 Amazon vouchers (just in time to buy yourself an inspirational travel book to read over Christmas?) I'm doing the survey with a group of other bloggers in a similar niche so that we can all learn from the experience and the survey will be open until 15 December.
Best wishes Heather
This article by Heather Cowper is originally published at Heatheronhertravels.com - Read the original article here
I'm pleased to be supporting Passports with Purpose in this year's fund-raiser to build three schools and fund literacy programmes in Mali, Africa and I'm teaming up with the Millets, the UK Outdoor Store who've offered me a £150 Gift Card to give away, for you to spend on Christmas gifts for yourself or your loved ones.
About Passports with Purpose
Since it founded in 2008, Passports with Purpose has run an annual fund-raiser, supported by travel bloggers and travellers like you and me, to raise money for a worthwhile cause in a developing country.
You could say that it's our way as travellers to give something back for the kindness and hospitality that we've received on our travels from people all over the world. It's also a recognition of our good fortune, in the standard of living we enjoy and the education we've received, that as global citizens we want to give a helping hand to those who don't take such things for granted.
This year's fund-raiser is to support buildOn, a charity that works in developing countries to break the cycle of poverty through education, building schools and running adult literacy programmes in some of the poorest places on the planet. Through the 2013 Passports with Purpose campaign, we aim to raise $115,000 to build three schools and fund three adult literacy programs in the Sikasso region of southern Mali, Africa. If you need any more convincing, read this article about how a new school helped 8 year old Korotoumou hope for a better future.
How it works
This year, over 70 bloggers have worked with generous travel companies and sponsors to offer prizes on their blogs. You can see all the different prizes on offer by going to the 2013 Prize Catalogue with everything from a stay in a luxury resort to backpacks to GoPro video cameras. You can find out more about each prize by following the link in the catalogue to the website of the travel blogger who is offering that prize.
Once you decide which of the fabulous prize or prizes you'd love to win, you make a $10 donation which buys you a chance to win that prize in the draw that takes place once the event ends on 9 December. For us Brits that's only £6 for a chance to win and of course you can make multiple bids for different prizes as there are so many great travel prizes and possibilities. All the proceeds from your donations this year go to buildOn to build the schools and run the literacy programmes in Mali.
Thanks also go to the global sponsors who have supported Passports with Purpose this year, Expedia, DK Eyewitness Travel Guides, Rough Guides, Collette Vacations, TBEX, Eating London Food Tours, HomeAway, Hostelbookers and Go with Oh.
My Prize – a £150 Millets Gift Card
Which leads me to the prize that has kindly been donated by Millets, the UK Outdoor store that you can win through Passports with Purpose, a £150 Gift Card. This gift card can be spent in any of the Millets stores in the UK, Northern Ireland or Channel Islands on clothing and equipment for your travels or your outdoor lifestyle and you'll find some great gift ideas for all the family. With Christmas approaching, I'm offering some ideas for what's on my family's wish list this Christmas, but do pop into the stores or check the website for more gift ideas. As an additional benefit this £150 gift card can be spent in other travel, outdoor and leisure stores in the UK such as JD, Bank, Scotts, Blacks, Tessuti and JD Pro. (Gift Cards cannot be used to purchase items online). The Gift Card is valid for a 12 month period – for more details see the Gift Card Terms and Conditions.
If you'd like to make a $10 (£6) donation to bid for this great prize to help you with your Christmas shopping or any of the other exciting travel prizes, please go the to Passports with Purpose Prize Catalogue.
So now for some Christmas gift ideas to spend your £150 Millets Gift Card
Gifts from Millets for your trendy daughter
For trendy teens, my daughter picked out some Cebe track ski goggles £30 and Peter Storm Earmuffs £5 to look cute on the slopes this winter while the Peter Storm pom pom hat £12 will keep her cosy on chilly nights when she's out with friends. But looking forward to long summer days the meadow print water bottle £5 will be just the thing for picnics and festivals with some retro sunnies £10 for posing on the beach in Greece.
Gifts from Millets for your cool teenage son
For cool dudes my teenage son who is rarely parted from his music picked out a portable iPhone speaker £13 and headphone splitter £3 to share your favourite tracks with your friends. The Thinsulate gloves £10 will prevent cold fingers on the walk to school, a snow slider £4 because you never know whether it will be a white Christmas and waterproof matches £4 for building fires when training for your Duke of Edinburgh award on Dartmoor.
Gifts from Millets for the Camping Crazy men in your life
For the man in your life who loves camping and the great outdoors, my husband picked out the inexpensive Summit camping stove £10, although secretly he'd love the tip top Jetboil £105 to keep in the car boot for a quick brew. He's dreaming of camping in comfort with the inflatable chair £18 and the Highlander daysack £9 is just the right size for  a map, picnic and waterproof while the maglite torch £30 will be a pleasure to use at home or on the campsite.
Gifts from Millets for Mums on the go
For busy mums on the go, I chose some thinsulate gloves £10 for running and hiking and a Bobble sports bottle £10 that filters your waters to keep you well hydrated. The cosy polar chute £8 doubles as a scarf and bandana while I always like to keep a compact portable umbrella £10 in my handbag to whip out for passing showers. Finally I'm dreaming of picnics with friends on the beach in Cornwall, using these colourful plastic wine glasses £9 to sip my chilled white wine or elderflower cordial with my grilled mackerel off the beach BBQ.
All the gift ideas mentioned can be found on the Millets website.
For more Christmas gift ideas from Millets pop into one of their 78 UK stores or check their website and do head over to Passports with Purpose to make your bid for the £150 Millets Gift Card and all the other wonderful gifts in the Passports with Purpose Prize Catalogue.
This article by Heather Cowper is originally published at Heatheronhertravels.com - Read the original article here
You'll also find our sister blog with tips on how to build a successful travel blog at My Blogging Journey