There's been a lot of talk about Hygge recently, the Danish word for those feel-good moments when you are snuggled up in front of the fire with a glass of mulled wine, or meeting friends in a café with candles flickering. If you're considering a cosy weekend getaway to feel the warmth of good food and friendship, there's no better place than Copenhagen. Read on to discover how you could win a weekend break in Copenhagen and get that Hygge feeling.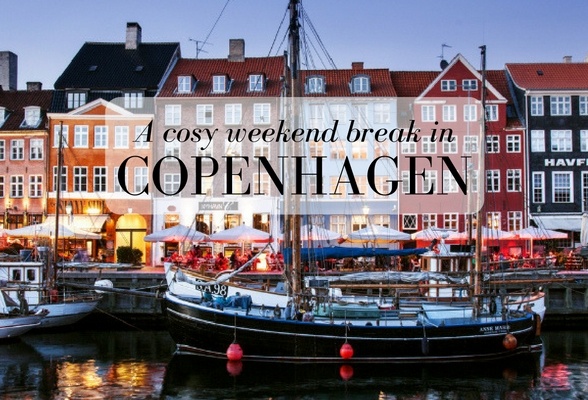 Hygge – getting cosy in Copenhagen
When it's cold and dark outside, you might like to curl up and read the bestselling book by Meik Wiking, The Little Book of Hygge, which is published by Penguin Books. It celebrates the small pleasures of life, from savouring a cinnamon bun fresh from the oven to having a relaxing meal with friends. In case you wonder Hygge is pronounced Huuu – dger with the soft dg of fudge.
To celebrate the Danish art of Hygge, Best Served Scandinavia have joined with Penguin Books and Visit Denmark to run a competition – you could win a weekend break for two in Copenhagen by answering a simple question about Hygge. The prize includes flights and two nights at the beautiful Hotel Kong Arthur in the heart of the city, enjoying a 72-hour Copenhagen Card for free public transport and admission to dozens of attractions.
You can find out more about the competition here
Winter break ideas for Copenhagen
I've been to Copenhagen a few times in both summer and winter and there are plenty of fun things to do on a winter break to get that cosy Hygge feeling. Here are just a few of my recommendations;
Stop for a bite to eat at Torvehallerne
The two Torvehallerne market halls are a buzzing place to stop and buy fresh food and lunch-time dishes. Most of the food vendors inside have some seating space and you can try everything from smorrebrod, the Danish open sandwich, to Sushi, to Paleo dishes as well as cakes and coffee from the legendary Coffee Collective. There's also plenty of fresh and deli produce if the weather is warm enough for a picnic, with outdoor seating around the glass sided halls. I always love to stock up on the moreish chocolate Lakrids or licorice balls.
See the crown jewels at Rosenborg Slot
Visit Rosenborg Castle, set in the Kongens Have or Kings Garden, a popular spot for locals to go for a walk with a romantic formal garden and moat. The castle was built in the 17th century as the summer palace of King Christian IV and later became the home of the Royal collections. The rooms are a delightful walk through Danish history and the treasury in the vaults below the castle house the impressive Crown Jewels, including crowns and gorgeous jewellery that are still worn by the Danish royal family on state occasions today.
Read more about how you could win a weekend in Copenhagen with Best Served Scandinavia
The Winter garden at Ny Carlsberg Glyptotek
The art museum of Ny Carlsberg Glyptotek is a favourite place to visit at any time of year. Built to house the art collection of brewing magnate, Carl Jacobsen, you can wander through the spacious halls full of white marble statues from Danish neo-classical sculptors. I love the impressionist galleries with works from Renoir, Van Gough and Monet including the Degas "Little Ballerina" sculpture. At the centre of the building is a winter garden with glass roof and greenery with a cafe at one side that is a lovely place for lunch. The museum is free on Tuesdays or with a Copenhagen Card.
Where to stay in Copenhagen
For a cosy place to stay for your winter break in Copenhagen, the Hotel Kong Arthur fits the bill perfectly. The hotel is set at the end of a cobbled courtyard, close to the Copenhagen lakes, in a historic building that was once an apprentice's residence. If you are lucky enough to win the competition from Best Served Scandinavia, this is where you could be staying in Copenhagen for two nights.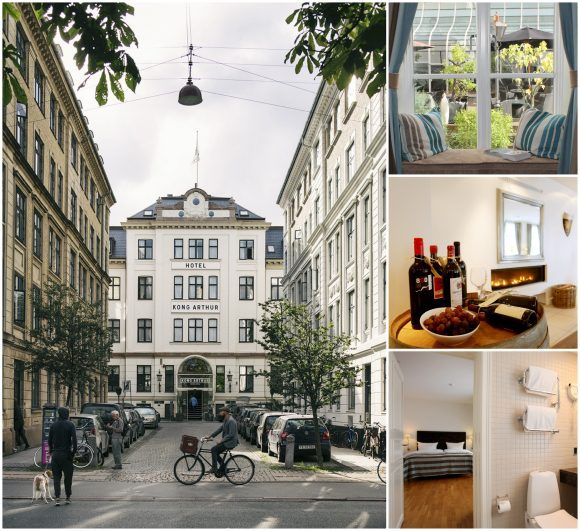 As you step inside you'll find a fire burning in winter, comfy sofas, cushions to sit in the window seat with a stack of books on the shelves. The 155 rooms are all different, but all have a sense of luxury combined with modern style. Here, the atmosphere is welcoming but informal and there's even a Cosy Hour between 5 and 6pm when guests are served a little something in the lobby.
Win a trip to Copenhagen
If you'd love to spend a weekend break in Copenhagen, enter the competition from Best Served Scandinavia, Visit Denmark and Penguin Books. The prize includes airfares, a 2 night stay at Hotel Kong Arthur and a 72 Hour Copenhagen Card for 2 people which can be taken in the next year, subject to availability.
The competition is open to UK Residents who are over 18 and closes at midnight on 31 December 2016 after which the winner will be drawn at random. All you'll need to do is answer a simple question to say which Scandinavian country the concept of Hygge is most closely associated with – that's an easy one!
Find out more about the competition here
About Best Served Scandinavia
Best Served Scandinavia is an independent, tailor-made tour operator specialising in holidays to Scandinavia. Their travel consultants have walked the cobbled streets of Copenhagen and personally stayed in the hotels they recommend, enjoyed wintry excursions and plotted their own paths on self-drive and independent tours.
To give you an idea of the holidays you could book in Denmark and Copenhagen, visit the Best Served Scandinavia site. You could find yourself on a tailor made break to Copenhagen, visiting the castles and charming towns of Jutland while staying in luxury boutique hotels, or following Denmark's Viking trail on a self-drive holiday.
Enter the competition for a weekend break in Copenhagen with Best Served Scandinavia
For more information
You'll find plenty of ideas on things to do in winter in Copenhagen on the Wonderful Copenhagen website
For more things to do in Denmark check out the Visit Denmark Website
More things to do in Copenhagen
How to have a perfect weekend break in Copenhagen
A romantic weekend in Copenhagen
10 summertime cool things to do in Copenhagen
This article is brought to you in partnership with Best Served Scandinavia
Photos by Best Served Scandinavia except where noted by Heatheronhertravels.com
Pin It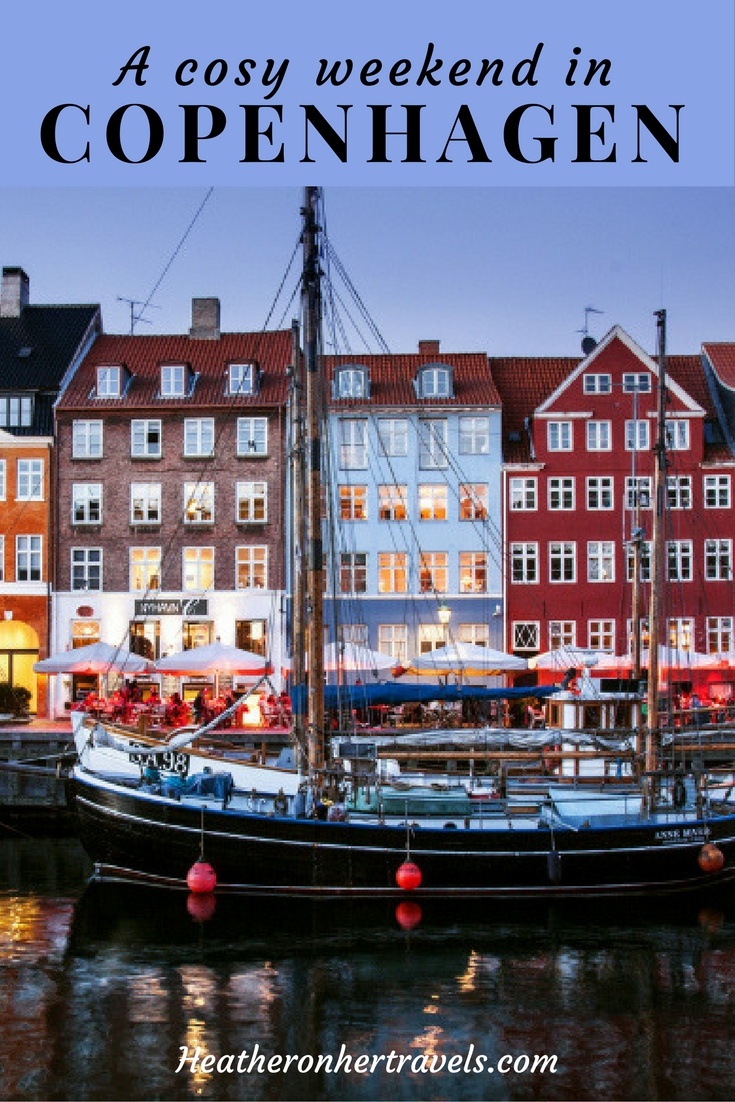 This article is originally published at Heatheronhertravels.com – Read the original article here
Paris in winter. The air is crisp as you stroll along the Seine, passing the Cathedral of Notre Dame glowing golden in the afternoon sun, before finding a cosy cafe for a Chocolat Chaud to people-watch for a while. Sounds good doesn't it? If you fancy a winter weekend in Paris, check out this cool giveaway from Avios for a 3 night weekend break for 2 people. Even if you don't win you can still enjoy that weekend away by earning Avios as you shop at all your favourite stores – read on to discover more.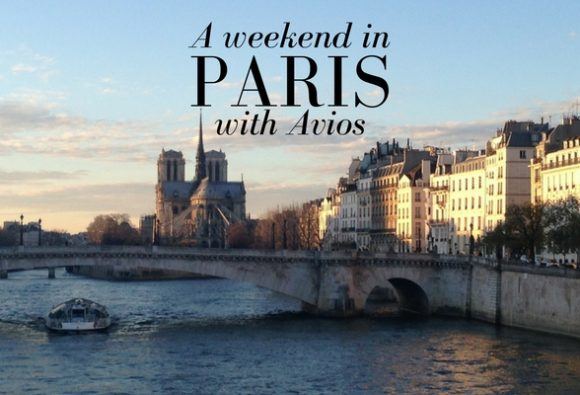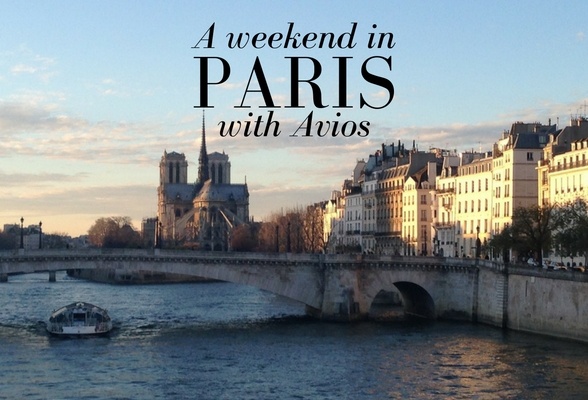 One of the highlights of our last winter visit to Paris was a walk around Marché d'Aligre in the 12th arrondissement. This neighbourhood is just far enough away from the tourist hotspots and has a multi-cultural feel – of course it's wonderful for foodies. In fact you get three markets in one, since there's a covered market where you'll be drooling over the cheeses and admiring the beautifully presented fish and meat, as well as an outdoor fruit and veg market and a flea market where you can shop for vintage clothes and cute household finds. As you often find around markets, there are lots of lovely cafes and restaurants in the streets nearby, all supplied with the freshest of produce. Read about my visit to Marché d'Aligre here.
Not too far from Marché d'Aligre we enjoyed visiting the Victor Hugo house in Place des Vosges which is close to the fashionable Marais district. Although there are plenty of cute shops in the Marais, we found it a bit touristy, but when we reached Place des Vosges it was a much more local experience with everyone enjoying a bit of winter sunshine and children playing in the park at the centre of the square. The apartment where Victor Hugo lived is at No 6, Place des Vosges, to one side of the square, full of the paintings, furniture and artistic objects that he collected, giving a fascinating insight into the creator of Les Miserables and The Hunchback of Notre Dame. Read about my winter weekend in Paris here. 
If you love to travel you're probably aware of Avios – they were formerly British Airways Air Miles. You can build up Avios like a currency each time you fly with British Airways, Air Lingus, Flybe, Iberia and Kululu.com and use them to book flights or hotel stays. What you may not realise, however, is that you can also earn Avios by shopping online at over 1000 stores – probably the places that you are shopping at anyway. If you're stocking up on food and wine at Tesco Direct, or buying gifts at John Lewis, House of Fraser, Selfridges, Currys and many more stores, you could be building up enough Avios for that weekend in Paris in the New Year.
Whether you're buying extra provisions for Christmas parties or gifts for loved ones, it's the perfect opportunity to build up your Avios, since many of the retailers offer extra points at this time of year. You'll find lots of Christmas ideas on the Avios Christmas List website where they are also running a giveaway of a weekend for two in Paris.
I had a look around the Avios e-store and found plenty of inspiration for my own Christmas shopping from my favourite high street stores. My parents have a lifetime's worth of ornaments so these days we tend to buy them foodie treats like the gourmet hampers at M&S. (M&S have an offer of 8 Avios for £1 spent until 18 Dec). For my husband I'd shop at John Lewis to buy a cosy wool jumper that he can relax in while watching the rugby – this one from Gant would be great to wear with jeans at the weekend (John Lewis have an offer of 4 Avios for £1 spent until 18 Dec).
My daughter collects silver jewellery so I think this pretty necklace from Links of London would be perfect for her (Links offers 8 Avios for £1 spent) and my son loves his music, so these Sonos speakers at John Lewis would mean he can stream music from his phone for student parties.
I recently upgraded to the iPhone 7 Plus and wish I'd known that I could have bought it from Apple through the Avios eStore, as that purchase alone would have probably earned me enough Avios for my flight to Paris.
Win a trip to Paris with Avios
Now let me tell you about the three night trip to Paris that Avios are giving away on their Avios Christmas List website – you can enter here.
Just head over to the Avios Christmas List site and enter by leaving your name, email, address, and telephone number for a chance to win this trip. The prize consists of two return economy flights (including taxes, fees and charges) and a 3 night's accommodation in Paris for two people.
You're eligible to enter the competition if you're over 18 and resident in the UK (excluding Northern Ireland), Channel Islands or Isle of Man and the competition ends at midnight on 22 December 2016, after which the winner will be drawn at random.
If you're lucky you may win a weekend break in Paris (enter here), but if not you could easily build up enough Avios to cover your flights, just by shopping online at your favourite High Street stores this Christmas (shop here).
More tips on what to see in Paris
On your weekend in Paris you'll almost certainly end up at the Cathedral of Notre Dame, where there are always plenty of crowds gathering to see Paris's number one tourist site. We preferred to walk through the less crowded garden of Jean XXIII behind the cathedral and then over the bridge to Ile Saint Louis. Along the main street of main road of rue Saint Louis-en-l'Ile there are plenty of charming independent shops, galleries and cafes.
In the Bastille neighbourhood, it's fun to walk along Canal Saint Martin and take a look at all the house-boats moored there, a little like Regents Canal in London. Walk right to the end where the canal meets the river Seine and you can walk along the cobbled footpath by the river. There's a good view down towards Notre Dame on Ile de la Cité and you can watch the boats go by before climbing up the steps and crossing over to the Rive Gauche at Pont Charles de Gaule. Read more about my winter weekend in Paris here.
I hope you've enjoyed my tips for a winter break in Paris – don't forget to use the Avios e-Store to shop for everything you need this Christmas, at your favourite high street stores, so that you can make your weekend in Paris a reality.
How to collect and spend Avios Points
Check out the Avios Christmas list site for a chance to win a weekend in Paris and lots of cool gift ideas
Check out the main Avios site for information on where you can collect Avios and where you can spend them.
Check out the Avios e-Store once you're ready to shop at over 1000 online retailers and build up your Avios.
Pin It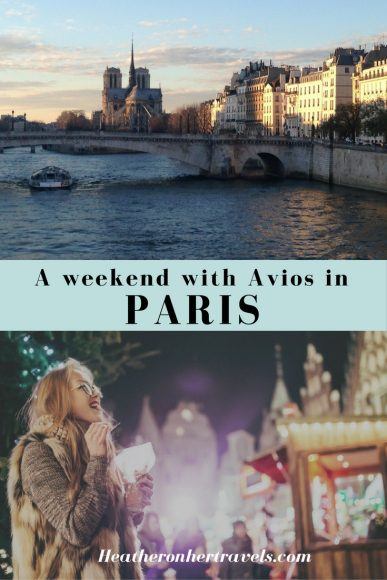 This article is brought to you in partnership with Avios
This article is originally published at Heatheronhertravels.com – Read the original article here
One of my favourite weekend getaways is to go walking along England's unspoiled coastal paths. Those sea views, wind and fresh air seem to blow away the cobwebs and leave me rejuvenated to tackle the challenges of daily life. My sister lives on the couth coast, so I was interested to see that Eastbourne have teamed up with TV presenter Michaela Strachan to highlight some of their food, culture and coastal walks.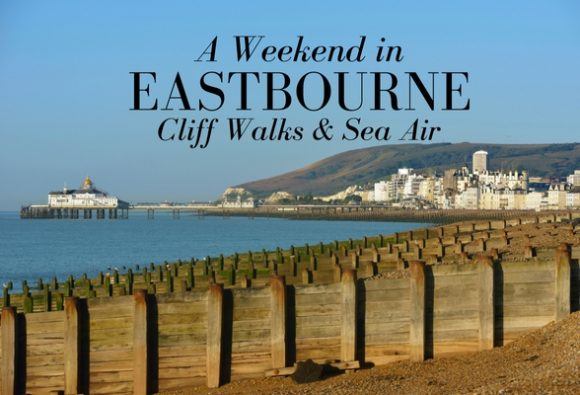 They have a great series of videos which will inspire you with ideas for your next weekend break, if you'd like to breathe in some of that fresh coastal air. You can explore Eastbourne with Michaela Strachan and watch more videos like the one below.
If you can't see the video above, watch it on YouTube here
Eastbourne makes the perfect base for an out of season weekend break, with an unspoiled Victorian seafront and 300 metre long pier that was completed in 1872. With colourful beach huts, fish and chip shops, a Victorian tea rooms as well as a wide range of restaurants and cafés, Eastbourne seems to bring back the nostalgia of all those childhood holidays sheltering behind the windbreak, pestering Dad for a 99 ice cream – with flake of course!
At the western end of the seafront you'll find Holywell beach, which is set at the foot of the South Downs, with a popular café and pretty Italian gardens. At low tide the rock pools are revealed, teeming with marine life, so you may want to bring your wellies and fishing nets to catch a few crabs. From the Sovereign Harbour, with its large marina, you can take boat tours along the coastline, for fishing, diving and to see the famous lighthouse at Beachy Head.
For me, one of the biggest attractions of Eastbourne is its access to the South Downs National Park and the walks up onto the cliffs at the start of the South Downs Way. I've walked the Winchester end of this long distance path with my sister but would love to do the whole thing, with breathtaking views over the English Channel. A walk up onto the cliff tops will soon bring you to Beachy Head (it's also accessible by bike, car or open-top bus tour) with those iconic white cliffs and the striped Beachy Head lighthouse.
A little further along the cliffs you'll reach Birling Gap, an unspoiled pebble beach enclosed by cliffs, where the low tide exposes rock pools and marine life – it's a marine nature reserve. The beach is managed by the National Trust and there's a visitor centre, shop and café, so it's a good place to stop and admire the white chalk cliffs of the Seven Sisters.
If you have a few days to spare you might continue your walk along the South Downs Way, through an unspoiled English landscape of rolling hills and picturesque villages, ending a hundred miles later in Winchester. For our weekend break we might just continue as far as Alfriston for lunch in a country pub or refeshment of afternoon tea, before we head back to Eastbourne.
Giveaway
If this taste of Eastbourne has inspired you to get out and breathe in some fresh air, why not enter my giveaway in partnership with Discover Eastbourne. You could win a £100 Ultimate Gift Card which can be used to buy some great outdoor brands including Berghaus, from stores like Blacks, JD, Scotts, Millets and Tessuti. The giveaway ends on Thursday 1 December. To enter you need to:
Watch the video in this post and leave a comment below this post to say which attraction/sight featured in the video you'd most like to visit.
For additional chances to win you can;
The giveaway has now ended – thanks so much to all who took part
Disclosure: This article is brought to you in partnership with Visit Eastbourne
Pin It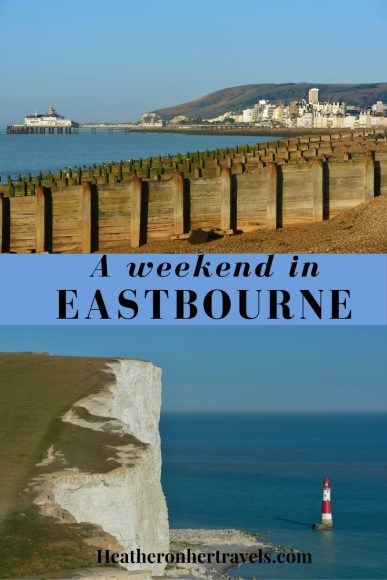 This article is originally published at Heatheronhertravels.com – Read the original article here