As winter turns to spring I'm feeling the need for warm air and sunshine. Where better for some winter sun than Dubai, offering a melting pot of cultures and foods, from traditional dhows to gleaming skyscrapers. For the best things to do in Dubai, that will give you that authentic Dubai experience, I asked my blogging friends Kathryn Burrington and Suzanne Jones for their tips. If you're also looking for some winter sunshine, read to the end of the article where you'll find I'm giving away a £150 holiday voucher from Travel Trolley
Take a trip across the Dubai Creek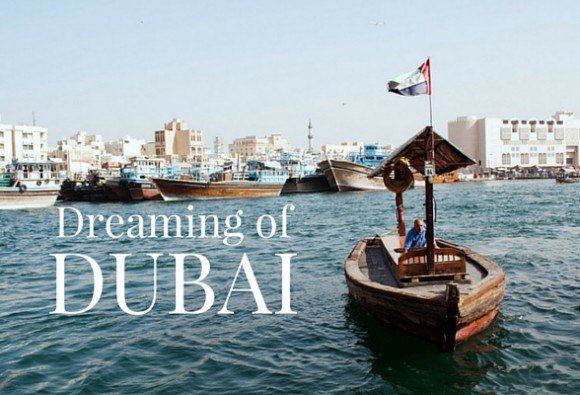 Suzanne's tip: Discover the traditional Dubai with a simple Abra ride across the Creek which costs just 1 Dirham (around 18p). These little wooden vessels have been transporting people from Bur Dubai on the left bank to Deira on the right and back again since Dubai was just a small fishing port. Feel the centuries of trading tradition, with traditional Arabian and East African dhows backed by teetering skyscrapers, although things will soon be different when the dhows move to a new wharf further up the Creek. It's one of the best places to visit in Dubai at sunset, as the call to prayer floats across the water and the sun sinks golden into the horizon. Read More
The View from Burj Khalifa
Kathryn's Tip: Visit the Burj Khalifa, the tallest building in the world, with 830 metres of smooth, shining glass. Book ahead for the 'At the top' experience  which takes you in a dedicated lift up to the viewing terrace on floor 125. The floor counter whizzes past the numbers at an alarming rate and even when you step out, the tower seems to carry on forever, a further 37 floors into the sky. Looking down the neighbouring skyscrapers take on a miniature appearance as the city stretches out before you. The views are staggering; a not-to-be-missed experience for any first-time visitor. Read More
Authentic Iranian Kababs in Dubai
Suzanne's tip: If you're wondering where to go in Dubai for authentic Arabic street food check out Al Fareej Restaurant and Bakery in the quiet neighbourhood of Al Twar. At this Iranian kabab house we ordered a glass of fresh mint lemonade made with lemons, mint, sugar, water and ice which was thirst-quenchingly delicious. The Kababs are served fresh from the grill. Try the tender lamb Koobidah which means twice-minced, the succulent tikka (small bites) or the lemon-infused lamb kabab, all paired with plates of rice, hummus, warm flat bread and a squeeze of fresh lime. Read More
The Dubai Coffee Museum
Kathryn's Tip: At the Dubai coffee museum, learn about coffee at its finest and sample the best Turkish coffee I've ever tasted. I normally find the small cups of black coffee too strong but this had a much smoother and delicate flavour that has transformed my view of black coffee. Read More
Brunch at the Ritz Carlton
Suzanne's Tip: Treat yourself to brunch at Caravan in the Ritz Carlton, one of the leading hotels in Dubai. The produce is sourced locally and incorporates dishes from Arabia, India and the Mediterranean, with a fish selection is brimming with fresh oysters, lobster and shellfish. Big Rami's Chicken Shawarma was an aromatic spicy hit and I loved the selection of hummus, slow-cooked couscous and roasted vegetables. Enjoy some of the special cocktails such as the delicious Bedouin Beauty made with fresh pomegranate juice, a delicate Pear Dew Cider or even champagne. Read More
If you're thinking of booking a winter sunshine holiday, enter my giveaway of a £150 Travel Trolley voucher that can be used towards booking a holiday on the Travel Trolley website. Check out their flights page and latest offers on holidays around the world, from Dubai to Bangkok and Australia to South Africa.
How to enter the Travel Trolley Giveaway
Make your entries through the Rafflecopter widget below.
Simply visit the Travel Trolley holiday page for ideas and then leave a comment below telling us where you'd like to go and why.
For additional chances to win you can use the Rafflecopter widget to Tweet about the giveaway and follow Heatheronhertravels and Travel Trolley on our Twitter and Facebook channels.
The giveaway closes at midnight on 27th Feb and the winner of the £150 holiday voucher will be drawn at random.
You'll find the terms and conditions for this giveaway at the end of the article.

This article and giveaway was brought to you in partnership with Travel Trolley
Pin It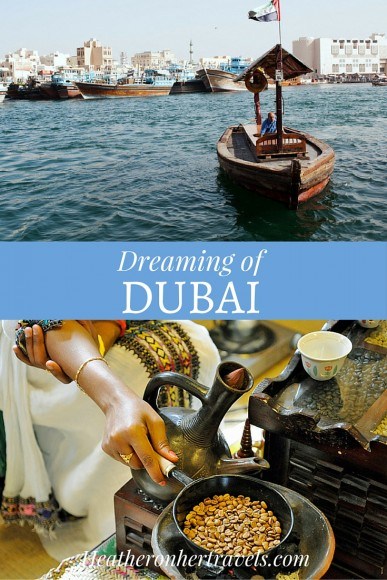 This article is originally published at Heatheronhertravels.com – Read the original article here
Giveaway Terms & Conditions
1. The giveaway is open to all aged 18 years or over except employees and
families of Travel Trolley, affiliates or subsidiary companies.
2. The prize will consist of one holiday voucher worth £150 only, courtesy of Southall
Travel Group. The winner can purchase any holiday package from Travel Trolley and
they will be able to use the voucher for £150 discount. No cash alternative can be offered.
3. The holiday voucher will be valid for 3 month from the date of issue. The travel
dates has to be within 1 year from the date of issue of the voucher, i.e. the
booking/purchase needs to be done within 3 months of the issue of the voucher,
however the travel dates can be within 1 year from the date of issue.
4. The giveaway closing date is midnight on 27 February 2016 and any entries received after this cannot be accepted.
5. The winning entry will be selected at random after the closing date and the winner will be
notified by email within 7 days.
6. If you are notified of a winning entry, you must confirm acceptance by email to claim
your prize. If you do not reply to confirm acceptance within 5 days of being notified
as a winner, we may offer your prize to someone else.
7. By entering to the giveaway you agree that you may be added to the mailing lists of Heatheronhertravels.com and Travel Trolley but you may unsubcribe at any time.
8. The prize is non-transferable, non-refundable and no cash equivalent may be offered.
Some great competition websites:
Prize Finder
Competitions Time
UK Competitions and Prize Draws at UKwins
Win Free Stuff – UK Competitions
Loquax – Home of the Lucky Duck
Competitions List
ABC The Place to Win
Offer Oasis
There's something special about the dishes you eat on holiday in the Mediterranean. Perhaps it's the warmth of good times with friends and family. Perhaps it's that you're tasting food that's locally grown and bursting with flavour. Somehow you can taste the sunshine in every mouthful.
Leafing through the colourful photos and recipes in The Traveller's Table cookery book brought back happy memories of the meals I've eaten in Greece and Turkey. I even tried out a few of the recipes for Sunday lunch at home which you can see below. If your mouth is watering by the end, you can take a look at the recipes in the e-book here.
About the Traveller's Table
The Traveller's Table recipe book was created by globetrotting couple, Chris and Carolyn Caldicott who ran the World Food Café in Covent Garden and now share their love of food through cookery books, writing and photography. Together with Simpson Travel, who offer luxurious handpicked villas, apartments and hotels in Corsica, Greece, Mallorca and Turkey, they have created a collection of simple, authentic and delicious recipes that are soaked in Mediterranean sunshine. Read on as I recreate some of the recipes from the book to enjoy at home and put you in the mood for planning your next holiday. Don't forget I have 5 copies to give away at the end of the article.
Shaved fennel salad with clementines and capers
This refreshing salad of shaved fennel, oranges and capers is in the Corsica section of the book and although I haven't been to Corsica it looked so pretty that I couldn't resist. The fennel and oranges are freshly available at this time of year yet the vibrant colours make you feel that summer is already here. The salad makes a great first course to eat before the lamb or as an accompaniment to some cold meats and cheeses.
Ingredients 2 medium fennel bulbs | 3 clementines peeled and sliced or 2 large oranges | 2 spring onions thinly sliced | 2 tsp capers | Mint leaves
Dressing 3 tbsp extra virgin olive oil | Juice of half a small lemon | a few sprigs of thyme, stripping the leaves from the stalks | Salt and freshly ground pepper
To make
Trim the top and bottom of the fennel and cut in half lengthways, then slice very finely using a mandolin.
Arrange the fennel with the slices of clementine or oranges, sprinkling with capers, mint and spring onions.
Mix the dressing ingredients and pour over the salad leaving in the fridge for the flavours to combine.
My Tip – the trick is to shave the fennel as finely as possible using the mandolin (taking care not to shave your fingers in the process)
Plan your holiday in Corsica The French influence brings a chic influence to the island to contrast with the rocky mountain wilderness. You can find a number of elegant villas on Corsica, from traditional stone to contemporary architecture at Simpson Travel here.
Kleftico inspired Barbecued lamb
This dish is inspired by a Greek classic and reminds me of the lamb kleftico that my sister serves in her restaurant in Greece. The recipe is said to have been created by bandits hiding in the hills who would slowly cook lamb in a pit in the ground so that there would be no smoke from the fire to betray their location. The herbs for the marinade and wild horta greens that are served with this dish would be easily found on any Greek hillside. These days the dish is slowly cooked in a closed earthenware pot with a rich tomato sauce and the typically Ottoman influence of the addition of cinnamon.
Most Greeks would have a veg patch with tomatoes and greens growing at the back on their house, although I used fresh spinach leaves which are more readily available in the UK. The slow cooked lamb is something I've often seen my sister's Greek mother in law put in the oven, although the Greek version does not stint on the olive oil. Why would you when you have a cellar full of oil pressed from your own trees? Read my article on how to make delicious Greek stuffed tomatoes
This dish uses the same kleftico fresh herbs and spices for a version that's quick and easy to make, pop in the fridge to marinade and then cook on a summer barbecue or in the oven for Sunday lunch. The Greeks tend to eat their main meal at lunchtime and this would be served even in summer, followed by a nice long siesta!
Ingredients 6 thick lamb chops or cutlets (1 or 2 per person)
For the marinade 3 tbsp olive oil | juice and zest of 1 lemon | 3 crushed garlic cloves | 2 tbsp red wine | 1 tbsp chopped rosemary | 1 tsp dried or fresh thyme | 1 tsp cinnamon | 3 torn bayleaves
To Make
Put the lamb chops in a shallow dish, mix the marinade ingredients and pour over, leaving overnight in the fridge.
The next day, cook the chops over a barbecue or in the oven and serve with lightly cooked spring greens such as horta or spinach with grilled tomatoes halves.
The potato and courgette Boureki recipe below works well to accompany the lamb.
My Tip – Don't overcook the lamb chops or they will dry out – keep basting with the marinade so they stay juicy.
This is the view of Zakynthos from the house of my sister's Greek aunt who often invites us for lovely long lunches with lots of delicious Greek dishes. Read about some of the other Greek dishes we've enjoyed here.
Plan your holiday in Greece – You can take your pick from cottages on the beach or cliff-top views. Simpson Travel offer villas and apartments on Cofu, Crete, Ithaca, Kefalonia, Lefkada, Zakynthos and more – plan your Greek villa holiday here.
Cretan Courgette and Potato Boureki
This dish was ideal to accompany the lamb, using potatoes and courgettes that would be in every Greek vegetable patch together with local cheese that you might be storing in your cellar covered in olive oil to preserve it. I could eat that crispy cheese topping all day!
Ingredients 4 medium size waxy potatoes peeled and thinly sliced | 4 medium courgettes thinly sliced | 150 g ricotta cheese and 150 g crumbled feta cheese (or if in Greece use mizithra or anthotyros cheese) | 350ml whole milk | Dried mint, salt, fresh ground black pepper | 125g graviera or gruyere cheese grated
To Make
Arrange the slices of potato and courgettes in layers in an oven proof dish, sprinkling the mint, salt and pepper as well as small pieces of crumbled feta cheese between each layer.
Once you have filled the dish, mix the ricotta cheese with the milk and pour over the potatoes and courgettes
Sprinkle the grated graviere or gruyere over the top of the dish
Bake in a preheated oven at 190C or gas mark 5 for 35-45 minutes until the potato and courgettes are soft and the cheese makes a brown crusty topping.
Baked red peppers stuffed with jewelled pilaf
When I was in Turkey on a cruise last summer, we spent the day at a beautiful Turkish country house where we learned to cook some traditional dishes like these stuffed peppers. The memories of eating the lunch that we'd made under a shady pergola, followed by tiny cups of strong Turkish coffee still makes me smile, so I decided to cook these baked red peppers stuffed with a spiced pilaf rice. Read about my day cooking Turkish style here.
Ingredients 1.5 mugs of long-grain rice | 2 tbsp olive oil plus 2 tbsp butter | 1 medium onion diced | 4 cloves garlic finely chopped| 2 tbsp pine nuts | 2 tbsp pistachios chopped | 1 tsp cinnamon | 1 tsp cumin | 1 tsp ground allspice | ½ tsp ground pepper | 1 tsp dried oregano |1 tsp dried mint | 2 tbsp raisins |2 tbsp dried apricots chopped
To make
Rinse the rise in cold water and drain. Heat the butter and oil in a pan then gently saute the onion, garlic, pine nuts, pistachios until golden. Add the spices and herbs, then the rice and stir all together.
Add 1.5 mugs cold water , the raisins and apricots and simmer until the rice is cooked and the water absorbed.
Cut the tops off the peppers and remove the seeds and core, fill with the pilaf rice mixture and replace the tops.
Sit the peppers in a shallow dish and add a cup of boiling water around the base, some olive oil and honey or pekmez (pomegranate molasses)
Cook in the oven for 35-40 minutes on a medium heat or in a covered pan on the top of the stove.
Serve with olives and crumbled feta cheese.
The peppers are delicious, with sweet flavours of dried fruit and spices that hark back to Ottoman times. This would make a great dish to serve vegetarian guests with cheese and olives.
Plan your holiday in Turkey – East meets West in Turkey with turquoise seas and an unspoiled coastline. Simpson Travel offers luxurious family villas in Akyaka, the Bozburun Peninsula, Dalyan, Fethiye, Kalkan and Kas. Find your Turkish holiday with Simpson Travel.
If you enjoyed a taste of the Mediterranean from The Traveller's Table you can download the digital version of the book here.
Which of the recipes would you cook? Do you have happy memories of great food in the Mediterranean? Do let me know in the comments.
About Simpson Travel
This article was brought to you in partnership with Simpson Travel who offer a unique collection of villas, apartments and hotels in Corsica, Greece, Mallorca and Turkey. The destinations were chosen for the richness of the experiences they offer, from a mountain hike, a boat trip around the coast to an exploration of history and heritage. Check out the Simpson Travel website or follow them on Social Media: Twitter| Facebook | Pinterest |Google+
Pin It
The Giveaway
This giveaway is now closed but look out for other giveaways I'll be running soon.
This article is originally published at Heatheronhertravels.com – Read the original article here
My first introduction to ski-ing was in my twenties when I spent a season as an au-pair in the French Alps. I remember being taken up the mountain as a complete novice only to tumble my way down the slopes through fresh powder on what felt like a black run but was probably only blue. Since then we've had quite a few happy family ski holidays and my kids have grown up as keen skiers and snowboarders, while I've been happy to potter down the easier runs, stopping now and then for a chocolat chaud.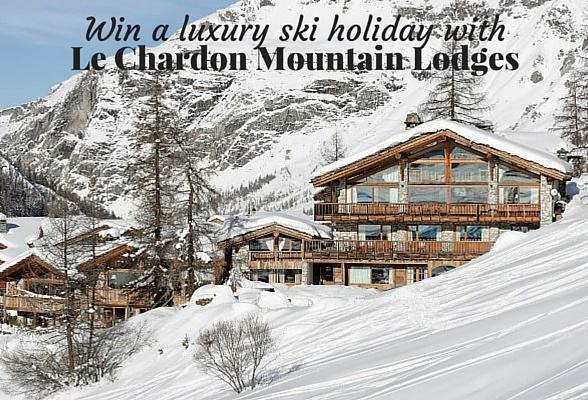 I think the luxurious Le Chardon Ski Chalets in Val d'Isere would suit me down to the ground, providing a comfortable and stylish bolthole to retreat to, leaving the rest of the family to get on with the serious business of ski-ing. The five luxury catered ski chalets sleep between 10 and 20 people, offering a ski-in, ski-out location and access to the 300km of pistes of Val d'Isere and the neighbouring resort of Tignes. If you fancy a luxurious ski break you could win a chalet holiday for two in the Le Chardon competition which you can enter here – more details of that in a moment. But first let's take a closer look at what your ski holiday could look like this year….
Why Val d'Isere?
Here are just a few of the reasons to choose Val d'Isere for your skiing holiday this year;
At an altitude of 1850 metres it has one of the longest winter ski seasons in Europe, from the end of November to the first week of May.
The Espace Killy ski area, comprising Val d'Isere and neighbouring Tignes offers 300km of marked pistes with something for everyone, from the complete beginner to the advanced skier.
The resort is easy to access from Geneva Airport with multiple flights from the UK each day.
If you have members of your group who are less committed ski-ers (hands up here) there's plenty to keep them happy from husky sleigh rides, ice skating and cross-country ski, to swimming and spa at the Centre Aquasportif.
If you already mentally enjoying your 7 night luxury ski holiday at Le Chardon Mountain Lodges, head over to the competition page now to enter. Meanwhile, here are a few more reasons to choose Le Chardon for your ski holiday;
Why Le Chardon Mountain Lodges?
Each of the five mountain lodges is individually styled with luxury touches like marble en suite bathrooms, crisp bedlinen, gorgeous textiles, natural wood and stone and of course a cozy fire burning.
You'll be pampered by a team of professional staff in each chalet including a chef, chalet manager, chalet hosts, in-resort concierge and chauffeur service.
Le Chardon is a family-run business offering personal service and extra flexibility for any special guest requirements.
Your stay will be a gastronomic experience, using local produce like the cheese from the cows that graze in front of the chalets, including cooked breakfast and afternoon tea, champagne and canapés, 3 course gourmet evening meal, with an open bar of wines, beers and spirits.
The chalets are in a ski-in, ski-out location on the side of the Solaise mountain offering access to the whole Espace-Killy ski area of Val d'Isere and Tignes.
The chalets offer hot tubs, sauna and treatment rooms where beauty and spa treatments can be arranged.
So unless you need any more convincing, head over to enter the competition on the link below.
Enter to win a 5 star chalet holiday with Le Chardon
In order to enter to win this luxury chalet holiday you'll need to watch the video below and answer a simple question on the competition page.
You can enter the competition here and the full terms and conditions are here but you could win a luxury chalet holiday that includes;
Transfers from Geneva Airport to Le Chardon Mountain Lodges
7 nights luxury lodge accommodation for two (sharing a room)
6 nights catered chalet board (coffee/tea in bed, cooked & continental breakfast, afternoon tea, gourmet five course evening meal and open bar including champagne, house wine, beers and spirits)
Pre-arrival and in-resort concierge
Dedicated chalet team and in-resort chauffeur service to 2am
1 week ski hire for two from Oxygene
Note: you need to cover your own flight to Geneva and any ski lessons your require.
Dates of accommodation can be chosen from: 24th Jan – 31st Jan '16, 31st Jan – 7th Feb '16, 7th Feb – 14th Feb '16 and 20th Mar – 27th Mar '16.
Entries close on 31st October 2015 at midnight and the winner will be announced by the 6th November 2015.
Best of luck!
For more information or to book your luxury ski holiday with Le Chardon Mountain Lodges head over to their Website or follow them on social media: Twitter @lechardon | Facebook | Google+ | YouTube| LinkedIn | Pinterest |
Pin It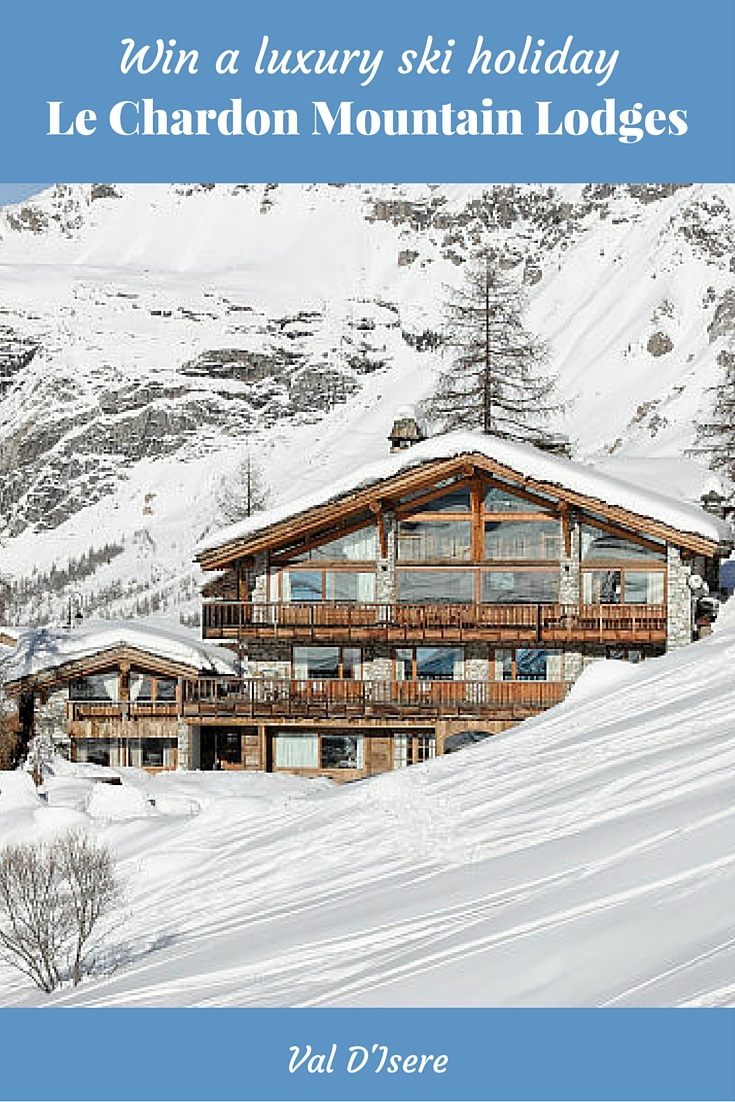 This article is originally published at Heatheronhertravels.com. This article is brought to you in partnership with Le Chardon Mountain Lodges and I was sponsored to help promote the competition. Read the original article here
You'll also find our sister blog with tips on how to build a successful travel blog at My Blogging Journey