As I cycled past beautifully tended rows of vines and fruit trees heavy with plums in Austria's Wachau Valley, I was struck by how activities such as hiking, cycling and canoeing can give you a whole new perspective when on a river cruise. These days many guests enjoy staying active on their holiday, not only for health, but perhaps because you can give yourself permission to try all that delicious food and wine from the region! On my recent Avalon Danube cruise I was able to enjoy one of Austria's prettiest regions while trying out a more active approach to sightseeing.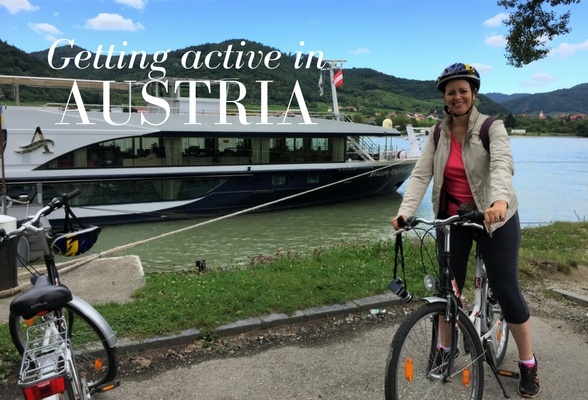 Canoeing in the Wachau Valley
One of our cruise stops was at Durnstein, a town made rich by the tolls of medieval merchants passing through and best known for the castle where Richard the Lionheart was held to ransom for a winter in 1192. Along the river, vineyards clothe the hillside, and the orchards of apricots are used to make the apricot jam, liquer and schnapps that you'll see on sale in the shops.
From Durnstein I tried one of Avalon's Active Discovery canoe excursions, with our group being taken up river to a spot where our canoes and guide awaited us. With canoes set two abreast and a board between them, this was canoeing the easy way, since the arrangement made a pretty unsinkable raft. I did notice that a couple of Canadian guests, who were natural born canoeists, took the option of individual kayaks instead, perhaps finding the rafts a little tame.
Under the watchful eye of our guide on a paddle board, we paddled our canoes down the Danube. We were passing through the classic romantic landscape, beloved by artists, with castles poised on rocky outcrops overlooking the river and vineyards clothing the hillside in neat rows. Every local we met had told us proudly, "You must try our wine" and on such steep slopes, tended by hand, the wine has to be high quality to justify the work involved.
Since our two canoes took six people, I sat on the middle board and designated myself group photographer, so I'm afraid I didn't do too much paddling! Even if we hadn't paddled at all, I feel sure that we would have drifted back to the ship eventually.
When the canoeing became too relaxed, we would veer towards the bank and have to paddle frantically to get back on track. The guides seemed to know when a river boat was likely to come up the river and guided us to one side of the river to keep out of their way.
Every so often we would have a friendly bit of competition with the other group, as if we were doing a leisurely Dragon Boat race. Mostly though, we chatted, took lots of photos and watched the scenery drift by.
We stopped for a while on the bank opposite Durnstein to look back at the town and see a ship passing by, then it was time to paddle a little further downstream beyond the ship. Arriving at a shallow inlet at the side of the river, we brought the canoes in and jumped ashore, then walked along the river path to reach the Avalon Visionary again.
Cycling down the Danube
After our morning canoe trip we had the chance to try another active excursion, this time a three hour cycle ride along the river to Melk, with a stop for a picnic lunch. On the quayside by the ship, our bikes awaited us and we set off with a guide at both front and back to ensure that no-one got lost.
The road took us along the river, then curved a little higher on the northern bank through pretty villages, where we could admire the houses and wine terraces set on the hillside. I found myself most often at the back, because I wanted to take lots of photos of the scenery. At least that's what I told myself as I watched guests who were older but a lot fitter than me whizz by!
The scenery was impossibly pretty and I could understand why the Wachau Valley has been designated a UNESCO World Heritage Site for its cultural landscape. Our guide pointed out the sculpture on the hillside that imitated the so called Venus of Willendorf, a small female figure dating back to prehistoric times, that's said to be a fertility symbol and is now in the museum in Vienna.
Further along we cycled along the broad path beside the river, past the ferry stations and could see the river defences, that protect the riverside towns and villages in case of flood. For lunch we stopped at Susi's Donaustueberl, a cafe overlooking the river, where we ate our packed lunch provided by the ship. While we were there, the Avalon Visionary passed by and we ran down to the shore waving frantically, although I'm not sure that the guests on board knew who those crazy people were on the bank!
After lunch the scenery became less picturesque, the path flatter and after an hour Melk Abbey came into sight set high above the river. I was glad to get back on board the Avalon Visionary, somewhat sweaty after the three hour cycle ride, for a quick change before visiting Melk Abbey which was a short walk away from the ship.
Visiting Melk Abbey in Austria
Melk Abbey is one of the treasures of this part of Austria, dating back to the 11th century when the ruling Babenberg Dynasty gave their fortress to the Benedictine order to found a monastery. There is so much to see here that to do it justice you need at least half a day, to enjoy the abbey and the pretty town that sits in its shadow.
By the early 18th century the monastery church was falling into disrepair and plans were made to rebuild it in the ornate baroque style that we see today. The abbot however had even more ambitious plans, proposing the rebuilding of the entire abbey which was done between 1700 and 1740, to create the baroque masterpiece we see today. Our guided tour took us through the main areas of the abbey, starting with the rooms bathed in coloured light that house some of the abbey's treasures; golden chalices, holy relics and vestments used in the church, to tell the story of the Abbey's history.
The display rooms led us into the magnificent Marble Hall with a ceiling fresco depicting Hercules and Athena, the gods of strength and wisdom, representing the rulers of Austria. In the centre of the room is a metal grill, which is the best spot to look up at the ceiling and see it in the correct perspective. Although the ceiling looks domed, this is due to the trompe l'oeil effect of the fresco, since it is actually almost flat.
From the Marble Hall we walked across the rooftop balcony with views over the town of Melk to the river below, and into the monastery library. Unfortunately photos were not allowed in the library, but the ceilings and gilding were quite magnificent, with an ornate spiral staircase leading up to more of the twelve library rooms, housing books that date back to the 9th century.
The final part of the visit took us through the monastery church that was decorated in similarly ornate baroque style, with more gilding and ceiling frescos to dazzle us. After all this over-the-top magnificence it was a relaxing change to visit the monastery gardens where the tea room was housed in a beautiful classical pavilion. My favourite spot was the peaceful herb garden with medicinal plants and flowers and a view over the abbey buildings and courtyards. More information on the Melk Abbey Website.
It had been a day of contrasts, a peaceful start as we drifted down the river by canoe, a 3 hour cycle ride to get us moving and the cultural highlight of Melk Abbey to stimulate our senses. Perhaps most guests wouldn't try to pack in quite as much into one day (I haven't even mentioned the evening wine tasting!) but I love to have a healthy balance of activities for the body and mind when on holiday. If you think the combination of activity and relaxation sounds right up your street, check out the Avalon Active Discovery options on your next river cruise.
Read about more River cruise experiences
7 reasons to take a river cruise with Avalon Waterways
All aboard the Amadeus Princess – what to expect on your river cruise
Tasting the wines of Burgundy on a Uniworld Cruise
Information to plan your cruise
The Avalon Waterways 9 day 'Active Discovery on the Danube' cruise from Linz to Budapest (and reverse itinerary) is priced from £2483 per person to include a selection of activities (based on 16 October 2017 departure). Cruise highlights include Linz, Grein, Durnstein, Krems, Vienna, Bratislava, Visegard and Budapest. Discover more on the Avalon Waterways website.
If you require a hotel in Austria at the start or end of your cruise check out HotelsCombined to compare prices. If you require any airport parking services, I recommend APH Airport Parking and Hotels, a leading UK provider of airport parking, hotels and airport lounges.
For more information to plan a holiday in Austria, visit the Austria Tourism website
If you'd like to try canoeing or paddle boarding in the Wachau Valley as an independent traveller check out Kanu Wachau who provide canoe excursions.
Thanks to Avalon Waterways who hosted Heather for a 4 day taste of the Danube cruise from Austria to Linz.
Note: Some of the links above are affiliate links, enabling me to earn a small commission at no extra cost to you.
Pin It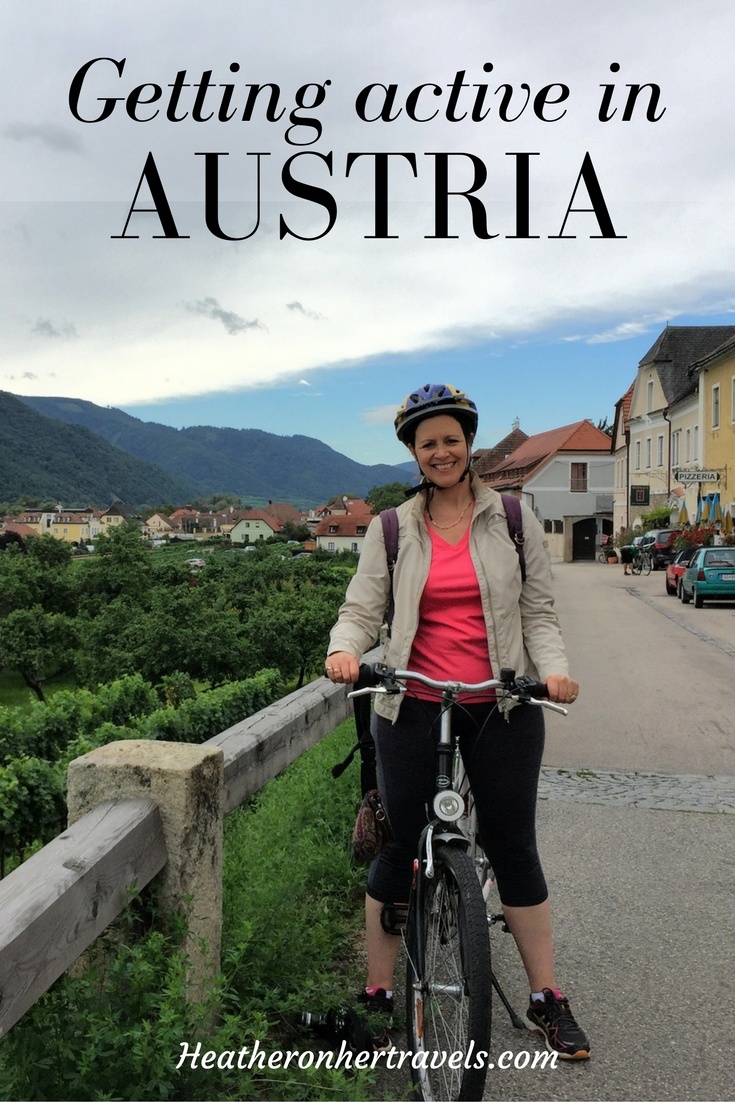 This article is originally published at Heatheronhertravels.com – Read the original article here
Every year my friend Julia and I set off for a hiking holiday, a girl's own adventure in which we test ourselves on the mountain trails of Europe. This year we had chosen the Dolomites of South Tyrol in Northern Italy as our outdoor playground, making a circular route around the Rosengarten or Catinaccio range.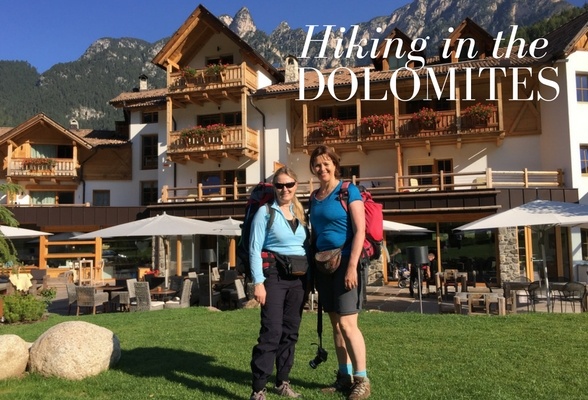 Our start and end point was the gorgeous Hotel Cyprianerhof, a stylish hotel that offers an extensive programme of hiking activities, combined with spa and wellness, to its guests. Our two nights at Cyprianerhof provided a luxurious contrast with the three nights that we would be staying in simple mountain huts with fabulous views but basic facilities. You can read more about our stay at Hotel Cyprianerhof at the end of this article, but in the meantime, let's get started on our four day hike around the Dolomites.
Leaving Hotel Cyprianerhof, we walked up a broad gravel path, past enormous wood piles set by the stream, until the track veered up unto the forest. The trail was shady and damp underfoot with toadstools peeping through the foliage beside the path. Down to our left was a steep gully where we could hear the trickling of a stream and although the sun filtered through the trees, we were pleased to be walking in the cooler shade.
A broad gravel track was running in the same direction as the forest path that we took, which twisted and turned, crossing the broader track every so often. A group of mountainbikers from the hotel were riding up the gravel track and every so often one would pass us, cycling steadily up the steep slope with seemingly iron leg muscles. We walked past them again as they all gathered for a rest on one of the bends but were sure that we'd much rather be hiking than cycling up that slope. As we climbed and the trees thinned, we could just glimpse the grey rocky crags of the Dolomites in between the trees, framed by the blue sky.
After two hours of hiking up the forest path we were certainly ready for a break as NigerHutte came into view on the rise high above us, a pretty wooden building with blooming window boxes and cheerful blue sun umbrellas. The cyclists were already there enjoying a coffee and we gratefully sat at the benches and tables on the terrace and ordered a cooling lemon soda, which became our drink of choice on all our hiking stops. As the road came up to this point, the car park was full and it seemed a popular spot with motorbikers. The road continued further to the bottom of the cable car up to Kolnerhutte where we were heading that evening.
Our route continued not on the road but on the easy forest track again until the vista opened up into a grassy meadow, with the smell of freshly mown grass in the air. At the top of the meadow was what looked like a farm house, a tractor parked beside it and a small enclosure of cows beside the path. Befind it we now had a clear view of the grey rocky crags of the Dolomites, rising sheer from the green patches of forest.
Getting closer I realised that this was the Rifugio Messner Joch with a sunny terrace cafe where I found my friend Julia already settled, enjoying the view back down the valley. We decided that this was a good place to stop for lunch and ordered more drinks and a bowl of hearty vegetable soup, spotting the cyclists once again at the next table tucking into a plate of the local Kaiserschmarrn pancakes, with redcurrant jam.
Leaving the hut, the path wound up through the meadow where cows were grazing, and I stayed close to my friend Julia who was afraid of cows having been chased by one as a child. Above us we could see Kolnerhutte with the line of the cable cars leading up to it. What a shame that we couldn't hitch a lift on one of them as we trudged up the track, the scenery becoming more panoramic as we increased in altitude. Kolnerhutte sat above us just at the foot of the rocky crags that we would have to climb over the next day and below us were the gently rolling pastures dotted with houses.
One lesson we quickly learned on this trip was that the mountain huts can often be seen clearly long before you reach them, appearing tantalisingly close, but in fact requiring an hour or more to reach on steep and twisting paths. By the time we reached the top at Kolnerhutte it was late afternoon and we were pleased to settle in for the night.
Above the cable car station was a busy cafe terrace but we were staying in the separate building above it, with a cosy wooden dining room decorated with old climbing memorabilia, red checked table cloths and pretty fake flower arrangements. As was traditional for the Tyrol, both the Austrian and Italian side, a large crucifix was mounted on the wall. We left our boots on the racks at the bottom of the stairs, borrowed some plastic clogs and were pointed to our eight person dorm which we were sharing with a hearty group of Belgian men and a younger couple. As we'd come to expect in these remote mountain huts, the washing facilities were limited and we joined the queue for the single shower, operated by a €3 token to ensure you only used your allocated amount of hot water.
Dinner was served at around 6.30, the typical half board offering of a plate of pasta, followed by a dish of meat and potatoes, then tirimasu for desert, washed down with beer or wine. From our table I could watch the sun turning the mountain golden and longed to rush out and take photos, but by the time supper was over the rock face was in grey shadow. Knowing that we would have an early start and long walk tomorrow we turned in after dinner for an early night. With all the comings and goings in the dorm neither of us slept especially well and were up early for our breakfast of bread and jam, with a simple spread of ham, cheese and cornflakes with hot coffee. The next day of our hike would take us steeply up over the rocky Coronelle Pass, so we would need all our concentration and energy for the tricky climb. In my next article you'll hear how we fared on the precipitous rock face up to the pass!
Staying at Cyprianerhof in South Tyrol
I promised you I'd tell you a bit more about Cyprianerhof and I can't praise this hotel highly enough as it provided us with a wonderful start and end to our hiking tour. I really was tempted to just abandon all the hiking plans and just stay here for the week! Owner Martin Damian told me how he had taken the hotel over from his parents who established it in the 1960s and had developed it gradually since 1985 together with his wife who is responsible for all the interior design.
The hotel's philosophy is to offer guests the full experience of the Dolomites, allowing them to recharge and clear their minds through hiking in the mountains, combined with relaxation in the spa and sauna facilities. In summer there is a programme of hiking as well as climbing and Via Ferrata, while in winter guests can try snow-shoe, ice climbing and cross-country ski. The hotel is affiliated to the Wanderhotels group of hiking hotels with hiking and snow-shoe excursions included as part of the half board package.
Most guests come for a week or more because they love the luxurious ambiance and hotel facilities combined with the challenging hiking in the Dolomites. You can borrow everything you need from the hotel – rucksacks, poles, water bottles, even climbing harnesses if you need them.
We loved the stylish decor combining wood and glass, a modern take on the Tyrolean theme with knotted spruce and local stone in the bedrooms, cosy woollen checks and views of the mountains. As South Tyrol is a big producer of apples, there were big baskets of apples everywhere and an apple on the pillow as a healthy alternative to the usual chocolate. The mattresses were so comfortable and the duvets so soft that I felt I could float away on them when we arrived and collapsed after our hut-to-hut tour.
The food at Cyprianerhof was exceptional with a breakfast spread that was as varied and healthy as I've ever seen. In addition to the usual muesli, yoghurts, pastries and fruits there were whole sections devoted to butter and soft cheese, fresh fruits, herbal teas, local cheese and machines to make yourself fresh pressed orange juice or raw vegetable juices. At dinner there was a 4 course set menu with different choices which was beautifully presented as well as delicious. The staff were also exceptional – friendly, professional and switching effortlessly between languages – they smilingly welcomed us on arrival with a shake of the hand.
In the bar area was plenty of comfortable seating to chat and relax with friends over an Aperol Spritz or Hugo and the natural textures or wood and stone were lit with flashes of pink, purple and green light around the bar. The same coloured light was used to light the swimming pool blue at night-time with loungers to relax after your spa treatment with a view of the mountains. The daily programme also included a range of different sauna experiences, with honey and herbal infusions in the Schupfensauna and the opportunity to go as hot as you could stand.
I'd highly recommend Cyprianerhof as the perfect place to relax at the beginning and end of your hut-to-hut tour. If you don't fancy the somewhat basic basic hut accommodation up in the mountains then I'd just base yourself at Cyprianerhof and take advantage of the guided hikes that are included in the package and can be just as physically challenging as anything we did.
Getting to South Tyrol
South Tyrol is the north-east corner of Italy, bordering Austria to the north and Switzerland to the west. We flew to Venice Marco Polo Airport and hired a car to drive to the nearest village of St Cyprian, which took around 3 hours. Alternative airports would be Milan Bergamo (2 hrs 50 mins), Innsbruck (1 hr 50 mins), Verona (2 hrs), Venice Treviso (3 hrs). For those using public transport, trains and buses are available from most airports to Bolzano and there is a bus (no 185) running from Bolzano to St Cyprian which stops ouside Hotel Cyprianerhof, running around once an hour (journey time 50 mins). The taxi from Bolzano to St Cyprian would take around 30 mins. To compare prices and book Hotels in South Tyrol check out my hotels booking page powered by HotelsCombined
Are we really in Italy?
In South Tyrol both German and Italian are widely spoken, since the province was part of the Austro-Hungarian empire until 1948, when it was annexed by Italy after WWI.  In the Dolomites we found that German was more commonly used although most locals will easily switch between Italian and German. English is less widely spoken although you will not have a problem in larger hotels and in mountain huts there is generally someone with a little English. Because of the dual languages all towns, villages and mountain huts have two names – both German and Italian. I will mention both but for simplicity may then use just one.
Where we stayed
To compare prices and book Hotels in South Tyrol check out my hotels booking page powered by HotelsCombined
Night 1 – Hotel Cyprianerhof Website: Cyprianerhof.com A luxurious 4 star hotel in St Cyprian with extensive facilities for wellness and activity excursions. Guests normally stay on a half board package that includes breakfast, afternoon tea and evening meal, with hiking or snowshoe tours for all abilities. The food here was excellent using local and seasonal produce. Half board package including activities from €156 per person per night
Night 2 – KolnerHütte / Rifugio Fronza alle Coronelle Website: Rifugiofronza.com
Cost: from €52 per person for half board (evening meal and breakfast)
The Refuge has both 2 bed rooms and dorm rooms, with 60 beds in total. Blankets are provided but you need to bring your own sheet sleeping bag. There is 1 hot shower which costs €3 to use. The Refuge can also be reached from St Cyprian by a bus to the foot of the Laurino chairlift, then take the chairlift up to KolnerHütte. Many people use the chairlift to reach KolnerHütte quickly and then walk the higher mountain routes from there.
Night 3 – Grasleitenhütte / Rifugio Bergamo Website: Grassleitenhuette.com
Cost: from €52 per person for half board (evening meal and breakfast)
The Refuge has both 2 bed rooms and dorm rooms with duvets provided but you need to bring your own sheet sleeping bag. There are 2 hot showers which cost €3 to use. The refuge has a charming traditional feel and is family run with friendly owners and excellent cuisine and wine.
Night 4 – Schlernhaus / Rifugio Bolzano Website: Schlernhaus.it
Cost: from €39 per person for 2 bed room including breakfast. Meals can be ordered from the modestly priced menu and half board is available for groups of 8+ people.
The Refuge has both 2 bed rooms and dorm rooms, with 120 beds in total. Duvets are provided but you need to bring your own sheet sleeping bag. There are no showers, only a washroom. The refuge is large with a traditional wood pannelled dining room and panoramic views of the mountains as well as friendly staff. The Refuge seemed to be a favourite with families and several people had dogs with them.
Night 5 – Hotel Cyprianerhof (see above)
Planning your hiking routes
A good resource for planning your hiking routes in the Dolomites is the Sentres.com website and the South Tyrol Tourism website also has plenty of information to plan your holiday in South Tyrol.
You will find timings for walking routes on the Sentres website. However, be aware that these are times for fit walkers without any stops for rests or photographs. In our experience we found that for each 2-3 hours of the 'official' time, we needed to add 30 mins to allow for being less fit and 30 mins for a drink stop in a refuge. So overall we would add 1-2 hours to the times given per day.
We used the Tappeiner 1:25.000 Map No 29 Schlern – Rosengarten – Sciliar – Catinaccio – Latemar – you can order it on Amazon and a similar map was for sale at Cyprianerhof for €9 and probably other places locally. We could not find an English guidebook to the routes we were walking but we found we could navigate fine with just a map as the paths were well marked.
Here are the routes and timings we took
Day 1 – Cyprianerhof to KolnerHütte
Official time: 4 hours
Actual time without stops: 4 hrs 30 mins
Actual time with stops: 6 hours
Our route was: Cyprianerhof – Nigerhütte 2 hrs / Nigerhütte – Messnerjoch hütte 1 hr / Messnerjoch hütte – KolnerHütte 1 hr 30 mins
Day 2 – KolnerHütte to Grasleitenhütte
Official time: 5 hrs 30 mins
Actual time without stops: 6 hrs
Actual time with stops: 7 hrs 30 mins
Our route was: KolnerHütte – top of Coronelle Pass 1 hr / top of Coronelle Pass – Rif. Vaiolet 1 hr 45 mins / Rif. Vaiolet – Grasleitenpasse 1 hr 30 mins / Grasleitenpasse – Grasseleitenhutte 1 hr 30 mins Warning: very steep climbing with cables over Coronelle Pass
Day 3 – Grasleitenhütte to Schlernhaus
Official time: 4 hrs
Actual time without stops: 5 hrs
Actual time with stops: 7 hrs 30 mins ( we made a 40 min detour to Rif. Alpe di Tires)
Our route was: Grasleitenhütte – Rif. Alpe di Tires 3 hrs 25 mins / Rif. Alpe di Tires to cairn at start of plateau 1 hr 20 mins / Cairn at start of plateau to Schlernhaus 1 hr 30 mins. Warning: very steep climbing with cables on final part of route 3 up to Rif. Alpe di Tires
Day 4 – Schlernhaus to Cyprianerhof
Official time: 4 hrs 30 mins
Actual time without stops: 6 hrs
Actual time with stops: 8 hrs
Our route was: Schlernhaus – Junction of route 3 & 7 1 hr 50 mins / Junction of route 3 & 7 – Turning to route 7B 1 hr / Turning to route 7B – Tschafonhutte 1 hr / Tschafonhutte – Cyprianerhof 2 hr
Thanks to the South Tyrol Tourism board who hosted my walking tour of the Dolomites.
Pin It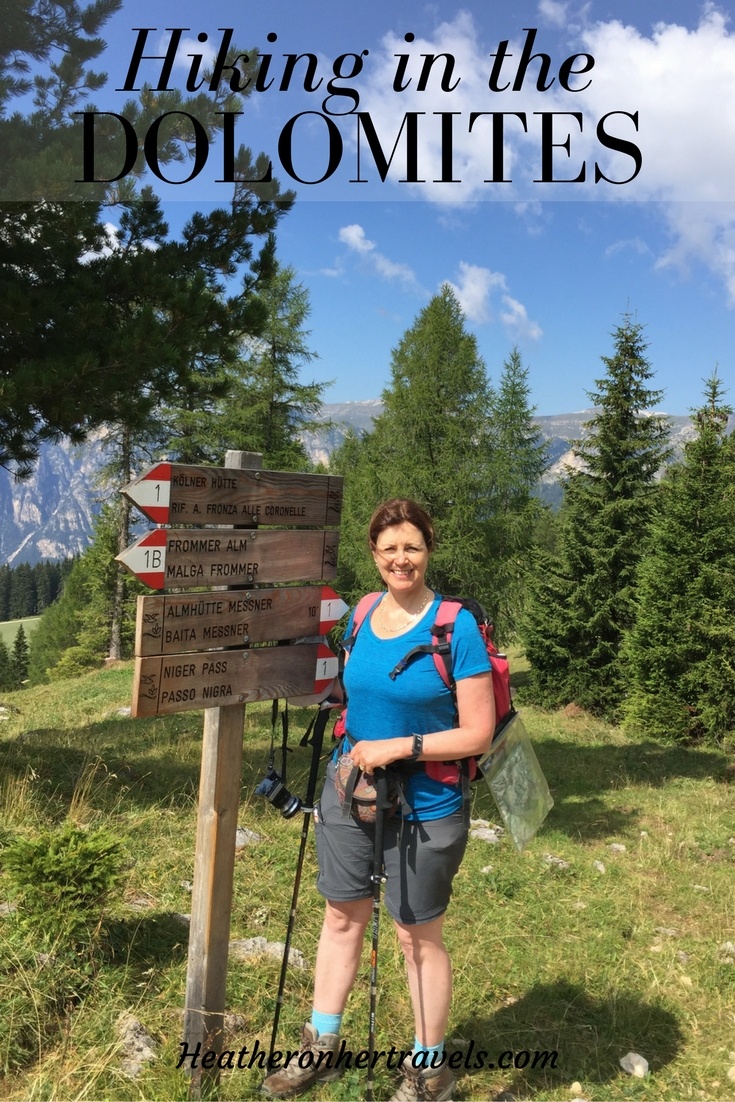 This article is originally published at Heatheronhertravels.com – Read the original article here
You'll also find our sister blog with tips on how to build a successful travel blog at My Blogging Journey
Braga is located in the North of Portugal and its history and charms won't leave you unmoved. In this article our guest author and Braga expert, Julia Vilaça picks out five of the most iconic things to do in the city.
Visit Bom Jesus
Bom Jesus is one of the most versatile places in Braga. The view from the top is mesmerizing, the environment is calm, quiet, romantic and family-friendly and there are lots of things you can do besides visiting the impressive and beautiful church. There are gardens and grottos, a lake with rowing boats, a relaxed terrace and carriages to enable you to discover the area. For a unique experience, use the water powered elevator to reach the area where the church is located.
In Bom Jesus there are options for everyone. The Hotel do Parque is always a good choice to stay and if you like cocktails, you must go to Casa Velha, a bar that takes the art of creating these kinds of drinks very seriously, providing you with a unique experience in a rustic space.
Visit Braga's Cathedral
This is the oldest church in the country and its first construction project began even before Portugal became a nation. It's possible to observe the influences of various eras on its walls and predominately Baroque interior. This is a symbol of the city and it is a mark in the lives of the people who live in Braga, thanks to its beauty and historical importance. Next door, there are some small chapels and a museum where you can learn more about the Church, the Portuguese habits and history – one of the pieces you can see in the museum is the cross used during the first mass celebrated in Brazil when the Portuguese arrived there.
Take a cup of coffee in A Brasileira
A Brasileira is the most iconic place when it comes to coffee. After lunch, order the drip brewed coffee and experience the traditional flavor of coffee. This iconic coffee shop is located in the heart of the city, so afterwards you can take a walk around the city's pedestrian area, discovering the streets of Braga, its most delicate gardens and historical buildings. Shop for souvenirs or for a special piece for your wardrobe – if you're a fan of international luxury brands, stop by Antónia Lage and Boutique Janes where you'll find the latest collections from Miu Miu, Prada, Chiara Ferragni, Moschino).
Visit the Biscaínhos Museum
The Biscaínhos Museum opened its doors in 1978 and currently takes us on a journey through the daily life of a noble family in their palace. Visit the gardens – the perfect setting to read a book or go for a romantic walk. Inside you'll see the noble ballroom where the family used to hold their receptions and balls and a fantastic ceiling painted by Manuel Furtado. This is the perfect Museum to visit if you want to see how a noble family used to live.
Visit the Tibães Monastery
The Tibães Monastery is more than just a visit to an old monastery, it's a visit to the past, a visit to the present, and a desire to return there in the future. It's located a bit far from the center of Braga, but worth the visit. The gardens are an ode to Mother Nature, there's even a lake lined with centenary trees and the Rococo style church will blow your mind, thanks to the 24K gold covering most of it. And you know what? This Monastery also includes a guest house, Hospedaria Convento de Tibaes, with nine bedrooms, a restaurant and a venue for special events. Perfect, right?
Author Bio: Thanks for this article to Julia Vilaça who writes at Braga Cool and is an avid collector of happy moments. Her dream is to help people discover the coolest places when they travel.
More articles about Portugal
5 cool neighbourhoods you can't miss in Lisbon
3 great places to visit in Portugal
An autumn weekend in Lisbon
If you're looking to book a Hotel in Braga, compare prices and book on my Hotel Booking page powered by HotelsCombined – I get a small commission at no extra cost to you. Thanks for your support!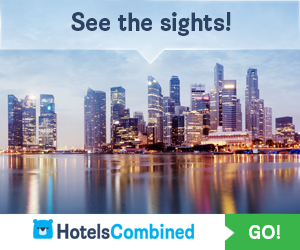 Pin It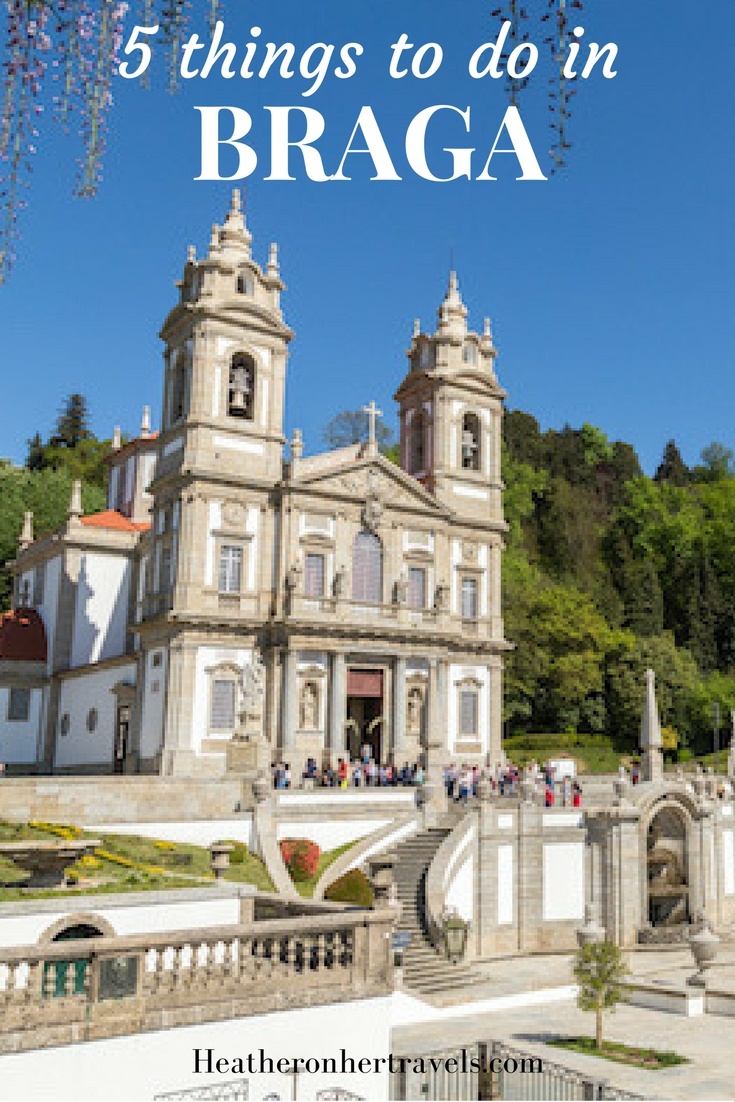 This article is originally published at Heatheronhertravels.com – Read the original article here
You'll also find our sister blog with tips on how to build a successful travel blog at My Blogging Journey