When I travel it's the food that often creates the lasting memories that I bring home. For Greece it's the home-made stuffed tomatoes that I associate with sitting under a leafy pergola with a view of the sea, from Texas it's the fish tacos that remind me of the food trailers of Austin and from Portugal it's the Pasteis de Nata custard tarts that bring back mouthwatering memories of a weekend in Lisbon.
With Christmas approaching it's always good to have a few alternatives to the mince pies that can be whisked up at short notice so it was great timing that I was asked by Expedia to come up with my favourite world-on-a-plate recipe with a Portuguese theme. If you've not visited Lisbon, you may not know what you are missing in these creamy, vanilla perfumed custard tarts enclosed in a crisp, flaky pastry that are sold in every bakery and at every hotel breakfast buffet.
While there are plenty of Pastelarias or cake shops around Lisbon where you can buy the tarts, locals and tourists alike swear by the ones that are sold close to the Monastery of Jerónimos at the Antiga Confeitaria de Belém where the cakes are simply known as the Pastéis de Belém. To get there you take the tram from downtown Lisbon to Belém, getting off at the stop before the monastery and look for the queue of people snaking out the door waiting to buy them warm from the oven.
I made some of the tarts this weekend as a try out for Christmas week when we will have plenty of family staying with us, so that I can serve them either as a teatime treat or as a desert with ice cream. I had to practically fight off the family from eating them all before I photographed them, so you could see what the result was.
This is the recipe I used for the Pasteis de Nata which is a hybrid of various recipes I found online and makes up to 24 small tarts or 12+ bigger ones.
Ingredients
1 pack of ready made puff/ flaky pastry
500ml milk/ single cream – I used 300ml milk + 200ml cream
6 egg yolks
300g caster sugar
50g flour/ cornflour
A cinnamon stick or 1/4 tsp of powdered cinnamon
2 strips lemon peel
½ tsp vanilla extract or 1 vanilla pod
First make the easy custard
1. Put the flour in a pan off the heat and slowly whisk in enough of the milk/cream mixture to make a thin paste with no lumps
2. Gradually whisk in the sugar, then the egg yolks and then the rest of the milk/cream mixture.
3. Add the vanilla essence or pod, the stick of cinnamon or powdered cinnamon and the stips of lemon peel
4. Heat slowly over a low heat whisking constantly as the custard heats through. If the heat is too high or the stirring not constant the mixture may turn into a horrible lumpy, scrampled mixture although it will probably still taste good.
5. Once the mixture turns into a thick custard, take off the heat and allow to cool.
6. Remove by hand the sticks of cinnamon, vanilla pod and lemon peel before using the custard
Bake the Pasteis de Nata
1. Roll out the flaky/ puff pastry as thinly as possible
2. Take a round pastry cutter or glass to cut rounds of pastry that will fit neatly into your individual tart tins which you have already greased
3. Bake at 180 degrees celcius for around 25 minutes but check after 20 minutes. The pastry should be golden and the custard nicely browned.
Serve while warm from the oven or as a desert with vanilla ice cream – they won't last long!
When we were in Lisbon a few years ago we stopped at the bakery like the rest of the visitors on their way to visit the monastery and because it was raining we ventured past the queue at the front of the shop into the rabbit-warren of cafe rooms behind. They stretched quite a long way back, so by going from room to room we eventually found a table that was free and ordered our Pasteis de Belém with a coffee.
The story goes that in the early 19th century the monks of the nearby monastery sold the ancient recipe to the bakery and the tarts have been made there since 1837, with the recipe remaining a secret, only known by three of the chefs at the bakery. If you visit Lisbon around Christmas time, look out for the Bolo Rei or King cake, a ringed cake topped with colourful crystalised fruits. The cake is eaten up to the epiphany on 6 January and it sometimes has a little token buried in it for one lucky person to find, just as we might put a sixpence in a christmas pudding.
It you'd like to visit Portugal and Lisbon to try out the Pasteis de Nata for yourself, check out the holidays to Portugal that you can find at Expedia and look out for other interesting foods in their world-on-a-plate series.
More things to see in Lisbon
Having my Pastéis and eating it in Lisbon – Portugal
Podcast – an autumn weekend in Lisbon
Modern luxe at Hotel Heritage Av.Liberdade in Lisbon
This article is originally published at Heatheronhertravels.com – Read the original article here
This article was brought to you in partnership with Expedia as part of their world-on-a-plate series
You'll also find our sister blog with tips on how to build a successful travel blog at My Blogging Journey
Dublin at Christmas is the place to party! The Guinness is flowing, the drinkers are spilling out of the Temple Bar pub and there's music on every cobbled street-corner. But we weren't in Dublin to party. Oh no! Ours was a terribly serious visit to check out Trinity College Dublin and see if it met the approval of our youngest son, a prospective student who's university bound next year. Still, in between the talks about History, Philosophy and life at Trinity, we managed to have our little bit of fun. Here's how our weekend in Dublin went;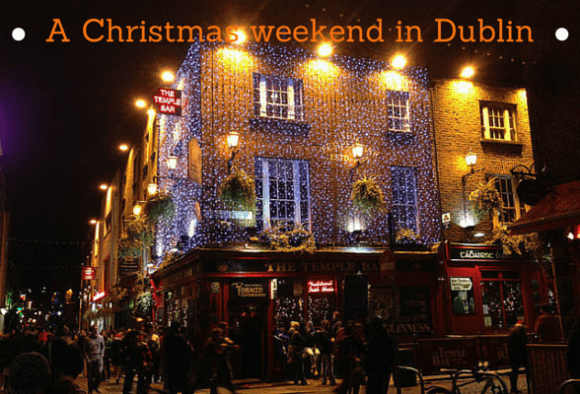 1. Check in at Generator hostel
Now normally, you'll find me in my preferred habitat of a boutique hotel, but this was a flying visit, so in the interest of keeping costs under control and in making my 17 year old son feel at home, we checked into the next best thing – a boutique hostel.
Our family room on the third floor of Generator Hostel was everything we needed the stay in comfort en famille. A comfy double and single bed, a modern en suite and a few funky features like the street-scape mural, tree-trunk for a footstool and plentiful powerpoints.
Downstairs in the bar, dimly lit by a Jameson whisky bottle chandelier, the music was throbbing and we were well fed on fish and chips and meaty burgers. I did feel a bit of carb-overload and craving for a fresh salad, but the cheap cocktails and craft beer (Sunburned from 8 Degrees Brewing, since you ask) more than made up for it.
You'll find Generator Hostel in the Smithfield area, which to use estate-agent-speak felt rather 'up and coming' and was just round the corner from the Old Jameson Whisky Distillery. A brisk 20 minute walk along the Liffey and you can be at Temple Bar, Trinity College or Grafton Street in the heart of the action. All in all a great choice for stylish and well-priced accommodation and I'd happily stay there again with my son.
If you go: Generator Hostel, Smithfield Square, Dublin 7. They also have hostels in seven other European destinations. Our family room cost £64 per room per night on a Friday/Saturday stay in December – prices vary depending on the season.
2. Being student for a day at Trinity College Dublin
On Saturday morning, after our Irish cooked breakfast in the hostel, we were off for that brisk walk along the Liffey, which was looking particularly atmospheric in the chill winter air, with the sun lighting up the front of the Four Courts and creating reflections on the water.
Now to the main purpose of us being in Dublin, the Trinity College open day. Trinity is the Irish equivalent of Oxford or Cambridge, where you can tread in the footsteps of illustrious former students like Jonathan Swift, Oscar Wilde and Samual Beckett. We walked through the classical Georgian front as if we owned the place to check out what was on offer for our prospective student.
The morning passed in a succession of talks in the different faculties; History, Philosophy, English. There were intense discussions with admissions staff (my husband) while remaining nonchalant and non-committal (my son). After sitting through four talks in succession I was wilting and had to leave them and hide away in the student cafe for a plate of sweet and sour chicken.
I would have loved to see the Old Library although unconvinced that the Book of Kells ( an ancient illustrated book of the gospels) was worth the hype. At that point we were feeling too tired and too tightwad to shell out the €10 for a quick peep, so left it for the next day.
3. A pint or two of Guinness at the Stag's Head
By 2pm we had done all the university stuff and met up with our Irish friend Tony, an old mate of my husband, known to us as "wee Tone". Being an old boy at Trinity College, his first words of greeting as we met him under the campanile were "Lets go for a Guinness at the Stag's Head".
Down Dame Street, we squeezed into the pub where wee Tone had whiled away many a happy hour as a student, tucking into his bacon and cabbage in the back room. The main bar was long and narrow, all dark wood pannelling and nicotine stained paintwork, just as an Irish pub should be.
Above the bar, the Stag's Head that gave the pub its name was wearing a jaunty Christmas hat, as were many of the drinkers.  We ordered a Guinness for wee Tone, O'Hara's for Guy while the prospective student and I were on the coke and bitter lemon. As the boys settled down to discuss old times, I saw my chance for a swift look around the shops and crafty bit of Christmas shopping.
If you go: The Stag's Head, 1 Dame Court, Dublin 2
4. Shopping on Grafton Street
First stop was the lovely Avoca (pronounced A-vo-ca) on Suffolk Street which I had fallen on love with on my previous visit when we stopped in their visitor centre on the Wild Wicklow Tour. Known for its pretty checked wool throws and scarves, the store was packed with all sorts of goodies for those who aspire to stylish country living.
Next on Grafton street I braved the crowds under the sparkly Christmas lights and dived into the swanky Brown Thomas to buy some cosmetics as Christmas presents for my nieces. The place I really wanted to see was the Powerscourt Centre, with independent designer shops within an elegant Georgian Townhouse and a cafe in the covered central courtyard.
Up on the top floor I got the best view of the twinkly Christmas light displays and then did the round of the designer shops with plenty of choice for that elegant evening gown or society wedding outfit that I so rarely seem to need these days, although I also discovered a vintage shop which was more my style.
If you go: Avoca, 11-13 Suffolk Street | Brown Thomas, 88 Grafton Street | Powerscourt Centre 59 South William Street
5. Dinner at Fallon and Byrne
I timed it just right to return to The Stag's Head after an hour and a half of shopping, to find the boys had just drained their glasses. We turned out onto the street, looking for a place to eat and settled on the downstairs wine cellar of Fallon and Byrne.
The wine bar is in the basement below the gastronomic food hall with dim lights and old movie posters, an antique gramophone sitting on the bar. The back wall behind our table was floor-to-ceiling with wine bottles and there were several groups of girlies enjoying a post-christmas-shopping glass or two.
Guy pounced on the Chateau Mussar – I met the winemakers when I was in Lebanon and always look out for it. I ordered an Alsace Gewurtztraminer, inspired by the wine tasting we did on our Rhine river cruise, but only realised they'd brought me the Sancerre by mistake after I'd drunk half the glass. Oops! call myself a foodie?
It was all French brasserie style with pine tables and bentwood chairs, all that was missing were the candles stuck into wine bottles dripping wax which were replaced by fairy lights in a bottle instead. Wee Tone and our prospective student ordered the confit of duck with cabbage, bacon and lentils which was the best choice of main I think, but my cod in a tomato cassoulet with chick peas and chorizo came a close second.
If you go: Fallon and Byrne, 11 Exchequer Street, Dublin 2
Wee Tone had a 2 hour drive to get home so we parted ways and walked back through the cobbled streets of Temple Bar area with every pub spilling drinkers out onto the pavement – feeling very festive.
6. Brunch at Bewley's Oriental Cafe
A bit of a lie in on Sunday morning and then it was time to check out of Generator Hostel, leaving our bags in the secure lockers for the day. We followed a recommendation from wee Tone and walked back to Grafton Street to try the brunch at Bewley's Oriental Cafe.
Our path took us past the well known and well endowed Molly-Malone statue outside the tourist information centre on Suffolk Street, a favourite Dublin photo opportunity and of course we took our photos there too.
Bewley's was looking very festive with Christmas tree in the centre of the room and we requested one of the red velour benches which luckily was free and enclosed us in a kind of booth. This Dublin institution was full of local families treating their children to brunch and had an old fashioned air with with chinoisserie painted walls and stained glass, very much an art nouveau, Libertys-of-London feel about it.
We ate our Irish breakfast among the poinsettias, sparkling chandeliers and full length oil paintings feeling rather pleased that we'd bagged our red velour and tapestry bench, an excellent spot for people-watching on all sides of the cafe. By the time we left a long queue was forming but we were heading down Grafton Street for our next apointment at 11 o'clock.
If you go: Bewley's Oriental Cafe, 78 Grafton Street, Dublin 2
7. The tour through the history of Dublin at the Little Museum of Dublin
Every hour, on the hour there's a free guided tour of The Little Museum of Dublin which we found at the end of Grafton Street, facing St Stephen's Park. Taking the tour was definitely worthwhile, since our guide, John the archaeologist, really brought to life the collection of pictures and memorabilia in this Georgian townhouse, packed with the history of Dublin.
Our tour focused on the two first floor rooms where each section was arranged to tell stories from a particular decade of the last century. The tales and annecdotes took us from the visit of Queen Victoria to Dublin (where her party were reported in a misprint to have pissed over Patrick's bridge), through the Easter Rising of 1916 where the rebels had holed up in the Jacobs factory and lived off biscuits (plain and fancy). We heard how during the rebellion the shooting on St Stephen's Green would stop each afternoon to allow the groundsman to feed his ducks and how one of the leaders, Éamon de Valera escaped execution because of his American birth.
The tour continued on through the First World War, which is euphamistically known in Ireland as The Emergency (don't mention the war) and on to more recent times when local girl and silver screen actress Maureen O'Hara was every Dubliner's sweetheart and John Lennon ate at the exclusive Jammet's French Restaurant and wrote in the visitor's book that the other three Beatles "were saving up to come here".
I could go on to tell you how Nelson's Pillar was blown up in 1966 by the IRA, the job being finished off by the Irish Army in a "controlled" explosion which took out every window in the street. It's now replaced by a tall knitting needle named The Spire which we passed later on O'Connell Street.
8. The Dubliners at the James Joyce Centre
Our appetite for Dublin stories whetted, our prospective student was keen to discover more about James Joyce so we headed up O'Connell Street on the north side of the Liffey, past the knitting needle Spire to the James Joyce Centre in another Georgian townhouse on North Great George's Street.
We started on the 2nd floor with a video about James Joyce and various writers and scholars discussing aspects of his life and work, including a lot about the library scene of Ulysses set in the Dublin Library. Throughout his married life Joyce moved around, living in different apartments and places in Europe which perhaps explains the lack of memorabilia that you might have expected in a museum about his life, although there was a small bedroom area set up to show his domestic life and the kind of busy family rooms where he wrote his books.
On the first floor were two large rooms with an exhibition of black and white photos of post-war Dublin by Lee Miller, a photojournalist better known for her war photography, which were commissioned by Vogue magazine in 1946. On the ground floor was a timeline of Joyce's life and another room with a video playing the film of Ulysses. In the yard at the back we enjoyed the murals showing stories from Joyce's books which reminded me of the Dylan Thomas murals I'd seen in Swansea.
I had not read any James Joyce before I visited Dublin and left the centre feeling I didn't really know much more about the man himself. We'd have liked to try the James Joyce Dubliners walking tour, which starts at the museum every Saturday at 11am and more frequently in summer. Perhaps I'll be asking Father Christmas for a copy of the Dubliners to fill in the gaps.
If you go: The James Joyce Centre, 35 North Great George's Street, Dublin 1
9. Lunch at The Winding Stair
By 2 o'clock I felt we'd probably done enough culture for one morning and we walked back down O'Connell Street and along the river for lunch at The Winding Stair, a restaurant that I had seen recommended as serving excellent Irish food. On the ground floor was a book shop of the same name but we climbed the winding stair after which the restaurant is named to the first floor and settled into a table in the small upstairs room.
I had the sole, nicely browned in butter with tiny pink Dublin bay prawns, balanced on a pile of mashed potatoes with cabbage and doussed in a lovely caper and butter sauce. Despite the casual wooden table and bentwood chairs, this felt like a proper restaurant with stiff white napkins and an excellent choice of wine by the glass, written on the board on the wall.
The boys had the fish chowder, a soup that was heavy with mussels and fish and for desert we shared a large slice of spicy pear tart with brown bread ice cream. After lunch we had a browse around the bookshop downstairs, which had once taken up four floors, but in these days of online media had shrunk to only the ground floor.
It still managed to pack in plenty of interesting books, a couple of tables in the window and a red leather wing chair at the back where you could sit and read from the shelves of second hand books. They even served herbal teas and wine with some slices of flapjack. For those that don't want the proper lunch, next door was the eating house called The Woollen Mills that served cakes, coffee and light snacks and also looked lovely, run by the same people as the Winding Stair.
If you go: The Winding Stair, 40 Lower Ormond Quay, Dublin 1 and next door The Woollen Mills. Our seafood chowder was €9.95, Sole with shrimps, capers and butter sauce was €23.95 and pear and ginger tart with ice cream €6.95.
10. Our weekend ends at Trinity College for the Book of Kells and the Old Library
Fortified by our lunch we decided to make a final pass by Trinity College at around 4pm to visit The Old Library and the Book of Kells, feeling that we wouldn't have quite seen Dublin properly without paying a visit. Unfortunately no photos were allowed in the exhibition area of the Book of Kells but there were plenty of colourful displays about this medieval decorated manuscript of the four Gospels. As it was close to closing time we had to hurry through and the two books on display in a glass cabinet that were the Book of Kells were something of an anticlimax.
I did enjoy walking through the Old Library, a long, tall room with two tiers of antiquated oak bookcases and a lofty barrelled ceiling. The library at Trinity College Dublin is a copyright library, entitled to a copy of every book in print, although the books in the Old Library were all leatherbound tomes. Along the sides of the library were 18th century marble busts of of writers and literary figures, adding to the feeling of ancient learning in this venerable centre of education.
But we couldn't linger too long as it was closing, so we were hurried out through the gift shop and back into the quad of Trinity College Dublin where we had started the weekend. It remains to be seen whether our prospective student will apply to Trinity but even if he doesn't we got a fantastic flavour of the history and literature of Dublin. For my next trip I'm looking forward more of that great Irish food, fashion and design – I feel a girl's shopping trip coming on!
If you go: The Book of Kells and The Old Library of Trinity College Dublin, Adults €10, Family ticket €20
For more information about visiting Dublin check out the Visit Dublin Tourism website
More things to see in Ireland
Irish tales and 50 shades of green on the Wild Wicklow Tour
The best of TBEX The best of Dublin
See the Sights of Northern Ireland by car
This article is originally published at Heatheronhertravels.com – Read the original article here
You'll also find our sister blog with tips on how to build a successful travel blog at My Blogging Journey
December 8, 2014 by Guest Author
Filed under Eating and drinking, Europe, featured, Gardens, Guest post, Leisure, Misc, Museums, Nature, Shopping, Sightseeing, Walking
If you are visiting Tallinn for a short time or perhaps as part of a cruise excursion, you'll want to use your limited time to make the most of the wonderful attractions available in Tallinn. This guide from our guest author, Brian Schweitzer will give a rundown of the best way to see Tallinn to make the most of your precious time.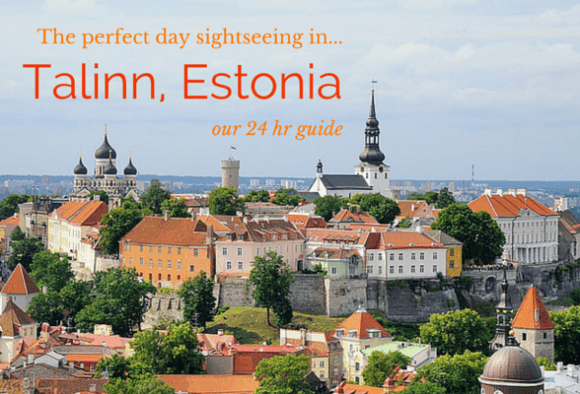 What to See in Tallinn
Old Town – This is the best place to start  your day in Tallinn as there are many different attractions located inside Old Town. Tallinn's Old Town belongs to UNESCO's World Heritage list since 1997 and is a medieval fantasy land that will take you back in time to the 11th – 15th century.
Town Hall Square – Also called Raekoja plats, the Town Hall Square has been in existence since 1322. The square is famous for an open air market for souvenirs and the Christmas tree display, which is over 570 years old. This is a great place to buy traditional Estonian souvenirs.
Town Hall Pharmacy – Also called Raeapteek, it is one of the oldest pharmacies in Europe and has been in operation since the 15th century. The strange array of medicines available throughout history includes mummy juice, unicorn horn powder, bat powder, and hedgehog powder. Inside there is a museum displaying medieval medical instruments and chemist tools. This is another place to buy interesting souvenirs.
Toompea Hill & Castle – The Estonian parliament is located here and the hill offers visitors several viewing platforms for taking amazing photos with Tallinn in the background. This was one of the first inhabited areas that is now known as Tallinn and the natural hill offered a stronghold that would be used throughout the history of the city.
St Mary's Church – Located on Toompea Hill, the church is also known as Dome Church and is the oldest church in Estonia. The original wood church was built in 1219 and numerous famous people throughout history have been buried here. It was originally a Roman Catholic Church but in 1561 it became a Lutheran Church.
Kiek in de Kök & Bastion Tunnels – Kiek in de Kök was the Baltic's most powerful cannon tower defense and construction lasted from 1475 to 1483. The name literally means "peek into the kitchen" as the guards could actually peer into the kitchens of the houses below. After viewing the tower defense you can head underground into Bastion Tunnels. Construction started in the 1630's and with a purpose to secretly flank any enemy trying to take the city. These secret underground passages helped guard the city during the time of Swedish rule.
St Nicholas' Church – This church was dedicated to St Nicholas, the saint of sailors and fishermen. Inside the church is a branch of the Art Museum of Estonia which focuses on medieval artwork. The church is also used as a concert hall because of the excellent acoustics inside.
Town Wall – Also known as the Margaret Wall, it was ordered to be constructed by Queen Margaret Sambiria in 1265. Walking along the walls visitors will have another great chance for memorable photos.
Alexander Nevsky Cathedral – This is a beautiful Orthodox church built in Russia style between 1894 and 1900. It is Tallinn's largest orthodox cupola cathedral and was dedicated to Saint Alexander Nevsky, who was the prince of medieval Rus.
Kadriorg Park & Palace – After leaving Old Town, head out to Kadriorg Park on the outskirts of Tallinn, Kadriorg Park and Kadriorg Palace was founded in the beginning of the 18th by the order of Peter the Great of Russia. The park is a great place to walk in the fresh air and includes several interesting buildings including the Presidential Palace, Kadriorg art Museum, KUMU (one of the largest art museums in the Baltics), and the Peter the Great museum. Kadriorg Park also includes Kadriorg Palace, which was built in baroque style by Peter the Great for Catherine I in 1718.
Where to Eat in Tallinn
No day in Tallinn is complete without a medieval feast. Old Hansa restaurant in Old Town offers traditional medieval Estonian cuisine that makes you feel that you have gone back to medieval times. The atmosphere, attendants, music, and menu are all meticulously created to showcase the "Golden Age of Tallinn."
Souvenirs to Buy in Tallinn
Take something home to remember your Tallinn shore excursion with these recommended souvenirs:
Vana Tallinn – Based on a traditional Estonian recipe this liquor is based on Jamaican rum and includes natural spices including citrus oil, vanilla, and cinnamon.
Juniper – Kitchen items crafted from juniper trees can be found inside the Church of the Holy Spirit and around Old Town. When cooking they emit a sweet, aromatic smell.
Kalev Chocolate – This is the largest chocolate maker in Estonia and includes a large variety of chocolates including some stranger variants such as white chocolate with blueberries.
Wool Clothing – The traditional choice of clothing in medieval Estonia, you will find wool clothing available throughout Old Town with a large selection of items from socks, sweaters, and hats.
About the author: Brian Schweitzer is a travel writer for Travel Guru – A smart travel community dedicated to connecting travelers and saving them time and money on their travels.
For more European adventures:
Cycling by the sea in Istria – in Croatia
Culture and clubbing – my 18 year old daughter hits the town in Budapest
Thermal springs and rubber rings at Hévíz – in Hungary
This article is originally published at Heatheronhertravels.com – Read the original article here
You'll also find our sister blog with tips on how to build a successful travel blog at My Blogging Journey