On Bristol's harbourside the water's sparkling, a hot air balloon is drifting over the Clifton Suspension Bridge and somewhere down a side street a wannabe Banksy is spraying their next street-art mural. OK – that's the view you'll see on the postcards, but I've lived in Bristol for 25 years and love its creative spirit. There's something special about the way we nurture our quirky independent shops and value our vibrant food scene – you have to try quite hard to eat badly here.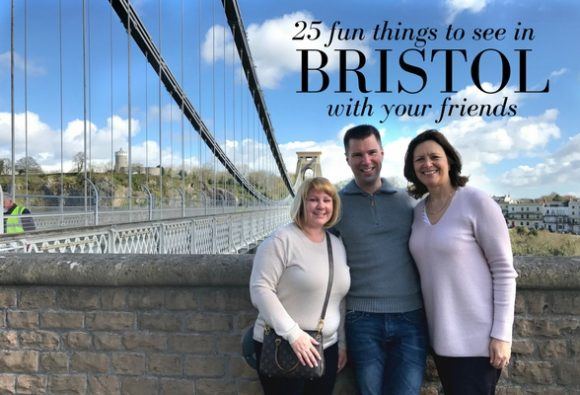 When friends visit me in Bristol, I love to share what we have, here in the heart of the West Country. It was a pleasure when I was asked to show around my blogging friends Erik from Around the Globe and Jennifer from Luxe Adventure Traveler, to give them my local's perspective of the city. It was a fun-packed few days, which I hope gave them a flavour of Bristol's best side, with a bit of time to relax and soak up the atmosphere. Now I'm sharing the best of Bristol with you too, with 25 suggestions on what to enjoy when you visit with friends or family; here's a comprehensive although by no means exhaustive list of what you might like to see, arranged by neighbourhood.
1. Bristol's Harbourside
I'd spend half a day to 1 day here
My first stop with friends visiting Bristol is always the harbourside, especially on a sunny day when the sailboats are clinking gently and it feels like all of Bristol is sitting on the harbour wall, dangling their feet over the water. If I'm driving, I'll park under Millenium square and then start a circular walk around the harbour from there.
Millenium square – relax and people watch
As the name suggests, the square was created as a community space in 2000 and it's one of my favourite places in Bristol to people-watch. Find a bench to relax, while young guys show off their skills on the trick bikes and kids splash in the pools and fountains. Take your photo with the statues of notable Bristolians, such as film star Cary Grant who was born in Bristol under the less glamorous name of Archibald Leach, as well as William Penn, William Tyndale and teenage poet Thomas Chatterton. The silver globe of the At-Bristol planetarium and the reflections in the pools and fountains make a good picture too and there are endless bar and restaurant options nearby. From here I'll normally cross over Pero's bridge, with the horn shaped weights. It's named after the slave of John Pinney, one of Bristol's 18th century merchants who built the Georgian House, now a museum on Park Street. Families might like to dip into the At-Bristol hands on science centre or the Bristol Aquarium that are on this square.
Hotels near Millenium Square: For a budget stay look at the Hotel Ibis Bristol Centre or for something more luxurious you're a short walk from the historic Marriott Royal on College Green.
Arnolfini – for contemporary arts
Along the cobbled waterfront is the Arnolfini, an old stone tea warehouse that now houses a contemporary arts centre. The art exhibitions change all the time and are normally conceptual in nature. This isn't a place to go for pretty images, it's more about experiencing art through all your senses, making you think and challenging pre-conceptions. Because it's free I normally pop in to see what's on and sometimes go up to the top floor to have a view from the windows across the harbour.
Hotels in Bristol Harbourside: The Bristol Hotel is well located right on the harbour front, with a 1960s listed facade. The rooms are well sized and stylish, many with great views over the harbour and they also serve a nice afternoon tea.
M-Shed – for Bristol's history and culture
From the Arnolfini we'll cross the Prince Street bridge (currently being rebuilt and under scaffolding) with a glance  towards the spire of St Mary Redcliffe, which Queen Elizabeth I said was the "the fairest, goodliest and most famous parish church in England". On the other side of the bridge is M-shed, another free museum, a place to dip into Bristol's history and culture and a favourite with families. As a local I like to try and find my own house on the big aerial photo that covers the ground floor, but I also point out to friends some of the historical stuff about Bristol's past, such as the interesting exhibition about the slave trade. Of course we also have to go and pay homage to the Banksy mural of 'The Grim Reaper'. It used to be at the waterline of The Thekla, a ship in the harbour that's also a nightclub, but I guess they thought it was just too important and so it was cut out and put in the museum. I also like to take friends up to the 2nd floor terrace where you get a closer view of the impressive cranes and see right across the harbour.
Wapping Wharf – Bristol's cool new foodie hub
If I'm showing guests around Bristol we almost always end up at Wapping Wharf, whether it's for a coffee stop or a drink and bite to eat in the evening. In this traffic-free area of the harbour, just beyond M-shed, there are lots of independent bars and restaurants, that showcase the best of Bristol's indie food scene. The atmosphere is relaxed and in the evening it's fun to have a drink at one place, then move on for a bite to eat somewhere else. When Erik and Jennifer were in Bristol I wanted to give them a taste of traditional English and West Country dishes, so we started with a cider tasting at The Bristol Cider shop, accompanied by Lovett Pies, then on to Pigsty for a piggy blow-out with their pig-board, a selection of different tastes such as scotch eggs, sausages and a pulled pork 'Pig Mac' burger.
Next we tasted some of the craft beers at Wild Beer – there are so many unusual flavours that you can normally tempt even the most sceptical beer drinker and they do great fish and chips and fish tacos with Hook Restaurants. Upstairs in the Cargo containers we popped in at the end of the evening to Box-E, a tiny establishment serving modern British cooking, where we sat at the chef's table while chef Elliott Lidstone created mouthwatering deserts of panacotta with rhubarb and orange or chocolate mousse with passionfruit, pomegranate and coconut. At lunchtime on the next day I also stopped by with Jennifer at Mokoko for quiche, cake and salads with well made coffee. I also love the coffee at Little Victories where they do fabulous coffee cocktails in the evening.
SS Great Britain – Bristol's maritime heritage
I'd been on board ss Great Britain a few times, but not really had a proper look around until I took Jennifer there in the afternoon. Luckily the rain we'd had in the morning had cleared and the sunshine made the ship look very pretty with brightly coloured flags fluttering in the wind. The climbing instructors from the Go Aloft Experience, in which you climb the rigging like a sailor, were getting everything ready for the spring opening – I've seen others do it but was a bit too scared myself!
Instead we explored below deck to see the cabins realistically reconstructed complete with dirty washing lying around and minuscule bunks. We fancied ourselves in first class but there was not much more room there either, even though the food laid out in the dining room looked very elegant. This is a great family attraction, but also one that's fun for anyone with a curiosity about how people lived in the past and Bristol's maritime heritage.
Banksy's 'Girl with the pierced eardrum'
In case you hadn't noticed, Banksy is a big deal in Bristol. There are plenty of great street artists here, but Banksy's international reputation and the fact that there are just a few pieces left in Bristol, means that it's worth seeking out those that remain. One of these is tucked away in the harbour, just behind the ss Great Britain. The piece just off Hanover Place appeared in 2014 and it's a parody of Vermeer's 'Girl with the Pearl Earing', the earing being a gaudy yellow security alarm. Worth a quick photo stop I always think.
Photographing Bristol's colourful houses
Instagram lovers will have spotted the frequency with which those rows of colourful houses appear in photos of Bristol – they are even in the Visit Bristol logo. The houses are just as colourful from the front as the back and if you're in Clifton, I suggest that you find the The Lion pub in Cliftonwood and then walk along Cliftonwood Crescent or Argyle Place for some Instagram gold. From the harbour there's a great stretch from Bristol Marina, where the swans and ducks often add a bit of wildlife colour, and along to The Cottage Inn. This is the best stretch to photograph coloured houses on the harbour, although there are quite a few other spots around the city in Totterdown and by the Bathurst basin at the other end of the harbour.
Underfall Yard – the pumping station for the harbour
Although I didn't have time to visit Underfall Yard with Erik and Jennifer, for those who have the energy it makes a nice extension of a walk past ss Great Britain. I'm always curious to peep into the half open doors of the working boatyard and have a chat with anyone working on the old wooden ships that come in for repair there. The visitors centre is also a great place to pop in to turn a few handles and get your bearings on the map of the harbour – who knew a Victorian pumping station could be so fascinating? When the suns's shining there's no better place to grab a coffee and a bite to eat from the Pickle cafe that's just inside the visitor's centre and eat it on the tables outside watching the boats go by.
Catch a Bristol Ferry
By the time we've walked the length of the harbour, energy levels are usually running low and a great option is to make a return journey on one of ferries that ply up and down the harbour. The Bristol Ferry is the best known with its distinctive yellow and blue colouring and often you'll see a Grommit statue on the front. The ferries cost about the same as a bus and go once or twice an hour, so it's worth checking the timetable so that you don't miss it. Heading back from ss Great Britain, under Pero's bridge and back to the centre, we got a different view of the harbour. The whole experience of being on the water was very calming. There's also a short ferry ride at ss Great Britain that will take you directly across the harbour – there's no timetable, it just goes back and forth constantly and costs under £1.
2. Park Street in Bristol
Spend half a day seeing all the things here
After your tour of the harbour, you'll probably end up close to the bottom of Park Street so you may want to spend the rest of the day exploring what's around here.
Bristol Cathedral – peace in the heart of the city
I always feel a sense of peace when I enter Bristol Cathedral and also a bit of nostalgia since my son was at Bristol Cathedral School. I took Jennifer in to show her the impressive nave, beautiful wooden pews for the choir where I've listened to magical voices at evensong and the interesting side chapels, including the Eastern Lady Chapel at the end. The vibrant red, green and gold of the painted stonework was done in the 1930s to show what cathedrals really looked like in medieval times, when they were richly painted, a far cry from the unadorned grey stone we see today. It's easy to miss the cloisters down the steps, from the time when the cathedral was an Augustinian Abbey and the 12th century Chapter House, with beautiful carved stone and niches where the monks would have sat at prayer. The garden at the end of the cloisters beside the buttery is a hidden gem, a tranquil oasis where you can sit quietly among the gravestones and the flowers with a cup of tea in the sunshine.
When you've finished your tour, be sure to cross College Green to SWOON, where the gelato is freshly made on the premises and utterly delicious – ask what their seasonal flavours are for something a bit different.
The Banksy – Well Hung lover
There are only a few Banksy murals scattered around Bristol, but the 'Well Hung Lover' is one of the most accessible, which you can easily spot as you walk up Park Street.  Just because it's Banky doesn't mean it gets respect and reverence from the spray-and-run graffiti crowd – you'll spot the blue paint-ball spots that have only been partly removed. The position is typical of Banksy – after so many run-ins with the council who whitewashed over his pieces, he tried to paint in places that were hard to reach and remove – and in any case the building was owned by a friend so hopefully it's here to stay. If you go down the steps beside the bridge there are a few more interesting pieces along the street and on the sides of the Queens Shilling nightclub, so worth a small detour. If you want to take a street-art tour check out the excellent Where the Wall who run regular tours to all the street-art places in Bristol – you can read my review of their Bristol street-art tour here.
Park Street for Shopping
Park street is one of my favourite shopping streets in Bristol, a mixture of independents and upscale high street chains, combining vintage, jewellery, designer clothing and quirky gifts. My favourites, although its very subjective are Jigsaw for womens clothing, Diana Porter, a Bristol based jewellery designer where we like to buy special occasion pieces, Bristol Guild for an eclectic collection of arty gifts. For a coffee stop I head to Bakesmiths, a bakery and all day cafe where the pizzas are a bargain. If you see any of their legendary doughnuts on sale, grab one before they sell out. If you can't get in there, I'd head to the cafe tucked away on the second floor of Bristol Guild where it's a lot calmer and I almost always find a space, or try one of the other Bristol indie cafes like Boston Tea Party or Friska.
Brandon Hill and Cabots Tower
While heading up Park Street I took a slight detour up to the left to show Erik and Jennifer Cabot Tower, perched at the top of Brandon Hill. As we drove up Great George Street, I pointed out The Georgian House, a lovely old sugar merchant's house and museum which normally opens after Easter, and St Georges Brandon Hill, a fantastic concert venue in an old church (we never miss the Christmas concerts there). On a sunny day it's fun to just sit on the grass with a picnic or on the benches at the top of the hill for a view across Bristol. The views are even better if you take the time to climb Cabot tower (it's free), which was built in 1897 to commemorate the Genoese explorer John Cabot's voyage from Bristol to Nova Scotia. From the top you can see over the harbour and rooftops, feeling you're in a miniature but much less crowded version of the campanile in Florence.
Hotels in Bristol on Park Street: The Berkeley Suites at the top of Park Street offers stylish suites in a Georgian building, which are ideal if you want to have the freedom of self-catering. If you prefer a hotel stay then the Berkeley Square Hotel is owned by the same group and is just around the corner.
Museums and Towers on Park Street
Although I only had time to show Erik and Jennifer a quick view of Park Street, it's worth mentioning that at the top of the hill you'll spot the honey coloured Wills Tower, built by the family who made their money from Wills cigarettes – it's now part of Bristol University. There are guided tours of the Wills Tower at weekends when you can go right up to the top of the tower to see Great George Bell who even has his own Twitter account. Right next door there's the Bristol City Museum, which is a happy place to potter about among the mummies and displays of natural history and artworks, with a biplane flying from the ceiling. It's worth checking out what exhibition is on – the museum is free but there's a charge for exhibitions and they are often excellent. Just down the hill on Park Row there's also Red Lodge, another historic house that's open as a museum with free entry, with beautiful Elisabethan oak panelled interiors and views over the city.
3. Clifton Village and Clifton Suspension Bridge
Spend half a day seeing all the things here
Clifton Suspension Bridge – the icon of Bristol
The Clifton Suspension Bridge is one of the must-see attractions of Bristol, featuring heavily on all the postcards, normally with a few balloons drifting in the background from the Bristol Balloon Fiesta. Take some time to walk across the bridge and admire the views of the gorge. Pop into the Visitor's Centre on the other side which has lots of interesting information about how the bridge was designed and built by Victorian engineer Isambard Kingdom Brunel. There's a free guided tour of the bridge at 3pm on weekends Easter to October and most people don't know that you can also go inside the vaults below the stone pillar beside the visitor's centre – this is only in a guided tour and you normally need to book well in advance here. If you want the view of the bridge in a more relaxed fashion, then I'd suggest you head to the terrace of the Avon Gorge Hotel, which is packed out on any sunny day with locals having a drink at the recently refurbished White Lion Bar.
Hotels in Clifton Village: The Avon Gorge Hotel is a historic hotel with a prime position overlooking the Avon gorge and suspension bridge. As I write in March 2017 the hotel is undergoing a complete refurbishment which will be finished some time in 2017, so depending on when you book check whether some of the newer style rooms are available, especially those with views of the bridge.
The Clifton Observatory – with Giant's cave
Having walked across the bridge, you might want to walk up to the Clifton Observatory, the tower that's set on the high ground above the bridge. You'll probably pass the natural rock slide which is a favourite for thrill seekers of all ages to slide down – just watch where the kids and teenagers are going!
If the Observatory is open it's definitely worth a visit – at the top there's a camera obscura where you can see a video-like reflection of the bridge. Next you'll descend steps through a narrow rock passage (not for the claustrophobic) to the Giant's Cave, coming out on a viewing platform halfway down the rockface, for a different view of the gorge.
Clifton Village – independent shopping and cafes
After seeing the bridge, it's time to relax a bit and wander around the shops in Clifton Village. You'll be in heaven if you like unusual fashion and homeware finds from independent boutiques, which are mixed in with lovely cafes and bars from which to sip a latte and people-watch. The main shopping streets here are The Mall, Princess Victoria Street, Waterloo Street and Regent Street where you'll spend a happy hour or two meandering from one shop to the next. At the end of Boyce's Avenue is the Clifton Arcade, a Victorian building with a glass roof which houses vintage and jewellery stores, with my favourite stationers Papersmiths nearby. Instagrammers should look out for Reg the Veg, and Lisa Elliott the florist, whose colourful displays pop up daily in the feeds of the Clifton ladies of Instagram. If you want my recommendations for a coffee or lunchtime stop I'd say Primrose Cafe for huge wedges of home-made cakes, Anna cake couture for elegant macarons and bite sized patisserie, Spicer and Cole for brunch dishes, salads and filled rolls with coffee and The Ivy Clifton Brasserie (an offshoot of the well-heeled London establishment) if you want to treat yourself day or evening, but you may need to book.
Photograph the Georgian architecture of Clifton
I sometimes have to explain to overseas guest what we mean when we describe architecture as 'Georgian' – it's the flat fronted, honey stone buildings that were built between 1720 and 1830 in the reigns of English kings George I to George IV. This is the architecture that Bath is well known for, but we have our fair share in Bristol too, especially around Clifton Village. The Mall Gardens is lined with these elegant Georgian houses and you can go into the central gardens to get a good view of the imposing Clifton Club, where balls and assemblies were held in the 18th century. You might then pass the Avon Gorge Hotel and circle back along Royal York Crescent, which at over 300 metres is one of the longest in Europe and has views over the city. From here there's a pleasant walk along Birdcage Walk and back through Victoria Square for a sense of Clifton's elegant houses, built by wealthy merchants whose business was being done down in the harbour and old city, but who preferred to live in the cleaner air of Clifton.
Although we didn't have time to visit, families will also enjoy the Bristol Zoo Gardens which is a short walk from the village area of Clifton, close to The Downs.
4. Bristol's Old City
Spend a couple of hours exploring the Old City
Corn Street – the old financial heart of Bristol
I've mentioned that Bristol's wealthy merchants liked to live in the elegant surroundings of Clifton Village, but Corn Street was where they did their business in the heart of the Old City. Nearby there's Bristol Bridge, where the original bridge over the Avon was first built in the 13th century and there are now quite a few boats with bars and restaurants nearby such as Glass Boat (elegant dining), Three Brothers (outstanding burgers, craft beer and local ciders) and The Apple (an open air bar serving cider in summer). As you walk up Corn Street, alternate which side of the street you're on and look up to see the impressive facades of the buildings, with pillars and porticos, to proclaim the wealth of the banks and insurance companies they once housed.
Most of these impressive buildings are now bars and restaurants – check out Cosy Club for its gorgeous interiors and a great place for coffee or cocktails in the early evening. You might also pop your head in to take a look at the impressive interiors of Pizza Express, Commercial Rooms and even the Sansovino Hall at The Harbour Hotel which was the old Lloyds Banking Hall. Outside the front of the old Corn Exchange, which now houses St Nicholas Market, are the metal tables, known as The Nails where merchants made their deals, leading to the expression "to pay on the nail".
Hotels in Bristol's Old City: The Harbour Hotel is a luxury hotel, created out of two old banks with an excellent Jetty restaurant, spa in the old bank vaults and some of the rooms have roll-top baths in the bedroom area.
St Nicholas Market – a favourite lunchtime stop
The local's favourite lunchtime stop is St Nicholas Market, known as "St Nicks", where you'll find a huge range of food stalls under the glass arcade. They are mainly open from mid morning to late afternoon and are closed in the evening, so be sure to stop for lunch which you can eat at the small tables outside each stand. There's a huge range on offer including pulled pork burgers from Grillstock, pies from Pieminster, salads from the Olive Works, falafel and hummus from Eat a Pitta. For hot dishes, try the home cooked Portuguese or Caribbean dishes and my new favourite is the Brozen ice cream, which they freeze in a cloud of liquid nitrogen before your eyes.
St Nicholas Street runs alongside the market has a few interesting shops, bars and cafes too – look out for the Bristol Cheesemonger (soon moving to Wapping Wharf) and Brew Bristol selling lots of specialist beers by the bottle.  Also take a look at the quirky stalls selling all sorts of interesting things, such as crystals, books, old records and silver jewellery in the covered areas of the market and the old Corn Exchange building. If you're interested in taking a food tour, check out the excellent tours of this area by Eat Walk Talk Bristol food tours.
Hotels in St Nicholas Market: Brooks Guest House is tucked away in a courtyard in the heart of St Nicholas Market, with stylish, contemporary style and some iconic silver Rocket caravans, which you can also stay in on the roof.
Castle Park – time for a picnic
If the weather's fine or St Nicks market is crowded, I recommend crossing the road to eat your lunch in Castle Park. There's the shell of St Peter's Church which was bombed in the war, with a pretty herb garden beside it and a water feature at the back. This is where the local office workers come to sit on the grass at lunchtime in summer overlooking the canal, where they are building a new footbridge across to the Redcliffe Quarter and Finzal's Reach. The park is named after Bristol Castle that was built here in the 11th century, now just a few stone areas remaining, and there's also a childrens' playground tucked away in the trees. The Park adjoins Broadmead and Cabots Circus shopping areas where you'll find a huge choice of high street shops, a cinema and other shopping possibilities.
Street Art on Nelson Street
From the end of Corn Street turn left down Broad Street to the arch in the old city wall and the church of St John in the Wall at the end. Through the arch is Nelson Street where you can still see a few of the street art murals left from the See No Evil festival in 2011 and 2012 that was a precursor of the Upfest festival now held in Southville. There has been a lot of new building along this street, so most of the smaller pieces have disappeared, but the larger murals high up on buildings are well worth a look.
Hotels in Bristol's Old City: The Mercure Bristol Grand Hotel has recently gone through a refurbishment using some of the street-art inspiration for the murals in the lobby and photos of street-art that you'll find in the rooms and corridors.
A cocktail in Bristol's 'secret' bars
While there are no shortage of places to drink in Bristol, the locals often head for a late night cocktail to one of Bristol's 'secret' bars – the ones in an old building with an unmarked door that you'd easily miss unless they were pointed out to you. In the Old City check out Milk Thistle, a prohibition style cocktail bar and the less secret but equally trendy Gold Bar in the Harbour Hotel, which was the old bank manager's offices. In other parts of Bristol there are a few other 'secret' bars and (since you asked) I'll let you into the secret that Hyde & Co is tucked away on Upper Byron Place at the top of Park Street and Red Light Bar (which requires you to dial a telephone to enter) is at 1 Unity Street at the bottom of Park Street.
Hotels in Bristol's Old City: The Hotel du Vin is a luxury hotel in an old Sugar warehouse, set back from the main road where once the harbour ran in front of the building. I had dinner with Jennifer in the cosy French brasserie style restaurant, all dark wood and wine bottles on display. The bedrooms also have a wine theme with luxurious furnishings and roll-top baths and they also do a great afternoon tea. I love sitting tucked away in the bar for a coffee or glass of wine with old leather chairs and wooden beams.
5. Stokes Croft for street-art and coffee
Spend a couple of hours exploring Stokes Croft
For street-art lovers, a walk up Stokes Croft is a must. Its a part of the city that's either bohemian and up-and-coming or grungy and down-at-heel depending on your point of view. This is an area where you'll often see homeless people since there are several night shelters nearby, but also plenty of great cafes, bars and nightclubs. At the bottom end is also the Bear Pit, and underpass below the roundabout where there are a few food stalls in the day and street-art in the underpass, probably mixed with a whiff of wee or weed.
Then there's the Full Moon pub which also has a hostel, the Blue Mountain nightclub and quite a few coffee shops, the newest I've tried being Ceres which is a delicious brunch stop. At the heart of Stokes Croft is The Canteen, which as the name suggests, serves as an all day eatery for the neighbourhood, with live music in the evening.
Outside you'll see two notable murals, the 'Breakdancing Jesus' and the Banksy 'Mild Mild West', one of his earliest pieces that epitomises the Bristol spirit – mild and friendly until you push us, at which point a cider fuelled riot may ensue.
The food at The Canteen is excellent and well priced with mains around £8-10. When I ate there with Eric and Jennifer we chose from mussels, broccoli tagiatelle, and fish with thai green curry sauce. You'll see all the favourite local beers and ciders on tap and there's free live music every evening from 9.30pm, so also worth stopping for a drink after dinner, even if you're eating elsewhere. Right opposite is Jamaica Street where there's an artists studio and a street art wall which has an ever changing array of murals. Pop into the small PRSC shop (Peoples Republic of Stokes Croft) for a very Bristolan souvenir of street art posters, photographs or china mugs.
Walking up and down Stoke Croft you'll spot quite a few murals but there are even more pieces in the side streets and back alleys, so be adventurous and go explore (well maybe not at the dead of night). If you want to do a street art tour to find the latest pieces and the hear the stories behind them, book onto one of the Street-Art tours with Where the Wall.
6. Southville and North Street for street-art and coffee
Spend a couple of hours exploring North Street
If you're still hungry for more street-art after visiting Stokes Croft, head south of the river into Southville to walk up North Street and spot the murals that remain from the Upfest Festival. You might be best to pop into the Upfest gallery to pick up a map that shows the location of the permanent pieces, as some are a bit tucked away down the side streets. The Upfest festival started in 2008 and will next take place in July 2017, with over 35,000 visitors and hundreds of street artists from all over the world descending on South Bristol.
During the festival there is live music and temporary painting sites are set up along North Street, and all the murals that you'll see if you visit today will be painted over in the next festival. Southville is also a cool place to live, a little more affordable than the north Bristol neighbourhoods and there are plenty of cafes for a coffee stop. Look out for Mark's Bread, a bakery where you can buy bread, sandwiches and pastries for lunch and Zara's Chocolate further up the street where you can see the owner making chocolates in an open worshop. Favourite evening dinner stops are Souk Kitchen and Thali Cafe on North Street, with modern English dining at Birch on Raleigh Road.
Phew, that was a whistle-stop tour of Bristol but of course you can't see it all in a weekend, or you'll exhaust yourself trying. I'd pick just one or two of the neighbourhoods I've mentioned and see them at a leisurely pace, dipping into the shops an taking your time to savour some of the great food we have in Bristol. Hope to see you in Bristol very soon!
More information on visiting Bristol

For lots of information on visiting Bristol check out the official tourism website of Visit Bristol. When you arrive there's a tourist information centre in the harbourside, next to the Watershed Arts Centre, where you can pick up leaflets, get advice and book tickets for many of the tours in Bristol. If you're visiting other parts of Great Britain, you'll find all the information you need on the Visit Britain website.
More great articles about Bristol
10 Cool things to do on Bristol's Harbourside
Bristol Street Art: So much more than Banksy
Three fab food experiences in Bristol (that make the perfect gift)
Pin It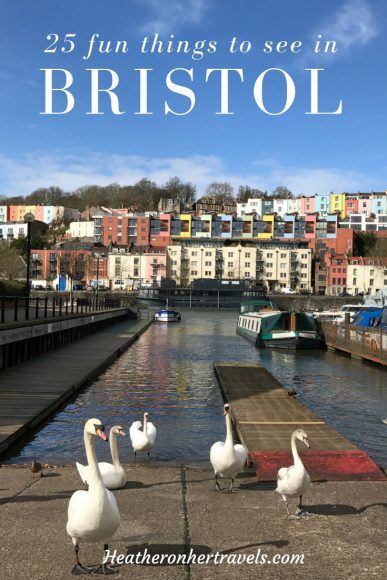 This post was brought to you as a result of the #WelcomeToEngland campaign, created and managed by iambassador in partnership with Visit Britain, although as always I am free to write what I wish about Bristol. Some of the experiences or meals described were provided free of charge. 
This article is originally published at Heatheronhertravels.com – Read the original article here
You'll also find our sister blog with tips on how to build a successful travel blog at My Blogging Journey
I loved the relaxed and authentic Caribbean charm of St Kitts, one half of the twin island nation of St Kitts and Nevis. There's something for everyone as you discover the island's history, take a rainforest walk, get active on the water or lime like a local on one of the island's beaches. Here are my top 10 things to do on St Kitts, especially if you're visiting on a cruise.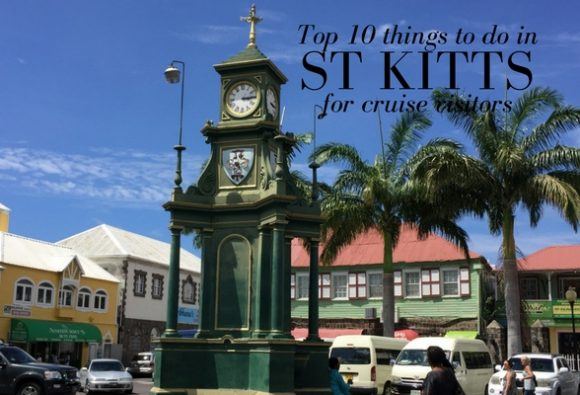 1 A relaxed walk around Basseterre
Start your island visit with a stroll around St Kitt's relaxed island capital of Basseterre. From Port Zante pass through the archway of the Old Treasury to the Circus roundabout (St Kitts has no traffic lights!) and spot the green Berkeley Memorial clock, a well-known St Kitts landmark. On Fort Street and Bank Street, you'll pass market stalls and food vendors selling anything from fruit smoothies, to local lunchtime dishes.
Nearby is the shady Independence square which was once the island's slave market. The small doors at the base of nearby colonial houses lead to basements where the slaves slept before they were sold. On the square is the delightful Gallery Café, where you can see the work of local artists and take refreshment in the small café and courtyard garden.
2 The Old Treasury and National Museum in Basseterre
The Old Treasury, on the edge of Port Zante, is an impressive 19th century building built of black volcanic stone. The central archway is known as 'The Gateway to Basseterre', since visitors would pass through it from the port and upstairs you'll find the small National Museum.
While the displays are charmingly old fashioned, there are plenty of fascinating insights into the history and culture of St Kitts, with colorful carnival costumes and national dress on display.
3 Sugar history at The Wingfield Estate
The stone chimneys and windmills of a once thriving sugar industry can be found all over St Kitts and at Wingfield Estate you can visit the ruins of an old sugar mill for an insight into the sugar industry. The aquaduct once brought water from the slopes of Mount Liamuiga to power the mill wheel and the old rum distillery has been uncovered, with plans to start making rum again in the future. The estate is included on most island tours but there are information signs if you visit independently by taxi and entry is free.
4 Romney Manor and Caribelle Batik
Adjoining the Wingfield Estate is Romney Manor, the estate's Great House named after the Earls of Romney who owned it for 200 years. Surrounded by botanical gardens with green lawns and flowering shrubs, the sounds of birds and glimpse of butterflies makes this a peaceful setting where the gardens blend into the rainforest. Wonder at the stories that the majestic 400 year old Saman tree could tell and visit the Caribelle Batik workshop where you can buy a colourful batik handicrafts and clothing. (there's a small entrance charge)
If you're looking for a hotel on St Kitts check prices and book on HotelsCombined.com
5 Step back in time at Fairview Great House
At Fairview Great House you'll glimpse the lifestyle of a wealthy plantation owner in the 18th century. There are elegant porches and balconies, a dining room laid with antique silver and upstairs the bedroom where Prince Charles stayed when the house was a hotel.
Some tours also include a rum tasting or cookery demonstration and after your visit you can enjoy the well-kept gardens. The house is close to other historic sites such as Wingfield Estate and Brimstone Fort so best reached by taxi as part of an island tour. (there's a small entrance charge)
6 The canons and views at Brimstone Fort
A winding road brings you up through narrow stone gatehouses to Brimstone Hill Fortress, a UNESCO World Heritage site that was built by the British colonial powers in the 17th and 18th Centuries. Known as 'The Gibraltar of the West Indies' the fortress supported the ambitions of the English to dominate the sugar rich islands of the Caribbean.
There's a visitor center close to the car park and the most spectacular views are from the top of the stone citadel with an impressive array of canons pointing in all directions. The fort can be reached by taxi and is included on most island tours. Entrance $10US
7 A Rainforest walk
The mountains that form the backbone of St Kitts are covered with natural rainforest, teeming with birds and home to the Vervet monkeys. The most demanding walk is to the top of Mount Liamuiga, best done with a local guide and requires a good level of fitness. For a gentle self-guided walk, follow the trails on the Wingfield Estate under the Sky Safari zipwire where the cries of people zipping over your head mingle with the sounds of nature. A stream trickles beside the trail and aerial roots and vines tangle in the tree canopy. To learn about the forest trees and medicinal plants in the rainforest, we recommend hiring a knowledgeable guide such as O'Neil Mulraine for your rainforest walk.
If you're looking for a hotel on St Kitts compare prices and book on HotelsCombined.com
8 The St Kitts Scenic Railway
This narrow gauge railway was built in the 1920s to deliver sugar cane from the plantations around the island to the processing factory in Basseterre. While sugar production has ceased, visitors can still board the double-decker St Kitts Scenic Railway passing over the steel bridges with views over the fields on the slopes of Mount Liamuiga. Rum punch is served while the guide gives an entertaining account sugar industry on St Kitts and at the end you'll return by bus or by catamaran. The 3-4 hour round trip is best booked as a cruise excursion since the timetable varies depending on the ships in port.
9 Get active on the water
There are plenty of watersports options on St Kitts, from glass-bottomed kayaks to exhilarating flyboarding, using water jets that shoot you high in the air. While most beaches will have kayaks, snorkels or paddleboards to rent, the best range of watersports can be found at St Kitts Watersports on Cockleshell beach. Ask about their jet-ski safari where you'll be taken to the best snorkeling spots nearby. A half-day catamaran trip will give you an ocean side perspective of St Kitts and normally includes lunch with a stop for snorkeling. Book as a cruise excursion or through the websites of Bluewater Safaris or Leeward Islands Charters.
Ask about their jet-ski safari where you'll be taken to the best snorkeling spots nearby. A half-day catamaran trip will give you an ocean side perspective of St Kitts and normally includes lunch with a stop for snorkeling. Book as a cruise excursion or through the websites of Bluewater Safaris or Leeward Islands Charters.
10 Chill on the beach
If all this activity sounds too much and you just want to lime like a local, we recommend a taxi ride to the beaches on the South East peninsula. Cockleshell Bay is one of the most popular beaches on St Kitts, with a wide range of beach bars and sunbeds to rent, although it can get crowded if there are a few ships in port. For a quieter option, try South Friar's Bay where you can rent a sun lounger at the Carambola Beach club or bag a hammock at the more rustic Shipwreck Beach Bar at the other end of the beach.
More articles about St Kitts:
The Stylish Traveller's Guide to St Kitts
10 views of St Kitts that would make the perfect postcard
Where to stay on St Kitts
Visiting St Kitts on a cruise is a great way to get a taste of the island, but one day is never enough! So if you like what you see why not return for a longer stay? If you do here are some great hotels that we recommend;
Ocean Terrace Inn – with colourful contemporary style, this is a great mid-range choice if you want to stay within walking distance of St Kitts, with great views over the harbour. There's a beautiful landscaped pool area to relax and it's easy to access all the other attractions of St Kitts by taxi. Read my review here and you can check prices and book through HotelsCombined.com
Ottley's Plantation Inn – for classic Caribbean luxury, this old style plantation house hotel has it all. You'll stay among beautifully kept gardens, either in the Great House or in private bungalows in the grounds. This hotel is a short drive from Basseterre so you'll need to hire a car or take taxi excursions to see the island. Read my review here and you can check prices and book through HotelsCombined.com
Rockhaven B&B – This colourful bed and breakfast is a private home with just two rooms, offering fabulous views towards the ocean from the terrace. The rooms sing with colour and incorporate local antique furniture and traditional caribbean touches, while breakfast is home cooked and delicious. Read my review here and you can check prices and book through HotelsCombined.com
If you're looking for luxury accommodation, we suggest Kittitian Hill or Marriott's Resort. Although I didn't stay at these hotels I did visit them and they would be my choice for a luxurious stay on St Kitts.
Pin It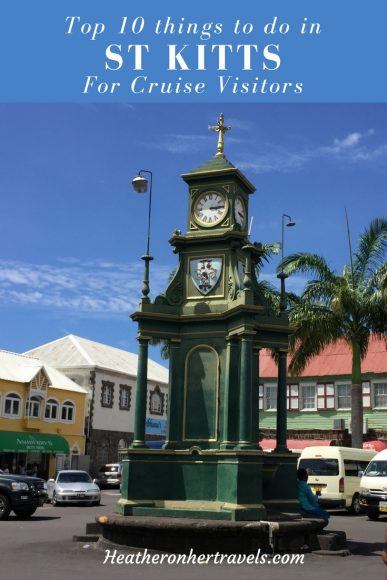 This article is originally published at Heatheronhertravels.com – Read the original article here
It's become a tradition for my friend Julia and I to spend a few days walking each year, and last September we were testing ourself in the Rosengarten range, part of the Dolomites of South Tyrol. I've already written about Day 1 in which we scaled the gentler slopes and Day 2 in which we scrambled over a high pass to walk through a rocky lunar landscape. Now you'll hear about Day 3 and 4 of our walk to the final mountain refuge along a grassy plateau and our precipitous descent to the valley again for a welcome return to the lovely Hotel Cyprianerhof, where we had started our walk.
We set off from Rifugio Bergamo
After breakfast at Rifugio Bergamo (also known as Grasleitenhütte) we were packed and ready to leave, just as the sun was creeping up to the terrace. We had very much enjoyed our stay at this wood panelled mountain lodge, which had been originally built as a base for mountaineers and was full of nostalgic books and old photographs. We took some departure photos with the owner Hans, a strongly built and bearded man of the mountains, who showed us photos of the festival he runs at the hut when everyone dresses up for that bygone era when the hut was built.
Descending the hill we looked back at the rifugio still in shade, perched in a cleft between two rockfaces. It was amazing to consider how it could be built in such a remote spot. All we could hear was the rushing of the mountain river that cascaded down behind the rifugio and looking up could see the white streaks of airplane jets making criss-cross patterns in the sky.
The sun warmed us as we skirted the mountain side on a balcony path, with views of the valleys ahead and pine forests below. The path descended to cross another mountain river where we hopped over boulders and then continued upwards on the other side of the gully.
A difficult climb to Rifugio Alpe di Tires
After crossing a few more pebble filled mountain streams the path became steeper and steeper, winding up through the rocky landscape. Now we were scrambling and climbing rather than hiking, with metal cables and ropes to help us in the most exposed places. With rocks sliding under my feet and no karabiner to clip me on safely, I must admit I was quite scared at this point. After my fall in Austria the year before, I knew how easy it would be to slip on the gravel surfaces, with a heavy rucksack to drag me down. I slowed down the pace and breathed deeply to calm myself, leaning into the rock and taking it one step at a time until we reached the top of the slope.
Thankfully, the path at the top of the slope was much easier, winding through a flower-filled meadow and we decided to take a detour to Rifugio Alpe di Tires which we could see up on our right. The beautiful modern refuge with its bright red roof, sat on a grassy plateau, on the saddle between two valleys with fantastic views in both directions. The terrace  and cafe were full of walkers and climbers and the stylish interior would not have been out of place as a hip city hangout. As grey clouds gathered, the 10 minute stop we'd planned turned into an hour, with a rain shower bringing mountain bikers and hikers running inside. Still it was no hardship to stay a little longer, sipping our raspberry lemonade.
Read about our our first day's hike – Hiking in the Dolomites – a tour of the Rosengarten

Read about our second day's hike – Over the pass in the Dolomites – hiking in South Tyrol
Leaving Rifugio Alpe di Tires
As blue skies re-appeared, we set off on the path that skirted the mountain, until Rifugio Alpe di Tires was just a tiny toy house in the distance, easy to spot because of the red roof. As the path climbed ever higher, I was worried that we might be in for a repeat of the vertical rock climb, but was reassured that the path must be quite manageable when we passed walkers accompanied by their dogs.
Now we were practically level with the tops of the grey rocky crags across the valley and reached a grassy plateau where blue flowers like larkspur were blooming in the meadow. The fence with a gate, told us that there must be cows up here, munching their way through the grass, surrounded by stunning mountain scenery.
The final walk to Rifugio Bolzano
Beside the path was a large cairn of rocks and from here we could see Rifugio Bolzano where we'd be spending the night. Although it seemed to be just a short walk across the grass plateau, we knew that distances in the mountain are not easily judged by the eye and that it would be nearly two hours before we arrived there.
After our climb, it was time for a break and a rest, so we shrugged off the rucksacks and took 20 minutes for a snack and a drink. I took the opportunity to take a few photos, while my friend Julia lay on the grass for some quiet time, contemplating the views.
Just as we left our rest spot, the sky darkened and the rain started to come down, turning the gravel path into sticky mud. With waterproofs on, we trudged along the path across the plateau, marked by a series of white cairns and nearly two hours later arrived drenched at Rifugio Bolzano.
Read about our our first day's hike – Hiking in the Dolomites – a tour of the Rosengarten

Read about our second day's hike – Over the pass in the Dolomites – hiking in South Tyrol
A cosy stay at Rifugio Bolzano
What a relief it was to take off our muddy boots and wet waterproofs, to hang up our poles and enter the cosy, wood panelled dining area. We found the place was already full of families, with children playing games and relaxing before dinner time. Rifugio Bolzano was built over 100 years ago and with 47 beds is one of the larger refuges in the area – we soon settled into our private room with wooden beds and threw open the window for a view of the mountain.
We were slightly taken aback to find that there were no showers at the refuge, only communal washrooms where we had to take our chance for a bit of privacy. Still the atmosphere was friendly and convivial as we settled in with a drink and then ordered a dinner of hearty mountain fare, with the filling kaiserschmarrn pancakes for desert.
By the morning, the showers had passed and the rain seemed to have washed the air clean, revealing sunny views of the jagged rocky teeth that make the distinctive landscape of the Dolomites.
Our final day hiking back to Cyprianerhof
From Rifugio Bolzano we walked gently downhill across green pasture dotted with white standing stones, feeling a little bit like Hansel and Gretel following the trail. At the end of the plateau we could see down into the valley, although it was difficult to identify on the map which of the villages might be below us. Somewhere behind the ridges before us lay the luxurious Hotel Cyprianerhof, which we were very much looking forward to reaching that evening.
From the plateau the path became a narrow ribbon, zig-zagging steeply downwards, taking us towards the valley. Despite going downhill, the descent was by no means easy and as we got closer to the tree line, there were more steep steps with tree roots and the gravel was slippery from rain showers. After a couple of hours we reached a cross where there was a lovely picnic table for us to take a break and eat some of our snacks. The worst of the descent was now over although we had our waterproofs on and off with frequent showers, and there was still a good 3 hours to walk before we would reach the hotel.
Read about our our first day's hike – Hiking in the Dolomites – a tour of the Rosengarten

Read about our second day's hike – Over the pass in the Dolomites – hiking in South Tyrol
A walk through the forest in South Tyrol
We now skirted along the side of the slope through forest, the smell of cow dung mixed with the scent of pine needles. The air was cool and damp in the shade of the forest canopy and moss gathered around the tree roots. Along the trail were a few wooden sculptures, carved from trees and logs that must have fallen there; an overhanging giant mushroom and a fierce eagle's head jutting into the path.
At times the path crossed tricking streams that had been channeled into wooden troughs where you could stop for a drink or fill up a water bottle. Through gaps between the trees we could look down into the valley and from down below the sound of Sunday church bells and a brass band practicing in the church wafted up to greet us. The gentle walk gave me time to absorb the details of the forest, the tiny pine cones crunching underfoot and the orange mushrooms the size of a coin set into the bright green clumps of moss.
The final descent to Cyprianerhof
Now we were on the downward slope, on a wide track that would take us down to St Cyprian in the green valley, with the distinctive jagged peaks of the Dolomites rising in the distance – the ones that we had climbed over just a few days before. We have a tradition on our hikes of taking a 'Before' and 'After' photo and so on arriving at Cyprianerhof, we grabbed a passing walker to take a picture of us –  tired but thrilled at the prospect of the luxury that awaited us. Take a look the picture below – I think you can guess which is the 'Before' and which the 'After' ?
After four days and three nights in the mountains, staying in simple accommodation with limited shower facilities, you can imagine what a treat it was to enter our room at Cyprianerhof. It was all as lovely as we remembered; the luxurious natural fabrics and cosy faux fur throw, the huge bathroom with polished stone sinks and the apple on the bed to remind us to stay healthy in the mountains.
A well deserved Aperitif after our walk
Soon the wild women of the mountain were transformed into chic and sleek creatures, with freshly washed hair and make-up, changed into the clean clothes that we had left at the hotel – what bliss! It was time for a well deserved aperitif at the drinks party offered for hotel guests on the lawn outside; a Hugo for me and an Aperol Spritz for Julia.
With the view of the peaks that we'd climbed on our first day, we toasted our success and endurance in scaling those rock-faces, climbing over the passes, and surviving the lack of showers with only hearty mountain dishes and the odd beer to sustain us. Now we deserved the delicious meal and elegant surroundings that awaited us at Cyprianerhof – we'd certainly earned it!
Read about our our first day's hike – Hiking in the Dolomites – a tour of the Rosengarten

Read about our second day's hike – Over the pass in the Dolomites – hiking in South Tyrol
Where we stayed in South Tyrol
To compare prices and book Hotels in South Tyrol on HotelsCombined.
Night 1 – Hotel Cyprianerhof
Website: Cyprianerhof.com A luxurious 4 star hotel in St Cyprian with extensive facilities for wellness and activity excursions. The hotel's philosophy is to offer guests the full experience of the Dolomites, allowing them to recharge and clear their minds through hiking in the mountains, combined with relaxation in the spa and sauna facilities.
In summer there is a programme of hiking as well as climbing and Via Ferrata, while in winter guests can try snow-shoe, ice climbing and cross-country ski. The hotel is affiliated to the Wanderhotels group of hiking hotels with hiking and snow-shoe excursions included as part of the half board package that includes breakfast, afternoon tea and evening meal. The food here was excellent using local and seasonal produce. Half board package including activities from €156 per person per night. You can check prices and book for all hotels in South Tyrol on HotelsCombined.
Night 2 – KolnerHütte / Rifugio Fronza alle Coronelle Website: Rifugiofronza.com
Cost: from €52 per person for half board (evening meal and breakfast)
The Refuge has both 2 bed rooms and dorm rooms, with 60 beds in total. Blankets are provided but you need to bring your own sheet sleeping bag. There is 1 hot shower which costs €3 to use. The Refuge can also be reached from St Cyprian by a bus to the foot of the Laurino chairlift, then take the chairlift up to KolnerHütte. Many people use the chairlift to reach KolnerHütte quickly and then walk the higher mountain routes from there.
Night 3 – Grasleitenhütte / Rifugio Bergamo Website: Grassleitenhuette.com
Cost: from €52 per person for half board (evening meal and breakfast)
We received a warm welcome at this family run Rifugio that was built in the last century as a base for wealthy mountain climbers and still has an authentic Tyrolian atmosphere with wood panelling, old pictures and maps. The Refuge has both 2 bed rooms and dorm rooms with duvets provided but you need to bring your own sheet sleeping bag. There are 2 hot showers which cost €3 to use. The refuge has a charming traditional feel and is family run with friendly owners and excellent cuisine and wine.
Night 4 – Schlernhaus / Rifugio Bolzano Website: Schlernhaus.it
Cost: from €39 per person for 2 bed room including breakfast. Meals can be ordered from the modestly priced menu and half board is available for groups of 8+ people.
The Refuge has both 2 bed rooms and dorm rooms, with 120 beds in total. Duvets are provided but you need to bring your own sheet sleeping bag. There are no showers, only a washroom. The refuge is large with a traditional wood pannelled dining room and panoramic views of the mountains as well as friendly staff. The Refuge seemed to be a favourite with families and several people had dogs with them.
Night 5 – Return to Hotel Cyprianerhof (see above)
Read about our our first day's hike – Hiking in the Dolomites – a tour of the Rosengarten

Read about our second day's hike – Over the pass in the Dolomites – hiking in South Tyrol
Getting to South Tyrol
South Tyrol is the north-east corner of Italy, bordering Austria to the north and Switzerland to the west. We flew to Venice Marco Polo Airport and hired a car to drive to the nearest village of St Cyprian, which took around 3 hours. Alternative airports would be Milan Bergamo (2 hrs 50 mins), Innsbruck (1 hr 50 mins), Verona (2 hrs), Venice Treviso (3 hrs). For those using public transport, trains and buses are available from most airports to Bozen/Bolzano and there is a bus (number 185) running from Bolzano to St Cyprian which stops ouside Hotel Cyprianerhof, running around once an hour (journey time 50 mins). The taxi from Bolzano to St Cyprian would take around 30 mins. To compare prices and book Hotels in South Tyrol check out HotelsCombined.
Speaking the language of South Tyrol
In South Tyrol both German and Italian are widely spoken, since the province was part of the Austro-Hungarian empire until 1948, then became part of Italy after WWI.  In the Dolomites we found that German was more commonly used although most locals will easily switch between Italian and German. English is less widely spoken although you will not have a problem in larger hotels and in mountain huts there is generally someone with a little English. Because of the dual languages all towns, villages and mountain huts have two names – both German and Italian. For simplicity in this article I may use just one of the names.
Plan your hiking routes in the Dolomites
A good resource for planning your hiking routes in the Dolomites is the Sentres.com website and the South Tyrol Tourism website also has plenty of information to plan your holiday in South Tyrol.
You will find timings for walking routes on the Sentres website. However, be aware that these are times for fit walkers without any stops for rests or photographs. In our experience we found that for each 2-3 hours of the 'official' time, we needed to add 30 mins to allow for being less fit and 30 mins for a drink stop in a refuge. So overall we would add 1-2 hours to the times given per day.
We used the Tappeiner 1:25.000 Map No 29 Schlern – Rosengarten – Sciliar – Catinaccio – Latemar – you can order it on Amazon and a similar map was for sale at Cyprianerhof for €9 and probably other places locally. We could not find an English guidebook to the routes we were walking but we found we could navigate fine with just a map as the paths were well marked.
Here are the routes and timings we took
Day 1 – Cyprianerhof to KolnerHütte
Official time: 4 hours
Actual time without stops: 4 hrs 30 mins
Actual time with stops: 6 hours
Our route was: Cyprianerhof – Nigerhütte 2 hrs / Nigerhütte – Messnerjoch hütte 1 hr / Messnerjoch hütte – KolnerHütte 1 hr 30 mins
Read about our Day 1 hike – Hiking in the Dolomites – a tour of the Rosengarten
Day 2 – KolnerHütte to Grasleitenhütte
Official time: 5 hrs 30 mins
Actual time without stops: 6 hrs
Actual time with stops: 7 hrs 30 mins
Our route was: KolnerHütte – top of Coronelle Pass 1 hr / top of Coronelle Pass – Rif. Vaiolet 1 hr 45 mins / Rif. Vaiolet – Grasleitenpasse 1 hr 30 mins / Grasleitenpasse – Grasseleitenhutte 1 hr 30 mins Warning: very steep climbing with cables over Coronelle Pass
Read about our Day 2 hike – Over the pass in the Dolomites – hiking in South Tyrol
Day 3 – Grasleitenhütte to Schlernhaus
Official time: 4 hrs
Actual time without stops: 5 hrs
Actual time with stops: 7 hrs 30 mins ( we made a 40 min detour to Rif. Alpe di Tires)
Our route was: Grasleitenhütte – Rif. Alpe di Tires 3 hrs 25 mins / Rif. Alpe di Tires to cairn at start of plateau 1 hr 20 mins / Cairn at start of plateau to Schlernhaus 1 hr 30 mins. Warning: very steep climbing with cables on final part of route 3 up to Rif. Alpe di Tires
Day 4 – Schlernhaus to Cyprianerhof
Official time: 4 hrs 30 mins
Actual time without stops: 6 hrs
Actual time with stops: 8 hrs
Our route was: Schlernhaus – Junction of route 3 & 7 1 hr 50 mins / Junction of route 3 & 7 – Turning to route 7B 1 hr / Turning to route 7B – Tschafonhutte 1 hr / Tschafonhutte – Cyprianerhof 2 hr
You've just finished reading about Day 3 & 4 of our hike
Thanks to the South Tyrol Tourism board who hosted my walking tour of the Dolomites.
Pin It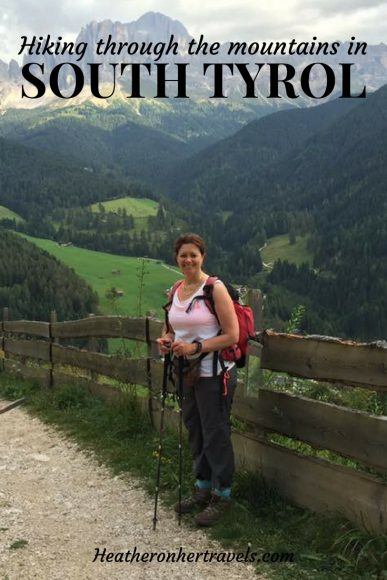 This article is originally published at Heatheronhertravels.com – Read the original article here
You'll also find our sister blog with tips on how to build a successful travel blog at My Blogging Journey