If you had to choose three words to describe the Caribbean island of Aruba, what would they be? My three words would be; Warm, Colourful and Cosmopolitan. Of course, you'd expect it to be warm, being in the Dutch Antilles and close to the coast of Venezuela. You'll be welcomed with unfailing warmth too – not for nothing has Aruba adopted the slogan of "One Happy Island'. There's colour not only in the houses painted blue, yellow, pistachio and pink, but unexpectedly in the street art murals that we found in San Nicholas, created for the recent Aruba Art Fair.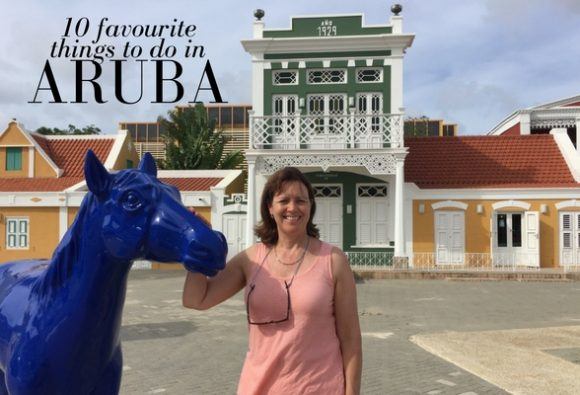 This was my first visit to Aruba and I discovered an island that is well developed for tourism, with plenty of hotels and apartments concentrated along the sandy beaches west of Oranjestad and a sophisticated restaurant scene. There's also a cosmopolitan mix of cultures, with most locals speaking several languages; typically Dutch, English and Spanish as well as their own language of Papiamento.
Tourism is an important part of the island's economy and with visitors outnumbering the locals, it took me a while to put my finger on what makes Aruba unique and different to its Caribbean neighbours. My week in Aruba took me from designer shopping malls to the prickly beauty of Arikok National Park, from the white sand beaches of the south to the black volcanic rocks and crashing waves of the northern shore. Here are some of the favourite memories and experiences I took home from Aruba.
1. The white sand beaches of the southern shore
Well you can't come to the Caribbean without talking about the beaches. It's the white sand beaches and all-year-round sunshine that keep visitors coming back, to escape the cold weather back home. While we were there, a hurricane was battering the Florida coast, and while Aruba had escaped with just some rain showers, storms out at sea had washed piles of seaweed onto the famous white beaches. Admittedly we weren't seeing them at their best, but by the end of the week the beaches had been practically cleared of storm debris and were back to normal.
One of the beach spots I enjoyed most was in front of the Moomba Beach Bar where we spent the afternoon paddleboarding and also had a delicious seafood lunch on the verandah restaurant at Nos Clubhuis. It's part of Palm beach, a broad strip of sand, backed by hotels and apartments, with plenty of places to stop for a snack and drink and also a centre for watersports.
Eagle beach, right in front of the Amsterdam Manor Beach Resort where we were staying was another favourite, with two of the famous fofoti (also known as divi divi) trees growing on the beach, a popular spot for wedding photographs. Since the beach was just across the road from the hotel, I was able to enjoy it at all times of the day, from the pastel pink sunrise to the golden sunset. As dusk fell, the hotel set out tables for its beach restaurant, Passions on the beach, where we had an elegant dinner looking out to sea with the sand under our toes. Baby Beach, close to San Nicholas is another popular beach, especially for families and there is hardly any development around the beach, but I found the view of the refinery in the distance somewhat detracted from its charm.
2. Aruba's wild northern shore
My favourite beaches were actually on Aruba's wild northern shore, where there is hardly any development at all. The waves here are pretty rough so it's inadvisable to swim unless you take local advice or are there for the surfing. You need a car, preferably a 4 wheel drive, to visit this part of the island but there are also plenty of jeep safaris that will take you around to see the beaches and main sites.
Our tour took us first to Ayo rock, a cluster of boulders that looks as if a giant dropped a random pile of rocks in the middle of the countryside. It's free to enter the fenced enclosure that surrounds them and look at the cave paintings nearby. Most visitors probably just stop to take their photo from a distance but there are trails that lead up through the boulders. I would have headed off from the group to explore them more fully but had a sudden 'Picnic at Hanging Rock' premonition that I might get lost wandering among them.
We continued by car to the Bushiribana ruins of an old gold mine which you can climb up onto for a view over the sea. Gold was discovered here in 1824 and this was the site of the old smelting works built in 1872 but only in use for a decade before it fell into disrepair. On the same stretch of coast is a rock arch known as the Natural Bridge, although the larger of the two arches collapsed in 2005, and I found the wild landscape and waves crashing on the shore more of an attraction than the sea arch itself.
3. Aruba's sophisticated restaurant scene
As I love to try local flavours when I travel, I was impressed by Aruba's varied and sophisticated restaurant scene. We were visiting during Eat Local restaurant week when many of the island's restaurants have good value menus with lunch at a set price of $15 and dinner at $30 or $40. I mainly chose the seafood options, with plenty of grilled fish such as Mahi Mahi served with Pan Bati, the local pancake style bread. At Nos Clubhuis I loved my starter, a bowl of chunky ceviche and at Driftwood, decorated with fishing nets and driftwood, we would have been served the fish that we'd caught while Deep Sea Fishing, but sadly we came back from that fishing trip empty handed.
While there were plenty of different eating options in Oranjestad and Palm Beach, one place that stuck out for the local character with Charlie's Bar in San Nicolas. The bar had been run by three generations of Charlies, was stuffed full of paintings, memorabilia and bric-a-brac, much of it contributed by customers over the years and served an excellent plate of giant shrimp for lunch. For elegant poolside ambiance, we ate at White Modern Cuisine, situated in the Gold Coast Clubhouse, where the chef uses local seafood but incorporates Asian flavours in some of the dishes.
For healthy daytime snacks we stopped at CRAFT at Palm Beach where the coffee was excellent and I ordered a fruit bowl as a late breakfast after our yoga session. At Garden Fresh Cafe, where I had an Asian Delight wrap and Blueberry Booster smoothie for lunch, I could practically feel the pounds falling off my waistline as I walked through the door.
Finally if you need a place to stop for breakfast, or a snack as you drive around the island, I'd highly recommend the Huchada Bakery in Santa Cruz. With yellow walls and blue painted shutters it has the ambiance of a traditional Aruban house and serves the tasty Aruban breakfast snack of pastechi (filled pastries), as well as coffee and fresh juices.
4. The coloured houses of Aruba
As we drove around the island I noticed how Aruban houses were often painted in bright colours – yellow and blue were especially popular but I saw many other rainbow shades. On our final evening we had the pleasure of dining with a local family who showed us around their traditional style house. At the front of a typical Aruban house, runs a long room that is used to greet guests, while the family living room and bedrooms are behind this in the main part of the house. The back or front of the house is normally oriented towards the prevailing winds to allow natural air conditioning as the wind can circulate from one side to the other.
In Oranjestad much of the architecture is modern but there are a few older houses painted in vivid colours, with ornate plasterwork to decorate the windows and doors. I enjoyed walking along the road beside Fort Zoutman and into the main shopping area behind the Renaissance Mall where the Dutch colonial style had been used above the shops in pretty pastel shades.
5. History and culture around Oranjestad
While in Oranjestad, it's worth looking beyond the branded fashion stores to discover something of Aruba's history. The Archaeological Museum is housed in a most photogenic set of old buildings, which were built in the late 19th century, and it's free so worth popping in. You'll learn about the melting pot of nationalities that went to make Aruban society, from Amerindian to Spanish colonisation, overlaid with Dutch and English trading influences.
Also in the centre of Oranjestad, on a street that once formed the original waterfront, is the Historical Museum, housed in Fort Zoutman. The fortress was built in 1796 for defence against English attack and the tower was added in 1868 as a lighthouse, later becoming a clocktower. We attended an evening display of music and dancing called the Bon Boni festival which is held here weekly and I enjoyed the museum's exhibition about traditional weaving which changes a couple of times a year. Did you know that the weaving of straw hats was an important source of income for many families in the past? On show were colourful artworks inspired by the theme of weaving by contemporary local artists like Vanessa Paulina who we later met in San Nicholas.
6. Street art in San Nicholas
Further down the coast from Oranjestad is San Nicholas, Aruba's second largest town with the island's oil refinery. If you're looking for a more authentic Caribbean vibe you'll find it here, but since the oil refinery closed in 2009, there's also a feeling of a place that has seen better days. One thing that is putting San Nicholas on the map again is the street-art that covers many of the buildings, as a result of this year's Aruba Art Fair.
We met with artist Vanessa Paulina who has been commissioned to create a mural on one of the buildings and took us into the art centre for a painting workshop. I chatted to Tito Bolivar, the Aruba Art Fair organiser and owner of the ArtisA Gallery (stands for Art is Aruba) about the project which took place for the first time in September 2016.
As well as inviting local and international artists to work on the murals, the three day festival included stalls for local artists to sell their work, an exhibition in the art gallery, a music and dance festival and a culinary competition where teams of chefs created an original desert inspired by a piece of art. Being from Bristol, where Street Art is a big deal I really loved all the fabulous murals around the town and would definitely recommend visiting San Nicholas to see them for yourself. While in San Nicholas, you might also consider popping into Charlie's Bar for lunch, for even more local colour.
7. Getting active on the water
If you enjoy watersports you'll find no shortage in Aruba and the first thing I spotted when we arrived on Moomba beach was someone being shot scarily high above the water on a Jetpack attached to the Jetski. We were there to try our hand at paddleboarding, a first for me, under the expert instruction of Denis from Aruba Surf & Paddleschool. Dennis showed us how to start by kneeling on the board and then slowly stand up while keeping our balance to avoid an undignified dunking. The paddling and balancing required a surprising amount of core strength and I'm sure that if I did it long enough my body would become lean and toned like all those bikini girls in the brochures. For now I was just concerned about not falling in, and managed to make it a decent way out before turning back towards the safety of the beach.
We also tried Deep Sea Fishing while we were in Aruba and the idea of spending an hour or two catching our dinner sounded like a good one in theory. However, I have to admit that it was not my favourite activity as the constant swell just made me feel queazy and I spent most of my time hardly daring to move from the back of the boat. Much more pleasurable was the early morning yoga session on the beach with the graceful Maria from Cacao Yoga. While I was useless at the yoga poses I did enjoy gazing alternately through the leafy branches above us or out to the ocean beyond.
8. Tasting the edible plants of Aruba
One of the highlights of my week on Aruba was meeting Frank Kelly, a.k.a. Taki the Forager. We found him on one of the wild north coast beaches, for a deliciously refreshing cocktail made of avocado and basil topped up with sugar, water and a splash of lime – and of course an optional slug of rum. Cactus tempura is one of Frank's specialities, but for us he produced a colourful basket of flowers picked locally, to tickle our taste buds.
We munched and sniffed our way through a selection of flowers including peppery moringa which can be used to make a super-food smoothie, fragrant kawara that was used back-in-the-day to perfume your house, and frangipani that could be used to give champagne a fragrant kick. As well as sharing the foraging skill that he learned from his grandparents, Frank is a graffiti artist, bodyboarder and creator of cool pop-up events on Aruba and Bonaire. "I like to be unplugged" he told us, admitting that he barely used any social media to promote his talents, " I like to stay close to nature, to go barefoot and just have enough for the day." As if to prove the point, Frank plunged into the crashing waves and returned to the beach minutes later with three different kinds of seaweed, including Dulce and Agar that's used as an alternative to to gelatine. If you're visiting Aruba and want to book a foraging session with Frank, he can be contacted through his Facebook page – search for Taki Aruba
Aruba is also a big grower of Aloe Vera, known for its healing and cooling properties. You'll see the spiky plants all around the island and if you snap off one of the fleshy leaves, they ooze a yellow sap that is used for healing on wounds and burns. Look out for the Aruba Aloe shops around the island that sell a range of Aloe based lotions and cosmetics or visit the Aloe Vera factory and museum for a fascinating insight on how the plant is used.
9. Hiking in the Arikok National Park
For my visit to the Arikok National Park in the north-east corner of the island, I had to be up early before the heat of the day became too much. I was met by my enthusiastic guide, Stanson at the large visitor centre where there were exhibits and information about the flora and fauna to be found in the park. Stanson took me along the Cucucu Arikok circular trail, a well marked gravel path bordered by stones which meandered through a landscape of spiky cactus and thorny trees. To be honest, it would have been difficult to get lost, but Stanson's knowledge and enthusiasm about the plants and trees was infectious. Without him I'd never have spotted the edible pink berry hidden in the top of a small, round cactus, or known about the tree that bears fruit after a rainstorm, making it a magnet for giant iguanas.
Along the path we passed overhanging rocks with native cave paintings of iguanas and birds that were thought to be painted by Shaman, while in a trance connecting with the spirit world. At the furthest end of the path before we circled back was a white adobe house, a recreation of an old Aruban dwelling that had been preserved to show the construction techniques and way of living. A bat flitted over our heads, nesting in the rafters, which Stanson explained would provide a polination service for the plants on Aruba.
While our two hour walk was undemanding, there are plenty of more challenging trails in the park, some of which require climbing and abseiling to complete. If we'd had more time I'd have loved to have continued along the trail to the coast, where there's a large natural pool enclosed by rocks, locally known as Conchi, where you can swim.
10. Stay at Amsterdam Manor Beach Resort
During my week in Aruba, I stayed at the Amsterdam Manor Beach Resort, a delightful hotel that's just across the road from Eagle Beach. The hotel is family owned and was built 25 years ago in traditional style with Dutch gables, painted in the warm yellow that you see everywhere on Aruban buildings. I was extremely comfortable, sharing a suite with two bedrooms and a first floor balcony looking towards the sea, furnished in traditional Caribbean style with dark wood furniture, brightly coloured walls and citrus shades of lime, lemon and tangerine.
The outside areas of the hotel were beautifully maintained with paved areas, trees and immaculate planting, with a welcoming pool area and the shady Mango restaurant, where we had breakfast. The hotel is ideal for couples who want to relax by the pool or on the beach, while having a well located base for exploring Oranjestad and all the other sights of Aruba.
The staff could not have been more friendly and helpful and they even have a dedicated Romance Co-ordinator to help you organise your beach wedding or celebration event. The Fofoti trees opposite the hotel are a favourite for wedding photos and the Passions on the Beach restaurant where we ate one evening is an incredibly romantic setting to have a cocktail and dinner as the sun sets over the ocean.
For more information, visit the Amsterdam Manor Beach resort website or follow them on Facebook, Twitter, Pinterest. Address: J.E. Irausquin Blvd. 252, P.O. Box 1302, Oranjestad, Aruba.
I recommend visiting Aruba for the warmth of the all year round sunshine and the safe and friendly atmosphere. You'll enjoy the island's Caribbean colour, vibrant painted buildings, the creativity and street art of San Nicholas. Taste your way through the cosmopolitan food scene with fabulous local seafood and international flavours with a mix of cultural influences. As our yoga teacher Maria told us, "Whatever kind of holiday you want, whatever kind of life you want to live, you can find it on Aruba".
Visitor Information for Aruba
For more information to plan your holiday in Aruba, visit the Aruba Tourism Website or follow them on Facebook, Twitter, YouTube or Pinterest
Thanks to Aruba Tourism for hosting my week's stay in Aruba to discover the island.
More articles from the Caribbean
Travel with Kat: Welcome to Aruba – One Happy Island
A Stylish Guide to St Kitts
Our top 5 sites on Aruba
Pin It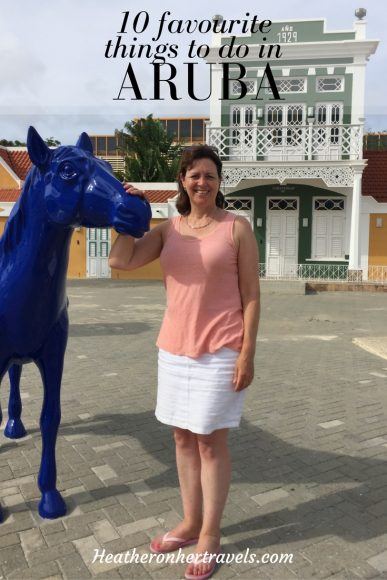 This article is originally published at Heatheronhertravels.com – Read the original article here
You'll also find our sister blog with tips on how to build a successful travel blog at My Blogging Journey
Our Explore Canada Road trip had taken us from Toronto to Montreal, but now we were at journey's end. Dropping Monty the RV (our recreational vehicle, named after our final destination) back at the Cruise Canada depot, we headed into the city, to enjoy our final day exploring Montreal. In one short day, we fell in love with the charming bilingual Montrealers, discovered something of the city's history and ate our way through Montreal's lively food scene. Of course we didn't see everything, but all the more excuse to return – so here's our version of a perfect day in Montreal.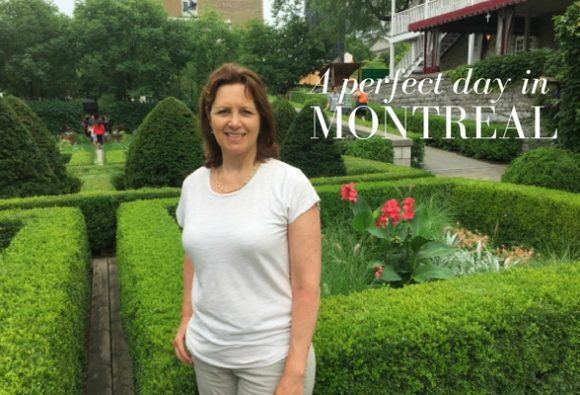 Like most visitors to Montreal, we started our day in the old quarter of Vieux Montreal, wandering along Rue Saint-Paul, where funky clothing boutiques mixed with stylish cafés. Meandering through cobbled pedestrian streets, we reached the tourist hub of Place Jaques Cartier, an open square that looks towards the port on one side and the Town Hall on the other.
Spotting an open gateway at the side of the square, we ducked through explore and found a haven of calm in the Governor's garden behind Chateau Ramezay. The walled garden was laid out as an 18th century style potager, with flowers, vegetables and medicinal herbs, in formal beds enclosed by box hedges. The garden here today is only a small part of the garden that once surrounded this grand house and would have been used as a source of food and healing, as well as genteel relaxation by the first colonists of 'New France'.
After soaking up the peaceful atmosphere, we visited the house of Chateau Ramezay, which was built in 1705 by the Governor of Montreal. Despite being one of the oldest and most historic buildings in the city, the the house fell into disrepair at the end of the 19th century and was only rescued from demolition by the efforts of an antiquarian society. We very much enjoyed our visit to the house with its beautiful panelled rooms and interesting displays that told the story of Montreal's colonial past.
If you go: Chateau Ramezay: 280 Rue Notre-Dame Est, Montréal. Entrance Adults $11, Garden Free.
Bagels and brunch in the Jewish neighbourhood
From Vieux Montreal, the Boulevard Saint Laurent took us north through some of Montreal's most interesting neighbourhoods, such as Plateau and Mile End which were home to the Jewish, Portuguese and Greek communities. While many of the old residents have moved out, you'll still find the ethnic flavour in some of the city's best loved food institutions. Now there's a hip and trendy feel as the neighbourhoods have become gentrified, with cool bars and cafés catering for creative types working for the software and video game companies that have replaced the garment industry.
Bagels are big in the Jewish neighbourhood with the specialist bakeries of Fairmount and St-Viateur found within a few blocks of each other.  There's a friendly rivalry with New York over whose bagels are best, although they are quite different to the Montreal bagels, which are baked in a wood fired oven with a sweet maple glaze and more compact texture than their puffy cousins from NYC. We stopped by both bakeries where I can confirm that the warm-from-the-oven bagels are equally delicious, although for visitors I'd favour St-Viator which has a larger shop where you can easily see the bakers at work and the bagels piled high, making it easier to take photos.
We stopped for brunch at Beauty's (93 Mont-Royal West), a classic Jewish diner with blue banquettes and an open kitchen, where they serve smoked salmon and cream cheese bagels, as well as sandwiches, pancakes and salads. The restaurant opened in 1942 and is now run by the third generation of the Sckolnick family, with grandfather Hymie who is in his 90s still coming in each day to keep an eye on things.
In the same neighbourhood is Schwartz's Deli (3895 Boulevard St-Laurent), another Montreal food institution known for their smoked meat sandwiches. At lunchtime the queues stretch down the street, but there are no frills here – you'll get a mountain of tender smoked salt beef that's barely contained by the soft fresh white bread and garnished only by a squirt of mustard.
Discovering Montreal's street-art scene
Coming from Bristol where we have murals by some incredibly talented street artists, I had to stop for a look at some of the street art in Montreal. Every year in June they hold the Mural festival when a parking lot off Boulevard Saint-Laurent is taken over by music and artists creating new works from high up on their cherry-pickers.
The festival is now in its fourth year and started as a way to encourage regeneration in the area and provide a showcase for some of Montreal's talented urban artists. Founder André Bathalon told me "our goal is to bring people to the area and they take from it what they want. They might enjoy the mural on the wall but if they want to learn more about the artists, the techniques or particular styles, they can also do that – it's accessible 24-7 and its free."
In the area we saw work by local artist Roadsworth whose large scale pieces cover roads and pavements, and Italian Pixel Pancho whose mural was one of the key pieces from this year's festival. It reminded me so much of the building size pieces that are created in South Bristol for our Upfest festival. Check in at the MURAL offices (3527a Boulevard Saint-Laurent) to pick up a map of the street art locations, book a 2 hour street art tour with Spade & Palacio or  find some of the best urban artists on show at Station 16 Gallery. There's also the Under Pressure festival in August which has been going for 20 years and focusses on graffiti artists.
Colourful fruit and veg at the Jean-Talon Market
Heading a little further north on Boulevard St Laurent, we reached the Little Italy neighbourhood and the Jean-Talon Market, the largest fruit and veg market in the city. The market is a riot of colour, especially in summer when the freshest local produce is on display. This is a shopping paradise for foodies and chefs and it's all beautifully presented with each heirloom tomato, rosy radish and even humble potato polished to perfection.
The punnets of strawberries and soft fruit looked so sweet and tempting and I enjoyed chatting to producers of  specialist products like the ice cider that's made in Quebec. Since the climate here is too cold for vines, the first French settlers planted apple orchards instead, pressing apple juice and making cider. Like ice wine, the fruit is picked after a frost to intensify the flavours and made into a sweet cider with a concentrated flavour that's perfect served with blue cheese or fois gras. Of course, thinking of my Christmas menus, I had to buy a bottle to bring home!
If you go: Jean-Talon Market: 7070 Avenue Henri-Julien, Montréal – there is parking but it's oversubscribed to best to take the metro to Jean-Talon stop.
Discovering Montreal's food truck scene
The late afternoon found us returning to the Entertainment District of Montreal where the Just for Laughs comedy festival was joining forces with the BouffonsMTL food truck festival. Food trailers were arranged around an open courtyard and featured many of Montreal's top restaurants, who offer street-food versions of their signature dishes at affordable prices. Montreal restaurateur Jorge da Silva works with Michelin star chef Carles Abellan at Tapas24 and told me how he liked to bring his most popular dishes, such as the Cartalan-style paella to the festival, as a way of meeting food lovers and reaching out to a new clientele.
"Montrealers are so proud of their cuisine, when I travel everyone knows Montreal for the food. You have your food institutions but you also have your star chefs. They are competing  but all offering something different and in a nice environment, so that's where the friendship comes in with all of us."
We enjoyed a dish of the paella, yellow with saffron and packed with juicy prawns and mussels, finishing with an ice cream from Monsieur Cremeaux, owned by TV chef Martin Juneau. Although I'd have loved to have tried the signature dish of fois gras poutine from the Au Pied de Cochon van, by that time I just had no more space to eat another mouthful.
The BouffonsMTL takes place in July but there are many food festivals in Montreal, so look out for the Montreal a la table restaurant week in November and First Fridays at the Olympic Village where food trucks gather on the first Friday of each month from May. You'll also find lots of different food trucks at individual locations around the city during the summer months.
Maple Syrup: the sweet taste of Montreal
Québec province produces over 90% of the maple in Canada, so this was top of my list to bring home from Montreal as a souvenir of the trip and pour over my pancakes for that authentic Canadian breakfast. We found a great range of maple syrup and other maple products at Delices Erable & Cie 84, rue St-Paul Est in Vieux Montreal. I loved that they allow you to taste everything on sale, with maple fudge, ice cream and cakes at the take out counter or to eat in their cafe. There are also excellent maple products at Marché Bonsecours, a domed heritage building full of stores selling unique gifts and crafts from Québec, an essential destination for the stylish shopper in Montreal.
A culinary adventure in the Little Burgundy neighbourhood of Montreal
As evening approached we followed a whim and a recommendation, jumping in a cab for a 10 minute ride to the Little Burgundy District, one of the trendy up and coming neighbourhoods we'd read about. The place we'd been recommended, Joe Beef, was shut but we spotted a taco bar across the road called El Gordo and loved the casual but buzzy atmosphere with a pared back industrial decor, perked up with colourful glasses and Mexican murals. They have an Italian restaurant and pizzeria next door called Gepetto's which also looked super-popular.  Here's what we ate: A flavoursome gaspacho with tomato and watermelon $8, a tasy and colourful advocado and tomato salad $12 and a plate of Tacos each 3 for $8-12 washed down with a mojito $10 and beer $6.
If you go: El Gordo 2518 Rue Notre-Dame Ouest. Montreal
The night is still young in Montreal
Using the metro to return to Vieux Montreal, we took one last wander around the old city where many of the buildings were lit up at night. At Place d'Armes, the Notre-Dame Basilica was beautifully illuminated with details picked out in turquoise and midnight blue and a street musician strumming a guitar in the warm night air.
The City Hall that we had seen earlier opposite Chateau Ramezay was bathed in pink and nearby we noticed a film of rebellious beavers being projected onto the old stone walls of a building in Place Jacques Cartier. It seems that the ghosts of the past come back to haunt corners of Old Montreal as part of the Cité Mémoire project where dream-like tableaux are projected onto the buildings near where the stories happened. Download the Montreal en Histories app for a guided walking tour of all the different sites around Vieux Montreal – there's free wifi provided too at information points along the route.
Where to stay in Montreal
For our last night in Montreal at the end of our Canada RV trip we stayed at the Le Centre Sheraton Montreal Hotel in the heart of downtown Montreal. The hotel is located on a busy avenue in the business district and our room gave us a morning view over the Montreal skyline towards Mont Royal, the park that offers panoramic views over the city.
The hotel is large (825 rooms) with comfortable, modern bedrooms and ideal for business or leisure travellers who like staying at an international hotel with a wide range of services and amenities. The hotel was a 30 minute walk or 10 minute cab ride from the waterfront and heart of Vieux Montreal. As is the norm in Canadian Hotel there is an additional charge for breakfast unless you book a Club bedroom in which case you have access to the Club Lounge where complimentary buffet breakfast is served as well as snacks and drinks throughout the day.
If you go: Le Centre Sheraton Montreal Hotel, 1201 Boulevard Rene-Levesque West, Montreal
I hope that I've tempted you to visit Montreal, which was certainly one of the highlights of our RV trip. There's so much to see here that I'm sure you will find whatever makes your perfect day in Montreal.
Read More about Canada's cities
Vancouver – Three wonderful reasons to visit Vancouver
Calgary – Enjoy 24 hours in Calgary Alberta
Toronto – Waterfront Toronto
Information for Visiting Monteal
You can find more information to plan your visit to Montreal on the Tourism Montreal Website, the Quebec Original Website and also on the Explore Canada Website covering all the things to see and do in Canada.
Our RV (Recreational Vehicle) for the two week Explore Canada Road Trip was provided by Cruise Canada.
To compare prices and book for hotels in Montreal, visit the HotelsCombined website where you can find the best prices from a range of different booking sites.
My visit to Montreal was part of the Explore Canada Road Trip, a project with Travelator Media and Explore Canada
Pin It
This article is originally published at Heatheronhertravels.com – Read the original article here
Braga is located in the North of Portugal and its history and charms won't leave you unmoved. In this article our guest author and Braga expert, Julia Vilaça picks out five of the most iconic things to do in the city.
Visit Bom Jesus
Bom Jesus is one of the most versatile places in Braga. The view from the top is mesmerizing, the environment is calm, quiet, romantic and family-friendly and there are lots of things you can do besides visiting the impressive and beautiful church. There are gardens and grottos, a lake with rowing boats, a relaxed terrace and carriages to enable you to discover the area. For a unique experience, use the water powered elevator to reach the area where the church is located.
In Bom Jesus there are options for everyone. The Hotel do Parque is always a good choice to stay and if you like cocktails, you must go to Casa Velha, a bar that takes the art of creating these kinds of drinks very seriously, providing you with a unique experience in a rustic space.
Visit Braga's Cathedral
This is the oldest church in the country and its first construction project began even before Portugal became a nation. It's possible to observe the influences of various eras on its walls and predominately Baroque interior. This is a symbol of the city and it is a mark in the lives of the people who live in Braga, thanks to its beauty and historical importance. Next door, there are some small chapels and a museum where you can learn more about the Church, the Portuguese habits and history – one of the pieces you can see in the museum is the cross used during the first mass celebrated in Brazil when the Portuguese arrived there.
Take a cup of coffee in A Brasileira
A Brasileira is the most iconic place when it comes to coffee. After lunch, order the drip brewed coffee and experience the traditional flavor of coffee. This iconic coffee shop is located in the heart of the city, so afterwards you can take a walk around the city's pedestrian area, discovering the streets of Braga, its most delicate gardens and historical buildings. Shop for souvenirs or for a special piece for your wardrobe – if you're a fan of international luxury brands, stop by Antónia Lage and Boutique Janes where you'll find the latest collections from Miu Miu, Prada, Chiara Ferragni, Moschino).
Visit the Biscaínhos Museum
The Biscaínhos Museum opened its doors in 1978 and currently takes us on a journey through the daily life of a noble family in their palace. Visit the gardens – the perfect setting to read a book or go for a romantic walk. Inside you'll see the noble ballroom where the family used to hold their receptions and balls and a fantastic ceiling painted by Manuel Furtado. This is the perfect Museum to visit if you want to see how a noble family used to live.
Visit the Tibães Monastery
The Tibães Monastery is more than just a visit to an old monastery, it's a visit to the past, a visit to the present, and a desire to return there in the future. It's located a bit far from the center of Braga, but worth the visit. The gardens are an ode to Mother Nature, there's even a lake lined with centenary trees and the Rococo style church will blow your mind, thanks to the 24K gold covering most of it. And you know what? This Monastery also includes a guest house, Hospedaria Convento de Tibaes, with nine bedrooms, a restaurant and a venue for special events. Perfect, right?
Author Bio: Thanks for this article to Julia Vilaça who writes at Braga Cool and is an avid collector of happy moments. Her dream is to help people discover the coolest places when they travel.
More articles about Portugal
5 cool neighbourhoods you can't miss in Lisbon
3 great places to visit in Portugal
An autumn weekend in Lisbon
If you're looking to book a Hotel in Braga, compare prices and book on my Hotel Booking page powered by HotelsCombined – I get a small commission at no extra cost to you. Thanks for your support!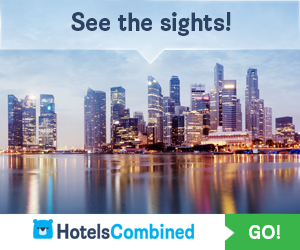 Pin It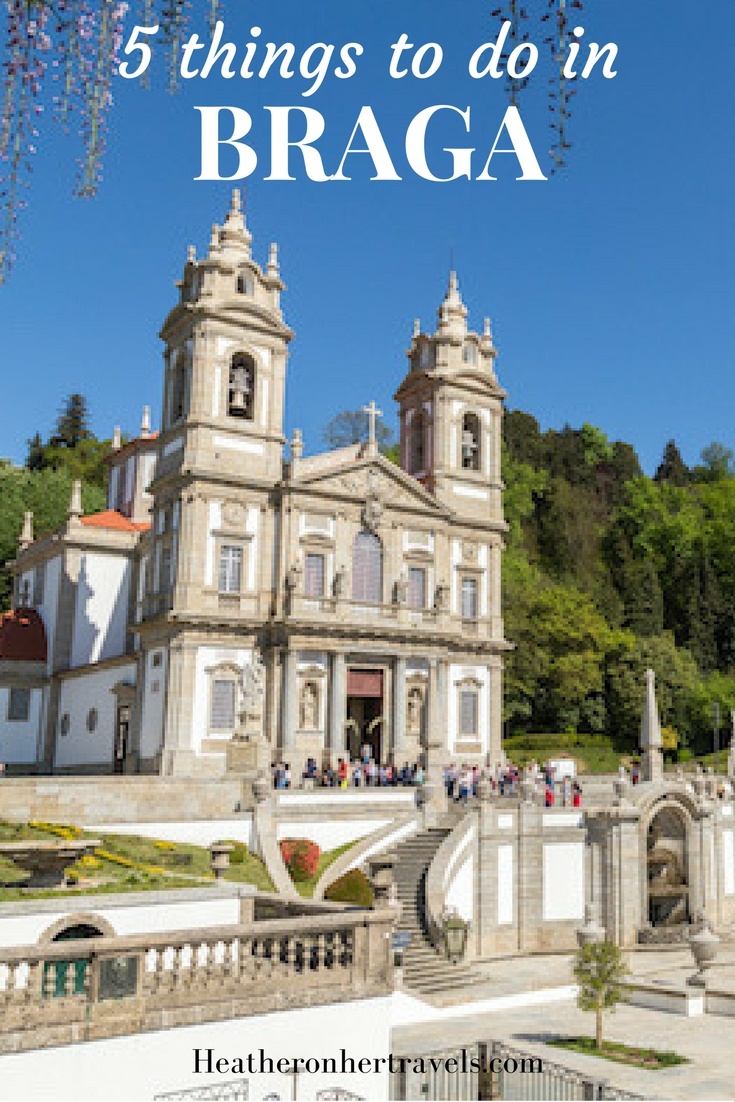 This article is originally published at Heatheronhertravels.com – Read the original article here
You'll also find our sister blog with tips on how to build a successful travel blog at My Blogging Journey