As we drive into San Nicholaas, the second town of Aruba, the morning's already hot but nothing much is stirring. The building by which we park, with shutters pulled down against the sun, looks just like any other. Just like any other, that is, except for the striking eyes and Amerindian face staring out from above the entrance with swirling peacock feathers for hair.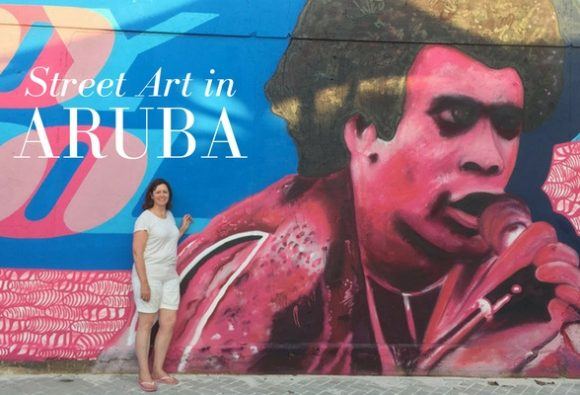 We've arrived at the Artisa gallery and headquarters of Aruba Art Fair where we've come for a painting workshop with local artist Vanessa Paulina. We find Vanessa busy painting a mural on the walls of a local shop, which is yet to be finished. A string of Indian beads like those that would have been traded by the first inhabitants of Aruba, is ornamented with African masks, Indian faces and the head of the Spanish queen who funded Christopher Columbus to adventure here. Vanessa tells me how the beads represent a circle of life that connects us all, from the native Indians, the colonists and traders, to the artists of today.
She's a well known artist on Aruba, with paintings on exhibition in the Historical Museum at Fort Zoutman and plenty of experience of community street-art projects, from her time studying and living in the Netherlands. The mural has been commissioned by the Ministry of Culture and as we walk around we realise that it's only the latest in a street-art gallery that covers the buildings of San Nicholaas. This may be the Caribbean, but it's an unexpected contrast to the white sand beaches and palm leaf beach umbrellas that you'll find elsewhere on the island.
By comparison with the bustling shopping malls of Oranjestad, packed with cruise visitors, San Nicholaas feels sleepy and somewhat down-at heel. When the oil refinary closed in 2009, people and jobs moved away from the town and there was little to bring tourists here unless they were driving to the popular Baby Beach nearby. But since the Aruba Art Fair took place in September 2016, there's a new reason to visit this quiet corner of Aruba, and that's the Street Art.
Art Fair organiser, Tito Bolivar, told me how he'd come up with the idea after a trip to Colombia when he'd seen so much amazing art on the streets of Bogota. "I came back to the island and thought – why not here?" he told me, and in less than a year the project took shape, with the first Aruba Art Fair being held in September 2016.
One of the first international street-artists that Tito invited to be part of the project was Bordalo II from Portugal, who is known for recycling rubbish to create his large scale "Trash Animal" pieces. To create the iguana that we saw clinging to the side of the building in San Nicholaas, the team drove around the island, picking over car wrecks, scrap metal and rubbish washed up on the beach.
Next on board with the project was Leon Keer of the Netherlands who is known for his surrealist pieces. In a disused building next to the old customs house, he painted the 3D cardboard 'Pan' box, which would normally contain a well known brand of corn meal from nearby Venezuela. The custom house doorways on either side of it are a reference to the large numbers of Venezuelans who arrive on Aruba for economic reasons, since the mainland is only 500 miles away – watch the video here.
As we circled the side streets around the gallery we found striking murals covering the buildings wherever we looked. In the parking lot, was a piece by Bond Truluv of Germany, which he painted when he arrived as a 'tryout' piece, and then went on to create a large dolphin, next to the "Daddy Cool" mural by Amsterdam Streetart. My favourite murals were the colourful carnival-like faces of a man and woman by Guache from Colombia which covered the entire height of a building.
As Tito gave me an impromptu tour, he told me how his initial idea for an art fair expanded to eventually include seven different art related projects. Before the main art fair there was a culinary competition with a twist, in which six teams from Aruba's cookery schools, each headed by an executive chef, were tasked to create a new desert inspired by canvases from local artists.  There was an auction dinner and a fashion show to showcase the work of local and international designers, as well as video interviews of local artists filmed by Conocemi, an Aruban TV show.
During the art fair itself, Tito was able to enlist the support of Aruba's Ministries of Culture and Tourism as well as sponsorship from Aruba's banks and business community, so that the artists themselves could sell their artwork in outdoor galleries without any charge. Several empty buildings were loaned so that Aruban art organisations could hold their own exhibitions as part of the show and provide a space for more established contemporary artists.
Tito's mother and co-organiser Diana Croe showed me the mosaic benches around the town that had been created as part of a community project with different groups contributing the designs. The work is planned to continue with more benches and canvas sun shades which will be painted in bright colours.
Despite the success of the Aruba Art Fair, which is now established as a regular event, Tito has plenty more plans in the pipeline. His hope is to use the Art Fair and other projects to infuse art into the local community on Aruba, and he told me "I'm not an artist myself, but I feel it's important to make a change. I see a lot of talent, and beautiful art, I want to start tapping into that talent and pushing those artists forward." Next on the agenda is to establish a website and mobile app for the Artisa (standing for Art Is Aruba) organisation which will give information about the artists and artisans on Aruba, so that they can be more easily found.
With so much creative energy on Aruba it seems sure that this year's Aruba Art Fair will be even bigger and better. Last year the Aruba Art Fair was held in mid September 2016, so look out for announcements of the next date on the Aruba Art Fair website and social channels: Twitter| Instagram | Facebook. For an alternative taste of the Caribbean on Aruba, head to San Nicholaas for a walk around the streets to see all the murals and call in at the Artisa HQ and gallery at Theaterstraat 20, San Nicolaas, Aruba.
San Nicholaas is around 30 mins drive from Oranjestad at the south-east end of the island and buses run several times an hour. A morning seeing the street-art could happily be combined with lunch at the quirky Charlie's Bar, and a relaxing afternoon on nearby Baby Beach.
Where to Stay on Aruba
During my week in Aruba, I stayed at the Amsterdam Manor Beach Resort, a delightful hotel that's just across the road from Eagle Beach. The hotel is family owned and was built 25 years ago in traditional style with Dutch gables, painted in the warm yellow that you see everywhere on Aruban buildings. I was extremely comfortable, sharing a suite with two bedrooms and a first floor balcony looking towards the sea, furnished in traditional Caribbean style with dark wood furniture, brightly coloured walls and citrus shades of lime, lemon and tangerine.
The outside areas of the hotel were beautifully maintained with paved areas, trees and immaculate planting, with a welcoming pool area and the shady Mango restaurant, where we had breakfast. The hotel is ideal for couples who want to relax by the pool or on the beach, while having a well located base for exploring Oranjestad and all the other sights of Aruba.
The staff could not have been more friendly and helpful and they even have a dedicated Romance Co-ordinator to help you organise your beach wedding or celebration event. The Fofoti trees opposite the hotel are a favourite for wedding photos and the Passions on the Beach restaurant where we ate one evening is an incredibly romantic setting to have a cocktail and dinner as the sun sets over the ocean.
For more information, visit the Amsterdam Manor Beach resort website or follow them on Facebook, Twitter, Pinterest. Address: J.E. Irausquin Blvd. 252, P.O. Box 1302, Oranjestad, Aruba.
Visitor Information for Aruba
For more information to plan your holiday in Aruba, visit the Aruba Tourism Website or follow them on Facebook, Twitter, YouTube or Pinterest
Thanks to Aruba Tourism for hosting my week's stay in Aruba to discover the island.
More articles from Aruba
My 10 favourite things about Aruba
Our top 5 sites on Aruba
Travel With Kat: Where and What to eat and drink on Aruba
Pin It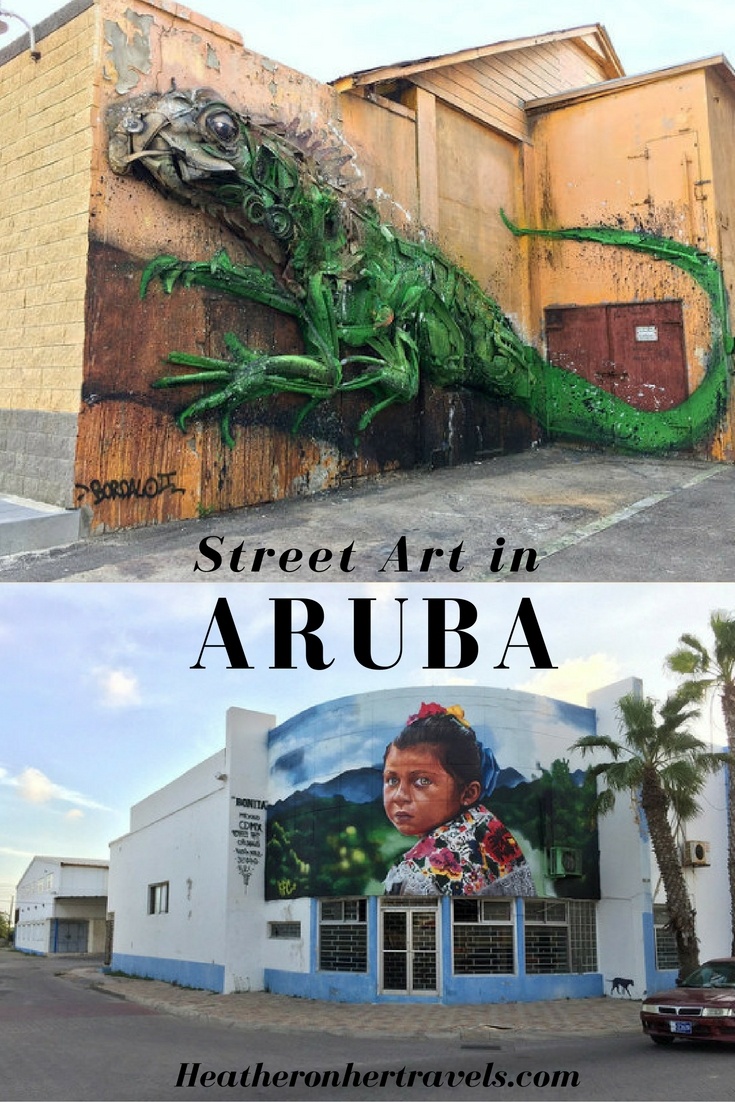 This article is originally published at Heatheronhertravels.com – Read the original article here
You'll also find our sister blog with tips on how to build a successful travel blog at My Blogging Journey
There's been a lot of talk about Hygge recently, the Danish word for those feel-good moments when you are snuggled up in front of the fire with a glass of mulled wine, or meeting friends in a café with candles flickering. If you're considering a cosy weekend getaway to feel the warmth of good food and friendship, there's no better place than Copenhagen. Read on to discover how you could win a weekend break in Copenhagen and get that Hygge feeling.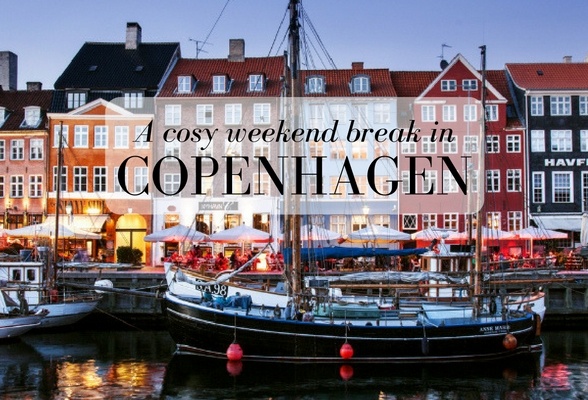 Hygge – getting cosy in Copenhagen
When it's cold and dark outside, you might like to curl up and read the bestselling book by Meik Wiking, The Little Book of Hygge, which is published by Penguin Books. It celebrates the small pleasures of life, from savouring a cinnamon bun fresh from the oven to having a relaxing meal with friends. In case you wonder Hygge is pronounced Huuu – dger with the soft dg of fudge.
To celebrate the Danish art of Hygge, Best Served Scandinavia have joined with Penguin Books and Visit Denmark to run a competition – you could win a weekend break for two in Copenhagen by answering a simple question about Hygge. The prize includes flights and two nights at the beautiful Hotel Kong Arthur in the heart of the city, enjoying a 72-hour Copenhagen Card for free public transport and admission to dozens of attractions.
You can find out more about the competition here
Winter break ideas for Copenhagen
I've been to Copenhagen a few times in both summer and winter and there are plenty of fun things to do on a winter break to get that cosy Hygge feeling. Here are just a few of my recommendations;
Stop for a bite to eat at Torvehallerne
The two Torvehallerne market halls are a buzzing place to stop and buy fresh food and lunch-time dishes. Most of the food vendors inside have some seating space and you can try everything from smorrebrod, the Danish open sandwich, to Sushi, to Paleo dishes as well as cakes and coffee from the legendary Coffee Collective. There's also plenty of fresh and deli produce if the weather is warm enough for a picnic, with outdoor seating around the glass sided halls. I always love to stock up on the moreish chocolate Lakrids or licorice balls.
See the crown jewels at Rosenborg Slot
Visit Rosenborg Castle, set in the Kongens Have or Kings Garden, a popular spot for locals to go for a walk with a romantic formal garden and moat. The castle was built in the 17th century as the summer palace of King Christian IV and later became the home of the Royal collections. The rooms are a delightful walk through Danish history and the treasury in the vaults below the castle house the impressive Crown Jewels, including crowns and gorgeous jewellery that are still worn by the Danish royal family on state occasions today.
Read more about how you could win a weekend in Copenhagen with Best Served Scandinavia
The Winter garden at Ny Carlsberg Glyptotek
The art museum of Ny Carlsberg Glyptotek is a favourite place to visit at any time of year. Built to house the art collection of brewing magnate, Carl Jacobsen, you can wander through the spacious halls full of white marble statues from Danish neo-classical sculptors. I love the impressionist galleries with works from Renoir, Van Gough and Monet including the Degas "Little Ballerina" sculpture. At the centre of the building is a winter garden with glass roof and greenery with a cafe at one side that is a lovely place for lunch. The museum is free on Tuesdays or with a Copenhagen Card.
Where to stay in Copenhagen
For a cosy place to stay for your winter break in Copenhagen, the Hotel Kong Arthur fits the bill perfectly. The hotel is set at the end of a cobbled courtyard, close to the Copenhagen lakes, in a historic building that was once an apprentice's residence. If you are lucky enough to win the competition from Best Served Scandinavia, this is where you could be staying in Copenhagen for two nights.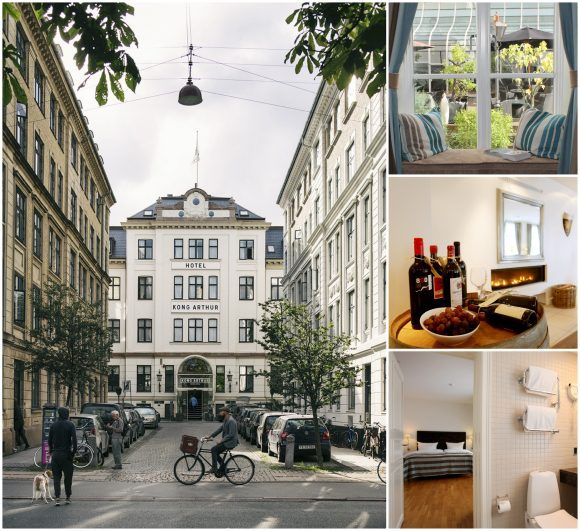 As you step inside you'll find a fire burning in winter, comfy sofas, cushions to sit in the window seat with a stack of books on the shelves. The 155 rooms are all different, but all have a sense of luxury combined with modern style. Here, the atmosphere is welcoming but informal and there's even a Cosy Hour between 5 and 6pm when guests are served a little something in the lobby.
Win a trip to Copenhagen
If you'd love to spend a weekend break in Copenhagen, enter the competition from Best Served Scandinavia, Visit Denmark and Penguin Books. The prize includes airfares, a 2 night stay at Hotel Kong Arthur and a 72 Hour Copenhagen Card for 2 people which can be taken in the next year, subject to availability.
The competition is open to UK Residents who are over 18 and closes at midnight on 31 December 2016 after which the winner will be drawn at random. All you'll need to do is answer a simple question to say which Scandinavian country the concept of Hygge is most closely associated with – that's an easy one!
Find out more about the competition here
About Best Served Scandinavia
Best Served Scandinavia is an independent, tailor-made tour operator specialising in holidays to Scandinavia. Their travel consultants have walked the cobbled streets of Copenhagen and personally stayed in the hotels they recommend, enjoyed wintry excursions and plotted their own paths on self-drive and independent tours.
To give you an idea of the holidays you could book in Denmark and Copenhagen, visit the Best Served Scandinavia site. You could find yourself on a tailor made break to Copenhagen, visiting the castles and charming towns of Jutland while staying in luxury boutique hotels, or following Denmark's Viking trail on a self-drive holiday.
Enter the competition for a weekend break in Copenhagen with Best Served Scandinavia
For more information
You'll find plenty of ideas on things to do in winter in Copenhagen on the Wonderful Copenhagen website
For more things to do in Denmark check out the Visit Denmark Website
More things to do in Copenhagen
How to have a perfect weekend break in Copenhagen
A romantic weekend in Copenhagen
10 summertime cool things to do in Copenhagen
This article is brought to you in partnership with Best Served Scandinavia
Photos by Best Served Scandinavia except where noted by Heatheronhertravels.com
Pin It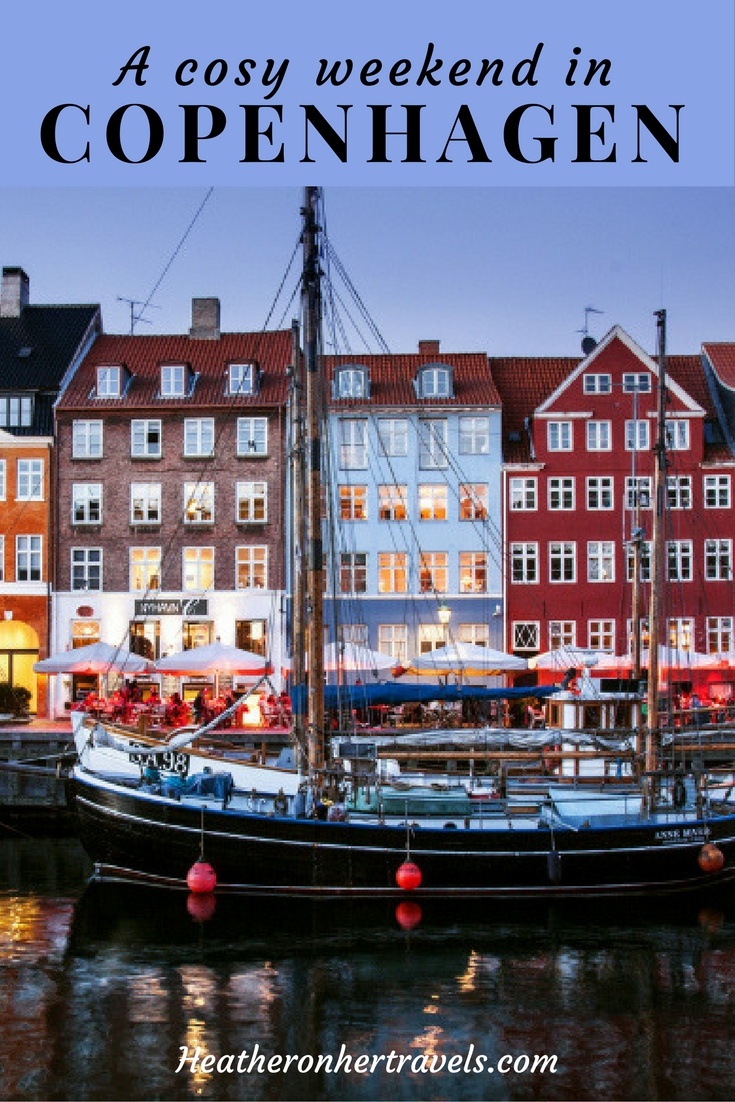 This article is originally published at Heatheronhertravels.com – Read the original article here
Living in Bristol I often get asked for recommendations on the best places to stay as well as what to do in my lovely home town. For travellers who enjoy taking short city-breaks, I believe that the choice of hotel is a big factor in how you experience a place. I prefer to stay at hotels that are centrally located, with stylish decor and a personal touch with staff who really care. I have my own comfy bed in Bristol, so I haven't stayed overnight in the hotels I'm going to recommend, but I have visited them all for one event or another and they are hotels that I would choose myself, if I were visiting Bristol.
1. Brooks Guest House – for quirky charm and affordability
This charming guest house is right in the middle of the old city, tucked down a lane by St Nicholas Market. It's a great choice if you are arriving in Bristol by coach or train since there's no parking at the hotel, but then you will be bang in the heart of things. There's a contemporary but slightly retro feel in the decor, with painted woodwork and Cole & Sons wallpaper.
The big talking points are the four shiny Rocket caravans on the roof where you can stay in a cosy twosome (and yes they do have bathrooms).  Breakfast is downstairs in the light and airy kitchen area and there's a pretty paved courtyard which is perfect to sit outside as the weather gets warmer.
Brooks Guest House, St Nicholas Street, Bristol, BS1 1UB. Check out the best prices and book for Brooks Guest House at HotelLook.com
What do do while staying at Brooks Guest House
Wander around St Nicholas Market where the Guest House is located and try something delicious from the food stalls under the glass roof. This is a favourite spot for locals to come and buy their lunch, and you can choose from a multicultural selection, from Jamaican to Portuguese hot dishes, Pieminster pies to pulled pork in a bun. Inside the Covered Market and Exchange Hall are lots of small stalls selling clothes, jewellery and a whole range of interesting things, all run by small indie businesses.
Visit Castle Park which is a short walk through the market. If the weather is fine, this is a great place to take your lunch from St Nick's market to sit on the grass overlooking the river. The church of St Peter's was bombed in the war but its shell remains as a monument and there's a sheltered herb garden and sculpture avenue next to it. There's also a children's playground tucked away on the mound beyond the church.
Watch a play at the Theatre Royal close to Queen's square, where the Bristol Old Vic Theatre Company puts on everything from Shakespeare to family shows. The theatre dates back to the 18th century and has an impressive classical facade and original gilded Georgian auditorium so it's always worth checking on the latest productions.
2. Hotel du Vin – for old school style and luxury
Housed in an old stone sugar warehouse, I love Hotel du Vin for its sense of style and old school luxury. As the name suggests, there's a wine theme going on in the Bistro restaurant, with polished dark wood, panelled walls and a French inspired menu, as well as a bar area with squashy leather sofas to relax with a cocktail or coffee.
Due to the character of the old building, no two bedrooms are exactly the same, but all are luxurious with roll-top baths or powerful showers, soft velvet furnishings and antique leather easy chairs. The hotel is centrally located in the oldest part of Bristol, and where the road now runs in front of the hotel was once the original waterfront where ships would have moored.
Hotel du Vin, The Sugar House, Narrow Lewins Mead, Bristol, BS1 2NU. Check out the best prices and book for Hotel du Vin Bristol at HotelLook.com
What do do while staying at Hotel du Vin
Walk up the atmospheric Christmas steps, to imagine how Bristol looked in the 17th and 18th century when the road in front of the hotel was part of the harbour, then check out some of the quirky independent shops. At the top of the steps there's an old Alms House and plenty of other small arty shops along Colston Street and Perry Road.
Colston Hall is just a short walk from the hotel, Bristol's main music venue hosting an eclectic mix of international performers, community choirs and pop tribute bands. An open copper foyer was added to the original Victorian building a few years ago, often hosting free live music in this space with a stylish cafe too.
Visit Red Lodge which is set on Park Row, on the hill above Hotel du Vin and the Colston Hall. It's one of the oldest houses in Bristol where you can see oak panelled Elizabethan rooms and fireplaces in the Great Oak Room, with views over the city. The wealthy merchants who once lived here would have had a grand view of their ships coming up the harbour as well as being able to take their leisure in the Elizabethan knot garden. Entry is free and the house is open from end March to end December, closed Weds/ Thurs/ Fri.
3. The Bristol – for luxurious rooms overlooking the harbour
From the ouside The Bristol may not be the prettiest of hotels – although there's something iconic about its listed 1960s facade that was originally built as a motel. Step inside and the rooms are spacious and stylish in relaxing natural tones with luxurious velvet throws in highlight shades of  plum, mushroom or aubergine.
You can take their popular afternoon tea, order some sharing plates in the Lounge or have dinner with a view of the harbour in the River Grille restaurant, with drinks in the Shore Cafe Bar next door. As there's a multi-story car park next door, this is a convenient choice for those who are driving but want a central location by the harbour in Bristol.
The Bristol, Prince Street, Bristol, BS1 4QF. Check out the best prices and book for The Bristol at HotelLook.com
What to do while staying at The Bristol
Take a Bristol Ferry Company boat from the steps opposite the Watershed Arts Centre which will take you around the harbour with lots of different stops on the way. You could get off at the furthest point for a pleasant walk back along the water or just stay on board for a mini tour which will take around 40 minutes to see harbour sights like the ss Great Britain and Underfall Yard from the water.
Just along the harbour front is M-shed, a free museum that brings to life the history and people of Bristol. With plenty of hands-on exhibits it's great for all ages and since its free, you can dip in and out depending on how long you've got. When your tummy is rumbling it's time to discover Bristol's latest foodie hub which is just next door at Wapping Wharf – a pedestrian street full of indie restaurants and bars, including Cargo – a group of food retailers housed in shipping containers.
Take the steam train or walk down to ss Great Britain – from M-shed, there's a small steam train that runs at weekends, manned by enthusiasts that will take you along the harbourside down to ss Great Britain (of course you can also walk). This historic iron steam ship was built by Victorian engineer Isambard Kingdom Brunel who also designed the Clifton Suspension Bridge and the ship was returned to Bristol from the Falklands. Now fully restored, it is one of Bristol's leading visitor attractions and a great day out for families and those interested in Bristol's maritime history.
I hope you enjoyed my mini-tour of some of my favourite places to see and stay in Bristol. If you're planning a weekend break in Bristol, do check out the best prices and book at  Hotellook.com.
Pin It
Disclosure: This article was brought to you in partnership with HotelLook.com
This article is originally published at Heatheronhertravels.com – Read the original article here