When my Maxwell Scott leather backpack arrived in the post, the smell of the leather transported me instantly to Italy, the home of the true leather artisan. Although Maxwell Scott is a British Company, they work in Tuscany with some of the best craftsmen to produce a range of handbags, briefcases and wallets that have a timeless style. These are bags that your friends will admire as the leather mellows to become an old friend. If, like me, you have a daughter with an eye for the good things in life, you may just find her 'borrowing' your Maxwell Scott bag and never giving back. Read on to find out how you can get a special 10% reader discount on this and other items in the Maxwell Scott range.
Since we were off to Venice, I had the opportunity to see how my Sparano leather backpack fared when out sightseeing in the most fashionable surroundings. I like to dress up a little when I travel so I needed a bag that would be elegant enough to compete with all those effortlessly stylish Italian women. But practicality came into it too, since as a blogger I travel with my camera and a fair bit of other gear, and need to have my hands free for photography.
Check out my video below with my Sparano leather backpack in Venice
If you can't see the video above of my Maxwell Scott leather backpack, see it on my blog here or Youtube here and please do subscribe using the button above
Click here for direct download of video
Subscribe to all my videos in I-tunes
If you enjoyed this video, check out the others in my Video archive
I chose the Sparano because the size was just big enough to carry everything I needed but still quite neat and compact, although there's a smaller Popolo backpack if you only need to carry a phone and your designer sunglasses. My daughter also had her eye on my bag and soon we were sharing it during our sightseeing excursions around Venice. If you are also tempted, check out my 10% reader discount .
Here's what Sophie-Anne had to say about 'our' Sparano Leather Backpack;
"The best thing about this bag is the fit as it sits comfortably on your back with no awkward gap between the bag and your spine and the straps do not dig in – areas where other bags have failed. It is clear that this is a high quality product shown by the beautiful leather, lining and overall design. Invaluable when travelling, this bag can go from airport, to day, to night, to activities, to strolling around town. The classic style also makes it easy to pair with any outfit a fashion concious individual might have in mind."
Since Venice is such a tourist hotspot you do need to keep an eye on your valuables, and I liked the fact that there was a neat outside pocket, but also a secure zipped inside packet to tuck away your purse and phone. The bag took me all around town with room for my guidebook, camera, a bottle of water and a few other blogger necessities.
Maxwell Scott is based in York and sells the bags exclusively through their online store. Their understated but stylish designs are crafted in their factory in Tuscany using the finest hides, zips and fittings and the bags have a 25 year guarantee. Orders over £100 have free delivery in the UK but don't worry, they also ship worldwide.
10% Reader Discount (limited time only!)
I've teamed up with Maxwell Scott Bags to offer a 10% reader discount on all their bags and other items. Just click on this special link; http://bit.ly/handbag10 that will take you to the Maxwell Scott Website and the 10% discount will be automatically applied when you add any items to your basket. The reader discount is for a limited time only until 16 August 2015.
About the Maxwell Scott Sparano leather backpack
The Sparano leather backpack costs £202 and may be ordered from the Maxwell Scott Bags website here. It features a draw string opening, a large polyamide interior with a rear zipped pocket and a small external zipped compartment and adjustable shoulder straps. The bag comes in 3 colours of vegetable tanned, full grain Italian leather; Night Black, Classic Tan and Dark Chocolate. We also loved the smaller Popolo backpack which is ideal if you are looking for a neater bag to carry just the essentials and don't have to consider space for cameras like me. Click here for my 10% reader discount before 16 August 2015.
If you are visiting Venice….
We highly recommend Walks of Italy who offer a number of different tours in  Venice and other parts of Italy, which are ideal if you are only visiting for a short time. You'll have an expert local guide to show you around and can often skip the queues at key sites. We took the 2 hour Venice Boat Tour which took us down the Grand Canal and many of the smaller canals with views of the key sites of Venice including a visit to the island of San Giorgio Maggiore where we climbed the bell tower with amazing views of Venice. Read my review of the tour here.
Looking for somewhere to stay in Venice?
For our 3 day stay in Venice I rented an apartment with Go with Oh and was able to use the €250 voucher that I won with Passports with Purpose blogger fundraiser. We chose this apartment in the San Marco district since it was so well located for all the main sites.
Thanks to Murissa from The Wonderful Traveller who hosted this prize contributed by Go with Oh and and for her tips on what to see in Venice. Passports with Purpose is a really worthwhile organisation which supports a different cause each year and you can win some really fabulous prizes so it's definitely participating.
Pin It!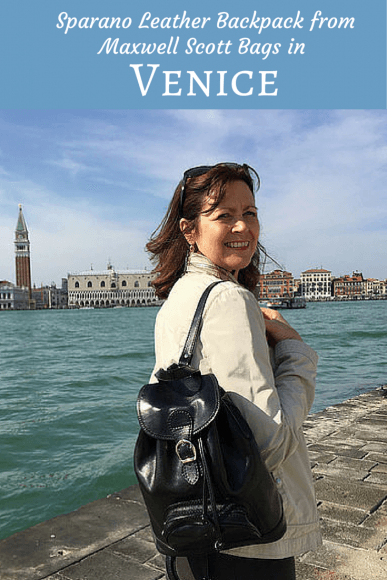 This article is originally published at Heatheronhertravels.com – Read the original article here
You'll also find our sister blog with tips on how to build a successful travel blog at My Blogging Journey
July 22, 2015 by Sophie-Anne Cowper
Filed under Art and design, Beaches and swimming, Copenhagen, Denmark, Eating and drinking, Europe, featured, Leisure, Museums, Shopping, Sightseeing
On my recent visit to Copenhagen, I enjoyed the company of my daughter, Sophie-Anne, who shares her tips for things that mums and daughters can enjoy together in Copenhagen.
Unless you are travelling alone, there will always be a difference of opinion on what to do and see. One art lover's Picasso museum is another girl's prison, so it can be hard to find a balance. This is certainly true of different ages, and although I am probably going to end up as my mother at the end of my road to adulthood, for the time being we have varying opinions on a day well spent.
Last summer my whole family went to Copenhagen and the trip was a great success, with every family member enjoying the Danish capital. This summer my mum and I returned for a girl's only trip leaving the boys at home to the British rain. Just like last summer it was easy to find things to do that we would both enjoy as there are so many cool trendy neighbourhoods of Copenhagen. Here are some of the things in Copenhagen that we both enjoyed;
Tivoli Gardens
Tivoli amusement park is beautiful and not tacky! Repeat, not tacky – a rarity in the world of amusement parks! Like most Danish things, it is tasteful and quirky (it has the most adorable little houses for the ducks on the lake). However, it still earns its title as an amusement park and has all the theme park rides to amuse those who dare to try them out. Last year my brothers and I dared to go on all the biggest rides while my dad and mum lounged about admiring the beautiful gardens. You can also go to Tivoli in the evening when it is all lit up or watch ballet on the Pantomime Theatre stage.
Sculpture at Ny Carlsberg Glyptotek
I loved the sculpture museum at Ny Carlsberg Glyptotek, perhaps for more sentimental reasons than my mother. My grandmother bought me children's books based around famous art pieces, and one in particular 'The little ballerina' was my favourite. It was based on Degas' little ballerina statue and his ballet paintings. Like most little girls I was enchanted with the whole ballet world so adored the book and was madly in love with Degas' ballerinas and the little ballerina statue. I finally managed to see the statue at Ny Carlsberg Glyptotek, which was a real treat for me, and of course all of Degas' other beautiful paintings. There are lots of statues that are amazing, and also paintings upstairs showing a range of artists such as Gaugin and Picasso. There is also a lovely café in the museum for a culture break.
Shopping on Strøget
Now what would a girl's holiday be without shopping? The Danish girls are all so stylish that it would be a crime (in my very female eyes) not to visit the shopping street of Strøget. Illums Bolighus is my favourite, a beautiful department store which most people can find a section to nestle themselves into. Also handy that it is located next to the Royal Copenhagen store, so I can let my mother wander off to look at the teacups, saucers, plates and then catch up with her for the 5 minute china tour as opposed to a 45 minutes tour. Georg Jensen is also a must see with beautiful silverware and jewellery – I've got my eye on the daisy bracelet and my mum on the grape ring.
Swim in the harbour
If you are visiting in summer I urge you to go and swim in the harbour at Islands Brygge, where you can mill around the locals on the grass enjoying the sun. Part of the harbour is enclosed for the public to swim, with lifeguards, a children's pool and a diving area next to a grassy area which creates a lovely ambiance and relaxing vibe in the middle of the busy city. And best of all it's free to go! It would be easy to take a picnic on your bike and sit on the grass and let the day roll past slowly.
Cocktails in Copenhagen
Both my mum and I love cocktails, which is also true of all the other girls among my cousins and aunts. I love sitting in a beautifully decorated bar with my mum sharing a few exquisite cocktails. We visited Lidkoeb, which was a gorgeous cocktail bar with well picked furnishings. I asked for the most popular cocktail, which the friendly bartender informed me was usually anything with ginger in as the Danes love it – a perfect fit for a fellow ginger lover. My mother had the Kolonihaven with geranium gin, cloudy apple and cucumber juice which was also delicious.
We were also lucky to visit the very V.I.P whisky bar at the top with table service only and the finest whiskies from around the world. In Copenhagen there is plenty of choice for a nice evening drink around Copenhagen, such as sitting on the Nyhaven canal, heading to the meat packing district in Vesterbro or crossing on the ferry to Paper Island where Copenhagen Street Food has all varieties of street food served from trailers.
Eating out in Copenhagen
Any student will tell you that one of the biggest perks of travelling with a parent is a bill being paid for. This means you can have a real drink and not just tap water, and you have full range of the money choices instead of just the ones under £10.
In Copenhagen my mum and I ate in the amazing uFormel restaurant which is new Nordic cooking, very modern but out of the student budget. The restaurant menu has a range of small plates, with the idea that you order a few, and they come out in order like a 3 course meal. I had the ceviche – a trip down memory lane from my South America trip and a plate of the most amazing tender lamb! Both were delicious and strayed into adventurous eating, which was perfect for me as I hate going to a restaurant only to find the menu comprises of things I could cook at home myself. (Read the review of uFormal from Alex Berger who joined us for dinner)
In complete contrast we also visited the Urban House in Vesterbro which has a hot dog bar, with lush hot dogs smothered in various delicious toppings. Although my mum tends to find such places by herself these days, it can be a delight when the kids introduce those above them in the family tree to the new modern crazes or places they otherwise wouldn't visit.
More things to do in Copenhagen
Which Copenhagen district to choose for a City Break – a guide to the city's neighbourhoods and best places to stay, from up and coming Vesterbro to classy Frederiksberg
Light, Air, Water – finding a healthy holiday in Copenhagen – healthy tips for rest and relaxation on your spa break by the sea in Copenhagen
10 summertime cool things to do in Copenhagen – rent an apartment to live like a local and enjoy the summer in Copenhagen
Visiting Copenhagen
For more information about things to do in and around Copenhagen, check out the Visit Copenhagen website as well as the Visit Denmark website for other parts of Denmark.
Heather and Sophie-Anne flew with Scandinavian Airlines from London Heathrow to Copenhagen. SAS fly several times a day to and from London to Copenhagen giving you a choice of times to make the most of your time in Copenhagen. On arrival take the train direct to the centre of Copenhagen.
Heather and Sophie-Anne used the Copenhagen Card which covers free public transport around Copenhagen as well as free or reduced price entry to many of the attractions in and around Copenhagen.
Pin It
Thanks to Wonderful Copenhagen and Visit Denmark who provided some of the experiences mentioned and to SAS who provided Heather's flight. This article was brought to you in partnership with Wimdu.
This article is originally published at Heatheronhertravels.com – Read the original article here
You'll also find our sister blog with tips on how to build a successful travel blog at My Blogging Journey
May 6, 2015 by Heather Cowper
Filed under Art and design, Beaches and swimming, Costa Brava, Eating and drinking, Europe, featured, Gardens, Leisure, Sightseeing, Spain
Lloret de Mar on the Spanish Costa Brava is a holiday resort that holds a certain memory for many UK travellers. "That's where I went for my first holiday abroad!" exclaimed my mother, now in her 70s, who visited on a coach tour in the early 1960s when she was a young nurse and Lloret was a pretty fishing village. In more recent years Lloret has gained a reputation as the place for a cheap holiday in the sun and while my son and his girlfriend had both been there on sports tours, neither of them seemed to spend any time playing sport! It seemed that everyone knew of Lloret de Mar, but perhaps for all the wrong reasons.
Towns like Lloret de Mar and Tossa de Mar expanded quickly in the tourist boom of the 1960s when many of the elegant mansions that lined the sea front were demolished to make way for multi-storey apartment blocks. This was a town that in the 19th century prospered from the wealth of those who left to seek their fortune in Cuba and returned as Los Americanos – the ones who had made it big in the Americas.
The Museu del Mar
Curious to discover more about the old Lloret de Mar, I visited the Museu del Mar on the seafront, one of the few remaining old houses on the seafront that was built by one such Americanos who had made his fortune in Cuba, which now tells the story of Lloret de Mar. The rooms of the museum were beautifully decorated with painted panels in green, red and yellow and coloured floor tiles from Valencia laid in intricate patterns.
Our guide Joaquim showed us around the museum and explained how the 'Cabotage' trade up and down the Spanish coast had expanded after 1778 when direct trade across the Atlantic was allowed from Lloret de Mar. The beaches that are now enjoyed by sunbathers and families were used at that time as shipyards to build the ships that would cross the Atlantic to bring back rum, sugar, coffee and tobacco.
In the 19th century many people from Lloret emigrated to the Spanish colony of Cuba, often at the age of only 13 or 14, to join relatives who would give them their first job. They set up small bodegas or import export businesses and those that made their fortune would return to Lloret de Mar to build fine houses in the town and marry local girls. The term Americano or Indiano was given to a rich man who had made his money abroad, but if any returned without making money it was joked that they had 'lost their suitcase in the straits of Gibraltar'.
The Daiquiri Cocktail – the drink of Lloret de Mar
Another tradition that originates with the Cuban connection is the Daiquiri cocktail which is now considered the cocktail of Lloret de Mar. The drink was invented by Constanti Ribalaigua who emigrated to Cuba from Lloret in 1914 and opened the Floredita bar in Havana. The bar became the fashionable place to drink, with the stars of the day such as Gary Cooper, Ava Gardner and Ernest Hemingway coming to drink their daiquiri. When you're in Lloret you can pick up a tapas and daquiri guide to all the bars in town where the cocktail is served or view it online here and I enjoyed my daiquiri cocktail at a special demonstration by Lloret's most famous cocktail maker, Manuel Casademont of Bar Hula Hula.
Around the historic centre of Lloret de Mar
My exploration of the old Lloret de Mar continued as I wandered along the sandy promenade of Passeig Jacint Verdaguer that was being used for a petanque tournament, reaching the neo-classical town hall. In the square set behind the promenade was the 16th century parish church of Sant Roma, its fortress-like stone tower in contrast to the colourful modernist style of the side chapel beside it, built in 1916 with decorative turrets and domes.
Continuing my walk along the promenade I climbed up to Dona Marinera or Seafarer's wife sculpture, which represents all those women who looked out to sea for their menfolk, the fishermen or those who had gone overseas to make their fortune. If you are at one of the summer festivals in Costa Brava you may catch a performance of the Havaneros, the mechancolic songs named after the capital of Cuba and sung by those who were missing their loved ones across the ocean.
From this viewpoint I could look across the bay towards the small d'en Plaja castle built in 1935 as a neo-gothic folly and now one of the most photographed landmarks of the town. Turning away from the apartment blocks of the main beach I skirted the headland to discover a rocky coastline with turquoise water, much more the 'wild' Costa Brava coastline I'd been hoping for.
The Santa Clotilde Gardens
I had planned to continue along some cliff path but here the path ran out, so I used the map on my phone to guide me for a 20 minute walk through residential areas, until I reached the gardens of Santa Clotilde. This was truly a different side of Lloret de Mar, a tranquil green haven with terraces and sea vistas,  interspersed with statues, pools and fountains. The gardens were commissioned in 1919 by the Marquis de Roviralta, named after his wife Clotilde, and his family still use the house overlooking the sea as a holiday home although the gardens are now maintained by the town council.
The garden was made in the Italian renaissance style with formal hedges and shrubs, punctuated by the tall columns of cyprus reaching for the sky. All the steps were fringed with ivy and beautiful sculptures graced the steps and terraces, with bronze mermaid statues created by sculptress Maria Ilimona Benet. From the top of the garden we walked through the pergola dripping with wisteria and down the pathways until we were overlooking the beach below, which can be accessed from a path near the entrance to the garden.
I noticed that there are other gardens in the area such as the Pinya de Rosa Botanical Gardens and the Marimurta botanical gardens which can be reached on a garden route of bus, tourist train and the boat that runs between Blanes and Lloret de Mar. Take the bus from outside the Lloret town hall and buy a combination ticket that covers both the transport and the garden entrance. The Lloret card which you can buy in town also allows free entrance to the Santa Clotilde Gardens as well as several other museums including the Museu del Mar.
On my walk through Lloret I felt I'd discovered a different side to the town, the connections with Cuba that have shaped the town and the beautiful wild coastline. Personally I'd avoid the bright lights of the nightclubs and take the time to explore beyond the obvious, and of course drink a daiquiri or two to remember the 'Americanos' who brought their fortunes back to Lloret.
Where to stay in Lloret de Mar
While in Loret de Mar I stayed at the Evenia Olympic Palace Hotel where the TBEX travel blogger's conference was being held. The hotel is part of a large resort complex comprising 4 hotel buildings with large pool areas and had excellent conference facilities. Although I typically prefer smaller boutique hotels, I was pleasantly surprised by my spacious and well furnished room with a modern bathroom and seating area.
The hotel is set in a residential area, around 20 minutes walk from the seafront and the food we ate as part of the conference was excellent. The other guests were mainly French families, and I would recommend this hotel for families looking for a good value sunshine break in Lloret de Mar. The rate for rooms in May and June starts from around £60 per night.
For boutique luxury – Hotel Sant Pere del Bosc
I also visited the gorgeous Hotel Sant Pere del Bosc which is set in the hills above Lloret de Mar for drinks and dinner as part of the conference, although I did not stay there. The hotel was originally a monastery but was bought in the early 1900s by Nicolau Font, a wealthy local businessman who had made his fortune in Cuba. When he returned to settle in Lloret de Mar, he added the chapel, tower and the house which was opened as a restaurant and boutique hotel in 2000.
We were treated to the amazing specialities of the hotel including smoky grilled mussels and creamy potato soup topped with smoked caviar, which were created on a special 'gastro-grill' that we were shown in the hotel kitchens. Each of the individually designed hotel rooms is themed after a notable woman and I especially liked the Diane Fossey room which had antique leather furnishings with an 'out of Africa feel' together with an amazing sink shaped from a piece of polished wood. The hotel is set above the town in an area of protected woodland so you'll either need a car to get up the gravel road or take a taxi and then stay put for a few days enjoying the peace and natural beauty. This is just the kind of hotel I'd love to relax with my husband for a romantic getaway.
Visitor Information for Lloret de Mar and the region
For more information on things to see in and around Lloret de Mar, visit the Lloret de Mar website  | Twitter | Facebook | Instagram
For information on the Costa Brava coastal region around Lloret de Mar visit the Costa Brava website | Twitter | Facebook | Instagram
For information on the wider Catalunya region including the Pyrenees visit the Catalunya website | Twitter | Facebook | Instagram
This article is originally published at Heatheronhertravels.com – Read the original article here
I visited Lloret de Mar as part of the TBEX blogger conference and some of the experiences described were provided by the tourism board as part of the conference.
You'll also find our sister blog with tips on how to build a successful travel blog at My Blogging Journey