One of my favourite weekend getaways is to go walking along England's unspoiled coastal paths. Those sea views, wind and fresh air seem to blow away the cobwebs and leave me rejuvenated to tackle the challenges of daily life. My sister lives on the couth coast, so I was interested to see that Eastbourne have teamed up with TV presenter Michaela Strachan to highlight some of their food, culture and coastal walks.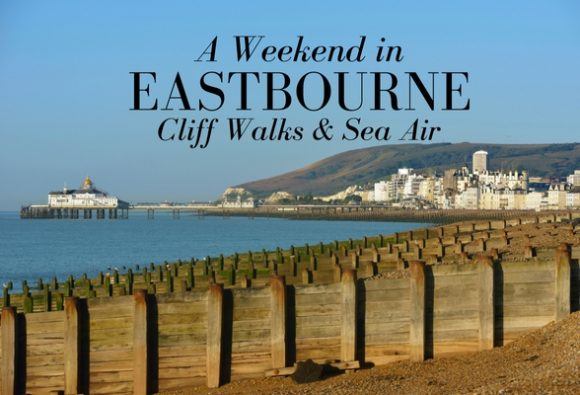 They have a great series of videos which will inspire you with ideas for your next weekend break, if you'd like to breathe in some of that fresh coastal air. You can explore Eastbourne with Michaela Strachan and watch more videos like the one below.
If you can't see the video above, watch it on YouTube here
Eastbourne makes the perfect base for an out of season weekend break, with an unspoiled Victorian seafront and 300 metre long pier that was completed in 1872. With colourful beach huts, fish and chip shops, a Victorian tea rooms as well as a wide range of restaurants and cafés, Eastbourne seems to bring back the nostalgia of all those childhood holidays sheltering behind the windbreak, pestering Dad for a 99 ice cream – with flake of course!
At the western end of the seafront you'll find Holywell beach, which is set at the foot of the South Downs, with a popular café and pretty Italian gardens. At low tide the rock pools are revealed, teeming with marine life, so you may want to bring your wellies and fishing nets to catch a few crabs. From the Sovereign Harbour, with its large marina, you can take boat tours along the coastline, for fishing, diving and to see the famous lighthouse at Beachy Head.
For me, one of the biggest attractions of Eastbourne is its access to the South Downs National Park and the walks up onto the cliffs at the start of the South Downs Way. I've walked the Winchester end of this long distance path with my sister but would love to do the whole thing, with breathtaking views over the English Channel. A walk up onto the cliff tops will soon bring you to Beachy Head (it's also accessible by bike, car or open-top bus tour) with those iconic white cliffs and the striped Beachy Head lighthouse.
A little further along the cliffs you'll reach Birling Gap, an unspoiled pebble beach enclosed by cliffs, where the low tide exposes rock pools and marine life – it's a marine nature reserve. The beach is managed by the National Trust and there's a visitor centre, shop and café, so it's a good place to stop and admire the white chalk cliffs of the Seven Sisters.
If you have a few days to spare you might continue your walk along the South Downs Way, through an unspoiled English landscape of rolling hills and picturesque villages, ending a hundred miles later in Winchester. For our weekend break we might just continue as far as Alfriston for lunch in a country pub or refeshment of afternoon tea, before we head back to Eastbourne.
Giveaway
If this taste of Eastbourne has inspired you to get out and breathe in some fresh air, why not enter my giveaway in partnership with Discover Eastbourne. You could win a £100 Ultimate Gift Card which can be used to buy some great outdoor brands including Berghaus, from stores like Blacks, JD, Scotts, Millets and Tessuti. The giveaway ends on Thursday 1 December. To enter you need to:
Watch the video in this post and leave a comment below this post to say which attraction/sight featured in the video you'd most like to visit.
For additional chances to win you can;
The giveaway has now ended – thanks so much to all who took part
Disclosure: This article is brought to you in partnership with Visit Eastbourne
Pin It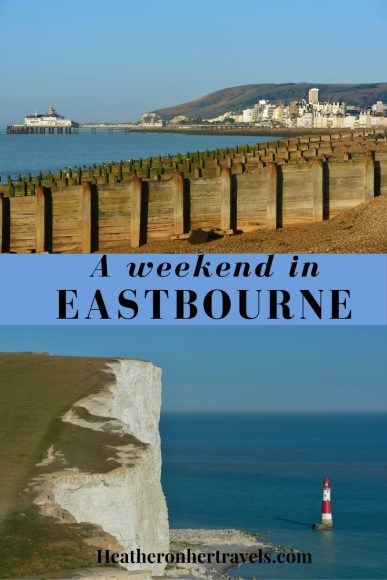 This article is originally published at Heatheronhertravels.com – Read the original article here
November 12, 2016 by Heather Cowper
Filed under Europe, Accommodation, Leisure, featured, Beaches and swimming, Camping, Cycling, Italy, Nature, Venice
Among all the available destinations in Italy, Venice is the queen of holidays in Northern Italy. Everybody knows Venice: the intricate and fascinating maze of streets and canals, the beautiful Grand Canal, the ancient palaces… But who knows about Venice Lido?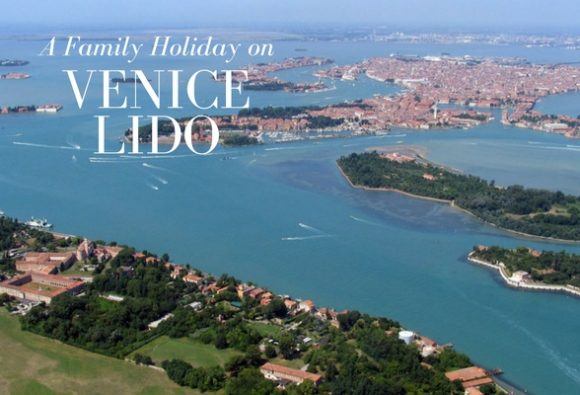 The Venice Lido (Lido di Venezia) is the beach of Venice: a 7-mile long island in the lagoon of Venice, a famous place which, from the late 19th century, became the favourite destination for the luxurious holidays in the lagoon of wealthy families, thanks to the majestic hotels facing the beach that characterize the promenade of the island. You may remember Thomas Mann's famous novel Death in Venice, which takes place in one of the historic hotels of the Lido. The drama and allure of those nostalgic locations still echoes in the minds of who have loved this authentic masterpiece of the twentieth century.
A family friendly place to stay
Nowadays Venice Lido is still an enchanting place, yet family friendly to all those who want to spend a holiday in Italy with the whole family. Of course, one of the major assets of this island is its connection to the main city of Venice. An efficient local service of ferry boat between Venice Lido and Venice main city is available daytime and at night for you to move freely and set out to discover all the interesting sites of the city. If you want to save some money, take advantage of the transport tourist cards, which allow you to move around the city at convenient rates.
Days on the beaches of Venice Lido
Moving back to Lido, this is a lovely seaside resort to spend relaxing beach holidays with the whole family. Worth discovering are the areas of "Alberoni" and "San Nicolò". These beaches, located at the two end parts of the Lido, offer amazing landscapes and a great place to bathe and relax. Alberoni is an oasis of raw beauty, characterized by sandy dunes that overlook the sea. This wild beach is perfect if you want to escape from the rush of modern seaside resorts and experience the contact with authentic nature. Within a few minutes walk from Alberoni, it is possible to see also the Murazzi, the impressive stone dam built in order to protect the banks of the lagoon from the sea erosion. Here you can enjoy a relaxing walk and admire original sculptures made of poor materials like wood, branches, old clothes and fishing instruments, which make the view of this place even more enjoyable and interesting.
Bike rides from Venice Lido
And if you like bike rides, Venice Lido is the perfect place! From here starts an itinerary that leads you to the islands of Pellestrina and to the coastal town of Chioggia, by means of a water transport service among the islands.
The island offers also a whole variety of typical bars and restaurants where you can taste the local cuisine or sip a glass of wine. You can even find a special sandwich shop…on a bus! A typical double decker bus transformed in a kiosk where you can try a whole lot of different and tasty sandwiches!
The Venice Film Festival in Venice Lido
If you visit Venice Lido at the beginning of September, don't forget about the Venice Film Festival! The famous Venice International Film Festival is the oldest film festival in the world. Founded in 1932, the festival takes places every year at the beginning of September, and it is recognized worldwide as a symbol of culture for the quality of its jury and for the films competing for the Golden Lion. If you are cinema enthusiasts, you cannot miss it! Just remember to book your holiday in Venice Lido in due time, because during the days of the festival, the Lido becomes the centre of the world!
Where to stay in Venice Lido
You will be wondering where to stay in Venice Lido. A nice solution for a fun family holiday is provided by Camping San Nicolò. This camping site provides 5,000 square meters of lush gardens, a haven of peace where you can stay with the whole family and take advantage of a wonderful location at convenient rates. With its strategic location, Camping San Nicolò is the perfect place to both explore the Lido and reach Venice City Centre. The campsite provides all the services for a comfortable stay: hot and cold showers, playground for the children, washing machine, internal parking, caravan and tent rental, and much more.
How to reach Camping San Nicolò
The campsite is easy to reach: from the train station of Venice Santa Lucia you can take the city water bus heading to the Lido. From the last stop, you can then take the bus of the island, which will bring you to the camping in a couple of minutes. And if you come by car to Venice, from the Tronchetto terminal you will find the car ferry departure to the Lido.
Photo Credits: Photos by Camping San Nicolò except: Beaches in the Lido by Michael Dawes, Murazzi on Venice Lido by Antonio Fassina , Cafe bus by Gordon Baxter
This article was brought to you in partnership with Camping San Nicolò on Venice Lido
Pin It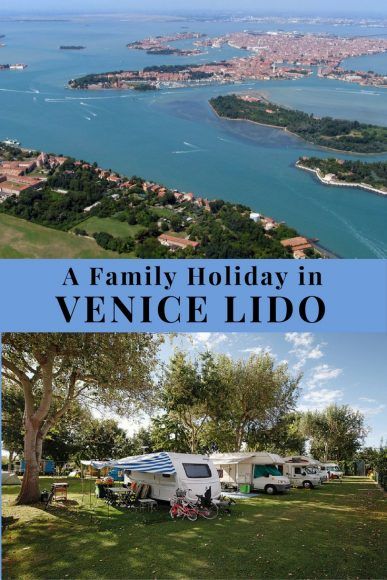 This article is originally published at Heatheronhertravels.com – Read the original article here
If you had to choose three words to describe the Caribbean island of Aruba, what would they be? My three words would be; Warm, Colourful and Cosmopolitan. Of course, you'd expect it to be warm, being in the Dutch Antilles and close to the coast of Venezuela. You'll be welcomed with unfailing warmth too – not for nothing has Aruba adopted the slogan of "One Happy Island'. There's colour not only in the houses painted blue, yellow, pistachio and pink, but unexpectedly in the street art murals that we found in San Nicholas, created for the recent Aruba Art Fair.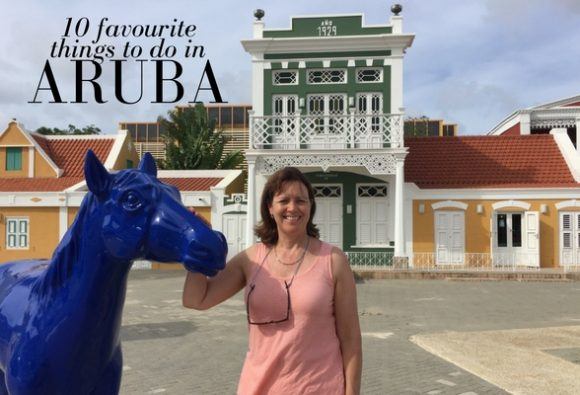 This was my first visit to Aruba and I discovered an island that is well developed for tourism, with plenty of hotels and apartments concentrated along the sandy beaches west of Oranjestad and a sophisticated restaurant scene. There's also a cosmopolitan mix of cultures, with most locals speaking several languages; typically Dutch, English and Spanish as well as their own language of Papiamento.
Tourism is an important part of the island's economy and with visitors outnumbering the locals, it took me a while to put my finger on what makes Aruba unique and different to its Caribbean neighbours. My week in Aruba took me from designer shopping malls to the prickly beauty of Arikok National Park, from the white sand beaches of the south to the black volcanic rocks and crashing waves of the northern shore. Here are some of the favourite memories and experiences I took home from Aruba.
1. The white sand beaches of the southern shore
Well you can't come to the Caribbean without talking about the beaches. It's the white sand beaches and all-year-round sunshine that keep visitors coming back, to escape the cold weather back home. While we were there, a hurricane was battering the Florida coast, and while Aruba had escaped with just some rain showers, storms out at sea had washed piles of seaweed onto the famous white beaches. Admittedly we weren't seeing them at their best, but by the end of the week the beaches had been practically cleared of storm debris and were back to normal.
One of the beach spots I enjoyed most was in front of the Moomba Beach Bar where we spent the afternoon paddleboarding and also had a delicious seafood lunch on the verandah restaurant at Nos Clubhuis. It's part of Palm beach, a broad strip of sand, backed by hotels and apartments, with plenty of places to stop for a snack and drink and also a centre for watersports.
Eagle beach, right in front of the Amsterdam Manor Beach Resort where we were staying was another favourite, with two of the famous fofoti (also known as divi divi) trees growing on the beach, a popular spot for wedding photographs. Since the beach was just across the road from the hotel, I was able to enjoy it at all times of the day, from the pastel pink sunrise to the golden sunset. As dusk fell, the hotel set out tables for its beach restaurant, Passions on the beach, where we had an elegant dinner looking out to sea with the sand under our toes. Baby Beach, close to San Nicholas is another popular beach, especially for families and there is hardly any development around the beach, but I found the view of the refinery in the distance somewhat detracted from its charm.
2. Aruba's wild northern shore
My favourite beaches were actually on Aruba's wild northern shore, where there is hardly any development at all. The waves here are pretty rough so it's inadvisable to swim unless you take local advice or are there for the surfing. You need a car, preferably a 4 wheel drive, to visit this part of the island but there are also plenty of jeep safaris that will take you around to see the beaches and main sites.
Our tour took us first to Ayo rock, a cluster of boulders that looks as if a giant dropped a random pile of rocks in the middle of the countryside. It's free to enter the fenced enclosure that surrounds them and look at the cave paintings nearby. Most visitors probably just stop to take their photo from a distance but there are trails that lead up through the boulders. I would have headed off from the group to explore them more fully but had a sudden 'Picnic at Hanging Rock' premonition that I might get lost wandering among them.
We continued by car to the Bushiribana ruins of an old gold mine which you can climb up onto for a view over the sea. Gold was discovered here in 1824 and this was the site of the old smelting works built in 1872 but only in use for a decade before it fell into disrepair. On the same stretch of coast is a rock arch known as the Natural Bridge, although the larger of the two arches collapsed in 2005, and I found the wild landscape and waves crashing on the shore more of an attraction than the sea arch itself.
3. Aruba's sophisticated restaurant scene
As I love to try local flavours when I travel, I was impressed by Aruba's varied and sophisticated restaurant scene. We were visiting during Eat Local restaurant week when many of the island's restaurants have good value menus with lunch at a set price of $15 and dinner at $30 or $40. I mainly chose the seafood options, with plenty of grilled fish such as Mahi Mahi served with Pan Bati, the local pancake style bread. At Nos Clubhuis I loved my starter, a bowl of chunky ceviche and at Driftwood, decorated with fishing nets and driftwood, we would have been served the fish that we'd caught while Deep Sea Fishing, but sadly we came back from that fishing trip empty handed.
While there were plenty of different eating options in Oranjestad and Palm Beach, one place that stuck out for the local character with Charlie's Bar in San Nicolas. The bar had been run by three generations of Charlies, was stuffed full of paintings, memorabilia and bric-a-brac, much of it contributed by customers over the years and served an excellent plate of giant shrimp for lunch. For elegant poolside ambiance, we ate at White Modern Cuisine, situated in the Gold Coast Clubhouse, where the chef uses local seafood but incorporates Asian flavours in some of the dishes.
For healthy daytime snacks we stopped at CRAFT at Palm Beach where the coffee was excellent and I ordered a fruit bowl as a late breakfast after our yoga session. At Garden Fresh Cafe, where I had an Asian Delight wrap and Blueberry Booster smoothie for lunch, I could practically feel the pounds falling off my waistline as I walked through the door.
Finally if you need a place to stop for breakfast, or a snack as you drive around the island, I'd highly recommend the Huchada Bakery in Santa Cruz. With yellow walls and blue painted shutters it has the ambiance of a traditional Aruban house and serves the tasty Aruban breakfast snack of pastechi (filled pastries), as well as coffee and fresh juices.
4. The coloured houses of Aruba
As we drove around the island I noticed how Aruban houses were often painted in bright colours – yellow and blue were especially popular but I saw many other rainbow shades. On our final evening we had the pleasure of dining with a local family who showed us around their traditional style house. At the front of a typical Aruban house, runs a long room that is used to greet guests, while the family living room and bedrooms are behind this in the main part of the house. The back or front of the house is normally oriented towards the prevailing winds to allow natural air conditioning as the wind can circulate from one side to the other.
In Oranjestad much of the architecture is modern but there are a few older houses painted in vivid colours, with ornate plasterwork to decorate the windows and doors. I enjoyed walking along the road beside Fort Zoutman and into the main shopping area behind the Renaissance Mall where the Dutch colonial style had been used above the shops in pretty pastel shades.
5. History and culture around Oranjestad
While in Oranjestad, it's worth looking beyond the branded fashion stores to discover something of Aruba's history. The Archaeological Museum is housed in a most photogenic set of old buildings, which were built in the late 19th century, and it's free so worth popping in. You'll learn about the melting pot of nationalities that went to make Aruban society, from Amerindian to Spanish colonisation, overlaid with Dutch and English trading influences.
Also in the centre of Oranjestad, on a street that once formed the original waterfront, is the Historical Museum, housed in Fort Zoutman. The fortress was built in 1796 for defence against English attack and the tower was added in 1868 as a lighthouse, later becoming a clocktower. We attended an evening display of music and dancing called the Bon Boni festival which is held here weekly and I enjoyed the museum's exhibition about traditional weaving which changes a couple of times a year. Did you know that the weaving of straw hats was an important source of income for many families in the past? On show were colourful artworks inspired by the theme of weaving by contemporary local artists like Vanessa Paulina who we later met in San Nicholas.
6. Street art in San Nicholas
Further down the coast from Oranjestad is San Nicholas, Aruba's second largest town with the island's oil refinery. If you're looking for a more authentic Caribbean vibe you'll find it here, but since the oil refinery closed in 2009, there's also a feeling of a place that has seen better days. One thing that is putting San Nicholas on the map again is the street-art that covers many of the buildings, as a result of this year's Aruba Art Fair.
We met with artist Vanessa Paulina who has been commissioned to create a mural on one of the buildings and took us into the art centre for a painting workshop. I chatted to Tito Bolivar, the Aruba Art Fair organiser and owner of the ArtisA Gallery (stands for Art is Aruba) about the project which took place for the first time in September 2016.
As well as inviting local and international artists to work on the murals, the three day festival included stalls for local artists to sell their work, an exhibition in the art gallery, a music and dance festival and a culinary competition where teams of chefs created an original desert inspired by a piece of art. Being from Bristol, where Street Art is a big deal I really loved all the fabulous murals around the town and would definitely recommend visiting San Nicholas to see them for yourself. While in San Nicholas, you might also consider popping into Charlie's Bar for lunch, for even more local colour.
7. Getting active on the water
If you enjoy watersports you'll find no shortage in Aruba and the first thing I spotted when we arrived on Moomba beach was someone being shot scarily high above the water on a Jetpack attached to the Jetski. We were there to try our hand at paddleboarding, a first for me, under the expert instruction of Denis from Aruba Surf & Paddleschool. Dennis showed us how to start by kneeling on the board and then slowly stand up while keeping our balance to avoid an undignified dunking. The paddling and balancing required a surprising amount of core strength and I'm sure that if I did it long enough my body would become lean and toned like all those bikini girls in the brochures. For now I was just concerned about not falling in, and managed to make it a decent way out before turning back towards the safety of the beach.
We also tried Deep Sea Fishing while we were in Aruba and the idea of spending an hour or two catching our dinner sounded like a good one in theory. However, I have to admit that it was not my favourite activity as the constant swell just made me feel queazy and I spent most of my time hardly daring to move from the back of the boat. Much more pleasurable was the early morning yoga session on the beach with the graceful Maria from Cacao Yoga. While I was useless at the yoga poses I did enjoy gazing alternately through the leafy branches above us or out to the ocean beyond.
8. Tasting the edible plants of Aruba
One of the highlights of my week on Aruba was meeting Frank Kelly, a.k.a. Taki the Forager. We found him on one of the wild north coast beaches, for a deliciously refreshing cocktail made of avocado and basil topped up with sugar, water and a splash of lime – and of course an optional slug of rum. Cactus tempura is one of Frank's specialities, but for us he produced a colourful basket of flowers picked locally, to tickle our taste buds.
We munched and sniffed our way through a selection of flowers including peppery moringa which can be used to make a super-food smoothie, fragrant kawara that was used back-in-the-day to perfume your house, and frangipani that could be used to give champagne a fragrant kick. As well as sharing the foraging skill that he learned from his grandparents, Frank is a graffiti artist, bodyboarder and creator of cool pop-up events on Aruba and Bonaire. "I like to be unplugged" he told us, admitting that he barely used any social media to promote his talents, " I like to stay close to nature, to go barefoot and just have enough for the day." As if to prove the point, Frank plunged into the crashing waves and returned to the beach minutes later with three different kinds of seaweed, including Dulce and Agar that's used as an alternative to to gelatine. If you're visiting Aruba and want to book a foraging session with Frank, he can be contacted through his Facebook page – search for Taki Aruba
Aruba is also a big grower of Aloe Vera, known for its healing and cooling properties. You'll see the spiky plants all around the island and if you snap off one of the fleshy leaves, they ooze a yellow sap that is used for healing on wounds and burns. Look out for the Aruba Aloe shops around the island that sell a range of Aloe based lotions and cosmetics or visit the Aloe Vera factory and museum for a fascinating insight on how the plant is used.
9. Hiking in the Arikok National Park
For my visit to the Arikok National Park in the north-east corner of the island, I had to be up early before the heat of the day became too much. I was met by my enthusiastic guide, Stanson at the large visitor centre where there were exhibits and information about the flora and fauna to be found in the park. Stanson took me along the Cucucu Arikok circular trail, a well marked gravel path bordered by stones which meandered through a landscape of spiky cactus and thorny trees. To be honest, it would have been difficult to get lost, but Stanson's knowledge and enthusiasm about the plants and trees was infectious. Without him I'd never have spotted the edible pink berry hidden in the top of a small, round cactus, or known about the tree that bears fruit after a rainstorm, making it a magnet for giant iguanas.
Along the path we passed overhanging rocks with native cave paintings of iguanas and birds that were thought to be painted by Shaman, while in a trance connecting with the spirit world. At the furthest end of the path before we circled back was a white adobe house, a recreation of an old Aruban dwelling that had been preserved to show the construction techniques and way of living. A bat flitted over our heads, nesting in the rafters, which Stanson explained would provide a polination service for the plants on Aruba.
While our two hour walk was undemanding, there are plenty of more challenging trails in the park, some of which require climbing and abseiling to complete. If we'd had more time I'd have loved to have continued along the trail to the coast, where there's a large natural pool enclosed by rocks, locally known as Conchi, where you can swim.
10. Stay at Amsterdam Manor Beach Resort
During my week in Aruba, I stayed at the Amsterdam Manor Beach Resort, a delightful hotel that's just across the road from Eagle Beach. The hotel is family owned and was built 25 years ago in traditional style with Dutch gables, painted in the warm yellow that you see everywhere on Aruban buildings. I was extremely comfortable, sharing a suite with two bedrooms and a first floor balcony looking towards the sea, furnished in traditional Caribbean style with dark wood furniture, brightly coloured walls and citrus shades of lime, lemon and tangerine.
The outside areas of the hotel were beautifully maintained with paved areas, trees and immaculate planting, with a welcoming pool area and the shady Mango restaurant, where we had breakfast. The hotel is ideal for couples who want to relax by the pool or on the beach, while having a well located base for exploring Oranjestad and all the other sights of Aruba.
The staff could not have been more friendly and helpful and they even have a dedicated Romance Co-ordinator to help you organise your beach wedding or celebration event. The Fofoti trees opposite the hotel are a favourite for wedding photos and the Passions on the Beach restaurant where we ate one evening is an incredibly romantic setting to have a cocktail and dinner as the sun sets over the ocean.
For more information, visit the Amsterdam Manor Beach resort website or follow them on Facebook, Twitter, Pinterest. Address: J.E. Irausquin Blvd. 252, P.O. Box 1302, Oranjestad, Aruba.
I recommend visiting Aruba for the warmth of the all year round sunshine and the safe and friendly atmosphere. You'll enjoy the island's Caribbean colour, vibrant painted buildings, the creativity and street art of San Nicholas. Taste your way through the cosmopolitan food scene with fabulous local seafood and international flavours with a mix of cultural influences. As our yoga teacher Maria told us, "Whatever kind of holiday you want, whatever kind of life you want to live, you can find it on Aruba".
Visitor Information for Aruba
For more information to plan your holiday in Aruba, visit the Aruba Tourism Website or follow them on Facebook, Twitter, YouTube or Pinterest
Thanks to Aruba Tourism for hosting my week's stay in Aruba to discover the island.
More articles from the Caribbean
Travel with Kat: Welcome to Aruba – One Happy Island
A Stylish Guide to St Kitts
Our top 5 sites on Aruba
Pin It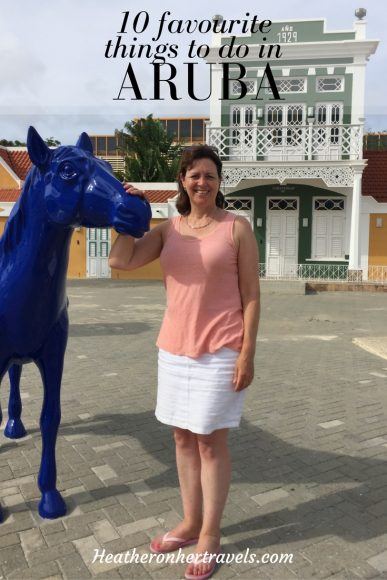 This article is originally published at Heatheronhertravels.com – Read the original article here
You'll also find our sister blog with tips on how to build a successful travel blog at My Blogging Journey