The woodsmoke wafts from the bratwurst stall in the Coburg Christmas market, drawing a patient queue of people. For these aren't just any sausage, they are the famous Coburger Bratwurst, made with the seasoned blend of beef and pork and cooked over an open fire of pine cones, for that authentic smoky flavour. If your mouth isn't watering yet, it will be soon as you catch the warm, aromatic scent of mulled wine and hear the sizzle of onions and mushrooms cooking in a big metal pan.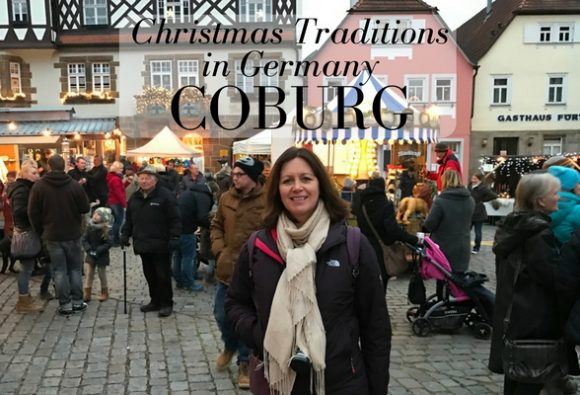 I was in Coburg at the beginning of December to experience the magic of Christmas in Germany, where they seem to strike just the right balance of festive spirit, local tradition and religious meaning. The air was crisp, but the atmosphere warm, as friends gathered under the statue of Prince Albert in Marktplatz to chat over a steaming mug of Glühwein while parents watched their little ones enjoying a ride on the traditional merry-go-round.
This is the season of Christmas markets when you'll hear a lot about the popular but somewhat overwhelming Christmas markets of Cologne and Munich. What many people don't realise that every place in Germany has its own Christmas market and as I've found, the smaller the town or village, the more charming and authentic the markets become.
We enjoyed walking through the Christmas market in the central Martketplatz of Coburg, surrounded by the 16th century buildings, such as Duke Casimir's impressive Stadthaus with decorative oriel windows at each corner. The square was just 10 minutes walk from Hotel Villa Victoria where we were staying and had all the ingredients for a fine Christmas Market. We've found that the markets in Germany are mainly about delicious things to eat and drink, and there were stalls selling tempting hot dishes, sausages and cheeses as well as gifts destined for someone's Christmas stocking.
The Seßlach Christmas Market
We also visited the Seßlach Advent Market, just 20 minutes drive from Coburg and at another level of charm and local flavour. The small town is beautiful of course, and the market was just for that weekend so it really felt as if we'd chanced on a local secret. As we walked through the archway in the town wall, the choirs and musicians were filing into church for a musical Advent concert, and we popped back later to stand at the back and listen to the music.
There was everything you'd expect at a traditional Christmas market; stalls selling good things to eat and drink, the children's carousel and the lights strung along the old buildings and on the Christmas tree. But as we walked along the cobbled streets that radiated from the main square, we discovered archways leading to hidden courtyards and barns, where the local shops, businesses and charities had set out their stall with everything that you could possibly need for a magical Christmas.
We treated ourselves to a bowl of warming Gulyasuppe, a rich meaty goulash soup and then a  sugary Baumstriezel, the dough wrapped around a metal cylindar and cooked over the open fire, to be pulled apart and eaten with our fingers.
Let there be light
While the Christmas markets in German towns are open throughout the day, it's in the late afternoon that the magic really starts to happen. As dusk falls, the flat grey skies give way to a warm glow as buildings are illuminated and the strings of fairy lights and bulbs come to life. In these cold winter days, it's all about creating a warm, cosy feeling in your home, with candles flickering on the mantlepiece and the lights on the Christmas tree. The stalls in the Christmas market are full of candles and star lamps to hang at your window, not only to chase away the cold, but to remind us of the meaning of Advent, the preparing for the baby who was to light up the world.
Street Food at the Christmas Market
The Christmas markets bring plenty of hot dishes that seem designed to spread the seasonal cheer. For just a few Euros we tried a dish of Champignonpfanne: button mushrooms sauted with onions as well as Gemüsepfanne:  stir fried vegetables, which could be topped with different sauces – we chose the creamy garlic flavour.
Potatoes were shaved into thin slices and fried to make Kartoffelchips – a home made potato crisp served in twirls on a wooden stick. There was Gulyasuppe, a rich and warming meaty soup, served in a hollowed out crusty roll which you could eat at the end, so as not to waste any of the savoury juices.
We also enjoyed the galettes with ham and cheese freshly cooked on the Hauser's stand – they are well known in the area, selling galettes at all the markets and festivals. I don't think any of these dishes set us back more than €3.50 and it was fun to snack on different flavours, all of them warming and delicious. I also love that the eco-conscious Germans serve everything in an edible wafer container, with wooden cutlery, which will quickly bio-degrade.
The sweet taste of Chocolate
After tasting a few different savoury dishes, I found myself looking around for something sweet to finish the meal and of course there was no shortage of options. On some stalls nuts were being mixed in hot praline, giving off a sweet toffee fragrance – we tried some warm in small paper cones.
But I couldn't resist the chocolate, especially the wooden skewers with fresh fruit covered in chocolate; grapes, strawberries, pineapple and even whole bananas. I enjoyed the way that the fresh, juicy fruit cut through the sweetness of the chocolate, although it was hard to eat without getting chocolate all around your mouth! For something a little more elegant we popped into the Chocolate Coburg Shop just off Marktplatz to buy some marzipan chocolates and other chocolate gifts to take home with us.
The Coburg Bratwurst
Following the waft of smoke at one side of the market we joined the queue of locals waiting for their Coburger Bratwurst from the small white van, with a wood fire burning at the back. These bratwurst vans stand on the Marktplatz all year round and the local butchers take it in turn to sell the sausages cooked over a wood fire. They are made with a mixture of beef and pork seasoned with nutmeg and are bound with raw egg (which requires a special exemption from normal food regulations).
The Coburg Bratwurst or Coburger is long and thin and served in a crisp white roll, which is cut along the top, although I got the feeling that the bread is more to hold the sausage than to be eaten. It's completed with a liberal squirt of mustard, to complement the smoky flavour that comes from being cooked over a fire of pine cones.
Mulled wine at the Christmas Market
To drink, it had to be something warming with a bit of a kick to keep out the winter chill. The stalls selling mulled wine, beer or cider were doing a steady trade. Friends of all ages were gathering to buy a steaming mug and take it over to the central area where there were tall tables to rest the drinks. Sometimes there was a wood burning brazier, to take the edge off the cold.
There were also plenty of stalls selling bottles of spicy mulled wine to buy and serve to your guests at home, or mead with animal horns to drink it out of. The stalls have an environmentally friendly system where you pay a couple of Euro extra for a decorative mug which you can later return for a refund. The designs are different each year and some become collectables (or memorabilia gathering dust on the mantlepiece).
A cosy café for coffee and cake
During the day you might need to find a cosy café to retreat from the cold, to warm up with a Kaffee und Kuchen after walking around Coburg. You'll have plenty of choice in Coburg – we liked the Queen's Cafe on Albertplatz and the more traditional Feyler who specialise in Coburger Schmätzchen. Most bakeries and cake shops have a café area where you can order (or point at) the cake that takes your fancy and then be served with a milky coffee to warm up before heading out onto the streets again.
Another German Christmas tradition we discovered is that every place in Germany makes its own special Christmas biscuit. In Coburg the Feyler bakery is the place to buy Coburg's special biscuit, the Coburger Schmätzchen. It literally means Coburg kisses and I was told that these biscuits made with honey and hazlenuts are quite hard when first baked and need to be left out of the packet for a day or so to soften. They come plain or with a dark chocolate coating which is dotted with specks of gold leaf.
Another local favourite are the Elisen Lebkuchen – a speciality of nearby Nuremberg which are a soft and slightly spicy biscuit, covered either with chocolate or a light icing. I bought one in the Christmas market and it was quite delicious with a gentle rather than overbearing Chrismas flavour.
Advent Wreaths in Coburg, Germany
At the beginning of advent you will see Advent wreaths on sale in Germany, which every German family would have in their home. Many are traditional, with evergreen foliage decorated with baubles and pine cones, but others may be more contemporary to fit in with your home decor.
On the wreath there are four candles, one for each of the Sundays in Advent, when a new candle would be lit. We saw a lovely wreath in the chapel at Schloss Callanberg, a touch of Christmas decoration in the otherwise simple protestant chapel.
Not too far from Coburg is the town of Lauscha which specialises in making glass Christmas ornaments and although we weren't able to visit the town, we did buy one of the Lauscha glass baubles from the Chocolate-Coburg shop to add to our collection. I love the vintage look of these baubles, taking us back to the tradition of the Christmas tree that was introduced to England by Prince Albert, who was born in Coburg.
I can imagine how homesick Prince Albert must have felt for the pine forests of his native Germany and why wanted to bring some of his own German traditions back to England. Last year in her Christmas message, Queen Elizabeth mentioned that Prince Albert had started the tradition of the Christmas tree, and this gave such pleasure to the people of Coburg that they offered to send a Christmas tree to mark her 90th birthday. The offer was accepted and this Christmas a 40 ft Christmas tree stands proudly in Windsor town centre, next to the statue of Queen Victoria, decorated with glass baubles from Lauscha.
Germany is the place to soak up the festive atmosphere and kick start your Christmas season, with Coburg being a charming place to spend a few days at any time of year, to discover the history, castles and royal connections. Enjoy your Christmas preparations and as you do, remember that many of our English Christmas traditions had their origins in Germany, when Prince Albert and Queen Victoria gathered their family around the Christmas tree.
Read more: 9 German Christmas traditions to enjoy in Heidelberg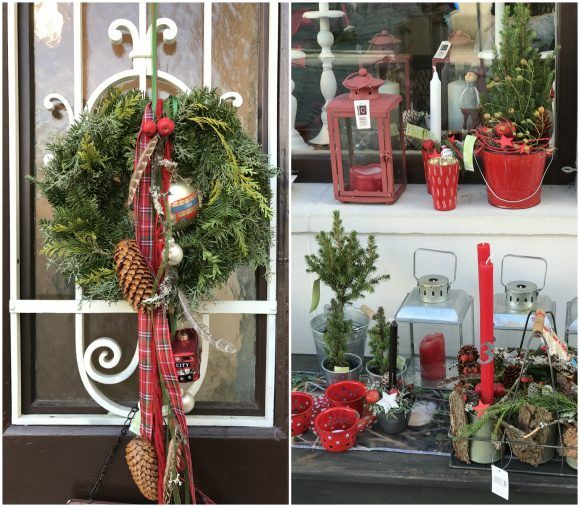 Plan your Visit to Coburg
For more information about what there is to see and do in Coburg, visit the Coburg Tourism website and follow them on their social media channels: Facebook and Twitter. You can also find information to plan your holidays in Germany at the Germany Tourism Website.
From the UK you can reach Coburg via Nuremberg airport (1 hr 15 min drive), Frankfurt (2 hrs 50 mins drive) or Munich (2 hrs 50 mins drive) and we recommend hiring a car, which will enable you to easily visit all the castles and places of interest around Coburg.
Heather and Guy flew from Bristol to Frankfurt with bmi regional who fly up to three times daily between Bristol and Frankfurt. One way fares cost from £93 and as with all bmi flights, include a generous 23kg of hold luggage, a complimentary in-flight drink and breakfast snack, allocated seating and a speedy 30 minute check-in.
Where to stay in Coburg
Heather and Guy stayed at Hotel Villa Victoria in Coburg, which was the perfect place to spend a few days while exploring the town and the castles nearby. The accommodation is in a very pretty turn of the century villa, just outside the old town walls, with convenient parking outside for our hire car (although the spaces quickly filled up). In the villa are 12 rooms and ours was a most delightful suite with adjoining sitting room and view of the city gatehouse.
The house had been beautifully renovated and we had the use of a guest sitting room on the same floor, with a tea and coffee station on the landing. We especially enjoyed breakfast in the charmingly furnished ground floor room, with pretty floral china and lace tablecloths. Across the road is a more modern residence, and guests staying there can also have breakfast in the villa, but I would check when you book that you can have a room in the older house if possible.
Despite the name, you should be aware that Hotel Villa Victoria is more of a guest house than a hotel; for instance when we arrived mid afternoon there was no-one manning the reception and we had to call the owner who gave us instructions on how to find our key. When staying here be sure to let the owners know at what time you will be arriving and make arrangements accordingly.
Thanks to German National Tourist Board who hosted my visit to Coburg and to BMI Regional who covered my flight via Frankfurt.
Pin It
This article is originally published at Heatheronhertravels.com – Read the original article here
Our road trip this summer took us through Canada from Toronto to Montreal, eating the freshest of Canadian produce and trying the many craft beers (once the RV was safely parked of course!). We tasted our way through gourmet burgers and poutine, cooked up a storm over the camp fire and enjoyed an occasional sophisticated dinner at in some of Quebec's finest restaurants, all washed down by the wonderfully varied, locally brewed craft beer.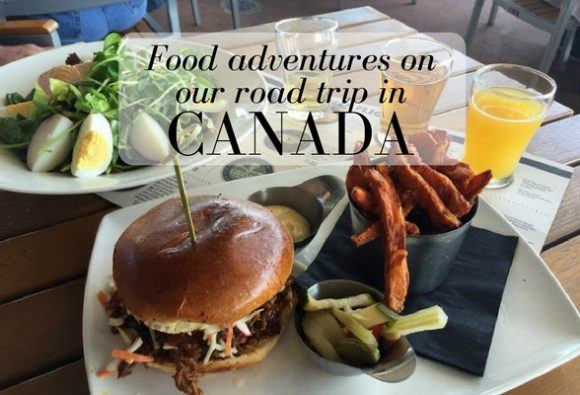 Our first taste of Canada was in Toronto where we spent a day exploring the harbour front before picking up our RV from Cruise Canada. Right on the waterfront, the Amsterdam Brewhouse caught our eye, with a double height restaurant space and seating on the deck outside. We bagged a table by the lake-front and ordered a pulled pork bun with sweet potato fries and a flight of their craft beers – with names like Bigwheel Amber Ale and Downtown Brown.
The only one that was a bit odd was the 'Adventure' brew – small batches of something a experimental and ours was an orange flavour beer, which tasted… well… like orange juice. The menus here change seasonally but are based around casual burgers, smoked meats and a good selection of hearty salads too – plus the beer is all brewed by the company with natural ingredients and no preservatives. In cosmopolitan Tornoto this felt as close as you'll get to typical Canadian cuisine and it was a tasty start to our trip. Amsterdam Brewhouse, 245 Queens Quay West, Toronto
A Road-side stop in Ontario at Weber's
Picking up our RV from Cruise Canada in Toronto, we drove north towards Algonquin Provincial Park where we would be spending a couple of nights, stopping for a late lunch at Weber's on Highway 11 near Orillia. It's a fabulous roadside diner which is the top place to stop if you're heading north for a camping trip. After parking the RV we joined the fast moving line in the small takeaway area – where burgers and hot-dogs were sizzling over charcoal and the orders with fries, extra cheese, milk shakes or iced tea were being efficiently assembled.
Taking our paper wrapped burgers and cartons of fries we found a shady spot at a picnic table on the grass to enjoy our lunch – there's also a vintage railway carriage that has been converted into a restaurant car for those who like their air conditioning. If you need something sweet for desert, pop next door to buy an ice cream or frozen yoghurt – we had a tub of berry flavour.
Farm shop flavours
Although we'd stocked up at the supermarket at the beginning of our road trip, we quickly realised that the more interesting foodie discoveries were to be found at local farm shops and markets. One such was the Coutts Country Flavor Shop which we stopped at on our way to Murphy Point Camp Ground, close to Perth.
Pulling up in front of the wooden building surrounded by fields, we looked around the store which is part of a 5th generation family farm and sells organic meat, fresh farm veg, local cheeses, their own maple syrup and the famous Ontario butter tarts ( a bit like a treacle tart but not quite as sickly sweet).
Craft beer with a hint of Maple
In nearby Perth we also found the wonderful Perth Brewery to stock up on craft beer to take back to our campground. Surrounded by copper vats and packing benches, the friendly staff at the front counter were more than happy to let us have a taste of the different beers on tap. After trying just a few (we still had to drive the RV) we stocked up on the tins of our choice, to drink later by the campfire. Our favourite was the Canada Maple Ale which had a subtle flavour of maple syrup without too much sweetness – a really enjoyable taste of Canada.
A taste of Poutine
Another Canadian speciality that we came to know (but not necessarily love) was Poutine, a dish that's especially favourite in Quebec. It's basically french fries, scattered with squeaky curd cheese and drenched in gravy – with variations sold everywhere from roadside food stops to fine dining restaurants. Our first encounter at a roadside food truck was not that promising. Frankly we couldn't see what the fuss was about, with crispy fries turned into a soggy mess by the gravy (in fact poutine is Québecois slang for mess!).
We did give the Poutine another try at Les Brasseurs du Temps in Gatineau and although a slightly more elegant version, we concluded that as a dish it was best saved for those outdoor events in the freezing Canadian winter when you need to carbo-load. In Montreal the ultimate poutine is said to be found at Au Pied de Cochon, where they do a variation with Fois Gras. I could have tasted it at the food truck event in Montreal where the restaurant had a stand but was worried I'd be disappointed again, so I declined – a decision I somewhat regret.
Pancakes and Maple Syrup
Another unmissable feature of the Canadian food scene were the pancakes – which were normally served for breakfast with lashings of maple syrup. A meal in themselves, they would keep you going until well after lunchtime – we enjoyed these ones with fresh fruit at a modest roadside diner close to our campground at Parc de Plaissance north of Ottawa.
A foodie hotspot at Kingston
One of our favourite foodie stops on the road trip through Ontario, was Kingston set beside Lake Ontario. This university town close to historic Fort Henry, punches above its weight when it comes to great artizan food producers, bars and restaurants. As we arrived, a farmer's market was in full swing, with stall after stall selling perfectly polished peaches and plums, soft fruit, green beans and other fresh produce. We took the opportunity to buy a basket of luscious mixed berries to eat on the go and some butter tarts from the bakery stall as a lunchtime snack.
Kingston had a much more European feel than many of the places we drove through, since the town was established in 1673 at the confluence of the St Lawrence River, at a time before cars (let alone RVs) dominated the town planning. We enjoyed walking around the streets, dipping into coffee shops and meandering through courtyards with secluded restaurant patios like Chez Piggy who also run the Pan Chancho bakery where we stopped for some excellent fresh bread.
Beaver Tails in Ottawa
Our road trip next took us north to Canada's capital Ottawa where we left our RV at the Wesley Clover Campground and took their convenient bus service into the city. After watching the changing of the guards on Parliament hill, our stomachs lead us to Byward Market, the neighbourhood surrounding the covered market building which has numerous food stalls as well as bars and restaurants.
On the recommendation of local blogger Cindy Baker we joined her for lunch at Murray Street, for a delicious plate of local charcuterie and cheeses on their shady patio, before paying the obligatory visit to the BeaverTails stand for desert. The flat pastries (shaped like a Beaver's Tail) are a cross between a pancake and a doughnut and come with lots of sweet toppings – I was relatively restrained with my choice of buttery maple sauce!
Craft Beer at Brasseurs de Temps in Gatineau
After our day sightseeing in Ottawa we drove across the river to explore the city from the Quebec side, with an excellent dinner at Brasseurs de Temps in Gatineau. There was definitely a theme developing in the popular restaurants that we visited, being based around breweries offering an ever changing selection of craft beers. Below the restaurant is a quirky little museum about the history of beer in the Outaouais region and you get a look down into area where the beer is being brewed. It was pleasant to sit outside on the patio overlooking the canal and select our beer from from the detailed descriptions on the menu cards – according to which my fruity white beer had aromas of banana and ginger. This is where Guy decided to try the Poutine again but I had a duck salad which was certainly the better choice.
Fine dining at Wakefield Inn
A highlight of our foodie quest around the Outaouais region north of Ottawa was the day we spent in Wakefield, a pretty little historic town, full of old houses, craft shops and artizan bakeries and restaurants. After parking the RV in the centre of town, we walked up from the main road to Wakefield Inn, a charming boutique hotel and restaurant which would have made a wonderful spot for a weekend break. The hotel's restaurant offered a sophisticated alternative to the more casual dining of the brewery restaurants we'd tried.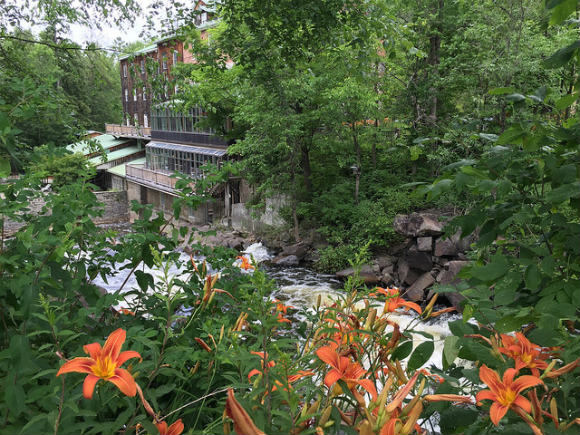 From our table beside the window, we overlooked the mill stream rushing below and I enjoyed my Arctic Char with a pretty arrangement of mushrooms, green beans and other vegetables. The thick stone walls and open fires of the old mill house make for a cosy atmosphere and I can imagine snuggling up here after a winter snowshoe walk on the paths around the hotel.
We found that the Outaouais region north of Ottawa especially full of fabulous food stops, like the area of Chelsea just outside Gatineau Park, the outdoor playground for the citizens of Ottawa. At the Chelsea Pub we enjoyed the relaxed atmosphere, sitting outside on the patio with live music while drinking our beer and ordering a club sandwich with fries and salad. The same establishment runs Biscotti, a cute little cafe around the corner which is the place to go for coffee, cakes and delicious deserts.
While staying at Parc de Plaissance we enjoyed a contrast of luxurious al fresco dining at the Fairmont Le Chateau Montebello and gourmet burgers at Au Délice Champêtre, although both were marked by a typically Canadian relaxed atmosphere and lack of pretension. Le Chateau Montebello is best known as the world's largest log cabin, although of course it is no garden shed, but a grand hotel that's stuffed full of hunting-shooting-fishing memorabilia from the time when it was a private club for the great and the good. We dined in the outdoor restaurant overlooking the potager garden and lawns rolling down to the river, with a delicious buffet that had something for all tastes with a choice of steaks and fish cooked to order over the barbecue.
More down to earth but equally good was Délice Champêtre right opposite the tourist office in Montebello where we were welcomed by the owner Daniel who cooks up gourmet burgers and Belgian fries, using the best ingredients from local suppliers. Next door was a popular ice cream bar with gelato, frozen yoghurts and other classic deserts made on the premises. They even make all their own sauces and relishes to a secret recipe which unfortunately Daniel wouldn't reveal even though I promised I'd share it with only a few close friends and readers.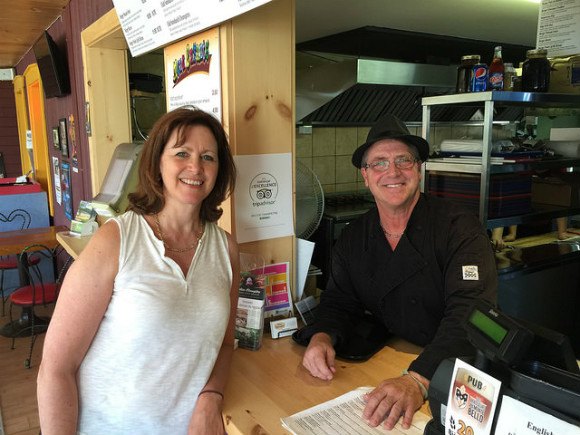 Our foodie adventures in Canada wouldn't be complete if we hadn't tried a bit of campfire cooking. Since we had an extremely well equiped RV from Cruise Canada with gas hob, fridge and freezer it wasn't exactly a necessity to cook over the open fire. But since every camping space came with a fire pit and a built in grill it seemed a shame not to give it a go, and on our last night in Mont Tremblant National Park we grilled some juicy steak kebabs over the fire for that smoky BBQ flavour.
The true Canadian tradition of course is to sit around the camp fire toasting marshmallows or s'mores as they are strangely called over there – the name's an abreviation of 'I want some more'. After a few attempts we managed to get the right balance of lightly toasted and deliciously melting as opposed to charred black and set on fire.
And so we reached our final stop at Montreal and dropped off the RV, leaving us a couple of days to explore the city. If I had tell you about the food in Montreal it would be a whole extra article, since there's such a thriving and vibrant food scene here – among the best food in Canada (or anywhere). If you'd like to find out more about bagels, tacos and maple syrup you'll have to read my article – How to have a perfect day in Montreal. And while you're reading it I'll be mentally settling down in front of the camp fire with a can of that Canada Maple Ale.
Pin It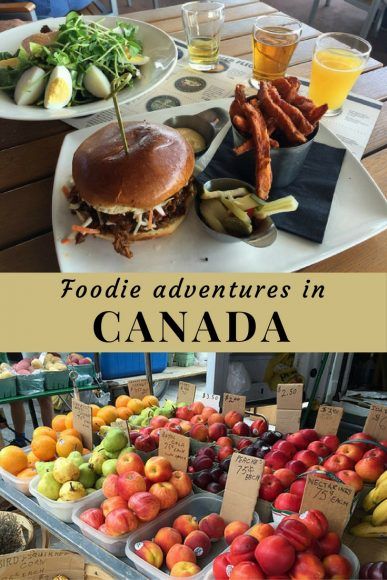 Where we stayed on our RV Road Trip
Night 1 –  Sheraton Gateway Hotel, Toronto
Night 2 & 3 Algonquin Provincial Park near Whitney, Ontario
Night 4 Murphy's Point Provincial Park near Kingston, Ontario
Night 5 & 6 Wesley Clover Camp Ground – south of Ottawa
Night 7 &8 Camping Cantley – north of Ottawa
Night 9 Parc de Plaisance  National Park in Quebec
Night 10,11,12 Mont Tremblant National Park in Quebec
Night 13 Le Centre Sheraton Hotel Montreal
More inspiration for your road trip across Canada
Travel with Kat – The Wildlife of Canada's Clayoquot Sound
The Quirky Traveller – A dash of History and Culture in the Rocky Mountains
On the Luce – Land of the Lakes: Exploring Ontario's National Parks
Information for planning your trip to Canada
You can find more information to plan your visit to Montreal on the Ontario Tourism Website, the Quebec Original Website, the Tourism Outaouais Website and also on the Explore Canada Website covering all the things to see and do in Canada.
Our RV (Recreational Vehicle) for the two week Explore Canada Road Trip was provided by Cruise Canada.
To compare prices and book for hotels in Canada, visit the HotelsCombined website where you can find the best prices from a range of different booking sites.
My visit to Canada was part of the Explore Canada Road Trip, a project with Travelator Media and Explore Canada
This article is originally published at Heatheronhertravels.com – Read the original article here
November 26, 2016 by Heather Cowper
Filed under Accommodation, Art and design, Eating and drinking, Europe, featured, Hotels, Italy, Leisure, Museums, Shopping, Sightseeing
While the summer may be over, autumn can bring clear, sunny days in Italy. Just the time for me to nip off to Florence for a weekend break with Citalia, to get a quick fix of culture and good food. My challenge was to strike the right balance between seeing the sights (and there are plenty!) while taking the time to soak up the atmosphere and charm of this ancient city set in the heart of Tuscany. Read on to discover how I spent my 48 hours in Florence.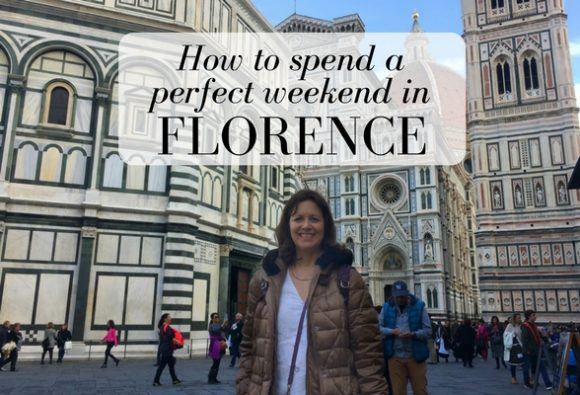 Arriving Friday lunchtime
Flying from London City Airport direct to Florence, I arrived at lunchtime to be whisked away by private taxi transfer, arranged through Citalia. Driving through the narrow streets, we arrived in 30 minutes at Hotel Balestri, where I was to stay for the next 2 nights. The hotel was well located by the river, close to all the historic sites – I always think that with limited time on a city-break you want to be a short stroll from the things you've come to see. From my window I had a fabulous view across the river to the Belvedere gardens and Piazzale Michelangelo on the hill and looking the other way to the well known arcades of the Ponte Vecchio.
After settling in, I relaxed in the hotel's glamorous, mirror lined bar, treating myself to the local Florentine aperitivo of a Negroni. Mixed with red vermouth, campari and gin, it was certainly strong enough to get me into a good mood for the start of the weekend, and for something lighter there's always the brightly coloured Aperol Spritz. Salute!
Dinner at Mercado Centrale
On my first day in a new city I like to just meander to get the feel of the place, orientate myself to the main sites and go with the flow. At the recommendation of the Citalia Concierge, I planned to have dinner at the Mercato Centrale where there's an upstairs food hall serving many different dishes in a lively, café atmosphere.
Let's talk Tripe
Well that was the plan. But when I arrived at the Mercato I found that downstairs, where the produce stalls would normally be open in the day, a neighbourhood tripe festival was in full swing. Tables designed for communal eating were set up down the centre of the space, lit by silver candelabras, and decorated with posies of cabbages and flowers. Wooden fruit boxes served as impromptu trays, so that you could buy what you pleased from different stalls, then bring it to sit and eat with friends.
A number of trattorias had set up stall, each with a bubbling pan of tripe stew. With the plastic tokens I'd bought at the door, I tasted my way through different styles of stew, one with a rich, tomato sauce, another like an onion soup with white wine. Tripe is a Florentine speciality and although the white spongy lining of a cow's stomach is not the most appetising prospect, it was defintely a lot tastier than I'd imagined.
Although quite full, I thought I'd just pop upstairs, only to discover a whole world of food on the first floor. The open, industrial style space had different food stands around the walls and tables set in the centre to eat with friends. I wandered around admiring the round balls of mozzarella with a creamy oozing centre, crusty sandwiches filled with brie and sundried tomatoes and the pizzas being freshly cooked in wood-fired ovens.
My head was turned by cabinets of cannoli filled with ricotta and pots of tiramisu. Fresh fish was laid on a bed of ice waiting to be cooked, while at the next stand the well matured beef, marbled with creamy fat and almost black with age, would soon be cooked as the famous Bistecca alla Fiorentina. Sadly I had eaten too much tripe to enjoy anything more but I finished the evening at the vegetarian stand with some fresh pressed apple and kiwi juice with fresh ginger, before heading back to the hotel.
Saturday Morning at the Mercato Central
While I'd enjoyed all the cooked dishes upstairs in the market, I wanted to see some of the produce stalls on the ground floor, so headed back on Saturday morning when the market was in full swing. Although I didn't need to buy any fresh fruit or veg, I enjoyed walking round the different parts of the market devoted to fresh meat and prosciutto, plump cheeses and a butcher's stall just for tripe.
Coming up to lunchtime I noticed the Nerbone stall was surrounded by a throng of people all waiting to be served with their lunchtime trippa alla fiorentina, just like mama used to make.
Saturday afternoon – a walking tour of Florence
On Saturday afternoon I'd booked a walking tour of Florence through Citalia, who offer a range of pre-bookable tours and excursions to their guests. Our art-expert guide Carlotta gave us an excellent orientation of the main sites of the Centro Historica, explaining the birth of the Renaissance which emerged from the 14th century, bringing a new realism and use of perspective to art that had not been seen in medieval times. The whole of Florence seemed to be a calling card for the great artists of the age; Dante, Giotto, Michelangelo and Leonardo de Vinci, who flourished under the patronage of wealthy families like the Medici.
At the covered loggia known as the New Market or straw market, we stopped to meet Il Porcellino, the bronze statue of a wild boar. He's a copy of the original marble version that was a gift from the Pope to the Medici family. This 'little pig" is almost as well known as the David for visitors to Florence – put a small coin in his mouth and watch it fall through the grill below, then stroke his nose, and your dreams are sure to come true!
In the Piazza della Signorina
We continued to the Piazza della Signorina, where Cosimo I, the Grand Duke of Tuscany lived in the Palazzo Vecchio with his wife Elenora, until she sensibly moved with their eleven children to the Pitti Palace across the river. There's a statue of Cosimo on horseback in the square but the imposing statue of Neptune in the fountain also has his likeness.
At the door of the Palazzo stands a copy of the David by Michelangelo which stood here until 1873, when it was moved to the Galleria dell'Academia and now lives under its glass dome. The loggia to one side forms an outdoor sculpture gallery and is part of the Uffizi – the roof forms the terrace for the museum's cafe. The sculptures seem to display a Florentine taste for stories of struggle and violence – the twisting Rape of the Sabines by Giambologna and the bronze Perseus by Benvenuto Cellini triumphantly lifting up the gory severed head of Medusa.
Finishing our guided walk by the River Arno and the Ponte Veccio, we were well placed to continue with a tour of the Uffizi, the main art gallery of Florence with all the masterpieces of the Renaissance. Because the lines for the Uffizi often so long, it's a good idea to either book a group tour like the one offered by Citalia, or to go online and book a timed ticket to enable you to skip the line.
If you are a real art lover, of course you'd need a whole day to do justice to the gallery, but a two hour tour is a good idea if you are just there for the weekend, as you will cover the most famous highlights. We enjoyed looking at the lovely goddesses in Botticelli's Venus and Primavera and heard how Filippo Lippi's enchanting Madonna with two angels was actually a portrait of the nun who became his lover and their children. Perhaps the violent depiction of Judith slaying Holofernes by Artemesia Gentileschi was the female artist's revenge on the man who raped her as a girl?
I enjoyed the views from the first floor windows of the Uffizi, looking in one direction towards the Palazzo Vecchio and the Duomo beyond, in the other towards the river Arno and the Ponte Vecchio. Behind an unmarked door in these galleries is the entrance to the Vasari corridor, a passageway that runs from here, across the Ponte Vecchio and ends at the Pitti Palace, providing an easy route for the Medicis to move from home to office.
Saturday evening – window-shopping on Via Tornabuoni
By the time our Uffizi tour was over it was dark and I wanted to get a bit of fresh air and enjoy the streets of Florence at dusk, so I walked along Via Tornabuoni to do a bit of window shopping. This is where all the top stores like Prada, Pucci, Gucci and Tiffany are located and the street was looking very pretty with the Christmas lights strung between the buildings.
Shoe heaven at the Ferragamo museum
At the end of the street, by Ponte Santa Trinita I spotted the Museo Salvatore Ferragamo and popped in as I had an hour or so to spare before dinner. I've always loved fashion and have memories of buying a pair of Salvatore Ferragamo shoes at a church sale, where clearly no-one but me realised the bargain I was getting. In the museum below the flagship store, the shoes of the 1930s and 40s were laid out, still looking so fresh and wearable that I would have loved to try them all on. Salvatore Ferragamo learned his trade in Italy, but emigrated to California in the 1920s where he made his name selling shoes to film stars and celebrities like Marilyn Monroe, before returning to Florence.
In some of the inner rooms were other exhibitions of designs, posing the question of whether fashion crosses over into art. The stunning pieces from designers like Elsa Schiaparelli and Germana Marucelli answered a resounding yes and were a real treat for a lover of fashion like me.
Saturday evening – dinner in Oltrarno
By the time I'd spent an hour looking around Museo Salvatore Ferragarmo it was time for dinner. I crossed the bridge into the Oltrarno, the old working class area which is now a hip and trendy neighbourhood with artisan shops, bars and restaurants. The restaurant I was heading for was another recommendation of the Citalia Concierge, called Il Santo Bevitore, striking just the right balance between modern style and traditional Tuscan flavours.
The teracotta tiles, white walls and simple wooden tables combined with crisp white table linen and interesting and flavoursome dishes that erred on the side of gourmet. I started with an excellent small plate of spinach ravioli with shrimps in a buttery sauce, followed by a marinaded carpaccio of beef scattered with sprigs of salad, capers and egg yolk. My desert brought together all the flavours of winter with a rosemary and raisin cake, topped by a sweet mulled wine ice cream surrounded by a pool of pear custard. I'd certainly recommend this restaurant for those wanting to try the best of Tuscan cuisine in an elegant but relaxed atmosphere.
A Sunday morning visit to the Academia
On Sunday morning I'd made an appointment to see one of the most popular characters in Florence's artistic scene, a certain young shepherd boy named David. He lives in the Galeria dell' Academia under a beautifully lit dome that was built just for him and thousands of people visit him each day to admire his physique from all angles. As I wanted to be sure of a visit I took the precaution of asking the concierge at Hotel Balestri to reserve a timed ticket, which can also be done online, and arrived as the museum was opening around 9.30am.
Michelangelo's David was carved from a block of marble that had been lying for 40 years behind the cathedral, rejected by all the other sculptors when Michaelangelo asked permission to carve it. The piece was intended to sit on top of the cathedral but once complete it was considered too fine (and too heavy) so was given the prime spot outside the Palazzo Vecchio. The Florentines took the David as a symbol of city pride, as the smaller underdog overcoming its much larger and stronger enemies. From close up the head appears to be a little too large, but it was intended to be seen from far below, so the proportions were designed to make sense from a distance.
Unlike the Uffizi, the Academia is a much more manageable proposition and you can easily get around the main things in an hour. After admiring the David, most visitors take a look at the 'Prisoners' that line the hall leading to the David. These unfinished sculptures by Michaelangelo were intended for the tomb of Pope Julius II and were give this name as they seem struggling to be released from their blocks of marble. I also enjoyed looking at the plaster nymphs and maidens in the ground floor gallery, with rows of pretty girls in ringlets striking demure poses.
The star of Florence, the Duomo
By mid morning I was walking back from the Accademia along Via Ricasoli, the cathedral dome framed by the buildings at the end of the street. It was time to take another look at the star attraction of Florence, the Duomo or Cathedral of Santa Maria del Fiore. On Saturday's walking tour, our guide Carlotta had walked us around the cathedral and given us many of the stories, but I wanted to take a closer look. I bought a €15 ticket from the office opposite the Baptistry entrance, which would get me into the Baptistry, Campanile, Museum and to climb the cathedral dome (the cathedral itself is free), including optional timed entry to enable you to skip the lines.
My first stop was the gorgeous Baptistry, a hexagonal jewel box that sits in front of the cathedral. The patterns of white, pink and green marble on the exterior continued inside with small arched windows illuminating the magnificent gold mosaics on the roof depicting scenes of the Last Judgement. Outside, it was easy to find Ghilberti's 'Gates of Paradise' by the crowds swirling around them. The bronze doors show Old Testament scenes in intricate relief, but are in fact copies of the gold covered originals, which now reside in the Museum at the end of the Cathedral.
The tickets to climb Filippo Brunelleschi's dome had already sold out that day, but I'd already decided that my preference was to climb the 85 metre high Campanile, which would not only give me views over the old city but also a bird's eye view the dome itself.
My timed ticket meant that I could skip the long line and start to climb the 415 steps to the top. Luckily there were three different stages to take a break and admire the view before I arrived at the very top, looking down onto the Dome.
After taking photographs from every angle I started the long climb down, which was pretty claustrophobic as I had to keep stopping to let a long stream of people pass on the narrow stairs. Still it was well worth it for the views.
After fuelling up with a quick slice of pizza and gelato from one of the numerous cafes along the main tourist drags, I decided to head across the river to explore the Oltrarno, where I had dined the night before. My walk took me across another of Florence's must-see attractions, the Ponte Vecchio, a medieval bridge with an arcade of jewellery shops that seem to hang precariously over the river.
The shops were originally populated by butchers and leather tanners who had an easy way to get rid of their waste into the river, until in 1593 the Medicis decided that the smell was unbearable and ordered the shops to be let to goldsmiths instead. Above the shops is an enclosed passageway called the Vasari corridor which runs from the Pitti Palace on one side of the river to the Uffizi and Pallazo Vecchio on the other.
Sunday afternoon at the Pitti Palace
Just a little way up the road on the other side of the river I reached the Pitti Palace, the residence that was purchased by Eleanora de'Medici, wife of Cosimo I who decided that she wanted a home away from the bustle of the city with a large garden for her 11 children.
While I didn't have time to look around the whole palace, I was keen to see the costume museum, since I love fashion and textiles. I very much enjoyed the exhibition which showcased the couture collections of notable Italian women – wealthy of course, but also patrons of a different kind of artistic achievement just as the Medicis had been in the past.
The most startling part of the costume musum's exhibits were the clothes of Eleanora de'Medici, her husband Cosima I and their son Don Garzia. Startling because these were the very clothes they had been buried in, which had been removed from the bodies when their tombs had been opened, pieced painstakingly together and put on display. While the doublet and tunic of Don Garzia was pretty much intact, Eleanora's dress was just a jigsaw of delicate scraps, bordered by well preserved gold lace embroidery.
My final hour was spent wandering around the Boboli gardens behind the palace, a tranquil contrast to the crowded streets on the other side of the river. Walking back through the parterres and formal gardens I came across a spot where the view of the Duomo was framed by olive trees, the roof tiles of Florence glowing in the evening sun. It was a lovely memory to lock away as I made my way back to Hotel Balestri ready to head home after my weekend in Florence. Have you visited Florence and if so, what was your perfect weekend?
Where to stay in Florence
I can highly recommend the four star Hotel Balestri where I stayed in Florence, conveniently situated by the river, just 5 minutes from the Ponte Vecchio and 10 minutes from the Piazza della Signoria. My bedroom was spacious with clean, modern lines and plenty of wood and leather. The dark wood parquet floor, leather headboard and furniture had an art deco feel, with even the walls covered in a cream leather effect with decorative wood bands.
The wardrobe space was quite small, but fine for a weekend break and there were the usual amenities of a flat screen TV, small safe and kettle to make tea and coffee. The French windows opened wide to a lovely view of the river Arno and over the bed was a photo print of the coloured marble facade of the Duomo.
My luxurious bathroom was lined from floor to ceiling in light brown honed marble panels. Marble is used everywhere here in Florence, since the Tuscan quarries that Michelangelo used are not far away. The bathroom was modern with a large backlit mirror, plenty of shiny chrome fittings and shower set in the corner with water draining straight into the floor. The luxurious feel was completed with white monogrammed bath robes, billowing white shower curtains, and plenty of nice toiletries. I wafted around in my marble bathroom enjoying all the space and feeling very spoiled indeed.
Hotel Balestri does not have a restaurant, but that's hardly an issue when there are so many excellent places to eat within an easy walk. There is a bar area that adjoins the reception and like the bedrooms, the style is modern with clean lines and a slightly art deco feel in the mirrored tables, marble floors and leopard-print stools.
Breakfast was served in a private area through mirrored doors beyond the bar. In a side room was set out an excellent spread of cold meats, cheeses, pastries, yoghurts and breakfast cereals, with some hot eggs and bacon as well.  I found the hotel staff were extremely helpful and friendly, and they were able to make timed entry bookings for the museums so that I didn't need to stand in line. Hotel Balestri would be an ideal choice for those who want a well located, stylish and comfortable base for their weekend break in Florence.
How to book your perfect weekend break in Florence
My weekend in Florence was arranged through Citalia who are a leading specialist in Italian holidays, winning the title of 'Best Tour Operator to the Italian Peninsula' for seven years in a row. They have more than 85 years experience in putting together flexible itineraries to suit your needs, using Italy's finest handpicked hotels. The Citalia team are expert and knowledgeable in all things Italian and even have local concierges in each destination for personal recommendations, advice and help with day trips, car hire, or restaurant bookings. For more information visit the Citalia Florence page
Citalia is offering a three nights for the price of two in Florence staying at the four star Hotel Balestri on a B&B basis from £363 per person – a saving of up to £ 226 per couple. The offer includes return international flights from London Heathrow with British Airways. Based on departures 28th January 2017.
Pin It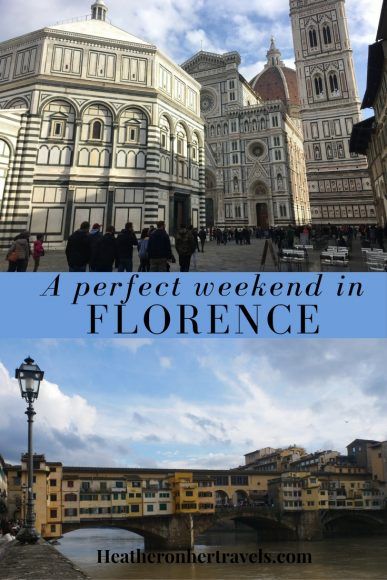 Thanks to Citalia who hosted Heather's stay in Florence. This trip was part of a project between Citalia and Travelator Media.
This article is originally published at Heatheronhertravels.com – Read the original article here