Southampton is your gateway to the best food of the South of England; the chalk streams and vineyards of Hampshire, salads from the Isle of Wight and the artisan food producers of the New Forest. Here are some places to eat fresh and local in Southampton and the foods to look out for, especially if you're visiting on a cruise. You may also like to read my article on Top 10 things to do in Southampton.
1 Mettricks: for coffee and brunch
Mettricks is a locally owned café, close to the cruise terminal, that's on a mission to bring great coffee to Southampton. The decor is homely, with scrubbed pine tables and mismatched chairs and they work with many local suppliers for the best quality meat and bakery products.
If you're on the hunt for free wifi, this is the place to settle down for an egg and crispy bacon sandwich or tea-time treat of home-made cake and coffee. We especially like the original cafe at 117 High Street, which stays open in the evening for cocktails, wine and real ales with light bites and bar snacks until 10pm.
Mettricks: Branches at 117 High Street, 2 East Bargate and opening soon at 1 Guildhall Place.
2 The Pig in the Wall: a stylish place to try local produce
The Pig in the Wall is a boutique hotel, set into the old city walls of Southampton, with a deli bar serving light dishes, homemade flatbreads and cakes from mid-morning to 10pm. As the name suggests, they specialize in charcuterie, with a fine selection of 'piggy bits' such as pork crackling and apple sauce or Honey Mustard Chipolatas. The decor is shabby chic with exposed brickwork, easy leather chairs and a touch of the potting shed. All the produce is all locally sourced with New Forest pork, Hampshire cheeses and Isle of Wight tomatoes on the menu. Their sister hotel, The Pig at Brockenhurst, is well known locally as a foodie stop and well worth the 30 min taxi ride, but best to book in advance.
The Pig in the Wall, West Esplanade, Southampton.
3 The Dancing Man: for real ale and pies
This micro-brewery, bar and restaurant is housed in The Wool House, an atmospheric medieval stone building that once stored wool on Southampton's quayside. Behind the bar is the micro-brewery where around 20 different beers are brewed in rotation with seven on tap at any one time.
Look out for the Pilgrim's pale Ale and The Last Waltz, named after the song playing on the Titanic as it went down, as well as guest beers from other local breweries. The menu is deliciously British, with pies a specialty (served with buttery mash and greens) and a popular Sunday roast.
The Dancing Man, Town Quay, Southampton
4 The Grand Café: for an elegant afternoon tea
Around Southampton and the historic towns you may visit on your cruise excursions, you'll find plenty of tea-rooms serving tea and cakes. If you want to take the oh-so-English ritual of afternoon tea up a notch, head for The Grand Café, originally the historic South Western Hotel, used by first class passengers on the Titanic. Afternoon tea is served from 2.30-5pm (book in advance) and you'll be served at a table with an array of delicate sandwiches, scones with cream and jam and a selection of cakes. It's a meal in itself, so you'd better miss out lunch to do it justice. If you're visiting Beaulieu, another elegant afternoon tea stop is the luxurious Montagu Arms, for tea in the lounge or courtyard garden.
The Grand Café, Southwestern House, SO14 AHS, Afternoon tea £17.50
5 Oxford Street: Southampton's Restaurant Quarter
If you want to find a selection of great restaurants all in one place, head for Southampton's lively restaurant quarter in Oxford Street, just a 10 minute walk from the cruise terminal. At weekends and in the evening, the pedestrianized street has a buzzy atmosphere and you'll also find good value lunch menus from many of the restaurants. We especially like the lively Oxford Brasserie serving a cosmopolitan menu using local produce, Olive Tree offering classic French bistro food, and the White Star Tavern, specializing in modern British cooking using local Hampshire produce.
Head for: Oxford Street, Southampton, SO14 3DA
You may also like to read my article on Top 10 things to do in Southampton for cruise visitors.
6 The Duke of Wellington: a traditional pub in the Old Town
If you're looking for a cosy, traditional pub for some real ales and hearty home cooked food, try the Duke of Wellington, opposite The Tudor House in the heart of the Old Town. The timbered building dates back to the 13th century and has been a public house since 1494 when this was just a stone's throw from the bustling town quay. They serve a wide selection of draught and real ales and on the menu you'll find pub favorites such as fish and chips, steak and ploughman's with ham or cheese, as well as options from the specials board and sandwiches at lunchtime. This is a good choice if you want to dip into traditional English pub culture.
The Duke of Wellington, 36 Bugle Street, Southampton
While you're exploring Southampton and other parts of Hampshire and the New Forest, look out for the following local specialties.
7 Vineyards that produce Hampshire's answer to Champagne
The chalk soil that characterizes much of Hampshire is ideal for wine growing and close to Southampton you'll find some of England's best-known wineries. The still and sparkling white and rosé wines feature on many restaurant menus, especially such as those made by Nyetimber and Hambledon that aim to rival the best champagne. Near Southampton you can visit the Three Choirs vineyard at Wickham (30 min taxi ride) where they have regular tours, daily tastings in the shop and you can also have lunch in their elegant restaurant.
8 Watercress: the crop of Hampshire's rivers
One of the seasonal foods that Hampshire is renowned for is the peppery, green watercress, and a Watercress festival is held in the market town of Alresford every May. The watercress grows in beds that span the Itchen and Meon valleys, thriving in the clear water flowing over chalk beds. There's even a steam train that runs from Alresford past the watercress farms, known as The Watercress Line, that was used in the 19th century to transport watercress to the markets in London. The watercress is available all year round, but look out for it on restaurant menus in the spring and summer when it's at it's best.
9 Isle of Wight tomatoes
With a mild climate and hours of sunshine, the Isle of Wight is known for its fresh produce such as asparagus, cherries, apricots and especially tomatoes. The island is just a short ferry ride from Southampton and can be visited in a day, but look out for the tomatoes and other produce on restaurant menus in Southampton. The glass houses and tomato growers like The Tomato Stall sell the sweet and flavorsome tomatoes through supermarkets, local delis and farm shops.
10 Ice Cream from the New Forest
Well you wouldn't be on holiday, if you didn't have an ice cream, would you? The local New Forest ice cream produced at Lymington is widely available in shops and cafés around Southampton. A few other artisan ice cream producers are worth looking out for while visiting attractions near Southampton; there's a delicious selection at Sundae's Child, who have an ice cream parlour in Romsey, and at Beaulieu chocolate studio in Beaulieu village.
You may also like to read my article on Top 10 things to do in Southampton for cruise visitors.
More information to plan your visit to Southampton
More information for visitors is available from the Discover Southampton Website and the Visit Hampshire website.
Note: I originally wrote this article for a cruise website but it was never published so I am republishing it here, hoping that it will give some useful tips and advice for cruise visitors to Southampton.
Pin It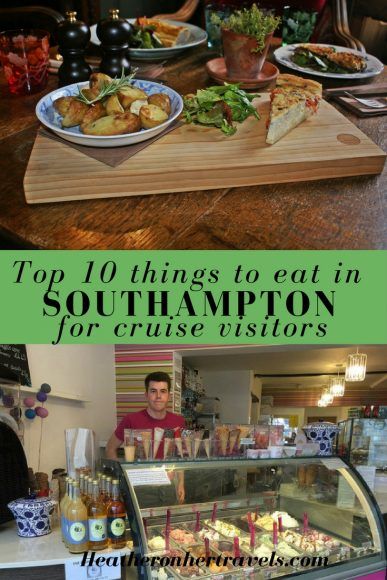 This article is originally published at Heatheronhertravels.com – Read the original article here
January 26, 2017 by Heather Cowper
Filed under Europe, Accommodation, Leisure, featured, Bavaria, Eating and drinking, Germany, Hotels, Museums, Sightseeing
The pretty town of Coburg, like many others in Germany, offers picturesque medieval buildings, a charming town square and cosy cafés to while away a weekend. But Coburg's palaces and castles tell another tale, of an ambitious noble family that spread its influence by marriage through most of the royal courts of Europe.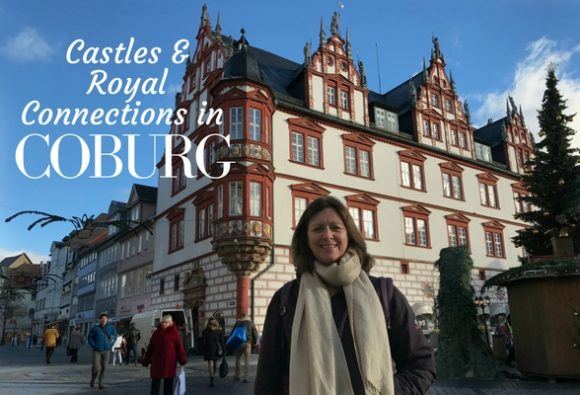 The town is best known as the birthplace of Prince Albert, husband of Queen Victoria, who grew up at Schloss Rosenau just outside Coburg. The royal couple visited several times before Albert's untimely death in 1861 and Queen Victoria always had a great affection for Rosenau, writing; "Were I not what I am, this would be my real home." Victoria and Albert were first cousins and their uncle Leopold, King of the Belgians, arranged numerous advantageous matches for his nieces and nephews around the royal courts of Europe. Small wonder then, that the town of Coburg has hosted so many royal and other notable visitors over the centuries.
The charming medieval streets of Coburg
When Guy and I visited Coburg in December, we started our town walk at the Martktplatz, the central town square that's surrounded by pictureque medieval buildings. On one side is the town hall with a statue of the town's patron, St Maurice standing on the gables. I'll tell you his story in a moment, but you'll spot that he's holding the baton of a Roman marshal, although the people of Coburg say that his stick is to measure the correct size of their famous sausage. On the opposite side of the square is the Stadhaus, built by Duke Johann Casamir in the 1600s as the administrative centre for the Dukes of Coburg. It's just that bit bigger and grander than the town hall with statues above the gables and prominent oriel windows on the corners – the Duke wanted everyone to know who was in charge around here!
Spreading out from Martkplatz, are narrow streets with many beautiful old buildings. As we wandered around we noticed the old pharmacy on the square with a symbol of the ostrich, which dates back to the 14th century and is still a pharmacy today. Near our hotel was one of the three gates around the town, that are all that remain of the inner and outer walls that once surrounded Coburg. The town walls were largely demolished in the 18th century when they were no longer required for protection and were falling into disrepair.
Nearby Albertplatz is a charming open space where we watched some ice carving and street performers as part of the Advent festivities. The houses that originally stood here were demolished to make way for the statue of Prince Albert that Queen Victoria commissioned after his death. The Queen, however, decided that there was no way her beloved Albert was to be sidelined to the second square of Coburg and so the statue was repositioned to the prime spot at the centre of Marktplatz.
The Queen unveiled Albert's statue herself in 1865, one of six visits she made to Coburg, the place that held so many happy memories and family connections for her. While we were visiting, the Christmas market was in full swing, so Prince Albert's statue was enclosed by a canopy to stand under and drink our Glühwein – would Queen Victoria have approved I wondered?
St Maurice in Coburg
All around the town you might notice a moor's head on mountains, public buildings and even man-hole covers. He's St Maurice, patron saint of the city of Coburg as well as many other towns, who was adopted by the rulers of Coburg, to appear on their coats of arms from the Middle Ages. St Maurice was the leader of a Roman Legion and originally from Thebes in Egypt, hence North African rather than the negroid appearance he is normally given.
As a Christian, he was martyred after refusing to worship Roman Gods while on campaign in what is now Switzerland – the town of St Moriz where he died was also named after him. Around 1100 the German Emperor decided to move St Maurice's remains to his new cathedral at Magdeburg and the procession passed through Coburg, giving rise to a cult of the saint in the town. His image appears in numerous places and coats of arms to this day, adopted by the Dukes of Coburg who were always on the look-out for something to add to their prestige.
Martin Luther in Coburg
Another notable visitor to Coburg was Martin Luther, the great reformer who spent 6 months in Coburg in the safety of the Veste fortress in 1530. This year will mark the 500th anniversary of the start of the protestant reformation, when Luther nailed his theses to the church door of Wittenberg in 1517. While his patron Elector Johann Friederich and a party of nobles continued to the diet of Ausburg to meet with the Emperor, Luther studied, worked on translations of the Bible and was in constant touch by letter with the events at Ausburg.
Among the many interesting things to see in Veste Coburg are the rooms where Luther is said to have spent his time, with his portrait hanging on the wall. Since Luther had been both outlawed and excommunicated, he was supposed to stay incognito, and referred to the fortress in his letters as 'the realm of the jackdaws" after the birds that squawked outside his window. An adjoining room was created to commemorate Luther in 1844 by Duke Ernst II of Saxony-Coburg and Gotha, which contains other paintings of Luther and the beautiful Hedwig Tumbler.
This coloured drinking glass from the 12th century was given as a gift to Luther and was said to have originally belonged to Saint Elizabeth of Thuringia and have healing powers. Apparently it was in great demand by pregnant women, since a drink from the tumbler was said to bring the blessings of the saint for a safe birth.
A walk up the hill to Veste Coburg
From the town of Coburg, we enjoyed a lovely walk up the hill through the Hofgarten park to the fortress that overlooks the town. The Veste Coburg overlooks the surrounding countryside, with thick walls, ramparts and towers and was the residence of the Princes of Saxe-Coburg until they moved to the Ehrenburg Palace in the town in the 16th century. We spent a fascinating few hours looking around the different parts of the castle, some medieval, some more modern since this was also the home of Duke Carl Eduard of Saxe-Coburg and Gotha from 1910 who installed the modern comforts of bathrooms and electricity.
The castle is now a museum containing all the art collections and treasures of the Saxe-Coburg family with everything from Venetian glass, carriages and suits of armour, to a fine collection of medieval religious paintings. You can walk the ramparts and peer down on Coburg and the surrounding countryside just like the soldiers of past centuries – if you don't want to go in the museum, access to the courtyards and ramparts is free. Within the walls there's also the Burgschenke Inn, which is perfect for a slice of apple strudel or a hearty Sunday lunch, after your brisk walk up the hill!
Ehrenburg Palace
Coburg may be a modest sized town, but it has another large palace in addition to Veste Coburg. Ehrenburg Palace was built from 1543 on the site of an abandoned Franciscan monastery, when Duke Johann Ernst decided that it would be more convenient to live in town than in the fortress up on the hill. The palace was inspired by the fashionable renaissance palazzos of Italy and was rebuilt in baroque style after a fire in the 17th century and further improved by Duke Ernst I, father of Prince Albert.
The lavish state apartments are painted in the fashionably bright colours of the 18th century, filled with portraits of the Coburg Dukes, the ceilings covered with ornate plasterwork and dripping with chandeliers. With relations in most of the royal courts of Europe, the Coburgs needed a place they could entertain in style such as the ornately decorated 'Hall of Giants' that hosted a meeting between Queen Victoria and Austrian Emperor Franz Joseph in 1864.
Around Coburg – the castles of Rosenau and Callenberg
Just outside Coburg we visited Schloss Rosenau, the birthplace of Prince Albert and a favourite with Queen Victoria. The castle is set on a hill, surrounded by parkland and despite the colourful interiors, beautiful paintings and Biedermeier furniture, we felt the romance and human scale of Rosenau. It was used as a summer residence by Duke Ernst I, father of Prince Albert and after he married Victoria, she ordered paintings of the castle and interiors to remind the homesick Albert of his birthplace.
The original paintings are in Windsor castle but copies were used more recently to restore the castle to its 19th century appearance, when it was renovated by Ernst I in romantic medieval style. There's a point on the castle drive known as the Queen's view, where the Queen would stop her carriage to have one last nostalgic look up at the castle on the hill, before driving back to Coburg.
Also a 15 minute drive from the town is Schloss Callenberg, which is the residence of Prince Andreas, the head of the house of Saxe-Coburg and Gotha. The rooms are decorated with beautiful paintings and there's an unusual shooting museum here as well as rooms dedicated to portraits and memorabilia of Victoria and Albert and their large family.
Also worth a visit is the small town of Seßlach, which we visited for the Christmas market held at the beginning of Advent. It's a pretty small town, full of picturesque half timbered houses, with cafes, inns and craft shops, a great place to stop for lunch and a wander round if you're visiting Coburg for the weekend or driving through the region.
Where to eat in Coburg
The people of Coburg are extremely proud of their Coburg Bratwurst, a long, thin, sausage that's traditionally cooked over a wood fire of pine cones and served in a crisp white roll. It's made with a mixture of beef and pork, with a smoky flavour from the fire which needs only a squirt of mustard for the authentic Coburg taste. You'll find a van selling the Coburger on Marktplatz all year round, since the local butchers take turns to have a stall there.
Our favourite place to eat was Restaurant 1627 which provides a light and healthy alternative to some of the 'meat and dumplings' dishes that are a foundation of German cuisine. It's named after the year that the house was built to supply the Ehrenberg Palace just across the road and is part bar, part restaurant. The menu is short with just a few main course, vegetarian and desert options – my pan fried fish with salad and baguette on the side was delicious with a house cocktail.
If you want something more hearty and traditional, we also tried the roast pork and Coburg dumplings, washed down with local beer, at Brauhaus du Coburg. It serves the equivalent of pub fare and is tucked down a lane just off Marktplatz with a brewery next door where you can admire the copper stills through the window. This is the place to try the Coburg dumpling, which is made of raw and cooked potato and is very soft – like a ball of mashed potato that collapses with a sigh onto your plate.
Of course, when you need a break from the sightseeing, a stop for kaffee und kuchen is a must, to cosy up in winter or watch the world pass by in summer. We liked the style of Queens Café on Albertsplatz with a wide selection of delicious cakes and light dishes – in summer it has plenty of outdoor seating on the square. We also stopped at Feyler, which has a café and impressive selection of cakes and chocolates, including seasonal biscuits like the Coburger Schmätzchen which are sold at Christmas.
Delicious Souvenirs to bring home from Coburg
These days I prefer to bring back delicious edible souvenirs from my travels, rather than ornaments that will end up gathering dust on the shelf. We stopped at the Chocolate Coburg shop (Ketschengasse 9), to stock up on my favourite marzipan chocolates and at Feyler (Rosengasse 6-8) for those spicy German biscuits which vary with the season and the locality, since every region has their own variation. In winter you should look out for the Nurenberger Lebkuchen and the Coburger Schmätzchen which come plain or covered in chocolate flecked with gold leaf.
At the Coburger Bratwurst stall in Marktplatz you'll also find that they sell the cooked sausages in vacuum packs which you can easily pack in your luggage, so that you can savour the smoky flavour at home. We also enjoyed browsing the postcards and stationary at Veste-Verlag Roßteutscher (Steingasse 16) opposite the Ehrenberg palace, where we bought a gorgeous advent calendar with snow sprinkled local scenes.
Read More: Christmas in Coburg – discovering the seaonal magic in Germany
Plan your Visit to Coburg
For more information about what there is to see and do in Coburg, visit the Coburg Tourism website and follow them on their social media channels: Facebook and Twitter. You can also find information to plan your holidays in Germany at the Germany Tourism Website.
From the UK you can reach Coburg via Nuremberg airport (1 hr 15 min drive), Frankfurt (2 hrs 50 mins drive) or Munich (2 hrs 50 mins drive) and we recommend hiring a car, which will enable you to easily visit all the castles and places of interest around Coburg.
We flew from Bristol to Frankfurt with bmi regional who fly up to three times daily between Bristol and Frankfurt. One way fares cost from £93 and as with all bmi flights, include a generous 23kg of hold luggage, a complimentary in-flight drink and breakfast snack, allocated seating and a speedy 30 minute check-in.
Where to stay in Coburg
We stayed at Hotel Villa Victoria in Coburg (so many things are named for Victoria and Albert), which was the perfect place to spend a few days while exploring the town and the castles nearby. The accommodation is in a very pretty turn of the century villa, just outside the old town walls, with convenient parking outside for our hire car (although the spaces quickly filled up). In the villa are 12 rooms and ours was a most delightful suite with adjoining sitting room and view of the city gatehouse.
The house had been beautifully renovated and we had the use of a guest sitting room on the same floor, with a tea and coffee station on the landing. We especially enjoyed breakfast in the charmingly furnished ground floor room, with pretty floral china and lace tablecloths. Across the road is a more modern residence, and guests staying there can also have breakfast in the villa, but I would check when you book that you can have a room in the older house if possible.
Despite the name, you should be aware that Hotel Villa Victoria is more of a guest house than a hotel; for instance when we arrived mid afternoon there was no-one manning the reception and we had to call the owner who gave us instructions on how to find our key. When staying here be sure to let the owners know at what time you will be arriving and make arrangements accordingly.
Thanks to German National Tourist Board who hosted my visit to Coburg and to BMI Regional who covered my flight via Frankfurt.
Pin It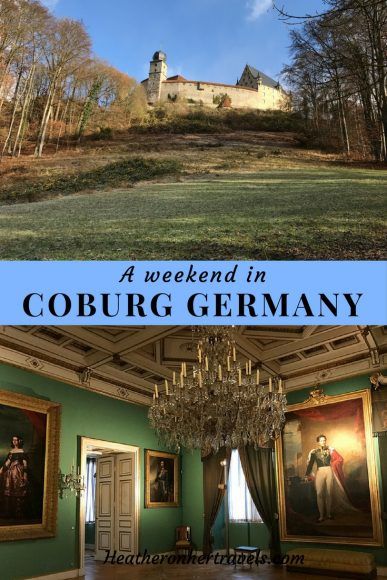 This article is originally published at Heatheronhertravels.com – Read the original article here
Italy is a nation of discerning food lovers who really care about the provenance of what they eat, making it heaven to visit for foodies. But since Florence is such a tourist hotspot, I was slightly worried that during my long weekend with Citalia, I'd only find unremarkable, dumbed down versions of Italian food. In fact it was just the reverse and by understanding a bit of the food culture, following my nose and taking some recommendations from the Citalia concierge I managed to eat extremely well. If you're planning a trip to Florence, here are a few of the delicious foods you'll want to try.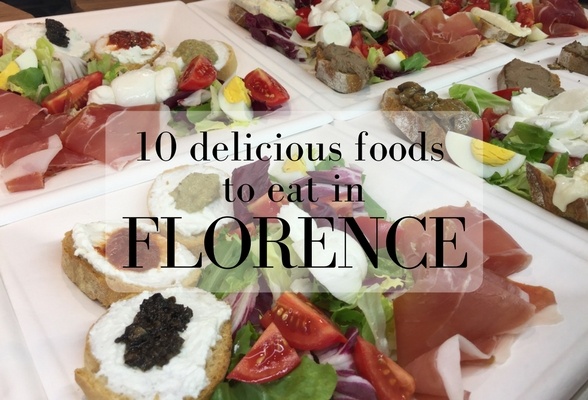 1. Let's start with the Gelato
You can't come to Italy, let alone Florence without enjoying a gelato (or three or four). But when you've tasted a few you start to realise that there's gelato and then there's gelato. There is the gelato that is sold along the main tourist streets, piled high in brightly coloured mountains, which I'm sure tastes perfectly fine. But if you are aspiring to be part of the gelato cognoscenti you need to look out for gelato artiginale – it means that the gelato is made on the premises from fresh ingredients. Although the colours may be more subdued since nothing artificial is used, the flavours will be fresh and authentic. A gelateria artiginale will often sell the gelato in covered metal containers so you need to choose the flavours from a list rather than by looking at the gelato on display behind the counter.
Since I'm always striving to taste something delicious without putting on pounds, I tend to pass on the wafer cornets and go for the smallest size container which costs around €2. For that you can often choose two different flavours, and the quantity is deceptively large, so it's a bargain! My favourite gelateria in Florence was;
La Strega Nocciola (Via de' Bardi, 51) – close to the Ponte Vecchio on the south side of the river, with a stylish, modern feel and room to sit inside while you contemplate what you're eating. The gelato was absolutely delicious!
I also enjoyed the gelato at;
Vivoli (Via dell'Isola delle Stinche, 7) – tucked away in the backstreets near Santa Croce it's a small, old fashioned looking cafe and gelateria with plenty of tempting cakes too.
Neri (Via dei Neri, 9/11) – a small gelateria that has a real neighbourhood feel and was packed with families choosing their afternoon treat, also serving waffles and iced yoghurt.
2. Pizza – of course!
Well, Italy is the home of pizza and if you're in Florence you should take full advantage of pizza as it was originally intended – as a quick and tasty street-food. If you're constantly on the move, trying to see as many of the glorious sights as possible, there are many stalls along the main tourist routes that will sell you a slice of pizza which they can heat up for you to eat on the go.
If you want something that's a bit more authentic then look for a café that has a wood-fired oven burning at the back to cook the pizza, so that you get it fresh and piping hot. Upstairs in the Mercato Centrale you'll find La Pizzeria Sud! with the two pizza ovens working hard and at the stand next to it you can buy focaccia pizza slices from artisan bread-maker David Bedu
3. Cafe Rivoire: Hot chocolate & cannoli
Although I normally avoid those cafés that inhabit the prime position in a tourist hotspot, I couldn't resist stopping at Café Rivoire. It has a terrace facing Piazza della Signoria – ideal for people-watching the crowds that swirl around the Palazzo Vecchio. You'll pay a premium for waiter service at a table, but perhaps it's worth it just to rest your feet after tramping the cobbled streets and take a break to watch the world go by.
Since I was short on time, I did as the locals do and ordered directly from the bar, then stood at one of the small counters inside, which is much cheaper. I sipped a rich and smooth hot chocolate topped with whipped cream and from the cake counter selected a cannoli. This typically Italian pastry originates in the south and the crisp biscuit shell is filled with sweetened ricotta filling finished with candied orange peel. The sugar rush was quite enough to re-energise me to continue my afternoon of sightseeing.
If you go: Cafe Rivoire, Piazza della Signoria, Florence.
4. Gilli: For elegant sweet treats
On Via Roma, one of the main thoroughfares of Florence's Centro Storico, I was tempted by the sweet treats on display at Gilli. With paneled dark wood interiors, marble counters and an elegant terrace overlooking Piazza della Repubblica, it's something of a Florentine institution for coffee and cakes or an aperitivo in the evening.
I couldn't resist the displays of fruit jellies, marzipan fruit, chocolate praline and marron glacé piled on elegant silver trays and dishes in the window. This must surely be the place to stop and buy a sweet souvenir to bring home as a gift for your loved ones – if they last that long!
If you go: Gilli on Via Roma facing Piazza della Repubblica, 50123 Firenze
5. Truffles and more in the Mercato Centrale
The Mercato di San Lorenzo or Mercato Centrale was one of my favourite places to eat in Florence. Downstairs are the traditional fresh food stalls that close in the afternoon, but upstairs is an amazing restaurant hall where you can choose from any of the stands selling different dishes. It's perfect for families and groups of friends as well as the solo traveller, since everyone can wander around to choose whatever takes their fancy, place their order and take it back to one of the central tables to eat. The bar staff will also come around and take your drinks order, which you pay for separately, making it all so very easy.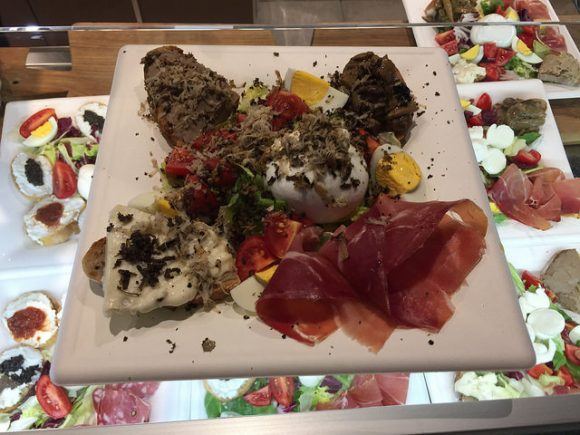 Having walked around the whole food hall, salivating over the oozing buffalo mozzarella and taking in the joyous atmosphere of friends chatting over a glass of Chianti, I was seduced by the fragrance of truffles wafting from Il Tartufo. From this stand, specialising in truffles, I chose a mixed plate of antipasti (€15) and watched as it was covered with a generous layer of truffle shavings – absolute heaven! Just to stay healthy after all the pastries I'd been snacking on, I also quenched my thirst with a glass of fresh pressed apple and kiwi juice with ginger (€5) from Marcella Bianchi's Vegetarian and Vegan stall.
6. Shopping for food souvenirs
I know I keep coming back to the Mercato Centrale, but if you're looking for food souvenirs to take home, this is a great place to look for ideas. It's a pleasure to wander around and admire the traders at work, butchers expertly cutting up meat, fishmongers fileting fish, the fruit and veg being arranged in attractive polished pile. The deli stalls have plenty of dried sausages and other moveable feasts and you can buy dried mushrooms to enrich your stews back home and limoncello to remind you of those sun drenched afternoons. I also enjoyed a free tasting of cantucci, the twice baked almond biscuits in enticing flavours like almond and orange or chocolate and coffee at the icantucci stall in the market – a lovely treat to take home to dunk in your cappuccino mid-morning.
7. Let's talk Tripe!
We might feel a little squeamish at eating tripe, coming as it does from the lining of a cow's stomach. In Florence, however, it's considered a local specialty, a hearty home-cooked dish that you might remember your Nonna cooking you as a child. I even came across a tripe festival (part of the Bienale eno Gastronomica di Firenze) being held one evening downstairs in the Mercato Centrale, where a number of trattorias had set up their stall with a bubbling pan of tripe stew. For a couple of euros I could buy a small dish of stew served with bread from different vendors; some cooked with white wine and onions, others with a rich tomato sauce laced with olive oil.
The flavour of the sauce was delicious, although there's something about the gelatinous texture of tripe that takes a bit of getting used to. It's clearly still a popular dish, since there are butcher's stalls in the market that specialise only in lampredotto, and the crowds were flocking around Da Nerbone, the stall on the ground floor of the market that serves tripe for lunch in a bread roll. Go on – give Tripe a try!
8. Aperitivo time!
By now it must nearly be time for dinner, so we'll follow the Italian custom of stopping at a local bar for an Aperitivo – time for a chat with friends before heading home for dinner or out to a restaurant. Of course you'll find delicious Chianti reds from the vineyards of Tuscany and a glass of sparkling prosecco is always popular.
If you'd like to try the local cocktail, order a Negroni. It was invented in Florence in the 1920s by Count Camillo Negroni, who one day decided to order his regular campari and vermouth with gin, instead of soda water. The Negroni is mixed with equal parts of red vermouth, gin and campari – which gives it a refreshing but slightly bitter taste, offset by the fruity vermouth and slice of orange. Personally I found the levels of alcohol a little strong for me, but you can always order an Americano which uses soda water instead of gin or the bright orange Aperol spritz that's drunk all over Italy. I tried my Negroni in the bar of the lovely Hotel Ballestri where I was staying with Citalia.
9. Bistecca alla Fiorentina
The steak in Florence is renowned for its flavour and quality, coming from the Chianina cattle that graze in the surrounding Tuscan countryside. Traditionally the Bistecca alla Fiorentina refers to the T-bone that is cut in a thick slice and served rare with only a few minutes cooking on each side over a wood grill. This allows you to fully appreciate the flavour of the beef and even if the steak appears huge, it's expected that you'll share it among friends.
In restaurants the Bistecca alla Fiorentina is normally priced according to weight (and it's never cheap) so you should be shown the steak and told the weight before it's cooked for you. You'll be able to enjoy a Bistecca alla Fiorentina in many traditional trattorias or osterias in Florence and if you're upstairs in the Mercato Centrale look out for several stalls that sell steak, sausages and other meat dishes.
10. Il Santo Bevitore: Tuscan dishes with a gourmet twist
Crossing the Ponte Vecchio into the hip and trendy neighbourhood of Oltrarno across the river, I dined at a modern Tuscan restaurant, Il Santo Bevitore. This was a recommendation of the Citalia Concierge and was an excellent choice if you enjoy good food in relaxed but elegant surroundings. It was obviously popular with both locals and visitors and was getting busy as I arrived, so do ask your hotel to make a reservation. The white walls and simple wooden furniture were mixed with white table linen, heavy silver cutlery and fine glassware for an elegant take on the neighbourhood trattoria.
The young staff were friendly and attentive, dressed in that trendy waiter's uniform of jeans, with black t-shirts and aprons. Everything I ate was absolutely delicious, starting with a selection of different breads and a fresh local white wine. I ordered a small plate of spinach filled ravioli, in a butter sauce with shrimps and a wafer of grilled cheese, followed by a tender Carpaccio of marinated beef scattered with salad leaves and shavings of pecorino and egg yolks. The meal was completed with a mulled wine ice-cream served on a rosemary and raisin cake, surrounded by a pool of creamy custard and cubes of quince jelly. This is also a good choice if you are travelling solo as there are seats at the bar that are great to enjoy the atmosphere without feeling out of place.
If you go: Il Santo Bevitore, Via di Santo Spirito, 64/66 near the Ponte all Carraia, Florence. My three course dinner with wine, water and service was around €50.
A final snack at La Prosciutteria di Firenze
As a parting tip let me tell you about the La Prosciutteria where I enjoyed a delicious snack of prosciutto in a panini layered with cooked aubergines and garlicky aioli. On the recommendation of the Hotel Balestri concierge I popped in on my final afternoon for a snack before I left for my flight, and enjoyed the no-frills-just-good-food ambiance. The filled rolls are handed to you wrapped in paper to eat at a wooden table and you can also order sharing boards of prosciutto and cheese with a glass of wine. It's conveniently close to the Palazzo Vecchio at Via dei Neri, 54 and they have branches in other cities like Rome, Milan and Siena.
One thing you can be sure of is that you won't be going hungry in Florence. There are delightful family run trattorias, osterias and pizzerias wherever you turn, so follow your nose and ask the locals or your Citalia concierge for recommendations to find somewhere delicious to eat. And if in doubt I'd just head for the Mercado Centrale to dine on their first floor – I could have happily eaten there for every meal of my weekend in Florence!
Planning your weekend in Florence
My weekend in Florence was arranged through Citalia who are a leading specialist in Italian holidays, winning the title of 'Best Tour Operator to the Italian Peninsula' for seven years in a row. They have more than 85 years experience in putting together flexible itineraries to suit your needs, using Italy's finest handpicked hotels. The Citalia team are expert and knowledgeable in all things Italian and even have local concierges in each destination for personal recommendations, advice and help with day trips, car hire, or restaurant bookings. For more information visit the Citalia Florence page
Where to stay in Florence
I can highly recommend the four star Hotel Balestri where I stayed in Florence through Citalia, conveniently situated by the river, just 5 minutes from the Ponte Vecchio and 10 minutes from the Piazza della Signoria. My bedroom was spacious with clean, modern lines and plenty of wood and leather. The dark wood parquet floor, leather headboard and furniture had an art deco feel, with even the walls covered in a cream leather effect with decorative wood bands. The French windows opened wide to a lovely view of the river Arno and over the bed was a photo print of the coloured marble facade of the Duomo.
My luxurious bathroom was lined from floor to ceiling in light brown honed marble panels. The bathroom was modern with a large backlit mirror, plenty of shiny chrome fittings and shower set in the corner with water draining straight into the floor. The luxurious feel was completed with white monogrammed bath-robes, billowing white shower curtains, and plenty of nice toiletries. I wafted around in my marble bathroom enjoying all the space and feeling very spoiled indeed.
Hotel Balestri does not have a restaurant, but that's hardly an issue when there are so many excellent places to eat within an easy walk. There is a bar area that adjoins the reception and like the bedrooms, the style is modern with clean lines and a slightly art deco feel in the mirrored tables, marble floors and leopard-print stools.
I found the hotel staff were extremely helpful and friendly, and were happy to make restaurant recommendations and bookings. Hotel Balestri would be an ideal choice for those who want a well located, stylish and comfortable base for their weekend break in Florence, which can be booked through Citalia.
Pin It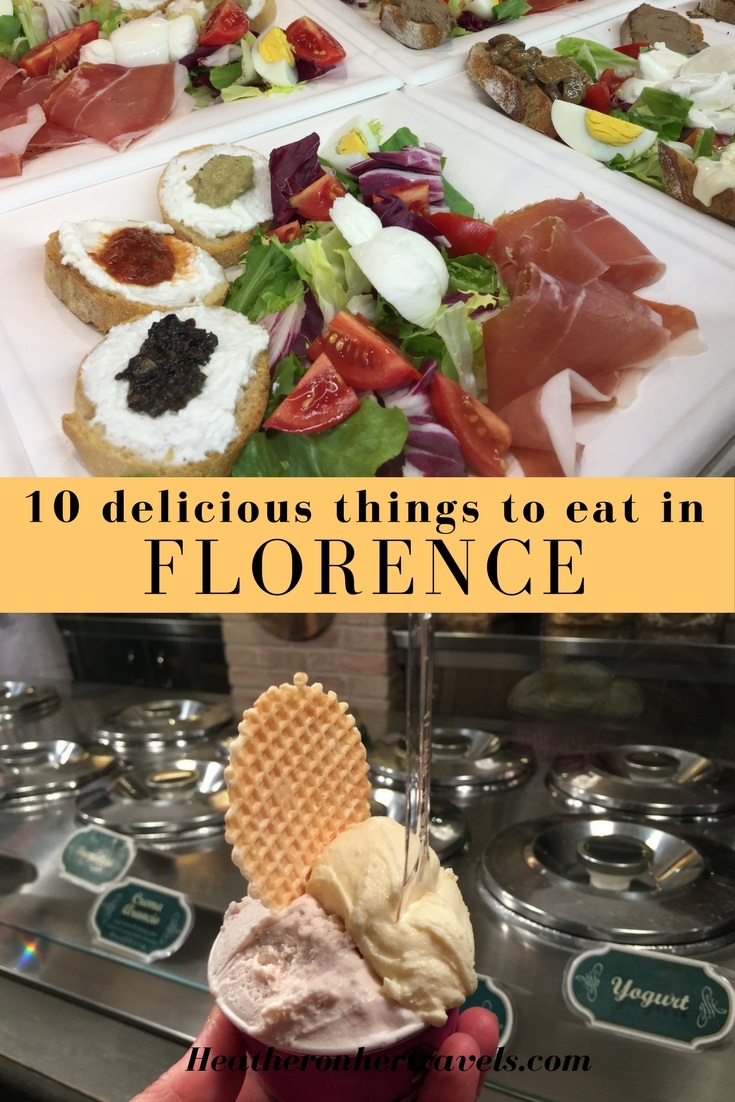 Thanks to Citalia who hosted Heather's stay in Florence. This trip was part of a project between Citalia and Travelator Media.
This article is originally published at Heatheronhertravels.com – Read the original article here