February 23, 2015 by Guest Author
Filed under Accommodation, Balearics, Eating and drinking, Europe, featured, Guest post, Leisure, Misc, Nature, Shopping, Sightseeing, Spa & Pampering, Spain
Ibiza attracts hundreds of thousands of visitors over the summer months, flocking to the island to enjoy the glorious weather and party scene. However, the island also has much to offer during the quieter, off season times. With mild temperatures and a peaceful, down tempo pace, discover a different side to Ibiza this spring.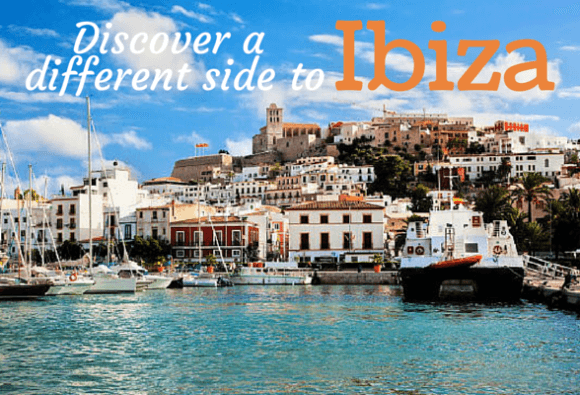 Explore to coastline of Ibiza
Ibiza has a rugged and fascinating coastline, which lends itself perfectly to hiking and walking. There are many companies who offer guided walks around the island during the winter months, when the climate is perfect for long, adventurous walks. If you have the stamina, why not head to the highest point on the island, Sa Talaia to marvel at the breathtaking views of the mystical rock Es Vedra.
Or perhaps enjoy a less challenging walk along the beautiful beach of Ses Salines, a natural wildlife park which is home to, over 200 different species of birds and is a recognised UNESCO World Heritage site. You can choose to discover the island by yourself, or join one of the guided walks. See www.walkingibiza.com for some insider tips and an itinerary of their weekly walking tours.
Wine and Dine on Ibiza
If you are a dedicated foodie then never fear, Ibiza still has plenty to offer the discerning diner in the off season. Many bars and restaurants are open all year round, albeit some of them just at the weekends, and many offer great value deals for winter visitors. For a delightful beachside meal – head to the shores of Cala Jondal where you will find the eternally popular Yemanja restaurant, open all year round, and serving some of the best freshly caught fish to be found on the island. The gambas ajillo (garlic prawns) have to be tasted to be believed. Another favourite is the organic cafe La Paloma. Hidden away in an orange grove in the sleepy village of San Lorenzo, the menu offers an unusual combination of Italian and Israeli influences, with many of the ingredients coming directly from their own gardens. We recommend the houmous cordero (spiced minced lamb with houmous) which is served with freshly baked foccacia bread, simply delicious.
Shop at the flea markets on Ibiza
It's a great time to indulge in some retail therapy here in Ibiza, especially in the New Year when many shops offer great rebajas (post Christmas sales). Ibiza Town has a great selection of stores which stay open all year round, and the tree lined streets are literally bursting with great value deals to be discovered by an intrepid shopper. Or why not head to one of the markets which run all year round, check out Las Dalias in San Carlos every Saturday for some hippy style clothes and jewellery, or head further north to the Cala Llenya second hand market which attracts hundreds of people each and every Sunday, who head there to grab a bargain and enjoy the live music in the outdoor bar area.
Pamper Yourself on Ibiza
If you are seeking some R&R and a little 'me' time, then low season Ibiza has lots to offer. With Both Atzaro and Can Curreu rural hotels remain open all year round, so head to their spas for some great winter deals on massages, beauty treatments and yoga classes. A perfect time to spoil yourself in the beautiful surroundings of the Ibiza countryside. And why not, you are most definitely worth it!
If you're searching for a place to stay in Ibiza, take a look at Ibiza Summer Villas, who offer a complete portfolio of villa rentals to suit all tastes and budgets. Rent an entire villa for yourself, your family, and your friends. Each villa exudes Mediterranean luxury living at its finest, and some boast up to 17 rooms. Ibiza Summer Villas has almost 100 gorgeous villas to choose from, with special promotions going on year-round. The Ibiza Summer Villa staff know Ibiza intimately, and can give you the best hints and tips about everything island-related.
Pin It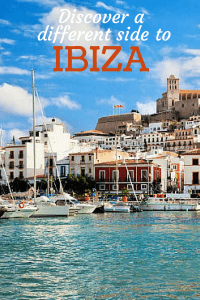 For more island delights:
Tapping into the real Ibiza
Carnivals, jazz and nightlife – the sounds of St Lucia
Swimming, surfing, snorkeling – best beaches of the Dominican republic
This article is originally published at Heatheronhertravels.com – Read the original article here
You'll also find our sister blog with tips on how to build a successful travel blog at My Blogging Journey
February 10, 2015 by Guest Author
Filed under Accommodation, Art and design, Caribbean, Eating and drinking, featured, Guest post, Hotels, Leisure, Misc, World
Calling all chocoholics as our guest author Magdalena Fielden tells us about the Grenada Chocolate Festival that she founded, for a taste of the chocolate created on this Caribbean island with chocolate food and cocktails, visits to the chocolate factory and even chocolate yoga and fashion. All happening in May 2015.
Grenada has a unique chocolate story to tell which I knew could be turned into an interesting and delicious experience. The more I thought about it the more I realised that we had never really worked collectively to promote Grenada's cocoa history, traditions and the fantastic award winning chocolate that is produced right here on the island.
It was in 2013 that we started to talk about running a chocolate week at True Blue Bay. We had noticed that there was a growing interest in chocolate and workshops to learn how to make chocolate. I wanted to do more than just show people how to make chocolates and so the Grenada Chocolate Festival was born.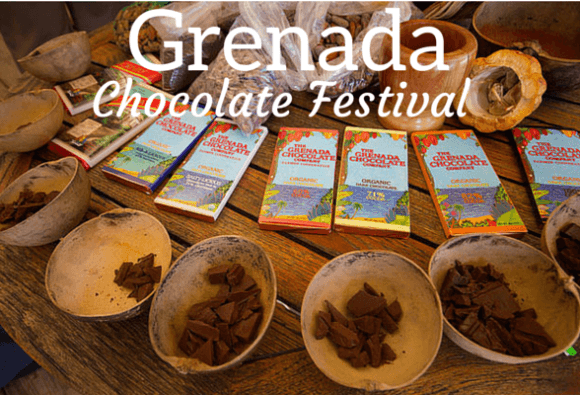 The Grenada Chocolate Company
As my inspiration I looked to the charismatic Mott Green who founded the The Grenada Chocolate Company. It was back in 1999 that Mott helped to organise small-scale local cocoa farmers and workers into a co-operative to produce delicious organic chocolate in a sustainable manner.
I was fascinated by Mott Green and admired his efforts to create chocolate ethically and how he involved the local community. And of course I loved the taste of the chocolate.
Over the years we promoted The Grenada Chocolate Company to our guests, encouraging them to visit the chocolate factory and visit the Belmont Cocoa Plantation to see how cocoa is processed before being turned into chocolate. But it was all very informal with no set itinerary or programme.
So I set about creating a dedicated chocolate event that would be truly Grenadian, involve as many local artisans and growers as possible and introduce people to different attractions and experiences.
Chocolate making
And so the Chocolate Fest was born. We decided to use chocolate as a loose theme and created a programme that covers everything from art and beauty to fashion and food and encourages people to explore Grenada away from the beaches.
After a trial event in August 2014, we refined and expanded the programme to create the first proper Chocolate Fest that will run from 8 to 17 May 2015.
Learning about chocolate
Our programme includes experiences such as the Cocoa Chocolate Hash – a hike through a cocoa plantation, as well as the chance to be a farmer for a day at the Crayfish Bay Organic Farm learning how to pick the cocoa pods, harvest the beans and prepare them for processing.
We have partnered with a local school to take a field trip with some of the children to learn about the history of cocoa and how the island's future depends on having a sustainable farming community. We are also holding a fundraising dinner with proceeds being used to build a playground at the Vendome RC School.
Chocolate yoga
Contrary to popular belief chocolate does not have to be unhealthy. So we are dedicating a day to exploring its health benefits. The day starts with a yoga session at True Blue Bay's Sankalpa studio and includes a meditation to appreciate the texture, smell and taste of chocolate. The session also includes tasting the local cocoa tea. Then there are hands on workshops about the health benefits of chocolate.
Chocolate beauty
Chocolate is also a great beauty aid which will be demonstrated at a mini spa bazaar featuring local organic beauty products. We even offer chocolate themed treatments at True Blue Bay's Blue Haven Spa.
Chocolate as an art medium
Cocoa also inspires local artists so we include a visit to the Art and Soul Gallery, owned by local artist Susan Mains, for the opening of the Cocoa Art Exhibition that features paintings, sculpture and batiks.
On another day we are inviting local artisans to display their wares at an arts and crafts bazaar featuring crafts, jewellery, art and chocolate.
Fashion show
My daughter, Marie will even be organising a fashion show featuring Grenadian inspired fashion created from batiks and soft tropical fabrics.
The best part – tasting!
Of course we haven't forgotten about chocolate's greatest attraction – its taste. And there are ample opportunities to sample our delicious local chocolate with chocolate breakfasts, preparing a chocolate inspired lunch under the guidance of our entertaining cooks, Esther and Omega, chocolate themed dinners and parties.
Chocolate cocktails
We will even offer tastings of chocolate inspired cocktails, chocolate beer brewed at our on site microbrewery, and local chocolate rums. And what better souvenir to take home than a bar of chocolate you have made under the expert guidance of the team at the Diamond Estate Chocolate Factory.
Learning will be made fun for children with a family fun day at the Belmont Estate where they can take part in activities such as dancing, walking and scooping the cocoa.
What more could you ask for from a holiday than combining chocolate with great weather, the warmest of welcomes and the chance to kick back and relax on a beautiful island?
 If you'd like to visit the 2015 Grenada Chocolate Festival
The Chocolate Fest runs from 8 to 17 May 2015. Participation in individual days costs from US$36 for adults and US$20 for children. Some events are free for those staying at True Blue Bay Resort.

Thanks for this article to Magdalena Fielden, organiser of  The Grenada Chocolate Festival who offer a unique visitor experience with their pure and delicious Grenadian organic and sustainable cocoa and chocolate.

Caribtours offers 7 nights at True Blue Bay from £1,221 per person, based on two adults sharing a True Blue Style Room on a bed and breakfast basis, including return scheduled flights from Gatwick and private transfers. A US$300 coupon book offering vouchers for discounts and offers at restaurants, spa, shops and diving at the resort and other outlets nearby. Price based on travel in May 2015.
All Photos by the Grenada Chocolate Festival
Pin It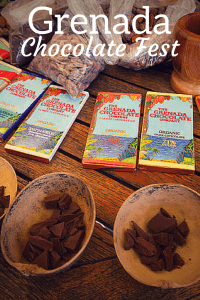 For more chocolate goodness:
In praise of chocolate – in Bristol
Chocolate with sea salt – a taste of West Sweden at Flickorna Kanold in Gothenburg
The fresh taste of Paris – our gourmet tour of Marché d'Aligre
This article is originally published at Heatheronhertravels.com – Read the original article here
You'll also find our sister blog with tips on how to build a successful travel blog at My Blogging Journey
January 6, 2015 by Guest Author
Filed under Art and design, Eating and drinking, Europe, featured, Guest post, Italy, Leisure, Misc, Museums, Shopping, Sightseeing, Walking
Milan, Italy's second city, is a complex paradox, the capital of Italian commerce, industry, finance and fashion (its design and fashion shows are actually big business trade fairs) yet for the cognoscenti it offers easily discovered cultural and epicurean treasures.
Perhaps this constant eye toward commerce is what makes the city, as a tourist destination, a little understated, a little too northern European with high-rise towers and banks that outnumber the churches. Yet when you walk the city's streets, immersing yourself into a culture that is firmly rooted in fashion, art, opera and delicate aperitivos eaten al fresco atop cobbled streets, you come to realise that Milan is much more than the sum of its sometimes shallow parts.
The city hosts a little bit of something for every type of person – not just world-class shopping but a well-wired and vibrant cultural scene too. The undeniably creative atmosphere is a pleasure to explore and when you do, you'll note that Milan has more history than the shiny skyscrapers, grimy backstreets and freshly manicured nails of its denizens tend to remember.
Fashion in the Rectangle of Gold
If it's fashion that you want then point your Louboutin's towards the Quadrilatero d'Oro – otherwise known as the Rectangle of Gold, to explore everything from Dior to Versace and all the usual suspects all within easy walking distance of each other. Be sure to take a well-heeled walk around the Gallerie Vittorio Emanuele II, which amongst other things is one of the oldest shopping malls in the world – with Prada's flagship store now celebrating its 101st year there. Bargain hunters should take a look around the area for the outlets that stock floors of past seasons bargains. However if your tastes are slightly more avant garde then take a walk to Via P. Paoli 1, where you'll find the Antonioli concept store – a unique space where you can shop contemporary designers such as Ann Demeulemeester, Rick Owens and Yohji Yamamoto in a beautifully designed store.
The shows in spring and summer are, to many, the highlight of the fashion calendar, with starlets from all corners of the world, heading to the Palazzo Reale or the Palazzo Serbelloni, to get a first look at the designs of the elites of Italian fashion such as Dolce & Gabbana, Marni and Moschino. If you don't have an invite to a show then there are still plenty of opportunities to strut your stuff – whether outside the venues (prepare for the street-style paparazzi) or in one of the city's trendy bars.
Culture in Milan
To some it's surprising that this sometimes-grey city is where Leonardo da Vinci found the perfect setting to exercise his brilliance. You could spend days here retracing his footsteps – from the Sforza Castle with his painted Mulberry tree frescoes, to the various exhibits of both his work in art and science in the city's museums. Best known is the breathtaking Last Supper fresco, which hides on a refectory wall behind the antique façade of the UNESCO listed Santa Maria delle Grazie church.
Aesthetes should dedicate time to the astounding gothic beauty of the Duomo. Its size is staggering, a construct which took 5 years to complete – it is the largest cathedral in Italy. Inside the looming façade, the numerous works of art and icons on offer create a brooding atmosphere – the most striking of which is the statue of Saint Bartholomew Flayed, by Marco d'Agrate.
The saint stands, muscle and tissue exposed, holding a book, his flayed skin thrown over his shoulder like a robe. Those with a love of opera should make reservations to the Teatro Alla Scala, though any one with even a passing interest in the arts and architecture should make an effort to see the impressive stage, which first raised its curtains in 1778. Art lovers shouldn't miss Tiepolo's frescoes at the Palazzo Clerici or the works of art concealed within the Pinacoteca di Brera.
Milanese Cuisine
It goes without saying that Italy is well known for its food – but Milan often, rather unfairly, slips under the radar. Let's make it simple. When in Milan – sate your hunger with local cheeses, butters and milks – note that rice is more popular than pasta in many circles, it does absorb the creams and cheeses that bit better – and try local greats like gorgonzola, polenta topped with mushrooms and of course the famous Panettone cake – originally from Milan and generally reserved for Christmas in these parts.
Now let's set the scene: Milan, 6pm, the bars and restaurants of the city are filled with locals and tourists alike for Aperitivo hour. Where do you go? For the classic experience I'd suggest the haute bars around the Piazzo Duomo, especially Zucca in the Galleria, which is where the likes of Giuseppe Verdi and Arturo Toscanini would dine after performances at La Scala next door – the historical ambience, and the view of the Duomo completes the authenticity. For those in need of a slightly more stylish setting then try Brera district, or, for something a little more elaborate, try the Navigli district, where the da Vinci designed canals wind along the narrow streets. Try one of the houseboats docked in the canals, where Aperitivo is often accompanied by live music.
But what is Aperitivo you ask? Aperitivo is a well-established northern Italian culinary tradition, and Milan (from the 1920's anyway) is the capital of it. It's about drinks and food. A harmony of flavours propelled to sainthood, through offers of after work relaxation and the pleasure of conversation paired with great, though simple food. Try a spritz or a Negroni sbagliato (a delicious mix of prosecco, red vermouth and Aperol instead of gin) paired with a smorgasbord of olives, nuts, bruschetta, cheeses and other stuzzichini (finger food).
Drinks cost anywhere from 7 to 15 euros and come with either a table mix of the above or, in some cases, all you can eat buffets – perhaps the last thing you would expect, when all around you, the Milanese strut in precision heels, pristinely turned out with perfectly pinched waistlines.
Take a few days to experience what the city has to offer – stay away, if you can, from the bustling Milano Centrale Station area, and instead stick to the Piazzas where you can sit in the company of history and simply watch the (Milanese) world go by, sipping your espresso, nibbling on a biscotti and absorbing the very special magic of Milan.
About the author: David Jacobs is a travel writer and editor of Euro Travel Magazine – an online publication which focuses on the whole of Europe, from the mysterious Orkneys to the wine dark seas of the Aegean.
Photo Credits: Shopping in Milan – Mike and Annabel Beales on Flickr, Castello Sforzesco, Milan – Mike and Annabel Beales on Flickr, Rooftop of Milan cathedral – Stefan Karpiniec, Saint Bartholomew – Antonio Trogu, Milan at night – Alex LA, Milan station – Richard Evea
For more tips on travel in Italy:
Törggellen time in South Tyrol – a feast of autumn
Naples and an excursion to Pompeii
Bandits and Murals at Orgosolo in Sardinia
This article by is originally published at Heatheronhertravels.com – Read the original article here
You'll also find our sister blog with tips on how to build a successful travel blog at My Blogging Journey