Italy is a nation of discerning food lovers who really care about the provenance of what they eat, making it heaven to visit for foodies. But since Florence is such a tourist hotspot, I was slightly worried that during my long weekend with Citalia, I'd only find unremarkable, dumbed down versions of Italian food. In fact it was just the reverse and by understanding a bit of the food culture, following my nose and taking some recommendations from the Citalia concierge I managed to eat extremely well. If you're planning a trip to Florence, here are a few of the delicious foods you'll want to try.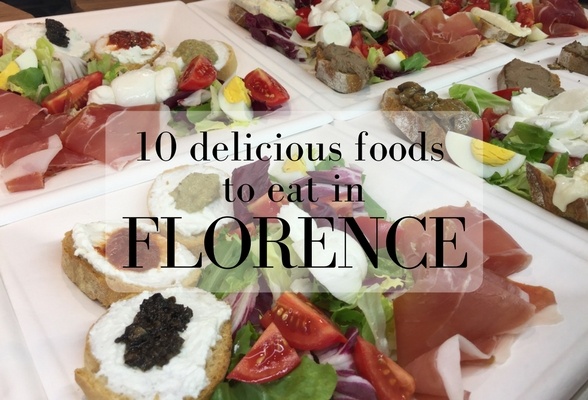 1. Let's start with the Gelato
You can't come to Italy, let alone Florence without enjoying a gelato (or three or four). But when you've tasted a few you start to realise that there's gelato and then there's gelato. There is the gelato that is sold along the main tourist streets, piled high in brightly coloured mountains, which I'm sure tastes perfectly fine. But if you are aspiring to be part of the gelato cognoscenti you need to look out for gelato artiginale – it means that the gelato is made on the premises from fresh ingredients. Although the colours may be more subdued since nothing artificial is used, the flavours will be fresh and authentic. A gelateria artiginale will often sell the gelato in covered metal containers so you need to choose the flavours from a list rather than by looking at the gelato on display behind the counter.
Since I'm always striving to taste something delicious without putting on pounds, I tend to pass on the wafer cornets and go for the smallest size container which costs around €2. For that you can often choose two different flavours, and the quantity is deceptively large, so it's a bargain! My favourite gelateria in Florence was;
La Strega Nocciola (Via de' Bardi, 51) – close to the Ponte Vecchio on the south side of the river, with a stylish, modern feel and room to sit inside while you contemplate what you're eating. The gelato was absolutely delicious!
I also enjoyed the gelato at;
Vivoli (Via dell'Isola delle Stinche, 7) – tucked away in the backstreets near Santa Croce it's a small, old fashioned looking cafe and gelateria with plenty of tempting cakes too.
Neri (Via dei Neri, 9/11) – a small gelateria that has a real neighbourhood feel and was packed with families choosing their afternoon treat, also serving waffles and iced yoghurt.
2. Pizza – of course!
Well, Italy is the home of pizza and if you're in Florence you should take full advantage of pizza as it was originally intended – as a quick and tasty street-food. If you're constantly on the move, trying to see as many of the glorious sights as possible, there are many stalls along the main tourist routes that will sell you a slice of pizza which they can heat up for you to eat on the go.
If you want something that's a bit more authentic then look for a café that has a wood-fired oven burning at the back to cook the pizza, so that you get it fresh and piping hot. Upstairs in the Mercato Centrale you'll find La Pizzeria Sud! with the two pizza ovens working hard and at the stand next to it you can buy focaccia pizza slices from artisan bread-maker David Bedu
3. Cafe Rivoire: Hot chocolate & cannoli
Although I normally avoid those cafés that inhabit the prime position in a tourist hotspot, I couldn't resist stopping at Café Rivoire. It has a terrace facing Piazza della Signoria – ideal for people-watching the crowds that swirl around the Palazzo Vecchio. You'll pay a premium for waiter service at a table, but perhaps it's worth it just to rest your feet after tramping the cobbled streets and take a break to watch the world go by.
Since I was short on time, I did as the locals do and ordered directly from the bar, then stood at one of the small counters inside, which is much cheaper. I sipped a rich and smooth hot chocolate topped with whipped cream and from the cake counter selected a cannoli. This typically Italian pastry originates in the south and the crisp biscuit shell is filled with sweetened ricotta filling finished with candied orange peel. The sugar rush was quite enough to re-energise me to continue my afternoon of sightseeing.
If you go: Cafe Rivoire, Piazza della Signoria, Florence.
4. Gilli: For elegant sweet treats
On Via Roma, one of the main thoroughfares of Florence's Centro Storico, I was tempted by the sweet treats on display at Gilli. With paneled dark wood interiors, marble counters and an elegant terrace overlooking Piazza della Repubblica, it's something of a Florentine institution for coffee and cakes or an aperitivo in the evening.
I couldn't resist the displays of fruit jellies, marzipan fruit, chocolate praline and marron glacé piled on elegant silver trays and dishes in the window. This must surely be the place to stop and buy a sweet souvenir to bring home as a gift for your loved ones – if they last that long!
If you go: Gilli on Via Roma facing Piazza della Repubblica, 50123 Firenze
5. Truffles and more in the Mercato Centrale
The Mercato di San Lorenzo or Mercato Centrale was one of my favourite places to eat in Florence. Downstairs are the traditional fresh food stalls that close in the afternoon, but upstairs is an amazing restaurant hall where you can choose from any of the stands selling different dishes. It's perfect for families and groups of friends as well as the solo traveller, since everyone can wander around to choose whatever takes their fancy, place their order and take it back to one of the central tables to eat. The bar staff will also come around and take your drinks order, which you pay for separately, making it all so very easy.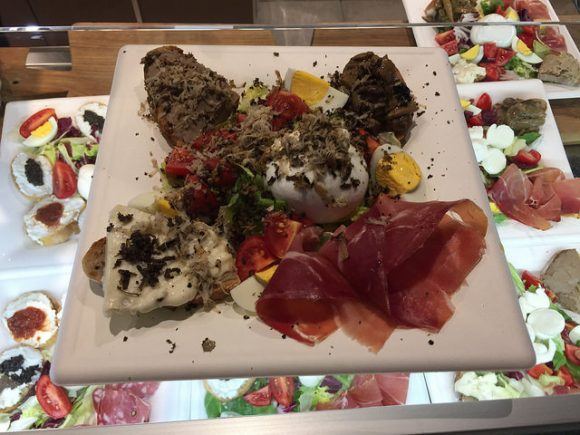 Having walked around the whole food hall, salivating over the oozing buffalo mozzarella and taking in the joyous atmosphere of friends chatting over a glass of Chianti, I was seduced by the fragrance of truffles wafting from Il Tartufo. From this stand, specialising in truffles, I chose a mixed plate of antipasti (€15) and watched as it was covered with a generous layer of truffle shavings – absolute heaven! Just to stay healthy after all the pastries I'd been snacking on, I also quenched my thirst with a glass of fresh pressed apple and kiwi juice with ginger (€5) from Marcella Bianchi's Vegetarian and Vegan stall.
6. Shopping for food souvenirs
I know I keep coming back to the Mercato Centrale, but if you're looking for food souvenirs to take home, this is a great place to look for ideas. It's a pleasure to wander around and admire the traders at work, butchers expertly cutting up meat, fishmongers fileting fish, the fruit and veg being arranged in attractive polished pile. The deli stalls have plenty of dried sausages and other moveable feasts and you can buy dried mushrooms to enrich your stews back home and limoncello to remind you of those sun drenched afternoons. I also enjoyed a free tasting of cantucci, the twice baked almond biscuits in enticing flavours like almond and orange or chocolate and coffee at the icantucci stall in the market – a lovely treat to take home to dunk in your cappuccino mid-morning.
7. Let's talk Tripe!
We might feel a little squeamish at eating tripe, coming as it does from the lining of a cow's stomach. In Florence, however, it's considered a local specialty, a hearty home-cooked dish that you might remember your Nonna cooking you as a child. I even came across a tripe festival (part of the Bienale eno Gastronomica di Firenze) being held one evening downstairs in the Mercato Centrale, where a number of trattorias had set up their stall with a bubbling pan of tripe stew. For a couple of euros I could buy a small dish of stew served with bread from different vendors; some cooked with white wine and onions, others with a rich tomato sauce laced with olive oil.
The flavour of the sauce was delicious, although there's something about the gelatinous texture of tripe that takes a bit of getting used to. It's clearly still a popular dish, since there are butcher's stalls in the market that specialise only in lampredotto, and the crowds were flocking around Da Nerbone, the stall on the ground floor of the market that serves tripe for lunch in a bread roll. Go on – give Tripe a try!
8. Aperitivo time!
By now it must nearly be time for dinner, so we'll follow the Italian custom of stopping at a local bar for an Aperitivo – time for a chat with friends before heading home for dinner or out to a restaurant. Of course you'll find delicious Chianti reds from the vineyards of Tuscany and a glass of sparkling prosecco is always popular.
If you'd like to try the local cocktail, order a Negroni. It was invented in Florence in the 1920s by Count Camillo Negroni, who one day decided to order his regular campari and vermouth with gin, instead of soda water. The Negroni is mixed with equal parts of red vermouth, gin and campari – which gives it a refreshing but slightly bitter taste, offset by the fruity vermouth and slice of orange. Personally I found the levels of alcohol a little strong for me, but you can always order an Americano which uses soda water instead of gin or the bright orange Aperol spritz that's drunk all over Italy. I tried my Negroni in the bar of the lovely Hotel Ballestri where I was staying with Citalia.
9. Bistecca alla Fiorentina
The steak in Florence is renowned for its flavour and quality, coming from the Chianina cattle that graze in the surrounding Tuscan countryside. Traditionally the Bistecca alla Fiorentina refers to the T-bone that is cut in a thick slice and served rare with only a few minutes cooking on each side over a wood grill. This allows you to fully appreciate the flavour of the beef and even if the steak appears huge, it's expected that you'll share it among friends.
In restaurants the Bistecca alla Fiorentina is normally priced according to weight (and it's never cheap) so you should be shown the steak and told the weight before it's cooked for you. You'll be able to enjoy a Bistecca alla Fiorentina in many traditional trattorias or osterias in Florence and if you're upstairs in the Mercato Centrale look out for several stalls that sell steak, sausages and other meat dishes.
10. Il Santo Bevitore: Tuscan dishes with a gourmet twist
Crossing the Ponte Vecchio into the hip and trendy neighbourhood of Oltrarno across the river, I dined at a modern Tuscan restaurant, Il Santo Bevitore. This was a recommendation of the Citalia Concierge and was an excellent choice if you enjoy good food in relaxed but elegant surroundings. It was obviously popular with both locals and visitors and was getting busy as I arrived, so do ask your hotel to make a reservation. The white walls and simple wooden furniture were mixed with white table linen, heavy silver cutlery and fine glassware for an elegant take on the neighbourhood trattoria.
The young staff were friendly and attentive, dressed in that trendy waiter's uniform of jeans, with black t-shirts and aprons. Everything I ate was absolutely delicious, starting with a selection of different breads and a fresh local white wine. I ordered a small plate of spinach filled ravioli, in a butter sauce with shrimps and a wafer of grilled cheese, followed by a tender Carpaccio of marinated beef scattered with salad leaves and shavings of pecorino and egg yolks. The meal was completed with a mulled wine ice-cream served on a rosemary and raisin cake, surrounded by a pool of creamy custard and cubes of quince jelly. This is also a good choice if you are travelling solo as there are seats at the bar that are great to enjoy the atmosphere without feeling out of place.
If you go: Il Santo Bevitore, Via di Santo Spirito, 64/66 near the Ponte all Carraia, Florence. My three course dinner with wine, water and service was around €50.
A final snack at La Prosciutteria di Firenze
As a parting tip let me tell you about the La Prosciutteria where I enjoyed a delicious snack of prosciutto in a panini layered with cooked aubergines and garlicky aioli. On the recommendation of the Hotel Balestri concierge I popped in on my final afternoon for a snack before I left for my flight, and enjoyed the no-frills-just-good-food ambiance. The filled rolls are handed to you wrapped in paper to eat at a wooden table and you can also order sharing boards of prosciutto and cheese with a glass of wine. It's conveniently close to the Palazzo Vecchio at Via dei Neri, 54 and they have branches in other cities like Rome, Milan and Siena.
One thing you can be sure of is that you won't be going hungry in Florence. There are delightful family run trattorias, osterias and pizzerias wherever you turn, so follow your nose and ask the locals or your Citalia concierge for recommendations to find somewhere delicious to eat. And if in doubt I'd just head for the Mercado Centrale to dine on their first floor – I could have happily eaten there for every meal of my weekend in Florence!
Planning your weekend in Florence
My weekend in Florence was arranged through Citalia who are a leading specialist in Italian holidays, winning the title of 'Best Tour Operator to the Italian Peninsula' for seven years in a row. They have more than 85 years experience in putting together flexible itineraries to suit your needs, using Italy's finest handpicked hotels. The Citalia team are expert and knowledgeable in all things Italian and even have local concierges in each destination for personal recommendations, advice and help with day trips, car hire, or restaurant bookings. For more information visit the Citalia Florence page
Where to stay in Florence
I can highly recommend the four star Hotel Balestri where I stayed in Florence through Citalia, conveniently situated by the river, just 5 minutes from the Ponte Vecchio and 10 minutes from the Piazza della Signoria. My bedroom was spacious with clean, modern lines and plenty of wood and leather. The dark wood parquet floor, leather headboard and furniture had an art deco feel, with even the walls covered in a cream leather effect with decorative wood bands. The French windows opened wide to a lovely view of the river Arno and over the bed was a photo print of the coloured marble facade of the Duomo.
My luxurious bathroom was lined from floor to ceiling in light brown honed marble panels. The bathroom was modern with a large backlit mirror, plenty of shiny chrome fittings and shower set in the corner with water draining straight into the floor. The luxurious feel was completed with white monogrammed bath-robes, billowing white shower curtains, and plenty of nice toiletries. I wafted around in my marble bathroom enjoying all the space and feeling very spoiled indeed.
Hotel Balestri does not have a restaurant, but that's hardly an issue when there are so many excellent places to eat within an easy walk. There is a bar area that adjoins the reception and like the bedrooms, the style is modern with clean lines and a slightly art deco feel in the mirrored tables, marble floors and leopard-print stools.
I found the hotel staff were extremely helpful and friendly, and were happy to make restaurant recommendations and bookings. Hotel Balestri would be an ideal choice for those who want a well located, stylish and comfortable base for their weekend break in Florence, which can be booked through Citalia.
Pin It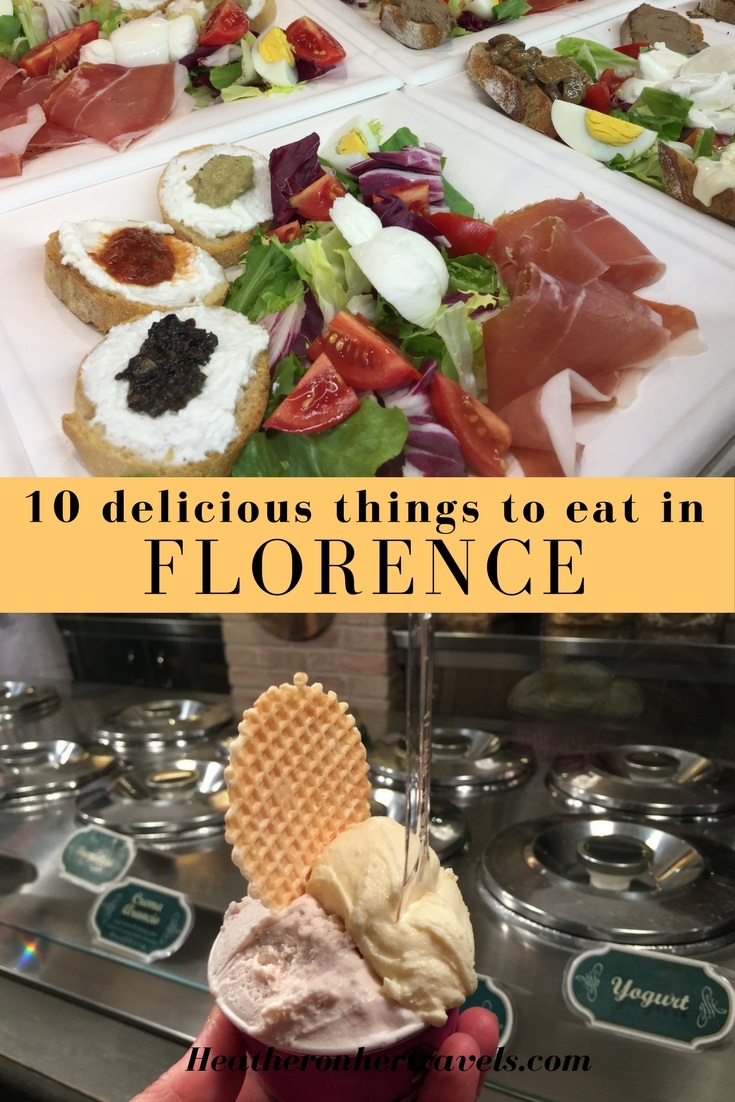 Thanks to Citalia who hosted Heather's stay in Florence. This trip was part of a project between Citalia and Travelator Media.
This article is originally published at Heatheronhertravels.com – Read the original article here
In this guest post, Stefan Arestis of Nomadic Boys takes us on a delicious  journey around his favourite foods in Argentina, from Mate to Malbec and Empanadas to Chimichurri.
Argentina is well known for its many parilla steak houses and for good reason. With more cattle than people, a gathering in Argentina with friends and family, on a Sunday for an asado barbecue, is a meat lover's paradise.
But there's more to Argentina than just consuming your body weight of cow meat. After two months travelling in Buenos Aires and across the country, here are my eight favorite foods of Argentina: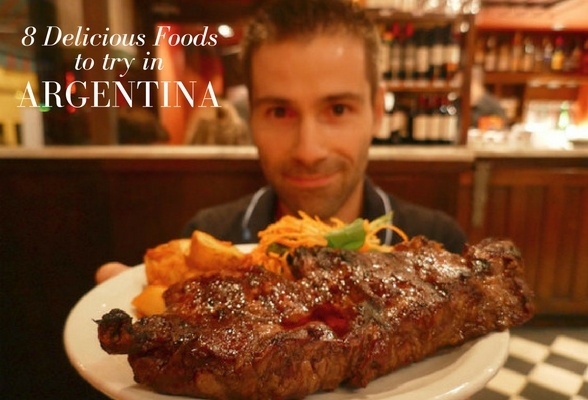 1. Milanesa a la Napolitana
Milanesas are breaded seasoned meat fillets, which are dipped into egg, covered in bread crumbs then fried. They are like Austrian schnitzels but beef is more commonly used instead of pork. Milanesas are a nod to the large Italian influence in Argentina after millions emigrated in the late 1800s and early 1900s.
The milanesa a la napolitana, like the napolitana pizza adds a layer of tomato sauce, mozzarella and ham. It was named after the restaurant Nápoli in Buenos Aires where it was created in the late 1940s and has now become one of the most popular Argentinian foods. When asking our local friends what they miss most from Argentina, they will frequently say they crave a milanesa a la napolitana, washed down of course with the most popular drink…
2. Mate: herbal tea
Mate (pronounced MAHteh) is an institution here. The Argentinians are proud, passionate mate drinkers: it's ingrained in the culture, the focal point in social gatherings, handed around for everyone to share. Whether you're in a business meeting, out in the park with a group of friends or buying a ticket at the bus station, you can be sure to see the iconic flask with pot and metal straw.
Mate is a black herbal tea made from the yerba mate herb, grown in the Northeast Argentinian provinces of Misiones and Corrientes. To prepare the mate, the herb is placed in the mate pot (called a gourd), hot water (not boiling) added and it is then served from a metal straw (called the bombilla).
We visited the touristy Iguazu Falls in Northeast Argentina, which had an hour long queue for the train to take you up to the Devil's Throat. For the Argentinians no problem – whip out the large flask, packet of mate herbs, gourd and bombilla and very soon a mate will be passed round. Completely impractical, very sociable, yet oh so very Argentinian!
3. Dulce de Leche Cookies
Dulce de leche is caramelised milk, used everywhere, particularly in all dessert. This stuff is like the blood of Argentina. One particular dulce de leche dessert are alfajor de maicena cookies. These are 2 vanilla biscuits, which are bound using (lots of) dulce de leche, which is then coated with grated coconut.
Extremely delicious but goodbye abs!
4. Empanadas
Empanadas are a popular snack either to accompany meals or as an appetiser. They are stuffed pastries with a variety of fillings, which are then fried or baked. Empanada comes from the Spanish word empanar.
The most popular filling is confusingly called carne, which means meat, but refers to beef. Other popular fillings include pollo (chicken) jamón (ham) and queso (cheese).
The tastiest empanadas we tried are the spicy empanadas con carne picada North Argentina. The indigenous Quechua influence means that more spices are used in cooking giving them more flavor.
5. Choripán: chorizo hot dog snacks
Choripán is the Argentinian hotdog, served with a chorizo sausage and salad. The name describes its ingredients: chori for the chorizo and pan meaning bread.
Like empanadas, choripáns are finger food, which you're likely to eat as an appetiser at an asado or as a snack at a Boca Juniors football match.
6. Ice Cream
Argentinian ice cream or helado is world famous and another nod to the strong Italian influence in Argentina.
Opinions about where you can try the best helado in Argentina varies with immense volatility. The Porteños will say it's in Buenos Aires, the Rosarians will swear it's in Rosario, the Cordobeses will have you believe it's in Córdoba etc…!
You can be sure an helado in Argentina will blow your mind, and with flavours like dulce de leche or tiramisu, you can't go wrong.
7. Malbec Wine
Argentina developed a world famous wine reputation over the last 20-30 years, primarily as a result of several grapes brought over from France. These grapes didn't grow as well in French vineyards, but the climate in Mendoza meant they instead flourished here, particularly Malbec.
Argentina is one of the few countries we've been to where wine is more popular than the national beer – Quilmes. A few glasses of Malbec nicely complement every steak meal. We tried so many delicious brands that it's hard to pinpoint a particular favorite.
8. Chimichurri
Chimichurri is like the Argentinian pesto. It is a parsley/garlic based sauce, usually used to marinate grilled meats or as a dipping sauce for bread and choripáns.
There is no uniform recipe, but our recipe for Argentinian chimichurri includes finely chopped parsley, minced garlic, olive oil, dried oregano, chilli pepper and vinegar.
In most restaurants in Argentina, you will first be presented with a bread basket, which will come with a variety of dipping sauces, including chimichurri, as well as criolla (tomatoes and raw onions) and provencal (chopped parsley and garlic in oil).
More things to see in South America
Beyond the Galapagos – Ecuador's forgotten treasures
More than Machu Picchu – alternative Inca trails to try in Peru
Finding Paradise in Ilha Grande, Brazil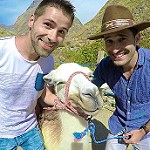 About the Author: Stefan Arestis is one half of The Nomadic Boys, a gay couple with Stefan (Greek) and Sebastien (French) travelling the world on a 2-year adventure which started in Asia in 2014. They are currently on a big trip around Latin America starting south in Buenos Aires and slowly working their way North.
You can also find The Nomadic Boys on Facebook, Instagram and Twitter.
Pin It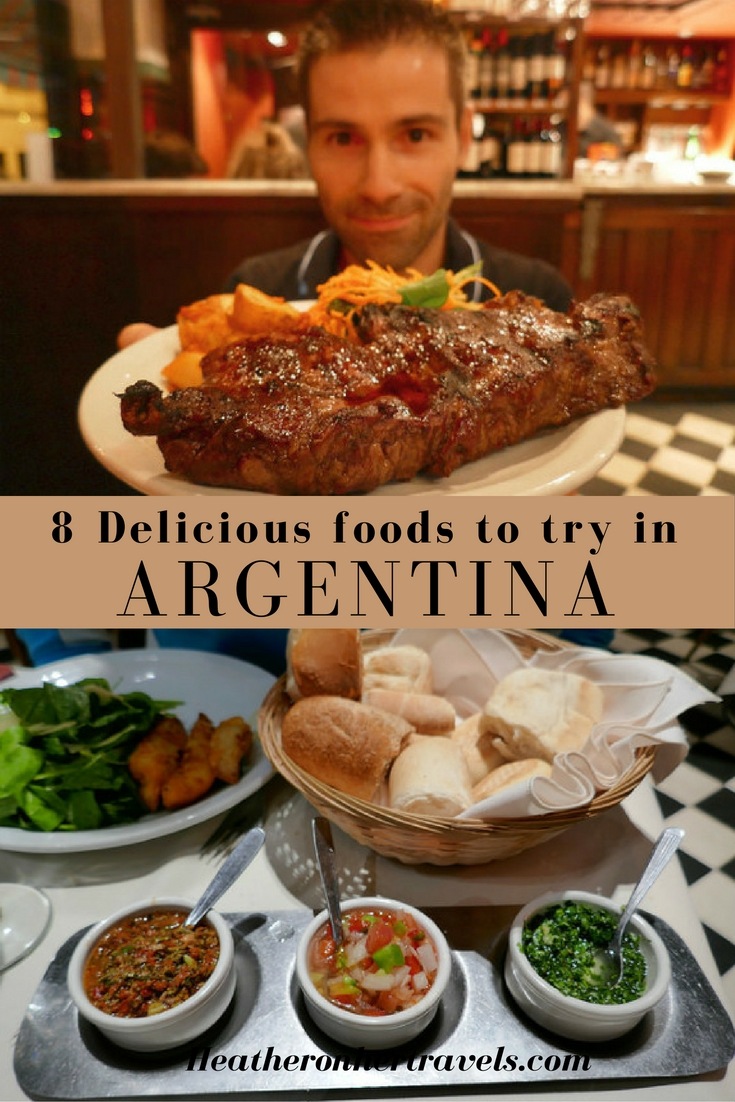 This article is originally published at Heatheronhertravels.com – Read the original article here
Bristol is fast building a reputation as a world-class foodie destination, with food festivals, trendy new restaurants and a wealth of artizan food producers in the West Country. As a travel blogger I've found myself visiting festivals, markets and top restaurants abroad, only to come home and realise I'd missed something similar on my own doorstep. As part of the Bristol Bloggers and Influencer's group I've attended blogger events where I've tasted my way through some delicious food, making me appreciate the Bristol food scene event more. To give you just a taste of what's on offer here are a few foodie experiences in Bristol, which would also make a fab gift for the foodie in your life.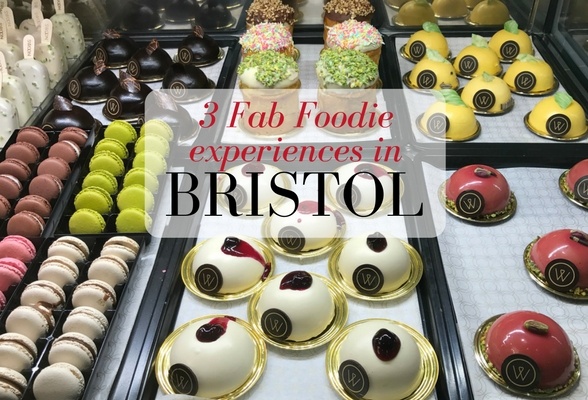 Food Tour with Eat Walk Talk Food Tours
Brian and Kirsty founded EatWalkTalk Bristol Food Tours as a way to share their passion for Bristol and food with the world and since I love to eat, I was delighted to join Brian on one of their Taste Bristol food tours in September. I'd assumed that I had a pretty good knowledge of the Bristol food scene, but how wrong I was! The food tour really opened my eyes to what a foodie destination Bristol has become, since almost all the places Brian took us to were ones I hadn't visited before, but will certainly be returning to and recommending to friends.
The tours run daily from Temple Mead Station and our first stop was the legendary Hart's bakery, which I'd heard a lot about but probably wouldn't have found myself, since it's tucked away under the station arches. We progressed towards the old centre of Bristol, with Brian feeding us with historical tit-bits as well as delicious food at some of Bristol's finest artizan food producers. There were best-of-British favourites like fish and chips, bacon sarnies and Pieminster pies, but also Somerset cheese and local craft beer. We rounded off our ten-plus tasting stops with some SWOON Gelato and chocolates from Guilberts. I loved the way that Brian wove the history of Bristol into the food stops and his enthusiasm for our city was infectious. The food tour is aimed at visitors to Bristol but is also a great way for locals to explore the riches on their own doorstep and the convivial atmosphere of the group would be great for those travelling on their own.
Treat yourself or buy as a gift
The Taste Bristol food tour takes place every 10.30am from Tueday to Saturday and costs £35 per person. Bristol tours with afternoon tea are also available and Brian also offers bespoke tours for your group. You can buy a gift certificate online for any of the tours.
What I enjoyed most about the Food Tour
Discovering fabulous new foodie places in Bristol even though I've lived here for 25 years.
More information at EatWalkTalkBristol.com
Afternoon tea at Hotel du Vin
Afternoon tea is one of those oh-so-British institutions, whether it's a cup of builders dunked with a rich tea biscuit, or the full blown treat of tiny cakes and elegant savouries. At Hotel du Vin in Bristol it was very much the latter that I tried, a meal that you need to be hungry to do justice to. I've always loved the hotel's old school elegance, housed in an old stone sugar warehouse, with a theme of wine and dark polished wood.
The hotel recently re-launched their afternoon tea menu which now includes a savoury course with egg and cress brioche, goat's cheese and spinach quiche and smoked salmon and cream cheese bagels. There were warm scones with jam and clotted cream as well as the sweet treats of dark chocolate teacakes and lemon meringue tarts. For something a bit difference we tried a lime jelly in a glass and a flourish of apple candy floss to top the cake stand.
You can choose from  a range of Twinings teas or add a glass of something bubbly if you're in the mood. For smaller groups the afternoon tea is served either in the comfortable bar or at a table in the Bistro restaurant, while one of the elegant first floor reception rooms can be used for larger parties. Hotel du Vin's afternoon tea would be perfect for a multi-generational celebration, girlie birthday, hen gathering or baby shower and at £20 per head it's very affordable for a larger group.
Treat Yourself or Buy as a gift
The classic afternoon tea is £20 per person and cream tea is £8.50, served daily at Hotel du Vin Bristol 12pm-6pm. Bookings are advisable for groups, but not always essential if you just fancy popping in with a friend. Gift cards are available from the Hotel du Vin Website.
What I enjoyed most at Hotel du Vin
The pretty presentation on cake stands with the fun addition of candy floss on the top!
More information at Hotel du Vin. The Sugar House, Narrow Lewins Mead, Bristol, BS1 2NU
Gelato at SWOON
SWOON opened earlier this year and quickly became the place that everyone in Bristol seemed to be tweeting and instagramming about – they run a vote for new flavours on Social Media and reward customers with a Fan of the Week award. I'd popped in a couple of times and loved their flavours, but was able to dive deeper into the world of gelato at a recent blogger event. The gelato bar is co-owned by Pat and Bruno, a brother and sister duo who have re-invented the family business of their Italian grandparents, who came to the UK and set up ice cream parlours and restaurants.
A core range of flavours, like mango sorbet, pistachio and dark chocolate, are always on offer and to these they add monthly seasonal flavours – the mince pie and mulled wine gelato were to die for. Apparently the Brussel sprout flavour came last in the public vote, although adventurous eaters may like to know that in Italy, vegetable gelato flavours are all the rage among gourmets. For an inexpensive treat, there are individual gelato deserts like gelato macarons and panettone as well as gelato cakes that are a popular alternative to the Christmas pudding or birthday cake. All the gelato is made on the premises from scratch, with only fresh ingredients, so the flavours really shine through. SWOON opens daily until 10.30pm so it's a great place to meet friends in the evening as an alternative to the pub.
Treat yourself or buy as a gift
Just pop into the SWOON gelato bar opposite College Green for whatever you fancy – small single tubs start at around £2.50. You can take some gelato away or buy one of their gelato cakes (it's specially wrapped so it won't melt) and gift cards from £10 are available in store.
What I enjoyed most at SWOON
The staff are happy to let you try any of the different flavours before you make your final choice.
More information at Swoononaspoon.co.uk, 31a College Green, Bristol.
 Pin It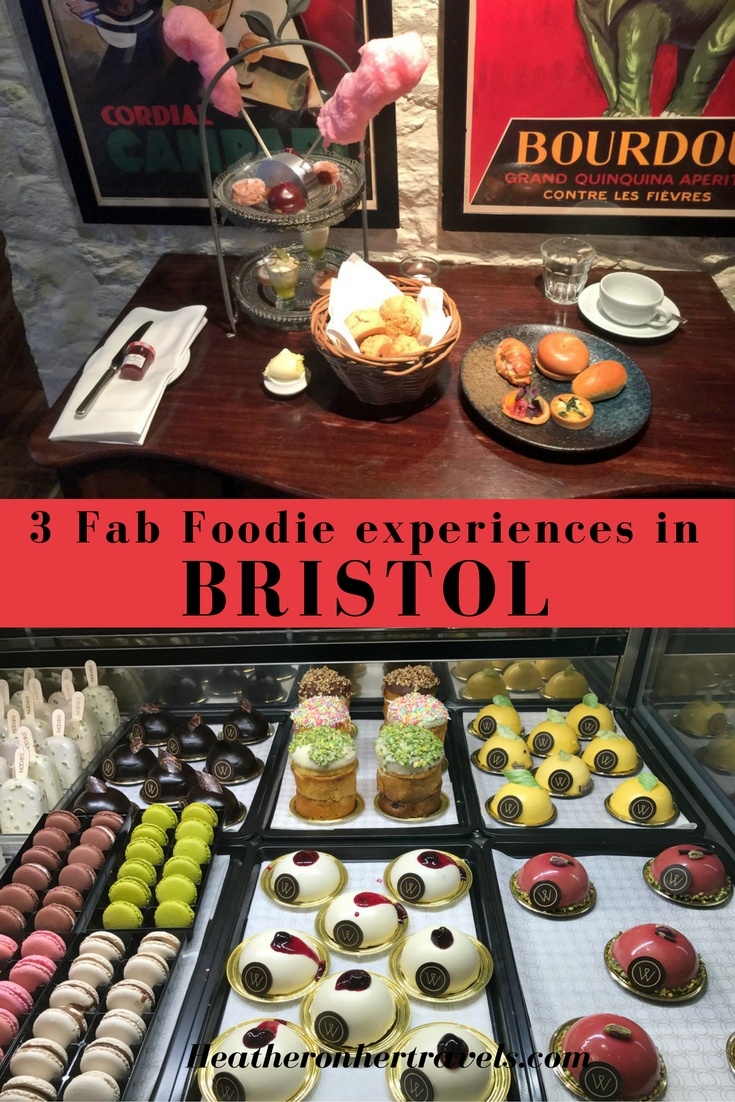 Disclosure: I tried the food experiences mentioned on a complimentary basis at blogger events organised by the Bristol Bloggers and Influencers group.
This article is originally published at Heatheronhertravels.com – Read the original article here