April 10, 2015 by Guest Author
Filed under Accommodation, Beaches and swimming, Cruise, Eating and drinking, Ecuador, featured, Guest post, Leisure, Misc, Nature, Photography, Sightseeing, South America, Walking
In this article, our guest author, Kate Convissor, shares an unforgettable week in the Galapagos, with pristine beaches, aquamarine seas and of course the birds, seals and other wildlife.
Most people travel through Quito in Ecuador, heading for the Galapagos Islands as their main destination. My experience was the opposite. I was already traveling through Ecuador and planned to spend several days in lovely Quito. The city was UNESCO's first cultural World Heritage Site, so it's very historic and photogenic. Since I was already so close, my trip had to include the Galapagos and when my sister learned of my plans, she decided to join me.
Still, my expectations were, well, non-existent. Other than cute sea lions and birds with funny names, I had no idea what to expect from an 8-day cruise through one of the most precious and unique places on the planet.
I must say, my first sight of the Galapagos through the windows of the tiny Baltra airport was underwhelming. It looked like a dry, shrubby, rocky moonscape with heat that would melt your eyeballs.
On board the San Jose
But things improved once onboard the breezy deck of the San Jose, the ship that would be our home for the next eight days. Once we found our cabin, which was more comfortable and spacious than I had expected, with twin beds (not bunks) and a nice-sized bathroom and a big window (not to mention blessed air-conditioning for those blistering afternoons), I began to feel the excitement build and the tension drain away.
A ship at sea! What could be more delightful?
And indeed, once we were underway, slicing through an impossibly blue ocean with a far horizon melting into a similarly blue sky and the wind rushing off the bow of the ship, I began to catch the magic of the Galapagos.
 The amazing animal culture
Our first landing that afternoon was on the tiny islet of Mosquera, which was little more than a lump of sand with sea lions lazily scattered about and a handful of other creatures I'd read about, like Sally-lightfoot crabs and tiny lava lizards. At this point, I was completely smitten.
This would be a great week.
Almost every day we woke to sun, sea, maybe another boat or two at anchor, a satisfying breakfast, and new wonders to explore. Days were filled with activity, which usually involved one or two hikes and/or one or two snorkeling adventures, and maybe a panga ride to some interesting cove. We usually visited two different sites each day, but the boat motored during mealtimes or at night, so we weren't twiddling our thumbs en route to the next place.
The hikes, while sometimes very hot, were always interesting and sometimes entrancing. And, of course, there was always the blue ocean to cool off in.
Snorkeling is almost de rigueur in the Galapagos since the water is teeming with all sorts of life, from sea turtles to small sharks to schools of colorful fish. The color and variety is fascinating.
I am not an avid swimmer, but I was determined not to miss this opportunity, so I grit my teeth and wore a life jacket for the first snorkel. It was fantastic! The water was warm and so bouyant that staying afloat was effortless and all that aquatic life under the surface of the ocean was worth enduring any momentary discomfort.
One of the more delightful hikes was at Punta Suarez on Espanola Island. Since it was high tide with waves crashing against the rock, our "dry" landing was a little tricky. (This is where you want experienced guys driving your panga – the little boats that takes you from your cruise ship to the shore.) We walked across a tide-flooded inlet guarded by a big bull sea lion who was jealous of his girls. (This is where you want an experienced naturalist-guide who knows the ways of macho sea lions.)
Birds, birds, birds
Espanola is a nesting condo for Nazca boobies and other birds I've forgotten the names of. The rocks are dripping with whitewash, and fluffy juveniles are waiting patiently (or not) for a snack, while their beleaguered parents are trying to oblige (by regurgitating the fish they've worked hard to find). Bird families were strewn haphazardly across the relatively flat and somewhat rocky clifftop. An occasional blue-footed booby broke the monotony.
We clambered over rocks snapping photos like crazed tourists, while the birds couldn't have cared less. The trail wound among the nesting birds and along a cliff edge until we all settled cliff-side to watch the waves crash on the black volcanic rock and send plumes of mist and water through a blowhole. All of which formed a dramatic foreground as the sun slowly rode down the western sky.
Now, I ask you, where else in the world can you sit with 16 people with this kind of natural wonder playing out around you? (Okay, there was another small tour group waiting to take our place on the rocks, but that doesn't change the overall picture.)
Small luxuries combine with pleasant company
After every activity, our long-suffering steward, Jackson, met us with his broad smile and a juice drink and snacks. Every evening we passengers gathered for a beer to chat and swap notes about the birds or fish we'd seen. And every night we fell asleep to the gentle rocking of the boat as it steamed toward our next magical destination.
Our naturalist-guide, Carlos, was an energetic, informed and personable 26-year-old. He, like many other guides, had grown up on the islands and that native knowledge was honed by the compulsory training all the guides receive.
My sister and I were also lucky in that all the passengers on our small boat were wonderful to travel with for a week, from the 86-year-old lawyer and his wife (Please, God, may I be like them when I am old) to the young brother and sister who came with their mom.
I think our group was so compatible, in part, because we all opted for a small, less luxurious boat (but make no mistake, the San Jose was very clean and comfortable) so that we could focus on experiencing the islands and not staying comfy and entertained on board the ship. Some of the luxury cruise liners carry 100 passengers and can't get to as many islands as the smaller boats.
"If you want a bigger cabin and more amenities, you should choose a luxury cruise. If you want to really experience the islands, you can have a very good time on a smaller boat," said Evelyn, my agent at Happy Gringo, through whom I booked our cruise.
True in every way. Cruising in the Galapagos Islands was a fantastic experience, and a longer cruise on a smaller boat like the San Jose was, for me, the best way to do it.
About our guest author: Many

thanks for this story to Kate Convissor who has been traveling more or less continually since she sold her house in 2010 and trailered around North America. Kate blogs semi-regularly at Wandering Not Lost. You can also find her on Facebook and Twitter
Pin It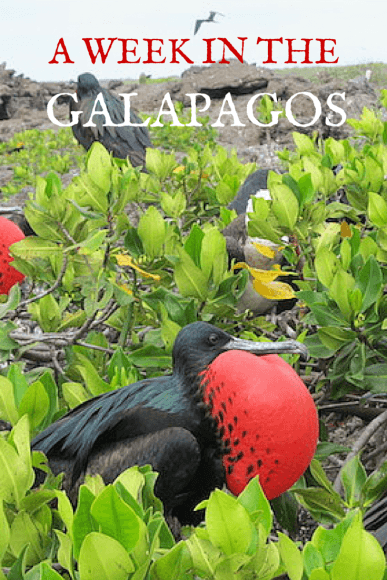 For more Ecuadorian delights:
Ecuador and the Amazon Rainforest
Take a Hot Bath in Banos, Ecuador
Beyond the Galapagos Islands – Ecuador's Forgotten Treasures
This article is originally published at Heatheronhertravels.com – Read the original article here
You'll also find our sister blog with tips on how to build a successful travel blog at My Blogging Journey
There's something magical about waking up in Cornwall in springtime with a view of the Fal estuary from your bedroom window. "Tide's in" says Guy as we open the curtains and lie in bed watching a tanker chug past St Anthony's lighthouse and the St Mawes ferry heading for Falmouth.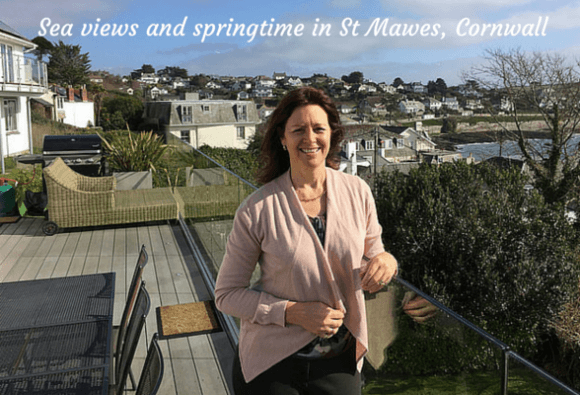 From our luxury holiday house, the aptly named Dreamcatchers booked through St Mawes Retreats, we have a view of the sea over the slate rooftops of the cottages, where people are waking up this fine morning. I can walk out from the living room, through the French windows, onto the deck with a cup of coffee in hand and bask in the spring sunshine, just drinking in the view.
In spring the sea has a wild and mesmerising charm, as little ruffles of white speed across the grey-blue water and subside again. I've stayed here before of course, at Stargazers, another St Mawes Retreats property and have been hearing the call of the sea and Cornwall ever since – read about our last visit here.
I hope you enjoy the video below from our spring weekend break at Dreamcatchers in Cornwall with St Mawes Retreats
If you can't see the video above of our stay with St Mawes Retreats, see it on my blog here or Youtube here and please do subscribe using the button above
Click here for direct download of video
Subscribe to all my videos in I-tunes
If you enjoyed this video, check out the others in my Video archive
Dreamcatchers is one of five luxurious holiday houses in the St Mawes Retreats portfolio, four of which are in St Mawes itself, the fifth in nearby Fowey and all have spectacular views of the sea. The house is beautifully furnished with oversized Designers Guild florals, white walls and a sprinkling of sparkle and glamour. It's light and airy yet warm and cosy and with those fabulous sea views, you really want to just curl up on the sofa or sit on the deck with a glass of wine and never leave. The houses are perfect for groups of friends like us who want to get away from our city lives for a relaxing short break by the sea.
Luxury and the Wow! factor
While we're staying at Dreamcatchers for the weekend I reflect on how 'luxury' means different things to different people. For the girls in our party it's the fabulous decor, the huge baths and walk-in showers within the bedrooms that have the Wow! factor. "I want to go back home and paint everything white!" declares my sister-in-law Clare as she dreams of recreating that 'by the sea' feeling. "I love all the colour" sighs my friend Penny and reminisces about wet camping weekends in Cornwall of the past that didn't quite have the Dreamcatchers magic.
As for the men, the house brings out the cave man spirit as Guy's eyes light up at the wood burning stove, with logs set by ready for him to stoke it up. Meanwhile, my brother-in-law Andrew spots the enormous gas fired BBQ on the deck, and immediately starts planning our dinner around it, since he's been known to cook the Christmas turkey on the BBQ before. My teenage son and friends fiddle with the sound system that defeats the rest of us and are duly impressed by the flat screen TVs in every room – there's even the one above the bath in their own en suite bathroom.
Dreamcatchers is beautifully liveable as a holiday house to relax with friends and family. The house seems to swallow us all effortlessly, with a second sitting room that the teenagers can make their den.  We lounge around on the squashy leather sofas, play cards, drink wine, admire the twinkly lights in the oak staircase, gaze out to sea and generally catch up on everyone's news.
When it comes to mealtimes, the kitchen has so many cupboards that we spend ages opening them all just to find a coffee cup or a plate. With two large fridges, a wine chiller, a super duper coffee machine to bring out your inner barista and pretty mother-of-pearl mosaic tiles this kitchen is made for a party.
Along the seafront
On Saturday morning, we wander down to the harbour at St Mawes that we had surveyed from the deck of Dreamcatchers. The narrow seafront road is lined with whitewashed cottages with blue shutters and daffodil window boxes and further on towards the Tresanton Hotel we pass pretty pastel villas with fanciful sea-faring names. I can't resist stopping in the Waterside Gallery, filled with lovely glassware, paintings and sculptures from Cornish artists where I give the wooden seagull sculpture that hangs from the ceiling a pull to make it sway hypnotically up and down.
St Mawes Harbour
Around the harbour at St Mawes there are plenty of pubs, cafes and gift shops, although in March everywhere is quiet since the main holiday season starts at Easter. I imagine that in August the village is packed out but I quite like visiting places like this out of season before the crowds arrive. A racing gig comes onto the beach since the all-female crew have been out training and we watch them heave the boat out of the water.
In the past these pilot gigs were working boats, used to take a pilot out to a ship coming into the estuary and the race was to see who could get to the ship first to win the business. Now the pilot gigs are raced for sport along the Cornish coast and you'll spot the Rosaland Gig club in the centre of St Mawes by the vintage petrol pumps standing outside.
The St Mawes Ferry
Last time we visited St Mawes, I'd seen the blue ferry passing by, but there were so many other places to explore that we didn't have time to try it out. The ferry has the appearance of an old fashioned wooden toy boat, only life size, and it runs every day of the year but Christmas (more information here). On boarding the ferry we sat in the sunshine on the open top deck, enjoying the wind on our face and the fantastic views of St Mawes Castle and the boats in the estuary as we made the 15 minute journey across to Falmouth.
Reaching Falmouth Harbour
Falmouth is a town that faces a deep natural harbour with a history that has for centuries been linked to the sea. As we approached on the St Mawes Ferry, we could see the marina with industrial cranes where they build Pendennis superyachts and the castle on the headland that mirrors the one on the other side at St Mawes to protect the estuary. The tide was out with seagulls making a constant shriek and shrill as they picked over the seaweed while the water lapped against the quayside.
From the ferry pier we turned left and passed a range of unremarkable high street shops, but further on these gave way to smaller art galleries and cafes, with plenty of places to buy your Cornish pasty or fish and chips. We thought Falmouth seemed like a great place to live, a proper town with plenty of charm without being too touristy or bijoux. We wandered past the Georgian shop buildings painted in shades of pale grey, lemon and sky blue with bunting strung between them fluttering  jauntily in the wind. From the main street we could follow small alleyways, leading up the hill or down to the sea, giving a tantalising glimpse of blue between the buildings.
A Cornish pasty and a pint
This being the heartland of the Cornish pasty we were planning to try one for lunch, preferrably combined with a jug of Cornish Ale and a view of the sea. Down on Custom House Quay we spotted a sign in the pasty shop that said we could eat them in the pub opposite called "The Front bar on the quay" and entered the old style pub with a bar lined with Cornish ales and ciders that made Guy's eyes light up. To get the view of the sea we had to sit on a bench outside, with a fine harbour view, only slightly marred by the constant stream of cars coming down the lane to park.
Having eaten our pasties, I went to explore the interesting Watermen's Gallery with my sister-in-law, Clare and got chatting to the artist in residence, Sophi Beharrell who was working on a half finished painting of a cliff scene in Cornwall. There were many lovely Cornish seascapes on the wall, and other artistic gifts, but we made do with buying a few greeting cards of the paintings.
St Mawes Castle
Returning to St Mawes on the ferry, we decide to extend our walk to St Mawes Castle, following the lane of well kept Edwardian villas, pastel pink or bright white with freshly painted blue windows. It's rather sad that almost all seemed to be holiday homes, with not a light on and no-one at home. I wondered what it's like to be a local around here, seeing these houses go empty for much of the year.
Further on, we reached St Mawes Castle, a petite fortress built by Henry VIII to guard the strategic Fal estuary from invasion, matched by its twin of Pendennis castle on the other side above Falmouth. The castle is now run by English Heritage, although it was just closing as we arrived, so we didn't go in but continued up the muddly lane with the sea on our left. Here we passed more smart houses, with gardens full of rosemary, hydrangeas and camelias that would withstand the sea air, but again found all the houses in darkness. The path would have taken us to St Just in Rosaland but the fields were muddy and dusk was falling so we returned to Dreamcatchers for the scones and clotted cream tea that had been left for us by St Mawes Retreats.
Cream tea – Jam first or cream first?
If you ever meet a Cornishman be aware that the innocent cream tea has become a hot topic over how it should best be eaten. In Devon it seems that the scone is always spread with cream first then the jam on top while in Cornwall it's jam first and cream on the top and there's heated debate over which way is best. I remained impartial, tried both and found it delicious either way.
To the Lighthouse
On Sunday the blue skies and spring sunshine had turned to grey cloud and light drizzle but we pressed on with our visit to St Anthony's Lighthouse which I'd visited on previous trips to St Mawes. In summer you can get a 10 minute ferry ride straight across from St Mawes, but we had to drive the 20 minutes around the headland and parked in the National Trust carpark at the end of the road.
St Anthony Head is the site of many Second World War fortifications, concrete bunkers and observation posts with a fine view over the estuary. We walked down through the sheltered pines to the path to St Anthony's lighthouse, which featured as the lighthouse in the TV puppet show, Fraggle Rock. You can't get close up to the lighthouse which is still in use although there is a holiday cottage there that can be rented. We retraced our steps and walked along the sheltered path to the beach of Great Molunan, walking past the first cove and scrambling down to the next with the help of a rope. The tide was out with only us and a couple of kayakers on the beach and a view back to St Anthony's lighthouse.
After our blustery walk we drove back to St Mawes, diverting for lunch at Portscatho at the Plume of Feathers pub in the heart of the village.We installed ourself in a cosy side room and ordered some hearty pub fare – both the fish and chips and the roast Sunday lunch were excellent and ticked all the boxes for a proper Cornish lunch.
Back at Dreamcatchers it was time to pack our bags again and take a  final look out at the window at those sea views, wishing we could stay a few more days. There's something therapeutic about being within sight of the sea, the constant motion of the waves breaking on the rocks, the wind blowing away the mental cobwebs, and the rhythm of life on the water with the boats passing by. Our life in Bristol required us back but I know that it's won't be long before I feel the call of Cornwall, St Mawes and the sea again.
More information for your short break with St Mawes Retreats
St Mawes Retreats offers luxury holiday accommodation in Cornwall, with 4 properties in St Mawes and 1 in Fowey, sleeping between 4 and 12 guests. The larger houses are ideal for groups of family and friends to share and the St Mawes properties are all close to each other so are ideal for extended family stays and celebration events. The houses are available for short breaks and weekend stays in spring and autumn at surprisingly affordable rates, with special low occupancy rates for smaller groups in the winter, and the cost per person is well below that of a similar standard boutique hotel.
Dreamcatchers where we stayed has 5 en suite bedrooms, 2 sitting rooms, breathtaking sea views from the living rooms and master bedrooms, a south facing garden and is a short walk from St Mawes village on the beautiful Rosalind Peninsula. Dreamcatchers can be booked for short breaks from £952 in spring and autumn with low occupancy discounts in winter.
To book visit the St Mawes Retreats website or ring owner Amanda Selby on 0800 0886622 to discuss your requirements, as there are many concierge services available such as a private chef, beauty treatments, shopping services, childcare and help with organising your celebration event. For news and special offers follow St Mawes Retreats on Facebook | Twitter | Instagram | Pinterest |
Thanks to St Mawes Retreats for hosting Heather and friends for their weekend stay in Dreamcatchers.
More Cornish adventures
Is this the perfect sea view? Our luxury weekend at St Mawes in Cornwall
Cliff walks and country houses in Cornwall
Just me and the boys down on the farm in Cornwall
 Pin It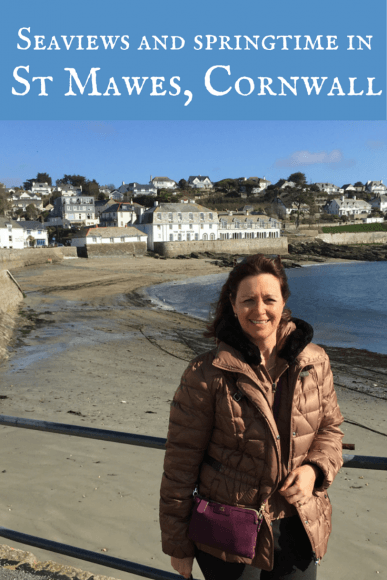 This article is originally published at Heatheronhertravels.com – Read the original article here
You'll also find our sister blog with tips on how to build a successful travel blog at My Blogging Journey
March 21, 2015 by Heather Cowper
Filed under Austria, Copenhagen, Denmark, Eating and drinking, Europe, featured, Germany, Gothenburg, Greece, Leisure, Salzburg, Sweden, Zakynthos
Are you a coffee lover like me? It's the aroma of freshly ground coffee beans that hits your nose first and then you take a sip of hot, sweet coffee. Ahhh, the day starts to feel better already. But perhaps for you it's a tiny cup of strong, black expresso, ending the meal perfectly like a full stop at the end of a sentence. Or a frothy cappuccino to eat with a sweet pastry for breakfast like they do in Spain.
However you like it, a great cup of coffee is full of ritual as you watch a skilled barista operate those shiny machines that woosh and hiss, or the buzzy atmosphere of your favourite coffee shop where you meet your friends for a late morning weekend brunch or an afternoon coffee and cake.
Now I'm dreaming about all the coffees I've enjoyed on my travels, each coffee experience giving me a doorway into the culture of the place I visited. For more coffee inspiration, take a look at this Coffee infographic that will take you around the world in 31 coffees, but in the meantime let me share with you some of my favourite coffees around the world.
1. Copenhagen – the best coffee in the world?
If ever there was a place where they know how to elevate coffee to an art form it is Copenhagen and Coffee Collective sits among the best of the best.
I visited their original coffee shop in Nørrebro a few years ago, a tiny place with just a few wooden tables outside and a stool inside to perch while your coffee is being expertly made. Their coffee beans are sold all around Copenhagen and they operate on a Direct Trade model, working with farmers in Brazil, Guatamala, Kenya and Panama to pay the best prices for the best quality coffee. If you visit this place you'll probably be buying your coffee to take away (perhaps picking up a pastry from the Claus Meyer bakery across the road) but if you want to sit and enjoy your coffee in a foodie atmosphere, head for their stand in the Torvehallerne food market halls.
Torvehallerne is one of my favourite places in Copenhagen, where you can get a fabulous but reasonably priced lunch or sip your coffee with a cake just like your Danish grandmother might have baked. The third branch of Coffee Collective is in Frederiksberg, where the beans are roasted and they do monthly tours and coffee tastings where you can learn how to make a perfect coffee. Definitely a place of pilgrimage for the coffee connoisseur.
Read More: Eat the Neighbourhood in Norrebro, Copenhagen
2. Coffee time is Fika time in Sweden
If you've visited Sweden I'm sure you'll have come across the tradition of 'fika', or having a coffee break with friends. This is the occasion to settle down in a cosy cafe where the counters are laden with buns and pastries to relax over a good cup of coffee and a chat. When I visited Gothenburg I discovered that the picturesque old neighbourhood of Haga was the perfect fika spot, since its cobbled streets are lined with cafes, restaurants and artizan shops.
Cafe Husaren on the corner of the main street of Hada Nygatan is reputed to be the original source of the enormous cinamon buns which are a speciality of Gothenburg, although we squeezed into the pretty, traditional Cafe Kringlan with the gold bagel hanging outside. The local's choice for fika in Gothenburg seems to be Da Matteo and they have several shops including the largest in Magasingaten where they bake the bread and pastries on the premises, so you get the aroma of freshly baked bread thrown in with your coffee.
Read More: Favourite coffee spots in Gothenburg for your coffee fix
3. Salzburg – for coffee and cakes
Perhaps you've gathered by now that I have something of a sweet tooth, so heaven for me is a great cup of coffee served in the afternoon with a slice of the local cake. Of course Austria makes a speciality of this Kaffee und Kuchen ritual and where better than Salzburg, the glorious homeland of Mozart and the Sound of Music to enjoy it?
When it comes to cake to accompany your afternoon coffee, you'll likely be wavering between the Apfelstrudel (soft bites of apple wrapped in crisp layers of pastry) and the Sacher Torte (rich, dense chocolate cake laced with apricot jam). The traditional choice would probably be to head for Hotel Sacher which overlooks the river but we enjoyed our kaffee und kuchen on the rooftop terrace of the Hotel Stein with a fabulous view of the fortress, which is highly recommended in good weather. 
Read more: Bratwurst and Sacher Torte – or what we ate in Salzburg
4. A chilled frappe on the beach in Greece
Coffee can be a cool drink in more ways than one, as I discovered on my annual trips to Greece to visit my sister who lives on the Greek Island of Zakynthos. Traditionally the Greeks drink their coffee like the Turks, strong and sweet in a tiny cup together with those ultra-sweet pastries that drip with syrup. This is what you'd serve to friends who come visiting in the afternoon.
But the trendy thing to drink in summer is a chilled Frappé – where an expresso is poured over ice with creamy milk to make a coffee that's sipped through a straw from a long glass. When you're lying on your sunbed or sitting in a trendy Greek beach bar, be sure to order a "Freddo" coffee, which comes in different Italian styles such as a Freddo cappuccino, Freddo Expresso or a Freddoccino (iced mocha coffee with chocolate). 
Read More: Sunday morning Greek coffee and Glika in Zakynthos
5. Ruddesheimer coffee in Germany – coffee with a creamy kick
If you fancy your coffee with something a little stronger, we found the perfect alternative coffee on our Rhine River Cruise stop at the pretty town of Rudesheim. Wandering down the cobbled street of the Drosselgasse with its wine shops and taverns we stopped at Rudesheimer Schloss to try the local speciality of Rudesheimer coffee.
This coffee spiked with brandy is the German equivalent of Irish Coffee and started in the 1920s when the Alspach brandy company invented a brandy chocolate so that ladies could enjoy a secret tipple, at a time when it was considered unseemly for women to drink in public. One good thing lead to another and in the 1950s the Rudesheimer coffee was born, a warming mixture of sweet coffee with a good helping of Asbach brandy, topped with sweet, whipped vanilla cream and sprinkled with grated chocolate. These days the Rudesheimer coffee is served in all the local coffee shops and you can bring back small bottles of the Alspach brandy if you want to try it at home.
Read More: How to make a Rudesheimer coffee – video
6. A hot chocolate alternative to coffee in Gothenburg
If you're not a coffee drinker, you'll be pleased to know that in Gothenburg we found an excellent alternative at Cafe Kanold that specialises in velvety hot chocolate. Staying cosy from the chilly wind and weather, we sat on the cushioned banquette with pretty floral cushions and enjoyed a warming hot chocolate – served with chili flakes on top for an extra kick.
While there is also a counter of hand-made Kanold chocolates in the cafe, you'll want to visit the main Kanold chocolate shop close by on Södra Larmgatan at the end of Viktoriapassagen. It's a cross between an old fashioned candy store and a boutique chocolatier where you can buy the Kanold speciality, a soft chocolate truffle centre topped with sea salt, which has now become known as the "Gothenburg Truffle". Of course if you insist of coffee at Cafe Kanold, I'm sure they serve that too!
Read More: Chocolate with sea salt – a taste of West Sweden
Check out this Coffee Infographic
If you want to fuel your coffee fascination even more, take a look at this Coffee infographic from  Cheapflights that will take you around the world in 31 coffees. Here are a few cool coffee facts that I discovered;
In Italy you only drink milky coffee in the morning and NEVER after a meal – the cappuccino in the afternoon is only for tourists!
Breakfast in Spain normally consists of a cup of coffee with a sweet pastry or churros
In Senegal coffee is served with cloves and guinea pepper
In 2001 Brazil issued a coffee scented postage stamp
Seatle has 10 times more coffee store per head than the rest of the USA
Now, please excuse me as I'm off to find the perfect coffee to have with my weekend brunch in Bristol
Pin It
This article is originally published at Heatheronhertravels.com – Read the original article here
This article is written in association with Cheapflights
You'll also find our sister blog with tips on how to build a successful travel blog at My Blogging Journey