April 14, 2013 by Guest Author
Filed under Argentina, Brazil, Chile, Cycling, Eating and drinking, Fishing, Guest post, Leisure, Misc, Nature, Sightseeing, South America, Spa & Pampering, Walking, World
When it comes to appreciating the great outdoors, there are a multitude of destinations around the world which fit the bill, however, nowhere does it in quite as much style as Argentina. There's a huge amount to see in this vast country, from waterfalls to wildlife, city streets to gaucho ranches, wine estates to stunning beaches. Here's a low-down on the very best places for adventure in Argentina.
Patagonia
For some adventurous souls, Argentina's southern state of Patagonia is the jumping off point for cruises to Antarctica. But there's a lot more to this beautiful wilderness. Try heading down to the Los Glaciares National Park – filled with lakes, mountains and quaint local townships – for great treks and ice-walking. Crampon your way up the awe-inspiring Perito Moreno glacier and watch as huge blocks of ice falls away into the ocean as the glacier slowly advances into the water.
The Valdes Peninsula
It's all about the wildlife in the Valdes Peninsula. Go offshore for some staggering whale-watching and feel the thrill as a humpback whale swims beneath your boat. A tour will also introduce you to some of the other residents of the area: orcas, dolphins, penguins, elephant seals and sea lions.
Mendoza
The kind of adventure on offer in Argentina is more of a gastronomic kind. Indulge in tours of the various wineries and dine at the indulgent in-house cafes and restaurants. Back in town, you can wander through the colonial plazas and leafy streets for a relaxing few days of fun.
The Iguazu Falls
Iguazu Falls is a sight to behold. From the Argentinian side of the falls you can thread your way above, below and through the waters and surrounding jungle on brilliantly designed wooden walkways. Because of this, it is sometimes said that 'from the Brazilian side you see the falls, and from the Argentinian side you live them'. For a real taste of adventure, take a motorboat up to the very edge of the falling water – be deafened and drenched by the longest stretch of cascading water in the world!
Cordoba
If you're a huntin', shootin', fishin' kinda gal or guy, you might want to try your hand at dove shooting. Cordoba – Argentina's second largest city – is one of the best places in the world for this sport. Stay on a ranch for the ultimate experiences and trek, cycle or horse-ride up into the surrounding hills for magnificent views and a lungful of fresh air.
The Lake District
From the city of Bariloche travelers can explore the snow-capped Andes and lakes of this stunning part of the country. There's plenty of hiking, fishing, golf and horse riding on offer in the area, as well as some glorious spas and luxury hotels. Particularly adventurous types might want to attempt the lake crossing from Bariloche across into Chile – but only if you don't mind leaving Argentina behind!
This article was brought to you by the luxury travel experts at Exsus, specialists in arranging luxury, bespoke holidays in South and Central America as well as other adventurous destinations around the world.
Photo credits: Perito Moreno by Matito, Peninsula Valdes by Berlotti, Peatonal by betta design, Iguazu Falls by Malingering, Dos Lunas Estancia by longhorndave, and San Carlos de Bariloche by Miradas.com.br.
More tales from South America
South America Backpacking with Indie Travel Podcast
Relax and enjoy the cool lifestyle of Bahia in Brazil
Historic cities, natural beauty and a warm welcome in Colombia
This article is originally published at Heatheronhertravels.com - Read more travel articles at Travel Blog Home
You'll also find our sister blog with tips on how to build a successful travel blog at My Blogging Journey
 Don't miss out – subscribe to Heather on her travels
You'll have read about how I went fishing for crabs on the island of Houat off the coast of Brittany, with my friend Isabelle and her family. The sun shone, the tide was low for digging shelfish and the oysters and mussels were plentiful on the rocks. But at the end of the day, we only had two small crabs and so we resorted to visiting the fisherman at the harbour to buy some larger crabs that we could actually eat.
Subscribe to all my videos in I-tunes
If you can't see the video above, click here to view it on YouTube
Download the Eating Crabs in Brittany Video [MP4]
If you enjoyed this video, check out the others in my Video archive
When we got home, Isabelle gave me a demonstration of how to prepare a crab à la Française, the knowledge which every person living in Brittany absorbs from childhood, where oysters and crevettes are just an everyday meal. Here's all you need to know about cooking the crabs, preparing them for the table and finally eating them. Ah, the delights of eating food that was freshly caught that day, even if not by me!
This video was posted as part of Wanderfood Wednesday - read about grocery shopping abroad and all the other food related posts over at Wanderlust and Lipstick
Compare prices and book hotels in Vannes through Hotels Combined
You may also enjoy
Gone fishing for crabs on the island of Houat
A postcard from Conleau near Vannes in Brittany
Read more travel articles at Travel Blog Home
See all my Brittany photos on Flickr
Don't miss out – subscribe to Heather on her travels
The Gulf of Morbihan in Brittany, where I've been for a couple of days is a wonderful holiday destination, with many small islands off the coast that you can visit by ferry.
Yesterday, we arrived a little bleary eyed for the 8am ferry from Vannes to the island of Houat, for a day of fishing for crabs, crevettes and whatever other marine goodies we could find. It was grey and a little fresh to begin with and after taking in the scenery from the deck as we left the port, we quickly retreated to the warmer cabin below to pass a couple of hours until we arrived at the island. The time flew by as we passed other islands in the Gulf of Morhiban, a nearly enclosed area of sea, with a mild and protected climate which is ideal for sailing.
At 10 o clock we reached the small harbour at Houat and set off on foot in search of a good beach (of which there are many on the island) for both crab fishing and relaxing. The small village we walked through with a few cafes and restaurants was full of picture postcard fishermen's cotages, which had been converted into holiday homes, for those who want to relax and get away from it all.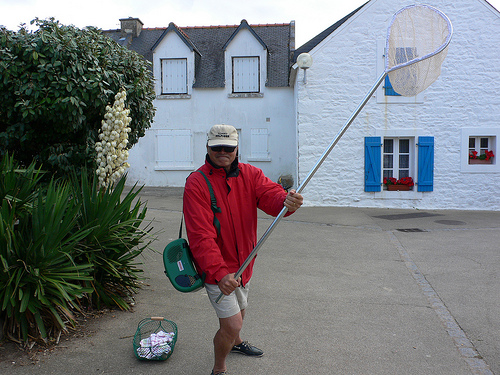 The men in our party had come well equipped with nets for fishing for crabs and crevettes (large prawns) and miniature picks to prize the shellfish off the rocks – they took their fishing very seriously indeed. The island is small enough to walk around in a few hours and you can walk to all the beaches on the footpaths that criss-cross from one side of the island to the other.
First we reached a huge expanse of white sand and walked to the end, where there was a rocky area by the sea wall. Here was clearly an excellent spot for fishing from the beach, as it was low tide and many other people were raking away the wet sand to find bags of shellfish to take away. There were plenty of mussels and oysters on the rocks and so we got to work with the picks, prizing a few off, although the oysters were opened, tasted and pronounced too oily to be good to eat, so we didn't take any more.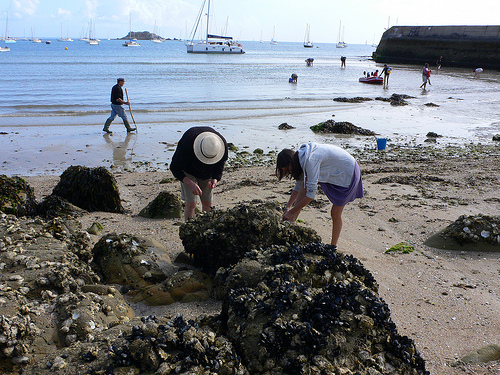 Next we walked around the headland to another beach where we established ourself for a while to have a swim and sunbathe while the men went off to explore the more rocky areas. After some lunch of baguettes with fromage and jambon and a little red wine and strong black coffee from the thermos, we continued on our exploration over to the other side of the island. As we made it back past to the harbour, we turned in a different direction, this time following a path through ferns at the top of the cliffs with more rocky coves below. After passing some which were too steep to scramble down to we arrived at another small sandy cove that we had practically to ourselves.
A swim and another doze on the beach later, it was time to walk back and take our ferry back to Vannes. As we got close, we passed by my friend's house close to the harbour and waved to her son on the terrace as we passed by. Although my friends live there year round, the location makes it like being on holiday all the time.
There are many different islands to visit in the Gulf of Morbihan, some tiny, some large, but all very unspoiled and beautiful, where the best way to get around is by bike or on foot. In summer you should be sure to check the ferry times carefully and reserve your return trip as there are not so many boats each day and they can get full in holiday season and at weekends. There are often small hotels or campsites where you could stay for a perfect relaxing break of a day or two.
And I almost forgot – the crabs we caught?  Well sad to say that we only found a couple of tiny ones, but luckily we were able to buy some larger red crabs and locally caught fish at the harbour before we left.  As we came off the ferry, carrying our fishing nets and crabs, a passer by murmured "Quelle belle peche!" (what a great catch!) and we all fell about laughing. You'll be seeing the video how we prepared the crabs for our dinner very soon.
Compare prices and book hotels in Vannes through Hotels Combined
Read more travel articles at Travel Blog Home
Don't miss out – subscribe to Heather on her travels