From the wall of the Moselle Valley winery in Luxembourg, the figure of St Willibrod looks down at me, his three fingers raised. In this corner of Europe, St Willibrod is seen as the protector of the grapes and his three raised fingers mean; "drink three glasses a day and you will be fine"!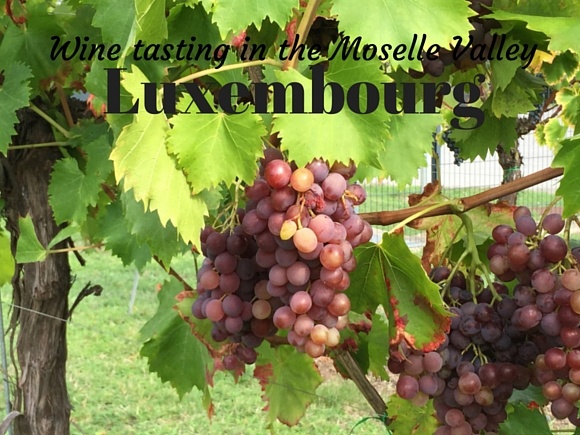 The growers here know that saintly patronage plus nearly 2000 years of expertise will ensure the continued success of wines from Luxembourg. History, tradition and continuous dedication from family businesses are as constant as the Moselle River that runs between the vineyards.
You can also read about our gourmet walking tour of Luxembourg Old Town here
If you have an interest in wine you'll know of the Moselle river that forms the border between Luxembourg and Germany. You'll probably also know the grapes; Pinot Blanc, Pinot Gris, Riesling, Gewurztraminer, Chardonnay and for the specialist the intriguing Elbling, Rivaner and Auxerrois.
But almost nobody has heard of Luxembougoise wine, since 66% of the annual production is sold within Northern France, Germany and Belgium, where fine food and wines are truly appreciated. The Luxembourgoise I meet over our long weekend are, for good reason, very supportive of the wines produced in the Grand Duchy.
Our wine tasting tour of the Moselle valley begins at the wine museum in Ehnen where we look around the old stone buildings and barns, filled with agricultural implements that were once used in the cultivation of the vineyards. The figure of a lady is dressed in the costume of yesteryear, with her basket ready to hoist on her back and drop in the bunches of grapes as they are picked.
At the back of the buildings, vines are planted to show us the different varieties and the shell of a tiny helicopter, once used for crop spraying, sits like a relic from a James Bond film.
At the Domaines Vinsmoselle we enjoy meeting Stephen De Roy, a gentleman of extraordinary knowledge who guides tours at the winery. Founded in 1921, Domaines Vinsmoselle encompasses more than 300 winemakers who sell their grapes to the business, producing rich and varied wines with distinct flavours. Spread over 42 kilometres along the Moselle, the Luxembourg vineyards produce mainly white wines, with a particularly mild microclimate and a rainfall that is spread evenly over the year.
Moselle wine facts

Phylloxera disease was introduced to Europe when avid botanists in Victorian England collected specimens of American vines in the 1850s. When the disease struck the European vines, school boys were despatched to remove the aphids and galls on the affected vines.
Belgium used to grow its own vines but Napoleon had them all destroyed in 1804 to protect the French market.
In the expansion of the processing plant at Domaines Vinsmoselle, a Roman frieze depicting grape production was unearthed dating from AD 800 – the Romans loved good wines too!
During our wine tasting we learn the differences between a Pinot Noir "élevé en barrique" (aged in an oak barrel ) and one aged in a stainless steel tank. Stephen comments " If I want to taste oak I go to the forest. Why do I want oak in my wine?" 
A big speciality of the Moselle region is the sparkling Cremant, a welcome alternative to the ubiquitous Prosecco we often drink at home. We sample the secret distillation of spirit, which when added to the Reisling produces the delicious Cremant sparkling wine, that is also available in many different grape varieties.
For non-drinkers there's a fresh grape juice called Tam Tam, which paradoxically is made from only the finest grapes, since there is no fermentation to remove the taste of bruised or bad grapes which you can get away with even in the grandest of the grand crus.
When we ask Stephen for his favourite wine he is quick with his choice, a 2009 Riesling from the Charte Schengen prestige brand. The only grapes used are from vines over 30 years old, with roots up to 40 metres deep, on the steep and ordered slopes that run down to the Moselle river.
These come from just twelve selected growers in close proximity to the winery, including four growers from France, four from Luxembourg and four from Germany. In this multi-national wine co-operation we are reminded that the Grand Duchy was a founder member of NATO, and the Schengen agreement covering free movement within Europe's borders was signed in 1985 just down the road from here.
Although we don't have time to visit the European Museum in Schengen we do see a little of the town from the river, when we take a Moselle boat trip from Remich, to while away a rainy Sunday morning.
There's another opportunity to try the 2013 Riesling from Charte Schengen at dinner that evening when we enjoy a gastronomic barbeque at the winery Pundel. It's known as the king of wines in Luxembourg and is sensational, with a balanced bouquet of citrus fruits, apricot, apple, peach, pear and lime with notes of eucalyptus and bizarrely, petrol.
The Pundel winery is a modern glass building and from the rooftop terrace where dinner is served we have a fabulous view of the vines running down to the river. Sadly it's raining tonight so we collect our dinner of steak and seafood brochets from the gourmet barbeque and head inside to help ourselves to salads and side dishes.
Our wine tasting tour of the Moselle Valley ends with an evening at the Grape and Wine festival at Grevenmacher further along the river. We wander from one end of the high street to the other, past the stages playing rock music to appreciative teenagers, past the stands selling every kind of local wine and stopping for a late night snack of sugary waffle piled high with cream. We follow the parade of marching bands, headed by the princess of the wine festival and her attendants, who are chosen from local families, before watching the grand finale firework display over the Moselle river.
As we leave the Moselle Valley of Luxembourg to head home, I'm quite prepared to adopt St Willibrod's motto of three glasses a day in the interests of good health and wellbeing. With a glass of Luxembourg sparkling cremant or vintage Riesling in my hand I'll happily raise a glass and drink to that!
More articles about Luxembourg
Read about our Gourmet walking tour of Luxembourg Old Town
From LuxeAdventureTraveler: Unexpected Luxembourg: Fine wines and fabulous food
Where to stay in the Moselle Valley of Luxembourg
Heather and Guy stayed in the Villa Welcome annex of the Mondorf Parc Hotel, a leading spa hotel in Mondorf-les-bains. We had a very comfortable modern suite with a large bedroom, separate seating area and en suite shower room. The Villa Welcome was a short walk from the main hotel building where we had breakfast and guests can make use of all the hotel facilities.
The main hotel building is quite modern but the angular design softened by plenty of large glass windows  looking out onto beautifully maintained gardens with seasonal floral displays.
The hotel is well known for its spa, with warm indoor and outdoor pools that are fed from the thermal springs that have a high mineral content for good health and wellbeing. The spa can also be visited for the day, if you are staying in the area and want an opportunity to relax and unwind. There is plenty of parking space at the hotel and the bus stop is situated on the road just outside the hotel, with connections to Luxembourg city.
Compare prices and book for Hotel Mondorf on my Hotels Booking Page (powered by Hotelscombined.com)
Hotel Mondorf Domaine Thermale, 52 Avenue des Bains, Mondorf-les-Bains, Luxembourg. Website: www.mondorf.lu | Twitter | Facebook |
Looking for Airport Parking?
Heather used the Meet and Greet Parking Service at Heathrow, booked through Airport Parking and Hotels (APH) who offer airport parking at a range of airports across the UK as well as travel extras such as airport lounge booking and airport hotel stays.
Visitor Information for a wine tour of the Moselle Valley in Luxembourg
For more information to plan your visit to Luxembourg check out the Visit Luxembourg Website | Twitter | Facebook | Google+
For more information on the Moselle Region of Luxembourg check out www.visitmoselle.lu  | Facebook
The wine museum is at 115 route du Vin, Ehnen, Luxembourg. Website: www.museevin.lu Open daily April – October
Domaines Vinsmoselle – Caves de Wellenstein at 37, rue des Calves, Wellenstein, Luxembourg. Website: www.vinsmoselle.lu. Guided tours of the Caves are available by arrangement May-October €6 per person including a glass of wine.
We took a boat trip on the Moselle river from Remich with Navitours. Website:  www.navitours.lu. The tour took 1 hr 45 and took us down to Shengen and back to Remich. Most of those on board were having a buffet lunch for €45 per person although we opted for the cheaper €15 ticket without lunch and just had a snack in the bar area.
Our gastronomic barbeque was at winery Pundel at Wormeldange-Haut. Website: www.pundel-vinspurs.lu The winery is open for special events through the summer season which can be booked in advance. Check the website for more details.
We visited the Grevenmacher 66th Grape and Wine Festival on 11 September 2015. For more information check their website: www.grevenmacher.org
Read More: You can also read about our gourmet walking tour of Luxembourg Old Town
Thanks to Visit Luxembourg who hosted Heather and Guy's weekend stay in Luxembourg
Pin It!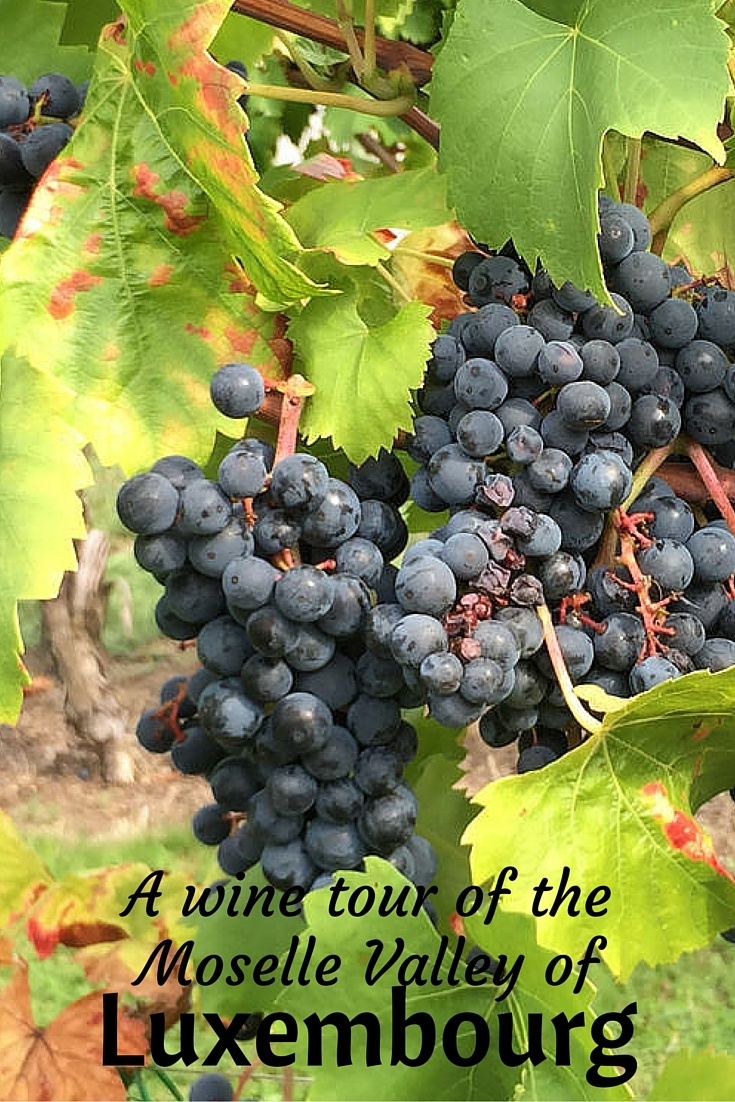 This article by Heather Cowper is originally published at Heatheronhertravels.com – Read the original article here
You'll also find our sister blog with tips on how to build a successful travel blog at My Blogging Journey
October 28, 2015 by Heather Cowper
Filed under Accommodation, Art and design, Copenhagen, Denmark, Eating and drinking, Europe, featured, Hotels, Leisure, Museums, video
The colours sizzle and sing as I step into the lime and turquoise reception area of Absalon Hotel in Copenhagen from the stone grey streets of Vesterbro. Colour is at the heart of this newly renovated boutique hotel, as the elegant CEO, Karen Nedergaard told me, when I stayed at the hotel in June; " In Denmark everything is black and white but I wanted this to be different, to have an international touch."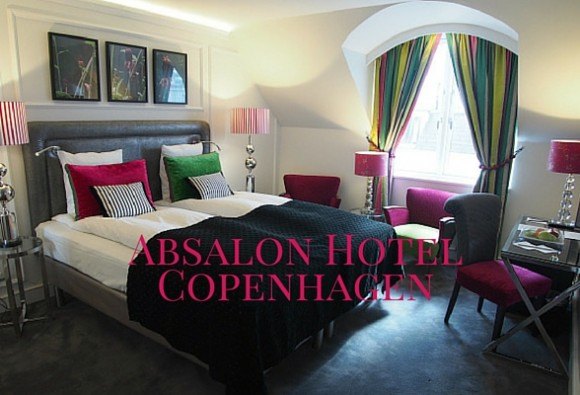 Having used Designers Guild furnishings in the sister hotel, Andersen Hotel (as in Hans Christian ) just across the road, Karen was keen to work with the design company again when her much larger Absalon Hotel was due for renovation. Karen and her designers worked with Creative Director, Tricia Guild and the Designers Guild team in their London and Paris showrooms, as well as visiting other hotels for inspiration.
Over many months of renovation, structural changes were made to the 160 room boutique hotel, opening up the ground floor to the street with larger windows for more daylight and restoring many of the traditional plaster cornices and door frames. But Karen was also keen to create the cosy feeling of wellbeing that is known here in Denmark as Hygge, telling me "anyone can sell a night's stay but what's difficult is to make the guests feel comfortable and relaxed so they want to come back, you have to work with the emotions as well."
The vibrant colour choices on the ground floor were a conscious decision as Karen told me "Maybe the guests don't want to have this in their own home, but they'll remember that it was something different and that they felt well when they were here." Interestingly Social Media also influenced the design choices, and old books and an antique telephone booth were placed around the reception area, knowing that guests would love to photograph these details and share the photos with their friends. The new Absalon Hotel aims to attract the well-travelled, design conscious traveller, both Danes and international travellers spending a few days in Copenhagen or starting their cruise here.
During my stay for the opening party I was thrilled to meet my design heroine, Tricia Guild, Creative Director of Designers Guild, who was there as guest of honour to open the hotel. Over the years I've loved Designers Guild fabrics for the colourful designs that reference global and vintage inspiration but always feel fresh and modern. Tricia told me that she feels hotel design around the world is a new way for travellers to learn to express themselves;
"Hotels are no longer 5000 rooms with the same wallpaper in every bedroom, they are really design spaces and I think that's brilliant. People travel more, they see more individuality and I think that tempts them into being more individual themselves."
I hope you enjoy the video below where Tricia Guild gives her thoughts on the Absalon Hotel Design
If you can't see the video above about Absalon Hotel Copenhagen, see it on my blog here or Youtube here and please do subscribe using the button above
Click here for direct download of video
Subscribe to all my videos in I-tunes
I chatted with Tricia about the many sources of inspirations she has drawn from her travels, from the renaissance art of Florence to the vibrant saris worn by women in India. It might be an impression from the colours of the landscape or the wild flowers growing, yet everday situations can also be inspiring; "You can walk down the street and be inspired if you keep your eyes open". A great collector of vintage and antiques, Tricia told me how she loves the great Scandinavian designers like Arne Jacobsen, Hans Wegner and Finn Juhl and uses their iconic furniture designs in her interiors.
For the Absalon Hotel, a classic Designers Guild silky taffeta stripe fabric called Zetani was used in a different colourway for each floor. The vibrant shades were picked up in other elements of the furnishings, wallpaper, furniture and accessories with the help of the Copenhagen Designers Guild team at ZenOut Home in Hellerup.
Our cosy room up on the 5th floor under the eves reminded me of a circus tent with stripes of green, lime and fuschia on a base of silver grey and black. The rooms up here were a little more luxurious, with deep green carpet and air conditioning (not that we needed it in June). We had all the essentials; a flat screen TV, fridge and safe, but the trendy design was not at the expense of details such as the built in reading lights on the headboard and lighting under the bed to guide you in the night. There was a touch of glamour in the mirrored wardrobe and glass chrome tables, with an easy chair to relax and a view over the rooftops of Vesterbro. The only thing I could have done without was the strange perspex box on the wall displaying a design item, since I kept banging it as I passed to get to the wardrobe.
The bathroom was ultra-modern with Philippe Starck fittings softened with creamy marble tiles and cool lighting effects from Phillips so you can bathe in any colour of the rainbow. To avoid waste, the toiletries from Karmameju were in dispensers above the bath and sink but there's no skimping on quality from this Danish skincare company that uses pure, natural ingredients.
On other floors the scheme is silver grey with highlights of royal blue and green or softer lilac and plum and here wooden floors have been used for a Scandinavian touch. While there's no restaurant in the hotel, there is plenty of seating space and a bar area where guests can relax in the evening with coloured lighting that changes mood depending on the time of day.
Who will enjoy Absalon Hotel? Anyone who loves colour and individual style and is looking for a cool base to explore Copenhagen. The hotel is conveniently located just a 5 minute walk from the main station in the trendy Vesterbro district so you are surrounded by hip bars and restaurants, but be aware that it's the red light district too. The breakfast is a continental buffet with plentiful and varied choices including fabulous nutty Danish bread and all the speciality teas you could wish for. Staff are efficient, helpful and happy to help with recommendations or anything else you need. With a Concept24 policy that allows you late check-out, we think it's the perfect hotel for your Copenhagen city break. Prices for a double room from around 1665 DKK (£160, €225 or $250)
Absalon Hotel Website | Address: Helgolandsgade 15 | Twitter | Facebook | Instagram
You can also read my review of Andersen Hotel just across the road
Pin It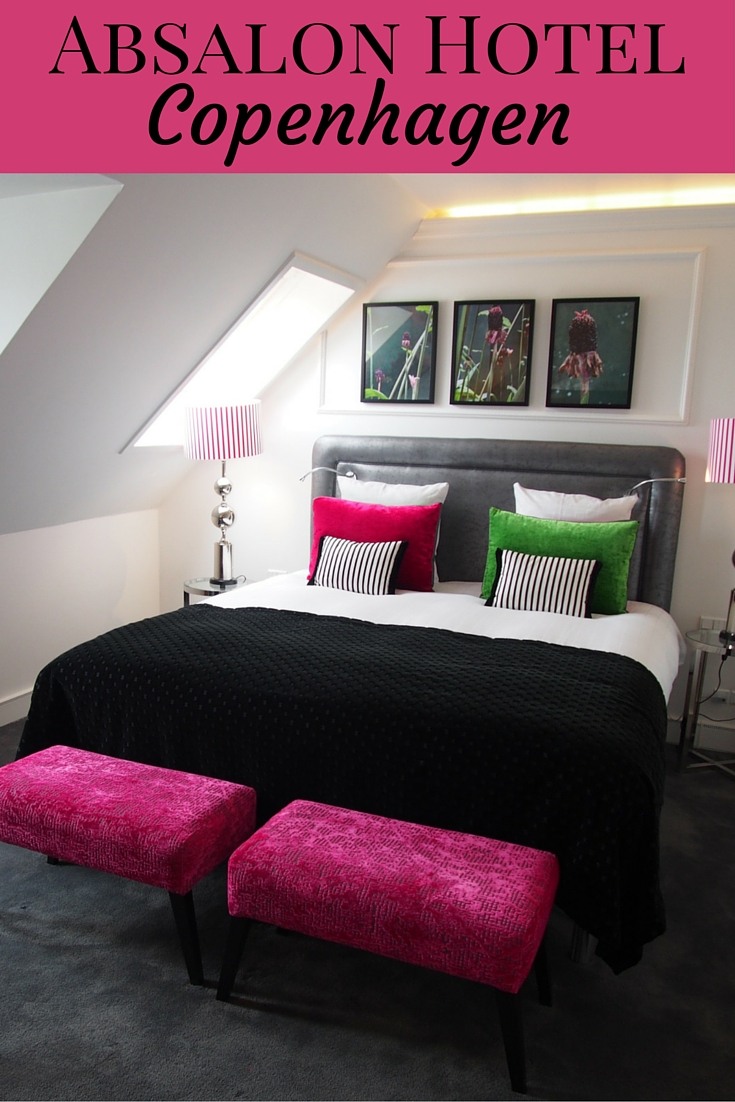 Check out the neighbourhood
Dinner at Bio-Mio
A 10 minute walk down the road from Absalon and you reach Vesterbro's trendy Meatpacking district where the boxy industrial buildings, some of which still house catering wholesalers, are being converted into restaurants and bars. There wasn't too much happening in the day when we passed by, but at night this area is buzzing. If you want relaxed dining with a bistro feel we can recommend Bio-Mio which you'll spot by the large neon Bosch sign. This organic all-day diner has an open kitchen running down one side, so you can watch the chefs at work, and you sit at high tables on bar stools and order your meal at the central till. We ordered from the specials board with simple, well cooked dishes under 200 DKK like my fish of the day that arrived topped with a swirl of fennel and leeks. Bio Mio website | English Menu | Address: Halmtorvet 19
Cocktails at Lidkoeb
Make your way through the side streets to the main drag of Vesterbrogade and tucked away through an arch you'll find Lidkoeb, in an old restored townhouse. Up the stairs we sat in the wooden booths draped with shaggy sheepskins and sipped our summertime cocktails. Apparently the Danes love anything with ginger but I tried the Kolonihaven, fragrent of summer, made from geranium gin, cloudy apple and cucumber juice.
On the top floor is the cool whisky bar, serving only the finest whiskies and whisky cocktails. It's a cross between a student attic and a gentleman's club with old leather chairs, cut glass decanters and flickering candle-light. Lidkoeb website | Address: Vesterbrogade 72B
Hot dogs at Urban House
If you fancy something more gritty, to relive your student days, head across the road to Urban House Hostel where their bar serves gourmet hot dogs smothered in various delicious toppings. Choose from Classy Sassy, Grill'n'Chill or the veggie Green Spleen Dog, for an evening snack they're a snip at 35 DKK. Urban House Website | Address: Colbjørnsensgade 5-11
Fun time at Tivoli
Tivoli is a must-see pillar of the Copenhagen scene; part amusement park, part landscape gardens, with restaurant quarter and entertainment venues packed in. During the day it's great for families who'll enjoy the rowing boats on the lake, old fashioned carousels and ballet in the open air pantomime theatre. As the evening wears on, the Chinese lanterns glow and the screams from The Demon roller coaster get ever louder as the teenagers and after-work crowd arrive for thrills and dinner.
There's something for all ages to enjoy and the park maintains a quality, Danish feel that manages to stay charming rather than tacky. Tivoli Gardens are open April-end September and also at Halloween and Christmas. Entrance 99 DKK, Multiride ticket 209 DKK with other packages available. Tivoli Website | Address: Vesterbrogade 3
New Nordic cuisine at UFormel
For a sophisticated but informal dining experience our new find on this visit was uFormel, the cool younger brother to Michelin star Formul B. The restaurant menu offers small plates, with the idea that you order around four dishes, which are served in a succession of different courses. This is the place for adventurous palates and between us we tried scallops, ceviche, beef tartar, lamb and numerous and varied taste combinations. The decor is dark, the ambiance lively and loud (I found it difficult at times to hear any conversation) but the dishes priced at 100 DKK are well priced for the standard of cuisine. If you really want a blow out you could try 750DKK menu with wine pairings but I think it would have been too much. Read the review of uFormal from Alex Berger who joined us for dinner and took all the tasting notes for me.  uFormel website | Address: Studiestræde 69
Culture fix at Ny Carlsberg Glyptotek
Just a 10 minute walk from the Absalon Hotel and opposite Tivoli is the delightful Ny Carlsberg Glyptotek. This museum houses the art and sculpture collection of the 19th century brewing magnate Carl Jacobsen and is full of classical Greek and Roman sculpures as well as turn of the century marble figures by Danish sculptors.
We also enjoyed the impressionist galleries upstairs, packed with Gauguins, Van Goghs and Cezannes and the petite bronze by Degas of the Little Ballerina which my daughter loved. The winter garden with glass roof and tropical foliage has an elegant cafe where you'll be tempted to stop for a coffee or light lunch. It's free on Tuesday, otherwise 95 DKK.  Ny Carlsberg Glyptotek website | Address: Dantes Plads 7
Visiting Copenhagen
For more information about things to do in and around Copenhagen, check out the Visit Copenhagen website as well as the Visit Denmark website for other parts of Denmark.
Heather and Sophie-Anne flew with Scandinavian Airlines from London Heathrow to Copenhagen. SAS fly several times a day to and from London to Copenhagen giving you a choice of times to make the most of your time in Copenhagen. On arrival take the train or metro direct to the centre of Copenhagen.
Heather and Sophie-Anne used the Copenhagen Card which covers free public transport around Copenhagen as well as free or reduced price entry to many of the attractions in and around Copenhagen.
More things to do in Copenhagen
Light, Air, Water – finding a healthy holiday in Copenhagen – healthy tips for rest and relaxation on your spa break by the sea in Copenhagen
How to make New Nordic Cocktails in Copenhagen – cocktails to try that use authentic Danish flavours such as cherry wine.
Like Mother Like Daughter – What we loved on our trip to Copenhagen – My daughter, Sophie-Anne suggests some things to do in Copenhagen that mothers and daughters will both enjoy.
Thanks to Absalon Hotel for hosting our stay at the hotel, to Wonderful Copenhagen and Visit Denmark for providing some of the experiences mentioned and to Scandinavian Airlines for providing Heather's flight to Copenhagen.
This article is originally published at Heatheronhertravels.com – Read the original article here
You'll also find our sister blog with tips on how to build a successful travel blog at My Blogging Journey
August 26, 2015 by Heather Cowper
Filed under Art and design, Eating and drinking, Europe, featured, Italy, Leisure, Museums, Sightseeing, Venice, Walking
There's a saying that if you eat badly in Italy you must be in Venice. Being something of a foodie myself, on my long weekend in Venice, I was determined to search out the best of Venetian food. I'm afraid to report, however, that my food experiences ranged from the average to the mediocre. Since Venice is such a tourist hotspot, and so many of the visitors are there for such a short time, it is all too easy for many businesses not to try too hard. Still with a little research and planning I think that you can find the best that Venice has to offer, so here are my tips to ensure that you don't eat too badly in Venice.
Get well away from San Marco
The San Marco district and especially the area around St Mark's Square is the tourist hub of Venice and is always packed with visitors. Many come for the day from a cruise ship or coach tour and just have time for the tick list sights of the Doge's palace, San Marco Cathedral, climb the campenile and then a quick gondola tour or foray to the Rialto Bridge. I'm not saying it's not possible to find a good restaurant in this area, but you are just as likely to stumble into one with a multi-lingual menu designed to service tourists only.
Better to venture into the less touristy districts such as Cannaregio, Arsenale or Dorsoduro where you will find more authentic wine bars and restaurants. The area around the Rialto market is good and has a number of good bacari (wine bars) plus it's a feast for the eyes. Arrive in the morning when the fish is on sale to see the market in full flow; by lunchtime the market is winding down and stalls are packing up, although the fruit and veg stalls will be there for a little longer.
What to eat in Venice
If you're not sure what to order we found that it was difficult to go wrong with a seafood pasta or pizza. It's not terribly adventurous but tends to be the least expensive things on the menu if you're on a budget. Local specialities to look out for are linguine alle vongole, the hot antipasti of mussels and clams and a risotto with black squid ink. The meat dishes that we eat at home such as lasagne and ravioli we found were disappointing.
If you are offered fresh fish, it may be priced by weight and you should take care to establish the cost in advance or you may find yourself landed with an unexpectedly large bill. This is a bit of a scam in the San Marco tourist restaurants where a big show is made of a whole fish cooked in salt which you discover later has a hefty price tag.
Other things to check are the cover charge which may add a few euros per person and a service charge which may be added on to the bill. Of course if you'd like to have that coffee at Florian in St Mark's Square while listening to the musicians, you should do so knowing that it has a tourist price tag (the prices are clearly shown on the menu outside). Venice is a great place to try local Italian wines by the glass in a side-street wine bar and in the early evening you can join the locals in a bright orange Aperol Spritz, a Bellini or a glass of Prosecco.
Eat standing up
A custom that takes us Brits by surprise, but is quite the done thing, is to stand up or perch on a bar stool while having a drink and a snack with friends. Don't be put off in the wine bars if there are only a few small tables and you have to rest your drink on a shelf along the wall. This is where you can order cicchetti, or small bar snacks which range from miniature sandwiches to dishes of salad and cold seafood. The ideas is to order a glass of wine and point at whatever dish looks tempting, then stay for another or move on to the next bar.
The stand up principle also applies to gelateria. Look for those that are artizan, which indicates the gelato is made on the premises, where you will often find a few small tables or stool to sit inside. The same stand-up approach can also apply at the Pasticceria where you can grab a coffee at the bar with a sweet pastry or cake. Generally eating or drinking standing up means that the price is cheaper since table service is not required.
Eat Venice food app
Before I visited Venice I downloaded the Eat Venice app onto my phone in the hope that I could find some more authentic places to eat. The app is by Elizabeth Minchelli whose blog about Italian food is also a great source of information about eating in Venice. I loved reading about all the great places to eat on this app but found that once we were there we invariably couldn't find them or were too hungry to hunt around.
It's certainly worth using the app to find out good food places in your neighbourhood, but don't get too worried if you don't find them, it's better to use your eyes to judge whether a place looks authentic. If it's busy, packed, full of Italians chatting with their friends, then it's worth waiting for a table.
Self catering in Venice
While there are plenty of apartments in Venice and indeed we stayed in one of them, although it seems to be a bit sad to always be eating in when you are in the midst of a living postcard. There are a few supermarkets in Venice but not really the convenience stores that you find in other cities. The culture is to eat out in a bar or restaurant and picnics are discouraged, in fact there seems to be a rule that they are not allowed. Still an apartment does mean you have the flexibility to make yourself the breakfast or lunch that you want, while perhaps eating out in the evening.
Food Tours in Venice
Another great way to get the feel of the local food culture is to take a food tour like the Rialto Market and Cicchetti wine bar tour with Walks of Italy. This tour takes you around the Rialto fish market and into the artizan food shops with a stop at three different local bars to taste the cicchetti as well as restaurant recommendations from the local guide. I wish that we had been able to take this tour as I feel sure that our food experience in Venice would have been improved had we been armed with some insider knowledge.
Pin It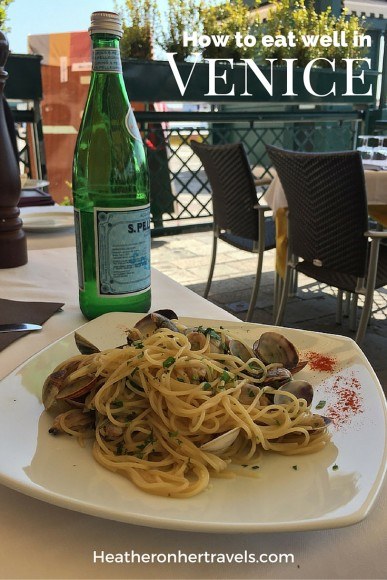 Some more Venice recommendations
The Go with Oh apartment we stayed in was one that I won through Murissa's blog at The Wanderful Traveller in the Passports with Purpose fundraiser. Murissa knows Venice well and kindly made me some recommendations of where to eat in Venice;
Hilton Molino Stucky Venice
If you don't mind your kids drinking a bit of prossecco and toasting to what an amazing city you've all traveled to then head up to the top of this hotel. There is a bar that has a picturesque pool and overlooks the entire city of Venice. Take the Zattere water bus stop over to Stucky.
Osteria Enoteca ai Artisti
You'll find this recommendation in your Eat Venice app. Delicious and not too pricey food in a quaint location not far from where we stayed. http://www.enotecaartisti.com
Al Mercà (Rialto market area)
One of my favourite cicchetti bars – cheap and amazing sandwiches (the prosciutto is my favourite!), delicious prossecco, and a view of the hustle of the market/canal. Standing room only.
All'Arco (Rialto market area)
Family run cicchetti bar where you can eat local foods for very cheap. Cicchetti are Venetian snacks for cheap and have been served for hundreds of years. I personally love the deep fried mozzarella with fresh sardines but stuffed zucchinni flowers are divine as well. Good for lunch – mostly standing room only when you visit cicchetti bars.
Do Spade (Rialto Market area)
Where Casanova frequented in the mid 1700s. Delicious cicchetti, wine and beer. Locals and tourists alike. Just go up to the counter order and find a spot. Not far from the Rialto Bridge/Market.
Book a tour of Venice
We highly recommend Walks of Italy who offer a number of different tours in  Venice and other parts of Italy, which are ideal if you are only visiting for a short time. You'll have an expert local guide to show you around and can often skip the queues at key sites. We took the 2 hour Venice Boat Tour which took us down the Grand Canal and many of the smaller canals with views of the key sites of Venice including a visit to the island of San Giorgio Maggiore where we climbed the bell tower with amazing views of Venice. Read my review of the Walks of Italy Boat Tour here.
Where to stay in Venice
For our 3 day stay in Venice I rented an apartment with Go with Oh and was able to use the €250 voucher that I won with Passports with Purpose blogger fundraiser. We chose this apartment in the San Marco district since it was so well located for all the main sites.
Thanks to Murissa from The Wonderful Traveller who hosted this prize contributed by Go with Oh and and for her tips on what to see in Venice. Passports with Purpose is a really worthwhile organisation which supports a different cause each year and you can win some really fabulous prizes so it's definitely participating.
This article is originally published at Heatheronhertravels.com – Read the original article here
You'll also find our sister blog with tips on how to build a successful travel blog at My Blogging Journey