August 11, 2016 by Heather Cowper
Filed under Art and design, Bristol and Bath, Eating and drinking, featured, Leisure, Museums, Sightseeing, Street art, United Kingdom, Walking
On a sunny afternoon in Bristol the harbourside is buzzing. Locals with an after-work pint in their hand spill out onto cafe terraces or soak up the sunshine with their legs dangling over the harbour wall. At the weekend families gravitate to the harbour, dipping into the free museums and galleries or watching the boats on the water, while the creative types hang out over brunch in one of the numerous cool cafes.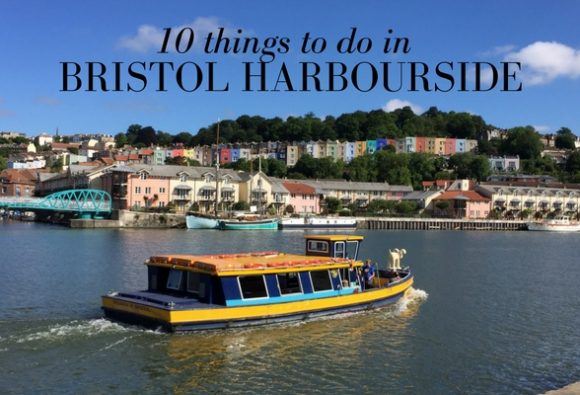 Once the heart of Bristol's industry and commerce, the harbour has been reinvented as the city's playground. As a local of Bristol for over 20 years I'm here to take you on a walk around the Bristol's harbourside to share some of the cool places that I enjoy. So let's start at….
1. Millennium Square
Built in 2000 to celebrate the turn of the century, Millennium Square is a place to hang out, bring the kids for a picnic, watch sporting events on the big screen or move on to one of the many bars nearby for a drink with friends. The veg beds run by Edible Bristol are full of lavender, herbs, yellow sunflowers and a few miniature apple trees. Take a seat next to statues of Bristol's literary figures like Thomas Chatterton and William Tyndall, not to mention Archibald Leach a.k.a the suave Hollywood star, Cary Grant who was born here.
Mobile getting a bit low? No problem! The energy tree has small solar panels at the end of its branches and there are USB points where you can plug in and recharge. On the other side of the square is a water fountain for you can fill up your bottle – all part of the initiatives that went into making Bristol a European Green Capital. Possibly the best loved spots in Millennium Square are the water features – shallow pools where children splash, pillars with water rippling down them and pools where it spills over the rim. On a sunny day they provide hours of good clean fun that won't cost you a penny.
Where to Stay? For a modern base in the city with 24 hr reception check out Ibis Bristol Centre which is right on the square or for classic luxury, the Bristol Marriott Royal Hotel is just a few minutes walk away on College Green.
And if you're in Millennium Square with the family, why not pop into…
2. At Bristol Science Centre
This hands-on science centre is great for kids and teenagers, with handles to turn, buttons to press, things to build and something to see, smell, touch wherever you turn. On the ground floor it's all about us and our bodies – test how high you can jump or fit your body's organs into the body like a jigsaw puzzle. On the other side of the room you can turn the Heath-Robinson style water wheel or make a miniature parachute fly. There's a whole area devoted to food and where it comes from – you can compare what a sumo wrestler and a farmer in the Andes eat for breakfast.
Upstairs a big section is all about animation, based on the Wallace and Gromit films created in the city by Aardman Animations. You can also blow giant bubbles and find out how astronauts wash in space, which leads us neatly into the shows in the Planetarium – that's the big silver ball that you see outside in the square. Check out the At Bristol Website
From Millennium Square we'll cross Pero's bridge, with horn like weights that balance the bridge when it occasionally opens to let the large ships pass through. It's named after the Pero, the slave servant of 18th century Bristol merchant John Pinney, who built a home just off Park Street that's now open as the Georgian House.
Just before the bridge there's a covered arcade of bars and restaurants where you'll find the tourist information centre. Next door the Watershed Arts centre has an upstairs cafe that overlooks the water and is popular with creative entrepreneurs who hold informal meetings across their open Macbooks.
On the other side of Pero's Bridge is a favourite place to catch the evening sun, sitting on the harbour wall with a drink in your hand. Bring your own or buy your drinks from The Grain House run by the YHA or the Arnolfini bar.
Where to Stay: The Bristol started life as a motel and is actually a listed building for the 1960s concrete facade but inside the rooms are stylish and welcoming with fab harbour views. Those on a budget should check out the YHA Bristol with shared dorms and private rooms – you can't get a better location for the price.
Once on this side of the harbour it's worth a stop at…
3. Arnolfini Arts Centre
The Arnolfini is one of my favourite contemporary art centres, housed in one of the old stone warehouses and because it's free I always like to pop in and see what's going on. Once I saw a group of dancers twisting silently with only those wearing headphones hearing the music they were dancing to. Another time I hopped from one upturned log to another around a room filled with just a few inches of water. The ever changing exhibitions always provoke and question, but don't expect to find pretty pictures in here. I often pop up to the second floor just for the pleasure of looking back down across the whole harbour at the window by the loos.
Out on the quayside sits John Cabot or Giovanni Caboto, a Genoese explorer who has given his name to a number of parks, towers and shopping centres across the city. In 1497 he sailed from Bristol in The Matthew, a surprisingly small ship to cross the Atlantic all the way to Newfoundland. The replica of the original ship now sits on the other side of the harbour – more of that later.
If you're inclined you could turn left after the footbridge for a quick detour to Bathhurst Basin where there's a small marina. It's mainly a residential area but The Ostrich Inn, once a haunt of sailors and slave merchants, is a fine place to sit outside with a drink on a sunny day. The Michelin star restaurant Casamia recently moved here with the same team opening Pi shop next door serving gourmet pizza overlooking the water.
Where to Stay: The Mercure Holland House is a convenient 5 minute walk from this end of the harbour close to St Mary Redcliffe church, with modern rooms, an indoor pool and is well placed for Bristol Temple Mead.
Retracing your steps, our next recommended stop is the free museum at …
4. M-Shed
I have memories of when this old warehouse in Bristol's docks was the Industrial Museum and once attended an amazing play about the life and times of the harbour where the doors onto the quayside revealed a banana boat which formed part of the performance.
Now M-shed is a fantastic free museum that shows off the varied, vibrant and multicultural life of Bristol through exhibits on the ground and first floor and special exhibitions on the second floor. The ground floor covers life in Bristol, our diverse neighbourhoods, transport and a taste of Bristol during the blitz. The vintage double decker bus is always popular with families climbing on board and if everyone seems to be gazing at the floor it's because they are trying to find their own house on the street map of Bristol.
Upstairs on the first floor it's all about the people of Bristol and the commerce of the city. See the metal tables or 'nails' where merchants did their business, leading the expression 'Pay on the Nail' and learn about Bristol's slave trade on which the wealth of the city was built.
One of my favourite views is from the second floor balcony where you look out across the harbour and get a birds eye view of the cranes that are part of the museum's industrial heritage. Sometimes you'll hear them speak out and tell their story.
A little further along the quayside, you'll find another part of Bristol's history in …
5. The Matthew
I mentioned earlier about John Cabot, who Bristolians like to claim as their own but who was actually from Genoa and sailed to Newfoundland in his ship The Matthew. Sadly the original Matthew is no longer around, but a replica was made in 1997 to sail across to Newfoundland and mark the 500th anniversary of the original voyage. The ship is now based in Bristol harbour and if you see her moored close to M-Shed you can generally go on board and have a look around.
It's difficult to believe that a ship this small would have made it across the Atlantic – the life of a sailor in those days was certainly a pretty perilous and uncomfortable existence!  It's free to go on board for a look around and they also run regular 1 hr sailings around the harbour as well as special fish & chips or afternoon tea trips. Check the Matthew website for upcoming events.
By now you may be ready for a stop at one of the many …
6. Cool coffee shops
Bristol Harbour abounds with places to stop for a coffee, snack, after work drink or delicious meal and there are plenty of independents that you won't find on every high street. I've made a bit of a list below of all my favourites so that you can find a great place to stop wherever you are in your walk around the harbour. In the spirit of full disclosure I haven't necessarily eaten at all of these but have selected those I would happily try based on their style, menu and reputation.
Around Millenium Square
The area immediately around the square is mostly the province of chain restaurants which are popular with the after work crowd for a beer and bite to eat. These are larger establishments and you'll often find happy hour or other offers, so best to walk around and see what catches your fancy. I also like the upstairs cafe at The Watershed for lunchtime or early evening meetings as they serve tasty, healthy food and you won't feel self-consious getting out your laptop, plus there's a great view over the water.
Around Anolfini and M-shed
Arnolfini Cafe – The cafe for the free contemporary art gallery that I already mentioned serves coffee, cakes and sandwiches, salads and charcuterie platters. They have a section of tables by the water if you want to eat outside or grab an after work drink. Open 10am – 8pm
Mud Dock Cafe – I haven't been here for a while but it's best known for the cycle shop on the ground floor and roof terrace above that overlooks the harbour. It's always packed on a sunny day, serving coffee, brunch, tapas from 10am-6pm then dinner until 10pm.
The Ostrich Inn – A taste of the old Bristol of sailors and pirates who frequented the inn in the 18th Century. Inside it's traditionally atmospheric although the seating space isn't huge, but comes into its own in the summer where there is loads of outdoor seating overlooking the water.
Pi Shop – The Michelin star Casamia restaurant recently moved to the new General development beside The Ostrich Inn, and they've also opened Pi Shop next door. Run by the same team it serves sourdough pizza made in a wood fired oven and home-made ice cream with a casual 'Napoli meets Bristol' feel and some outdoor tables overlooking the water.
From M-Shed to SS Great Britain
Just behind M-Shed is Wapping Wharf, which as I write is nearing completion with many of the restaurants now open. Once it's all complete there will be even more food vendors operating out of shipping containers in the Cargo complex, but to tell you about what's there already…
Pizzarova * – serving take-away pizza freshly made in their wood-fired oven in the shipping crate which you can eat on the tables outside or on the wooden benches just opposite beside M-Shed. I tried one of their pizzas which was good value, tasty and I liked their easy going approach of letting your choose whatever combination of toppings and the price is the same.
Wild Beer – If you're looking for an after work or any time beer, the freshly opened Wild Beer offers around 20 draught beers from their own Somerset brewery among others, together with a connoisseur's version of fish and chips.
Mokoko Bakery and Cafe * – serving an delicious selection of cakes and pastries with a few quiches to order with colourful salads. You can eat them inside, on the outdoor tables or buy to take away with an excellent coffee.
Better Food – It's local, organic and ethical at Better Food which is half an enticing grocery store and half a cafe selling organic lunches, fresh juices and teas and coffees. In this and their other Bristol stores they stock local producers and artisans, to support a 'shop local' philosophy.
Brunel's Buttery – a short walk along from Wapping Wharf is Brunel's Buttery, the die-hard Bristolian's favourite, serving steaming mugs of tea, bacon butties and cones of chips from a small brick kiosk halfway between M-Shed and SS Great Britain. All the seating is outside and the seagulls will swoop down for anything you don't finish.
Around Underfall Yard
The Cottage Inn – a local's favourite on Baltic Wharf, this Victorian stone pub has an outdoor terrace by the water for a pint of local ale on a sunny evening accompanied by some classic pub grub.
Pickle Cafe at Underfall Yard * – One of my 'new' discoveries this small cafe is inside the Underfall Yard visitor centre and offers stylish breakfast specials and sandwiches, with a tempting selection of cakes and excellent coffee. There are a few tables inside but it's mainly one to sit outside on a sunny day right beside the harbour.
Between Underfall Yard to Millennium Square
Spoke & Stringer *- Right opposite SS Great Britain (you can get the ferry across) this is possibly my favourite harbourside cafe. It's connected to the shop next door selling lifestyle surf and bike gear, with a couple of Harley Davidson's parked outside and a thriving Instagram account to hammer home the style credentials. The food (brunch dishes by day, pintxos by night) is both delicious and beautiful and it's fun to be inside or outside – but outside is a real suntrap and you get the view of the SS Great Britain and harbour.
* The ones marked with a star are my personal tried and tested favourites
Now you're fully refreshed, we'll walk along the harbour to reach Bristol award winning harbourside attraction…
7. SS Great Britain
I love the stories behind the SS Great Britain. Launched in 1843 as the first iron steam ship it was designed by the great Victorian engineer Isambard Kingdom Brunel, the man behind the Clifton Suspension Bridge and Temple Mead Station. The ship ended its days as a rusty hull in the Faulkland Islands and was brought back to Bristol in 1970 to start a lengthy restoration process on the journey to becoming the splendid visitor attraction, with all flags flying, that you see today.
If you start your tour below the water covered glass that surrounds the ship you can see the hull below the waterline and pass through the museum with plenty of interactive exhibits explaining the maritime history surrounding the ship. Once on board you'll find out what life was like for the different classes of passengers who sailed in her. While the first class passengers enjoyed elegant dining, you'll also see the cramped bunks in steerage that would have reeked of stale ale and sweaty laundry. The sights, sounds and even smells of life on board have been recreated, right down to the rats running around (luckily enclosed) and the cow on deck to provide fresh milk.
For the daring there's the chance to Go Aloft in the ship's latest activity where you climb up the rigging to the crow's nest and then inch your way along the yard-arm – rather you than me! For more information check the SS Great Britain Website.
From here you can easily take a detour to Spike Island creative hub which provides a work and exhibition space for artists and small creative businesses. They often have exhibitions and the Spike Cafe serves organic dishes and drinks.
And there's a Banksy too! It's not so easy to find if you didn't know it was there, but if you find your way to the streets at the back of SS Great Britain, you'll find it off Hanover Place close to The Orchard Inn, painted on the back of the Dockside Studios. It's actually marked on Google Maps. Search for Banksy's 'The Girl with the Pierced Eardrum'.
From here walk along the harbour-side path until you reach the end of the harbour and …
8. Underfall yard
The pumping station for the Bristol floating harbour is another authentic part of the city's industrial heritage that has recently been restored to make a fascinating visitor attraction. It's a working shipyard where beautiful wooden boats are brought to be work on – take a peep into the door of the big shed to see the hull of a ship taking shape.
The new visitor centre which is staffed with enthusiastic volunteers has a room sized map table of the harbour and hands on activities that show the engineering that went into keeping the harbour free of silt, so ships could enter and Bristol's trade continue uninterrupted. Ask to have a demonstration of the Human Accumulator where you and your friends are lifted slowly up to provide enough force to turn the sluice paddle. The visitor centre also houses the highly recommended Pickle Cafe for coffee, cakes and sexy sandwiches with names like Hot Chick and Killer Courgette. More information on the Underfall Yard website.
You've made it to this far to the end of the floating harbour, so you may like to walk a little further to the Create Centre which is mainly open on weekdays. The centre features events and exhibitions related to the environment including a purpose built eco home to give practical ideas for greener living.
If you don't fancy walking all the way back to Millennium Square you could take …
9. A Boat trip around Bristol Harbour
There are a few different options to get to around the harbour by water – it's the original and best way after all. Bristol Ferry Boats provides a regular service throughout the day around once an hour, taking visitors and commuters from City steps at one end of the harbour (just beyond Pero's bridge) to the Pump House at the other (by Underfall Yard). If you've just shlepped all the way along the route I've described and can't face the walk back then getting the ferry by Underfall Yard (Nova Scotia stop) will save your legs.
They also run public trips around the Avon Gorge or along the River Avon that will give you an enjoyable few hours on the water spotting wildlife or seeing the harbour's iron bridges and architectural features. Bristol Packet Boat trips run similar regular tours around the harbour and have a kiosk just beside SS Great Britain where you can see what's on and buy tickets for their next trip.
For a short ferry ride that crosses the harbour at a convenient point, hop on the 7 Boats ferry by SS Great Britain which takes you to the landing stage near Spoke and Stringer on the opposite side for 90p one way. No timetable – it just goes constantly back and forth so you'll never wait long for the next one.
If you've taken the short cut by ferry from SS Great Britain to the other side, it's not too far to walk back to Millennium Square, past a lovely reed bed which makes a habitat for ducks and other wildlife.
But if all this walking seemed a bit tame to you, perhaps you'd like to try…
10. An adventure out on the water
Stand up paddle boarding is the latest craze to reach Bristol harbour and you'll often see a few people paddling around the harbour. SUP Bristol run regular weekeday evening and Saturday sessions where you'll be shown how to paddle safely and spend a few hours having fun on the water.
If you'd rather try a canoe, The Adventurous Company offer guided trips around the harbour in an open Canadian style canoe that takes 2-3 people. Finally Cycle the City offer daily guided cycle tours around the harbour on a comfortable and stylish Pashley bicycle and also hire bikes (need to book in advance) from No 1 Harbourside which is by the Watershed and Tourist Information Centre.
So now we've made a circle around the harbour and are back where we started at Millennium Square. Of course it would be rash to suggest that you can do justice to all the places I've mentioned in one day. Instead I'd enjoy the walk and just stop at one or two that catch your imagination, fortifying yourself with a few coffee and lunch stops along the way. If you'd like to make a weekend of it and combine your day in the harbour with some of Bristol's other fine neighbourhoods, my recommendations for places to stay are below.
Where to stay around Bristol's Harbourside
I've mentioned all of these hotels in the article, but here they are again ranged from budget to luxury.
YHA Bristol – for budget travellers with shared dorms and private rooms – you can't get a better location for the price.
Ibis Bristol Centre – a modern base in the city with 24 hr reception check right on Millenium Square.
The Bristol – started life as a motel and is actually a listed building for the 1960s concrete facade but inside the rooms are stylish and welcoming with fab harbour views.
Mercure Holland House – close to St Mary Redcliffe church, with modern rooms, an indoor pool and well placed for Bristol Temple Mead station.
Bristol Marriott Royal Hotel – classic luxury, a few minutes from the harbour on College Green.
Visitor Information for Bristol
For more information on what to do in Bristol and what's on when you visit, check the Visit Bristol website
Pin It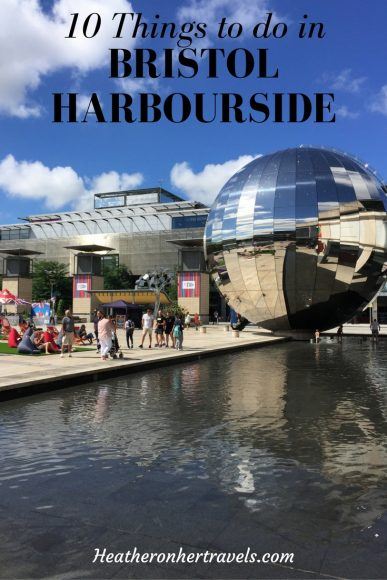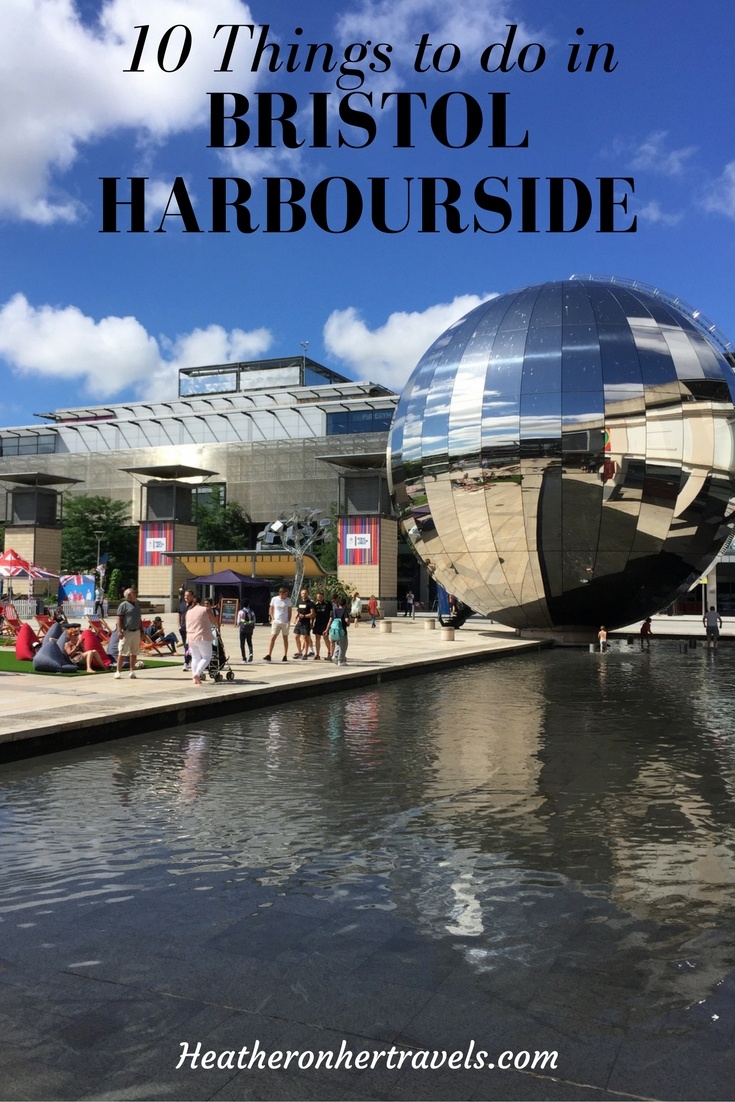 This article is originally published at Heatheronhertravels.com – Read the original article here
Dylan Thomas is the favourite literary son of Wales, born in Swansea and much celebrated before his untimely death at the age of 39. Even if you don't know his poetry, my driving tour of the places he lived and loved will show you some of the most beautiful scenery in South Wales and give you a fascinating insight into the times that Dylan lived through.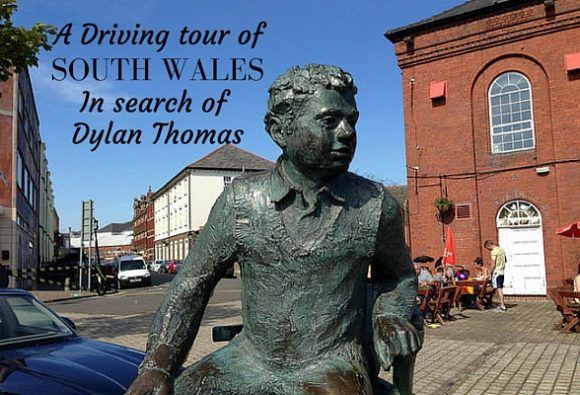 Let's start in Swansea
Let's start our driving tour in Swansea, where Dylan Thomas was born, the place he spoke of as "an ugly, lovely town" since it was heavily bombed in the blitz and lost much of the charm of its pre-war Victorian architecture. If arriving in Wales by public transport, you can easily pick up a hire car in Cardiff, Swansea or Newport as the places on our tour are most easily visited by car. (Check out Alamo Rent A Car if you need a rental car)
In recent years Swansea has undergone a regeneration and in the Maritime Quarter surrounded by new apartments and restaurants, you'll find a statue of the city's most famous son, in front of the Dylan Thomas Theatre.
Dylan was a member of the local amateur dramatics society, the Swansea Little Theatre, who met in Mumbles and the theatre now provides a permanent home for the theatre group. All kinds of productions are put on here but it's worth checking in advance whether there are any preformances related to Dylan Thomas. If not, you can still enjoy the murals on the walls of the theatre, depicting many of the characters that Dylan wrote about in his famous radio play, Under Milkwood. Dylan Thomas Theatre Website
The Dylan Thomas Centre in Swansea
Nearby is the Dylan Thomas Centre, which provides a permanent exhibition about Dylan's life and work. On the walls are large photo murals of Dylan, his friends from the Swansea literary scene and a portrait of his wife Caitlin painted by Augustus John. You can hear the voice of Dylan himself, from the radio broadcasts he made to read his poetry and radio plays.
What comes through above all else is Dylan's love of words which he used like colours in a paint box to create each scene, making lists of the words he might use on scraps of paper to keep by his desk.  He wrote; "I wanted to write poetry in the beginning because I had fallen in love with words, I cared for the colours the words cast on my eyes".
Read my article about Swansea – an ugly, lovely town
Dylan Thomas Centre, Somerset Place, Swansea, SA1 1RR
Let's visit the Dylan Thomas Birthplace in Swansea
Dylan was born in 1914 into an upper middle class family and inherited a love of literature from his father, DJ Thomas, who was Head of English at Swansea Grammar School. The house at 5 Cwmdonkin Drive where Dylan was born and where he grew up has been restored in the same character as when the family lived there and is open to the public, as well as being available to rent as a place to stay. It's just a short drive from the Maritime Quarter in the residential neighbourhood of Uplands.
The dark green and red colour scheme of the sitting room is just as Dylan described in "A Child's Christmas in Wales" when aunts and uncles gather in front of the fire after Christmas lunch. Owner Geoff Haden restored and furnished the house from auctions and car boot sales, using information in family letters and Dylan's own descriptions to recreate the house as it might have looked when Dylan was growing up, right down to the old gramophone player.
Upstairs Dylan's tiny bedroom has been left just as if he had been living there now, with a messy desk covered with books, a packet of woodbines and a bottle of Hancock's local ale, posters of Shakespeare next to Greta Garbo. At this tiny, crowded desk, Dylan would write poetry until he left home at the age of 20, doted on by his mother Florence who would bring him breakfast in bed.
Read my article about the Dylan Thomas birthplace
Visit the Dylan Thomas Birthplace at 5 Cwmdonkin Drive, Uplands, Swansea for a guided tour – check the website for times, events or to book an overnight stay.
Cwmdonkin Park – where the young Dylan played
The Dylan Thomas birthplace looks out to Cwmdonkin Park where Dylan would play as a boy. In Dylan's day there was a reservoir with swans which has now been filled in for a children's playground, but the bowling green and pavilion look much as they did in Dylan's childhood. The pavilion is open as a tea room with a pleasingly retro feel, serving ice creams, tea and welsh cakes on 1950s style china.
Where to stay in Swansea
Morgans Hotel was once the Harbour Trust Office, a grand Edwardian building from the era when Swansea was a major port and industrial city known as "Copperopolis" due to the large amount of copper smelted there.
The bedrooms, with mahogany doors, high ceilings and plaster mouldings, are individually named after the Swansea ships of the period. Downstairs is a stylish bar for evening drinks and breakfast is taken in the former banking hall of the Harbour Port Office, with original murals and copper globe lamps recalling Swansea's industrial heyday. Morgans Hotel makes a luxurious base for exploring Swansea and the Dylan Thomas trail.
Morgans Hotel, Somerset Place, Swansea, SA1 1RR.
Mumbles and the Gower beaches where Dylan loved to walk
Let's take a short drive to the seaside village of Mumbles, just outside Swansea, a place Dylan came to regularly to rehearse with the local amateur dramatics group, the Swansea Little Theatre. Afterwards the group would go for a drink at the Antelope pub where Dylan was known to enjoy a few pints.
From his home in Uplands Dylan could take the bus with friends to Mumbles and the beaches of the Gower peninsula, where they would go walking and camp overnight. Caswell beach which can be easily walked to from Mumbles, still has a retro air with the green painted beach huts and the cafe on the promenade.
A couple of his short stories were set on Rhossili beach and Dylan enjoyed long walks along the cliff path. Read my article about walking the coastal paths of the Gower.
Mumbles is a good place to base yourself for a night or two to explore some of these same beaches, either walking direct from Mumbles along the cliff path or driving to the stunning beaches of Caswell, Langland and Rhossilli.
Where to stay in Mumbles
Promenade View is a stylish 3 bedroom holiday home set right on the promende at Mumbles and an ideal place to base yourself to explore Mumbles, the Gower peninsula and be within easy reach of Swansea. The house has 3 en suite bedrooms with views over Swansea bay and the cyclists, walkers and sailing boats on their stands along the promenade, as well as being a short stroll from plenty of pubs, restaurants and the Mumbles pier where the coastal path begins. Read my review of Promenade View here.
The Boathouse at Laugharne in Carmarthenshire
From Mumbles you can drive to Laugharne, the village in Carmarthenshire that Dylan made his family home in the final years of his life. The Boathouse is set just below the cliff path with striking views across the Taf Estuary from the windows and was described by Dylan as "my sea shaken house on a breakneck of rocks".
Here Dylan lived with his wife Cailin and children until his untimely death in 1953 and it's furnished partly as it was when he lived there, partly as a museum in the attic room that would have been their bedroom.
A little further along the path is Dylan's writing shed where he worked, with desk with cigarette stubs, as if he had just popped out for a walk. The window looks over the Taf estuary, where the sandbanks are exposed at low tide and wading seabirds pick their way through the shallows, described by Dylan as "the mussel pooled and the heron priested shore."
Read my article about Lovely Laugharne – on the Dylan Thomas trail
When he lived here, Dylan would walk along to Browns bar to read the papers, or drop in to see his parents who lived opposite, before working in his writing shed in the afternoon and returning in the evening to Browns with his wife Caitlin for a few more beers.
The Dylan Thomas Boathouse, Dylan's Walk, Laugharne, Carmarthenshire, SA33 4SD
Laugharne Castle
Overlooking the estuary is Laugharne Castle, which was built in the 13th century and came under siege in the English Civil War after which it was partly dismantled. When Dylan first came to Laugharne, the castle and house next door were owned by his friends the writers Richard and Frances Hughes. Dylan was allowed the use of the gazebo in the garden which overlooks the estuary and it was here that he wrote the short stories "Portrait of the artist as a Young Dog".
The castle is now open to the public and there's a writing desk and old typewriter within the summerhouse to recreate how it would have looked when Dylan worked there. Laugharne Castle website. 
Where to stay in Laugharne
Brown's Hotel where Dylan went for a drink is now a stylish pub with rooms that have a retro feel with stripy carpets and modern oak furniture. They only serve snacks in the evenings but there are several places to eat when you are staying there including the Three Mariners pub next door. Brown's Hotel, King Street, Laugharne, Carmarthenshire.
A tour of South Wales taking in the places associated with Dylan Thomas is easily done in 2-4 days but of course there are plenty more things to enjoy in Wales if you'd like to extend your stay. If you are planning a driving holiday in Wales, check out Alamo Rent A Car for your car rental.
Useful information for visiting Wales
For more information on everything to see and do in Wales check the official website at Visit Wales
For more information about Dylan Thomas on the official Dylan Thomas Website
For more information about things to do in and around Swansea including the Dylan Thomas attractions visit the Visit Swansea Bay website
This article was brought to you in partnership with Alamo Rent A Car
Pin It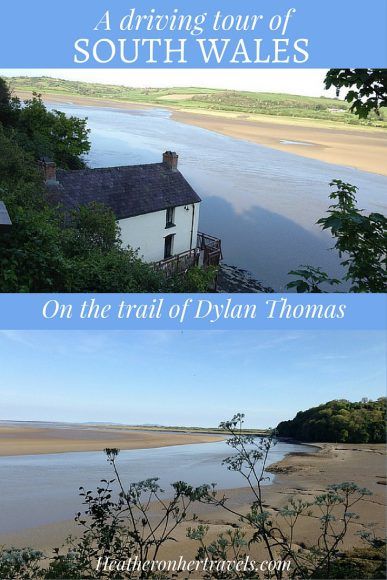 This article is originally published at Heatheronhertravels.com – Read the original article here
As we walked along the grassy path, the stone monument stood solid, like an upturned boat, surrounded by a field of wildflowers and glowing in the late afternoon sun. We'd come to visit the Naveta d'es Tudons, one of Menorca's best known prehistoric monuments, a burial chamber that dates back to around 1000 years BC, built by the people we know as the Talayotic culture.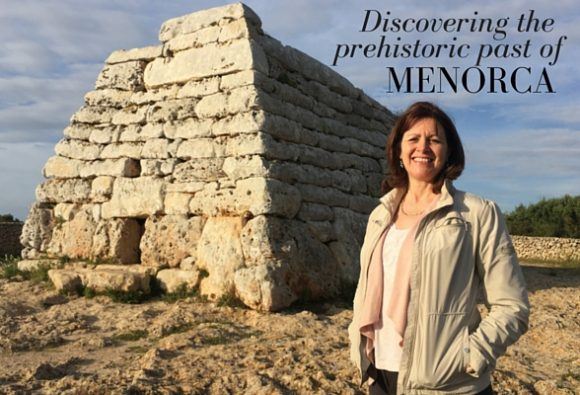 The Naveta d'es Tudons (Naveta being the Catalan word for boat) was excavated by archaeologists in the 1960s, when they discovered the remains of over a hundred men, women and children who had been laid to rest here together with some of their personal possessions, such as metal hair ornaments or spear heads. Once a body was placed inside the tomb, it was sealed and later the bones and skull would be moved to one side to make way for the remains of the next person.
All over Menorca you'll find similar burial chambers, towers and settlements that are unique to the island and are now being preserved with the aim of having them declared a UNESCO World Heritage site. Since Menorca is an island where stone is readily available, the buildings of the Talyotic culture were left alone for us to visit today, unlike other places where the stone would have been taken over the centuries for other buildings.
On our visit to Naveta d'en Tudons, we noticed how well it had been restored to its original appearance, all except the final stone that seemed missing from the parapet at one end. Local legend has it that two giants sought the hand of the same girl and so to decide between them, each was set a task. One was to build a Naveta, the other to dig a well and whichever could complete their task first would win the hand of the girl.
When the giant building the Naveta was carrying the final rock to place it in position, he saw his rival at the bottom of the well who had just struck water, and in his anger threw down the stone and killed him. Realising what he had done he ran away, so that the girl was left with neither suitor, and of course this explains what happened to the final stone to complete the Naveta d'es Tudons.
While the entrance to the Naveta d'es Tudons was sealed, on another day Zoe Dawes and I were able to go inside a similar tomb at Rafal Rubi where there are two Navetas built close together. These Navetas had not been restored and had a tumble-down appearance of a pile of rocks, since the upper story of the Naveta had collapsed and the stones seemed to have disappeared.
At the south Naveta of Rafal Rubi we clambered through the small, but finely cut square hole to stand inside, under the roof of huge stone slabs. Inside the tomb, it felt rather bare and bleak (probably not helped by the pouring rain), with all remnants of the past taken away to reside in one of the island's museums. Around the square opening was a lip, cut by expert stone masons, to keep the entrance stone in place that would seal the tomb.
Without our guide, we would never have found this site, hidden away down a grassy path and surrounded by meadows and farm land. It reminded me of how Stonehenge, now complete with splendid new visitor's centre, must have looked a hundred or so years ago when it was just part of the farming landscape, surrounded by grazing animals.
We moved on to the second of the two Navetas, the northern one, where again the upper chamber had collapsed, but this time we didn't go inside. Due to the pouring rain, it was not much of a day for lingering so Zoe and I made our way back through the olive trees and stone walls to the road.
In addition to the burial chambers like these Navetas, there are many conical structures around Menorca named Talayot, after the Spanish word atalaya or watchtower. It is from these that the Talayotic culture got its name and these towers demonstrate that the people had come together to live in larger settlements, with a highly organised culture.
At Torre d'en Galmes, I was able to see some of the conical Talayot towers which seem to have doubled as living space with a watch tower on the upper level. The Talayots were normally situated within a settlement and also within sight of each other, so it is thought that they might have been used as a network to signal from one to another in times of danger.
Another unusual feature of the settlements around Menorca are the Taules or T-shaped rocks made of a slab of stone embedded in the ground with another rectangular stone on top. The name Taule comes from the Catalan word for table, perhaps a table where giants would eat. Rather than being a balancing trick, I observed how a slot had been made in the upper rock to allow it to slot into place on the pillar rock, illustrating the advanced skills in working stone of the Talayotic people. These Taules are thought to have some religious or ritual significance, perhaps representing the horns of a bull or religious beliefs, just as Christians use a crucifix as a symbol of their religion.
At Torre d'en Galmes I was able to sense the scale and organisation of the Talayotic settlements, with circular stone enclosures enclosing an inner courtyard, with different chambers and rooms built around the circle for sleeping, storage and keeping animals. The society was clearly well organised with a system of channels to collect rainwater and transport it to the underground reservoirs called Sitjots.
In other places around the site, huge slabs of rock were balanced on stone columns to make shelters that could have been used as storage chambers, topped with roofs of leaves and branches.
I wondered why such large slabs of stone had been used in this way to create walls and roofs, since the effort involved to transport them and lever them into place was so enormous. However Zoe, who knew the island well, explained that Menorca is an island with plenty of stone but very little wood, so stone was used in the same way as huge oak beams might have been used elsewhere in Europe for building.
If you visit Menorca, I hope you'll take time to visit at least some of these unique prehistoric monuments and settlements that are dotted around the southern half of the island. There are 32 sites that are part of the UNESCO World Heritage proposal and maps are available from the tourism offices around the island. You can also find more information from the www.menorcaarqueologica.com website who arrange regular group tours to see some of the main sites.
Museums in Menorca that cover the Talayotic Culture
While in Mahon, I also visited a couple of museums to learn more about the Talayotic culture.
Ca n'Oliver – Centre d'Art i Història Hernández Sanz
In the Ca n'Oliver house in Mahon there was an interesting exhibition in the basement about the Talayotic culture and on display in one of the rooms were household pots and grinding stones, which were part of the collection of the house's owner. Carrer Annuncivay 2, Mahon. 
The Museum of Menorca in Mahon
The Museum was under renovation when I visited in May 2016, with most galleries closed, but they did have a temporary exhibition about the Talayotic culture which was free. Once the whole museum reopens, you'll find galleries that cover the whole fascinating history of Menorca from  the first inhabitants to  the 19th and 20th centuries, including all the Talayotic history. Museo de Menorca, Avinguda del Doctor Guardia, Mahon.
More articles about Menorca
How to spend a perfect day in Mahon, Menorca
Slideguide to Menorca (Mallory on Travel)
Video: The enchanting island of Menorca (Travel with Kat)
Pin It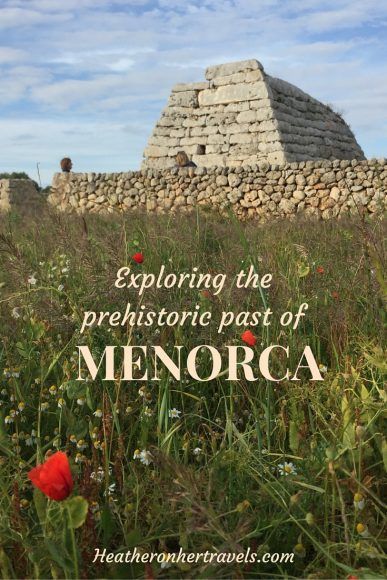 Visitor Information for Menorca and Mahon
To plan your holiday in Menorca and Mahón visit the Menorca Tourism website or follow them on social media: Twitter @Turismhttp://www.menorca.esoMenorca | Facebook | Instagram
For holidays in other parts of Spain you can find more information at www.Spain.info or follow them on social media: Twitter @Spain_inUK | Facebook | Instagram
If you need a guide to show you the sites of Mahon and Menorca, I can highly recommend Luis Amella of Menorca Guides
Thanks to Menorca Tourism for hosting my stay in Menorca, in a project in partnership with Spain Tourism, Menorca Tourism and Travelator Media
This article is originally published at Heatheronhertravels.com – Read the original article here