Dylan Thomas is the favourite literary son of Wales, born in Swansea and much celebrated before his untimely death at the age of 39. Even if you don't know his poetry, my driving tour of the places he lived and loved will show you some of the most beautiful scenery in South Wales and give you a fascinating insight into the times that Dylan lived through.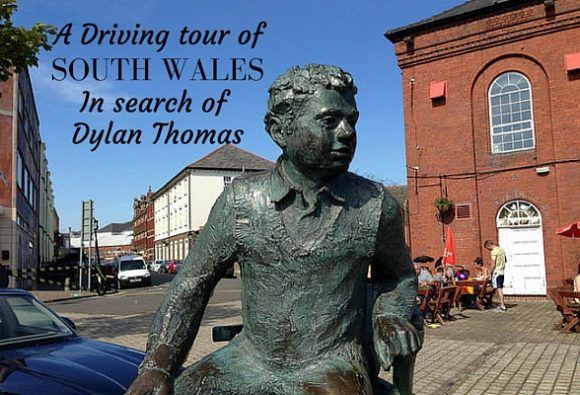 Let's start in Swansea
Let's start our driving tour in Swansea, where Dylan Thomas was born, the place he spoke of as "an ugly, lovely town" since it was heavily bombed in the blitz and lost much of the charm of its pre-war Victorian architecture. If arriving in Wales by public transport, you can easily pick up a hire car in Cardiff, Swansea or Newport as the places on our tour are most easily visited by car. (Check out Alamo Rent A Car if you need a rental car)
In recent years Swansea has undergone a regeneration and in the Maritime Quarter surrounded by new apartments and restaurants, you'll find a statue of the city's most famous son, in front of the Dylan Thomas Theatre.
Dylan was a member of the local amateur dramatics society, the Swansea Little Theatre, who met in Mumbles and the theatre now provides a permanent home for the theatre group. All kinds of productions are put on here but it's worth checking in advance whether there are any preformances related to Dylan Thomas. If not, you can still enjoy the murals on the walls of the theatre, depicting many of the characters that Dylan wrote about in his famous radio play, Under Milkwood. Dylan Thomas Theatre Website
The Dylan Thomas Centre in Swansea
Nearby is the Dylan Thomas Centre, which provides a permanent exhibition about Dylan's life and work. On the walls are large photo murals of Dylan, his friends from the Swansea literary scene and a portrait of his wife Caitlin painted by Augustus John. You can hear the voice of Dylan himself, from the radio broadcasts he made to read his poetry and radio plays.
What comes through above all else is Dylan's love of words which he used like colours in a paint box to create each scene, making lists of the words he might use on scraps of paper to keep by his desk.  He wrote; "I wanted to write poetry in the beginning because I had fallen in love with words, I cared for the colours the words cast on my eyes".
Read my article about Swansea – an ugly, lovely town
Dylan Thomas Centre, Somerset Place, Swansea, SA1 1RR
Let's visit the Dylan Thomas Birthplace in Swansea
Dylan was born in 1914 into an upper middle class family and inherited a love of literature from his father, DJ Thomas, who was Head of English at Swansea Grammar School. The house at 5 Cwmdonkin Drive where Dylan was born and where he grew up has been restored in the same character as when the family lived there and is open to the public, as well as being available to rent as a place to stay. It's just a short drive from the Maritime Quarter in the residential neighbourhood of Uplands.
The dark green and red colour scheme of the sitting room is just as Dylan described in "A Child's Christmas in Wales" when aunts and uncles gather in front of the fire after Christmas lunch. Owner Geoff Haden restored and furnished the house from auctions and car boot sales, using information in family letters and Dylan's own descriptions to recreate the house as it might have looked when Dylan was growing up, right down to the old gramophone player.
Upstairs Dylan's tiny bedroom has been left just as if he had been living there now, with a messy desk covered with books, a packet of woodbines and a bottle of Hancock's local ale, posters of Shakespeare next to Greta Garbo. At this tiny, crowded desk, Dylan would write poetry until he left home at the age of 20, doted on by his mother Florence who would bring him breakfast in bed.
Read my article about the Dylan Thomas birthplace
Visit the Dylan Thomas Birthplace at 5 Cwmdonkin Drive, Uplands, Swansea for a guided tour – check the website for times, events or to book an overnight stay.
Cwmdonkin Park – where the young Dylan played
The Dylan Thomas birthplace looks out to Cwmdonkin Park where Dylan would play as a boy. In Dylan's day there was a reservoir with swans which has now been filled in for a children's playground, but the bowling green and pavilion look much as they did in Dylan's childhood. The pavilion is open as a tea room with a pleasingly retro feel, serving ice creams, tea and welsh cakes on 1950s style china.
Where to stay in Swansea
Morgans Hotel was once the Harbour Trust Office, a grand Edwardian building from the era when Swansea was a major port and industrial city known as "Copperopolis" due to the large amount of copper smelted there.
The bedrooms, with mahogany doors, high ceilings and plaster mouldings, are individually named after the Swansea ships of the period. Downstairs is a stylish bar for evening drinks and breakfast is taken in the former banking hall of the Harbour Port Office, with original murals and copper globe lamps recalling Swansea's industrial heyday. Morgans Hotel makes a luxurious base for exploring Swansea and the Dylan Thomas trail.
Morgans Hotel, Somerset Place, Swansea, SA1 1RR.
Mumbles and the Gower beaches where Dylan loved to walk
Let's take a short drive to the seaside village of Mumbles, just outside Swansea, a place Dylan came to regularly to rehearse with the local amateur dramatics group, the Swansea Little Theatre. Afterwards the group would go for a drink at the Antelope pub where Dylan was known to enjoy a few pints.
From his home in Uplands Dylan could take the bus with friends to Mumbles and the beaches of the Gower peninsula, where they would go walking and camp overnight. Caswell beach which can be easily walked to from Mumbles, still has a retro air with the green painted beach huts and the cafe on the promenade.
A couple of his short stories were set on Rhossili beach and Dylan enjoyed long walks along the cliff path. Read my article about walking the coastal paths of the Gower.
Mumbles is a good place to base yourself for a night or two to explore some of these same beaches, either walking direct from Mumbles along the cliff path or driving to the stunning beaches of Caswell, Langland and Rhossilli.
Where to stay in Mumbles
Promenade View is a stylish 3 bedroom holiday home set right on the promende at Mumbles and an ideal place to base yourself to explore Mumbles, the Gower peninsula and be within easy reach of Swansea. The house has 3 en suite bedrooms with views over Swansea bay and the cyclists, walkers and sailing boats on their stands along the promenade, as well as being a short stroll from plenty of pubs, restaurants and the Mumbles pier where the coastal path begins. Read my review of Promenade View here.
The Boathouse at Laugharne in Carmarthenshire
From Mumbles you can drive to Laugharne, the village in Carmarthenshire that Dylan made his family home in the final years of his life. The Boathouse is set just below the cliff path with striking views across the Taf Estuary from the windows and was described by Dylan as "my sea shaken house on a breakneck of rocks".
Here Dylan lived with his wife Cailin and children until his untimely death in 1953 and it's furnished partly as it was when he lived there, partly as a museum in the attic room that would have been their bedroom.
A little further along the path is Dylan's writing shed where he worked, with desk with cigarette stubs, as if he had just popped out for a walk. The window looks over the Taf estuary, where the sandbanks are exposed at low tide and wading seabirds pick their way through the shallows, described by Dylan as "the mussel pooled and the heron priested shore."
Read my article about Lovely Laugharne – on the Dylan Thomas trail
When he lived here, Dylan would walk along to Browns bar to read the papers, or drop in to see his parents who lived opposite, before working in his writing shed in the afternoon and returning in the evening to Browns with his wife Caitlin for a few more beers.
The Dylan Thomas Boathouse, Dylan's Walk, Laugharne, Carmarthenshire, SA33 4SD
Laugharne Castle
Overlooking the estuary is Laugharne Castle, which was built in the 13th century and came under siege in the English Civil War after which it was partly dismantled. When Dylan first came to Laugharne, the castle and house next door were owned by his friends the writers Richard and Frances Hughes. Dylan was allowed the use of the gazebo in the garden which overlooks the estuary and it was here that he wrote the short stories "Portrait of the artist as a Young Dog".
The castle is now open to the public and there's a writing desk and old typewriter within the summerhouse to recreate how it would have looked when Dylan worked there. Laugharne Castle website. 
Where to stay in Laugharne
Brown's Hotel where Dylan went for a drink is now a stylish pub with rooms that have a retro feel with stripy carpets and modern oak furniture. They only serve snacks in the evenings but there are several places to eat when you are staying there including the Three Mariners pub next door. Brown's Hotel, King Street, Laugharne, Carmarthenshire.
A tour of South Wales taking in the places associated with Dylan Thomas is easily done in 2-4 days but of course there are plenty more things to enjoy in Wales if you'd like to extend your stay. If you are planning a driving holiday in Wales, check out Alamo Rent A Car for your car rental.
Useful information for visiting Wales
For more information on everything to see and do in Wales check the official website at Visit Wales
For more information about Dylan Thomas on the official Dylan Thomas Website
For more information about things to do in and around Swansea including the Dylan Thomas attractions visit the Visit Swansea Bay website
This article was brought to you in partnership with Alamo Rent A Car
Pin It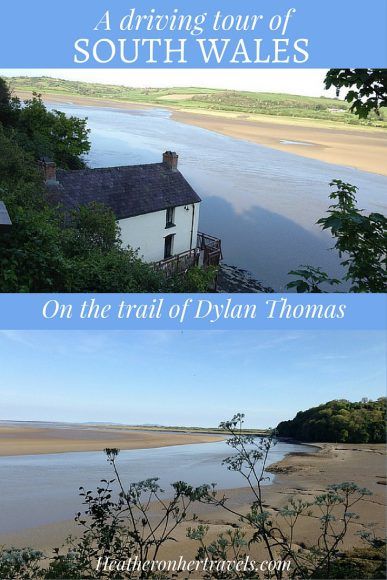 This article is originally published at Heatheronhertravels.com – Read the original article here
As we walked along the grassy path, the stone monument stood solid, like an upturned boat, surrounded by a field of wildflowers and glowing in the late afternoon sun. We'd come to visit the Naveta d'es Tudons, one of Menorca's best known prehistoric monuments, a burial chamber that dates back to around 1000 years BC, built by the people we know as the Talayotic culture.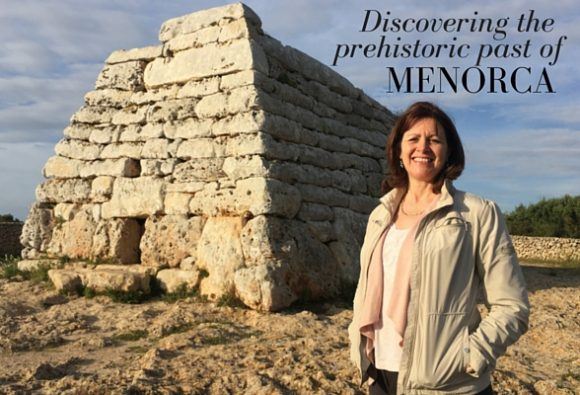 The Naveta d'es Tudons (Naveta being the Catalan word for boat) was excavated by archaeologists in the 1960s, when they discovered the remains of over a hundred men, women and children who had been laid to rest here together with some of their personal possessions, such as metal hair ornaments or spear heads. Once a body was placed inside the tomb, it was sealed and later the bones and skull would be moved to one side to make way for the remains of the next person.
All over Menorca you'll find similar burial chambers, towers and settlements that are unique to the island and are now being preserved with the aim of having them declared a UNESCO World Heritage site. Since Menorca is an island where stone is readily available, the buildings of the Talyotic culture were left alone for us to visit today, unlike other places where the stone would have been taken over the centuries for other buildings.
On our visit to Naveta d'en Tudons, we noticed how well it had been restored to its original appearance, all except the final stone that seemed missing from the parapet at one end. Local legend has it that two giants sought the hand of the same girl and so to decide between them, each was set a task. One was to build a Naveta, the other to dig a well and whichever could complete their task first would win the hand of the girl.
When the giant building the Naveta was carrying the final rock to place it in position, he saw his rival at the bottom of the well who had just struck water, and in his anger threw down the stone and killed him. Realising what he had done he ran away, so that the girl was left with neither suitor, and of course this explains what happened to the final stone to complete the Naveta d'es Tudons.
While the entrance to the Naveta d'es Tudons was sealed, on another day Zoe Dawes and I were able to go inside a similar tomb at Rafal Rubi where there are two Navetas built close together. These Navetas had not been restored and had a tumble-down appearance of a pile of rocks, since the upper story of the Naveta had collapsed and the stones seemed to have disappeared.
At the south Naveta of Rafal Rubi we clambered through the small, but finely cut square hole to stand inside, under the roof of huge stone slabs. Inside the tomb, it felt rather bare and bleak (probably not helped by the pouring rain), with all remnants of the past taken away to reside in one of the island's museums. Around the square opening was a lip, cut by expert stone masons, to keep the entrance stone in place that would seal the tomb.
Without our guide, we would never have found this site, hidden away down a grassy path and surrounded by meadows and farm land. It reminded me of how Stonehenge, now complete with splendid new visitor's centre, must have looked a hundred or so years ago when it was just part of the farming landscape, surrounded by grazing animals.
We moved on to the second of the two Navetas, the northern one, where again the upper chamber had collapsed, but this time we didn't go inside. Due to the pouring rain, it was not much of a day for lingering so Zoe and I made our way back through the olive trees and stone walls to the road.
In addition to the burial chambers like these Navetas, there are many conical structures around Menorca named Talayot, after the Spanish word atalaya or watchtower. It is from these that the Talayotic culture got its name and these towers demonstrate that the people had come together to live in larger settlements, with a highly organised culture.
At Torre d'en Galmes, I was able to see some of the conical Talayot towers which seem to have doubled as living space with a watch tower on the upper level. The Talayots were normally situated within a settlement and also within sight of each other, so it is thought that they might have been used as a network to signal from one to another in times of danger.
Another unusual feature of the settlements around Menorca are the Taules or T-shaped rocks made of a slab of stone embedded in the ground with another rectangular stone on top. The name Taule comes from the Catalan word for table, perhaps a table where giants would eat. Rather than being a balancing trick, I observed how a slot had been made in the upper rock to allow it to slot into place on the pillar rock, illustrating the advanced skills in working stone of the Talayotic people. These Taules are thought to have some religious or ritual significance, perhaps representing the horns of a bull or religious beliefs, just as Christians use a crucifix as a symbol of their religion.
At Torre d'en Galmes I was able to sense the scale and organisation of the Talayotic settlements, with circular stone enclosures enclosing an inner courtyard, with different chambers and rooms built around the circle for sleeping, storage and keeping animals. The society was clearly well organised with a system of channels to collect rainwater and transport it to the underground reservoirs called Sitjots.
In other places around the site, huge slabs of rock were balanced on stone columns to make shelters that could have been used as storage chambers, topped with roofs of leaves and branches.
I wondered why such large slabs of stone had been used in this way to create walls and roofs, since the effort involved to transport them and lever them into place was so enormous. However Zoe, who knew the island well, explained that Menorca is an island with plenty of stone but very little wood, so stone was used in the same way as huge oak beams might have been used elsewhere in Europe for building.
If you visit Menorca, I hope you'll take time to visit at least some of these unique prehistoric monuments and settlements that are dotted around the southern half of the island. There are 32 sites that are part of the UNESCO World Heritage proposal and maps are available from the tourism offices around the island. You can also find more information from the www.menorcaarqueologica.com website who arrange regular group tours to see some of the main sites.
Museums in Menorca that cover the Talayotic Culture
While in Mahon, I also visited a couple of museums to learn more about the Talayotic culture.
Ca n'Oliver – Centre d'Art i Història Hernández Sanz
In the Ca n'Oliver house in Mahon there was an interesting exhibition in the basement about the Talayotic culture and on display in one of the rooms were household pots and grinding stones, which were part of the collection of the house's owner. Carrer Annuncivay 2, Mahon. 
The Museum of Menorca in Mahon
The Museum was under renovation when I visited in May 2016, with most galleries closed, but they did have a temporary exhibition about the Talayotic culture which was free. Once the whole museum reopens, you'll find galleries that cover the whole fascinating history of Menorca from  the first inhabitants to  the 19th and 20th centuries, including all the Talayotic history. Museo de Menorca, Avinguda del Doctor Guardia, Mahon.
More articles about Menorca
How to spend a perfect day in Mahon, Menorca
Slideguide to Menorca (Mallory on Travel)
Video: The enchanting island of Menorca (Travel with Kat)
Pin It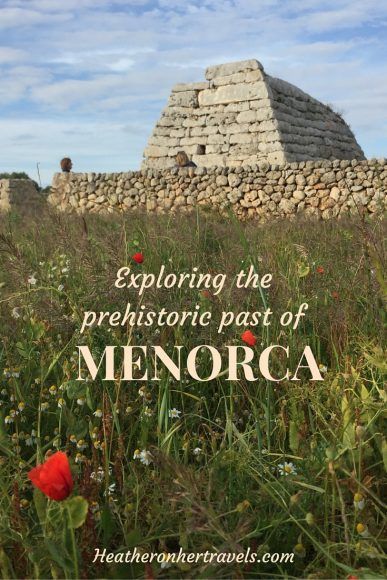 Visitor Information for Menorca and Mahon
To plan your holiday in Menorca and Mahón visit the Menorca Tourism website or follow them on social media: Twitter @Turismhttp://www.menorca.esoMenorca | Facebook | Instagram
For holidays in other parts of Spain you can find more information at www.Spain.info or follow them on social media: Twitter @Spain_inUK | Facebook | Instagram
If you need a guide to show you the sites of Mahon and Menorca, I can highly recommend Luis Amella of Menorca Guides
Thanks to Menorca Tourism for hosting my stay in Menorca, in a project in partnership with Spain Tourism, Menorca Tourism and Travelator Media
This article is originally published at Heatheronhertravels.com – Read the original article here
Discover Russia as a destination for art and literature lovers as  Audley Travel country specialist Nick shares some of his cultural highlights from his travels to Moscow, St Petersburg and the Golden Ring.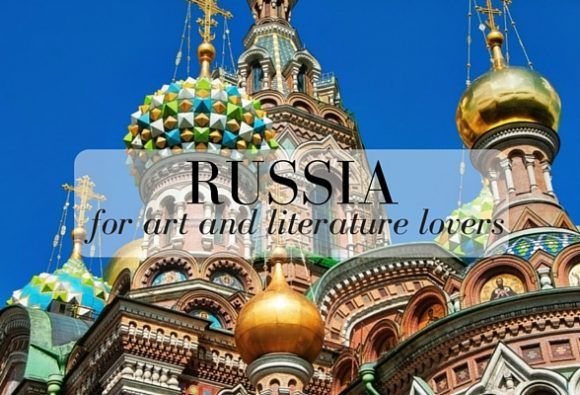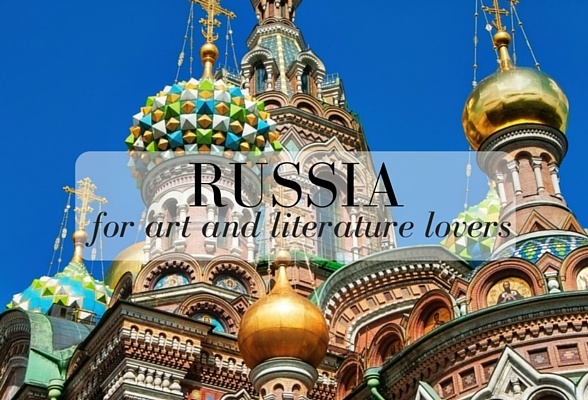 This year is the official UK-Russia Year of Language and Literature – and with the recent BBC adaptation of War and Peace bringing Tolstoy's famous novel to life, it's a great time to visit Russia.
Although reading Tolstoy's words on the page or watching his stories on TV from the comfort of your sofa may seem vivid, nothing compares to experiencing the real-life settings, or seeing the places that inspired and influenced him.
Russia has undergone extreme political and social change over the past few centuries, and the highlight of any trip is the chance to witness this complex history at first hand. One of the other reasons I love Russia is that it has always publicly celebrated and upheld its rich artistic and literary heritage.
For example, on the streets of St Petersburg and Moscow you'll see a lot of publicity for performances of Chekhov. He's perhaps the best-known Russian playwright outside the motherland, but it shows that works such as Uncle Vanya and The Cherry Orchard are still popular.
The Bolshoi and Mariinsky ballet corps are feted around the world but still enjoy great acclaim among native audiences (and if you can't catch a performance on your visit, I'd recommend taking a backstage tour of the Bolshoi or Mariinsky theatres).
Russia is also home to some world-renowned collections of art, notably in the Hermitage in St Petersburg.
Discover the collections of the Hermitage in St Petersburg
While Moscow is Russia's political and economic fulcrum, St Petersburg is seen as the capital of culture, built by Peter the Great in the style of European cities such as Venice and Amsterdam.
To get the best views of the city and a sense of its layout, my advice is to climb to the top of St Isaac's Cathedral on a clear day, or visit the Bellevue Brasserie at the Kempinski Hotel for a panoramic perspective that includes St Isaac's itself.
Having said that, one of the best ways to see St Petersburg's many churches, cathedrals, and imposing baroque and neoclassical architecture is from the water on one of the boats that skim the city's 33 canals.
Art enthusiasts will enjoy the Hermitage, one of the world's largest collections of fine art. The museum is housed in the Winter Palace, a former residence of the tsars situated in the heart of St Petersburg.
You may have spotted its distinctive mint-green and gold façade in the BBC's recent adaptation of War and Peace. Pause as you climb the grandiose staircase – there's no better moment to appreciate the opulence of imperial Russia.
I recommend telling your guide which historical period interests you, or asking for his or her personal preferences, as you won't be able to cover the whole collection. It's said that if you were to spend one minute in front of every piece on display in the whole of the Hermitage, it would take an entire year.
I loved studying original paintings by Rembrandt and Da Vinci, but if your tastes are more modern, head to the part of the Hermitage called the General Staff Building which houses Impressionist and Postmodern collections, including several works by Monet, Van Gogh and Picasso.
I was struck by the haunting black and white photos on display in many of the Hermitage's galleries. They show the bare walls and empty rooms of the building during the Nazi invasion, when many pieces were sent to Siberia to be saved from possible destruction.
Trace the footsteps of Dostoevsky and other famous Russian writers
St Petersburg wears its literary legacy with pride: if you look carefully at the buildings (and can read a little Russian) you'll see they are peppered with monuments and plaques to Russian poets and novelists.
Many writers' homes have been made into state museums. One of the most intriguing is Lolita author Nabokov's apartment, which offers a glimpse of the communal living style of the Soviet period.
The apartment of poet Alexander Pushkin is close to Palace Square and the Hermitage, and easy to visit en route. It's no exaggeration to say that Russians venerate Pushkin and he's deeply etched onto the nation's hearts. On my last visit to St Petersburg, my guide Galina spontaneously launched into a recital of one of his poems as we walked the gardens of the Summer Palace.
Fyodor Dostoevsky's memorabilia-crammed apartment in St Petersburg's Vladimirsky district has been preserved in exactly the same condition as it was on the day he died, slumped over his writing desk mid-composition (the apartment's clock remains frozen at the hour of his death).
Venturing beyond the apartment, it's possible to retrace his and his characters' footsteps around the city, from the Peter and Paul Fortress where Dostoevsky was incarcerated and almost executed to St Vladimir's Cathedral where he would pray.
I like simply tramping the busy intersections and streets around Catherine Canal and Sennaya Square. This is where the action of The Idiot and Crime and Punishment takes place, and where the latter novel's protagonist, Raskolnikov, famously battles his tortured conscience.
The city's main thoroughfare, Nevsky Prospekt, was even the subject of a short story by Nikolai Gogol, in which he described the mercurial nature of the street at night.
Dedicated bibliophiles can browse the shelves of the city's most famous bookshop, Dom Knigi, which occupies an Art Nouveau building on Nevsky Prospekt. Then continue in the footsteps of St Petersburg's writers by stopping for coffee at Pushkin and Dostoevsky's former haunt, the Literary Café.
Relive War and Peace in Catherine's Palace
I remember the first time I walked into Catherine's Palace, the summer residence of Catherine the Great, which is located just outside St Petersburg in Tsarskoye Selo (renamed under communist rule as 'Pushkin Village').
I stood in the centre of the vast ballroom encased in gold and mirrors, and at that moment it really did feel like I was stepping into the shoes of a character from War and Peace: Catherine's Palace was, after all, the real-life setting of the Tsar's ball in the novel.
The mosaics that encrust the walls of the Amber Room (not the originals, which were allegedly lost during the German occupation) are a reminder of the wealth and grandeur of 19th century Russian aristocrats. It's a gilded world that Tolstoy portrays so acutely in War and Peace and Anna Karenina.
See Fabergé eggs in the Kremlin's Armoury and Russian sacred art
Moving from St Petersburg to Moscow, there's no better place to start than in Red Square (the name has no connection to the red bricks that were once whitewashed, nor to the red of the communist regime).
It's a fascinating yet sobering place: as you stand outside the Kremlin and look towards the bright onion-shaped domes of St Basil's Cathedral, you can't help but reflect how this very square has witnessed some dramatic political upheavals.
The Kremlin complex is extensive, but the most striking objects d'art are in the Armoury – intricately decorated and sometimes jewelled Fabergé eggs that the tsar and tsarina would exchange at Easter, along with many other artefacts, such as a coronation gown worn by Catherine the Great.
The Tretyakov Gallery is excellent for seeing how Russian art has developed over time, and for the chance to study some of the most important pre-revolutionary sacred art in Russia.
The highlight of the collection is the Holy Trinity by Andrei Rublyov – an icon (a sacred painting on wood that often features as part of a screen in Orthodox churches) that was considered so glorious its creator was effectively beatified.
Travel on the metro… and quote Shakespeare
Moscow's underground metro acts as a time machine, transporting you not only to your destination but back to the USSR. Many of the stations are home to original Soviet statues, monuments and mosaics – in fact, the first time I ever took the metro in Moscow I ended up intentionally missing my stop just so I could spend more time going round and gaping at the decor of each station.
I especially like the Prospekt Mira Station for its lavish floral designs that are meant to evoke the Botanical Gardens of Moscow State University. The recently opened Dostoyekskaya Station is worth viewing for its murals depicting passages from Dostoevsky's novels (including a murder scene that invited some controversy when it was first unveiled).
This year, look out for the special carriages decorated with Shakespeare quotations and characters in honour of the UK-Russia Year of Language and Literature and the 400th anniversary of the Bard's death.
Get a glimpse of rural Russia at Suzdal and visit Tolstoy's estate
I fell in love with the Russian countryside when I lived and worked in Kaluga, three hours south of Moscow. Anyone who is really interested in Tolstoy should try to see something of rural Russia, since it's a theme he explores so passionately through the character of Levin in Anna Karenina.
At Suzdal, one of the main villages of the Golden Ring northeast of Moscow, you can look out over rolling green fields and rivers before visiting the Museum of Peasant Life and Wooden Architecture. It gives an insight to a bygone agrarian way of life.
Tolstoy's connection to and interest in agricultural life is apparent if you visit the estate where he was born and lived for most of his adulthood, writing in his characteristic cramped style, which his wife Sofia would then copy out neatly by night. Yasnaya Polyana ('Bright Glade') makes for a peaceful, if long, day trip from Moscow (it's about a six-hour round drive). Yet it's a wonderful retreat from urban bustle.
Tolstoy's possessions and his extensive library are on display, and I suggest taking time to explore the grounds. You can see the pond where the writer would ice skate in winter and swim in summer, and the fields where he would work alongside labourers during the harvest season in order to better depict peasant life and farming on the page.
His grave, situated in a quiet dell, has no headstone – save for the bunches of wildflowers that are customarily left by newly married couples and admirers of his work.
Visit Audley Travel to help plan your trip to see Moscow, St Petersburg and the Golden Ring in Russia
Nick Slater is a Russia Specialist for Audley Travel. Audley trips don't come off the shelf – they're tailor-made down to the finest detail. When planning a trip with us, you will speak to a destination specialist who has either lived or travelled extensively within the country or region that you are visiting. They will create a bespoke trip based on your tastes, interests and budget and with an absolute commitment to providing quality travel experiences.
This article was brought to you in partnership with Audley Travel
Pin It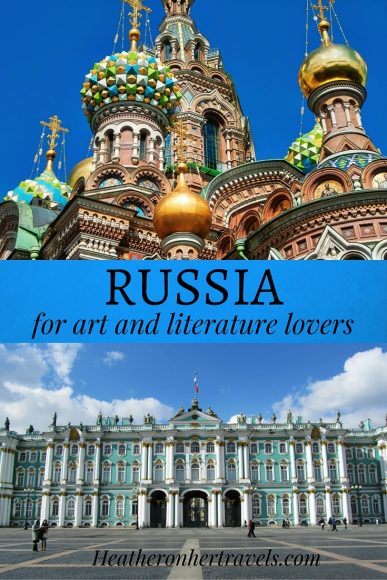 This article is originally published at Heatheronhertravels.com – Read the original article here