The Greek Islands bring back happy memories for my husband, Guy, as we spend this week together on a Greek Island and Turkey Cruise with Azamara Cruises. Guy went island-hopping in his student days and visited many of the places such as Santorini and Mykonos that form part of this cruise, although his student budget in those days could not stretch to some of the luxuries we are now enjoying on Azamara Journey. Our early morning flight from Heathrow brought us to Athens and an easy transfer to Pireus where we boarded Azamara Journey and settled into our luxurious stateroom, our home for the next seven days.
The first port of call was Santorini, a group of islands that were formed in a volcanic eruption many thousands of years ago and form the outer ring of the volcano with the sea covering the central caldera. The main island of Thira or Fira has no port large enough to take a cruise ship, even a small one like Azamara Journey, so we tendered into shore and took the cable car up to the top of the cliff (€5 per person 1 way). Neither of the alternatives of a donkey ride or a walk up the steep cobbled path to the top in the hot sun were very appealing and even in the cable car, the rich smell of donkey droppings wafted up from the path below.
Beautiful sea views
We didn't linger too long in Fira, but found the crowded bus station with expert drivers backing their buses into impossibly small spaces. We joined the many people asking the bus conductors "Is this the bus for …?" and eventually found the one for Oia – pronounced Ee-ah. (€1.80 per person 1 way every 30 mins). Who'd be a bus driver on Santorini, driving along narrow, winding roads, trying not to be distracted by the sea view?
As the buildings of Fira town thinned out we passed bright white and local stone holiday villas, with domed roofs proclaiming "caldera views" – some of them looking rather smart places to stay. Beside the road all we could see were dusty cactus clinging to the pumice stone and a few patches of purple flowering thyme.
There's a walking trail that runs between Fira and Oia that I would have happily hiked in May, but in the heat of the midday July sun it would have been a quick way to get sunstroke. As we got closer to Oia we could see the flat plain below with square fields marked out and fewer houses apart from those perching on the side of the cliff.
Most people's idea of Santorini is formed from the photos of white houses and blue domes that they think epitomize Greece, but are actually mainly found in Oia. The town is strung along the cliff-top and there is one main pedestrian stone paved street (beware it can be slippery) that stretches in both directions from the bus station along the top of the cliff overlooking the sea.
Shopping and people watching
With shopping ranging from the sometimes tacky to the mostly tasteful and the achingly trendy, this is a place to shop for jewellery and gifts, hang out in bars and cafes and take plenty of photographs. It's also the place that everyone comes to watch the sunset and take those picture postcard shots as the sky turns pink and the light is golden. This is the place you'll find stylish fashions with everything you need to look the part on your Greek cruise or your hot, hot, hot Greek island holiday.
The burning heat
Did I mention the heat? It was absolutely boiling hot 35 degrees + and if you insist on visiting in July and August, my recommendation would be to walk the streets of Oia, take your photos and then to find a nice shady café for lunch or a cooling drink. Walk, rest, drink every 30 mins or so until you have had enough of the people watching and the wandering and the shopping. There isn't a great deal else to do but Oia is a pretty enough place to hang out for a few hours.
Apart from the obligatory visit to Oia are some archaeological remains to see at Akrotiri but we decided to give that a miss because of the heat. Seriously, if you are there in July or August, plaster yourself in high factor sun cream wear a hat and drink plenty of water. After a walk around Oia I felt like I'd been in a sauna.
Dinner at Pyrgos
After our very hot walk around Oia we had lunch followed by a cooling swim at the pleasant Lioyerma pool and café which is at the furthest end of Oia, close to the windmills. Then we took the bus back to Santorini and from there got the taxi to Pyrgos where we were having dinner at Kalisti Taverna. Because we were a bit early we decided to walk up to the Kastel where we found an old church at the top with a fortified gateway and some great views over the flatter side of the island.
Our dinner at Kalisti Taverna was part of the Azamara Cruises "Cruise Global Eat Local" dining experience where you eat in restaurants with excellent food and a local flavor. We enjoyed delicious Greek specialties such as Greek salad with tomatoes, olive, feta, nicely presented in a grilled cheese basket. There was a garlic aubergine salad, fava bean puree and baby tomatoes stuffed with rice and local cheese. This was the meze style starter course and then we had roasted lamb chops with baklava for desert, all washed down with an excellent award winning Santorini wine. At 9.30 pm we were swiftly transported back to Azamara Journey just in time for the ship sailing out of Santorini at 10pm. Next stop Mykonos where we arrive tomorrow.
About Azamara Club Cruises
Azamara Club Cruises is a small luxury cruise line with two ships; Azamara Journey that Heather and Guy sailed on and Azamara Quest, each with a capacity of 686 guests. The smaller ship size means you often visit destinations that larger ships can't get into and the ships can dock in more central locations. The emphasis is on destination immersion; enjoying the destination to the full, arriving early and sailing late so that guests can enjoy nights and cool places ashore, with insider access programmes and a unique AzAmazing evening included in each cruise. No itinerary is the repeated and each year the ships visit different destinations around the world. Azamara is part of Royal Caribbean Cruise group. Visit the Azamara Club Cruises website more information about a Mediterranean luxury cruise like the one Heather and Guy enjoyed.
You can also connect with Azamara Club Cruises on Social Media via:
Azamara blog | Twitter | Facebook | Instagram | Google+ | Pinterest | YouTube | Flickr
Joining your Azamara Club Cruise
Heather and Guy flew from London Heathrow to Athens and back from Istanbul using British Airways, although obviously each cruise is different in the best way to get there.
Heather used the Meet and Greet Parking Service booked through APH Parking and Hotels who offer airport parking at a range of airports across the UK as well as travel extras such as airport lounge booking and airport hotel stays.
Both flights and transfers from the airport to your cruise ship can be arranged through Azamara Cruises via their Choiceair service
Thanks to Azamara Club Cruises who hosted Heather and Guy for their 7 day Greek Island Cruise and to APH Parking and Hotels who provided their airport parking at Heathrow.
Read More about our Azamara Greek Island Cruise
Mykonos – Day 2 of our Azamara Greek Island Cruise – coming soon
Patmos – Day 3 of our Azamara Greek Island Cruise – coming soon
Kusadasi & Ephesus – Day 4 of our Azamara Greek Island Cruise – coming soon
At sea – Day 5 of our Azamara Greek Island Cruise – coming soon
Istanbul – Day 6 of our Azamara Greek Island Cruise – coming soon
This article is originally published at Heatheronhertravels.com – Read the original article here
You'll also find our sister blog with tips on how to build a successful travel blog at My Blogging Journey
July 22, 2015 by Sophie-Anne Cowper
Filed under Art and design, Beaches and swimming, Copenhagen, Denmark, Eating and drinking, Europe, featured, Leisure, Museums, Shopping, Sightseeing
On my recent visit to Copenhagen, I enjoyed the company of my daughter, Sophie-Anne, who shares her tips for things that mums and daughters can enjoy together in Copenhagen.
Unless you are travelling alone, there will always be a difference of opinion on what to do and see. One art lover's Picasso museum is another girl's prison, so it can be hard to find a balance. This is certainly true of different ages, and although I am probably going to end up as my mother at the end of my road to adulthood, for the time being we have varying opinions on a day well spent.
Last summer my whole family went to Copenhagen and the trip was a great success, with every family member enjoying the Danish capital. This summer my mum and I returned for a girl's only trip leaving the boys at home to the British rain. Just like last summer it was easy to find things to do that we would both enjoy as there are so many cool trendy neighbourhoods of Copenhagen. Here are some of the things in Copenhagen that we both enjoyed;
Tivoli Gardens
Tivoli amusement park is beautiful and not tacky! Repeat, not tacky – a rarity in the world of amusement parks! Like most Danish things, it is tasteful and quirky (it has the most adorable little houses for the ducks on the lake). However, it still earns its title as an amusement park and has all the theme park rides to amuse those who dare to try them out. Last year my brothers and I dared to go on all the biggest rides while my dad and mum lounged about admiring the beautiful gardens. You can also go to Tivoli in the evening when it is all lit up or watch ballet on the Pantomime Theatre stage.
Sculpture at Ny Carlsberg Glyptotek
I loved the sculpture museum at Ny Carlsberg Glyptotek, perhaps for more sentimental reasons than my mother. My grandmother bought me children's books based around famous art pieces, and one in particular 'The little ballerina' was my favourite. It was based on Degas' little ballerina statue and his ballet paintings. Like most little girls I was enchanted with the whole ballet world so adored the book and was madly in love with Degas' ballerinas and the little ballerina statue. I finally managed to see the statue at Ny Carlsberg Glyptotek, which was a real treat for me, and of course all of Degas' other beautiful paintings. There are lots of statues that are amazing, and also paintings upstairs showing a range of artists such as Gaugin and Picasso. There is also a lovely café in the museum for a culture break.
Shopping on Strøget
Now what would a girl's holiday be without shopping? The Danish girls are all so stylish that it would be a crime (in my very female eyes) not to visit the shopping street of Strøget. Illums Bolighus is my favourite, a beautiful department store which most people can find a section to nestle themselves into. Also handy that it is located next to the Royal Copenhagen store, so I can let my mother wander off to look at the teacups, saucers, plates and then catch up with her for the 5 minute china tour as opposed to a 45 minutes tour. Georg Jensen is also a must see with beautiful silverware and jewellery – I've got my eye on the daisy bracelet and my mum on the grape ring.
Swim in the harbour
If you are visiting in summer I urge you to go and swim in the harbour at Islands Brygge, where you can mill around the locals on the grass enjoying the sun. Part of the harbour is enclosed for the public to swim, with lifeguards, a children's pool and a diving area next to a grassy area which creates a lovely ambiance and relaxing vibe in the middle of the busy city. And best of all it's free to go! It would be easy to take a picnic on your bike and sit on the grass and let the day roll past slowly.
Cocktails in Copenhagen
Both my mum and I love cocktails, which is also true of all the other girls among my cousins and aunts. I love sitting in a beautifully decorated bar with my mum sharing a few exquisite cocktails. We visited Lidkoeb, which was a gorgeous cocktail bar with well picked furnishings. I asked for the most popular cocktail, which the friendly bartender informed me was usually anything with ginger in as the Danes love it – a perfect fit for a fellow ginger lover. My mother had the Kolonihaven with geranium gin, cloudy apple and cucumber juice which was also delicious.
We were also lucky to visit the very V.I.P whisky bar at the top with table service only and the finest whiskies from around the world. In Copenhagen there is plenty of choice for a nice evening drink around Copenhagen, such as sitting on the Nyhaven canal, heading to the meat packing district in Vesterbro or crossing on the ferry to Paper Island where Copenhagen Street Food has all varieties of street food served from trailers.
Eating out in Copenhagen
Any student will tell you that one of the biggest perks of travelling with a parent is a bill being paid for. This means you can have a real drink and not just tap water, and you have full range of the money choices instead of just the ones under £10.
In Copenhagen my mum and I ate in the amazing uFormel restaurant which is new Nordic cooking, very modern but out of the student budget. The restaurant menu has a range of small plates, with the idea that you order a few, and they come out in order like a 3 course meal. I had the ceviche – a trip down memory lane from my South America trip and a plate of the most amazing tender lamb! Both were delicious and strayed into adventurous eating, which was perfect for me as I hate going to a restaurant only to find the menu comprises of things I could cook at home myself. (Read the review of uFormal from Alex Berger who joined us for dinner)
In complete contrast we also visited the Urban House in Vesterbro which has a hot dog bar, with lush hot dogs smothered in various delicious toppings. Although my mum tends to find such places by herself these days, it can be a delight when the kids introduce those above them in the family tree to the new modern crazes or places they otherwise wouldn't visit.
More things to do in Copenhagen
Which Copenhagen district to choose for a City Break – a guide to the city's neighbourhoods and best places to stay, from up and coming Vesterbro to classy Frederiksberg
Light, Air, Water – finding a healthy holiday in Copenhagen – healthy tips for rest and relaxation on your spa break by the sea in Copenhagen
10 summertime cool things to do in Copenhagen – rent an apartment to live like a local and enjoy the summer in Copenhagen
Visiting Copenhagen
For more information about things to do in and around Copenhagen, check out the Visit Copenhagen website as well as the Visit Denmark website for other parts of Denmark.
Heather and Sophie-Anne flew with Scandinavian Airlines from London Heathrow to Copenhagen. SAS fly several times a day to and from London to Copenhagen giving you a choice of times to make the most of your time in Copenhagen. On arrival take the train direct to the centre of Copenhagen.
Heather and Sophie-Anne used the Copenhagen Card which covers free public transport around Copenhagen as well as free or reduced price entry to many of the attractions in and around Copenhagen.
Pin It
Thanks to Wonderful Copenhagen and Visit Denmark who provided some of the experiences mentioned and to SAS who provided Heather's flight. This article was brought to you in partnership with Wimdu.
This article is originally published at Heatheronhertravels.com – Read the original article here
You'll also find our sister blog with tips on how to build a successful travel blog at My Blogging Journey
The air was chill but the rising sun surprisingly bright as we reached Stonehenge at a much-too-early hour when any sensible person would have still been in bed. Everything around us was still; no coaches, no crowds, not even an open gift shop. This was Stonehenge as you imagine it to be, standing alone in the Wiltshire landscape as if the builders had abandoned the stone circle for us alone to find.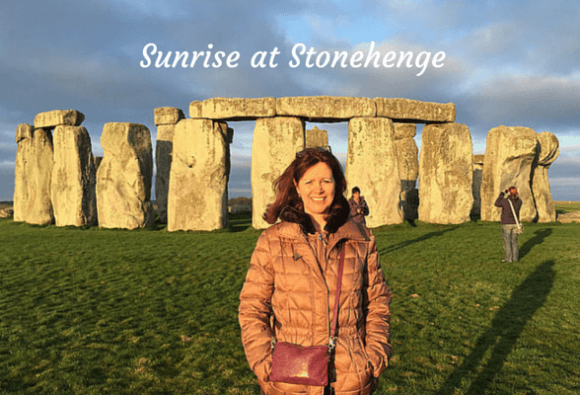 But sadly the Stonehenge experience isn't always like this. A couple of years ago I had visited with my blogging friend Barbara – she wrote about our day here. Although we were lucky enough to be first in the queue as Stonehenge opened and had the monument to ourself for a brief 5 minutes, it wasn't long before the perimeter of the circle was flooded with other visitors. This is one of the major tourist ticklist sites and a convenient coach tour destination for day trips from London, so by the time we left, the experience was far from magical.
On a typical visit to Stonehenge you can skirt around the stones and photograph them from a distance, but without walking among them. This time our early morning tour allowed us to walk into the circle and hear our excellent guide Pat Shelley of Stonehenge-Tours.com tell us all about the stones and the stories and myths that surround them. But first a warning; don't touch the stones, don't kiss the stones, don't hug the stones, don't lick the stones! Those of us who visited Stonehenge as children will remember that this was once an open monument where you could walk among, sit upon and even picnic by these stones, but these days they are now treated with almost religious care for their preservation.
The stone circle was a masteriece of engineering with the sarsens weighing up to 50 tons being brought on rollers from the Marlborough downs and the smaller blue stones used in the inner circle being brought by river from the Preseli Hills 150 miles away in Wales. The lintels that sit balanced on the top of the larger stones are held in place with interlocking joints and were slightly curved to make the circle – you can see the bulge on top of some of the stones and the hole on others that have fallen. While it is clear that Stonehenge was built to be aligned with the sun and is part of a wider landscape of other stone circles and burial barrows, no-one really knows why it was built or exactly how it was used.  Our guide Pat confided that Stonehenge is believed to have been built for ceremonial and ritual purpose which is archaeological code for 'we've absolutely no idea!'
If you'd like to visit on a special sunrise or sunset tour of Stonehenge that will enable you to have that magical experience without the crowds, you need to plan well ahead. The early morning visit including access to the stone circle can be requested in advance at a cost of £30 per person via the Stonehenge website (this does not include a guided tour or even an audioguide) but guides like Pat Shelley also offer the special tour including transport from Salisbury and a guide for £98 per person. Twice a year you can walk within the stone circle during the winter and summer solstice but you will still be sharing the experience with thousands of other visitors. The normal entry price is £14.50 and is bookable in advance, by timed entry. A free audio-tour is available for download on iTunes here.
While you're in the area there is plenty more to visit, so I would make a weekend or few days to stay in Salisbury while you explore the surrounding area – more information on the Visit Wiltshire Website.
Silbury Hill
On the road from Stonehenge to Avebury you will pass Silbury Hill, which at 40m high is the largest man-made chalk mound of its kind in Europe. The flat topped cone shape is too regular to be natural, yet no-one knows why it was constructed and no burial chambers have been discovered. There's no public access to the base or top of the hill but on the opposite side of the road you can walk up the hill to West Kennet Barrow. This Neolithic long barrow or burial mound has a stone chamber at one end that you can enter and you are free to walk along the top of the barrow, with the wind blowing in your hair.
 A more personal experience of the stones at Avebury
If you were disappointed at having to share Stonehenge with crowds of other visitors, I recommend that you drive 40 minutes north to Avebury, a larger site of standing stones that is also managed by English Heritage. Visiting Avebury is a much more personal experience and while the individual stones are not as impressive as Stonehenge, you can wander among them, touch them and hug them at will. The stones are well spaced out, making large stone circles across the landscape and a village has grown up in the midst of them, making for a pleasant visit, since you can wander freely around the stones, banks and ditches and then finish off with an excellent pub lunch at the Red Lion.
Salisbury Cathedral
The beautiful cathedral is as much a living place of worship and community as a tourist attraction, and the spire can be seen for miles around as you approach the city from any direction. If you are spiritually inclined I'd recommend attending evensong or the Sunday morning service to hear the beautiful music and choral singing. The cathedral has undergone a major repair programme over recent years and you can read the cathedral blog to find out what's been going on behind the scenes. You won't find a crypt or hear a peal of bells here, since the cathedral is built on shallow foundations due to the high water table and too much vibration could make it unstable.
A perfect photography spot can be found from the footpath that runs in between the water meadows, leading to the Mill House Hotel at Harnham a pub and restaurant where we had supper, in a 15th century building with a garden, with views of the river and mill pond.
 800 years of Magna Carta
In the chapter house of Salisbury cathedral you can see the best preserved of the four original copies of Magna Carta, sealed in 1215 by King John in an agreement to preserve the constitutional rights of his nobility. The 'Great Charter' guarantees certain rights, including the right to a free trial and copies were sent around the kindom after King John made peace with his barons at Runnymead, to ensure he didn't change his mind (which of course he did).
The interactive exhibition has been created within the Chapter House to commemorate the 800 year celebrations with films and displays about the charter's history and volunteer guides on hand to explain everything. Within a darkened enclosure, you can see the actual Magna Carta, written on vellum and with the mark where the seal would once have been, which signified the king's approval.
 Salisbury Cathedral Close
The cathedral is enclosed in a grassy close of 80 acres, surrounded by the houses that were constructed in the middle ages to house the clergy but have since been enlarged and beautified with grand Georgian facades. The houses, walls and gatehouses form a barrier that was designed to separate town from gown in troubled times – normally when the church was charging to local people too much in taxes. There's plenty to see within the close including Mompesson House, an elegant Queen Anne style town house that is open through the National Trust, The Rifles (Berkshire & Wiltshire) Museum that tells the story of the County infantry regiments and the Salisbury Museum that houses local archaeological collections found in the area.
Visit Arundells, home of Sir Edward Heath
While you're in the Salisbury Cathedral Close, be sure to visit Arundells, the former home of British Prime Minister, Sir Edward Heath who lived here from 1985 until his death in 2005. The Grade 1 listed house has all those ingredients that make a perfect country gentleman's residence; the gravelled courtyard with wrought iron gates, the honey stone Georgian frontage and the gardens leading down to the river. Inside the house is preserved as it was when Sir Edward lived there and reflects the passions of his later years. In the hall you'll see models of his yacht, Morning Cloud and he described the rich man's sport of ocean racing as " like standing under a cold shower tearing up £5 notes."
In the sitting room is a grand piano which visitors are invited to play, covered with silver framed photos of the great and the good, while the terracotta formal dining room, filled with Chinese artworks, saw many a Sunday lunch with everyone from pop stars to royalty. As you walk up the stairs you'll admire the  hand painted wallpaper depicting Chinese fables and stand behind Sir Edward's desk in the study looking along the length of the garden towards the river. This is certainly a house that oozes the personality of its owner.
Stay within the cathedral close at Sarum College
I stayed at Sarum College while attending the Social Travel Britain conference and highly recommend it if you are looking for tranquil and comfortable accommodation right opposite the cathedral. Parts of the college date back to the 18th century and it is now used as a Christian study and conference centre, but anyone is welcome to book one of their 40 rooms. This is the only place that you can stay within the cathedral close, so you can drink in that cathedral view in the early morning, before other visitors are allowed in. The en-suite bedrooms are fresh and simply furnished and there is a refectory that serves excellent home cooked meals using local ingredients. Should you wish to venture out of the cathedral close to eat at one of the nearby restaurants, you can borrow a key to get back in after the gates are locked at 10.30. Probably not the place for party animals though.
More places to visit in the South of England
10 ways to spend a wonderful weekend in Winchester
Dorset days of summer at the Acorn Inn
Sir Frances Drake and the Rembrandt selfie – at Buckland Abbey in Devon
Pin it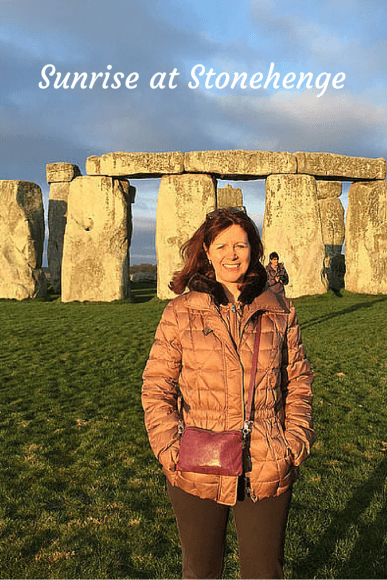 I visited Salisbury and Stonehenge as part of the Social Travel Britain conference and some of the experiences mentioned were provided by English Heritage and Visit Wiltshire.
This article is originally published at Heatheronhertravels.com – Read the original article here
You'll also find our sister blog with tips on how to build a successful travel blog at My Blogging Journey