February 23, 2015 by Guest Author
Filed under Accommodation, Balearics, Eating and drinking, Europe, featured, Guest post, Leisure, Misc, Nature, Shopping, Sightseeing, Spa & Pampering, Spain
Ibiza attracts hundreds of thousands of visitors over the summer months, flocking to the island to enjoy the glorious weather and party scene. However, the island also has much to offer during the quieter, off season times. With mild temperatures and a peaceful, down tempo pace, discover a different side to Ibiza this spring.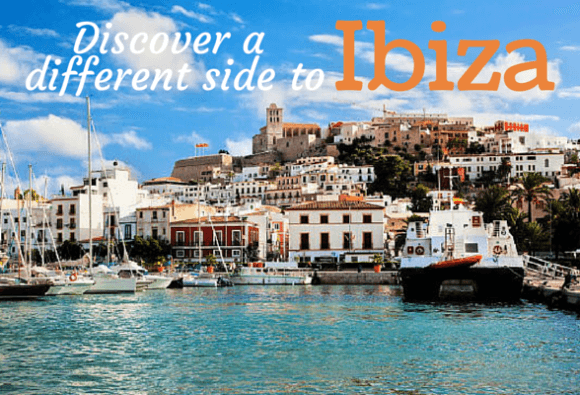 Explore to coastline of Ibiza
Ibiza has a rugged and fascinating coastline, which lends itself perfectly to hiking and walking. There are many companies who offer guided walks around the island during the winter months, when the climate is perfect for long, adventurous walks. If you have the stamina, why not head to the highest point on the island, Sa Talaia to marvel at the breathtaking views of the mystical rock Es Vedra.
Or perhaps enjoy a less challenging walk along the beautiful beach of Ses Salines, a natural wildlife park which is home to, over 200 different species of birds and is a recognised UNESCO World Heritage site. You can choose to discover the island by yourself, or join one of the guided walks. See www.walkingibiza.com for some insider tips and an itinerary of their weekly walking tours.
Wine and Dine on Ibiza
If you are a dedicated foodie then never fear, Ibiza still has plenty to offer the discerning diner in the off season. Many bars and restaurants are open all year round, albeit some of them just at the weekends, and many offer great value deals for winter visitors. For a delightful beachside meal – head to the shores of Cala Jondal where you will find the eternally popular Yemanja restaurant, open all year round, and serving some of the best freshly caught fish to be found on the island. The gambas ajillo (garlic prawns) have to be tasted to be believed. Another favourite is the organic cafe La Paloma. Hidden away in an orange grove in the sleepy village of San Lorenzo, the menu offers an unusual combination of Italian and Israeli influences, with many of the ingredients coming directly from their own gardens. We recommend the houmous cordero (spiced minced lamb with houmous) which is served with freshly baked foccacia bread, simply delicious.
Shop at the flea markets on Ibiza
It's a great time to indulge in some retail therapy here in Ibiza, especially in the New Year when many shops offer great rebajas (post Christmas sales). Ibiza Town has a great selection of stores which stay open all year round, and the tree lined streets are literally bursting with great value deals to be discovered by an intrepid shopper. Or why not head to one of the markets which run all year round, check out Las Dalias in San Carlos every Saturday for some hippy style clothes and jewellery, or head further north to the Cala Llenya second hand market which attracts hundreds of people each and every Sunday, who head there to grab a bargain and enjoy the live music in the outdoor bar area.
Pamper Yourself on Ibiza
If you are seeking some R&R and a little 'me' time, then low season Ibiza has lots to offer. With Both Atzaro and Can Curreu rural hotels remain open all year round, so head to their spas for some great winter deals on massages, beauty treatments and yoga classes. A perfect time to spoil yourself in the beautiful surroundings of the Ibiza countryside. And why not, you are most definitely worth it!
If you're searching for a place to stay in Ibiza, take a look at Ibiza Summer Villas, who offer a complete portfolio of villa rentals to suit all tastes and budgets. Rent an entire villa for yourself, your family, and your friends. Each villa exudes Mediterranean luxury living at its finest, and some boast up to 17 rooms. Ibiza Summer Villas has almost 100 gorgeous villas to choose from, with special promotions going on year-round. The Ibiza Summer Villa staff know Ibiza intimately, and can give you the best hints and tips about everything island-related.
Pin It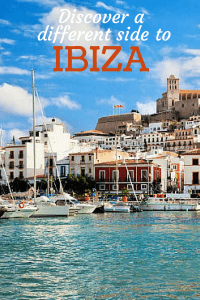 For more island delights:
Tapping into the real Ibiza
Carnivals, jazz and nightlife – the sounds of St Lucia
Swimming, surfing, snorkeling – best beaches of the Dominican republic
This article is originally published at Heatheronhertravels.com – Read the original article here
You'll also find our sister blog with tips on how to build a successful travel blog at My Blogging Journey
A collection of 500 year old thatched cottages, set around a cobbled farmyard, Red Doors Farm in Devon has all the chocolate box charm that you'd wish for in a holiday cottage. However, we've learned from past experience that a centuries-old thatched cottage, picturesque though it may be, does not always mean warmth and comfort. Thank goodness the owners Gill and Adrian seem to have that cracked, with Byre Cottage where we stayed being kept at a cosy constant temperature by the biomass wood-pellet fired boiler.
Our stay was arranged through Premier Cottages who specialise in luxury holidays cottages and this one certainly lived up to expectations. Having arrived in darkness on a Friday night from Bristol, we wake up to glorious views of the Blackdown Hills and spot the red doors of all the cottages that seem to epitomise the cheerful spirit of the place.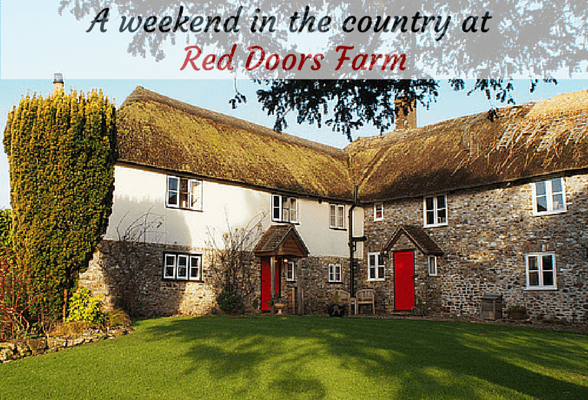 In the morning while the boys are cooking the bacon and eggs, Gill offers to show me around and tells me their story. She and Adrian gave up busy jobs in London to follow their dream of a calmer life in the country and took over the holiday cottage business of Red Doors Farm three years ago. "If we'd realised how much work it would be, we probably wouldn't have taken it on!" Gill told me, since they have gradually worked through all of the six cottages, renovating them one by one.
I hope you enjoy my video below of our weekend at Red Doors Farm
If you can't see the video above of our stay at Red Doors Farm, see it on my blog here or Youtube here and please do subscribe using the button above
Click here for direct download of video
Subscribe to all my videos in I-tunes
If you enjoyed this video, check out the others in my Video archive
Our cosy cottage at Red Doors Farm
Furnishings have been upgraded, bathrooms modernised and now all the cottages meet Visit England's exacting 5 star Gold Standard. Although Red Doors Farm is very popular with young families, it seems there's a cottage for everyone down on the farm. The Swallows Loft is a one bedroom apartment on two floors with stylish mezzanine kitchen, luxurious modern bathroom and a four poster bed with an "Out of Africa" look, which suits professional couples looking for a relaxing country break. Meanwhile Holly Cottage is popular with older couples, or couples with a baby, since it's all on one level with a terrace overlooking the croquet lawn, perfect to sit with your sundowner admiring the views of the Blackdown Hills.
We're staying in Byre which is a 3 bedroom cottage, sleeping 6 people in comfort, a spacious master bedroom for me and Guy and two twin bedrooms for my teenage son and two friends to spread out. No queues for the bathrooms either, since there's a family bathroom upstairs and a shower room downstairs. We really can't fault the cosy furnishings, well equipped farmhouse style kitchen and best of all the log burning stove in the sitting room. Since all men seem to love stoking up a real fire, and Guy is no exception, this is something we always love to see in a country cottage and we make the most of it with a fire in the evenings.
Feeding the goats at Red Doors Farm
Saturday morning is crisp but sunny with winter-blue skies and views over farmland to the valley beyond. Across the lawn is the swimming pool in a separate building for those (relatively) early morning swims which quickly become a favourite with our teenage boys. After breakfast and the swim we've arranged to meet Adrian and Gill for the 10.30 morning ritual of feeding the animals.
For younger guests the farm keeps guinea pigs and rabbits in the covered play area but our teenagers are more interested in the goats, Charlie and Dora. "These are the most spoiled goats in Devon", Gill tells me, since they have their own heated shed, decking walkways so their feet don't get wet on the grass and a climbing frame which comes into its own at feeding time.
Once Charlie and Dora have enjoyed their breakfast it's time for the Muscovy ducks to have theirs in the next field. The ducks all have names beginning with D; there's Dick, the alpha male of the group and Daisy, although we joke that Dyson might be a better name based on the speed at which they vacuum up the grain we hold out to feed them.
Hunting for ammonites at Lyme Regis
Feeding time over, we decide to make the most of the glorious winter sunshine and drive the 25 minutes to Lyme Regis, the heart of the Jurassic Coast. Last time I was here with my blogging friend Barbara Weibel who is a rock hound and fossil lover if ever there was one and am determined to show the boys the ammonite pavement that we visited together.
Lyme Regis is a holiday town that I am continually drawn back to, having just the right balance of Jane Austen charm and fish'n'chips holiday fun, as well as being one of the top places on the Jurassic coast to find fossils. From the harbour, locally known as The Cobb, we walk along the rocky beach, with cliffs looming above us. The cliff face reveals the layers of sedimentary rock that were built up in pre-historic times containing the fossils, especially ammonites for which the beach is famous. "Don't get to close" I call to the others, since there are frequent and dangerous rockfalls from the cliffs, especially after storms, revealing new fossils that have been trapped in the rock.
We clamber awkwardly over the boulders and squish through the black mud until we reach the ammonite pavement, a flat plate of rock where millions of years ago a shoal of ammonites settled on the bottom and were pressed down for eternity. Now at low tide you can see numerous little coils in the bare rock and spot them pressed into larger rocks along the beach. The local fossil hunters are to be seen tapping at the rocks with small hammers, splitting them open to reveal the ammonites trapped inside. As I walk, my eyes scan the pebbles that crunch under my feet and then suddenly I spot it, an ammonite on a smooth round pebble just lying there!
A walk on the Cobb at Lyme Regis
We walk back to The Cobb where a broad wall casts a protective arm around the harbour and the colourful fishing boats are lying on their sides at low tide. It's fun to walk along the broad top of The Cobb wall although the stone pavement slopes like a tipsy sailor towards the sea to catch out the unwary. It's a steep drop on both sides and our friend tells us that their dog once fell off and rolled down the wall but luckily survived with nothing broken.
The stormchasers might emulate Meryl Streep with swirling cloak in the film The French Lieutenant's woman, standing on the end of The Cobb looking out to sea, although it's not advisable or even allowed. Walking along to the end of the wall there are store houses for the fishing boats and we get the feel that this is still a thriving fishing community with plenty of notices advertising fishing trips and the blue and green nets piled up along the quayside. The notice above the door promises that 'The Gods do not subtract from the allotted span of mens lives the hours spent in fishing".
Back on the quay, we check out the local fishmonger's where I can't resist buying some fresh squid while the boys browse in the second hand bookshop next door. Later that evening I fry it up in butter to eat with some of the orange, pepper and chilli chutney that we found in our welcome pack, although the boys turn their noses up at it. Guy has already drunk the bottles of Otter Bitter and Norcott's Somerset cider without giving me a look-in but we all enjoy the local chocolate fudge and award winning ice cream that we bought from the freezer in the games room, made just across the valley. The fire is stoked up and the boys have a noisy monopoly game in progress, just as it should be.
A climb to Dumpdon Hill Fort
Sunday morning and we take a last chance to explore some of the countryside around Red Doors Farm. Armed with instruction found in the Games Room, we walk up the lane towards the Dumpdon Hill Fort, an iron age fort which takes us on a steep and muddy climb up from the road. From the flat area of the top we can survey the many shades of green making a patchwork quilt of fields, then we turn back towards the farm and with rosy cheeks and lungs full of fresh air ready for our drive back to Bristol.
What we liked about Red Doors Farm;
The high quality furnishings and amenities with attention to detail and everything you need on the farm (even ice cream and meals in the freezer!)

The cheerful and helpful approach of Gill and Adrian who live on site.

Feeding the goats and ducks was a fun experience, even for our teens!

Lovely to have an indoor swimming pool on site and we made full use of it.

The beautiful Devon countryside and short drive to the coast at Lyme Regis or Sidmouth.
What you need to know;
The setting is quite rural so you do need a car and we didn't find any shops within walking distance.
The free wifi is provided through a mobile in each cottage and you'll need to give your credit card details as a deposit.
Booking at Red Doors Farm

Red Doors Farm have six luxury holiday cottages which sleep between 2 and 8 people, in the Blackdown Hills of Devon, set in beautiful countryside and only 30 minutes drive from Lyme Regis and the Jurassic Coast. A week's stay in Byre Cottage at Red Doors Farm for up to six people starts from £775 and a short break starts from £540. Book Red Doors Farm through Premier Cottages here

Premier Cottages' collection features almost 1,000 four and five-star self-catering cottages across the UK. Properties range from small, romantic boltholes to large family-friendly country estates. The collection includes pet-friendly accommodation. It also offers the widest range of accessible properties in the UK and many properties have  onsite facilities like swimming pools, gyms, spas, indoor games rooms and children's play areas.

Follow Premier Cottages and Red Doors on their Social Media channels below;
Premier Cottages: Website | Twitter @premiercottages | Facebook | Google+ | Pinterest | YouTube
Red Door Farm: Website | Twitter @reddoorsfarm | Facebook
Heather and family stayed as a guest of Premier Cottages and Red Doors Farm in Byre Cottage.
This article is originally published at Heatheronhertravels.com – Read the original article here
Click to subscribe to our monthly newsletter, news and reader offers
You'll also find our sister blog with tips on how to build a successful travel blog at My Blogging Journey
Repeatedly named as one of the most livable countries on the planet, Canada has much to attract visitors year after year. Whether your idea of the perfect holiday involves mountains and glaciers, cosmopolitan cities, wildlife experiences, quaint towns, secluded lakes and forests, iconic natural beauty, stunning views or historic landmarks, Canada has something for everyone.
If you're looking for the next destination to visit, read on for some of the many reasons why Canada should be at the top of your travel bucket list.
The Northern Lights
One of the most amazing phenomena in the world to see first-hand is the dazzling Northern Lights. The spectacular Aurora Borealis, above the magnetic pole of the northern hemisphere, is actually created by collisions between electrically-charged particles from the sun that enter the earth's atmosphere and mix with gaseous particles.
The light displays appear in a variety of colors, with the most common being pale green and pink. The variations in hue are due to the type of gas particles that are colliding — for example, the common yellowish-green color is produced by oxygen molecules that are around 60 miles above Earth. In Canada's Yukon region, as well as the Northwest Territories, travellers are bound to see the fascinating spectacle on visits between the months of December and April. In fact, in the Northwest Territories, the dancing lightshow is reported to occur on around 240 nights each year.
The Rocky Mountaineer
One of the best options for rail travel in the world would have to be the well-regarded Rocky Mountaineer. This train runs numerous journeys through beautiful Canadian scenery such as pine forests, glacier-fed lakes, towering snow-topped mountains, rushing waterfalls and narrow bridges running over gorges. To help passengers really take in the glory of the landscape, the Rocky Mountaineer trains feature glass windows on both sides and above in each carriage.
The wide open views are further enhanced by the regular commentary on board the train, plus the top-quality meals that are served. Along the way, passengers have the chance to spot grizzly bears and moose, as well as highlights like the UNESCO World Heritage-listed sites of Banff and Jasper, beautiful Lake Louise and Whistler, the home of the 2010 Olympic and Paralympic Winter Games.
Polar Bears
The best time to see the majestic polar bears in Canada is between November or March. Encounters with these curious creatures are extremely rare, but in the region of Hudson Bay, near Churchill in Manitoba, it's possible to catch sight of the great white beasts.
The world's highest concentration of increasingly-rare polar bear dens is actually found in Hudson Bay, making Canada one of the prime countries to witness the beautiful creatures. Tours depart from Churchill and are conducted from tundra buggy vehicles that are designed to provide tourists with safe viewing access to the massive animals. The best time of year to book tickets from discount travel sites like Flights.com, is at the end of the year, when you have the chance to see cubs with their mothers.
Quebec City
One of the prettiest cities in Canada that tourists should explore is the predominantly French-style Quebec City, in Quebec. Here, French is the main language (although many people do speak English as well), and you'll feel transported to Europe in a flash. Some of the city's streets, in particular ones such as the Rue du Petit Champlain, seem very Parisian, or sometimes like a rural French village. The streets are full of pretty-as-a-picture flower boxes, cast-iron lanterns, and painted signs hanging from quaint building eaves. Don't miss a visit to the spectacular Chateau Frontenac while in Quebec City. This iconic building is also a hotel, so provides a wonderfully historic location for an overnight stay.
Prince Edward Island
Another must-see destination in Canada is Prince Edward Island. This Eastern region of the country is most famous for providing the setting for the "Anne of Green Gables" books, but the area is also a top spot to enjoy art, jazz, and other music festivals, plus mountains of fresh seafood like oysters and lobster. In addition, no trip to P.E.I., as it is known locally, is complete without checking out the 27 vintage lighthouses that are scattered around the island's coastline.
This article is brought to you in partnership with Flights.com who can help you find last minute flight options, or cheap flights to and from the world's top destinations.
Photo Credit: Polar bears by Travel Manitoba, Northern Lights over mountain and lake by SurangaSL, Polar bear with her cubs by outdoorsman, Covehead Lighthouse in Stanhope, Prince Edward Island by Natalia Bratslavsky
For more info on Canadian travel:
Adventurous Canada with a Twist
Skyscrapers and snow-capped mountains – a winter break in Vancouver
Calgary's family spirit for fun with the kids
This article is originally published at Heatheronhertravels.com – Read the original article here
You'll also find our sister blog with tips on how to build a successful travel blog at My Blogging Journey