Think of Kenya and you no doubt picture prides of lion prowling open grassland, giraffe grazing on acacia leaves and elephant cooling off in waterholes. Safari rightly plays a huge part in most Kenya trips, but your experience can be further enriched spending a few days at Free the Children's Me to We initiative.
Operating just outside of the Masai Mara National Reserve, the initiative supports local communities in a variety of ways, from educational and medical development to hygiene around the home. During your holiday with Audley Travel, you can get involved in some of its projects allows you to contribute to sustainable change and make a real difference to people's lives, as Mark Gillies, East Africa Specialist at Audley Travel, explains.
About Me to We
Me to We itself is a social enterprise that was established by Canadian charity Free the Children. It allows visitors and volunteers to access and experience the charity's development projects in Kenya and seven other countries around the world.
This can include anything from acquiring clean water and improving access to medical facilities to smoothing the way for women to make a living for themselves. It can also involve setting up schools for girls who wouldn't otherwise receive secondary education.
In Kenya, Me to We is run from Bogani Cottages & Tented Camp – a safari-style camp just north of the Masai Mara. Here, visitors not only sleep and eat, but undertake activities beneficial to the local community. They might find themselves helping to build health centres, or collecting water for 'mamas' (local women).
The experience
When I initially heard about Me to We, I was a little cynical. Over the 18 years that I've regularly visited East Africa, I've seen a number of community projects set up with good intentions, only to fade away a few years down the line.
I was therefore taken by surprise when I finally visited the initiative with Audley Travel. The extent of local support for Free the Children's work is exceptional, and a testament to their achievements. Setting realistic aims, their fairly simple ideas have reaped extensive results in many areas of local life. Not only this, but the positive effects have been maintained over the 15 years they've been operating here.
What I liked about the Me to We experience was the feeling that you're an active participant in the work, rather than a passive bystander. You're right there digging gravel, pushing wheelbarrows and carrying tools. It's about getting dirty and speaking to local people, whose gratitude is shown in their warm welcome and wide smiles. Speaking basic Swahili myself, I can usually tell when greetings are genuine or simply out of politeness. But everywhere I went here, people's pleasure in seeing me was unmistakable.
Activities
During your stay, you'll be in a group of around 12 – usually a mix of ages, from families with children to solo travellers and retired couples. Together with a Maasai guide and a Me to We facilitator, you'll engage in a number of different activities.
During my time at Bogani, I helped to build an accommodation block for doctors. Contributing to something I knew would be appreciated by the community was really rewarding. I was also able to learn more about the project by talking to Me to We volunteers and local people as we worked together.
I visited the home of Mama Joyce, who shared her beading techniques with us. Like many other mamas, she's able to generate an income from her craft to support her family. Previously, women here were completely dependent on men to supply food and money. Yet with the help of Me to We, they've been able to learn a craft and sell their products to a wider market.
Mama Joyce was also happy to answer any questions we had about village life, and in exchange for her time we collected water for her from the Mara River. While only 200 m away, carrying heavy bucket loads of water was quite a challenge, and was yet another way for us to appreciate the rigours of daily life here. Together we were able to collect enough water to last Mama Joyce at least three days.
Another activity I enjoyed was venturing to a local market, armed with some Kenyan shillings and a list of items that the village needed. Strolling through the stalls displaying fruits, fresh flowers and woven baskets, I bartered with the market sellers while soaking up the atmosphere.
Back at the camp, you can try out some of the traditional weapons used by Maasai warriors under the tuition of Maasai field guides. These include spears, throwing sticks, and bows and arrows, which you use to hit a target. It's a fun way to learn about Maasai culture in an informal way. I was even given my own throwing stick as a keepsake, and it now sits proudly in my home.
Kisaruni All Girls Secondary School
By far the best thing I did was visit Kisaruni All Girls Secondary School. Opened by Free the Children in 2011, it offers hundreds of girls the chance to further their education. In Kenya, secondary schools are unaffordable for many families, and boys have priority.
All of the young women I met here were incredibly inspiring. Seeing their passion for education and listening to them talking about their aspirations to be doctors, engineers, nurses and accountants was really eye opening. I was left in no doubt that most of them would achieve their ambitions.
We were given a tour around the school, not by teachers, but by the head girl and two prefects. They addressed us confidently as they showed us the building's facilities and spoke about the school's values.
One thing that stood out was the school's efforts in promoting a sense of community and bridging differences between the local Maasai and Kipsigi cultures. The contrasting lifestyles of these two peoples (Kipsigi hold areas of land that they cultivate, while Maasai move around with their livestock) have been the cause of bitter feuds and violence for many years. But in this school, pupils celebrate what unifies them.
The hard work of the pupils, teachers and Free the Children/Me to We has also paid off in the girls' academic achievements. 2016 saw the very first year group to pass through the school graduate with the highest marks in the whole of Kenya.
Bogani Cottages & Tented Camp
Situated around a two hour drive north from the core area of the Masai Mara and an hour's light aircraft flight from Nairobi, the camp is surrounded by open farmland dotted with small villages. The tents are comfortable, with electricity, hot showers and flush toilets, and there are several cottages to accommodate families.
Buffet-style meals, consisting of European dishes with the occasional local delicacy, are served in the camp's main communal area. Something I always remember about the camp is how involved the catering staff are. Unlike in many safari camps, where they're friendly but unobtrusive, at Bogani they're very much a part of the conversation. They'll greet you, ask about your day and proudly introduce the dishes.
Combining Me to We with safari
A Me to We stay works well with a safari in the Masai Mara National Reserve. Both are very powerful but completely different experiences.
Me to We gives you the opportunity to add to a very positive story of development within Kenya. You learn a lot about yourself and your travel companions, as you're taken out of your comfort zone and have to turn your hand to things you wouldn't normally do.
A short drive allows you to enter an entirely different world. A safari in the Masai Mara is all about those close encounters with wild animals – watching lion prides lazing in the sun and wildebeest frantically crossing the wide and fast-flowing Mara River.
A huge grassland area in the southwest of Kenya, between July and October the Masai Mara plays host to the Great Migration. This is a wildlife phenomenon where millions of wildebeest, zebra and antelope follow the rains, attracting predators such as lion, leopard and crocodiles.
The reserve is also home to the Big Five (lion, leopard, rhino, elephant and buffalo), along with cheetah, hyena and a variety of birdlife.
Along its edges are private conservancies where many of the camps and lodges are based. Their experienced and knowledgeable guides will lead game drives and walking safaris through the open grassland. In the evening, you'll share candlelit meals beneath the stars.
Getting there
After flying to Nairobi for your holiday with Audley Travel, a Me to We facilitator will meet you and transfer you to a hotel for the night. The next day, you'll take an hour's flight by light aircraft to the Masai Mara. An hour's drive past fields of grain and rural villages will see you reach the camp.
Practicalities
A trip combining Me to We and a safari suits anyone with an interest in wildlife, Maasai and Kipsigi cultures, or social development and conservation issues. It's also for people who want to experience what life is really like in rural Kenya away from the regular tourist spots.
Families are well catered for, with all guides speaking English and activities offered specifically for children. It's also easy and safe to travel solo: you'll stay within your group once you arrive and the journeys are all escorted.
July to October is the best time for safaris in the Masai Mara as the Great Migration is in full swing and temperatures are comfortable. The only time I wouldn't recommend visiting is between the end of March and May, when rain is heavier and more frequent.
About Mark Gillies
Mark Gillies is an East Africa Specialist at Audley Travel. His first experience of the region was in 1998, when he spent three months working as a research assistant on a biological survey programme in southern Tanzania. There hasn't been a year since that he hasn't been back to Africa, whether for work or adventure.
It was while working for a travel company that he encountered Kenya and grew to love its wildlife and its people. Since joining Audley, he's visited Kenya, Tanzania, Rwanda and Uganda, furthering his passion for the region.
This article was brought to you in partnership with Audley Travel
Read More articles from Audley Travel
A guide to volcano hiking in Indonesia
A guide to gorilla trekking in Rwanda
Russia for Art Lovers – where to go in Moscow, St Petersburg and the Golden Ring
Pin It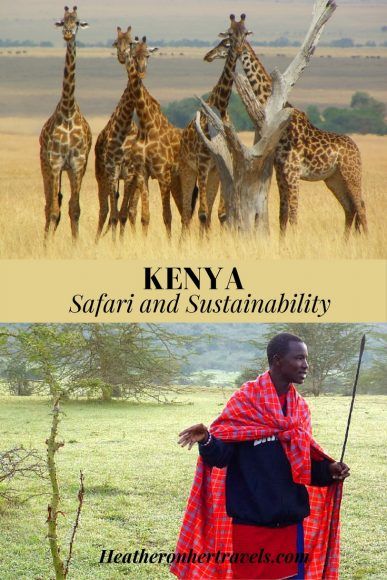 This article is originally published at Heatheronhertravels.com – Read the original article here
If you're planning a holiday in Canada that involves camping or staying in an RV, in one of Canada's scenic national parks, you might want some tips on what clothing will work best for your holiday. I don't know about you, but when I'm dressing for outdoor activities such as cycling, hiking and canoeing, I like to choose clothes that are comfortable and functional while keeping a sense of style.
I recently spent two weeks with my husband Guy touring the provinces of Ontario and Quebec in Canada, staying mainly on campgrounds and in nationals parks with our cosy RV from Cruise Canada – our home from home on the road. For the trip I teamed up with Columbia Sportswear who specialise in outdoor clothing, to try out some items from their range. Based on my experience of this trip, here's what you need to pack for a camping trip to Canada.
(For the Brits an RV is a Recreational Vehicle or large camper-van)
Quick drying trousers for evenings around the campfire
For hiking or evenings around the camp fire I recommend quick drying walking trousers like these Columbia Women's Silver Ridge Convertible Trousers. They feel like a lightweight cotton but are in fact made from a 100% nylon technical fabric that wicks away sweat, protects against UV rays and is quick drying when you get caught in a downpour. For outdoor activities like hiking or cycling it's better to avoid jeans or heavier cotton trousers that weigh you down and soak up moisture at the first sign of rain. Look for trousers that have a neat leg pocket to tuck in your guidebook, map or phone. I also like styles like this that have zip off legs, to make shorts, for maximum versatility. I know I'll get a lot of use from these walking trousers on future hiking trips.
Check out the Columbia range of walking trousers here
Sporty quick drying t-shirts
For outdoor activities I tried out this t-shirt from the Columbia range made of 100% Polyester fabric, designed to wick away sweat and keep me cool. Check out the Women's Zero Rules Short Sleeve shirt here. I found that this fabric was silky, comfortable and not at all sweaty – ideal for hiking and other activities around the Canadian national parks. As an added bonus this t-shirt was easy to wash by hand or machine, quick to dry and hardly creased at all. Just as well, since irons didn't seem to exist on the Canadian campgrounds!
I also packed a range of other short sleeve and sleeveless tops in fabrics that were less likely to crease. Although it's great in sunny weather to wear sleeveless vest tops to stay cool and get a nice tan, being Mrs Sensible I like to alternate them with tops that cover my shoulders to avoid sunburn. I'm looking forward to using this t-shirt on future hiking trips and for jogging at home.
Check out the Columbia range of short sleeve tops here
Sports shorts – go as short as you dare!
In the warm Canadian summer shorts are worn by all and from what I saw the Canadians like their shorts to be on the short side. In the bars and restaurants the waitress uniform seemed to be the skimpiest of shorts and even ladies of, ahem, a certain age and size seemed to favour very short shorts. No need here for modesty then and you can save your longer bermuda shorts for city sightseeing.
I was able to double up with my quick dry walking trousers from Columbia which had a zip off leg, allowing me to convert long trousers into shorts depending on the weather. The quick dry fabric made them cool and easily washable so ideal for activities like cycling or hiking. If you are a lover of short shorts don't forget your sun screen even if you want to get a golden tan on your holiday in Canada.
Check out the range of Columbia trousers and shorts here
Trail shoes for hiking in the Canadian parks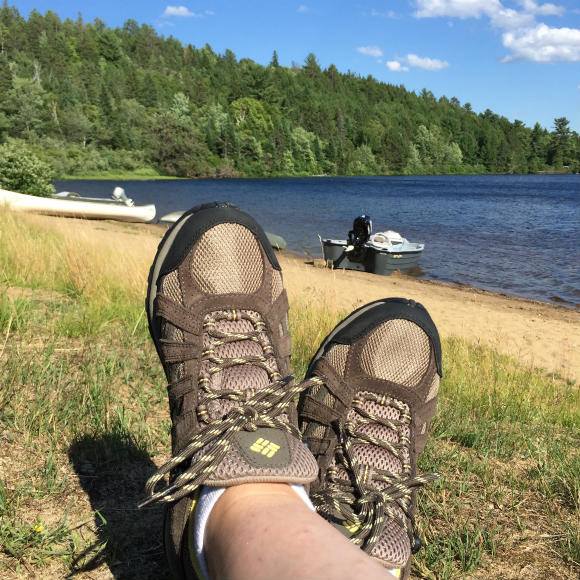 Although I have some excellent hiking boots (read my article here), for this trip I was looking for a hybrid trail shoe which is a cross between a trainer and a boot. My reasoning was that I wanted to have a supportive shoe for hiking in Canada's national parks but that I wasn't planning to do any hardcore hiking for hours and days on end. I needed shoes that were suitable for general outdoor activities, to wear around the campground, that wouldn't be too hot to wear on warm summer days.
These Women's Grand Canyon Outdry Hiking Shoes were just what I was looking for, with a low ankle so that they weren't too hot and a waterproof but breathable construction so they would keep my feet dry when walking in the wet. Although these trail shoes didn't have the support of a high ankle, the construction is very solid, so they would be ideal for summer hiking on rough and rocky trails. For serious long distance hiking I'll probably stick to boots with ankle support, but these trail shoes are ideal for a situation like our camping trip where you want a hardwearing shoe that is suitable for a range of outdoor activities.
Check out the Columbia range of walking boots and shoes here
Waterproof Jacket – yes it does rain in the Canadian summer
Although the weather on our July trip to Canada was warm and sunny, we did experience a few showers so my lightweight waterproof jacket came in handy (Read my article on what to look for in when buying a waterproof jacket). For summer wear in Canada I'd recommend a lightweight jacket that can roll up small to keep in your day sack but if you're visiting in spring, early summer or autumn you might prefer a jacket that's more substantial or has a removeable fleece lining, as we found that mornings and evenings could be cool.
I wore my waterproof jacket when we were canoeing in Algonquin park as the day was overcast and rain was forecast. Luckily the showers held off until we had finished our canoe trip but the jacket was also ideal for keeping off the midges and flies that you tend to get hovering over the water. Cloudy days can be a bonus in Canada as our guide told us that we were more likely to see wildlife such as moose when the day was overcast, since they come down to the water's edge to feed, while on hot sunny days they prefer to stay in the shade under the trees.
Check out the range of Columbia waterproof jackets here
Three-quarter length leggings – versatile for outdoor activities
I found it was useful to have some sporty three-quarter length trousers for activities such as cycling and climbing where I wanted a bit more protection. My sports leggings made from quick dry fabric got a lot of use on our Canada trip and I also wore them for canoeing where they would dry quickly if I got wet wading into the water or splashed from the paddles. The three-quarter length and close fit were also ideal for cycling if you don't want sunburned thighs or trousers that flap around the ankle.
Check out the Columbia range of casual trousers here
Flip flops for hanging out by the lake
If you are a happy camper you'll know to pack a pair of flip-flops or waterproof sandals that are easy to slip on and off. They are always handy for those early morning trips to the shower block (although luckily we had our own shower and loo in the RV) and for hanging out by the lakes that seem to be a feature of most Canadian camp grounds.
You'll want something made of plastic so you can easily rinse off the sand or pine needles and they won't look grubby. No harm in having a pedicure and pretty nail polish before your holiday – we like to keep up standards even when camping!
Check out the range of Columbia sandals and flip flops here
A  cosy fleece for cool mornings
I was pleased that I'd packed a fleece for our Canada trip as despite the warm sunny days, we found the mornings were often quite cool. For the first hour or so each day we often needed an extra layer and then the temperature would warm up and it would be short sleeves all day and into the evening. It was never really too cold on our July trip so I'd suggest a mid-weight fleece if you are visiting in the summer but perhaps something more substantial for the spring and autumn. Due to the limited laundry facilities on the Canadian campgrounds I'd avoid smarter woollen knitwear in favour of anything that is quick drying and doesn't crease, unless you have an element of your holiday that requires you to dress more smartly.
Check out the Columbia range of fleeces here
Other things to consider
Those pesky flies and mosquitos can be pretty persistent when you get into a camp ground or one of Canada's national parks. If you are trying any activities such as hiking, cycling or canoeing, a liberal spray of deet based insect repellant is recommended and in the evening it's best to change into a long sleeved top and long trousers with socks and shoes to cover your feet. I neglected my own advice on a few occasions and regretted it as I was scratching nasty bites for days afterwards.
Most but not all of the camp grounds we visited had washing machines and dryers but none seemed to have any ironing facilities. I'd recommend packing clothes made of quick drying technical fabric that are less likely to crumple in order to look your best, leaving your linen suit at home.
A sunhat is advisable if you're out on long hikes or canoe trips in the full sun and to fit in with the locals I'd choose a cotton cap – you can buy them everywhere in Canada.
My Canada Camping clothing check list
A lightweight waterproof jacket for the occasional shower or cool evenings
Long quick dry trousers for hiking and to keep off the insects in the evening
Quick dry shorts for sunny days and sporty outdoor activities
Three-quarter leggings or joggers for sporty outdoor activities and cool mornings
Quick dry sports t-shirts
Trail shoes for hiking and climbing
Flip flops or waterproof sandals for wearing around the campground and the lakes
A mid-weight fleece for cool mornings and evenings
A light, long sleeve t-shirt to wear in the evening when the mozzies come out to bite
A cotton cap or sunhat to protect you from sunburn or sunstroke on sunny days.
Plus of course pack some other casual clothes and footwear for when you are out sightseeing
Thanks to Columbia Clothing who provided me with some of the items mentioned in the article to try out on my Canada trip.
Visitor information for Canada
To plan your trip to Canada check out the Explore Canada tourism website as well as the websites of the states and national parks you plan to visit, in our case Ontario Tourism and Quebec Tourism. Our RV was provided by Cruise Canada.
More Canada articles
Where to watch wildlife in British Columbia, Canada
How to enjoy a great day in Victoria BC
Vancouver Island – a nature lover's paradise
Pin It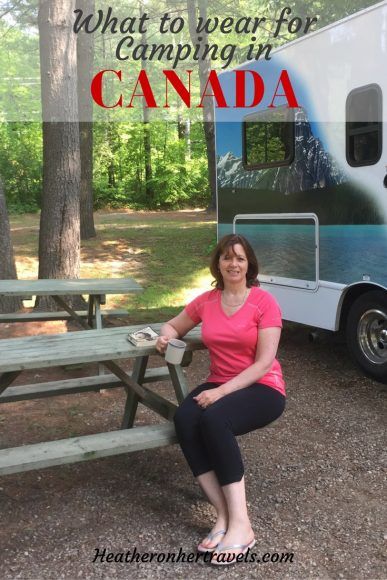 This article is originally published at Heatheronhertravels.com – Read the original article here

You'll also be subscribed to our free monthly newsletter for great travel resources, news and offers, but you can unsubscribe at any time and we'll never share your e-mail.
You'll also find our sister blog with tips on how to build a successful travel blog at My Blogging Journey
Dylan Thomas is the favourite literary son of Wales, born in Swansea and much celebrated before his untimely death at the age of 39. Even if you don't know his poetry, my driving tour of the places he lived and loved will show you some of the most beautiful scenery in South Wales and give you a fascinating insight into the times that Dylan lived through.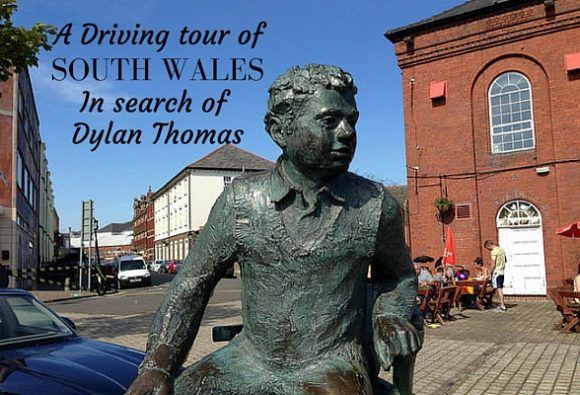 Let's start in Swansea
Let's start our driving tour in Swansea, where Dylan Thomas was born, the place he spoke of as "an ugly, lovely town" since it was heavily bombed in the blitz and lost much of the charm of its pre-war Victorian architecture. If arriving in Wales by public transport, you can easily pick up a hire car in Cardiff, Swansea or Newport as the places on our tour are most easily visited by car. (Check out Alamo Rent A Car if you need a rental car)
In recent years Swansea has undergone a regeneration and in the Maritime Quarter surrounded by new apartments and restaurants, you'll find a statue of the city's most famous son, in front of the Dylan Thomas Theatre.
Dylan was a member of the local amateur dramatics society, the Swansea Little Theatre, who met in Mumbles and the theatre now provides a permanent home for the theatre group. All kinds of productions are put on here but it's worth checking in advance whether there are any preformances related to Dylan Thomas. If not, you can still enjoy the murals on the walls of the theatre, depicting many of the characters that Dylan wrote about in his famous radio play, Under Milkwood. Dylan Thomas Theatre Website
The Dylan Thomas Centre in Swansea
Nearby is the Dylan Thomas Centre, which provides a permanent exhibition about Dylan's life and work. On the walls are large photo murals of Dylan, his friends from the Swansea literary scene and a portrait of his wife Caitlin painted by Augustus John. You can hear the voice of Dylan himself, from the radio broadcasts he made to read his poetry and radio plays.
What comes through above all else is Dylan's love of words which he used like colours in a paint box to create each scene, making lists of the words he might use on scraps of paper to keep by his desk.  He wrote; "I wanted to write poetry in the beginning because I had fallen in love with words, I cared for the colours the words cast on my eyes".
Read my article about Swansea – an ugly, lovely town
Dylan Thomas Centre, Somerset Place, Swansea, SA1 1RR
Let's visit the Dylan Thomas Birthplace in Swansea
Dylan was born in 1914 into an upper middle class family and inherited a love of literature from his father, DJ Thomas, who was Head of English at Swansea Grammar School. The house at 5 Cwmdonkin Drive where Dylan was born and where he grew up has been restored in the same character as when the family lived there and is open to the public, as well as being available to rent as a place to stay. It's just a short drive from the Maritime Quarter in the residential neighbourhood of Uplands.
The dark green and red colour scheme of the sitting room is just as Dylan described in "A Child's Christmas in Wales" when aunts and uncles gather in front of the fire after Christmas lunch. Owner Geoff Haden restored and furnished the house from auctions and car boot sales, using information in family letters and Dylan's own descriptions to recreate the house as it might have looked when Dylan was growing up, right down to the old gramophone player.
Upstairs Dylan's tiny bedroom has been left just as if he had been living there now, with a messy desk covered with books, a packet of woodbines and a bottle of Hancock's local ale, posters of Shakespeare next to Greta Garbo. At this tiny, crowded desk, Dylan would write poetry until he left home at the age of 20, doted on by his mother Florence who would bring him breakfast in bed.
Read my article about the Dylan Thomas birthplace
Visit the Dylan Thomas Birthplace at 5 Cwmdonkin Drive, Uplands, Swansea for a guided tour – check the website for times, events or to book an overnight stay.
Cwmdonkin Park – where the young Dylan played
The Dylan Thomas birthplace looks out to Cwmdonkin Park where Dylan would play as a boy. In Dylan's day there was a reservoir with swans which has now been filled in for a children's playground, but the bowling green and pavilion look much as they did in Dylan's childhood. The pavilion is open as a tea room with a pleasingly retro feel, serving ice creams, tea and welsh cakes on 1950s style china.
Where to stay in Swansea
Morgans Hotel was once the Harbour Trust Office, a grand Edwardian building from the era when Swansea was a major port and industrial city known as "Copperopolis" due to the large amount of copper smelted there.
The bedrooms, with mahogany doors, high ceilings and plaster mouldings, are individually named after the Swansea ships of the period. Downstairs is a stylish bar for evening drinks and breakfast is taken in the former banking hall of the Harbour Port Office, with original murals and copper globe lamps recalling Swansea's industrial heyday. Morgans Hotel makes a luxurious base for exploring Swansea and the Dylan Thomas trail.
Morgans Hotel, Somerset Place, Swansea, SA1 1RR.
Mumbles and the Gower beaches where Dylan loved to walk
Let's take a short drive to the seaside village of Mumbles, just outside Swansea, a place Dylan came to regularly to rehearse with the local amateur dramatics group, the Swansea Little Theatre. Afterwards the group would go for a drink at the Antelope pub where Dylan was known to enjoy a few pints.
From his home in Uplands Dylan could take the bus with friends to Mumbles and the beaches of the Gower peninsula, where they would go walking and camp overnight. Caswell beach which can be easily walked to from Mumbles, still has a retro air with the green painted beach huts and the cafe on the promenade.
A couple of his short stories were set on Rhossili beach and Dylan enjoyed long walks along the cliff path. Read my article about walking the coastal paths of the Gower.
Mumbles is a good place to base yourself for a night or two to explore some of these same beaches, either walking direct from Mumbles along the cliff path or driving to the stunning beaches of Caswell, Langland and Rhossilli.
Where to stay in Mumbles
Promenade View is a stylish 3 bedroom holiday home set right on the promende at Mumbles and an ideal place to base yourself to explore Mumbles, the Gower peninsula and be within easy reach of Swansea. The house has 3 en suite bedrooms with views over Swansea bay and the cyclists, walkers and sailing boats on their stands along the promenade, as well as being a short stroll from plenty of pubs, restaurants and the Mumbles pier where the coastal path begins. Read my review of Promenade View here.
The Boathouse at Laugharne in Carmarthenshire
From Mumbles you can drive to Laugharne, the village in Carmarthenshire that Dylan made his family home in the final years of his life. The Boathouse is set just below the cliff path with striking views across the Taf Estuary from the windows and was described by Dylan as "my sea shaken house on a breakneck of rocks".
Here Dylan lived with his wife Cailin and children until his untimely death in 1953 and it's furnished partly as it was when he lived there, partly as a museum in the attic room that would have been their bedroom.
A little further along the path is Dylan's writing shed where he worked, with desk with cigarette stubs, as if he had just popped out for a walk. The window looks over the Taf estuary, where the sandbanks are exposed at low tide and wading seabirds pick their way through the shallows, described by Dylan as "the mussel pooled and the heron priested shore."
Read my article about Lovely Laugharne – on the Dylan Thomas trail
When he lived here, Dylan would walk along to Browns bar to read the papers, or drop in to see his parents who lived opposite, before working in his writing shed in the afternoon and returning in the evening to Browns with his wife Caitlin for a few more beers.
The Dylan Thomas Boathouse, Dylan's Walk, Laugharne, Carmarthenshire, SA33 4SD
Laugharne Castle
Overlooking the estuary is Laugharne Castle, which was built in the 13th century and came under siege in the English Civil War after which it was partly dismantled. When Dylan first came to Laugharne, the castle and house next door were owned by his friends the writers Richard and Frances Hughes. Dylan was allowed the use of the gazebo in the garden which overlooks the estuary and it was here that he wrote the short stories "Portrait of the artist as a Young Dog".
The castle is now open to the public and there's a writing desk and old typewriter within the summerhouse to recreate how it would have looked when Dylan worked there. Laugharne Castle website. 
Where to stay in Laugharne
Brown's Hotel where Dylan went for a drink is now a stylish pub with rooms that have a retro feel with stripy carpets and modern oak furniture. They only serve snacks in the evenings but there are several places to eat when you are staying there including the Three Mariners pub next door. Brown's Hotel, King Street, Laugharne, Carmarthenshire.
A tour of South Wales taking in the places associated with Dylan Thomas is easily done in 2-4 days but of course there are plenty more things to enjoy in Wales if you'd like to extend your stay. If you are planning a driving holiday in Wales, check out Alamo Rent A Car for your car rental.
Useful information for visiting Wales
For more information on everything to see and do in Wales check the official website at Visit Wales
For more information about Dylan Thomas on the official Dylan Thomas Website
For more information about things to do in and around Swansea including the Dylan Thomas attractions visit the Visit Swansea Bay website
This article was brought to you in partnership with Alamo Rent A Car
Pin It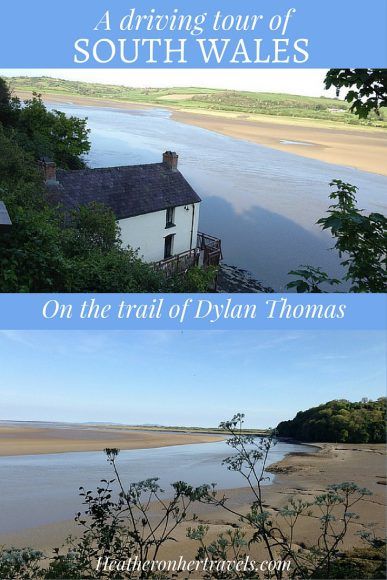 This article is originally published at Heatheronhertravels.com – Read the original article here