What do you do when you twist an ankle on the first day of your walking holiday in Austria? Despite my bad luck the day before, when I missed my footing in the Gaistal Valley, I was determined not to let my sore ankle spoil our hiking with Headwater Holidays. The more strenuous walks over the high passes might be out of the question, but that didn't mean we couldn't scale the mountain tops. Consulting the '1 boot' walks in the Headwater walking notes we realised that with the cable car we could get up to Seefelder Spitze at 2221M with just a moderate amount of walking at the top. All the views with half the effort!
The bus from Hotel Xander to Seefeld took us in 15 minutes to this pretty town which was an important on the trading route between Innsbruck and Mittenwald and is a now a popular base for both winter ski and summer hiking. From the main square with its elegant church, radiated pedestrian streets with plenty of pavement cafes and shopping to entice visitors enjoying the late summer sunshine.
From the town centre we walked up the hill to the funicular which took us halfway up the mountain to the Rossehutter station and from there took the cute red cable car right up to the top at Seefeld Joch.
The cable car left us at one end of the saddle with views down towards Seefeld and we had fun trying to spot the speck of Hotel Xander in the valley beyond. On the other side of the saddle we could look down into a much wilder valley clothed in green forest streaked with brown shale where the rocks had fallen down the mountainside.
Seefeld now looked like a toy-town in the valley below, set in the bowl of the mountains. With ski lifts going up in all directions, it was obvious why this was such a popular winter ski resort.
We followed the gravel path along a ridge as it climbed towards a rocky point where I gingerly climbed over using the metal handrails. The way broadened out again along the ridge until we finally reached the the peak of Seefelder Spitze at 2221 metres, with views of the shadowy shapes of mountains layered one behind the other in the misty distance.
From the cross we could clearly see the path that the more challenging '2 boot' walk suggested by Headwater would take. It ribboned across a precariously steep slope of shale with no vegetation, and nothing to stop the unwary from falling down the slope, should they lose their footing. No wonder walking poles were highly recommended for this stretch! With my sore ankle there was no way I could attempt it, and even if I'd been fully fit I might have thought twice.
Instead we took the path back down the way we had come and returned by the cable car to the Rossehutte station. We sat on the balcony of the cafe with a beer watching the people sunning themselves on deckchairs and the children bouncing on trampolines. These mountain stations are surprisingly busy and popular spots for families to come up the mountain for a bit of weekend fun.
Once we'd finished our beers we decided to try another cable car to Harmelekopf-bergstation, a stop used mainly as a jumping off point by hang-gliders. Unfortunately we misjudged the timing and took the last cable car up, giving us only 10 minutes to look around before it was time to take the last one back. We shared the cable car with two hang gliders who came in with big rucksacks and since they did not come back down with us we assumed they had hang-glided away over the valley.
From there it was straight down on the funicular and back into Seefeld where we explored some of the side streets with pretty painted buildings in the late afternoon sunshine. We joined the many people relaxing in the pavement cafes trying a delicious wild berry ice-cream in a very cute cafe before catching the bus back to Hotel Xander.
Nice as it is to have an evening meal provided as part of your package, sometimes you want to try something different, and we decided to celebrate our day conquering the mountain in a traditional Austrian restaurant called Dorfstadl that was a short walk away in Weidach. Although tucked in the grounds of the modern leisure centre, the restaurant was like an overgrown wooden cabin of the kind you'd expect to find halfway up the mountain.
We both ordered the local 'Hugo' aperitif of elderflower with white wine spritz and stuck to the recommendation we'd been given of venison stew with dumpling for Julia and an excellent steak with wild mushrooms for me. It felt as if the restaurant was easing into the autumn season since all the dishes on the 'special' menu were made with wild mushrooms. Although we were pretty stuffed, we managed to share an apple strudel, purely for the purposes of comparison with all the other apple strudels that are served in every Austrian restaurant. We were definitely on a quest to find the perfect apple strudel!
At the other end of the restaurant there was a wedding party in full swing with all the ladies in their dindls, including a white wedding dirndl for the bride. We got the full benefit of the band singing all the yodelodel songs which even Julia who speaks good German couldn't understand since they were half in dialect.
It was fun to join in the wedding celebrations and I was pleased that my ankle hadn't spoiled our walk. Despite it we'd scaled the mountain peaks and would have plenty more walks to explore and things to see in the Leutasch Valley.
Read about day 1 of our hiking holiday – A high mountain walk and a tumble in the Gaistal valley of Austria
Coming soon – Day 3 in which we enjoy the traditional riflemens' parade and follow a Mental Power walk through the forest.
Want to go walking in Austria's Leutasch Valley?
Heather's walking holiday in Austria's Leutasch Valley was provided by Headwater Holidays – find out more about this holiday here. This 7 night walking holiday is based in Kirchplaztl at the 4 star Hotel Xander with over 450km of walking trails accessible direct from the hotel or via local bus, taxi and lifts. The holiday includes a full programme of self-guided day walks of 1 boot or 2 boot levels, depending on whether you prefer the gentle valley walks or the more challenging high altitude trails which are sometimes accessed via chair lifts and cable cars. The holiday includes detailed walking guides and maps, breakfast and dinner at the hotel, a packed lunch on walking days and flights/ transfers via Innsbruck. Prices from £669 per person.
Headwater Holidays are a leading UK specialist in self-guided walking, cycling and relaxed activity holidays that allow you to travel at your own pace and get closer to the places you visit. For more information check their Website | Facebook | Twitter | Google+ | Youtube | Pinterest | Instagram
More things to do in the Tirol region of Austria
For more information on things to do in the Tirol region of Austria visit the Tirol tourism website and follow their social media channels: Blog | Twitter | Facebook | Instagram | Pinterest. More information about things to do in Austria on the Visit Austria Website and information on the Seefeld Region on the Seefeld Olympia Region Website
How to get to Leutasch Valley, Austria
Heather flew from Bristol to Munich with BMI Regional who fly 12 times each week on this route, so you often have a choice of 2 flights per day. The ticket includes 20kg checked baggage and full at-seat in-flight bar and snack service at no extra charge.
Transfers from Innsbruck airport are less than 1 hour's drive to Leutach and included in your Headwater Holidays package. If, like us you fly into Munich Airport, the transfer to Leutasch Valley takes around 2 hours and can be arranged through your hotel or holiday provider.
Stay at Sporthotel Xander in Leutasch
Heather stayed at Sporthotel Xander in Leutasch as part of the walking holiday booked through Headwater Holidays. The hotel is a very comfortable 4 star hotel offering rooms, suites and apartments that are ideal for summer walkers or winter cross-country skiers. The other guests when we stayed at the end of August were mainly couples and a few families enjoying a late summer walking break. The hotel is used by several walking companies including Headwater Holidays.
We stayed on a full board basis, with breakfast, packed lunch and evening meal and found the food to be of a very high standard with a 4 course meal every night and a 5 course gala meal on one of the nights we were there. The hotel has an indoor pool and spa although we did not use them since we were out all day walking and making the most of the fine weather. The hamlet of Kirchplatzl where the hotel is situated is mainly residential and the nearest shops are a 15 minute walk away in Weidach. The bus to Seefeld which runs several times a day stops right by the hotel.
We think Hotel Xander is a comfortable, traditional hotel that will suit keen walkers who want a quiet and relaxing atmosphere. If you are looking for a lively atmosphere, shopping or evening entertainment then Seefeld would be a good alternative base. Check prices and book your stay here.
Pin It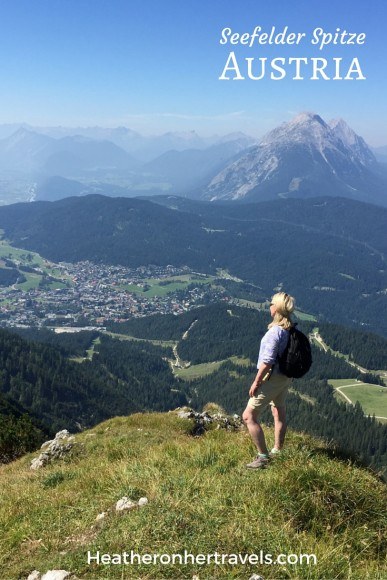 Thanks to Headwater Holidays who hosted Heather's walking holiday, to the Seefeld Tourism board who provided some of the experiences mentioned and to BMI regional who provided Heather's flight to Munich.
You'll also find our sister blog with tips on how to build a successful travel blog at My Blogging Journey
"We all have a little monkey in us from way back", jokes Hervé Chayrou, the owner and our instructor at Hornpark, a treetop adventure playground with 8 aerial courses and 14 zip wires over a lake. We're gathered at a social get together on the first evening of Alpine Sports Week in the Wilder Kaiser valley of Austria, hearing about all the outdoor activities on offer including high wire climbing, mountain-biking and canyoning.
But I'm not quite sure whether I will re-discover my "Little Monkey" on the Hornpark high wire course. I've heard of similar treetop courses like Go Ape in the UK where my kids might go for an adventurous birthday party. Normally my happy place is an Alpine hiking trail, preferably with blue skies and brilliant sunshine and a mountain hut where I can order a cold beer and admire the view. I may have walked the Tour de Mont Blanc and tried a Via Ferrata, but the high wire course is definitely stretching my climbing abilities.
I hope you enjoy my video below about the Alpine Sports in Wilder Kaiser, Austria
If you can't see the video above of the Alpine Sports in Wilder Kaiser, Austria, see it on my blog here or Youtube here and please do subscribe using the button above
Click here for direct download of video
Subscribe to all my videos in I-tunes
In the cosy hut we are fitted out with helmets and climbing harnesses and the instructor checks that they are tightly fitted. Not the most flattering or comfortable of rigouts with the loops tight around your thighs and the waistband cutting in above your hips.
Next comes the most important part – the safety training. Since we are going to be high up in the treetops performing daring climbing manoevres, it's good to know that the cables, ropes and carabiners are there to save you if you fall. But at the end of the day it's also down to how well you follow the safety procedures and golden rules of climbing.
Rule number 1 – there are always 2 separate carabiners (metal clips) and they clip to the safety wire in opposite directions so you can never accidentally unclip them both at once.
Rule number 2 – as you clip and unclip the carabiner, you always keep one hand on the safety wire.
Rule number 3 – the carabiners are colour coded red-to-red and green-to-green and match the place where you clip them, either onto a safety wire or onto the metal slider you use when on the flying fox.
With these and a few other golden safety rules swimming around my head we practice on the ground with the instructor to get the hang of what we will soon be trying high in the treetops.
We move on to the beginner course which doesn't seem too tough. The gaps from tree to tree are quite short and the platforms not far off the ground. There are a few wobbly moments, but confidence is high. Then I realise that this course is just so the instructors can check we are doing it correctly. Just a warmup really!
Moving onto the green beginner level rope course feels a bit different. Suddenly I have to reach a little further, bend and twist my knees awkwardly and use tummy muscles I didn't know I had. Just to get up to the first platform I have to scale a climbing wall which only reveals how my weak my arm muscles really are.
Crossing the tightrope wires isn't too stressful so long as I focus on every step. In between I inch carefully around the small wooden platfrorm, carefully clipping and unclipping the carabiners as I've been taught. The most tricky bit is crossing the wooden poles that swing from chains. My knees shake as I attempt to step from one unstable pole to the next. Where I have two choices, I decide against the skateboard which zips across the gap and step gingerly across some wooden blocks instead.
After the first green course I move onto the intermediate blue course and this time it all feels a lot more dodgy. The climbing wall at the beginning reminds me that I should really get back to the gym and build up my upper body strength which is frankly pathetic. I try the zipwire and manage to end up lower than the platform with my legs waving like a spider. After a few minutes dangling there, I in-elegantly maneouvre my legs up onto the platform and haul myself up like a sack of potatoes.
Once back on the ground I watch another member of the group who has dared to try the much harder red course. I can barely watch as he eventually makes it across the wooden poles swinging in a zig zag pattern and finally gets down sweating with fear and exertion.
The best bit of the day is at the end when we try the longer 'flying fox' zip-wires that criss-cross the lake, having built up our confidence and trust in the equipment. Earlier I watched, as one girl dangled just short of the platform and had to be winched down by an instructor. Thankfully I fly across the lake and just make it onto the wooden platform although there is still a bit of hauling up to be done on the rope. I find that each zipwire is actually a series of zipwires which takes you in stages, gradually down to ground level.
The final zip-wire starts high just by the cable car station and ends in the treetops the other side. By now I feel like an old hand – this could get addictive! I'm tempted to have just one more go on the zip wire but realise I should know my limits.
How do I sum up the day on the high wire? Scary but exhilarating and if here's a little monkey in all of us, I think I found mine today!
Read about my day of Mountain-biking in Wilder Kaiser
Read more articles about Alpine Sports in Wilder Kaiser
Bemused Backpacker – Experiencing the Wilder Kaiser Alpine Sports Week in Austria
Scarlett London – Wilder Kaiser region in Austria
Daniellicacy – Wilder Kaiser, Austria
Emtalks – Exploring Austria – the Wilder Kaiser Region, Tirol
Borders of Adventure – Climbing in Austria – alternative views in Tirol of the Kitzbuheler Alps
Want to try Alpine Sports Week yourself?
Heather tried out her outdoor activities as part of Alpine Sports Week in Wilder Kaiser. This special week long event allows you to try out 6 different mountain sports over 6 days under the guidance of expert instructors at a special price of €99 (normally €358). In addition to the high rope course and mountain-biking that Heather tried you can go canyoning, trail running and do a Via Ferrata. Sign up here for more information.
All of these activities are also available throughout the summer to try as you like. In addition the region is a paradise for hikers with many day walks as well as multi-day hut-to-hut walks of 3 to 5 days in length.
You can spend a day on the high wire like the one Heather tried at Hornpark in St Johann in Tirol, Austria for €29 per day (adults) including lift pass and all equipment and safety instruction – check their website and Facebook page.
For more information on things to do in Wilder Kaiser visit the Wilder Kaiser tourism website and their social media channels on their Blog | Twitter | Facebook | Instagram | Google+. More information about things to do in the Tirol region of Austria on the Tirol tourism website.
How to get to Wilder Kaiser
Heather flew from Bristol to Munich with BMI Regional who fly 12 times each week on this route, so you often have a choice of 2 flights per day. The ticket includes 20kg checked baggage and full at-seat in-flight bar and snack service at no extra charge.
Transfers from Munich to Wilder Kaiser take around 1.5 hours and can be arranged through Four Seasons Travel who have a desk at the airport. Alternatively Innsbruck airport is around 1 hour drive from Wilder Kaiser.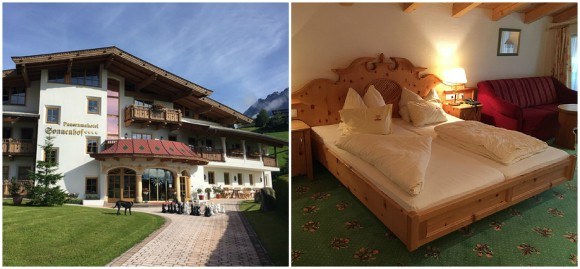 Where to stay in Wilder Kaiser
Heather stayed at the comfortable, family run Vitel and Panorama Hotel Sonnenhof in Going. This four star hotel is furnished traditionally with plenty of Tyrolean wood and has a spa and indoor swimming pool. I enjoyed the hearty breakfast spread with a full selection of muesli, fruit, nutty German breads and freshly cooked omlettes as well as fresh juices, honeycomb and anything else you would wish for. Check prices and book your stay here.
Pin It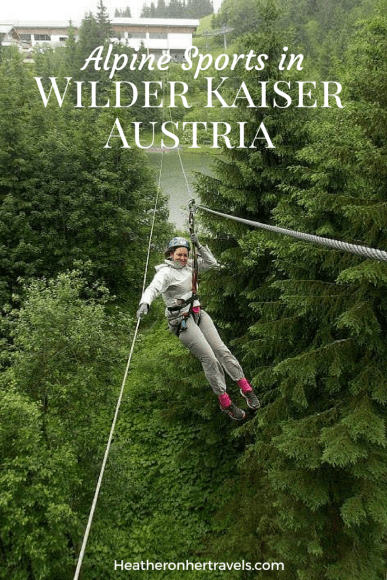 Thanks to Wilder Kaiser Tourist Board who hosted Heather's stay and provided the experiences mentioned and to BMI regional who provided Heather's flight to Munich.
You'll also find our sister blog with tips on how to build a successful travel blog at My Blogging Journey
Comments Off on A dangerously beautiful hike in British Columbia
Our guest author, Dana Sibilsky takes a hike in the beautiful woods of British Columbia that proves more dangerous than she anticipated when she finds signs of bear activity along the trail.
In 2013, my husband and I made the mutual decision to spice up our lives together and really venture out to see what the world has to offer. With this decision, we agreed to travel at least twice a year; one place within the first half of the year (January-June) and another place within the second half of the year (June-December).
In our journey to explore the world together, we have visited nearly all of the United States and only half of Canada. The world is big and we aren't even halfway through yet! If you were to ask what is the most beautiful place we've been to, it would without a doubt be British Columbia, Canada. If you have ever seen pictures, no photo nor video does this incredible place justice because you simply must be there to FEEL the atmosphere.
Beautiful British Columbia
The air seems cleaner, fresher and easier to breathe with a certain natural "crispness" to it that my husband and I have not found anywhere else in our travels. The water seems to be more pure, more fresh with the same crispness that makes you say to yourself, "This is the way it's meant to be. What have we done to our world in other places?"
Through our travel in British Columbia, we hiked until we came to our destination at the well-known and popular Three Valley Gap Hotel. Oh my, if you could just see the scenery of nature that surrounds this place. There's a saying that we kept hearing while visiting that went something like, "Out here, you are normally no further than 20 feet from a bear at all times." I'm not sure how true it is or if they were just trying to scare us knowing we weren't locals from around the area.
The wildlife is just as spectacular as the surrounding scenery. My husband and I (but honestly mostly my husband) wanted a closer look at the the wildlife. "What is the point of coming 2000 miles out here if we are just going to sit in a hotel?" he questioned. "Let's venture out to see what we can never see at home." With that said, we got a nature tour guide and began to explore the surrounding wooded area at least 3 miles away from the comfort of our hotel. At first, walking through the thickness of the brush and woods was intimidating. What if we saw a bear? What if we ran into a pack of wolves or coyotes? I remembered hearing stories from our friends in Toronto and Mississauga about coyotes running freely through the city in 2010. The more we tracked through the woods, the more comfortable I became until the tour guide stopped us in our tracks.
The look on our guide's face was the look of fear and nervousness he was trying his best to hide for our sake. "Is everything ok?" I asked him, touching his arm gently in concern. "You look like there is a problem." With a shaky hand he was trying to control, he pointed to the tree in front of us roughly 10 feet away and said, "Bear."
Bear sighting
My eyes widened as my head quickly snapped to the general direction he was pointing. The tree had claw and teeth marks on it and was missing chunks of bark. Bears do this to mark territory and possession of their favorite trees. These marks usually are present on other trees given by the same bear in a trail. This helps the bear find its way back to wherever it came from.
I was stone cold in fear and to tell you anything different would be a complete lie! I couldn't move. The thought that I could possibly be standing in or near a bear's nest shut down all of my motor mechanics such as my ability to walk and open my fear-clenched fists into open palms.
In the distance, I could hear my husband calling me. "Dana!" I heard him say. I wanted to look at him, but the fear was overpowering me. I heard him shout in a louder, projecting voice. This time, my head jerked toward him as the guide and I let out a harsh "SHHHH!" toward him simultaneously. "Are you out of your mind?!" said the guide, "We are in the danger zone of a bear's or group of bears' territory! Keep quiet!" he instructed my husband. "We need to go. Now!" the guide said. We didn't hesitate! The tour guide, my husband and myself double-timed it to the hotel as quickly, quietly and safely as we could.
Make lasting memories
Fast forward 2 years later. Isn't it interesting that the worst moments in our lives at that particular time turn out to be the most memorable? The moments we believe are the downfall of our day, the ones we say we could do without at the moment they are happening are the very same moments that become the memories we wouldn't change for anything. The moments we look back on months or years later and can't help but to laugh and smile to ourselves. Being in a dangerous position having trespassed through bear territory was one of those moments.
If you haven't visited the British Columbia side of Canada, what are you waiting for? It is, without a shadow of a doubt the most beautiful, refreshing and enlightening adventure you could ever take no matter if you're alone or with those you love. Just a word of advice: Don't go exploring without an experienced nature tour guide!
Author bio: Many thanks for this article to Dana Sibilsky, a stay-at-home mother of three prides and joys. When she isn't giving her family their needed attention, she enjoys traveling and blogging her art on her sites.
Visit the #explorecanada official Canada Tourism Website for more information on things to do in British Columbia and Vancouver Island as well as their social media channels on Instagram | Facebook | Twitter
Pin it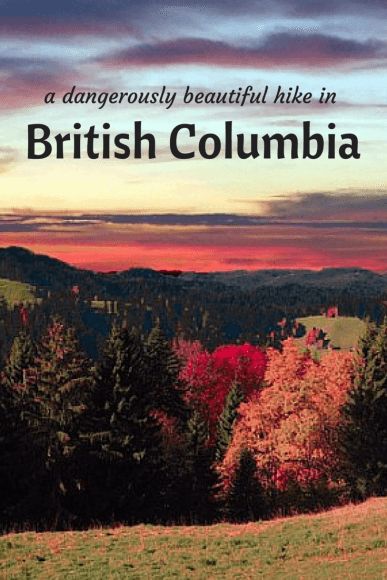 For more Canadian adventures:
Where to Watch Wildlife in British Columbia, Canada
Vancouver Island – A Nature Lover's Paradise
How to Enjoy a Great Day in Victoria, BC
Photo credit: Dana Sibilsky
This article is originally published at Heatheronhertravels.com – Read the original article here
You'll also find our sister blog with tips on how to build a successful travel blog at My Blogging Journey