From the wall of the Moselle Valley winery in Luxembourg, the figure of St Willibrod looks down at me, his three fingers raised. In this corner of Europe, St Willibrod is seen as the protector of the grapes and his three raised fingers mean; "drink three glasses a day and you will be fine"!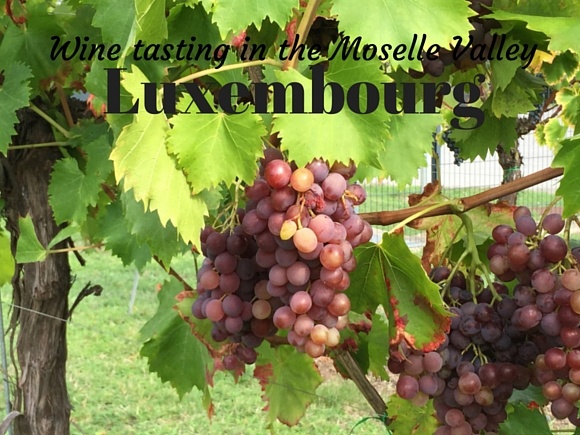 The growers here know that saintly patronage plus nearly 2000 years of expertise will ensure the continued success of wines from Luxembourg. History, tradition and continuous dedication from family businesses are as constant as the Moselle River that runs between the vineyards.
You can also read about our gourmet walking tour of Luxembourg Old Town here
If you have an interest in wine you'll know of the Moselle river that forms the border between Luxembourg and Germany. You'll probably also know the grapes; Pinot Blanc, Pinot Gris, Riesling, Gewurztraminer, Chardonnay and for the specialist the intriguing Elbling, Rivaner and Auxerrois.
But almost nobody has heard of Luxembougoise wine, since 66% of the annual production is sold within Northern France, Germany and Belgium, where fine food and wines are truly appreciated. The Luxembourgoise I meet over our long weekend are, for good reason, very supportive of the wines produced in the Grand Duchy.
Our wine tasting tour of the Moselle valley begins at the wine museum in Ehnen where we look around the old stone buildings and barns, filled with agricultural implements that were once used in the cultivation of the vineyards. The figure of a lady is dressed in the costume of yesteryear, with her basket ready to hoist on her back and drop in the bunches of grapes as they are picked.
At the back of the buildings, vines are planted to show us the different varieties and the shell of a tiny helicopter, once used for crop spraying, sits like a relic from a James Bond film.
At the Domaines Vinsmoselle we enjoy meeting Stephen De Roy, a gentleman of extraordinary knowledge who guides tours at the winery. Founded in 1921, Domaines Vinsmoselle encompasses more than 300 winemakers who sell their grapes to the business, producing rich and varied wines with distinct flavours. Spread over 42 kilometres along the Moselle, the Luxembourg vineyards produce mainly white wines, with a particularly mild microclimate and a rainfall that is spread evenly over the year.
Moselle wine facts

Phylloxera disease was introduced to Europe when avid botanists in Victorian England collected specimens of American vines in the 1850s. When the disease struck the European vines, school boys were despatched to remove the aphids and galls on the affected vines.
Belgium used to grow its own vines but Napoleon had them all destroyed in 1804 to protect the French market.
In the expansion of the processing plant at Domaines Vinsmoselle, a Roman frieze depicting grape production was unearthed dating from AD 800 – the Romans loved good wines too!
During our wine tasting we learn the differences between a Pinot Noir "élevé en barrique" (aged in an oak barrel ) and one aged in a stainless steel tank. Stephen comments " If I want to taste oak I go to the forest. Why do I want oak in my wine?" 
A big speciality of the Moselle region is the sparkling Cremant, a welcome alternative to the ubiquitous Prosecco we often drink at home. We sample the secret distillation of spirit, which when added to the Reisling produces the delicious Cremant sparkling wine, that is also available in many different grape varieties.
For non-drinkers there's a fresh grape juice called Tam Tam, which paradoxically is made from only the finest grapes, since there is no fermentation to remove the taste of bruised or bad grapes which you can get away with even in the grandest of the grand crus.
When we ask Stephen for his favourite wine he is quick with his choice, a 2009 Riesling from the Charte Schengen prestige brand. The only grapes used are from vines over 30 years old, with roots up to 40 metres deep, on the steep and ordered slopes that run down to the Moselle river.
These come from just twelve selected growers in close proximity to the winery, including four growers from France, four from Luxembourg and four from Germany. In this multi-national wine co-operation we are reminded that the Grand Duchy was a founder member of NATO, and the Schengen agreement covering free movement within Europe's borders was signed in 1985 just down the road from here.
Although we don't have time to visit the European Museum in Schengen we do see a little of the town from the river, when we take a Moselle boat trip from Remich, to while away a rainy Sunday morning.
There's another opportunity to try the 2013 Riesling from Charte Schengen at dinner that evening when we enjoy a gastronomic barbeque at the winery Pundel. It's known as the king of wines in Luxembourg and is sensational, with a balanced bouquet of citrus fruits, apricot, apple, peach, pear and lime with notes of eucalyptus and bizarrely, petrol.
The Pundel winery is a modern glass building and from the rooftop terrace where dinner is served we have a fabulous view of the vines running down to the river. Sadly it's raining tonight so we collect our dinner of steak and seafood brochets from the gourmet barbeque and head inside to help ourselves to salads and side dishes.
Our wine tasting tour of the Moselle Valley ends with an evening at the Grape and Wine festival at Grevenmacher further along the river. We wander from one end of the high street to the other, past the stages playing rock music to appreciative teenagers, past the stands selling every kind of local wine and stopping for a late night snack of sugary waffle piled high with cream. We follow the parade of marching bands, headed by the princess of the wine festival and her attendants, who are chosen from local families, before watching the grand finale firework display over the Moselle river.
As we leave the Moselle Valley of Luxembourg to head home, I'm quite prepared to adopt St Willibrod's motto of three glasses a day in the interests of good health and wellbeing. With a glass of Luxembourg sparkling cremant or vintage Riesling in my hand I'll happily raise a glass and drink to that!
More articles about Luxembourg
Read about our Gourmet walking tour of Luxembourg Old Town
From LuxeAdventureTraveler: Unexpected Luxembourg: Fine wines and fabulous food
Where to stay in the Moselle Valley of Luxembourg
Heather and Guy stayed in the Villa Welcome annex of the Mondorf Parc Hotel, a leading spa hotel in Mondorf-les-bains. We had a very comfortable modern suite with a large bedroom, separate seating area and en suite shower room. The Villa Welcome was a short walk from the main hotel building where we had breakfast and guests can make use of all the hotel facilities.
The main hotel building is quite modern but the angular design softened by plenty of large glass windows  looking out onto beautifully maintained gardens with seasonal floral displays.
The hotel is well known for its spa, with warm indoor and outdoor pools that are fed from the thermal springs that have a high mineral content for good health and wellbeing. The spa can also be visited for the day, if you are staying in the area and want an opportunity to relax and unwind. There is plenty of parking space at the hotel and the bus stop is situated on the road just outside the hotel, with connections to Luxembourg city.
Compare prices and book for Hotel Mondorf on my Hotels Booking Page (powered by Hotelscombined.com)
Hotel Mondorf Domaine Thermale, 52 Avenue des Bains, Mondorf-les-Bains, Luxembourg. Website: www.mondorf.lu | Twitter | Facebook |
Looking for Airport Parking?
Heather used the Meet and Greet Parking Service at Heathrow, booked through Airport Parking and Hotels (APH) who offer airport parking at a range of airports across the UK as well as travel extras such as airport lounge booking and airport hotel stays.
Visitor Information for a wine tour of the Moselle Valley in Luxembourg
For more information to plan your visit to Luxembourg check out the Visit Luxembourg Website | Twitter | Facebook | Google+
For more information on the Moselle Region of Luxembourg check out www.visitmoselle.lu  | Facebook
The wine museum is at 115 route du Vin, Ehnen, Luxembourg. Website: www.museevin.lu Open daily April – October
Domaines Vinsmoselle – Caves de Wellenstein at 37, rue des Calves, Wellenstein, Luxembourg. Website: www.vinsmoselle.lu. Guided tours of the Caves are available by arrangement May-October €6 per person including a glass of wine.
We took a boat trip on the Moselle river from Remich with Navitours. Website:  www.navitours.lu. The tour took 1 hr 45 and took us down to Shengen and back to Remich. Most of those on board were having a buffet lunch for €45 per person although we opted for the cheaper €15 ticket without lunch and just had a snack in the bar area.
Our gastronomic barbeque was at winery Pundel at Wormeldange-Haut. Website: www.pundel-vinspurs.lu The winery is open for special events through the summer season which can be booked in advance. Check the website for more details.
We visited the Grevenmacher 66th Grape and Wine Festival on 11 September 2015. For more information check their website: www.grevenmacher.org
Read More: You can also read about our gourmet walking tour of Luxembourg Old Town
Thanks to Visit Luxembourg who hosted Heather and Guy's weekend stay in Luxembourg
Pin It!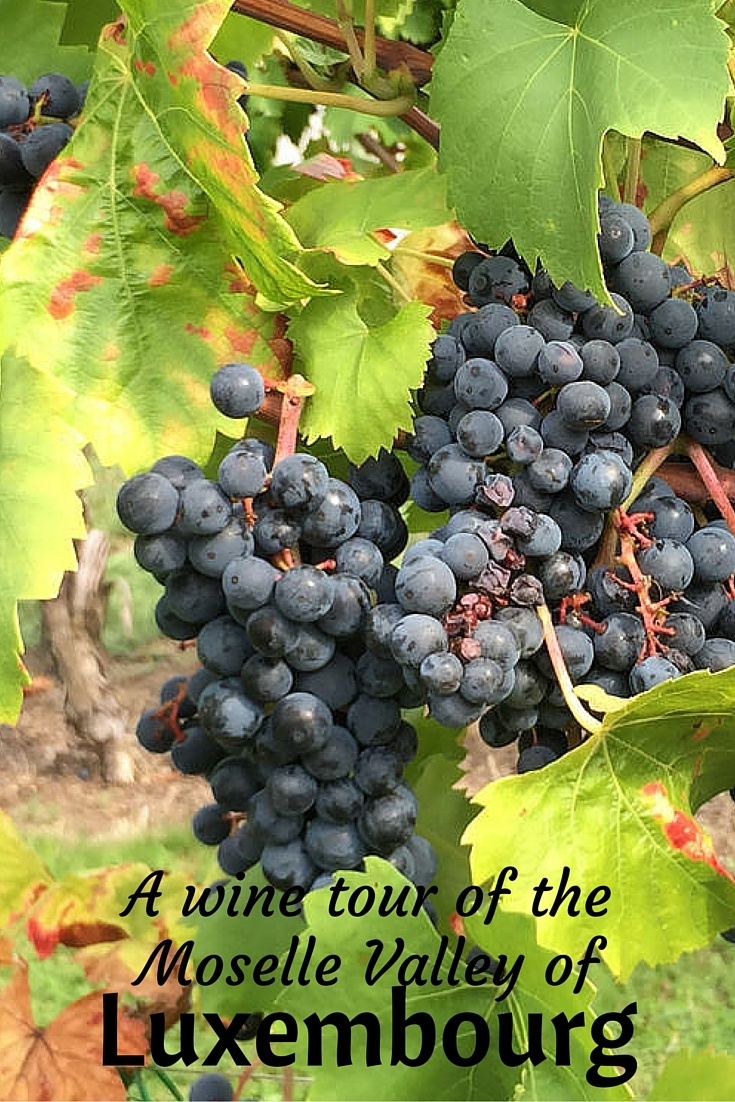 This article by Heather Cowper is originally published at Heatheronhertravels.com – Read the original article here
You'll also find our sister blog with tips on how to build a successful travel blog at My Blogging Journey
October 23, 2015 by Heather Cowper
Filed under Austria, CoolTravelGear, Europe, featured, Leisure, Misc, Nature, Tirol, Tour de Mont Blanc, Walking
We'd done the whole Tour de Mont Blanc together, sharing the views from the high mountain passes, sheltering from the odd summer shower. We'd walked the dry stone route in Mallorca although admittedly most of the time was spent at the bottom of my rucksack. But now, after years of hiking adventures together, my waterproof jacket was looking a bit tired.  All good things come to an end and as my old jacket headed off with my daughter on her travels, it was time to find a new lightweight rain jacket for my next hiking trip to Austria.
With all outdoor clothing, I like to have a good look around a specialist store like my local Ellis Brigham in Bristol, where I can try on plenty of different styles and pick the brains of the knowledgeable staff. Over the years I've learned there are a few things to consider when choosing the best waterproof jacket for your hiking holiday. When you're caught up the mountain in a downpour, you'll be glad you took the time to make the right choice so here are a few things to consider;
How does the jacket fit?
Call me vain but I do appreciate a jacket that fits well, for both comfort and good looks. It's worth trying on a few different womens waterproof jackets in the store as different companies may fit you better than others and since I'm no longer a stick insect I'm always looking for a flattering fit. If you anticipate the extremes of heat and cold that you get when hiking at altitude, you'll want to allow room to layer t-shirts and fleece under your jacket. On the other hand a jacket that is oversized or flaps around is not a great look. I also like a jacket that is not too short and falls around my hips, so I won't be revealing any flesh when I bend over to lace up my boots. I've noticed that the better quality (and therefore more expensive) jackets may offer a more tapered fit that is more flattering.
Those little design features
Look out for additional features in your jacket that might be worth paying a little more for. For example most quality hiking jackets will have zips under the arms that you can open for ventilation, if you get a hot and sweaty, without having to take off the jacket. You may also notice a breast or sleeve pocket which could be useful for storing small items such as your phone, tissues or lipsalve. The hoods on a more expensive jacket may have extra features like a visor or adjustable elastic drawstrings to keep the rain from dripping onto your face. Other useful features to look out for are a hood that zips away into the collar and 2 way zips that open from the bottom and the top.
How light is your jacket?
Depending on the time of year that you plan to do most of your walking, you should consider the best weight for your waterproof jacket. My annual hiking trips with my friend Julia have mostly been in August and September when the weather is sunny and warm. This means that my jacket needs to pack up small, since most of the time it stays in my rucksack, only coming out on chilly mornings, at higher altitudes or during the occasional shower. I know I can always layer my lightweight waterproof jacket with a long sleeved t-shirt or fleece for extra warmth if the weather closes in.
If you are hiking in Europe in the spring and autumn however, you'll probably be wearing your jacket most of the time, at least at the beginning and end of the day, until the sunshine and walking warms you up. In this case I might look for a jacket that has a bit more substance, or perhaps one that has a removable lining for extra versatility.
The waterproof fabric
The fabric that's used in your jacket is a big factor in the price you pay and depending on your hiking requirement you may need a higher technical performance. At the entry level you often find cheaper waterproof fabrics that are combined with a mesh lining. These jackets are perfectly waterproof but they may not be as breathable as the higher priced technical fabrics. The inside layer may feel clammy against the skin once you get walking and work up a sweat, so these are better for situations where you'll be wearing another layer under the jacket.
As you move up the price scale you'll see branded fabrics, the best known of which is GORE-TEX. These fabrics offer much greater breathability, so you don't get that clammy, sweaty feeling as you heat up or cool down. The standard GORE-TEX jackets are durable, waterproof and windproof for everyday wear. They also offer an Active range designed for higher intensity sport offering a lighter fabric with greater breathability, and a Pro range which is more durable for skiers and mountaineers. Some manufacturers have their own proprietary breathable, waterproof fabrics that do a similar job to GORE-TEX – there's a useful guide on the Ellis Brigham website. Because there are a wide range of different options in terms of weight and breathability, and the technical performance comes at a price, it's worth calling on the expertise of the shop staff to explain these options to you.
My choice of waterproof jacket
So what did I choose? After trying on plenty of different jackets I settled on the Patagonia Torrentshell from Ellis Brigham which cost £109. Surprise Surprise it's practically the same as my old jacket!
Although I tried on a lot of brightly coloured jackets I concluded that neutral white would work with more of my wardrobe and so I'd be able to wear the jacket around Bristol as well as on my hiking trips. I was also impressed by the Ellis Brigham Service, since they were able to order a few different jackets from their catalogue so that I could try them in my local store at no extra charge.
My new waterproof jacket is very light and packs up small. Although it's not the most expensive of the range in terms of fabric, it was perfect for my walking holiday in Austria where I wore it occasionally on the cool mornings or when we got to a highpoint like Seefelder Spitz which was cooler and a little windy.
Have fun choosing your waterproof jacket and even more fun on your next hiking trip!
Thanks to Ellis Brigham who provided me with my Patagonia Torrentshell Jacket for the purposes of this article. Heather travelled to Austria with Headwater Holidays – you can read about her adventures here.
Day 1 – A high mountain walk (and a tumble) in the Gaistal Valley of Austria
Day 2 – Hiking in Austria – the views from the cross at Seefleder Spitze
Day 3 – Hiking in Austria – a Rifleman's Parade and Mental Power Walk at Seefeld
More hiking gear info:
What equipment do you need for hiking in Europe?
How my Leki Micro Vario walking poles saved my legs on the Tour de Mont Blanc
How to choose the perfect hiking boots for the Tour de Mont Blanc (and other mountain trails)
You'll also be subscribed to our free monthly newsletter for great travel resources, news and offers, but you can unsubscribe at any time and we'll never share your e-mail.
Pin It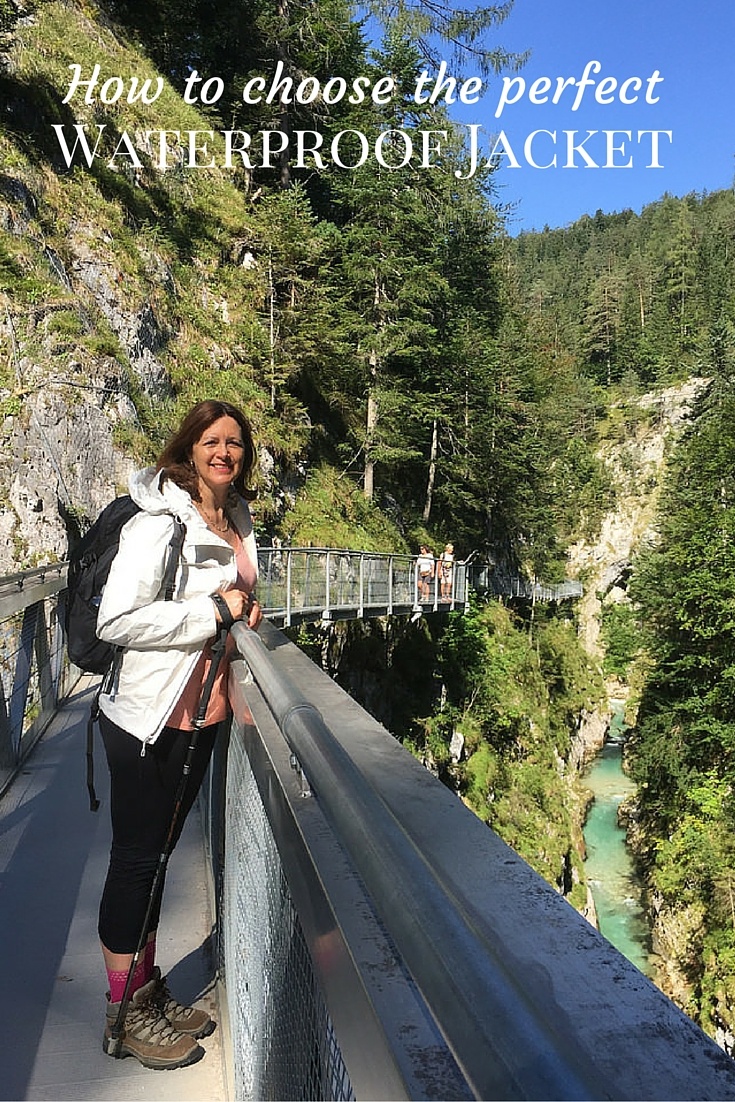 This article is originally published at Heatheronhertravels.com – Read the original article here
You'll also find our sister blog with tips on how to build a successful travel blog at My Blogging Journey
October 13, 2015 by Guest Author
Filed under Beaches and swimming, Eating and drinking, Europe, featured, Guest post, Leisure, Misc, Nature, Sightseeing, Turkey, Walking
In this guest article teenage traveller, Reka Kaponay shares her excitement at a walk in the Saklikent Gorge, Turkey, wading through icy water and taking a mud bath, before the day ends with a traditional Turkish meal. Reka writes;
As I lay in my bed, it took a few seconds before I realised again in sheer excitement, I'M IN TURKEY! Today we were heading out to what is arguably one the most beautiful natural wonders of this region, Saklikent Gorge, a 300 meter deep canyon that is close to Fethiye, forged through the power of the water's elemental force, cutting its way through sheer rock over thousands of years.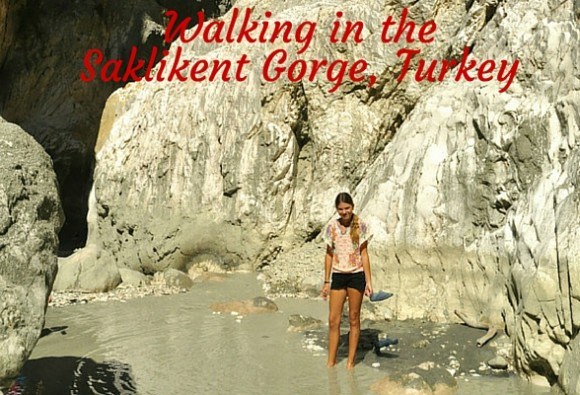 A bus ride to the Saklikent Gorge
Given that it was late September and no longer high tourist season, the bus ride was filled with a couple of explorers like ourselves, but mainly with locals who were making the trip home to rural villages that lay in-between the canyon and the touristy Fethiye.
After an hour and a half, we finally descended into a deep ravine which signalled our arrival. As we got our bearings, we realised that we would be wading through water and mud over rocky terrain and would need to leave our shoes behind.  A row of stalls lined the entrance to the gorge, hiring plastic wading shoes to all the visitors.
I looked up to see a towering ravine of ancient rock formations in front of me. It was as if I was at the entrance to a medieval fortress that would only allow me entrance if I knew its secret password. The view was entrancing and at the same time awe inspiring, knowing that the simple flow of water had sculpted this natural beauty. I stood on the suspension bridge looking deeply into the rapid flow of the river below me.
As we entered the park, we were swamped by tour guides trying to sell us their services for similarly ridiculous mark ups to that of the cab drivers of Marmaris. We ended up bringing helmets as a small precaution, but five minutes later we were taking them off and even leaving them behind to pick them up on our return journey, rather than lug them around for the rest of the walk. First, however, we had to enter the canyon and before us was a raging torrent of water about 20 meters across, that we would have to wade through to get to the entrance of the gorge.
An icy-cold plunge!
Pants rolled up and newly acquired wading shoes on, we plunged feet first in the water. I lost my breath when my feet made contact with the element. Pain shot up my legs and my toes felt like they had contracted frost-bite in a few simple seconds. My whole foot had turned numb. I shot out of the water, fast as a hare, shrieking like a hyena. I'm sure it was a sight to see. Lalika and Dad seemed to bear it better, as they were the first to begin heading through the fast flowing waters.
Soon it was up to their knees, but battling their way through they were the first of our family to make it across. During this time I was contemplating if I really wanted to go through with this. The look on Mum's face showed me that there was no alternative and with a renewed collective determination, Mum took my hand and we began making our way through the ice cold water to the sound of Lalika's cheers.
I nearly slipped at one point but thankfully I recovered in time and Mum and I emerged from the water half dry and very happy. The ice crystal water had somehow instantly rejuvenated my curiosity and I was keen to see what mysteries lay beyond the curves of the deep ravine in front of me.
Wading through the clay
I began to wade through the softest flowing grey clay that had deposited itself over thousands of years between this magnificent Moorish pink gorge towering over me. I was surprised that the locals hadn't already made a beauty industry out of this, mining this natural resource, when I remembered that thankfully, it was a protected national asset, located behind the confines of a national park.
That didn't stop Dad and Lalika from making a mud pack, as the two of them smoothed the liquid clay all over their faces, arms and legs. The mud also made great war paint and Lalika and I had a really fun time applying it before role playing a fierce battle of the clans.
The canyon snaked its way in curves and arcs in what seemed like a never ending array of rocky colours of beauty. After about 45 minutes of walking, we came to a fork in the canyon. To the right you could make your way through waist deep mud and continue on. The other choice to the left was neck deep fast flowing river. These were the only two options to continue on.
We decided that this was our sign to turn back, but in truth you can continue up through the canyon for another 15 kms as it is 18 kms long. On the way back, we faced a small crisis when my brother lost one of his croc slippers in the muddy stream and we had to drop to our knees in the murky river feeling with our hands as to where it could be.
It took us a couple of minutes, with some airing of our frustration at his carelessness, but we finally found it. We stopped just before crossing back across the freezing river to take a moment to marvel at our current location. We managed to cross the river once again with no trouble and we emerged with frozen feet but joyful smiles.
Learning about local Turkish cuisine
Changing back into our shoes, the wolves in our stomachs reminded us that it was time to eat! Walking through a canyon for an hour and a half and half bathing in cold water, really works up an appetite! We wandered beyond the closest and obviously touristy oriented restaurants lining the river walk. We decided to walk a kilometre up the dusty road, away from the park in the direction of some local stalls and we were duly rewarded for our efforts.
We found a smaller traditional restaurant that was built over a natural spring that flowed right through the middle of it. There were no chairs to sit on. Instead you reclined on comfy colourful Turkish motif cushions, while you ate on a small luxurious raft floating on the water. This is where we learnt our third and I feel most useful Turkish expression – Gözleme.
Gözleme is a pancake-like unleavened bread, baked freshly on an open grill convex metal hotplate, and filled with all sorts of wonderful fillings like Feta cheese and spinach, or chives and potatoes, or any other combinations of meats and Turkish spices. Of course back in Australia we were already familiar with Gözleme, but not in the manner that this Turkish grandmother, dressed in her regional traditional costume, was working this convex hotplate, heated by traditional wood fire.
Her hand movements were so skillful, that it was almost as if she was conducting a symphonic orchestra to its crescendo, rather than making a pancake. It was mesmerising and almost as good to watch as it was to eat. The Gözleme was not the only fare on the menu of the day. As those that don't eat meat, we had a generous selection of figs, potato salad, roasted eggplant, beetroot, tomato and cucumber salad, french fries and of course more Gözleme to choose from… All of this was to the setting of this beautiful oasis of natural spring water and the surrounding granite mountains that embraced us.
It was extremely relaxing, so much so, that we all took a small traditional Turkish nap on our water raft bed. For me, this combined experience of the natural wonders and our lunch, were all the reasons why I need to recommend that if you are ever in this part of the country, then Saklikent Gorge is an experience not to be missed. Take a day away from the beach and you will be rewarded with a traditional Turkish experience.
Our ride back to Fethiye was hot and uncomfortable and the bus was packed to the brim with people from the villages returning to their jobs in the touristy Mecca that is Fethiye. I ignored this however, along with the heat, and dreamt of Gözleme and rocky gorges, as I dozed in and out of consciousness on the bumpy ride home.
Author Bio: Many thanks for this article to Reka Kaponay, a teenage life schooler traveling the world who blogs at Dreamtime Traveler
For more Turkish adventures:
Visiting Kusadasi and Ephesus on our Azamara Cruise
Istanbul the golden – final stop on our Azamara Cruise
The Delights of Dalyan: Family Fun in Turkey
Pin It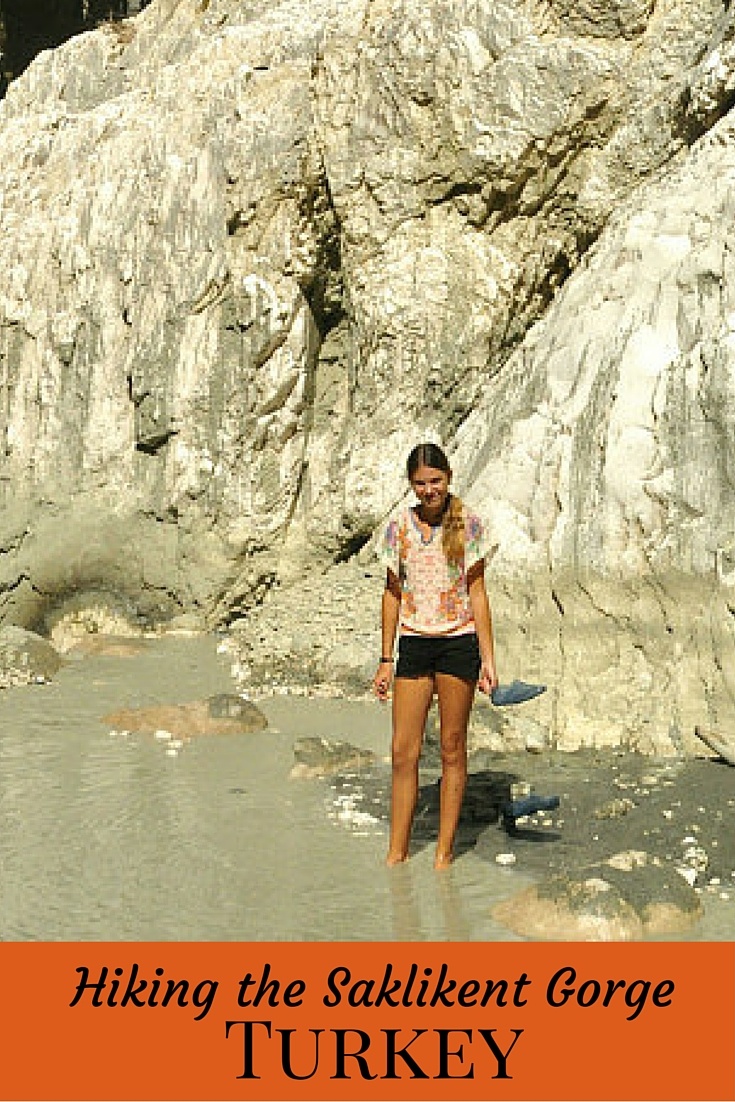 This article is originally published at Heatheronhertravels.com – Read the original article here
You'll also find our sister blog with tips on how to build a successful travel blog at My Blogging Journey