Before today I thought that a Via Ferrata was a hiking trail with some sections of ladders and cables to keep you safe on the tricky bits. Now I'm in South Tyrol, in the heart of the Dolomites, I quickly realise that a Via Ferrata is not a hiking trail, but a rock climb and since I've never climbed in my life it's a somewhat scary prospect. On my previous hikes in the Alps on the Tour de Mont Blanc I'd come across the odd cable or ladder, but always managed to find an easier alternative route. Today there's no escape.
I meet my guide Veronika at the Catores Mountain Guide offices in Ortisei where she fits me out with the helmet and harness I'll need, as well as the two karabinas and the rope that she'll secure to my harness. The back story here is that these climbing routes, literally "iron roads" were originally built with ladders and cables to enable soldiers in the First World war to move around the Dolomites safely. Italian and Austrian solders, just as young and fit as the climbers I'll meet on the mountain today, fought to dominate this area, building trenches and trying to blow each other up on the mountain.
I hope you enjoy my video below of climbing the Via Ferrata in South Tyrol
If you can't see the video above of climbing the Via Ferrata in South Tyrol, see it on my blog here or Youtube here and please do subscribe using the button above
Click here for direct download of video file
Subscribe to all my videos in I-tunes
If you enjoyed this video, check out the others in my Video archive
Despite the Austrians having won the battle, the Italians won the war because they were on the side of the Allies and in the post-war division of spoils were given the province of South Tyrol to add to their territory. These days the Via Ferrata have been restored to allow climbers to enjoy the Dolomites, beginners like me in the company of a guide, while more experienced climbers can use them on their own so long as they have the right equipment.
The cable car takes us up the mountain to the start of our climb, although by now the cloud is swirling around us and hiding the peaks opposite from view. The path climbs steadily above the mountain restaurant, getting progressively more steep, while I get progressively more breathless. As I walk up mundane thoughts swim and swirl around in my head. Will my nails, newly manicured and polished for this trip stand up to the battering? What are the kids doing back home? How can I capture the experience (for your benefit dear readers) without my iPhone slipping from my hand and plunging down to the valley below?
I scrabble for handholds to steady myself on the dusty rocks, wishing that I'd worn my fingerless cycling gloves that Veronika said I didn't really need for such a short climb. At the top of the approach Veronika suggests that I take off all my rings as they could get caught or damaged on the rocks and I very carefully zip them into my pocket, terrified that I'll drop my wedding ring and it will roll all the way down the mountain.
"Where are all the ladders and cables?" I ask. Veronika points up the mountain and tells me "this is just the start". I look up at what seems like a sheer wall of rock with a cable running up it. Fear takes hold. I'm no climber. How on earth will I get up there?
At the start of the cable, Veronika shows me how I should clip on both my karabinas and slide them along with one hand while the other hand finds a hold on the rock. At the places where the cable is secured to the rock I unclip one karabina and clip it back on the other side of the metal bar, then do the same with the other karabina, always secured to the cable in case I fall.
Veronika points out an edelweiss, an increasingly rare sight on the mountain. I once posted a photo of what I thought was edelweiss when I was walking the Tour de Mont Blanc, quickly to be corrected on Twitter that it was a thistle! This is the real thing – looking like a felt flower that you might tuck in your hat. Set into the side of the raw rock nearby, I spot a little shrine with a statue of the Madonna. "She keeps us safe on the mountain," Veronika tells me.
A group is climbing up below us and I start to panic slightly – will I need to speed up or will I be holding up the entire mountain? They all look like they know what they are doing with wrap around sunglasses and tanned muscular arms. Veronika is endlessly patient as she waits for me to take my time and progress slowly upwards. In the meantime she takes out her camera and takes photos of me grinning up at her. I AM enjoying this, I tell myself.
Now I start climbing in earnest and everything is focused on this moment. Everything becomes very small. One step up. I look up to find the next handhold. Now the next foot. Will I really be able to balance my weight on such a tiny ledge? Don't look down. It's just about the next handhold. It's just about the next foothold.
Now I understand how climbing can be a kind of meditation to clear your mind of the jumble of thoughts and crumbs of everyday life. As I climb it's not about admiring the views or the wonder of the Dolomites. It's about this moment of concentration, the next foothold, the next handhold. Like a mathematical problem to be solved, there's a sequence of moves that will get me up the rock face. If my hand goes here, then my foot can go there and my next hand here and my next foot there.
"Small steps", says Veronika encouragingly "small steps". But there are places where only a big step up will do, as I hoist myself up inelegantly, praying that the tiny ledge I've chosen as a foothold won't give way. My upper body strength is pathetic and I'm feeling every old twist or sprain in my arms and wrists. I can see why climbers are so lean and strong and why they seem so calm and confident. Up here on the mountain is no place to get excited, you can't take your frustration out on the mountain because the mountain will win.
It's a relief when we arrive on a flatter path with sheer drops on either side and take the opportunity to pose for a few photos. Now I have the chance to look around at the view. The cable car station is a toy town building down in the valley with the access track snaking up to it and the cloud hanging over the plug of rock that is Sasso Lungo.
Veronika is agile as she trips lightly up the steep slope, surefooted as a mountain goat. I scrabble behind her on all fours in undignified fashion trying to find handholds on the slope ahead of me, more of a spider than goat. A short climb later and we're suddenly at the top, sharing a tiny peak of rock with two other ladies of my age who are chatting away as if this were  a social gathering (which it probably is for them). Once I am settled with my bottom on that peak they head down and now we have the whole of the Dolomites to ourselves. Without moving my bottom an inch I gingerly get out my camera and twist my body round to take in the panorama of jagged peaks around me.
Veronika takes more photos of me sitting there, clambering surefooted up to the next bit of rock and leaning so far out to get the perfect shot that I feel sure she will fall.  I savour the moment of my success in getting up here but then the realisation dawns that I'm going to have to get down again. "Don't worry" says Veronika "the way down is much easier". I'm relieved that I won't have to climb back down that vertical rock face, but first we have to rappel the short distance down off this peak to where we pick up the cable again.
Veronika instructs me how to lean away from the rock face, letting the harness take my bodyweight. "Two hands on the rope" she calls to me but I'm too scared and my hand reaches out for the cable, half scrambling, half abseiling down. Just below the peak we pick up a different path, easier than the sheer rock face as Veronika has promised but still not a walk in the park.
We are still clipped to the cable but the dusty shale and rubble slides underfoot and my muscles are now rebelling against the contortions they've been put through. I've scraped my knee and my thighs keep going into spasms. After my brief success it's time to focus again, we're not down yet. The cable snakes down a rocky couloir and again I scrabble as Veronika follows surefooted behind. At some point we abandon the cable but she still has me on the rope. Finally she expertly winds up the rope and we're walking over the dusty rock on a path that's barely there. Down to where the rock ends and the grass starts, down again to the cable car station and down again to the valley to pick up the car and drive back to Ortisei.
Back in Bolzano that afternoon I meet a local lady and tell her of my daring exploits climbing in the Val Gardena. "Oh yes" she smiles, "that's where we love to take the kids climbing on a Sunday". My bubble bursts as I realise that for the locals a family climb in the Dolomites really is a bit like a walk in the park. But even though it's not quite Everest, I still feel secretly thrilled at the achievement of climbing MY first Via Ferrata.
If you'd like to try a Via Ferrata in South Tyrol
The Piccola Cir Via Ferrata took around 4 hours door to door from the Catores office and around 2.5 hrs from the top of the Dantercepies cable-car station (1.5 hours climbing up & 1 hour down). All safety equipment (harness and helmet) was provided as part of the climb.
Thanks to my guide Veronika Schrott who can be contacted via the Catores Alpine School in Ortisei, Val Gardena e-mail: info@catores.com. The main office of the mountain guides is at Via Rezia 5 in Ortisei where you can arrange guided climbs, hikes and ski safaris in South Tyrol with routes suitable for families and beginners as well as advanced climbers from €95 per person as part of a group. Four people is the maximum each guide can cover.
For more technical details of the Piccola Cir Via Ferrata visit the Sentres website
Information, articles and resources for South Tyrol
For more information to plan your own visit, find accommodation and discover all the things to do in South Tyrol, visit the South Tyrol Tourism website and watch videos about the region on their YouTube channel. For updates on things to do in South Tyrol follow the South Tyrol Twitter, Facebook, Google+ and Instagram pages
My thanks to the South Tyrol Tourism Board for their support in this trip in collaboration with Travelator Media
This article by Heather Cowper is originally published at Heatheronhertravels.com – Read the original article here
You'll also find our sister blog with tips on how to build a successful travel blog at My Blogging Journey
Let's imagine a perfect Sunday afternoon in South Tyrol. The sun's shining and we're having lunch on the terrace restaurant beside the sparkling water of Lake Kaltern, where families are sunbathing and enjoying a turn on the pedalos. It would be fun to have a swim but we're off on our bikes to follow the small lanes above the lake that take us through the vineyards where ripe grapes are dripping from the vines and rosy apples are waiting to be harvested.
At the end of our cycle around the lake, we'll stop to taste of some of the local wines from the small vineyards we just passed to round off the afternoon. Sounds inviting doesn't it? This was my experience recently on a visit to South Tyrol, where in early September the summer crowds are heading for home and the weather is settled and sunny. It's the ideal time to enjoy the fresh air and gorgeous landscapes combined with the gastronomic pleasures that this region has to offer, so let's head off and enjoy the afternoon together!
Let's start with lunch by the lake
Beside Lake Caldaro / Kalterersee (everywhere in this region has an Italian and German name) is the lido and restaurant at Gretl am See where it seems that the whole population of Bolzano / Bozen is out to enjoy the last weekend of the school holidays. The sun loungers are laid out on the grass around the swimming pool but the sun-worshippers have laid their towels out on the slatted wooden piers that overhang the lake. This is the warmest lake in the Alps, being relatively shallow and blessed with long days of sunshine, making it perfect for bathing late into the summer. There are pedalos for hire and we'll be sure to keep an eye on the flag flying from the ruined fortress on the hill, so we know when the wind from Lake Garda will be strong enough to go windsurfing.
Our table has been reserved on the terrace overlooking the lake and today I'm trying the grilled trout, but you can have pasta or risotto if you prefer. We are in Italy after all, although this part of South Tyrol has a more Germanic feel. The restaurant is running a "fish week" menu with seafood dishes, since we're not so far from the Adriatic, but I'm sticking with the trout from the Alps rather than the prawns or scallops from the Mediterannean.
If you go:
Gretl am See: Restaurant by the lake with a summer terrace, open from Easter to October.
Lake swimming at Kalterersee: Swimming is possible from May to October. In addition to the Lido at Gretl am See there are a couple of other places to bathe around the lake for a fee at Seegarten and Campi al Largo.
Camping at Gretl am See: There is a campsite right by the lake next to the restaurant as well as a number of hotels and self-catering accommodation around the lake.
Cycling on the wine road
It would be relaxing to spend the rest of the afternoon beside the lake, but I'm keen to explore more of the "Wine Road" that threads through South Tyrol. This well-mapped route for driving or cycling joins up the vineyards and wine producing villages where you can stop and taste the local wines and we're planning to cycle a small section of it this afternoon. Let's pick up our rental bikes in the village of Kaltern, on the hill above the lake and meet Roland, our guide for this afternoon. Roland is lean and tanned with spray-on lycra shorts and when he's not leading cycling tours he works as a fitness instructor. Although we may not match Roland in fitness we have a secret weapon to help us keep up with him on the hilly stretches of our cycle route around the lake – our e-bikes. At the press of a button on the handlebars the electric motor cuts in and Hey Presto! suddenly the steep bits seem quite effortless.
We'll follow Roland out of Kaltern and onto small lanes with hardly any traffic that run through the vineyards above the lake. The vines are neatly trained on wires with bunches of luscious, ripe grapes dangling at the bottom where the leaves have been trimmed away to give them maximum sunshine. Some of the bunches are plump and glossy black, others almost as small as raisins and others green and golden brown. I'm quite tempted to eat a few but I don't quite dare, having read how one grape pulled carelessly off the bunch can lead to rot and spoil the whole bunch – enough to ruin a farmer's day! Every so often there's a large crucifix beside the road or a water trough at the edge of the vineyard planted with a rose bush or clump of lavender. In the shade of the vine we can spot a bench with a table and sense the good life, a place to rest from the sun in the shade of your own vines. Down in the valley is the blue water of Lake Kaltern and on top of the wooded hill the flag is now flying in the wind beside the ruined turret.
Let's follow the road downhill as it leads us back down to the valley and the road beside the lake. The shady road through the woods is cool as we pass a few local houses where the ducks and chickens are pecking in between the vines. Outside one of the houses (website here) is a wine kiosk with bottles hanging up ready for a wine tasting, a small farm and wine producer which also offers accommodation under the Red Rooster organisation offering farm holidays in South Tyrol. We could have stopped to taste some but Sunday is a day of rest here in South Tyrol with most of the wineries being closed so we'll press on past another larger guesthouse and winery Weinhof am See Ferienwohnungen a little further down the hill.
Apple time in South Tyrol
Now we've reached the road that runs along by the lake and cross over onto the SeeWanderWeg path that runs around the southern side of the lake. The land here is naturally marshy, too wet for vines and in between the apple orchards are drainage channels with wooden walkways leading into the Biotope area that's been created among the reeds as a wildlife habitat. The apples look so appetising, some green, some yellow, some rosy red or plum coloured. I ask Roland where I might find the reddest apples to stop for a photograph and he tells me "there's a place near my house in Kaltern where the apples are so red you can't imagine, every time I pass them I want to pick one".
Time is getting on so we'd better speed up along the far side of the lake with the wood rising up above us. Luckily the e-bike comes helps us keep up the pace as we pedal along, past a couple of hotels that have swimming places. The small paths thread through vineyards where the grapes are dripping below the pergolas and the land rises up towards the village of Kaltern. You're probably getting thirsty on the upward stretch but let's keep pedalling a little longer and we'll get up to the main road where we can stop at the Wine Center run by the Kellerei Kaltern wine co-operative.
If you go:
Bike Hire: We hired our bikes from Piazza Rottenburger in Caldaro / Kaltern from €21 per day for an adult bike or €30 per day for an e-bike (worth every penny). You can also buy a BikeMobil card  for 1, 3 or 7 days from €24 for 1 day which entitles you to use South Tyrol's integrated Public Transport Network with Bike Rental for 1 day during the period from any of the stations or cycle hire places in the Sudtirol Rad / Bici Alto Adige network. More information on the SudTirol Rad Website
Time for some wine tasting
Phew we've made it! I think by now that we've earned a taste of some of the local wines after our ride around the lake, so let's stop at the spacious modern Wine Center beside the road that runs from Bolzano. Like many of the wineries in this area the architecture is striking with glass walls and open spaces, contrasting with the older buildings nearby. Most of the wine makers in these parts farm small plots of land of a hectare or less so they go for quality rather than quantity and rely on the expertise of the wine co-operatives in the wine villages like Kaltern to produce and market their top quality wines.
You'll notice that the staff are all wearing their dark blue aprons with pride, it's a mark of an artizan food producer in South Tyrol. Before the Wine Center closes we've just got time to taste our way through a few of the many local wines on offer. There's a Vial Weissburgunder Pinot Bianco which is fresh and fruity, a light wine for an aperitif, to drink with fish, risotto or pasta. Here's the Premslaver Sauvignon 2013 and I'm tasting lemon and citrus flavours in this full-bodied wine which has been matured in oak for drinking with food. I've been looking forward to trying the Campaner Gewürztraminer although this grape is more typically grown around the village of Tramin which give the wine its name. The spicy flavours go well with Asian food and I'm tasting roses, lychee and mangos, although the style is not as floral as the Gewürztraminer that we tasted when we were in Alsace.
Although I prefer white wines, we can't go without trying some of the reds like the Pfarrhof Kalterersee wine that is named after this area and is produced from the Vernatsch or Schiava grape that we passed on our cycle ride dangling from the pergolas. Then there's the other typical grape of the region, the Carano Lagrein which is rich ruby red and full-bodied; "this is our Ferrari" says our sommelier. We'll finish with a sweet desert wine, an award winning Muscat full of peach and apricot flavours, so delicious that I can't resist buying a bottle to take home.
Our afternoon comes to an end as the Wine Center closes and I'll pack that bottle of Muscat away in my suitcase, ready to open at Christmas and bring back the memories of the vineyards of South Tyrol, the sparkling Lake Kaltern and the 300 days a year of sunshine.
If you go:
Wine tasting: The WineCenter of Kaltern is right on the main road from Bolzano and offers tastings and purchases of a wide range of local wines. You will pay a small amount to taste each wine which is then set against any purchases you make. You can also find more information about wine tasting in Kaltern on the Kellerei Kaltern website and you will find their winery in Kaltern village, as well as the Wein.Kaltern website representing the wine growers of this area.

South Tyrol Wine Route: There are 3 sections of the wine route through the wine regions of South Tyrol, the Northern wine route starting in Bolzano, the Central Wine route from Merano to Lake Kaltern and the Southern wine route from Kurtatch to Salern. The Winepass MobilCard can be purchased in wineries and tourist offices and allows use of the South Tyrol Public Transport Network, combined with wine offers such as winery tours, tastings and entrance to wine museums. The cost is €35 for 3 days or €40 for 7 days. There is also a free South Tyrol Wineroad App to download for iPhone and Android and a free Culturonda Wine App with information about South Tyrol's wine culture for iPhone and Android.
Information, articles and resources for South Tyrol
For more information to plan your own visit, find accommodation and discover all the things to do in South Tyrol, visit the South Tyrol Tourism website and watch videos about the region on their YouTube channel. For updates on things to do in South Tyrol follow the South Tyrol Twitter, Facebook, Google+ and Instagram pages
My thanks to South Tyrol Marketing for providing this experience on my visit to South Tyrol in collaboration with Travelator Media
This article by Heather Cowper is originally published at Heatheronhertravels.com – Read the original article here
You'll also find our sister blog with tips on how to build a successful travel blog at My Blogging Journey
September 15, 2014 by Guest Author
Filed under Accommodation, Cambodia, featured, Guest post, Leisure, Misc, Nature, Photography, Sightseeing, Walking, World
In this article our guest writers, Illia and Nastia share their tips for visiting Anghor in Cambodia – while it's a one of those must-see sites with a huge amount to cover in a day or two, we find out whether the heat and high prices were worth it.
Angkor, a UNESCO heritage site, is considered to be a photo paradise. Unbelievable sun rises, ancient ruins and wild rainforest combine to make this place unbearably attractive for any photographer. Of course, we weren't that lucky: while we enjoyed ancient ruins, it was raining, cloudy and gloomy. The temperature was either extremely high (in the middle of the day) or extremely low (early in the morning), so it was pretty hard to choose what to wear. Nevertheless, we managed to take a few of pictures and now want to share them with you.
When you depart early in the morning from Siam Reap, the nearest Cambodian town, it is 6 o'clock in the morning and the only thing you can think about is how much you want to sleep. The wind blows through an open tuk-tuk and it's freezing cold. The price of the entrance tickets – $40! – quickly wakes you up and here you are, awaken and ready to explore ancient Hindu-Buddhist temple complex. Ancient? Hmm, not really. In fact the majority of temples were constructed in the 12th-15th centuries. However, if Lara Croft considered it to be old enough to die for its treasures, we can assume that it's old enough to pay $40 entrance fee.
The Angkorian period began in AD 802, when self-confident Khmer monarch Jayavarman II decided that he was a "god-king" and "universal monarch" and lasted until the late 14th century, when Ayutthaya conquered "god's territories". Khmers didn't like it and organized a rebellion which resulted not in freedom, but in migration of population to Longvek.
The complex includes so many temples that it is physically impossible to visit all of them. Scientists believe that some of them are still hidden in jungles and are impossible to reach both for tourists and explorers. Many temples are built on moors, so it's hard to understand how Khmers managed to access them at all. We took a traditional two-circle tour (small + big circles) and were completely satisfied with the amount of ruins we saw.
Interestingly enough, these ruins were never used for living or praying in them, but were rather considered to be home for gods, accessible only for priests. The great-grandchildren of the architects and constructors believed that the temples were erected by gods. In 1850 Angkor was found by a French priest, owing to whom it became a popular destination for European tourists and researchers.
Nowadays there are so many tourists in Angkor that sometimes it's impossible to take a picture. The situation is worsened by numerous local sellers, trying to persuade you to buy totally unnecessary stuff. In addition to the crowds of tourists there are lots of orphans hanging around in Angkor. At first, it looks strange, but in fact there is nothing surprising about that: there are several orphanages in the temples' neighborhood. Orphans either beg for food and water, or collect plastic bottles, thrown away by tourists, to sell them to recycling companies. Even though the life style of these children is miserable, they don't look unhappy: we saw lots of them playing in the jungles and riding the vines.
To cut a long story short, the visit to Angkor can be described as follows:
Day 1 – Wow! Ancient ruins!!! I must see ALL of them!
Day 2 – Hm, that is interesting collection of stones, I think it differs a little bit from the previous temple.
Day 3 – I am fed up with heat and rocks! I want ice-cream and rest.
That's why we conclude that two days are enough.
In general, visit to Angkor was unusual and quite inspiring experience we highly recommend to everyone visiting South East Asia.
Practical information for visiting Angkor
How to get there: from Cambodian town Siam Reap you can take a tuk-tuk ($7) per day or a bike ($4). Take into consideration that Angkor is pretty big; walking might take too much time.
Cost: $40 for three days
Where to stay: Only in Siam Reap – our budget (but totally fine) hotel cost $6 per night for double room.
Where to eat: Only in Siam Reap. When going to Angkor, take food with you, since it is quite expensive to eat there.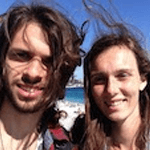 Many thanks for this article to Illia and Nastia who are passionate about each other, traveling around the world and sharing their experiences at crazzzytravel.com, a blog where you can find plenty of budget travel tips as well as practical information about numerous destinations. They have already been to 33 countries on 4 continents and ain't no stopping. Visit their Facebook or Google+ pages and follow them on Twitter.
For more things to see in Southeast Asia:
The highlights of Phnom Penh – Cambodia
Take your hobby on holiday – follow your interests in Vietnam
The Best Places to Snorkel in Thailand
Photo Credit: All photos by crazzzytravel.com
This article is originally published at Heatheronhertravels.com – Read the original article here
You'll also find our sister blog with tips on how to build a successful travel blog at My Blogging Journey