Our guest author, Dana Sibilsky takes a hike in the beautiful woods of British Columbia that proves more dangerous than she anticipated when she finds signs of bear activity along the trail.
In 2013, my husband and I made the mutual decision to spice up our lives together and really venture out to see what the world has to offer. With this decision, we agreed to travel at least twice a year; one place within the first half of the year (January-June) and another place within the second half of the year (June-December).
In our journey to explore the world together, we have visited nearly all of the United States and only half of Canada. The world is big and we aren't even halfway through yet! If you were to ask what is the most beautiful place we've been to, it would without a doubt be British Columbia, Canada. If you have ever seen pictures, no photo nor video does this incredible place justice because you simply must be there to FEEL the atmosphere.
Beautiful British Columbia
The air seems cleaner, fresher and easier to breathe with a certain natural "crispness" to it that my husband and I have not found anywhere else in our travels. The water seems to be more pure, more fresh with the same crispness that makes you say to yourself, "This is the way it's meant to be. What have we done to our world in other places?"
Through our travel in British Columbia, we hiked until we came to our destination at the well-known and popular Three Valley Gap Hotel. Oh my, if you could just see the scenery of nature that surrounds this place. There's a saying that we kept hearing while visiting that went something like, "Out here, you are normally no further than 20 feet from a bear at all times." I'm not sure how true it is or if they were just trying to scare us knowing we weren't locals from around the area.
The wildlife is just as spectacular as the surrounding scenery. My husband and I (but honestly mostly my husband) wanted a closer look at the the wildlife. "What is the point of coming 2000 miles out here if we are just going to sit in a hotel?" he questioned. "Let's venture out to see what we can never see at home." With that said, we got a nature tour guide and began to explore the surrounding wooded area at least 3 miles away from the comfort of our hotel. At first, walking through the thickness of the brush and woods was intimidating. What if we saw a bear? What if we ran into a pack of wolves or coyotes? I remembered hearing stories from our friends in Toronto and Mississauga about coyotes running freely through the city in 2010. The more we tracked through the woods, the more comfortable I became until the tour guide stopped us in our tracks.
The look on our guide's face was the look of fear and nervousness he was trying his best to hide for our sake. "Is everything ok?" I asked him, touching his arm gently in concern. "You look like there is a problem." With a shaky hand he was trying to control, he pointed to the tree in front of us roughly 10 feet away and said, "Bear."
Bear sighting
My eyes widened as my head quickly snapped to the general direction he was pointing. The tree had claw and teeth marks on it and was missing chunks of bark. Bears do this to mark territory and possession of their favorite trees. These marks usually are present on other trees given by the same bear in a trail. This helps the bear find its way back to wherever it came from.
I was stone cold in fear and to tell you anything different would be a complete lie! I couldn't move. The thought that I could possibly be standing in or near a bear's nest shut down all of my motor mechanics such as my ability to walk and open my fear-clenched fists into open palms.
In the distance, I could hear my husband calling me. "Dana!" I heard him say. I wanted to look at him, but the fear was overpowering me. I heard him shout in a louder, projecting voice. This time, my head jerked toward him as the guide and I let out a harsh "SHHHH!" toward him simultaneously. "Are you out of your mind?!" said the guide, "We are in the danger zone of a bear's or group of bears' territory! Keep quiet!" he instructed my husband. "We need to go. Now!" the guide said. We didn't hesitate! The tour guide, my husband and myself double-timed it to the hotel as quickly, quietly and safely as we could.
Make lasting memories
Fast forward 2 years later. Isn't it interesting that the worst moments in our lives at that particular time turn out to be the most memorable? The moments we believe are the downfall of our day, the ones we say we could do without at the moment they are happening are the very same moments that become the memories we wouldn't change for anything. The moments we look back on months or years later and can't help but to laugh and smile to ourselves. Being in a dangerous position having trespassed through bear territory was one of those moments.
If you haven't visited the British Columbia side of Canada, what are you waiting for? It is, without a shadow of a doubt the most beautiful, refreshing and enlightening adventure you could ever take no matter if you're alone or with those you love. Just a word of advice: Don't go exploring without an experienced nature tour guide!
Author bio: Many thanks for this article to Dana Sibilsky, a stay-at-home mother of three prides and joys. When she isn't giving her family their needed attention, she enjoys traveling and blogging her art on her sites.
Visit the #explorecanada official Canada Tourism Website for more information on things to do in British Columbia and Vancouver Island as well as their social media channels on Instagram | Facebook | Twitter
Pin it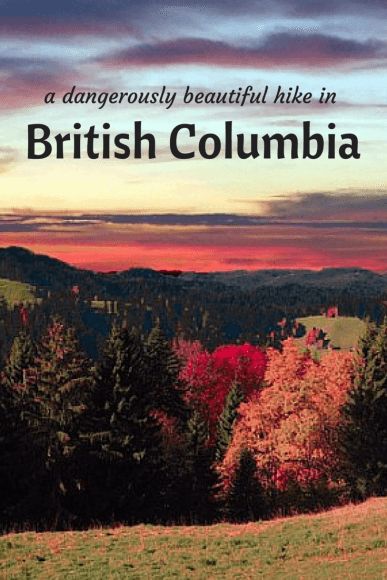 For more Canadian adventures:
Where to Watch Wildlife in British Columbia, Canada
Vancouver Island – A Nature Lover's Paradise
How to Enjoy a Great Day in Victoria, BC
Photo credit: Dana Sibilsky
This article is originally published at Heatheronhertravels.com – Read the original article here
You'll also find our sister blog with tips on how to build a successful travel blog at My Blogging Journey
During my previous hikes in the Alps I got to know those pesky mountain-bikers only too well. On the Tour de Mont Blanc I'd seen them whizz by, spraying gravel and mud or weaving between the pine trees in a flash of luminous lycra. Give me a nice, gentle cycle ride, I thought, through rolling vineyards with a glass of chilled white wine at the end of the trail. Mountain-biking seemed just too much like hard work.
But here I was in Wilder Kaiser, the eastern corner of the Tirol region of Austria, with plenty of gorgeous mountain scenery that just begged for some mountain-biking.
I hope you enjoy my video below about the Alpine Sports in Wilder Kaiser, Austria
If you can't see the video above of the Alpine Sports in Wilder Kaiser, Austria, see it on my blog here or Youtube here and please do subscribe using the button above
Click here for direct download of video
Subscribe to all my videos in I-tunes
If you enjoyed this video, check out the others in my Video archive
I'd come for the annual Alpine Sports Week that gives hikers like me a chance to try out some of the other outdoor activities on offer. Each day the group would try a different activity, from high rope climbing to canyoning, trail-running to Via Ferratta and of course mountain-biking. The best thing is that during Alpine Sports Week, the 5 days of activities are on offer for the knock-down price of €99.
For mountain-biking without tears I had a secret weapon, an e-bike which enables you to pedal up the steepest mountain with ease, prompting envious looks from those poor souls who have gone for the traditional bike option. My e-bike had a small motor attached to the frame which cut in whenever the going got tough. At the press of a button I could go into sports mode, touring mode or turbo mode to muster up some extra oomph on the hills. Suddenly mountain-biking seemed a much more attractive proposition; less sweat and more time to admire the view.
At Going Bike, we were kitted out with helmets, gloves and water bottles, then followed our leader Markus who runs mountain-bike tours in this valley. The path ran beside a stream, then we cycled up a bit of a hill and 20 minutes later reached the cable car station down the valley. Thank goodness that we could load the bikes into the cable car and reach the top of the mountain without even breaking into a sweat, taking in the views on the way. In no time at all we were at the upper cable car station, a surprisingly busy place, with a childrens' playground, cafe and trampoline.
Before we were let loose on the mountain, we had a talk on how to ride down safely. According to Markus the trick is to keep your feet parallel on the pedals and to lean back, with your 'aaarsh' at the back of the seat. We set off down the mountain with iron-man Markus leading the way, joking and laughing although you could tell that he was a hard-core sporty type and not taking any prisoners. I'd have loved to pause to take a few more photos and enjoy the Alpine views but there was no stopping Markus.
The tracks we followed downhill were broad and surprisingly manageable although you had to concentrate to avoid skidding on the gravel. For most of the time I was freewheeling downhill, growing in confidence all the time, taking in the views when I had the courage to glance up from the path. I'd love to have stopped in those Alpine meadows, with lush green grass sprinkled with purple clover, yellow buttercups and lacy white flowers, but Markus was insistent in his quest to get us down the mountain.
At the halfway point we stopped at a mountain restaurant and enjoyed a well-earned rest and some hearty dumpling soup for lunch. The sun was out and we all sat at one big table beside the cable car station where the cute red cable cars were strung up the mountain like beads on a necklace.
After filling up the water bottles, we were off again down the mountain, a line of bikes following down the winding trails. Only one lady skidded and fell at a sharp bend while I managed to topple over in a rather undignified fashion when I came to a halt but couldn't touch the ground.
By early afternoon we reached the bottom of the mountain and arrived again at the cycle shop. As Markus took my bike he patted me on the back, and told me; "You are a warrior woman, it was hard but you never gave up!" Pleased with my efforts, despite a stiff 'aarsh', aching thighs and wobbly knees I was happy to bask in his praise, although secretly I knew the e-bike had done most of the work.
Outdoor activities in Wilder Kaiser, Austria
Heather tried out her outdoor activities as part of Alpine Sports Week in Wilder Kaiser. This special week long event allows you to try out 6 different mountain sports over 6 days under the guidance of expert instructors at a special price of €99 (normally €358). Add your details to their mailing list here to get more details for next year. In addition to the high rope course and mountain-biking that Heather tried you can go canyoning, trail running and do a Via Ferrata.
All of these activities are also available throughout the summer to try as you like. In addition the region is a paradise for hikers with many day walks as well as multi-day hut-to-hut walks of 3 to 5 days in length. A similar mountain-bike tour to the one Heather enjoyed can be booked through Going Bike who rent e-bikes and other bikes from their shop in Going and run group tours.
For more information on things to do in Wilder Kaiser visit the Wilder Kaiser tourism website and their social media channels on Twitter | Facebook | Instagram | Google+ and keep up with latest news on the Wilder Kaiser blog.
Read more articles about Alpine Sports Week
Bemused Backpacker – Experiencing the Wilder Kaiser Alpine Sports Week in Austria
Scarlett London – Exploring Tirol by Bike
Daniellicacy – Wilder Kaiser, Austria – Mountain Biking
How to get to Wilder Kaiser
Heather flew from Bristol to Munich with BMI Regional who fly 12 times each week on this route, so you often have a choice of 2 flights per day. The ticket includes 20kg checked baggage and full at-seat in-flight bar and snack service at no extra charge.
Transfers from Munich to Wilder Kaiser take around 1.5 hours and can be arranged through Four Seasons Travel who have a desk at the airport. Alternatively Innsbruck airport is around 1 hour drive from Wilder Kaiser.
Where to stay in Wilder Kaiser
Heather stayed at the comfortable, family run Vitel and Panorama Hotel Sonnenhof in Going. This four star hotel is furnished traditionally with plenty of Tyrolean wood and has a spa and indoor swimming pool. I enjoyed the hearty breakfast spread with a full selection of muesli, fruit, nutty German breads and freshly cooked omlettes as well as fresh juices, honeycomb and anything else you would wish for. Check prices and book your stay here.
Pin It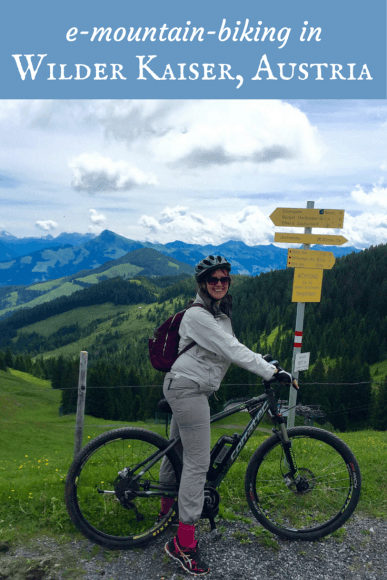 Thanks to Wilder Kaiser Tourist Board who hosted Heather's stay and provided the experiences mentioned and to BMI regional who provided Heather's flight to Munich.
You'll also find our sister blog with tips on how to build a successful travel blog at My Blogging Journey
July 7, 2015 by Heather Cowper
Filed under Accommodation, Beaches and swimming, Copenhagen, Denmark, Eating and drinking, Europe, featured, Hotels, Leisure, Nature, Spa & Pampering
Light, Air, Water. These are the perfect ingredients for relaxation and recuperation on holiday. In our busy lives, we need moments to stop, rest, just gaze at the horizon. Holiday time provides the longed for opportunity to refocus on our health and wellbeing. Perhaps you'll find those moments at Kurhotel Skodsborg near Copenhagen and take home a little piece of that health and wellbeing with you.
The hotel started life as a sanitorium, founded in 1898 by Dr Carl Ottosen, who had studied health and physiotherapy in the USA. In those days, before doctors could rely on antibiotics, recovery from illness was often about letting the body do its own healing through rest and a healthy diet. Dr Ottosen's principles of light, air, water, nutrition, exercise and rest are very much part of the hotel's ethos today, where outstanding spa and fitness facilities are combined with a professional health centre. While I was there with my daughter in the early summer, we were able to reflect on how Dr Ottosen's principles are still the key to a healthy and relaxing holiday.
Water washes over you
Water surrounds you, bathes you, washes away your cares. Water is playful, as children we splash and squeal in the pleasure of it. We found the spa at Kurhotel Skodsborg was a truly beautiful space to relax in water. There are pools, relaxation rooms, many different saunas and a four season water experience that left us giggling at the tweeting of spring birds and the thunderclaps of autumn. There's even a snow dispenser so you can recreate that authentic Scandinavian experience of running out of the sauna to roll on the fresh snow! We loved the delicate ornamentation by artist Marlene Bach with washed out stencilled patterns on the walls, inspired by the geometric tile patterns of a Moroccan hammam, and the coloured glass panels of red, green and blue, set into the glazed roof.
When you have finished your sauna, put on your toweling robe and walk across to the private jetty where you can jump into the water and cool off with a yelp of pleasure at your own daring! In winter the tradition of hot spa followed by cold dip from the jetty continues and once the water is warm enough in summer they set up swimming lanes so that you can take your swimming exercise in the sea. After our exercise class I jumped in fully clothed while the Danish ladies around me stripped off to enjoy a frisson of chill water on bare skin.
Light and air by the sea
I especially love to be beside the sea because of the soft light, the play of reflections on the water and the wide skies as you watch the horizon. The sea is hypnotic and therapeutic with a different aspect to enjoy in every season. I love the summers of Scandinavia with warm days spent amidst nature. It's no surprise that the area of North Sealand just north of Copenhagen is a favourite for Copenhageners to spend their summers by the sea.
The healthy choice is the easy choice
At Kurhotel Skodsborg they like to make the healthy choice the easy choice, with healthy but delicious menu options. Each day a different Dr Ottosen's juice drink is available, made from fruit and vegetables pressed by a slow juicing method to maximise the vitamins and minerals in each glass. Perhaps you'll get the performance-boosting combination of cucumber, celery, pear and apple or the anti-inflamatory beetroot, apple, watercress, lemon and ginger. These were created by top Copenhagen cocktail maker Gromit Eduardson to be fresh and delicious as well as healthy.
Tea with Georg
The hotel even has it's own healthy but delicious take on afternoon tea, served on elegant Georg Jensen china. No scones coated with clotted cream and jam here! Instead you get thick slices of smoked salmon, served with paleo bread made from nuts and seeds and a small pat of soft whipped butter. There are cakes but they are less sweet, flavoured with dark chocolate or fruit and a distinctly nutty texture. I loved the round of shortbread which crumbled in my fingers, sandwiched with raspberry jam like a sophisticated jammy dodger. We washed it down with a fennel tea in homage to the liquorice-loving Danes. Tea with Georg is served in The Lounge where you sit in comfort on squashy velvet sofas. (130DKK)
" Man has more endurance when work is interchanged with rest" wrote Dr Carl Ottosen and isn't the chance to relax and catch up on your sleep is one of the joys of being on holiday? Studies have shown that health and wellbeing are closely linked to the amount of sleep you get, which makes perfect sense to me. There is a virtuous circle, that is mentioned in this article, in which the better we sleep, the more energy we have to exercise which then gives us the benefit of greater health and vitality. By the time I'd spent a day or so at Kurhotel Skodsborg I found the atmosphere so restful that I didn't want to leave, even though here is plenty to see in the area.
My room with understated soft green décor reflected the royal forest of Dyrehaven behind the hotel and from the balcony I could watch a perfect white sail drift across the horizon. The white squashy sofas on the sunny roof terrace transported me to lazy days in some trendy Greek beach bar and I even discovered another terrace above the spa that was perfect for sunbathing.
Wherever you are heading on holiday this summer, I hope you take the opportunity to relax, unwind and enjoy your healthy holiday.
About Kurhotel Skodsborg
Kurhotel Skodsborg is an contemporary Nordic spa hotel situated just north of Copenhagen in the North Sealand region. You'll find it on the coast road, beside the ocean, yet only a 30 minute train ride to the centre of the city. There are 80 rooms and suites as well as meeting rooms and conference facilities. If you're looking for a relaxing weekend destination you'll enjoy the extensive spa and fitness facilities, the private jetty for ocean swimming, the rooftop terrace with sundeck and restaurant and lobby bar serving healthy Nordic cuisine and cocktails. Rooms at Kurhotel Skodsborg start from 1900 DKK (£180/€250/$280) per night for 2 people bed and breakfast with use of spa. Check the best prices for Kurhotel Skodsborg and other Copenhagen hotels on my Hotel Booking Page
For more information about things to do in and around Copenhagen and North Sealand, check out the Visit Copenhagen website and the North Sealand website as well as the Visit Denmark website for other parts of Denmark.
Getting to Copenhagen and around
Heather and Sophie-Anne flew with Scandinavian Airlines from London Heathrow to Copenhagen. SAS fly several times a day to and from London to Copenhagen giving you a choice of times to make the most of your time in Copenhagen. On arrival take the train direct to Skodsborg station or to the centre of Copenhagen. Heather and Sophie-Anne used the Copenhagen Card which covers free transport on the trains from Copenhagen to North Sealand as well as free or reduced price entry to many of the attractions in and around Copenhagen.
More things to do around Copenhagen
Bike + Train = adventure in Copenhagen
Out of Africa and other Danish Stories – at the Karen Blixen Museum near Copenhagen
10 Summertime cool things we did in Copenhagen (and you could too)
Thanks to Kurhotel Skodsborg who hosted Heather and Sophie-Anne for their stay at the hotel, Wonderful Copenhagen for their support on this trip and SAS who provided Heather's flight. This article was also brought to you in partnership with Legal and General.
Pin It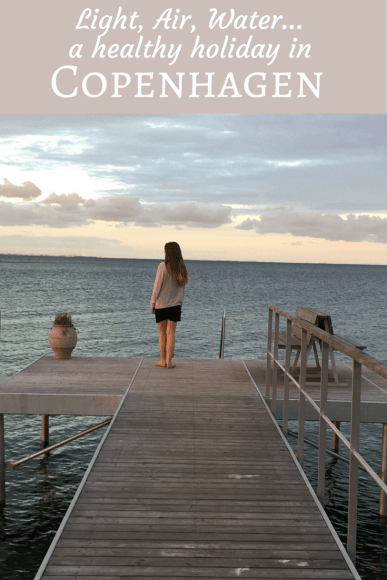 This article is originally published at Heatheronhertravels.com – Read the original article here
You'll also find our sister blog with tips on how to build a successful travel blog at My Blogging Journey