It's become a tradition for my friend Julia and I to spend a few days walking each year, and last September we were testing ourself in the Rosengarten range, part of the Dolomites of South Tyrol. I've already written about Day 1 in which we scaled the gentler slopes and Day 2 in which we scrambled over a high pass to walk through a rocky lunar landscape. Now you'll hear about Day 3 and 4 of our walk to the final mountain refuge along a grassy plateau and our precipitous descent to the valley again for a welcome return to the lovely Hotel Cyprianerhof, where we had started our walk.
We set off from Rifugio Bergamo
After breakfast at Rifugio Bergamo (also known as Grasleitenhütte) we were packed and ready to leave, just as the sun was creeping up to the terrace. We had very much enjoyed our stay at this wood panelled mountain lodge, which had been originally built as a base for mountaineers and was full of nostalgic books and old photographs. We took some departure photos with the owner Hans, a strongly built and bearded man of the mountains, who showed us photos of the festival he runs at the hut when everyone dresses up for that bygone era when the hut was built.
Descending the hill we looked back at the rifugio still in shade, perched in a cleft between two rockfaces. It was amazing to consider how it could be built in such a remote spot. All we could hear was the rushing of the mountain river that cascaded down behind the rifugio and looking up could see the white streaks of airplane jets making criss-cross patterns in the sky.
The sun warmed us as we skirted the mountain side on a balcony path, with views of the valleys ahead and pine forests below. The path descended to cross another mountain river where we hopped over boulders and then continued upwards on the other side of the gully.
A difficult climb to Rifugio Alpe di Tires
After crossing a few more pebble filled mountain streams the path became steeper and steeper, winding up through the rocky landscape. Now we were scrambling and climbing rather than hiking, with metal cables and ropes to help us in the most exposed places. With rocks sliding under my feet and no karabiner to clip me on safely, I must admit I was quite scared at this point. After my fall in Austria the year before, I knew how easy it would be to slip on the gravel surfaces, with a heavy rucksack to drag me down. I slowed down the pace and breathed deeply to calm myself, leaning into the rock and taking it one step at a time until we reached the top of the slope.
Thankfully, the path at the top of the slope was much easier, winding through a flower-filled meadow and we decided to take a detour to Rifugio Alpe di Tires which we could see up on our right. The beautiful modern refuge with its bright red roof, sat on a grassy plateau, on the saddle between two valleys with fantastic views in both directions. The terrace  and cafe were full of walkers and climbers and the stylish interior would not have been out of place as a hip city hangout. As grey clouds gathered, the 10 minute stop we'd planned turned into an hour, with a rain shower bringing mountain bikers and hikers running inside. Still it was no hardship to stay a little longer, sipping our raspberry lemonade.
Read about our our first day's hike – Hiking in the Dolomites – a tour of the Rosengarten

Read about our second day's hike – Over the pass in the Dolomites – hiking in South Tyrol
Leaving Rifugio Alpe di Tires
As blue skies re-appeared, we set off on the path that skirted the mountain, until Rifugio Alpe di Tires was just a tiny toy house in the distance, easy to spot because of the red roof. As the path climbed ever higher, I was worried that we might be in for a repeat of the vertical rock climb, but was reassured that the path must be quite manageable when we passed walkers accompanied by their dogs.
Now we were practically level with the tops of the grey rocky crags across the valley and reached a grassy plateau where blue flowers like larkspur were blooming in the meadow. The fence with a gate, told us that there must be cows up here, munching their way through the grass, surrounded by stunning mountain scenery.
The final walk to Rifugio Bolzano
Beside the path was a large cairn of rocks and from here we could see Rifugio Bolzano where we'd be spending the night. Although it seemed to be just a short walk across the grass plateau, we knew that distances in the mountain are not easily judged by the eye and that it would be nearly two hours before we arrived there.
After our climb, it was time for a break and a rest, so we shrugged off the rucksacks and took 20 minutes for a snack and a drink. I took the opportunity to take a few photos, while my friend Julia lay on the grass for some quiet time, contemplating the views.
Just as we left our rest spot, the sky darkened and the rain started to come down, turning the gravel path into sticky mud. With waterproofs on, we trudged along the path across the plateau, marked by a series of white cairns and nearly two hours later arrived drenched at Rifugio Bolzano.
Read about our our first day's hike – Hiking in the Dolomites – a tour of the Rosengarten

Read about our second day's hike – Over the pass in the Dolomites – hiking in South Tyrol
A cosy stay at Rifugio Bolzano
What a relief it was to take off our muddy boots and wet waterproofs, to hang up our poles and enter the cosy, wood panelled dining area. We found the place was already full of families, with children playing games and relaxing before dinner time. Rifugio Bolzano was built over 100 years ago and with 47 beds is one of the larger refuges in the area – we soon settled into our private room with wooden beds and threw open the window for a view of the mountain.
We were slightly taken aback to find that there were no showers at the refuge, only communal washrooms where we had to take our chance for a bit of privacy. Still the atmosphere was friendly and convivial as we settled in with a drink and then ordered a dinner of hearty mountain fare, with the filling kaiserschmarrn pancakes for desert.
By the morning, the showers had passed and the rain seemed to have washed the air clean, revealing sunny views of the jagged rocky teeth that make the distinctive landscape of the Dolomites.
Our final day hiking back to Cyprianerhof
From Rifugio Bolzano we walked gently downhill across green pasture dotted with white standing stones, feeling a little bit like Hansel and Gretel following the trail. At the end of the plateau we could see down into the valley, although it was difficult to identify on the map which of the villages might be below us. Somewhere behind the ridges before us lay the luxurious Hotel Cyprianerhof, which we were very much looking forward to reaching that evening.
From the plateau the path became a narrow ribbon, zig-zagging steeply downwards, taking us towards the valley. Despite going downhill, the descent was by no means easy and as we got closer to the tree line, there were more steep steps with tree roots and the gravel was slippery from rain showers. After a couple of hours we reached a cross where there was a lovely picnic table for us to take a break and eat some of our snacks. The worst of the descent was now over although we had our waterproofs on and off with frequent showers, and there was still a good 3 hours to walk before we would reach the hotel.
Read about our our first day's hike – Hiking in the Dolomites – a tour of the Rosengarten

Read about our second day's hike – Over the pass in the Dolomites – hiking in South Tyrol
A walk through the forest in South Tyrol
We now skirted along the side of the slope through forest, the smell of cow dung mixed with the scent of pine needles. The air was cool and damp in the shade of the forest canopy and moss gathered around the tree roots. Along the trail were a few wooden sculptures, carved from trees and logs that must have fallen there; an overhanging giant mushroom and a fierce eagle's head jutting into the path.
At times the path crossed tricking streams that had been channeled into wooden troughs where you could stop for a drink or fill up a water bottle. Through gaps between the trees we could look down into the valley and from down below the sound of Sunday church bells and a brass band practicing in the church wafted up to greet us. The gentle walk gave me time to absorb the details of the forest, the tiny pine cones crunching underfoot and the orange mushrooms the size of a coin set into the bright green clumps of moss.
The final descent to Cyprianerhof
Now we were on the downward slope, on a wide track that would take us down to St Cyprian in the green valley, with the distinctive jagged peaks of the Dolomites rising in the distance – the ones that we had climbed over just a few days before. We have a tradition on our hikes of taking a 'Before' and 'After' photo and so on arriving at Cyprianerhof, we grabbed a passing walker to take a picture of us –  tired but thrilled at the prospect of the luxury that awaited us. Take a look the picture below – I think you can guess which is the 'Before' and which the 'After' ?
After four days and three nights in the mountains, staying in simple accommodation with limited shower facilities, you can imagine what a treat it was to enter our room at Cyprianerhof. It was all as lovely as we remembered; the luxurious natural fabrics and cosy faux fur throw, the huge bathroom with polished stone sinks and the apple on the bed to remind us to stay healthy in the mountains.
A well deserved Aperitif after our walk
Soon the wild women of the mountain were transformed into chic and sleek creatures, with freshly washed hair and make-up, changed into the clean clothes that we had left at the hotel – what bliss! It was time for a well deserved aperitif at the drinks party offered for hotel guests on the lawn outside; a Hugo for me and an Aperol Spritz for Julia.
With the view of the peaks that we'd climbed on our first day, we toasted our success and endurance in scaling those rock-faces, climbing over the passes, and surviving the lack of showers with only hearty mountain dishes and the odd beer to sustain us. Now we deserved the delicious meal and elegant surroundings that awaited us at Cyprianerhof – we'd certainly earned it!
Read about our our first day's hike – Hiking in the Dolomites – a tour of the Rosengarten

Read about our second day's hike – Over the pass in the Dolomites – hiking in South Tyrol
Where we stayed in South Tyrol
To compare prices and book Hotels in South Tyrol on HotelsCombined.
Night 1 – Hotel Cyprianerhof
Website: Cyprianerhof.com A luxurious 4 star hotel in St Cyprian with extensive facilities for wellness and activity excursions. The hotel's philosophy is to offer guests the full experience of the Dolomites, allowing them to recharge and clear their minds through hiking in the mountains, combined with relaxation in the spa and sauna facilities.
In summer there is a programme of hiking as well as climbing and Via Ferrata, while in winter guests can try snow-shoe, ice climbing and cross-country ski. The hotel is affiliated to the Wanderhotels group of hiking hotels with hiking and snow-shoe excursions included as part of the half board package that includes breakfast, afternoon tea and evening meal. The food here was excellent using local and seasonal produce. Half board package including activities from €156 per person per night. You can check prices and book for all hotels in South Tyrol on HotelsCombined.
Night 2 – KolnerHütte / Rifugio Fronza alle Coronelle Website: Rifugiofronza.com
Cost: from €52 per person for half board (evening meal and breakfast)
The Refuge has both 2 bed rooms and dorm rooms, with 60 beds in total. Blankets are provided but you need to bring your own sheet sleeping bag. There is 1 hot shower which costs €3 to use. The Refuge can also be reached from St Cyprian by a bus to the foot of the Laurino chairlift, then take the chairlift up to KolnerHütte. Many people use the chairlift to reach KolnerHütte quickly and then walk the higher mountain routes from there.
Night 3 – Grasleitenhütte / Rifugio Bergamo Website: Grassleitenhuette.com
Cost: from €52 per person for half board (evening meal and breakfast)
We received a warm welcome at this family run Rifugio that was built in the last century as a base for wealthy mountain climbers and still has an authentic Tyrolian atmosphere with wood panelling, old pictures and maps. The Refuge has both 2 bed rooms and dorm rooms with duvets provided but you need to bring your own sheet sleeping bag. There are 2 hot showers which cost €3 to use. The refuge has a charming traditional feel and is family run with friendly owners and excellent cuisine and wine.
Night 4 – Schlernhaus / Rifugio Bolzano Website: Schlernhaus.it
Cost: from €39 per person for 2 bed room including breakfast. Meals can be ordered from the modestly priced menu and half board is available for groups of 8+ people.
The Refuge has both 2 bed rooms and dorm rooms, with 120 beds in total. Duvets are provided but you need to bring your own sheet sleeping bag. There are no showers, only a washroom. The refuge is large with a traditional wood pannelled dining room and panoramic views of the mountains as well as friendly staff. The Refuge seemed to be a favourite with families and several people had dogs with them.
Night 5 – Return to Hotel Cyprianerhof (see above)
Read about our our first day's hike – Hiking in the Dolomites – a tour of the Rosengarten

Read about our second day's hike – Over the pass in the Dolomites – hiking in South Tyrol
Getting to South Tyrol
South Tyrol is the north-east corner of Italy, bordering Austria to the north and Switzerland to the west. We flew to Venice Marco Polo Airport and hired a car to drive to the nearest village of St Cyprian, which took around 3 hours. Alternative airports would be Milan Bergamo (2 hrs 50 mins), Innsbruck (1 hr 50 mins), Verona (2 hrs), Venice Treviso (3 hrs). For those using public transport, trains and buses are available from most airports to Bozen/Bolzano and there is a bus (number 185) running from Bolzano to St Cyprian which stops ouside Hotel Cyprianerhof, running around once an hour (journey time 50 mins). The taxi from Bolzano to St Cyprian would take around 30 mins. To compare prices and book Hotels in South Tyrol check out HotelsCombined.
Speaking the language of South Tyrol
In South Tyrol both German and Italian are widely spoken, since the province was part of the Austro-Hungarian empire until 1948, then became part of Italy after WWI.  In the Dolomites we found that German was more commonly used although most locals will easily switch between Italian and German. English is less widely spoken although you will not have a problem in larger hotels and in mountain huts there is generally someone with a little English. Because of the dual languages all towns, villages and mountain huts have two names – both German and Italian. For simplicity in this article I may use just one of the names.
Plan your hiking routes in the Dolomites
A good resource for planning your hiking routes in the Dolomites is the Sentres.com website and the South Tyrol Tourism website also has plenty of information to plan your holiday in South Tyrol.
You will find timings for walking routes on the Sentres website. However, be aware that these are times for fit walkers without any stops for rests or photographs. In our experience we found that for each 2-3 hours of the 'official' time, we needed to add 30 mins to allow for being less fit and 30 mins for a drink stop in a refuge. So overall we would add 1-2 hours to the times given per day.
We used the Tappeiner 1:25.000 Map No 29 Schlern – Rosengarten – Sciliar – Catinaccio – Latemar – you can order it on Amazon and a similar map was for sale at Cyprianerhof for €9 and probably other places locally. We could not find an English guidebook to the routes we were walking but we found we could navigate fine with just a map as the paths were well marked.
Here are the routes and timings we took
Day 1 – Cyprianerhof to KolnerHütte
Official time: 4 hours
Actual time without stops: 4 hrs 30 mins
Actual time with stops: 6 hours
Our route was: Cyprianerhof – Nigerhütte 2 hrs / Nigerhütte – Messnerjoch hütte 1 hr / Messnerjoch hütte – KolnerHütte 1 hr 30 mins
Read about our Day 1 hike – Hiking in the Dolomites – a tour of the Rosengarten
Day 2 – KolnerHütte to Grasleitenhütte
Official time: 5 hrs 30 mins
Actual time without stops: 6 hrs
Actual time with stops: 7 hrs 30 mins
Our route was: KolnerHütte – top of Coronelle Pass 1 hr / top of Coronelle Pass – Rif. Vaiolet 1 hr 45 mins / Rif. Vaiolet – Grasleitenpasse 1 hr 30 mins / Grasleitenpasse – Grasseleitenhutte 1 hr 30 mins Warning: very steep climbing with cables over Coronelle Pass
Read about our Day 2 hike – Over the pass in the Dolomites – hiking in South Tyrol
Day 3 – Grasleitenhütte to Schlernhaus
Official time: 4 hrs
Actual time without stops: 5 hrs
Actual time with stops: 7 hrs 30 mins ( we made a 40 min detour to Rif. Alpe di Tires)
Our route was: Grasleitenhütte – Rif. Alpe di Tires 3 hrs 25 mins / Rif. Alpe di Tires to cairn at start of plateau 1 hr 20 mins / Cairn at start of plateau to Schlernhaus 1 hr 30 mins. Warning: very steep climbing with cables on final part of route 3 up to Rif. Alpe di Tires
Day 4 – Schlernhaus to Cyprianerhof
Official time: 4 hrs 30 mins
Actual time without stops: 6 hrs
Actual time with stops: 8 hrs
Our route was: Schlernhaus – Junction of route 3 & 7 1 hr 50 mins / Junction of route 3 & 7 – Turning to route 7B 1 hr / Turning to route 7B – Tschafonhutte 1 hr / Tschafonhutte – Cyprianerhof 2 hr
You've just finished reading about Day 3 & 4 of our hike
Thanks to the South Tyrol Tourism board who hosted my walking tour of the Dolomites.
Pin It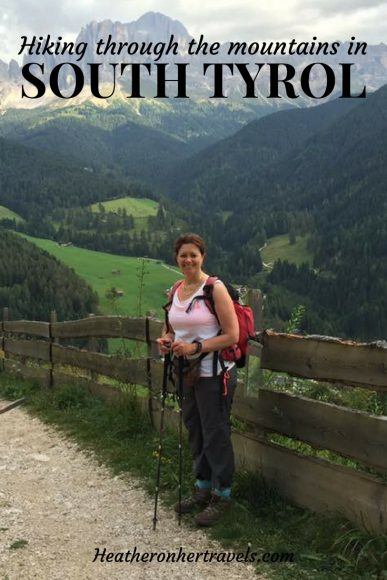 This article is originally published at Heatheronhertravels.com – Read the original article here
You'll also find our sister blog with tips on how to build a successful travel blog at My Blogging Journey
At 8am the heat was already rising, as my taxi dropped me at the Arikok Park Visitor Centre at the northern end of Aruba. Think of the Caribbean and perhaps you'll imagine relaxing on white sandy beaches with a rum punch in your hand. I'd had my fair share of that on Aruba, but today I was about to experience a different side of the island; a hike along sandy paths weaving between spiky cactus, past cave paintings and giant boulders.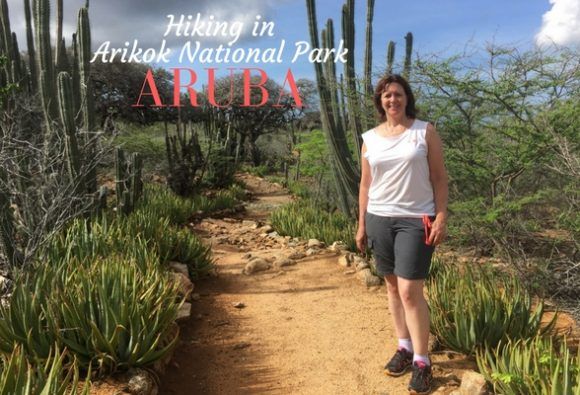 My guide Stanson met me in the Visitor Centre, an impressive hardwood and glass building that had been constructed in 2008, offering visitors information about the flora and fauna as well as much needed air-conditioning. The visitor centre is the starting point for many of the hikes in the park and is easy to get to, although the speed bumps on the park roads mean it's easier to get around inside the park with a four-wheel drive vehicle. Stanson explained that he was student volunteering as a park ranger in between his studies, and his enthusiasm was as infectious as his encyclopedic knowledge was impressive.
We set off along the Canucu Arikok, an easy hiking trail that is ideal for first time visitors to the park. The trail provides a circular route from the visitor centre, which takes around 2 hours to complete. Unusually, the ground was a little damp from overnight rain showers, the first decent rain they'd had for 3 years. The hot and arid climate of Aruba creates the distinctive landscape of the island, covered with prickly trees and cactus, which have adapted to survive the lack of water.
Within the park are a few hills which provide viewpoints over the island and our path took us past Sero Arikok at 185M, where there's an air traffic control beacon and a trail that leads to the well known Conchi or Natural Pool on the coast, one of the popular things to do on Aruba. When the park was created, there were already trails used by locals to ride their horse or donkey to the Miralamar gold mines, which were cleared and bounded by stones to make the hiking trails. The Cunucu Arikok was an easy, level walk on sandy paths and although I love a challenging hike in the Alps, I was quite grateful that in the rising heat we had a more gentle stroll and chance to take in the natural landscape.
Without Stanson's warning, I could easily have brushed up against the Bringamosa plant, which he described as 'like poison ivy on steroids', as it will make your skin burn and itch for several days. The best antidote is to either pour alcohol over your skin or to rub it with another plant that grows nearby, the Seida – the only problem being that the two plants look rather alike!
A rather more pleasing find was the Turk's cap cactus, a spiky ball topped with a felt like cap within which were buried bright pink berries. This was a sweeter treat, as the fruit can be pulled carefully from their furry enclosure to pop in your mouth. They're otherwise known as Bushi or Bush fruit and look like tiny pink peppers with little black seeds inside.
As we continued along the trail, we stood aside for a group of mountain-bikers to pass us, bumping fearlessly down a set of stone steps. There are a few challenging trails in the park, with a new one opening a couple of years ago, built by the Trails for Life project. As part of their 'Good for the Neighbourhood' community scheme, high school children constructed a new hiking and biking trail that reaches all the way out to the Natural Pool.
Along the trail we reached a part where the path narrowed, hemmed in by huge boulders that looked as if they might have been dropped by a playful giant. Here, painted on the sides of a small cave, we could see the paintings left by the Caquetío Indians. Traced in red and white pigment I could make out an iguana and a bird with wings outspread, that has been used in the logo of the Arikok National Park. There are more paintings in the Quadirikiri and Fontein caves on the other side of the park, where the much larger caves contain stalactites and stalagmites, as well as a colony of bats. The bats are an important contributor to the ecosystem on Aruba as they act as polinators for plants and flowers, doing a job that would normally be performed by insects or birds.
All along the trail, my guide Stanson pointed out curiosities of the flora and fauna, such as the Wayaka tree, also known as Evergreen as you'll never see it with a brown leaf. Because the tree survives from reservoirs of water deep undergound, it grows very slowly, perhaps an inch each year. Don't be fooled by the diminuitive size, as a tree that's 2-3 metres tall may be around 300 years old.
The cactus in the Arikok park come in all shapes and sizes, grouped together in tangled thickets as well the elegant lone cactus framed against the sky. "Just as tourism is an economic pillar on Aruba, the Cacti are the ecological pillar" Stanson told me. The cacti provide a prickly pear fruit, which is the main source of food for many birds on the island and to conserve water they have shared root systems, which spread underground over a wide area. Eventually a cactus may get too heavy and topple over, but as they dry out their wood can be used to construct the frames of the old style adobe houses.
Every so often we spotted a flash of a bird in the trees, looking for fruit or nectar from the flowers that appear after any rains. Stanson reeled off the names; the Bananaquit which as its name suggests has a bright yellow breast, the blue-tailed Emerald hummingbird and Ruby-topaz hummingbird, which provide a flash of jewel colour if you can spot them. The Burrowing Owl, locally known as Schopo, is also found here and is the national bird of Aruba. The owl buries its eggs deep in the ground, but as soon as the chicks are old enough to venture out, they dart around to catch insects and small lizards.
At the end of the trail, we reached the old Adobe house, enclosed by its trankera or fence made of cactus plants and tranchi stone wall. Because the cacti are stem plant, you can cut a piece off and plant it in the ground where it grows more roots. This was the traditional form of enclosure on Aruba, providing security, fruit and a haven for wildlife. The house is a replica of an older building that was destroyed in a huricane and has been restored to show how a traditional homestead would have looked on Aruba.
It's constructed by making a frame out of cactus wood which is smeared with a mixture of mud, sand, clay and saltwater, known as Torto. Once one layer of the Torto mixture was dry, another would be applied until the walls were thick enough. We walked inside the empty shell of the house, where a couple of bats flitted overhead as we examined the kitchen area with cooking platform and a stone mortar for grinding meal.
Our circular route took us back in the direction of the Visitor Centre again, passing a tree that looked bare and lifeless – but not so, Stanson told me. In the arid landscape of Aruba, every plant has its own tricks to survive, but after rain the trees such as this will quickly flower and then fruit with a cherry that will attract all the iguanas from miles around to a feast under its branches.
Beside the path we also saw plenty of Aloe plants that were another economic driving force on the island, before oil refining and mining. The plant is well known for the cooling and healing properties of its gel-like sap, but some species also provide a sugary syrup as well as fibre from the dead leaves which was used to make rope.
By now we'd come full circle on the Cunucu Arikok trail and arrived back at the visitor centre, just as the heat was become a bit too much for any more walking that day. I was grateful of the cool air conditioning of the cafe to refresh myself with a drink from the chill cabinet, before heading back to my hotel with its pool and views over Eagle beach. My morning in Arikok National Park had provided a fascinating insight into the landscapes and natural world on Aruba, far removed from the tourist beaches and bars. I'm so glad that I went for that hike and discovered a very different kind of day on Aruba.
Visiting Arikok National Park on Aruba
The island of Aruba is small, so it's easy to get to the Arikok National Park visitor centre, either by hire car or by taxi. The taxi ride was around 30 minutes from my hotel at Eagle beach and would be closer from Oranjestad or San Nicholas.
The park is open daily from 8am to 4pm and I'd recommend arriving as early as possible to avoid hiking in the heat. Be sure to wear a sunhat and take plenty of water with you. You can hike on the easier trails in trainers and shorts, but on the more advanced trails, boots and long trousers are advisable.
The Park entrance is $11 per person which is used to support the maintenance of the roads, trails and park infrastructure. You can book one of the Park Rangers to act as your guide on the hiking trails and this service is free, although you need to book at least a day in advance. Park Rangers are also available at the visitor centre and around the park for advice and information.
I highly recommend booking a Park Ranger as their knowledge of the flora and fauna will certainly enhance your experience, although the Canucu Arikok trail was easy to follow and did not require any special guidance. There are, however, more demanding trails in the park, some of which require basic climbing skills and use of ropes, so these would be best taken with a guide.
For more information about Arikok Nationa Park, visit their website at www.arubanationalpark.org
More articles from the Caribbean
My 10 favourite things on Aruba
Street-art on Aruba: the unexpected Caribbean
Where and What to eat and drink in Aruba (Travel with Kat)
Where to Stay on Aruba
During my week in Aruba, I stayed at the Amsterdam Manor Beach Resort, a delightful hotel that's just across the road from Eagle Beach. The hotel is family owned and was built 25 years ago in traditional style with Dutch gables, painted in the warm yellow that you see everywhere on Aruban buildings. I was extremely comfortable, sharing a suite with two bedrooms and a first floor balcony looking towards the sea, furnished in traditional Caribbean style with dark wood furniture, brightly coloured walls and citrus shades of lime, lemon and tangerine.
The outside areas of the hotel were beautifully maintained with paved areas, trees and immaculate planting, with a welcoming pool area and the shady Mango restaurant, where we had breakfast. The hotel is ideal for couples who want to relax by the pool or on the beach, while having a well located base for exploring Oranjestad and all the other sights of Aruba.
The staff could not have been more friendly and helpful and they even have a dedicated Romance Co-ordinator to help you organise your beach wedding or celebration event. The Fofoti trees opposite the hotel are a favourite for wedding photos and the Passions on the Beach restaurant where we ate one evening is an incredibly romantic setting to have a cocktail and dinner as the sun sets over the ocean.
For more information, visit the Amsterdam Manor Beach resort website or follow them on Facebook, Twitter, Pinterest. Address: J.E. Irausquin Blvd. 252, P.O. Box 1302, Oranjestad, Aruba.
To compare prices and book for hotels on Aruba check out Hotels Combined where you can see the best deals from all the booking websites for hotels including Amsterdam Manor Beach Resort.
See more photos from this trip

Visitor Information for Aruba
For more information to plan your holiday in Aruba, visit the Aruba Tourism Website or follow them on Facebook, Twitter, YouTube or Pinterest
Thanks to Aruba Tourism for hosting my week's stay in Aruba to discover the island.
Pin It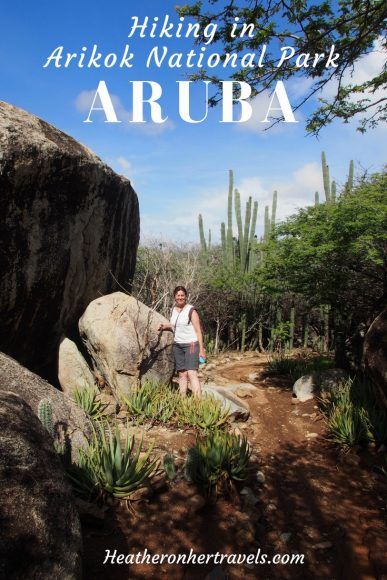 This article is originally published at Heatheronhertravels.com – Read the original article here
You'll also find our sister blog with tips on how to build a successful travel blog at My Blogging Journey
This summer we adopted an motorhome, or RV as they are known in Canada, and spent two weeks driving from Toronto to Montreal. 'Monty' as we fondly named the RV, took us on many an adventure, from bear spotting in Algonquin to farmer's markets in Kingston, from feeding carrots to Bambi in Parc Omega to climbing a Via Ferrata in Mont Tremblant park. We dipped our toe in Canada's wilderness, toasted s'mores over the campfire and tasted everything from thousand island dressing to poutine. While there were many highlights from our 2 week road trip, here are ten of my favourite Canada moments.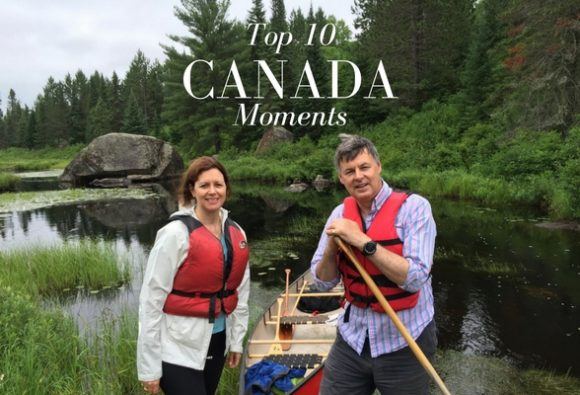 1. Wildlife encounters in Algonquin
After picking up 'Monty' the RV from Cruise Canada in Toronto, our first taste of the Canadian wilderness was at Algonquin Provincial Park, where we discovered that even the locals get excited at a wildlife encounter. 'Did you see anything?' we'd be asked if we so much as stopped for a moment at the roadside to look into the trees. While out cycling near the Two Rivers Store, we heard there was a black bear and cub up ahead and proceeded cautiously to join the small crowd in the parking area. We inadvertently broke the golden rule and cycled between the bear and its cub, then watched from a safe distance as mama bear checked the cub up the tree was doing fine, before ambling off into the woods in search of more food.
While out canoeing at Lake Opeongo,we also spotted several beavers lodges, a dense mass of sticks half submerged in the water. Our guide from Algonquin Outfitters where we hired the canoe told us how moose may hold their breath under water while munching on lily roots, and emerge sudddenly from the water to startle the unwary canoeist. Although no moose appeared, a beaver surfaced briefly in front of us, then with a splash of his flat tail he was gone. While our wildlife encounters were fleeting we learned that the fun is in the looking and in the chance to unwind in Canada's unspoilt wilderness.
2. Soaking up the history and food culture of Kingston
Perhaps it was the sense of history that made us feel so at home in Kingston, Ontario. Everything seemed to be built on a very European scale, since the town was established in the 17th century before cars were a feature of town planning. This university town has a great foodie reputation, and after visiting Fort Henry up on the hill, we took the bus into town to find the farmer's market in full swing. A motorcycle rally had turned the town into a sea of black leather, with riders whizzing up ramps to perform airbourne stunts for an appreciative crowd.
We took the opportunity to stock up on some of the luscious ripe fruit from the stalls, tasted a bit of local wine from the Three Dog Winery and called in at the Pan Chancho bakery to buy some of their artizan bread. With food tours and a town packed with good restaurants, I left feeling we'd only scratched the surface of the foodie scene of Kingston and would love to go back and discover more. Read more about Foodie adventures on our Canada Road Trip.
3. Ottawa: Canada's vibrant capital
Travelling by RV didn't stop us visiting some of Canada's vibrant cities like Ottawa. Luckily the Wesley Clover Campground on the edge of the city offered a shuttle bus that dropped us right outside the Parliament building, just in time for the changing of the guards. Canada's capital was in a high state of preparation for the 150th birthday celebrations in 2017, with the parliament building being cleaned and lots of building work going on around the city.
We headed for Byward Market to look at all the farmer's market stalls and had a lovely lunch on the patio (the Canadian term for an outdoor restaurant terrace) at Murray Street, which specialises in Canadian cheese and charcuterie. In the afternoon we visited the glass palace of the National Gallery of Canada where the windows of the Great Hall frame the view of the Parliament Building across the river. On the Gatineau side of the river, we admired the soaring totem poles at the Canadian Museum of History and rented bikes to cycle along the river path. Where else but Canada would you see a heron poised to catch a fish within sight of the capital's parliament building?
4. The old time charm of Wakefield
Wakefield is one of those charming small towns set by the Gatineau river, where you could easily spend a day wandering from cute craft shop to artizan bakery to bohemian café. It's a little bit ditsy but we enjoyed our walk across the red painted covered bridge, originally built to allow farmers to drive their buggies to church and reconstructed in a community effort after it was destroyed in a fire in 1980s. On the far side there are some rocks where you can take a picnic and go swimming in the river.
Lunch was at the Wakefield Mill Hotel and Spa, an old mill house now turned into a boutique hotel. In the glass sided Muse restaurant, we dined in style (mine was Arctic char with a pretty arrangement of vegetables) overlooking the stream racing below the mill. After lunch we walked along the main street of Wakefield, checking out the colourful cafés and boutiques like Khewa selling native art and jewellery. I had the feeling that this is well-heeled Ottawa's weekend escape, where the money comes to relax, shop and perhaps get a bit sporty in nearby Gatineau park.
5. A day in Gatineau park – Ottawa's playground
Gatineau park is the outdoor playground of Ottawa, an easy day's visit from the city with walking trails and lakes. There's nothing pink about our first stop at Pink Lake  (it was named after a family of the same name) but it's very deep and still, creating a glassy surface to reflect the clouds as they drift by.
Another must-see in Gatineau Park is the Mackenzie King estate, former home of Canada's prime minister, William Lyon Mackenzie King who came here to relax and escape from the pressures of government. In front of the house is an English style flower garden with stone arches framing the forest and paths down to the lake where Mackenzie King would bring friends and family to swim. Our day ended at the Champlain Lookout with a view over the escarpment towards Ottawa, where 'Monty' the RV attracted a crowd of admirers as we stopped for a cup of tea with a view.
6. Cycling at Parc national de Plaisance
Once we were north of the Ottawa river in the Outaouais region one of our favourite camp grounds was Parc National de Plaisance, set beside the Ottawa river. The setting was charming with plenty of activities and we decided to hire bikes to cycle around the traffic free trails by the lakes and river. With the sun shining and the wild flowers in bloom, the park really lived up to its name and we hardly saw anyone on our bike ride apart from a couple of people fishing.
As in all Canada's National and Provincial parks, there were a wide range of activities and we could easily have hired canoes or observed wildlife from the floating walkways on the Zizanie-des-Marais trail. We spent the evening at 'the world's largest log cabin' a.k.a the luxurious Fairmont Le Chateau Montebello, where we dined on the patio overlooking the river from a buffet that was full of delicious dishes, with steaks and fish perfectly cooked to order on the barbecue.
7. Feeding the animals at Parc Omega
While we had caught to odd glimpse of wildlife in Algonquin, Parc Omega gave us a chance to get up close and personal with more of Canada's wildlife. It's a wildlife park that you drive through, with a chance to feed the deer from your car window, so don't forget to buy a few bags of carrots at the park shop. As the RV was too big to drive around, we were taken in a golf buggy enclosed by a metal cage, through which we could feed the different species of deer from the imposing Red Deer to the cute Bambi Fallow deer.
In different parts of the park we saw black bear and bison in their large enclosures and watched the daily show of eagles and other birds of prey swooping back and forth to retrieve their food. From a raised observation platform we learned all about the wolf pack as they were fed, about the hierarchy of the pack and the howling calls that are used to communicate between the packs.
8. Evenings by the Campfire
My favourite time on the campgrounds was once we had parked the RV under the trees, unpacked the chairs and Guy got the fire going in the fire pit. Then it was time to crack open the beer and relax for a while, getting to know the friendly neighbours. Since all the Canadian campgrounds seem to be set beside a lake, Guy would often have an early evening swim while I was happy to watch him – I love to be beside the water but it has to be boiling hot for me to actually get in it!
Then we'd make dinner in our well equipped kitchen area in the RV and eat it on the picnic table outside, remembering to spray ourselves liberally with mozzie repellant and put on long trousers as it got dark. Sometimes we would cook a steak over the grill of the fire or toast marshmallows – s'mores as they are known in Canada. It's quite an art to achieve that combination of melted softness and crispy toasted exterior without the whole thing going up in flames. Read more about driving an RV from Toronto to Montreal.
9. Climbing the Via Ferrata in Parc National de Mont Tremblant
Even though I'd climbed a Via Ferrata in Italy, I found the one in Parc National de Mont Tremblant quite challenging and perhaps that's why it sticks so clearly in my memory. I suspect it's that combination of fear and adrenalin that makes the experience so memorable. With our guide, we put on our harnesses and helmets and tried a practice wall before starting the climb up the rockface on metal footholds.
On a Via Ferrata you get the experience of rock climbing, but in a controlled way, since you are on a fixed route that is marked with metal cables to which you clip your karabiner. It requires concentration and agility but your climb is rewarded with fantastic views over the valley and an amazing sense of achievement. The Mont Tremblant park was a fabulous outdoor playground where we also enjoyed hiking on the waterfall trails, as well as a day canoeing the Meandre de Diable, a winding stretch of river with sandbanks and beaches to stop for a picnic.
10. More delicious food in Montreal
Everyone we met told us that Montreal serves the best food in Canada, so when we arrived at the end of the trip, eating was high on our agenda. The city has Jewish, Portuguese, Greek and Italian neighbourhoods, homes to restaurants and food shops with an ethnic flavour. In the Jewish neighbourhood of Plateau we stopped at Beauty's for a 'Special' bagel with lox (smoked salmon) , cream cheese and sliced onion. Nearby are the bagel bakeries of Fairmount and St-Viator where we stopped to try the chewy fresh bagels, still warm from the wood fired oven.
Schwartz's deli is another Montreal food institution with long queues for their smoked meat sandwich, carved in thick slices of warm salt beef, barely contained between soft white bread with a squirt of mustard. There's a strong food trailer scene in Montreal and we happened to be there during the Bouffons MTL food truck festival, giving us an opportunity to sample dishes from some of the top chefs and restaurants in the city, such as paella from Tapas 24, ice cream from Monsieur Cremeaux and poutine from Au Pied de Cochon. Our final stop was the Jean-Talon food market where we stocked up on ice cider and other treats to take home – a delicious way to end our road trip from Toronto to Montreal. Read more about how to spend a perfect day in Montreal.
If you've enjoyed my Top 10 Canada moments from our RV road trip from Toronto to Montreal do also check out the articles below. My trip was part of an eight week road trip during which four bloggers drove an RV (which we all gave different names) from Vancouver to Montreal, each of us taking two weeks to discover the best experiences that Canada has to offer. You can read about our best Canada moments below.
More Top 10 Canada moments
Travel with Kat – Top 10 things to see and do in British Columbia
The Quirky Traveller – Top 10 memorable moments from a Canada Road Trip
On the Luce – Calgary to Toronto: 10 Unforgettable Road Trip Moments
Information for planning your trip to Canada
You can find more information to plan your visit to Montreal on the Ontario Tourism Website, the Quebec Original Website, the Tourism Outaouais Website and also on the Explore Canada Website covering all the things to see and do in Canada.
Our RV (Recreational Vehicle) for the two week Explore Canada Road Trip was provided by Cruise Canada.
To compare prices and book for hotels in Canada, visit the HotelsCombined website where you can find the best prices from a range of different booking sites.
Where we stayed on our RV Road Trip
Night 1 –  Sheraton Gateway Hotel, Toronto
Night 2 & 3 Algonquin Provincial Park near Whitney, Ontario
Night 4 Murphy's Point Provincial Park near Kingston, Ontario
Night 5 & 6 Wesley Clover Camp Ground – south of Ottawa
Night 7 &8 Camping Cantley – north of Ottawa
Night 9 Parc de Plaisance  National Park in Quebec
Night 10,11,12 Mont Tremblant National Park in Quebec
Night 13 Le Centre Sheraton Hotel Montreal
Pin It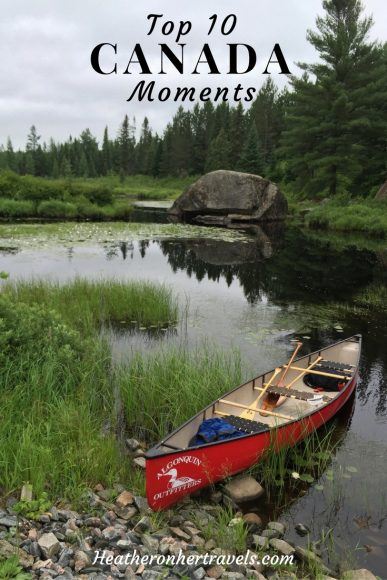 My visit to Canada was part of the Explore Canada Road Trip, a project with Travelator Media and Explore Canada
This article is originally published at Heatheronhertravels.com – Read the original article here