June 9, 2014 by Guest Author
Filed under Art and design, Eating and drinking, featured, Gardens, Guest post, London and around, Misc, Museums, Shopping, Sightseeing, United Kingdom, Walking
Covent Garden always appears on the "must visit" list of tourists to London and is also popular with the locals who are drawn there by its great variety of leisure activities. There are so many things to do in the area that we have compiled a list of the top things to do within the vicinity of Covent Garden.
The Covent Garden Markets
Covent Garden is possibly most famous for its market which has reputedly been in existence since around since 1654. The original fruit and vegetable market (New Covent Garden Market) has now moved out of the area and relocated to an area called Nine Elms but it has been replaced with the Covent Garden market we have today. Apple Market is housed in a stunning nineteenth century, colonnaded piazza and stocks a wide variety of items from jewellery and toys to stationary and ties. Many of the items will provide something a little different to what you can get on the high street so you are bound to find a quirky gift to take home.
Jubilee Market in the South Piazza sells items that fall more into the antique category. If antiques are your thing then head there on a Monday for the antiques market. Saturdays and Sundays sees around 200 stalls open which are generally aimed at arts and crafts. The Real Food Market occurs every Thursday where you can get your hands on treats such as homemade cakes and macaroons, fresh olives and specialty breads.
Shopping in Covent Garden
Covent Garden is also famous for its shops. Although there are high street brands there they are generally higher end suppliers and fit with the hip image that surrounds the area. For fans of designer ware you will be spoilt for choice. Brands such as Chanel, Paul Smith, Mulberry and Burberry sit alongside more regular high street favourites such as Reiss and Jigsaw. For the more adventurous out there you can peruse outdoor shops such as Cotswold Outdoor and Field & Trek. If you fancy a mid-afternoon snack then you could treat yourself to some macaroons from Laudrée. You could get a box to take away but why not sit in and take advantage of their champagne or savoury snacks.
Museums near Covent Garden
The British Museum is one of the top museum attractions and it is only a short walk from Covent Garden. In a world dominated by money you might be pleased to hear that it is free to get in and there are free tours and talks during the day. This makes it an ideal choice if you are travelling with a large family as individual entrance prices quickly add up. The museum houses a variety of artefacts from a range of locations and eras and often has exhibitions on which you may be required to pay extra for. Recent exhibitions include the Vikings and some beautiful Egyptian mummies. Due to the popularity of some exhibitions it might be worth pre-booking tickets rather than being disappointed on the day. If you are visiting with children they will often put free events on such as object handling, art tasks and museum trails. This is bound to spark the interest of any little explorer!!! If transport is more your thing then head to the London Transport Museum which has buses, trams and railway carriages on display.
See a show in the Theatres near Covent Garden
Covent Garden is bursting at the seams with theatres so it is hard to choose which one to go to. The Theatre Royal is one of the largest theatres in Covent Garden and has hosted some of the most famous shows. Charlie and the Chocolate Factory or Matilda might appeal to children (and adults!) or perhaps a tear jerker such as The Bodyguard or War Horse would be preferable. No matter what you choose to see you will be amazed and with two Royal boxes you never know who you might see there! The Aldwych Theatre is worth visiting just to see its stunning façade and was home to The Royal Shakespeare Company for a number of years. If there is a certain show that you would like to see then it is probably best to research the show and find out which theatre it will be on at as there are so many theatres in the area that it would be a shame to miss out on your favourite show.
Your theatre visit might keep you up late so what could be better than staying in your own luxury apartment in the vicinity of Covent Garden so you don't need to worry about getting a bus or the underground. Rather than stressing about heading "home" you could enjoy a few post theatre drinks or even head to a club completing your weekend.
If you fancy a trip to London be sure not to miss out on the delights of Covent Garden just be prepared for a positive assault on all your senses!
This article was brought to you by London Serviced Apartments who provide luxury serviced apartments in a variety of prestigious locations across London, including Covent Garden.
Photo Credits: Apple Market by Neil Howard, Shopping by Alison Sanfacon, Piazza Covent Garden by SPakhrin, London Transport Museum by Snapshooter46, War Horse by Andy Roberts
More London Attractions
High in the Treetops at Kew Gardens
Three great ways to spend a day in London
Fine dining favourites at the top London Hotels
This article is originally published at Heatheronhertravels.com – Read the original article here
You'll also find our sister blog with tips on how to build a successful travel blog at My Blogging Journey
May 19, 2014 by Guest Author
Filed under Africa, Art and design, Eating and drinking, featured, Guest post, Leisure, Misc, Morocco, Museums, Shopping, Sightseeing, World
In this article, our guest author Anna Rice gives us some great reasons to visit Casablanca in Morocco, which is often passed by as visitors head on to Marrakech and Fes, yet you can find great food, sightseeing and street-life to keep you entertained for a few days.
Casablanca is often overlooked as a travel destination, since most tourists coming to Morocco make a beeline for the more exotic parts of the country: Marrakech, Fes, Chefchaouen, the Sahara, or the Atlas Mountains. But Casablanca is the place many visitors land first – including those arriving on the only direct flight from New York. Instead of writing off Casablanca and immediately hopping on a train or connecting flight, it's worth it to spend at least a day or two in Morocco's industrial capital.
This is something I learned after visiting the city twice. I'd read the same guides as everyone else, saying Casablanca wasn't worth much time. But I had a reason to stick around: my sister lives there! She's been teaching in the city for the past two years, which is plenty of time to uncover Casblanca's best spots. This was fortunate for me, as I had an expert tour guide. So before rushing off to Marrakech, here are 5 reasons I think you should stay in Casablanca for more than a couple hours:
Casablanca has a very cosmopolitan dining and nightlife scene
Marrakech is certainly the destination of choice for the fashionable set visiting Morocco. But Casablanca has enough new (and more affordable) trendy restaurants to be a culinary destination of its own. The hot spot of the moment is Blend, a burger restaurant where you will probably have a hard time getting a table during prime dining hours. After indulging in one of their gourmet burgers, hit up La Bodega, a Spanish-style tapas bar where expats gather for drinks in a loud but fun atmosphere.
Looking for something a little more refined? Make a reservation at upscale, waterfront establishment Le Cabestan and ask for a table by the water. Prepare to shell out American prices for ocean views, beautiful patrons and top-notch food. For weekend brunch, visit La Sqala, which serves fresh squeezed juices and traditional Moroccan breakfast foods in a beautiful outdoor setting within the walls of an old fortress.
Mosque Hassan II
Most Westerners have never been inside a mosque, but Mosque Hassan II offers the rare opportunity to take a tour. Sitting on the edge of the Atlantic Ocean, its one of Morocco's top architectural wonders. It was commissioned by King Hassan II, took seven years to build, and can fit up to 25,000 worshipers. Tours are offered in several languages at set times daily, except on Fridays. Visitors to Mosque Hassan II should dress conservatively and respectfully (make sure your arms, shoulders, neckline and knees are covered) and bring a pair of socks, as you'll be required to remove your shoes for part of the tour.
Art Deco Architecture
Bustling downtown Casablanca will leave you feeling like you stepped into a time machine. French architects who embraced the Art Deco movement of the early 20th century practically took over Casablanca, and there are plenty of historic buildings to see. Some of them are unfortunately in crumbling disrepair while others are well maintained. Overall, this neighborhood is an authentic slice of Morocco's history as a French colony.
The best place to take in the sights is Boulevard Mohammed V, where you can stroll alongside Casablanca's brand new tram. The street eventually leads to Place des Nations Unies, a large and busy square surrounded by shops, restaurants and offices. Other notable sites to see examples of Moroccan/French architecture in Casablanca include the Grande Poste, the clock tower of the Wilaya (government building), the Banque d'Etat and the Sacre Coeur Cathedral, which is no longer a functioning church.
Markets in Casablanca
While there are definitely more historical and attractive medinas in Marakech and Fes, the Casablanca medina is worth checking out simply because there are few other tourists there. It's a rare peek into the daily life of the city's Moroccan residents. Don't spend too much time shopping here – most of the souvenirs are imported from other parts of the country and therefore more expensive. The entrance to the medina is located off of Place des Nations Unies.
A better shopping destination to visit (even if you aren't shopping) is Marche Central. This buzzing street market was originally designed for Europeans but today it caters to both expats and Moroccans. If you like seafood, you can select a freshly caught fish and then take it around the corner to a grill to have it cooked to perfection. The market also sells fruits, vegetables and other food items, making it a great spot to stop before a picnic on the beach. Just don't forget to haggle for the best price!
Growing Art Scene
Cheap rent makes Casablanca an ideal place for artists to live, and a plethora of abandoned buildings provides a canvas. One can't-miss is Les Anciens Abbatoirs, a former slaughterhouse that still has meat hooks hanging and blood stains on the floor. A collective of cultural associations and artists, La Fabrique Culturelle, has taken it over recently and turned it into a gallery space and performance venue.
Another popular up-and-coming space is La Galerie 38, which supports local Moroccan artists as well as international names. La Galerie 38 is connected to Le Studio des Arts Vivants, a large studio that is at the center of Morocco's contemporary art scene. Students of all ages can take lessons in music, art, dance and theatre with teachers from all over the world. The best representation of the increasingly modern Moroccan art scene is Galerie L'Atelier 21, which offers pieces from both emerging and established local designers.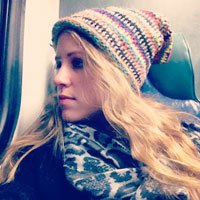 Many thanks for this article to Anna Rice, the writer behind The Blonde Banana, a travel blog that features fashion-forward packing tips, chic destination guides and stylish product reviews. When she's not off exploring new places, Anna works as a fashion publicist in New York City. You can read more of her Morocco tips here, and follow her next adventure on Instagram, Twitter and Facebook.
For more information on Morocco:
Paradise Valley – blue pools and waterfalls in Morocco
A scrub and massage in the Hammam in Agadir, Morocco
Life's a beach – watching the surfers at Taghazout – Morocco
This article by Heather Cowper is originally published at Heatheronhertravels.com – Read the original article here
You'll also find our sister blog with tips on how to build a successful travel blog at My Blogging Journey
Marrakech can be exotic, chaotic, challenging and welcoming in turn. You want belt? You want slippers? Where are you from? How much you want to pay? A woman grabs my arm and offers to to cover it with intricate henna patterns. When I decline she starts to make a 'present' of a design on my hand and I have to tug myself away. I point the camera in the direction of a distant group of snake charmers and instantly a man is there with a cap asking for payment.
There are sights to see in Marrakech; palaces, gardens, mosques, but that's not really the point. You go for the colour, the street-life, the banter, the people. All of this can be rather exhausting of course, so thank goodness we were staying at Riad Star, a haven of calm within the Medina or walled city. Riad Star is the latest addition to a small family of boutique Riads, owned by English couple, Mike and Lucie Wood, and is beautifully designed on a Jazz Age theme in honour of Josephine Baker, cabaret star of the 1920s and 30s, who lived there for a time.
To help you make the most of your stay in Marrakech, the couple have designed the Marrakech-Riad i-phone app that you can download free from iTunes, giving you tips on haggling, information on restaurants, recommended shops and things to see around the Medina. Best of all the app has a map that is stored on your phone (no need for wifi or roaming) with all the points of interest marked on it and a GPS feature which means you can navigate your way through the narrow passageways of the souk by following the moving dot, without falling prey to those helpful young men who point you in the wrong direction and then offer to  show you the way (for a small fee).
We flew to Marrakech with easyJet for a weekend on their new direct route from Bristol and spent our time sightseeing, haggling for things we didn't really need and trying not to get too lost – although that is half the fun. The Saadian tombs were one of the things we discovered, entering in single file through a narrow walled passage, that opened into a large courtyard. Pavilions with columns and carved plasterwork housed the tombs marked on the floor in tiles, with a raised section to prevent anyone walking on the dead. These tombs are the resting place of the rulers of the 16th century Saadi dynasty, but were dusty and forgotten until 1917 when they were rediscovered and restored.
Even more impressive was the Medersa Ben Youssef, an Islamic religious school founded in the 14th century with over a hundred tiny rooms for the pupils, overlooking the courtyard with central shallow pool. The Medersa is well known in the Islamic world and every surface is covered with patterned tiles in blues, green and browns as well as intricate plasterwork and Arabic inscriptions. The richly decorated surroundings make it the ideal place to bring visiting royalty and celebrities to be photographed framed in one of the windows or against a tiled backdrop that says "Here I am in Marrakech". The Medersa even starred as an Algerian Sufi retreat with Kate Winslet, in the film Hideous Kinky.
Even more recognisable for those "Here I am in Marrakech" photos, are the Majorelle Gardens which have become known for that particular shade of blue named after them, "Majorelle Blue". The gardens were developed in the 1920s and 1930s by the French artist, Jacques Majorelle and were later bought and renovated in the 1980s by the French fashion designer, Yves Saint-Laurent. The gardens feel a bit like walking into an art installation, clothed with tropical bamboo stems, shady palms, spiky cactus and water lilies drifting in shallow pools. Rich teracotta painted paths lead the eye towards electric blue pavillions, while acid yellow and tangerine painted and planted pots punctuate the garden paths. There's an interesting museum of Berber clothing and jewellery within the gardens, but don't make the mistake of taking a sneaky photo inside or you'll get a severe telling off like I did!
We used the Marrakech-Riad app to locate interesting places to eat as we wandered through the Medina, mainly European style cafes such as Earth Cafe that specialises in fresh juices and vegetarian and vegan dishes. I enjoyed my beetroot, ginger and orange juice with a lunch of roasted tagine vegetables topped with goat's cheese. We were equally at home at some of the street kiosks that we came across in the souk where we tried a mini tagine of lamb and vegetables served with bread and a Moroccan salad of chopped cucumber and tomatoes. We discovered that the same fresh orange juice, tagines, flat bread, and Moroccan salad dishes appeared in most of the restaurants, so the choice of where to eat was less about the originality of the food and more about the setting and ambiance.
Haggling in the souk can be a daunting prospect, since you know that all the traders have been perfecting their bargaining skills since childhood and are relying on that fact to extract the maximum amount of money possible from you, while persuading you they are your best friend. Of course it's all a friendly game of charades where each side understands the part they are playing. Luckily I was able to use the tips on the app to brush up on my haggling patter which works something like this;
First you decide what you want to buy and what is a fair price to pay, perhaps by checking out some of the fixed price shops such as Ensemble Artisanal or by asking the price of the same item in a few stalls while making it clear that you are 'not buying today'. Next you find a stall that has a good selection of the slippers, bowls or lamps you want to buy and wander up without expressing any particular interest. The conversation develops like this;
"Please come and look, looking is free! Where are you from? Bristol? – I was working near there a few years ago. Do you like this bowl (thrusts it into your hand).
"Oh I'm not sure, I have no space to take this back to England but how much is it?
For you I'll make a special price of £10, how many do you want to buy?
"Oh it's very nice, but I can't afford that and I'm not sure my husband would like it, but how about if I gave you £3 and I might take two?
Shopkeeper looks horrified; "Madame, you're trying to rob me, I have a family to feed and can't you see the beautiful craftsmanship – this is hand painted. But for you I can do it for £8″
You look doubtful, "No I really don't think I need it, but perhaps I could go as high as £4 for it"
And so it goes on until you agree at £5 and before you can change your mind your purchase is being wrapped up for you and the cash (preferrably the exact amount or you might not see your change) is handed over.
I think after a month or two of haggling I might have got the hang of it, but we did go out looking for a lamp and came back with six painted bowls and a mirror after making the mistake of expressing interest in a pepper pot. But the nice shop-keeper did then take us up to the top floor of his shop and give us a great view over the roofs of the souk and we just about managed to squeeze it all into our easyJet hand luggage!
And so to the square of Jemaa El Fna, the beating heart and soul of Marrakech, where you can be entertained,  robbed if you don't take care, buy a glass of orange juice, or get into conversation with an 'official' guide who will feed you misinformation and try to take you to his friend's shop. Watch the snake charmers and monkey men from a safe distance or they'll be onto you, draping a snake around your neck and demanding money for the photos, or take a horse and carriage ride around the Medina. Around the edge of the square are cafe terraces where you can get a view over the square which is especially useful as dusk falls and the food stalls are put up to feed the throngs of visitors.
We didn't eat at the stalls in the night market, although we fully meant to go back there, but somehow once we got back to the calm of Riad Star, we couldn't face going back out again to face the pressing crowds and the succession of people trying to extract their share of your cash. We were recommended by the staff at Riad Star to try stall number 117 and by the Marrakech-Riad app to try the fish stall at No 14 serving fish from the ports of Essaouria and Casablance with French fries and salads – a Moroccan Fish & Chips. If you try either of these stalls, do let me know how they were!
Another benefit of using the Marrakech-Riad app is that it gives you a 10% discount at many of the cafes, restaurants and boutiques that are popular with Europeans, such as the Henna Cafe, a co-operative that is supported by the Marrakesh-Riad and provides an art space, small rooftop cafe and a community project  where language classes are provided for locals who want to learn English, German and French to work in tourism. If you want to avoid being grabbed by a persistent lady in Jemaa El Fna, this is the place to get your henna design in a more relaxed atmosphere, but try not to step on the tortoise who roams under the tables in the terrace cafe!
It took me a couple of days before I could really relax in Marrakech and enjoy the atmosphere without worrying about being ripped off or scammed. By then it was time to fly home, but next time I'll be ready to bargain like a local and bring home another suitcase full of slippers, painted tangines and Aladdin lamps.
 Getting to Marrakech
Heather and Guy flew to Marrakech courtesy of easyJet who fly from Bristol to Marrakech on Tuesdays and Saturdays – perfect for a long weekend break. EasyJet also fly to Marrakech from Gatwick, Stanstead and Manchester so you really have no excuse!
Thanks to Riad Star who hosted our stay in Marrakech. We loved the beautifully designed home-from-home in the Medina, filled with Moroccan craftsmanship combined with Jazz Age objets, paying homage to cabaret star, Josephine Baker who stayed there in the 1940s. Rooms at the Riad start at £140 per night bed and breakfast and delicious Moroccan meals are available on request.
The Riad is one of four in the Marrakech-Riad family, owned by English couple Mike and Lucie Wood, which are all well located close to all the major sights of the Medina, with English-speaking Moroccan staff who will offer advice, airport transfers, book restaurants, and lend you a local mobile so they can rescue you if you get lost in the Souk! Each Riad has between 4 and 7 bedrooms, making them ideal to book as a group if you are planning a gathering of family or friends, or for couples planning a romantic getaway.
About the Marrakech Riad App
We found the Marrakech-Riad app was indispensable for finding our way around the Medina and full of useful tips and information about sightseeing, restaurants and shopping. The app is free to download from iTunes and features;
A comprehensive GPS responsive map of the old town medina to save you getting lost in the maze of bustling streets. In the latest version the map has been extended to cover the new town area of Marrakech.
Background profiles on popular tourist attractions and up to the minute guides to restaurants and bars, written by Marrakech Riad owner and local expert, Mike Wood
Discounts at many of the shops and restaurants recommended by the app
Information on day excursions from Marrakech
Useful tips on haggling in the souks and other advice to make your stay in Marrakech more enjoyable.
More things to see in Morocco
Paradise Valley – Blue pools and waterfalls in Morocco – video
A scrub and massage in the Hammam in Agadir
Life's a beach – watching the surfers at Taghazout
This article by Heather Cowper is originally published at Heatheronhertravels.com – Read the original article here
You'll also find our sister blog with tips on how to build a successful travel blog at My Blogging Journey