October 13, 2015 by Guest Author
Filed under Beaches and swimming, Eating and drinking, Europe, featured, Guest post, Leisure, Misc, Nature, Sightseeing, Turkey, Walking
In this guest article teenage traveller, Reka Kaponay shares her excitement at a walk in the Saklikent Gorge, Turkey, wading through icy water and taking a mud bath, before the day ends with a traditional Turkish meal. Reka writes;
As I lay in my bed, it took a few seconds before I realised again in sheer excitement, I'M IN TURKEY! Today we were heading out to what is arguably one the most beautiful natural wonders of this region, Saklikent Gorge, a 300 meter deep canyon that is close to Fethiye, forged through the power of the water's elemental force, cutting its way through sheer rock over thousands of years.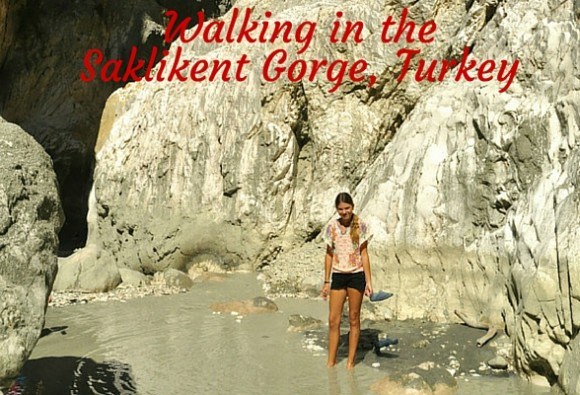 A bus ride to the Saklikent Gorge
Given that it was late September and no longer high tourist season, the bus ride was filled with a couple of explorers like ourselves, but mainly with locals who were making the trip home to rural villages that lay in-between the canyon and the touristy Fethiye.
After an hour and a half, we finally descended into a deep ravine which signalled our arrival. As we got our bearings, we realised that we would be wading through water and mud over rocky terrain and would need to leave our shoes behind.  A row of stalls lined the entrance to the gorge, hiring plastic wading shoes to all the visitors.
I looked up to see a towering ravine of ancient rock formations in front of me. It was as if I was at the entrance to a medieval fortress that would only allow me entrance if I knew its secret password. The view was entrancing and at the same time awe inspiring, knowing that the simple flow of water had sculpted this natural beauty. I stood on the suspension bridge looking deeply into the rapid flow of the river below me.
As we entered the park, we were swamped by tour guides trying to sell us their services for similarly ridiculous mark ups to that of the cab drivers of Marmaris. We ended up bringing helmets as a small precaution, but five minutes later we were taking them off and even leaving them behind to pick them up on our return journey, rather than lug them around for the rest of the walk. First, however, we had to enter the canyon and before us was a raging torrent of water about 20 meters across, that we would have to wade through to get to the entrance of the gorge.
An icy-cold plunge!
Pants rolled up and newly acquired wading shoes on, we plunged feet first in the water. I lost my breath when my feet made contact with the element. Pain shot up my legs and my toes felt like they had contracted frost-bite in a few simple seconds. My whole foot had turned numb. I shot out of the water, fast as a hare, shrieking like a hyena. I'm sure it was a sight to see. Lalika and Dad seemed to bear it better, as they were the first to begin heading through the fast flowing waters.
Soon it was up to their knees, but battling their way through they were the first of our family to make it across. During this time I was contemplating if I really wanted to go through with this. The look on Mum's face showed me that there was no alternative and with a renewed collective determination, Mum took my hand and we began making our way through the ice cold water to the sound of Lalika's cheers.
I nearly slipped at one point but thankfully I recovered in time and Mum and I emerged from the water half dry and very happy. The ice crystal water had somehow instantly rejuvenated my curiosity and I was keen to see what mysteries lay beyond the curves of the deep ravine in front of me.
Wading through the clay
I began to wade through the softest flowing grey clay that had deposited itself over thousands of years between this magnificent Moorish pink gorge towering over me. I was surprised that the locals hadn't already made a beauty industry out of this, mining this natural resource, when I remembered that thankfully, it was a protected national asset, located behind the confines of a national park.
That didn't stop Dad and Lalika from making a mud pack, as the two of them smoothed the liquid clay all over their faces, arms and legs. The mud also made great war paint and Lalika and I had a really fun time applying it before role playing a fierce battle of the clans.
The canyon snaked its way in curves and arcs in what seemed like a never ending array of rocky colours of beauty. After about 45 minutes of walking, we came to a fork in the canyon. To the right you could make your way through waist deep mud and continue on. The other choice to the left was neck deep fast flowing river. These were the only two options to continue on.
We decided that this was our sign to turn back, but in truth you can continue up through the canyon for another 15 kms as it is 18 kms long. On the way back, we faced a small crisis when my brother lost one of his croc slippers in the muddy stream and we had to drop to our knees in the murky river feeling with our hands as to where it could be.
It took us a couple of minutes, with some airing of our frustration at his carelessness, but we finally found it. We stopped just before crossing back across the freezing river to take a moment to marvel at our current location. We managed to cross the river once again with no trouble and we emerged with frozen feet but joyful smiles.
Learning about local Turkish cuisine
Changing back into our shoes, the wolves in our stomachs reminded us that it was time to eat! Walking through a canyon for an hour and a half and half bathing in cold water, really works up an appetite! We wandered beyond the closest and obviously touristy oriented restaurants lining the river walk. We decided to walk a kilometre up the dusty road, away from the park in the direction of some local stalls and we were duly rewarded for our efforts.
We found a smaller traditional restaurant that was built over a natural spring that flowed right through the middle of it. There were no chairs to sit on. Instead you reclined on comfy colourful Turkish motif cushions, while you ate on a small luxurious raft floating on the water. This is where we learnt our third and I feel most useful Turkish expression – Gözleme.
Gözleme is a pancake-like unleavened bread, baked freshly on an open grill convex metal hotplate, and filled with all sorts of wonderful fillings like Feta cheese and spinach, or chives and potatoes, or any other combinations of meats and Turkish spices. Of course back in Australia we were already familiar with Gözleme, but not in the manner that this Turkish grandmother, dressed in her regional traditional costume, was working this convex hotplate, heated by traditional wood fire.
Her hand movements were so skillful, that it was almost as if she was conducting a symphonic orchestra to its crescendo, rather than making a pancake. It was mesmerising and almost as good to watch as it was to eat. The Gözleme was not the only fare on the menu of the day. As those that don't eat meat, we had a generous selection of figs, potato salad, roasted eggplant, beetroot, tomato and cucumber salad, french fries and of course more Gözleme to choose from… All of this was to the setting of this beautiful oasis of natural spring water and the surrounding granite mountains that embraced us.
It was extremely relaxing, so much so, that we all took a small traditional Turkish nap on our water raft bed. For me, this combined experience of the natural wonders and our lunch, were all the reasons why I need to recommend that if you are ever in this part of the country, then Saklikent Gorge is an experience not to be missed. Take a day away from the beach and you will be rewarded with a traditional Turkish experience.
Our ride back to Fethiye was hot and uncomfortable and the bus was packed to the brim with people from the villages returning to their jobs in the touristy Mecca that is Fethiye. I ignored this however, along with the heat, and dreamt of Gözleme and rocky gorges, as I dozed in and out of consciousness on the bumpy ride home.
Author Bio: Many thanks for this article to Reka Kaponay, a teenage life schooler traveling the world who blogs at Dreamtime Traveler
For more Turkish adventures:
Visiting Kusadasi and Ephesus on our Azamara Cruise
Istanbul the golden – final stop on our Azamara Cruise
The Delights of Dalyan: Family Fun in Turkey
Pin It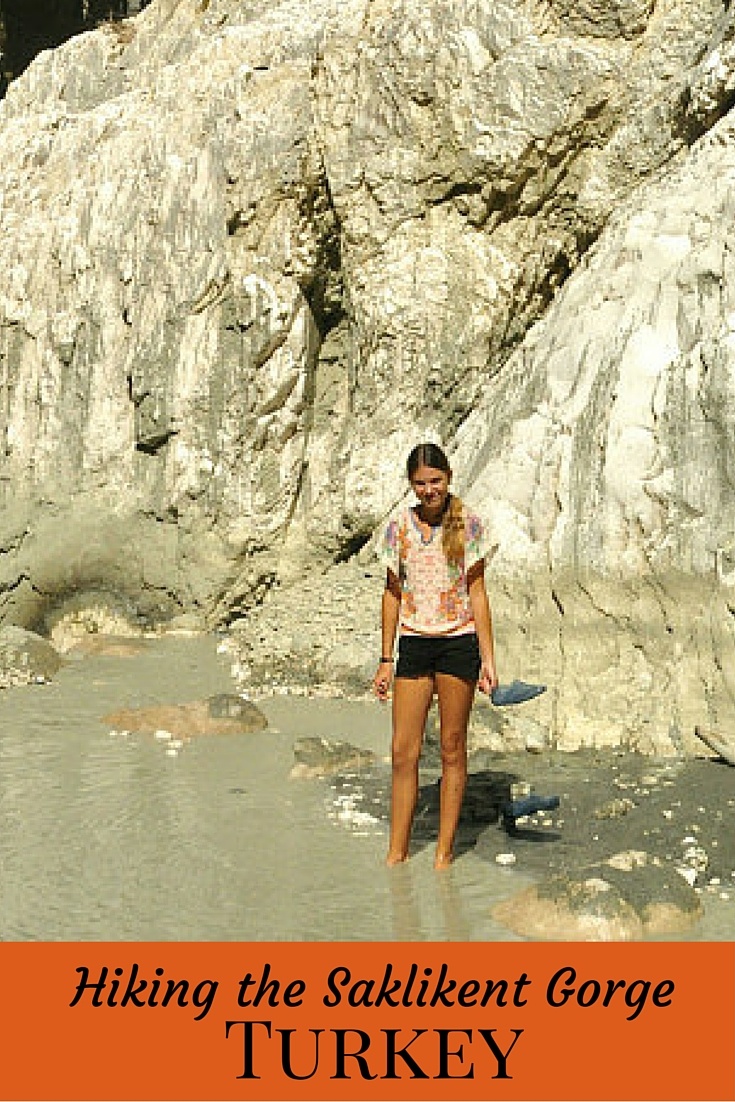 This article is originally published at Heatheronhertravels.com – Read the original article here
You'll also find our sister blog with tips on how to build a successful travel blog at My Blogging Journey
August 26, 2015 by Heather Cowper
Filed under Art and design, Eating and drinking, Europe, featured, Italy, Leisure, Museums, Sightseeing, Venice, Walking
There's a saying that if you eat badly in Italy you must be in Venice. Being something of a foodie myself, on my long weekend in Venice, I was determined to search out the best of Venetian food. I'm afraid to report, however, that my food experiences ranged from the average to the mediocre. Since Venice is such a tourist hotspot, and so many of the visitors are there for such a short time, it is all too easy for many businesses not to try too hard. Still with a little research and planning I think that you can find the best that Venice has to offer, so here are my tips to ensure that you don't eat too badly in Venice.
Get well away from San Marco
The San Marco district and especially the area around St Mark's Square is the tourist hub of Venice and is always packed with visitors. Many come for the day from a cruise ship or coach tour and just have time for the tick list sights of the Doge's palace, San Marco Cathedral, climb the campenile and then a quick gondola tour or foray to the Rialto Bridge. I'm not saying it's not possible to find a good restaurant in this area, but you are just as likely to stumble into one with a multi-lingual menu designed to service tourists only.
Better to venture into the less touristy districts such as Cannaregio, Arsenale or Dorsoduro where you will find more authentic wine bars and restaurants. The area around the Rialto market is good and has a number of good bacari (wine bars) plus it's a feast for the eyes. Arrive in the morning when the fish is on sale to see the market in full flow; by lunchtime the market is winding down and stalls are packing up, although the fruit and veg stalls will be there for a little longer.
What to eat in Venice
If you're not sure what to order we found that it was difficult to go wrong with a seafood pasta or pizza. It's not terribly adventurous but tends to be the least expensive things on the menu if you're on a budget. Local specialities to look out for are linguine alle vongole, the hot antipasti of mussels and clams and a risotto with black squid ink. The meat dishes that we eat at home such as lasagne and ravioli we found were disappointing.
If you are offered fresh fish, it may be priced by weight and you should take care to establish the cost in advance or you may find yourself landed with an unexpectedly large bill. This is a bit of a scam in the San Marco tourist restaurants where a big show is made of a whole fish cooked in salt which you discover later has a hefty price tag.
Other things to check are the cover charge which may add a few euros per person and a service charge which may be added on to the bill. Of course if you'd like to have that coffee at Florian in St Mark's Square while listening to the musicians, you should do so knowing that it has a tourist price tag (the prices are clearly shown on the menu outside). Venice is a great place to try local Italian wines by the glass in a side-street wine bar and in the early evening you can join the locals in a bright orange Aperol Spritz, a Bellini or a glass of Prosecco.
Eat standing up
A custom that takes us Brits by surprise, but is quite the done thing, is to stand up or perch on a bar stool while having a drink and a snack with friends. Don't be put off in the wine bars if there are only a few small tables and you have to rest your drink on a shelf along the wall. This is where you can order cicchetti, or small bar snacks which range from miniature sandwiches to dishes of salad and cold seafood. The ideas is to order a glass of wine and point at whatever dish looks tempting, then stay for another or move on to the next bar.
The stand up principle also applies to gelateria. Look for those that are artizan, which indicates the gelato is made on the premises, where you will often find a few small tables or stool to sit inside. The same stand-up approach can also apply at the Pasticceria where you can grab a coffee at the bar with a sweet pastry or cake. Generally eating or drinking standing up means that the price is cheaper since table service is not required.
Eat Venice food app
Before I visited Venice I downloaded the Eat Venice app onto my phone in the hope that I could find some more authentic places to eat. The app is by Elizabeth Minchelli whose blog about Italian food is also a great source of information about eating in Venice. I loved reading about all the great places to eat on this app but found that once we were there we invariably couldn't find them or were too hungry to hunt around.
It's certainly worth using the app to find out good food places in your neighbourhood, but don't get too worried if you don't find them, it's better to use your eyes to judge whether a place looks authentic. If it's busy, packed, full of Italians chatting with their friends, then it's worth waiting for a table.
Self catering in Venice
While there are plenty of apartments in Venice and indeed we stayed in one of them, although it seems to be a bit sad to always be eating in when you are in the midst of a living postcard. There are a few supermarkets in Venice but not really the convenience stores that you find in other cities. The culture is to eat out in a bar or restaurant and picnics are discouraged, in fact there seems to be a rule that they are not allowed. Still an apartment does mean you have the flexibility to make yourself the breakfast or lunch that you want, while perhaps eating out in the evening.
Food Tours in Venice
Another great way to get the feel of the local food culture is to take a food tour like the Rialto Market and Cicchetti wine bar tour with Walks of Italy. This tour takes you around the Rialto fish market and into the artizan food shops with a stop at three different local bars to taste the cicchetti as well as restaurant recommendations from the local guide. I wish that we had been able to take this tour as I feel sure that our food experience in Venice would have been improved had we been armed with some insider knowledge.
Pin It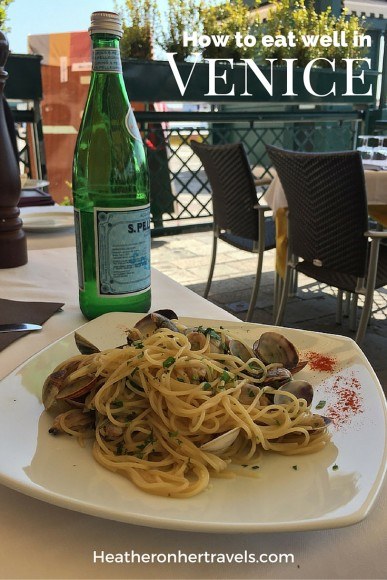 Some more Venice recommendations
The Go with Oh apartment we stayed in was one that I won through Murissa's blog at The Wanderful Traveller in the Passports with Purpose fundraiser. Murissa knows Venice well and kindly made me some recommendations of where to eat in Venice;
Hilton Molino Stucky Venice
If you don't mind your kids drinking a bit of prossecco and toasting to what an amazing city you've all traveled to then head up to the top of this hotel. There is a bar that has a picturesque pool and overlooks the entire city of Venice. Take the Zattere water bus stop over to Stucky.
Osteria Enoteca ai Artisti
You'll find this recommendation in your Eat Venice app. Delicious and not too pricey food in a quaint location not far from where we stayed. http://www.enotecaartisti.com
Al Mercà (Rialto market area)
One of my favourite cicchetti bars – cheap and amazing sandwiches (the prosciutto is my favourite!), delicious prossecco, and a view of the hustle of the market/canal. Standing room only.
All'Arco (Rialto market area)
Family run cicchetti bar where you can eat local foods for very cheap. Cicchetti are Venetian snacks for cheap and have been served for hundreds of years. I personally love the deep fried mozzarella with fresh sardines but stuffed zucchinni flowers are divine as well. Good for lunch – mostly standing room only when you visit cicchetti bars.
Do Spade (Rialto Market area)
Where Casanova frequented in the mid 1700s. Delicious cicchetti, wine and beer. Locals and tourists alike. Just go up to the counter order and find a spot. Not far from the Rialto Bridge/Market.
Book a tour of Venice
We highly recommend Walks of Italy who offer a number of different tours in  Venice and other parts of Italy, which are ideal if you are only visiting for a short time. You'll have an expert local guide to show you around and can often skip the queues at key sites. We took the 2 hour Venice Boat Tour which took us down the Grand Canal and many of the smaller canals with views of the key sites of Venice including a visit to the island of San Giorgio Maggiore where we climbed the bell tower with amazing views of Venice. Read my review of the Walks of Italy Boat Tour here.
Where to stay in Venice
For our 3 day stay in Venice I rented an apartment with Go with Oh and was able to use the €250 voucher that I won with Passports with Purpose blogger fundraiser. We chose this apartment in the San Marco district since it was so well located for all the main sites.
Thanks to Murissa from The Wonderful Traveller who hosted this prize contributed by Go with Oh and and for her tips on what to see in Venice. Passports with Purpose is a really worthwhile organisation which supports a different cause each year and you can win some really fabulous prizes so it's definitely participating.
This article is originally published at Heatheronhertravels.com – Read the original article here
You'll also find our sister blog with tips on how to build a successful travel blog at My Blogging Journey
August 11, 2015 by Guy Cowper
Filed under Art and design, Cruise, Eating and drinking, Europe, featured, Greece & Turkey Cruise, Leisure, Museums, Sightseeing, Turkey
I'm slowly sailing past the Golden Horn at sunrise, listening to the Muezzin calling the faithful to prayer. The Blue Mosque of Istanbul emerges from the early morning haze against a back drop of what has, and will always be, one of the most important cities in the world. As Napoleon said, "If the Earth were a single state, Istanbul would be its capital."
Even at this hour we are not alone. Behind and in front of Azamara Journey are many other cargo ships of various sizes transiting the straits, as we arrive at the cross-roads of Europe by sea. Built on two continents, Europe and Asia, located on the shores of the Bosphorus, Istanbul stands where the waters of the Black Sea meet those of the Sea of Marmara at the Golden Horn. Near the tip of the old-town peninsula is the compact district of Sultanahmet which is home to many of the city's most famous sites.
For first-time visitors the city appears to be an enormous metropolis but we found that the main tourist sites of Istanbul were manageable for our final day's cruise stop with Azamara Club Cruises. Our ship, Amazara Journey, docked right in the heart of town, close to the Galata bridge and the Golden Horn. As we had only a day we decided to focus on the compact Sultanahemet district taking one of Azamara's Land Discovery tours.
Most people know that Istanbul was originally called Constantinople, named after the Roman Emperor Constantine the Great who chose it as his capital. After the Romans came the Byzantine Empire and from the 15th century the Ottoman Empire took over, ruling through the end of World War I. Given the geography and history it is hardly surprising that modern Istanbul is a melting pot of ideas and cultures; a cosmopolitan and exciting world city.
We boarded our mini-bus for a panoramic tour over one of the major bridges to what the Turks call "the other side", technically Asia. Despite the traffic and commuting time, this is a popular place to live since it is calmer than the European side where most of the businesses are located. Returning to the European side our first stop was the Spice Market near the Galata Bridge.
The Spice Market in Istanbul
The Spice Market was built in the 17th century and houses merchants dealing in spices, herbs, medicinal plants, vegetables, meat and fish. Tourists and locals mingle, with the smell of spices wafting enticingly throughout the area. We were offered samples of Turkish delight and pomegranate tea and whilst the salesmen were smooth tongued we were genuinely welcomed. Of course we bought some Turkish delight and Iranian saffron, then continued to walk around looking at the fresh fish stalls and the fruit and veg market.
For a foodie like me it was a real pleasure and I could have spent many hours tasting anything from walnuts through to caviar, fresh apricots, soft cheeses, spicy sausages. We found the Spice Market less intimidating than the Grand Bazaar, although you need to understand that it is fine to walk away if you find the salesmen too intense.
Lunch at Hamdi restaurant
Somewhat reluctantly we left the Spice Market to walk across the square to Hamdi restaurant where we had a table booked on the top floor. By now it was very hot and humid, so the air-conditioned dining room was a welcome retreat. It also provided a stunning panoramic view towards the Bosporus and the endless river traffic as well as the domes and minarets of the nearby New Mosque.
Lunch was delicious and we tried kebabs of finely minced lamb and beef with pistachios and spicy chicken served with yoghurt. As mezes we had hummus, pinto beans and vine leaf dolma and a sweet taste of baklava followed by strong, sweet Turkish coffee.
The restaurant was packed with professionals taking lunch, discerning tourists and Turkish families out for a treat. Mr Hamdi started as a street vendor and I can fully understand why he now has a restaurant covering four floors and serving the same simple dishes using local fresh ingredients, both delicious and beautifully presented.
Hagia Sophia in Istanbul
After lunch we were back on our air-conditioned coach for our visit to Hagia Sophia, known as the greatest house of worship in the Christian and Muslim worlds. This is the Church of Constantinople built by the Emperor Justinian in A.D. 537 on the grandest scale possible – the dome alone has a span of 56 m! Since the Emperor was in a hurry, the church took just five years to build and if you ask how they did it, the legend is that it was built by angels.
Hagia Sophia served as a church for nearly a millennium and for 1000 years it was the greatest dome in the world surpassed only by the renaissance cathedral in Florence. The day the Ottomans captured Constantinople in 1453 the building was converted into a mosque. Fortunately, they left much of the fine mosaic work, save plastering over the faces of the icons, since Muslims do not allow pictorial representations of the prophets.
Kemal Attaturk, the founder of modern Turkey had the sense to convert the building into a museum in 1935, since it was such an important site for both Christians and Muslims. Whilst there was much to see, the images that left the greatest impact on me were the colourful mosaics of Mary and the Christ child. Above where the altar once stood were two enormous wooden medallions, one with the Arabic lettering for Allah on the right and the other of the Prophet Mohammed on the left. Given the current conflict between the Muslim and Christian world it is humbling to see three of the most important figures in world religion venerated in one place.
The Grand Bazaar in Istanbul
Next on our tour was The Grand Bazaar, the "Mall of all Malls" with 4000 stores as opposed to the 150 in the Spice Market. The Bazaar was the centre for trade for the entire Ottoman Empire and remained Turkey's commercial hub right up until the 1950s. The enormous covered market is bursting with everything you can imagine from jewellery (especially gold), to silks, copperware, spices, ceramics, leather goods and plenty of tourist tat. About 80% of the visitors nowadays are tourists and it is probably not the place to get the best bargains, although certainly an unmissable experience.
We were looking for some hand painted Turkish bowls and we expected to have to haggle hard. However I was delighted to meet a lovely gentleman who'd had the shop for 40 years who not only allowed me to taste his tea but also immediately accepted our offer of four for the price of three. Our purchases were quickly bubble wrapped and we left the best of friends. While you have to visit the Grand Bazaar, I preferred the Spice Market for a less intimidating experience.
So what did we learn from our day's cruise stop in Istanbul? Firstly, you should do your research if you only have a limited amount of time since there is so much to see, more than you could possibly cover in a day. Secondly it is worth taking one of the Land Discoveries with an air conditioned bus and guide since Istanbul is just too busy and you will waste too much time if you don't. Thirdly you have to have an open mind. For example I enjoyed seeing headscarfed ladies, arms around the waists of their husbands doing their shopping. Everyone I spoke to was incredibly helpful and I didn't feel intimidated at all. Of course one day in Istanbul is just not enough. Many of the other cruise passengers had decided to stay on after the cruise for three or four days and of that I was very envious.
Listening to the fifth and final call to prayer as the sun sets I observe three young modern Turkish women, smart phones in hand, enjoying a chat in the evening sunshine. I can't help but think that Napoleon had it right all those years ago. Istanbul could easily be the capital of the world.
Thanks to Guy for sharing his impressions of Istanbul. Guy occasionally writes for the blog, and is always happy to be Heather's travelling companion, photographer and bag carrier!
About Azamara Club Cruises
Azamara Club Cruises is a small luxury cruise line with two ships; Azamara Journey that Heather and Guy sailed on and Azamara Quest, each with a capacity of 686 guests. The smaller ship size means you often visit destinations that larger ships can't get into and the ships can dock in more central locations. The emphasis is on destination immersion; enjoying the destination to the full, arriving early and sailing late so that guests can enjoy nights and cool places ashore, with insider access programmes and a unique AzAmazing evening included in each cruise. No itinerary is the repeated and each year the ships visit different destinations around the world. Azamara is part of Royal Caribbean Cruise group. Visit the Azamara Club Cruises website more information about a Mediterranean luxury cruise like the one Heather and Guy enjoyed.
You can also connect with Azamara Club Cruises on Social Media via:
Azamara blog | Twitter | Facebook | Instagram | Google+ | Pinterest | YouTube | Flickr
Joining your Azamara Club Cruise
Heather and Guy flew from London Heathrow to Athens and back from Istanbul using British Airways, although obviously each cruise is different in the best way to get there.
Heather used the Meet and Greet Parking Service booked through Airport Parking and Hotels (APH) who offer airport parking at a range of airports across the UK as well as travel extras such as airport lounge booking and airport hotel stays.
Both flights and transfers from the airport to your cruise ship can be arranged through Azamara Club Cruises.
Thanks to Azamara Club Cruises who hosted Heather and Guy for their 7 day Greek Island Cruise and to Airport Parking and Hotels (APH) who provided their airport parking at Heathrow.
Read More about our Azamara Greece Island Cruise
Sailing into Santorini – Day 1 of our Azamara Greek Island Cruise
Windy Mykonos – Day 2 of our Azamara Greek Island Cruise
Charming Patmos – day 3 of our Azamara Greek Island Cruise
Visiting Kusadasi and Ephesus – Day 4 of our Azamara Greece and Turkey Cruise
Pin It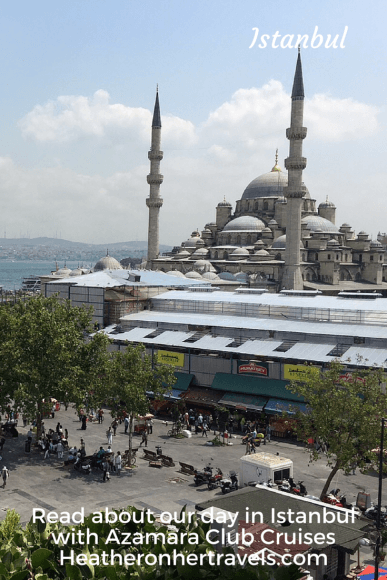 This article is originally published at Heatheronhertravels.com – Read the original article here
You'll also find our sister blog with tips on how to build a successful travel blog at My Blogging Journey