As winter turns to spring I'm feeling the need for warm air and sunshine. Where better for some winter sun than Dubai, offering a melting pot of cultures and foods, from traditional dhows to gleaming skyscrapers. For the best things to do in Dubai, that will give you that authentic Dubai experience, I asked my blogging friends Kathryn Burrington and Suzanne Jones for their tips. If you're also looking for some winter sunshine, read to the end of the article where you'll find I'm giving away a £150 holiday voucher from Travel Trolley
Take a trip across the Dubai Creek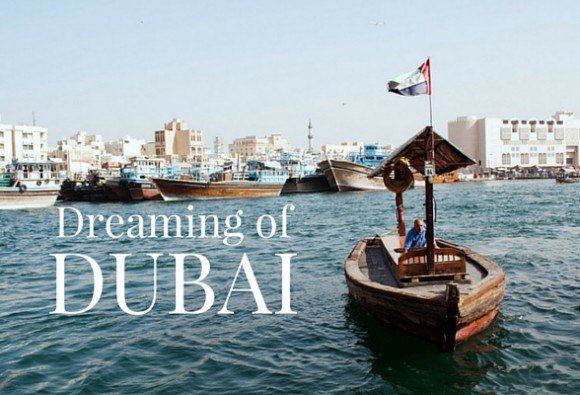 Suzanne's tip: Discover the traditional Dubai with a simple Abra ride across the Creek which costs just 1 Dirham (around 18p). These little wooden vessels have been transporting people from Bur Dubai on the left bank to Deira on the right and back again since Dubai was just a small fishing port. Feel the centuries of trading tradition, with traditional Arabian and East African dhows backed by teetering skyscrapers, although things will soon be different when the dhows move to a new wharf further up the Creek. It's one of the best places to visit in Dubai at sunset, as the call to prayer floats across the water and the sun sinks golden into the horizon. Read More
The View from Burj Kalifa
Kathryn's Tip: Visit the Burj Khalifa, the tallest building in the world, with 830 metres of smooth, shining glass. Book ahead for the 'At the top' experience  which takes you in a dedicated lift up to the viewing terrace on floor 125. The floor counter whizzes past the numbers at an alarming rate and even when you step out, the tower seems to carry on forever, a further 37 floors into the sky. Looking down the neighbouring skyscrapers take on a miniature appearance as the city stretches out before you. The views are staggering; a not-to-be-missed experience for any first-time visitor. Read More
Authentic Iranian Kababs in Dubai
Suzanne's tip: If you're wondering where to go in Dubai for authentic Arabic street food check out Al Fareej Restaurant and Bakery in the quiet neighbourhood of Al Twar. At this Iranian kabab house we ordered a glass of fresh mint lemonade made with lemons, mint, sugar, water and ice which was thirst-quenchingly delicious. The Kababs are served fresh from the grill. Try the tender lamb Koobidah which means twice-minced, the succulent tikka (small bites) or the lemon-infused lamb kabab, all paired with plates of rice, hummus, warm flat bread and a squeeze of fresh lime. Read More
The Dubai Coffee Museum
Kathryn's Tip: At the Dubai coffee museum, learn about coffee at its finest and sample the best Turkish coffee I've ever tasted. I normally find the small cups of black coffee too strong but this had a much smoother and delicate flavour that has transformed my view of black coffee. Read More
Brunch at the Ritz Carlton
Suzanne's Tip: Treat yourself to brunch at Caravan in the Ritz Carlton, one of the leading hotels in Dubai. The produce is sourced locally and incorporates dishes from Arabia, India and the Mediterranean, with a fish selection is brimming with fresh oysters, lobster and shellfish. Big Rami's Chicken Shawarma was an aromatic spicy hit and I loved the selection of hummus, slow-cooked couscous and roasted vegetables. Enjoy some of the special cocktails such as the delicious Bedouin Beauty made with fresh pomegranate juice, a delicate Pear Dew Cider or even champagne. Read More
If you're thinking of booking a winter sunshine holiday, enter my giveaway of a £150 Travel Trolley voucher that can be used towards booking a holiday on the Travel Trolley website. Check out their flights page and latest offers on holidays around the world, from Dubai to Bangkok and Australia to South Africa.
How to enter the Travel Trolley Giveaway
Make your entries through the Rafflecopter widget below.
Simply visit the Travel Trolley holiday page for ideas and then leave a comment below telling us where you'd like to go and why.
For additional chances to win you can use the Rafflecopter widget to Tweet about the giveaway and follow Heatheronhertravels and Travel Trolley on our Twitter and Facebook channels.
The giveaway closes at midnight on 27th Feb and the winner of the £150 holiday voucher will be drawn at random.
You'll find the terms and conditions for this giveaway at the end of the article.

This article and giveaway was brought to you in partnership with Travel Trolley
Pin It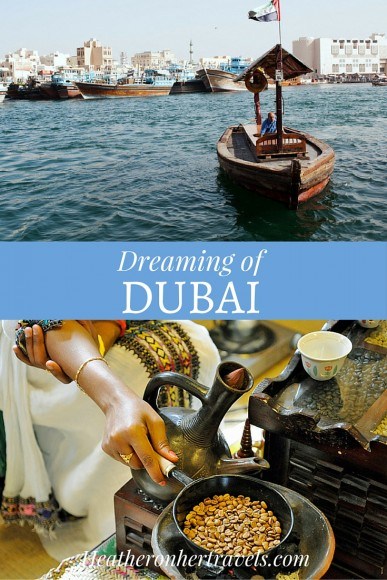 This article is originally published at Heatheronhertravels.com – Read the original article here
Giveaway Terms & Conditions
1. The giveaway is open to all aged 18 years or over except employees and
families of Travel Trolley, affiliates or subsidiary companies.
2. The prize will consist of one holiday voucher worth £150 only, courtesy of Southall
Travel Group. The winner can purchase any holiday package from Travel Trolley and
they will be able to use the voucher for £150 discount. No cash alternative can be offered.
3. The holiday voucher will be valid for 3 month from the date of issue. The travel
dates has to be within 1 year from the date of issue of the voucher, i.e. the
booking/purchase needs to be done within 3 months of the issue of the voucher,
however the travel dates can be within 1 year from the date of issue.
4. The giveaway closing date is midnight on 27 February 2016 and any entries received after this cannot be accepted.
5. The winning entry will be selected at random after the closing date and the winner will be
notified by email within 7 days.
6. If you are notified of a winning entry, you must confirm acceptance by email to claim
your prize. If you do not reply to confirm acceptance within 5 days of being notified
as a winner, we may offer your prize to someone else.
7. By entering to the giveaway you agree that you may be added to the mailing lists of Heatheronhertravels.com and Travel Trolley but you may unsubcribe at any time.
8. The prize is non-transferable, non-refundable and no cash equivalent may be offered.
What could be more romantic than Heidelberg, with old cobbled streets and an ancient university, set beside the river Neckar? Among its charms are the ruins of an ivy clad castle on the hill that delighted the 18th century romantic poets, a tale of true love between a handsome prince and beautiful princess and a cheeky Student's Kiss. If you're looking for a place to visit with that special someone, here's what we suggest in Heidelberg.
The romantic castle on the hill
Built in the 14th century as the residence of the Prince Electors of Heidelberg, the castle on hill above Heidelberg was once a magnificent renaissance palace, with stone statues from classical mythology decorating its ornate carved frontage. By the 18th century, however, fire and war had reduced the castle to an uninhabited ruin which made a picturesque sight for the romantic poets and painters who visited on their Grand Tour of Europe. Turner painted a misty vision of the castle and Mark Twain waxed lyrical about the "huge ruin of Heidelberg castle with empty window arches and ivy mailed battlements" when he visited in 1878, writing:
"I have never enjoyed a view which has such a serene and satisfying charm about it as this one gives. One thinks Heidelberg by day with its surroundings is the last possibility of the beautiful, but when one sees Heidelberg by night a fallen Milky Way, with that glittering railway constellation pinned to the border, one requires time to consider upon the verdict."
Today you can visit the castle, walking through the old courtyards, admiring the carved stone facades and see the same view from the terrace as Mark Twain over the rooftops of Heidelberg.
Heidelberg writer, Cornelia Lohs of Atterrata.com told me, " The most romantic thing you can do on Valentine's Day is to walk up to the castle at night and look down at the city lights – this would also be a very romantic place to propose."
The Elizabeth Gate at Heidelberg castle
In the gardens of the castle stands a beautifully carved stone gateway that was built for Princess Elizabeth Stuart, wife of the Prince Elector Frederich V in 1615. Elizabeth was was the daughter of the English King James I and at the age of 16 she arrived at the Heidelberg court after a political marriage had been arranged to seal the alliance between the Protestant rulers. True love blossomed from the marriage, however, and the couple went on to have 13 children together, although after the Thirty Years War they had to flee Heidelberg and ended their days in exile in Holland.
The Elizabeth Gate was made for Elizabeth's 19th birthday and was said to have been built in just one night. Surprise! After all, what do you give the princess who has everything? The royal couple were known for their extravagant entertainments and each summer the castle and city of Heidelberg are lit up with illuminations and fireworks that recall the firework display put on by Frederich V to celebrate the royal couple's marriage.
The Heidelberg Kurfürstenkugel to celebrate the royal romance
At Café Gundel in the old town, you can order a unique cake that was created to commemorate the romantic story of Frederich V and Elizabeth Stuart. Created in 1820 when visitors started to visit Heidelberg, the Master Baker Gundel created the Kurfürstenkugel, a sponge ball, filled with nougat cream and covered with marzipan and chocolate.
The cakes come in many different varieties which you will see in the window of the Gundel bakery, with the dark chocolate cakes representing Frederich and the white chocolate Elizabeth, who was known as The Pearl of Britannia. Order your Kurfürstenkugel with a coffee in Café Gundel or buy some to take away in a special box that tells their romantic story.
Cafe Gundel: 212 Hauptstrasse in Heidelberg, near the Kornmarkt square
Love Locks and Romantic Poetry in Heidelberg
It seems that every city in Europe now has a bridge where lovers come to set their padlock and throw away the key to symbolise their everlasting love. Rather than risk damage to the Alte Brucke, the old stone bridge across the Neckar, Heideleberg has found a different solution; a Liebesstein or love stone.
Cross the bridge from the Old Town and you'll easily find the sculpture by the river bank, made of sandstone with a circular window that frames the view of the romantic castle across the river. On the brass plate is the love poem Der Blick or The Look written by the German Romantic poet Joseph von Eichendorff who used to meet his sweetheart here.
"If she could also put it into words, what the heart deeply feels, still the eyes serve it up, becoming sweeter only when fulfilled."
Walk hand in hand up the Philosopher's Way
At the end of the Old Bridge, close to the Love Stone you'll see the sign for the Philosopher's Way, a stone paved path that winds up the hill through the terraced slopes planted with orchards and vegetable gardens. The path was named after the writers and philosophy professors of the university who enjoyed walking here and is an easy climb with plenty of benches and points to admire the view.
Perhaps this is the place to come for a walk with your sweetheart, strolling along the flat path halfway up the hill to overlook the city, or to climb even higher up to the top of the Bismark tower for that fairy tale Rapunsel-let-down-your-hair moment?
A delicious souvenir of Heidelberg – the Student's Kiss
There are many lovely chocolatiers in Heidelberg, where you'll be able to find a romantic gift for your loved ones but for the ultimate Heidelberg souvenir seek out the Knösel chocolate shop (Haspelgasse 16) for a Student's Kiss.
These yummy chocolate truffles were created in the 1860s when the gentlemen students of Heidelberg University mights admire the young ladies of the local colleges who would be chaparoned when they went out for a coffee in town.
Since a meeting alone could not be permitted, an innocent box of chocolates could be presented to the object of your affection, with the image of the beautiful lady and the student in his cap, their lips almost touching and only room between for a 'Student's Kiss'.
A lollipop for your sweetheart
For more old fashioned sweetness, pop into the Heidelberg Bonbon Manufaktur (Steingasse 5) close to the Old Bridge, where you can see candies and lollipops being made in all colours and flavours. Treat your loved one to a jar of fruit flavoured candy or buy some of the pretty heart shaped lollipops for the little darlings at home.
Romantic Heidelberg recommendations from the locals
Staying on the chocolate theme I asked blogging friend Jordan Beck Wagner from Beertime with Wagner where she would go with that someone special, since she studied in Heidelberg. Her suggestion was the quaint CHCO Chocolate Company.
"Located on the adorable Hauptstrasse of Heidelberg, this chocolate shop serves delectable hot chocolate and mouth-watching cakes. The perfect place to celebrate Valentine's Day this year!"
And for a romantic place to have a drink check out this suggestion from writer Cornelia Lohs of Atterrata.com who lives in Heidelberg:
 " A romantic place for a drink is the Europa Bar at the hotel Europäischer Hof, one of the leading hotels in Heidelberg. I just love old bars and think they are very romantic."
If you're looking for a romantic Valentines Day gift this year, why not surprise your loved one with a weekend away in Heidelberg? Stroll through the cobbled streets of the Old Town, enjoy a romantic walk with views over the valley, find a cosy bar or cafe to cuddle up and treat yourself to some delicious chocolates. Germany's city of romance has it all!
I hope you enjoyed romantic suggestions for what to do in Heidelberg.  If you've already been to Heidelberg, do you have any recommendations for places you found romantic? Do let me know in the comments!
Read more about our visit to Heidelberg:
9 German Christmas Traditions we enjoyed in Heidelberg
A Food Lover's Guide to Heidelberg
My Top 10 things to do in Heidelberg – Video
Pin It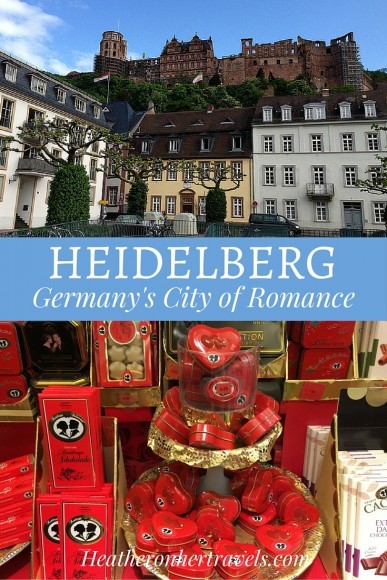 Plan your visit to Heidelberg
For more information about planning your trip to Germany, visit the Germany Tourism Website and read more about German Traditions  | Follow them on Social Media | Twitter @GermanyTourism | Facebook | Instagram | YouTube |
You can also find information about Heidelberg on the Heidelberg Marketing website.
Compare prices and book Hotels in Heidelberg through my Hotel Booking page powered by HotelsCombined.com – see below for my hotel recommendations.
If you need a guide in Heidelberg, we highly recommend Susanne Fiek who runs culinary and other tours of Heidelberg.
Where to stay in Heidelberg
Heather and Guy stayed at Qube hotel, a stylish boutique hotel that was a 20 minute walk or short tram ride from the Old Town. Our room was in Villa Qube, a large townhouse next to the main hotel, on the 4th floor under the eves. Our windows faced the gardens at the back and was quiet, with sloping ceilings and a grey linen sofa and desk as well as a huge comfy double  bed.
There were interesting lighting effects which bathed the room in a purple glow and the bathroom was huge with both walk in shower and bathtub. The Qube restaurant has an excellent reputation, although we didn't eat there, and in summer you can reserve a table on the rooftop terrace with views towards the river.
Qube Hotel Website | Address: Bergheimer Str. 74, 69115 Heidelberg |Twitter @QubeHeidelberg | Facebook |
If you prefer to stay in the Old Town of Heidelberg you could try Hotel Hollaender Hof, a traditional hotel right by the Old Bridge, Hip Hotel where every room is themed to a different country of the world, or Heidelberg Suites, a luxurious Boutique Hotel.
Compare prices and book romantic hotels in Heidelberg through my Hotel Booking page powered by HotelsCombined.com. You can search for the best price from multiple hotel booking sites and I will receive a small commission which helps support this blog at no extra cost to you.
How to get to Heidelberg
Heather and Guy flew from Bristol to Frankfurt and took the train to Heidelberg. Trains run around every hour from the Frankfurt airport station with a change at Mannheim. On arrival in the airport follow signs for train station and then Fernbahnhof ( long distance train). Tickets can be bought from ticket machines as you reach the Fernbahnhof. The cost is €25 one way or €19 for a saver ticket which must be purchased 1 day in advance. The journey takes around 1 hour.
Thanks to the German National Tourism Board who hosted Heather and Guy's weekend in Heidelberg
Photo Credits: All photos by Heather Cowper except the Love Stone by Heidelberg Marketing, Chco Chocolate Company by Beertime with Wagner , Europa Bar by www.europaeischerhof.com
This article by Heather Cowper is originally published at Heatheronhertravels.com – Read the original article here
You'll also find our sister blog with tips on how to build a successful travel blog at My Blogging Journey
February 1, 2016 by Heather Cowper
Filed under Cruise, Eating and drinking, Europe, featured, Greece, Greece & Turkey Cruise, Leisure, Sightseeing, Turkey, video
Are you someone that loves to travel, exploring new destinations, discovering the local food and culture but doing so in luxury and style? Perhaps you thought that cruising was not for you: too many people, too many restrictions, not enough time to explore what you want to see?
While I'm relatively new to cruising I've realised that there's definitely not "one size fits all". Just as you might choose to stay in a boutique hotel or a luxury resort, a homely bed and breakfast or a local's apartment, there is a cruise ship option to suit your travel style. If you are looking for small ship luxury and more time in the destinations you visit, as well as a chance to quiz Captain Johannes about that time he stopped the ship to go fishing, then Azamara Club Cruises could be the cruise line for you. Read on and watch my video for what to expect from an Azamara Club Cruise: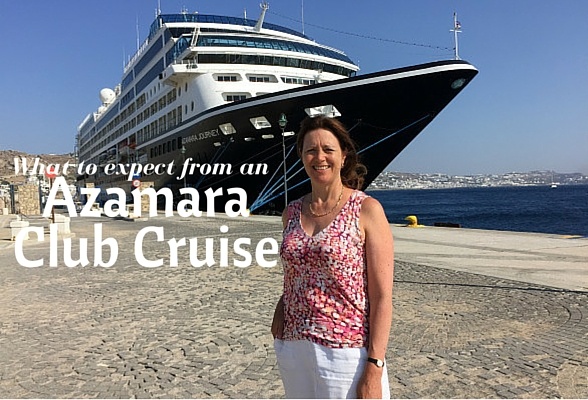 I hope you enjoy my video below – a ship's tour of Azamara Journey
If you can't see the video above about a tour of Azamara Journey see it on my blog here or Youtube here and please do subscribe using the button above
Click here for direct download of video
Subscribe to all my videos in I-tunes
Small Ship Cruising
When Guy and I sailed with Azamara Club Cruises last summer on their 7 night Greek Isles and Turkey cruise from Athens to Istanbul, I really felt the difference between travelling on a smaller ship with less than 700 guests, compared to the larger ships that take 3000+ passengers. While Azamara Club Cruises benefits from being part of the larger Royal Caribbean Cruise group, this niche luxury cruise line has just two ships. We sailed on Azamara Journey but Azamara Quest is practically identical and both have a capacity of 686 guests.
So how does being small affect for your cruise experience? It means that the atmosphere on board is friendly and intimate and it's very easy to make new friends. While there is everything on board you'd find on any cruise ship it's on a smaller scale; one swimming pool instead of three, for instance. More importantly it means that the ship has more flexibility to visit ports that some of the larger ships couldn't get into or to adapt the itinerary if bad weather is forecast.
You'll find that captain and senior crew are very visible around the ship, mingling with guests in the evening, and they have a lot more freedom to adapt the needs of the moment. If you bump into the charming Captain Johannes, be sure to ask him about the time he stopped to ship off the coast of Norway for a spot of fishing!
On Azamara Journey we were able to visit the Greek Island of Patmos which has a sleepy feel of the old Greece that Guy loved when he went island hopping as a student. Smaller ships also allow you to sail right into the heart of a city, within an easy walk of all you want to see, rather than have to be transported from the newer port where the larger ships will dock.
It's all about the destination
Azamara Club Cruises is much more about the places you visit rather than spending your days on board, a concept they call "Destination Immersion". Many of the excursions or "Land Discoveries" take you to places that are not normally open to the public or offer unusual, insider experiences that give you special insights to the local culture.
One of my favourites was the day we spent learning about Turkish cuisine and culture in a country house near Kusadasi. The house had been beautifully designed as a showcase for local crafts and artisans with Turkish rugs, carved marble fireplaces and Suzani cut-work throws on the bed. In the family's kitchen, we learned how to make Turkish dishes like stuffed peppers and sat under the shady pergola rolling vine leaves to make Dolma. We were shown how a Turkish woman would tie her headscarf depending on the region of Turkey she came from and how to wash your rice many times so that every grain of your pilaf would be separate.
The meal ended with tiny cups of strong Turkish coffee and when we'd finished the cups were upturned so that the ladies could have their fortunes told from the pattern of the coffee grounds, the art of fortune telling being passed from mother to daughter. It was a lovely and relaxing insight into Turkish culture and cuisine and of course all the ladies came away with a headscarf and recipe book to bring home. Read about our day of Turkish culture here.
Contemporary elegance
I'd describe the style of Azamara Journey, when we sailed last summer, as elegant, luxurious and classic. But if you're planning to cruise from spring 2016 you'll find a new contemporary look on board as both ships will go into dry dock to be refitted and come out "Re-imagined". The natural elements of earth, air, water and fire have inspired a paler, more muted colour scheme, using creams and earthy tones throughout the ship.
Already last summer we could see some of this new contemporary look being introduced in the sun loungers and deck furniture in some parts of the ship, while in staterooms the darker wood and furnishings will be replaced this spring by light, fresh tones while retaining the luxurious feel.
Other innovations will be part of the refurbishment, with new spa suites being created that not only have a sea view from the bathroom but allow special access to the spa amenities included in the price of these staterooms. There will also be new investment in technology since most guests these days travel with tablets and smartphones, so a new wifi system on board will provide faster internet connections and there will be interactive tabletops in public areas for social media surfing.
Fabulous food
We found the food on board Azamara to be excellent and unlike many cruise lines, the wines, beers, soft drinks and speciality coffees are included in the price of your cruise holiday. The small ship experience doesn't mean you miss out on choice and you can eat with full waiter service in the Discoveries Restaurant, or choose from the buffet selection while still receiving waiter service for drinks in the Pool Grill and Windows Café.
On larger cruise ships the buffet restaurant can feel like a seething mass of humanity, but on board Azamara Journey we found an altogether more elegant experience. Our favourite place to dine was in the outdoor seating area of the Windows Café at the back of the ship where it felt as if we were sitting in a seaside restaurant with a view of the waves.
There are two excellent speciality restaurants on board, for an additional charge of $25 per person per meal: Aqualina which specialises in contemporary Italian cuisine and Prime C which has a country club feel, serving excellent steak and meat dishes. We dined at Aqualina one evening and had the most delicious meal featuring light, fresh dishes and plenty of seafood.
Informal lifestyle
Guests who are new to cruising are often concerned about what they need to pack for their cruise. While there are shops on board, it's not as if you can easily pop out to find the outfit you need, nor do you want to spend your holiday worrying about whether you'll be caught out by a black tie dress code.
You can rest easy when you sail with Azamara Club Cruises since the dress code is elegant but informal. Most guests dressed up in the evening as you would if you were going to a smart restaurant, but it was more about a pretty dress and jewellery or a crisp shirt and jacket for gentlemen than about anything more formal. You won't need a tuxedo or a long sparkly dress on board and of course there is a free self-service laundry so you can travel light if you like, knowing that your outfits can multi-task, especially on longer voyages. The only thing you should remember to pack is something white – more of that later.
Arrive early, sail late
You may not realise this but it costs a lot for a ship to be in port; like being in a very expensive car park with the clock ticking. That's why on some cruises you'll find that you'll have to be back on the ship by mid-afternoon having rushed around trying to see everything. Not so when you sail with Azamara Club Cruises.
In most of the destinations you visit you'll have time for an unhurried look around the port of call and just when all the other cruise ship guests are heading back to the ship you can enjoy a relaxing afternoon with less crowds. There's plenty of time to see the sunset and have a leisurely dinner onshore at the places the locals like to eat once most cruise ships have sailed.
Arriving early also means that if you're an early bird you can enjoy the views from the ship and disembark to make the most of the day. Our magical moments on our Greece and Turkey cruise were seeing the sunrise from the caldera of Santorini with the mist rising off the shore, or sailing through the Golden Horn as we arrived in Istanbul past the Topkapi palace and the Blue Mosque. Read about our stop in Istanbul here.
A lot more's included
One of the big things to consider when choosing your cruise is what's included and what's not included in the cost of your holiday. Many cruises have a lower entry price but you'll also need to budget for drinks, gratuities, self service laundry and shuttle buses. All of these can add hundreds if not thousands of pounds to your bill, but they are included in the price you pay for your Azamara Club Cruise. I must say that I found it a lot more relaxing to know that I didn't have to think about the cost of that cappuccino or debate whether it was worth paying for the shuttle bus or taking public transport.
Another thing that is included in the price is an AzAmazing Evening on every cruise; a unique evening experience that you probably couldn't recreate yourself. While Azamara Club Cruises are priced in line with the luxurious small ship experience they offer, once you take into account everything that's included the overall cost may compare favourably with other cruise lines that appear to be cheaper but can't offer such a unique experience.
Enjoy your evenings onshore
A big benefit of later sailing times is that you can enjoy evenings onshore, dining in a local restaurant or having a drink as the sun goes down. Azamara make this very easy through their Cruise Global, Eat local programme where they introduce you to restaurants that are recommended for their authentic local dishes, or are included in a lunchtime stop in the land discovery that you book.
We had a delicious meze lunch on Patmos after looking around the sights of Chora, in a restaurant with a gorgeous sea view. Read about our stop in Patmos here.  On Santorini we dined on fava bean puree, Greek salad and roast lamb at Kalisti taverna in Prygos, which allowed us to see a different part of the island away from the crowds and heat of Oia.
Look out for Nights and Cool Places experiences that you can book, allowing you access to interesting places after dark, perhaps an art gallery or after hours museum visit, where you have a unique insider access.
A White Night party
One event that was not especially well publicised is the White Night Party that is the closest that the Azamara gets to a formal night; you just need to remember to pack some white clothes to wear. Depending on the weather, tables are set out on deck with a buffet selection and the Azamara singers and dancers perform a show to entertain you.
Our White Night Party was held in Patmos and the view of the sun setting over the island was magical as we sat on deck enjoying the warm night air. Captain Johannes thoughtfully delayed the sailing time until after dinner had finished, so that we would not be disturbed by any motion of the sea, although it was a pretty calm night.
An AzAmazing Evening
While the White Night Party was great fun, our AzAmazing evening at Ephesus was a truly magical event. On every cruise, Azamara offers a unique evening event that would be difficult to recreate on your own, and even better it's included in your cruise. For our AzAmazing evening, we took the short coach journey from Kusadasi to Ephesus where cocktails and wine had been set out just as the sun was setting.
While we didn't get the opportunity to walk through the entire site, we could stroll among the ancient pillars and see the sun setting behind the sillhouette of the Library of Celcus, built in 117 AD. After a glass of wine, we took our seats on the stone seats of the Odean amphitheatre where cushions had been thoughtfully provided.
As dusk fell, the Camera Izmir Orchestra entertained us with pieces by Bach and Mozart, a guest harpist performing Handel's harp concerto, and a rousing Hungarian Dance with gypsy violins that got an enthusiastic round of applause. Read about our evening at Ephesus here. Other AzAmazing evenings have included opera in Venice and an orchestral concert in Liverpool cathedral, but since the ship's itineraries change each year it will always be something unique and special.
By now you probably have a feel for whether this is the kind of cruise you'd enjoy and we certainly loved every moment of our Azamara Club Cruise. If you love to travel but are not sure if cruising is for you, I'd highly recommend Azamara for a first cruise since the experience is so personal and not at all overshelming in the way some of the bigger ships can be. It's also perfect for solo travellers and couples since it's easy to make friends on board. If you like to travel in style and luxury but still feel a connection to the places and cultures you visit be sure to look at Azamara Club Cruises for your cruise this year.
Have you sailed with Azamara Club Cruises? If so, do let me know in the comments how you found it and what you enjoyed.
Read More about our Azamara Greece Island Cruise
Sailing into Santorini – Day 1 of our Azamara Greek Island Cruise
Windy Mykonos – Day 2 of our Azamara Greek Island Cruise
Charming Patmos – day 3 of our Azamara Greek Island Cruise
Kusadasi and Ephesus – day 4 of our Azamara Greek Island Cruise
Istanbul – day 6 of our Azamara Greek Island Cruise
Pin It
About Azamara Club Cruises
Azamara Club Cruises is a small luxury cruise line with two ships; Azamara Journey that Heather and Guy sailed on and Azamara Quest, each with a capacity of 686 guests. The smaller ship size means you often visit destinations that larger ships can't get into and the ships can dock in more central locations. The emphasis is on destination immersion; enjoying the destination to the full, arriving early and sailing late so that guests can enjoy nights and cool places ashore, with insider access programmes and a unique AzAmazing evening included in each cruise. No itinerary is the repeated and each year the ships visit different destinations around the world. Azamara is part of Royal Caribbean Cruise group. Visit the Azamara Club Cruises website more information about a Mediterranean luxury cruise like the one Heather and Guy enjoyed.
You can also connect with Azamara Club Cruises on Social Media via:
Azamara blog | Twitter | Facebook | Instagram | Google+ | Pinterest | YouTube | Flickr
Joining your Azamara Club Cruise
Heather and Guy flew from London Heathrow to Athens and back from Istanbul using British Airways, although obviously each cruise is different in the best way to get there.
Heather used the Meet and Greet Parking Service booked through Airport Parking and Hotels (APH) who offer airport parking at a range of airports across the UK as well as travel extras such as airport lounge booking and airport hotel stays.
Both flights and transfers from the airport to your cruise ship can be arranged through Azamara Club Cruises.
Thanks to Azamara Club Cruises who hosted Heather and Guy for their 7 day Greek Island Cruise and to Airport Parking and Hotels (APH) who provided their airport parking at Heathrow.
This article is originally published at Heatheronhertravels.com – Read the original article here
You'll also find our sister blog with tips on how to build a successful travel blog at My Blogging Journey