This summer we adopted an motorhome, or RV as they are known in Canada, and spent two weeks driving from Toronto to Montreal. 'Monty' as we fondly named the RV, took us on many an adventure, from bear spotting in Algonquin to farmer's markets in Kingston, from feeding carrots to Bambi in Parc Omega to climbing a Via Ferrata in Mont Tremblant park. We dipped our toe in Canada's wilderness, toasted s'mores over the campfire and tasted everything from thousand island dressing to poutine. While there were many highlights from our 2 week road trip, here are ten of my favourite Canada moments.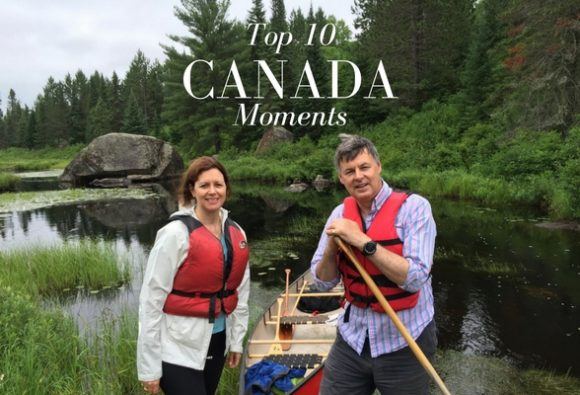 1. Wildlife encounters in Algonquin
After picking up 'Monty' the RV from Cruise Canada in Toronto, our first taste of the Canadian wilderness was at Algonquin Provincial Park, where we discovered that even the locals get excited at a wildlife encounter. 'Did you see anything?' we'd be asked if we so much as stopped for a moment at the roadside to look into the trees. While out cycling near the Two Rivers Store, we heard there was a black bear and cub up ahead and proceeded cautiously to join the small crowd in the parking area. We inadvertently broke the golden rule and cycled between the bear and its cub, then watched from a safe distance as mama bear checked the cub up the tree was doing fine, before ambling off into the woods in search of more food.
While out canoeing at Lake Opeongo,we also spotted several beavers lodges, a dense mass of sticks half submerged in the water. Our guide from Algonquin Outfitters where we hired the canoe told us how moose may hold their breath under water while munching on lily roots, and emerge sudddenly from the water to startle the unwary canoeist. Although no moose appeared, a beaver surfaced briefly in front of us, then with a splash of his flat tail he was gone. While our wildlife encounters were fleeting we learned that the fun is in the looking and in the chance to unwind in Canada's unspoilt wilderness.
2. Soaking up the history and food culture of Kingston
Perhaps it was the sense of history that made us feel so at home in Kingston, Ontario. Everything seemed to be built on a very European scale, since the town was established in the 17th century before cars were a feature of town planning. This university town has a great foodie reputation, and after visiting Fort Henry up on the hill, we took the bus into town to find the farmer's market in full swing. A motorcycle rally had turned the town into a sea of black leather, with riders whizzing up ramps to perform airbourne stunts for an appreciative crowd.
We took the opportunity to stock up on some of the luscious ripe fruit from the stalls, tasted a bit of local wine from the Three Dog Winery and called in at the Pan Chancho bakery to buy some of their artizan bread. With food tours and a town packed with good restaurants, I left feeling we'd only scratched the surface of the foodie scene of Kingston and would love to go back and discover more. Read more about Foodie adventures on our Canada Road Trip.
3. Ottawa: Canada's vibrant capital
Travelling by RV didn't stop us visiting some of Canada's vibrant cities like Ottawa. Luckily the Wesley Clover Campground on the edge of the city offered a shuttle bus that dropped us right outside the Parliament building, just in time for the changing of the guards. Canada's capital was in a high state of preparation for the 150th birthday celebrations in 2017, with the parliament building being cleaned and lots of building work going on around the city.
We headed for Byward Market to look at all the farmer's market stalls and had a lovely lunch on the patio (the Canadian term for an outdoor restaurant terrace) at Murray Street, which specialises in Canadian cheese and charcuterie. In the afternoon we visited the glass palace of the National Gallery of Canada where the windows of the Great Hall frame the view of the Parliament Building across the river. On the Gatineau side of the river, we admired the soaring totem poles at the Canadian Museum of History and rented bikes to cycle along the river path. Where else but Canada would you see a heron poised to catch a fish within sight of the capital's parliament building?
4. The old time charm of Wakefield
Wakefield is one of those charming small towns set by the Gatineau river, where you could easily spend a day wandering from cute craft shop to artizan bakery to bohemian café. It's a little bit ditsy but we enjoyed our walk across the red painted covered bridge, originally built to allow farmers to drive their buggies to church and reconstructed in a community effort after it was destroyed in a fire in 1980s. On the far side there are some rocks where you can take a picnic and go swimming in the river.
Lunch was at the Wakefield Mill Hotel and Spa, an old mill house now turned into a boutique hotel. In the glass sided Muse restaurant, we dined in style (mine was Arctic char with a pretty arrangement of vegetables) overlooking the stream racing below the mill. After lunch we walked along the main street of Wakefield, checking out the colourful cafés and boutiques like Khewa selling native art and jewellery. I had the feeling that this is well-heeled Ottawa's weekend escape, where the money comes to relax, shop and perhaps get a bit sporty in nearby Gatineau park.
5. A day in Gatineau park – Ottawa's playground
Gatineau park is the outdoor playground of Ottawa, an easy day's visit from the city with walking trails and lakes. There's nothing pink about our first stop at Pink Lake  (it was named after a family of the same name) but it's very deep and still, creating a glassy surface to reflect the clouds as they drift by.
Another must-see in Gatineau Park is the Mackenzie King estate, former home of Canada's prime minister, William Lyon Mackenzie King who came here to relax and escape from the pressures of government. In front of the house is an English style flower garden with stone arches framing the forest and paths down to the lake where Mackenzie King would bring friends and family to swim. Our day ended at the Champlain Lookout with a view over the escarpment towards Ottawa, where 'Monty' the RV attracted a crowd of admirers as we stopped for a cup of tea with a view.
6. Cycling at Parc national de Plaisance
Once we were north of the Ottawa river in the Outaouais region one of our favourite camp grounds was Parc National de Plaisance, set beside the Ottawa river. The setting was charming with plenty of activities and we decided to hire bikes to cycle around the traffic free trails by the lakes and river. With the sun shining and the wild flowers in bloom, the park really lived up to its name and we hardly saw anyone on our bike ride apart from a couple of people fishing.
As in all Canada's National and Provincial parks, there were a wide range of activities and we could easily have hired canoes or observed wildlife from the floating walkways on the Zizanie-des-Marais trail. We spent the evening at 'the world's largest log cabin' a.k.a the luxurious Fairmont Le Chateau Montebello, where we dined on the patio overlooking the river from a buffet that was full of delicious dishes, with steaks and fish perfectly cooked to order on the barbecue.
7. Feeding the animals at Parc Omega
While we had caught to odd glimpse of wildlife in Algonquin, Parc Omega gave us a chance to get up close and personal with more of Canada's wildlife. It's a wildlife park that you drive through, with a chance to feed the deer from your car window, so don't forget to buy a few bags of carrots at the park shop. As the RV was too big to drive around, we were taken in a golf buggy enclosed by a metal cage, through which we could feed the different species of deer from the imposing Red Deer to the cute Bambi Fallow deer.
In different parts of the park we saw black bear and bison in their large enclosures and watched the daily show of eagles and other birds of prey swooping back and forth to retrieve their food. From a raised observation platform we learned all about the wolf pack as they were fed, about the hierarchy of the pack and the howling calls that are used to communicate between the packs.
8. Evenings by the Campfire
My favourite time on the campgrounds was once we had parked the RV under the trees, unpacked the chairs and Guy got the fire going in the fire pit. Then it was time to crack open the beer and relax for a while, getting to know the friendly neighbours. Since all the Canadian campgrounds seem to be set beside a lake, Guy would often have an early evening swim while I was happy to watch him – I love to be beside the water but it has to be boiling hot for me to actually get in it!
Then we'd make dinner in our well equipped kitchen area in the RV and eat it on the picnic table outside, remembering to spray ourselves liberally with mozzie repellant and put on long trousers as it got dark. Sometimes we would cook a steak over the grill of the fire or toast marshmallows – s'mores as they are known in Canada. It's quite an art to achieve that combination of melted softness and crispy toasted exterior without the whole thing going up in flames. Read more about driving an RV from Toronto to Montreal.
9. Climbing the Via Ferrata in Parc National de Mont Tremblant
Even though I'd climbed a Via Ferrata in Italy, I found the one in Parc National de Mont Tremblant quite challenging and perhaps that's why it sticks so clearly in my memory. I suspect it's that combination of fear and adrenalin that makes the experience so memorable. With our guide, we put on our harnesses and helmets and tried a practice wall before starting the climb up the rockface on metal footholds.
On a Via Ferrata you get the experience of rock climbing, but in a controlled way, since you are on a fixed route that is marked with metal cables to which you clip your karabiner. It requires concentration and agility but your climb is rewarded with fantastic views over the valley and an amazing sense of achievement. The Mont Tremblant park was a fabulous outdoor playground where we also enjoyed hiking on the waterfall trails, as well as a day canoeing the Meandre de Diable, a winding stretch of river with sandbanks and beaches to stop for a picnic.
10. More delicious food in Montreal
Everyone we met told us that Montreal serves the best food in Canada, so when we arrived at the end of the trip, eating was high on our agenda. The city has Jewish, Portuguese, Greek and Italian neighbourhoods, homes to restaurants and food shops with an ethnic flavour. In the Jewish neighbourhood of Plateau we stopped at Beauty's for a 'Special' bagel with lox (smoked salmon) , cream cheese and sliced onion. Nearby are the bagel bakeries of Fairmount and St-Viator where we stopped to try the chewy fresh bagels, still warm from the wood fired oven.
Schwartz's deli is another Montreal food institution with long queues for their smoked meat sandwich, carved in thick slices of warm salt beef, barely contained between soft white bread with a squirt of mustard. There's a strong food trailer scene in Montreal and we happened to be there during the Bouffons MTL food truck festival, giving us an opportunity to sample dishes from some of the top chefs and restaurants in the city, such as paella from Tapas 24, ice cream from Monsieur Cremeaux and poutine from Au Pied de Cochon. Our final stop was the Jean-Talon food market where we stocked up on ice cider and other treats to take home – a delicious way to end our road trip from Toronto to Montreal. Read more about how to spend a perfect day in Montreal.
If you've enjoyed my Top 10 Canada moments from our RV road trip from Toronto to Montreal do also check out the articles below. My trip was part of an eight week road trip during which four bloggers drove an RV (which we all gave different names) from Vancouver to Montreal, each of us taking two weeks to discover the best experiences that Canada has to offer. You can read about our best Canada moments below.
More Top 10 Canada moments
Travel with Kat – Top 10 things to see and do in British Columbia
The Quirky Traveller – Top 10 memorable moments from a Canada Road Trip
On the Luce – Calgary to Toronto: 10 Unforgettable Road Trip Moments
Information for planning your trip to Canada
You can find more information to plan your visit to Montreal on the Ontario Tourism Website, the Quebec Original Website, the Tourism Outaouais Website and also on the Explore Canada Website covering all the things to see and do in Canada.
Our RV (Recreational Vehicle) for the two week Explore Canada Road Trip was provided by Cruise Canada.
To compare prices and book for hotels in Canada, visit the HotelsCombined website where you can find the best prices from a range of different booking sites.
Where we stayed on our RV Road Trip
Night 1 –  Sheraton Gateway Hotel, Toronto
Night 2 & 3 Algonquin Provincial Park near Whitney, Ontario
Night 4 Murphy's Point Provincial Park near Kingston, Ontario
Night 5 & 6 Wesley Clover Camp Ground – south of Ottawa
Night 7 &8 Camping Cantley – north of Ottawa
Night 9 Parc de Plaisance  National Park in Quebec
Night 10,11,12 Mont Tremblant National Park in Quebec
Night 13 Le Centre Sheraton Hotel Montreal
Pin It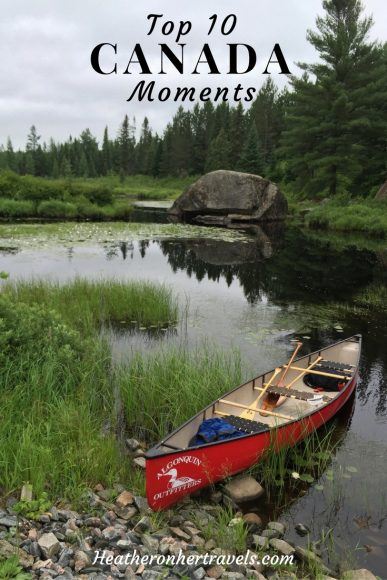 My visit to Canada was part of the Explore Canada Road Trip, a project with Travelator Media and Explore Canada
This article is originally published at Heatheronhertravels.com – Read the original article here
The woodsmoke wafts from the bratwurst stall in the Coburg Christmas market, drawing a patient queue of people. For these aren't just any sausage, they are the famous Coburger Bratwurst, made with the seasoned blend of beef and pork and cooked over an open fire of pine cones, for that authentic smoky flavour. If your mouth isn't watering yet, it will be soon as you catch the warm, aromatic scent of mulled wine and hear the sizzle of onions and mushrooms cooking in a big metal pan.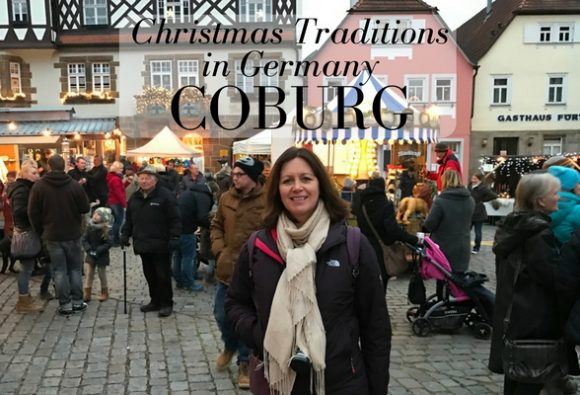 I was in Coburg at the beginning of December to experience the magic of Christmas in Germany, where they seem to strike just the right balance of festive spirit, local tradition and religious meaning. The air was crisp, but the atmosphere warm, as friends gathered under the statue of Prince Albert in Marktplatz to chat over a steaming mug of Glühwein while parents watched their little ones enjoying a ride on the traditional merry-go-round.
This is the season of Christmas markets when you'll hear a lot about the popular but somewhat overwhelming Christmas markets of Cologne and Munich. What many people don't realise that every place in Germany has its own Christmas market and as I've found, the smaller the town or village, the more charming and authentic the markets become.
We enjoyed walking through the Christmas market in the central Martketplatz of Coburg, surrounded by the 16th century buildings, such as Duke Casimir's impressive Stadthaus with decorative oriel windows at each corner. The square was just 10 minutes walk from Hotel Villa Victoria where we were staying and had all the ingredients for a fine Christmas Market. We've found that the markets in Germany are mainly about delicious things to eat and drink, and there were stalls selling tempting hot dishes, sausages and cheeses as well as gifts destined for someone's Christmas stocking.
The Seßlach Christmas Market
We also visited the Seßlach Advent Market, just 20 minutes drive from Coburg and at another level of charm and local flavour. The small town is beautiful of course, and the market was just for that weekend so it really felt as if we'd chanced on a local secret. As we walked through the archway in the town wall, the choirs and musicians were filing into church for a musical Advent concert, and we popped back later to stand at the back and listen to the music.
There was everything you'd expect at a traditional Christmas market; stalls selling good things to eat and drink, the children's carousel and the lights strung along the old buildings and on the Christmas tree. But as we walked along the cobbled streets that radiated from the main square, we discovered archways leading to hidden courtyards and barns, where the local shops, businesses and charities had set out their stall with everything that you could possibly need for a magical Christmas.
We treated ourselves to a bowl of warming Gulyasuppe, a rich meaty goulash soup and then a  sugary Baumstriezel, the dough wrapped around a metal cylindar and cooked over the open fire, to be pulled apart and eaten with our fingers.
Let there be light
While the Christmas markets in German towns are open throughout the day, it's in the late afternoon that the magic really starts to happen. As dusk falls, the flat grey skies give way to a warm glow as buildings are illuminated and the strings of fairy lights and bulbs come to life. In these cold winter days, it's all about creating a warm, cosy feeling in your home, with candles flickering on the mantlepiece and the lights on the Christmas tree. The stalls in the Christmas market are full of candles and star lamps to hang at your window, not only to chase away the cold, but to remind us of the meaning of Advent, the preparing for the baby who was to light up the world.
Street Food at the Christmas Market
The Christmas markets bring plenty of hot dishes that seem designed to spread the seasonal cheer. For just a few Euros we tried a dish of Champignonpfanne: button mushrooms sauted with onions as well as Gemüsepfanne:  stir fried vegetables, which could be topped with different sauces – we chose the creamy garlic flavour.
Potatoes were shaved into thin slices and fried to make Kartoffelchips – a home made potato crisp served in twirls on a wooden stick. There was Gulyasuppe, a rich and warming meaty soup, served in a hollowed out crusty roll which you could eat at the end, so as not to waste any of the savoury juices.
We also enjoyed the galettes with ham and cheese freshly cooked on the Hauser's stand – they are well known in the area, selling galettes at all the markets and festivals. I don't think any of these dishes set us back more than €3.50 and it was fun to snack on different flavours, all of them warming and delicious. I also love that the eco-conscious Germans serve everything in an edible wafer container, with wooden cutlery, which will quickly bio-degrade.
The sweet taste of Chocolate
After tasting a few different savoury dishes, I found myself looking around for something sweet to finish the meal and of course there was no shortage of options. On some stalls nuts were being mixed in hot praline, giving off a sweet toffee fragrance – we tried some warm in small paper cones.
But I couldn't resist the chocolate, especially the wooden skewers with fresh fruit covered in chocolate; grapes, strawberries, pineapple and even whole bananas. I enjoyed the way that the fresh, juicy fruit cut through the sweetness of the chocolate, although it was hard to eat without getting chocolate all around your mouth! For something a little more elegant we popped into the Chocolate Coburg Shop just off Marktplatz to buy some marzipan chocolates and other chocolate gifts to take home with us.
The Coburg Bratwurst
Following the waft of smoke at one side of the market we joined the queue of locals waiting for their Coburger Bratwurst from the small white van, with a wood fire burning at the back. These bratwurst vans stand on the Marktplatz all year round and the local butchers take it in turn to sell the sausages cooked over a wood fire. They are made with a mixture of beef and pork seasoned with nutmeg and are bound with raw egg (which requires a special exemption from normal food regulations).
The Coburg Bratwurst or Coburger is long and thin and served in a crisp white roll, which is cut along the top, although I got the feeling that the bread is more to hold the sausage than to be eaten. It's completed with a liberal squirt of mustard, to complement the smoky flavour that comes from being cooked over a fire of pine cones.
Mulled wine at the Christmas Market
To drink, it had to be something warming with a bit of a kick to keep out the winter chill. The stalls selling mulled wine, beer or cider were doing a steady trade. Friends of all ages were gathering to buy a steaming mug and take it over to the central area where there were tall tables to rest the drinks. Sometimes there was a wood burning brazier, to take the edge off the cold.
There were also plenty of stalls selling bottles of spicy mulled wine to buy and serve to your guests at home, or mead with animal horns to drink it out of. The stalls have an environmentally friendly system where you pay a couple of Euro extra for a decorative mug which you can later return for a refund. The designs are different each year and some become collectables (or memorabilia gathering dust on the mantlepiece).
A cosy café for coffee and cake
During the day you might need to find a cosy café to retreat from the cold, to warm up with a Kaffee und Kuchen after walking around Coburg. You'll have plenty of choice in Coburg – we liked the Queen's Cafe on Albertplatz and the more traditional Feyler who specialise in Coburger Schmätzchen. Most bakeries and cake shops have a café area where you can order (or point at) the cake that takes your fancy and then be served with a milky coffee to warm up before heading out onto the streets again.
Another German Christmas tradition we discovered is that every place in Germany makes its own special Christmas biscuit. In Coburg the Feyler bakery is the place to buy Coburg's special biscuit, the Coburger Schmätzchen. It literally means Coburg kisses and I was told that these biscuits made with honey and hazlenuts are quite hard when first baked and need to be left out of the packet for a day or so to soften. They come plain or with a dark chocolate coating which is dotted with specks of gold leaf.
Another local favourite are the Elisen Lebkuchen – a speciality of nearby Nuremberg which are a soft and slightly spicy biscuit, covered either with chocolate or a light icing. I bought one in the Christmas market and it was quite delicious with a gentle rather than overbearing Chrismas flavour.
Advent Wreaths in Coburg, Germany
At the beginning of advent you will see Advent wreaths on sale in Germany, which every German family would have in their home. Many are traditional, with evergreen foliage decorated with baubles and pine cones, but others may be more contemporary to fit in with your home decor.
On the wreath there are four candles, one for each of the Sundays in Advent, when a new candle would be lit. We saw a lovely wreath in the chapel at Schloss Callanberg, a touch of Christmas decoration in the otherwise simple protestant chapel.
Not too far from Coburg is the town of Lauscha which specialises in making glass Christmas ornaments and although we weren't able to visit the town, we did buy one of the Lauscha glass baubles from the Chocolate-Coburg shop to add to our collection. I love the vintage look of these baubles, taking us back to the tradition of the Christmas tree that was introduced to England by Prince Albert, who was born in Coburg.
I can imagine how homesick Prince Albert must have felt for the pine forests of his native Germany and why wanted to bring some of his own German traditions back to England. Last year in her Christmas message, Queen Elizabeth mentioned that Prince Albert had started the tradition of the Christmas tree, and this gave such pleasure to the people of Coburg that they offered to send a Christmas tree to mark her 90th birthday. The offer was accepted and this Christmas a 40 ft Christmas tree stands proudly in Windsor town centre, next to the statue of Queen Victoria, decorated with glass baubles from Lauscha.
Germany is the place to soak up the festive atmosphere and kick start your Christmas season, with Coburg being a charming place to spend a few days at any time of year, to discover the history, castles and royal connections. Enjoy your Christmas preparations and as you do, remember that many of our English Christmas traditions had their origins in Germany, when Prince Albert and Queen Victoria gathered their family around the Christmas tree.
Read more: 9 German Christmas traditions to enjoy in Heidelberg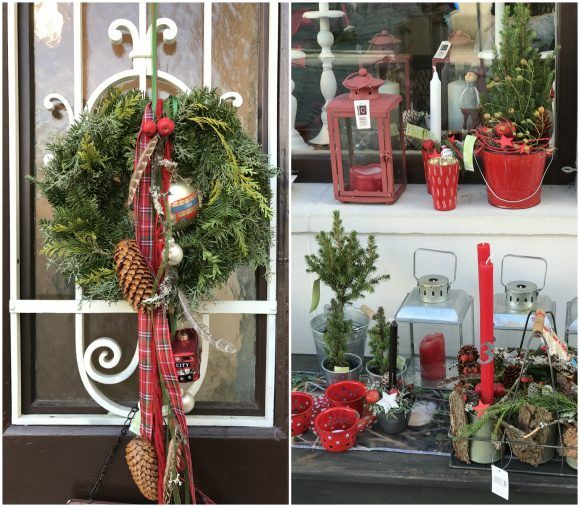 Plan your Visit to Coburg
For more information about what there is to see and do in Coburg, visit the Coburg Tourism website and follow them on their social media channels: Facebook and Twitter. You can also find information to plan your holidays in Germany at the Germany Tourism Website.
From the UK you can reach Coburg via Nuremberg airport (1 hr 15 min drive), Frankfurt (2 hrs 50 mins drive) or Munich (2 hrs 50 mins drive) and we recommend hiring a car, which will enable you to easily visit all the castles and places of interest around Coburg.
Heather and Guy flew from Bristol to Frankfurt with bmi regional who fly up to three times daily between Bristol and Frankfurt. One way fares cost from £93 and as with all bmi flights, include a generous 23kg of hold luggage, a complimentary in-flight drink and breakfast snack, allocated seating and a speedy 30 minute check-in.
Where to stay in Coburg
Heather and Guy stayed at Hotel Villa Victoria in Coburg, which was the perfect place to spend a few days while exploring the town and the castles nearby. The accommodation is in a very pretty turn of the century villa, just outside the old town walls, with convenient parking outside for our hire car (although the spaces quickly filled up). In the villa are 12 rooms and ours was a most delightful suite with adjoining sitting room and view of the city gatehouse.
The house had been beautifully renovated and we had the use of a guest sitting room on the same floor, with a tea and coffee station on the landing. We especially enjoyed breakfast in the charmingly furnished ground floor room, with pretty floral china and lace tablecloths. Across the road is a more modern residence, and guests staying there can also have breakfast in the villa, but I would check when you book that you can have a room in the older house if possible.
Despite the name, you should be aware that Hotel Villa Victoria is more of a guest house than a hotel; for instance when we arrived mid afternoon there was no-one manning the reception and we had to call the owner who gave us instructions on how to find our key. When staying here be sure to let the owners know at what time you will be arriving and make arrangements accordingly.
Thanks to German National Tourist Board who hosted my visit to Coburg and to BMI Regional who covered my flight via Frankfurt.
Pin It
This article is originally published at Heatheronhertravels.com – Read the original article here
Living in Bristol I often get asked for recommendations on the best places to stay as well as what to do in my lovely home town. For travellers who enjoy taking short city-breaks, I believe that the choice of hotel is a big factor in how you experience a place. I prefer to stay at hotels that are centrally located, with stylish decor and a personal touch with staff who really care. I have my own comfy bed in Bristol, so I haven't stayed overnight in the hotels I'm going to recommend, but I have visited them all for one event or another and they are hotels that I would choose myself, if I were visiting Bristol.
1. Brooks Guest House – for quirky charm and affordability
This charming guest house is right in the middle of the old city, tucked down a lane by St Nicholas Market. It's a great choice if you are arriving in Bristol by coach or train since there's no parking at the hotel, but then you will be bang in the heart of things. There's a contemporary but slightly retro feel in the decor, with painted woodwork and Cole & Sons wallpaper.
The big talking points are the four shiny Rocket caravans on the roof where you can stay in a cosy twosome (and yes they do have bathrooms).  Breakfast is downstairs in the light and airy kitchen area and there's a pretty paved courtyard which is perfect to sit outside as the weather gets warmer.
Brooks Guest House, St Nicholas Street, Bristol, BS1 1UB. Check out the best prices and book for Brooks Guest House at HotelLook.com
What do do while staying at Brooks Guest House
Wander around St Nicholas Market where the Guest House is located and try something delicious from the food stalls under the glass roof. This is a favourite spot for locals to come and buy their lunch, and you can choose from a multicultural selection, from Jamaican to Portuguese hot dishes, Pieminster pies to pulled pork in a bun. Inside the Covered Market and Exchange Hall are lots of small stalls selling clothes, jewellery and a whole range of interesting things, all run by small indie businesses.
Visit Castle Park which is a short walk through the market. If the weather is fine, this is a great place to take your lunch from St Nick's market to sit on the grass overlooking the river. The church of St Peter's was bombed in the war but its shell remains as a monument and there's a sheltered herb garden and sculpture avenue next to it. There's also a children's playground tucked away on the mound beyond the church.
Watch a play at the Theatre Royal close to Queen's square, where the Bristol Old Vic Theatre Company puts on everything from Shakespeare to family shows. The theatre dates back to the 18th century and has an impressive classical facade and original gilded Georgian auditorium so it's always worth checking on the latest productions.
2. Hotel du Vin – for old school style and luxury
Housed in an old stone sugar warehouse, I love Hotel du Vin for its sense of style and old school luxury. As the name suggests, there's a wine theme going on in the Bistro restaurant, with polished dark wood, panelled walls and a French inspired menu, as well as a bar area with squashy leather sofas to relax with a cocktail or coffee.
Due to the character of the old building, no two bedrooms are exactly the same, but all are luxurious with roll-top baths or powerful showers, soft velvet furnishings and antique leather easy chairs. The hotel is centrally located in the oldest part of Bristol, and where the road now runs in front of the hotel was once the original waterfront where ships would have moored.
Hotel du Vin, The Sugar House, Narrow Lewins Mead, Bristol, BS1 2NU. Check out the best prices and book for Hotel du Vin Bristol at HotelLook.com
What do do while staying at Hotel du Vin
Walk up the atmospheric Christmas steps, to imagine how Bristol looked in the 17th and 18th century when the road in front of the hotel was part of the harbour, then check out some of the quirky independent shops. At the top of the steps there's an old Alms House and plenty of other small arty shops along Colston Street and Perry Road.
Colston Hall is just a short walk from the hotel, Bristol's main music venue hosting an eclectic mix of international performers, community choirs and pop tribute bands. An open copper foyer was added to the original Victorian building a few years ago, often hosting free live music in this space with a stylish cafe too.
Visit Red Lodge which is set on Park Row, on the hill above Hotel du Vin and the Colston Hall. It's one of the oldest houses in Bristol where you can see oak panelled Elizabethan rooms and fireplaces in the Great Oak Room, with views over the city. The wealthy merchants who once lived here would have had a grand view of their ships coming up the harbour as well as being able to take their leisure in the Elizabethan knot garden. Entry is free and the house is open from end March to end December, closed Weds/ Thurs/ Fri.
3. The Bristol – for luxurious rooms overlooking the harbour
From the ouside The Bristol may not be the prettiest of hotels – although there's something iconic about its listed 1960s facade that was originally built as a motel. Step inside and the rooms are spacious and stylish in relaxing natural tones with luxurious velvet throws in highlight shades of  plum, mushroom or aubergine.
You can take their popular afternoon tea, order some sharing plates in the Lounge or have dinner with a view of the harbour in the River Grille restaurant, with drinks in the Shore Cafe Bar next door. As there's a multi-story car park next door, this is a convenient choice for those who are driving but want a central location by the harbour in Bristol.
The Bristol, Prince Street, Bristol, BS1 4QF. Check out the best prices and book for The Bristol at HotelLook.com
What to do while staying at The Bristol
Take a Bristol Ferry Company boat from the steps opposite the Watershed Arts Centre which will take you around the harbour with lots of different stops on the way. You could get off at the furthest point for a pleasant walk back along the water or just stay on board for a mini tour which will take around 40 minutes to see harbour sights like the ss Great Britain and Underfall Yard from the water.
Just along the harbour front is M-shed, a free museum that brings to life the history and people of Bristol. With plenty of hands-on exhibits it's great for all ages and since its free, you can dip in and out depending on how long you've got. When your tummy is rumbling it's time to discover Bristol's latest foodie hub which is just next door at Wapping Wharf – a pedestrian street full of indie restaurants and bars, including Cargo – a group of food retailers housed in shipping containers.
Take the steam train or walk down to ss Great Britain – from M-shed, there's a small steam train that runs at weekends, manned by enthusiasts that will take you along the harbourside down to ss Great Britain (of course you can also walk). This historic iron steam ship was built by Victorian engineer Isambard Kingdom Brunel who also designed the Clifton Suspension Bridge and the ship was returned to Bristol from the Falklands. Now fully restored, it is one of Bristol's leading visitor attractions and a great day out for families and those interested in Bristol's maritime history.
I hope you enjoyed my mini-tour of some of my favourite places to see and stay in Bristol. If you're planning a weekend break in Bristol, do check out the best prices and book at  Hotellook.com.
Pin It
Disclosure: This article was brought to you in partnership with HotelLook.com
This article is originally published at Heatheronhertravels.com – Read the original article here