Braga is located in the North of Portugal and its history and charms won't leave you unmoved. In this article our guest author and Braga expert, Julia Vilaça picks out five of the most iconic things to do in the city.
Visit Bom Jesus
Bom Jesus is one of the most versatile places in Braga. The view from the top is mesmerizing, the environment is calm, quiet, romantic and family-friendly and there are lots of things you can do besides visiting the impressive and beautiful church. There are gardens and grottos, a lake with rowing boats, a relaxed terrace and carriages to enable you to discover the area. For a unique experience, use the water powered elevator to reach the area where the church is located.
In Bom Jesus there are options for everyone. The Hotel do Parque is always a good choice to stay and if you like cocktails, you must go to Casa Velha, a bar that takes the art of creating these kinds of drinks very seriously, providing you with a unique experience in a rustic space.
Visit Braga's Cathedral
This is the oldest church in the country and its first construction project began even before Portugal became a nation. It's possible to observe the influences of various eras on its walls and predominately Baroque interior. This is a symbol of the city and it is a mark in the lives of the people who live in Braga, thanks to its beauty and historical importance. Next door, there are some small chapels and a museum where you can learn more about the Church, the Portuguese habits and history – one of the pieces you can see in the museum is the cross used during the first mass celebrated in Brazil when the Portuguese arrived there.
Take a cup of coffee in A Brasileira
A Brasileira is the most iconic place when it comes to coffee. After lunch, order the drip brewed coffee and experience the traditional flavor of coffee. This iconic coffee shop is located in the heart of the city, so afterwards you can take a walk around the city's pedestrian area, discovering the streets of Braga, its most delicate gardens and historical buildings. Shop for souvenirs or for a special piece for your wardrobe – if you're a fan of international luxury brands, stop by Antónia Lage and Boutique Janes where you'll find the latest collections from Miu Miu, Prada, Chiara Ferragni, Moschino).
Visit the Biscaínhos Museum
The Biscaínhos Museum opened its doors in 1978 and currently takes us on a journey through the daily life of a noble family in their palace. Visit the gardens – the perfect setting to read a book or go for a romantic walk. Inside you'll see the noble ballroom where the family used to hold their receptions and balls and a fantastic ceiling painted by Manuel Furtado. This is the perfect Museum to visit if you want to see how a noble family used to live.
Visit the Tibães Monastery
The Tibães Monastery is more than just a visit to an old monastery, it's a visit to the past, a visit to the present, and a desire to return there in the future. It's located a bit far from the center of Braga, but worth the visit. The gardens are an ode to Mother Nature, there's even a lake lined with centenary trees and the Rococo style church will blow your mind, thanks to the 24K gold covering most of it. And you know what? This Monastery also includes a guest house, Hospedaria Convento de Tibaes, with nine bedrooms, a restaurant and a venue for special events. Perfect, right?
Author Bio: Thanks for this article to Julia Vilaça who writes at Braga Cool and is an avid collector of happy moments. Her dream is to help people discover the coolest places when they travel.
More articles about Portugal
5 cool neighbourhoods you can't miss in Lisbon
3 great places to visit in Portugal
An autumn weekend in Lisbon
If you're looking to book a Hotel in Braga, compare prices and book on my Hotel Booking page powered by HotelsCombined – I get a small commission at no extra cost to you. Thanks for your support!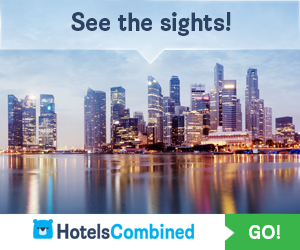 Pin It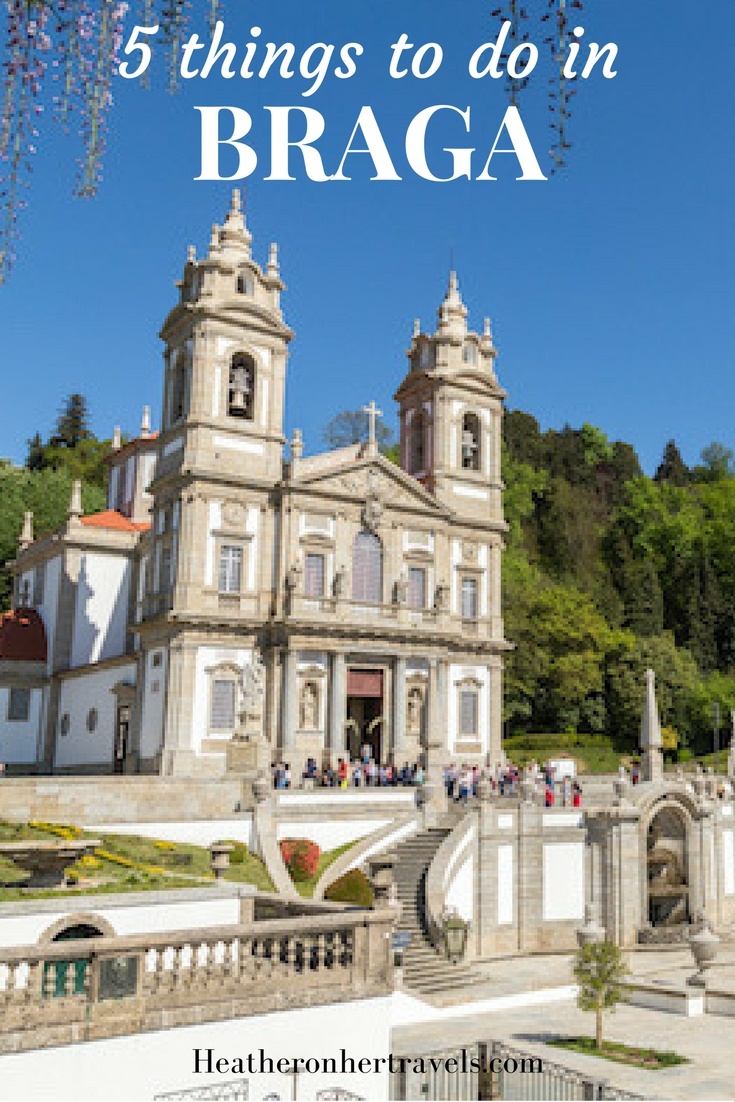 This article is originally published at Heatheronhertravels.com – Read the original article here
You'll also find our sister blog with tips on how to build a successful travel blog at My Blogging Journey
With the end of the summer in sight I took a day to go cycling with my daughter in Dorset, one of England's prettiest counties. We tried one day of Headwater Holiday's Jurassic Coast Cycling route which would normally take 5 days to explore all that Dorset has to offer. Setting off from Dorchester, we stopped for refreshments in Moreton with a visit to the stunning Lulworth cove, passing Lulworth castle before finishing our ride in Wareham. It's a cycle ride that you could easily replicate, since you can park at Dorchester and then catch the train back to your starting point from Wareham, or even make a weekend of it with an overnight stop in Lulworth. Read on to discover what we enjoyed on our Dorset cycle ride.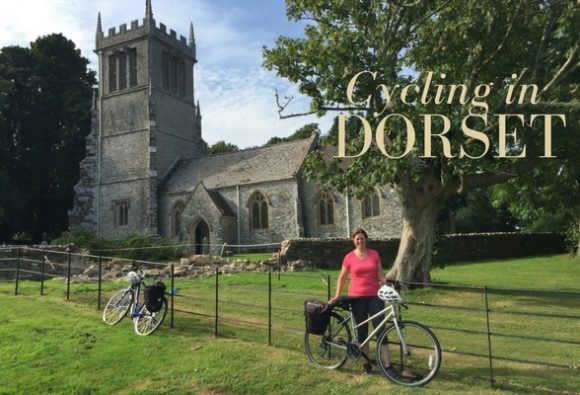 A briefing before we set off
We were met by Roy, Headwater Holidays local representative who set us up with our bikes and shared some of his local's knowledge on what to look out for on our route. We even got a quick demo on how to fix a puncture; good to know although luckily we had no need for it on the day.
The track skirted a stream through woodland and we passed a few cheerful dog walkers whose dogs were splashing in the water. Soon we passed a picture postcard thatched cottage, our first of many that day. I swear that Dorset must have more pretty cottages than any other place in England!
Cycling through Thomas Hardy country
At a perfectly formed Victorian arched brick bridge we could have taken a short detour to Higher Brockhampton, to visit the birthplace of writer Thomas Hardy, whose novels and poetry draw on the characters and landscape of Dorset. I'd visited before and remembered that the cottage had tiny rooms and was probably quite damp in Hardy's childhood – not quite the rural idyll it looked from the outside.
As soon as Hardy had made his money he built himself a solid, red brick house at Max Gate which was much more spacious and comfortable! Read about my previous visit to Dorset here. We didn't visit this time but cycled on past fields with hay bales already wrapped tightly in plastic, like plump white and green marshmallows.
The cycle took us through  the pretty village of West Stafford complete with more thatched cottages – even The Wise Man pub and the bus stop were thatched. The birds swooped in and out of the hedgerows and we caught a glimpse of a large bird of prey perched on a tree as we passed the striking Woodsford Castle. The surviving wing of a 14th century castle it was worked on by Thomas Hardy's father who was a builder, and is now run as a holiday home by the Landmark Trust. By mid morning we arrived at the Moreton Tea Rooms, in the old village school house, which seemed an excellent place to stop for a cup of tea and a slice of Victoria sponge.
The ford at Moreton
Moreton proved to have more to it than meets the eye and on walking further down the road we found the ford, which Roy had mentioned to us. The shallow crossing point of the river is clearly a popular place for families to come and paddle or dip colourful fishing nets in the water from the foot bridge to try and catch a stickleback. Picnic paskets were being spread out on the gravel river bank, a golden labrador furiously wagging a wet tail and small inflatable boats drifted around – plenty of good clean fun!
St Nicholas Church at Moreton
St Nicholas church nearby rewarded our curiosity with a view of the beautiful etched glass windows created by poet and artist Sir Laurence Whistler, who made the windows to replace the stained glass destroyed by a WW2 bomb. If you look carefully from the outside you'll find a macabre depiction of Judas Iscariot hanging by a tree, which was Whistler's final gift, but was initially rejected by shocked parishoners and resided for years in a local museum. Just down the road is the grave of Col T E Lawrence, better known as 'Lawrence of Arabia' who lived nearby at Cloud Hill and was killed in a tragic motorcycle accident.
The Walled Garden at Moreton
Our final discovery was the Walled Garden at Moreton, with with stunning herbaceous borders, fountains and topiary and a startling figure sitting on a bench who almost made me jump. There's a cafe and farm shop in the pretty dovecote but unfortunately we needed to press on as we had many more miles to cycle that day.
Now the countryside became more open with the feathery topped maize stalks clothing the fields on one side and freshly ploughed brown earth on the other. The clouds had turned to rain so we put on our waterproofs as we huffed and puffed up a steep hill, finally giving up halfway to push to the top. Our climb was rewarded by views from the crest of the hill in both directions and then we freewheeled all the way down the other side… Wheeeee!
A view of Durdle Dor
After half an hour of pedal power, we finally reached the turning to Durdle Dor, through a caravan site to the packed car park set on the cliff. This famous rock arch was part of a complex of sea caves which eroded over time until only a few sea arches remained. In turn the arches collapsed leaving stumps in the sea and Durdle Dor as the last once standing.
It's one of the most photographed landmarks of the Jurassic coastline and we could see people streaming like ants down the steep path to the beach. As we needed to press on for lunch we decided to take our photographs from the top of the path and then cycled back to the main road heading for Lulworth Cove.
Sea views at Lulworth cove
It was an easy cycle through the village of West Lulworth to Lulworth cove, where we left our bikes at the top of the pedestrian path and walked down to the beach. A favourite with geology students, the cove is a perfectly formed circle fringed with a pebbly shore, which was formed millions of years ago when the sea broke through the harder rock layer of the cliffs to erode the softer rock behind. On the far side of the coves you can see the stratification of different rocks that were folded and then eroded by the earth's movement.
Despite the beach being packed with holidaymakers, it was an attractive scene with jaunty blue and white boats bobbing on their red buoys in the water and boat rides around the headland to Durdle Dor from the jetty. We sat outside The Boatshed Cafe, a long whitewashed building that in the past served as a coal store for fuelling paddle steamers, and ordered a crab sandwich for lunch. It was a perfect spot to watch the children on the beach building pebble dams across the small stream and walking across the shingle I was hit by the salty ozone smell of seaweed lying in messy piles of green and brown.
Returning back up the path we could see the popular cliff walk taking people over the hill to Durdle Dor, the spot we had just come from. Around the Lulworth cove car park there is a visitor centre and several pubs and pretty cottages, although I think we had the best view for lunch down by the seashore.
The Tanks at Lulworth
Cycling on towards East Lulworth, we passed Lulworth camp with army quarters and two tanks guarding the entrance. We'd heard the boom of firing when we were down at Lulworth cove, as this is where the tank units have their ranges and practice live firing. My husband Guy is a former tank commander and gets excited whenever he sees a tank, so we had to take a photo to send to him.
A visit to Lulworth castle
We followed the hill down to Lulworth Castle and in through the imposing stone gateposts. The man on the gate told us that there was a wedding that day, so we couldn't go into the castle, but we were allowed to visit the pretty church and could see the castle through the trees.
The castle was built as a hunting lodge in the 17th century and became the seat of the Weald family who own the Lulworth Estate. The square stone walls with a round turret at each corner seem the perfect idea of what a castle should look like and when the castle isn't closed for weddings you can visit the interior and cafe and climb up the towers.
The final part of our day's cycle ride took us through more pretty villages with thatched cottages and thatched porches looking like bushy eyebrows over the door. The road now followed farm tracks and narrow lanes, every so often joining a fast road with cars whizzing by. The route seemed to have been well planned to keep us off the main road as much as possible and we eventually reached Wareham where those taking the full Headwater Holidays route would stop for the night at the The Red Lion Inn.
We end our ride at Wareham
Wareham seemed a lovely place to stop as we crossed the bridge and saw the pubs with a riverside terraces and kayaks by the river. We cycled on through the town to reach the station, putting our bikes in one of the special carriages for the 20 minute ride back to Dorchester to return to our starting point. Our bikes were left for Roy to collect at The Casterbridge in Dorchester, an attractive town house hotel where Headwater Holidays guests normally stay.
Although we had only tried one day of a 5 day Headwater Holidays Jurassic Coast Cycling route, we had really enjoyed our cycle through the pretty Dorset countryside, with thatched cottages at every corner and lovely sea views at Lulworth. There is so much history to discover too, with the Thomas Hardy and TE Lawrence connections and castles and gardens to visit. Our cycling day with Headwater Holidays gave us a taste of all that you'd hope to find on a day out in the English countryside.
Information for your trip
Headwater Holidays offer relaxed walking and cycling holidays in the UK, Europe and around the world to allow you to discover the culture and natural beauty of each destination at your own pace.
Dorset and Jurassic Coast Cycling – a 5 night cycling holiday through country lanes taking in pretty cottages and historic landscapes with time to relax and swim on the Jurassic Coast beaches.
Jewels of the Jurassic Coast Walk Dorset – A 5 night walk through Dorset's rolling countryside and along the south-west coastal path starting in Weymouth and ending at Sandbanks.
Roy Griffiths of Signpost Cycling acts as Headwater local agent in Dorset and can arrange bike hire if you want to cycle for just a day or two.
For more information about holidays in Dorset check out the Visit Dorset Tourism website
Thanks to Headwater Holidays who hosted Heather's cycling day in Dorset.
Where to Stay
If you are planning to cycle from Dorchester to Wareham independently, these are the hotels that we recommend that are also used by Headwater Holidays
The Casterbridge in Dorchester is a charming, wisteria clad Georgian town house in the centre of this historic town.
The Red Lion in Wareham is an old inn with lovely rooms decorated in a contemporary style and downstairs has a spacious bar, a cosy snug and a more formal restaurant.
Springfield Country Hotel just outside Wareham is set in 6 acres of beautifully landscaped gardens with comfortable rooms and an indoor and outdoor swimming pool
If you want to cycle from Dorset to Wareham at a more relaxed pace, you could split the route we did into two days, with an overnight stay at Lulworth Cove, in which case we recommend;
Limestone Hotel in West Lulworth is in the village a short walk from the cove and has an English country house feel.
For more hotels in Dorset please check out my Hotels Booking Page powered by HotelsCombined – you can compare prices and book at no extra cost to you, giving me a small commission – thanks for your support!
Pin It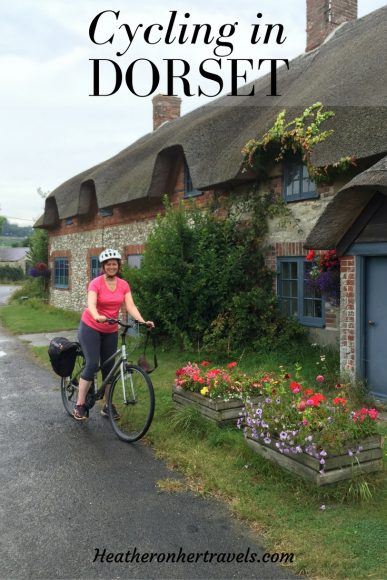 This article is originally published at Heatheronhertravels.com – Read the original article here
You'll also find our sister blog with tips on how to build a successful travel blog at My Blogging Journey
Lisbon is divided into districts and each one of them is special on its own way. Some of them are more traditional, others are more modern. Some of them are fancier, others are more adventurous. And together they transform Lisbon into what it is. In this guest article, Lisbon expert Julia Vilaça recommends five different neighbourhoods which will give you a complete overview of Lisbon and its special character.
1. Alfama
Alfama is one of the most famous neighborhoods in Lisbon because of its traditions and it's considered the "Fado's Birthplace". It's an area with narrow labyrinth streets, that transform the neighborhood into one of the most fascinating. For a genuine visit to Lisbon with a pretty cool lookout at the end, visit Alfama, listen to some fado and enjoy the viewpoints. "Portas do Sol" is one of the most fantastic viewpoints and if you want a place to stay, you can choose Hotel Memmo Alfama. In Alfama you can also visit the National Pantheon and Casa dos Bicos – the José Saramago foundation house.
2. Alcântara/Belém
The Discoveries Monument, Belém Tower, Jerónimos Monastery, National Coach Museum, Electricity Museum and many other monuments are located in Alcântara/Belém – it's great for walking around (especially when the sun comes out) and to discover Portuguese history, since most of the monuments related to the discoveries are located here. In Belém, you'll find something for everyone. And you should definitely try the Portuguese pastries – Pastéis de Belém. Enjoy the sunset at Espelho D'Água and stay at Altis Belém Hotel.
3. Chiado
If you like to shop, this is the perfect place. Chiado brings together lots of stores, restaurants, cafés and little shops – you should definitely try the chocolate cake from Landeau and have a cup of coffee with the famous Portuguese writer Fernando Pessoa in A Brasileira. Are you looking for traditional souvenirs? Or maybe a cool trendy piece for your closet? You're going to find it in Chiado because modern brands cohabit with centenary premises (here you can find, for example, A Vida Portuguesa and Luvaria Ulisses). Lisboa Carmo Hotel is a great option if you want to stay in the heart of the city. And if you want to go to the theatre or see some street artists, Chiado is also the place!
4. Bairro Alto
Some people just call it "Bairro" and it's one of Lisbon's alternative areas. In Bairro Alto you'll find art galleries, bars like PARK (for a great sunset), local stores… It's a very traditional area during the day and, at night, it transforms itself into a trendy neighborhood –there's music, drinks and fashion all over the place. It's one of Lisbon's most diverse districts and although it's not super quiet at night, it's also great if you want to go out and enjoy the hours after the sun goes down. During the day, travel up the 7th hill by hopping on one of Lisbon's famous elevators: Bica or Glória.
5. Parque das Nações
The most modern part of the city, with a business side. Thanks to Expo '98, it was fully renovated (some people call it "the Expo area") but in Parque das Nações you can enjoy a different perspective of the city. MEO Arena, the Pavilion of Knowledge and the Lisbon Oceanarium are located here, so it's a great area to take the kids. For an even cooler experience, take a ride on the cable cars!
Author Bio: Thanks for this article to Julia Vilaça who writes at Lisboa Cool and is an avid collector of happy moments. Her dream is to help people discover the coolest places when they travel.
If you're looking to book a Hotel in Lisbon, compare prices and book on my Hotel Booking page powered by HotelsCombined – I get a small commission at no extra cost to you. Thanks for your support!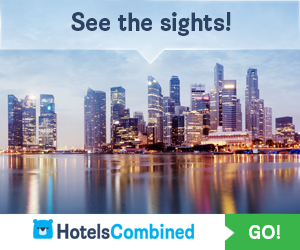 Pin It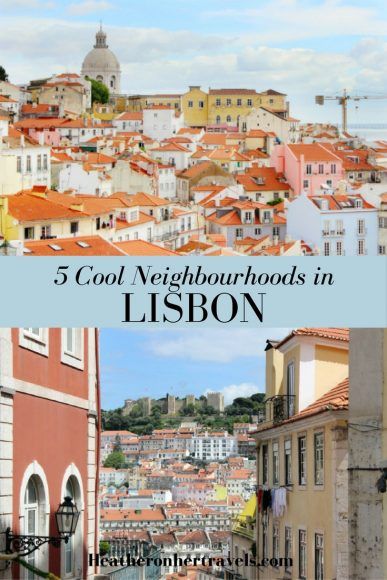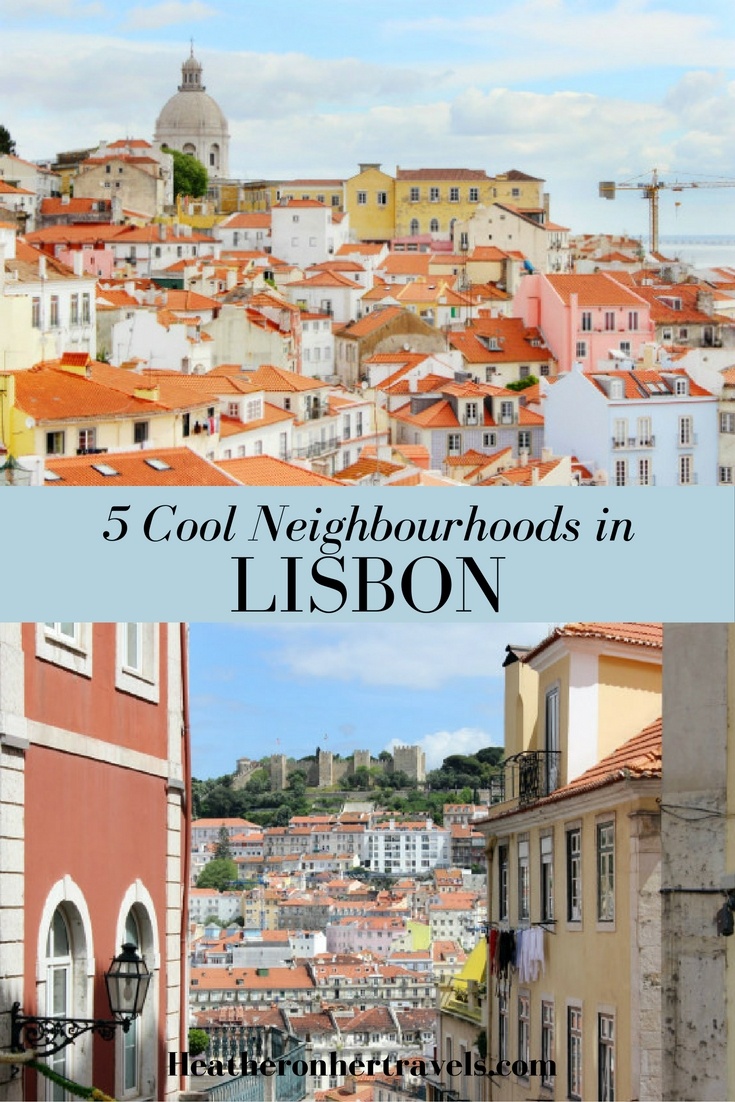 This article is originally published at Heatheronhertravels.com – Read the original article here
You'll also find our sister blog with tips on how to build a successful travel blog at My Blogging Journey