As we walked along the grassy path, the stone monument stood solid, like an upturned boat, surrounded by a field of wildflowers and glowing in the late afternoon sun. We'd come to visit the Naveta d'es Tudons, one of Menorca's best known prehistoric monuments, a burial chamber that dates back to around 1000 years BC, built by the people we know as the Talayotic culture.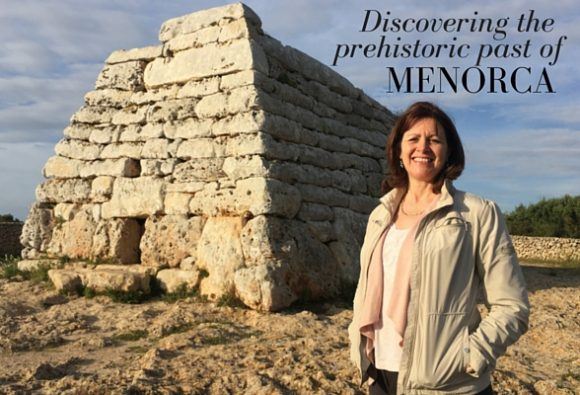 The Naveta d'es Tudons (Naveta being the Catalan word for boat) was excavated by archaeologists in the 1960s, when they discovered the remains of over a hundred men, women and children who had been laid to rest here together with some of their personal possessions, such as metal hair ornaments or spear heads. Once a body was placed inside the tomb, it was sealed and later the bones and skull would be moved to one side to make way for the remains of the next person.
All over Menorca you'll find similar burial chambers, towers and settlements that are unique to the island and are now being preserved with the aim of having them declared a UNESCO World Heritage site. Since Menorca is an island where stone is readily available, the buildings of the Talyotic culture were left alone for us to visit today, unlike other places where the stone would have been taken over the centuries for other buildings.
On our visit to Naveta d'en Tudons, we noticed how well it had been restored to its original appearance, all except the final stone that seemed missing from the parapet at one end. Local legend has it that two giants sought the hand of the same girl and so to decide between them, each was set a task. One was to build a Naveta, the other to dig a well and whichever could complete their task first would win the hand of the girl.
When the giant building the Naveta was carrying the final rock to place it in position, he saw his rival at the bottom of the well who had just struck water, and in his anger threw down the stone and killed him. Realising what he had done he ran away, so that the girl was left with neither suitor, and of course this explains what happened to the final stone to complete the Naveta d'es Tudons.
While the entrance to the Naveta d'es Tudons was sealed, on another day Zoe Dawes and I were able to go inside a similar tomb at Rafal Rubi where there are two Navetas built close together. These Navetas had not been restored and had a tumble-down appearance of a pile of rocks, since the upper story of the Naveta had collapsed and the stones seemed to have disappeared.
At the south Naveta of Rafal Rubi we clambered through the small, but finely cut square hole to stand inside, under the roof of huge stone slabs. Inside the tomb, it felt rather bare and bleak (probably not helped by the pouring rain), with all remnants of the past taken away to reside in one of the island's museums. Around the square opening was a lip, cut by expert stone masons, to keep the entrance stone in place that would seal the tomb.
Without our guide, we would never have found this site, hidden away down a grassy path and surrounded by meadows and farm land. It reminded me of how Stonehenge, now complete with splendid new visitor's centre, must have looked a hundred or so years ago when it was just part of the farming landscape, surrounded by grazing animals.
We moved on to the second of the two Navetas, the northern one, where again the upper chamber had collapsed, but this time we didn't go inside. Due to the pouring rain, it was not much of a day for lingering so Zoe and I made our way back through the olive trees and stone walls to the road.
In addition to the burial chambers like these Navetas, there are many conical structures around Menorca named Talayot, after the Spanish word atalaya or watchtower. It is from these that the Talayotic culture got its name and these towers demonstrate that the people had come together to live in larger settlements, with a highly organised culture.
At Torre d'en Galmes, I was able to see some of the conical Talayot towers which seem to have doubled as living space with a watch tower on the upper level. The Talayots were normally situated within a settlement and also within sight of each other, so it is thought that they might have been used as a network to signal from one to another in times of danger.
Another unusual feature of the settlements around Menorca are the Taules or T-shaped rocks made of a slab of stone embedded in the ground with another rectangular stone on top. The name Taule comes from the Catalan word for table, perhaps a table where giants would eat. Rather than being a balancing trick, I observed how a slot had been made in the upper rock to allow it to slot into place on the pillar rock, illustrating the advanced skills in working stone of the Talayotic people. These Taules are thought to have some religious or ritual significance, perhaps representing the horns of a bull or religious beliefs, just as Christians use a crucifix as a symbol of their religion.
At Torre d'en Galmes I was able to sense the scale and organisation of the Talayotic settlements, with circular stone enclosures enclosing an inner courtyard, with different chambers and rooms built around the circle for sleeping, storage and keeping animals. The society was clearly well organised with a system of channels to collect rainwater and transport it to the underground reservoirs called Sitjots.
In other places around the site, huge slabs of rock were balanced on stone columns to make shelters that could have been used as storage chambers, topped with roofs of leaves and branches.
I wondered why such large slabs of stone had been used in this way to create walls and roofs, since the effort involved to transport them and lever them into place was so enormous. However Zoe, who knew the island well, explained that Menorca is an island with plenty of stone but very little wood, so stone was used in the same way as huge oak beams might have been used elsewhere in Europe for building.
If you visit Menorca, I hope you'll take time to visit at least some of these unique prehistoric monuments and settlements that are dotted around the southern half of the island. There are 32 sites that are part of the UNESCO World Heritage proposal and maps are available from the tourism offices around the island. You can also find more information from the www.menorcaarqueologica.com website who arrange regular group tours to see some of the main sites.
Museums in Menorca that cover the Talayotic Culture
While in Mahon, I also visited a couple of museums to learn more about the Talayotic culture.
Ca n'Oliver – Centre d'Art i Història Hernández Sanz
In the Ca n'Oliver house in Mahon there was an interesting exhibition in the basement about the Talayotic culture and on display in one of the rooms were household pots and grinding stones, which were part of the collection of the house's owner. Carrer Annuncivay 2, Mahon. 
The Museum of Menorca in Mahon
The Museum was under renovation when I visited in May 2016, with most galleries closed, but they did have a temporary exhibition about the Talayotic culture which was free. Once the whole museum reopens, you'll find galleries that cover the whole fascinating history of Menorca from  the first inhabitants to  the 19th and 20th centuries, including all the Talayotic history. Museo de Menorca, Avinguda del Doctor Guardia, Mahon.
More articles about Menorca
How to spend a perfect day in Mahon, Menorca
Slideguide to Menorca (Mallory on Travel)
Video: The enchanting island of Menorca (Travel with Kat)
Pin It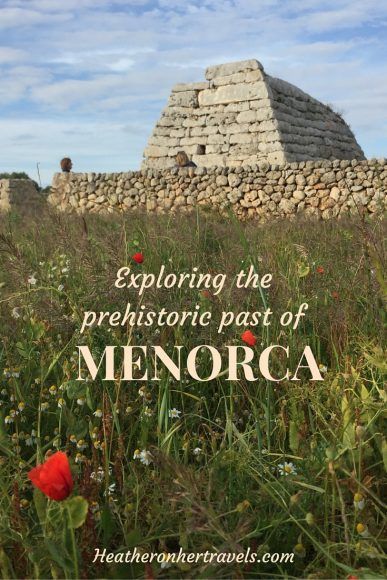 Visitor Information for Menorca and Mahon
To plan your holiday in Menorca and Mahón visit the Menorca Tourism website or follow them on social media: Twitter @Turismhttp://www.menorca.esoMenorca | Facebook | Instagram
For holidays in other parts of Spain you can find more information at www.Spain.info or follow them on social media: Twitter @Spain_inUK | Facebook | Instagram
If you need a guide to show you the sites of Mahon and Menorca, I can highly recommend Luis Amella of Menorca Guides
Thanks to Menorca Tourism for hosting my stay in Menorca, in a project in partnership with Spain Tourism, Menorca Tourism and Travelator Media
This article is originally published at Heatheronhertravels.com – Read the original article here
Our Uniworld river cruise with Titan Travel took us through the South of France, from Lyon in the heart of Burgundy, to the medieval walled city of Avignon in Provence. It was one of the most stress-free holiday I can remember in a long time, with the Titan VIP airport transfer, daily escorted excursions and the attentive on board service. The week flew by with rich insights into local culture and history, some delicious food and wine (we were in France!) and great company. If you're thinking of taking a European river cruise, here's what you can expect when you travel with Uniworld.
I hope you enjoy the video below about SS Catherine with Uniworld Boutique River Cruise Collection
If you can't see the video above about SS Catherine with Uniworld see it on my blog here or Youtube here and please do subscribe using the button above
Click here for direct download of video
Subscribe to all my videos in I-tunes
1. The ship is a floating luxury hotel
Having stayed before at a Red Carnation hotel (read my review of The Acorn Inn), the sister company of Uniworld Cruises, I knew that the SS Catherine would be something special. Both the Red Carnation Hotel Collection and the Uniworld ships are known for their opulent interiors, with antique furniture, sumptuous fabrics and gorgeous artworks that have been carefully selected to reflect the locality. Everywhere we found rich textiles, gilt furnishings, marble and mirrored tables and artworks that would not have been out of place in a major art gallery; think Joan Miro, David Hockney and Henry Moore.
Matching the green and pink theme of the Van Gough lounge were delicate Murano glass wall lamps and in the lobby a Venetian glass horse sculpture, one of only two in the world, the other being in the palace of the Emperor of Japan.
While the main Van Gough lounge was light and feminine, the Bar du Leopard at the back of the ship had the feel of a gentleman's club, with an African theme in the wild animal paintings, leopard sculpture and leopard print furnishings. The Tollman family who own Uniworld Cruises are from South Africa, so I guessed that this was a reference to their African heritage.
The staterooms were beautiful too, in a fresh white and green theme and felt much more like a boutique hotel room than a ship's cabin, with their signature padded fabric wallcovering and Italian marble in the bathroom.
2. You'll  receive attentive and personal service
To match the luxurious surroundings on board SS Catherine, we received 5 star service from all the Uniworld staff we met. Everyone we passed greeted us with a smile and a Good Morning and by the end of the cruise I swear that everyone knew us by name, and probably my favourite flavour of macarons too. We felt that we were not just another guest, but the most special guest on board, and I'm sure every one of the other guests felt the same.
Each time we left our stateroom we returned to find it returned to its pristine state with bed made and towels carefully arranged. In the lounge and restaurant, a cup of coffee or glass of wine would barely be empty before a member of staff would check if we wanted another. We were even asked which were our favourite chocolates so that the jar in our room could be refilled with them each day.
Both Hotel Manager Yann and Cruise Manager Thierry were ever present around the ship to greet guests and check they had everything they required. And all of the service was given with such humour and cheerfulness so that we felt by the end that we were all part of one extended family. Of course it was rather a shock to come home and have to make my own beans on toast, but lovely to feel completely spoiled while I was on board.
3. Every detail is taken care of
I've come to realise that part of the luxury experience is to find that every little detail has been taken care of and we found this attention to detail permeated throughout the our cruise with Uniworld. As an example, our stateroom had plenty of wardrobe space including room under the bed for cases and a bathroom with two large drawers so that toiletries could be put out of sight. We found a metal water flask that could be filled from our carafe of water to take on excursions, rather than having to buy lots of environmentally unfriendly plastic bottles.
On the lower floor was a laundry room to wash and iron clothes, ideal for me to smooth out the creases after unpacking, so that I could look smart at dinner. There was always somewhere around the ship to get a snack or cup of coffee, including a 24 hour self service area with coffee machines and biscuits. Lovely L'Occitane toiletries were provided in big, refillable bottles to avoid waste, but I found an welcome bottle of conditioner and lipsalve as well.
For excursions we had excellent Quietvox audio sets that enabled us to hear the guides through our own headset, allowing me to wander off and take photos while still hearing what the guide was telling us. I could go on about the numerous things that had been carefully chosen to give us a great holiday experience, but let's just say that if you need it, Uniworld will probably have thought of it first.
4. Stress free transfers and excursions
We found that from the moment we left our front door, everything had been arranged to give a stress free start to our holiday. We especially enjoyed the VIP Titan Home Departure Service which is an additional benefit when you book your Uniworld Cruise through Titan Travel. All Titan guests get a free transfer between the airport and their home in one of Titan's own vehicles and our car was duly outside our house to pick us up at 2.30am. As it was an early start to catch our 7am flight, I was thankful not to have to drive, but could doze all the way to the airport. On our return to Heathrow, the nice man with the Titan sign was there, waiting to drive us the 2 hours back to Bristol.
Once we arrived at Lyon for the start of our cruise we were greeted by one of the Uniworld staff who took us to our coach to transfer to the ship. This experience of seamless logistics extended to Uniworld's own luxury coaches which took us on all the excursions, with excellent English-speaking guides to bring the places we saw alive with their stories.
5. It's an all-inclusive holiday
Uniworld Cruises originally introduced the all-inclusive concept as a result of customer feedback and it certainly made for a stress free holiday. From the moment you arrive at the airport to join your cruise, you really don't need to spend a euro unless you want to buy a few souvenirs along the way (and who could resist buying some Valrhona chocolate when they visit the Cité du Chocolat in Tain-Hermitage?).
So what does all-inclusive really mean on a Uniworld's cruise?
To start it means that a choice of excursions are included in your cruise, normally a walking tour to see the sights, a gentle walker's group who might take a slightly different route or be taken on a tourist train, and a Go Active option for those who enjoy hiking through vineyards or kayaking down the Rhone. The excursions normally took up half a day, allowing the other half of the day for exploring on our own or relaxing on board the SS Catherine.
The excursions normally included a little extra, such as a wine tasting, visit to a museum or castle, or a local experience. There were also some optional excursions which cost extra and we tried a couple of these which we really enjoyed, visiting the Château de Rully for a wine tasting, lunch and tour of the privately owned chateau, and a cookery lesson at the Institut Paul Bocuse in Lyon.
All meals are covered on board and the excursions will generally bring you back to the ship for lunch so you only need to eat in a café if you want to soak up some local atmosphere. We were served really excellent wines, so no need to upgrade when you are served wine like ink. Practically all cocktails and spirits were covered too – unless you have a taste in 20 year old whiskey. Coffee, tea and all other hot drinks were available whenever we wanted them.
Another feature of the all-inclusive package is that all gratuities for both staff and tour guides were covered, so no need to worry about tips at the end of the cruise. All of this meant that I felt a bit like the queen with hardly any need to carry cash which was a very relaxing feeling, although a bit of a shock to come back to the real world where everything has to be paid for.
6. Excursions that are an enriching experience
I mentioned that there were some optional excursions that were an additional charge but this didn't mean that we felt short changed if we didn't take them, since all the excursions were led by excellent local guides who gave us an insight into the local history and culture. One of my favourites was the village walk in the riverside town of Viviers which was so full of local charm that we could totally understand why it had been used to film some of the scenes in the film, Chocolat.
After the walk around the old streets and an organ recital in the Cathedral at the top of the hill, we ended up being welcomed into our guide Frances' house in the old town, drinking rosé wine in her flower filled garden and hearing how her aunt had used the house to shelter fleeing Jews in the Second World War.
Another highlight was the optional excursion to a cookery demonstration and lunch at the Institut Paul Bocuse, a cookery school founded by the famous chef who was born in Lyon and runs a 3 Michelin star restaurant there. As you can imagine the surroundings of the Institut were suitably elegant and on the first floor top chef Philippe, who normally ran a 3 Michelin star kitchen demonstrated how to make some of the local specialities such as Salade Lyonaise with lardons and poached egg on top, followed by the Pike quenelles with crayfish sauce and a delicious soft meringue desert in a nest of spun sugar.
While we didn't exactly work hard, or have to do any of the washing up, it was fun to have a go at scooping up the perfectly formed quenelle or poaching the eggs for the salad. At the end of the demonstration we all sat down to a relaxed lunch with excellent wines and ate the dishes that we'd had a hand in cooking, although I'm not sure that we could take much credit for how delicious and perfectly cooked they were.
7. You can Go Active if you like
Uniworld is very much into promoting a healthy lifestyle, with fitness and wellbeing incorporated into the cruise. On some days there was a 'Go Active' excursion option such hiking through the vineyards or kayaking under the Pont d'Arc, the famous Roman Aqueduct near Avignon. Bikes were available for guests to use and while I was walking around the picturesque streets of Viviers, Guy was cycling beside the Rhone, discovering another castle of the opposite bank of the river.
Of course for those who like to maintain their fitness routine on holiday, there was a gym and a particularly splendid pool next to The Leopard Bar where you could admire the wildlife mosaics while taking a dip.
I also appreciated the healthy menu choices on offer with plenty of delicious options such as fruit smoothies, a salad selection and fresh fruit as well as a 'Traveling Lite' menu with recommended dishes that would be lower in calories.
8. But you can also relax
There may have been plenty of activities on offer but our Uniworld Burgundy and Provence cruise was also about wellbeing and relaxation, with time to unwind and enjoy the beautiful scenery on the river. Unfortunately, at the beginning of the cruise we experienced rainy and cloudy days, but later on in the week the sun came out and we were able to bask the sunshine on deck.
Depending on the level of the river and the number of bridges, the top deck is sometimes closed, to avoid guests being knocked out by a bridge that is only inches above their head. However on other stretches such as the one between Avignon and Tarascon, we had a few hours to enjoy the unspoiled river views and relax in the sunshine.
9. The fabulous food on board
The food served on board our Uniworld cruise was outstanding, with a buffet for breakfast and lunch although there were always some hot dishes available. In the evening we had waiter service with a good range of fish and meat dishes, a 'Traveling lite' menu and a vegetarian menu, so whatever your taste you would find something to enjoy. If all else failed and you really wanted a steak, the chef could usually make it for you.
Each evening before dinner, while having drinks in the lounge, the enthusiastic sommelier would tell us about the menu and the carefully selected wines that would accompany each dish. I enjoyed the local flavour of the menu, and if we'd heard from our guide about some local speciality such as Boeuf Bourguignon or Valrhona chocolate, we would invariably find it on the menu that evening, with accompanying local wines.
10. You'll enjoy good company
We really enjoyed meeting some of the other guests on board, which was easy to do since the ship holds a maximum of 159 guests. At dinner there was a free seating arrangement which meant that rather than being allocated a table for the whole cruise, we were free to sit on our own or join other couples as we wished. We normally sat at a different table each night and  got to know many of the other guests over dinner.
The majority of guests on our cruise were American with a few couples from the UK and others from Canada, Australia and other English speaking countries. Most guests seemed to be aged between 50 and 80, although there were a few younger couples, and many had sailed with Uniworld before and were returning for a second or third cruise. We had a lot of fun comparing notes on the day's activities and getting to know other couples over a few glasses of the excellent wine.
Who will enjoy a Uniworld cruise through Titan Travel?
We really enjoyed every moment of our Uniworld Burgundy and Provence Cruise and it was a bit hard to come back to reality after being so well taken care of. The cruise is more about cultural enrichment and relaxation than entertainment, and those aged 40+ will feel most at home. A Uniworld Cruise will suit the discerning traveller who is looking for a luxurious and stress free experience while discovering the local culture and cuisine. In the UK, Titan Travel is one of the best ways to book a Uniworld cruise since they provide some aditional perks, such as the VIP Home Departure Service.
Have you taken a river cruise through Uniworld or Titan Travel and if so what was your experience?
Read an overview of my cruise on the Titan Travel Blog: Burgundy and Provence with Heather on her travels
Travelling with Titan Travel and Uniworld Cruises
You can book your Uniworld Cruise through Titan Travel who specialise in escorted holidays and cruises. When you book through Titan Travel you enjoy their VIP Home Departure Service which is included in your holiday, to transfer from your home to your departure airport in one of Titan's own vehicles.
Uniworld offer boutique river cruising on the rivers of Europe as well as other worldwide destinations. Like their sister company, Red Carnation Hotel Collection, the Uniworld ships feature luxurious furnishings and artworks with outstanding, personalised service.
Heather and Guy travelled on Uniworld's Burgundy and Provence River Cruise through Titan Travel, on an 8 day cruise from Lyon to Avignon, from £2049 per person. As with all Uniworld cruises, the holiday is all-inclusive and covers meals and drinks on board, daily excursions, gratuities and airport transfers.
Thanks to Titan Travel and Uniworld for hosting our cruise.
Pin It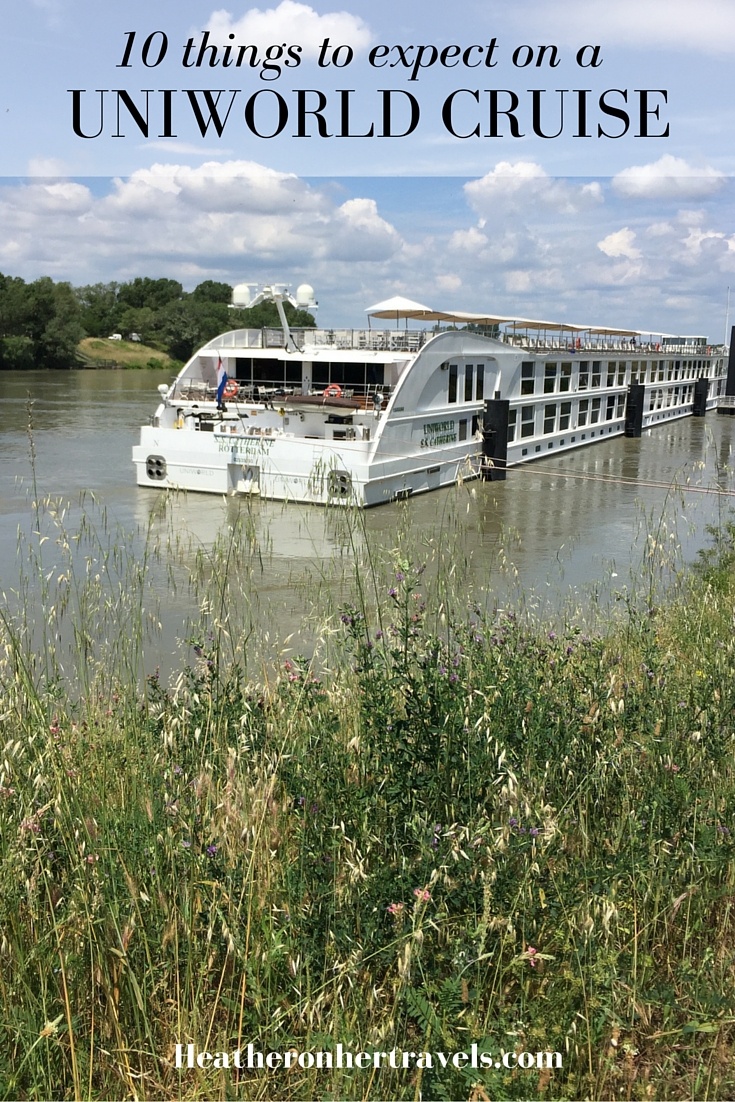 This article is originally published at Heatheronhertravels.com – Read the original article here
Northern Ireland's Causeway Coast must be one of the most scenic drives in the world, with a rugged, unspoiled coastline and a coastal road that runs within sight of the sea.
I reckon that you need at least three days to tour this lovely coastline. One day to see the Giant's Causeway and the other attractions of the northern coastline. Another to taste a drop of whiskey at the famous Bushmills distillery and sleep it off at the Bushmills Inn (no driving required). On the final day you can drive down the stunning Glens coast between Ballycastle and Belfast. A perfect long weekend you might say!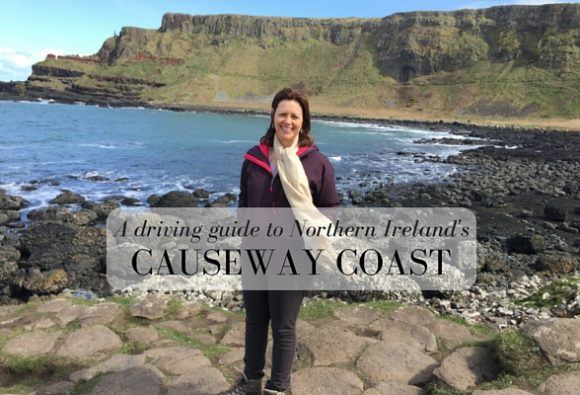 The star of the coast – The Giant's Causeway
So here's the star of Northern Ireland's Causeway Coast; the Giant's Causeway. Since the 1830s tourists have been coming here to see this wonder of nature, with hexagonal basalt columns, formed 66 million years ago when a lava flow cooled and cracked. Over time, the sea and weather eroded the columns into the iconic rock formations you see today.
Well that's what the geologists will tell you! But of course the locals know that the Causeway was created by the giant Finn McCool, when he threw rocks into the sea to pick a fight with the Scottish giant who was taunting him from across the water. If you stand on the causeway you'll see the chimneys of Finn McCool's house rising from the cliff.
To tell me the stories of the causeway, I had an excellent local guide in Mark Rodgers who is part of the Purdy family that can trace their ancestry back to the survivors of the ship Girona, part of the Spanish Armada wrecked on the Causeway in 1588.
We passed the stone that marks when the Causeway became Ireland's first World Heritage Site in 1986, while down the path we passed through the windy gap where a sudden gust of wind can easily blow your hat off. Mark pointed out the small harbour where local fisherman would pull up their boats during the summer salmon fishing season, but once tourists started arriving would row them around the headland to see the Great Sea Cave.
Before the 1960s when the National Trust took over the management of the Causeway, a few local families ran souvenir and tea shops for visitors alongside this path. Now all that has gone and the Causeway has been restored to its natural state, with a new National Trust Visitor Centre much further up the hill.
We passed what I would have taken for a puddle in the rock, which Mark explained was a well, fed by a natural spring. In the past ladies would stop to take a drink from the well, then would go and sit on the Causeway in the wishing chair, a natural seat in the rock, and wish for a husband. Of course for fun I took a seat but luckily I already have a wonderful husband so I didn't need to wish for any other.
The pony and traps that once transported visitors down to the Causeway have been replaced by a mini bus (£1 each way) and we took it back up to the visitor centre again. So now we have visited the star attraction of Northern Ireland's north coast, what else is there to see? Well a surprising amount as it turns out, especially if you have a car to get around. (Check out Alamo Rent A Car if you need a rental car)
So lets start at…..
Mussenden temple on the edge of the clifftop
You may have seen photos of Mussenden Temple, an elegant Palladian building perched on the edge of the cliff, which you can spot from Downhill beach below. It was actually a library and summer house for the great house of Downhill Demesne which is now only a shell, as it burnt down in 1851 and was subsequently dismantled in the 1940s.
The temple was built by the Earl Bishop Frederick Hervey in honour of his favourite niece, Frideswide Mussenden, and there was originally space to drive a horse and carriage around it. As it's now perched precariously on the cliff edge, perhaps you should visit while you can, although it's only open for special events like weddings.
The property is managed by the National Trust and from the car park you can walk through the walled garden and see the ice house and dovecote before exploring the ruins of the mansion and walking to the clifftop to photograph the temple.
A little further down the road is Hezlett House, which you can visit with the same ticket. This thatched 17th century cottage is furnished as it would have been a century ago, with store rooms under the roof beams and tiny bedrooms set behind the cosy parlour furnished in Victorian style.
Downhill Demesne and Hezlett House, near Castlerock. Open 10-5, every day in summer and some days in spring/ autumn. Adults £4.50 or free to National Trust members
A stop for the view over Whiterocks Beach
As you drive along the coast road there's a viewpoint where you can stop overlooking Whiterocks beach with a sign that tells you about the coastal park. From here, enjoy the views towards the seaside town of Portrush, the rocky islands known as the Skerries and the limestone cliffs where kittiwakes and guillemots nest. I love the wide, windswept beaches and dramatic seascapes on this part of Northern Ireland's coast and a little further on you'll arrive at ….
Dunluce Castle perched on the cliff
Dunluce Castle looks as if it might just topple off the edge of the cliff and into the sea to the pounding waves below. But wait… apparently a bit of the manor house did fall off the the cliff in the 18th century and you can now see the hole with iron bars across it. Even if you don't want to live life on the edge, the castle does make a great photograph, the ultimate picturesque ruin.
At the ticket office there's an interesting display about the castle's history and a video playing in the exhibition room opposite. The castle was the stronghold of the MacDonnells who were the leading family along the Antrim and Glens coast and it was the base for their power struggles with other Irish clans as well as the English crown. The splendid Jacobean manor house which you can see the shell of was built by Randall McDonnell in 1620 and was the lavish seat of the Earls of Antrim.
The curious part of the story is that on this windswept cliff top was a town which has been partly excavated. It was established in 1608 with the support of King James I to house Scottish settlers who were encouraged to come to establish greater support for the English crown. But by the 1680s the town had been abandoned. I can imagine how the clifftop location, might have been a little too exposed even for the hardy Scotts and Irish.
Where to stay – Bushmills Inn
If you want a base to explore Northern Ireland's Causeway coast by car, I highly recommend the charming Bushmills Inn, where you can guarantee that a warm Irish welcome will await you. If you are coming from afar, they may even fly your country's flag from the tower to greet you, as they have a flag room which contains the flags of every nation in the world.
Even if you don't stay at Bushmills Inn, be sure to stop by in the evening for a drink in their Gas Bar which is lit by the soft glow of gas lamps and has live music on Saturdays and Wednesdays. There's a peat fire burning every day at the reception where all the guests (including me) love to be photographed since it just embodies all that is warm and welcoming about an Irish bar.
The hotel started life in the 18th century as a coaching inn (that's the part where you'll find the Gas Bar) but they've since built an extension at the back, and now have 41 rooms. It's difficult to tell where the old ends and the new begins, since the stonework and whitewashed walls run throughout. I had a luxurious four poster bed and a huge bathroom with roll-top bath overlooking the River Bush flowing behind the hotel, with the same pure water that's used to make the Bushmills Whisky at the distillery just down the road. The restaurant is excellent too – the kind of place where you'd come for a special treat, and specialises in modern Irish dishes that use the best produce from farms and fisherman of the North Antrim coast.
The Bushmills Inn, 9 Dunluce Road, Bushmills.
Dark Hedges – a location for Games of Thrones
If you're driving up through the area around Bushmills, you might want to take a detour to see one of the best known Game of Thrones filming locations in the area, known as Dark Hedges. The avenue of beech trees have an eery, twisted look and were used in Season 2 when Arya Stark travels down the King's Road to escape from Kings Landing, dressed as a boy.
The trees were planted as the driveway for the Georgian Mansion of Georgehill House, which is now a hotel where you can stop for a coffee. Although it looks like a quiet country lane, it was difficult to get a decent photograph of the trees, for all the cars driving up and down and the people walking through – pesky tourists!
Fishing boats in Ballintoy harbour
Let's continue our drive along the coastal road, but before you get to the Carrick-A-Rede rope bridge, take a detour down the narrow, winding road that leads to Ballintoy Harbour, another Game of Thrones location. I caught it in the late afternoon when it was looking very pretty with a small boathouse at the harbour entrance and rugged rocks with the sea spray breaking over them. On the other side of the car park are some sea caves that are fun to explore and a small beach. Enjoy a wander then stop for a cake or an ice cream at the small cafe, before driving on to…
Carrick-A-Rede Rope bridge
Yikes, from all the photos I'd seen this looked like one scary rope bridge. I worried about whether I'd even be able to a take any photos at all – one false move and my iphone might be knocked from my hand and plunge into the sea below.
The original bridge was made by salmon fishermen, who used it to get across the gap between the headland and the small island so that they could get better access to the salmon that swam past here each summer to the rivers on the north coast. On the island you can see the shed of their small fishery which is open on certain days. Judging by the old photographs, the rope bridge was a lot more perilous in those days, with just a rope on one side to steady yourself. Those daring tightrope-walking fisherman thought nothing of balancing themselves and all their gear to cross over the bridge.
Well, back to these days and it's really not that bad. You may need to queue to take your turn to cross the bridge with a warden monitoring progress and telling you when to go. "Don't worry", he quipped, "we haven't lost anyone yet … this month". When it's your turn, you descend the wooden steps and then cross over, just don't look down and in a couple of minutes you are across. Even though it was quite windy, the bridge was surprisingly stable. I had a little look around on the other side and then turned around to come back. The best views are to be had if you walk a bit further beyond the bridge and look back towards it where you can see people crossing.
Adults £5.90 to cross the bridge although it's free to walk along the coastal path. Just a little further along the coast you'll find…
Boats in Ballycastle harbour
Ballycastle is one of the larger towns on the Antrim coast, a market town with a harbour and proper high street with lots of shops, restaurants and bars. It's also become something of a foodie hub for this part of the coast, with many great food producers based nearby and regular Farmer's markets at the weekend. You can even do a walking food tour of Ballycastle with Caroline Redmond of North Coast Walking Tours. For more information on all the great foodie places check out my article: 10 fab Foodie stops on Northern Ireland's Causeway Coast. If you have a bit more time to spare it's worth taking a day to…..
Catch the ferry to Rathlin Island
From Ballycastle harbour, the ferry runs around every hour across the Sea of Moyle to Rathlin Island, which takes 25-45 mins depending on which ferry you catch. I was only on the island for half a day so unfortunately wasn't able to take the RSPB bus to the western tip of the island to see the seabird centre and puffin nesting sites. I did spend an hour or so walking around the harbour where seals were basking in the sunshine outside the Breakwater studio which sold artwork and gifts. I wandered around the bay to take a look at the old Kelp store where seaweed was once burnt to make fertiliser, and if I'd had more time I'd have walked to see one of the lighthouses.
Rathlin Ferry from Ballycastle Harbour: Runs hourly, Adult £12 return, Child £6 return. Booking advisable in high season – can be booked online.
Driving to Torr Head on the Causeway Coast
From Ballycastle I spent my final day driving back to Belfast on what must be one of the most stunning coastal routes in the world, past the Glens of Antrim. The coastal route is well signposted but just outside Ballycastle you can take a detour off the main route along the cliffs by Torr Head. The road passed through open fields where sheep graze with the land dropping steeply down to the sea.
The views were so spectacular that I couldn't resist stopping at every possible viewpoint to take photos, attracting the attention of a few friendly sheep. After a while I had to start lecturing myself; "this is the very last place I'll stop" as I was in danger of running out of time to see anything else on the coast. Still I pressed on until I reached…
Cushenden on the Glens Coast
The pretty village of Cushenden, managed by the National Trust, has a perfectly placed carpark beside the old stone bridge, directly overlooking the beach. On a sunny day, this would be a wonderful place to have a walk on the beach with a picnic from the village shop or a stop for lunch at Mary McBride's bar where they have a restaurant upstairs. There are two sad stories that you might hear associated with Cushenden, one involving a sailor who never came home and his sweetheart who died of a broken heart, the other involving a goat who is commemorated in a statue … but I'll leave you to find out more when you visit. From here I drove on south towards….
Cushendell
Where Cushenden is a picture postcard kind of place, Cushendell is more of a real, working town, with shops and restaurants on the main street that you'll drive through. The beach is another 10 minutes down the road with a separate parking area next to the golf club which is a good starting point for walks along the coast. There wasn't too much to keep me here so I continued on the coastal road….
Driving past the Glens of Antrim
The drive between Cushendell and Glenarm and beyond was truly stunning, passing by the Glens of Antrim, with plenty of opportunities to detour off for woodland walks and waterfalls. The Glens are the deep valleys carved by glaciers millions of years ago, making for a spectacular drive with the sea on one side of the road and the slopes of the Glens rising steeply up on the other. Sadly, as my flight home was calling me, I didn't have time for any waterfalls photos, but just enjoyed the drive and the scenery with a stop at …..
Glenarm Castle for afternoon tea
The tearoom at Glenarm castle was a perfect place to stop before heading back to Belfast Airport to drop off my hire car and fly home to Bristol. The castle is home to the Earls of Antrim and only occasionally open to the public, but there's a lovely walled garden and a tea-room where you can go even if you're not visiting the garden. Much as I'd have liked to explore the walled gardens, I just had time for a cup of tea and slice of home-made cake in the pretty tea room with a glimpse of the garden through the archway. From here it was on to Larne and the fast road back to Belfast International Airport.
It had been a most spectacular weekend driving along Northern Ireland's Causeway and Glens coastline, and having my hire car enabled me to make the most of my long weekend to see as much as possible.
If you are planning a trip to Northern Ireland, check out Alamo Rent A Car for a car rental that you can pick up at the airport and take the scenic route around Northern Ireland's beautiful coastline.
More things to enjoy in Ireland
10 fab foodie stops on Northern Ireland's Causeway coast
Irish tales and 50 shades of green on the Wild Wicklow tour
10 things we did on a weekend in Dublin
Visitor Information for visiting Ireland's Causeway Coast
For more information and to plan your visit to Northern Ireland's scenic Causeway Coast visit the Causeway and Glens website and follow them on social media: Facebook | Twitter | YouTube
You can also find plenty of information on the Discover Northern Ireland website and the Tourism Ireland website.
Heather stayed at The Bushmills Inn in Bushmills which is a luxury 4 star hotel that is close to all the major things to see such as The Giant's Causeway and the Bushmills Whiskey Distillery.
My extremely knowledgeable guide for the Giant's Causeway and other local attractions was Mark Rodgers of Dalriada Kingdom Tours who fed me with local tales of fishing families and mythical giants.
If you prefer to have a break from the driving, I recommend Glenara Elite Travel who operate tours in a comfortable mini-bus that enables you to easily see all the attractions of the Causeway Coast in one day. They run regular day tours that cost £35 per person.
Caroline Redmond offers food tours in Ballycastle at North Coast Walking Tours and Wendy Gallagher runs Coast and Country food tours at Causeway Coast Foodie Tours.
Pin It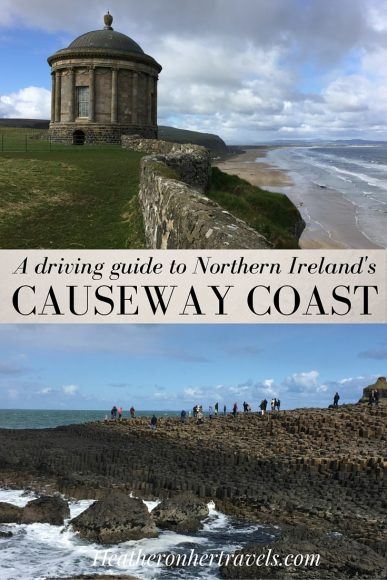 This article was brought to you in partnership with Alamo Rent A Car. Thanks to the Causeway Coast and Glens Borough Council for hosting my stay on Northern Ireland's Causeway Coast.
This article is originally published at Heatheronhertravels.com – Read the original article here