Our Explore Canada Road trip had taken us from Toronto to Montreal, but now we were at journey's end. Dropping Monty the RV (our recreational vehicle, named after our final destination) back at the Cruise Canada depot, we headed into the city, to enjoy our final day exploring Montreal. In one short day, we fell in love with the charming bilingual Montrealers, discovered something of the city's history and ate our way through Montreal's lively food scene. Of course we didn't see everything, but all the more excuse to return – so here's our version of a perfect day in Montreal.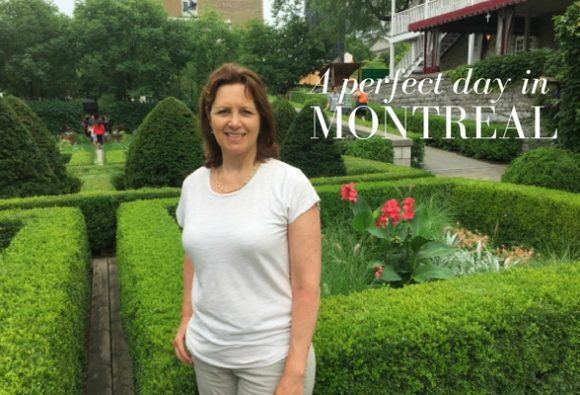 Like most visitors to Montreal, we started our day in the old quarter of Vieux Montreal, wandering along Rue Saint-Paul, where funky clothing boutiques mixed with stylish cafés. Meandering through cobbled pedestrian streets, we reached the tourist hub of Place Jaques Cartier, an open square that looks towards the port on one side and the Town Hall on the other.
Spotting an open gateway at the side of the square, we ducked through explore and found a haven of calm in the Governor's garden behind Chateau Ramezay. The walled garden was laid out as an 18th century style potager, with flowers, vegetables and medicinal herbs, in formal beds enclosed by box hedges. The garden here today is only a small part of the garden that once surrounded this grand house and would have been used as a source of food and healing, as well as genteel relaxation by the first colonists of 'New France'.
After soaking up the peaceful atmosphere, we visited the house of Chateau Ramezay, which was built in 1705 by the Governor of Montreal. Despite being one of the oldest and most historic buildings in the city, the the house fell into disrepair at the end of the 19th century and was only rescued from demolition by the efforts of an antiquarian society. We very much enjoyed our visit to the house with its beautiful panelled rooms and interesting displays that told the story of Montreal's colonial past.
If you go: Chateau Ramezay: 280 Rue Notre-Dame Est, Montréal. Entrance Adults $11, Garden Free.
Bagels and brunch in the Jewish neighbourhood
From Vieux Montreal, the Boulevard Saint Laurent took us north through some of Montreal's most interesting neighbourhoods, such as Plateau and Mile End which were home to the Jewish, Portuguese and Greek communities. While many of the old residents have moved out, you'll still find the ethnic flavour in some of the city's best loved food institutions. Now there's a hip and trendy feel as the neighbourhoods have become gentrified, with cool bars and cafés catering for creative types working for the software and video game companies that have replaced the garment industry.
Bagels are big in the Jewish neighbourhood with the specialist bakeries of Fairmount and St-Viateur found within a few blocks of each other.  There's a friendly rivalry with New York over whose bagels are best, although they are quite different to the Montreal bagels, which are baked in a wood fired oven with a sweet maple glaze and more compact texture than their puffy cousins from NYC. We stopped by both bakeries where I can confirm that the warm-from-the-oven bagels are equally delicious, although for visitors I'd favour St-Viator which has a larger shop where you can easily see the bakers at work and the bagels piled high, making it easier to take photos.
We stopped for brunch at Beauty's (93 Mont-Royal West), a classic Jewish diner with blue banquettes and an open kitchen, where they serve smoked salmon and cream cheese bagels, as well as sandwiches, pancakes and salads. The restaurant opened in 1942 and is now run by the third generation of the Sckolnick family, with grandfather Hymie who is in his 90s still coming in each day to keep an eye on things.
In the same neighbourhood is Schwartz's Deli (3895 Boulevard St-Laurent), another Montreal food institution known for their smoked meat sandwiches. At lunchtime the queues stretch down the street, but there are no frills here – you'll get a mountain of tender smoked salt beef that's barely contained by the soft fresh white bread and garnished only by a squirt of mustard.
Discovering Montreal's street-art scene
Coming from Bristol where we have murals by some incredibly talented street artists, I had to stop for a look at some of the street art in Montreal. Every year in June they hold the Mural festival when a parking lot off Boulevard Saint-Laurent is taken over by music and artists creating new works from high up on their cherry-pickers.
The festival is now in its fourth year and started as a way to encourage regeneration in the area and provide a showcase for some of Montreal's talented urban artists. Founder André Bathalon told me "our goal is to bring people to the area and they take from it what they want. They might enjoy the mural on the wall but if they want to learn more about the artists, the techniques or particular styles, they can also do that – it's accessible 24-7 and its free."
In the area we saw work by local artist Roadsworth whose large scale pieces cover roads and pavements, and Italian Pixel Pancho whose mural was one of the key pieces from this year's festival. It reminded me so much of the building size pieces that are created in South Bristol for our Upfest festival. Check in at the MURAL offices (3527a Boulevard Saint-Laurent) to pick up a map of the street art locations, book a 2 hour street art tour with Spade & Palacio or  find some of the best urban artists on show at Station 16 Gallery. There's also the Under Pressure festival in August which has been going for 20 years and focusses on graffiti artists.
Colourful fruit and veg at the Jean-Talon Market
Heading a little further north on Boulevard St Laurent, we reached the Little Italy neighbourhood and the Jean-Talon Market, the largest fruit and veg market in the city. The market is a riot of colour, especially in summer when the freshest local produce is on display. This is a shopping paradise for foodies and chefs and it's all beautifully presented with each heirloom tomato, rosy radish and even humble potato polished to perfection.
The punnets of strawberries and soft fruit looked so sweet and tempting and I enjoyed chatting to producers of  specialist products like the ice cider that's made in Quebec. Since the climate here is too cold for vines, the first French settlers planted apple orchards instead, pressing apple juice and making cider. Like ice wine, the fruit is picked after a frost to intensify the flavours and made into a sweet cider with a concentrated flavour that's perfect served with blue cheese or fois gras. Of course, thinking of my Christmas menus, I had to buy a bottle to bring home!
If you go: Jean-Talon Market: 7070 Avenue Henri-Julien, Montréal – there is parking but it's oversubscribed to best to take the metro to Jean-Talon stop.
Discovering Montreal's food truck scene
The late afternoon found us returning to the Entertainment District of Montreal where the Just for Laughs comedy festival was joining forces with the BouffonsMTL food truck festival. Food trailers were arranged around an open courtyard and featured many of Montreal's top restaurants, who offer street-food versions of their signature dishes at affordable prices. Montreal restaurateur Jorge da Silva works with Michelin star chef Carles Abellan at Tapas24 and told me how he liked to bring his most popular dishes, such as the Cartalan-style paella to the festival, as a way of meeting food lovers and reaching out to a new clientele.
"Montrealers are so proud of their cuisine, when I travel everyone knows Montreal for the food. You have your food institutions but you also have your star chefs. They are competing  but all offering something different and in a nice environment, so that's where the friendship comes in with all of us."
We enjoyed a dish of the paella, yellow with saffron and packed with juicy prawns and mussels, finishing with an ice cream from Monsieur Cremeaux, owned by TV chef Martin Juneau. Although I'd have loved to have tried the signature dish of fois gras poutine from the Au Pied de Cochon van, by that time I just had no more space to eat another mouthful.
The BouffonsMTL takes place in July but there are many food festivals in Montreal, so look out for the Montreal a la table restaurant week in November and First Fridays at the Olympic Village where food trucks gather on the first Friday of each month from May. You'll also find lots of different food trucks at individual locations around the city during the summer months.
Maple Syrup: the sweet taste of Montreal
Québec province produces over 90% of the maple in Canada, so this was top of my list to bring home from Montreal as a souvenir of the trip and pour over my pancakes for that authentic Canadian breakfast. We found a great range of maple syrup and other maple products at Delices Erable & Cie 84, rue St-Paul Est in Vieux Montreal. I loved that they allow you to taste everything on sale, with maple fudge, ice cream and cakes at the take out counter or to eat in their cafe. There are also excellent maple products at Marché Bonsecours, a domed heritage building full of stores selling unique gifts and crafts from Québec, an essential destination for the stylish shopper in Montreal.
A culinary adventure in the Little Burgundy neighbourhood of Montreal
As evening approached we followed a whim and a recommendation, jumping in a cab for a 10 minute ride to the Little Burgundy District, one of the trendy up and coming neighbourhoods we'd read about. The place we'd been recommended, Joe Beef, was shut but we spotted a taco bar across the road called El Gordo and loved the casual but buzzy atmosphere with a pared back industrial decor, perked up with colourful glasses and Mexican murals. They have an Italian restaurant and pizzeria next door called Gepetto's which also looked super-popular.  Here's what we ate: A flavoursome gaspacho with tomato and watermelon $8, a tasy and colourful advocado and tomato salad $12 and a plate of Tacos each 3 for $8-12 washed down with a mojito $10 and beer $6.
If you go: El Gordo 2518 Rue Notre-Dame Ouest. Montreal
The night is still young in Montreal
Using the metro to return to Vieux Montreal, we took one last wander around the old city where many of the buildings were lit up at night. At Place d'Armes, the Notre-Dame Basilica was beautifully illuminated with details picked out in turquoise and midnight blue and a street musician strumming a guitar in the warm night air.
The City Hall that we had seen earlier opposite Chateau Ramezay was bathed in pink and nearby we noticed a film of rebellious beavers being projected onto the old stone walls of a building in Place Jacques Cartier. It seems that the ghosts of the past come back to haunt corners of Old Montreal as part of the Cité Mémoire project where dream-like tableaux are projected onto the buildings near where the stories happened. Download the Montreal en Histories app for a guided walking tour of all the different sites around Vieux Montreal – there's free wifi provided too at information points along the route.
Where to stay in Montreal
For our last night in Montreal at the end of our Canada RV trip we stayed at the Le Centre Sheraton Montreal Hotel in the heart of downtown Montreal. The hotel is located on a busy avenue in the business district and our room gave us a morning view over the Montreal skyline towards Mont Royal, the park that offers panoramic views over the city.
The hotel is large (825 rooms) with comfortable, modern bedrooms and ideal for business or leisure travellers who like staying at an international hotel with a wide range of services and amenities. The hotel was a 30 minute walk or 10 minute cab ride from the waterfront and heart of Vieux Montreal. As is the norm in Canadian Hotel there is an additional charge for breakfast unless you book a Club bedroom in which case you have access to the Club Lounge where complimentary buffet breakfast is served as well as snacks and drinks throughout the day.
If you go: Le Centre Sheraton Montreal Hotel, 1201 Boulevard Rene-Levesque West, Montreal
I hope that I've tempted you to visit Montreal, which was certainly one of the highlights of our RV trip. There's so much to see here that I'm sure you will find whatever makes your perfect day in Montreal.
Read More about Canada's cities
Vancouver – Three wonderful reasons to visit Vancouver
Calgary – Enjoy 24 hours in Calgary Alberta
Toronto – Waterfront Toronto
Information for Visiting Monteal
You can find more information to plan your visit to Montreal on the Tourism Montreal Website, the Quebec Original Website and also on the Explore Canada Website covering all the things to see and do in Canada.
Our RV (Recreational Vehicle) for the two week Explore Canada Road Trip was provided by Cruise Canada.
To compare prices and book for hotels in Montreal, visit the HotelsCombined website where you can find the best prices from a range of different booking sites.
My visit to Montreal was part of the Explore Canada Road Trip, a project with Travelator Media and Explore Canada
Pin It
This article is originally published at Heatheronhertravels.com – Read the original article here
Braga is located in the North of Portugal and its history and charms won't leave you unmoved. In this article our guest author and Braga expert, Julia Vilaça picks out five of the most iconic things to do in the city.
Visit Bom Jesus
Bom Jesus is one of the most versatile places in Braga. The view from the top is mesmerizing, the environment is calm, quiet, romantic and family-friendly and there are lots of things you can do besides visiting the impressive and beautiful church. There are gardens and grottos, a lake with rowing boats, a relaxed terrace and carriages to enable you to discover the area. For a unique experience, use the water powered elevator to reach the area where the church is located.
In Bom Jesus there are options for everyone. The Hotel do Parque is always a good choice to stay and if you like cocktails, you must go to Casa Velha, a bar that takes the art of creating these kinds of drinks very seriously, providing you with a unique experience in a rustic space.
Visit Braga's Cathedral
This is the oldest church in the country and its first construction project began even before Portugal became a nation. It's possible to observe the influences of various eras on its walls and predominately Baroque interior. This is a symbol of the city and it is a mark in the lives of the people who live in Braga, thanks to its beauty and historical importance. Next door, there are some small chapels and a museum where you can learn more about the Church, the Portuguese habits and history – one of the pieces you can see in the museum is the cross used during the first mass celebrated in Brazil when the Portuguese arrived there.
Take a cup of coffee in A Brasileira
A Brasileira is the most iconic place when it comes to coffee. After lunch, order the drip brewed coffee and experience the traditional flavor of coffee. This iconic coffee shop is located in the heart of the city, so afterwards you can take a walk around the city's pedestrian area, discovering the streets of Braga, its most delicate gardens and historical buildings. Shop for souvenirs or for a special piece for your wardrobe – if you're a fan of international luxury brands, stop by Antónia Lage and Boutique Janes where you'll find the latest collections from Miu Miu, Prada, Chiara Ferragni, Moschino).
Visit the Biscaínhos Museum
The Biscaínhos Museum opened its doors in 1978 and currently takes us on a journey through the daily life of a noble family in their palace. Visit the gardens – the perfect setting to read a book or go for a romantic walk. Inside you'll see the noble ballroom where the family used to hold their receptions and balls and a fantastic ceiling painted by Manuel Furtado. This is the perfect Museum to visit if you want to see how a noble family used to live.
Visit the Tibães Monastery
The Tibães Monastery is more than just a visit to an old monastery, it's a visit to the past, a visit to the present, and a desire to return there in the future. It's located a bit far from the center of Braga, but worth the visit. The gardens are an ode to Mother Nature, there's even a lake lined with centenary trees and the Rococo style church will blow your mind, thanks to the 24K gold covering most of it. And you know what? This Monastery also includes a guest house, Hospedaria Convento de Tibaes, with nine bedrooms, a restaurant and a venue for special events. Perfect, right?
Author Bio: Thanks for this article to Julia Vilaça who writes at Braga Cool and is an avid collector of happy moments. Her dream is to help people discover the coolest places when they travel.
More articles about Portugal
5 cool neighbourhoods you can't miss in Lisbon
3 great places to visit in Portugal
An autumn weekend in Lisbon
If you're looking to book a Hotel in Braga, compare prices and book on my Hotel Booking page powered by HotelsCombined – I get a small commission at no extra cost to you. Thanks for your support!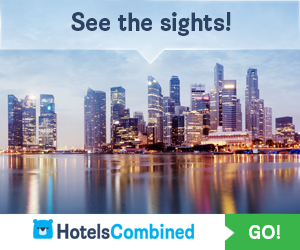 Pin It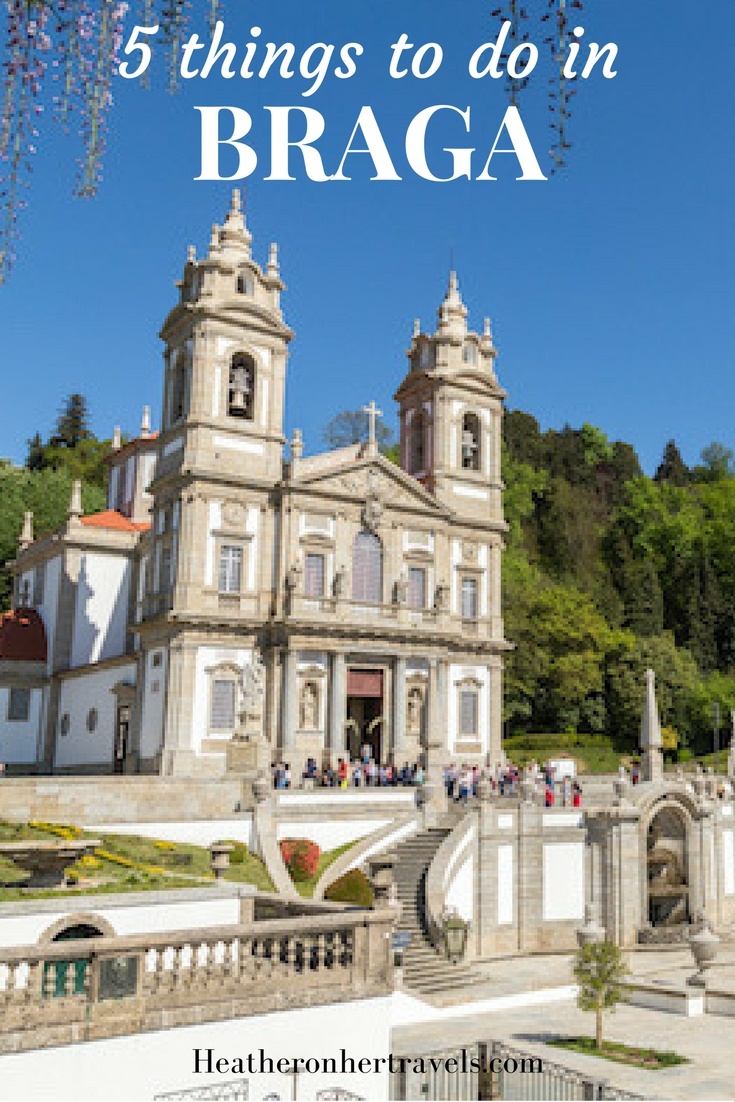 This article is originally published at Heatheronhertravels.com – Read the original article here
You'll also find our sister blog with tips on how to build a successful travel blog at My Blogging Journey
With the end of the summer in sight I took a day to go cycling with my daughter in Dorset, one of England's prettiest counties. We tried one day of Headwater Holiday's Jurassic Coast Cycling route which would normally take 5 days to explore all that Dorset has to offer. Setting off from Dorchester, we stopped for refreshments in Moreton with a visit to the stunning Lulworth cove, passing Lulworth castle before finishing our ride in Wareham. It's a cycle ride that you could easily replicate, since you can park at Dorchester and then catch the train back to your starting point from Wareham, or even make a weekend of it with an overnight stop in Lulworth. Read on to discover what we enjoyed on our Dorset cycle ride.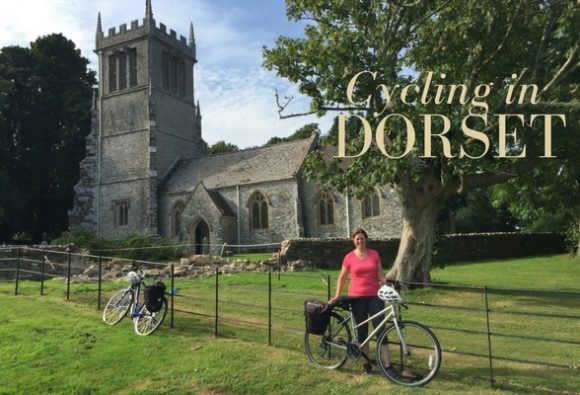 A briefing before we set off
We were met by Roy, Headwater Holidays local representative who set us up with our bikes and shared some of his local's knowledge on what to look out for on our route. We even got a quick demo on how to fix a puncture; good to know although luckily we had no need for it on the day.
The track skirted a stream through woodland and we passed a few cheerful dog walkers whose dogs were splashing in the water. Soon we passed a picture postcard thatched cottage, our first of many that day. I swear that Dorset must have more pretty cottages than any other place in England!
Cycling through Thomas Hardy country
At a perfectly formed Victorian arched brick bridge we could have taken a short detour to Higher Brockhampton, to visit the birthplace of writer Thomas Hardy, whose novels and poetry draw on the characters and landscape of Dorset. I'd visited before and remembered that the cottage had tiny rooms and was probably quite damp in Hardy's childhood – not quite the rural idyll it looked from the outside.
As soon as Hardy had made his money he built himself a solid, red brick house at Max Gate which was much more spacious and comfortable! Read about my previous visit to Dorset here. We didn't visit this time but cycled on past fields with hay bales already wrapped tightly in plastic, like plump white and green marshmallows.
The cycle took us through  the pretty village of West Stafford complete with more thatched cottages – even The Wise Man pub and the bus stop were thatched. The birds swooped in and out of the hedgerows and we caught a glimpse of a large bird of prey perched on a tree as we passed the striking Woodsford Castle. The surviving wing of a 14th century castle it was worked on by Thomas Hardy's father who was a builder, and is now run as a holiday home by the Landmark Trust. By mid morning we arrived at the Moreton Tea Rooms, in the old village school house, which seemed an excellent place to stop for a cup of tea and a slice of Victoria sponge.
The ford at Moreton
Moreton proved to have more to it than meets the eye and on walking further down the road we found the ford, which Roy had mentioned to us. The shallow crossing point of the river is clearly a popular place for families to come and paddle or dip colourful fishing nets in the water from the foot bridge to try and catch a stickleback. Picnic paskets were being spread out on the gravel river bank, a golden labrador furiously wagging a wet tail and small inflatable boats drifted around – plenty of good clean fun!
St Nicholas Church at Moreton
St Nicholas church nearby rewarded our curiosity with a view of the beautiful etched glass windows created by poet and artist Sir Laurence Whistler, who made the windows to replace the stained glass destroyed by a WW2 bomb. If you look carefully from the outside you'll find a macabre depiction of Judas Iscariot hanging by a tree, which was Whistler's final gift, but was initially rejected by shocked parishoners and resided for years in a local museum. Just down the road is the grave of Col T E Lawrence, better known as 'Lawrence of Arabia' who lived nearby at Cloud Hill and was killed in a tragic motorcycle accident.
The Walled Garden at Moreton
Our final discovery was the Walled Garden at Moreton, with with stunning herbaceous borders, fountains and topiary and a startling figure sitting on a bench who almost made me jump. There's a cafe and farm shop in the pretty dovecote but unfortunately we needed to press on as we had many more miles to cycle that day.
Now the countryside became more open with the feathery topped maize stalks clothing the fields on one side and freshly ploughed brown earth on the other. The clouds had turned to rain so we put on our waterproofs as we huffed and puffed up a steep hill, finally giving up halfway to push to the top. Our climb was rewarded by views from the crest of the hill in both directions and then we freewheeled all the way down the other side… Wheeeee!
A view of Durdle Dor
After half an hour of pedal power, we finally reached the turning to Durdle Dor, through a caravan site to the packed car park set on the cliff. This famous rock arch was part of a complex of sea caves which eroded over time until only a few sea arches remained. In turn the arches collapsed leaving stumps in the sea and Durdle Dor as the last once standing.
It's one of the most photographed landmarks of the Jurassic coastline and we could see people streaming like ants down the steep path to the beach. As we needed to press on for lunch we decided to take our photographs from the top of the path and then cycled back to the main road heading for Lulworth Cove.
Sea views at Lulworth cove
It was an easy cycle through the village of West Lulworth to Lulworth cove, where we left our bikes at the top of the pedestrian path and walked down to the beach. A favourite with geology students, the cove is a perfectly formed circle fringed with a pebbly shore, which was formed millions of years ago when the sea broke through the harder rock layer of the cliffs to erode the softer rock behind. On the far side of the coves you can see the stratification of different rocks that were folded and then eroded by the earth's movement.
Despite the beach being packed with holidaymakers, it was an attractive scene with jaunty blue and white boats bobbing on their red buoys in the water and boat rides around the headland to Durdle Dor from the jetty. We sat outside The Boatshed Cafe, a long whitewashed building that in the past served as a coal store for fuelling paddle steamers, and ordered a crab sandwich for lunch. It was a perfect spot to watch the children on the beach building pebble dams across the small stream and walking across the shingle I was hit by the salty ozone smell of seaweed lying in messy piles of green and brown.
Returning back up the path we could see the popular cliff walk taking people over the hill to Durdle Dor, the spot we had just come from. Around the Lulworth cove car park there is a visitor centre and several pubs and pretty cottages, although I think we had the best view for lunch down by the seashore.
The Tanks at Lulworth
Cycling on towards East Lulworth, we passed Lulworth camp with army quarters and two tanks guarding the entrance. We'd heard the boom of firing when we were down at Lulworth cove, as this is where the tank units have their ranges and practice live firing. My husband Guy is a former tank commander and gets excited whenever he sees a tank, so we had to take a photo to send to him.
A visit to Lulworth castle
We followed the hill down to Lulworth Castle and in through the imposing stone gateposts. The man on the gate told us that there was a wedding that day, so we couldn't go into the castle, but we were allowed to visit the pretty church and could see the castle through the trees.
The castle was built as a hunting lodge in the 17th century and became the seat of the Weald family who own the Lulworth Estate. The square stone walls with a round turret at each corner seem the perfect idea of what a castle should look like and when the castle isn't closed for weddings you can visit the interior and cafe and climb up the towers.
The final part of our day's cycle ride took us through more pretty villages with thatched cottages and thatched porches looking like bushy eyebrows over the door. The road now followed farm tracks and narrow lanes, every so often joining a fast road with cars whizzing by. The route seemed to have been well planned to keep us off the main road as much as possible and we eventually reached Wareham where those taking the full Headwater Holidays route would stop for the night at the The Red Lion Inn.
We end our ride at Wareham
Wareham seemed a lovely place to stop as we crossed the bridge and saw the pubs with a riverside terraces and kayaks by the river. We cycled on through the town to reach the station, putting our bikes in one of the special carriages for the 20 minute ride back to Dorchester to return to our starting point. Our bikes were left for Roy to collect at The Casterbridge in Dorchester, an attractive town house hotel where Headwater Holidays guests normally stay.
Although we had only tried one day of a 5 day Headwater Holidays Jurassic Coast Cycling route, we had really enjoyed our cycle through the pretty Dorset countryside, with thatched cottages at every corner and lovely sea views at Lulworth. There is so much history to discover too, with the Thomas Hardy and TE Lawrence connections and castles and gardens to visit. Our cycling day with Headwater Holidays gave us a taste of all that you'd hope to find on a day out in the English countryside.
Information for your trip
Headwater Holidays offer relaxed walking and cycling holidays in the UK, Europe and around the world to allow you to discover the culture and natural beauty of each destination at your own pace.
Dorset and Jurassic Coast Cycling – a 5 night cycling holiday through country lanes taking in pretty cottages and historic landscapes with time to relax and swim on the Jurassic Coast beaches.
Jewels of the Jurassic Coast Walk Dorset – A 5 night walk through Dorset's rolling countryside and along the south-west coastal path starting in Weymouth and ending at Sandbanks.
Roy Griffiths of Signpost Cycling acts as Headwater local agent in Dorset and can arrange bike hire if you want to cycle for just a day or two.
For more information about holidays in Dorset check out the Visit Dorset Tourism website
Thanks to Headwater Holidays who hosted Heather's cycling day in Dorset.
Where to Stay
If you are planning to cycle from Dorchester to Wareham independently, these are the hotels that we recommend that are also used by Headwater Holidays
The Casterbridge in Dorchester is a charming, wisteria clad Georgian town house in the centre of this historic town.
The Red Lion in Wareham is an old inn with lovely rooms decorated in a contemporary style and downstairs has a spacious bar, a cosy snug and a more formal restaurant.
Springfield Country Hotel just outside Wareham is set in 6 acres of beautifully landscaped gardens with comfortable rooms and an indoor and outdoor swimming pool
If you want to cycle from Dorset to Wareham at a more relaxed pace, you could split the route we did into two days, with an overnight stay at Lulworth Cove, in which case we recommend;
Limestone Hotel in West Lulworth is in the village a short walk from the cove and has an English country house feel.
For more hotels in Dorset please check out my Hotels Booking Page powered by HotelsCombined – you can compare prices and book at no extra cost to you, giving me a small commission – thanks for your support!
Pin It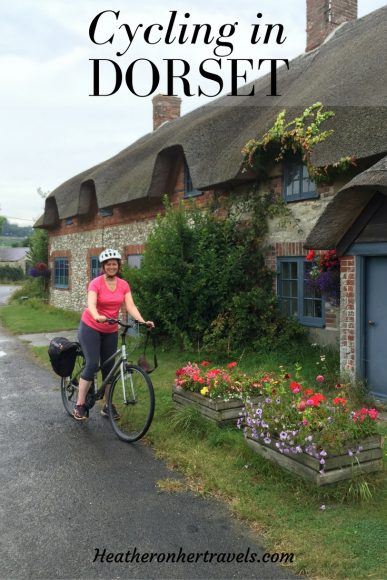 This article is originally published at Heatheronhertravels.com – Read the original article here
You'll also find our sister blog with tips on how to build a successful travel blog at My Blogging Journey