My first introduction to ski-ing was in my twenties when I spent a season as an au-pair in the French Alps. I remember being taken up the mountain as a complete novice only to tumble my way down the slopes through fresh powder on what felt like a black run but was probably only blue. Since then we've had quite a few happy family ski holidays and my kids have grown up as keen skiers and snowboarders, while I've been happy to potter down the easier runs, stopping now and then for a chocolat chaud.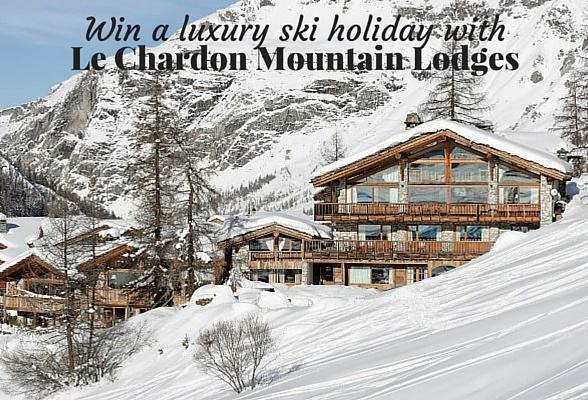 I think the luxurious Le Chardon Ski Chalets in Val d'Isere would suit me down to the ground, providing a comfortable and stylish bolthole to retreat to, leaving the rest of the family to get on with the serious business of ski-ing. The five luxury catered ski chalets sleep between 10 and 20 people, offering a ski-in, ski-out location and access to the 300km of pistes of Val d'Isere and the neighbouring resort of Tignes. If you fancy a luxurious ski break you could win a chalet holiday for two in the Le Chardon competition which you can enter here – more details of that in a moment. But first let's take a closer look at what your ski holiday could look like this year….
Why Val d'Isere?
Here are just a few of the reasons to choose Val d'Isere for your skiing holiday this year;
At an altitude of 1850 metres it has one of the longest winter ski seasons in Europe, from the end of November to the first week of May.
The Espace Killy ski area, comprising Val d'Isere and neighbouring Tignes offers 300km of marked pistes with something for everyone, from the complete beginner to the advanced skier.
The resort is easy to access from Geneva Airport with multiple flights from the UK each day.
If you have members of your group who are less committed ski-ers (hands up here) there's plenty to keep them happy from husky sleigh rides, ice skating and cross-country ski, to swimming and spa at the Centre Aquasportif.
If you already mentally enjoying your 7 night luxury ski holiday at Le Chardon Mountain Lodges, head over to the competition page now to enter. Meanwhile, here are a few more reasons to choose Le Chardon for your ski holiday;
Why Le Chardon Mountain Lodges?
Each of the five mountain lodges is individually styled with luxury touches like marble en suite bathrooms, crisp bedlinen, gorgeous textiles, natural wood and stone and of course a cozy fire burning.
You'll be pampered by a team of professional staff in each chalet including a chef, chalet manager, chalet hosts, in-resort concierge and chauffeur service.
Le Chardon is a family-run business offering personal service and extra flexibility for any special guest requirements.
Your stay will be a gastronomic experience, using local produce like the cheese from the cows that graze in front of the chalets, including cooked breakfast and afternoon tea, champagne and canapés, 3 course gourmet evening meal, with an open bar of wines, beers and spirits.
The chalets are in a ski-in, ski-out location on the side of the Solaise mountain offering access to the whole Espace-Killy ski area of Val d'Isere and Tignes.
The chalets offer hot tubs, sauna and treatment rooms where beauty and spa treatments can be arranged.
So unless you need any more convincing, head over to enter the competition on the link below.
Enter to win a 5 star chalet holiday with Le Chardon
In order to enter to win this luxury chalet holiday you'll need to watch the video below and answer a simple question on the competition page.
You can enter the competition here and the full terms and conditions are here but you could win a luxury chalet holiday that includes;
Transfers from Geneva Airport to Le Chardon Mountain Lodges
7 nights luxury lodge accommodation for two (sharing a room)
6 nights catered chalet board (coffee/tea in bed, cooked & continental breakfast, afternoon tea, gourmet five course evening meal and open bar including champagne, house wine, beers and spirits)
Pre-arrival and in-resort concierge
Dedicated chalet team and in-resort chauffeur service to 2am
1 week ski hire for two from Oxygene
Note: you need to cover your own flight to Geneva and any ski lessons your require.
Dates of accommodation can be chosen from: 24th Jan – 31st Jan '16, 31st Jan – 7th Feb '16, 7th Feb – 14th Feb '16 and 20th Mar – 27th Mar '16.
Entries close on 31st October 2015 at midnight and the winner will be announced by the 6th November 2015.
Best of luck!
For more information or to book your luxury ski holiday with Le Chardon Mountain Lodges head over to their Website or follow them on social media: Twitter @lechardon | Facebook | Google+ | YouTube| LinkedIn | Pinterest |
Pin It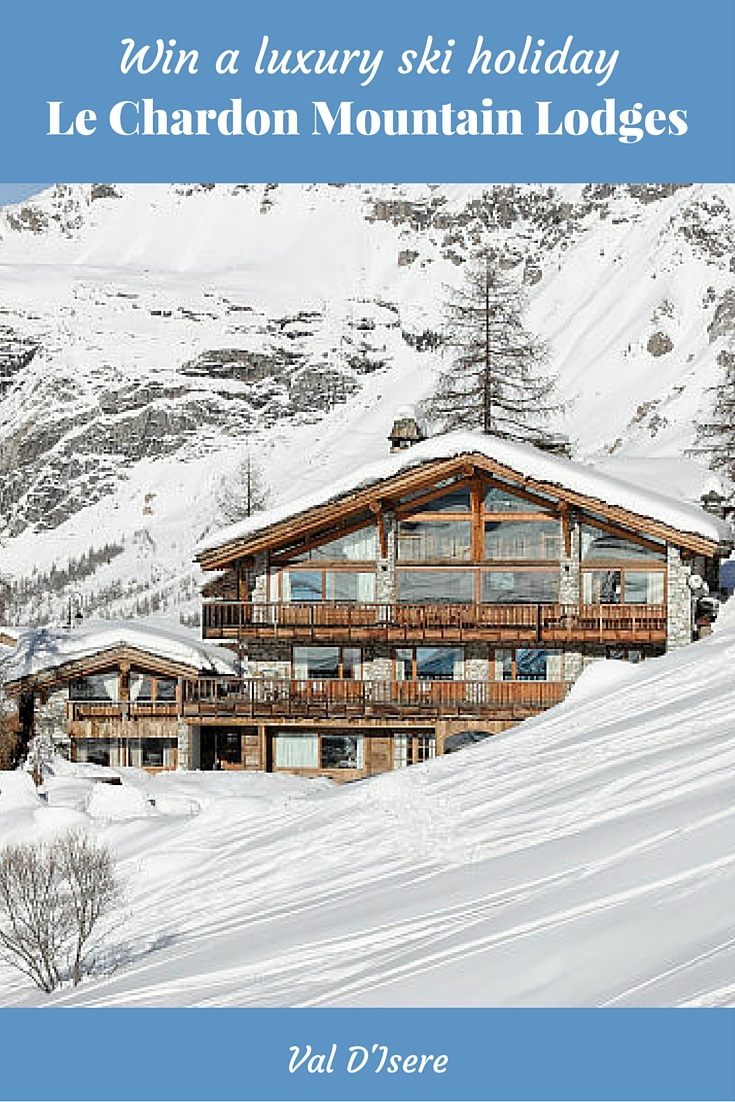 This article is originally published at Heatheronhertravels.com. This article is brought to you in partnership with Le Chardon Mountain Lodges and I was sponsored to help promote the competition. Read the original article here
You'll also find our sister blog with tips on how to build a successful travel blog at My Blogging Journey
July 15, 2014 by Guest Author
Filed under Europe, Leisure, Misc, featured, Austria, Cycling, Eating and drinking, Gardens, Guest post, Nature, Sightseeing, Ski and Snowboard, Walking
In this article, guest author Claire Palmer shares with us her family's favourite holiday choice of Filzmoos, Austria, the perfect destination for summer walking or winter skiing, your choice for a gentle or full-on family activity holiday!
The traditional mountain village of Filzmoos has been a much-loved destination for my family in both winter and summer since we first discovered it when my 19 year old son was a 19 month old! Building and development is strictly controlled so it has retained its alpine chocolate-box charm with no high-rise buildings to mar the breath-taking views of the Bischofsmutze (Bishop's Mitre) peak and the Dachstein glacier range. There is no shortage of things to keep our two teenage boys occupied and the village has kept pace with their requirements as they have grown.
Uncrowded slopes meet the needs of any ski enthusiast
The whole family learnt to ski (snowboard in my younger son's case) in Filzmoos, including my father who learnt at the ripe old age of 74 and still holidays with us 19 years later, an inspiration to us all! All the instructors in the excellent ski schools speak very good English. Filzmoos is only known to one UK tour operator which means the slopes are uncrowded and the lift queues short, even in the school holidays. We love that the gentle nursery slopes are right in the middle of the village and the more challenging runs finish in the middle of the village so, if some of us have been on the "red" runs and others opted for a leisurely cruise on the wide, well-groomed "blue" pistes, we can all easily meet up in one of the many restaurants and cafes for a warming hot chocolate (Gluhwein for me, please).
Speaking of restaurants, the typical Austrian mountain food is delicious and filling. My sons never tire of the local specialty dessert – Germknodel – a yeast dumpling filled with plum jam and served with vanilla custard. When they were younger it was a whole meal in itself, now it follows a huge Tiroler Grostl, a sizzling cast iron pan of diced potatoes, bacon and eggs fried with herbs.
Activities abound in any season
At Christmas our "must-do" outing is a sleigh ride up to the Oberhofalm and Unterhofalm for the "Advent Idyll" walk around the frozen lake featuring fire pits, candle-lit decorative scenes and huts selling spiced Gluhwein. Watch out for the trick-playing Perchten, horned beasts from folklore dating back to pagan times.
On Christmas Eve Father Christmas arrives in the village square by sleigh and he and his angel-helpers give out sweets and sparklers to the children. Gluhwein is, as always, on offer for the adults!
Our favourite summer outing is also up to the Oberhofalm and Unterhofalm inns but this time by hiring electric-assisted mountain bikes to ride through the woods, arriving in time for lunch outside on the terrace under the sun umbrellas, gazing at eagles circling in the bright blue sky and the majestic snow-capped peak of the Bischofsmutze, now so much closer.
On the way up our refreshment stop is a trough with a spout that gushes pure mountain spring water straight from the ground at an amazing 5 degrees C. Bliss! These electric bikes are amazing machines! The fittest in the party can pedal just as on a normal bike and I can choose how much assistance to have from the battery power, enabling me to go up slopes I could only dream about otherwise!
Discover local flora and fauna
Once up at the mountain inns there are numerous marked walking paths across the high alpine pastures and around the small lake. In fact Filzmoos has 200km of marked walking trails and I love to see the wild mountain flowers in spring and summer. I've found gentian, carlina and many others that I can't identify but no edelweiss yet, sadly.
Another favourite walk of ours is the Marmot trail where we take the Wanderbus high up into the mountains where one can see marmots (although the only ones we've seen so far are on postcards!) then walk back down to the village, admiring the incredible alpine scenery and views at every turn.
Plenty to do for the adventure seeker
For something a little more adrenalin-fuelling for our teenagers, we take the Wanderbus to the neighbouring village of Ramsau where there is a summer toboggan run. Riding the toboggan down on spiralling metal rails that loop out on stilts over the valley is certainly exhilarating, as is going up the mountain on the chairlift and hiring a mountain scooter to ride back down. A completely new experience for all of us! Ramsau also has a bathing lake, archery, hang-gliding or a long cable car ride up to the Dachstein glacier for skiing or to visit the ice caves. A walk out on the Dachstein Sky Walk, a platform overhanging the valley 250 metres straight below, gives a spectacular panorama but I prefer to look out not down!
Despite only having 1,450 inhabitants, Filzmoos village has everything we have ever needed and so we relish not having to use a car and therefore not having to worry about how much of the refreshing "golden nectar" we have drunk!
As well as indoor and outdoor swimming pools, a bowling alley and tennis court, there is a well-stocked supermarket, butcher and delicatessen, a wonderful bakery with coffee shop, pharmacy, doctor's surgery, indoor and outdoor swimming pools, bowling alley and, most importantly, numerous restaurants and cafes serving scrumptious coffee and specialty cakes such as Viennese Sachertorte or apple strudel and cream. After 18 years of holidaying there we have still not run out of things to do and there are many excursions we have still not taken.
Two years ago we realised our dream of buying a one-bedroomed apartment in the village, within five minutes walk of ski slopes and restaurants. This sleeps up to 5 and is available for hire. Please email Claire Palmer at myskiapartment@gmail.com for more information.

Author Bio: Many thanks for this article to Claire Palmer, who has loved to travel ever since she was a child touring Europe by caravan for the summer (her parents were teachers) and spending part of her childhood in New Zealand. Since having her own children she has travelled extensively as a family both in Europe and back to New Zealand. She loves Austria and, since realising a long-held dream of buying a property there, is taking German lessons in preparation for spending much more time there when her sons have left school.
For more Austrian adventures:
May Day at The White Horse Inn on Lake Wolfgang, Austria
Lost in the Hohensalzburg Fortress in Salzburg
Riding the steam train – on the Schafburgbahn at St Wolfgang
This article  is originally published at Heatheronhertravels.com – Read the original article here
You'll also find our sister blog with tips on how to build a successful travel blog at My Blogging Journey
Ski and snowboard enthusiasts flock to Utah for its legendary dry, light powder and impressive annual snowfall. There's a reason why the state's slogan is "Greatest Snow on Earth."
Most ski enthusiasts fly into Salt Lake City and do one of the following:
Drive to Park City and spend the week skiing at Park City, The Canyons, and Deer Valley – 3 world-class destination resorts, an authentic western town with great shops and restaurants and activities to keep the whole family satisfied.
Drive up to Little Cottonwood Canyon and stay at ski-in, ski-out accommodations at either Snowbird or Alta – two mountains where diehard skiers can spend a whole week skiing challenging terrain and not get bored.
Stay in Salt Lake City and use it as a base to travel to the ski resorts in the Park City area or Snowbird and Alta.
But, Utah has 14 ski resorts under the brand name of Ski Utah, and many skiers will never make it to those resorts. If you're an avid skier like me, you're probably always looking for a new ski area to try. The ski areas of Northern Utah have a few things in common: they're affordable, they're not crowded, and they get lots of snow! So leave the crowds of Park City behind and exchange those high-priced Deer Valley lift tickets for the laid-back atmosphere of the Ogden Valley.
Easy access from two airports
All of the major airlines fly into Salt Lake City (American, Delta, Frontier, Jet Blue, Southwest, US Airways, and United). Allegiant Airlines has added service from Phoenix into Ogden Airport and now Arizona skiers have affordable, non-stop flights into Ogden, giving them closer access to Ogden Valley ski areas.
It's about an hour drive from the Salt Lake City Airport and about a 20-minute drive from Ogden Airport to downtown Eden. Drive along the Ogden River Scenic Byway, which starts at the mouth of Ogden Canyon and circles the Pineview Reservoir into Eden. The byway is one of only 26 designated scenic byways in Utah and is rated as one of the 10 best scenic drives in America.
Staying in a town like Eden provides a central location to 3 ski areas in the Ogden Valley: Powder Mountain, Wolf Mountain Resort, and Snowbasin. You're in downtown Eden when you reach the 4-way stop sign (but don't blink or you'll miss it). You'll find the Village Market at the intersection – stop in to stock up on food and supplies before checking into your accommodations. There are plenty of lodging options in Eden and the surrounding areas; bed and breakfasts, inns and lodges, condos, and timeshare condos. If you're with a ski group or vacationing with family, a condo is your best option.
The ski areas of Ogden Valley offer 3 distinct experiences:  no-frills pure mountain skiing, ultimate luxury, and affordable, family-friendly fun.
Ski at Powder Mountain
Powder Mountain, located in Eden, is about a 15-minute drive from the town center. An adult lift ticket is only $65 – such a deal! The mountain, affectionately known as "Pow Mow," is a no-frills mountain with a laid-back, down-home atmosphere. If you're looking for a pure ski experience and lots of powder with no crowds and no lines, Pow Mow is the place. The resort has over 7,000 acres of skiable terrain, receives over 500 inches of snow each year, and is known for its snowcat skiing and tours. There are 7 lifts (only 1 is a high-speed quad) that serve more than 2,800 acres of skiing on 144 runs. The rest of the acreage accounts for snowcat skiing and backcountry skiing. The lifts may be slow, but that keeps people away and the powder stashes last for days!
If you do run out of powder, you can always find some at Powder Mountain's Snowcat Powder Safari Tour. The tour accesses over 3,000 acres of backcountry bowls and will run you about $425 per person. If you want to watch your pocketbook but love the powder, you can satisfy your craving with single snowcat rides on Lightning Ridge or Rain Tree – all for $18 with a lift ticket. If you're up for your own adventure, there's 1,200 acres of backcountry skiing waiting for you off the back side of Powder Mountain. The Powder Country Shuttle (included in your lift ticket price) will transport you back to the lifts. There are ski shuttles from Eden if you don't want to drive your car up to Powder Mountain ($5 round trip). For other Mountain Adventures, visit their website at  www.powdermountain.com.
Ski at Snowbasin
As a contrast to the no-frills ruggedness of Powder Mountain, you'll find ultimate mountain luxury at Snowbasin (A Sun Valley Resort). The resort had a major upgrade prior to the 2002 Salt Lake Winter Olympic Games. It's known for its wide-open bowls, glades and groomers, and has one of the most advanced lift systems in the West. For thigh-burning cruisers, take the Needles Express Gondola for over 2,300 vertical feet of non-stop top to bottom skiing. The 8-passenger high speed gondola is only an 8-minute ride — so you can get lots of skiing in. Although the resort receives 300 inches of snow annually, Snowbasin has the world's largest automated snowmaking system – so if it's early season and there's no snow at Powder Mountain yet, this is your place. Adult lift tickets run $82.
Although Snowbasin is not a destination resort (there is no lodging on the property), Snowbasin has all of the amenities of a destination resort – without the crowds. Three beautiful pine lodges with massive stone fireplaces, ruby and emerald chandeliers, and gourmet fare.  Oh, and the bathrooms! Italian marble, bronze and crystal chandeliers, floor to ceiling commodes, beautifully inlaid African Anegre wood and hand-painted walls. I feel like I'm in the bathroom of a catering hall or a posh hotel — not a ski area! Don't believe me? Snowbasin was among the 10 finalists competing for the 2011 Cintas' America's Best Restroom Contest! Visit their website www.snowbasin.com for more info.
Wolf Mountain Resort
Also located in Eden, Wolf Mountain Resort is known as Utah's most affordable ski resort. It's a small, family-friendly resort with 22 runs and is considered to be one of the best "learn to ski and ride" mountains in the Rockies. Wolf Mountain's atmosphere can be compared to Powder Mountain's in that it's homey and laid back – the resort's cafeteria is housed in an old dairy barn. The interior was recently restored to its former glory with open ceilings and the original wooden barn posts.
Wolf Mountain is a great place for kids if you want to give them lessons. From the parking lot, it's a short walk to the ski school, which is located in a cozy yurt. After you get the kids signed up, all they have to do is exit the other side of the yurt, and they're right at the learning area and the Magic Carpet beginner's lift. While the kids are in ski school, adults will enjoy 22 runs on 110 acres. There are some challenging runs at Wolf too, and the mountain is not crowded so the snow stays fresh!
Wolf Mountain is a good choice when the Ogden Canyon road is closed or the roads are icy and you don't feel like making the trip to Snowbasin or Powder Mountain. Or, if you want to sleep in or do something else during the day Wolf has night skiing, and the mountain is open until 9 pm. But how about just for the skiing itself? It's great fun for the entire family – if you want to ski a half a day or even a whole day. And, you can't beat the prices and some of their incredible deals. On Mondays, a group of four can ski for $40 from 4 pm to 9 pm – that's $10 each! On Tuesdays, skiers can buy one full price lift ticket and get the second one for $10. For more amazing deals, check out www.wolfmountainutah.com.
Shooting Star Saloon in Huntsville
After skiing all over the Ogden Valley you'll work up a hearty Western appetite so head on down to the Shooting Star Saloon in nearby Huntsville. The saloon was established in 1879 and is the longest continually operating saloon in Utah. The ceiling is covered with dollar bills, and there's a stuffed St. Bernard head on the wall – it's the world's largest St. Bernard weighing in at 298 pounds – the owner had his beloved dog stuffed after he died in 1957.  Try the Star Burger – made with two beef patties, cheese, and slices of knockwurst – mouthwatering!
So, if you're looking to pick up a few new pins and patches, add these Ogden Valley ski areas to your Ski Wish List!
Author Bio: Many thanks to Linda Steinmuller for this Guest Post. Linda is a travel writer, copywriter and reporter for her local newspaper in Brooklyn, New York. She loves to ski and visit new ski areas whenever she can.
Photo credits: Earl's lodge at Snowbasin by FaceshotsPhotography.com, Cat skiing at Powder mountain by Gregg Greer, The Road up to Powder Mountain by Stan Evans, and Shooting Star Saloon by Linda Steinmuller
For more winter ski fun:
Snowboarding in Pas de la Casa, Andorra – a student guide
What's the best ski resort for your next ski-ing holiday?
Savoyard food specialities to enjoy from the French Alps
This article is originally published at Heatheronhertravels.com – Read more travel articles at Travel Blog Home
You'll also find our sister blog with tips on how to build a successful travel blog at My Blogging Journey
 Don't miss out – subscribe to Heather on her travels