In this article, our guest author, Cole Mayer shares his trip to Italy, in which he discovers the challenges of Italian driving as well as the charms of visiting places that are a little off the tourist trail.
I had travelled around the world as a child. Europe was no stranger to me. But when it came time to honeymoon in Italy in 2014, I was at a bit of a loss as my parents had always arranged everything. My wife had also travelled the world and had been to Italy before, so she suggested that, along with going to some of the major tourist attractions for my benefit, we should look for out of the way attractions and hotels.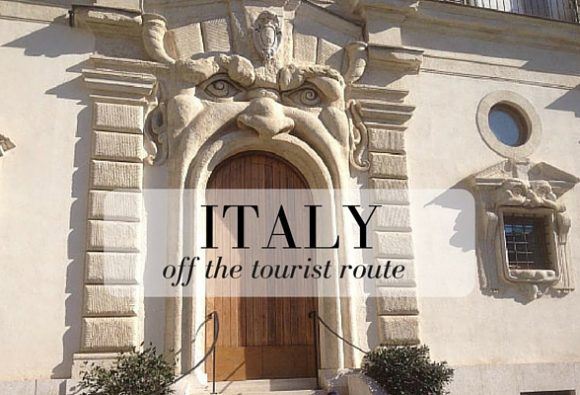 The hunt began. I scoured guidebooks. My eyes all but bled from researching on the internet. But finally, I put an itinerary together. We only booked the first and last hotels, flying by the seat of our pants for the majority of the trip.
Driving out of Milan
Upon landing in Milan, we picked up our rental car. During the hour-long drive out into the hillsides of Italy, I discovered that Italian drivers are strong believers of the "speed limits are suggestions" philosophy. Based on how fast I was going, I calculated one driver easily going 120 mph. The joke's on them – they missed some beautiful scenery.
Olimpia, nestled near the top of a hill in San Salvatore Monferrato, was a welcome sight to a weary traveler. The Bed and Breakfast Olimpia where we stayed was the very definition of charming and rustic, with a spectacular view over the valley.
The owners suggested that we drive about 10 minutes into town for lunch, which sounded fantastic to both of us. Something must have been lost in translation, though, as the quaint town had all but closed for the day. When we walked into a restaurant, they shooed us out. Frustrated and hungry, we returned to the B&B.
Lunch and dinner that night consisted of crackers and gummy worms. Thankfully, they provided an amazing breakfast of cheese, meat and pastries the next morning. We headed back to Milan proper, staying at the Hotel Silver. The hotel itself was beautiful, with a motel-style layout but four-star interiors.
The main problem with the hotel was the location. It was a hidden gem, but located off a large, busy street. They provided a shuttle into the city proper, a godsend for getting in and out of the hotel. Our first stop was the Duomo, the third-largest church in the world.
I highly recommend simply walking around Milan, even just around the Duomo. The architecture is hundreds of years old, but looks new. You can't swing a spaghetti noodle without hitting a church or religious building. Because most visitors will stick with the Duomo, they tend to be quiet affairs, allowing contemplation of the artifacts held within ancient walls.
A little more obscure, however, is the Museo della Scienza e della Tecnologia "Leonardo da Vinci." Dedicated in part to the famed Renaissance man, the museum features models based on da Vinci's sketches, from war machines to farming tools.
The museum itself is easily worth a half day's tour. They fit multiple, full-sized boats inside the water transportation exhibit. Much like the smaller churches, because it is not a major tourist destination, it was fairly quiet when we were there, a nice change from the bustle of the city.
The next city we visited was Bologna. We stayed in what was clearly meant to be a business hotel, the Hotel Cosmopolitan. It was a few miles outside the city, but after visiting the supermarket to buy provisions, we realized my wife's iPad was still at Hotel Silver, and they would not send it to us.
Not deterred, we headed out and wandered around the city on foot, eventually meeting with a crowd of college students who had just been released from class. Following the students, we found a hole-in-the-wall gelato place near Via Santo Stefano where all the locals went for an afternoon snack.
That night, we dined at Ristorante Garganelli. It was expensive, but worth it – especially for our honeymoon.
After a two-hour drive back to Milan to retrieve the iPad, we started the journey to Rome. I can't suggest not driving enough. Our nerves were shot to pieces, as we had picked Halloween night to drive into Rome. Apparently, Romans love the holiday and the streets were packed, even at 10 p.m. The streets are highly confusing at night. Next time, we'll fly in.
Eventually, we made it to Hotel Maison Althea. The one-way alley it is on looked disreputable at first glance, but the penthouse hotel was top-notch. It helped that the owner delivered breakfast every morning, after asking you what breakfast foods we liked. It was also only a few minutes' walk to a major subway and train station.
We drove our rental car to the airport, turned it in early, and took a train back to that station. From there, we went to the Coliseum. We spent a week in Rome – half of our honeymoon. The Spanish Steps, crowded with people, were a sight to see – especially with the view from the top.
What I really wanted to see, though, was the "Monster Door." Created by the two artist brothers living in the building, they simply wanted their doorway to stand out. Though it can be seen in just a few moments, and is a stone's throw away from the Steps, there was only the couple you see in the photo, and us.
As we had planned only our first and last hotels, we moved from Maison Althea to Villa Magnolia Relais, an oasis in an otherwise cold apartment district. We made our last tourist stop with a private tour of the Vatican's attractions and took another trip to a grocery store.
That was the end of our Italian honeymoon, though we almost missed the flight back to the States – but that's a story for another time. The moral of the trip, though, is not to confine yourself. We rented a car and went where we felt like going. We walked around. We saw the big tourist attractions, but weren't limited to them. We stayed in hotels that, for being off the proverbial paved path, were exquisite. I doubt I could travel any other way again.
Thanks for this guest article to Cole Mayer, a former professional journalist covering crime, court and fire stories. Cole is now a freelance writer of too many topics to list.
Other things to see and do in Italy
How not to eat badly in Venice
Join me on our Venice boat tour – with Walks of Italy
But is it Art? at the Museion in Bolzano, South Tyrol
Pin It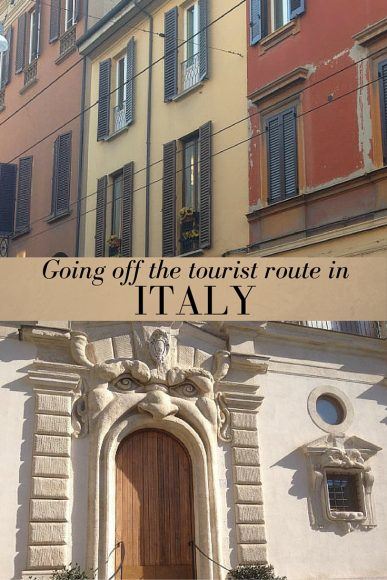 All photos by Cole Mayer
This article is originally published at Heatheronhertravels.com – Read the original article here
October 21, 2013 by Guest Author
Filed under Accommodation, Art and design, Eating and drinking, Guest post, Hotels, Leisure, London and around, Misc, Museums, Photography, Sightseeing, Street art, United Kingdom, Walking
At one time the area surrounding King's Cross was associated with dingy late night bars and some of the city's most untoward activities: Today though it couldn't be more different. The unwelcoming bars and clubs have mostly gone and instead one of London's newest and hippest area to hang out is developing. In the last few years this area has had an astronomical amount of money and creativity poured into it and the results are showing as interesting, classy and entertaining ways to spend your time in London are appearing. The British Library, the Welcome Collection, Central St Martin's and the Guardian are all there now and it seems a fabulous new restaurant or attraction opens up every day. So, if you're looking for a great autumn break, this could be just the answer. Book your ticket to London and we'll fill you in on the best things to do in King's Cross…
Soak Up Some Culture at Kings Place
One of the real triumphs of the newly developed area of King's Cross is King's Place. It's a hub for music, art and food which is all found inside one award winning building. There's a wide range of events going on there from the wacky to the wonderful – Perhaps join a Piano-Yoga class (Yoga for Pianists) or see some Classical Music, Folk or Jazz, or go to the regular Thursday evening Comedy night, Off With Their Heads. Also well worth a visit is Pangolin London, a wonderful gallery dedicated to modern and contemporary sculpture, as is the King's Place Gallery which features regularly changing art exhibitions.
Visit the London Canal Museum
The canals are a fascinating part of London's history and there is no better place to find out about them than the London Canal Museum. Today the canals are a place of leisure, with many Londoner's using the tow path as a place to walk, jog or cycle, though once these canals provided vital transport connections for the city. The Museum gives an extraordinary insight into Victorian London when the canals were first created and you and you can take a look inside a narrow boat, learn about the cargoes carried on the boats and the horses that pulled them. The museum also has a genuine Victorian ice well where imported Norwegian Ice was stored after arrival before being sold to wealthy Londoners and even an early Ice-cream Maker! This is a lovely museum, a little off the beaten track and all the better for it.
See Platform 9 and ¾
If you're a Harry Potter fan it will be a little hard to resist visiting this spot, where in all of J.K. Rowling's best-selling books the legendary Hogwarts Express leaves for wizard school. Of course, unless your own magical powers are up to scratch you won't actually be able to take a train from the platform but you can enjoy taking a few snaps in the famous spot and taking in the impressive architecture of this huge station.
Explore the Oldest Christian Worship Site in Britain
Founded in 314 AD St Pancras Old Church is literally bursting with history. The church that you see today was actually rebuilt in 1837 but the site is itself is the oldest of its kind in Britain. The graveyard has become the final resting place for many famous people including, composer Johann Christian Bach and Mary Wollstonecraft, the 'mother of Feminism'. In 1968 the Beatles even famously visited – for a photo-shoot! This is a fascinating spot and really is quite unlike anywhere else.
Dine Railway Style
If you are treating yourself to dinner out whilst you're in King's Cross we recommend Plum + Spilt Milk at the Great Northern Hotel, where Mark Sergeant (Gordon Ramsay's protégé) cooks up Modern British cuisine in chic and lively surroundings. There's a real buzz to this place as business travellers and locals, young, old and everyone in between gather to dine in the beautifully designed restaurant, which can be accessed from the station's main concourse. Try the Moons Green charcuterie plate to start and follow it up with the fantastic Salt Marsh lamb shank hot pot. And whatever you do don't miss pudding. The citrusy Lemon posset, or the very English Kentish Gypsy tart, or even the Baked Alaska? It doesn't matter, they're all delicious – preferably order them all!
Take a Walk
London's Canal network links the city together in a way that takes you away from traffic and into another pace of the city. You'll pass countless runners and cyclists and probably spot the odd heron and moor hen too. The stretch that takes you to Regents Park is lovely, it takes about half an hour and leaves you free to wander around the park on arrival. Once you are there you could visit the famous London Zoo, where last week 300 people streaked to raise awareness of the plight of the Sumatran Tiger!
Stay at the Gorgeous Great Northern Hotel
The Great Northern Hotel in St Pancras is London's original Victorian Railway Hotel and it stands proudly right next to King's Cross Station. It reopened this year after a huge £40m restoration project and is now looking better than ever. The hotel has 91 rooms, all expertly decorated, with free WIFI, in room entertainment and a 'pantry' on every floor where guests can help themselves to home-baked cakes and nespresso coffees. The hotel has a rather glamorous bar too, the GNH Bar and the restaurant (which was our foodie pick!) is great at all times of the day.
We hope all of this has given you some ideas for your next trip to London – we are always happy to hear if you have any great ideas too! A little tip for King's Cross though – pick up a map as many of King's Crosses spots are so new Google Maps hasn't necessarily caught up yet, so you can't rely on your smart phone! Enjoy.
This article is brought to you by the Great Northern Hotel, an iconic boutique hotel metres from St Pancras International and home to the Plum + Spilt Milk restaurant.
Photo Credits: Kings Place, London Canal Museum, Platform 9 3/4 by eddiejdf, St Pancreas Old Church by Paul Hudson, Regents Canal by Michael Jones 51, Plum + Spilt Milk, Great Northern Hotel.
More tales from London:
A River trip in London up the Thames to Greenwich
High in the Treetops at Kew Gardens
Three great ways to spend a day in London
This article is originally published at Heatheronhertravels.com – Read the original article here
You'll also find our sister blog with tips on how to build a successful travel blog at My Blogging Journey
 Don't miss out – subscribe to Heather on her travels
April 10, 2013 by Heather Cowper
Filed under Art and design, Eating and drinking, featured, Japan, Leisure, Podcasts, Shopping, Sightseeing, Street art, World
In Travel Podcast Episode 27, I talk to La Carmina; fashion blogger, TV host and expert in Japanese street style, about Tokyo. We find out where to shop if you'd like to dress in Gothic style or as an antique doll from the forest. Hear about the Tokyo theme restaurants that will give you a night out you'll never forget and some of the more extreme body modifications like snake tongues and bagel heads, as well as hanging out in Cat Cafes and finding things that you can enjoy in Tokyo with the family. Even if you've never thought of Japan as a place to visit, you'll be fascinated by all the cool and quirky things that La Carmina recommends in Tokyo.
Podcast: Play in new window | Download
To subscribe to all my podcasts in ITunes click here
If you enjoyed this podcast, check out all my other Travel Podcasts in my Podcast Archive
An Introduction to La Carmina
La Carmina lives in Vancouver in Canada, although her family is originally from Hong Kong. As a child, she travelled widely in Asia with her family and started to fall in love with Japanese street style, the cute Hello Kitty culture, the punk and Gothic styles and Harajuku. Her experimentation with crazy fashion continued when she went to college in New York and she started blogging to share her photos and fashion style. Since then she has written books and worked on TV shows about Japanese street culture. You can follow her on her blog at La Carmina.
So what makes Tokyo unique and special?
There's something for every type of traveller in Tokyo. Whether you love fashion and nightlife or whether you want to go for adventure or relax with the family, Tokyo has it all. The food is wonderful and the people are so nice. Of course it can be a bit of a culture shock – the movie Lost in Translation sums it up. It's hustle and bustle, neon lights, and people don't necessarily speak English so it can be a challenging place. But if you give Tokyo a try, it can be an eye opener and shock you out of your comfort zone.
Which areas should we explore in Tokyo?
Ideally you'll want to stay a minimum of 5-7 days to explore some of the main Tokyo neighbourhoods as well as take some day trips. La Carmina recommends that people stay in Shinjuku, because it's the hub for the famous subway system and the bullet train. Shinjuku is also an area where there are a lot of great restaurants and nightlife, and only one stop away on the subway is Harajuku, famous for the Harajuku girls who pose in their Gothic and Lolita fashions. Also nearby is Shibuya, where you'll find shopping, the trendy Gal culture – it's shopping central.
Getting around in Tokyo
The subway is the best way to get around unless you can afford the taxis, which are very expensive. If you're not careful a 20 minute taxi ride could blow your entire budget for the week! On the other hand the subway works very well, the trains come very frequently and are always on time. However you need to remember that the subways stop running between 1am and 5 am so if you are going out late, make sure you have a ride back or you plan to stay out all night, otherwise you could get stuck.
Tips on Japanese etiquette
Everyone knows that the Japanese are very polite and always bowing, so when in Tokyo you should try not to be too loud. On the subway it's considered rude to speak on your mobile phone – you can text message but otherwise you should only be whispering. The subway is not the place for you to be chattering loudly with your friends. Then there's food etiquette, for instance you should not put your chopsticks into the bowl of rice so they stick up vertically, as this is a symbol of death and you don't want to be thinking of death as you eat.
How do you describe your fashion style?
My look is influenced by so many Japanese street styles. There are so many different tribes and fashion sub-groups that have a particular fashion outlook. For example there are the J-Rocker or Visual Kei group, then there are the Goths, the Punks, and also groups that only exist in Japan like the Mori girls who look like antique dolls that live in the forest like Hansel and Gretel. It's fascinating to walk through Harajuku and see the stores that carry these designs and see the teenagers all dressed up. I personally like to mix up all these styles, but I don't associate with any particular one group or style as I find them all fascinating. I like to find my own personal style and I don't like having rules for ways to dress. Sometimes these fashion sub groups are very strict about wearing things a certain way and that's not for me.
Harajuku – the place to see and be seen
I love Harajuku, it's a great place to go, even if you're not into fashion. It's a wonderful place to people watch, to just sit in a cafe and check out the scene. I'd recommend taking the train to Harajuku station and go down Takeshita-dori, which is a narrow street with a colourful arch over it. Down there you'll find all these bizarre, quirky, wonderful stores, that sell toy accessories, colourful bracelets, crazy stockings. Walk through there and browse around. There's also the famous Jingu Bashi bridge in Harajuku, where young people come in their flamboyant costumes and styles to pose for photos. It isn't as popular a hangout as it used to be but you'll still see people there, especially on Sundays. You can't go wrong if you stop in Harajuku and walk around – you'll see crazy fashions and you'll find something funny to buy.
Shibuya for crazy clothes shopping
Shibuya is also a wonderful place to go, especially if you're into Gyaru or Gal fashion. For this style, the girls might have bleached blonde hair and wear shorts and boots; it's a trendy celebrity style and a lot of them have big doll-like eye-lashes. The main hub for these shops is a place called Shibuya 109 which is a craziest department store you'll ever set foot in. Once you walk inside, there are tons of little shops, each blasting techno music, it's a total assault on the senses. These cute Japanese shop girls are yelling at you to come into their store and try on the clothes. You wander around and see everything from hip hop to trendy to doll-like fashions. You'll find Shibuya 109 by the big red sign when you step out of the Shibuya subway station.
Designer fashion or vintage in Tokyo
If you're more into the high end fashions, then go to Omotesandō, which is also in Harajuku, just a few blocks away from the station. Ginza is also famous for being the ritzy part of Tokyo, you can find some beautiful fashions there from all over the world and I've seen some gorgeous kimonos on sale there. If you're into bohemian, vintage and young hippy fashion, there's a neighbourhood called Shimokitazawa, that not many first time visitors know about. It has a really laid back atmosphere, and feels a bit like college town with lots of cafes, tons of vintage stores and you can get some pretty good deals.
Cute inexpensive souvenirs
All my friends are happy when I bring back souvenirs from the 100 Yen stores, which are like dollar stores in the USA. However, where dollar stores can have a reputation for being full of junk, the 100 yen stores are full of colourful, unique gismos. You can get everything from cute stationary to bizarre cleaning products such as sponges shaped like teddy bears. When you buy something in these stores to give to a friend, they think, Wow! only in Japan. The most famous 100 Yen store is called Daiso and there's a big one in Harajuku, where you'll find an amazing selection of things you'll love.
Japanese foods to try when out and about in Tokyo
A lot of travellers know about the typical Japanese food like Sushi and Ramen which you can find everywhere. For a unique experience try the vending machines, where if you want to buy a bowl of Ramen or hot noodles, you would  punch in your order then get a ticket which you give to the cook to make your order. With Sushi you can go from the most high end $100 a meal to conveyor belt sushi, and although it's inexpensive, you're in Tokyo so you know the quality will be amazing.
Quick bites on a budget
If you're looking for a quick bite to eat on a budget, try the convenience stores. In the West nobody would dare to eat there but in Japan you can find delicious foods in the 7-Eleven stores. For instance, they serve rice balls with intriguing fillings such as plum or fish eggs and although you only spend $1-2 on these they can be a delicious and filling meal. They don't have any place to eat inside, but are full of little take-out boxes for rice balls and tofu platters. There are convenience stores on every block in major neighbourhoods, so stop by and grab something that will make a cheap and delicious meal.
Theme restaurants in Tokyo
The Theme restaurants in Tokyo are an  immersive experience – it's as if you are entering a theatre world and you are part of the play. Take the Monster Theme Restaurant which I went to quite a few times. As soon as you walk inside you are surrounded by jail cells, the waitress is wearing a skimpy nurse uniform and she handcuffs you, then she leads you to your table which is inside a jail cell and locks you up. Then when your waiter comes and you order a drink it might come in the form of a syringe or a bedpan and while you're eating, the monsters would run around, the lights would go off and the monsters would pop into your jail cell and scare you. It's completely over the top and you are a part of the experience.
To be honest the food is not the main draw, although it has got better as theme restaurants continue to pop up, creating more competition, so the restaurants started to put more emphasis on the quality of the food. The main thing that distinguishes the food is how quirky it is and how well it fits the theme. For example there's something called Russian Roulette Takuyaki which are octopus balls. You would be served 6 octopus balls but one would be filled with Wasabi which is green horseradish paste, which if you bite into it your head would explode. Everyone would take one octopus ball but the victim would be the one running to the bathroom, sweating all over.
Sounds scary, but where can I eat with my family?
There are all sorts of theme restaurants and not all are frightening. Some have a fairytale theme, for instance, there are Princess cafes where the guys would treat you like a princess, they put a crown on your head and bend to your every whim. There are Cat cafes and Dog cafes that pet lovers would love. In a Cat cafe you will have a dozen little kitty cats running around and you can play with them; you can hang out and drink your coffee and eat your cake with cats all around you. In Japan there's very little space in apartments for people to have pets, or they work too long hours, so a Cat cafe is a great way for them to have a pet for a few hours. On the other hand the dog cafe is where you bring your dog, and you can eat at the same table as your dog and dress them up, and even eat the same food as they prepare food that is edible for canines and humans.
Which Theme restaurant do you suggest for teenagers?
Teenagers might love the Ninja restaurant – you walk through secret passageways as if you were in a hidden Japanese cave, and the Ninjas are doing acrobatics and magic tricks at your table. They might serve you a desert shaped like a frog, or an appetiser where the fire travels down a string until it hits the appetiser which bursts into flames. Theme restaurants are also very popular with groups of friends and co-workers in Japan, as it gives them a chance to hang out and also something to talk about.
For a group night out my favourite restaurant is Kagaya, and it's impossible to describe if you don't want to ruin the surprise, let's just say that when you walk in it seems like a homey little restaurant/bar and the owner seems perfectly normal until he pops into a closet and comes hopping out, dressed in a frog costume, it's a bit of a surreal performance art. It's completely unpredictable, there are gags everywhere. He'll serve you beer and then the beer starts shaking so you can't drink your beer – that's just one of the 50 surprises that will happen all evening.
How about bars and nightlife in Tokyo?
A lot of tourists go to Roppongi and although I can't especially recommend it, it's the Disneyland version of Tokyo. If you want to hang out with other foreigners then Roppongi is the place where people let loose, but the locals don't really go there. It reminds me of a Las Vegas environment.
Another fun area is called Golden Gai in Shinjuku, it's a series of little streets packed with tiny bars, where you might only fit three people inside and each one may have something unique about it. One has a punk theme, another a Gothic theme and some offer Karaoke, so that could be an interesting place to bar-hop. If you want to try drinking something that's uniquely Japanese, try the Sake or the Soju which are the rice wines. I personally love cocktails that use a Yusu flavour, it's a Japanese citrus which is a cross between an orange and a lemon, it has a distinctive taste and it's very hard to get outside Japan, so be sure to check if they have any drinks that have a Yusu flavour on the drinks menu.
Where should I go clubbing in Tokyo?
For clubbing it depends what kind of music you like, and the sub group you associate with – there's an amazing music scene in Tokyo. They bring in DJs from around the world so whether you're into techno or into hip hop there will be a fascinating scene for you. I personally love the Gothic and alternative parties which are centred in Shinjuku, and my two favourites are called Midnight Mess and Tokyo Decadance. At the parties they play everything from classic Gothic to Industrial to Synth pop and everyone dresses up in these flamboyant, elegant Gothic costumes, they are some of the best parties I've been to ever, On the extreme side there are fetish and experimental nightlife events as well, especially one called Department H, inside you'll see people in head to toe handmade costumes and body-moders who do extreme modifications like snake tongues and temporary piercings all over their body or even bagel heads.
Sorry, did you say Snake tongues and Bagel heads?
Yes, a snake tongue is when you split your tongue in half, so that it now has two points instead of one, and the two points can flip back and forth or dart in and out like a snake. There are other temporary forms of body modification, for instance I've seen some people who get their mouth sewn shut; it's a half fetish, half body modification thing.There are  also suspensions, where people have metal hooks inserted into their backs, and then they are suspended above the ground and they can swing back and forth. Extreme as they are, these effects are temporary. In a society like Japan people can't go around in the streets with permanent body modifications and there's a great stigma against tattoos in particular, as they are associated with the criminal culture, that's why temporary modifications can be pretty popular at these events.
The bagel heads are created where you place a needle under the skin of your forehead and drip saline solution into the skin, so that your forehead bulges out into a bubble shape, then you press your thumb into the centre of the bubble so that it creates a doughnut or bagel like shape, which lasts for around one day. (Although La Carmina hasn't had a bagel head done herself, her company worked on four TV shows about bagel heads) If you get a bagel head done in Japan, although it looks extreme, they use sterile solution and are very experienced and qualified.
So where do I get my party outfit?
I think people in Tokyo are very creative with their outfits. I have friends who go into 100 Yen stores and create costumes out of surprising materials there; they might use a plant or a broom, or fake flowers to create an incredible costume. There are plenty of costume stores especially in the district called Akihabara, where all the geeks go, as it's a centre of electronics, video games and comic books. However, even though you see these crazy costumes in photos, not everyone dresses up, for instance some people if they go to a Gothic party would just wear all black.
Any other places I could take the family for a unique Tokyo experience?
One area that is fun for all ages, but especially families and kids is Odaiba, it's the Tokyo port on the east side, right by the ocean and not that many first time visitors know about it. It's a great little half day trip where you take the subway there, and there are a number of different attractions. There are a few museums and as is typical in Japan, there's a theme everything. For instance there is a cat petting zoo, similar to a cat cafe except that you only go there to play and pet cats. There's a gigantic video game centre with every video game you could think of, there are giant robot panda bears that you can put a coin in and ride on the back of the Panda bear, there's a Rainbow bridge and a Little Hong Kong, It's an indoor recreation of Hong Kong, you walk inside and you see neon signs and Chinese restaurants and even sound effects like the hustle and bustle of Hong Kong – everything but the smells!
Where to find La Carmina
My thanks to La Carmina for sharing her tips on all the cool and quirky things to see and do in Tokyo. You can find more about every aspect of Tokyo culture on La Carmina's blog and on Twitter @LaCarmina on the La Carmina Facebook Page and watch some cool travel and fashion videos on the La Carmina Youtube Channel
La Carmina's Books
For more information about the Tokyo Theme Restaurants, you can read La Carmina's book on Crazy, Wacky Theme Restaurants: Tokyo and Cute Yummy Time with 70 recipes for the cutest food you'll ever eat.
Photo: All photos are copyright of La Carmina
This article is originally published at Heatheronhertravels.com – Read more travel articles at Travel Blog Home
You'll also find our sister blog with tips on how to build a successful travel blog at My Blogging Journey
 Don't miss out – subscribe to Heather on her travels