When it comes to photography, I admit that I'm a bit of a technophobe. I enjoy photographing my travels, but can't seem to get beyond shooting in auto. All those instructions about F-stops and shutter or aperture priority go in one ear and out the other. When Panasonic UK invited me to a wildlife photography workshop, I was pleased to discover that their Lumix GX80 camera has a few functions that help you take better photographs without having to master all those knobs and settings. You can also read my 6 tips for better wildlife photography here.
After trying the Lumix GX80 out during the workshop and back at home, here's my review;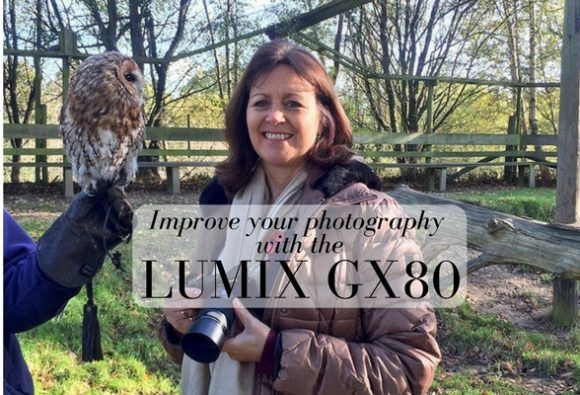 Let's Start with the camera body
As a travel blogger, camera size is a big deal for me. I travel light and don't want to carry a big camera around, so the micro four-third compact body of the Panasonic Lumix GX80 suits my travel style perfectly. It's smaller than a normal DSLR – ideal to hold with one hand, tuck into a medium size handbag and be reasonably discreet when you whip it out in a restaurant or marketplace.
I liked the slightly textured and retro look of the body with a wider grip at one end, making it easy to hold one-handed, when juggling a phone and notebook. Most of all I love that the micro four-third size bodies take a range of interchangeable lenses, so you have the flexibility to go wide angle for a hotel interior or zoom for wildlife shots.
Looking at the lens
The Panasonic Lumix GX80 comes with a standard 12-32 lens which is fine for taking landscapes and shots of people and places. The Panasonic lens on this camera is also interchangeable with the Olympus range, which is great as I already have an Olympus wide angle lens, so I can swap them over for my hotel interiors.
When I tried out the Lumix GX80 during the wildlife photography workshop I quickly realised that the standard 12-32mm lens would not cut the mustard for wildlife photography. The clue was how quickly the pro-wildlife photographers changed up to big zoom lenses, so I followed suit and tested out the 45-200 lens which allowed me to get some nice close-ups of animals a few metres away from me. Read my 6 tips for better wildlife photography here.
For those safari shots with animals in the distance I would have needed an even bigger zoom lens. Since my travel photography tends to be a complete mixture of landscapes, portraits, food shots and the occasional wildlife shot I need a lens that will be versatile. I'm always trying to pack in a lot and don't have time to change lenses. On the advice of top wildlife photographer, Phil Gould, who taught our workshop, I'll be looking at a 14-140 lens that will take give me all the standard shots with the option to zoom in that little bit closer, all in one lens.
Screen and Viewfinder
Another feature I love about this camera is that it has both a viewfinder and a viewing screen that pulls out from the body and can be tilted at different angles. You flip between them with a press of a button. Using a viewfinder helps you compose a shot more accurately in sunny conditions when there's too much glare on the screen.
However, the angled screen was very useful when you are taking a shot that's high or low. For instance you can take a shot of your food from above, while easily composing the shot on the angled screen. I noticed that the pro-wildlife photographers at the workshop were using this feature by setting their camera on the grass to photograph animals from a low angle, while using the screen to monitor the composition. The only downside is that the screen does not swivel round completely, meaning that you can't use it to position yourself for selfies or vlogging.
Another feature of the Lumix GX80 is the inbuilt stabilisation and fast autofocus which really helps in some travel situations such as busy public places where you are trying to capture the action and atmosphere of the situation.
So far so good, but now to those features of the camera that can help you take better photographs without having to master all the technical settings.
Testing out the 4K feature on the Lumix GX80
I enjoyed trying out the 4K feature of the Panasonic Lumix GX80 which allows you to take better action shots. Essentially the camera takes a burst of images or short video, but unlike most video, each individual frame is high quality, giving you an 8MB file that can be blown up to A3 size. As technology develops it's likely that even higher quality 6K cameras will be available in the future. This feature is a game changer for action shots, since you can take a burst of photos, then review them on the camera to pick out the best one and save that individual shot, deleting the rest if you wish.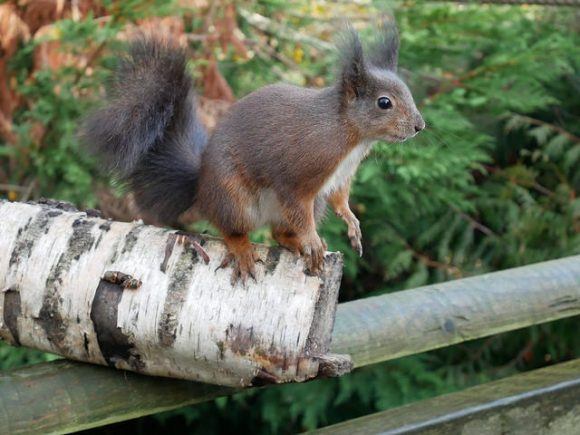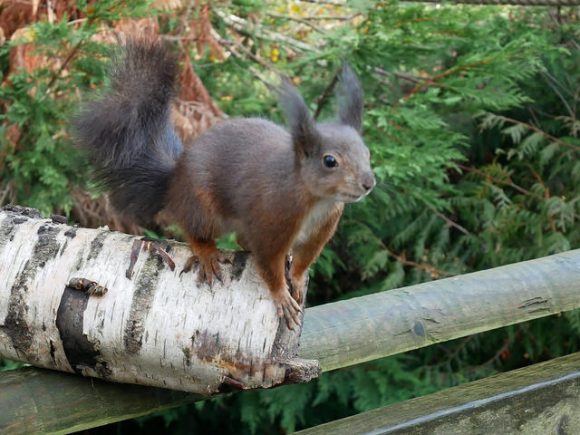 I tested out the 4K feature at our wildlife photography workshop and enjoyed trying to catch the perfect shot of a squirrel running across a branch or a wildcat jumping in the air. I set the 4K to stop/start mode, which meant that like shooting video I pressed the button to start the burst and pressed again to stop. As you can see from the squirrel photos above, a fraction of a second can make all the difference when your subject is moving quickly.
I found that the 4K function is best suited to situations where you can anticipate the action, since with 30 frames per second you don't want to be taking more than a few seconds of the 4K video. You also need to allow for some delay as each 4K burst takes a few seconds to save before you can take your next photo. I can imagine using this function to capture someone jumping or running, a child on a swing or blowing out their birthday candles, informal portraits in a restaurant, musicians or dancers, or of course wildlife. For family photography it would be ideal if you have young children who can't sit still, to enable you to capture their expressions or movement. Take a look at my 4K series of photos of the wildcat jumping in the air – which would you choose?
The Post-focus function on the Lumix GX80
The post-focus function is another feature that allows you to increase the range and quality of your photographs without having to master all the technical settings or change lenses. Like the 4K function, the camera is effectively taking a burst of photos that focus on different elements of the composition. Once you have switched on the post-focus function and taken your photos, you then review and tap the screen to choose the focal point that suits you best.
I can imagine using the post-focus function to take shots in a restaurant then decide later which elements on the table you want in focus. Other examples could be a landscape where there is a flower in the foreground and mountains in the background, or a person stretching out their hand where you can't decide whether to have their face or hand in focus. The post-focus is best for static scenes where you can control the composition, like the flower and orange photos I took below.
Thank goodness there's wifi!
Since I post a lot of photos to social media I knew that my next camera would need to have wifi function so was thrilled to find this is a feature of the Panasonic Lumix GX80. While I'm happy with the quality of the photos on my iPhone, I've heard from serious instagrammers that the higher the quality of the photos they post, the better their engagement. I love that the Panasonic Lumix GX80 allows me to take the highest quality photos and still share them easily and quickly on social media, which is a large part of my work as a travel blogger.
I tried out the wifi by downloading the Panasonic image app onto my iPhone, then putting in the password given when prompted. Once you've done this the first time, the camera connects via wifi to the iPhone whenever you press the wifi button and select the correct wifi network on the phone. Via the app I can review all the photos I've just taken on the Lumix GX80 on my phone screen. I can check they are sharp, just as if they were on my phone, then select whichever I want and they are immediately transferred to my phone memory. Unfortunately only the still images are transferrable this way and the 4K videos have to be downloaded to your computer via the memory card – which is a shame as some of these short clips would be great to post 'live' on social media.
The Panasonic app also means that the phone can become a remote control device for your camera so you could set it up and then take photos from a distance. I can also review the photos in the phone app and delete any duds immediately, freeing up more space on my memory card. There's also a collage function within the app although you don't have the same flexibility to reposition photos as I do with an app like Picframe, which I currently use to make collages on my iPhone.
With the wifi function to transfer photos quickly to the iPhone, I will probably take more of my photos in future on the Panasonic Lumix GX80 and hopefully increase the quality of my social media photography in the process.
Battery life and charging on the Lumix GX80
The camera comes with a charger lead that plugs into the side of the camera. The USB fitting at the other end can be plugged into any USB charger such as a portable battery pack or a car USB charger as well as the plug that comes as standard. While I'm sure I could buy a separate battery charger, this approach will probably prove more flexible for keeping my camera charged on the move.
If you're using a lot of the functions such as 4K, be aware that the battery may not last very long. After a couple of hours constant shooting in our wildlife photography workshop, my battery was dead, so I'll need to buy some spares. You also need to make sure that after using the wifi function, you disconnect it, as this also drains the battery. I suspect that if you are shooting a lot of 4K images, this will eat also into your memory card space, so you need a memory card with plenty of space for all the high quality photos.
The Panasonic Lumix GX80: my recommendation
I am really pleased with my new Panasonic Lumix GX80 and will be using it in conjunction with my iPhone in the future. I love the smaller body size, coupled with the option for interchangeable lenses, as well as having both viewfinder and tilt screen. The wifi now enables me to transfer high quality images to my phone so I'm expecting to improve the quality of my social media posts, especially for Instagram.
I think the 4K and post-focus are fun features that I'll be playing with to enable me to take better photos without having to worry about which technical setting or lens I'm using. For travellers I'd recommend the Lumix GX80 as an excellent all-round camera that will help you take better photographs when you need something that's a step up from your camera phone.
For more information about the Panasonic Lumix GX80 – Visit the Panasonic Website and you can buy the Lumix GX80 on Amazon here.
Discovering Lumix Unmissable Moments
If you want more inspiration on how other photographers are using the Panasonic Lumix G range check out the Lumix Experience website where you'll find galleries and video tutorials to show you how you can get the best from your Lumix camera. You can also follow the conversation on social media with the hashtag #UnmissableMoments.
Wildlife photography at the British Wildlife Centre
All the wildlife photographs were taken in a wildlife photography workshop at the British Wildlife Centre in Surrey, where you can see and photograph some of the wild animals that are native to the UK. The centre also runs regular photography workshops where you can improve your wildlife photography, with tips from the experts. The workshop I attended was specially arranged to enable our group to try out the Panasonic Lumix GX80 camera. Read my 6 tips for better wildlife photography here.
British Wildlife Centre, Eastbourne Road, Newchapel, Lingfield, Surrey, RH7 6LF, Tel: 01342 834 658
Key information about the Panasonic Lumix GX80
16-million-pixel Four Thirds sensor, no optical low-pass filter
ISO 200-25,600 (ISO 100-25,600 extended)
Dual IS: 5-axis in-body stabilisation working with 2-axis in-lens
4K video recording and 4K Photo mode
76-million-dot equivalent EVF (16:9 aspect ratio)
04-million-dot 3-inch tilting touchscreen
New low-vibration shutter: 60sec – 1/4000sec (1sec – 1/16000 sec electronic)
£509 body only, £599 with 12-32mm f/3.5-5.6 lens
Thanks to Panasonic UK who invited me to the workshop and gave me a Panasonic Lumix GX80 for the purposes of this review.
Pin It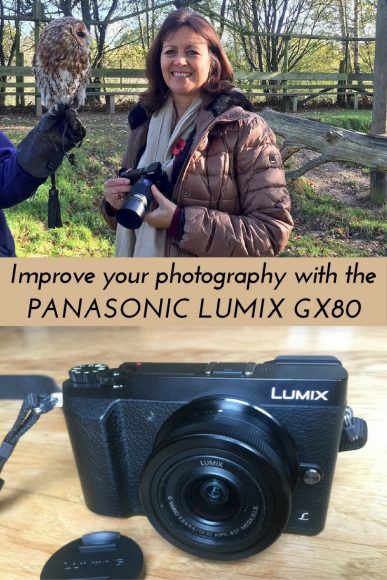 This article is originally published at Heatheronhertravels.com – Read the original article here
Whenever I'm travelling I'm pretty much guaranteed to spot a family with young children wheeling one of those cute animal cases through the airport. Despite being the one that got away from the Dragon's Den, the award-winning Trunki case has taken the family travel market by storm. Now, from the same Bristol company (I love supporting all things Bristol) comes Jurni, dubbed as "the suitcase for the next generation", a sort of grown up, funky reinvention of its younger sibling. My recent short trip to Inverness seemed the perfect opportunity to see what my Jurni case could offer travellers like myself, who consider themselves forever young.
Of the three colours (blue, pink, red) that the Jurni comes in, I settled on the blue since I reckoned that both my son and daughter are students and were likely to be 'borrowing' the case from me before too long. I was impressed by the robust construction, designed to be solid enough to sit on when you're waiting for a train or in the check-in queue. The case is eye-catching too and the stylish looks got plenty of admiring comments from friends and family.
As I was flying from my local airport in Bristol to Inverness for just a few days, the Jurni comfortably fitted in everything I needed, including my 13 inch laptop and camera, although I do tend to pack quite light. The top opening compartment and the secret compartment at the bottom use up some space, so I'd have had to do a bit of juggling to fit in a larger laptop. I concluded that this case is best used when you are going away for short periods and won't need your heels or hiking boots. I liked the removable compartment at the top and felt rather smug when asked by the airline to pack away my handbag, as I could pop it away in the compartment. Once on the plane, the case fitted neatly into the overhead locker, although I could have done with a handle on the top rather than the side of the case to make it easy to carry up the steps of the plane.
What I liked about the JURNI Suitcase
The hard case will take a lot of knocks and scuffs, keeping your camera or other equipment secure.
The colourful styling certainly got some admiring looks, especially from younger travellers.
The top opening compartment came in handy to store my documents and handbag, especially for airlines that insist on only one piece of carry-on luggage.
The top compartment pulls out to use as a lunch box or for storage when travelling.
The sit-on feature could come in handy if you were in a station or public place where there's not seating available and you don't want to sit on the floor.
The compact size fitted neatly into airline overhead compartments
The internal shelf turns the Jurni case into a mini-cupboard which could be useful when staying in a hostel.
The telescopic pull along handle was sturdy and extended easily.
What to watch out for
There's no inbuilt lock, so you need to either use a padlock or buy the Jurni strap with inbuilt padlock, especially if you're checking in the case at the airport.
Due to the sit-on design, the wheels are quite small which means it's not the niftiest case I've tried, especially on rougher surfaces.
I'd have preferered to have a handle on the top of the case, for lifting it up airline steps and into the locker.
Features of the Jurni case
It comes in 3 colours: royal blue, fuschia pink and red
It has both inline and pull-along wheels
There's a handle at the side and a telescopic handle at the top
There's a removable internal shelf that either makes a secret compart at the bottom or can be used as a shelf in the middle of the case
There's elastic webbing in the case door which could be used to store a tablet or magazine
The scuff board around the wheels is replaceable
Dimensions 50 x 35 x 20 cm, Capacity 25 Litres, Weight 3.2kg
You can buy additional accessories such as internal organiser compartments and a check-in strap with combination lock.
The Jurni case retails at £79.99 including free UK delivery
Who is the JURNI suitcase best for?
The cool and colourful styling will appeal to fashion conscious travellers
The sit-on feature and robust construction will suit younger travellers
The Jurni would make an ideal gift for your teen or 20-something traveller in your family
The compact size works well for short breaks or as a carry-on case in conjunction with your larger suitcase.
Giveaway of a Jurni suitcase
Now for the good bit! I'm giving away a Jurni case in the colour of your choice to one lucky reader (for delivery to a UK address). All you have to do is follow the instructions below (detailed t&c at the end)
Make your entry using the Rafflecopter widget below
To enter, leave a comment at the end of this article, telling us about the trip you'd like to make with your Jurni suitcase – you may like to visit the Jurni website for ideas.
For additional chances to win you can tweet about the giveaway, follow @heathercowper and @jurnistyle on Twitter an visit my Heatheronhertravels Facebook page – using the Rafflecopter widget to register these entries.
Due to the size of the case we can unfortunately only send the Jurni case to the winner at a UK address. The giveaway runs for 2 weeks and will end at midnight on Wednesday 12 October 2016. Good luck!
The giveaway has now ended – thanks so much to all who took part
Pin It
This article is originally published at Heatheronhertravels.com – Read the original article here
Comments Off on Alternative places to visit in Tokyo: a 2 day itinerary
Are you visiting Tokyo but want to try something a bit different? Our guest author Mike Gale lives in Tokyo and has been busy discovering alternative places to visit. He shares a two day itinerary that will allow you to find some more unusual places while having a good time in Tokyo.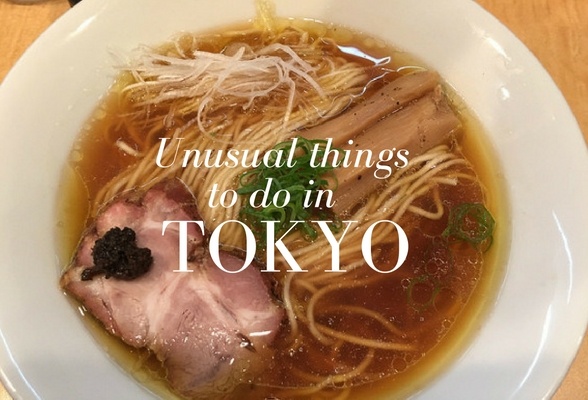 Day 1- Owls, Culture and Delicious Restaurants
Brunch time – If you're looking for a great place to stay while in Tokyo check out some of the recommendations at the end of this article or try our Tokyo hotels booking page powered by HotelsCombined. We recommend the Shinjuku district which is centrally located for getting around Tokyo.
Now it's time to have a leisurely brunch at Bubby's in Roppongi Iichome. Getting there: Take the Marunouchi Line 4 stops then transfer to Yotsuya Station for 3 stops until you reach Roppongiicchome Station. Total trip time is 15 minutes. Once you make it to Roppongi iichome station head to Bubby's nearby where you can find the best brunch in Tokyo. Their pancakes and burgers are absolutely delicious!
Late morning: Next we're heading for the Owl Cafe Fukuro No Mise. Have you ever heard of an owl café? I never did until I spoke to some friends who recommended it to me. Getting there: To get to the owl café you will take the Namboku Line two stops from Roppongiichome station. You will transfer on the Yurakucho Line to Tsukishima Station. The journey takes around 18 minutes.
Visiting Fukuro No Mise:  In this café, you can actually pet owls and have a good coffee. First, you will learn about the owls and how to handle them. You will have time to take pictures with the owls as well and there are small, medium and large ones you can pet and hold! (Timings can be subject to change due to appointments on the day )
Price Range – 2,000 yen per person, Closed on Mondays and Tuesdays. More information here.
As an alternative, visit the Owl Café and Bar Café in Harajuku if going on Monday or Tuesday. You can take the train from Roppongiichome Station to Tameike Station on the Namboku line, transferring at Kokkaogijido-Mae Station.
Afternoon: Head over to JR Harajuku Station to see a cultural area and also try out my restaurant recommendations in the area. Getting there: You will take the Oedo line back to Shinjuku Station then transfer on the Yamanote Line to JR Harajuku Station.
Walk around the Meiji Shrine which is one of Tokyo's most famous shrines. It is dedicated to Emperor Meiji and Empress Shoken. The Shrine was founded in 1920. It is located in a forest that contains 70 hectacres. Pretty impressive in such a crowded city!
Next walk over to Takeshita Street. Although crowded, you will get to see some of Tokyo's famous young street "Harajuku" fashion. Walk around to the different shops, try a crepe and enjoy all of the different fashion styles around.
Late afternoon: Stop for a beer at the Baird Beer Harajuku Taproom. It is on one of the side streets of Takeshita Street and is relatively easy to find. Here, you will find some of the best craft beer Japan has to offer; owner Bryan founded the company in a small southern town of Japan. I recommend trying their beer sampler as you will be able to try three different types of beers for only 1,000 yen. If you are a bit hungry, you can snack on some izakaya food which are Japanese side dishes of fish or vegetables.
Evening:  Time for dinner at Chiles Mexican Grill. You will head over to one of the best Mexican restaurants in Tokyo, which is also in the area of Takeshita Street and easy to find. I recommend trying their chicken ranchero burrito. It is absolutely delicious. The staff at the restaurant speak English as well.
Day 2- Ramen, Art, Shimokitazawa, and Jazz
Early morning: We have an early start today (6am!) –  head over to Sugamo Station on the JR line. Aim to arrive at Tsuta Restaurant by 7am. More information here.
Your goal is to arrive here to get a coveted ticket to this ramen restaurant. Get a ticket for 1PM to give you enough time in the onseon. Here, you will get a chance to try some delicious ramen. How delicious? Tsuta Restaurant was given a Michelin Star two years in a row! I got a chance to try the black truffle ramen and it was absolutely delicious.
Morning:  Visit Tokyo Somei Onsen Sakura, a traditional Japanese style spa. Make sure you have clean clothes and a towel. They charge extra for towels. You must not have any tattoos or you won't be allowed in. Getting there: You will head back to the JR Station and go clockwise on the Yamanote line to Komagome JR Station.
Alternative spa if you have a tattoo: Head over to Akihabara. You can take the JR train clockwise from Sugamo Station and counterclockwise back it will take about 16 minutes to get there. This is one of Tokyo's famous otaku (anime) neighborhoods. I recommend visiting any of the maid cafes around the station. Also, you can walk around and see the weapons store, which will showcase a katakana up close.
Lunchtime: Head back to Tsuta Restaurant (Take the JR line to Sugamo Station) with your ticket to enjoy the delicious ramen. You won't be disappointed.
Afternoon: Ueno Park and art galleries – Stop over to Ueno Station on the JR line (11minutes) to check out the famous park as well as the art galleries. Check out the famous park first then the Tokyo National Museum. It is one of the largest art museums in the world!
Late afternoon: We're exploring Shimokitazawa, one of the Bohemian neighborhood of Tokyo where you will find many interesting boutique shops and restaurants. Getting there:  Take the JR line counterclockwise to Shinjuku Station then transfer to the Odakyu Express train to Shimokitazwa. The journey will take about 39 minutes.
For the best curry in Tokyo, I recommend going to Anjali Spices. The owner is from Osaka and puts pride into his cooking. He also spent time in India so you will expect to have authentic Indian style cooking.
Evening: A drink at Pit Inn. After you finish walking and eating in Shimokitazawa, I recommend one last stop in Shinjuku at the Pit Inn which has been open for 40 years. Take the Odakyu Line to Shinjuku, which is a good area to stay. This Jazz Bar has many local and international artists and is known to have some of Tokyo's best jazz music. As it is a smaller venue, lounging may not be the best option but the sound system is incredible. The shows typically start at 8PM and cover charge is 3,000 yen which includes one drink. Check the website before going because some shows can start at 7:30PM.
We hope you've enjoyed your discovery of Tokyo's alternative side, mixing up cool cafe's, delicious food and nightlife with a bit of authentic Japanese culture.
Need somewhere to stay?
Try these hotel choices in the easily accessible Shinjuku district;
Granbell Hotel Shinjuku: This boutique hotel has a clean and modern look and is centrally located in Shinjuku which will make Tokyo more accessible. The lobby has coffee available and a good view from the roof terrace.
Hotel Rose Garden Shinjuku: This is a family owned boutique hotel with friendly staff and clean rooms. It is located closely to the train station.
Hotel Mystays Asakusa-bashi A modern 3 star hotel close to the station.
About the author: Mike Gale writes at NomadLifestyle, a Tokyo based food and travel blog. His aim is to find delicious food in Tokyo and document his foodie and travel adventures around the globe.
More things to do in Tokyo
Cool Hunting in Tokyo: food, fashion, street-style
10 offbeat experiences in Tokyo
Pin It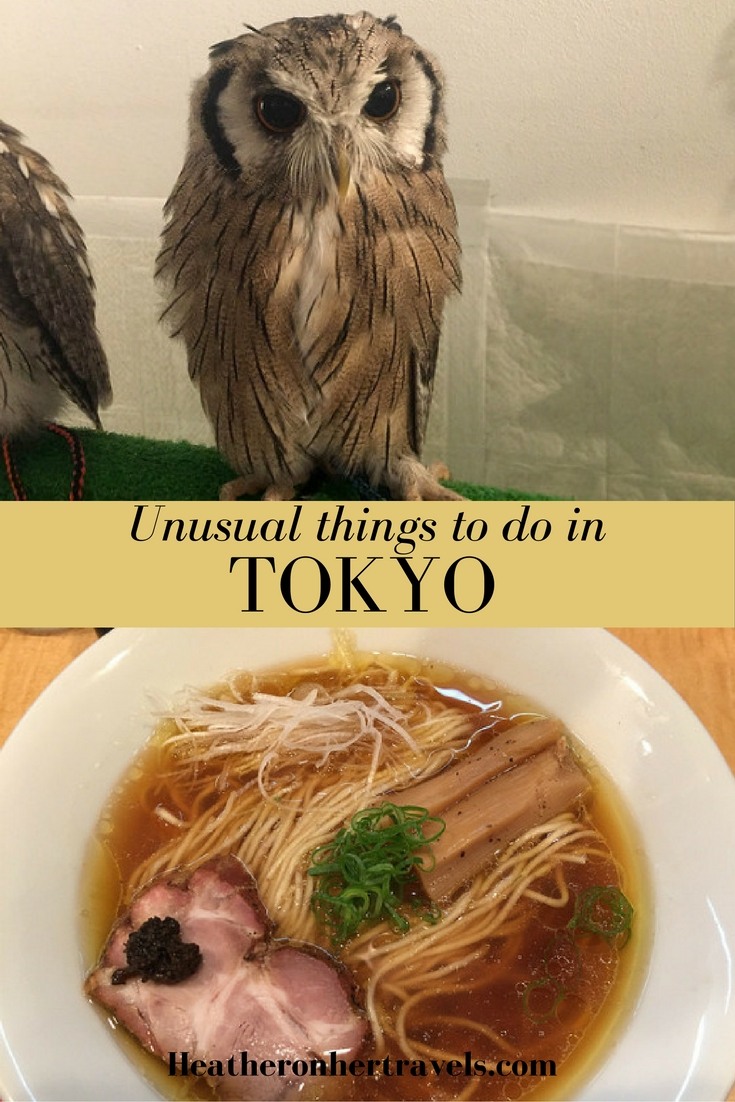 This article is originally published at Heatheronhertravels.com – Read the original article here