When it comes to photography, I admit that I'm a bit of a technophobe. I enjoy photographing my travels, but can't seem to get beyond shooting in auto. All those instructions about F-stops and shutter or aperture priority go in one ear and out the other. When Panasonic UK invited me to a wildlife photography workshop, I was pleased to discover that their Lumix GX80 camera has a few functions that help you take better photographs without having to master all those knobs and settings. You can also read my 6 tips for better wildlife photography here.
After trying the Lumix GX80 out during the workshop and back at home, here's my review;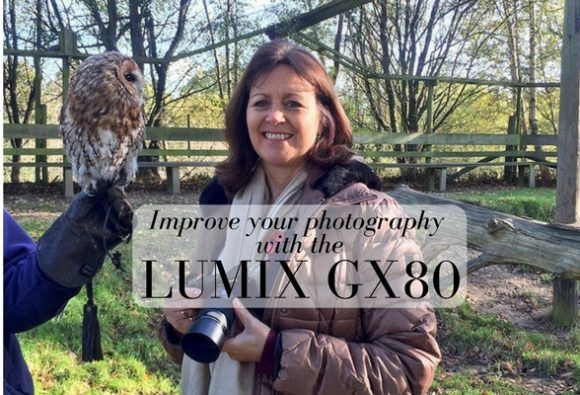 Let's Start with the camera body
As a travel blogger, camera size is a big deal for me. I travel light and don't want to carry a big camera around, so the micro four-third compact body of the Panasonic Lumix GX80 suits my travel style perfectly. It's smaller than a normal DSLR – ideal to hold with one hand, tuck into a medium size handbag and be reasonably discreet when you whip it out in a restaurant or marketplace.
I liked the slightly textured and retro look of the body with a wider grip at one end, making it easy to hold one-handed, when juggling a phone and notebook. Most of all I love that the micro four-third size bodies take a range of interchangeable lenses, so you have the flexibility to go wide angle for a hotel interior or zoom for wildlife shots.
Looking at the lens
The Panasonic Lumix GX80 comes with a standard 12-32 lens which is fine for taking landscapes and shots of people and places. The Panasonic lens on this camera is also interchangeable with the Olympus range, which is great as I already have an Olympus wide angle lens, so I can swap them over for my hotel interiors.
When I tried out the Lumix GX80 during the wildlife photography workshop I quickly realised that the standard 12-32mm lens would not cut the mustard for wildlife photography. The clue was how quickly the pro-wildlife photographers changed up to big zoom lenses, so I followed suit and tested out the 45-200 lens which allowed me to get some nice close-ups of animals a few metres away from me. Read my 6 tips for better wildlife photography here.
For those safari shots with animals in the distance I would have needed an even bigger zoom lens. Since my travel photography tends to be a complete mixture of landscapes, portraits, food shots and the occasional wildlife shot I need a lens that will be versatile. I'm always trying to pack in a lot and don't have time to change lenses. On the advice of top wildlife photographer, Phil Gould, who taught our workshop, I'll be looking at a 14-140 lens that will take give me all the standard shots with the option to zoom in that little bit closer, all in one lens.
Screen and Viewfinder
Another feature I love about this camera is that it has both a viewfinder and a viewing screen that pulls out from the body and can be tilted at different angles. You flip between them with a press of a button. Using a viewfinder helps you compose a shot more accurately in sunny conditions when there's too much glare on the screen.
However, the angled screen was very useful when you are taking a shot that's high or low. For instance you can take a shot of your food from above, while easily composing the shot on the angled screen. I noticed that the pro-wildlife photographers at the workshop were using this feature by setting their camera on the grass to photograph animals from a low angle, while using the screen to monitor the composition. The only downside is that the screen does not swivel round completely, meaning that you can't use it to position yourself for selfies or vlogging.
Another feature of the Lumix GX80 is the inbuilt stabilisation and fast autofocus which really helps in some travel situations such as busy public places where you are trying to capture the action and atmosphere of the situation.
So far so good, but now to those features of the camera that can help you take better photographs without having to master all the technical settings.
Testing out the 4K feature on the Lumix GX80
I enjoyed trying out the 4K feature of the Panasonic Lumix GX80 which allows you to take better action shots. Essentially the camera takes a burst of images or short video, but unlike most video, each individual frame is high quality, giving you an 8MB file that can be blown up to A3 size. As technology develops it's likely that even higher quality 6K cameras will be available in the future. This feature is a game changer for action shots, since you can take a burst of photos, then review them on the camera to pick out the best one and save that individual shot, deleting the rest if you wish.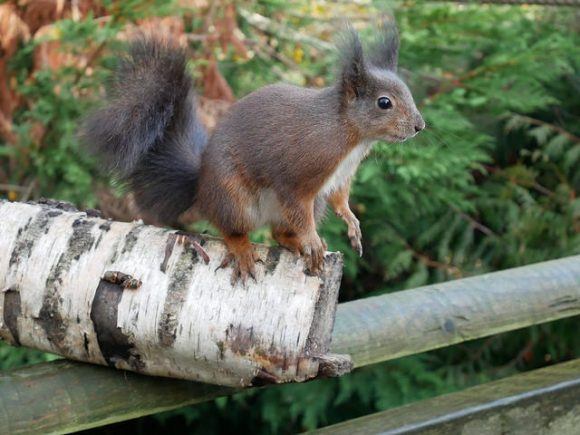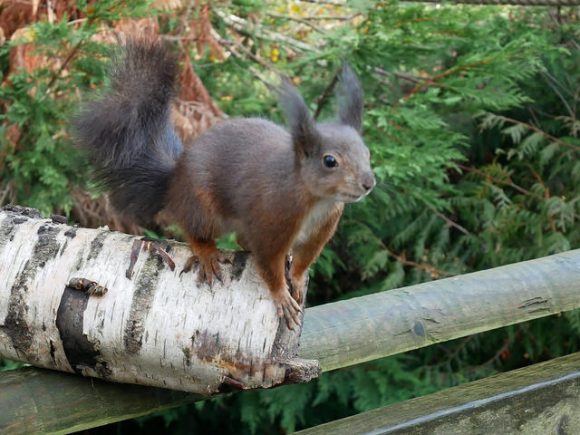 I tested out the 4K feature at our wildlife photography workshop and enjoyed trying to catch the perfect shot of a squirrel running across a branch or a wildcat jumping in the air. I set the 4K to stop/start mode, which meant that like shooting video I pressed the button to start the burst and pressed again to stop. As you can see from the squirrel photos above, a fraction of a second can make all the difference when your subject is moving quickly.
I found that the 4K function is best suited to situations where you can anticipate the action, since with 30 frames per second you don't want to be taking more than a few seconds of the 4K video. You also need to allow for some delay as each 4K burst takes a few seconds to save before you can take your next photo. I can imagine using this function to capture someone jumping or running, a child on a swing or blowing out their birthday candles, informal portraits in a restaurant, musicians or dancers, or of course wildlife. For family photography it would be ideal if you have young children who can't sit still, to enable you to capture their expressions or movement. Take a look at my 4K series of photos of the wildcat jumping in the air – which would you choose?
The Post-focus function on the Lumix GX80
The post-focus function is another feature that allows you to increase the range and quality of your photographs without having to master all the technical settings or change lenses. Like the 4K function, the camera is effectively taking a burst of photos that focus on different elements of the composition. Once you have switched on the post-focus function and taken your photos, you then review and tap the screen to choose the focal point that suits you best.
I can imagine using the post-focus function to take shots in a restaurant then decide later which elements on the table you want in focus. Other examples could be a landscape where there is a flower in the foreground and mountains in the background, or a person stretching out their hand where you can't decide whether to have their face or hand in focus. The post-focus is best for static scenes where you can control the composition, like the flower and orange photos I took below.
Thank goodness there's wifi!
Since I post a lot of photos to social media I knew that my next camera would need to have wifi function so was thrilled to find this is a feature of the Panasonic Lumix GX80. While I'm happy with the quality of the photos on my iPhone, I've heard from serious instagrammers that the higher the quality of the photos they post, the better their engagement. I love that the Panasonic Lumix GX80 allows me to take the highest quality photos and still share them easily and quickly on social media, which is a large part of my work as a travel blogger.
I tried out the wifi by downloading the Panasonic image app onto my iPhone, then putting in the password given when prompted. Once you've done this the first time, the camera connects via wifi to the iPhone whenever you press the wifi button and select the correct wifi network on the phone. Via the app I can review all the photos I've just taken on the Lumix GX80 on my phone screen. I can check they are sharp, just as if they were on my phone, then select whichever I want and they are immediately transferred to my phone memory. Unfortunately only the still images are transferrable this way and the 4K videos have to be downloaded to your computer via the memory card – which is a shame as some of these short clips would be great to post 'live' on social media.
The Panasonic app also means that the phone can become a remote control device for your camera so you could set it up and then take photos from a distance. I can also review the photos in the phone app and delete any duds immediately, freeing up more space on my memory card. There's also a collage function within the app although you don't have the same flexibility to reposition photos as I do with an app like Picframe, which I currently use to make collages on my iPhone.
With the wifi function to transfer photos quickly to the iPhone, I will probably take more of my photos in future on the Panasonic Lumix GX80 and hopefully increase the quality of my social media photography in the process.
Battery life and charging on the Lumix GX80
The camera comes with a charger lead that plugs into the side of the camera. The USB fitting at the other end can be plugged into any USB charger such as a portable battery pack or a car USB charger as well as the plug that comes as standard. While I'm sure I could buy a separate battery charger, this approach will probably prove more flexible for keeping my camera charged on the move.
If you're using a lot of the functions such as 4K, be aware that the battery may not last very long. After a couple of hours constant shooting in our wildlife photography workshop, my battery was dead, so I'll need to buy some spares. You also need to make sure that after using the wifi function, you disconnect it, as this also drains the battery. I suspect that if you are shooting a lot of 4K images, this will eat also into your memory card space, so you need a memory card with plenty of space for all the high quality photos.
The Panasonic Lumix GX80: my recommendation
I am really pleased with my new Panasonic Lumix GX80 and will be using it in conjunction with my iPhone in the future. I love the smaller body size, coupled with the option for interchangeable lenses, as well as having both viewfinder and tilt screen. The wifi now enables me to transfer high quality images to my phone so I'm expecting to improve the quality of my social media posts, especially for Instagram.
I think the 4K and post-focus are fun features that I'll be playing with to enable me to take better photos without having to worry about which technical setting or lens I'm using. For travellers I'd recommend the Lumix GX80 as an excellent all-round camera that will help you take better photographs when you need something that's a step up from your camera phone.
For more information about the Panasonic Lumix GX80 – Visit the Panasonic Website and you can buy the Lumix GX80 on Amazon here.
Discovering Lumix Unmissable Moments
If you want more inspiration on how other photographers are using the Panasonic Lumix G range check out the Lumix Experience website where you'll find galleries and video tutorials to show you how you can get the best from your Lumix camera. You can also follow the conversation on social media with the hashtag #UnmissableMoments.
Wildlife photography at the British Wildlife Centre
All the wildlife photographs were taken in a wildlife photography workshop at the British Wildlife Centre in Surrey, where you can see and photograph some of the wild animals that are native to the UK. The centre also runs regular photography workshops where you can improve your wildlife photography, with tips from the experts. The workshop I attended was specially arranged to enable our group to try out the Panasonic Lumix GX80 camera. Read my 6 tips for better wildlife photography here.
British Wildlife Centre, Eastbourne Road, Newchapel, Lingfield, Surrey, RH7 6LF, Tel: 01342 834 658
Key information about the Panasonic Lumix GX80
16-million-pixel Four Thirds sensor, no optical low-pass filter
ISO 200-25,600 (ISO 100-25,600 extended)
Dual IS: 5-axis in-body stabilisation working with 2-axis in-lens
4K video recording and 4K Photo mode
76-million-dot equivalent EVF (16:9 aspect ratio)
04-million-dot 3-inch tilting touchscreen
New low-vibration shutter: 60sec – 1/4000sec (1sec – 1/16000 sec electronic)
£509 body only, £599 with 12-32mm f/3.5-5.6 lens
Thanks to Panasonic UK who invited me to the workshop and gave me a Panasonic Lumix GX80 for the purposes of this review.
Pin It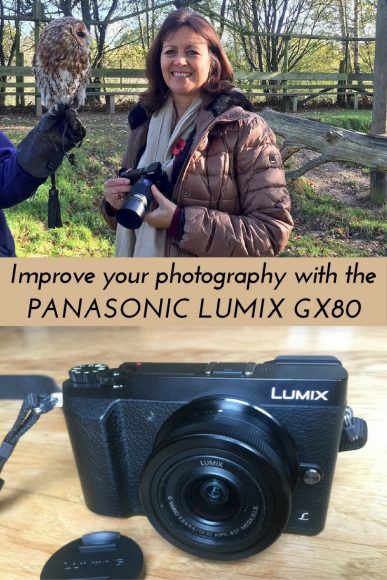 This article is originally published at Heatheronhertravels.com – Read the original article here
Whenever I'm travelling I'm pretty much guaranteed to spot a family with young children wheeling one of those cute animal cases through the airport. Despite being the one that got away from the Dragon's Den, the award-winning Trunki case has taken the family travel market by storm. Now, from the same Bristol company (I love supporting all things Bristol) comes Jurni, dubbed as "the suitcase for the next generation", a sort of grown up, funky reinvention of its younger sibling. My recent short trip to Inverness seemed the perfect opportunity to see what my Jurni case could offer travellers like myself, who consider themselves forever young.
Of the three colours (blue, pink, red) that the Jurni comes in, I settled on the blue since I reckoned that both my son and daughter are students and were likely to be 'borrowing' the case from me before too long. I was impressed by the robust construction, designed to be solid enough to sit on when you're waiting for a train or in the check-in queue. The case is eye-catching too and the stylish looks got plenty of admiring comments from friends and family.
As I was flying from my local airport in Bristol to Inverness for just a few days, the Jurni comfortably fitted in everything I needed, including my 13 inch laptop and camera, although I do tend to pack quite light. The top opening compartment and the secret compartment at the bottom use up some space, so I'd have had to do a bit of juggling to fit in a larger laptop. I concluded that this case is best used when you are going away for short periods and won't need your heels or hiking boots. I liked the removable compartment at the top and felt rather smug when asked by the airline to pack away my handbag, as I could pop it away in the compartment. Once on the plane, the case fitted neatly into the overhead locker, although I could have done with a handle on the top rather than the side of the case to make it easy to carry up the steps of the plane.
What I liked about the JURNI Suitcase
The hard case will take a lot of knocks and scuffs, keeping your camera or other equipment secure.
The colourful styling certainly got some admiring looks, especially from younger travellers.
The top opening compartment came in handy to store my documents and handbag, especially for airlines that insist on only one piece of carry-on luggage.
The top compartment pulls out to use as a lunch box or for storage when travelling.
The sit-on feature could come in handy if you were in a station or public place where there's not seating available and you don't want to sit on the floor.
The compact size fitted neatly into airline overhead compartments
The internal shelf turns the Jurni case into a mini-cupboard which could be useful when staying in a hostel.
The telescopic pull along handle was sturdy and extended easily.
What to watch out for
There's no inbuilt lock, so you need to either use a padlock or buy the Jurni strap with inbuilt padlock, especially if you're checking in the case at the airport.
Due to the sit-on design, the wheels are quite small which means it's not the niftiest case I've tried, especially on rougher surfaces.
I'd have preferered to have a handle on the top of the case, for lifting it up airline steps and into the locker.
Features of the Jurni case
It comes in 3 colours: royal blue, fuschia pink and red
It has both inline and pull-along wheels
There's a handle at the side and a telescopic handle at the top
There's a removable internal shelf that either makes a secret compart at the bottom or can be used as a shelf in the middle of the case
There's elastic webbing in the case door which could be used to store a tablet or magazine
The scuff board around the wheels is replaceable
Dimensions 50 x 35 x 20 cm, Capacity 25 Litres, Weight 3.2kg
You can buy additional accessories such as internal organiser compartments and a check-in strap with combination lock.
The Jurni case retails at £79.99 including free UK delivery
Who is the JURNI suitcase best for?
The cool and colourful styling will appeal to fashion conscious travellers
The sit-on feature and robust construction will suit younger travellers
The Jurni would make an ideal gift for your teen or 20-something traveller in your family
The compact size works well for short breaks or as a carry-on case in conjunction with your larger suitcase.
Giveaway of a Jurni suitcase
Now for the good bit! I'm giving away a Jurni case in the colour of your choice to one lucky reader (for delivery to a UK address). All you have to do is follow the instructions below (detailed t&c at the end)
Make your entry using the Rafflecopter widget below
To enter, leave a comment at the end of this article, telling us about the trip you'd like to make with your Jurni suitcase – you may like to visit the Jurni website for ideas.
For additional chances to win you can tweet about the giveaway, follow @heathercowper and @jurnistyle on Twitter an visit my Heatheronhertravels Facebook page – using the Rafflecopter widget to register these entries.
Due to the size of the case we can unfortunately only send the Jurni case to the winner at a UK address. The giveaway runs for 2 weeks and will end at midnight on Wednesday 12 October 2016. Good luck!
The giveaway has now ended – thanks so much to all who took part
Pin It
This article is originally published at Heatheronhertravels.com – Read the original article here
If you're planning a holiday in Canada that involves camping or staying in an RV, in one of Canada's scenic national parks, you might want some tips on what clothing will work best for your holiday. I don't know about you, but when I'm dressing for outdoor activities such as cycling, hiking and canoeing, I like to choose clothes that are comfortable and functional while keeping a sense of style.
I recently spent two weeks with my husband Guy touring the provinces of Ontario and Quebec in Canada, staying mainly on campgrounds and in nationals parks with our cosy RV from Cruise Canada – our home from home on the road. For the trip I teamed up with Columbia Sportswear who specialise in outdoor clothing, to try out some items from their range. Based on my experience of this trip, here's what you need to pack for a camping trip to Canada.
(For the Brits an RV is a Recreational Vehicle or large camper-van)
Quick drying trousers for evenings around the campfire
For hiking or evenings around the camp fire I recommend quick drying walking trousers like these Columbia Women's Silver Ridge Convertible Trousers. They feel like a lightweight cotton but are in fact made from a 100% nylon technical fabric that wicks away sweat, protects against UV rays and is quick drying when you get caught in a downpour. For outdoor activities like hiking or cycling it's better to avoid jeans or heavier cotton trousers that weigh you down and soak up moisture at the first sign of rain. Look for trousers that have a neat leg pocket to tuck in your guidebook, map or phone. I also like styles like this that have zip off legs, to make shorts, for maximum versatility. I know I'll get a lot of use from these walking trousers on future hiking trips.
Check out the Columbia range of walking trousers here
Sporty quick drying t-shirts
For outdoor activities I tried out this t-shirt from the Columbia range made of 100% Polyester fabric, designed to wick away sweat and keep me cool. Check out the Women's Zero Rules Short Sleeve shirt here. I found that this fabric was silky, comfortable and not at all sweaty – ideal for hiking and other activities around the Canadian national parks. As an added bonus this t-shirt was easy to wash by hand or machine, quick to dry and hardly creased at all. Just as well, since irons didn't seem to exist on the Canadian campgrounds!
I also packed a range of other short sleeve and sleeveless tops in fabrics that were less likely to crease. Although it's great in sunny weather to wear sleeveless vest tops to stay cool and get a nice tan, being Mrs Sensible I like to alternate them with tops that cover my shoulders to avoid sunburn. I'm looking forward to using this t-shirt on future hiking trips and for jogging at home.
Check out the Columbia range of short sleeve tops here
Sports shorts – go as short as you dare!
In the warm Canadian summer shorts are worn by all and from what I saw the Canadians like their shorts to be on the short side. In the bars and restaurants the waitress uniform seemed to be the skimpiest of shorts and even ladies of, ahem, a certain age and size seemed to favour very short shorts. No need here for modesty then and you can save your longer bermuda shorts for city sightseeing.
I was able to double up with my quick dry walking trousers from Columbia which had a zip off leg, allowing me to convert long trousers into shorts depending on the weather. The quick dry fabric made them cool and easily washable so ideal for activities like cycling or hiking. If you are a lover of short shorts don't forget your sun screen even if you want to get a golden tan on your holiday in Canada.
Check out the range of Columbia trousers and shorts here
Trail shoes for hiking in the Canadian parks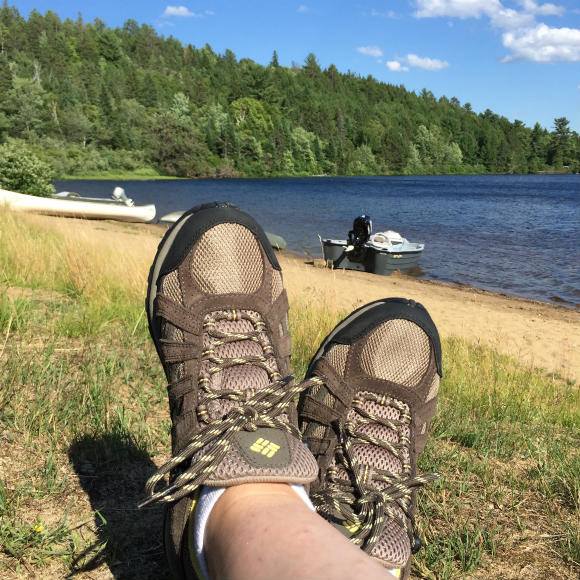 Although I have some excellent hiking boots (read my article here), for this trip I was looking for a hybrid trail shoe which is a cross between a trainer and a boot. My reasoning was that I wanted to have a supportive shoe for hiking in Canada's national parks but that I wasn't planning to do any hardcore hiking for hours and days on end. I needed shoes that were suitable for general outdoor activities, to wear around the campground, that wouldn't be too hot to wear on warm summer days.
These Women's Grand Canyon Outdry Hiking Shoes were just what I was looking for, with a low ankle so that they weren't too hot and a waterproof but breathable construction so they would keep my feet dry when walking in the wet. Although these trail shoes didn't have the support of a high ankle, the construction is very solid, so they would be ideal for summer hiking on rough and rocky trails. For serious long distance hiking I'll probably stick to boots with ankle support, but these trail shoes are ideal for a situation like our camping trip where you want a hardwearing shoe that is suitable for a range of outdoor activities.
Check out the Columbia range of walking boots and shoes here
Waterproof Jacket – yes it does rain in the Canadian summer
Although the weather on our July trip to Canada was warm and sunny, we did experience a few showers so my lightweight waterproof jacket came in handy (Read my article on what to look for in when buying a waterproof jacket). For summer wear in Canada I'd recommend a lightweight jacket that can roll up small to keep in your day sack but if you're visiting in spring, early summer or autumn you might prefer a jacket that's more substantial or has a removeable fleece lining, as we found that mornings and evenings could be cool.
I wore my waterproof jacket when we were canoeing in Algonquin park as the day was overcast and rain was forecast. Luckily the showers held off until we had finished our canoe trip but the jacket was also ideal for keeping off the midges and flies that you tend to get hovering over the water. Cloudy days can be a bonus in Canada as our guide told us that we were more likely to see wildlife such as moose when the day was overcast, since they come down to the water's edge to feed, while on hot sunny days they prefer to stay in the shade under the trees.
Check out the range of Columbia waterproof jackets here
Three-quarter length leggings – versatile for outdoor activities
I found it was useful to have some sporty three-quarter length trousers for activities such as cycling and climbing where I wanted a bit more protection. My sports leggings made from quick dry fabric got a lot of use on our Canada trip and I also wore them for canoeing where they would dry quickly if I got wet wading into the water or splashed from the paddles. The three-quarter length and close fit were also ideal for cycling if you don't want sunburned thighs or trousers that flap around the ankle.
Check out the Columbia range of casual trousers here
Flip flops for hanging out by the lake
If you are a happy camper you'll know to pack a pair of flip-flops or waterproof sandals that are easy to slip on and off. They are always handy for those early morning trips to the shower block (although luckily we had our own shower and loo in the RV) and for hanging out by the lakes that seem to be a feature of most Canadian camp grounds.
You'll want something made of plastic so you can easily rinse off the sand or pine needles and they won't look grubby. No harm in having a pedicure and pretty nail polish before your holiday – we like to keep up standards even when camping!
Check out the range of Columbia sandals and flip flops here
A  cosy fleece for cool mornings
I was pleased that I'd packed a fleece for our Canada trip as despite the warm sunny days, we found the mornings were often quite cool. For the first hour or so each day we often needed an extra layer and then the temperature would warm up and it would be short sleeves all day and into the evening. It was never really too cold on our July trip so I'd suggest a mid-weight fleece if you are visiting in the summer but perhaps something more substantial for the spring and autumn. Due to the limited laundry facilities on the Canadian campgrounds I'd avoid smarter woollen knitwear in favour of anything that is quick drying and doesn't crease, unless you have an element of your holiday that requires you to dress more smartly.
Check out the Columbia range of fleeces here
Other things to consider
Those pesky flies and mosquitos can be pretty persistent when you get into a camp ground or one of Canada's national parks. If you are trying any activities such as hiking, cycling or canoeing, a liberal spray of deet based insect repellant is recommended and in the evening it's best to change into a long sleeved top and long trousers with socks and shoes to cover your feet. I neglected my own advice on a few occasions and regretted it as I was scratching nasty bites for days afterwards.
Most but not all of the camp grounds we visited had washing machines and dryers but none seemed to have any ironing facilities. I'd recommend packing clothes made of quick drying technical fabric that are less likely to crumple in order to look your best, leaving your linen suit at home.
A sunhat is advisable if you're out on long hikes or canoe trips in the full sun and to fit in with the locals I'd choose a cotton cap – you can buy them everywhere in Canada.
My Canada Camping clothing check list
A lightweight waterproof jacket for the occasional shower or cool evenings
Long quick dry trousers for hiking and to keep off the insects in the evening
Quick dry shorts for sunny days and sporty outdoor activities
Three-quarter leggings or joggers for sporty outdoor activities and cool mornings
Quick dry sports t-shirts
Trail shoes for hiking and climbing
Flip flops or waterproof sandals for wearing around the campground and the lakes
A mid-weight fleece for cool mornings and evenings
A light, long sleeve t-shirt to wear in the evening when the mozzies come out to bite
A cotton cap or sunhat to protect you from sunburn or sunstroke on sunny days.
Plus of course pack some other casual clothes and footwear for when you are out sightseeing
Thanks to Columbia Clothing who provided me with some of the items mentioned in the article to try out on my Canada trip.
Some of the links in this article allow me to earn a small commission when you purchase at no extra cost to you – thanks for your support!
Visitor information for Canada
To plan your trip to Canada check out the Explore Canada tourism website as well as the websites of the states and national parks you plan to visit, in our case Ontario Tourism and Quebec Tourism. Our RV was provided by Cruise Canada.
More Canada articles
Where to watch wildlife in British Columbia, Canada
How to enjoy a great day in Victoria BC
Vancouver Island – a nature lover's paradise
Pin It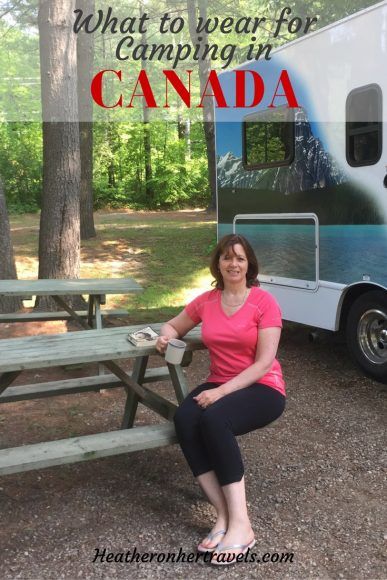 This article is originally published at Heatheronhertravels.com – Read the original article here

You'll also be subscribed to our free monthly newsletter for great travel resources, news and offers, but you can unsubscribe at any time and we'll never share your e-mail.
You'll also find our sister blog with tips on how to build a successful travel blog at My Blogging Journey