While I was on the Greek island of Zante last week I kept an Instagram photo diary of all the the things I enjoyed with my family. This year, with teenagers in sunbathing mode and hubbie looking to recharge, the focus was on exploring all the glorious beaches on Zakynthos by car and by boat. If you want to hear about the history of Zante, go turtle spotting or taste some local Greek wines  you can find all that too in my articles from past holidays on Zakynthos. We've been coming to the island for years, to visit my sister who lives here and runs the two Windmill Hotels with her Greek husband, so each year we try and do something different.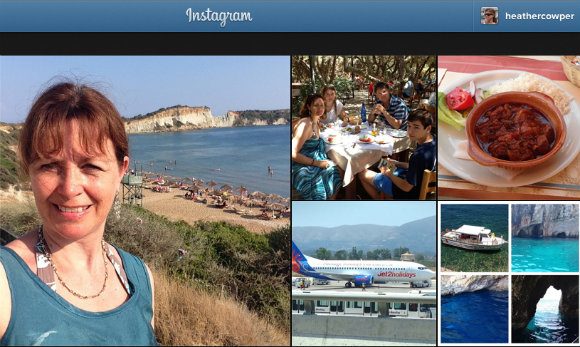 If you hover or click on the Instagram collage below, you'll find my commentary for each photo, which I also post to my Twitter and Facebook page , so you can follow the trip whichever way you like using hashtag #jet2blogger, as Jet2.com kindly brought us to the island on their flight from Manchester. This year I also experimented with making some short Instagram videos so click through to my Instagram channel if you'd like to see some of these. I hope you enjoy the photo journal and don't forget to follow my travels on Instagram
[instapress tag="hczante" piccount="60″ size="185″ effect="fancybox" title="1″ paging="1″]
Follow my travels on Instagram
More tales from Zante
 Jetting off to Zante with Jet2.com
Get in your car and drive – the bits of Zakynthos you won't see from your sunbed!
Three beaches, three days on Zante
Thanks to Jet2.com for providing flights for Heather's trip to Zakynthos, Greece. Jet2.com runs a weekly flight to Zante from Manchester and Leeds Bradford and flights from many other local UK airports to your favourite holiday destinations. You can follow Jet2.com updates on their Facebook page
This article by Heather Cowper is originally published at  Heatheronhertravels.com – Read the original article here
You'll also find our sister blog with tips on how to build a successful travel blog at My Blogging Journey
 Don't miss out – subscribe to Heather on her travels
May 23, 2013 by Heather Cowper
Filed under Europe, Leisure, Misc, featured, Cruise, Eating and drinking, Germany, Instagram, Museums, Rhine river cruise, Sightseeing, Switzerland
The Rhine valley seems to hold a romantic fascination, with picturesque castles perched on high rocky points, built in the Middle Ages by princes who gathered enormous wealth by taxing the traffic passing along the Rhine River. On my recent Rhine river cruise with Lüftner Cruises, I kept a photo diary by posting pictures from my iPhone to my Instagram, Facebook and Twitter accounts.
Our journey took from Basel in Switzerland, the city of public sculptures and fountains where we embarked the Amadeus Princess, which took us to the city of Strasbourg where we learned how the local people have lived for centuries with the uncertainty of whether they would be citizens of France one week or citizens of Germany the next. We enjoyed our visit to a family run vineyard where we tasted a few different Alsace wines with a view over the vineyards behind the property. Next stop was Speyer where we found the crypt in the cathedral where many of the kings and emperors of Germany are buried and had a look around the famous university town of Heidelberg with the ruined castle on the hill.
At Rüdesheim we were charmed by the organs and music boxes in the Music Museum before the boat sailed down the stretch of the Middle Rhine that is known for the castles and the Loreley rock, where the beautiful siren's song may distract the unwary sailor. At Koblenz we found that while Brussels has its Manneken Pis, this town has a fountain of a spitting boy that has become its symbol. A detour along the Mosel river took us to Cochem where we visited another of those picturesque castles on the hill and borrowed bikes from the Amadeus Princess for a cycle along the river. Finally our journey ended in Cologne, where we visited the famous cathedral, with a sweet ending at the chocolate museum. While we had to get back to work, the ship continued to Amsterdam with views of the windmills and a cruise on the city canals.
To enjoy my instagram photo diary below, hover over each photo for my commentary. If can't see the photos, click here to view them on my blog and come on over and follow me on Instagram.
[instapress tag="rhinecruisehc" piccount="80″ size="185″ effect="fancybox" title="1″ paging="1″]
For more stories from our Rhine River Cruise
While I was on our Rhine River Cruise I also posted a daily account of our journey at the Online Travel Journal – Read my 6 part series on Cruising the Rhine.
My thanks to Lüftner Cruises who hosted my Rhine River Cruise – Lüftner Cruises specialise in European river cruises on the Rhine, Danube, Rhône and other destinations in Europe, with personal service and Austrian hospitality. You can also follow them on their Facebook Page. I travelled on the Amadeus Princess on a 7 day Classical Rhine Cruise which travelled from Basel to Amsterdam, although we disembarked at Cologne.
This article by Heather Cowper is originally published at Heatheronhertravels.com – Read more travel articles at Travel Blog Home
You'll also find our sister blog with tips on how to build a successful travel blog at My Blogging Journey
 Don't miss out – subscribe to Heather on her travels
February 21, 2013 by Heather Cowper
Filed under Europe, Accommodation, Leisure, Misc, featured, Budapest, Eating and drinking, Hotels, Hungary, Instagram, Shopping, Sightseeing
I'm recovering of a whirlwind long weekend in Budapest – my motto is that if you only have a short time to enjoy a destination, pack in the fun and have a rest when you get back home! A big thanks goes to Avios who took me out to Budapest for a long weekend where I had a family reunion staying in the luxurious Intercontinental Budapest with my parents and two sisters.
I kept a photo diary over the weekend on Instagram which you can see below and if you hover over each photo you'll see my comments as the weekend unfolded. Follow me on Instagram
[instapress tag="hohtbudapest" piccount="44″ size="185″ effect="fancybox" title="1″ paging="1″]
I'll be bringing you more articles about the things we enjoyed very soon, but the highlights were;
Stay tuned for more stories from our trip with Avios to Budapest…..
Read more tales about Budapest
If it's Friday it must be …. a weekend in Budapest with Avios
Langos and other street food in Hungary
The Top 10 sights in Budapest with the help of the Eyewitness guide
More about Avios
Avios is an easy way to collect points at the places you shop everyday, at online stores, while grocery shopping, when you buy your fuel and when you spend on your credit card. Then convert the points into a flight, hotel, holiday or just a fun day out with your family. There's plenty of inspiration on the Avios website to start planning your dream gettaway. Become a member of Avios and you can follow Avios on Twitter @AviosUK or on their AviosUK Facebook page and see some flying lawnmowers on the Avios YouTube channel
Through Avios we booked the luxurious 5 star Intercontinental Hotel Budapest which was perfectly positioned beside the Danube for sightseeing. It's definitely worth booking a room with a view of the Danube from where you can see all the sights of Budapest before you and the hotel also has a lovely spa with a pool for those morning swims as well as relaxing treatments. The hotel can be booked using your Avios Points and a room similar to ours at the time that we were there in February was around 15,000 Avios points or £150-180 per room/night including breakfast but may be higher in peak season. It's worth looking out for packages that include breakfast and use of the exclusive Club Lounge. You can follow the Intercontinental Budapest on Twitter @ICBudapest and on their Intercontinental Budapest Facebook Page.
My thanks to Avios and Intercontinental Budapest for hosting me on this trip.
This article by Heather Cowper is originally published at Heatheronhertravels.com – Read more travel articles at Travel Blog Home
You'll also find our sister blog with tips on how to build a successful travel blog at My Blogging Journey
 Don't miss out – subscribe to Heather on her travels