The Passports with purpose travel blogger's fund-raiser completed just before Christmas raising a fantastic $26,000, which was double the original target.  The money will be going to build a school in rural Cambodia through the charity American Assistance for Cambodia and should be built by this summer. Not only has enough money been raised to fund the school building, but the additional funds raised will mean that your donations have also provided water filters, a kitchen garden, books for the library and a school nurse.
So now it's time to say some big thankyous to all those who contributed to this amazing effort, not least all of you out there who pledged donations in the Passports with purpose raffles for some amazing prizes, from camera equipment to holidays to hotel stays.
I'd like to thanks my sponsor, Flip UK who donated the Flip Ultra Video camera that I was able to offer as a prize. The Flip Video Camera was won by Rebecca Self of Xpat Adventures – hope you have fun making some cool videos Rebecca!
Thanks also to the sponsors of Passports with Purpose, supporting travellers with their services
Last but not least, thanks to Debbie Dubrow, Pam Mandel, Michelle Duffy and Beth Whitman, the bloggers behind Delicious Baby, Nerd's Eye View, WanderMom, and Wanderlust and Lipstick who worked so hard behind the scenes to organise Passports with Purpose.
Read more travel articles at Travel Blog Home
Don't miss out – subscribe to Heather on her travels
If you're a regular reader of this and other Travel Blogs you'll already know about Passports with Purpose and the great prizes you can win by making a $10 donation for the prize draw against the prize of your choice.
The Travel Blogger's Charity Fundraiser is in it's second year, and this year we're raising money to build a school in Cambodia. The initial target of $13K to build the school has been reached thanks to your support, and now we're going for a further $13 to fund a school nurse, clean water and a vegetable garden for the school. Knowing how lucky I and my family are in the education we've received and take for granted, I'm pleased to try and give something back in a part of the world that's still recovering from the 1970s, when the Khymer Rouge practically destroyed the educational system in Cambodia.
There are many great prizes on offer from books & music, cameras, hotels stays and holidays, great travel gear and product vouchers. You can read all about the Flip Camera I'm giving away on my previous post here, but let me remind you that this neat little video camcorder is perfect when you're travelling light or want to have some fun with video.
In this post I'd like to focus on on some of the other great camera and photography prizes on offer – you can see all the Passports with Purpose prize details here.
At Whatboundaries there's another Flip Mino Video Camera on offer – I don't need any convincing on that one, and as I can't enter for my own prize, I shall be crossing my fingers that I win this one instead.
My friend Anil at Foxnomad has a Casio Exilim EX-S5 10 Mega Pixel Digital Camera – this is the camera that Anil uses and recommends as it's small, durable and has a great feature set for it's size. As Anil's a bit of a gadget fiend, I'll take his word for that – I do hope it's in blue as you've shown, as it's my favourite travel colour, makes me thing of cloudless skies and crystal clear seas.
Debbie at DeliciousBaby is one of the brains behind Passports with Purpose and has a Kodak Zi6 Pocket Video Camera as her prize which is another great pocket sized Video camera similar to the Flip, ideal for capturing those special moments with family and friends.
At Two and a half Travelers you'll finjd a Fuji Instax Mini camera  and film. Apparently this cute camera is your old-fashioned Polaroid's younger, hotter brother. It instantly prints credit card-size photos and just happens to be one the holiday seasons hottest gifts. Read more on Photojojo.
And if there's something photographic you have in mind then enter the draw for the $100 Gift Certificate to B&H Photo and Video on offer from Wendy at Escape from New York. Wendy's a preofessional photographer and I always enjoy her interesting shots, each with a little story behind them.
So do take a look at the great prizes on offer and make your pick. I'm donating $10 against a prize for each member of may family, choosing the gift I think they'll enjoy most. I'm sure you can also thing of lots of ways you can incorporate this into your Christmas giving, or perhaps ask your loved ones to make a donation for the prize you'd like as your Christmas gift.
Read more travel articles at Travel Blog Home
Don't miss out – subscribe to Heather on her travels
Today sees the launch of Passports with Purpose, the fund-raiser by Travel Bloggers to support those in the developing world who need our help. Last year we raised $7,000 for Heifer International and this year the target is to raise $13,000 to build a school in Cambodia.
Build a school in Cambodia
All donations to this year's Passports with Purpose Fundraiser will go to the charity American Assistance for Cambodia to build a school in rural Cambodia where the population experienced so much trauma during the Khmer Rouge regime. The project establishes schools in poor, rural areas where children have been deprived of any educational facilities or been forced to learn outdoors for lack of funds to construct schoolhouses.
The AAfC uses matching funds World Bank and Asian Development Bank together with the $13,000 that Passports with Purpose hopes to raise, to cover the construction and start-up costs of the rural school. You can find out more about the AAfC's Rural Schools Project here.
Flip Video Camera Prize
There are many Travel Bloggers offering travel related prizes as part of the Passports with Purpose draw. On the Passports With Purpose website you can find a list of all the prizes and the blogs where the details of the prize are posted.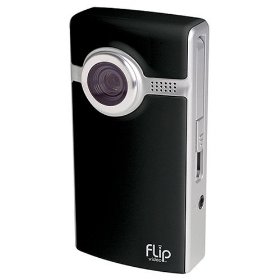 I'm thrilled that Flip in the UK have donated one of their Flip Ultra Video Camcorders as a Passports with Purpose prize, as it's a neat and fun little camcorder to take you when traveling or to record special moments with your friends and family. If you've been wanting to start shooting video but were afraid of all those camera settings and wizardry, then this is the video camera for you.
You shoot what you like and then upload directly through the USB port of your computer, with the option to email to your friends or upload to sites like Myspace and Youtube. Because it's so small and self-contained, you don't ever have to worry about missing that magic moment because you didn't have the right gear – just pop it in your bag and go.
How the Passports with Purpose Draw works
From today, November 30th 2009, the Passports with Purpose website will show a list of all the prizes on offer, and each one will link back to a full description of the prizes on the blogger's website. For each $10 in donations that you make to AAfC, you will will be entered to win a prize (or prizes) of your choice.
The fundraiser begins on November 30th and closes on December 21. All proceeds go directly to AAfC. You can donate $10 for the prize of your choice, or multiples of $10 for a favourite prize if you want to increase your chances, or $10 or more for several different prizes that take your fancy. It's a great thing to make a donation as a gift on behalf of someone and if they win the prize that's a bonus.

Next Steps
By now I'm sure you're convinced that this is a charity worth supporting, particularly if like me you're aware how lucky you and your family are in their opportunities for education that we all take for granted in the West.
So please go now to the Passports with Purpose website and make your donation for the Flip Video Camera or another prize of your choice. If you're worried about what to buy for that person who has everything, go and buy them a $10 ticket and a chance to win a prize as a bonus. And if you feel you'd like to treat a child you've never met to a great Christmas present of a school and an education, then go to the Passports with Passport website and make your donation, or ask your loved ones to do so as your Christmas present.
I'll be making updates about Passports with Purpose throughout December until the fundraiser closes on 21 December, so keep and eye on this blog, on the Passports with Purpose Website and follow the tweets at #pwp.
A Big Thankyou
Thankyou so much in advance for your support
Thanks to Flip in the UK who donated the Flip Video Camcorder as a prize
Thanks to the key sponsors of Passport with Purpose who have got the fundraiser off to a cracking start

Virtuoso

is the industry's leading leisure travel network. This by-invitation-only organization comprises more than 6,000 elite travel advisers associated with over 300 agencies in 22 countries, as well as over 1,000 of the world's best travel providers and premier destinations.

Got Passport: Will Travel, We'll Serve


Living Small, Giving Large. We are a family of three, with a passion for travel, seeking out new experiences, meeting new people, and living simply.

HomeAway

, Inc. operates the world's leading and most-established vacation rental websites around the world, including HomeAway.com, VRBO.com and VacationRentals.com.

Raveable.com

is the fastest way to find the perfect hotel and is the first and only website that creates hotel review summaries based on the common rants and raves found in millions of online hotel reviews.

Travelfish.org

produces original travel content for the independent traveller heading to Cambodia, Laos, Malaysia, Singapore, Thailand and Vietnam. Recommended by Rough Guides, Footprint, Lonely Planet and others

TravellersPoint

is a vibrant travel community dedicated to seriously passionate travellers. Upload photos, create a blog or travel map, share travel tips in the forums, and contribute to the wiki travel guide

Last but not least, thanks to Debbie Dubrow, Pam Mandel, Michelle Duffy and Beth Whitman, the bloggers behind Delicious Baby, Nerd's Eye View, WanderMom, and Wanderlust and Lipstick who are working hard behind the scenes to organise Passports with Purpose.