November 5, 2014 by Heather Cowper
Filed under Europe, Leisure, video, Misc, featured, Eating and drinking, Greece, Museums, Sightseeing, TBEX
"We want you to help the world dream about Greece", the Minister of Tourism, Olga Kefalogianni told us at the opening night party for the TBEX travel bloggers conference in Athen. The city had opened its arms wide to welcome over 500 travel bloggers attending the conference so that we could help change perceptions about what Greece has to offer. In the opening speeches the Mayor of Athens, Giorgos Kaminis told us "We felt that during the economic crisis we were treated unfairly by the mainstream media and so we wanted to invite you bloggers to see Athens for yourselves and tell the real stories of our city."
Greece has been through some tough times in the last couple of years fillng the newspapers with reports of strikes and public protests. During the crisis the government was forced to take drastic measures to balance the books and pensioners, students and families alike struggled to make ends meet. But in Athens last week we could feel a new energy as Greece leaves the worst behind and looks to the future. Local tourism businesses had come together to show us their best side and at the opening party restaurants and food businesses wow'ed us with a feast of Greek cuisine and enterprise.
A showcase of Greek gastronomy at the TBEX opening night party
Arriving at the Technopolis cultural centre it took me a very, very long time to extract myself from the main hall where stands of food and drink producers tempted me with tastes from all the regions of Greece. From Stremmenos I tasted my way through the naturally matured proscutio and salamis from the pine forests of Central Greece, washed down with Verve natural juices in blends of apple, celery, melon and ginger from Farmer's Republic. I sipped Greek wines from Papaioannou Wines and nibbled a plate of miniature hot dogs from local restaurant ManhManh who offer Greek regional dishes with a modern twist. Another local Athens restaurant Aleria was serving a creamy, nutty Halva mousse to die for and I was given a bag of traditional Loukoum sweets made by Nedim, perfumed with rosewater, coated with coconut and dripping with syrup. I took them back to my hotel room and looking for a late night snack I'm ashamed to say that I couldn't resist eating the whole bag.
During the day I had taken the Athens Food Tour with Big Olive City Walks, a new business run by young Athenian entrepreneurs including the founder, Yannis and architecture expert, Nikos who fed us historical snippets during our walk.
Greek pastries and yoghurt at Stani Dairy bar
The gastronomic walking tour started back to front with the deserts first, although of course the Greeks tend to eat their yoghurt and honey in the morning for breakfast and their cakes in the afternoon when guests come visiting. At Stani, a family run dairy cafe just off Omonia square, tubs of creamy Greek yoghurt were piled in the chiller cabinet and jars of honey stacked on the shelves of cream painted cabinets transported from some Greek grandmother's kitchen.
Plates of sweet treets were laid out for us to try, with crisp Loukoumades, miniature doughnuts drizzled with honey, a slice of Galaktobureko custard tart enclosed in syrupy filo pasty and Moustalevria a sweet jelly made from grape pulp left over from the wine pressing and scattered with nuts. And of course there was creamy Greek yoghurt made from sheep's milk bathed with honey and scattered with walnuts. Stani: 10 M. Kotopouli str, Omonia square
A tasting of olives and LIA oil, the symbol of Athens
Our next stop took us to the Big Olive offices where we had a tasting of olives and olive oils with sweet, hard biscuits flavoured with orange and almond. These traditional Koulouraki biscuits would be hard baked to preserve them but then softened by dipping into olive oil. The LIA extra virgin oil from Messinia, beside the Ionian sea was poured into a cup to sip on its own and savour the green grass flavours. We tasted the small, salty, black Kalamata olives from the Pelleponese and the plump, fleshy Amphisa olives from central Greece, the Kalamata ones being the more expensive of the two.
The olive is seen as a symbol of peace and prosperity in Greece since the legend goes that the Greek Goddess Athena planted a tree on the Acropolis, so founding the city of Athens which was named after her. I thought perhaps that the Big Olive city walks had started from selling olives, but Yannis explained that it was a play on names like Big Apple for New York, but Big Olive for Athens since the olive is not only the symbol of the city but also of regeneration and will spring up and grow again after a forest fire.
With the fishes in the Athens Central Market
Our gastronomic tour now took us through the amazing Central market on Athinas Street known as the Varvakios agora where stand after stand of fish was laid out, with all the vendors keeping up a constant calling and exhorting us to buy their fish. Silver scaled and yellow striped fish stared up at me with dead eyes and open mouths from their bed of ice strewn with lemons while plump pink crayfish were standing ready to make a seafood supper.
At the farthest end of the fish section we reached the meat section where half carcasses of dead animals hung from the meat hooks. I winced as the butchers wielded their cleavers expertly on the chopping blocks and hoped that no fingers would be chopped off in the process.
Nikos the story teller told us how the market had originally been located within the archaeological area until this new one was built in the 1880s to allow the excavations to take place. The traders resisted moving into it since it was further away from the busy shopping areas, until a fire mysteriously broke out and burned down the original market, leaving them no choice.
Flatbreads warm from the oven from Antiochia
Next stop on our gastronomic journey around the regional influences on Greek cuisine was Feyrouz Lahmajoun, another new family venture featuring the flatbreads of Antiochia. What is a Lahmajoun? It's a Turkish or Armenian street-food that is somewhere between cross a pizza, pitta and a pie. The owner, Andreas explained how the shop was named for his mother Feyrouz who made all the doughs and fillings for the Lahmajoun and also for the much admired singer Fayrouz who was considered the queen of Lebanese music and whose portrait was hanging behind the counter. "She is the only Arabic singer who is loved by all religions and all nationalities" he told us.
We could see the different flatbreads laid out behind the counter covered with minced meat or vegetables to which you could add humus or olive paste as an extra topping. The Peinirli or open top pies were laid out along the window counter for us to try, warm from the oven with toppings of cheese and tomato or cooked vegetables, with a glass of perfumed amber Turkish tea flavoured with cardoman and cloves. Each of these a bargain at around €3. Feyrouz: Karori 23 in Aiolou, Athens
Ham and charcuterie at Karamanlidika
Reluctantly our group moved out of Feyrouz, having devoured everything that had been laid out for us and headed through the side streets to another cafe/deli specialising in cheese and charcuterie called Karamanlidika. Strings of red sausages, bunches of garlic and chillis and whole hams were strung above the counter like Christmas decorations. With bare stone walls and simple wooden tables the place looked like a classy village taverna serving simple plates of cheeses and sliced charcuterie to appreciative diners.
Many of the hams had a thick red coating of spices like pepper and fenugreek which once thinly sliced, made a ribbon edge of the meat, giving a zap of flavour as we greedily ate it with our fingers. Also on the menu were Meze like the stuffed vine leaves and matured cheese with plenty of jars and bottle full of oils and condiments to take home. Karamanlidika: Sokrates 1 & Evripides 52, Athens
Coffee and a sweet spoon at the Museum of Gastronomy
Our final stop was the charming Museum of Greek Gastronomy, a private house that had been opened up with a restaurant upstairs, some specialist produce on sale and downstairs an exhibition about the foods and cultivation of the monks of Northern Greece. We sat in the small courtyard looking out towards the church next door and enjoyed a strong Greek coffee perfumed with rosewater and a "Sweet Spoon" which in this case was a miniature aubergine preserved in syrup like a crystallised fruit. Museum of Greek Gastronomy: 13, Agiou Dimitriou Street 10554, Athens.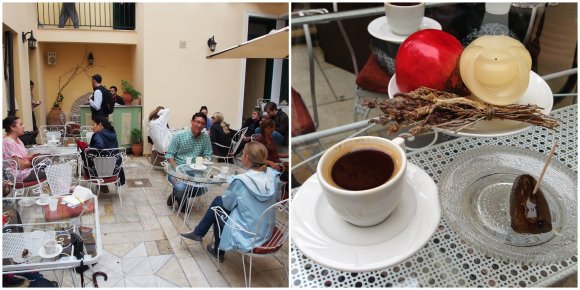 Now mid-afternoon and our Big Olive Gastronomic walking tour completed, it was time for a bit of tick-list sightseeing. Paris may have the Eiffel Tower, Rome the Colosseum, London the Elgin Marbles (don't mention the Elgin, or should I say Parthenon Marbles to a Greek!) and of course when in Athens one must see the Acropolis.
The heavy rain that we had battled through in the morning had given way to warm sunshine and so with my new blogging friend Paula from Soothed in the city I headed up the hill towards the Parthenon. By pure chance we had chosen the perfect time to take photos of those famous monuments, at the golden hour of late afternoon when the sun bathes the golden stone of the Parthenon and those lovely ladies holding up the roof bask in the sunshine.  The Parthenon was something of a building site and seemed to be in a process of being dismantled and put back together with cranes and scaffolding everywhere. We walked around, took lots of photos and marvelled at the size and sprawl of Athens below us, stretching as far as the mountains in the distance.
Sightseeing boxes ticked, we headed back down and wandered around the narrow streets filled with cafes and restaurants, stopping for a pistachio ice cream (me) and an enormous chocolate truffle (Paula) from Da Vinci, an artizan ice cream parlour that it seemed churlish to pass by without going inside to investigate the flavours on offer.
The next two days were taken up with the TBEX conference but our final Saturday night was spent at a street party put on for us by the local traders of Pandrossou Street. Emerging from Monastiriki Metro station and crossing the square I was half expecting that this narrow street nestling below the Acropolis hill would be full of tourist tat, but instead I found charming family businesses that were full of character, displaying Greek crafts and artizan goods. I stopped to watch the lady handpainting gorgeous vases at Pagani and stepped inside to find a treasure trove of painted gifts from all over Greece.
Further along the street the shops were putting on demonstrations of their crafts, a shoemaker tooling traditional leather sandles that a fashionable Ancient Greek lady might have coveted and the bouzouki maker at the Pegasus musical instrument workshop. I tried a real Greek coffee outside the Mikro cafe, strong and sweet just how I like it, but beware drinking it down to the last drop or you'll end up with coffee sludge between your teeth.
At the end of the street the bouzouki band were playing all the old favourites, those foot tapping, shoulder swaying tunes that demand to be danced to. Since my sister lives on the Greek island of Zakynthos, I've had the pleasure and fun of the Greek night that she puts on in her hotel each week for guests, and all the songs were familiar to me. This is the music of festivals and wedding celebrations, enjoyed by every age from the trendy young things to their black clothed grandmothers and believe me when the band strikes up, the Greeks don't need much excuse for a dance.
I'd like to say that I joined the circle of dancers, a mixture of locals and bloggers and danced the night away in the streets of Athens, but I was too busy recording the music on video for you dear reader (please watch it below). "We invite you all to be Athenians" the major had told us, and on our final night in Athens, listening to the familiar songs we took that message to heart. Come to Greece was the message, come enjoy our ancient cuture and our modern spirit, come enjoy the sunshine and the music and the people. Come enjoy a glass of wine with new friends, come eat our traditional dishes reinvented in new ways, come feel the warmth and spirit of Athens and Greece. Come back and visit us again soon.
I hope you enjoy the video below of Bouzouki music in Pandrossou Street Athens
If you can't see the video above of Greek Bouzouki music in Athens, see it on my blog here or Youtube here and please do subscribe using the button above
Click here for direct download of video
Subscribe to all my videos in I-tunes
If you enjoyed this video, check out the others in my Video archive
This article by Heather Cowper is originally published at Heatheronhertravels.com – Read the original article here
You'll also find our sister blog with tips on how to build a successful travel blog at My Blogging Journey
I'm just back from Dublin where I was attending the TBEX Travel Bloggers' conference for a few days. Having got up early to hop on the Ryanair flight, my brain is still whirring a little, fuelled only by a packet of Guinness crisps for breakfast, so I'll get straight to the point and give you my reflections on the conference and of Dublin, which are;
That the Irish know how to throw a good party
The TBEX opening night party hosted by Failte Ireland (Failte means welcome in Gaeilge) at the Guinness Storehouse was stunning. Making my way past the stilt-walkers, flame throwers and music makers at the entrance, I wound my way up through the brick, glass and steel building, past all the brewery tour audio visuals, up all the escalators, wondering what a girl has to do to find a drink around here. On the top floor the party unfolded; I homed in on the oysters, downed a glass or two of black velvet and tested some artizan cheeses. Irish dancers dressed in black with serious faces, drummed their feet in complex patterns and the atmosphere was electric when local heros, Seo Linn gave up their gaelic version of Avvici's Wake me up, with choir, drummers and an Irish dancing trio. The night was a complete celebration of the best of Ireland and launched the conference off on a high. Here's the video that will have your foot tapping;
And my Vine as I made my way up through the Guinness Storehouse to finally find a pint of the black stuff;
That Jameson whiskey beats any Scotch and Bourbon you could mention
As a speaker I was lucky to be invited to a bonus tour of the Old Jameson distillery before the opening party, with fabulous cocktails like the Whiskey Sour which hit the spot. Naturally we got the whole story of how the whiskey is distilled and how the distillery cats got stuffed, although what stuck in my head was that the angels get their share as the amber liquid ages and evaporates in oak barrels. Lucky Angels. At the end we sat down to a whiskey tasting where the smooth, triple distilled Jameson was pitched against the Scotch and American whiskey and were left in no doubt which was our favourite.
That the Irish are super friendly and love a good story
I lost count of the number of times I was wished Céad míle fáilte, A Hundred Thousand Welcomes, with that delicious Irish lilt. The Dubliners love to stop and chat, share the craic over a pint of Guinness and they seem to have all the time in the world to find out what you're doing, where you're going and what you think of Dublin. On the Wild Wicklow tour, our guide Denis managed to drive the coach along narrow roads, avoiding Irish traffic jams ( a flock of sheep on the road) while throwing out a constant stream of entertaining stories. Did people really come to Bog Snorkel in the Wicklow mountains or find the monks' buried treasure under the turf or go skinny dipping at Sandy Cove (you go in a man and come out a woman)? Who knows, but I'm happy to believe any tale told to me by an Irishman.
That being a speaker can be stressful but it's worth it
I suppose that many speakers put themselves forward as I did, partly because they want to raise their profile and partly because they have some useful insights that they want to share. Although I was a speaker at the first European TBEX conference in Copenhagen, time had somewhat dimmed the memory of how much time it takes to prepare, write and practice a presentation, if it's not something you do every day. Not being one of those people who like to wing it, much of my spare time in the weeks before the conference went into my presentation and the accompanying article, on How to create quick and easy videos for your blog. Of course once I'd delivered the talk, I felt a glow of achievement and could relax and enjoy the rest of the conference.
That Networking is a goldmine
Conferences like TBEX are great for a number of things. You get to learn from people who have in depth knowledge in a specific aspect of blogging, but you could probably learn this from reading articles. You get to see a new place where the conference is being held during the pre and post-conference trips but you could always come back another time. In my view the golden opportunity at a conference like TBEX is the chance to network and find out what other bloggers are up to, what's working for them, what trends are developing in blogging and how you can be part of them. The thing that stuck out for me from these conversations was how quickly the travel blogging community is professionalising itself and how travel bloggers are now being paid by brands to participate in their marketing campaigns. The concept of the paid trip is one that I don't being remember being mentioned much at TBEX Girona, but was on everyone's lips at TBEX Dublin.
That I want to see more of Dublin and Ireland
I hadn't been to Dublin before, and now I'm wondering why, as it's only a 45 minute flight from Bristol. Perhaps I had in my mind that in Ireland it always rains. As our Wild Wicklow guide Denis said "If you can see the mountains, it's going to rain and if you can't see the mountains it's already raining". But who cares about a soft day when everyone you meet chats to you like an old friend and the music and the Guinness is flowing and the countryside has 40 shades of green. After TBEX I feel it's not If but When I'll come back to Dublin to explore it properly and I've been already been watching the video of the waves crashing along the Wild Atlantic Way and planning which route we'll take and whether it'll be by campervan, bike, kayak or all three.
The Wild Wicklow Mountains
The Doubletree by Hilton, Dublin
As a speaker my room in the hotel was covered for the 3 days of the conference and I booked an additional night on my own account. I found that the Doubletree Dublin was a great conference venue with plenty of space for our Doubletree sponsored coffee breaks with the signature warm Doubletree cookies. The meeting and presentation spaces were excellent as was the buffet lunch in the B bar. The hotel is currently undergoing a renovation programme which meant all the public areas were stylish and modern and I was fortunate to have a spacious room that had been completely renovated, although other bloggers were not quite so lucky and told me their pre-renovation rooms were looking tired and dated.
While I loved my room and the stylish pubic areas, I had a couple of reservations about the hotel, one of which was that the hotel wifi in my room (as opposed to the TBEX wifi which was fine) was grindingly slow, to the point that I could barely do any work except check a few e-mails. As our keynote speaker Chip Conley, founder of the boutique hotel group Joie de Vivre, said in his keynote, wifi is like the plumbing these days – if it doesn't work you're failing to meet the most basic expectations of your guests. I also found that the service in the hotel was friendly, in that warm Irish way, but not especially attentive or fast. It's lovely to delight your customers with a warm cookie, but get the basics right first. The video of my room is below.
The keynote speakers were outstanding
It was touching to hear Chip Conley, who's had so much business success, talk of the loneliness of being a new blogger. We all know that feeling that you're putting your heart and soul into writing something you care passionately about, only to experience the deafening silence of Zero comments. The trick is to have a mate like best-selling author Tim Ferris, who invites you to write a guest post that brings you hundreds of comments, to keep your spirits up.
Photographer John Minihan was in conversation with Alistair MacKenzie (move over Michael Parkinson) with a few of his black and white photos as prompts. I loved his story about how he got the famous photo of Lady Diana Spencer at the kindergarten where she worked with the light filtering through her skirt to show off her legs. Later, when she was being hounded by the photographers, he felt sorry for her and turned up at her flat with a bunch of flowers, which she opened the door to accept. There's a reason Bono can live just outside Dublin and still go to the pub without everyone asking for his autograph. The Irish (or John at least) feel there's a line that you just don't cross even if there's money in it.
Dan and Audrey from Uncornered Market told us about the time they were in Burma when the politics had killed the tourist trade and all the local businesses and the families behind them were suffering. It reminded me that tourism is the main livelihood for many small businesses and as bloggers we should put aside any sense of entitlement and do what we can to leave the world a better place.
And the other speakers I loved
I didn't get to see too many speakers on Thursday, as the time before and after my own talk was occupied with doing a dry run in front of my hotel room mirror and unwinding by chatting to some of the bloggers who came up to me afterwards. I was sorry to miss Gary Bembridge on how to Write your Blog Positioning statement, as I've found his articles on this topic really helpful in refining what my blog is about and who I am writing for ( a stylish women enjoying life in her fabulous 40s and 50s who is always up for a bit of adventure as she travels with friends and family – in case you hadn't guessed).
Then there was Ian Cleary from Razor Social who kept it lighthearted with leprechauns and Irish humour while educating us on 21 Powerful Social Media and Technology Tips. The message I took away from Ted Murphy of Izea from all the research and stats he produced was that brands in the US are prepared to pay good money to bloggers to access their audiences. Companies in the UK, however, are a few years behind and still think that bloggers are enthusiastic amateurs who are  jolly lucky if they're given a free flight or hotel stay. Katja Presnal was evangelical about Instagram, a niche that she has really made her own and she came up with beautiful presentation, although she was preaching to the converted as far as I'm concerned as I love Instagram – you can get Katja's free Instagram e-book on her Skimbaco Lifestyle blog.
So that's it folks, I can normally find a bit of constructive chriticism, but this time it was all good as far as I'm concerned. Top conference in TBEX, top destination in Dublin. I'll be back to both.
This article by Heather Cowper is originally published at Heatheronhertravels.com – Read the original article here
You'll also find our sister blog with tips on how to build a successful travel blog at My Blogging Journey
 Don't miss out – subscribe to Heather on her travels
December 5, 2012 by Heather Cowper
Filed under Europe, Accommodation, Leisure, Misc, featured, Hotels, Nature, Spain, TBEX, Walking
After walking on the Tour de Mont Blanc in September, I was pleased to take a somewhat less arduous stroll in the Pyrenees at Vall de Núria later in the month, for a bit of relaxation after the intensive networking of the TBEX conference that I attended in Girona. This was one of the post conference trips organised by the Costa Brava Tourism board who were keen to show us the highlights of their region, so I set off from Girona with a group of bloggers, who included my blogging friends Barbara, Simon, Laurel and Isabel with whom I shared an apartment in Girona.
The train journey up to Vall de Nuria
Our journey on the Cremellera or "Rack Railway" up to Vall de Núria was quite as interesting as our visit to the valley itself, starting at Ribes de Freser and stopping at the other stations of Ribes Enllac, Ribes Via and Queralbs to take on more passengers. The railway rises 1000 metres in altitude and the railway tracks have teeth, like a cog wheel, to stop the train slipping back down the mountain. The local people have decided not to build a road up to the high valley, to keep it special and unspoilt, so the railway is the only way up to the valley unless you fancy a 4 hour hike up the old pilgrim's road. The railway was completed in 1931, being built with dynamite, pickaxes and hard labour and is a tourist attraction in its own right, with a background audio commentary, playing throughout the journey in French, Spanish and English.
Luckily, having got on at the first station, we were able to find seats, but as more and more people joined the train we were surrounded by chattering families with children in buggies and a few walkers with poles stuffed down the sides of their rucksacks. Having been that hiker with those walking poles on the Tour de Mont Blanc, I could imagine how these walkers couldn't wait to get away from the daytrippers and into the wilder and more remote corners of the Pyrenees. Today, however, I was happy to gaze out of the window at the rocky mountain landscape where the cliff faces, which would be cascading with waterfalls in the springtime, were now bone dry following a summer without rain. As there is only one train track, we stopped halfway up the mountain at a passing place where the trains coming up and down the mountains can cross over. In the distance I could see tiny figures tracing their way along the walking trail that leads up to Vall de Núria.
Arriving at Vall de Núria
The train passed through the final tunnel and skirted alongside the lake, depositing us at the small station beside an imposing building sitting in the bowl of the valley. At the heart of this building is the church sanctuary with the wings of the hotel, restaurant, gift shop and information centre stretching out on either side. To the front is a grassy area in front of the lake and the whole view is framed by mountains on all sides. I was a little taken back to find such a large complex in this high valley of the Pyrenees, but apart from the riding stables, chapel and cable car station nearby there were no other buildings in the valley. We watched an interesting film in the information centre, then took a stroll around to see what else was there. My friends Laurel, Isabel and Simon had a craving to stretch their legs on a long walk and decided to walk back down the pilgrim's way, to meet the group back at the bottom, so Barbara and I spent most of the afternoon together exploring what the valley had to offer.
The name Núria means "place of water' and the warm Mediterranean air rising to meet the cold air of the mountains, creates one of the highest areas of rainfall in Catalunya in this valley. The streams and rivers flow into the lake which is dammed at one end, and then continue to cascade down the mountains. They say that if you live up here, you'll rarely get a headache, as the blue aconite that grows on the mountain slopes is a cure for migraine and the medicinal properties wash into the drinking water.
This is the high Pyrenees, close to the border with France, and you can see the path that people used during the Spanish civil war to pass from France to Spain. The black specks circling above us were vultures, gliding on the air currents and looking out for dead animals at the start of the hunting season. On these mountain slopes, you might spot mountain deer and the marmot, as well as the mouflon, a wild sheep with curved horns which the farmers don't like as they spread disease among the sheep and mate with them creating offspring that can't be sold for meat.
In winter, Vall de Núria becomes a small ski resort, where people come by train from Barcelona, and these gentle slopes are ideal for families who stay in the hotel. On the Sunday in September that we were there, it seems to be where the locals head for a family day out, spreading their picnics out in front of the lake and taking their children on a horseback ride, or to feed the ducks.
Vall de Núria, a place of pilgrimage
Vall de Núria has been drawing pilgrims to the area for many centuries, seeking to emulate the simple life of San Gil (Saint Giles in English) who arrived in the area around 700AD. He lived the life of a hermit in caves around the valley, spending his time with the local shepherds, and is thought to have carved the painted image of the Virgin Mary that now sits in the chapel above the Sanctuary. The religious symbols of Vall de Núria are the cross, which San Gil brought with him to the valley, the cooking pot which he used to cook the meals he shared with the shepherds, and the bell with which he summoned them at meal times. The 8th September is the feast of Our Lady of Núria, when the carved wooden statue is carried in a procession around the valley.
Legend has it that the carved image of the Virgin was hidden in a cave when San Gil later had to flee from persecution. A few centuries later, a pilgrim called Amadeo was called in a dream to come to Núria and build a chapel there. He searched for and finally found the carved statue which San Gil had hidden, together with a cross, bowl and bell and brought them to the chapel he built. We visited the recently restored chapel where there is a copy of the wooden statue. The restoration had been paid for by donations from all the ladies in Spain who are called Núria which is a popular girl's name – each of the donors having a plaque with their name on it inside the chapel.
Just inside the main Sanctuary there is a side room where women who are seeking fertility come to put their head inside a large metal pot and have the bell rung above their head, to pray for children. I remember when I was in the Quadisha Valley in Lebanon, there was a similar chapel at St Anthony's monastery full of cooking pots brought as an offering by couples who were unable to have children, the pot being symbolic of the pregnant mother's belly. If you were a Spanish girl named Nuria, looking to start a family quickly, this would be the perfect place to come on your honeymoon.
Walking around Vall de Núria
After lunch, Barbara and I walked on past the chapel of St Gil and the assortment of ponies, mules and ducks that were laid on for families and up to the end of the lake, where the dam across created a barrier that you could walk across. I'm not sure if we heard any water nymphs calling up from the depths of the lake to urge us to protect the natural environment for future generations, as we'd seen in the information video. From the dammed end of the lake we could see further down the valley over the small stone arch bridge beyond which you could climb up for a viewpoint. We also took the cable car up to the Alberg station where there was a cafe with views towards the Torrent de Fontedra.
From there it was an easy walk back down, passing the  pilgrimage stops and crosses along the way, part of a stations of the cross in the area, which is covered by snow in winter, but a popular walking route in summer. If you're interested in walking, there is a useful map available from the information centre detailing all the walking routes around the valley, certainly enough to keep you going for a few days, and that's without even leaving the valley. Other paths go through the black pine forests and up to caves that by tradition were used by San Gil and Amadeu as well as high-points for a view over the valleys. You can also choose to hike both up and down the mountain as our friends had done, along the"Camí Vell" that was used by pilgrims to reach the Sanctuary in the Vall de Núria
If you're in Catalunya, I highly recommend a visit to Vall de Núria as a relaxing way to spend time in the Pyrenees, which has something to offer everyone who love the mountains, from families with young children to serious walkers.
Visitor Information for Vall de Núria
More information for visiting in both summer and winter is available on the Vall de Núria Website
The Cremellara or Rack Railways starts at Ribes de Freser which can be reached by the RENFE train from Barcelona, Girona and other Spanish cities. There is free car parking at Ribes Enllac, Ribes Via and Queralbs and the price is around €22 per adult for a 1 day return train ticket plus cable car , €13 for children. The trains normally run hourly throughout the day.
Accommodation in Vall de Núria is at Hotel Vall de Nuria where there are 65 rooms and 12 apartments to choose from
My thanks to Costa Brava Pirineu de Girona who hosted the visit to Vall de Núria.
What the other bloggers said about Vall de Núria
(If you have also written about Vall de Núria, I'd love you to add your link in the comments )
Barbara Wiebel – Hole in the Donut – Vall de Núria in the Spanish Pyrenees, Sanctuary then and now
Laurel Robbins – Monkeys and Mountains – Hiking the Vall de Núria, Pyrenees
Laurence Norah – Finding the Universe – Exploring the Núria Valley in the Pyrenees
Isabel Romano – Diario de a Bordo – Vall de Nuria post #TBEX trip
Simon Falvo – Wild about Travel –Pyrenees – Rugged and beautiful Vall de Núria
CC Chapman – Vall de Núria through my lens
This article by Heather Cowper is originally published at Heatheronhertravels.com – Read more travel articles at Travel Blog Home
You'll also find our sister blog with tips on how to build a successful travel blog at My Blogging Journey
 Don't miss out – subscribe to Heather on her travels