If you're planning a holiday in Canada that involves camping or staying in an RV, in one of Canada's scenic national parks, you might want some tips on what clothing will work best for your holiday. I don't know about you, but when I'm dressing for outdoor activities such as cycling, hiking and canoeing, I like to choose clothes that are comfortable and functional while keeping a sense of style.
I recently spent two weeks with my husband Guy touring the provinces of Ontario and Quebec in Canada, staying mainly on campgrounds and in nationals parks with our cosy RV from Cruise Canada – our home from home on the road. For the trip I teamed up with Columbia Sportswear who specialise in outdoor clothing, to try out some items from their range. Based on my experience of this trip, here's what you need to pack for a camping trip to Canada.
(For the Brits an RV is a Recreational Vehicle or large camper-van)
Quick drying trousers for evenings around the campfire
For hiking or evenings around the camp fire I recommend quick drying walking trousers like these Columbia Women's Silver Ridge Convertible Trousers. They feel like a lightweight cotton but are in fact made from a 100% nylon technical fabric that wicks away sweat, protects against UV rays and is quick drying when you get caught in a downpour. For outdoor activities like hiking or cycling it's better to avoid jeans or heavier cotton trousers that weigh you down and soak up moisture at the first sign of rain. Look for trousers that have a neat leg pocket to tuck in your guidebook, map or phone. I also like styles like this that have zip off legs, to make shorts, for maximum versatility. I know I'll get a lot of use from these walking trousers on future hiking trips.
Check out the Columbia range of walking trousers here
Sporty quick drying t-shirts
For outdoor activities I tried out this t-shirt from the Columbia range made of 100% Polyester fabric, designed to wick away sweat and keep me cool. Check out the Women's Zero Rules Short Sleeve shirt here. I found that this fabric was silky, comfortable and not at all sweaty – ideal for hiking and other activities around the Canadian national parks. As an added bonus this t-shirt was easy to wash by hand or machine, quick to dry and hardly creased at all. Just as well, since irons didn't seem to exist on the Canadian campgrounds!
I also packed a range of other short sleeve and sleeveless tops in fabrics that were less likely to crease. Although it's great in sunny weather to wear sleeveless vest tops to stay cool and get a nice tan, being Mrs Sensible I like to alternate them with tops that cover my shoulders to avoid sunburn. I'm looking forward to using this t-shirt on future hiking trips and for jogging at home.
Check out the Columbia range of short sleeve tops here
Sports shorts – go as short as you dare!
In the warm Canadian summer shorts are worn by all and from what I saw the Canadians like their shorts to be on the short side. In the bars and restaurants the waitress uniform seemed to be the skimpiest of shorts and even ladies of, ahem, a certain age and size seemed to favour very short shorts. No need here for modesty then and you can save your longer bermuda shorts for city sightseeing.
I was able to double up with my quick dry walking trousers from Columbia which had a zip off leg, allowing me to convert long trousers into shorts depending on the weather. The quick dry fabric made them cool and easily washable so ideal for activities like cycling or hiking. If you are a lover of short shorts don't forget your sun screen even if you want to get a golden tan on your holiday in Canada.
Check out the range of Columbia trousers and shorts here
Trail shoes for hiking in the Canadian parks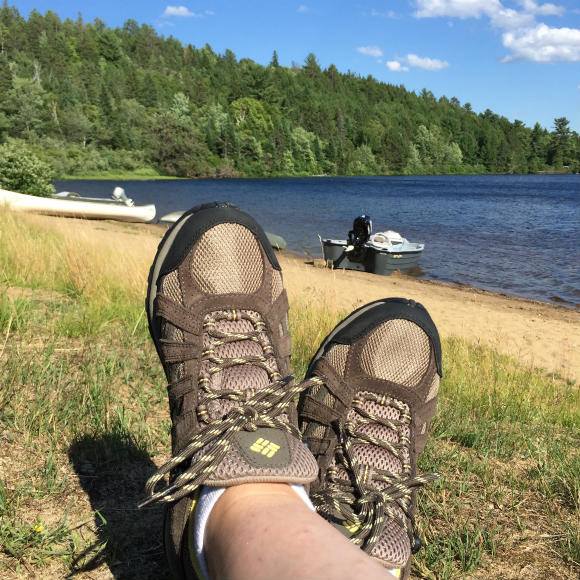 Although I have some excellent hiking boots (read my article here), for this trip I was looking for a hybrid trail shoe which is a cross between a trainer and a boot. My reasoning was that I wanted to have a supportive shoe for hiking in Canada's national parks but that I wasn't planning to do any hardcore hiking for hours and days on end. I needed shoes that were suitable for general outdoor activities, to wear around the campground, that wouldn't be too hot to wear on warm summer days.
These Women's Grand Canyon Outdry Hiking Shoes were just what I was looking for, with a low ankle so that they weren't too hot and a waterproof but breathable construction so they would keep my feet dry when walking in the wet. Although these trail shoes didn't have the support of a high ankle, the construction is very solid, so they would be ideal for summer hiking on rough and rocky trails. For serious long distance hiking I'll probably stick to boots with ankle support, but these trail shoes are ideal for a situation like our camping trip where you want a hardwearing shoe that is suitable for a range of outdoor activities.
Check out the Columbia range of walking boots and shoes here
Waterproof Jacket – yes it does rain in the Canadian summer
Although the weather on our July trip to Canada was warm and sunny, we did experience a few showers so my lightweight waterproof jacket came in handy (Read my article on what to look for in when buying a waterproof jacket). For summer wear in Canada I'd recommend a lightweight jacket that can roll up small to keep in your day sack but if you're visiting in spring, early summer or autumn you might prefer a jacket that's more substantial or has a removeable fleece lining, as we found that mornings and evenings could be cool.
I wore my waterproof jacket when we were canoeing in Algonquin park as the day was overcast and rain was forecast. Luckily the showers held off until we had finished our canoe trip but the jacket was also ideal for keeping off the midges and flies that you tend to get hovering over the water. Cloudy days can be a bonus in Canada as our guide told us that we were more likely to see wildlife such as moose when the day was overcast, since they come down to the water's edge to feed, while on hot sunny days they prefer to stay in the shade under the trees.
Check out the range of Columbia waterproof jackets here
Three-quarter length leggings – versatile for outdoor activities
I found it was useful to have some sporty three-quarter length trousers for activities such as cycling and climbing where I wanted a bit more protection. My sports leggings made from quick dry fabric got a lot of use on our Canada trip and I also wore them for canoeing where they would dry quickly if I got wet wading into the water or splashed from the paddles. The three-quarter length and close fit were also ideal for cycling if you don't want sunburned thighs or trousers that flap around the ankle.
Check out the Columbia range of casual trousers here
Flip flops for hanging out by the lake
If you are a happy camper you'll know to pack a pair of flip-flops or waterproof sandals that are easy to slip on and off. They are always handy for those early morning trips to the shower block (although luckily we had our own shower and loo in the RV) and for hanging out by the lakes that seem to be a feature of most Canadian camp grounds.
You'll want something made of plastic so you can easily rinse off the sand or pine needles and they won't look grubby. No harm in having a pedicure and pretty nail polish before your holiday – we like to keep up standards even when camping!
Check out the range of Columbia sandals and flip flops here
A  cosy fleece for cool mornings
I was pleased that I'd packed a fleece for our Canada trip as despite the warm sunny days, we found the mornings were often quite cool. For the first hour or so each day we often needed an extra layer and then the temperature would warm up and it would be short sleeves all day and into the evening. It was never really too cold on our July trip so I'd suggest a mid-weight fleece if you are visiting in the summer but perhaps something more substantial for the spring and autumn. Due to the limited laundry facilities on the Canadian campgrounds I'd avoid smarter woollen knitwear in favour of anything that is quick drying and doesn't crease, unless you have an element of your holiday that requires you to dress more smartly.
Check out the Columbia range of fleeces here
Other things to consider
Those pesky flies and mosquitos can be pretty persistent when you get into a camp ground or one of Canada's national parks. If you are trying any activities such as hiking, cycling or canoeing, a liberal spray of deet based insect repellant is recommended and in the evening it's best to change into a long sleeved top and long trousers with socks and shoes to cover your feet. I neglected my own advice on a few occasions and regretted it as I was scratching nasty bites for days afterwards.
Most but not all of the camp grounds we visited had washing machines and dryers but none seemed to have any ironing facilities. I'd recommend packing clothes made of quick drying technical fabric that are less likely to crumple in order to look your best, leaving your linen suit at home.
A sunhat is advisable if you're out on long hikes or canoe trips in the full sun and to fit in with the locals I'd choose a cotton cap – you can buy them everywhere in Canada.
My Canada Camping clothing check list
A lightweight waterproof jacket for the occasional shower or cool evenings
Long quick dry trousers for hiking and to keep off the insects in the evening
Quick dry shorts for sunny days and sporty outdoor activities
Three-quarter leggings or joggers for sporty outdoor activities and cool mornings
Quick dry sports t-shirts
Trail shoes for hiking and climbing
Flip flops or waterproof sandals for wearing around the campground and the lakes
A mid-weight fleece for cool mornings and evenings
A light, long sleeve t-shirt to wear in the evening when the mozzies come out to bite
A cotton cap or sunhat to protect you from sunburn or sunstroke on sunny days.
Plus of course pack some other casual clothes and footwear for when you are out sightseeing
Thanks to Columbia Clothing who provided me with some of the items mentioned in the article to try out on my Canada trip.
Some of the links in this article allow me to earn a small commission when you purchase at no extra cost to you – thanks for your support!
Visitor information for Canada
To plan your trip to Canada check out the Explore Canada tourism website as well as the websites of the states and national parks you plan to visit, in our case Ontario Tourism and Quebec Tourism. Our RV was provided by Cruise Canada.
More Canada articles
Where to watch wildlife in British Columbia, Canada
How to enjoy a great day in Victoria BC
Vancouver Island – a nature lover's paradise
Pin It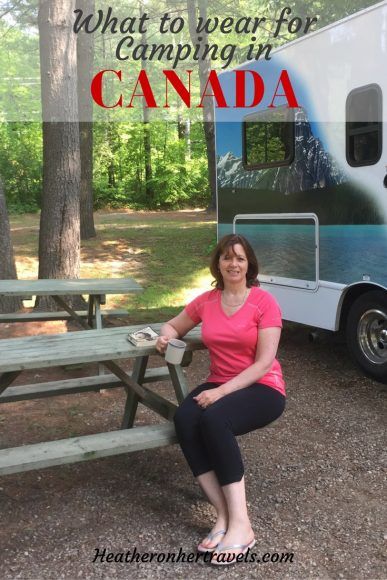 This article is originally published at Heatheronhertravels.com – Read the original article here

You'll also be subscribed to our free monthly newsletter for great travel resources, news and offers, but you can unsubscribe at any time and we'll never share your e-mail.
You'll also find our sister blog with tips on how to build a successful travel blog at My Blogging Journey
Taking photos is one of the pleasures and problems of travel. I love trying to capture every memory in my images; that glorious view, golden sunset, or delicious meal. But from even the shortest trips I probably come home with hundreds or even thousands of photos. These are the photos that I use to illustrate the articles I write on this blog, to share on my social media channels and possibly to use for projects in the future.
They are also the photos of my husband, friends or family that encapsulate the memories of each trip. For both personal and professional reasons I'd hate to lose any of those photos. That's why on my recent Uniworld cruise I was pleased to try out the Western Digital My Passport, an external hard drive to store photos and other data.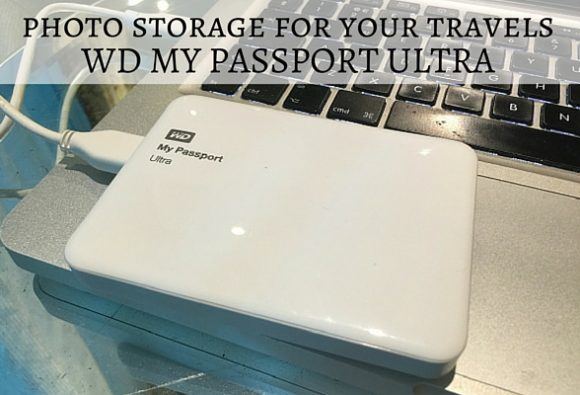 Before I left for my cruise I made sure I tried out the My Passport, and lucky I did so, as I discovered that in order to use with my Apple Mac I'd need to format it.
On the box, it says that the My Passport is Compatible with Windows 8, Windows 7 or Windows Vista and requires reformatting for Mac OS. The small leaflet that came in the box directed me to http://products.wd.com/docs and when I did a search on that page I came to instructions on how to format the My Passport for Mac, which took around 10 minutes.
The WD My Passport is pretty neat in size – around 11cm x 8cm so it was no problem to pack it along with all my other leads, adapters and batteries. I liked the slim, white, shiny feel of the hard drive, even though that has no bearing on its ability to store the photos! The version I have will store up to 1 TB of data, that's 1000 GB of storage, and after my week's trip I had only used 6 GB with my photos, so no danger of running out of space.
I already have two external hard drives that I use for photo and video backup and I transfer my photos to them after each trip. However since they now have a few year's worth of photos on them, I'm very reluctant to take these away from home, for fear of losing all my photos. Instead it's better to have a third hard drive like the WD My Passport that I can take on trips as a backup and then clear down afterwards. WD also offer a My Cloud personal storage unit which you keep at home and back up everything there automatically, which would be another great option as my photo collection gets bigger and bigger.
While I was on my cruise I would transfer photos from my iPhone onto my Macbook laptop and from there onto the My Passport hard drive. That way, if either my laptop or my phone was lost or damaged, I'd still have a copy of the photos. When I got home I uploaded the best photos to my Flickr album – see them here – and moved the photos to the hard drives I keep at home, then cleared the My Passport for my next trip. It may seem a bit of work but 30 mins every couple of days is far better than the risk of losing my photos.
Of course if you're just taking photos for your own interest, and don't travel with a laptop like I do, it's still a great idea to have an external hard drive like the My Passport to back up your photos after you get home. The Security features mean that if I was storing anything confidential on the My Passport I could also password protect the drive. There's also an option to use the hard drive for automatic backup of everything that's on your laptop, although I'm not using it for this.
Since I reviewed the WD My Passport, they have also updated the design with a range of fresh new colours.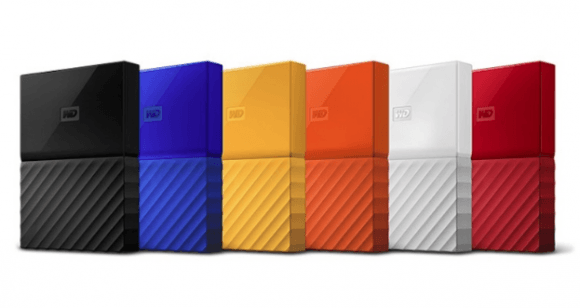 Overall I found the My Passport was easy to use and gave me peace of mind when travelling, knowing that I had a back-up of all my photos.
Do you backup your photos when you travel and if so what method do you use?
Now here are a few photos from my cruise – you can read about my Uniworld Cruise here.
Pin It
This is sponsored advertising content in association with Western Digital.
This article is originally published at Heatheronhertravels.com – Read the original article here
If Knomo were your best friend, she'd be one of those cool, stylish people who lives life to the full – always on the move, trying out the latest gadgets, working on some interesting, creative project or other. Perhaps she'd be a photographer, designer or even a blogger, moving effortlessly from an informal business meeting to drinks with friends. Knomo is a girl who doesn't really care about logos and labels, she just loves things that are beautifully designed and work for her lifestyle. Understated elegance is her trademark, she's the sort of girl that always looks polished and put together, even though you can't quite place what brand she's wearing. Perhaps Knomo is a girl just like you or me, or perhaps with the perfect piece of luggage we can live her lifestyle too.
Of course I'm just having a bit of fun imagining the Knomo lifestyle, since Knomo is not a real person but a purveyor of luxury luggage, handbags and other finery that might just work in your lifestyle. If you're looking for a classy bag with room for your tablet, laptop and mobile, that won't shout "technology geek", look no further. Or perhaps a case for that iPhone 6 that's already on your Christmas list? Or even the perfect soft leather messenger bag that will keep the man in your life organised and looking good (Knomo's not just for girls you know).
I made a short video below so you can see how I got on with my Knomo Bolsover case on my cruise
If you can't see the video above, view it on my blog here or on YouTube here and please do subscribe using the button above
Download the Video of my Knomo Bolsover case
Subscribe to all my videos in I-tunes
If you enjoyed this video, check out the others in my Video archive
To test out whether Knomo could cope with my aspirations for effortless style as well as accommodating all the technology that goes with a blogger's lifestyle, I took the Bolsover trolley bag along as hand luggage on my MSC Mediterrranean Cruise. On the flight out to Barcelona to meet the ship we had one suitcase between us as well as a small carry-on case which was the perfect scenario for my Bolsover. In Placa Catalunya we stopped for a photo opportunity, enjoying the sunshine and the life in the square that is Barcelona's beating heart.
Isn't she pretty?
I must say that this gorgeous bag made me feel quite the jet setting girl about town. The luxurious red carry-on is piped in leather-effect trim and covered with a soft waterproof fabric that's quilted in a diamond pattern. I love that rich, red colour, the shade of tomato ketchup or should I say a glass of good claret? It feels luxurious, elegant and expensive (but of course no more than I deserve!) There's a sturdy metal telescopic handle that allows you to pull the case along easily in the aiport but slots down and zips away neatly when you want to use the bag as a weekender to drop into the back of the car, as well as a tactile but robust carrying handle at the top of the bag. I'm instantly impressed by the amount of shiny chrome zips and endless pockets – a girl can never have too many pockets in my opinion.
Lets take a look inside
Zipping open the main compartment of the case reveals four little side pockets to tuck way your underwear, jewellery or other small items with some straps to keep everything firmly in place. In the lid are two more larger pockets to pack your shoes and a half depth zip pocket to keep a book or kindle. Already I've counted seven pockets but that's before I discover the extra zipped compartment that becomes your office storage area built into the lid.
You can tuck a 17 inch laptop in here, with some more sleeves and pockets for all those pens, chargers and other odds and ends, with a zip pocket for your tablet. That's another six pockets and there's more! On the outside lid there's another full width zip pocket where I'd put a magazine to read on the flight and a cute little zip pocket set into the leather trim that's the perfect size for your mobile. Two more pockets, what more could I ask for ?
Perhaps a way of finding my Knomo case again if I ever lose it? They've thought of that too. Inside the top compartment you'll find a unique ID which you can register on the Knomo website. Now if you and your case are ever parted and it's found by some honest citizen, Knomo will return your bag to you free of charge.
Who is the Bolsover case ideal for?
With all these compartments and zipped sections, this case is ideal for the elegant business traveller who's away for a few days, or a leisure traveller like myself who always travels with a laptop and other techological paraphernalia. I have to find space in my luggage for a laptop, mini-ipad that I use for novels and online travel guides, a video camera, normal camera and all the associated batteries, cables and chargers (that's where all those pockets come in handy). The Bolsover is a great weekend bag for those who like to pack in an organised way with a place for everything. This really is a case that you could hand to the porter at the smartest luxury hotel with pride and pretend that it's packed with your designer wardrobe (Silly me! Who's pretending? I know you only buy the best!)
What's not to like?
If there is anything to watch out for with the Bolsover I'd say that if you are a truly minimalist and lightweight traveller, this may not be the case for you. The height of the case is slightly shorter than the maximum allowance for most airlines, which could be a waste of potential extra packing space if you are trying to maximise your allowance without paying for checked luggage. At nearly 3.4kg the case isn't the lightest around and if you are packing all your technology it will end up being on the heavy side and an effort to get into the overhead locker on the plane, not to mention being a bit too heavy for those airlines that have a carry-on bag weight allowance.
Here's what I love
I love the way that the Knomo bags are all so stylish and elegant, yet they are also perfectly designed to fit your tablet, mobile, laptop of any other technology that you need to take with you for business or leisure. It may look like an elegant clutch but there's room for your mobile, keys, credit cards and notebook. It may look like a sporty cross body bag for the girl on the go but you can still find room for your tablet and camera. I like the fact that you can keep all these things with you without revealing to the world that there's an expensive laptop or camera inside. Smart but not shouty.
Check out the other items I love that match my Bolsover case
The Vital Statistics
Heather tried the Bolsover carry-on wheeled trolley in scarlet from Knomo. The bag has a zipped compartment that fits a 17 inch laptop at the front of the bag and is made with a quilted nylon exterior and leather style trim. The bag measures 45cm H x 29cm D x 19.5cm D and weighs 3.42kg. The Bolsover wheeled trolley costs £249 and can be ordered from the Knomo Website. Other matching items in the Fitzrovia Collection include the Maple cross-body bag £79, The Huntley weekend bag £149 and the Great Portland Shoulder Tote £119.
Thanks to Knomo who provided Heather with her Bolsover carry-on for this review.
This article by Heather Cowper is originally published at Heatheronhertravels.com – Read the original article here
You'll also find our sister blog with tips on how to build a successful travel blog at My Blogging Journey