Laptops. They are amazing at all sorts of things, but being robust is not necessarily one of them. And if you are the sort of person who finds yourself doing things a little more extreme than your laptop might otherwise enjoy, then you probably want to ensure that you have a way to keep your equipment safe. Enter the Peli ProGear U100 Elite Backpack – designed to keep your laptop safe and sound in all but the most extreme of environments. Let's see how it stacks up.
What is it?
The Peli ProGear U100 Elite  is a day pack sized backpack with a carrying capacity of 16 litres. More than enough room for use as a weekend bag to include some clothes or tech accessories, or for your commute to work including maybe some gym kit. On the other hand, if your job entails it, you could jump out of a plane and into some of the more hostile environments on earth with just some survival essentials packed away.
This bag is designed to handle a lot. The feature that separates this bag from other, more run of the mill daypacks, is the integrated compartment constructed from ABS thermoplastic, which is both watertight and crushproof. This has interior dimensions of 39.3 x 26.7 x 3.8cm – meaning it will fit everything up to a 15" laptop, and some 17" Apple models, such as the Mac Book Pro. Said part of the case is wholly separate from the other three compartments, and carries the promise that you can immerse it in water up to a metre in depth for 30 minutes without problems, plus it is designed to withstand crushing, heat and dust, with an IP rating of 67. Not sure what that means? An IP67 rating means the compartment is totally protected against dust, and is protected against the effect of immersion between 15cm and 1m (presumable also less than 15cm!) for up to half an hour, guaranteed.
Unfortunately I couldn't find out quite how much crushing or heat it is designed to stand up to. ABS thermoplastic generally has an operating temperature range of –20 to +80 C, so this should be able to take quite a bit, and it certainly seems incredibly solid and able to withstand a fair amount of rough and tumble. This is one solid feeling bit of kit.
Other features
The laptop compartment is very easy to get into and out of, with a TSA approved top loading latch to access it. The compartment also comes with a number of foam inserts so you can ensure your laptop has a snug fit. This backpack offers more than just that solidly built compartment. As well as a main compartment for your bits and pieces, there is also a front pocket which features an impact resistant design – a solid polypropylene cover providing the protection in this case. This is labelled as being designed for tablets, but in testing I found that it was large enough to take anything up to a 12.5 inch ultrabook. This part of the pack also features numerous zippable pockets and areas where cords, cables, or other accessories could be stored for easy access. It's well thought out and a real bonus section.
On the side of the pack there is a "hidden compartment", which when unzipped reveals a mesh water bottle container. This is another nice feature to have – you can carry water if you want to, but if you don't, you don't have mesh sticking out of the side of your bag to snag on the environment. Between the front impact resistant tablet section and the larger "clothing" compartment, there is another top accessible compartment which is more shallow than the other areas and ideal for storing things you want to get at more quickly – maybe a water bottle or emergency poncho. You never know!
So that's a total of four separate compartments, and a side pocket for the water. What else does this pack offer?
Well, the main body of the pack is constructed from 1000 Denier Kodra Nylon, which is tough and water resistant. It has a rubber handle at the top of the pack for when you don't want to sling it on your back, and the bottom features expandable sling storage for say a roll mat.
The last couple of features focus on comfort – the back is curved to fit your back and naturally has foam padding and air channels to keep you cool, plus there is a strap for the sternum to help with managing the load.
Putting it to the test
The main feature of the pack is of course the waterproof compartment. To see how this stood up to testing, I decided to sacrifice my venerable Samsung NC10 netbook, popped it in the compartment, and chucked the bag in the bath, which in my case is around half a metre deep. I left out the bubbles. After half an hour, the bag was retrieved, with everything soaked through apart from that compartment, and my netbook ready to face another day. Bath 0, PeliPro U100, 1. I'm confident that in normal usage, such as a rainstorm, or a river crossing (river crossings are part of your normal day, right?), this compartment would stay dry.
As a backpack, the Peli ProGear U100 Elite is certainly comfortable, with that curved back really creating a snug fit. The only problem is weight – by itself the pack weighs nearly 4kg, or 8lbs. Once I added in some gear, it was certainly quite a load on my back. Manageable, but I'm not sure I'd want to be hiking for prolonged periods with that much weight strapped to me, although it would be fine on a bicycle or motorbike.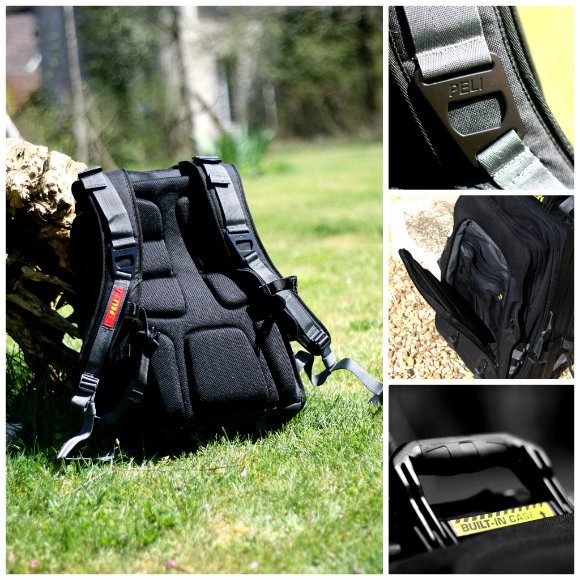 Things to consider
As mentioned above, this pack is no lightweight. The main feature – that laptop compartment – adds a fair bit of weight to the pack. So unless you are fairly strong, it might not be ideal for prolonged use. The other thing to remember is that whilst the water and crush proof compartment is, well, water and crush proof, the rest of the pack isn't. So if you immerse it in water, or drive a truck over it, only the compartment itself will remain safe. The rest of the pack is water resistant, so a rain shower will be fine, but it likely won't fare so well in other scenarios This may seem obvious, but it's one to bear in mind.
Our recommendation
If you have a laptop that you absolutely must cart around with you, and don't want to invest in one of those insanely expensive ruggedized laptops that are often underpowered, then this pack is the answer. It would be ideal for use on a motorbike, or on a cycle commute to work – although you'd want to get a proper rain cover for it so the rest of your stuff doesn't get soaked through. Also, if you are going into the back country, and are planning on taking expensive equipment with you, then this bag could be a saviour when you find yourself facing a river crossing, bear attack or unexpected downpour.
For longer term travel, the weight would be a definite consideration. If you need superior protection for your kit though, I'm happy to recommend the Peli ProGear U100 Elite Backpack – it may not be a cheap piece of kit, with a retail price of over £200 or $300, but considering the value of what you are likely to be putting in it, it could easily pay back the investment should anything untoward happen.
For more information about the Peli range of waterproof backpacks and cases for your next adventure visit the Peli ProGear website. Peli ProGear kindly gave us a sample for this review.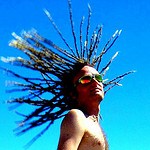 Our guest reviewer, Laurence Norah is a traveller, writer and photographer, who spends much of his time musing on his travel and photography blog: Finding the Universe. He's happiest behind his camera viewfinder on top of a mountain, or enjoying a chilled beer somewhere. If you bump into him, say hi, and steer him away from the edge! You can also find him on Facebook, Instagram and Twitter
Photo Credit: All photos by Laurence Norah of FindingtheUniverse.com
This guest review is originally published by Heather Cowper at Heatheronhertravels.com - Read more travel articles at Travel Blog Home
You'll also find our sister blog with tips on how to build a successful travel blog at My Blogging Journey
 Don't miss out – subscribe to Heather on her travels
In this review and giveaway, you'll hear how my daughter and I chose our holiday wardrobe for sun and surf in Morocco from online fashion retailer, Zalando, and get the chance to win a £100 Zalando.co.uk voucher.
What Sophie-Anne thought of Zalando
Any trip away deserves a new holiday wardrobe and my trip to Morocco was no different. The Zalando website was easy and enjoyable to browse, with many of my favourite brands such as Nike and Warehouse, as well as some less well-known brands that also offered an array of quality items. Zalando manages to cater for each customer's desire or price range without losing the variety on offer. By using the helpful slider you can simply refine your choice to a certain item or price range so that you only see what interests you, an experience not found in a shop! In Morocco we were heading for Taghazout, a surfing hot spot so the "Beach & Surf" refining choice was extremely helpful.
Without much trouble I soon found a travel friendly Anna Field Beach bag. The bag was large enough to carry all my beach goodies such as towel, wetsuit and suncream but was able to fold up small enough for me to tuck it away in my luggage. The bag was also sturdy against the boiling sun and had a convenient mobile pocket where sand couldn't reach. I found it so handy to have a bag where you could take everything you needed for a day trip with ease.
I also selected some big brand Vans trainers which became a dear friend, climbing over rocks on the beach, especially when my feet became too sunburnt for flip flops or sandals. Wearing them while travelling provided a comfy journey – the last thing you want on a long journey is uncomfortable shoes. I was surprised, in fact when the parcel was was delivered swiftly that my shoes were part of the parcel. The parcel was so compact that I thought the shoes might have been forgotten, but a clever packing scheme seemed to be in force at Zalando packing.
I chose the Villa Cleave slim fit jeans due to their pastel colour. Not only had I wanted to get my hand on a pastel pair of jeans for some time but the light colour mean they would not become hot on my legs. In the evening when temperatures had cooled slightly, they were a perfect item. The simple yet stylish design meant I could wear them with most of my wardrobe, a necessity if you are travelling light.
The final item that I chose was a pretty red sundress with a detail back, which glowed due to its vibrant colour. Easy to throw on over a bikini at the beach or wear at supper in the evening, it was extremely versatile. The material was not flimsy at all but was still cool. I wore it on our trip to Paradise Valley, when we swam in waterfalls and pools and it looked especially nice against tanned skin. Overall the Zalando website has much to offer and the clothes I chose were of good quality for not too high a price, with plenty to entice a peckish eye or an avid traveller.
What Heather thought of Zalando
My initial impression of Zalando was that they specialised in young fashion but when I started browsing for myself I noticed the Premium range with some of the brands that I love, such as Orla Kiely and LK Bennett. After that I was rather kicking myself that I'd allowed Sophie-Anne to spend most of our budget on her choices, but I did manage to order a white and blue splash print T-shirt from Vera Moda. It fitted my desire to have something that was loose and easy to throw over a swimsuit and an inexpensive addition to refresh my holiday wardrobe.
Browsing through the Zalando website, I found it easy and intuitive to narrow down the wide selection by brand, colour and price. I love the price slider as it helps you make the most of your budget if you want to buy several fun but inexpensive items for a holiday. After we'd made our purchases, I noticed that my browsing choices had been remembered and I got a couple of follow-up e-mails that featured some of the brands that I'd liked.
Once we made our choice, we also received e-mails keeping us up to date with the progress of our order which arrived within a few days. If something doesn't fit or suit you there's also a fuss free returns policy with free returns for up to 30 days, which takes away many of the worries of shopping online. With such a wide selection I know that you'll find something for your holiday wardrobe, whether you're a student like Sophie-Anne, wanting to look good on a budget, or a mum like me wanting to look stylish on holiday (and hopefully not outshone by her daughter).
What we chose from Zalando
Because the Zalando ranges change seasonally, I've just included product codes that you can search for, rather than links to the items.
Anna Field Tote Bag in White £19 AN651A023-003
Villa Cleave Slim Fit Jeans in Turquoise £29 V1021A01Y-608
Vans Trainers in white £40 VA2-uza-0212-02
Even & Odd Cocktail/Party Dress in Red £14 (Previously £34) EV421C01B-302
Vero Moda Arty Print T-shirt in White £21 VE121D0CS-501
Our Zalando Giveaway
Zalando have kindly given us a £100 voucher to give away to one of our readers. The voucher can be used to purchase anything you like from the Zalando.co.uk website (subject to availability). The voucher will be valid for 3 months from the end of the giveaway. Please note that this giveaway is only open to UK residents and deliveries are made to a UK address.
This giveaway has now ended – thanks to all who took part.
Congratulations to winner Stan T!
To enter this giveaway please use the Rafflecopter widget below with 4 chances to win;
1. Leave a comment below this post to tell us how you would love to spend your £100 Zalando voucher – are you planning for an upcoming holiday, do you have a big event that you'd like to look your best for? is there a particular brand or look that catches your eye?
To gain additional chances to win you can;
2. Tweet about this giveaway mentioning @Heathercowper and @Zalando_uk in your tweet, for example;
I'd love to choose my holiday wardrobe with the £100 voucher #giveaway @Heathercowper from @Zalando_uk
3. Follow @Heathercowper on Twitter
4. Follow @Zalando_uk on Twitter
ThePrizeFinder – UK Competitions
Zalando kindly gave us the clothes mentioned to try out on our Moroccan holiday as well as the voucher for us to give away to one of our readers.
This article by Heather Cowper is originally published at Heatheronhertravels.com - Read more travel articles at Travel Blog Home
You'll also find our sister blog with tips on how to build a successful travel blog at My Blogging Journey
 Don't miss out – subscribe to Heather on her travels
I recently took a family vacation to Mesa Verde National Park in Colorado, U.S.A. to see the mysterious Anasazi cliff dwellings  that are among the most impressive archaeological sites in the United States. For the trip I packed products from the Total Beauty Collection, which can be purchased online at www.TotalBeauty.com/Collection. The Total Beauty Collection is an assortment of sample-sized designer cosmetics, including skin care, make-up and perfume. An assortment of 4-6 products is included in every Total Beauty Collection for US$15.
What I liked about Total Beauty Collection
All of the samples in the Total Beauty Collection are three ounces or less, so they are ready to travel anywhere. The samples are good quality, from designer brands. My favorite item was the NYX Roll-On Shimmer, which can be worn over eye shadow or anywhere on the body. It is so fun to wear, even though it wasn't very practical for our national park trip. It would be perfect for a cruise where there are opportunities to dress up, but space for fun items like this is limited.
Other products I liked were the Likewise moisturizer with SPF and the Pixi Eye Bright Primer. The tiny, plastic perfume vials with secure screw-tight lids would be perfect for travel. I noticed that there is a full-size Neutrogena lip balm in the collection on sale now and I would have used that constantly on our recent trip.
The contents of each Total Beauty Collection are shown on the website, so you know exactly what you're going to get. This is not a subscription program, so it's a low-commitment way to collect the travel-size products you want, and try new products, every time a new collection goes on sale. Shipping is free and there are no hidden fees.
I transferred the products from my Total Beauty Collection from its signature blue box into my travel bag. I was glad to see that the packaging is all paper and recyclable.
What I didn't like about Total Beauty Collection
Not every product in my collection was a winner for me. I was disappointed with the Blinc mascara and I will probably never use the phytocell detox mask while traveling.
The nice thing about trial sizes is that they are a low-risk way to sample new products. But, when you travel with new products, you run the risk of being stuck with something you don't like until you can replace it or return home.
The tiny size of many of the products in the Total Beauty Collection makes it better for shorter trips than for extended travel. I'm guessing that most of my samples would have lasted up to one week.
The biggest downside for international customers is that the Total Beauty Collection can only be shipped to addresses inside the United States.
My recommendation
I recommend the Total Beauty Collection for U.S.-based travelers who already use, or are inclined to try, the brands and products included in the collection. For these travelers, the Total Beauty Collection is a great way to collect travel-sized versions of favorite products. It's also a low-risk way to sample new products.
The Total Beauty Collection would be well suited to air travel, or any type of travel where suitcase space is at a premium. You could pack a lot of these samples in a single gallon-size plastic bag.
While I did like most of the products I received in my Total Beauty Collection, I was not convinced to switch brands. Furthermore, most of my trips are road trips where having space for full-size mascara or moisturizer is not a problem. I might check out the offerings in the Total Beauty Collection as I plan for my next cruise, but will probably not use this service frequently.
More information about Total Beauty Collection
To order your own Total Beauty Collection, visit www.TotalBeauty.com/Collection to see what is on sale now. Click "Buy Now" and complete the required fields, and within 3-5 business days, a package will be delivered to your door.
If you'd like to receive an e-mail every time a new collection goes on sale, you can join their e-mail list. Those who follow Total Beauty on Facebook and Twitter @totalbeauty will receive promotions from participating brands and the chance to receive exclusive extras.
Disclosure: Total Beauty provided me with the Total Beauty Collection at no charge, but did not influence the content of this review. These opinions are my own.
Allison Laypath is a family travel writer at Tipsforfamilytrips.com, based in Salt Lake City, Utah. She and her husband took their first child on a two-week road trip at four-weeks-old and they have been traveling as a family ever since. Allison loves all types of travel, but especially road trips, national parks and travel within her home state of Utah. You can also connect with Allison on Facebook and Twitter
Read more about Allison's trip to Mesa Verde National Park here
More Travel Product Reviews
Trousers to travel from Anatomie
Holiday Money for your teenagers – Caxton fx currency card review
The mountain clothing you'll need for treking the Tour de Mont Blanc
This article is originally published at Heatheronhertravels.com - Read more travel articles at Travel Blog Home
You'll also find our sister blog with tips on how to build a successful travel blog at My Blogging Journey
 Don't miss out – subscribe to Heather on her travels