January 26, 2015 by Heather Cowper
Filed under Devon and Cornwall, Europe, featured, Giveaways, Italy, Leisure, Mallorca, South Tyrol, Spain, United Kingdom, Wales, Walking
January is traditionally the month when we make resolutions that involve health and fitness – you know the ones. "This year I'll lose that extra 5 kg that crept on over the last few years" or "This year I'll train for a marathon to shake off the couch-potato that I've become". The trouble is that such dramatic resolutions rarely last more than a few weeks while it's the small actions that we take each and every day that have a lasting impact on health and fitness.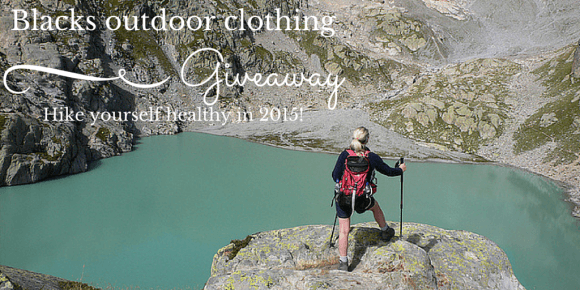 Hiking for health in 2015
While I'm always trying to shake off those extra pounds I find it more effective to incorporate walking and hiking into my everyday life, rather than make resolutions to go to the gym that I don't have time to keep. I walk 30+ minutes to and from work, enjoy walks in the country when I'm away for the weekend with the family and incorporate walking and hiking into my holidays too. A major trek like the Tour de Mont Blanc can sometimes be just the challenge you need sometimes but equally a walk along Canal Saint Martin and the Promenade Plantee helped me see a side of Paris that was a little off the tourist trail.
I'm giving away a £200 Blacks voucher
To help you to include walking and hiking into your daily life and your travels, I've teamed up with Blacks, the outdoor clothing store, with a giveaway of a £200 voucher that can be spent on the outdoor clothing or equipment from the Blacks website. Check out the interview the Blacks did with me on their blog here. You'll find information about how to enter the Blacks £200 voucher giveaway at the end of this article.
The clothing you need for hiking
To give you some ideas, here's my pick from the Blacks range of some things that I'd love to have in my wardrobe for walking and hiking. Cosy down jackets are great for everyday walking, whether it's a walk in the country or a walk to work, while fleeces and t-shirts made of the latest technical fabrics will keep you at just the right temperature while wicking away moisture. For hiking, I recommend trousers made of quick-dry fabric, especially those where the leg zips off to make shorts or capris.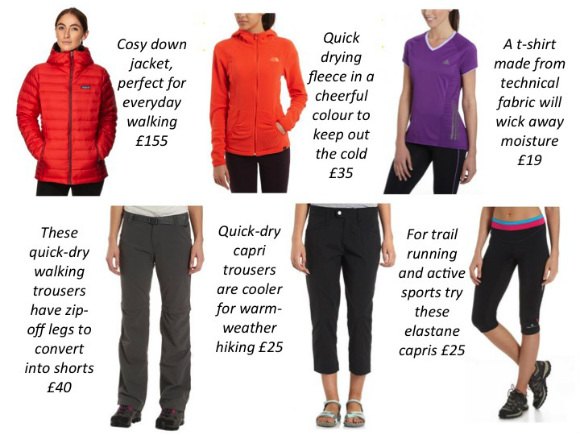 The links for the items featured here are for your convenience but since many items are in the sale these may soon be replaced by other new season items: Patagonia woman's down hooded jacket in red £155 (sale) | The North Face Masonic Polartex Fleece Hoody in orange£35 (sale) | Adidas superNova Tee in purple £19 | Berghaus lowscale zip-off walking trousers in grey £40 (sale) |Royal Robbins discovery Capri trousers in black £25 (sale) | Ronhill Aspiration contour capris £34
The boots you need for hiking
For footwear there's no substitute for a comfortable pair of walking boots with proper support for those long-distance trails such as the Tour de Mont Blanc, but if you are doing some warm weather hiking as I did in Mallorca last September you may prefer one of the hybrid walking shoes that are cut lower on the ankle and are cooler to wear. For active trail running or more sporty use you might consider some of the trail shoes that have well supported soles with lightweight upper. On all types of walking boot or shoe, look out for those that have breatheable but waterproof uppers such as those made of Gore-tex. Read my tips on how to choose the perfect pair of walking boots.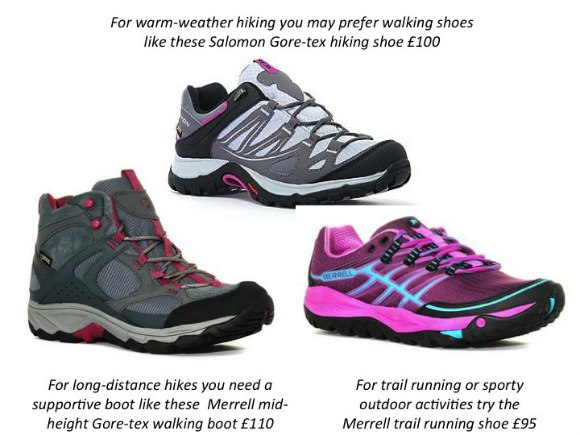 Walking boots and shoes are not something I would recommend buying online unless you have first tried them in-store, since you may need to try on many different brands and styles to find the most comfortable for your feet but you will find these styles or similar in the Blacks stores: Merrell Daria mid GORE-TEX Boot £110 | Salomon Ellipse Gre-tex hiking shoe £100 | Merrell All-out Rush Trail Running Shoe
Of course the choice on how to spend your £200 Black's voucher is yours, but I hope that you'll be inspired to do some walking and hiking in 2015 on your travels. All the styles featured are available on the Blacks website at the time of publication although many are in the sale and other new season items will be available soon. Now to give you a bit of inspiration to get hiking in 2015, here are some ideas from the treks that I've done in the past few years;
The Tour de Mont Blanc
This circular trail around the Mont Blanc Massif takes you through France, Switzerland and Italy over 170km and is normally completed over 12 days. Be prepared for arduous ascents and descents of up to 2600M, long 8 hour days walking and staying in mountain refuges that can be quite basic. You will be rewarded, however with stunning Alpine views and an amazing sense of achievement. This is an arduous trek but one which can be broken up into more manageable chucks – I walked it with a friend in stages over 4 years, or you can look for a company like Macs Adventure that offer a cut down version. Read about my walk on the Tour de Mont Blanc here.
The Dry Stone route in Mallorca
Although better known as a beach holiday destination, the island of Mallorca has some outstanding walking and I was there in September walking the Dry Stone Route along the western coast of the island. From the artist's village at Deia we walked within sight of the sea and at the coastal resort of Soller started our climb into the Tramuntana mountains, following the old pilgrim's trail to the monastery of Lluc and on to Pollenca on the northern coast. Combined with some time in Palma this is an ideal trail for those who are looking for moderate walking with some cultural interest. Read about my walk on the dry stone route in Mallorca here.
Walking the Pembrokeshire coastal path in Wales
Last spring I walked a section of the Pembrokeshire Coastal path in Wales with Macs Adventure ending up at St David's, the UK's smallest city. This part of the Welsh coast is rugged and wild with stunning clifftop views and hidden coves that you can only reach from the coastal path. If you can plan your visit from May to July I'd recommend the walks on Skomer Island during the Puffin nesting season when you can get very close to these colourful sea-birds as they hatch their chicks in burrows. Read about my walk on the Pembrokeshire coastal path here.
Walking and climbing in the Dolomites
Last September, I visited South Tyrol in Italy and was thrilled to climb my first Via Ferrata. These climbing routes (literally iron routes) have fixed cables that you are clipped to making it easy for anyone with the right equipment to climb them, although if you are a beginner I'd recommend hiring a guide. This part of the Dolomites is ideal for walking and hiking with many day hikes and long-distance trails and you'll be pleased to know that this northern corner of Italy is also known for its gastronomy with no less than 19 Michelin star restaurants and numerous vineyards where you can taste the local wines! Read about climbing my First Via Ferrata here.
Blacks recently featured a Q & A with me on their blog about how I started blogging and some of my favourite travel and hiking destinations. Read the interview here.
How to Enter the Giveaway
To enter the Giveaway for a £200 Blacks voucher please use the Rafflecopter widget below;
Enter by taking a look at the Blacks website and then leave a comment below this post to tell me which items you would choose from their range to use when hiking or walking.
You can gain additional chances to win via the Rafflecopter Widget;
Terms and Conditions
This giveaway is a prize draw/sweepstake
The prize is a £200 voucher that may be used to purchase goods such as outdoor clothing and equipment from the Blacks online store.
The giveaway is open to all readers in any location
The winner will be chosen at random
The giveaway runs for 2 weeks and ends on Monday 9th February 2015 at midnight
The winner will be notified by e-mail within 7 days of the draw ending and must confirm their acceptance of the prize by e-mail within 3 days or the prize will be allocated to another winner.
The giveaway is restricted to one entry per individual.
Any duplicate or automated entries will disqualify the entrant from this giveaway.
Entering this giveaway gives permission for you to be added to the e-mail list of Heatheronhertravels.com and Blacks.co.uk but we will never spam you and you can unsubscribe at any time.
You'll also find our sister blog with tips on how to build a successful travel blog at My Blogging Journey
Sir Francis Drake was born on a farm just a few miles from Buckland Abbey in Devon, a National Trust property that we visited while staying for the weekend at the Moorland Garden Hotel. From modest beginnings, 'El Draco' had grown up to become a buccaneer (that's a polite word for pirate), great Elizabethan naval commander and scourge of the Spanish Empire in Central America where he attacked their ships and stole their gold at every opportunity.
Since Queen Elizabeth I was one of his backers, she was thrilled when Drake returned to England in 1580 with his ship, the Golden Hind, laden with Spanish treasure, of which she would take the lion's share. Drake was knighted as a reward and bought Buckland Abbey with just a small part of his bounty, adopting as his motto 'Sic Parvis Magna' – from small beginnings come great things.
Buckland Abbey's more recent claim to fame is the Rembrandt self-portrait which came to the property in 2010 as a legacy. Until recently the painting was thought to be a portrait of the artist by one of his pupils or a copy of one of his originals. A visit by the Rembrandt expert, Professor Ernst van de Wetering, prompted a reconsideration of the painting and investigations started to see if it could be a genuine self-portrait.
The now confirmed Rembrandt 'Selfie' is housed in a ground floor exhibition room at the abbey, with fascinating information about all the detective work that went into establishing that it was the real thing. The portrait has an element of the dressing up box about it, with the artist in a flamboyant cap with ostrich feather, flowing velvet cape and gold chain, using the 'Tronie' style of Dutch painting in which people were portrayed as historic or mythological characters.
We watched a video explaining the reasons that the portrait was agreed by art experts to be genuine, such as the fact that the signature had been made when the rest of the paint was still wet, rather than added afterwards. It also appears to have been written rather carelessly, with the artist running out of space so that he left off the D in his name, something you might not dare do if you were a forger.
Xrays and infra-red photography showed how the shape of the figure was blocked out on the canvas, which was a typical technique Rembrandt used and an analysis of the pigments showed they were consistent for the period.
After painstaking research, analysis and cleaning, the self-portrait was found to be genuine and now takes pride of pace in the centre of the exhibition room, where you can see the back with original labels and markings, as well as the front.
On arrival at Buckland Abbey we walked down into the Ox Yard, where old farm buildings now house craft workshops and a room where you can see a video about Sir Francis Drake. The shop and restaurant are in what was once the old monastic guest house.
Buckland Abbey was, as the name suggests, originally founded in 1273 as a monastery by Amicia, the Countess of Devon, in memory of her son who had been murdered.  She endowed the monastery and large estates in Devon to the Cistercian order who divided their time between spiritual devotions and agricultural labours, especially sheep farming.
The Great Barn, which sits right beside the main house, was built at this time and is one of the largest of the period with oak roof beams arching 60 feet above you as you enter. It was built to store the farm produce, its sheer size indicating the wealth and productivity of the abbey estates and is often used for workshops and events like carol singing at Christmas.
Since we were there in the late autumn, we found that apples from the estate were being pressed to make cider, the group of volunteers only taking up a small space of the huge barn.
After King Henry VIII's dissolution of the monasteries in 1539, the abbey buildings and estate were sold to Sir Richard Grenville whose heirs converted the monastic buildings including the church into a private home. Sir Francis Drake moved to Buckland in 1582, the same year he became Mayor of Plymouth aged 39, already famous for his 3 year circumnavigation of the world and his exploits in the New World.
We enjoyed a look around the various galleries in the house where portraits and objects from the house's history are on display. Pride of place in the Treasures Gallery on the first floor is taken by Drake's Drum, which he took on his naval voyages and is said to sound whenever England is in danger. To the side of this main display room was the oak panelled Drake's Chamber, filled with oak furniture and portraits of the period, just as it might have looked in Drake's day.
Along the corridor we moved on 200 years as we walked into the Georgian Dining Room, while up the stairs to the top floor was the Long Gallery, dominated by a huge statue of Sir Francis Drake. This long, open space was used in Tudor times for the inhabitants to get some indoor exercise and we found information about life on board the ships that Drake might have sailed and the lives of the Cistercian monks.
Back on the ground floor were the Tudor kitchens, laid out with 18th century cooking utensils and foods as if preparing for the dinner party upstairs. The final part of the tour was through the Great Hall, created in 1576 by Sir Richard Grenville when he converted the monastery into a house. Apparently the nave of the old church where the monks were buried sits under the pink and white tiled floor of the Great Hall.
Our tour finished, we came out of the house and back into the beautiful formal gardens, inspired by Tudor knot hedges filled with roses and a small orchard of apple trees. If we'd had more time, we could also have taken a walk around the Buckland Abbey estate through the great deer park and woodland where wild garlic and bluebells bloom in the spring.
If you are on the western edge of Dartmoor visiting Tavistock or Plymouth, do stop in to Buckland Abbey for a big slice of Devon's history and to find more about Sir Francis Drake and the Rembrandt selfie.
If you go: Buckland Abbey, Yelverton, Devon, PL20 6EY, Tel: 01822 853607
Closed in January, re-opens 14 February 2015. Open daily 10.30-4.30 in winter, 10-6 in spring/summer. Admission Adult £10, Child £5. (check website for more details) Follow on Social Media: Twitter @BucklandAbbeyNT | Facebook | Instagram |Thanks to the National Trust who gave Heather and Guy complimentary admission to Buckland Abbey.
Where to stay: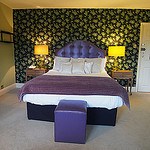 Heather and Guy stayed at Moorland Garden Hotel which is close by at Yelverton – read my review here. The hotel is an ideal base for those wanting to explore the area for walking on Dartmoor or to visit the Ocean City of Plymouth. The rooms are all decorated in colourful style using a garden and moorland theme and the award winning Wildflower restaurant is highly recommend for lunch, dinner or cream teas overlooking the lawns.
You'll also find our sister blog with tips on how to build a successful travel blog at My Blogging Journey
December 29, 2014 by Heather Cowper
Filed under Copenhagen, Denmark, Dublin, Europe, featured, Greece, Ireland, Italy, Leisure, Mallorca, South Tyrol, Spain, United Kingdom, Zakynthos
As we see out the old year and bring in the new, there's something of a tradition in blogging circles to review the places you visited, share photos from the year just gone and generally reminisce about those days of sunshine and happy memories – doesn't everything seem more rosy in retrospect?
Looking back over my travelling year, I'm amazed at how many places in the UK and Europe I managed to fit in, considering that I have a full-time job and family (although only one of my little birds left in the nest). Perhaps that's why my preferred travel style is the short break, to pack in the maximum fun from a limited amount of holiday. My most regular travel companion is my husband Guy who by his own admission is as expert in 'loafing' as I am at scribbling, photographing, video-ing, although he regularly gets roped in as assistant cameraman and videographer. Whenever I get the chance, I also love travelling with friends and family, especially when the (nearly-grown-up) kids do us the honour of coming along.
So here is a taste of my travelling year in 2014 in anticipation of many more happy travels in 2015.
January: Still recovering from Paris in December
January was something of a catch-up month, so I'm cheating a little bit here by including the pre-Christmas trip to Paris from December 2013. We found that Paris at Christmas is surprisingly un-Christmassy as the French are pretty low key about their celebrations and decorations. On this trip we stayed clear of the regular tourist traps (although we couldn't quite escape Notre Dame) and enjoyed exploring the more local haunts, with a gourmet walking tour of Marche D'Aligre, a local dining experience with a Frenche Creole flavour and a walk along the pretty Canal Saint Martin in Bastille.
Read More: Our winter weekend in Paris, the food, the sights, the video
February: A winter break in Copenhagen for the Wondercool festival
In February we were back in Copenhagen, a favourite of mine, to see what the city has to offer in winter and check out the Copenhagen Cooking festival. The gastronomic highlight was a gastro-cruise around the harbour during which we stopped at no less than six of the top restaurants in Copenhagen, each of which had prepared a different dish of mussels. I hadn't quite realised that the focus would be entirely on one ingredient so was quite thankful that both Guy and I love seafood! We stayed at the fabulous and colourful Anderson boutique hotel and managed to combine more gourmet food tasting at the Torverhallerne food market with culture at Ny Carlsberg Glyptotek and Rosenborg Slot.
Read More: In Photos: Our weekend break in Copenhagen
March:  Heather is featured in Woman and Home Magazine
Although this is not actually a place I travelled but I have to mention how thrilled I was at being featured in Woman and Home magazine, with two other bloggers in a feature about "Blogging for fame and fortune". I had such a fun day at the photography shoot, being made up and dressed up in impossibly high heels with tons of make-up, and a suitcase that would never have made it past the Ryanair police. All great fantasy and left me floating on air when friends kept telling me they had seen me in the magazine.
Read More: Blogging for fame and fortune? Heather is featured in Woman and Home magazine
March: A weekend in Marrakech in search of Josephine Baker
March took me off to Marrakech to get my fix of spring sunshine and we stayed in the magical Riad Star which was once the home of French cabaret artist and superstar of the 1920s, Josephine Baker. The Riad has been beautifully renovated in a Jazz Age theme, with a relaxing roof terrace, inner courtyard where we enjoyed breakfast and even had its own dressing up box. We spent the weekend trying to not get too lost in the Souk, perfecting our haggling skills, and visiting a fair number of beautifully decorated mosques, palaces and gardens. Of course there was the obligatory snake charmer photo opportunity in Jemaa el Fnaa.
Read More: Marrakech – on shopping, sightseeing and (not) getting lost in the souk
 April: A spring break in North Devon
April is when spring is truly upon us with the daffodils and primroses blooming in North Devon. We spent a weekend with friends in the lush, green wilds of the Devon countryside at Penhaven Country Cottages, booked through Premier Cottages. There was plenty of pub grub, coastal walks and a visit to Clovelly, the picturesque cliffside village that is now a major tourist attraction and could easily play a starring role in any costume drama about smugglers and pirates.
Read More: Primroses and daffodils – a spring break in North Devon with Premier Cottages
May: Walking the Pembrokeshire coastal path and the puffins on Skomer island
In May we went walking in Wales along the Pembrokeshire coastal path with Macs Adventure on a taster version of their Best of Pembrokeshire itinerary. We had chosen the perfect time of year to visit Skomer island, a short boat ride off the coast, since it was the beginning of the Puffin breeding season and we were able to get really close to the cute looking Puffins as they arrived back at their burrows. Our walk along the Pembrokeshire coastal path continued from Broadhaven, past the lovely harbour at Solva, ending at St David's where we had a look around the famous cathedral, art galleries and craftshops in the "Smallest City in Great Britain", which is really an overgrown village.
Read More: A long day's walk on the Pembrokeshire coastal path – Broadhaven to St David's
May: A Mediterranean Cruise with MSC Cruises
Later in May we were off again on a Mediterranean cruise with MSC Cruises. We embarked at Barcelona and had a fun week as the ship cruised around the Med visiting Marseille, Genoa, Naples, Messina and Tunis, before returning to Barcelona. The ship was very glamorous with a lively atmosphere and plenty of families on board, and at each port we visited I wished we could have stayed just a little longer!
Read More: Cruising the Mediterranean on MSC Splendida? Here's what you need to know
June: Discovering Dylan Thomas in Swansea and Laugharne
One of my favourite UK trips this year was to South Wales to discover more about the poet, Dylan Thomas in his centenary year. Swansea, where Dylan grew up, is not the prettiest of cities but provided a fascinating gateway to his childhood and early years. We followed his life through the dramatised walk we took around the streets from the Dylan Thomas Centre and our visit to the Dylan Thomas Birthplace at 5 Cwmdonkin Drive. Our Dylan Thomas discovery continued at Laugharne in Carmarthenshire, where we stayed at Dylan's favourite drinking haunt of Brown's Hotel and visited The Boat House where he lived and worked, overlooking the beautiful Taf estuary. With views like these who wouldn't be inspired?
Read More: An ugly, lovely town Part 1 – a Return Journey to Swansea with Dylan Thomas
June: Walking the beaches of the Gower in South Wales
In June, I was back in Wales with another cottage stay at the fabulous luxury cottage, Promenade View in Mumbles through Home from Home Cottages. The cottage was perfectly situated on the promenade of this traditional holiday resort which is also the gateway to the fabulous beaches of the Gower Peninsula. We took full advantage, with a long walk from our front door along the coastal path, past the fabulous beaches of Bracelet Bay, Langland, Caswell, along the clifftop to Pennard, where we caught the bus back to Mumbles. The next day we had a morning in the sand-dunes and flat beach of Llangenith, a favourite beach for surfers which left us feeling refreshed and miles from our busy life in Bristol.
Read More: Walking the beaches of the Gower and our luxury Mumbles Cottage
July: Back to Copenhagen for a family holiday
Two visits to the same place in one year must mean that I really like a place and we took the family back to Copenhagen in late July for a family break, staying in a large apartment near the harbour side. The weather was hot and sunny and we cycled everywhere, swam in the harbour, ate great street-food and took ferries across the harbour. Like Copenhageners of all ages, we enjoyed a day at Tivoli, although after the adrenalin rush of the roller-coaster with my kids I was happy to sit and admire the rose garden from a shady spot on the lawn.
Read More: 10 summertime cool things we did in Copenhagen (and you could too)
August: Zakynthos Greece for a beach holiday with my daughter
Since my sister lives on the Greek island of Zakynthos, I try to visit her each year and in August I was there with my 19 year old daughter and English niece. Since my Greek niece was also there with four of her friends, I got to hang out with the beach-babes in the most trendy beach bars, check out all the unspoiled beaches and generally live the life of a 19 year old on holiday. When not sipping on my chilled frappe coffee or swimming in the clear water to cool off, I was able to observe Greek beach style and etiquette which I wrote about in the article below.
Read More: Six things the English girls get So wrong on the beach in Greece!
September: A foodie adventure in South Tyrol, Italy
September took me to South Tyrol in Italy, an area that is close to the Austrian and Swiss borders with stunning mountain scenery in the Dolomites. I spent a few days there, combining outdoor activities with gastronomic pleasures, cycling around Lake Kaltern on the South Tyrol wine road, visiting some of the local designers and the climbing a Via Ferrata. These 'iron routes' are rock climbing routes of varying difficulty where you are secured to a cable that snakes up the rock-face, enabling relative novices like me to reach the top (although best with a guide) in a scary but exhilarating experience.
Read More: Climbing my very first Via Ferrata in South Tyrol
 September: Hiking the Dry Stone route in Mallorca
Later in September I was off for another walking holiday with my friend Julia, to Mallorca. Having completed the Tour de Mont Blanc together in previous years, we fancied something that combined views of the sea with mountainous walking and decided to walk a section of the Dry Stone Route, a long-distance path that skirts the west coast of Mallorca into the Tramuntana mountain range. We passed through several of the coastal resorts of Mallorca but my favourite time was walking the higher rocky sections of the Traamuntana from Soller to Lluc monastery.
Read More: Hiking the Dry Stone route in Mallorca from Deia to Lluc monastery
October: Athens for TBEX Blogger's Conference
In October I was in Athens, a city I haven't really explored, despite visiting the Greek islands every year to see my sister. The city has been through a tough time with the recent ecenomic crisis but we found a new spirit of optimism and purpose as the worst seems to be over. The city was hosting the TBEX blogger's conference and as part of this I spent a day in Athens on a gastronomic walking tour as well as a visit to the Parthenon. I was pleasantly surprised the warmth and spirit of Athens and it's one place I'd love to get back to see more of in 2015.
Read More: Athens is on the menu for 2015 – a taste of Greece at TBEX
November: A weekend at the Moorland Garden Hotel in Devon
In November I was back down to Devon for a weekend on the edge of Dartmoor at the Moorland Garden Hotel. This is a part of the world that I have visited quite a few times and we visited the market town of Tavistock, on the edge of the moor and visited The Garden House and National Trust property of Buckland Abbey nearby. There were all too many opportunities to try those yummy Devon cream teas.
Read More: Our weekend break at the Moorland Garden Hotel in Devon
December: A pre-Christmas weekend in Dublin
To bring the year to a close I spent a weekend in Dublin with my husband and 17 year old son in early December. The purpose of our trip was the Trinity College open day, since my son is looking at university choices for next year, but we managed to pack in an awful lot else, with shopping on Grafton Street, the Little Museum of Dublin and plenty of great meals, not to mention the odd pint of Guinness.
Read More: 10 things to do on a Christmas weekend in Dublin
So the year comes to a close but I know there will be plenty more travel adventures in 2015. In January I will be back down to Devon to stay in another lovely cottage that's close to the Jurassic coast, as well as a visit to India at the end of the month to visit the charity project that I support in Andhra Pradesh. I hope that you'll join me through the blog on these and other trips and follow my photos on social media too.
Wishing you many happy travel adventures of your own in 2015.
You'll also find our sister blog with tips on how to build a successful travel blog at My Blogging Journey