Northern Ireland's scenic Causeway Coast offers windswept golden beaches, ruined castles perched on rocky cliffs and of course what most visitors come to see, the Giant's Causeway (or is it the Game of Thrones locations?) While I enjoyed all of these, what most impressed me most was the quality of the food. I found artisan producers creating new and interesting products and restaurants dedicated to using the best and freshest local ingredients. And the seafood, oh the seafood! So let me take you on a tour of some the restaurants and dishes I enjoyed in between visiting the Giant's Causeway, Carrick-A-Rede rope bridge and Mussenden Temple. In Northern Ireland's 2016 Year of Food and Drink there's plenty here to make your mouth water.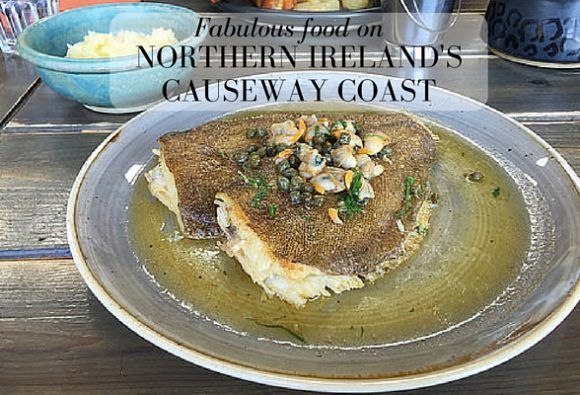 1. The best of Irish cooking at The Bushmills Inn
I loved eating my way through the menu at the Bushmills Inn where I stayed while exploring Northern Ireland's Causeway Coast. If you want to feel the warmth of Irish hospitality, not to mention the peat fire that burns summer and winter at the entrance, this is the place for you.
The hotel started as a coaching inn and the oldest part of the building that fronts the main road now houses the Gas Bar. Lit by gas lamps the bar has a traditional feel, with red walls and subdued lighting casting a rosy glow. It's especially atmospheric on a Saturday or Wednesday night when they have an Irish band sitting in the corner, playing all the folk favourites.
Breakfast was served in the oldest part of the restaurant where I sat in one of the wooden booths and enjoyed the thick, juicy slices of Irish smoked salmon with scrambled eggs served on crested china plates.
I was even more impressed when I had dinner in the newer part of the restaurant which is glazed on one side, creating a lighter feel. The hotel is committed to using local produce and the suppliers are listed at the end of the menu, right down to the farm that produces the herbs. Having heard that the beef here was outstanding I chose the Braised Belted Beef with a mustard crust with vegetables and champ, which was meltingly soft having been cooked very slowly 'sous vide'.
My friend's Kerry Hill Lamb was also getting oohs and ahs of approval. The dishes were at once sophisticated yet totally Irish and beautifully presented. They have an Innkeeper's Choice section of the menu that changes regularly and a decent vegetarian selection too. This is the place to treat yourself for a special dinner and a taste of traditional Irish cooking at it's best.
The Bushmills Inn, 9 Dunluce Road, Bushmills. I ate: Braised Belted Galloway Beef £18.50 and Forest Berry creme brûlée £5.95
2. Seafood on the beach at Harry's Shack
I'd heard so many great things about Harry's Shack at Portstewart that I was determined to have lunch there and managed to fit it in between a visit to Mussenden temple and Dunluce castle. (I was on an excellent day tour run by Glenara Elite Travel) This is the sort of beach cafe you find on every other beach in Cornwall although a surprising rarity in Northern Ireland considering the number of unspoiled, golden beaches. I half expected to find Jamie Oliver popping in for lunch with the family.
The 'Shack' is an overgrown garden shed set just above the beach, with space to eat outside on picnic tables and plenty of light flooding in. I'd heard that the fish here was outstanding so was surprised that there were so many meaty crowd-pleasers: Beach burger and chips, chicken terrine, Irish chicken and mushroom pie. I certainly wasn't complaining when my pan fried fish arrived with capers and cockles in a pool of buttery sauce with a bowl of mash to soak it up.
My friend's fish and chips also looked very good, with the chips in the obligatory metal pail and mushy peas on the side. I was tempted by the cakes on the counter but settled on a single salted caramel macaron to have with my coffee. Harry's shack is definitely a place I'd head back to. It manages to be both family friendly and please serious food lovers of all ages. Rustic beach style with simple food done very well. Why aren't all restaurants like this?
Harry's Shack, 118 Strand Road, Portstewart. We ate: Pan fried fish £15, Fish & Chips £11.
3. A honeycomb ice cream at Ballantoy Harbour
I'd probably have missed Ballantoy harbour, had I not visited as part of my tour with Glenara Elite Travel. It's as picturesque a place as they come and was used as a Game of Thrones setting for the port of Pyke in the Iron Islands (OK, I admit I had to look that up). Because the road down to the harbour is steep and narrow you won't find any larger coach parties down there, although I suspect it's still packed in summer.
As we arrived in the late afternoon, the small tea room on the harbour was closing but we just managed to buy a locally made ice cream to eat at the golden hour. I chose honeycomb flavour which is a local favourite although not much to do with honey, but studded with the kind of burnt sugar honeycomb you find in a Crunchie bar. If you ever get to the Ballycastle Auld Lammas Fair this kind of honeycomb is a local speciality and sold along with Dulse seaweed (but not eaten together!)
4. A lively Saturday night at Ramore in Portrush
Ramore in Portrush is the foodie spot on the Causeway coast where you head for good food and good times at the weekend, a place to put on your high heels and have a laugh. The tall white building overlooks the harbour with the Coast Pizzaria on the ground floor and The Mermaid on the top floor with a sophisticated driftwood and deckchair stripe theme. Ramore has spread sideways to the Harbour Bar next door while the Neptune and Prawn serving Asian inspired dishes is just across the road. None of them is bookable except the Mermaid, which is where I found myself sitting at the cocktail bar for dinner on a Saturday night feeling like a fish out of water amidst the perfectly groomed hair and fashionably bright lipstick.
Things looked up once my Hendricks Southside cocktail with gin, cucumber, mint and elderflower arrived. At least I was in a great spot for people-watching as the cocktails were mixed and shaken before my eyes, expresso martinis decorated with a carefully placed coffee bean, mint and ice being crushed for the Mojitos.
By the time my starter of roast scallops with black pudding and curry cream arrived I was definitely converted. This could possibly be the prettiest dish I'd seen in a long while, with the richness of the scallops and sauce being offset by the sweet sharpness of the redcurrents scattered across the plate.
The roast hake was perfectly cooked, balanced on top of a broth with vegetables and new potatoes but I should have known better than to order the floating brandy snap for desert. Here I had to admit defeat and could only nibble bits of the plate size brandy snap, scrape off a taste of the four different ice creams beneath and try a little of each of the three sauces that came with it. The clatter of glasses and chatter of friends was overwhelming but perfect if you want to party on a Saturday night and probably a little calmer at other times.
Ramore Restaurants, The Harbour, Portrush. I ate in The Mermaid: my cocktail £6.95, starter £5.95, fish £14.95, desert £4.95
5. A drop of Bushmills Whiskey
Of course on the Causeway Coast it's difficult to get by without a drop of whiskey from the famous Bushmills Whiskey Distillery in Bushmills where I was staying. I'd recommend doing the tour which gives an excellent insight into how the whiskey is made, even though you are walking through a not-particularly-attractive commercial production plant. The fun bit comes at the end when you get to taste a generous slug of the Bushmills whiskey which is included in your ticket. You can take your time sipping it in the cosy cafe area and buy your favourite in the shop, including a personalised bottle of the 12 year old which they sell exclusively at the distillery.
If you are interested in trying a few different whiskeys, you can have a mini tasting of 3 of the whiskeys (£7.50) and chat to the bar staff about the different flavours, or better still book for the tutored tasting which takes place every day at 3pm. You can book for this on its own (£15) or combine with a 2pm distillery tour (£20) and you get to sit at the table in the cafe next to the old copper still and taste your way through 5 of the finest whiskeys, (including the 21 year old which sells for over £100 per bottle).
One of the distillery staff will tell you about each whiskey which are different ages, but also matured in different oak casks that have contained bourbon whiskey, port or madeira, each taking a different flavour from the casks. My favourite was the Bushmills 16 year old with flavours of honey, almonds and vanilla matured on port casks (I looked that up from the tasting sheet but it was delicious). Be sure to arrange someone to drive you back to your hotel after the tasting or better still book in just down the road at the Bushmills Inn so you can walk (stagger?) back and spend the rest of the afternoon snoozing in front of the peat fire.
Bushmills Distillery Tour, 2 Distillery Road, Bushmills. Tour: Adults £7.50 including a taste of one whiskey |Tasting 3 whiskeys after the tour £7.50 | Tutored tasting of 5 whiskeys £15 or £20 including the tour (takes place daily at 3pm and must be booked in advance)
6. A fine Sunday lunch at The French Rooms in Bushmills
While visitors will enjoy the Irish charm of Bushmills Inn, it's also fun to have a change from oak panelling and peat fires. Practically next door and in complete contrast is the light and airy French Rooms in Bushmills which I tried for Sunday lunch. With a gift shop and deli at the front and a cafe at the back it feels like you've stepped into a market for deceptively expensive brocante and vintage finds in Aix-en-Provence.
From the Sunday lunch menu I chose the roll of pork stuffed with apples and raisins, with prettily presented side dishes of carrots, peas with lettuce and both mashed and roast potatoes (always a choice of potatoes in Ireland). In between courses I discovered that there was a lovely, light conservatory room at the back, giving out to a charming courtyard garden.
There is a French connection to the area in the French Hugonots who settled here in the 17th century in search of religious freedom and brought with them their skills in the manufacture of linen, using locally grown flax. This is definitely a place I'd love to return to linger over a coffee with cakes or have a light lunch with a friend.
The French Rooms, 45 Main Street, Bushmills. Open Wednesday to Sunday We ate: Sunday lunch 2 courses £13.65 3 courses £16.65
7. Italian inspiration at Bartali Wine Bar at Portballintrae
On a quiet Sunday evening I ate at Bartali Wine bar overlooking the bay at Portballintrae which was just a short drive from Bushmills. The long whitewashed building with a slate roof looked as if it had been converted from an ancient barn or fisherman's boathouse, but in fact was only built around 10 years ago. Inside the wooden booths, brick arches and Victorian fireplace might have been from an old pub, but there was also a young, trendy feel to the place, with an emphasis on local produce and craft ales.
The staff were friendly and knowledgeable and told me that this restaurant and its sister restaurants in Belfast are named after Italian champion cyclists, this being the namesake of Gino Bartali, the others being Coppi (named after Fausto Coppi) and il Pirata (named after Marco Pantani) which serve cichetti bar snacks and rustic Italian cuisine. I enjoyed my market fish; sea bream with cabbage, pancetta and gnocchi which had just the right blend of Irish and Italian. I'd recommend Bartalis for lunch after a walk on Portballintrae beach as well as a relaxed dinner and it has a family friendly conservatory too.
Bartali wine bar, 6B Seaport Avenue, Portballintrae. I ate: Market fish £13.50, Passionfruit Panacotta with white chocolate £4.50. They do a set menu 3 courses or 2 courses + glass of wine for £15
8. Meeting the goats at Broughgammon Farm
As I left Bushmills for my drive past the Glens of Antrim I stopped at Broughgammon Farm near Ballycastle. The family that runs the farm are friends and I was meeting up with Becky Cole, who with her husband Charlie has started a business to rear billy goats for meat which they sell at farmer's markets around Ireland. They run butchery and cookery courses on the farm, have a small farm shop selling their meat and other local products and Becky also has a blog about seasonal living on the farm at Terriers and Tweeds.
Becky told me how they had found their niche after realising that most goats are reared for their milk and the billy goats are slaughtered at birth. For a sustainable approach they buy the male kids and rear them to make cabrito goat meat cuts and sell the famous 'billyburgers' at farmer's markets and country shows, recently branching out into free range rose veal and wild game.
Becky took me to see the goats in their barn where they were full of fun and mischief, nibbling my hand and checking me out with an inquisitive gaze. There's a whole scene of artisan food producers like Becky and Charlie in Northern Ireland which you can look out for at local markets and in farm shops and delis.
Broughgammon Farm, 50 Straid Road, Ballycastle, BT546NP. The farm shop is open Weds-Sun 10am-5pm closed 1-2 for lunch. Check out the meat boxes that can be delivered anywhere in the UK and the events calendar will tell you at which markets you can find the billy-burgers.
9. The Central Bar in Ballycastle
I'd already visited Ballycastle when I took the ferry across to Rathlin Island but decided to stop there again for lunch before driving down the Glens coast back to Belfast Airport. On a Monday lunchtime many of the shops and restaurants were closed but I settled into a table in front of the fire at The Central Bar, an attractive stone building on the main road through town.
Without looking at the menu I knew I had to order the seafood chowder which had been recommended by Caroline Redmond who runs food tours in Ballycastle. It was a delicious creamy soup with chunks of vegetables, fish and prawns from Mortons fishmonger down at the harbour. On the side were three different breads which are cooked on the premises; a treacle and fennel seed, Guiness wheaten bread and a tomato focaccia. The lunch was a real treat and all I needed to set me up for the drive along the Glens coastal route. The Central Bar uses fresh local ingredients cooked to order and there was something to please everyone from Italian pizza, local seafood, steaks, curry and chicken dishes.
Central Wine Bar, 12 Ann Street, Ballycastle. I ate: Seafood Chowder £9.95.
While you're in Ballycastle
Ballycastle is one of the main towns on the Causeway Coast and there's a thriving food scene going on here. I had plenty of recommendations although unfortunately when I visited on a Monday many were closed. Check out the following and let me know what you think;
Morton's Fish and Chips – Look out for the kiosk beside the Ballycastle harbour which is renowned for the best fish and chips in the area. The family own their own fishing boats and also have a fishmonger selling the fresh fish next door so you can be sure that the fish is ultra-fresh and cooked to order. The locals travel miles to buy their fish and chips here and sit eating it with a view of the harbour. Open weekdays 3pm-8pm, weekends 12-9pm Freshly battered cod from £4.00
Ballycastle Food Markets – There's a regular food market in Ballycastle where you'll find plenty of different local artizan food producers. Check out the Naturally North Coast and Glens website for more details.
Caroline Redmond offers food tours in Ballycastle which visit many of the foodie stops mentioned. She also does walking tours of the Causeway coast so check out her Facebook page or contact her by email: [email protected] The Ballycastle walking food tours cost £25
Thyme and Co, 5 Quay Road, Ballycastle – a pretty and airy cafe that uses a lot of local produce. Perfect for breakfast, brunch or a light lunch of Mediterranean tarts and aromatic soups served with crusty breads. Open daily 8.30-4.30 Closed Sunday and Monday
Ursa Minor Bakehouse, 56 Castle Street, Ballycastle, is the place that everyone mentioned to me for bread and cakes and they have a small café too. They make their bread with organic ingredients using traditional methods and supply many local cafes such as Thyme and Co and Harry's Shack.
The North Coast Smokehouse isn't open to the public but look out for their smoked fish at markets and local cafes like Thyme and Co and their smoked sea salt at delis and food shops – I also saw it on sale at Belfast airport. Their website has details of stockists.
Causeway Coast Foodie Tours are run by Wendy Gallagher – you can take one of her 6 hour Coast and Country tours by coach to visit a range of different food producers along the Causeway Coast for tastings and food demonstrations. The tours start and end in Colraine and cost £55. Email: [email protected]
Cushendun and Cushendell as you drive down the Glens coast
On my drive south from Ballycastle I passed through the coastal villages of Cushendun and Cushendell. Unfortunately most places were closed on the Monday but I was recommended the following for a place to eat;
Cushendun is a pretty village is managed by the National Trust and has a long beach, picturesque old stone bridge and a shop where you could easily buy a picnic if the weather is fine. Mary McBrides (2 Main Street) is a tiny whitewashed bar right by the bridge and serves good lunches with a fish restaurant upstairs.
Cushendall is a larger village with several cafes and restaurants with the beach a short drive from the centre. I was recommended the fish restaurant above Jonny Joe's bar – Upstairs @ Joes (23 Mill Street) where they also run a cookery school and Harry's Restaurant (10-12 Mill Street) which is just across the road, both of which serve local fish and seafood.
10. Afternoon tea at the Glenarm Castle Tea Rooms
My final stop before I reluctantly returned to Belfast airport was the tea room at Glenarm castle which is just off the coastal road and makes a great refreshment stop. You can visit the tearooms even if you don't want to visit the walled garden and they serve brunch, sandwiches and soup for lunch and tea and cakes. I just had time for a slice of Lady Grey and orange tea loaf washed down with raspberry fruit tea.
The tearoom looks as if it was once a garden building and is all painted wood and pine tables with pretty garden flowers on each table. I wish I'd had time to visit the walled garden which I could glimpse through the archway and just popped out to take a photo before continuing my drive, with the majestic glens and glacial valleys on one side and the sea on the other.
Glenarm Castle: Garden admission £5. I tried herbal tea £1.85 and cake £2.65. They serve a traditional afternoon tea for £10.95 per person.
A golden bonus from Broighter Gold
Everywhere I went I kept spotting bottles of Broighter Gold who produce cold pressed golden rapeseed oil on their farm at Limavady. They also sell a range of salad oils infused with flavours like basil, lemon and chilli and to celebrate Northern Ireland's 2016 Year of Food and Drink have created a special edition that contains 23 carat flakes of gold for a bit of extra sparkle.
It's fashionable to use olive oil with abandon in our cooking but this rapeseed oil made me stop and wonder why, when there are delicious and healthy local products like this that are part of our own farming landscape.
I loved my foodie tour of Northern Ireland's Causeway Coast exploring local artisan products, fabulous seafood and outstanding quality meat, all served up in huge portions with a healthy dollop of friendly Irish charm. I hope your mouth is watering too!
Have you any favourite foodie spots from Northern Ireland's Causeway Coast? Do leave me your recommendations in the comments
More things to enjoy in Ireland
Irish tales and 50 shades of green on the Wild Wicklow tour
10 things we did on a weekend in Dublin
See the sights of Northern Ireland by car
Visitor Information for visiting Ireland's Causeway Coast
For more information and to plan your visit to Northern Ireland's scenic Causeway Coast visit the Causeway and Glens website and follow them on social media: Facebook | Twitter | YouTube
You can also find plenty of information on the Discover Northern Ireland website and the Tourism Ireland website.
Heather stayed at The Bushmills Inn in Bushmills which is a luxury 4 star hotel that is close to all the major things to see such as The Giant's Causeway and the Bushmills Whiskey Distillery. The hotel has a traditional Irish warmth with excellent food and friendly service and the peat fire is always burning to welcome you. If you're lucky you may find your own country's flag flying from the tower to greet you!
For guided tours I recommend Glenara Elite Travel who operate tours in a comfortable mini-bus that enables you to easily see all the attractions of the Causeway Coast in one day. They run regular day tours that cost £35 per person.
My extremely knowledgeable guide for the Giant's Causeway and other local attractions was Mark Rodgers of Dalriada Kingdom Tours who fed me with local tales of fishing families and mythical giants.
Caroline Redmond offers food tours in Ballycastle at North Coast Walking Tours and Wendy Gallagher runs Coast and Country food tours at Causeway Coast Foodie Tours. Thanks to both for their food recommendations.
Thanks to the Causeway and Glens Tourism Board for hosting my stay on Northern Ireland's Causeway Coast.
Pin It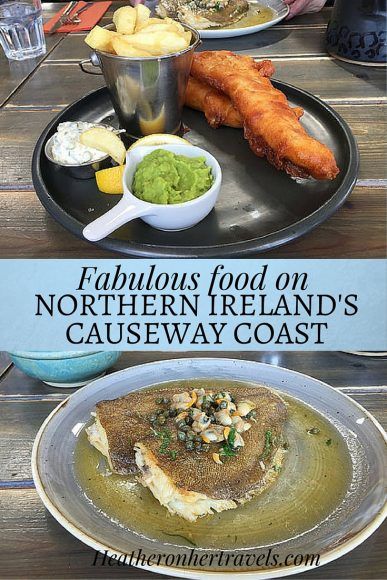 This article is originally published at Heatheronhertravels.com – Read the original article here
Walking along cliff paths and blowing the cobwebs away on a breezy beach is one of my favourite things to do at the weekend, at any time of year and whatever the weather. I've been to the Gower Peninsula in South Wales quite a few times now, since my oldest was at university at Swansea, spending his time 'studying' the best surfing beaches of the Gower coast. Last weekend I was back with my husband Guy, my youngest and a couple of his friends, staying for a second time at a very stylish and comfortable holiday house called Promenade View in Mumbles which is a perfect base for exploring the coastal walks and gorgeous beaches of the Gower.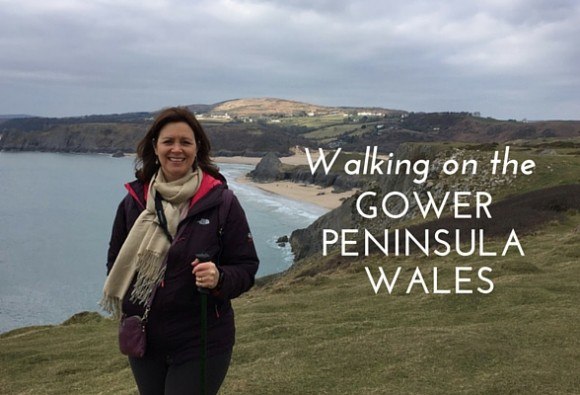 We started our walk at Pennard Cliffs
Arriving on the Friday night we made our grand plan of how to spend the weekend. We would take the bus to Pennard where we had finished our walk a couple of years earlier (read about it here), then walk as far as we could to a point where we could catch the bus back to Mumbles. It was a good plan, but with three teenage boys, a much deserved lie in and a late start on the Saturday morning, it was a plan that we soon had to abandon. At 11am, fearing that the best of the day would be gone if we didn't get a move on, we decided to drive instead of take the bus and set off for the National Trust car park at Pennard.
Leaving the car park, we followed the broad, grassy path along the edge of the cliff with patches of yellow flowering gorse, dwarf trees blown into windswept shapes and the waves crashing on the rocks below. The limestone cliffs are a natural habitat for many wildflowers, although it was a bit too early to see the pink clumps of thrift that bloom here later in the spring.
The cliff top of this section of the Welsh coast is common land where the local farmers have the right to graze their livestock, although the only animals that we saw were dogs taking their owners for a walk and swooping seagulls. Soon Three Cliffs Bay came into view, the sun lighting up the mottled brown hillside and the few white cottages with grey slate roofs.
Getting to Pennard Cliffs

The National Trust Car park at Southgate is about a 20 minute drive from Mumbles or 30 minute drive from Swansea centre and parking for the day costs £3. There are public toilets and a cafe by the car park and bus stop. The number 14 and 14A runs from Swansea to Pennard every 1-2 hours – bus map and information here.
The scramble down to Pobbles Beach
Just before Three Cliffs Bay the path led down through the dunes of Pennard Burrows to the secluded Pobbles Beach. The short grass gave way to deep swathes of sand and the boys pretended to snowboard down through the dunes, while on the cliff above us, we could hear the knock and thwack of balls on Pennard Golf Course.
Down on the beach we picked our way over boulders, stones and piles of driftwood until we reached the sand and the boys clambered over the rocks to a smaller section of beach where there was a sea cave that smugglers would have loved. The tide was coming in and as I stood there taking photos, I got caught out by a wave washing over my boots, jumped and nearly dropped my camera.
I had to call to the boys to come back round onto the main beach, before they got cut off by the sea but of course they were in no hurry. It would be all part of the adventure to scale the cliff face or climb over rocks risking the sheer drop below!
The Photogenic Three Cliffs Bay
Scrambling up through the sand dunes from Pobbles beach we came down on the other side to Three Cliffs Bay, one most photographed beaches on the Gower. I'm sure it has been on many of those 'best beaches in the world' lists. We picked our way along a very narrow cliff path, although subsequently realised there were easier routes around the back of the sand dunes, and came sliding and slithering again down to the beach.
A band of grey shale that marked the high tide mark stretched across the beach, behind it the valley through which the silvery ribbon of Pennard Pill river flowed into the sea. On the cliff above us sat the picturesque ruin of Pennard Castle that was built between the 12th and 14th centuries by Henry de Beaumont, the first Earl of Warwick, but later abandoned because of sand blowing in from the dunes and beach.
We sat on a log to rest a while then crossed the beach to where the shallow river could be crossed on stepping stones. Guy remembered how he had brought our daughter Sophie-Anne here with some friends when they were a lot younger, staying in the campsite up on the cliffs and they'd all come down to make a fire on the beach. What an wild adventure for tiddlers!
Visiting Three Cliffs Bay

The beach here is not easily accessible except by walking unless you are staying at the Three Cliffs Bay Holiday Park where they have both camping and farm cottages. Parking is available at Pennard where we walked from or at the Gower Heritage Centre at Parkmill on the other side of the golf course.
Had we continued, the path on the other side of Three Cliffs Bay would have brought us to the next beach at Oxwich Bay, another long sandy beach with easy parking and cafes at the far end, which is served by the 117 bus from Swansea. Looking out we could see the headland where the next bus stop would be and decided that it looked a very, very long way to walk to Oxwich. The executive decision was taken to turn back here and retrace our steps to the car. Our walk around the whole Gower would have to wait for another day.
Returning by the same way we'd come, we clambered up through the dunes, wading through sand that resembled soft brown sugar and along the boardwalk that led through the spindly grass. Our walk back to Pennard was much quicker on the return since I had taken all my photos and we soon arrived back to our holiday house at Promenade View on the seafront at Mumbles.
Where to stay on the Gower
Before I tell you what we got up to on the Sunday of our walking weekend, let me introduce you to our luxurious holiday house at Mumbles, called Promenade View. We'd stayed here a couple of years ago and loved everything about it, so I was really pleased when the owner Kim invited us back (read my review and watch the video here)
Mumbles is the traditional seaside town that's now a suburb of Swansea but was originally a small fishing village until the railway joined it to the city in the 19th century. The promenade that the house is named after runs from Mumbles right around Swansea Bay to the city and it's a favourite stretch for joggers and cyclists.
Staying in Mumbles gives you the best of all worlds since there are plenty of shops, bars and restaurants, but it has the feel of a seaside village. Only a short drive or even walk to the end of the promenade and you are on the cliff paths heading for some of the most fabulous beaches in Wales.
Guy and I had the first floor master bedroom while the boys took the two second floor bedrooms, each with its own en suite bathroom, making it ideal for a families or groups of friends to share. The ground floor sitting room was beautifully decorated in calm shades of cream and stone with wooden plantation shutters to give some privacy and there's space to park your car right outside.
At the back of the ground floor is the open plan kitchem with large dining table and a small patio garden where you can sit out and eat in sunny weather. The thing that I really love about this house is that you can open the shutters in the two front bedroom and sit in bed looking out over Swansea Bay while the occasional walker and cyclist passes by – really very hypnotic and relaxing.
For more information on one of the most stylish Gower Cottages around, check out the Promenade View Website and book through local cottage company Home from Home who offer many luxury Gower cottages like this one.
Walking to Worm's Head
Although we originally planned to continue our walk from Three Cliffs Bay, we decided that on Sunday we should really visit another of the best beaches in the Gower at Rhossili. Unfortunately the forecast sunshine failed to materialise but undaunted we drove for 30 minutes to reach Rhossili, at the furthest end of the Gower peninsula. We'd been there quite a few years ago on a family camping weekend (read about it here) when the kids were a lot smaller and spent a sunny day on the broad sandy beach playing cricket and generally lolling around.
On previous Gower holidays we'd never tried the walk to Worm's Head, a jut (did I just invent that word?) of rock that is joined to the headland by a causeway. You need to check the times of the tide to be sure that the causeway will be open and you won't be cut off. There's a big sign and a coastguard's hut to make sure you don't do anything too foolhardy, but I'm sure that quite a few must get cut off, in fact we spotted a board outside the hut that told us how many. By pure chance we managed to time it perfectly and arrived at 11am with the causeway open for another couple of hours, which seemed plenty of time.
The first challenge was to clamber down from the grassy bank to a slope with uneven layers of rocks, pebbles and boulders. On the causeway, the rocks were topped by colonies of miniature mussels, looking as if a sea giant had slapped dollops of tar all over the causeway. I stuck to the area closer to the sea but it was impossible to avoid the mussels, everywhere tiny mussels, on every rock, in every nook and cranny although none of them big enough to make a decent moules marinière.
I kept an eye on the water lapping up on the rocks hoping to see one of the seals that swim near the causeway but none appeared. By the time I had stopped to photograph every mussel, whelk and limpet, the boys and Guy were way ahead of me and I decided to turn back, leaving Guy to make sure they all got back safely before the tide turned.
As I picked my way cautiously back across the causeway (definitely ankle twisting territory!) I remembered my friend telling me about the time when she was at Worm's Head with small children frantically calling her older ones back before they got stuck on the wrong side of the causeway. I saw the binoculars at the coastguard's hut and wondered whether they count them out and count them back in.
Soon I was relieved to see my crew making their way back and all were back just by 1.00 when the tide was due to turn and flood the causeway. Since it was past lunchtime we found a cosy Gower hotel and had a plate or two of chips at the Worm's Head Hotel before heading back to Promenade View for a late sandwich lunch.
Back at Mumbles Promenade
Annoyingly, as soon as we drove away from Rhossili, the brooding grey cloud cleared and we started to see patches of blue sky at last. On the Mumbles promenade families were out enjoying the sunshine, strolling up past the boats towards the pier to treat themselves to an ice cream.
Sadly we had run out of time to join them on this weekend, but I'm sure there will be another installment of the 'Walking around the Gower' project, when we return to walk just a little further and explore more of those glorious Gower beaches.
Visitor Information
For more information about staying at Promenade View Holiday Home check out their website and follow them on Facebook and Twitter.
You can book Gower holidays through Home from Home holiday cottages who specialise in Gower holiday cottages and have a great many lovely ones to choose from. Follow them on Facebook | Twitter | Instagram
To find out more about what's going on in the area of Mumbles and Swansea Bay check out the Visit Swansea Bay website and follow on their social channels Facebook | Twitter | Instagram
For more holidays in Wales check out the Visit Wales tourism website and follow their social media channels Facebook | Twitter | Instagram
More things to do in Wales
A weekend on the Gower Peninsula at Langland and Caswell Bay
Lovely Laugherne – on the Dylan Thomas trail in South Wales
An Ugly Lovely Town – Dylan Thomas in Swansea
Find all my Photos from the weekend in my Flickr Album: Mumbles and Gower
Pin It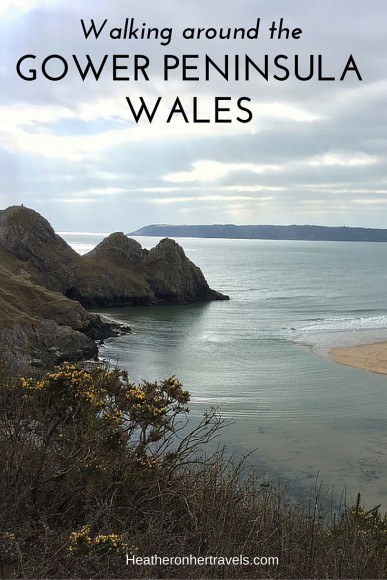 Thanks to Kim at Promenade View Holiday House for hosting our weekend stay.
This article is originally published at Heatheronhertravels.com – Read the original article here
As I child I would visit the Lake District in the Easter holidays with my parents, staying in an old stone cottage with a fast flowing stream at the bottom of the garden. This weekend it was time rekindle those memories and head back to the lakes to another old stone cottage with my blogging friends; Zoë Dawes of The Quirky Traveller who lives locally and Kathryn Burrington of Travel with Kat. I had envisaged a weekend of fresh-air country walks, lakeside views and yomping across the fells, breaking only for a nourishing ale and lunch at the local pub.
But that was until we saw the forecast for rain. All weekend. Time to make our Plan B and take the opportunity to discover the surprising amount of culture on offer in the Lake District. With Wordsworth, Beatrix Potter and the decorative arts at Blackwell we had plenty to keep us busy while dodging the raindrops, and we did manage to squeeze in a little walk as well as a several stops in the local pubs.
Blackwell Arts and Crafts House
After Zoë picked us up at the station, we decided to take a look at Blackwell Arts and Crafts House at the head of Lake Windermere. I'm a sucker for the decorative arts and this was a unique showcase for the gorgeous stained glass, oak furniture, textiles and crafts of the Arts and Crafts movement which took its inspiration from local crafts and the natural world.
The house was built in the late 1890s by architect Mackay Hugh Baillie Scott as a holiday home for a wealthy Manchester industrialist Sir Edward Holt and has a prime setting overlooking Lake Windermere, although we could see little of the fine views through the rain. I loved walking around the house admiring the carvings in the oak panelling, motifs of flowers and leaves in the wallpaper and the stylised flowers in the stained glass windows.
Everywhere were small details taken from nature, like the leaf shaped door handles and the rowan tree with leaves and berries that were part of the family's motif. At the turn of the century, wealthy industrialists like the Holts, who had made their money from brewing, commissioned large houses like Blackwell for entertaining and to show off their new found wealth and good taste which we can now all enjoy. Website: Blackwell.org.uk
Beatrix Potter at Hilltop Farm
On Sunday we paid a call on Beatrix Potter who is something of a heroine in the Lake District, not just for Peter Rabbit and Mrs Tiggiwinkle, but as a benevolent landowner who saved the Herdwick sheep from dying out. Beatrix had holidayed in the Lake District with her parents and having made some money from her children's books, she decided to buy the farm of Hill Top at Sawrey. Beatrix Potter eventually made her home in the Lake District, buying a number of farms, all of which she left to the National Trust who now manage Hill Top.
This house was her escape from London and she made it her own, furnishing it with her favourite items and collecting plants for the garden. As the rooms are quite small and packed with furniture, pictures and ornaments, you may need to wait a while for timed entry during busy periods. The house, garden and surrounding area were inspiration for some of the illustrations in Beatrix's stories. In each room, you'll find a few of her books, with a book mark at the picture that you can recognise as being set in that room; Tabitha cat entering the front door with her basket and bonnet and Tom Cat at the kitchen range about to jump up the chimney.
Initially Beatrix used Hill Top as her holiday home, but after her marriage to local solicitor William Heelis, she moved to a new house, Castle Cottage, which you can see across the fields. Hill Top was used as the place that Beatrix came to work, entertain visitors and as accommodation for any guests, since she valued her privacy.
In summer the flower bed that was bare when we visited is overflowing with roses, flowers and shrubs and through the green wrought iron gate you'll find Mr McGregor's garden where naughty Peter Rabbit nearly got caught stealing the vegetables. You won't find any of the charming illustrations that Beatrix made for her books at the house but these are on show in the Beatrix Potter Gallery at Hawkeshead. Website
If you are looking for a delicious pub lunch after your visit to Hill Top, I highly recommend the Tower Bank Arms which you will have passed when walking up from the car park to the house. I imagine it is packed out in summer as it's quite small inside, but worth a wait and I really enjoyed my baguette with camenbert, smoked chicken and salad, washed down with ginger beer.
Discovering Wordsworth at Grasmere
One of the Lake District's most famous cultural figures is the poet, William Wordsworth who was a leader of the Romantic movement that drew inspiration from the beauties of nature. Wordsworth spent most of his life in the Lake District, attending the grammar school in Hawkshead then going on to study at Cambridge, before taking up residence in Dove Cottage with his unmarried sister Dorothy when they were both in their late twenties.
The cottage is very small and best visited in a guided tour which takes place hourly in winter, since there is little information in the rooms. Our guide explained how the household lived in the early 19th century, taking local walks, visiting friends and of course writing. William later married and would go for long walks to get inspiration for his poetry while Dorothy and Mary his wife attended to domestic tasks.
Dorothy kept a journal about their everyday lives, writing about the walk that inspired Wordsworth's famous daffodil poem.
"I never saw daffodils so beautiful they grew among the mossy stones about & about them, some rested their heads upon these stones as on a pillow for weariness & the rest tossed & reeled & danced & seemed as if they verily laughed with the wind that blew upon them over the Lake, they looked so gay ever glancing ever changing."
The tour of the house gave an interesting insight into the daily life of the Wordsworth household and the many writers such as Coleridge, Walter Scott and Thomas de Quincy who visited them. Behind the cottage is a museum with much more information about the world that Wordsworth lived in and the literature of the day. Website: Wordsworth.org.uk
Where to stay
If you stay in Chapel Stile as we did, you'll understand why people fall in love with the Lake District and return year after year to enjoy its natural beauty. Set in the heart of the Langdale Valley, the village is surrounded by the fells (that's hills to us southerners) with a fast flowing river running behind the Wainwrights Inn. We stayed at Daw Bank cottage through the Good Life Cottage Company who manage 34 cottages within the Lake District National Park, many of them in Chapel Stile and nearby Elterwater.
The slate fronted cottage was one of a terrace and surprisingly spacious inside, with three good sized bedrooms and a cosy sitting room with a wood burner in the fireplace. The kitchen included attractive painted wood cupboards, with all the conveniences such as a dish washer and washing machine and there was a small enclosed garden with views over the fields. The village itself has a shop and small tea room just a few minutes away and two pubs within walking distance, both of which we had to try of course!
We met the friendly manager Natalie at the Good Life Cottage Company offices which is close by in Elterwater, so you benefit from the local knowledge and help of the team on the ground if you have any questions. If you are a keen walker like me, you can't get a much better situation than Chapel Stile, since you can walk up into the wild Langdale Valley or find much gentler walks by Elterwater which conveniently ends at the Chesters tea shop at Skelwith Bridge. For more information on cottages in the Lake District check out the Good Life Cottage Company website or follow them on social media; Twitter | Facebook | Instagram
Where to Walk – Elterwater
Saturday afternoon we saw a break in the rain and took our chance for a blustery walk by Elterwater. There was an easy tarmac path alongside the river leading from Chapel Stile to Skelwith bridge, but since the fields and path were flooded we could only do part of the walk.
Still it was great to get out in the fresh air and stretch our legs, admiring the snowdrops sheltering under the mossy stone wall and the bare branches of the trees silhouetted against the sky.
Where to walk – The Langdale Valley
The next day, more rain was forecast but undaunted we decided to take a driving tour of the Langdale Valley to see some of the wild countryside on our doorstep.
Because of the rain it was a case of admiring the scenery through the car window and hopping out every so often to take a picture, but I could see that the scenery here is stunning and would love to get back in better weather to get on my hiking boots and do some proper walking on these fells.
Where to eat
The Station Cafe – Lovingly Artisan at Oxenhlme station
Fresh off the train at Oxenholme, Zoë led us to a cute little cafe in the car park called Lovingly Artisan with a very moreish selection of pastries on display. We discovered that this was an outpost of a local bakery who specialise in artisan bread and ducked inside for a comfy chair out of the rain where I had some home-made courgette soup with fresh crusty bread. I'd definitely recommend popping in here for a coffee or pastry as you pass through Oxenholme Station. Website: Lovinglyartisan.com
Recommended pub: Britannia Inn at Elterwater
On our first evening staying at Chapel Stile we had dinner at the Britannia Inn which is just five minutes down the road at Elterwater. In the evening this pub is mostly for food and we were seated by the window with a cosy fire burning in the room to one side.
My fish and chips was perfect with fresh, flaky fish in crisp batter, thick cut chips and mushy peas, all washed down with a glass of the local ale, Britannia Gold. Kathryn ordered the fat coiled Cumberland sausage, Zoë the lamb shank, and we all fnished with the sticky toffee pudding which is something of a Lakeland speciality.
The Britannia is great for unpretentious but excellent pub food, served in a homely atmosphere with friendly service. It's popular with both locals and visitors, who spill out in summer onto the terrace and grassy common at the front of the pub. Website: TheBritanniaInn.com
Afternoon tea and cakes – Chesters by the River
After our windswept walk beside Elterwater we finished up at Chester's by the river at Skelwith bridge. Sadly the cafe was just about to close so we had to content ourselves with buying some of the cakes to take back to the cottage for later. We also loved looking around the shop which was packed full of tasteful gifts as well as local craft beers and other foodie items. Website: Chestersbytheriver.co.uk
Recommended pub: Wainwrights Inn at Chapel Stile
On our second evening we had to try the local pub, Wainwrights Inn which belongs to the Langdale Hotel just up the road. Like the Britannia Inn it is a traditional Lakeland pub with slate floors and a cosy fire burning, serving all the pub favourites.
We discovered that the chef has taken up smoking (food that is) and has a smoke house at the back where he smokes cheese, fish and meet that is served in both the pub and the hotel. Not wanted to miss out I tried the smoked sharing platter (although I didn't do much sharing) and had a bit of all the specialities which were delicious served with fresh bread and pickles. If you enjoy a pint you'll find plenty of local ales here and if you can't decide the bar staff will happily recommend, or try their beer bat with 3 smaller glasses of different ales. Website
The edible souvenir – Grasmere Gingerbread
I was given a packet of Grasmere gingerbread and enjoyed it so much that we had to stop at the shop by the Grasmere church to buy some more. It' s a cross between a biscuit and cake which has been baked here for 150 years and seems to have just the right combination of sweetness and spice.
We found the small shop by the churchyard where Wordsworth is buried, full of biscuits and other edible souvenirs like ginger wine and beer, served by a friendly lady dressed in a mob cap and apron. A charming souvenir of our weekend in the Lake District. Website: Grasmeregingerbread.co.uk
Although our plans for bracing walks were scuppered by the rain, we definitely didn't miss out and found that the Lake District has a whole layer of art and culture that will keep you busy whatever the weather.
Have you visited the Lake District recently? If so do leave your tips about what you enjoyed in the comments.
Pin It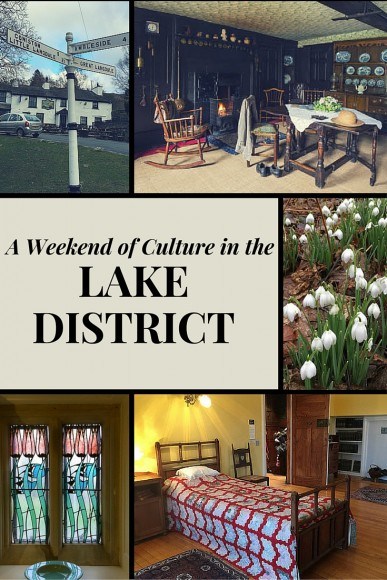 Thanks to Good Life Cottages who hosted our stay at Daws Bank Cottage and the Britannia Inn and Wainwrights for our evening meals.
Photo Credits: All photos by Heather Cowper at Heatheronhertravels.com except Hill Top interior images by National Trust Images/James Dobson
This article is originally published at Heatheronhertravels.com – Read the original article here