Living in Bristol I often get asked for recommendations on the best places to stay as well as what to do in my lovely home town. For travellers who enjoy taking short city-breaks, I believe that the choice of hotel is a big factor in how you experience a place. I prefer to stay at hotels that are centrally located, with stylish decor and a personal touch with staff who really care. I have my own comfy bed in Bristol, so I haven't stayed overnight in the hotels I'm going to recommend, but I have visited them all for one event or another and they are hotels that I would choose myself, if I were visiting Bristol.
1. Brooks Guest House – for quirky charm and affordability
This charming guest house is right in the middle of the old city, tucked down a lane by St Nicholas Market. It's a great choice if you are arriving in Bristol by coach or train since there's no parking at the hotel, but then you will be bang in the heart of things. There's a contemporary but slightly retro feel in the decor, with painted woodwork and Cole & Sons wallpaper.
The big talking points are the four shiny Rocket caravans on the roof where you can stay in a cosy twosome (and yes they do have bathrooms).  Breakfast is downstairs in the light and airy kitchen area and there's a pretty paved courtyard which is perfect to sit outside as the weather gets warmer.
Brooks Guest House, St Nicholas Street, Bristol, BS1 1UB. Check out the best prices and book for Brooks Guest House at HotelLook.com
What do do while staying at Brooks Guest House
Wander around St Nicholas Market where the Guest House is located and try something delicious from the food stalls under the glass roof. This is a favourite spot for locals to come and buy their lunch, and you can choose from a multicultural selection, from Jamaican to Portuguese hot dishes, Pieminster pies to pulled pork in a bun. Inside the Covered Market and Exchange Hall are lots of small stalls selling clothes, jewellery and a whole range of interesting things, all run by small indie businesses.
Visit Castle Park which is a short walk through the market. If the weather is fine, this is a great place to take your lunch from St Nick's market to sit on the grass overlooking the river. The church of St Peter's was bombed in the war but its shell remains as a monument and there's a sheltered herb garden and sculpture avenue next to it. There's also a children's playground tucked away on the mound beyond the church.
Watch a play at the Theatre Royal close to Queen's square, where the Bristol Old Vic Theatre Company puts on everything from Shakespeare to family shows. The theatre dates back to the 18th century and has an impressive classical facade and original gilded Georgian auditorium so it's always worth checking on the latest productions.
2. Hotel du Vin – for old school style and luxury
Housed in an old stone sugar warehouse, I love Hotel du Vin for its sense of style and old school luxury. As the name suggests, there's a wine theme going on in the Bistro restaurant, with polished dark wood, panelled walls and a French inspired menu, as well as a bar area with squashy leather sofas to relax with a cocktail or coffee.
Due to the character of the old building, no two bedrooms are exactly the same, but all are luxurious with roll-top baths or powerful showers, soft velvet furnishings and antique leather easy chairs. The hotel is centrally located in the oldest part of Bristol, and where the road now runs in front of the hotel was once the original waterfront where ships would have moored.
Hotel du Vin, The Sugar House, Narrow Lewins Mead, Bristol, BS1 2NU. Check out the best prices and book for Hotel du Vin Bristol at HotelLook.com
What do do while staying at Hotel du Vin
Walk up the atmospheric Christmas steps, to imagine how Bristol looked in the 17th and 18th century when the road in front of the hotel was part of the harbour, then check out some of the quirky independent shops. At the top of the steps there's an old Alms House and plenty of other small arty shops along Colston Street and Perry Road.
Colston Hall is just a short walk from the hotel, Bristol's main music venue hosting an eclectic mix of international performers, community choirs and pop tribute bands. An open copper foyer was added to the original Victorian building a few years ago, often hosting free live music in this space with a stylish cafe too.
Visit Red Lodge which is set on Park Row, on the hill above Hotel du Vin and the Colston Hall. It's one of the oldest houses in Bristol where you can see oak panelled Elizabethan rooms and fireplaces in the Great Oak Room, with views over the city. The wealthy merchants who once lived here would have had a grand view of their ships coming up the harbour as well as being able to take their leisure in the Elizabethan knot garden. Entry is free and the house is open from end March to end December, closed Weds/ Thurs/ Fri.
3. The Bristol – for luxurious rooms overlooking the harbour
From the ouside The Bristol may not be the prettiest of hotels – although there's something iconic about its listed 1960s facade that was originally built as a motel. Step inside and the rooms are spacious and stylish in relaxing natural tones with luxurious velvet throws in highlight shades of  plum, mushroom or aubergine.
You can take their popular afternoon tea, order some sharing plates in the Lounge or have dinner with a view of the harbour in the River Grille restaurant, with drinks in the Shore Cafe Bar next door. As there's a multi-story car park next door, this is a convenient choice for those who are driving but want a central location by the harbour in Bristol.
The Bristol, Prince Street, Bristol, BS1 4QF. Check out the best prices and book for The Bristol at HotelLook.com
What to do while staying at The Bristol
Take a Bristol Ferry Company boat from the steps opposite the Watershed Arts Centre which will take you around the harbour with lots of different stops on the way. You could get off at the furthest point for a pleasant walk back along the water or just stay on board for a mini tour which will take around 40 minutes to see harbour sights like the ss Great Britain and Underfall Yard from the water.
Just along the harbour front is M-shed, a free museum that brings to life the history and people of Bristol. With plenty of hands-on exhibits it's great for all ages and since its free, you can dip in and out depending on how long you've got. When your tummy is rumbling it's time to discover Bristol's latest foodie hub which is just next door at Wapping Wharf – a pedestrian street full of indie restaurants and bars, including Cargo – a group of food retailers housed in shipping containers.
Take the steam train or walk down to ss Great Britain – from M-shed, there's a small steam train that runs at weekends, manned by enthusiasts that will take you along the harbourside down to ss Great Britain (of course you can also walk). This historic iron steam ship was built by Victorian engineer Isambard Kingdom Brunel who also designed the Clifton Suspension Bridge and the ship was returned to Bristol from the Falklands. Now fully restored, it is one of Bristol's leading visitor attractions and a great day out for families and those interested in Bristol's maritime history.
I hope you enjoyed my mini-tour of some of my favourite places to see and stay in Bristol. If you're planning a weekend break in Bristol, do check out the best prices and book at  Hotellook.com.
Pin It
Disclosure: This article was brought to you in partnership with HotelLook.com
This article is originally published at Heatheronhertravels.com – Read the original article here
One of my favourite weekend getaways is to go walking along England's unspoiled coastal paths. Those sea views, wind and fresh air seem to blow away the cobwebs and leave me rejuvenated to tackle the challenges of daily life. My sister lives on the couth coast, so I was interested to see that Eastbourne have teamed up with TV presenter Michaela Strachan to highlight some of their food, culture and coastal walks.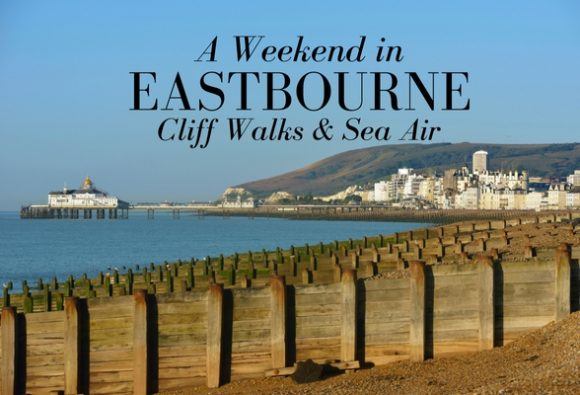 They have a great series of videos which will inspire you with ideas for your next weekend break, if you'd like to breathe in some of that fresh coastal air. You can explore Eastbourne with Michaela Strachan and watch more videos like the one below.
If you can't see the video above, watch it on YouTube here
Eastbourne makes the perfect base for an out of season weekend break, with an unspoiled Victorian seafront and 300 metre long pier that was completed in 1872. With colourful beach huts, fish and chip shops, a Victorian tea rooms as well as a wide range of restaurants and cafés, Eastbourne seems to bring back the nostalgia of all those childhood holidays sheltering behind the windbreak, pestering Dad for a 99 ice cream – with flake of course!
At the western end of the seafront you'll find Holywell beach, which is set at the foot of the South Downs, with a popular café and pretty Italian gardens. At low tide the rock pools are revealed, teeming with marine life, so you may want to bring your wellies and fishing nets to catch a few crabs. From the Sovereign Harbour, with its large marina, you can take boat tours along the coastline, for fishing, diving and to see the famous lighthouse at Beachy Head.
For me, one of the biggest attractions of Eastbourne is its access to the South Downs National Park and the walks up onto the cliffs at the start of the South Downs Way. I've walked the Winchester end of this long distance path with my sister but would love to do the whole thing, with breathtaking views over the English Channel. A walk up onto the cliff tops will soon bring you to Beachy Head (it's also accessible by bike, car or open-top bus tour) with those iconic white cliffs and the striped Beachy Head lighthouse.
A little further along the cliffs you'll reach Birling Gap, an unspoiled pebble beach enclosed by cliffs, where the low tide exposes rock pools and marine life – it's a marine nature reserve. The beach is managed by the National Trust and there's a visitor centre, shop and café, so it's a good place to stop and admire the white chalk cliffs of the Seven Sisters.
If you have a few days to spare you might continue your walk along the South Downs Way, through an unspoiled English landscape of rolling hills and picturesque villages, ending a hundred miles later in Winchester. For our weekend break we might just continue as far as Alfriston for lunch in a country pub or refeshment of afternoon tea, before we head back to Eastbourne.
Giveaway
If this taste of Eastbourne has inspired you to get out and breathe in some fresh air, why not enter my giveaway in partnership with Discover Eastbourne. You could win a £100 Ultimate Gift Card which can be used to buy some great outdoor brands including Berghaus, from stores like Blacks, JD, Scotts, Millets and Tessuti. The giveaway ends on Thursday 1 December. To enter you need to:
Watch the video in this post and leave a comment below this post to say which attraction/sight featured in the video you'd most like to visit.
For additional chances to win you can;
The giveaway has now ended – thanks so much to all who took part
Disclosure: This article is brought to you in partnership with Visit Eastbourne
Pin It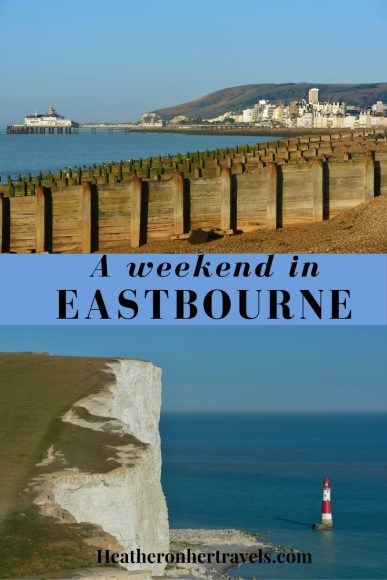 This article is originally published at Heatheronhertravels.com – Read the original article here
When it comes to photography, I admit that I'm a bit of a technophobe. I enjoy photographing my travels, but can't seem to get beyond shooting in auto. All those instructions about F-stops and shutter or aperture priority go in one ear and out the other. When Panasonic UK invited me to a wildlife photography workshop, I was pleased to discover that their Lumix GX80 camera has a few functions that help you take better photographs without having to master all those knobs and settings. After trying the Lumix GX80 out during the workshop and back at home, here's my review;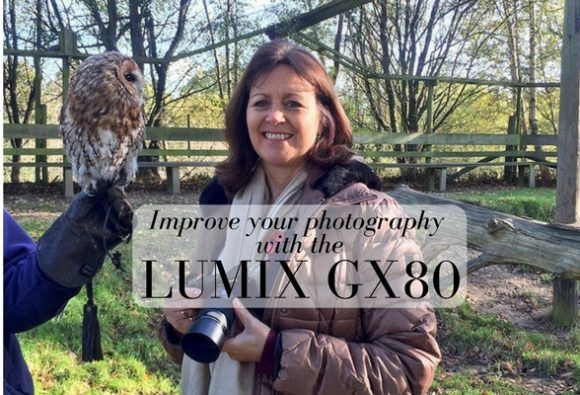 Let's Start with the camera body
As a travel blogger, camera size is a big deal for me. I travel light and don't want to carry a big camera around, so the micro four-third compact body of the Panasonic Lumix GX80 suits my travel style perfectly. It's smaller than a normal DSLR – ideal to hold with one hand, tuck into a medium size handbag and be reasonably discreet when you whip it out in a restaurant or marketplace.
I liked the slightly textured and retro look of the body with a wider grip at one end, making it easy to hold one-handed, when juggling a phone and notebook. Most of all I love that the micro four-third size bodies take a range of interchangeable lenses, so you have the flexibility to go wide angle for a hotel interior or zoom for wildlife shots.
Looking at the lens
The Panasonic Lumix GX80 comes with a standard 12-32 lens which is fine for taking landscapes and shots of people and places. The Panasonic lens on this camera is also interchangeable with the Olympus range, which is great as I already have an Olympus wide angle lens, so I can swap them over for my hotel interiors.
When I tried out the Lumix GX80 during the wildlife photography workshop I quickly realised that the standard 12-32mm lens would not cut the mustard for wildlife photography. The clue was how quickly the pro-wildlife photographers changed up to big zoom lenses, so I followed suit and tested out the 45-200 lens which allowed me to get some nice close-ups of animals a few metres away from me.
For those safari shots with animals in the distance I would have needed an even bigger zoom lens. Since my travel photography tends to be a complete mixture of landscapes, portraits, food shots and the occasional wildlife shot I need a lens that will be versatile. I'm always trying to pack in a lot and don't have time to change lenses. On the advice of top wildlife photographer, Phil Gould, who taught our workshop, I'll be looking at a 14-140 lens that will take give me all the standard shots with the option to zoom in that little bit closer, all in one lens.
Screen and Viewfinder
Another feature I love about this camera is that it has both a viewfinder and a viewing screen that pulls out from the body and can be tilted at different angles. You flip between them with a press of a button. Using a viewfinder helps you compose a shot more accurately in sunny conditions when there's too much glare on the screen.
However, the angled screen was very useful when you are taking a shot that's high or low. For instance you can take a shot of your food from above, while easily composing the shot on the angled screen. I noticed that the pro-wildlife photographers at the workshop were using this feature by setting their camera on the grass to photograph animals from a low angle, while using the screen to monitor the composition. The only downside is that the screen does not swivel round completely, meaning that you can't use it to position yourself for selfies or vlogging.
Another feature of the Lumix GX80 is the inbuilt stabilisation and fast autofocus which really helps in some travel situations such as busy public places where you are trying to capture the action and atmosphere of the situation.
So far so good, but now to those features of the camera that can help you take better photographs without having to master all the technical settings.
Testing out the 4K feature on the Lumix GX80
I enjoyed trying out the 4K feature of the Panasonic Lumix GX80 which allows you to take better action shots. Essentially the camera takes a burst of images or short video, but unlike most video, each individual frame is high quality, giving you an 8MB file that can be blown up to A3 size. As technology develops it's likely that even higher quality 6K cameras will be available in the future. This feature is a game changer for action shots, since you can take a burst of photos, then review them on the camera to pick out the best one and save that individual shot, deleting the rest if you wish.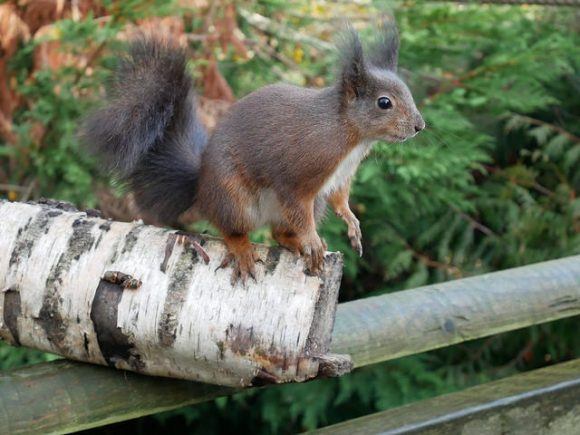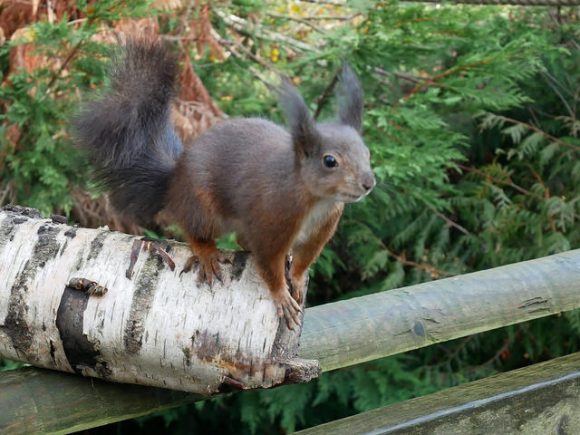 I tested out the 4K feature at our wildlife photography workshop and enjoyed trying to catch the perfect shot of a squirrel running across a branch or a wildcat jumping in the air. I set the 4K to stop/start mode, which meant that like shooting video I pressed the button to start the burst and pressed again to stop. As you can see from the squirrel photos above, a fraction of a second can make all the difference when your subject is moving quickly.
I found that the 4K function is best suited to situations where you can anticipate the action, since with 30 frames per second you don't want to be taking more than a few seconds of the 4K video. You also need to allow for some delay as each 4K burst takes a few seconds to save before you can take your next photo. I can imagine using this function to capture someone jumping or running, a child on a swing or blowing out their birthday candles, informal portraits in a restaurant, musicians or dancers, or of course wildlife. For family photography it would be ideal if you have young children who can't sit still, to enable you to capture their expressions or movement. Take a look at my 4K series of photos of the wildcat jumping in the air – which would you choose?
The Post-focus function on the Lumix GX80
The post-focus function is another feature that allows you to increase the range and quality of your photographs without having to master all the technical settings or change lenses. Like the 4K function, the camera is effectively taking a burst of photos that focus on different elements of the composition. Once you have switched on the post-focus function and taken your photos, you then review and tap the screen to choose the focal point that suits you best.
I can imagine using the post-focus function to take shots in a restaurant then decide later which elements on the table you want in focus. Other examples could be a landscape where there is a flower in the foreground and mountains in the background, or a person stretching out their hand where you can't decide whether to have their face or hand in focus. The post-focus is best for static scenes where you can control the composition, like the flower and orange photos I took below.
Thank goodness there's wifi!
Since I post a lot of photos to social media I knew that my next camera would need to have wifi function so was thrilled to find this is a feature of the Panasonic Lumix GX80. While I'm happy with the quality of the photos on my iPhone, I've heard from serious instagrammers that the higher the quality of the photos they post, the better their engagement. I love that the Panasonic Lumix GX80 allows me to take the highest quality photos and still share them easily and quickly on social media, which is a large part of my work as a travel blogger.
I tried out the wifi by downloading the Panasonic image app onto my iPhone, then putting in the password given when prompted. Once you've done this the first time, the camera connects via wifi to the iPhone whenever you press the wifi button and select the correct wifi network on the phone. Via the app I can review all the photos I've just taken on the Lumix GX80 on my phone screen. I can check they are sharp, just as if they were on my phone, then select whichever I want and they are immediately transferred to my phone memory. Unfortunately only the still images are transferrable this way and the 4K videos have to be downloaded to your computer via the memory card – which is a shame as some of these short clips would be great to post 'live' on social media.
The Panasonic app also means that the phone can become a remote control device for your camera so you could set it up and then take photos from a distance. I can also review the photos in the phone app and delete any duds immediately, freeing up more space on my memory card. There's also a collage function within the app although you don't have the same flexibility to reposition photos as I do with an app like Picframe, which I currently use to make collages on my iPhone.
With the wifi function to transfer photos quickly to the iPhone, I will probably take more of my photos in future on the Panasonic Lumix GX80 and hopefully increase the quality of my social media photography in the process.
Battery life and charging on the Lumix GX80
The camera comes with a charger lead that plugs into the side of the camera. The USB fitting at the other end can be plugged into any USB charger such as a portable battery pack or a car USB charger as well as the plug that comes as standard. While I'm sure I could buy a separate battery charger, this approach will probably prove more flexible for keeping my camera charged on the move.
If you're using a lot of the functions such as 4K, be aware that the battery may not last very long. After a couple of hours constant shooting in our wildlife photography workshop, my battery was dead, so I'll need to buy some spares. You also need to make sure that after using the wifi function, you disconnect it, as this also drains the battery. I suspect that if you are shooting a lot of 4K images, this will eat also into your memory card space, so you need a memory card with plenty of space for all the high quality photos.
The Panasonic Lumix GX80: my recommendation
I am really pleased with my new Panasonic Lumix GX80 and will be using it in conjunction with my iPhone in the future. I love the smaller body size, coupled with the option for interchangeable lenses, as well as having both viewfinder and tilt screen. The wifi now enables me to transfer high quality images to my phone so I'm expecting to improve the quality of my social media posts, especially for Instagram.
I think the 4K and post-focus are fun features that I'll be playing with to enable me to take better photos without having to worry about which technical setting or lens I'm using. For travellers I'd recommend the Lumix GX80 as an excellent all-round camera that will help you take better photographs when you need something that's a step up from your camera phone.
For more information about the Panasonic Lumix GX80 – Visit the Panasonic Website and you can buy the Lumix GX80 on Amazon here.
Discovering Lumix Unmissable Moments
If you want more inspiration on how other photographers are using the Panasonic Lumix G range check out the Lumix Experience website where you'll find galleries and video tutorials to show you how you can get the best from your Lumix camera. You can also follow the conversation on social media with the hashtag #UnmissableMoments.
Wildlife photography at the British Wildlife Centre
All the wildlife photographs were taken in a wildlife photography workshop at the British Wildlife Centre in Surrey, where you can see and photograph some of the wild animals that are native to the UK. The centre also runs regular photography workshops where you can improve your wildlife photography, with tips from the experts. The workshop I attended was specially arranged to enable our group to try out the Panasonic Lumix GX80 camera.
British Wildlife Centre, Eastbourne Road, Newchapel, Lingfield, Surrey, RH7 6LF, Tel: 01342 834 658
Key information about the Panasonic Lumix GX80
16-million-pixel Four Thirds sensor, no optical low-pass filter
ISO 200-25,600 (ISO 100-25,600 extended)
Dual IS: 5-axis in-body stabilisation working with 2-axis in-lens
4K video recording and 4K Photo mode
76-million-dot equivalent EVF (16:9 aspect ratio)
04-million-dot 3-inch tilting touchscreen
New low-vibration shutter: 60sec – 1/4000sec (1sec – 1/16000 sec electronic)
£509 body only, £599 with 12-32mm f/3.5-5.6 lens
Thanks to Panasonic UK who invited me to the workshop and gave me a Panasonic Lumix GX80 for the purposes of this review.
Pin It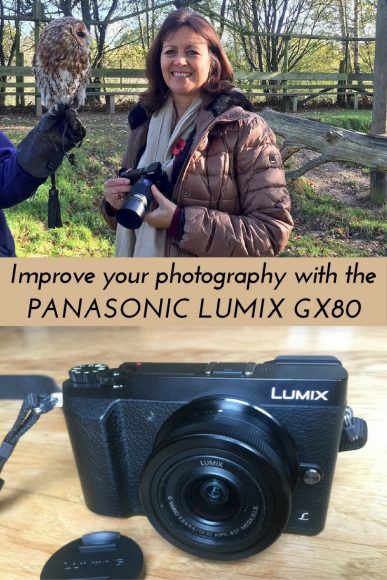 This article is originally published at Heatheronhertravels.com – Read the original article here