"It's a bit like Bristol really, you're either clinging on by your fingertips or looking out to a bright future!" Well, perhaps Banky's Bristol mural, The Well Hung Lover, is a metaphor for life in the city, as suggested by our street art guide Tina Altwegg of Where the Wall street art tours. Apparently Bristolians approach them all the time during their tours, and this was just one interpretation of the Banksy piece, given to them by a passer by on a previous tour. Our street art tour started and ended with a Banksy, but as we discovered there's a lot more to the Bristol street art scene than the city's most famous and mysteriously anonymous street artist.
As we walked down the steps to view the Banksy mural from below, Tina fed us annecdotes about the art and artists we were passing. This Banksy was created at a time when Bristol City Council was whitewashing street art as fast as it could be created, but since it was painted in a very visible but inaccessible position, on the side of a building owned by a friend of Banksy, no-one could touch it. That didn't stop it being targetted by taggers launching blue paintball splodges which have only partially been removed. Perhaps the theme of betrayal was inpired by the bust-up Banksy had with his manager, or perhaps it's a reference to the sexual health clinic that once occupied this building.
A little further we came across one of my favourite pieces of the tour by JPS – two cute children doing The Big Deal. The artist from Weston Super Mare uses stencils in a way that is reminiscent and even inspired by Banksy. The Queens Shilling, an LGBT nightclub it's next to, liked it so much that they asked him to create another piece just around the corner.
This Spartacus mural by JPS is a tribute to the actor Andy Whitfield who was in the TV series but died of cancer. Apparently it's a favourite photo spot for hen parties – can't think why!
We moved across the centre to the Radisson Hotel Blu Hotel, not the most obvious location for street art – but here was a piece by Cheo that recreates the local Aardman characters of Wallace and Gromit as cool dudes from the hood. The first mural was created when the Shaun the sheep statues were scattered around Bristol but it became such a talking point that the hotel asked Cheo back to create its partner.
In Corn Street Tina pointed out the The Hatter Cafe who had commissioned a piece by Nick Walker using his familiar character in a bowler hat which we spotted again later along Nelson Street. There are an increasing number of businesses around Bristol that tap into the talent of Bristol street artists – you can stay in a room at the Mercure Holland House inspired by Bristol Street art or sip your cocktail on the Urban Roof Terrace of the Marriott City Hotel.
Turning off Corn Street through Leonard's Lane was a revelation, with the murals visible at the entrance of this dark passage only hinting at the menagerie of creatures and stencil, mosaic and 3D pieces to be found by those venturing down the alley. Take a look at my photo album for a taste of some of them.
We emerged blinking into the daylight from the passage, at the old old city walls with the spire of St John in the wall above us and the unicorns and lions from the city's coat of arms decorating the old stone archway – for unicorn chasers there's also one inside the church.
Now we were on Nelson Street, one of the key street art areas of Bristol. Most of the uninspiring concrete buildings were painted with huge murals as part of the See No Evil Street Art Festival in 2011 and 2012. Look up to find the Madonna-like piece by El Mac based on his girlfriend and baby, using a shading technique created by chilling down the aerosol paints in a bucket of ice. Next to it Nick Walker's bowler hatted man is painting the town red. A little further up the road, the wolf by Aryz and stick figure by the artist of the same name Stik brighted up the most unremarkable towerblocks. Nelson Street is now under development with a large building site, so some of the smaller pieces from the festival have been lost, but it's still well worth visiting for the larger murals that remain. The festival was a predecessor of the Upfest festival that now takes place in South Bristol, hosting 300 street artists and 30,000 visitors last July.
As Tina tells us the story behind each piece, I sense a theme emerging. Some of the artists like Stik and JPS had been depressed or homeless and found a way forward through street-art. Others have been honing their artistic talent in Bristol for many years, since John Nation, now a tour guide for Where the Wall, started a street art project at the Barton Hill Youth Club. Artists like Nick Walker and Cheo started painting there before Banksy and, as Rob Dean, the founder of Where the Wall explained, if they have now found success, it's not before time.
"The artists are now getting recognition for what they are doing rather than lurking in the shadows, which is fantastic – the people who have been doing it for 20 years need to become household names. It's not so much commercialism as the recognition that they deserve for the hours they have put in."
The Street Art tours are becoming increasingly popular with school groups, both in Bristol and from abroad and Tina runs the tours in French and German when required. Sometimes the tour is combined with a creative spray session at the end, so that the kids can give it a try for themselves. Art teachers find that it's a great way of getting teenagers excited by the medium – perhaps inspiring the next generation of street artists.
We move on towards Broadmead past the old police station, now a youth centre and gallery with all sorts of artistic stuff going on. As Tina  points out, there's an irony in the place where they took arrested  graffiti artists now being a hub of creativity. On the grimy stonework there's some 'Clean' or reverse graffiti by Moose, created with sturdy stencils and a jet wash.
Heading through the underpass of the Bearpit, we see panels where artists can create murals in an ever changing gallery. This is the starting point for Stokes Croft, the road leading from the city centre which is seemingly one long street-art gallery. Businesses along here regularly commission work from the top street artists, like the Man in the Moon piece by Cheba that we see on the wall of the Full Moon pub and backpacker's hostel. Tagging and spray-can graffiti is common, but the more respected artists or commissioned pieces stay free of it for a little longer.
We meander through the back alleys parallel to Stokes Croft, as Tina points out some of the more unusual pieces like a paste up piece at kerb level. It's literally a painting pasted to a wall so it might stay anything from 1 day to 6 months before it's torn off.  At the top of Stokes Croft is the Carriage Works, an old shell of a building where the panels between the arches are a popular canvas for street artists.
Bristol is so well known for street art that many of the top international artists come here to create a piece over a weekend, to make sure they have Bristol on their creative CV. However, even the best pieces may only last a few days before they are painted over by someone else –  only remembered on Facebook or Instagram.
Now our tour is nearly at an end as we meet up with Where the Wall founder, Rob Dean who tells us of his plans for the future. The company has recently started a Banksy tour which is proving a hit, even though there are only a few pieces by the artist remaining throughout Bristol. It complements the main street art tour we've just done and is an opportunity to give visitors a bit more context about the history of the city. Rob tells us, "I see the street art tours as a great way to go straight into the middle of the creative contemporary culture of Bristol, without having to spend days finding it, or missing it completely."
The tour company also tries to help local street artists get more benefit from their work, by ensuring it is correctly attributed and that their intellectual property rights are not trampled upon. Last year Where the Wall worked with a calendar company on a project that saw a number of local artists being paid to create murals in the Cabots Circus Shopping Centre, which were then photographed for a Bristol street art calendar.
We discover that our guide Tina Altwegg is also an illustrator and artist, as she shows us her Dancing Polar Bear mural in the underground cycle park of Hamilton House, where she has her artist's studio. She tells us how she wanted to imagine the polar bears dancing and having fun as a counterpoint to all the depressing news about climate change.
After a coffee in The Canteen, we check out a couple more pieces on the walls of the neighbouring buildings. The break-dancing Jesus is an iconic mural that's become well known in Bristol and was created by artist Cosmo Sarson following a competition to decide who would paint this very visible space on Stokes Croft. It was inspired by a news story the artist had seen about Pope John Paul II inviting a group of Polish break dancers to perform for him in the Vatican.
On the opposite wall we finish as we started with a Banksy, one of his earliest surviving pieces in Bristol – The Mild Mild West. This one was created in 1999 before the artist moved into a more detailed style using stencils and stopped signing his work. Because it's a simple black and white piece, painted by hand, it's been easy to touch up every time someone tries to tag it or send a few paintballs in its direction. Since the mural was painted there have been protests and riots in this part of Bristol so it seems to always have a relevancy in the theme. We Bristolians may be cuddly and easy going but there's an undercurrent of anti-establishment feeling here too.
Take the Where the Wall tour and as Rob says, even if you're here for just a day, you'll get straight to the heart of contemporary culture in Bristol and enjoy some great street art from Banksy and many, many more.
Where the Wall Street Art Tours cost £9.20 and there are 3 tours – The Bristol Street Art Tours, The Banksy and Harbourside walking tour and the Bedminster Street Art Tour.

Website – Wherethewall.com Twitter – @Wherethewall | Facebook | Instagram | YouTube
Thanks to Where the Wall for providing me with a free tour as part of a Bristol Bloggers and Influencers Event.
More Art in Bristol
Inspired by Bristol Artists at the Affordable Art Fair
Stokes Croft – a hidden gem of Street-Art Cool in Bristol
Is Bristol the Street-art capital of the World?
What the other bloggers said
Travel to Recovery – Bristol Street Art Tour
New Mum Online – The Street Art Where the Wall Tour and Colour that Inspired Aeron
Natacha the Franglais – And if we talked about Street Art
Looking for somewhere to stay in Bristol?
Here are some of the Hotels in Bristol that we recommend, which are close to the neighbourhoods that have street-art.
Budget Accommodation in Bristol: YHA
In the harbourside area, the YHA is in an old waterfront grain warehouse with 133 beds in a range of dorm and private rooms, some of which are en suite.
Boutique Guest House in Bristol: Brooks Guest House
Tucked away in a courtyard in the heart of the old city, with 23 stylish and compact bedrooms and retro rocket caravans on the roof which you can stay in.
Luxury Hotel in Bristol: Hotel du Vin
Set in an 18th century sugar warehouse with exposed brickwork and 40 loft style bedrooms, leather sofas in the sugar bar and a French Bistro style restaurant.
Pin It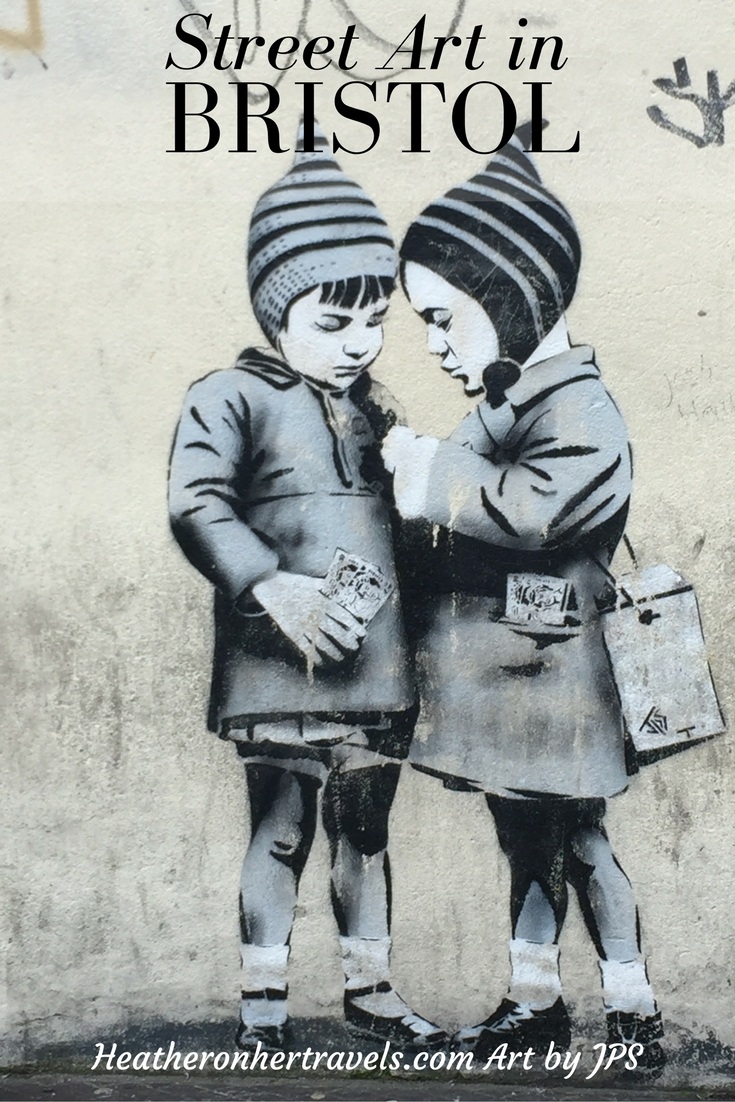 This article is originally published at Heatheronhertravels.com – Read the original article here
You'll also find our sister blog with tips on how to build a successful travel blog at My Blogging Journey
"Buy what you love" is the advice of Bristol artist Abigail McDougall when it comes to investing in original artworks, like those she paints in her studio in Jamaica Street, Bristol. With Bristol's Affordable Art Fair coming up next week, I spent the morning with Abigail who specialises in colourful watercolours, often of Bristol scenes or the places she travels and is especially inspired by water and reflections.
Abigail showed me some of the Bristol scenes that she has been working on for the forthcoming Affordable Art Fair, which are popular with local people and have led to commissions and solo shows in the city.
"People from Bristol are so fond of the city; it has so much interest with the hills and layers of buildings, the colourful houses, the harbour and the water reflections. It's a very green city as well. I think people are very proud of Bristol, they tend to move away and then come back again, it's a city that pulls you back"
Travels abroad have also inspired Abigail's work and earlier this year she spent a few weeks travelling around Mexico. Around the studio I could also see watercolour sketches from trips to Marrakech, where she loved the patterns and colours of pottery, collecting scarves that incorporated colour combination she found inspiring.
"I do put a lot of colour into my work and I think that's partly inspired by the time I spent in Italy as a child. When you travel you get to see a whole new colour palate. In Africa and Morocco, the colours are a lot warmer than they are here, with more red and yellow. Even the blues in the sky are warmer, so you get to discover a completely new colour palate. In Morocco you see things in a new light."
Watch Abigail's video below about the inspiration she found in Mexico – see it on my article here
Over the years of painting in Bristol, Abigail has found herself drawn more and more to the water and reflections of the harbourside and rivers Avon and Frome. Sometimes she will be found cycling along the towpath at dusk, when the light is getting low, making in-the-moment watercolour sketches of the shadows and reflections on the water. From this love of water, a new more abstract style is developing, taking a close up view of lilies in a botanic garden or mangrove roots reflected in the water of cenotes of Mexico.
I asked Abigail how she prepared for a big show like the Affordable Art Fair, since she has to create a whole new collection of original artworks to show at the fair. She told me that she will think back to the type of paintings that have been popular at previous shows but then challenges herself to experiment and push the theme forward. Now she is trying to develop the medium of watercolour, creating bigger pieces on specially prepared board which takes the colour in a way that is more intense and textured.
"People are interested in the story behind your work, so if you push yourself and keep experimenting, then you always have a story to tell about the work. There are not a lot of people working in watercolour these days and I try to do something modern and contemporary with it. "
For those looking to buy original artworks, Abigail's advice is to look for something that you love and not something you think is a good investment. If you fall in love with an artist who becomes famous that's a bonus, but you need to have something on your wall that you can live with.
I wanted to understand how Abigail would approach a new painting, so she got out her brushes and showed me how she would take a photograph of a boat on the mudflat and create a watercolour image from it. She explained how she would first consider the colours to use, to reflect the subdued tones of the photo with contrasts of light and dark, perhaps adding some contrasting colours to lead the eye around the picture.
Deftly mixing colours from the blobs of paint around the rim of a plate, the tip of her Chinese brush traced the outline of the painting. Next the thickness of the brush was used to wash colour over the sky and water, building up and blending diifferent colours together. From time to time an old hair dryer came out to dry the paint before she could add the detail of the boats and the fine lines of their masts.
Small dots of red added the contrast of buoys and different soft shades the ripples of water and mud reflecting light. Abigail told me how she also likes to work outdoors, making quick watercolour paintings like this on the spot, as the result can be more free when you have to work quickly from real life.
It was fun to see the world in a creative way through an artist's eyes and I came away feeling inspired and energised by the colour in Abigail's work. Catch her at the Affordable Art Fair in Bristol, at galleries around Bristol or on her Bristol Contemporary Art online gallery.
The Affordable Art Fair in Bristol
You can buy original paintings by Abigail McDougall and other artists within Bristol Contemporary Art at the Affordable Art Fair which is taking place 7-9 September at Brunel's Old Station in Bristol. The fair will feature original contemporary artworks from 500 exceptional artists, designed to be affordably priced between £50 and £5,000. Many of the galleries allow you to pay for your artwork over a number of months through the Own Art scheme. Abigail's original watercolours start from around £370.
Tickets to the Bristol fair are £4 for a day pass or £6 for a multi-day pass if you book online in advance. The Bristol fair includes kid's activities, live painting by the artists in residence and a cafe by Friska. If you can't make it to Bristol, check out the other fairs in London – next at Battersea 20-23 October 2016 or in other cities worldwide. More details on the Affordable Art Fair Website.
This article was brought to you in partnership with the Affordable Art Fair
More articles about Bristol
10 cool things to do on Bristol's harbourside
Is Bristol the Street Art Capital of the World?
Free and Fun in Bristol – 20 things that won't cost you a penny
Pin It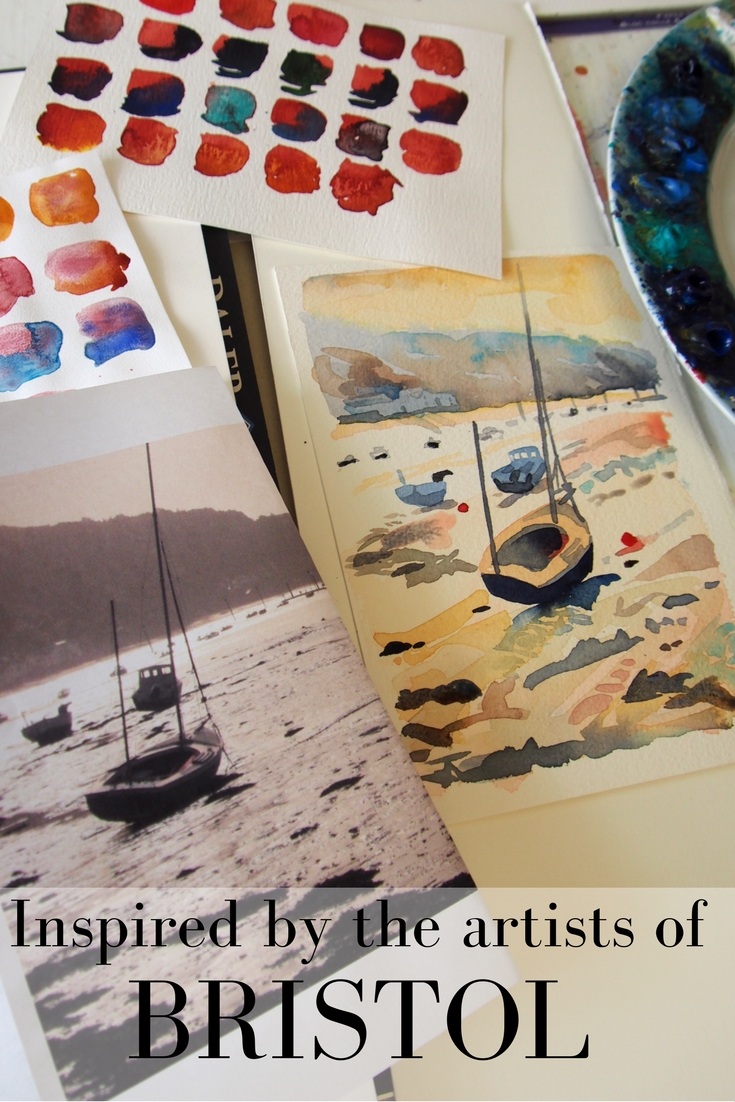 This article is originally published at Heatheronhertravels.com – Read the original article here
You'll also find our sister blog with tips on how to build a successful travel blog at My Blogging Journey
With the end of the summer in sight I took a day to go cycling with my daughter in Dorset, one of England's prettiest counties. We tried one day of Headwater Holiday's Jurassic Coast Cycling route which would normally take 5 days to explore all that Dorset has to offer. Setting off from Dorchester, we stopped for refreshments in Moreton with a visit to the stunning Lulworth cove, passing Lulworth castle before finishing our ride in Wareham. It's a cycle ride that you could easily replicate, since you can park at Dorchester and then catch the train back to your starting point from Wareham, or even make a weekend of it with an overnight stop in Lulworth. Read on to discover what we enjoyed on our Dorset cycle ride.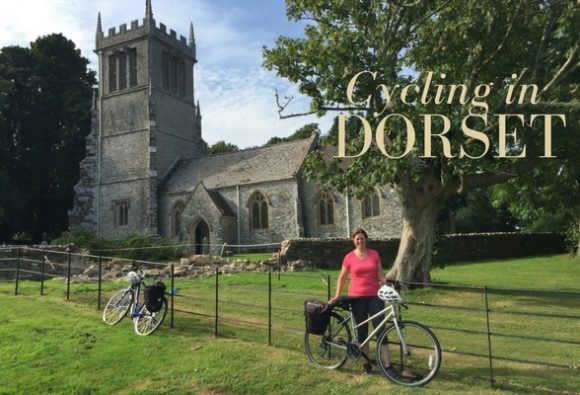 A briefing before we set off
We were met by Roy, Headwater Holidays local representative who set us up with our bikes and shared some of his local's knowledge on what to look out for on our route. We even got a quick demo on how to fix a puncture; good to know although luckily we had no need for it on the day.
The track skirted a stream through woodland and we passed a few cheerful dog walkers whose dogs were splashing in the water. Soon we passed a picture postcard thatched cottage, our first of many that day. I swear that Dorset must have more pretty cottages than any other place in England!
Cycling through Thomas Hardy country
At a perfectly formed Victorian arched brick bridge we could have taken a short detour to Higher Brockhampton, to visit the birthplace of writer Thomas Hardy, whose novels and poetry draw on the characters and landscape of Dorset. I'd visited before and remembered that the cottage had tiny rooms and was probably quite damp in Hardy's childhood – not quite the rural idyll it looked from the outside.
As soon as Hardy had made his money he built himself a solid, red brick house at Max Gate which was much more spacious and comfortable! Read about my previous visit to Dorset here. We didn't visit this time but cycled on past fields with hay bales already wrapped tightly in plastic, like plump white and green marshmallows.
The cycle took us through  the pretty village of West Stafford complete with more thatched cottages – even The Wise Man pub and the bus stop were thatched. The birds swooped in and out of the hedgerows and we caught a glimpse of a large bird of prey perched on a tree as we passed the striking Woodsford Castle. The surviving wing of a 14th century castle it was worked on by Thomas Hardy's father who was a builder, and is now run as a holiday home by the Landmark Trust. By mid morning we arrived at the Moreton Tea Rooms, in the old village school house, which seemed an excellent place to stop for a cup of tea and a slice of Victoria sponge.
The ford at Moreton
Moreton proved to have more to it than meets the eye and on walking further down the road we found the ford, which Roy had mentioned to us. The shallow crossing point of the river is clearly a popular place for families to come and paddle or dip colourful fishing nets in the water from the foot bridge to try and catch a stickleback. Picnic paskets were being spread out on the gravel river bank, a golden labrador furiously wagging a wet tail and small inflatable boats drifted around – plenty of good clean fun!
St Nicholas Church at Moreton
St Nicholas church nearby rewarded our curiosity with a view of the beautiful etched glass windows created by poet and artist Sir Laurence Whistler, who made the windows to replace the stained glass destroyed by a WW2 bomb. If you look carefully from the outside you'll find a macabre depiction of Judas Iscariot hanging by a tree, which was Whistler's final gift, but was initially rejected by shocked parishoners and resided for years in a local museum. Just down the road is the grave of Col T E Lawrence, better known as 'Lawrence of Arabia' who lived nearby at Cloud Hill and was killed in a tragic motorcycle accident.
The Walled Garden at Moreton
Our final discovery was the Walled Garden at Moreton, with with stunning herbaceous borders, fountains and topiary and a startling figure sitting on a bench who almost made me jump. There's a cafe and farm shop in the pretty dovecote but unfortunately we needed to press on as we had many more miles to cycle that day.
Now the countryside became more open with the feathery topped maize stalks clothing the fields on one side and freshly ploughed brown earth on the other. The clouds had turned to rain so we put on our waterproofs as we huffed and puffed up a steep hill, finally giving up halfway to push to the top. Our climb was rewarded by views from the crest of the hill in both directions and then we freewheeled all the way down the other side… Wheeeee!
A view of Durdle Dor
After half an hour of pedal power, we finally reached the turning to Durdle Dor, through a caravan site to the packed car park set on the cliff. This famous rock arch was part of a complex of sea caves which eroded over time until only a few sea arches remained. In turn the arches collapsed leaving stumps in the sea and Durdle Dor as the last once standing.
It's one of the most photographed landmarks of the Jurassic coastline and we could see people streaming like ants down the steep path to the beach. As we needed to press on for lunch we decided to take our photographs from the top of the path and then cycled back to the main road heading for Lulworth Cove.
Sea views at Lulworth cove
It was an easy cycle through the village of West Lulworth to Lulworth cove, where we left our bikes at the top of the pedestrian path and walked down to the beach. A favourite with geology students, the cove is a perfectly formed circle fringed with a pebbly shore, which was formed millions of years ago when the sea broke through the harder rock layer of the cliffs to erode the softer rock behind. On the far side of the coves you can see the stratification of different rocks that were folded and then eroded by the earth's movement.
Despite the beach being packed with holidaymakers, it was an attractive scene with jaunty blue and white boats bobbing on their red buoys in the water and boat rides around the headland to Durdle Dor from the jetty. We sat outside The Boatshed Cafe, a long whitewashed building that in the past served as a coal store for fuelling paddle steamers, and ordered a crab sandwich for lunch. It was a perfect spot to watch the children on the beach building pebble dams across the small stream and walking across the shingle I was hit by the salty ozone smell of seaweed lying in messy piles of green and brown.
Returning back up the path we could see the popular cliff walk taking people over the hill to Durdle Dor, the spot we had just come from. Around the Lulworth cove car park there is a visitor centre and several pubs and pretty cottages, although I think we had the best view for lunch down by the seashore.
The Tanks at Lulworth
Cycling on towards East Lulworth, we passed Lulworth camp with army quarters and two tanks guarding the entrance. We'd heard the boom of firing when we were down at Lulworth cove, as this is where the tank units have their ranges and practice live firing. My husband Guy is a former tank commander and gets excited whenever he sees a tank, so we had to take a photo to send to him.
A visit to Lulworth castle
We followed the hill down to Lulworth Castle and in through the imposing stone gateposts. The man on the gate told us that there was a wedding that day, so we couldn't go into the castle, but we were allowed to visit the pretty church and could see the castle through the trees.
The castle was built as a hunting lodge in the 17th century and became the seat of the Weald family who own the Lulworth Estate. The square stone walls with a round turret at each corner seem the perfect idea of what a castle should look like and when the castle isn't closed for weddings you can visit the interior and cafe and climb up the towers.
The final part of our day's cycle ride took us through more pretty villages with thatched cottages and thatched porches looking like bushy eyebrows over the door. The road now followed farm tracks and narrow lanes, every so often joining a fast road with cars whizzing by. The route seemed to have been well planned to keep us off the main road as much as possible and we eventually reached Wareham where those taking the full Headwater Holidays route would stop for the night at the The Red Lion Inn.
We end our ride at Wareham
Wareham seemed a lovely place to stop as we crossed the bridge and saw the pubs with a riverside terraces and kayaks by the river. We cycled on through the town to reach the station, putting our bikes in one of the special carriages for the 20 minute ride back to Dorchester to return to our starting point. Our bikes were left for Roy to collect at The Casterbridge in Dorchester, an attractive town house hotel where Headwater Holidays guests normally stay.
Although we had only tried one day of a 5 day Headwater Holidays Jurassic Coast Cycling route, we had really enjoyed our cycle through the pretty Dorset countryside, with thatched cottages at every corner and lovely sea views at Lulworth. There is so much history to discover too, with the Thomas Hardy and TE Lawrence connections and castles and gardens to visit. Our cycling day with Headwater Holidays gave us a taste of all that you'd hope to find on a day out in the English countryside.
Information for your trip
Headwater Holidays offer relaxed walking and cycling holidays in the UK, Europe and around the world to allow you to discover the culture and natural beauty of each destination at your own pace.
Dorset and Jurassic Coast Cycling – a 5 night cycling holiday through country lanes taking in pretty cottages and historic landscapes with time to relax and swim on the Jurassic Coast beaches.
Jewels of the Jurassic Coast Walk Dorset – A 5 night walk through Dorset's rolling countryside and along the south-west coastal path starting in Weymouth and ending at Sandbanks.
Roy Griffiths of Signpost Cycling acts as Headwater local agent in Dorset and can arrange bike hire if you want to cycle for just a day or two.
For more information about holidays in Dorset check out the Visit Dorset Tourism website
Thanks to Headwater Holidays who hosted Heather's cycling day in Dorset.
Where to Stay
If you are planning to cycle from Dorchester to Wareham independently, these are the hotels that we recommend that are also used by Headwater Holidays
The Casterbridge in Dorchester is a charming, wisteria clad Georgian town house in the centre of this historic town.
The Red Lion in Wareham is an old inn with lovely rooms decorated in a contemporary style and downstairs has a spacious bar, a cosy snug and a more formal restaurant.
Springfield Country Hotel just outside Wareham is set in 6 acres of beautifully landscaped gardens with comfortable rooms and an indoor and outdoor swimming pool
If you want to cycle from Dorset to Wareham at a more relaxed pace, you could split the route we did into two days, with an overnight stay at Lulworth Cove, in which case we recommend;
Limestone Hotel in West Lulworth is in the village a short walk from the cove and has an English country house feel.
For more hotels in Dorset please check out my Hotels Booking Page powered by HotelsCombined – you can compare prices and book at no extra cost to you, giving me a small commission – thanks for your support!
Pin It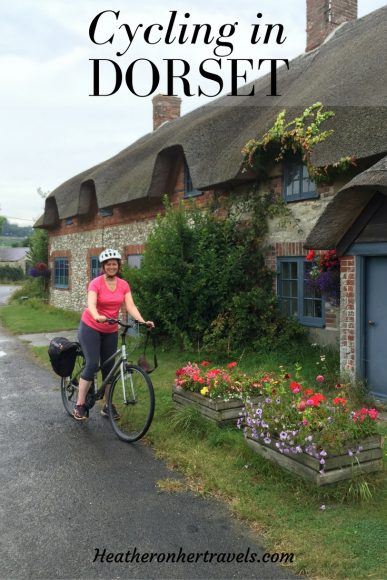 This article is originally published at Heatheronhertravels.com – Read the original article here
You'll also find our sister blog with tips on how to build a successful travel blog at My Blogging Journey