December 28, 2015 by Heather Cowper
Filed under Art and design, Brittany, Copenhagen, Costa Brava, Cruise, Denmark, Devon and Cornwall, Eating and drinking, Europe, featured, France, Germany, Greece, Greece & Turkey Cruise, India, Italy, Leisure, Luxembourg, Museums, Sightseeing, Spain, United Kingdom, Venice, Walking, World, Zakynthos
We're in that lull between the feasting and celebration of Christmas and the fresh starts and new plans of New Year. It's the quiet time when we can reflect and review the year that's gone, the time to reminisce and consider what the year brought us: the adventures and challenges, the excitement of visiting new places, the holiday times we enjoyed with loved ones. Here's a look back to the travels I enjoyed in 2015.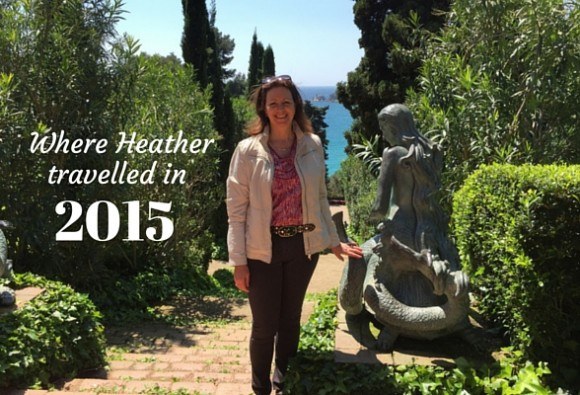 January – A cottage stay and fossil hunting in Devon and Dorset
We started the year with a weekend at Red Doors Farm in Devon through Premier Cottages, a collection of 500 year old thatched cottages, set around a cobbled farmyard. My teenage son and friends made good use of the indoor swimming pool and proved that you're never too old to feed the goats and chickens. We climbed up to the hill fort near the farm and enjoyed a bracing walk along the beach at Lyme Regis where we spotted fossils on the ammonite pavement that was revealed at low tide.
Read More: Fossil hunting and a weekend in the country at Red Doors Farm, Devon – video
February – A charity visit to India
In February I flew with Jet Airways to India for a week that was off the tourist map, although I spent a little time exploring Bangalore at the beginning and end of the trip. My purpose was to visit a local charity that I support in Andhra Pradesh and see some of the projects that we had funded. Together with one of the charity trustees I was treated to Bollywood style dances in all the local schools, had endless cups of teas with the nuns who ran them, cut the ribbon on a new water purification plant and presented a womens' tailoring class with their new sewing machines. It was a week that made me realise more than ever that when you give to those in need, you come away much richer from the experience.
Read More: 13 stories from my charity visit to India – going off the tourist trail
March – A weekend by the sea in St Mawes, Cornwall
We spent a weekend with friends at the magical Dreamcatchers house from St Mawes Retreats with a view over the Fal estuary in Cornwall. From the bedrooms we could see the tankers passing St Anthony's lighthouse and the St Mawes ferry heading for Falmouth. We'd stayed at another St Mawes Retreats house before (read my review of Stargazers here) so we knew that we could expect gorgeous Designers Guild fabrics and luxurious furnishings, with sea views to die for. This time we wandered around the harbour and took the St Mawes ferry across the estuary for a Cornish pasty and ale pub lunch in the quaint streets of Falmouth.
Read More: Sea views and springtime in St Mawes – our weekend in Cornwall
April – Venice with the family
I was lucky enought to win an apartment stay with Go with Oh through the Passports with Purpose fundraiser and decided to use it for a few days in Venice with my family. Although we visited a few tourist highlights like the Doge's Palace, we found that the neighbourhoods away from St Mark's square were much more enjoyable to wander around. We loved the modern art at the Peggy Guggenheim and saw Venice from the water on our boat tour with Walks of Italy when we climbed up the campenile of San Georgio Maggiore for views across the lagoon to San Marco. The only disappointment was the food, but hopefully you'll do better than me with my tips on How to not eat badly in Venice.
Read More: Join me on our Venice boat tour – with Walks of Italy
April – A weekend in Wiltshire and a sunrise visit to Stonehenge
I stayed at Sarum College inside the close of Salisbury Cathedral for the Social Travel Britain conference and part of the weekend included a walking tour of the cathedral, a private viewing of Magna Carta and a visit to Edward Heath's old residence of Arundells. The highlight, though, was a sunrise visit to Stonehenge during which we were allowed to walk within the stone circle. This access is only allowed on special guided tours and most tourists can't get up close to the stones, so it made the experience much more magical.
Read More: Sunrise at Stonehenge – inside the stone circle
May –  Lloret de Mar in Costa Brava, Spain
Lloret de Mar is one of those coastal resorts on the Costa Brava coast of Spain that was built up in the 1960s as one of the first places to welcome mass tourism from the UK. I was there as a speaker at the TBEX conference but took some time out to explore the town and discover its history. While the Lloret de Mar of recent years has gained a reputation for 20-somethings looking for nightlife and older couples seeking a retirement in the sun, I enjoyed walking around the older squares and along the rocky coast path on the edge of town.
In the Museu del Mar, I discovered the connections to Cuba where many locals sailed to make their fortunes, returning to build the grand mansions on the seafront. I tasted the Daiquiri cocktails, another import from Cuba and now the favoured drink of Lloret de Mar, and I loved the restful Santa Clothilde gardens, planted in Italian Renaissance style, overlooking the sea.
Read More: Lloret de Mar – sun, sea and so much more…
June – A weekend in Copenhagen with my daughter
I've visited Copenhagen many times and in June I returned with my daughter for the opening of  the Absalon Hotel which had been newly renovated in Designers Guild furnishings. I was able to interview Tricia Guild, Creative Director of Designers Guild who was there to open the hotel, as well as trying out new restaurants and cocktails with my daughter. We also spent a couple of nights up the coast at the gorgeous spa hotel, Kurhotel Skodsborg where we wafted around the pools and jumped off the jetty to cool off after our sauna.
Read More: Like mother, like daughter – what we loved on our trip to Copenhagen
June – Alpine Sports Week in Wilder Kaiser, Austria
I love being in the mountains in summer so I jumped at the chance when I was invited to try out some of the outdoor activities on offer during Alpine Sports Week in the Wilder Kaiser region of Austria. During this week different mountain sports are on offer, from high rope walking to canyoning, mountain-biking to Via Ferrata and all for the knockdown price of €99 for 5 days of activities with expert guides. It was the perfect opportunity to try something different, since I'm a keen hiker but was able to test myself with the mountain-biking and high wire climbing in the Hornpark tree forest.
Read More: Heather goes e-mountain-biking in Wilder Kaiser, Austria – video
July – A week with the family in Zakynthos, Greece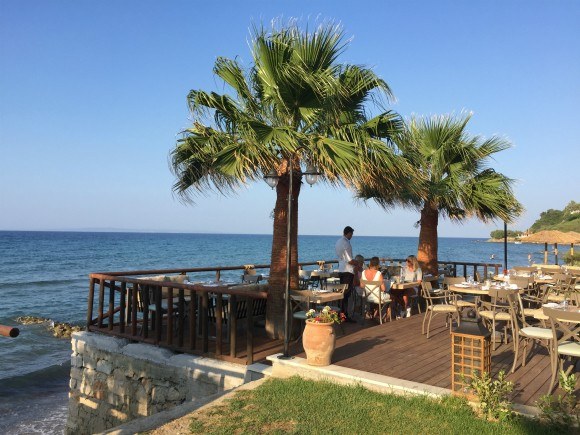 In July we made our annual visit to Zakynthos in Greece to visit my sister who runs two hotels there with her husband. We spent the week visiting different beaches, swimming, eating, sunbathing and catching up on family news. This summer my niece had returned to the island after training with a leading hotel group and had decided to get involved in the family business, opening a new Mediterranean restaurant in an idyllic setting by the sea. Anadalis, as it is called, is named after the old estate on which the hotel is built which once belonged to an aristocratic family with a house just a little way up the shore, but you'll have to read to article to find out why the locals thought the old ruined mansion was haunted. If you visit Zakynthos I highly recommend that you book a table for dinner as the sun goes down over the bay.
Read More: Anadalis – a Mediterranean restaurant by the sea in Zakynthos, Greece
August – Our Azamara Greek Island Cruise
Later in August we were back to the Greek islands again for a cruise with Azamara Club Cruises which took us from Athens to Santorini, Mykonos, Patmos, Kusadasi and finally to Istanbul where we ended our cruise. We absolutely loved the luxurious small ship cruise experience with Azamara Club Cruises where the spotlight is firmly on the destinations you visit, creating unique experiences like our magical evening concert among the ancient ruins of Ephesus as the sun went down.
Read More: Windy Mykonos – Day 2 of our Azamara Greek Island Cruise
September – A walking holiday in Austria with Headwater Holidays
September saw me back in Austria for a few days walking with Headwater Holidays who specialise in relaxing walking and cycling holidays. I was accompanied by my friend Julia for our annual walking trip which has become our tradition since we walked the Tour de Mont Blanc together. On the first day on the high slopes of the Gaistal valley I fell down a slope and hurt my ankle but using the Headwater walking guides we chose the less strenuous walks on subsequent days and enjoyed the rest of the holiday. We watched a rifleman's parade in Seefeld and walked along a Mental Power trail, walked through the wild Leutasch Gorge and round the lakes above the picturesque town of Mittenwald with its painted houses. Each day brought different mountain scenery and things to see, confirming my love of the mountains in summer.
Read More: Hiking in Austria – the views from the cross at Seefelder Spitze
September – A gourmet visit to Luxembourg
In September we spent a few days in Luxembourg, a city and tiny country that's full of surprises. While Luxembourg is known as a centre for international business, we found a charming and easily walkable city with great food, museums and a fascinating history, making it an ideal weekend break location. We also spent some time touring the Moselle wine region where the Moselle river forms the border with Germany, with many wineries to taste the delicious white wines the sparkling Cremant which was my favourite.
Read More: A gourmet walking tour of Luxembourg old town
November – The Christmas Markets of Heidelberg, Germany
At the end of November we spent a few day in Heidelberg, Germany to see the Christmas Markets and generally get into the festive spirit. We'd visited Heidelberg previously on a day trip from our Rhine River Cruise and were pleased that we could have more time to explore this picturesque and romantic town at our leisure. We took the river boat down to the Neurberg Abbey Christmas Market, climbed up to the castle, learned the history of the ancient university and student fraternities and ate plenty of hearty German food, delicious cakes and chocolates as well as drinking quite a few mugs of hot Glühwein.
Read More: A Food Lover's Guide to Heidelberg, Germany
December – A weekend in Le Havre, France
My final trip of this year was a hop over the channel to le Havre with Brittany Ferries to discover what this channel port would offer for a weekend break. Most Brits drive through Le Havre on their way to their holidays in France but I discovered that there are many fascinating things to see here that make it worth stopping to visit the city and surrounding area. The city was reconstructed after heavy bombing in WW2 and the architecture of the new town (now a UNESCO World Heritage site) represents the modern designs of the 1950s. We visited a 1950s show flat which would have been allocated to those who lost their own houses in the bombing, as well as a gorgeous 18th century ship owner's mansion. Another highlight was the MUMA modern art museum, a light and airy glass building with the largest collection of Impressionist paintings outside Paris, since painters such as Monet loved this part of the Normandy coast. I'll be writing about my weekend in Le Havre very soon so stay tuned.
Reviewing the year was a fun way to remind myself of all the fun I had on my travels in 2015. There's much more to come in 2016 and I wish you Happy Travels for the year to come.
Please note that many of the trips were hosted by the companies mentioned and you can find more details in the articles from each trip.
Pin It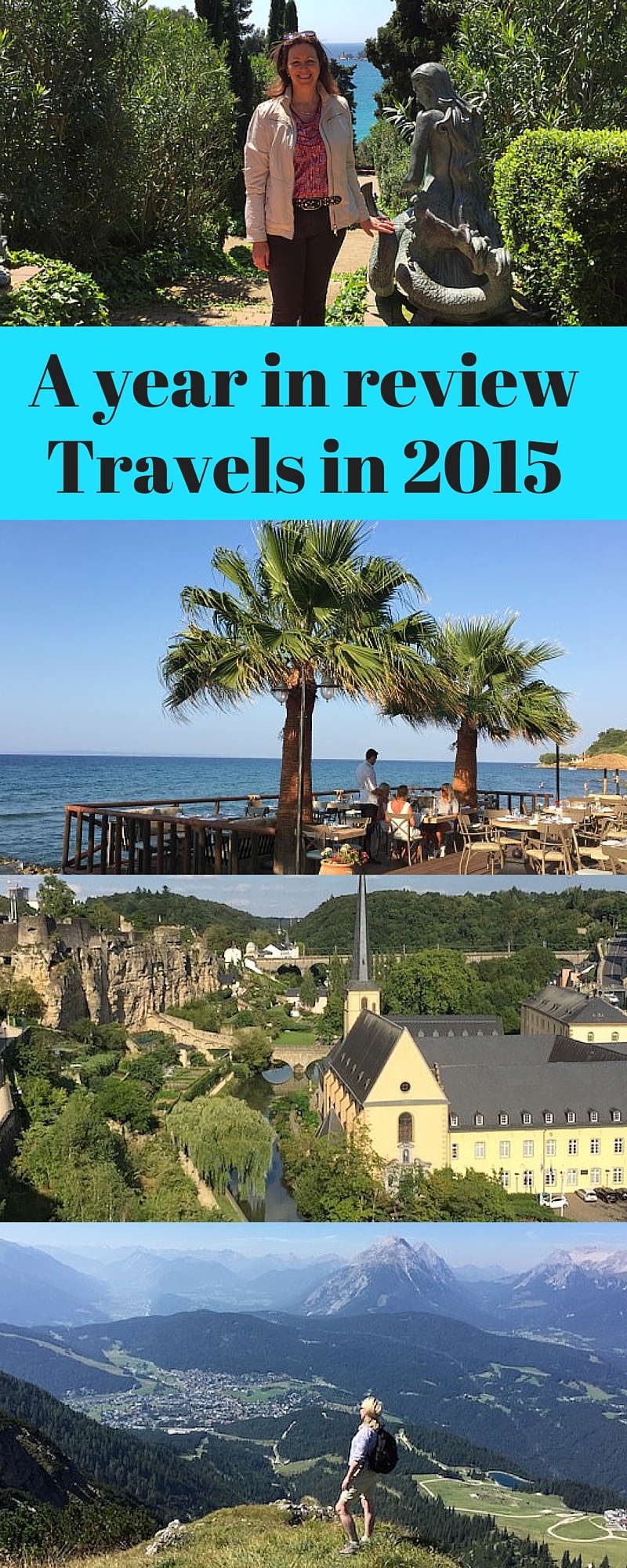 This article by Heather Cowper is originally published at Heatheronhertravels.com – Read the original article here
You'll also find our sister blog with tips on how to build a successful travel blog at My Blogging Journey
This weekend I've been planning my Escape to Jersey. It'll be springtime break that includes all the ingredients for my perfect weekend getaway; walking along cliff paths by the sea and plenty of delicious local food (well after all that walking I'll deserve it!). There's be a stroll around some historic houses and gardens and of course a lovely hotel to return to at the end of our days of exploring.
This Escape to Jersey is all in my imagination at the moment but it was inspired by the video that I created at the EscapetoJersey.com website, putting in my preferences to create my own individual getaway – you can try it here too. If you'd like to create your own escape you can also win a 2 night break for 2 people to take in the spring or summer of 2016. More of that later, but first let me tell you what I'm imagining as my own Escape to Jersey, to see if I can tempt you.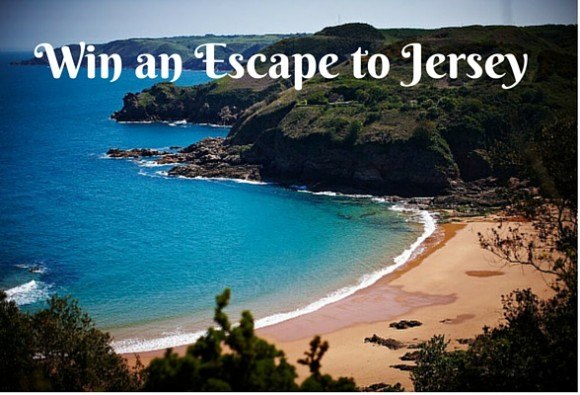 Let's go hiking on Jersey
Walking and hiking is one of my favourite weekend activities and in the spring I'll look forward to trying out some of the numerous coastal walks that Jersey has to offer, taking advantage of Jersey's sunny, mild climate. While there are many walks through quiet green lanes and unspoiled countryside, I'm drawn to the northern coastline for wild coastal walks along the clifftops to blow the cobwebs away. Not only will I get views of the ocean from the cliffs, but the paths will lead me down to some of the most beautiful bays at Grève de Lecq, Bonne Nuit, Bouley Bay and Rozel, for a walk along the beach.
If you like walking in a group, there are plenty of guided walks on offer with qualified guides (more information here) and the Spring Walking Week on Jersey 5-14 May also offers opportunities to explore the lesser known walking trails on Jersey, with over 40 guided walks available.
Some delicious food to look out for on Jersey
Eating delicious, locally produce food is certainly something I'll look forward to on my Escape to Jersey and since Jersey is surrounded by sea it's not surprising that seafood will be on the menu. I'll be looking out for the oysters and mussels that are farmed in the Bay of Grouville and the lobsters that are fished sustainably all around the island.
Then there's the humble potato, elevated on Jersey to something really special in the Jersey Royals that are at their best in the spring and early summer. They are grown on sloping fields overlooking the sea, fertilised with seaweed and tended by hand to create a waxy texture and nutty flavour that is prized by those who enjoy good food.
Of course with the Jersey cows producing their rich, creamy milk I feel sure that a cream tea with some of the Jersey clotted cream may feature or perhaps an ice cream from one of the beach kiosks that we pass on our walks.
If you happen to plan your Jersey Escape during the Food Festival 21-25 May, you'll have an opportunity to try many of the local specialities, meet local producers on special farm and dairy tours and taste everything from cider to chocolate.
If you're already tempted, head over to EscapetoJersey.com to create your own perfect break and enter the competition.
Dreamy places to stay on Jersey
So where will we staying for our weekend break on Jersey? As you know I'm a fan of boutique hotels that offer stylish character and a relaxed but elegant experience and I think I've found the perfect place to stay on Jersey at Hotel La Place.  Set in beautiful countryside, a short drive from the island's capital of St Helier, I like the relaxed modern style of the hotel and if you want more space, it has 12 luxury cottages set around a courtyard. Prices at Hotel La Place are from £130 per night for a weekend break in the spring.
If I was looking for something really luxurious for our weekend break, the hotel I'd choose for its glorious location overlooking the sea, is The Atlantic Hotel. This luxury hotel has a sleek, modern look and is set in six acres of grounds overlooking the wild beach and dunes of St Ouen's bay. I'd love to stay in one of their comfortable, contemporary style rooms overlooking the sea and of course dine on the best local Jersey produce in their Michelin star restaurant. The Atlantic Hotel offers rooms from £250 per night for a weekend break in the spring.
 Delightful gardens and heritage on Jersey
On our weekend breaks we enjoy visiting historic hosues and gardens, so I'd explore a bit more of the culture and heritage of Jersey at one of beautiful manor houses such as Samarès Manor. The gardens were created in the 1920s by wealthy shipping owner, Sir James Knott and the herb garden incorporates fragrent herbs, lavender and roses.
The historian in me would love to visit the National Trust owned Georgian House at 16 New Street which showcases the elegant Regency furnishings and taste of 18th century Jersey.
Here's how you can create your perfect Escape to Jersey
If you are tempted to create your own weekend break and enter the competition to win a two night break on Jersey for two people, go to the Escape to Jersey website at EscapetoJersey.com. You can decide whether you want to be relaxed or energetic, sleep 5 star or under the stars, and create your perfect Escape to Jersey video. Enter your e-mail for a chance to win a unique Jersey Escape for two people. Good luck!
Terms and Conditions
You'll find the full terms and conditions here but you'll be entered into a free prize draw with one entry per e-mail. The competition closes 30 October 2015 and and the winner will be notified within 14 days. The competition prize is a two night break to Jersey for two people, including return flights from the UK to Jersey, plus accommodation for two nights on a bed and breakfast basis, for two people, subject to availability.  The prize must be booked by 31 December 2015 and must be taken for travel dates between 1 January – 31 August 2016.
Pin It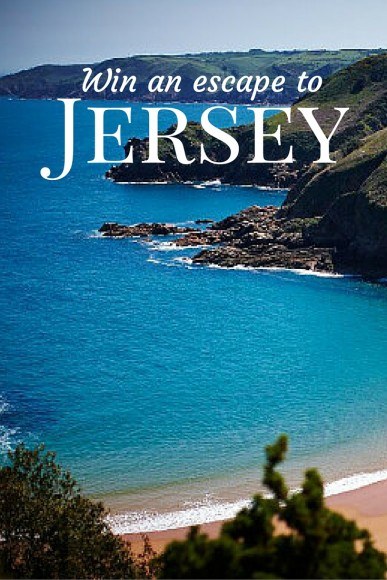 This article by Heather Cowper is originally published at Heatheronhertravels.com – Read the original article here. This article is brought to you in partnership with EscapetoJersey.com and I was compensated for my time to write it.
You'll also find our sister blog with tips on how to build a successful travel blog at My Blogging Journey
The air was chill but the rising sun surprisingly bright as we reached Stonehenge at a much-too-early hour when any sensible person would have still been in bed. Everything around us was still; no coaches, no crowds, not even an open gift shop. This was Stonehenge as you imagine it to be, standing alone in the Wiltshire landscape as if the builders had abandoned the stone circle for us alone to find.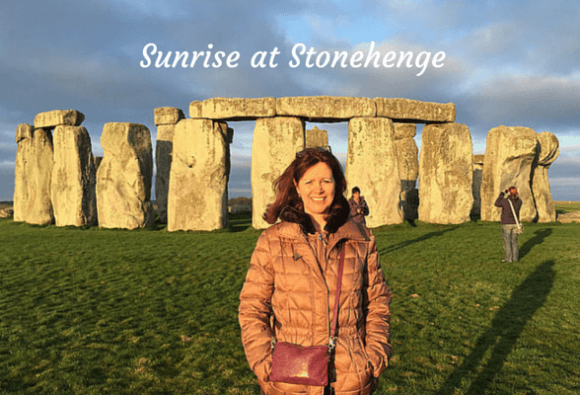 But sadly the Stonehenge experience isn't always like this. A couple of years ago I had visited with my blogging friend Barbara – she wrote about our day here. Although we were lucky enough to be first in the queue as Stonehenge opened and had the monument to ourself for a brief 5 minutes, it wasn't long before the perimeter of the circle was flooded with other visitors. This is one of the major tourist ticklist sites and a convenient coach tour destination for day trips from London, so by the time we left, the experience was far from magical.
On a typical visit to Stonehenge you can skirt around the stones and photograph them from a distance, but without walking among them. This time our early morning tour allowed us to walk into the circle and hear our excellent guide Pat Shelley of Stonehenge-Tours.com tell us all about the stones and the stories and myths that surround them. But first a warning; don't touch the stones, don't kiss the stones, don't hug the stones, don't lick the stones! Those of us who visited Stonehenge as children will remember that this was once an open monument where you could walk among, sit upon and even picnic by these stones, but these days they are now treated with almost religious care for their preservation.
The stone circle was a masteriece of engineering with the sarsens weighing up to 50 tons being brought on rollers from the Marlborough downs and the smaller blue stones used in the inner circle being brought by river from the Preseli Hills 150 miles away in Wales. The lintels that sit balanced on the top of the larger stones are held in place with interlocking joints and were slightly curved to make the circle – you can see the bulge on top of some of the stones and the hole on others that have fallen. While it is clear that Stonehenge was built to be aligned with the sun and is part of a wider landscape of other stone circles and burial barrows, no-one really knows why it was built or exactly how it was used.  Our guide Pat confided that Stonehenge is believed to have been built for ceremonial and ritual purpose which is archaeological code for 'we've absolutely no idea!'
If you'd like to visit on a special sunrise or sunset tour of Stonehenge that will enable you to have that magical experience without the crowds, you need to plan well ahead. The early morning visit including access to the stone circle can be requested in advance at a cost of £30 per person via the Stonehenge website (this does not include a guided tour or even an audioguide) but guides like Pat Shelley also offer the special tour including transport from Salisbury and a guide for £98 per person. Twice a year you can walk within the stone circle during the winter and summer solstice but you will still be sharing the experience with thousands of other visitors. The normal entry price is £14.50 and is bookable in advance, by timed entry. A free audio-tour is available for download on iTunes here.
While you're in the area there is plenty more to visit, so I would make a weekend or few days to stay in Salisbury while you explore the surrounding area – more information on the Visit Wiltshire Website.
Silbury Hill
On the road from Stonehenge to Avebury you will pass Silbury Hill, which at 40m high is the largest man-made chalk mound of its kind in Europe. The flat topped cone shape is too regular to be natural, yet no-one knows why it was constructed and no burial chambers have been discovered. There's no public access to the base or top of the hill but on the opposite side of the road you can walk up the hill to West Kennet Barrow. This Neolithic long barrow or burial mound has a stone chamber at one end that you can enter and you are free to walk along the top of the barrow, with the wind blowing in your hair.
 A more personal experience of the stones at Avebury
If you were disappointed at having to share Stonehenge with crowds of other visitors, I recommend that you drive 40 minutes north to Avebury, a larger site of standing stones that is also managed by English Heritage. Visiting Avebury is a much more personal experience and while the individual stones are not as impressive as Stonehenge, you can wander among them, touch them and hug them at will. The stones are well spaced out, making large stone circles across the landscape and a village has grown up in the midst of them, making for a pleasant visit, since you can wander freely around the stones, banks and ditches and then finish off with an excellent pub lunch at the Red Lion.
Salisbury Cathedral
The beautiful cathedral is as much a living place of worship and community as a tourist attraction, and the spire can be seen for miles around as you approach the city from any direction. If you are spiritually inclined I'd recommend attending evensong or the Sunday morning service to hear the beautiful music and choral singing. The cathedral has undergone a major repair programme over recent years and you can read the cathedral blog to find out what's been going on behind the scenes. You won't find a crypt or hear a peal of bells here, since the cathedral is built on shallow foundations due to the high water table and too much vibration could make it unstable.
A perfect photography spot can be found from the footpath that runs in between the water meadows, leading to the Mill House Hotel at Harnham a pub and restaurant where we had supper, in a 15th century building with a garden, with views of the river and mill pond.
 800 years of Magna Carta
In the chapter house of Salisbury cathedral you can see the best preserved of the four original copies of Magna Carta, sealed in 1215 by King John in an agreement to preserve the constitutional rights of his nobility. The 'Great Charter' guarantees certain rights, including the right to a free trial and copies were sent around the kindom after King John made peace with his barons at Runnymead, to ensure he didn't change his mind (which of course he did).
The interactive exhibition has been created within the Chapter House to commemorate the 800 year celebrations with films and displays about the charter's history and volunteer guides on hand to explain everything. Within a darkened enclosure, you can see the actual Magna Carta, written on vellum and with the mark where the seal would once have been, which signified the king's approval.
 Salisbury Cathedral Close
The cathedral is enclosed in a grassy close of 80 acres, surrounded by the houses that were constructed in the middle ages to house the clergy but have since been enlarged and beautified with grand Georgian facades. The houses, walls and gatehouses form a barrier that was designed to separate town from gown in troubled times – normally when the church was charging to local people too much in taxes. There's plenty to see within the close including Mompesson House, an elegant Queen Anne style town house that is open through the National Trust, The Rifles (Berkshire & Wiltshire) Museum that tells the story of the County infantry regiments and the Salisbury Museum that houses local archaeological collections found in the area.
Visit Arundells, home of Sir Edward Heath
While you're in the Salisbury Cathedral Close, be sure to visit Arundells, the former home of British Prime Minister, Sir Edward Heath who lived here from 1985 until his death in 2005. The Grade 1 listed house has all those ingredients that make a perfect country gentleman's residence; the gravelled courtyard with wrought iron gates, the honey stone Georgian frontage and the gardens leading down to the river. Inside the house is preserved as it was when Sir Edward lived there and reflects the passions of his later years. In the hall you'll see models of his yacht, Morning Cloud and he described the rich man's sport of ocean racing as " like standing under a cold shower tearing up £5 notes."
In the sitting room is a grand piano which visitors are invited to play, covered with silver framed photos of the great and the good, while the terracotta formal dining room, filled with Chinese artworks, saw many a Sunday lunch with everyone from pop stars to royalty. As you walk up the stairs you'll admire the  hand painted wallpaper depicting Chinese fables and stand behind Sir Edward's desk in the study looking along the length of the garden towards the river. This is certainly a house that oozes the personality of its owner.
Stay within the cathedral close at Sarum College
I stayed at Sarum College while attending the Social Travel Britain conference and highly recommend it if you are looking for tranquil and comfortable accommodation right opposite the cathedral. Parts of the college date back to the 18th century and it is now used as a Christian study and conference centre, but anyone is welcome to book one of their 40 rooms. This is the only place that you can stay within the cathedral close, so you can drink in that cathedral view in the early morning, before other visitors are allowed in. The en-suite bedrooms are fresh and simply furnished and there is a refectory that serves excellent home cooked meals using local ingredients. Should you wish to venture out of the cathedral close to eat at one of the nearby restaurants, you can borrow a key to get back in after the gates are locked at 10.30. Probably not the place for party animals though.
More places to visit in the South of England
10 ways to spend a wonderful weekend in Winchester
Dorset days of summer at the Acorn Inn
Sir Frances Drake and the Rembrandt selfie – at Buckland Abbey in Devon
Pin it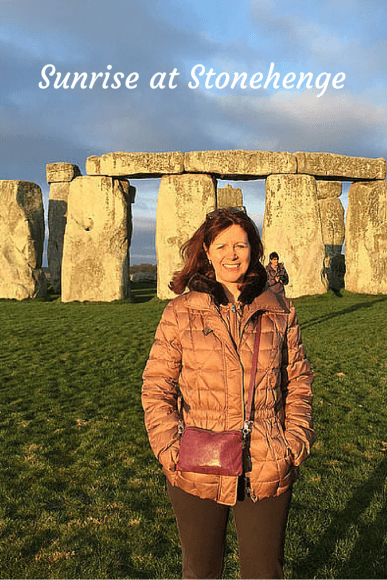 I visited Salisbury and Stonehenge as part of the Social Travel Britain conference and some of the experiences mentioned were provided by English Heritage and Visit Wiltshire.
This article is originally published at Heatheronhertravels.com – Read the original article here
You'll also find our sister blog with tips on how to build a successful travel blog at My Blogging Journey