Stokes Croft is a bit of a rough diamond in Bristol, a neighbourhood full of street-art, that leads up from the shopping heart of Bristol and has shabby edges but a creative heart. This part of Bristol was my choice when I was asked to suggest a 'Hidden Gem' by LookInsuranceService for their Hidden Gems Map. Stokes Croft is one of the best street-art heartlands of Bristol (and the others aren't far away) where you can still see a Banksy mural above the Canteen cafe. With live music every night there are plenty of cafes to hang out at and be sure to stop at the PRSC (People's Republic of Stokes Croft Gallery) where they can tell you about all the street art happenings in the area.
Walk up from the bottom (perhaps you'll also have time to explore the Bearpit where there are also plenty of murals) and you won't have to look far to find great street art around every corner, up every side street and decorating many of the shop-fronts. The area has fought hard to keep its independent character and you'll see the murals protesting against the local Tesco store, seen as a sign of the creeping, faceless commercialism which the locals want to avoid. You'll be spoiled here for inexpensive places to eat, hang out and make use of the free wifi. Don't be put off by some of the locals who look a bit down and out – I walk up and down here to work every day and I've never had any problem.
If you make it up as far as Jamaica Street, take a look down the side street at the painted hoardings which change all the time and pop into the PRSC gallery where they sell artworks, postcards and other locally made souvenirs, some from the Jamaica Street Studios next door – look out for their Open Studios event in June if you like an ecclectic mix of art.
If you want to learn more about the street art culture of Stokes Croft and Bristol, it's worth taking a walking tour with Where the Wall every Saturday, who will tell you all the tales from the neighbourhood. Not far off is Nelson Street which for the last two years has been repainted by international street-artists in the See No Evil festival and there's also the Upfest Urban Art Festival on North Street in Bedminster, south of the river.
Where to eat on Stokes Croft
You won't be going hungry on Stokes Croft with many inexpensive cafes, and more springing up all the time. Here are my recommendations;
The Canteen takes up the ground floor of an old office building, Hamilton House that's now an arts and business centre. This cafe is always crowded, with live music every night and food that's cheap and wholesome (a free mug of soup with every meal!)
Pieminster – The premier pie company of Bristol with a lunchtime stall in St Nicholas market too – love the Chicken of Aragon (Chicken, bacon and tarragon) but the more traditional among you might go for the Kate and Sidney (Steak, kidney and ale).
Cafe Kino – A spacious, airy cafe where you can sit in the window and watch the world go by. The food is vegan, local and organic and they hold musical and arts events downstairs.
Poco – On the corner of Jamaica street, they specialise in tapas style dishes with an inspired mix of world flavours. Being Stokes Croft of course it's locally sourced, organic and sustainable with a target of zero waste.
Patisserie Leila – This patisserie and coffee shop makes an elegant change and I always drool over the cakes in the window and sometimes treat myself to a few macarons on the way home.
If you'd like to find some other hidden gems around the UK, take a look at the Guide to Britain's Hidden Gems from Look Insurance Services and add a hidden gem from around your neighbourhood.
More Street Art in Bristol
Is Bristol the Street Art Capital of the world?
The Banksy Exhibition in Bristol
Graffiti Tourism in Bristol
This article by Heather Cowper is originally published at Heatheronhertravels.com – Read the original article here
You'll also find our sister blog with tips on how to build a successful travel blog at My Blogging Journey
August 1, 2013 by Heather Cowper
Filed under Accommodation, Art and design, Bristol and Bath, Eating and drinking, featured, Giveaways, Hotels, Leisure, Museums, Shopping, Sightseeing, United Kingdom, video
While I love to travel and explore new places, I also love getting back to my home town of Bristol, and I've decided to offer you the opportunity to come and discover all that Bristol has to offer for yourself. I've teamed up with my latest stylish harbourside haunt, The Bristol Hotel and Bristol's favourite online news site, Bristol247 to offer one of you a stay in Bristol's Harbourside at The Bristol Hotel. We're giving away an overnight stay for two people including a hearty Bristol breakfast in one of The Bristol Hotel's Deluxe rooms overlooking the harbour, as well as dinner for two in the River Grille restaurant. Whoever wins the giveaway will have plenty to enjoy around Bristol's Harbourside area so read on for ideas of how you might spend your time in Bristol.
About The Bristol Hotel
Set bang on the harbourfront, the Bristol Hotel has a perfectly central location for anyone visiting the city and offers a luxurious base to explore Bristol's harbourside. The building was originally built as a motel in the 1960s and the honeycomb concrete facade of the adjoining multi-story car park is now a listed building, as an example of the architecture of the period. Many of the rooms have a fabulous view across the harbour and the glass frontage of the River Grille Restaurant overlooks the cobbled quayside with a prime view of the boats in the harbour.
If you live in Bristol you'll remember the Bristol Hotel as the former Jury's Hotel, but when the Jury's chain of hotels was sold in 2007, the Doyle family who owned the group decided to reinvest in a smaller portfolio of luxury hotels. In 2009 The Bristol Hotel reopened after a multi-million pound refit with new chic interiors and a boutique hotel feel.
I hope that you enjoy the video below about The Bristol Hotel and Harbourside area
If you can't see the video above, view it on my blog here or on Youtube here
Superior Rooms at The Bristol Hotel
Within the Bristol Hotel there are a total of 187 rooms, with two different colour schemes. The Superior Rooms have a restful soft green and beige colour scheme with mirrored bed head, silk throws and luxurious velvet and leather upholstery. The rooms have a desk area with flat screen TV, free wifi and plugs for European and US appliances, so that you won't have to be searching for a travel adapter when you visit Bristol. The bathrooms are sleek and modern with baths and power showers, generous sized toiletries and a beige and black marble scheme. Most of the superior rooms overlook the road, facing towards the Georgian Queens Square or the side of the hotel and are double glazed to reduce noise.
Deluxe Rooms at The Bristol Hotel
The Deluxe rooms are the premium bedrooms with views over the harbour and are decorated in a warm, inviting deep red colour scheme. With all the same benefits of the Superior rooms, the Deluxe rooms also offer free newspapers, a toweling robe and Nespresso coffee machine as well as wonderful views.
Relax and eat great food
On entering The Bristol Hotel from the road side you pass through the reception lobby and up the steps to the lounge areas and bar. There are plenty of comfortable modern sofas to sink into with neutral shades injected with flashes of red and pink colour. When I last visited a group of friends were having a celebration afternoon tea, which looked delicious, served on an unusual slate platter. At the upper level, the River Lounge offers a place to meet after work for a drink or a cocktail with a view over the harbour.
The River Grille Restaurant is an airy, double height space with floor to ceiling windows looking out onto the cobbled quayside. I was intrigued to find that the modernist style paintings on the wall had hidden in them the faces of famous people, such as Spike Milligan. The a la carte menu features aged steaks from my favourite Bristol Butcher, Ruby and White and there is also a good value Market Menu which changes twice a week, using local seasonal produce from the West Country. The Shore Cafe Bar on the corner of the hotel has an outdoor terrace where you can watch the comings and goings on Pero's Bridge and is the ideal place for a quick snack or an after work drink.
The Bristol Hotel Website Address: The Harbourside, Prince Street, Bristol BS1 4QF
Tel +44 (0) 117 923 0333 E-mail: bristol@doylecollection.com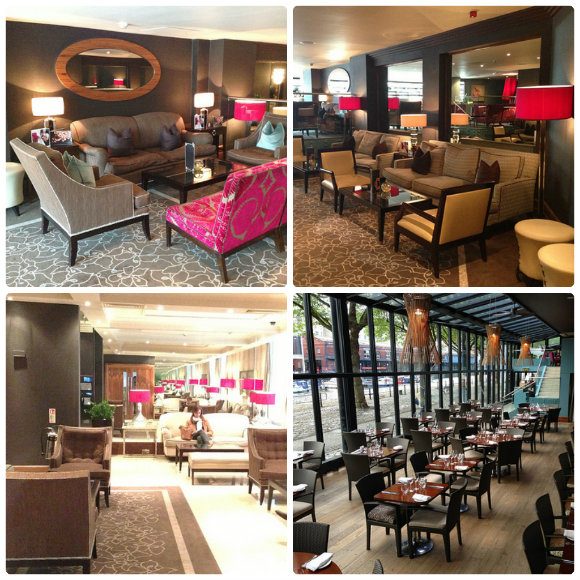 Things to enjoy in Bristol's harbourside;
By now I'm sure you're convinced about staying at The Bristol Hotel, so I hope you'll enter the giveaway for a chance to win a 1 night stay for two people with breakfast and dinner at the River Grille. If you're a visitor to Bristol you'll find the hotel is perfectly located to explore our city. If you're a Bristol local then this is a chance to treat yourself and a friend or loved one to a great night out in Bristol with no worries about late night taxis or last bus home, taking the opportunity to discover hidden corners you didn't know were there. If you can't use the giveaway yourself, you can make a gift of it to a friend or family member who could use a relaxing break in Bristol.
During your stay in Bristol's Harbourside here are some things that you might enjoy within a short walk of The Bristol Hotel;
For the artistically inclined
Don't miss the Arnolfini, a centre for the contemporary arts that's a stone's throw from the hotel. There's an arts cinema and free exhibitions which always raise a smile or an eyebrow – last time I was there I was hopping from log to log on a shallow pool in one of the upper galleries. Just up the hill at the top of Park Street you'll also find the Bristol City Museum and Gallery which has an art gallery on the top floor and hosts different exhibitions of art and photography, featuring anything from Banksy to Leonardo da Vinci.
For Culture and Music lovers
Whatever your tastes you have plenty of choice for a dramatic or musical night out in Bristol. The Hippodrome is Bristol's venue for all the top West End shows, musicals and ballet, while the Colston Hall with its glass fronted foyer is home to music from classical to pop, jazz to world music with a sprinkling of comedy thrown in – look out for the free foyer performances. The Old Vic is a lovely Georgian theatre that's recently reopened after a major refurbishment where you'll find top class productions from Shakespeare to Tennesee Williams, while the Watershed arts cinema just across the water shows the best of world cinema.
Stop for a coffee or lunch
There are any number of great stops around the harbour for a coffee or a lunchtime snack to keep you going until it's time for your dinner at the River Grille Restaurant. The museum and gallery cafes of the Arnolfini, M-shed and SS Great Britain all offer great quality coffee, snacks and lunchtime dishes. Just beyond the M-shed is the open air kiosk, Brunel's Buttery where you can eat your bacon buttie washed down by a mug of steaming tea alongside the houseboats with the seagulls swooping overhead (or more likely pecking up the squashed chips underfoot). For something a bit more elegant al fresco, try the tapas at The Olive Shed nearby. Back on the other side of the water, the waterfront around Millennium square is packed with bars and eateries, my favourites being the bar and downstairs brasserie at Bordeaux Quay and the upstairs cafe at the Watershed, if you can bag the balcony on a sunny day for lunch.
Messing about on the water
From one end of the harbour to the other, the yellow and blue Bristol Ferry Boats run up and down, offering you  a different perspective of the harbour from the swan's eye view. One of their stops is Bristol landmark, the SS Great Britain, an iron steam ship that was designed by Victorian engineer, Isambard Kingdom Brunel who was also responsible for the Clifton Suspension Bridge. You can spend a fascinating couple of hours here learning about the history and restoration of this historic ship and the sights and sounds of life at sea.
Stretch your legs
My favourite walk around the harbour is the circuit that takes you past the Arnolfini with a view of the industrial cranes, over the bridge and past M-shed then along the waterfront until you get to the SS Great Britain. If you time it right, you can exchange a few silver coins for a short ferry ride across the water and then make your way back along the reed beds to Millennium Square, where you cross Pero's bridge to get you back to the Bristol Hotel. If you're into urban hill-walking, walk halfway up Park Street and then turn left up to Brandon Hill where you can climb Cabot tower (more steps but at least it's free) to enjoy the 360 degree views over Bristol and the harbour.
Fun with the family
If you're travelling with the family, you'll love to hang out in Millennium square, where the kids can have a splashing time in the shallow pools on a sunny day. Right beside the square is At-Bristol, a hands on science centre with plenty of things to push, pull, fiddle with and generally learn about the world around you – that big silver ball you can see from the square is actually the Planetarium. Right next door is the Bristol Aquarium where you can view a tropical seascape and walk through the underwater tunnel. My favourite family museum for all ages (and it's free) is M-shed, a colourful and fascinating walk through all that makes Bristol what it is today.
If you love to shop
Find some unique Bristol souvenirs to take home in the gift shops at the Arnolfini gallery, SS Great Britain, or At Bristol complex. A walk up Park Street will take you past boutiques and independent stores selling everything from young, funky and vintage to elegant clothing stores like Jigsaw, Whistles and Cath Kidson or shop for lovely things for the home at Bristol Guild. For something different walk up Christmas steps and find all the interesting craft and art galleries on Colston Street and Lower Park Row. If you need a fix of all the top high street brands, a walk through Queens Square, past Bristol Bridge and through Castle Park will bring you to Broadmead and Cabots Circus.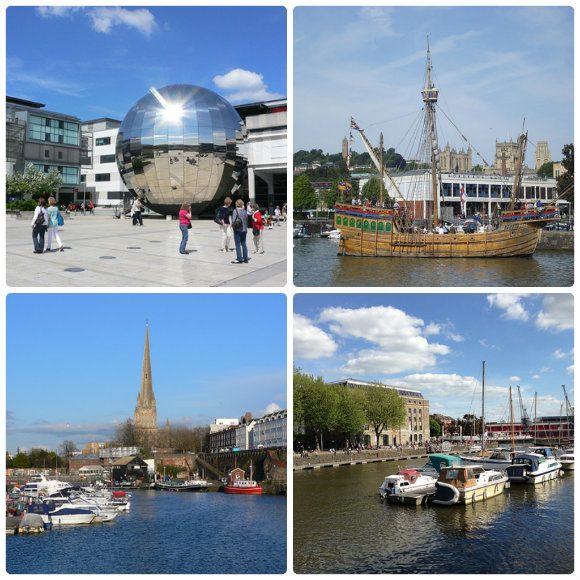 I hope that you'll be convinced to pay us a visit on Bristol's Harbourside and to tempt you even more, here's what we're giving away;
The Giveaway from The Bristol Hotel
The lucky winner of this giveaway will receive;
A 1 night stay for 2 people with full English breakfast in a Deluxe Room at The Bristol Hotel in Bristol, England
Plus a 3 course Table d'Hote dinner for two people in the River Grille Restaurant
Guests can make use of free wifi and free overnight car parking
This stay to be taken at any time (subject to availability) before 30 December 2013
If you can't use the giveaway yourself, you can give it as a gift to a friend or family member
To enter the giveaway,  please use the Rafflecopter widget below with 5 chances to win. The Giveaway will run for 2 weeks, ending on Sunday 18 August 2013.
1. Please let us know in the comments how you would like to spend your stay in Bristol at The Bristol Hotel
To gain additional chances to win you can;
2. Tweet about this giveaway mentioning @Heathercowper, @BristolDoyle and @bristol247 in your tweet, for example;
I'd love to #win a stay at The Bristol Hotel in the #giveaway @Heathercowper @bristol247 @BristolDoyle http://ow.ly/nCoCG
3. Follow @HeatherCowper on Twitter
4. Follow @bristol247 on Twitter
5. Follow @BristolDoyle on Twitter
Other T & C; The winner will be chosen at random once the giveaway has ended. The winner will be notified by e-mail but if they do not accept the prize within 1 week it will be offered to another entrant. This stay can only be used at The Bristol Hotel and is subject to availability.
This competition is being promoted through ThePrizeFinder.com, CompetitionsToday.co.uk, UKWins.co.uk, Winfreestuff.co.uk, Loquax.co.uk, CompetitionsList.com, abcwin.co.uk, offeroasis.co.uk,
This article by Heather Cowper is originally published at Heatheronhertravels.com – Read the original article here
You'll also find our sister blog with tips on how to build a successful travel blog at My Blogging Journey
 Don't miss out – subscribe to Heather on her travels
I don't speak with a "Brizzle" accent, I can't claim to be born and bred in the West Country, but Bristol is the city I've called home for the last 20 years. When friends come to visit they are always amazed that there's so much to see and do here and of course so many people who come here to study at one of the two universities or many language schools end up staying. I'm a migrant from London who flew down from London with my husband looking for a better place to bring up a family and haven't looked back since. So let me tell you about my perfect day in Bristol so you can get a taste of this city through my eyes.
My Perfect Day in Bristol
As I'm busy at work all week, my perfect weekend day is about relaxing with friends and family, perhaps a little bit of shopping and some nice things to eat. Living in north Bristol, I often head for Clifton village at the weekend to have a late breakfast with friends at a neighbourhood cafe like Rosmarino or take my teenage kids out for brunch at the always crowded Primrose Cafe, so we catch up on their week and have some family bonding time.
Clifton has a sociable, village atmosphere, with classical Georgian squares and of course the iconic Clifton Suspension Bridge. I love wandering around all the independent shops and boutiques, selling unusual clothes and things for the home, with lots of little cafes and restaurant where you can while away an hour or two chit-chatting over a cappuccino. If I had my sister or a girlfriend with me, I might head for The Lido and book one of their spa and lunch packages as a special treat. We'd laze around in the steam room and sauna, do a few leisurely lengths of the heated outdoor pool, then warm up again in the jacuzzi outside. After dressing and drying my hair in the boudoir we'd have some tapas or lunch in the cafe with full length windows overlooking the pool, watching the swimmers go up or down.
From there it's an easy walk back into Clifton village, probably bumping into a few friends as I walk around to see what's new in the shops. My favourites for clothes shopping are Maze and its grown up sister store at 18 The Mall,  but there are many other boutiques to choose from. Shopping for gifts or pretty things for the home I'd stop off in Pod or wander down the Clifton Arcade, a  Victorian shopping arcade that has been restored where I like to window shop for collectibles, vintage, antique jewellery and interesting arty finds.
Ready for another break I might stop at one of my favourite cafes to have a hot chocolate and cake at Bar Chocolat. If I was showing visitors around, of course we'd walk across the Clifton Suspension bridge for views down the Avon Gorge and pop into the Visitor Centre on the other side, or walk up to the observatory which is a favourite viewing spot for the balloons during the Balloon Fiesta in August for that iconic Balloons over Bristol shot.
From Clifton Village it's a pleasant walk or a short bus ride on the No 8 bus down Park Street to the centre of Bristol for an evening of music or culture. The Hippodrome is the place for a musical or ballet, while for a more classical sound you can't beat the concerts at St George's Brandon Hill, in a beautiful old church with fantastic acoustics – I always try to get to one of their Christmas concerts. For theatre I would book a performance at the Bristol Old Vic which has re-opened after a long renovation with wonderful creative performances. For my pre-theatre dinner I'd book in at Goldbrick House as their 2 course early evening menu before 7pm is delicious and excellent value at £10, although there are plenty of great places to choose on Park Street.
A Perfect day in Bristol for families
My kids are now teenagers but when they were younger, my perfect family day out in Bristol might look a little different. The Bristol City Museum on Park Street would be my first stop for an hour or two, as it's free and very family friendly. Towards the back of the museum is the cafe in an open atrium, with a small children's play area which is popular at weekends. It's right next to the exhibition area where I've seen everything from Banksy to Leonardo da Vinci in the past and the museum is one of those old fashioned places where you can go from the Egyptian mummies to local archaeology to a painted gypsy caravan.
Time for a snack and we would head across the road to Rocotillos, an American style diner which makes legendary creamy milk shakes as well as great breakfasts and burgers – our choice is always a plate of cheesy fries. Walking down Park Street we might detour into Brandon Hill Park, where there's a children's playground and Cabot tower to climb for older kids – with 360 degree views over Bristol.
For the rest of the day, I'd hang out around the Harbour area, where there are so many fun things to do within easy walking distance. Millennium Square is a fun place to start especially if the weather's good, where parents can relax on a bench while the kids have dabble in the fountains and water features and find the statues of Cary Grant and and other good citizens of Bristol.
On one side of Millennium Square is the At-Bristol hands on science centre, which includes the Planetarium – that's the large silver globe you can see from outside or try the Bristol Aquarium next door to walk down the undersea tunnel. Walk over Pero's bridge with the sculptural horn weights and you then walk along the quayside up to the Arnolfini. Older children with artistic inclinations will enjoy this free contemporary arts centre, where there's normally something conceptual or downright weird on display. Across the small bridge you'll find M-shed, a colourful free museum in the old industrial buildings that's all about the story of Bristol and has a family friendly cafe.
Just outside you'll find the steam train that runs at weekends and holidays and is staffed by enthusiasts, running up and down to take you as far as the SS Great Britain. This award winning attraction is an iron hulled, steam powered ship, built by Victorian engineer, Isambard Kingdom Brunel which has been beautifully restored to keep you busy for a few hours. From there you might cross over the harbour on the small ferry or get one of the yellow and blue Bristol ferries that go up and down the harbour for a fun sightseeing tour from the water.
Although I've mentioned a number of different attractions, some free, others with an entry charge, each one can easily keep you busy for a couple of hours or more, so it's probably best to check them all out on the Visit Bristol Website and then home in on just one or two things to visit to make your perfect day in Bristol.
This post is part of the initiative 100 cities to home swap before you die from Knok.com – do take a look at how you could spend a perfect day in some other cities around the world.
More things to do in Bristol
Free and Fun in Bristol – 20 things to do that won't cost you a penny
Is Bristol the Street-art capital of the world?
Climb Cabot tower on Brandon Hill for a panoramic view of Bristol
This article by Heather Cowper is originally published at Heatheronhertravels.com – Read more travel articles at Travel Blog Home
You'll also find our sister blog with tips on how to build a successful travel blog at My Blogging Journey
 Don't miss out – subscribe to Heather on her travels