Living in Bristol I often get asked for recommendations on the best places to stay as well as what to do in my lovely home town. For travellers who enjoy taking short city-breaks, I believe that the choice of hotel is a big factor in how you experience a place. I prefer to stay at hotels that are centrally located, with stylish decor and a personal touch with staff who really care. I have my own comfy bed in Bristol, so I haven't stayed overnight in the hotels I'm going to recommend, but I have visited them all for one event or another and they are hotels that I would choose myself, if I were visiting Bristol.
1. Brooks Guest House – for quirky charm and affordability
This charming guest house is right in the middle of the old city, tucked down a lane by St Nicholas Market. It's a great choice if you are arriving in Bristol by coach or train since there's no parking at the hotel, but then you will be bang in the heart of things. There's a contemporary but slightly retro feel in the decor, with painted woodwork and Cole & Sons wallpaper.
The big talking points are the four shiny Rocket caravans on the roof where you can stay in a cosy twosome (and yes they do have bathrooms).  Breakfast is downstairs in the light and airy kitchen area and there's a pretty paved courtyard which is perfect to sit outside as the weather gets warmer.
Brooks Guest House, St Nicholas Street, Bristol, BS1 1UB. Check out the best prices and book for Brooks Guest House at HotelLook.com
What do do while staying at Brooks Guest House
Wander around St Nicholas Market where the Guest House is located and try something delicious from the food stalls under the glass roof. This is a favourite spot for locals to come and buy their lunch, and you can choose from a multicultural selection, from Jamaican to Portuguese hot dishes, Pieminster pies to pulled pork in a bun. Inside the Covered Market and Exchange Hall are lots of small stalls selling clothes, jewellery and a whole range of interesting things, all run by small indie businesses.
Visit Castle Park which is a short walk through the market. If the weather is fine, this is a great place to take your lunch from St Nick's market to sit on the grass overlooking the river. The church of St Peter's was bombed in the war but its shell remains as a monument and there's a sheltered herb garden and sculpture avenue next to it. There's also a children's playground tucked away on the mound beyond the church.
Watch a play at the Theatre Royal close to Queen's square, where the Bristol Old Vic Theatre Company puts on everything from Shakespeare to family shows. The theatre dates back to the 18th century and has an impressive classical facade and original gilded Georgian auditorium so it's always worth checking on the latest productions.
2. Hotel du Vin – for old school style and luxury
Housed in an old stone sugar warehouse, I love Hotel du Vin for its sense of style and old school luxury. As the name suggests, there's a wine theme going on in the Bistro restaurant, with polished dark wood, panelled walls and a French inspired menu, as well as a bar area with squashy leather sofas to relax with a cocktail or coffee.
Due to the character of the old building, no two bedrooms are exactly the same, but all are luxurious with roll-top baths or powerful showers, soft velvet furnishings and antique leather easy chairs. The hotel is centrally located in the oldest part of Bristol, and where the road now runs in front of the hotel was once the original waterfront where ships would have moored.
Hotel du Vin, The Sugar House, Narrow Lewins Mead, Bristol, BS1 2NU. Check out the best prices and book for Hotel du Vin Bristol at HotelLook.com
What do do while staying at Hotel du Vin
Walk up the atmospheric Christmas steps, to imagine how Bristol looked in the 17th and 18th century when the road in front of the hotel was part of the harbour, then check out some of the quirky independent shops. At the top of the steps there's an old Alms House and plenty of other small arty shops along Colston Street and Perry Road.
Colston Hall is just a short walk from the hotel, Bristol's main music venue hosting an eclectic mix of international performers, community choirs and pop tribute bands. An open copper foyer was added to the original Victorian building a few years ago, often hosting free live music in this space with a stylish cafe too.
Visit Red Lodge which is set on Park Row, on the hill above Hotel du Vin and the Colston Hall. It's one of the oldest houses in Bristol where you can see oak panelled Elizabethan rooms and fireplaces in the Great Oak Room, with views over the city. The wealthy merchants who once lived here would have had a grand view of their ships coming up the harbour as well as being able to take their leisure in the Elizabethan knot garden. Entry is free and the house is open from end March to end December, closed Weds/ Thurs/ Fri.
3. The Bristol – for luxurious rooms overlooking the harbour
From the ouside The Bristol may not be the prettiest of hotels – although there's something iconic about its listed 1960s facade that was originally built as a motel. Step inside and the rooms are spacious and stylish in relaxing natural tones with luxurious velvet throws in highlight shades of  plum, mushroom or aubergine.
You can take their popular afternoon tea, order some sharing plates in the Lounge or have dinner with a view of the harbour in the River Grille restaurant, with drinks in the Shore Cafe Bar next door. As there's a multi-story car park next door, this is a convenient choice for those who are driving but want a central location by the harbour in Bristol.
The Bristol, Prince Street, Bristol, BS1 4QF. Check out the best prices and book for The Bristol at HotelLook.com
What to do while staying at The Bristol
Take a Bristol Ferry Company boat from the steps opposite the Watershed Arts Centre which will take you around the harbour with lots of different stops on the way. You could get off at the furthest point for a pleasant walk back along the water or just stay on board for a mini tour which will take around 40 minutes to see harbour sights like the ss Great Britain and Underfall Yard from the water.
Just along the harbour front is M-shed, a free museum that brings to life the history and people of Bristol. With plenty of hands-on exhibits it's great for all ages and since its free, you can dip in and out depending on how long you've got. When your tummy is rumbling it's time to discover Bristol's latest foodie hub which is just next door at Wapping Wharf – a pedestrian street full of indie restaurants and bars, including Cargo – a group of food retailers housed in shipping containers.
Take the steam train or walk down to ss Great Britain – from M-shed, there's a small steam train that runs at weekends, manned by enthusiasts that will take you along the harbourside down to ss Great Britain (of course you can also walk). This historic iron steam ship was built by Victorian engineer Isambard Kingdom Brunel who also designed the Clifton Suspension Bridge and the ship was returned to Bristol from the Falklands. Now fully restored, it is one of Bristol's leading visitor attractions and a great day out for families and those interested in Bristol's maritime history.
I hope you enjoyed my mini-tour of some of my favourite places to see and stay in Bristol. If you're planning a weekend break in Bristol, do check out the best prices and book at  Hotellook.com.
Pin It
Disclosure: This article was brought to you in partnership with HotelLook.com
This article is originally published at Heatheronhertravels.com – Read the original article here
"It's a bit like Bristol really, you're either clinging on by your fingertips or looking out to a bright future!" Well, perhaps Banky's Bristol mural, The Well Hung Lover, is a metaphor for life in the city, as suggested by our street art guide Tina Altwegg of Where the Wall street art tours. Apparently Bristolians approach them all the time during their tours, and this was just one interpretation of the Banksy piece, given to them by a passer by on a previous tour. Our street art tour started and ended with a Banksy, but as we discovered there's a lot more to the Bristol street art scene than the city's most famous and mysteriously anonymous street artist.
As we walked down the steps to view the Banksy mural from below, Tina fed us annecdotes about the art and artists we were passing. This Banksy was created at a time when Bristol City Council was whitewashing street art as fast as it could be created, but since it was painted in a very visible but inaccessible position, on the side of a building owned by a friend of Banksy, no-one could touch it. That didn't stop it being targetted by taggers launching blue paintball splodges which have only partially been removed. Perhaps the theme of betrayal was inpired by the bust-up Banksy had with his manager, or perhaps it's a reference to the sexual health clinic that once occupied this building.
A little further we came across one of my favourite pieces of the tour by JPS – two cute children doing The Big Deal. The artist from Weston Super Mare uses stencils in a way that is reminiscent and even inspired by Banksy. The Queens Shilling, an LGBT nightclub it's next to, liked it so much that they asked him to create another piece just around the corner.
This Spartacus mural by JPS is a tribute to the actor Andy Whitfield who was in the TV series but died of cancer. Apparently it's a favourite photo spot for hen parties – can't think why!
We moved across the centre to the Radisson Hotel Blu Hotel, not the most obvious location for street art – but here was a piece by Cheo that recreates the local Aardman characters of Wallace and Gromit as cool dudes from the hood. The first mural was created when the Shaun the sheep statues were scattered around Bristol but it became such a talking point that the hotel asked Cheo back to create its partner.
In Corn Street Tina pointed out the The Hatter Cafe who had commissioned a piece by Nick Walker using his familiar character in a bowler hat which we spotted again later along Nelson Street. There are an increasing number of businesses around Bristol that tap into the talent of Bristol street artists – you can stay in a room at the Mercure Holland House inspired by Bristol Street art or sip your cocktail on the Urban Roof Terrace of the Marriott City Hotel.
Turning off Corn Street through Leonard's Lane was a revelation, with the murals visible at the entrance of this dark passage only hinting at the menagerie of creatures and stencil, mosaic and 3D pieces to be found by those venturing down the alley. Take a look at my photo album for a taste of some of them.
We emerged blinking into the daylight from the passage, at the old old city walls with the spire of St John in the wall above us and the unicorns and lions from the city's coat of arms decorating the old stone archway – for unicorn chasers there's also one inside the church.
Now we were on Nelson Street, one of the key street art areas of Bristol. Most of the uninspiring concrete buildings were painted with huge murals as part of the See No Evil Street Art Festival in 2011 and 2012. Look up to find the Madonna-like piece by El Mac based on his girlfriend and baby, using a shading technique created by chilling down the aerosol paints in a bucket of ice. Next to it Nick Walker's bowler hatted man is painting the town red. A little further up the road, the wolf by Aryz and stick figure by the artist of the same name Stik brighted up the most unremarkable towerblocks. Nelson Street is now under development with a large building site, so some of the smaller pieces from the festival have been lost, but it's still well worth visiting for the larger murals that remain. The festival was a predecessor of the Upfest festival that now takes place in South Bristol, hosting 300 street artists and 30,000 visitors last July.
As Tina tells us the story behind each piece, I sense a theme emerging. Some of the artists like Stik and JPS had been depressed or homeless and found a way forward through street-art. Others have been honing their artistic talent in Bristol for many years, since John Nation, now a tour guide for Where the Wall, started a street art project at the Barton Hill Youth Club. Artists like Nick Walker and Cheo started painting there before Banksy and, as Rob Dean, the founder of Where the Wall explained, if they have now found success, it's not before time.
"The artists are now getting recognition for what they are doing rather than lurking in the shadows, which is fantastic – the people who have been doing it for 20 years need to become household names. It's not so much commercialism as the recognition that they deserve for the hours they have put in."
The Street Art tours are becoming increasingly popular with school groups, both in Bristol and from abroad and Tina runs the tours in French and German when required. Sometimes the tour is combined with a creative spray session at the end, so that the kids can give it a try for themselves. Art teachers find that it's a great way of getting teenagers excited by the medium – perhaps inspiring the next generation of street artists.
We move on towards Broadmead past the old police station, now a youth centre and gallery with all sorts of artistic stuff going on. As Tina  points out, there's an irony in the place where they took arrested  graffiti artists now being a hub of creativity. On the grimy stonework there's some 'Clean' or reverse graffiti by Moose, created with sturdy stencils and a jet wash.
Heading through the underpass of the Bearpit, we see panels where artists can create murals in an ever changing gallery. This is the starting point for Stokes Croft, the road leading from the city centre which is seemingly one long street-art gallery. Businesses along here regularly commission work from the top street artists, like the Man in the Moon piece by Cheba that we see on the wall of the Full Moon pub and backpacker's hostel. Tagging and spray-can graffiti is common, but the more respected artists or commissioned pieces stay free of it for a little longer.
We meander through the back alleys parallel to Stokes Croft, as Tina points out some of the more unusual pieces like a paste up piece at kerb level. It's literally a painting pasted to a wall so it might stay anything from 1 day to 6 months before it's torn off.  At the top of Stokes Croft is the Carriage Works, an old shell of a building where the panels between the arches are a popular canvas for street artists.
Bristol is so well known for street art that many of the top international artists come here to create a piece over a weekend, to make sure they have Bristol on their creative CV. However, even the best pieces may only last a few days before they are painted over by someone else –  only remembered on Facebook or Instagram.
Now our tour is nearly at an end as we meet up with Where the Wall founder, Rob Dean who tells us of his plans for the future. The company has recently started a Banksy tour which is proving a hit, even though there are only a few pieces by the artist remaining throughout Bristol. It complements the main street art tour we've just done and is an opportunity to give visitors a bit more context about the history of the city. Rob tells us, "I see the street art tours as a great way to go straight into the middle of the creative contemporary culture of Bristol, without having to spend days finding it, or missing it completely."
The tour company also tries to help local street artists get more benefit from their work, by ensuring it is correctly attributed and that their intellectual property rights are not trampled upon. Last year Where the Wall worked with a calendar company on a project that saw a number of local artists being paid to create murals in the Cabots Circus Shopping Centre, which were then photographed for a Bristol street art calendar.
We discover that our guide Tina Altwegg is also an illustrator and artist, as she shows us her Dancing Polar Bear mural in the underground cycle park of Hamilton House, where she has her artist's studio. She tells us how she wanted to imagine the polar bears dancing and having fun as a counterpoint to all the depressing news about climate change.
After a coffee in The Canteen, we check out a couple more pieces on the walls of the neighbouring buildings. The break-dancing Jesus is an iconic mural that's become well known in Bristol and was created by artist Cosmo Sarson following a competition to decide who would paint this very visible space on Stokes Croft. It was inspired by a news story the artist had seen about Pope John Paul II inviting a group of Polish break dancers to perform for him in the Vatican.
On the opposite wall we finish as we started with a Banksy, one of his earliest surviving pieces in Bristol – The Mild Mild West. This one was created in 1999 before the artist moved into a more detailed style using stencils and stopped signing his work. Because it's a simple black and white piece, painted by hand, it's been easy to touch up every time someone tries to tag it or send a few paintballs in its direction. Since the mural was painted there have been protests and riots in this part of Bristol so it seems to always have a relevancy in the theme. We Bristolians may be cuddly and easy going but there's an undercurrent of anti-establishment feeling here too.
Take the Where the Wall tour and as Rob says, even if you're here for just a day, you'll get straight to the heart of contemporary culture in Bristol and enjoy some great street art from Banksy and many, many more.
Where the Wall Street Art Tours cost £9.20 and there are 3 tours – The Bristol Street Art Tours, The Banksy and Harbourside walking tour and the Bedminster Street Art Tour.

Website – Wherethewall.com Twitter – @Wherethewall | Facebook | Instagram | YouTube
Thanks to Where the Wall for providing me with a free tour as part of a Bristol Bloggers and Influencers Event.
More Art in Bristol
Inspired by Bristol Artists at the Affordable Art Fair
Stokes Croft – a hidden gem of Street-Art Cool in Bristol
Is Bristol the Street-art capital of the World?
What the other bloggers said
Travel to Recovery – Bristol Street Art Tour
New Mum Online – The Street Art Where the Wall Tour and Colour that Inspired Aeron
Natacha the Franglais – And if we talked about Street Art
Looking for somewhere to stay in Bristol?
Here are some of the Hotels in Bristol that we recommend, which are close to the neighbourhoods that have street-art.
Budget Accommodation in Bristol: YHA
In the harbourside area, the YHA is in an old waterfront grain warehouse with 133 beds in a range of dorm and private rooms, some of which are en suite.
Boutique Guest House in Bristol: Brooks Guest House
Tucked away in a courtyard in the heart of the old city, with 23 stylish and compact bedrooms and retro rocket caravans on the roof which you can stay in.
Luxury Hotel in Bristol: Hotel du Vin
Set in an 18th century sugar warehouse with exposed brickwork and 40 loft style bedrooms, leather sofas in the sugar bar and a French Bistro style restaurant.
Pin It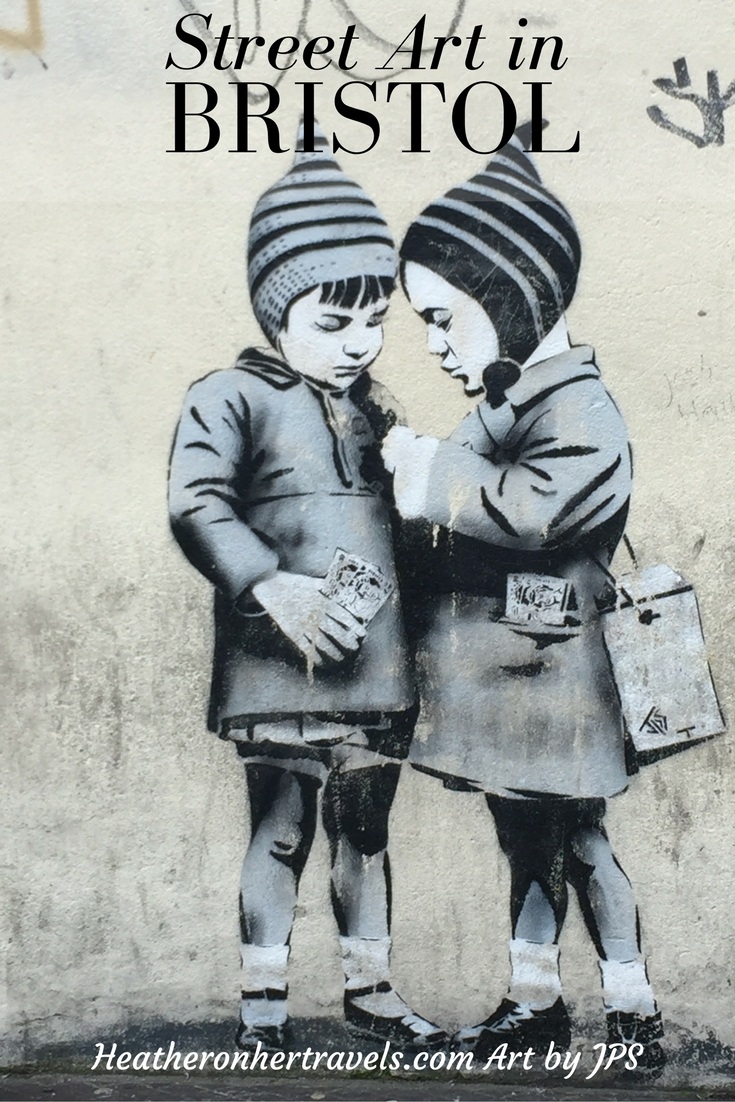 This article is originally published at Heatheronhertravels.com – Read the original article here
You'll also find our sister blog with tips on how to build a successful travel blog at My Blogging Journey
"Buy what you love" is the advice of Bristol artist Abigail McDougall when it comes to investing in original artworks, like those she paints in her studio in Jamaica Street, Bristol. With Bristol's Affordable Art Fair coming up next week, I spent the morning with Abigail who specialises in colourful watercolours, often of Bristol scenes or the places she travels and is especially inspired by water and reflections.
Abigail showed me some of the Bristol scenes that she has been working on for the forthcoming Affordable Art Fair, which are popular with local people and have led to commissions and solo shows in the city.
"People from Bristol are so fond of the city; it has so much interest with the hills and layers of buildings, the colourful houses, the harbour and the water reflections. It's a very green city as well. I think people are very proud of Bristol, they tend to move away and then come back again, it's a city that pulls you back"
Travels abroad have also inspired Abigail's work and earlier this year she spent a few weeks travelling around Mexico. Around the studio I could also see watercolour sketches from trips to Marrakech, where she loved the patterns and colours of pottery, collecting scarves that incorporated colour combination she found inspiring.
"I do put a lot of colour into my work and I think that's partly inspired by the time I spent in Italy as a child. When you travel you get to see a whole new colour palate. In Africa and Morocco, the colours are a lot warmer than they are here, with more red and yellow. Even the blues in the sky are warmer, so you get to discover a completely new colour palate. In Morocco you see things in a new light."
Watch Abigail's video below about the inspiration she found in Mexico – see it on my article here
Over the years of painting in Bristol, Abigail has found herself drawn more and more to the water and reflections of the harbourside and rivers Avon and Frome. Sometimes she will be found cycling along the towpath at dusk, when the light is getting low, making in-the-moment watercolour sketches of the shadows and reflections on the water. From this love of water, a new more abstract style is developing, taking a close up view of lilies in a botanic garden or mangrove roots reflected in the water of cenotes of Mexico.
I asked Abigail how she prepared for a big show like the Affordable Art Fair, since she has to create a whole new collection of original artworks to show at the fair. She told me that she will think back to the type of paintings that have been popular at previous shows but then challenges herself to experiment and push the theme forward. Now she is trying to develop the medium of watercolour, creating bigger pieces on specially prepared board which takes the colour in a way that is more intense and textured.
"People are interested in the story behind your work, so if you push yourself and keep experimenting, then you always have a story to tell about the work. There are not a lot of people working in watercolour these days and I try to do something modern and contemporary with it. "
For those looking to buy original artworks, Abigail's advice is to look for something that you love and not something you think is a good investment. If you fall in love with an artist who becomes famous that's a bonus, but you need to have something on your wall that you can live with.
I wanted to understand how Abigail would approach a new painting, so she got out her brushes and showed me how she would take a photograph of a boat on the mudflat and create a watercolour image from it. She explained how she would first consider the colours to use, to reflect the subdued tones of the photo with contrasts of light and dark, perhaps adding some contrasting colours to lead the eye around the picture.
Deftly mixing colours from the blobs of paint around the rim of a plate, the tip of her Chinese brush traced the outline of the painting. Next the thickness of the brush was used to wash colour over the sky and water, building up and blending diifferent colours together. From time to time an old hair dryer came out to dry the paint before she could add the detail of the boats and the fine lines of their masts.
Small dots of red added the contrast of buoys and different soft shades the ripples of water and mud reflecting light. Abigail told me how she also likes to work outdoors, making quick watercolour paintings like this on the spot, as the result can be more free when you have to work quickly from real life.
It was fun to see the world in a creative way through an artist's eyes and I came away feeling inspired and energised by the colour in Abigail's work. Catch her at the Affordable Art Fair in Bristol, at galleries around Bristol or on her Bristol Contemporary Art online gallery.
The Affordable Art Fair in Bristol
You can buy original paintings by Abigail McDougall and other artists within Bristol Contemporary Art at the Affordable Art Fair which is taking place 7-9 September at Brunel's Old Station in Bristol. The fair will feature original contemporary artworks from 500 exceptional artists, designed to be affordably priced between £50 and £5,000. Many of the galleries allow you to pay for your artwork over a number of months through the Own Art scheme. Abigail's original watercolours start from around £370.
Tickets to the Bristol fair are £4 for a day pass or £6 for a multi-day pass if you book online in advance. The Bristol fair includes kid's activities, live painting by the artists in residence and a cafe by Friska. If you can't make it to Bristol, check out the other fairs in London – next at Battersea 20-23 October 2016 or in other cities worldwide. More details on the Affordable Art Fair Website.
This article was brought to you in partnership with the Affordable Art Fair
More articles about Bristol
10 cool things to do on Bristol's harbourside
Is Bristol the Street Art Capital of the World?
Free and Fun in Bristol – 20 things that won't cost you a penny
Pin It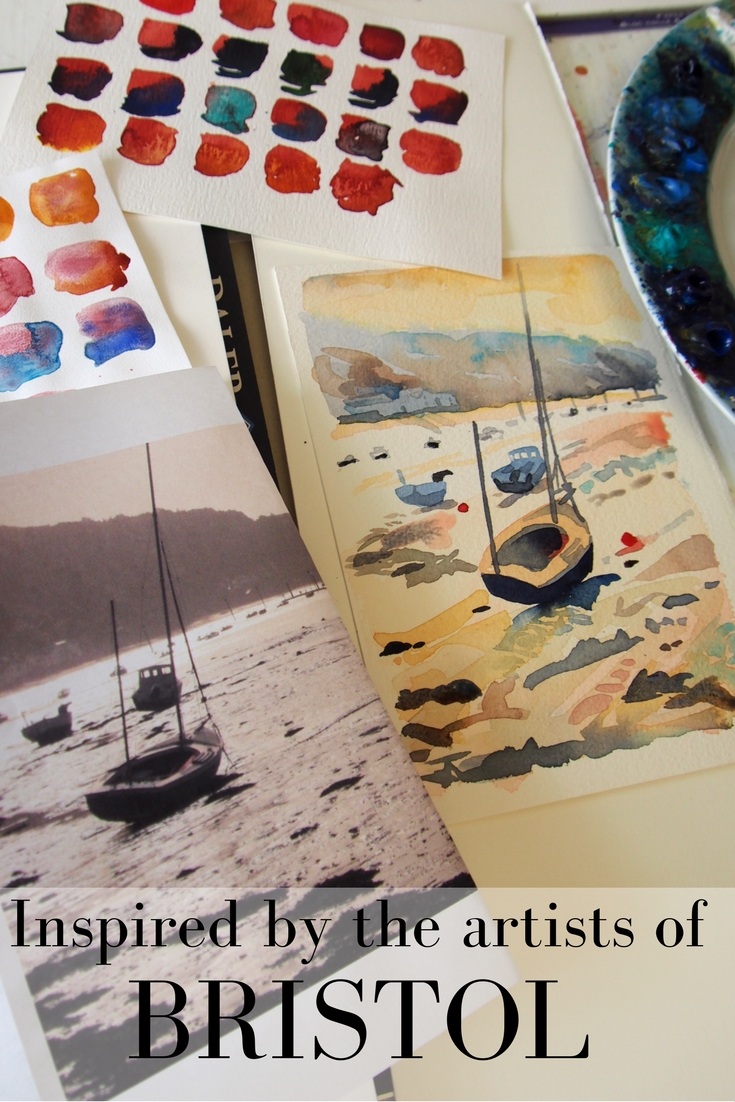 This article is originally published at Heatheronhertravels.com – Read the original article here
You'll also find our sister blog with tips on how to build a successful travel blog at My Blogging Journey