January 27, 2014 by Heather Cowper
Filed under United Kingdom, Leisure, featured, Art and design, Beaches and swimming, Cruise, European Sea Cruise, Gardens, Guernsey, Museums, Sightseeing
If you are taking a cruise that stops at Guernsey in the Channel islands and are wondering how to spend your time ashore, this article is for you. Here are my suggestions for what you may enjoy, whether you choose to take an organised cruise excursion or explore on your own. At the end of this article you'll find details of my giveaway of a unique Guernsey souvenir.
The island of Guernsey was the final port of call on the four night European Sampler Cruise on Crown Princess that we took in September with Princess Cruises. As the harbour at St Peter Port is not large enough to accommodate cruise ships, we took the tender (the lifeboats are used) in order to get off the ship and onto Guernsey. If you're new to cruising like me, you may not be aware that it is something of an organisational feat to get up to 3000 passengers off the ship in small boats, so if you are keen to spend as much time on shore as possible, you need to make sure you go to the tender station as early as possible.  The Crown Princess arrived at Guernsey at 7am, so we made sure to have an early breakfast and by 9am were standing on the quayside.
To Excursion or not to Excursion?
We had visited Guernsey before in the spring of 2012, when we hired a car and so we had seen many of the main attractions on the island. For this reason, we decided not to book any shore excursions, but to use our time to meander at our own pace and explore a bit more of St Peter Port. The bookable cruise excursions would typically take you on a scenic drive of this beautiful island, stopping at The Little Chapel, Sausmarez Manor and sometimes the Gold and Silver Workshops, and I think that it is worth considering these if you prefer everything to be organised or are not very mobile. I probably wouldn't take the excursion covering Castle Cornet as this is easy to see on your own and a short walk from where the tender drops you. If you are keen to see the smaller islands of Herm and Sark, excursions could be good options, due to the logistics involved in arriving onshore and then taking another ferry to these islands, and getting back in time for the 4pm cruise departure.
If you prefer to make your own arrangements, there is a reliable network of buses to get around Guernsey which is quite a small island, and most places are a 20-30 minute ride from St Peter Port. The bus station is just along the quayside, opposite Castle Cornet, and you can find information about buses and timetables on the HCT Guernsey Bus website. There is a flat fare of £2 per single journey or £4.50 for a 1 day bus pass, which is excellent value. The No 91 "Guernsey Vaeux" bus service runs 4 times a day on a continuous loop around the island, which makes an inexpensive sightseeing tour, although if you get off you'll probably have to use one of the other buses to get back to St Peter Port. If you're an active traveller you could consider hiring a bike from just behind the Tourism Office, or just walk around St Peter Port and along the coastal path as we did.
A wander around St Peter Port and the Candie Gardens
One thing we hadn't appreciated was that on Sundays most of the shops in St Peter Port are closed, so the atmosphere was very quiet. After having a look around the Tourist Office on the harbor front, we decided to walk up the hill to the Candie Gardens, dominated by the statue of Victor Hugo looking out towards France. We had a coffee in the small café in the Candie Gardens and then took a look around the Guernsey Museum, with an exhibition all about the Beatles and life in the 1960s, as well as artworks and archaeological objects telling the history of Guernsey through the ages. The Candie Gardens had some colourful floral displays and in summer this would also be a lovely place to come and sit with a picnic and a great view over the bay.
For More Information: The Candie Gardens is free to visit and open daily until dusk. The Guernsey Museum and Art Gallery  cost £6 open April-October, the Cafe Victoria in the gardens is open daily.
Hauteville House – the Victor Hugo House
Had it not been closed on Sundays, we would have loved to have a look around Hauteville House, the home of the celebrated French poet and writer, Victor Hugo. If you love art and culture this is one thing I would not miss on Guernsey, and although I had seen it on my previous visit, I wanted to show Guy, who had not. If you are not booked to see the Victor Hugo House as part of an excursion, you need to be aware that you will be shown around the house with a guide by timed entry, which can be booked by ringing or e-mailing the museum in advance or by simply arriving and then booking yourself on the next available tour.
Victor Hugo arrived on Guernsey in 1855, as an exile from France because of his political views. He purchased this former corsair's house set on the hill with views over the harbour and set about transforming it into a richly decorated showcase for his ideas and exotic tastes in antiques and gorgeous textiles. The tour will take you from room to room, with explanations of how Hugo found the old oak chests, Aubusson tapestries and Chinese silks that he collected like a magpie. On the first floor are the magnificent rooms that the family used for entertaining, while on the top floor is a glass conservatory, where the author worked in private, with views across to Castle Cornet. Once the tour is complete, you can wander around the lovely, country style walled garden with roses, fountains and herbaceous borders. Read my article about Victor Hugo – decorateur extrordinaire at Hauteville House on Guernsey
For more information – Guernsey's Victor Hugo Website. Cost £7, open April-September
Castle Cornet
Another major attraction in St Peter Port is Castle Cornet, the military fortress at one end of the harbour, that now houses five different museums under one entry ticket. The earliest parts of the castle date back to the 13th century and it came under siege in the 17th century during the English Civil war with a large garrison being maintained throughout the 18th century. We didn't have time to pay a visit on this trip but had previously seen the "Story of Castle Cornet" Museum, with different roomsets showing how the soldiers lived in the barracks and the history of the castle. Other parts of the castle house the RAF Museum, the Maritime Museum and gallery, Royal Guernsey Light Infantry Museum and Royal Guernsey Militia Museum. There is also a cafe and a walled garden that's planted in 18th century style. It's worth being at Castle Cornet at mid-day to see and hear the firing of the noon-day gun which is very loud!
For More Information: Castle Cornet Museum Website Cost £9.75 Open March-October
La Valette Military Museum
On our last visit to Guernsey, we had visited the German Occupation Museum which is found in the parish of Les Houards, close to the airport and houses a collection of artefacts from the German Occupation during World War Two. This time we stopped at the La Valette Underground Military Museum which you can easily reach on foot if you walk along the seafront to the furthest end. The La Valette museum is housed in underground tunnels built by the German Army using forced labour during the Second World War and contains memorabilia such as uniforms, equipment, medals and posters as well as giving an opportunity to see the tunnels.
Both museums have an old-fashioned and slightly home-made feel compared to the multi-media hands-on experiences that many larger museums in Europe have become. The memorabilia from the period of the occupation is in glass cases although there are some models dressed in uniform from the era. Of the two museums I prefered the German Occupation Museum as it did a better job of telling the story of the occupation for real people on Guernsey through videos and audio recording. If you'd like to visit you can get there on the No 93 or 11 bus from St Peter Port bus station. The German Occupation also had a nice little tea-room downstairs although there was an outdoor refreshment kiosk overlooking the bay just opposite the entrance of La Valette Underground Military Museum.
For More Information:  German Occupation Museum Cost £5  Open April-October, La Valette Underground Military Museum Cost £5 Open March-November. Read my article about Guernsey, the German Occupation and Potato Peel Pie
A walk to Fermain Bay
If you'd like to stretch your legs and see something of Guernsey's rugged coastal scenery, you can take a walk to Fermain Bay along the cliff path from St Peter Port. We had visited Fermain Bay on our previous visit, so we knew there was a delightful cafe set above the beach, where we might try some Guernsey Gâche, the local fruit bread. After passing the fortress of Castle Cornet and some outdoor bathing pools, the path took us past the Clarence Battery, an 18th century military garrison where some canons were on display among the fortifications. We continued through woodland, with glimpses of the sea, until an hour later we arrived at Fermain Bay where we stopped for refreshments at the Fermain Bay Café, next to a defensive Martello tower.
On our previous visit to Guernsey we had also visited the gardens and sculpture trail at nearby Sausmarez manor and walked further along the cliff path to the German WW2 fortifications at Jerbourg Point. If we had more time, these would have been additional things to do during our shore excursion, with perhaps a bus ride back to St Peter Port in time for our 4pm cruise departure. In summer, Fermain Bay is a lovely place to swim, so it would be worth bringing your bathers and a towel from the ship.
For More information: You can take the bus to Fermain Bay from the St Peter Port bus station on Routes 11 and 91/93  which runs every 30 mins,  and takes 10 mins.
Sausmarez Manor
On our previous visit to Guernsey, we stopped at Sausmarez Manor, a beautiful Queen Anne manor house surrounded by gardens and a woodland sculpture trail around a lake. The house was not open when we visited, although there are guided tours on certain days, and if you wish to book one of the cruise excursions I would certainly look for one that includes a tour of the house and gardens. At the front of the manor is a formal lawned garden, with a smaller garden with herbaceous borders to one side.
These gardens around the house are free and for an extra charge I enjoyed the sculpture trail which is like an outdoor art gallery, with sculptures in a woodland setting beside the lake. There is also a charming small tea room in a conservatory beside the house. Although we didn't visit Sausmarez Manor on this occasion, it would be easy to visit independently by bus from St Peter Port, or in a combined visit walking or cycling to Fermain Bay.
For more information: Sausmarez Manor , admissions to gardens and sculpture park £6 Guided House Tours £7. You can take the bus to Sausmarez Manor from the St Peter Port bus station on Routes 11 and 91/93  which runs every 30 mins and takes 15 mins
The Little Chapel
One stop on almost every cruise excursion is the Little Chapel, a tiny chapel just a few paces long covered with broken crockery, shells and mosaic. The chapel was built by a local religious brother modelled on the grotto at Lourdes and the first couple of versions didn't make the grade so this one was built in the 1940s. This labour of love was decorated over some years but it's quite small and so you'll probably only be there half an hour. If you want to visit the Little Chapel independently you can take the bus which runs hourly from St Peter Port.
For more information: The Little Chapel, the bus from St Peter Port Bus station to The Little Chapel on Route 71 runs every hour and takes 15-20 mins. The Little Chapel is free but relies on donations. 
Visiting Sark and Herm
The smaller islands of Sark and Herm can be reached by ferry from Guernsey and visited as a day trip, although you'd need to plan your timings carefully to be sure to get back in time for the cruise departure. As the Sark crossing is longer, and can be cancelled in case of rough seas, this is one that I would probably do as an organised cruise excursion to take any pressure off you in case things go wrong. The island of Herm is smaller and the crossing only takes 20 minutes so this is more feasible to visit independently, when you can enjoy the unspoilt beaches and walking paths as there are no cars on the islands.
On our previous visit to Guernsey, we visited Sark and would highly recommend it, especially if you have already visited St Peter Port before and want to experience a place where time seems to have stood still since the 1950s. As no cars are allowed on Sark, the main ways to get around are on foot, by bike or by horse-drawn carriage and on arrival you will have the opportunity sit in a cart with bench seats known as the toast rack and be dragged up the hill by tractor.
At the top of the hill is the main village with a few shops, bank, pub and places where you can hire bikes or a horse-drawn carriage to take you around the island. We hired bikes at Avenue Cycle Hire and headed in the direction of Little Sark which is joined to the main island by a narrow, fenced causeway with a sheer drop on either side, known as La Coupee. We took a detour to the beautiful beach at Dixart Bay which is reached down a narrow, wooded lane, before continuing to have lunch at La Sablonnerie Hotel hotel on Little Sark where we dined on fresh lobster with a butter sauce at a table set in the rose garden.
After lunch we cycled back to the other end of the island to visit La Seigneurie Gardens, the residence of the Seigneur or Lord of the island. The house is not open but the gardens are open on most days through the summer and there's also a nice cafe for lunch with a cost of about £3.50 to look around the gardens. A stroll in the sunshine around the walled garden with lovely herbaceous borders, fountains and a maze to get lost in was most enjoyable.
For more information: Isle of Sark website: the ferry crossing is run by the Isle of Sark Shipping Company, costs £27.80 return (at time of writing), running 4 times daily in peak season and the journey is 55 minutes.  Herm website: the ferry crossing is run by Trident Ferry Company which has a kiosk on the harbour front close to where the tender drops you and the ferry runs several times daily and the journey takes 20 minutes. Please consult the ferry timetable when booking and be sure to book your return crossing in good time, as if you are late, the ship won't wait!
There are plenty of things to enjoy in your cruise stop on Guernsey and my tip is to have an early breakfast and disembark your cruise ship as early as possible, so you have time to enjoy it all. If you decide to take one of the cruise excursions, you will be able to visit a number of the places I've mentioned in this article and have the convenience of easy transport and a guide. However, don't be afraid to take the reliable bus service to explore on your own or just visit the many interesting things in and around St Peter Port on foot.
My Giveaway
As a fun souvenir of Guernsey, I have a Guernsey Monopoly Game to give away, which I was kindly sent by the makers as they used some of my photos on the board. This giveaway, is for subscribers to my monthly newsletter which includes details of future reader offers. Unfortunately, due to the cost of postage I am only able to send the Guernsey Monopoly to a UK address. All you need to do, if you'd like to enter the draw for the  Guernsey Monopoly set is to;
1. subscribe to my newsletter below
and
2. Let me know in the comments that you'd like to be entered for this draw.
That's it! As a subscriber you'll be sent my monthly newsletter plus occasional details of other reader travel offers and giveaways, and you can unsubscribe at any time.
My 4 night European Sampler Cruise with my husband was hosted by Princess Cruises who offer cruises to European and Worldwide cruises to allow you to explore fascinating destinations and escape completely on board their elegant and spacious ships. Our cruise took us from Southampton to Rotterdam to Guernsey before returning to Southampton. You can keep up with latest updates for Princess Cruises on their Twitter page @PrincessCruises and on the Princess Cruises Facebook Page.
This article by Heather Cowper is originally published at Heatheronhertravels.com – Read the original article here
You'll also find our sister blog with tips on how to build a successful travel blog at My Blogging Journey
Food, glorious food, is one of the pleasures of taking a cruise like the 4 day European Sampler cruise I enjoyed recently with Princess Cruises; the abundance of the 24 hour buffet; the ease of never having to cook while on board; the delights of delicious and beautifully presented 3 course meals. It's hardly surprising that the average passenger can gain a pound a day on a 2 week cruise, according to a survey last year.
As a food lover, I have to watch out for the creeping pounds and inches that seem to appear from nowhere whenever I go on holiday. Of course we all want to enjoy ourselves when on holiday, but if you go too wild with the eating and drinking, those extra pounds are tough to shift when you get home.
Although my 4 day cruise from Southampton on Crown Princess was a relatively short one, I decided to try and eat sensibly, while still having a great time and enjoying all the food on board. Here are some of the strategies that I tried and  how they worked for me;
Cut back before your cruise
I find that it's easier to eat moderately when I'm at home and in a more settled routine. At home I have more time to plan what I eat, stock up on healthy food and stick to eating at set times. Before my short cruise on Crown Princess I did make an effort to go to the gym a couple of times and stick to low calorie options like salads for lunch and grilled fish or chicken in the evening. It was a bit boring, but easier to bear when you know that you'll have so many exciting food choices to look forward to once you get on board your cruise.
Keep healthy snacks in your stateroom
When we boarded the Crown Princess, it was a pleasure to find a bowl of fruit waiting for us in our stateroom which I used to snack on during our cruise. I'm not sure whether this was a complimentary service for all passengers, but in any case I noticed that fruit could be ordered for your room. In the Horizon Court buffet restaurant there was also a good selection of fresh fruit available, so you could take an apple or banana to eat as a snack on board or on the shore excursions. Of course you may be tempted with delicious but not-so-slimming snacks in your cabin, especially if you are a priority customer of your cruise line. In addition to the fruit bowl we found a treat of fresh strawberries dipped in chocolate awaiting us, and I'm ashamed to say that my resolve wavered and I ate all of my share. However, if you are trying to avoid fattening treats, you can always let your cabin steward know and they can ensure that nothing too tempting is left in your stateroom.
Head for the gym
On boarding Crown Princess, we took a walk around the ship to familiarise ourselves and discovered the large gym at the front of the ship. There were plenty of running and cycle machines, weights machines and a mirrored area with mats where classes were held. Guy and I resolved to spend at least 30 minutes exercising on the machines each day we were on board and my run was actually quite enjoyable, as the ship sailed through the changing scenery of modern windmills and industrial buildings as we entered the canal to arrive in the port of Rotterdam.
On our sea day we booked a pilates class which cost around $14 and I felt a satisfying ache in my tummy muscles after the class. Although yoga and pilates don't necessarily work up a sweat, they are great for toning, posture and strength, so ideal to combine with the weights or the running machine. All the exercise machines could show you how many calories you had burned, although I worked out that running or cycling for 10 minutes would work off a meagre 100 calories, which might enable you to enjoy an extra glass of champagne but wouldn't mean you could go wild with the cream cakes. A quick calculation made me realise that you have to exercise for quite a while to compensate for a creamy desert or cocktail so while regular exercise helps, you also need to watch the quantities that you eat and save certain foods for a treat.
Plan your meal times and enjoy every mouthful
On board Crown Princess there were a wide range of dining possibilities, with snacks and pastries at the International Cafe in the atrium area, Vines wine bar for sushi and tapas, pizza in the pool area and that was before you'd even tried out the main restaurants. The Botticelli restaurant was the place for Traditional Dining where you kept to the same meal time and dining companions each night, but we preferred the Anytime Dining in the Michaelangelo or Da Vinci restaurants, where you could have dinner whenever you were ready and sit with different companions each time. We found this was great as a couple, since we mixed with different guests each night and heard what they had been up to in the day and their tips and recommendations.
For informal dining, the Horizon Court buffet restaurant was open through the day and evening, and we did eat here some of the time for breakfast or lunch. The food on board was of a very high standard and I noticed that the same dishes from the restaurant menu were also served in the Horizon Court buffet restaurant, so it was more a question of what style you preferred than any difference in food quality.
In general I found that it was easier to control what I ate in the formal restaurants, and loved dressing up to make an occasion of my dinner. There were plenty of healthy menu options to choose from and the portions sizes served in the restaurant were just right for me, although I avoided any bread so that I could really enjoy what I ate and not add food to the meal that I didn't need. I think that in the psychology of eating you feel satisfied if you've eaten in a relaxed and enjoyable atmosphere and had time to taste and savour every mouthful.
Splurge on a special meal
Although the food in the main restaurants was delicious, it's sometimes nice to splurge on a special meal. To celebrate our recent wedding anniversary we decided to book for Sabatini's, the Italian inspired restaurant on board that is a premium dining option (you pay a supplement of $25 per person). However, just because we were celebrating didn't mean that we felt we had to over-eat;  it was more about the exclusive atmosphere and beautiful painted frescoes. It was such a lovely evening that we would have liked to eat there again on the following night, but sadly the restaurant was all booked up.
I chose the chef's wild boar pasta followed by a lobster trio which was delicious and a citrus tart for desert, with a glass or two of prosecco. As we decided to try Sabattini's on the formal dining night, the evening felt even more special for being all dressed up, with cocktail dress for me and black tie for Guy. Although it may seem counter-intuitive, I found that treating yourself to a special dining night while on board makes for a memorable cruise and doen't have to mean you eat more than usual.
Cut out a meal
At dinner one evening we met a couple who had enjoyed a 3 week cruise for their honeymoon with Princess Cruises and as I'd earlier seen them on shore in Guernsey in running gear, I asked them how they managed to stay in shape on a longer cruise. One tip they gave us was to miss a meal each day or at least eat lightly. They said that some days they would miss breakfast or just have fruit and at other times they would have a late breakfast which meant they could miss lunch and keep going until dinner. If you use this strategy it means that you can really look forward to and enjoy the two meals that you have and perhaps just choose a light snack and drink from the Horizon Buffet restaurant in between.
Treat the buffet with caution
I must admit that I love buffets because you can taste a little bit of everything and not be looking enviously at someone else's plate and wishing that you had ordered that instead. The selection in the Horizon buffet had something for everyone, from salads to homely hot dishes, to the same elegant choices that were being served in the formal restaurants. However, there is always the temptation to overeat at a buffet so to avoid this I adopt certain strategies. Firstly I tend to walk around slowly, taking in all the choices that are available, letting my eyes feast on the many different possibilities, so that my eyes and brain feel full before even a mouthful has passed my lips.
Then I will take the smallest plate available and take a spoonful of two or three things that look delicious and return to my table to eat it. When I've finished everything, I may return to take another small selection of something different, or perhaps a second helping of what I have enjoyed. By taking small portions rather than overloading my plate, I don't feel guilty about leaving something that I don't like, and give myself permission to go back for a second helping. My stomach has time to digest and my brain has time to register when I'm full. Like all the restaurants on Crown Princess, the Horizon Court buffet offered plenty of healthy options and a salad bar, I just had to close my eyes as I passed the cakes and deserts.
Stay active on board
Although we only had one sea day on our short cruise with Crown Princess, on longer cruises there are no shortage of ways to stay active around the ship. We had a good look at the sports facilities and discovered the Center Court on the top deck where you could play basketball, paddle tennis or have a kickabout game of football. I noticed that there were plenty of other active entertainments such as Ballroom dancing, Latin American Zumba dance-fitness, Merengue and Line Dancing which sounded great fun. There were also talks with a health or fitness theme that would be good to keep you focussed and take you away (at least for a short time) from the numerous eating and drinking opportunities. Another trick we used was to always take the stairs rather than the elevators which left me out of breath when I had to walk from the Atrium on Deck 5 up to Deck 11 where our Stateroom was situated.
Keep active on the excursions
I love to go walking and cycling so it's a pleasure to incorporate these into any cruise shore excursions where I can. In Rotterdam we decided not to take the free shuttle bus to the town centre, but instead took a walk from the ship over the striking Erasmus bridge (known as the Swan). After taking a Spido harbour tour we continued on a walking route of the architecture trail based on a leaflet we picked up from the tourism stall in the cruise terminal. Although we didn't follow the tour slavishly, and took a detour when we spotted something interesting, we saw many of Rotterdam's striking modern buildings on this route.
In Guernsey I noticed that one of the shore excursions was a cycling tour which would have been a great way to see this pretty island, but as we had visited Guernsey before we decided to do our own thing around St Peter Port. We found a place to hire bikes just behind the tourism office but on a Sunday there was no-one there, so instead we planned a walk to Fermain Bay which we had visited before, where there's a lovely beach cafe with a grassy terrace overlooking the sea. The walk took us around an hour winding along the coastline through woodland with views of the sea and after a coffee we made our way back by the same route. Be sure to pack your trainers or comfortable shoes for the cruise so that you can stay active on shore excursions.
The verdict?
I'd be lying if I said I stuck to all these strategies, all of the time, but I did manage to use some of them, some of the time, and I reckon that's good enough when you're on holiday! We all want to enjoy ourselves on our cruise and that includes eating delicious meals and having a few drinks with your husband or friends. Considering I love my food I was pleased to find that I'd only gained 1.5 lbs after 4 days of enjoying myself at sea, which is a manageable amount to lose after the cruise.
The main lesson for me was to have fun and enjoy the delicious food but in moderate quantities so that you'll arrive home feeling healthy and relaxed.
Read more about our European Sampler Cruise in my Taster Cruise diary series at the Online Travel Journal
My 4 night European Sampler Cruise with my husband was hosted by Princess Cruises who offer cruises to European and Worldwide cruises to allow you to explore fascinating destinations and escape completely on board their elegant and spacious ships. Our cruise took us from Southampton to Rotterdam to Guernsey before returning to Southampton. You can keep up with latest updates for Princess Cruises on their Twitter page @PrincessCruises and on the Princess Cruises Facebook Page.
This article by Heather Cowper is originally published at Heatheronhertravels.com – Read the original article here
You'll also find our sister blog with tips on how to build a successful travel blog at My Blogging Journey
 Don't miss out – subscribe to Heather on her travels
December 29, 2012 by Heather Cowper
Filed under United Kingdom, Europe, World, featured, Devon and Cornwall, Gothenburg, Greece, Guernsey, Namibia, Spain, Sweden, Switzerland, Texas, Tour de Mont Blanc, Tour de Mont Blanc, USA, Wales, Zakynthos
At this time of year it's nice to reminisce a little and let the pleasant memories of the year wash over us to create that rosy seasonal glow. Then we can all brace ourselves mentally to look forward to new plans, new places, things we want to do more of, things we want to do differently. I'll be sharing my plans for Spring 2013 very soon, but in the meantime, here are some of my travel memories from the last year, which perhaps will provide some travel inspiration for your plans in 2013.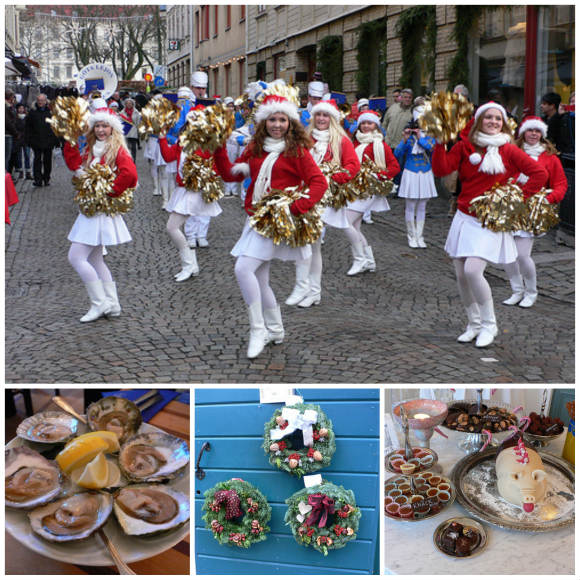 December 2011 – Gothenburg, West Sweden for a pre-Christmas break with my husband
I'm cheating a bit here when I include our trip to Gothenburg from the end of 2011, but then it's my blog, so I'm allowed a little cheating and we did have a great time despite the snowy and windy weather.
Why Gothenburg? I've always liked Scandinavia; so clean, so together and everyone speaks perfect English, and I wanted a pre-Christmas gettaway with my husband when we could eat great food and get into a Christmas mood, with just the two of us.
Happy memories? Fantastic seafood and a chat with the oyster-opening champion Johan Malm at Restaurant Gabriel, our memorable Michelin star tasting menu at Basement with head chef Camilla Parkner, sheltering in Cafe Kanold from the wind over a cup of hot chocolate with chilli, the Christmas market on the cobbled streets of Haga with the music of the marching band, the workman's graffiti in the back of the statue of Mother Svea just outside our window at Hotel Elite Plaza, the millions of sparkling Christmas lights at Liseberg.
Where did we stay? The beautiful, 5 star Hotel Elite Plaza, once the headquarters of the Swedish Fire and Life Insurance company and full of grand marble staircases and chandeliers.
Want to read more?
Our Winter Break in Gothenburg, Sweden – Podcast
8 Swedish Foods to try in Gothenburg, Sweden – Video
Exploring the Christmas Markets of Gothenburg

February – a winter weekend on the Gower in South Wales
Why the Gower? My son is at university at Swansea nearby and I wanted to get the whole family together, including my parents, to spend some time together near the sea.
Happy Memories? Long, blustery walks along the cliffs, the wide open beaches of Langland and Caswell, sitting with the papers and a cappuccino at Langland Bay Brasserie watching the rain beat on the windows, pretty painted beach huts and exotic spiky palms on Langland beach, watching the surfers bobbing in the water from the clifftop.
Where did we stay? Maryland, a spacious 4 bedroom holiday home which we booked through Gower Cottages, perfect for extended family gatherings and only a few minutes walk from the cliff path.
Want to read more?
Our winter weekend on the Gower in Wales – Langland and Caswell – Video

April – Texas, USA for a family road trip
Why Texas? My husband had visited Texas on a military exchange a few years before and kept raving about it, plus we wanted to find somewhere we could enjoy as a family with good weather at Easter and flights that were not too expensive.
Happy Memories? Experiencing a Blast-off at Space Center Houston, the finger-licking BBQ at Black's in Lockhart, cycling along Mission Reach to the Spanish Missions in San Antonio, an afternoon wobble shooting at Picosa Ranch (I actually shot something!), tubing down the river at Gruene followed by Bluebell ice cream at the old fashioned drug store, tequila tasting at the Cibolo Moon at the JW Marriott San Antonio Hill Country, eating trailer food, trying on cowboy boots and shopping for vintage in SoCo, Austin.
Where did we stay? The comfortable Park Inn Houston North, conveniently close to the airport, The Mediterranean style Hotel Valencia Riverwalk in San Antonio with views over the Riverwalk, The luxurious JW Marriott San Antonio Hill Country Resort complete with its own waterpark, our Holiday Rental in the Barton Hills area of Austin booked through HomeAway and the gorgeous boutique style Hotel Sorella in the vibrant City Centre neighbourhood of West Houston
Want to read more?
Our Texas Road Trip Part 1 – Podcast – Houston, San Antonio, Picosa Ranch
The best of Texas – finger-licking BBQ and a slice of pie
Picosa Ranch – a luxury Ranch with a slice of Texas history – video

May – a girl's weekend in Winchester
Why Winchester? I wanted a weekend gettaway with my sister and Winchester was easy for both of us to get to, as well as having loads of things to see and do in the city and the beautiful Hampshire countryside nearby for some walking on the South Downs Way.
Happy Memories? The Anthony Gormley statue standing ankle-deep in water in the crypt of the Cathedral, seeing the small wooden table in the house at Chawton where Jane Austen wrote her greatest novels, eating lardy cakes bought from the farmer's market with a view of the sulphur yellow fields on the South Downs Way, watching the mesmerising water wheel grinding the grain into flour at the Winchester City Mill, spotting the artistic bollards outside The Old Vine where we had a delicious supper.
Where did we stay? The Winchester Hotel, a stylish, modern hotel that is an easy walk from all the historic sights.
Want to read more?
10 ways to spend a wonderful weekend in Winchester – video
Yellow fields with lacy edges – walking the South Downs Way near Winchester
On the trail of Jane Austen in Winchester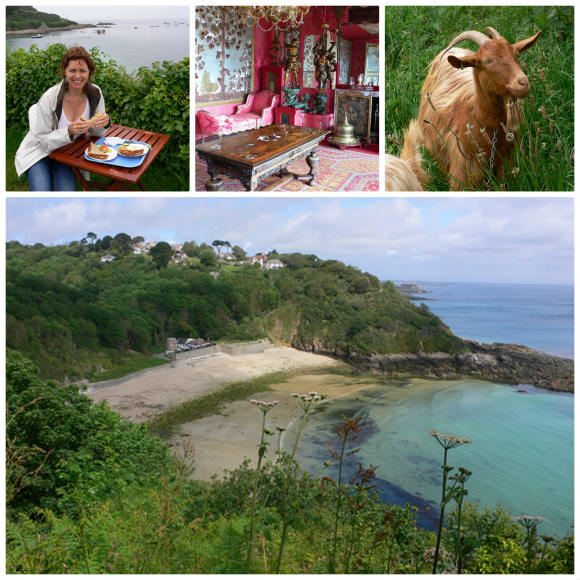 June – Guernsey and Sark in the Channel Islands
Why Guernsey? It's just a short flight from Bristol and has a fascinating history as well as a beautiful coastline, plus we were all intrigued at the thought of visiting Isle of Sark where there are no cars
Happy Memories? Walking along the coast from Fermain Bay to Jerbourg point through the pine trees, the exotic treasure trove of Hauteville House, home of Victor Hugo, eating crab sandwiches from a beach kiosk with a view of the sea, cycling around the island of Sark and eating fresh lobster in the garden of the Sablonnerie Hotel, hearing the stories of the German Occupation from Guernsey tour guide, Gill Girard.
Where did we stay? Self catering Albany apartments in St Peter Port that are perfect for a family holiday and the St Pierre Park Hotel with lovely gardens and golf course
Want to read more?
Guernsey, the German Occupation and Potato Peel Pie
Our spring break on Guernsey and Sark – Podcast
10 delicious foods to try on Guerney – video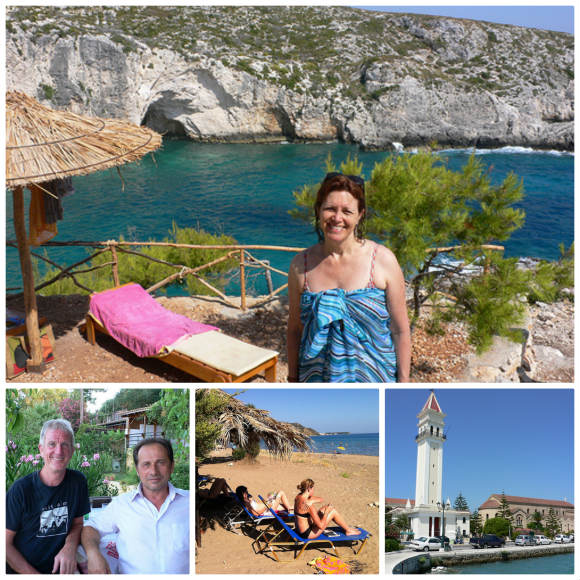 July – Zakynthos, Greece for a family holiday
Why Zakynthos? My sister lives on the island where she runs two hotels with her Greek husband, Denis so we like to visit her every year and explore some new corners of the island.
Happy Memories? Discovering Porto Limnionas, a rocky cove in the north of the island with turquoise water and a great taverna, sitting with a drink on the terrace of Harbour House restaurant at Agios Sostis with new friend Derek Linley hearing stories from his years coming to the island, our boat trip from Agios Sostis to spot the Caretta Caretta turtles in Laganas bay and swim in the sea caves at Keri, the Greek dancing night at Windmill Hotel which never fails to entertain us.
Where did we stay? My sister's hotel, the Windmill Studios in Argassi with a view over the sea from the geranium filled terrace. She also runs the Windmill Bay Hotel just down the road.
Want to read more?
10 gorgeous beaches and places to swim on Zakynthos
Get in your car and drive! the bits of Zakynthos that you won't see from your sunbed
Swimming the turquiose Blue at Porto Limnionas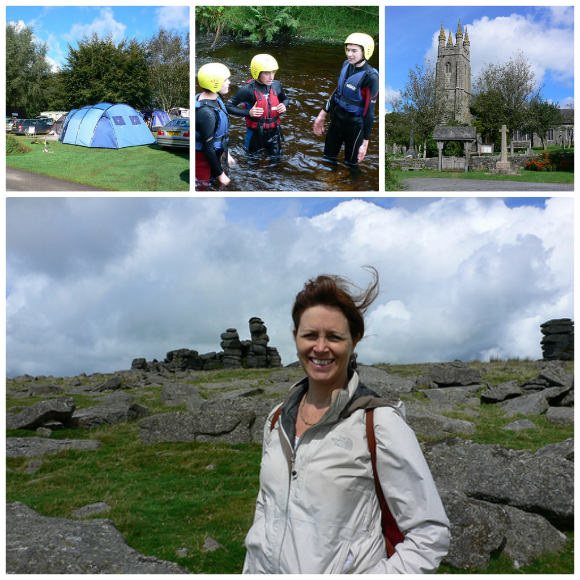 August – an adventurous weekend on Dartmoor with the teenagers
Why Dartmoor? My husband knows the moor well from his army days and we all love the wild scenery and endless opportunities for outdoor adventure that kept my teenage son and his friends busy
Happy Memories? Having lunch at the Okehampton station buffet imagining that I was Celia Johnson in the film Brief Encounter, watching my son and his friends splash around in the river on their gorge scrambling adventure, our walk on the moor with friends above Peter Tavy followed by a hearty lunch at the Peter Tavy Inn, climbing up to the Great Staple Tor and finding a letterbox to stamp our hands, the blissfully warmth of the heat cabin at Woodovis Park and a swim with the family in the pool.
Where did we stay? Woodovis Park in a comfortable mobile home. It's an immaculate, 5 star, family run camping and caravan site which is a great base to enjoy all that Dartmoor has to offer.
Want to read more?
Wild and Wet adventures on Dartmoor – staying at Woodovis Park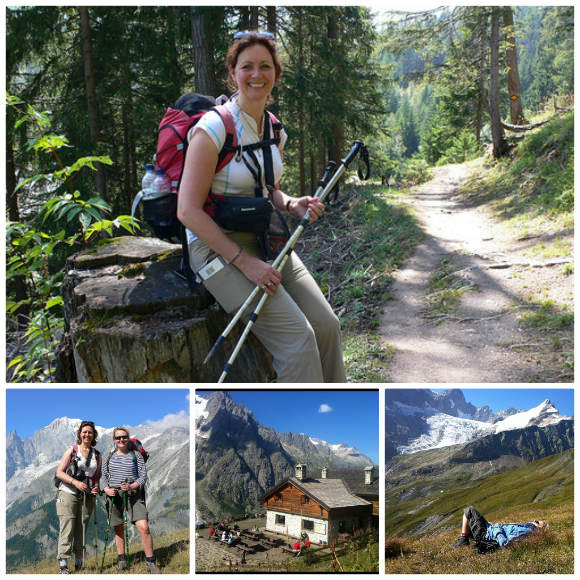 September – walking on the Tour de Mont Blanc in Switzerland and Italy
Why the Tour de Mont Blanc? I've been walking the TMB which is a long-distance mountain trail, in stages with my friend Julia and this was our third year on the trail. We both love the wild mountain scenery, the feeling of escaping our busy lives and the physical challenge of the walk.
Happy Memories? Watching the scenery change on the train journey from Geneva alongside Lake Lausanne and on the St Bernard Express, feeling on top of the world on the Grand Col Ferret at the border between Switzerland and Italy, staying at the fantastic Rifugio Walter Bonnati, undoubtedly the nicest refuge we've stayed in so far, having a picnic on the mountain overlooking Courmayeur and surveying the route we had just walked, the excitement at the start of the Tour des Geants in Courmayeur.
Where did we stay? A number of small hotels and mountain refuges; Gite Bon Abri in Champex Lac, Hotel Col de Fenetre  in Ferret, Rifugio Elena, Rifugio Walter Bonatti , Hotel Bouton d'Or in Courmayeur
If you plan to go
Click here to get my FREE Tour de Mont Blanc Packing guide
Want to read more?
The Tour de Mont Blanc Diaries Day 1 – Champex Lac to Ferret and a walk in the woods
The Tour de Mont Blanc Diaries Day 2 – Ferret to Rifugio Elena and over the pass into Italy

September – Girona, Spain for TBEX
Why Girona? I attended the TBEX Travel Bloggers' Conference being held in Girona where it was great to meet some of my  blogging friends in person and hear the speakers on different aspects of blogging.
Happy Memories? Staying in an apartment with Barbara Weibel, Isabel Romano and Laurel Robbins and just a floor down from Janice Waugh, Simon Falvo and Sarah and Terry Lee made for some great late night chats and bonding, eating pretty Pinxchos in a side street cafe with new blogging friends, wandering along the river with the tall pastel houses and criss-crossing bridges, the historic food by El Celler de Can Roca at the TBEX opening night party, the day out at Vall de Nuria in the Pyrenees after the conference
Where did we stay? A comfortable apartment in the old town of Girona booked through Wimdu
Want to read more?
Staying in the heart of Old Town Girona with Wimdu – video
A Sunday Stroll in the Pyrenees – Vall de Nuria
Case study – Costa Brava Marketing campaign – podcast interview with Jaume Marin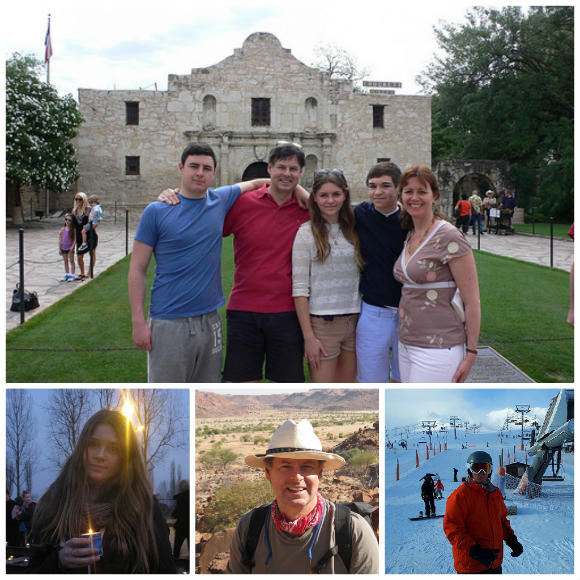 And what about the family?
Of course for many of these trips I was with various members of my family, but they also did some travelling on their own that they wrote about for me on the blog;
My husband Guy spent much of August on a school trip in Namibia looking after a large group of teenage girls, where they did some community work in a local school, went trekking and had close encounters with the desert elephants and other African wildlife.
Read more about Guy's Namibia Trip
Not that old zebra crossing joke again!
An encounter with the desert elephants of Namibia
My oldest son, William had a fun snowboarding trip in Andorra with a group of friends from university, which was spent mostly snowboarding, drinking and doing what students do on holiday. Read William's article on Snowboarding in Pas de la Casa – a student's guide
My daughter, Sophie-Anne wrote about her moving visit to Auschwitz with the Lessons from Auschwitz educational programme, designed to ensure that young people understand what happened and don't let history repeat itself in the future. Read Sophie-Anne's article on What every schoolgirl should know about Auschwitz – video
I hope you enjoyed my travels in 2012 and that you may feel inspired to visit some of these places yourself. I'll be sharing my exciting travel plans for the spring of 2013 with you very soon.
This article by Heather Cowper is originally published at Heatheronhertravels.com – Read more travel articles at Travel Blog Home
You'll also find our sister blog with tips on how to build a successful travel blog at My Blogging Journey
 Don't miss out – subscribe to Heather on her travels