April 18, 2014 by Heather Cowper
Filed under United Kingdom, Europe, Leisure, featured, Dublin, France, Ireland, Italy, Lisbon, Midlands, Paris, Portugal, Rome, Sightseeing
When spring arrives with sunshine and daffodils, it always puts me in the mood for planning my next getaway, a mini-break to throw off the chill of winter and tide me over until the summer holidays. If you're in the mood for a weekend away in Europe or the UK, take a look at the fun web app from SuperBreak to fuel your holiday inspiration. Whether you're planning a relaxing half term break with the family, a weekend of eating and entertainment with your friends, or a cultural city-break with your partner, here are some of the destinations that you might want to consider;
If you're a couple looking for a weekend of food, drink and entertainment you might look at….
Dublin
What Superbreak have to say; Just a quick jump across the water and you can enjoy traditional Bars, comedy clubs, delicious local food and the ever-so-friendly Irish welcome! Guinness at the ready!
What I enjoyed about Dublin;
Here's what I wrote about Dublin: The best of TBEX, the best of Dublin
But if you and your partner are looking for a weekend of culture in Europe, why not try…
Rome
What Superbreak have to say; With a wealth of history, culture and plenty of Italian charisma, you can't help but feel the love on a weekend break in Rome with someone special.
What I enjoyed about Rome;
Here's one of my stories about Rome: The view from the dome of St Peter's in Rome
If you are a couple who fancy a weekend of culture in the UK take a look at …
Stratford-upon-Avon
What Superbreak have to say; Discover the quaint city of Stratford upon Avon on a romantic weekend break. Step back in time in this historic city and see the spots where Shakespeare's most famous plays were created.
What I love to do in Stratford-upon-Avon;
Here's what I wrote about Stratford-upon-Avon: The Tower and other Transformations at the Royal Shakespeare Theatre in Stratford-upon-Avon
But if you are a group who'd like a weekend of culture in Europe why not try …
Paris
What Superbreak have to say; With history, landmarks and iconic French architecture around every corner, Paris offers everything a group would need for a cultural break. Don't forget your camera!
What I enjoyed about Paris;
Here's what I wrote about Paris: Our winter weekend in Paris, the food, the sights, the video
And if and your friends are looking for a weekend of culture in Europe, why not try…
Lisbon
What Superbreak have to say; A weekend break in Lisbon, Portugal's capital offers an eclectic mix of fascinating Portuguese history and contemporary art and culture.
What I loved about Lisbon;
Here's one of my stories about Lisbon: An autumn weekend in Lisbon – Podcast
There are plenty more inspirational short break destinations to discover with the SuperBreak app so why not give it a try and see where your inspiration leads you.
About the Superbreak Holiday Inspirator:  To celebrate their 30th anniversary, Yorkshire based holiday company  Superbreak.com have created a fun app to help you choose the perfect UK or European city break based on who you're travelling with and what you enjoy. Check out the Superbreak Holiday Inspirator Webapp or follow the coversation on the Superbreak Facebook Page or on Twitter @Superbreak using hashtag #SuperBreakinspo
This article is brought to you in partnership with Superbreak.com
Photo Credits: Dublin at night by LenDog64 Other photos by Heatheronhertravels.com
This article by Heather Cowper is originally published at Heatheronhertravels.com – Read the original article here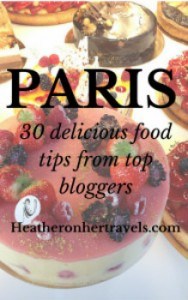 You'll also be subscribed to our free monthly newsletter for great travel resources, news and offers, but you can unsubscribe at any time and we'll never share your e-mail.
You'll also find our sister blog with tips on how to build a successful travel blog at My Blogging Journey
With the latest addition to The Hobbit trilogy being recently released on DVD, and the next instalment ready to grace our cinema screens in a few months, now would be a perfect time to delve a little deeper into the life of the author, JRR Tolkien. While he may have been born in South Africa in 1892, he had an affinity with the city of Birmingham since moving there at four years old and, as such, literary fans will love to explore the sights that have been linked to the writer's Midland adventures.
It's often believed that Middle Earth was based on the Midlands, so it's only natural to want to see where Tolkien gained his inspiration. If you're after a weekend break in the city so that you can see more, book with Travelodge and you won't have to worry about spending more than your budget can allow on accommodation. The Tolkien Trail is the perfect way of exploring parts of Tolkien's childhood, with highlights including:
Whether you wish to head off on your own adventure, discovering these places and more, or you prefer to embark upon a Middle Earth tour with the help of a tour guide, the Tolkien trail is a must for any fan of this fantasy writer. These tours operate at various times during the year, so keep an eye on the Midlands Discovery Tours site if you fancy being part of the next one – you can sign up to receive email notification of when tickets for the next tour go on sale, and it's recommended you do so, because they sell fast!
If you can't wait for the next tour, there's no reason why you can't venture out on your own to see where the inspiration for Tolkien's amazing literary works evolved. Incorporate it into your visit to Birmingham and learn more about Tolkien's roots in The Midlands.
This article was brought to you in partnership with Travelodge.
Photo Credits: Sarehole Mill by Birmingham Museum and Art Gallery, Moseley Bog by Peter Lewis, Perrott's Folly by Tony Hisgett, Tolkein Trilogy from TheHobbit.com

This article is originally published at Heatheronhertravels.com – Read the original article here
You'll also find our sister blog with tips on how to build a successful travel blog at My Blogging Journey
When I was last at the Arden Hotel in Stratford-upon-Avon I fell in love with the old fashioned rose patterned tea service from the V & A that they had on display on the oak dresser – in fact I'm in love with the whole idea of English afternoon tea.
I decided there and then, that when we came back to see the play of Romeo and Juliet at the Royal Shakespeare Theatre just opposite, we would take afternoon tea at the Arden before the performance. It seemed a fitting thing to do in the heart of Stratford, the birthplace of England's greatest poet and playwright with the old half timbered houses down the lane that Shakespeare might have skipped past as a boy.
Our family party settled down into the leather chesterfield sofas, in the pale green panelled drawing room at one side of the hotel. Through the sash windows, framed by toile de jouy curtains we had a great view of the original Victorian entrance of the Royal Shakespeare Theatre, now extended with a modern frontage and tower after a recently completed 4 year redevelopment project.
Our waiter shook the starched white napkins out and laid them on our laps. He was unfazed by my son's request "Do you have any Ribena ice lollies?" but gamely offered to pop down to the shops to get one.
Our tea was brought – Earl Grey (lemon or milk?) and fruit tea for me. I love those old fashioned cake stands they use with elegant thin cut sandwiches – smoked salmon and cucumber or chicken with salad with brown bread or white (but no crusts of course). On the second cake stand were slices of chocolate and walnut cake with scones to smother with clotted cream and strawberry jam.
The conversation turned to the play of Romeo and Juliet that we were about to see. My son didn't really see the point of going to see a play when everyone knows the ending. My father-in-law recalled the time when he saw Sir Ian McKellan dropped his trousers, exposing all, in the mad scene of King Lear and my mother-in-law remembered how at their last visit they had sat in the midst of a group of theatre critics, all scribbling furiously into their notebooks. In between mouthfuls of cake, we debated such weighty questions as how to pronounce the word scone – is it scone as in home or scone as in shone? Apparently it all depends whether you live up north or down south.
And so, awash with Earl Grey and brushing the cake crumbs from our lap, we walked all of 2 minutes across the road and into the Royal Shakespeare Theatre to have a look around before the performance. In the shop I was persuaded by my children to fund the purchase of a book of Shakespeare sonnets and a couple of pencils with 2B or not 2B written on the side. We explored the building, from the Transformations exhibition about how the theatre was rebuilt, to the Squidsoup art installation where words that you typed into the computer were added into a swirling word sculpture that was projected on the wall.
At the appointed hour we settled into our seats to the side of the stage that jutted out with the audience on three sides, although we had to crane our necks for the balcony scenes as we were seated in the back row. It would be well worth getting a front row seat, and those in the front row had the pleasure of having their photo taken and being compared (unfavourably) to the fair Rosalind, and having Romeo ask their opinion on whether or not he should assault Juliet's balcony.
It was a memorable performance, with a Juliet who was very much the stroppy teenager, an energetic contrast to the dreamy photographer-on-a-bicycle, Romeo, who suddenly forgot all about his camera once he had spotted his new true love. Having once worked in the world of fashion, I was fascinated by the styling of the production, with a range of costumes, from Shakespearean doublet and hose teamed with biker boots, to Vivenne Westwood inspired corsets and taffeta skirts, hitched up into puffballs for the dance scene. The cast went a little wild at the ball with golden sun masks and animalistic leaping to the sound of African drums, with the occasional burst of flames shooting up from the floor.
By contrast Romeo and Juliet had been shopping on the high street with Juliet in skinny jeans and converse trainers and Romeo in his hoodie and DMs. After a mere 24 hour's acquaintance, they were married and Juliet was looking forward to getting her new husband into bed. It was such a shame it all had to end so unhappily and as the sleeping Juliet started to wiggle her toes, I was willing her to wake up in time to stop Romeo taking the poison. It's easy to forget that the world's best known love story is also a tragedy.
The Royal Shakespeare Theatre is truly much more than a theatre but a destination experience – and so it should be after the millions that have been spent on it! And our afternoon tea at the Arden Hotel, started us off in just the right frame of mind to enjoy the whole experience.
Sadly, we caught the last performance of Romeo and Juliet, but in the coming months you can also take afternoon tea with the Merchant of Venice or A Midsummer night's dream – or better still book early for one of the autumn/winter performances and get those front row seats where you can be close enough to feel the actors' spit on your face. That's the thrill of live Shakespeare!
The Arden Hotel,Waterside, Straford-upon-Avon, Warwickshire Tel 01789 298682
Visti the The Royal Shakespeare Theatre in Stratford-upon-Avon
Compare prices and book for the Arden Hotel through Hotels Combined
More to see in Stratford upon Avon
Seasonal and Wild – The Waterside Brasserie at the Arden Hotel in Stratford-upon-Avon
The Tower and other transformations at the Royal Shakespeare Theatre in Stratford
Country House Classic at the Menzies Welcombe Hotel in Stratford-upon-Avon
Photo Credits: Romeo and Juliet Photos by Ellie Kurttz from the Royal Shakespeare Theatre website
Just so you know, we were treated to afternoon tea by the Arden but bought our back row seats ourselves.
This article is originally published at Heatheronhertravels.com – Read more travel articles at Travel Blog Home
You'll also find our sister blog with tips on how to build a successful travel blog at My Blogging Journey
Don't miss out – subscribe to Heather on her travels