As I child I would visit the Lake District in the Easter holidays with my parents, staying in an old stone cottage with a fast flowing stream at the bottom of the garden. This weekend it was time rekindle those memories and head back to the lakes to another old stone cottage with my blogging friends; Zoë Dawes of The Quirky Traveller who lives locally and Kathryn Burrington of Travel with Kat. I had envisaged a weekend of fresh-air country walks, lakeside views and yomping across the fells, breaking only for a nourishing ale and lunch at the local pub.
But that was until we saw the forecast for rain. All weekend. Time to make our Plan B and take the opportunity to discover the surprising amount of culture on offer in the Lake District. With Wordsworth, Beatrix Potter and the decorative arts at Blackwell we had plenty to keep us busy while dodging the raindrops, and we did manage to squeeze in a little walk as well as a several stops in the local pubs.
Blackwell Arts and Crafts House
After Zoë picked us up at the station, we decided to take a look at Blackwell Arts and Crafts House at the head of Lake Windermere. I'm a sucker for the decorative arts and this was a unique showcase for the gorgeous stained glass, oak furniture, textiles and crafts of the Arts and Crafts movement which took its inspiration from local crafts and the natural world.
The house was built in the late 1890s by architect Mackay Hugh Baillie Scott as a holiday home for a wealthy Manchester industrialist Sir Edward Holt and has a prime setting overlooking Lake Windermere, although we could see little of the fine views through the rain. I loved walking around the house admiring the carvings in the oak panelling, motifs of flowers and leaves in the wallpaper and the stylised flowers in the stained glass windows.
Everywhere were small details taken from nature, like the leaf shaped door handles and the rowan tree with leaves and berries that were part of the family's motif. At the turn of the century, wealthy industrialists like the Holts, who had made their money from brewing, commissioned large houses like Blackwell for entertaining and to show off their new found wealth and good taste which we can now all enjoy. Website: Blackwell.org.uk
Beatrix Potter at Hilltop Farm
On Sunday we paid a call on Beatrix Potter who is something of a heroine in the Lake District, not just for Peter Rabbit and Mrs Tiggiwinkle, but as a benevolent landowner who saved the Herdwick sheep from dying out. Beatrix had holidayed in the Lake District with her parents and having made some money from her children's books, she decided to buy the farm of Hill Top at Sawrey. Beatrix Potter eventually made her home in the Lake District, buying a number of farms, all of which she left to the National Trust who now manage Hill Top.
This house was her escape from London and she made it her own, furnishing it with her favourite items and collecting plants for the garden. As the rooms are quite small and packed with furniture, pictures and ornaments, you may need to wait a while for timed entry during busy periods. The house, garden and surrounding area were inspiration for some of the illustrations in Beatrix's stories. In each room, you'll find a few of her books, with a book mark at the picture that you can recognise as being set in that room; Tabitha cat entering the front door with her basket and bonnet and Tom Cat at the kitchen range about to jump up the chimney.
Initially Beatrix used Hill Top as her holiday home, but after her marriage to local solicitor William Heelis, she moved to a new house, Castle Cottage, which you can see across the fields. Hill Top was used as the place that Beatrix came to work, entertain visitors and as accommodation for any guests, since she valued her privacy.
In summer the flower bed that was bare when we visited is overflowing with roses, flowers and shrubs and through the green wrought iron gate you'll find Mr McGregor's garden where naughty Peter Rabbit nearly got caught stealing the vegetables. You won't find any of the charming illustrations that Beatrix made for her books at the house but these are on show in the Beatrix Potter Gallery at Hawkeshead. Website
If you are looking for a delicious pub lunch after your visit to Hill Top, I highly recommend the Tower Bank Arms which you will have passed when walking up from the car park to the house. I imagine it is packed out in summer as it's quite small inside, but worth a wait and I really enjoyed my baguette with camenbert, smoked chicken and salad, washed down with ginger beer.
Discovering Wordsworth at Grasmere
One of the Lake District's most famous cultural figures is the poet, William Wordsworth who was a leader of the Romantic movement that drew inspiration from the beauties of nature. Wordsworth spent most of his life in the Lake District, attending the grammar school in Hawkshead then going on to study at Cambridge, before taking up residence in Dove Cottage with his unmarried sister Dorothy when they were both in their late twenties.
The cottage is very small and best visited in a guided tour which takes place hourly in winter, since there is little information in the rooms. Our guide explained how the household lived in the early 19th century, taking local walks, visiting friends and of course writing. William later married and would go for long walks to get inspiration for his poetry while Dorothy and Mary his wife attended to domestic tasks.
Dorothy kept a journal about their everyday lives, writing about the walk that inspired Wordsworth's famous daffodil poem.
"I never saw daffodils so beautiful they grew among the mossy stones about & about them, some rested their heads upon these stones as on a pillow for weariness & the rest tossed & reeled & danced & seemed as if they verily laughed with the wind that blew upon them over the Lake, they looked so gay ever glancing ever changing."
The tour of the house gave an interesting insight into the daily life of the Wordsworth household and the many writers such as Coleridge, Walter Scott and Thomas de Quincy who visited them. Behind the cottage is a museum with much more information about the world that Wordsworth lived in and the literature of the day. Website: Wordsworth.org.uk
Where to stay
If you stay in Chapel Stile as we did, you'll understand why people fall in love with the Lake District and return year after year to enjoy its natural beauty. Set in the heart of the Langdale Valley, the village is surrounded by the fells (that's hills to us southerners) with a fast flowing river running behind the Wainwrights Inn. We stayed at Daw Bank cottage through the Good Life Cottage Company who manage 34 cottages within the Lake District National Park, many of them in Chapel Stile and nearby Elterwater.
The slate fronted cottage was one of a terrace and surprisingly spacious inside, with three good sized bedrooms and a cosy sitting room with a wood burner in the fireplace. The kitchen included attractive painted wood cupboards, with all the conveniences such as a dish washer and washing machine and there was a small enclosed garden with views over the fields. The village itself has a shop and small tea room just a few minutes away and two pubs within walking distance, both of which we had to try of course!
We met the friendly manager Natalie at the Good Life Cottage Company offices which is close by in Elterwater, so you benefit from the local knowledge and help of the team on the ground if you have any questions. If you are a keen walker like me, you can't get a much better situation than Chapel Stile, since you can walk up into the wild Langdale Valley or find much gentler walks by Elterwater which conveniently ends at the Chesters tea shop at Skelwith Bridge. For more information on cottages in the Lake District check out the Good Life Cottage Company website or follow them on social media; Twitter | Facebook | Instagram
Where to Walk – Elterwater
Saturday afternoon we saw a break in the rain and took our chance for a blustery walk by Elterwater. There was an easy tarmac path alongside the river leading from Chapel Stile to Skelwith bridge, but since the fields and path were flooded we could only do part of the walk.
Still it was great to get out in the fresh air and stretch our legs, admiring the snowdrops sheltering under the mossy stone wall and the bare branches of the trees silhouetted against the sky.
Where to walk – The Langdale Valley
The next day, more rain was forecast but undaunted we decided to take a driving tour of the Langdale Valley to see some of the wild countryside on our doorstep.
Because of the rain it was a case of admiring the scenery through the car window and hopping out every so often to take a picture, but I could see that the scenery here is stunning and would love to get back in better weather to get on my hiking boots and do some proper walking on these fells.
Where to eat
The Station Cafe – Lovingly Artisan at Oxenhlme station
Fresh off the train at Oxenholme, Zoë led us to a cute little cafe in the car park called Lovingly Artisan with a very moreish selection of pastries on display. We discovered that this was an outpost of a local bakery who specialise in artisan bread and ducked inside for a comfy chair out of the rain where I had some home-made courgette soup with fresh crusty bread. I'd definitely recommend popping in here for a coffee or pastry as you pass through Oxenholme Station. Website: Lovinglyartisan.com
Recommended pub: Britannia Inn at Elterwater
On our first evening staying at Chapel Stile we had dinner at the Britannia Inn which is just five minutes down the road at Elterwater. In the evening this pub is mostly for food and we were seated by the window with a cosy fire burning in the room to one side.
My fish and chips was perfect with fresh, flaky fish in crisp batter, thick cut chips and mushy peas, all washed down with a glass of the local ale, Britannia Gold. Kathryn ordered the fat coiled Cumberland sausage, Zoë the lamb shank, and we all fnished with the sticky toffee pudding which is something of a Lakeland speciality.
The Britannia is great for unpretentious but excellent pub food, served in a homely atmosphere with friendly service. It's popular with both locals and visitors, who spill out in summer onto the terrace and grassy common at the front of the pub. Website: TheBritanniaInn.com
Afternoon tea and cakes – Chesters by the River
After our windswept walk beside Elterwater we finished up at Chester's by the river at Skelwith bridge. Sadly the cafe was just about to close so we had to content ourselves with buying some of the cakes to take back to the cottage for later. We also loved looking around the shop which was packed full of tasteful gifts as well as local craft beers and other foodie items. Website: Chestersbytheriver.co.uk
Recommended pub: Wainwrights Inn at Chapel Stile
On our second evening we had to try the local pub, Wainwrights Inn which belongs to the Langdale Hotel just up the road. Like the Britannia Inn it is a traditional Lakeland pub with slate floors and a cosy fire burning, serving all the pub favourites.
We discovered that the chef has taken up smoking (food that is) and has a smoke house at the back where he smokes cheese, fish and meet that is served in both the pub and the hotel. Not wanted to miss out I tried the smoked sharing platter (although I didn't do much sharing) and had a bit of all the specialities which were delicious served with fresh bread and pickles. If you enjoy a pint you'll find plenty of local ales here and if you can't decide the bar staff will happily recommend, or try their beer bat with 3 smaller glasses of different ales. Website
The edible souvenir – Grasmere Gingerbread
I was given a packet of Grasmere gingerbread and enjoyed it so much that we had to stop at the shop by the Grasmere church to buy some more. It' s a cross between a biscuit and cake which has been baked here for 150 years and seems to have just the right combination of sweetness and spice.
We found the small shop by the churchyard where Wordsworth is buried, full of biscuits and other edible souvenirs like ginger wine and beer, served by a friendly lady dressed in a mob cap and apron. A charming souvenir of our weekend in the Lake District. Website: Grasmeregingerbread.co.uk
Although our plans for bracing walks were scuppered by the rain, we definitely didn't miss out and found that the Lake District has a whole layer of art and culture that will keep you busy whatever the weather.
Have you visited the Lake District recently? If so do leave your tips about what you enjoyed in the comments.
Pin It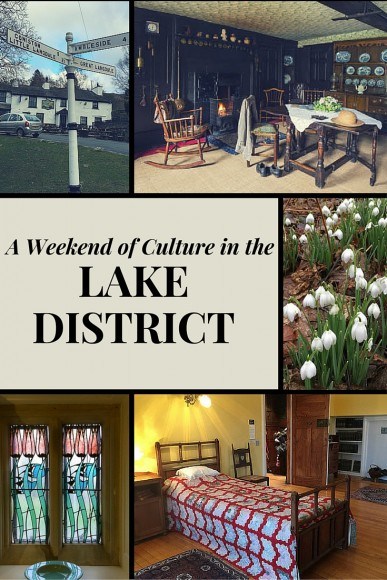 Thanks to Good Life Cottages who hosted our stay at Daws Bank Cottage and the Britannia Inn and Wainwrights for our evening meals.
Photo Credits: All photos by Heather Cowper at Heatheronhertravels.com except Hill Top interior images by National Trust Images/James Dobson
This article is originally published at Heatheronhertravels.com – Read the original article here
For many people, Manchester is known for three main things – music, football and the industrial revolution. Although still thriving in music and sport and with remnants of the industrial revolution still visible throughout the city, Manchester has so much more to offer – not least, an extremely high calibre of restaurants.
I've been lucky enough to sample some of the best restaurants in Manchester, and in this post I'll reveal three of my favourite eateries this wonderful city has to offer. From fine dining to greasy spoon, Manchester has all the bases covered.
Almost Famous
This place is far from fine dining, but it certainly offers a unique dining experience. If you're a fan of burgers (and I mean real burgers), then a visit to Almost Famous is a must. This was originally a pop-up restaurant that came and went in the space of a month, but due to its initial success, it looks like they're back for good.
Word of mouth is one of the best marketing tools for restaurants, and these guys have certainly got the trendy people of Manchester talking. It's located in an office block in the centre of the uber-cool Northern Quarter area and the décor isn't up to much, but this all adds to the charm of the place. They don't hold back on portion size (think Man Vs. Food) and the flavours are definitely worth the visit.
El Rincon
Good tapas is pretty hard to come by in any city. Much of the UK is riddled with big chain tapas restaurants (which can be ok, granted), but really good, authentic tapas isn't always readily available. To find the real deal, you normally have to rely on word of mouth to direct you to a restaurant that delivers. El Rincon is one of those restaurants.
Hidden in a basement, on a city centre backstreet, this restaurant is very easy to miss. Prepare to get lost on your way, but the journey will be well worth it! It is recommended that you book a table, as it does tend to be packed to the rafters throughout the week, which is always a good sign that the food and service lives up to its reputation.
Expect traditional tapas dishes, such as fresh shellfish, cured meats and plenty of garlic. There is a substantial wine list and a variety of beers to wash down your food. If laid back dining with top-notch cuisine is your thing, El Rincon is well worth a visit.
Abode
Celebrity Michelin starred chef, Michael Caines, opened the Manchester instalment of his chain of fine dining restaurants at Abode hotel in the city centre, back in May 2008. Although the city doesn't actually have a Michelin starred restaurant, this certainly comes close.
Here you'll receive the full fine dining experience, but you won't necessarily have to pay through the nose for the privilege. The taster menus are a true culinary delight, taking you on a sensory journey, which many restaurants simply can't match. You can enhance your meal by having a wine specially selected to compliment each course.
Again, it is highly recommended that you book in advance, and the mid-week early dining menu is superb value for money. Also, it is well worth searching online, as you'll often find some great deals.
This post was brought to you by Travelbag.co.uk – check them out for a wide choice of Australia holidays to suit all budgets
The Manchester Restaurant address book
Almost Famous Burgers & Booze, 100 High Street, Northern Quarter, Manchester @AlmostFamousMCR
El Rincon de Rafa, 244 Deansgate, Manchester, M3 4BQ Facebook Page
Michael Caines at Abode, Abode Hotel,107 Piccadilly,Manchester, M1 2DB @MichaelCaines
More Cool things in Manchester
Street art and vintage in the Northern Quarter on Manchester
Getting to know LS Lowry in the Lowry in Manchester
Steak and seafood at the Grill on the Alley in Manchester
Photo Credits: Almost Famous by www.yelp.co.uk, Rincon de Rafa Manchester by kevmccann , Michael Caines at Abode Manchester by www.manchesterrestaurants.com
This article is originally published at Heatheronhertravels.com – Read more travel articles at Travel Blog Home
You'll also find our sister blog with tips on how to build a successful travel blog at My Blogging Journey
 Don't miss out – subscribe to Heather on her travels
Blackpool… For many, just the name of the UK's most famous seaside resort is enough to make them cringe, conjuring up images of run-down games arcades and seedy bars packed full of binge-drinking teenagers. For me, it has always brought to mind the historic Pleasure Beach, one of Britain's oldest amusement parks and still one of its most popular. Yet the town's original success was built on its expansive coastline and long, sandy beaches – features that are still present today. With significant investments being made to try and rejuvenate Blackpool's seafront, how do the man-made attractions stack up against the natural elements? And is either aspect enough to justify a visit?
I've dreamed of visiting the town ever since I was a small child, but being on the opposite side of the UK to our Ipswich home it fell into the category of "so close, yet so far". Earlier this year, we decided to compile a list of all the places in our country that we'd neglected to visit. Blackpool was right at the top, and so it was that we spent two days exploring it this summer.
Natural attractions in Blackpool
While the artificial aspects of the resort are hard to miss (a 65 metre tall roller coaster and 158 metre tall clone of the Eiffel Tower are never going to blend into the landscape), it was the extensive coastline that grabbed our attention immediately. Stretching on for over seven miles, it's easy to see why trainload after trainload of working class tourists headed to the town following the construction of the first rail link in 1846. Few beaches could cope with the sheer number of visitors (tens of thousands every summer weekend in the 1920s) that descended upon Blackpool's shores, but these ones could.
Of course, it was perhaps inevitable that the urban grime the workers were seeking to escape from would eventually follow them to the coast. A multi-lane road runs in parallel to the seafront, although there is at least a large promenade and a tram line to separate it from the sand itself. Row after row of bed and breakfasts and hotels clamour for the sea views on offer, and many are badly in need of restoration after years of battering from the sea breeze. There are some pretty buildings around, but Blackpool is never going to be famous for its architecture.
Does this detract from the seafront? I don't think so. The lure of the seaside is as strong as ever, and the features that have attracted tourists to Blackpool for the last century-and-a-half are still very prominent. Whether it's a family day out with bucket and spade in tow, or a just a relaxing stroll along sand that doesn't seem to end, most people will find something to enjoy here. Even those most disapproving of the way the resort has evolved may not be able to resist a quick ice cream and a paddle in the surf.
Top natural attractions to visit in Blackpool include:
Central Beach – the heart and soul of the town, Central Beach is an expansive tract of golden sand located right in the heart of Blackpool. For families, this is the place to go for sunbathing, sand-castle building and donkey rides.
St Annes Beach – if you're looking for a more relaxing spot away from the noise and bustle of Central Beach, St Annes offers a quieter alternative. Located a few miles down the coast, it's a great place for a walk or a swim.
Man-made attractions in Blackpool
Of course, the variable weather conditions that ultimately led to British tourists heading to Spain and Portugal will still have a huge impact on your ability to linger outdoors. That's where Blackpool's range of man-made distractions come into play – and there are a huge number of them. From major attractions such as the iconic Blackpool Tower (which we were unable to visit due to recently-completed refurbishment work), Madame Tussaud's waxworks and the Sea Life Centre (all operated by a single firm, Merlin Entertainments Group) to the dozens of arcades, tea rooms and pubs, almost everywhere you look someone is trying to extract some of your hard-earned cash.
I'll be honest – for me, there is only one game in town. Having remained in family ownership for years, Blackpool Pleasure Beach still draws visitors to the South Shore like a magnet. First opened in 1896, it has outlasted the vast majority of seaside parks from its era by continuing to invest and improve. Several major rides have been added in the past two decades, while 2011 saw the opening of the £10 million Nickelodeon Land.  The park is also home to  the UK's tallest rollercoaster, the Pepsi Max Big One.
While I am an unapologetically huge fan of amusement parks, it is not Blackpool Pleasure Beach's modern rides that interest me. Instead, it is the vast array of classic attractions on offer, some of which date back to the early 20th century. This gives the park the feel of a living, working museum, rather than a simple tourist trap. The River Caves was the inspiration for Disneyland's Pirates of the Caribbean, while the Big Dipper roller-coaster was among the forerunners to today's major thrill rides. It is the 1904 Flying Machines, though, that really caught my imagination. Still a great attraction today, it is difficult to comprehend how amazed visitors of that era must have been by this stunning piece of engineering.
Outside of Pleasure Beach, some of the best man-made attractions in Blackpool's bewildering line-up include:
Blackpool Tower – visible from all over the town, the Tower has recently undergone a major renovation which added the somewhat out-of-place Blackpool Tower Dungeons walk-through horror exhibit. Besides the stunning views from the top, though, the biggest draw remains the famous Tower Ballroom. Dominated by enormous crystal chandeliers, it still plays host to ballroom dancing nights on a frequent basis.
Sandcastle Water Park – kids will demand a visit to Britain's most famous indoor water park. Highlights include the world's first (and longest) water slide featuring an uphill section, the Master Blaster.
Grand Theatre – having opened in 1894, the Grand Theatre has shown impressive staying power and now features the official title of Britain's National Theatre of Variety. The performances won't always be to everyone's taste, but the building itself is still worth a look.
Blackpool Illuminations – introduced in 1879 as a way of extending the holiday season, the Illuminations sees over a million lights used to decorate six miles of Blackpool promenade.
Overall, then, I would recommend a visit to Blackpool to a diverse range of people from lovers of the sea air, to casual history buffs, right through to hardened thrill-seekers. The town still has some way to go to fully clean itself up, and it's hard to see it ever returning to its glory days. But as a nostalgia-inducing reminder of how the natural and artificial combined to offer fun-packed seaside holidays in years gone by, it still has plenty to offer.
Thanks for this guest post to Nick Sim from Theme Park Tourist, your guide to theme parks and amusement parks , featuring news, guides and reviews for parks all over the world
Photo credits: Blackpool beach and tower by diamond geezer,  The Pepsi Max Big One by Ingy The Wingy and Pier by stinksoup   Other photos by Nick Sim.
More delights up North
Getting to know LS Lowry at the Lowry in Manchester
Snowdrops at Lytham Hall in Lancashire England
The must see sights of Leeds
This article is originally published at Heatheronhertravels.com – Read more travel articles at Travel Blog Home
You'll also find our sister blog with tips on how to build a successful travel blog at My Blogging Journey
Don't miss out – subscribe to Heather on her travels