Northern Ireland's Causeway Coast must be one of the most scenic drives in the world, with a rugged, unspoiled coastline and a coastal road that runs within sight of the sea.
I reckon that you need at least three days to tour this lovely coastline. One day to see the Giant's Causeway and the other attractions of the northern coastline. Another to taste a drop of whiskey at the famous Bushmills distillery and sleep it off at the Bushmills Inn (no driving required). On the final day you can drive down the stunning Glens coast between Ballycastle and Belfast. A perfect long weekend you might say!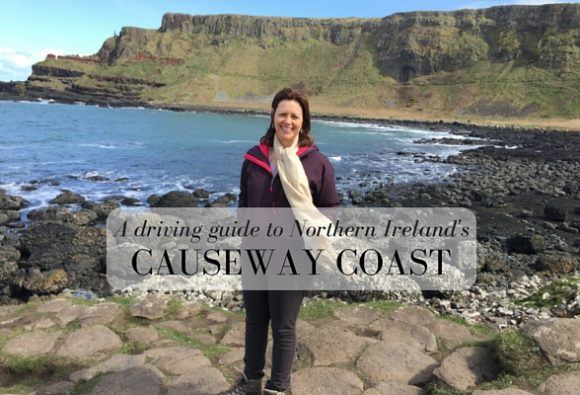 The star of the coast – The Giant's Causeway
So here's the star of Northern Ireland's Causeway Coast; the Giant's Causeway. Since the 1830s tourists have been coming here to see this wonder of nature, with hexagonal basalt columns, formed 66 million years ago when a lava flow cooled and cracked. Over time, the sea and weather eroded the columns into the iconic rock formations you see today.
Well that's what the geologists will tell you! But of course the locals know that the Causeway was created by the giant Finn McCool, when he threw rocks into the sea to pick a fight with the Scottish giant who was taunting him from across the water. If you stand on the causeway you'll see the chimneys of Finn McCool's house rising from the cliff.
To tell me the stories of the causeway, I had an excellent local guide in Mark Rodgers who is part of the Purdy family that can trace their ancestry back to the survivors of the ship Girona, part of the Spanish Armada wrecked on the Causeway in 1588.
We passed the stone that marks when the Causeway became Ireland's first World Heritage Site in 1986, while down the path we passed through the windy gap where a sudden gust of wind can easily blow your hat off. Mark pointed out the small harbour where local fisherman would pull up their boats during the summer salmon fishing season, but once tourists started arriving would row them around the headland to see the Great Sea Cave.
Before the 1960s when the National Trust took over the management of the Causeway, a few local families ran souvenir and tea shops for visitors alongside this path. Now all that has gone and the Causeway has been restored to its natural state, with a new National Trust Visitor Centre much further up the hill.
We passed what I would have taken for a puddle in the rock, which Mark explained was a well, fed by a natural spring. In the past ladies would stop to take a drink from the well, then would go and sit on the Causeway in the wishing chair, a natural seat in the rock, and wish for a husband. Of course for fun I took a seat but luckily I already have a wonderful husband so I didn't need to wish for any other.
The pony and traps that once transported visitors down to the Causeway have been replaced by a mini bus (£1 each way) and we took it back up to the visitor centre again. So now we have visited the star attraction of Northern Ireland's north coast, what else is there to see? Well a surprising amount as it turns out, especially if you have a car to get around. (Check out Alamo Rent A Car if you need a rental car)
So lets start at…..
Mussenden temple on the edge of the clifftop
You may have seen photos of Mussenden Temple, an elegant Palladian building perched on the edge of the cliff, which you can spot from Downhill beach below. It was actually a library and summer house for the great house of Downhill Demesne which is now only a shell, as it burnt down in 1851 and was subsequently dismantled in the 1940s.
The temple was built by the Earl Bishop Frederick Hervey in honour of his favourite niece, Frideswide Mussenden, and there was originally space to drive a horse and carriage around it. As it's now perched precariously on the cliff edge, perhaps you should visit while you can, although it's only open for special events like weddings.
The property is managed by the National Trust and from the car park you can walk through the walled garden and see the ice house and dovecote before exploring the ruins of the mansion and walking to the clifftop to photograph the temple.
A little further down the road is Hezlett House, which you can visit with the same ticket. This thatched 17th century cottage is furnished as it would have been a century ago, with store rooms under the roof beams and tiny bedrooms set behind the cosy parlour furnished in Victorian style.
Downhill Demesne and Hezlett House, near Castlerock. Open 10-5, every day in summer and some days in spring/ autumn. Adults £4.50 or free to National Trust members
A stop for the view over Whiterocks Beach
As you drive along the coast road there's a viewpoint where you can stop overlooking Whiterocks beach with a sign that tells you about the coastal park. From here, enjoy the views towards the seaside town of Portrush, the rocky islands known as the Skerries and the limestone cliffs where kittiwakes and guillemots nest. I love the wide, windswept beaches and dramatic seascapes on this part of Northern Ireland's coast and a little further on you'll arrive at ….
Dunluce Castle perched on the cliff
Dunluce Castle looks as if it might just topple off the edge of the cliff and into the sea to the pounding waves below. But wait… apparently a bit of the manor house did fall off the the cliff in the 18th century and you can now see the hole with iron bars across it. Even if you don't want to live life on the edge, the castle does make a great photograph, the ultimate picturesque ruin.
At the ticket office there's an interesting display about the castle's history and a video playing in the exhibition room opposite. The castle was the stronghold of the MacDonnells who were the leading family along the Antrim and Glens coast and it was the base for their power struggles with other Irish clans as well as the English crown. The splendid Jacobean manor house which you can see the shell of was built by Randall McDonnell in 1620 and was the lavish seat of the Earls of Antrim.
The curious part of the story is that on this windswept cliff top was a town which has been partly excavated. It was established in 1608 with the support of King James I to house Scottish settlers who were encouraged to come to establish greater support for the English crown. But by the 1680s the town had been abandoned. I can imagine how the clifftop location, might have been a little too exposed even for the hardy Scotts and Irish.
Where to stay – Bushmills Inn
If you want a base to explore Northern Ireland's Causeway coast by car, I highly recommend the charming Bushmills Inn, where you can guarantee that a warm Irish welcome will await you. If you are coming from afar, they may even fly your country's flag from the tower to greet you, as they have a flag room which contains the flags of every nation in the world.
Even if you don't stay at Bushmills Inn, be sure to stop by in the evening for a drink in their Gas Bar which is lit by the soft glow of gas lamps and has live music on Saturdays and Wednesdays. There's a peat fire burning every day at the reception where all the guests (including me) love to be photographed since it just embodies all that is warm and welcoming about an Irish bar.
The hotel started life in the 18th century as a coaching inn (that's the part where you'll find the Gas Bar) but they've since built an extension at the back, and now have 41 rooms. It's difficult to tell where the old ends and the new begins, since the stonework and whitewashed walls run throughout. I had a luxurious four poster bed and a huge bathroom with roll-top bath overlooking the River Bush flowing behind the hotel, with the same pure water that's used to make the Bushmills Whisky at the distillery just down the road. The restaurant is excellent too – the kind of place where you'd come for a special treat, and specialises in modern Irish dishes that use the best produce from farms and fisherman of the North Antrim coast.
The Bushmills Inn, 9 Dunluce Road, Bushmills.
Dark Hedges – a location for Games of Thrones
If you're driving up through the area around Bushmills, you might want to take a detour to see one of the best known Game of Thrones filming locations in the area, known as Dark Hedges. The avenue of beech trees have an eery, twisted look and were used in Season 2 when Arya Stark travels down the King's Road to escape from Kings Landing, dressed as a boy.
The trees were planted as the driveway for the Georgian Mansion of Georgehill House, which is now a hotel where you can stop for a coffee. Although it looks like a quiet country lane, it was difficult to get a decent photograph of the trees, for all the cars driving up and down and the people walking through – pesky tourists!
Fishing boats in Ballintoy harbour
Let's continue our drive along the coastal road, but before you get to the Carrick-A-Rede rope bridge, take a detour down the narrow, winding road that leads to Ballintoy Harbour, another Game of Thrones location. I caught it in the late afternoon when it was looking very pretty with a small boathouse at the harbour entrance and rugged rocks with the sea spray breaking over them. On the other side of the car park are some sea caves that are fun to explore and a small beach. Enjoy a wander then stop for a cake or an ice cream at the small cafe, before driving on to…
Carrick-A-Rede Rope bridge
Yikes, from all the photos I'd seen this looked like one scary rope bridge. I worried about whether I'd even be able to a take any photos at all – one false move and my iphone might be knocked from my hand and plunge into the sea below.
The original bridge was made by salmon fishermen, who used it to get across the gap between the headland and the small island so that they could get better access to the salmon that swam past here each summer to the rivers on the north coast. On the island you can see the shed of their small fishery which is open on certain days. Judging by the old photographs, the rope bridge was a lot more perilous in those days, with just a rope on one side to steady yourself. Those daring tightrope-walking fisherman thought nothing of balancing themselves and all their gear to cross over the bridge.
Well, back to these days and it's really not that bad. You may need to queue to take your turn to cross the bridge with a warden monitoring progress and telling you when to go. "Don't worry", he quipped, "we haven't lost anyone yet … this month". When it's your turn, you descend the wooden steps and then cross over, just don't look down and in a couple of minutes you are across. Even though it was quite windy, the bridge was surprisingly stable. I had a little look around on the other side and then turned around to come back. The best views are to be had if you walk a bit further beyond the bridge and look back towards it where you can see people crossing.
Adults £5.90 to cross the bridge although it's free to walk along the coastal path. Just a little further along the coast you'll find…
Boats in Ballycastle harbour
Ballycastle is one of the larger towns on the Antrim coast, a market town with a harbour and proper high street with lots of shops, restaurants and bars. It's also become something of a foodie hub for this part of the coast, with many great food producers based nearby and regular Farmer's markets at the weekend. You can even do a walking food tour of Ballycastle with Caroline Redmond of North Coast Walking Tours. For more information on all the great foodie places check out my article: 10 fab Foodie stops on Northern Ireland's Causeway Coast. If you have a bit more time to spare it's worth taking a day to…..
Catch the ferry to Rathlin Island
From Ballycastle harbour, the ferry runs around every hour across the Sea of Moyle to Rathlin Island, which takes 25-45 mins depending on which ferry you catch. I was only on the island for half a day so unfortunately wasn't able to take the RSPB bus to the western tip of the island to see the seabird centre and puffin nesting sites. I did spend an hour or so walking around the harbour where seals were basking in the sunshine outside the Breakwater studio which sold artwork and gifts. I wandered around the bay to take a look at the old Kelp store where seaweed was once burnt to make fertiliser, and if I'd had more time I'd have walked to see one of the lighthouses.
Rathlin Ferry from Ballycastle Harbour: Runs hourly, Adult £12 return, Child £6 return. Booking advisable in high season – can be booked online.
Driving to Torr Head on the Causeway Coast
From Ballycastle I spent my final day driving back to Belfast on what must be one of the most stunning coastal routes in the world, past the Glens of Antrim. The coastal route is well signposted but just outside Ballycastle you can take a detour off the main route along the cliffs by Torr Head. The road passed through open fields where sheep graze with the land dropping steeply down to the sea.
The views were so spectacular that I couldn't resist stopping at every possible viewpoint to take photos, attracting the attention of a few friendly sheep. After a while I had to start lecturing myself; "this is the very last place I'll stop" as I was in danger of running out of time to see anything else on the coast. Still I pressed on until I reached…
Cushenden on the Glens Coast
The pretty village of Cushenden, managed by the National Trust, has a perfectly placed carpark beside the old stone bridge, directly overlooking the beach. On a sunny day, this would be a wonderful place to have a walk on the beach with a picnic from the village shop or a stop for lunch at Mary McBride's bar where they have a restaurant upstairs. There are two sad stories that you might hear associated with Cushenden, one involving a sailor who never came home and his sweetheart who died of a broken heart, the other involving a goat who is commemorated in a statue … but I'll leave you to find out more when you visit. From here I drove on south towards….
Cushendell
Where Cushenden is a picture postcard kind of place, Cushendell is more of a real, working town, with shops and restaurants on the main street that you'll drive through. The beach is another 10 minutes down the road with a separate parking area next to the golf club which is a good starting point for walks along the coast. There wasn't too much to keep me here so I continued on the coastal road….
Driving past the Glens of Antrim
The drive between Cushendell and Glenarm and beyond was truly stunning, passing by the Glens of Antrim, with plenty of opportunities to detour off for woodland walks and waterfalls. The Glens are the deep valleys carved by glaciers millions of years ago, making for a spectacular drive with the sea on one side of the road and the slopes of the Glens rising steeply up on the other. Sadly, as my flight home was calling me, I didn't have time for any waterfalls photos, but just enjoyed the drive and the scenery with a stop at …..
Glenarm Castle for afternoon tea
The tearoom at Glenarm castle was a perfect place to stop before heading back to Belfast Airport to drop off my hire car and fly home to Bristol. The castle is home to the Earls of Antrim and only occasionally open to the public, but there's a lovely walled garden and a tea-room where you can go even if you're not visiting the garden. Much as I'd have liked to explore the walled gardens, I just had time for a cup of tea and slice of home-made cake in the pretty tea room with a glimpse of the garden through the archway. From here it was on to Larne and the fast road back to Belfast International Airport.
It had been a most spectacular weekend driving along Northern Ireland's Causeway and Glens coastline, and having my hire car enabled me to make the most of my long weekend to see as much as possible.
If you are planning a trip to Northern Ireland, check out Alamo Rent A Car for a car rental that you can pick up at the airport and take the scenic route around Northern Ireland's beautiful coastline.
More things to enjoy in Ireland
10 fab foodie stops on Northern Ireland's Causeway coast
Irish tales and 50 shades of green on the Wild Wicklow tour
10 things we did on a weekend in Dublin
Visitor Information for visiting Ireland's Causeway Coast
For more information and to plan your visit to Northern Ireland's scenic Causeway Coast visit the Causeway and Glens website and follow them on social media: Facebook | Twitter | YouTube
You can also find plenty of information on the Discover Northern Ireland website and the Tourism Ireland website.
Heather stayed at The Bushmills Inn in Bushmills which is a luxury 4 star hotel that is close to all the major things to see such as The Giant's Causeway and the Bushmills Whiskey Distillery.
My extremely knowledgeable guide for the Giant's Causeway and other local attractions was Mark Rodgers of Dalriada Kingdom Tours who fed me with local tales of fishing families and mythical giants.
If you prefer to have a break from the driving, I recommend Glenara Elite Travel who operate tours in a comfortable mini-bus that enables you to easily see all the attractions of the Causeway Coast in one day. They run regular day tours that cost £35 per person.
Caroline Redmond offers food tours in Ballycastle at North Coast Walking Tours and Wendy Gallagher runs Coast and Country food tours at Causeway Coast Foodie Tours.
Pin It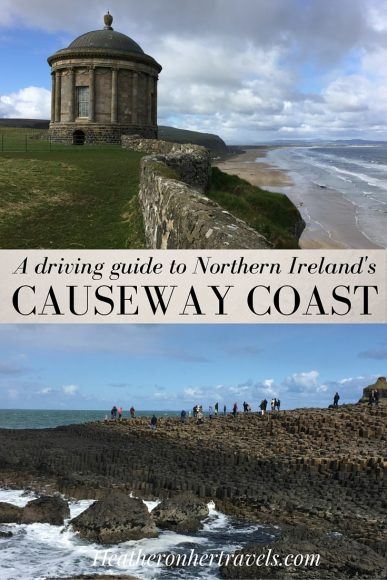 This article was brought to you in partnership with Alamo Rent A Car. Thanks to the Causeway Coast and Glens Borough Council for hosting my stay on Northern Ireland's Causeway Coast.
This article is originally published at Heatheronhertravels.com – Read the original article here
February 15, 2012 by Guest Author
Filed under Accommodation, Guest post, Leisure, Misc, Museums, Nature, Northern Ireland, Self-catering, Sightseeing, United Kingdom
Yorkshire is a place that is filled with a mixture of historical sites and natural beauty, and this makes it the perfect holiday destination for all the family. Whether you have a weekend or a week, you will find something amazing in this part of the world. Here are some of the things you might like to see;
Castle Howard, North Yorkshire
Quite easily one of the most famous country houses in the United Kingdom, a trip to Castle Howard is always a great day out. A grand Baroque mansion, it opens in March, there is always an event to plan for if that's what swings your vote.
However, even when the events aren't on there is so much to enjoy in both the house and the gardens that you could spend more than a day here. Great for a picnic on the warmer days, there is a garden centre and a farm shop while caravanning and camping is available if you just can't get enough.
York Minster
A truly amazing place, the largest Gothic cathedral you will find across Northern Europe is one of great beauty and wonder. There is a lot to see and hear about the history of this place – there are free guides on offer about how they are  restoring it and you can also take the time to go into the crypt or up the tower to witness the gargoyles and pinnacles of the Minster while enjoying great views of the city.
With so many other things to do in and around the city, York is often used as a weekend destination for families to find cottages to rent in Yorkshire and enjoy the rich heritage of this walled city.
The Royal Armouries, Leeds
If arms and armour is your thing, then this is a top spot within the county because you will be taken back in time to see how and why England has changed over time. Their mission is to keep, study and care for objects so that everyone can get a better knowledge of them.
With plenty going on all year round and free entry, it is a great place to take the children – and there is plenty for the adults to enjoy as well. Following this medieval day out, you are in prime position to enjoy the bars and restaurants of canal-front development Clarence Dock.
Flamborough Head Cliffs, East Riding of Yorkshire
If getting into the great outdoors is more your cup of tea, and you want a country cottage to rent for a blissful long weekend then this will be right up your street. Sat some 400 feet high, and stretching for seven miles, this chalk headland is a special area of conservation and a place of stunning natural beauty.
Home to around 200,000 birds, you will find many twitchers in and around taking advantage of the views for nesting sea birds. Distinctive is an understatement for this glorious spot, and it is an excellent spot to enjoy during a Yorkshire holiday.
Whitby Abbey
Overlooking the seaside town of Whitby, this abbey was the inspiration for Bram Stoker's Dracula and it is easy to see why. From the top you get a great view of the surrounding areas, and you can go into the grounds to see the mystery of the abbey. The town itself has a very unique vibe and atmosphere around it, and is known for some fine fish and chips.
My thanks for this article to Sykes Cottages, who are specialists in cottage holidays across the United Kingdom and Ireland.
More things to do in the North of England
Getting to know LS Lowry at The Lowry in Manchester
The must-see sights of Leeds – England
Street art and vintage in the Northern Quarter of Manchester
Photo credits: Castle Howard by Darwin70, York Minister by ♍, Royal Armouries, Leeds by reinholdbehringer, Flamborough Head by nick.garrod
This article is originally published at Heatheronhertravels.com – Read more travel articles at Travel Blog Home
You'll also find our sister blog with tips on how to build a successful travel blog at My Blogging Journey
Don't miss out – subscribe to Heather on her travels
December 12, 2010 by Heather Cowper
Filed under Caribbean, Europe, India, Leisure, Lisbon, Misc, Northern Ireland, Passports with Purpose, Portugal, St Lucia, Travel products, United Kingdom, World, World Issues
I'm a supporter of Passports with Purpose, the Travel Blogger's annual fundraiser and I've just made my personal choices from the fabulous array of prizes, in the nick of time. The chance to win prizes closes tomorrow although you can continue to donate to help build the village in India through this year's chosen charity, Friends of LAFTI. Here's what I've personally put my bids in for – if you read this in time, head over quick to Passports with Purpose before tomorrow and put in yours.
The prizes I'm hoping to win are;
Apple iPad 16 GB Wi-Fi + 3G
from Andy Murdock at seekingb.blogspot.com
Why?
Well, any shiny new Apple toy is obviously extremely desirable and I also think it's good sport of Andy to give up the prize that he won in a competition for this good cause. Also the Winnie the Pooh ebook must be a big bonus although removing the Tie me Kangaroo down sport MP3 is a bit hasty – not everyone is bored with kangaroos and I'm sure it would give my kids endless amusement. If I win this I'll probably take it on shorter trips when I need to have internet access rather than taking the laptop.
8 GB iPod Nano
from Anil Polat at Foxnomad.com
Why?
Again the shiny new Apple toy rule applies and as a lover of podcasts this little baby will be just the thing for listening to all my faves such as Amateur Traveler, This week in travel, Betty in the sky and Raising Miro. If you happen to win it instead of me, do download some of my Heather on her travels podcasts to enjoy, such as my latest interview with Beth Whitman about Papua New Guinea.
3G Wi-Fi Amazon Kindle
from Lisa and Tim Bergren at theworldiscalling.com
Why?
If I don't get the ipad then I'll settle for a Kindle to play with. If my husband is really nice to me and doesn't nag me about the  amount of time I spend on my laptop, he might even find it in his Christmas stocking.Or perhaps I'll be that girl in the deckchair relaxing on the beach with a Kindle in my hand one of these days that I give up the blogging.
$100 gift card to spend on a Mr & Mrs Smith Hotels
from Mr & Mrs Smith blog
Why?
Because I love staying in Mr & Mrs Smith hotels and have even been known to write the odd review or guest post for them myself. I know that any boutique hotel that they recommend will be just the sort of stylish, welcoming place that you always hope to find and that I'll always get the best available price at the time if I book through them. If you don't believe me, read what I said about these lovelies in their portfolio; The cosy Avenue Hotel in Copenhagen, the country house chic of Fawsley Hall in Northamptonshire or the modern luxe of Avenue Liberdade in Lisbon.
$800 to spend on a HomeAway Holiday Rental property
from HomeAway and Lara Dunston at Grantourismo
Why?
Because I love the flexibility of this prize, to book a holiday stay anywhere I like to enjoy with my family, and I love the idea of finding a home from home somewhere where I can soak up the local colour and feel part of the neighbourhood. I met up with  Lara and Terry at the start of their year long Grantourismo project to travel the world, staying in HomeAway properties and writing about their experiences and you can listen to my podcast interview with Lara Dunston here.
Three Night Stay at Luxury Hotel Tiara Park Atlantic Lisbon
from Matt Long at Landlopers.com
Why?
Because I fell in love with Lisbon when I visited with my husband in November 2009 and the 2 days we spent there just weren't enough. I can jump on a plane from Bristol and be settling into the rather sleek Tiara Park Atlantic that is part of Kiwi collection, another hotel site that I trust to find me impeccably luxurious hotels such as the Mandarin Oriental, Hyde Park in London that I reviewed for them.
A Four-Night City and Country Getaway in Ireland
from Corey Taratuta at Irishfireside.com
Why?
Because I've only once been to Ireland and I remember the unspoilt countryside and windswept charm and because we have friends there that are overdue a visit and because I can easily get there from Bristol courtesy of the charming Mr O'Leary, a man who does not lack the gift of the gab.
A 3 night luxury spa break for two at LeSPORT hotel in St Lucia though the Explorateur
from Jool Stone of Trainsonthebrain.com
Why?
Because my parents have been spending their last few Januaries in St Lucia and love the island, and as I've never been to the Caribbean the island is firmly on my wish list. As I find the grey days of January and February rather dreary, I could do with a bit of sunshine with my husband
If none of these tempt you, get over to Passports with Passport in the next 24 hrs and see what other goodies are on offer – if you're too late, there's always next year….
Read more Indian stories
Exploring the 'Abode of snow' in the Indian Himalayas
Friday photo – my Indian sponsor child
This article is originally published at Heatheronhertravels.com – Read more travel articles at Travel Blog Home
You'll also find our sister blog with tips on how to build a successful travel blog at My Blogging Journey
Don't miss out – subscribe to Heather on her travels