February 1, 2017 by Heather Cowper
Filed under United Kingdom, Leisure, featured, Art and design, Cruise, Museums, Shopping, Sightseeing, South of England, Walking
Southampton is one of those cities on England's South Coast that's easy to overlook. Heavily bombed in the war, it's not the most picturesque of places, but as one of Europe's major cruise ports, millions of cruise visitors pass through every year. Dig a little deeper and you'll discover that Southampton offers museums and cultural attractions as well as an interesting old town with medieval walls and houses. The port is gateway to the beautiful Hampshire countryside and the New Forest with many places of interest that can easily be visited in a day. So if you are visiting Southampton on a cruise, here are some of the things I'd recommend you visit in and around the city.
1 Walk Southampton's old city walls
Just a short distance from the port you can walk the medieval city walls of Southampton that encircle the old town and were built to preserve the town from attack from the sea. You can still see the arcades that formed the entrance to warehouses where wine barrels were stored and walk along the top of the walls that would have overlooked the beach, a fashionable spot for sea bathing in the 18th century. At weekends there are guided tours of the wall starting at Bargate or pick up a self-guided walk leaflet from The Tudor House.
2 Step back in time at The Tudor House
In the old quarter of Southampton, a short walk from the cruise port is the recently restored Tudor House, dating back to the 15th century. An audio guide takes you through the rooms to uncover the history of Southampton over the centuries.
There's a pretty Tudor knot garden, views over the city walls, a kitchen laid out with food that the Tudors would have enjoyed and a glass-sided cafe overlooking the garden. For another dive into the history of Southampton, visit the nearby Merchant's House that is furnished and preserved, as it would have been in the Middle Ages.
Getting there: Walking 10 min from cruise terminal. Adults £4.75 Children £3.75, Family ticket £13.50
3 Shop till you drop
If you enjoy shopping for international brands you'll find them all in one place in the West Quay shopping mall in the center of Southampton. The major stores are John Lewis and Marks and Spencer with a wide range of fashion, lifestyle and technology stores as well as plenty of cafes and restaurants. If you're looking for designer names at bargain prices you'll find them in at Gunwharf Quays outlet shopping center near Portsmouth Harbour, which can be reached by train from Southampton, close to the other attractions of Portsmouth.
4 Nautical connections at SeaCity Museum
The SeaCity Museum explores Southampton's connection with the sea over the centuries, with travellers from all over the world passing through the port. In 1912 the Titanic set sail from Southampton with most of its crew coming from the city. A poignant street map on the floor marks each person lost with a red dot, over 500 people from the city alone.
There are many interactive exhibits such as the Disaster room where the 1930s enquiry into the Titanic's loss is replayed. An exhibition of Port Out Southampton Home (until June 2017) evokes the romance of the golden age of cruising from the 1920s to the 1950s.
Getting there: Walking 20 mins, Taxi 10 mins from the cruise terminal. Free shuttle bus from the terminal to SeaCity museum running 1 per hour. Adults £8.50 Family £25 Open daily 10am-5pm
5 The Southampton City Art Gallery
Next to the SeaCity museum is the Southampton City Art Gallery in the light and airy space above the public library. Under the high arched ceiling of the main gallery you'll find everything from contemporary and twentieth century art to old masters and impressionists such as Monet.
The side galleries hold regularly changing exhibitions and look out for the wood panelled gallery with a series of Pre-Raphaelite paintings by Sir Edward Burne-Jones showing the Perseus story from classical mythology.
Getting there: Walking 20 mins, Taxi 10 mins from the cruise terminal. Free shuttle bus from the terminal to SeaCity museum running 1 per hour. Free entrance although a donation is appreciated. Closed Sundays.
6 Beaulieu Motor Museum, Palace House and Abbey
Put together a national motor museum, 13th century Cistercian abbey and stately home of the Montagu family set beside a lake, and you have the ingredients for a fun packed day out for all ages and interests. The Beaulieu motor museum is the big draw, housing over 250 vehicles from motoring history but the house is also beautiful with a lived in feel and interesting displays in the Victorian kitchens.
Wander through the orchards and gardens, or get around on the high-level monorail or the open top vintage bus. If you have time, drive 10 minutes further to Buckler's Hard, an 18th century village where ships for Nelson's navy were built.
Getting There from Southampton: Taxi 30 mins, or Beaulieu can be booked as a cruise excursion. Entrance Adults £24, children age 5-17 £12, family ticket £64 with discounts if you book in advance.
7 The Historic Dockyard at Portsmouth
At Portsmouth Historic Dockyard you can visit some of Britain's most historic ships including Lord Nelson's flagship HMS Victory and the Tudor warship Mary Rose. Around the waterfront are plenty of pubs and cafes for a bite to eat. The harbor scene is dominated by the 170 metre tall Emirates Spinnaker Tower, for views over the harbor from the skywalk and cafe in the clouds. A short walk away is the designer shopping outlet at Gunwharf Quays and one stop further on the train you'll find the trendy area of Southsea with boutique stores and independent eateries.
Getting There from Southampton: taxi 30 mins, train 1 hr with 2 per hour.
8 A taste of rural Hampshire in Romsey
For a flavour of rural Hampshire life visit the pretty market town of Romsey, gateway to the Test valley. Behind the tourist office is the medieval King John's House which brings to life 750 years of history in Romsey, with a pretty garden and tea shop. Nearby is the imposing medieval Romsey Abbey containing beautiful religious art and treasures. You can join the long distance walking path, the Test Way following the River Test, past nature reserves and Broadlands, the home of the late Lord Mountbatten. Finish your day with an ice cream at Sundae's Child or a traditional afternoon tea in one of the many cafes.
Getting There from Southampton: Bus 30 mins, 2 per hour. Taxi 25 mins. Train 30 mins, 2-3 per hour.
9 England's ancient capital of Winchester
Once King Alfred's capital, the small cathedral city of Winchester is a quintessentially English place to visit. At its heart is the ancient Winchester cathedral where Jane Austen is buried and farmer's markets are held at weekends. Stroll along the river to see a working water mill at Winchester City Mill and the ruins of Winchester Palace, home of the Bishops of Winchester. Further up the hill is the Great Hall with a replica of King Arthur's round table and the 18th century Peninsula Barracks with several military museums. With plenty of pubs and cafes, Winchester is a great day out for all ages.
Getting There from Southampton: Taxi 30 mins, Bus 1 hour with 2-3 per hour. Train 20 mins with 2-3 per hr.
10 Salisbury and Stonehenge
Stonehenge is one of the best-known pre-historic monuments in Europe, featuring in many a selfie moment. The stone circle is a masterpiece of Neolithic engineering built from stones transported long distances using only simple tools, yet no-one knows for sure why it was built. Start at the new visitor center with exhibitions and Neolithic style houses, and then walk around the stone circle (but not inside it). Your visit is easily combined with a visit to the cathedral city of Salisbury, with elegant houses inside the cathedral close such as Arundells, the home of British Prime Minister, Edward Heath. Read about my visit to Stonehenge.
Getting There from Southampton: Train Southampton to Salisbury 30 mins, 2-3 times an hour, then bus from Salisbury station to Stonehenge 30 mins, 2 per hour. Salisbury and Stonehenge are typically offered together as a cruise excursion.
Guide Prices if you want to arrange your own cruise excursions
Taxis are available at the Southampton cruise port terminal and prices are agreed with each driver but typically a 2-3 hour return trip to attractions within 30 mins drive is £80-100. Train fares for a return ticket to places mentioned are from £5-12 return depending on distance and time of day. Bus tickets are generally a little cheaper than train but may take longer.
More information to plan your visit to Southampton
More information for visitors is available from the Discover Southampton Website and the Visit Hampshire website.
Note: I originally wrote this article for a cruise website but it was never published and has since closed so I am republishing it here, hoping that it will give some useful tips and advice for cruise visitors to Southampton.
More locations in the South of England:
A Weekend in Eastbourne – with cliff walks & fresh air
A summer day cycling in Dorset on the Jurassic Coast
Sunrise at Stonehenge – inside the stone circle
Pin It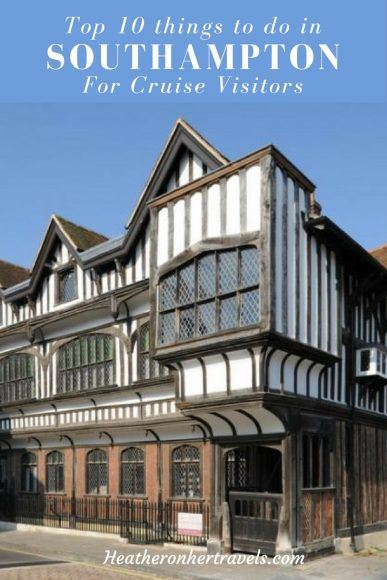 This article is originally published at Heatheronhertravels.com – Read the original article here
If you've been watching the latest David Attenborough moments in Planet Earth II, you may be wondering how you too can photograph the illusive snow leopard or soar with the eagles. While most of us won't get the chance to film tigers in the wild, there's plenty of fun to be had photographing wildlife in the woods or parks near where we live, as I discovered at the British Wildlife Centre in Surrey.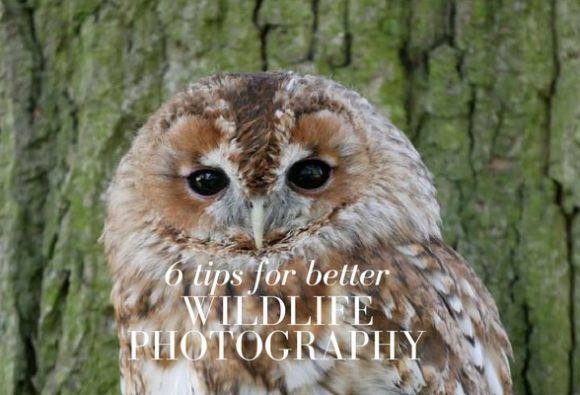 I was at a workshop hosted by Panasonic UK, learning how to improve my wildlife photography using the Lumix GX80 camera, under the expert tuition of top wildlife photographer, Phil Gould. Phil told us about the 4 P's of wildlife photography: Passion, Patience, Perseverance, Practice, as well as giving us his top tips, before we were let loose to photograph the different animals around the centre. Read my review of the Lumix GX80 here.
If you'd like to capture better wildlife photos, here are 6 things to consider;
1. Get down low
For the most natural photograph, your camera needs to be at the eye level of the animal, so that it feels less threatened. I quickly noticed that the wildlife pro-photographers in our group, like Jason of Wildlife Gadget Man and Ben from Ben Porter Wildlife were down on the ground, trying to get at the same level as Elwood the otter.
As the grass was wet and muddy I don't think any of us wanted to go as far as actually lying down, but the Lumix GX80's tilt screen meant that we could rest the camera on the ground and still be able to compose the picture on the screen. I noticed that Ben took some lovely shots with blurred grass framing the animals, which you can see in his article from the day here.
2. Get up close and personal
Phil showed us some close-ups of wildlife that he'd taken, and I tried to capture something similar with this photo of Florence the Tawny Owl holding me in her inscrutible gaze. In order to capture the close up shots, I needed to switch the standard 12-32 lens for a zoom lens like the 45-200, which I had the chance to try during the workshop. This photo was taken from a few metres away and then I cropped it further – the original is at the beginning of the article.
Here's another photo of the Scottish wild cat taken by Phil which shows how getting close up with your lens or even cropping your shot can really add to the impact.
3. Capture the story
When you're out photographing wildlife, the most memorable shots can be those that tell a story about the true nature of the animal you are photographing, or capture an illusive moment. Phil told us to observe the creatures we were photographing, to understand what they were likely to do next and use that knowledge to anticipate the best shot. For instance deer are naturally curious and will often come towards you if you stand patiently and wait.
With this in mind I used the 4K option on the Lumix GX80 to take a series of shots of Biscuit the fox as she swung around and then picked the one that I felt captured the moment. I was trying to capture an image of the fox as if out hunting, at that moment when she had just spotted a rabbit.
4. Take advantage of the natural light
When photographing wildlife outside, you can't control the lighting as you would in a studio, so you need to be much more aware of the natural light. You need to keep the sun behind you so that it will be lighting up your subject in the photograph and keep an eye on any patches of light and shade that can be used to good effect. I liked that way the sunlight lit up the face of McAverty the Scottish Wild Cat and the blades of grass, while the log in front of him was in shadow.
5. Watch your background
While we were out photographing during the workshop, Phil reminded us to keep an eye on the background behind the animals we were photographing. Ideally you want a clean background without too much distraction so that you can focus on the animal itself. By just shifting your position slightly you may be able to move that pole or bench out of shot.
I was trying to do this when I photographed Dale the red squirrel but although I succeeded with a nice background of foliage, the rope kept popping into shot behind him. When I got home I was able to crop the photo to the image below, cutting out the rope and some of the metal pole to improve the image. Don't be afraid of a bit of post-processing to improve your shot!
6. Use the camera settings to your advantage
Although I confess to not being a very 'technical' photographer and mainly shooting on auto, if you want to take your photography up a notch, it's worth experimenting with the camera settings. Phil's photo of the squirrel below shows how he has used the aperture mode to create a depth of field, blurring the background to make the subject stand out more clearly. It's a useful technique for portrait photography generally which Hannah from Make do and push, who was at the workshop, uses to capture lovely shots of her children.
You can buy the Panasonic Lumix GX80 on Amazon here
Discovering Lumix Unmissable Moments
If you want more inspiration on how other photographers are using the Panasonic Lumix G range, check out the Lumix Experience website where you'll find galleries and video tutorials to show you how you can get the best from your Lumix camera. You can also follow the conversation on social media with the hashtag #UnmissableMoments.
Wildlife photography at the British Wildlife Centre
All the wildlife photographs were taken in a wildlife photography workshop at the British Wildlife Centre in Surrey, where you can see and photograph some of the wild animals that are native to the UK. The centre also runs regular photography workshops where you can improve your wildlife photography, with tips from the experts. The workshop I attended was specially arranged to enable our group to try out the Panasonic Lumix GX80 camera.
British Wildlife Centre, Eastbourne Road, Newchapel, Lingfield, Surrey, RH7 6LF, Tel: 01342 834 658
About the Panasonic Lumix GX80
You can read my review of the Panasonic Lumix GX80, which is ideal for travellers and photographer who want to get great pictures without having to carry a large, heavy camera around. I loved the smaller body and the ability to change the lens to suit the situation, for instance you really do need a zoom lens like the 45-200 if you're photographing a lot of wildlife.
The body is sturdy, with a textured and slightly retro feel and has a comfortable finger grip at one end. The 4K feature enables you to take a series of photos and then choose the best one and there's in-body stabilisation and fast auto-focus to enable you to capture those #unmissablemoments, whether it's a squirrel in your garden or your kids having fun.
This camera would make a fabulous gift for anyone who's a keen photographer but wants a camera that's light and easy to use – or why not treat yourself? You can buy the Lumix GX80 on Amazon here.
Key information about the Panasonic Lumix GX80
16-million-pixel Four Thirds sensor, no optical low-pass filter
ISO 200-25,600 (ISO 100-25,600 extended)
Dual IS: 5-axis in-body stabilisation working with 2-axis in-lens
4K video recording and 4K Photo mode
76-million-dot equivalent EVF (16:9 aspect ratio)
04-million-dot 3-inch tilting touchscreen
New low-vibration shutter: 60sec – 1/4000sec (1sec – 1/16000 sec electronic)
£509 body only, £599 with 12-32mm f/3.5-5.6 lens
Thanks to Panasonic UK who invited me to the workshop and gave me a Panasonic Lumix GX80 for the purposes of this review.
Pin It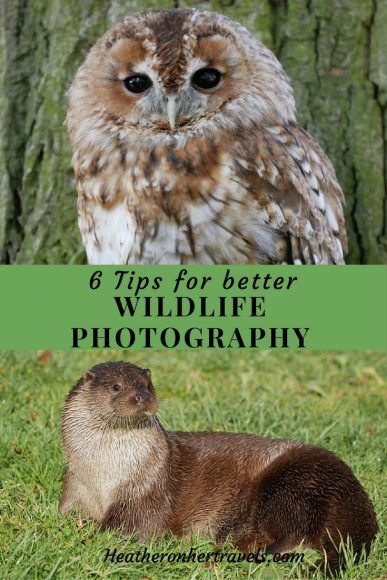 This article is originally published at Heatheronhertravels.com – Read the original article here
One of my favourite weekend getaways is to go walking along England's unspoiled coastal paths. Those sea views, wind and fresh air seem to blow away the cobwebs and leave me rejuvenated to tackle the challenges of daily life. My sister lives on the couth coast, so I was interested to see that Eastbourne have teamed up with TV presenter Michaela Strachan to highlight some of their food, culture and coastal walks.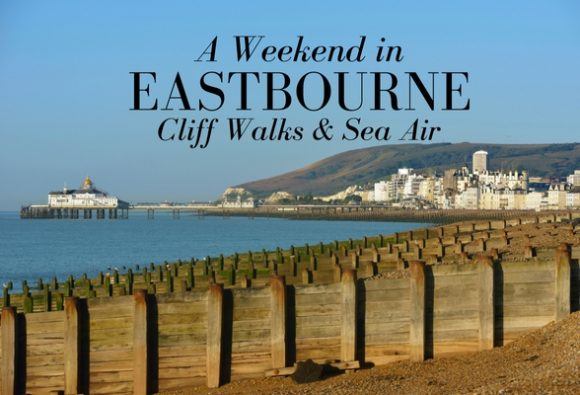 They have a great series of videos which will inspire you with ideas for your next weekend break, if you'd like to breathe in some of that fresh coastal air. You can explore Eastbourne with Michaela Strachan and watch more videos like the one below.
If you can't see the video above, watch it on YouTube here
Eastbourne makes the perfect base for an out of season weekend break, with an unspoiled Victorian seafront and 300 metre long pier that was completed in 1872. With colourful beach huts, fish and chip shops, a Victorian tea rooms as well as a wide range of restaurants and cafés, Eastbourne seems to bring back the nostalgia of all those childhood holidays sheltering behind the windbreak, pestering Dad for a 99 ice cream – with flake of course!
At the western end of the seafront you'll find Holywell beach, which is set at the foot of the South Downs, with a popular café and pretty Italian gardens. At low tide the rock pools are revealed, teeming with marine life, so you may want to bring your wellies and fishing nets to catch a few crabs. From the Sovereign Harbour, with its large marina, you can take boat tours along the coastline, for fishing, diving and to see the famous lighthouse at Beachy Head.
For me, one of the biggest attractions of Eastbourne is its access to the South Downs National Park and the walks up onto the cliffs at the start of the South Downs Way. I've walked the Winchester end of this long distance path with my sister but would love to do the whole thing, with breathtaking views over the English Channel. A walk up onto the cliff tops will soon bring you to Beachy Head (it's also accessible by bike, car or open-top bus tour) with those iconic white cliffs and the striped Beachy Head lighthouse.
A little further along the cliffs you'll reach Birling Gap, an unspoiled pebble beach enclosed by cliffs, where the low tide exposes rock pools and marine life – it's a marine nature reserve. The beach is managed by the National Trust and there's a visitor centre, shop and café, so it's a good place to stop and admire the white chalk cliffs of the Seven Sisters.
If you have a few days to spare you might continue your walk along the South Downs Way, through an unspoiled English landscape of rolling hills and picturesque villages, ending a hundred miles later in Winchester. For our weekend break we might just continue as far as Alfriston for lunch in a country pub or refeshment of afternoon tea, before we head back to Eastbourne.
Giveaway
If this taste of Eastbourne has inspired you to get out and breathe in some fresh air, why not enter my giveaway in partnership with Discover Eastbourne. You could win a £100 Ultimate Gift Card which can be used to buy some great outdoor brands including Berghaus, from stores like Blacks, JD, Scotts, Millets and Tessuti. The giveaway ends on Thursday 1 December. To enter you need to:
Watch the video in this post and leave a comment below this post to say which attraction/sight featured in the video you'd most like to visit.
For additional chances to win you can;
The giveaway has now ended – thanks so much to all who took part
Disclosure: This article is brought to you in partnership with Visit Eastbourne
Pin It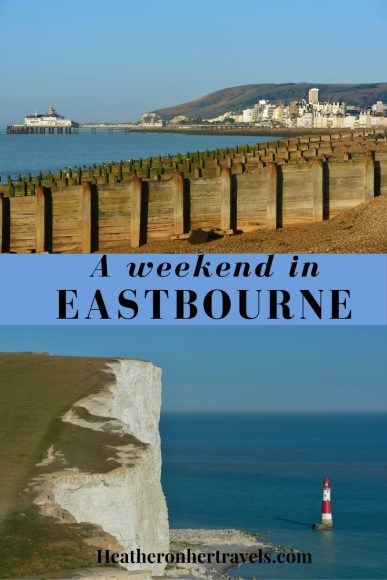 This article is originally published at Heatheronhertravels.com – Read the original article here